I'm a big fan of the club levels at Walt Disney World. The deluxe resort hotels all offer it as a luxurious option when you book your room: included with the cost of your stay you get access to a beautiful lounge, free food and beverage all day, a special desk just for concierge guests, and just an extra level of service.
There are some guides on A Pinch of Pixie Dust to the amazing club levels at the Polynesian, the Animal Kingdom Lodge, the Contemporary, the Wilderness Lodge, and more...but today we're going to take it to a whole new level.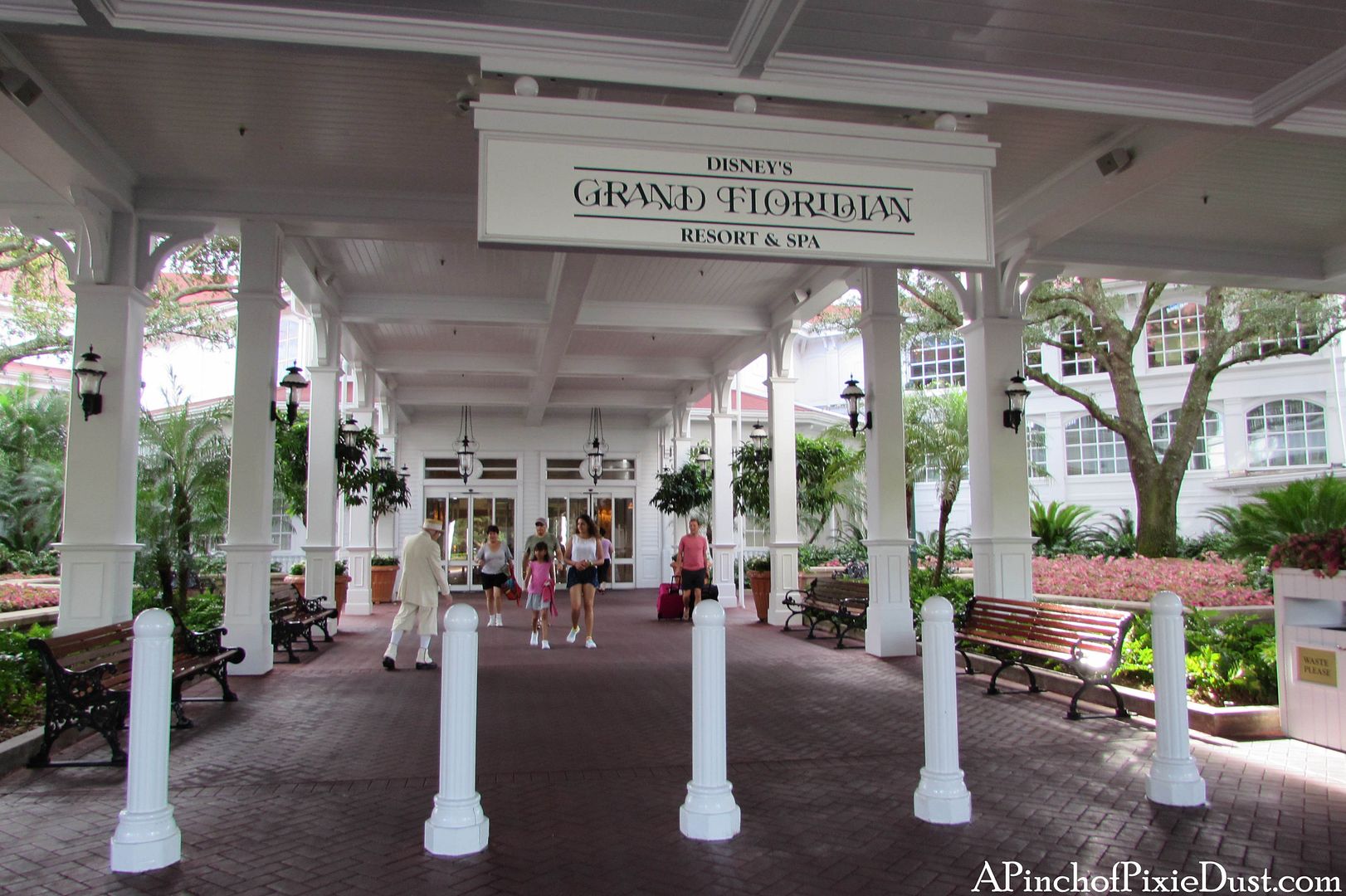 Today we're heading to Disney World's flagship resort, the Grand Floridian Resort & Spa.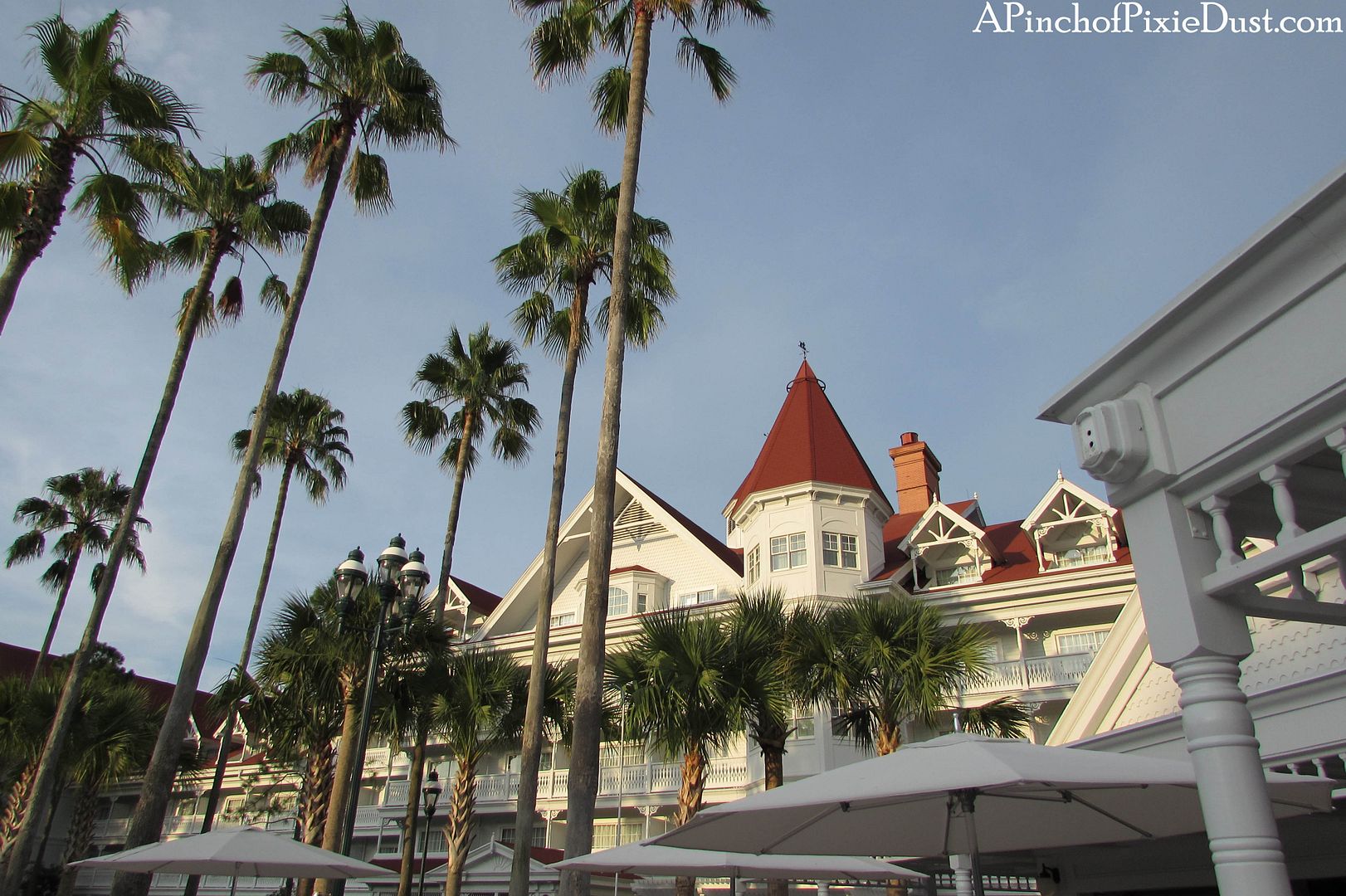 The Grand Floridian is so deluxe it has two separate club levels. We've already looked at the
Sugar Loaf Club Level
, which has its lounge and rooms located in an outer building near the pool. But in this post we're checking into the main building...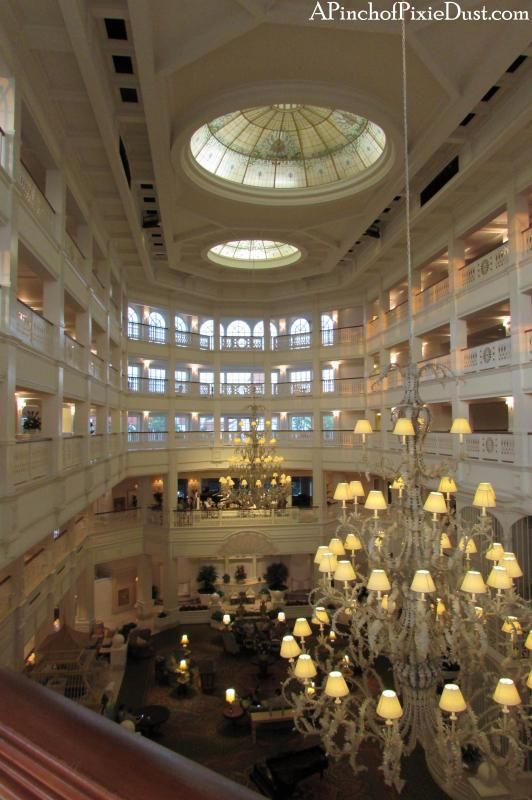 Most of the time, when I visit the Grand, I'm just a day guest, and I'll look up enviously to the top three floors above the atrium. They're accessible only to resort guests. Those three levels belong to the Royal Palm Club level.
Today, the upper floors are our domain. :)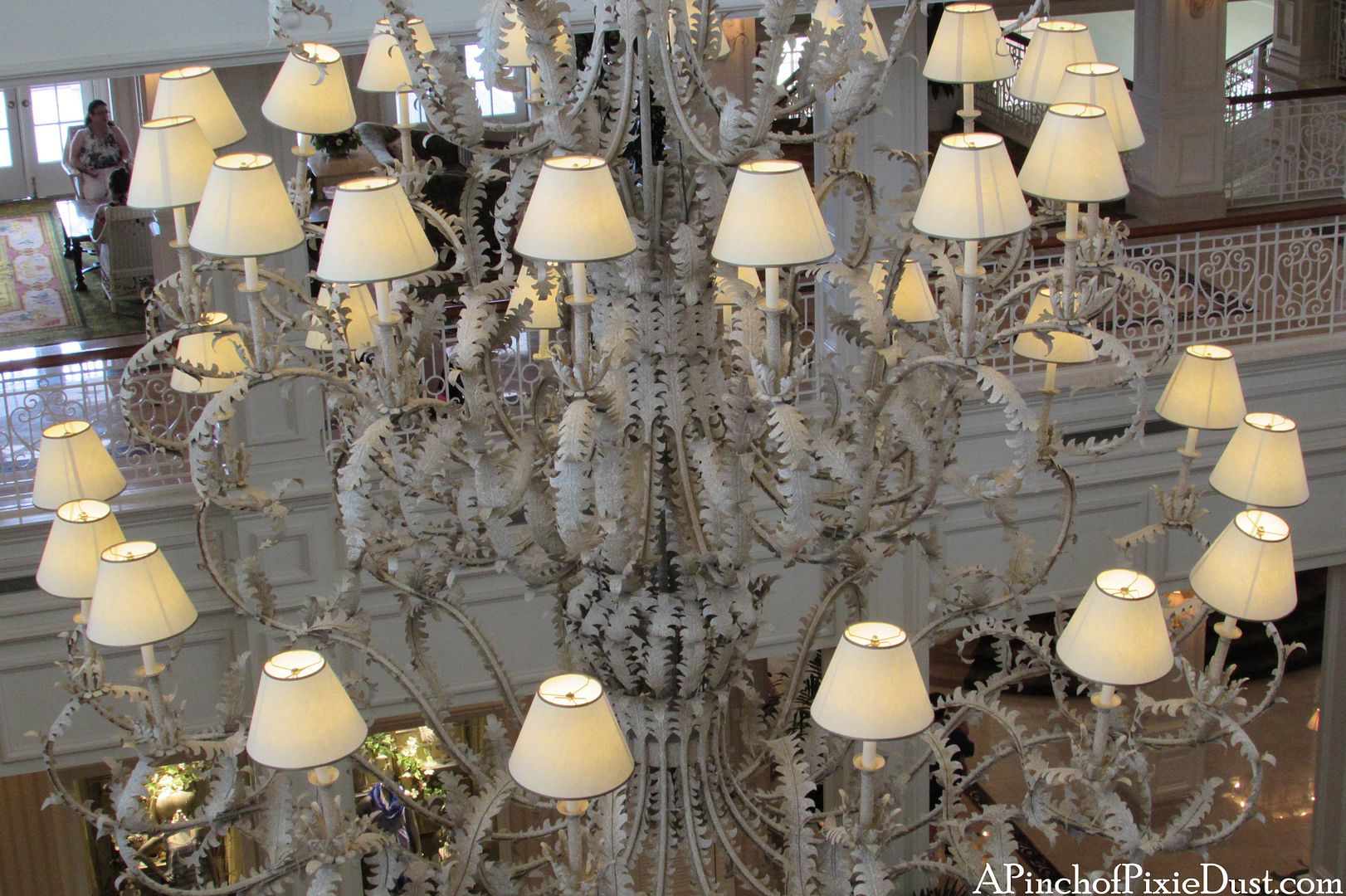 Exploring the three upper levels and looking out over those grand chandeliers and beautiful lobby are some of the best things about the Royal Palm Club. You feel like the entire atrium is your own private lounge...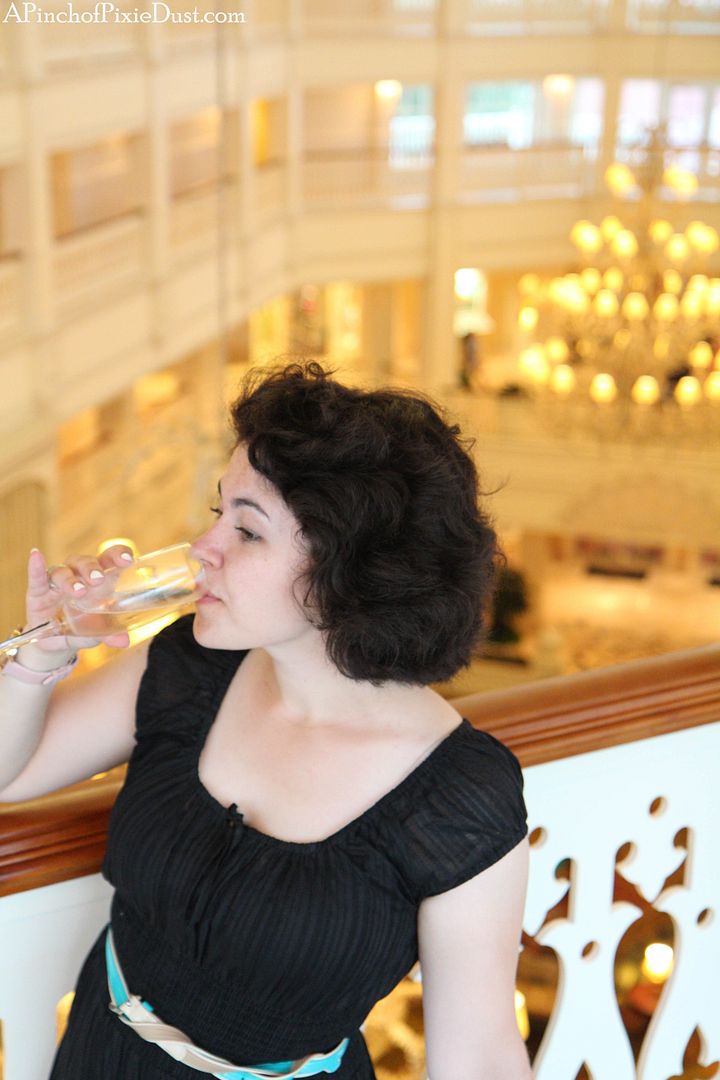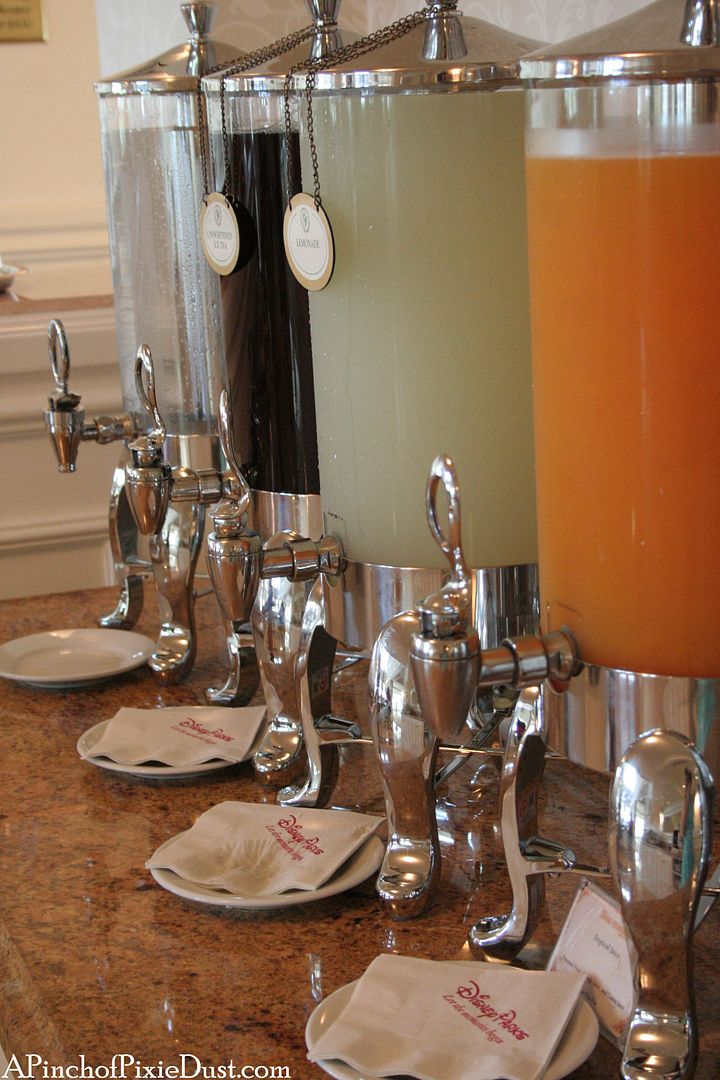 ...and I hope you're all hungry, because there's going to be food. Lots and lots of club food.
Now. When you arrive for a stay at the Royal Palm Club, you want to make sure you talk to one of the curbside cast members out front. If your room is ready, they might take you straight there and get you checked in right in your room (arrive earlier in the morning if you want a better chance at an early ready room!). Usually they'll take you to the third floor, where you'll find several desks..
There are concierge cast members available to answer questions and make reservations etc. at these desks from 7:30am to 10pm. The Royal Palm Club's main lounge is located on the fourth floor, but there are actually some lovely spots to sit on the third floor as well.
You can get a better idea of the Royal Palm layout from the video!
Just beyond the check-in desks on the third floor are comfy chairs and a very Victorian couch, and further over by the windows are some game tables...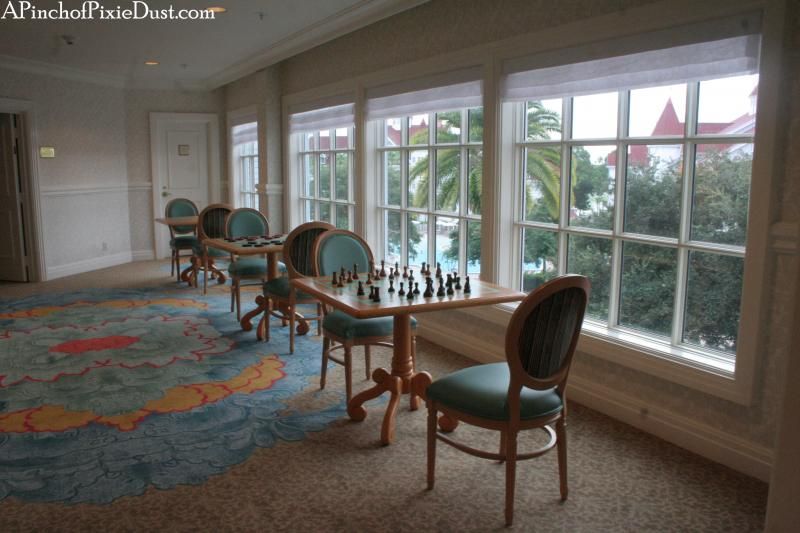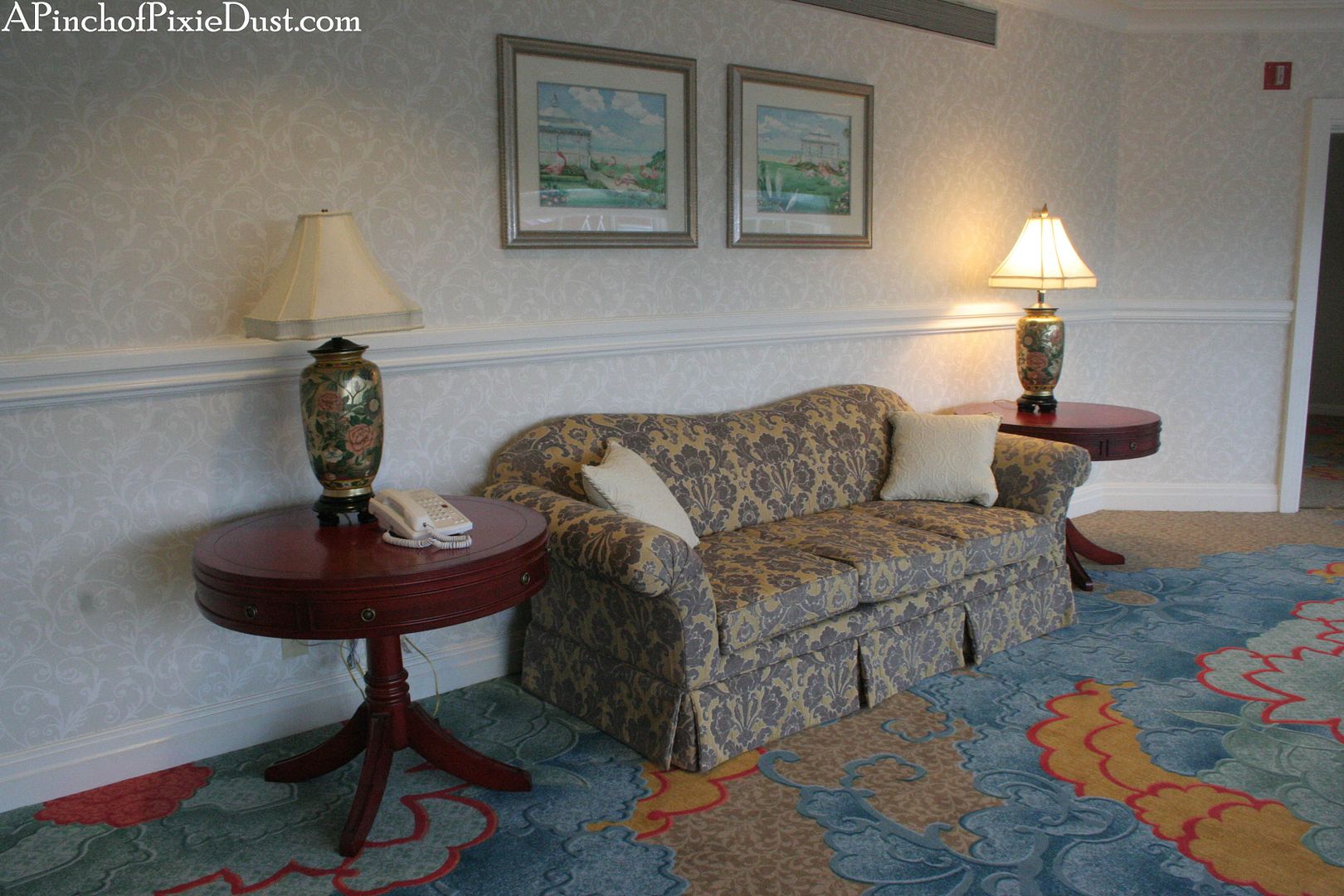 You can play chess or sit back on the couch and just watch...
I liked that the chessboard is teal. Very stylish.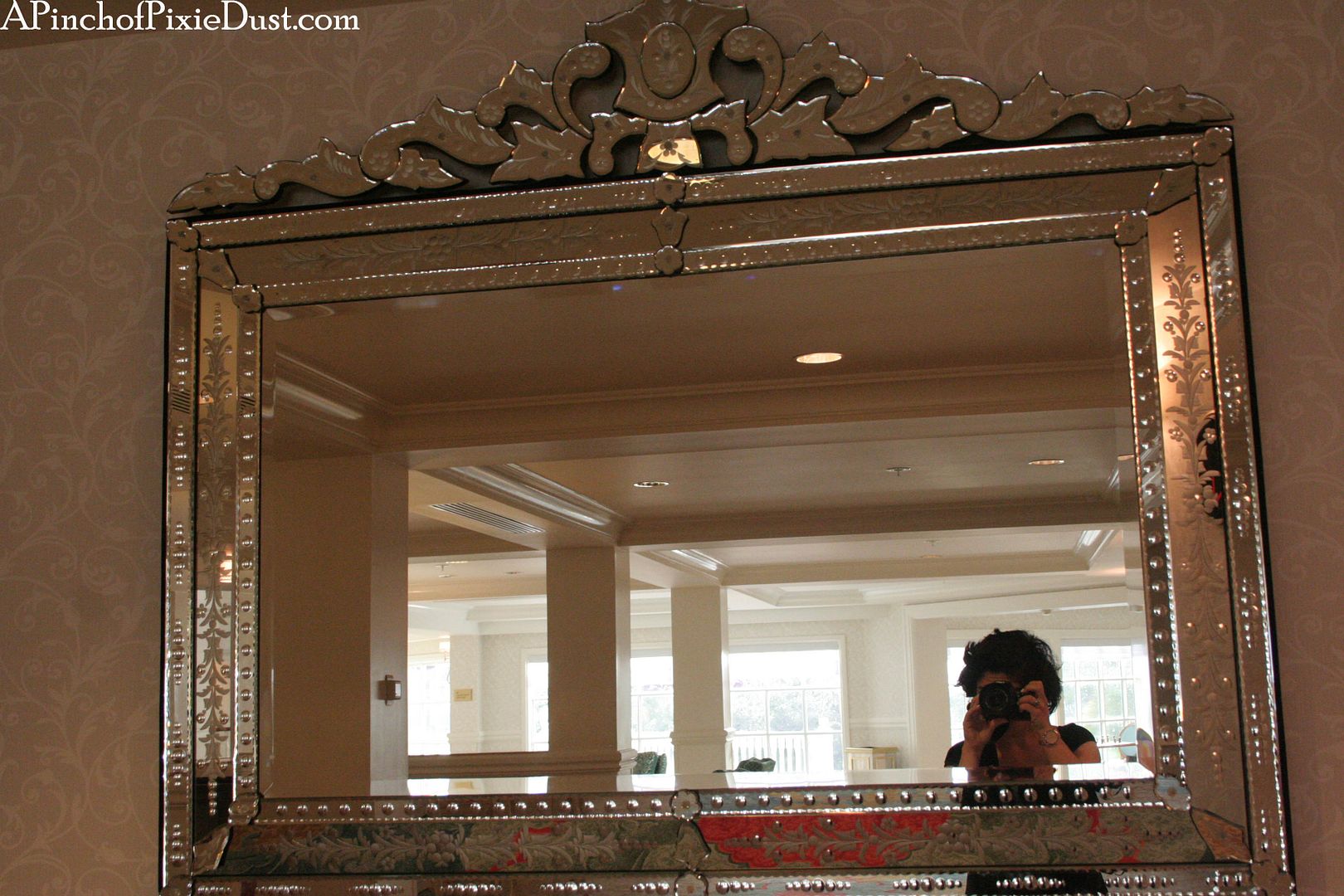 And while we're on the subject of little details, how cool is this mirror?
The area we've just been talking about is near the elevators. If you walk around the rest of the atrium, you'll find some of the guest rooms and, of course, those gorgeous windows...
The third floor windows on both ends of the building also have doors leading to balconies...shall we step out?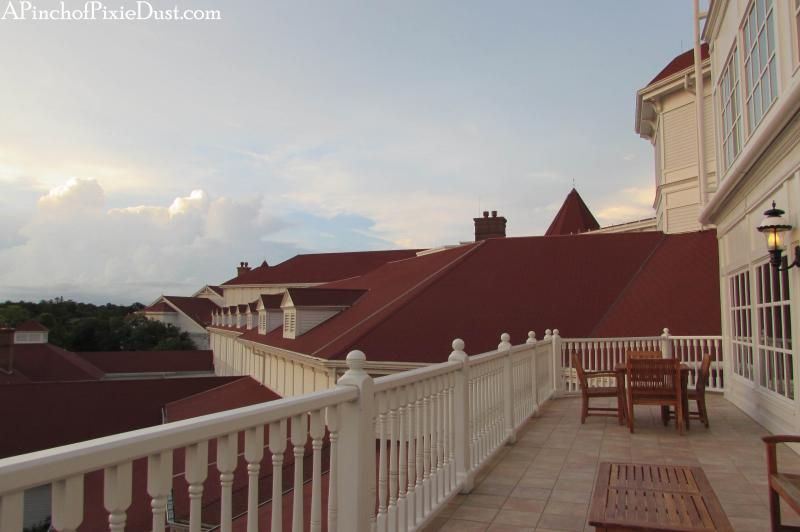 Technically these are smoking areas, but I loved the views. On one side you're looking out over the monorail station...
It's so fun to watch all the quintessentially Disney activity - I see a red Mickey balloon!
And the sunsets are just gorgeous. But we'll get back to that in a minute.
The third, fourth, and fifth floors all belong to the club, and there are stairs connecting just those top three levels. If you're going down to the first or second floor, you have to use the elevators. There are only two elevators connecting the club level to the main lobby, so there can sometimes be a wait.
One other random note: unfortunately there is no public bathroom on the upper floors. Many of the club lounges at other Disney resorts do have that, and it's really nice not having to hike all the way back to your room. At the Grand you can always take the elevator down and use the restrooms by Citricos or 1900 Park Fare, but don't forget your MagicBand/room key if you do that - you need it to use in the elevator to get back up!
And since we're on the subject of elevators, how cute are the vines and flowers painted on the panels inside the Grand Floridian lifts?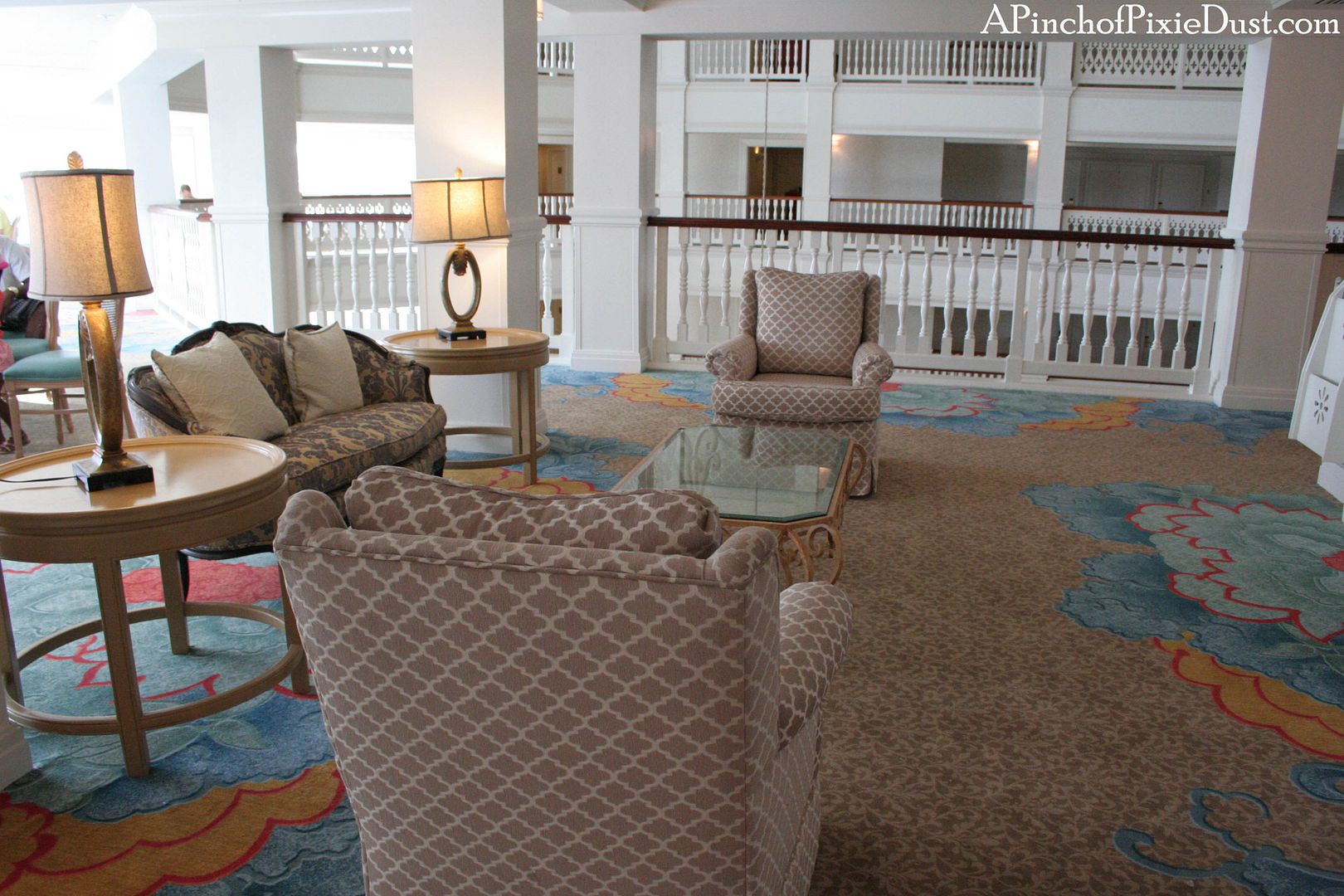 The main lounge (where the food is!) is located on the fourth floor. When we stayed here in August, renovations in the main building and Royal Palm club had
just
finished - it was only the second day after the club level reopened, so it was exciting to see all the new furnishings and fixtures. The rooms had an
all new design
as well as the hallways and lounge!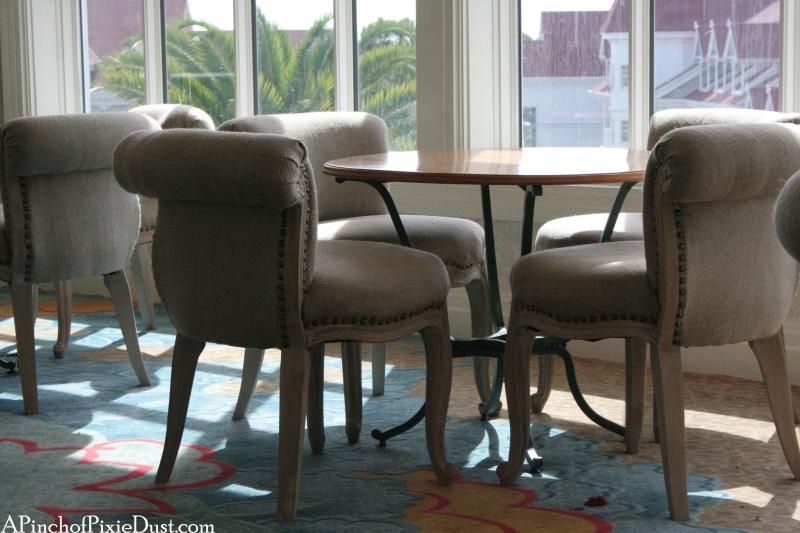 The children's area in the lounge now has the. cutest. chairs. Although...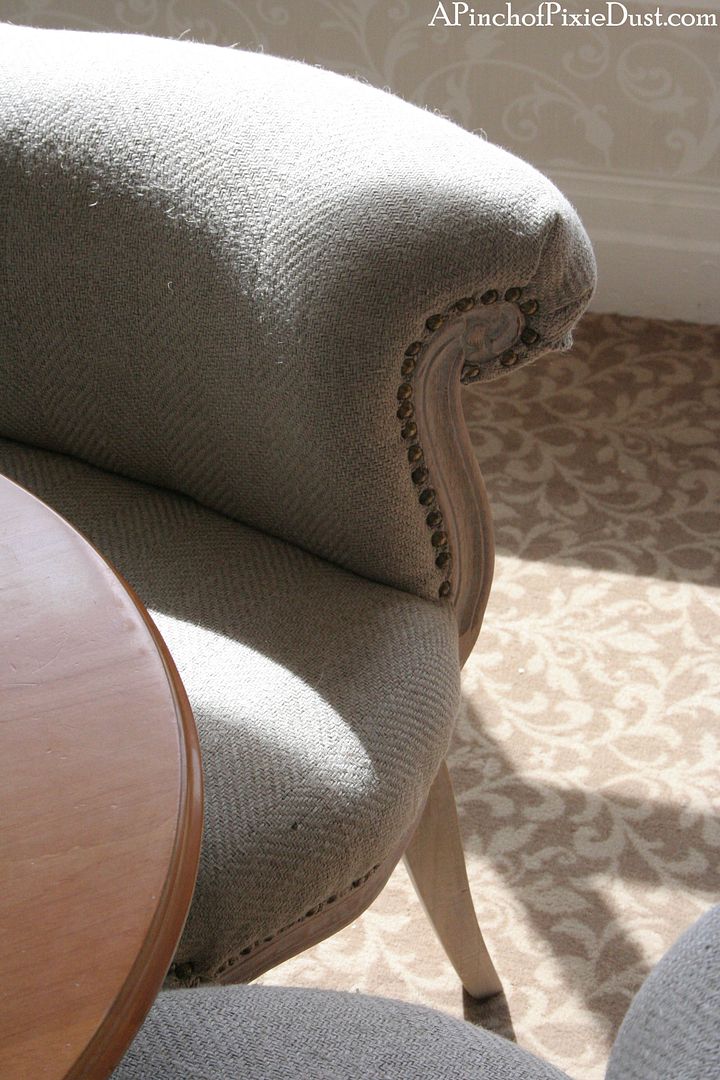 Look at that fabric - not very friendly to sticky peanut butter and jelly fingers. I can't see that surviving a chocolate milk gusher either. It's too bad they couldn't have upholstered these in something more practical!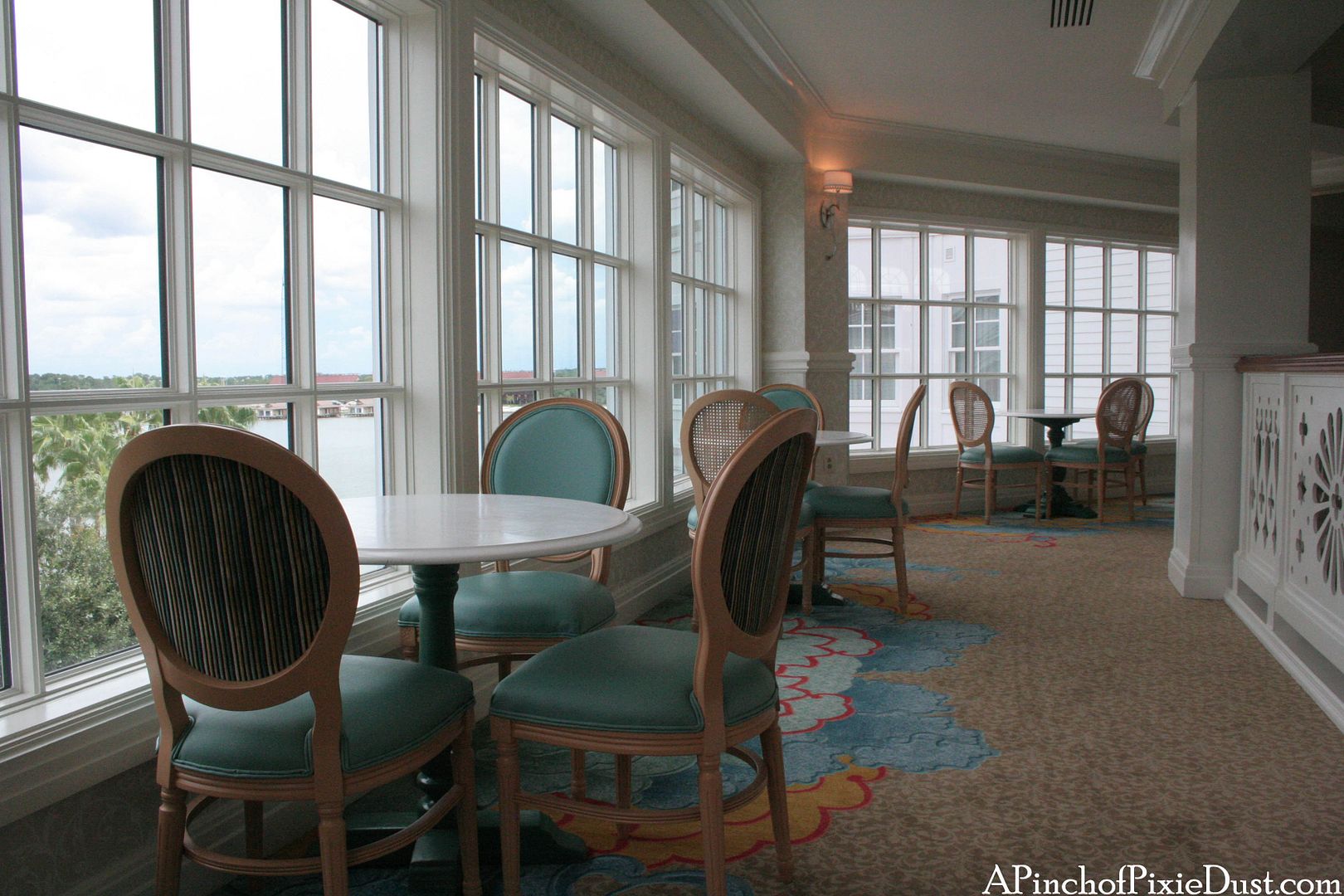 Thank goodness the adult chairs have plastic (but still comfy!) cushions. There are a number of tables near the children's area and also along the windows wrapping around the atrium...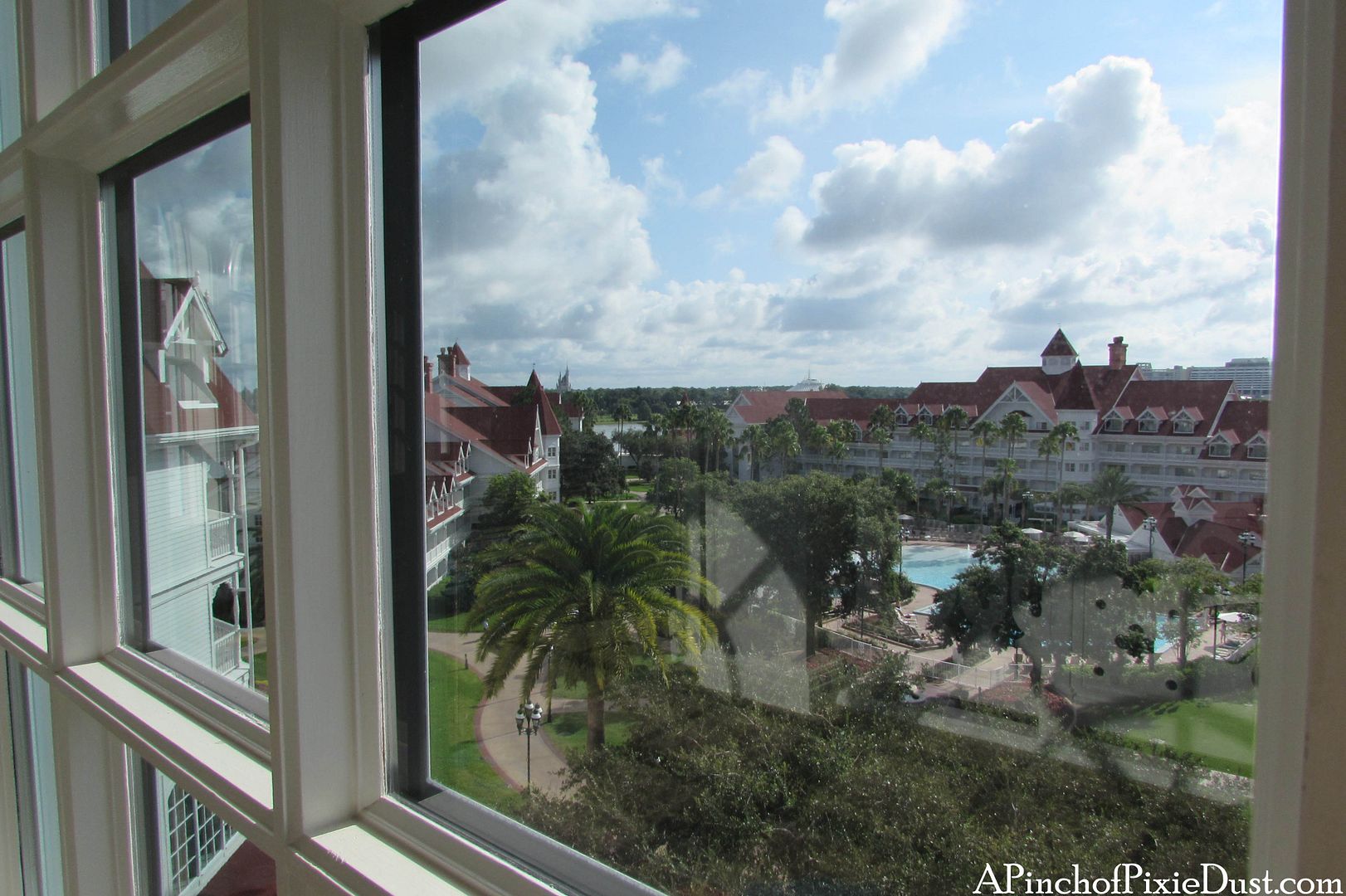 The view from these windows cannot be beat.
The castle is off in the distance, and it's perfect for people watching.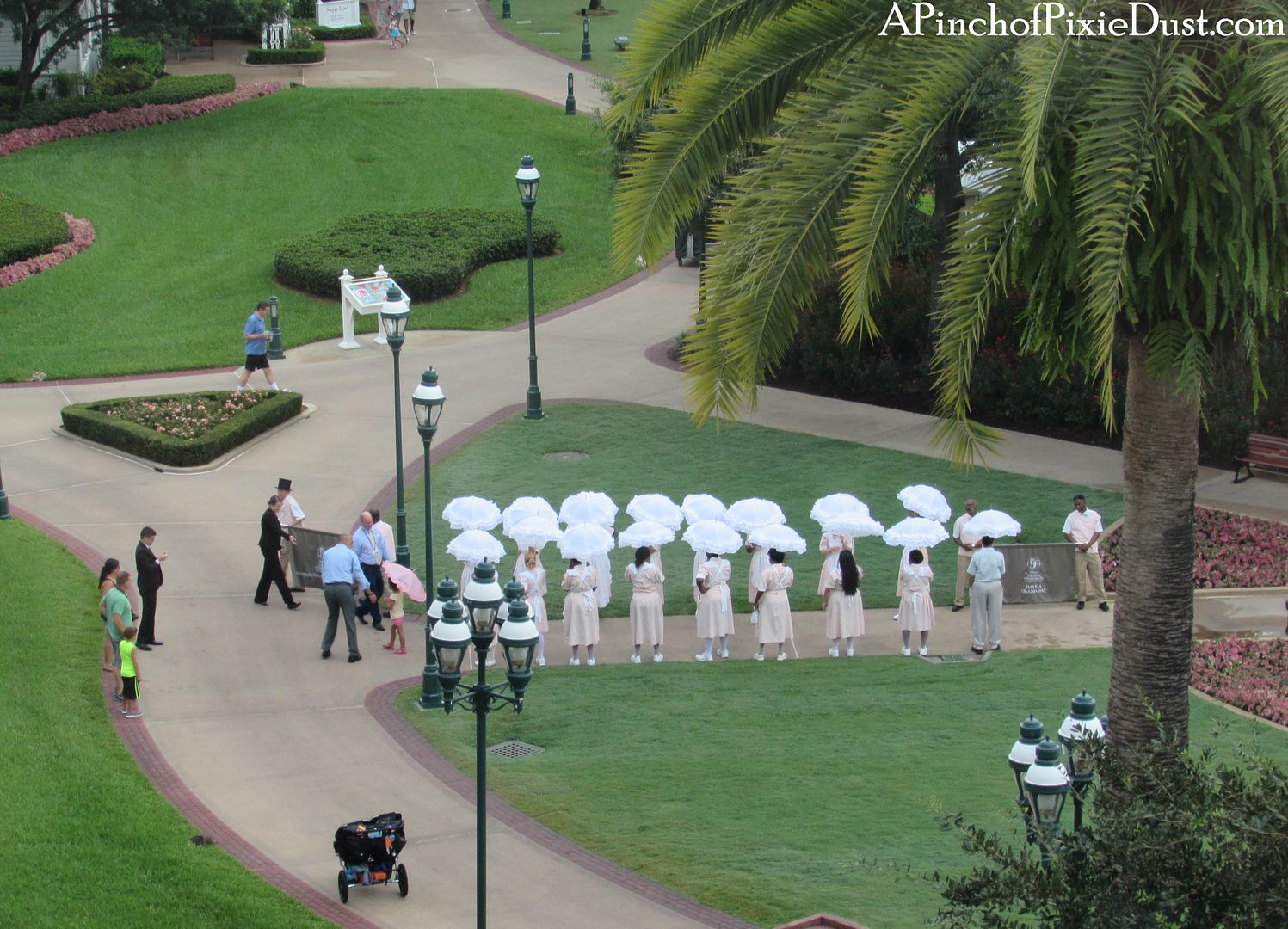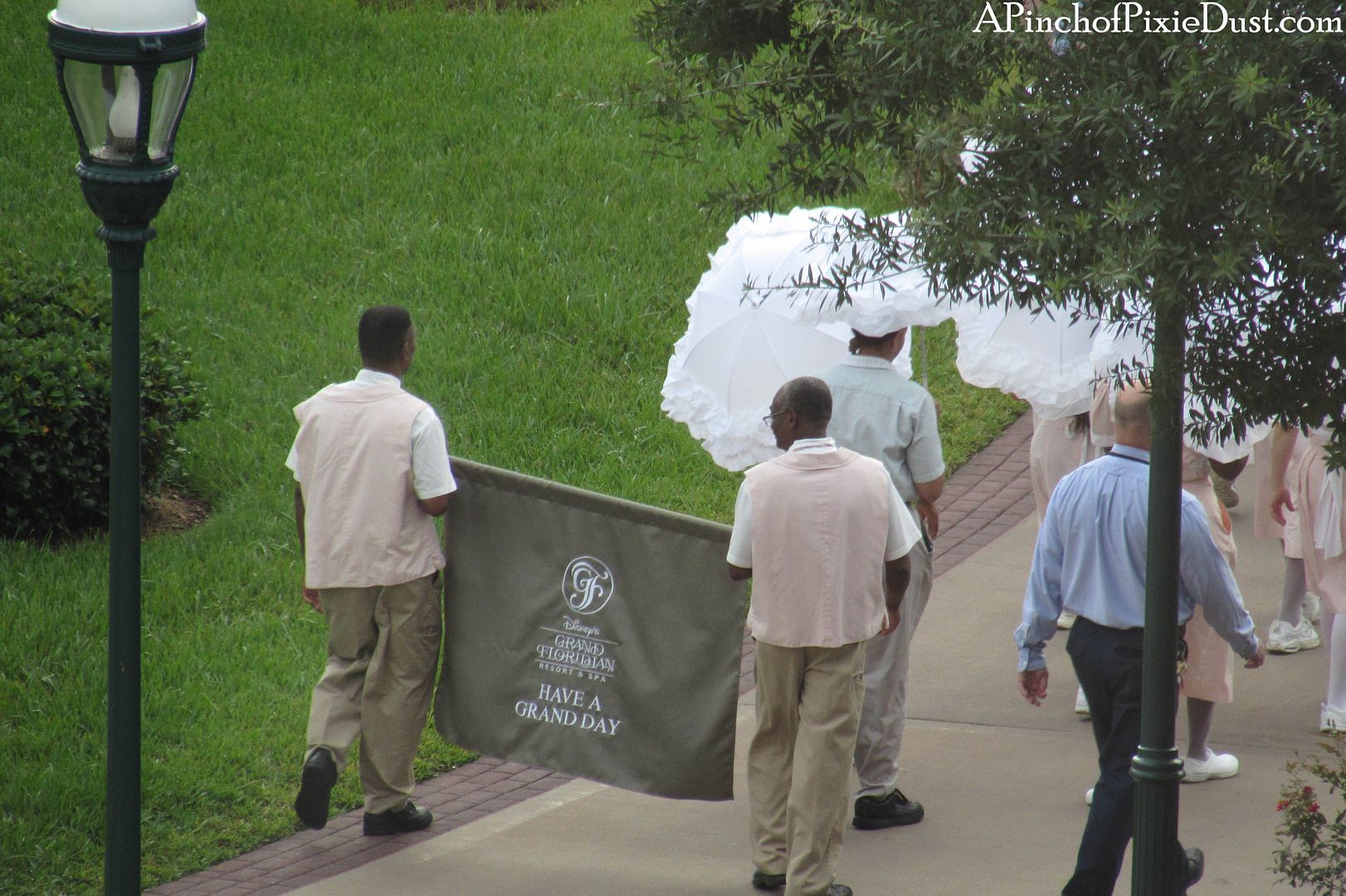 One morning I caught the
parasol parade
- this happens every Monday and Friday at 8 am.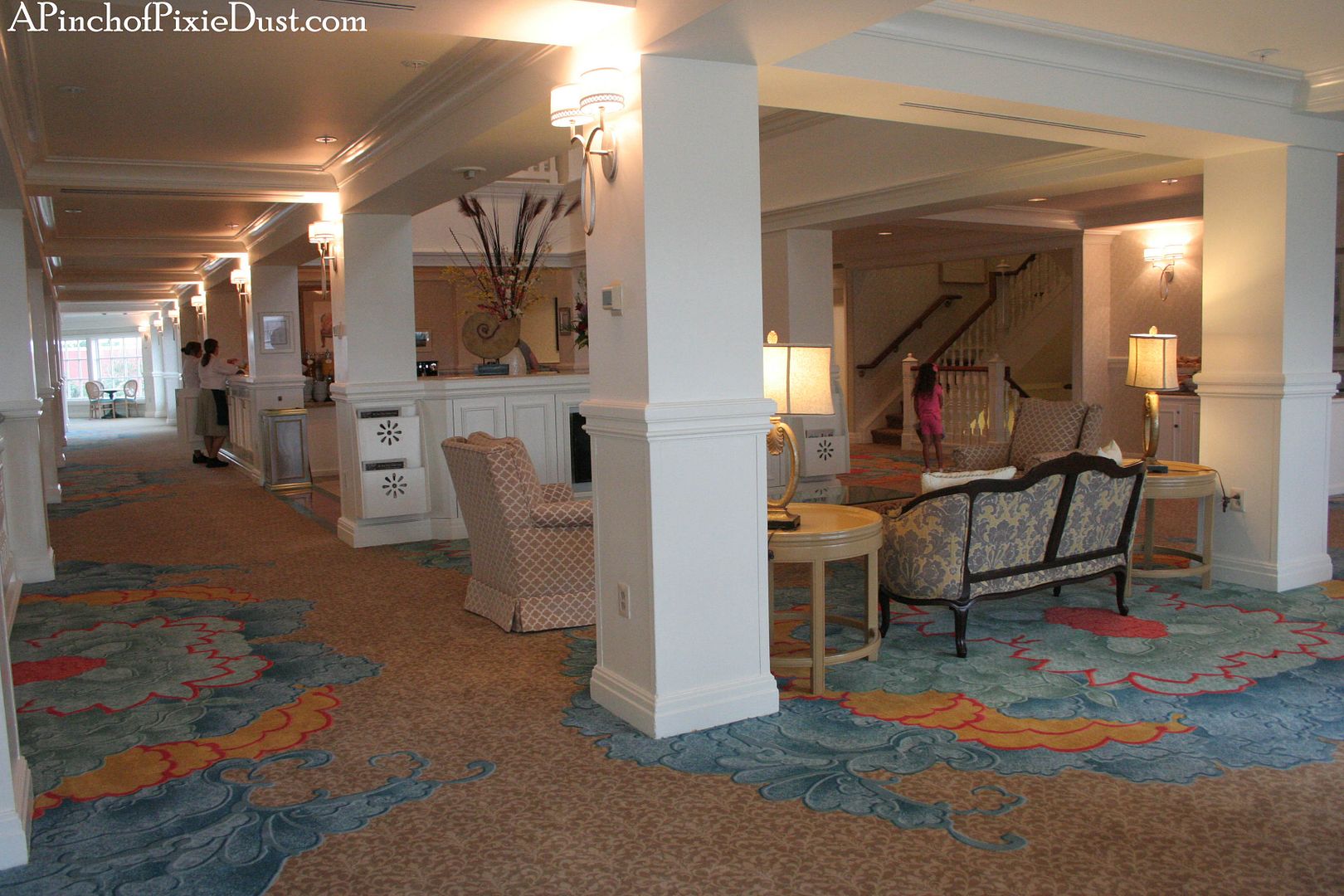 The tables by the windows are one of my favorite spots, but let's go back to the lounge proper by the elevators...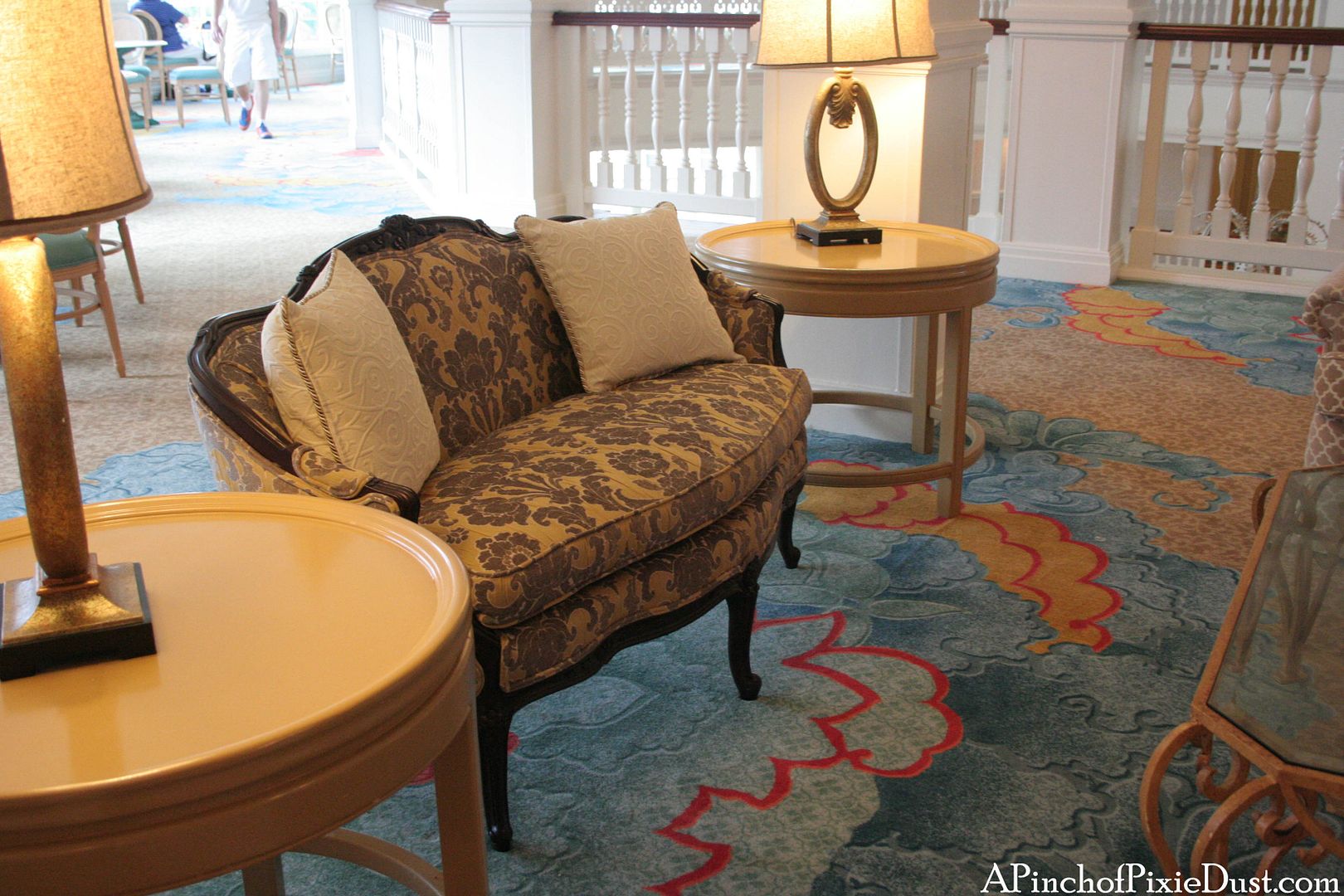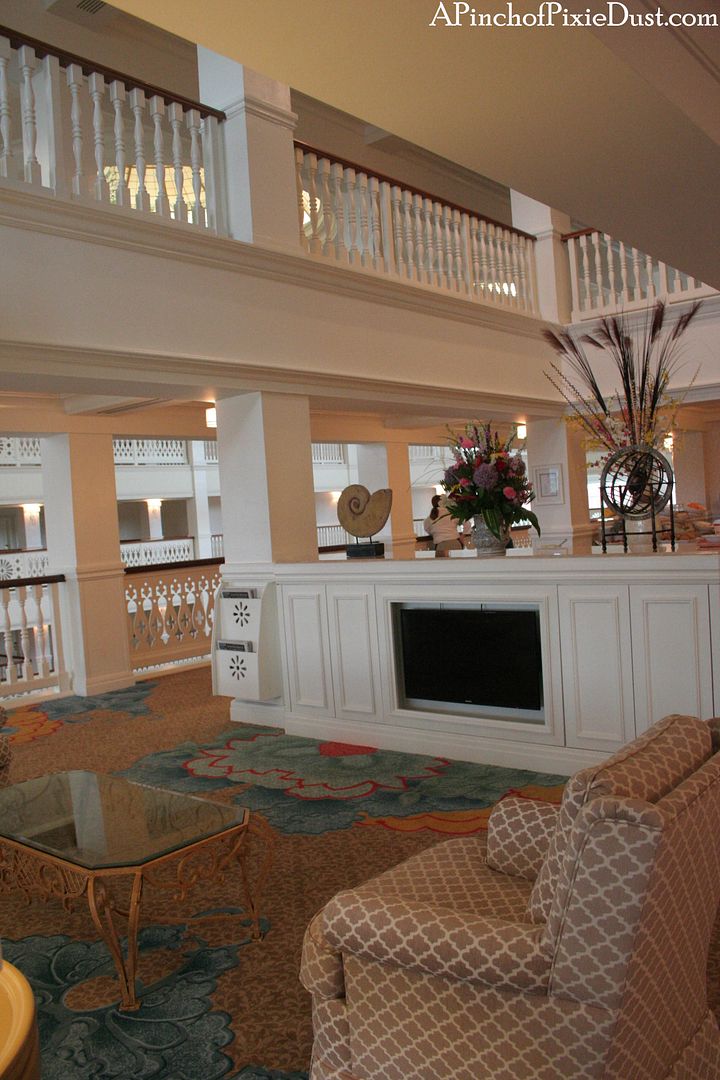 There were two maintenance managers in the lounge at one point admiring the new decor, and I overheard them talking about that couch. "It's elegant, but it doesn't look very comfortable..." I completely agree! Before there were two enormous cushy couches and chairs here. You would think they would want to add more functional seating rather than take it away.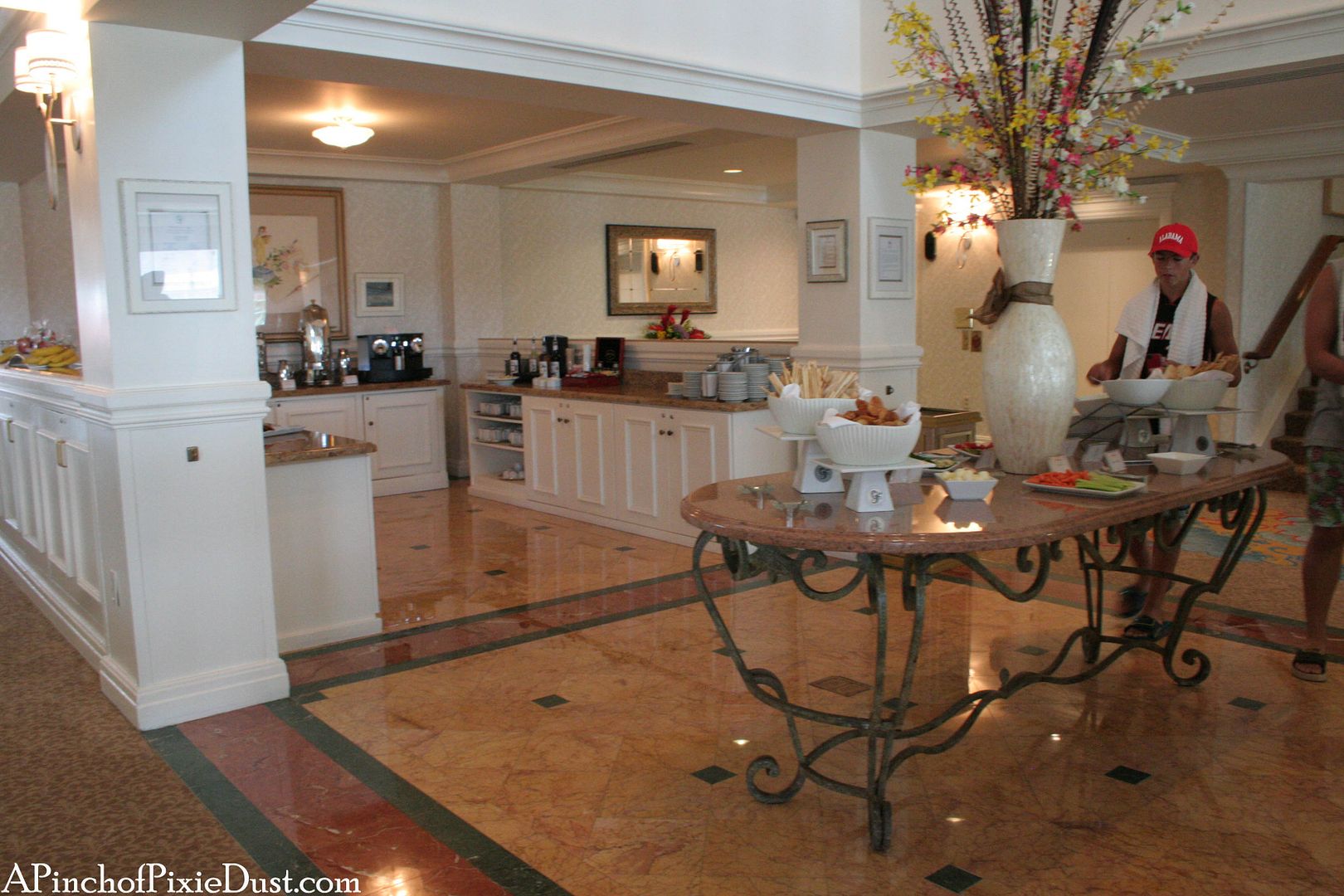 The food service area is just next to those chairs and couches and the tv. There's one big table and a U-shaped corner with counters...
Plenty of space for tasty things, and they certainly use it throughout the day!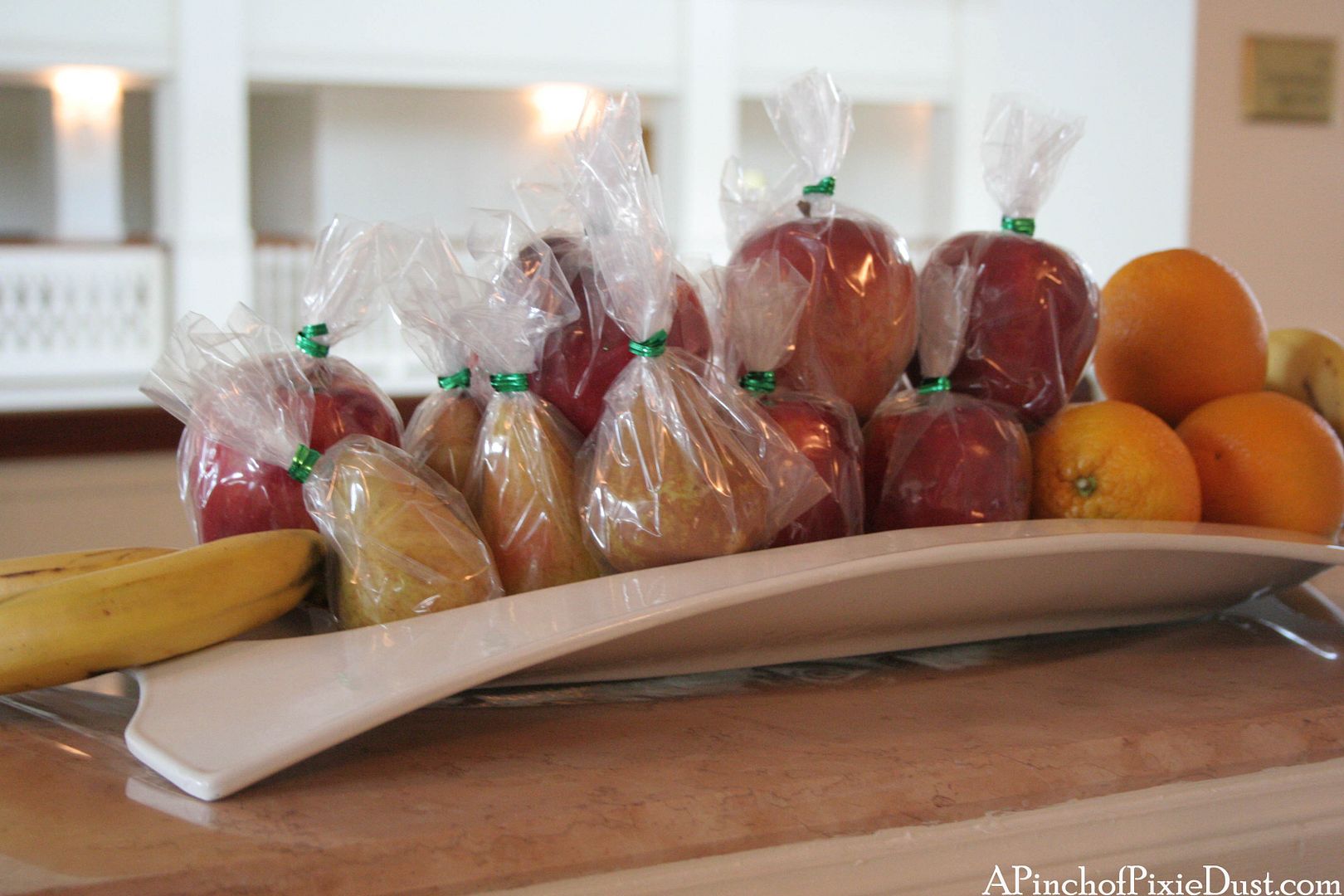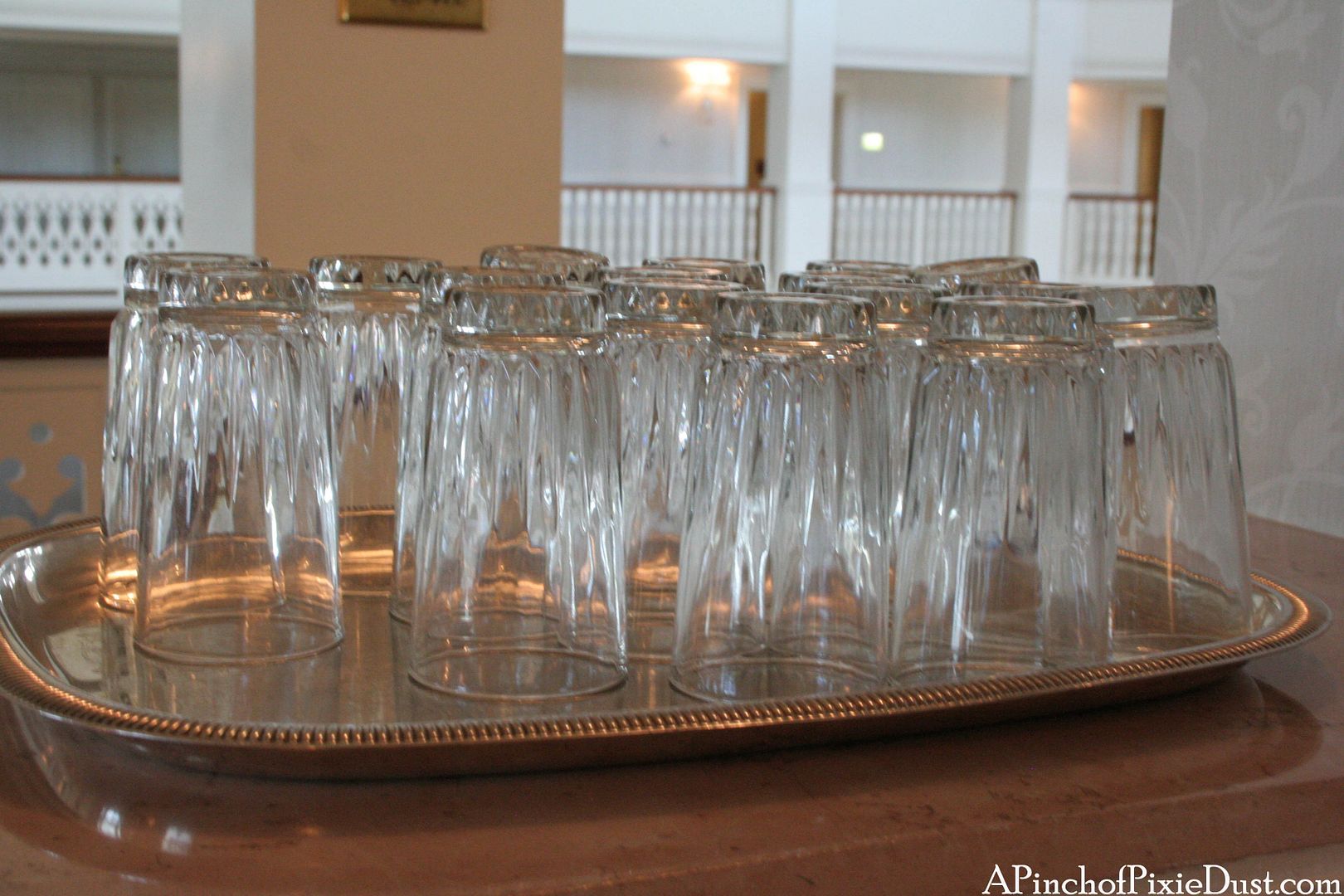 I can always tell what kind of time I had on a vacation based on how many and what totally random tiny things I took pictures of. If I wanted to remember the perfectly wrapped fruit and shining drinking glasses? Yeah, I probably had a pretty grand time.
Speaking of drinking glasses, let's take a look at the beverages! They have water, iced tea, lemonade, and the ever-delicious Disney classic pineapple orange guava juice. YUM. You'll also always find cold cans of soda pop in the fridge.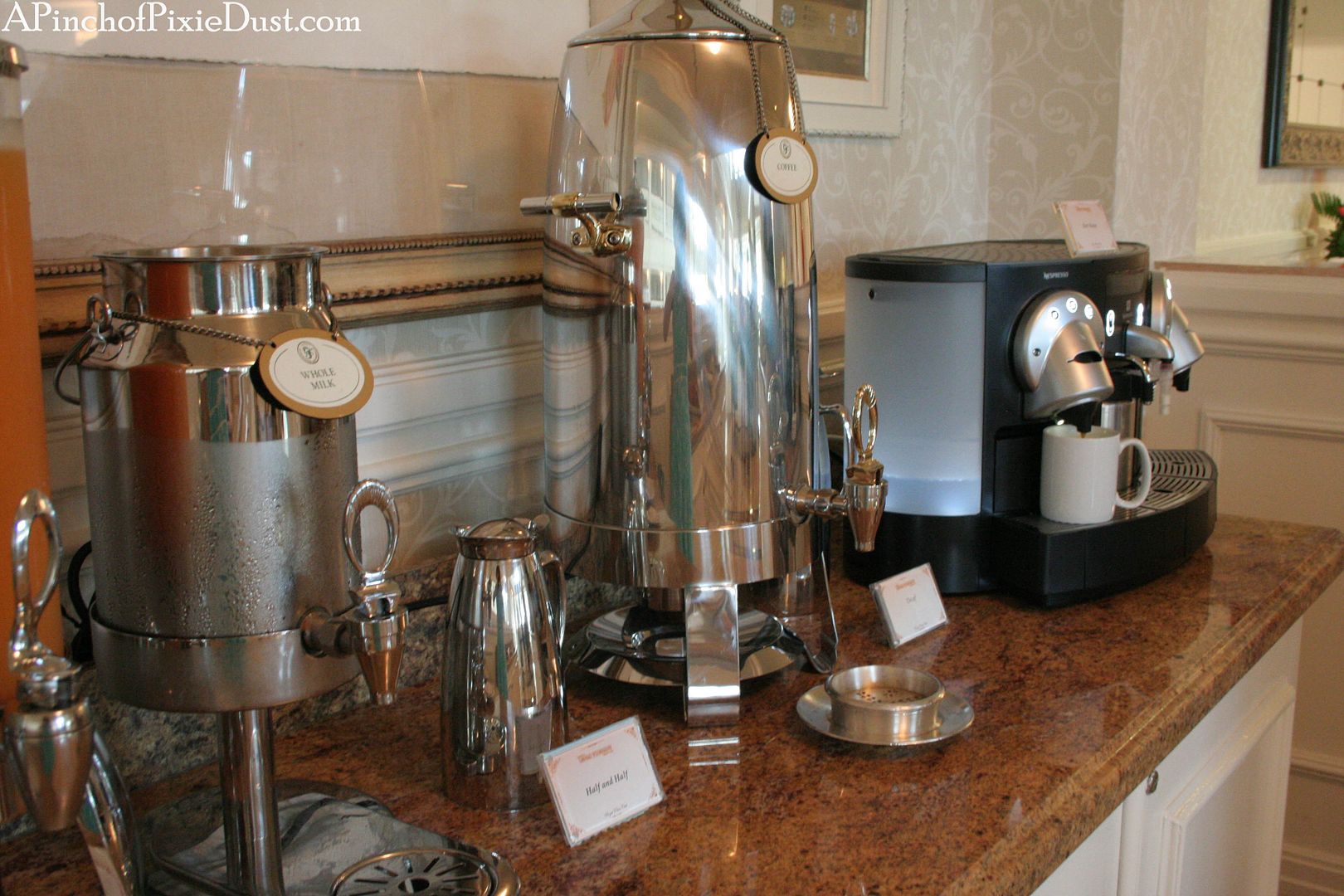 Endless cappuccinos are one of my favorite parts of a club stay. I get so much value out of it just in coffee consumption, and then you think about all the rest of the meals...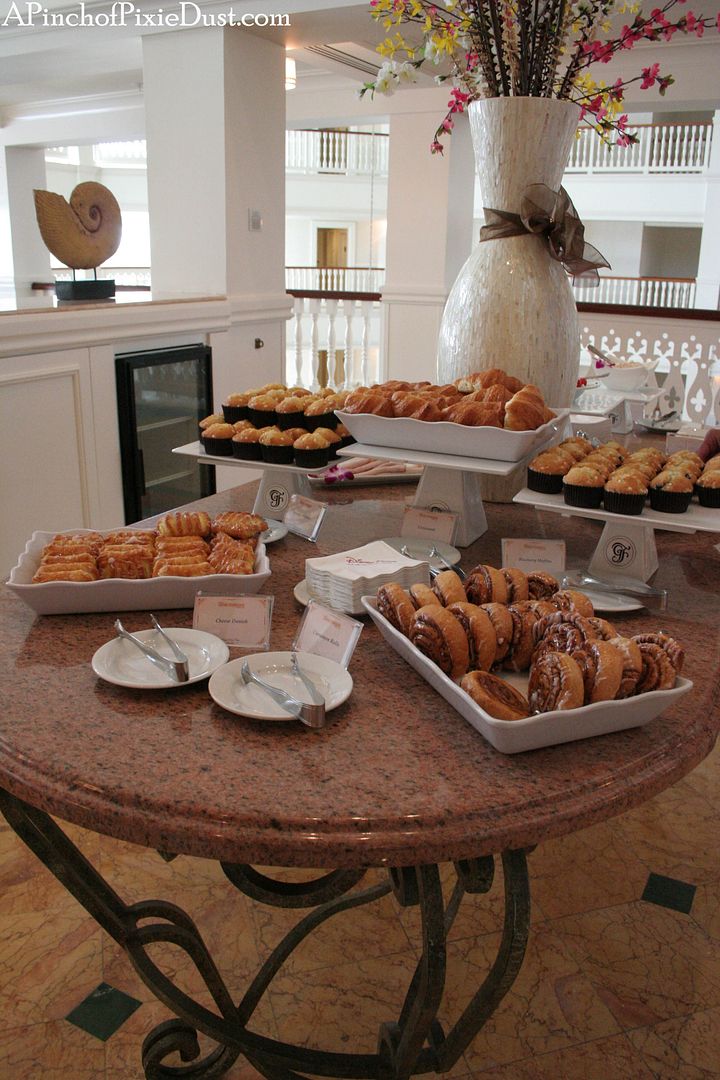 Starting with a truly stunning breakfast!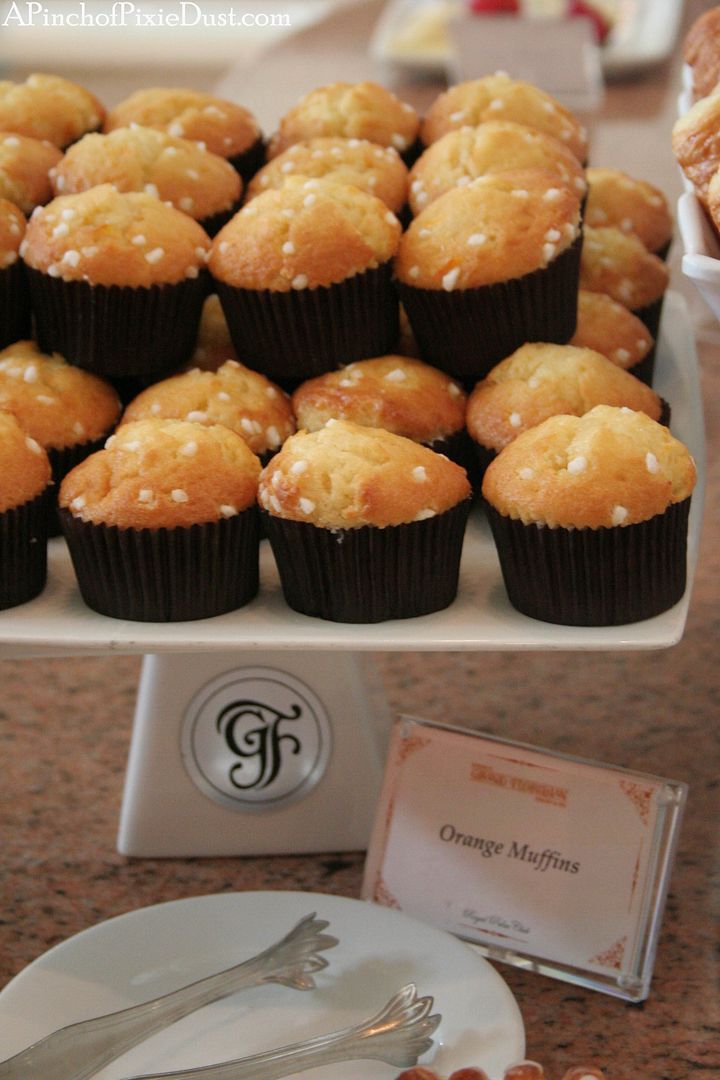 They have multiple kinds of muffins and at least half a dozen different pastries.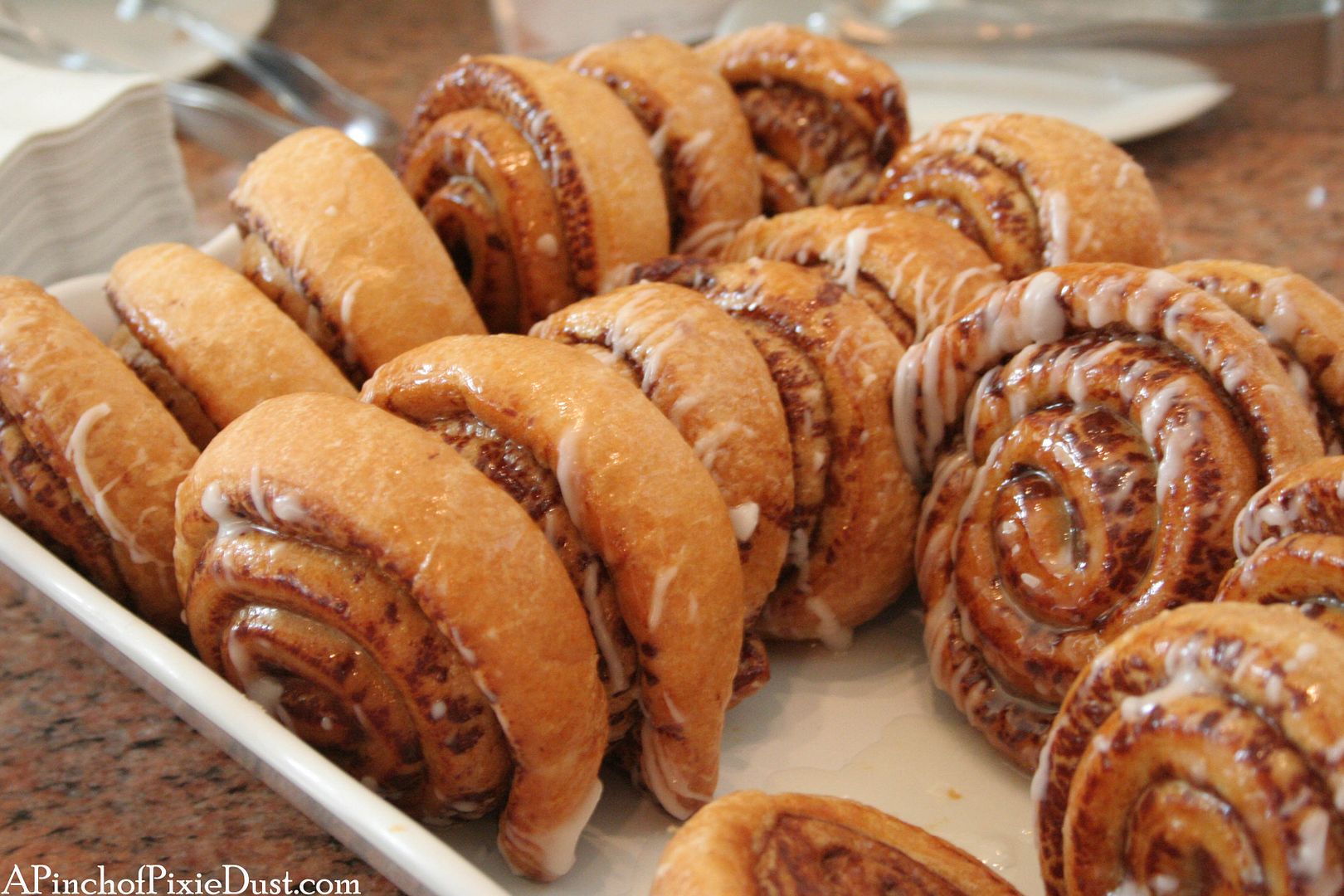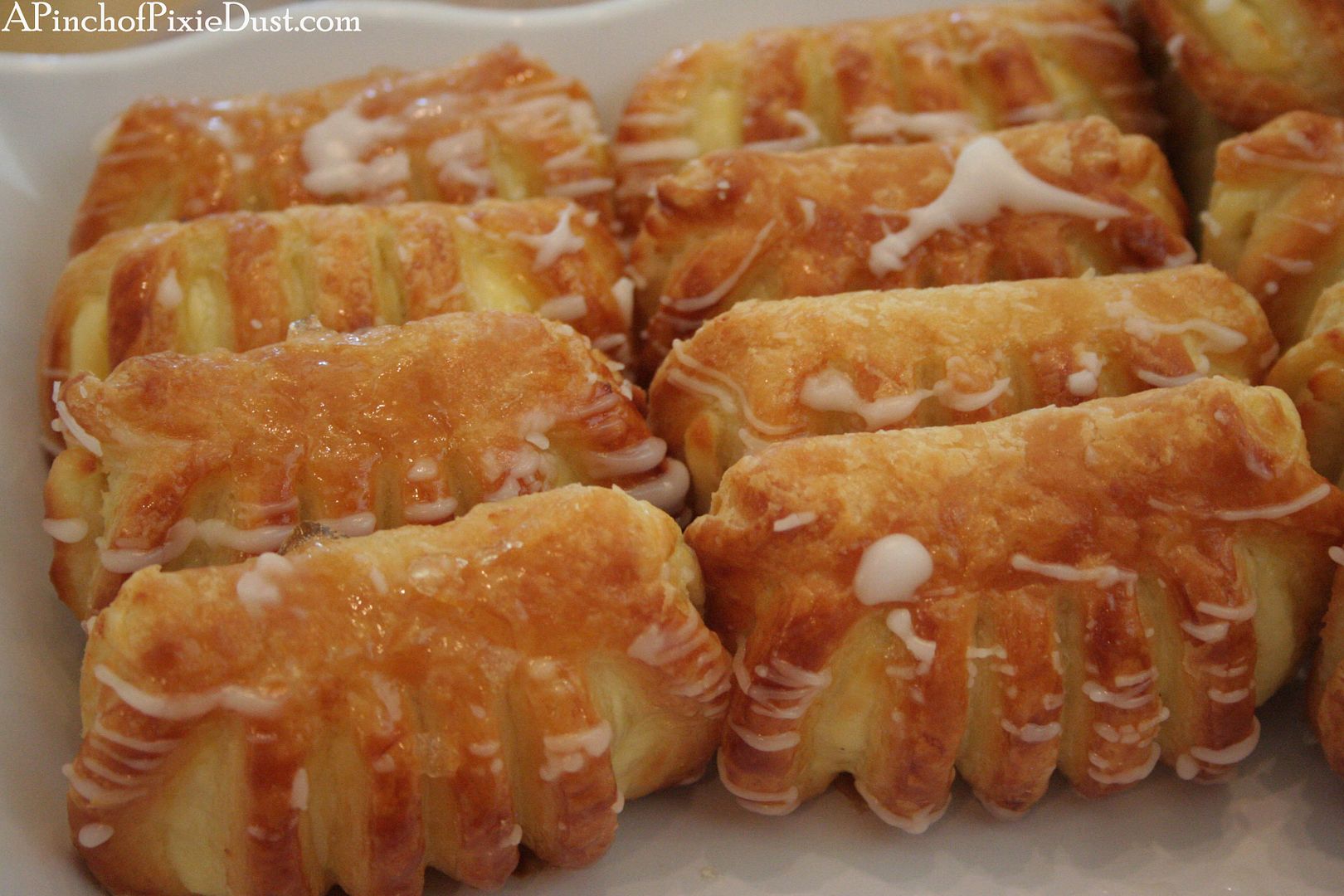 Those cheese danish on the right? AHmazing.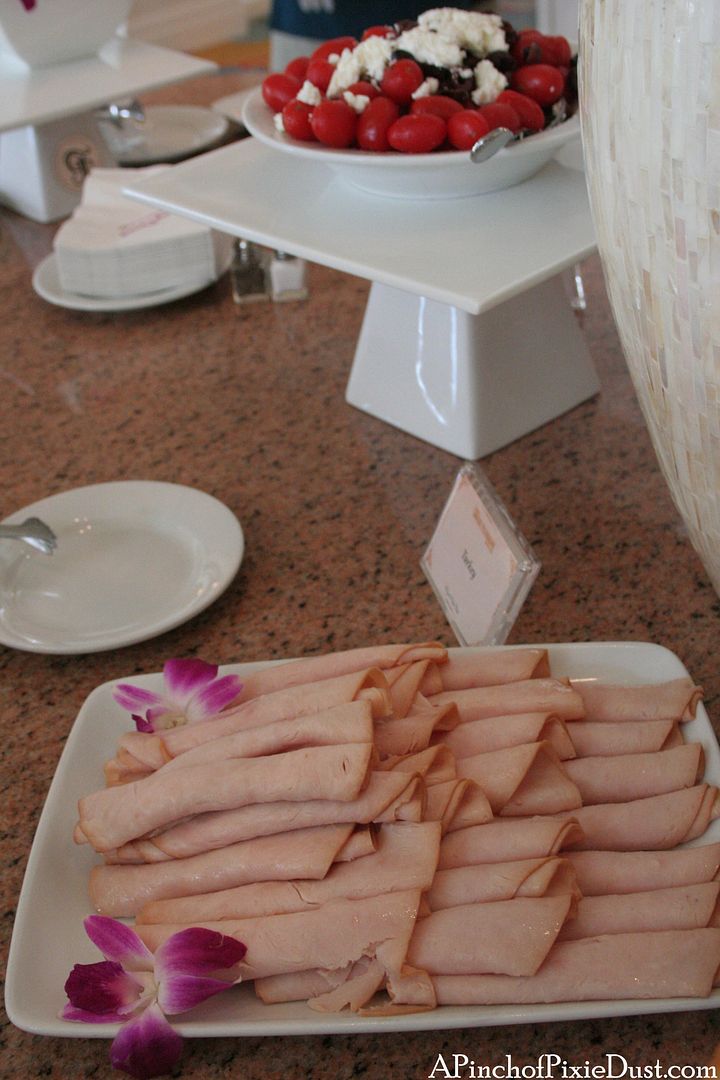 If you're feeling European, you can peruse the selection of meats and cheeses. I always love the tomato salad - who would have thought that would make the perfect morning snack? You could also snag some cold cuts for lunch later on...
There are plenty of breads and bagels to choose from! On Monday mornings they have a scrumptious brioche bread, but all the toast options are lovely.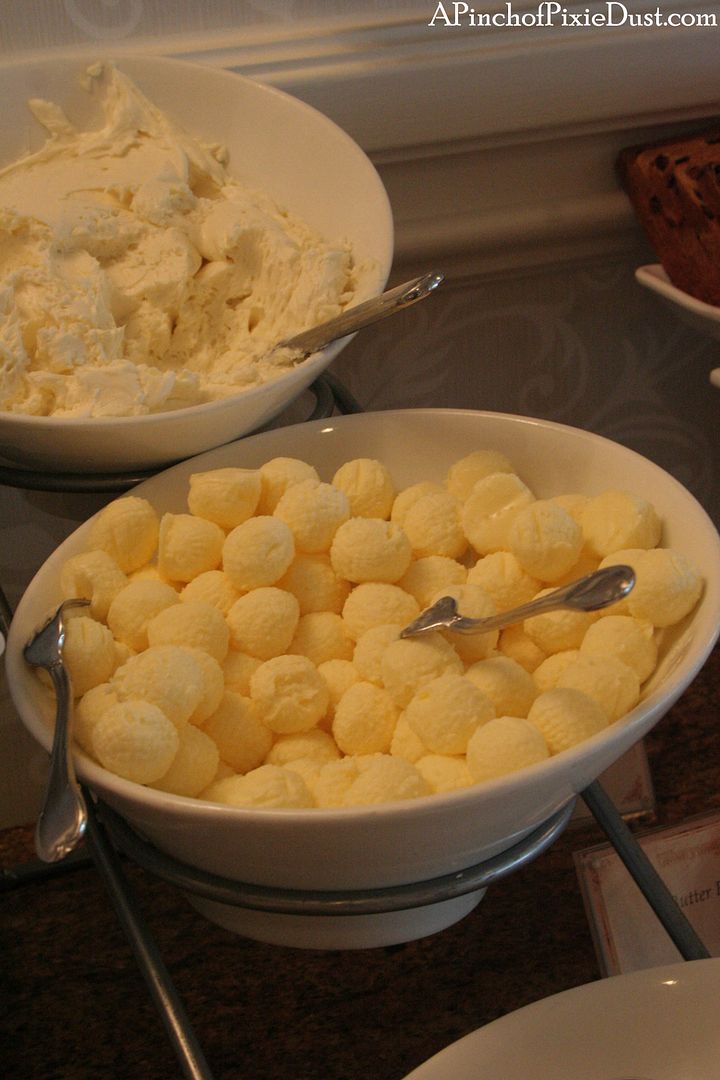 Also they have REAL BUTTER - none of that fake margarine stuff - and it comes in cute little scalloped balls. Never underestimate the importance of real butter.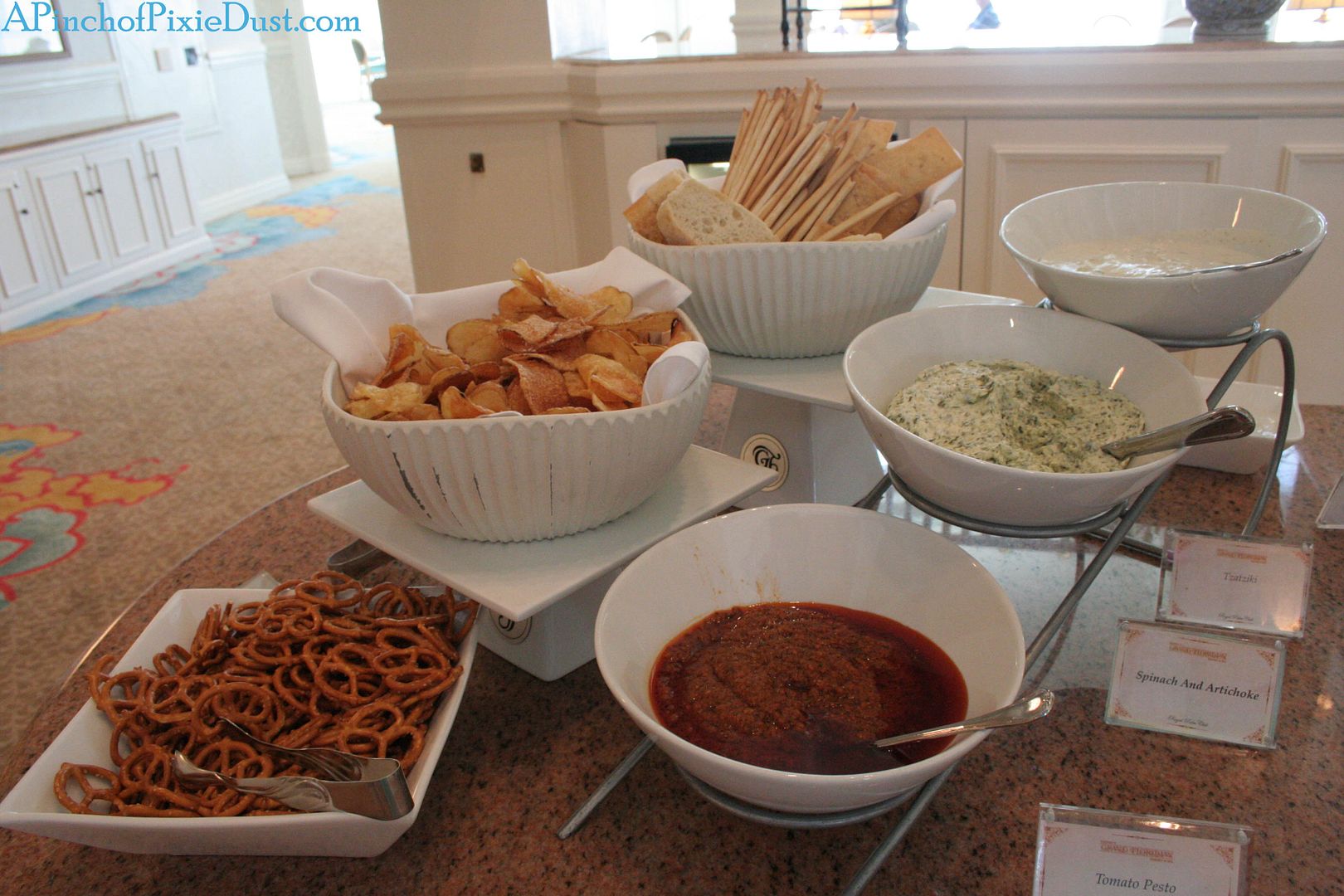 Breakfast ends at 10:30. Here are some of the afternoon snacks that come out at 11:30 - bread, crackers, pretzels, chips, tomato pesto, spinach and artichoke, and tzatziki dips. Not pictured, but they also have cold veggies like carrots, asparagus, brocolli, squash, and cherry tomatoes.
I'm trying not to overwhelm this post with food photos, guys...but seriously, how delicious do those potato chips look?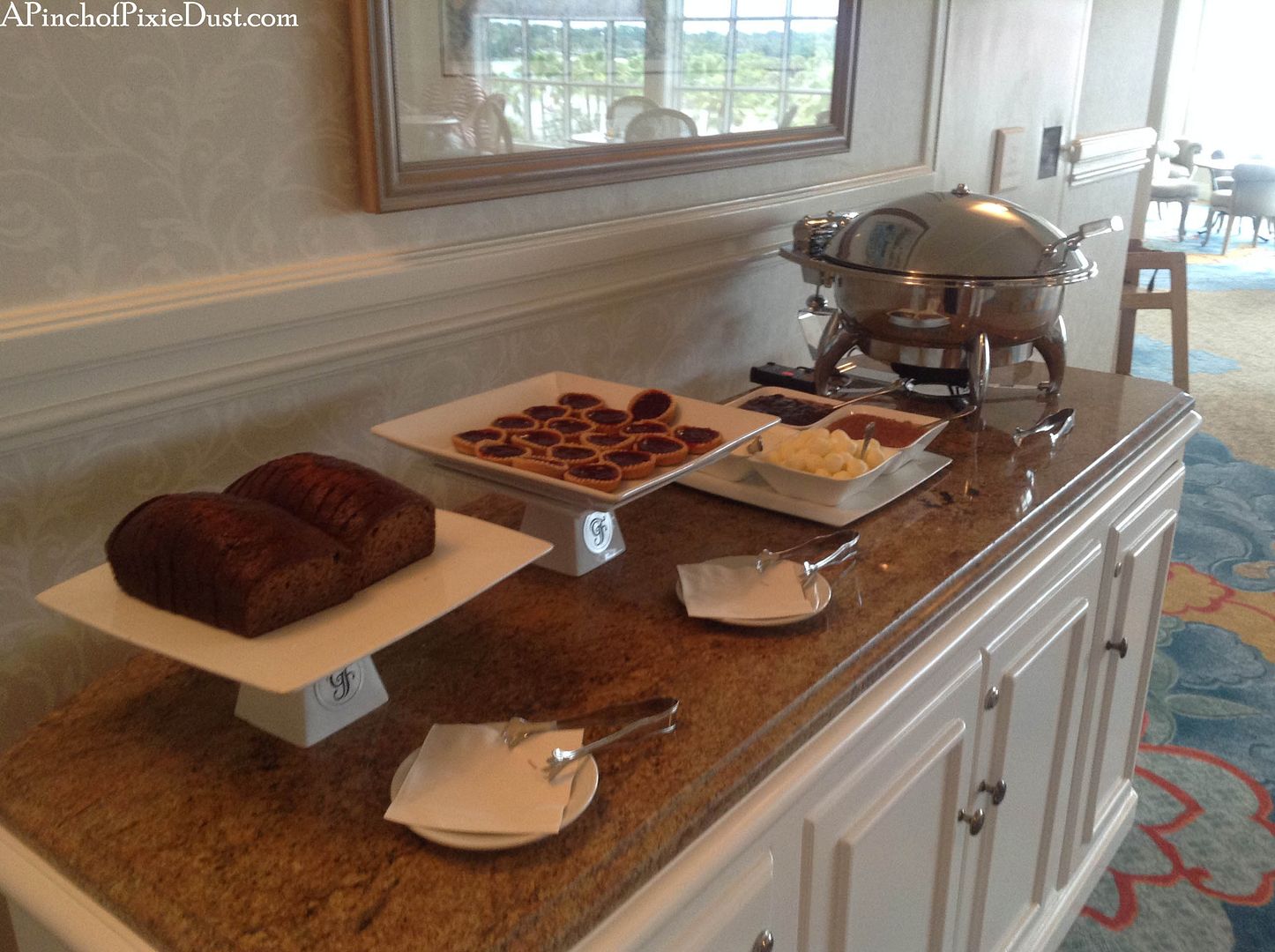 The savory snacks are out until 3:30, but at 2:30 they're diversified by some sweets. Shall we have some afternoon tea?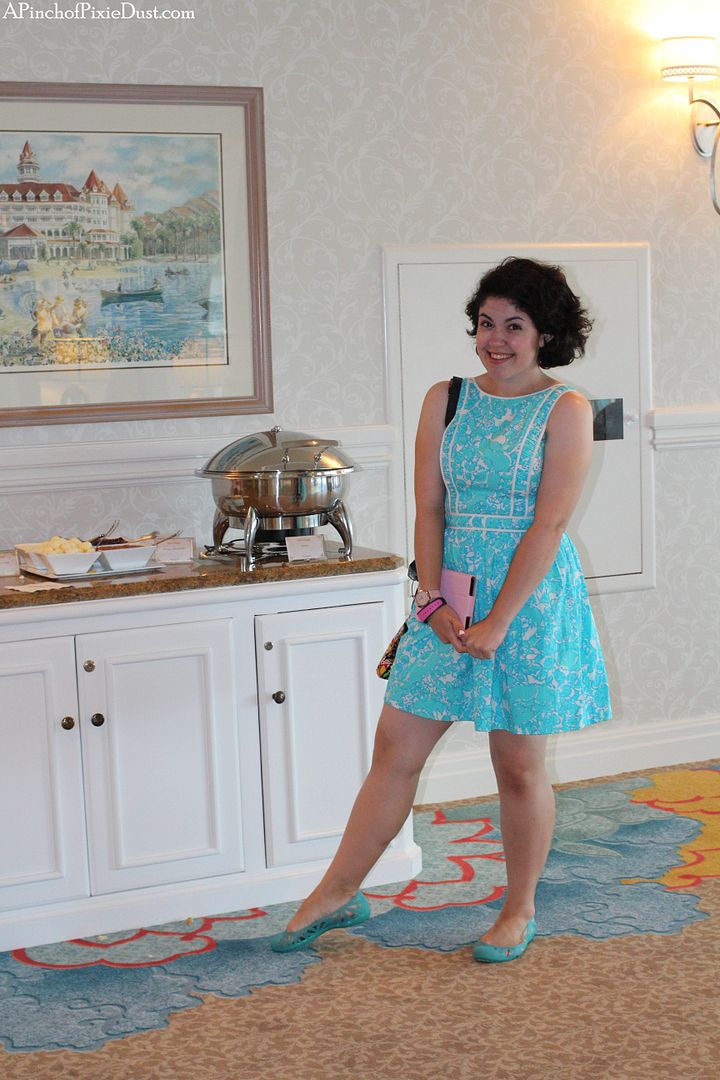 Yes, let's have some tea.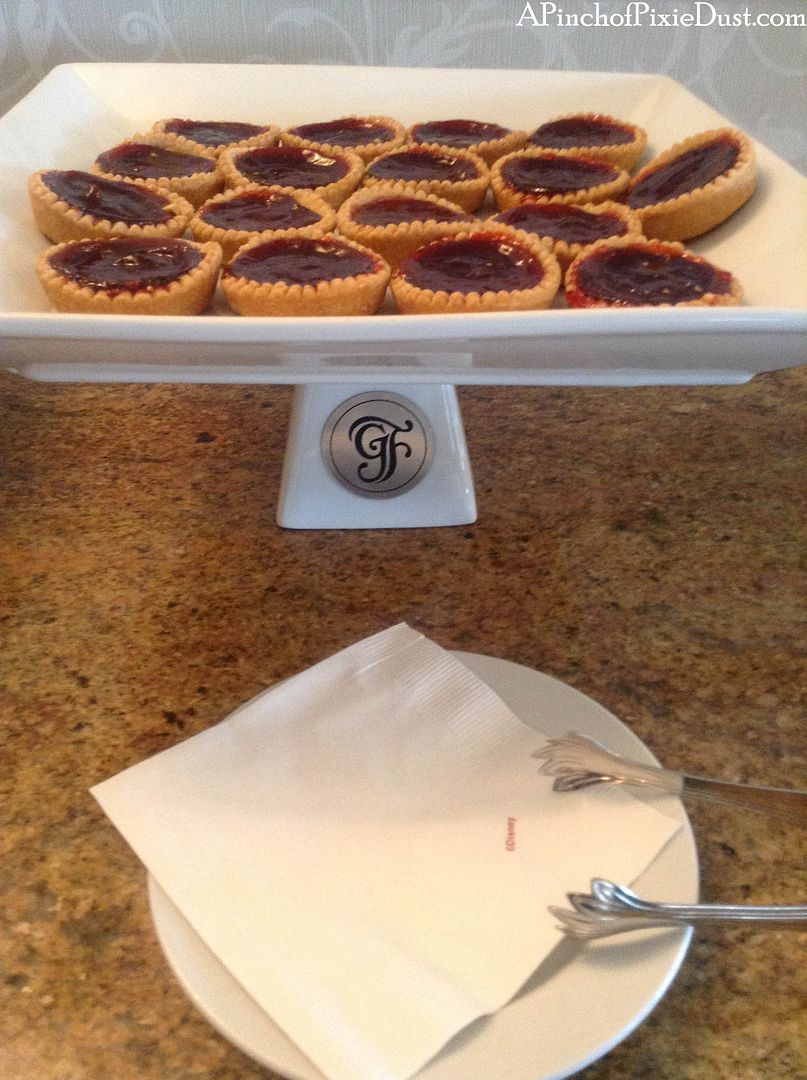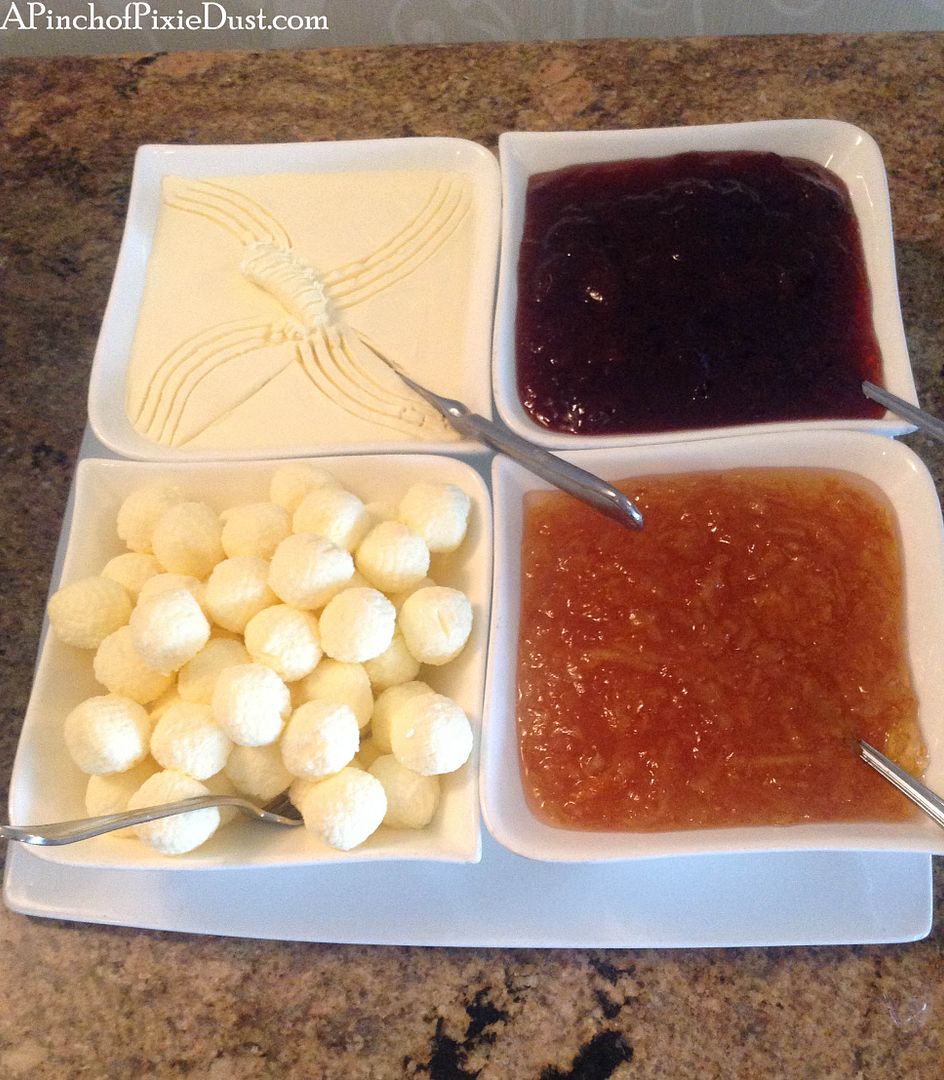 It's like going to the
Garden View Tea Room
, only you can take as much of everything as you want. Some days they have jam tarts; some days they have a lovely bowl of trifle.
They always have scones and devonshire cream. :)
I always wish I could pack an extra stomach when staying at the Royal Palm, because there's something wonderful out to eat at almost every moment of the day. After tea I'll take a stroll around the grounds, maybe even over to the Polynesian, to ensure that I have an appetite for the "Twilight Refreshers" which begin at 5...
They call it appetizers. It's basically a huge appetizer buffet, so I call it dinner. There are even tiny bowls of soup - that's gazpacho in the photo, but I have also seen strawberry soup here!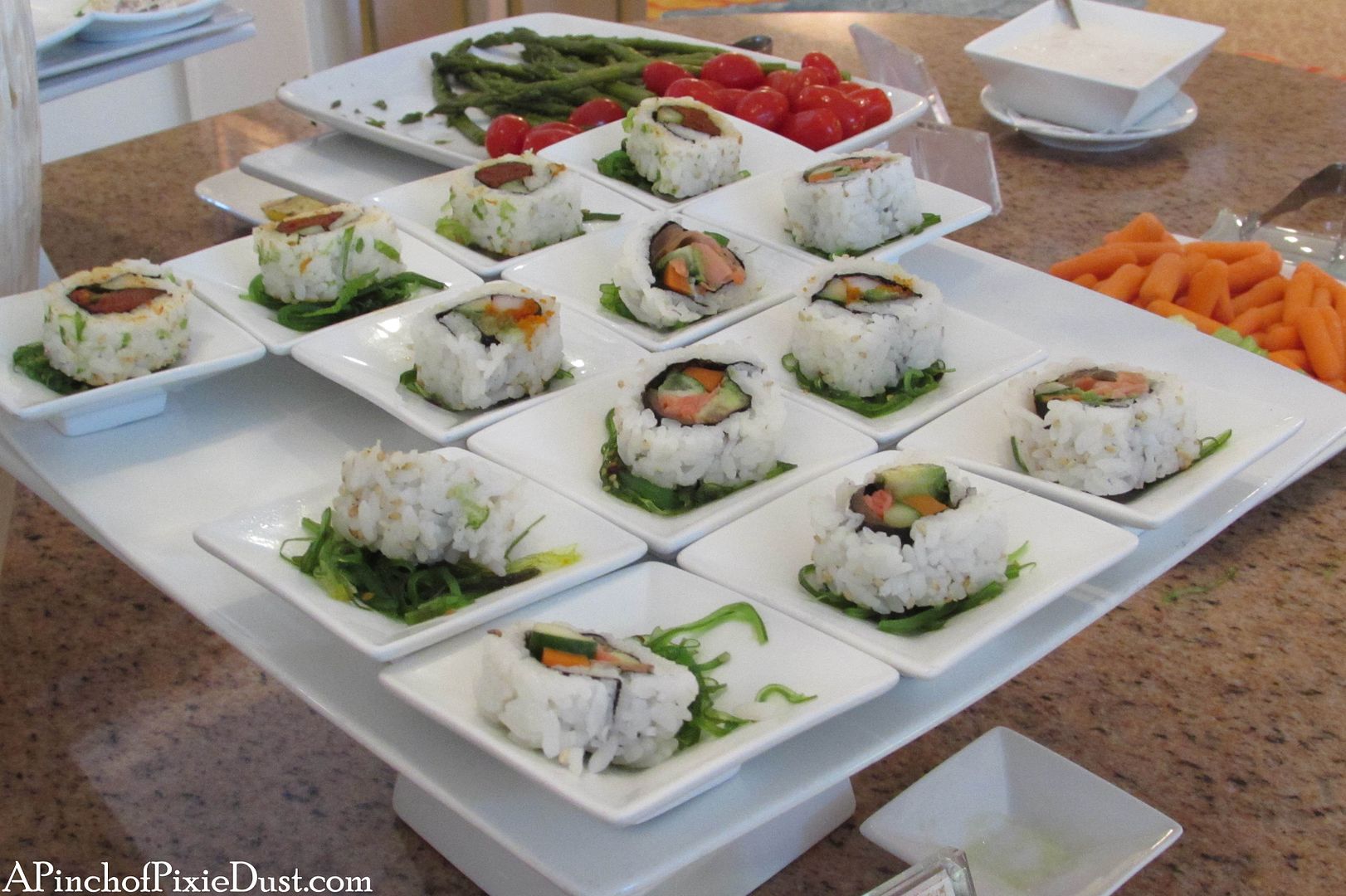 Every night there are three or four cold dishes set out on the main table.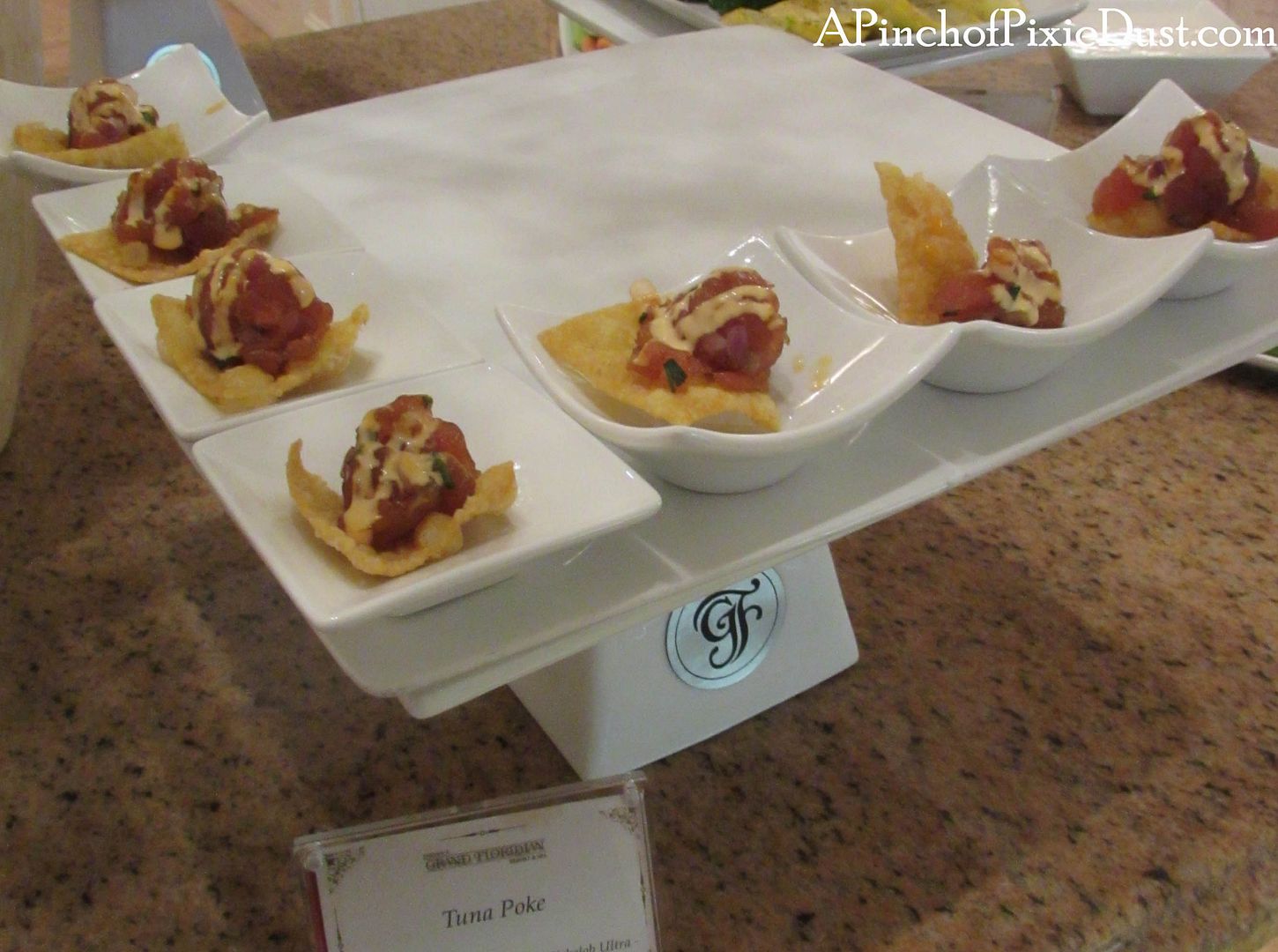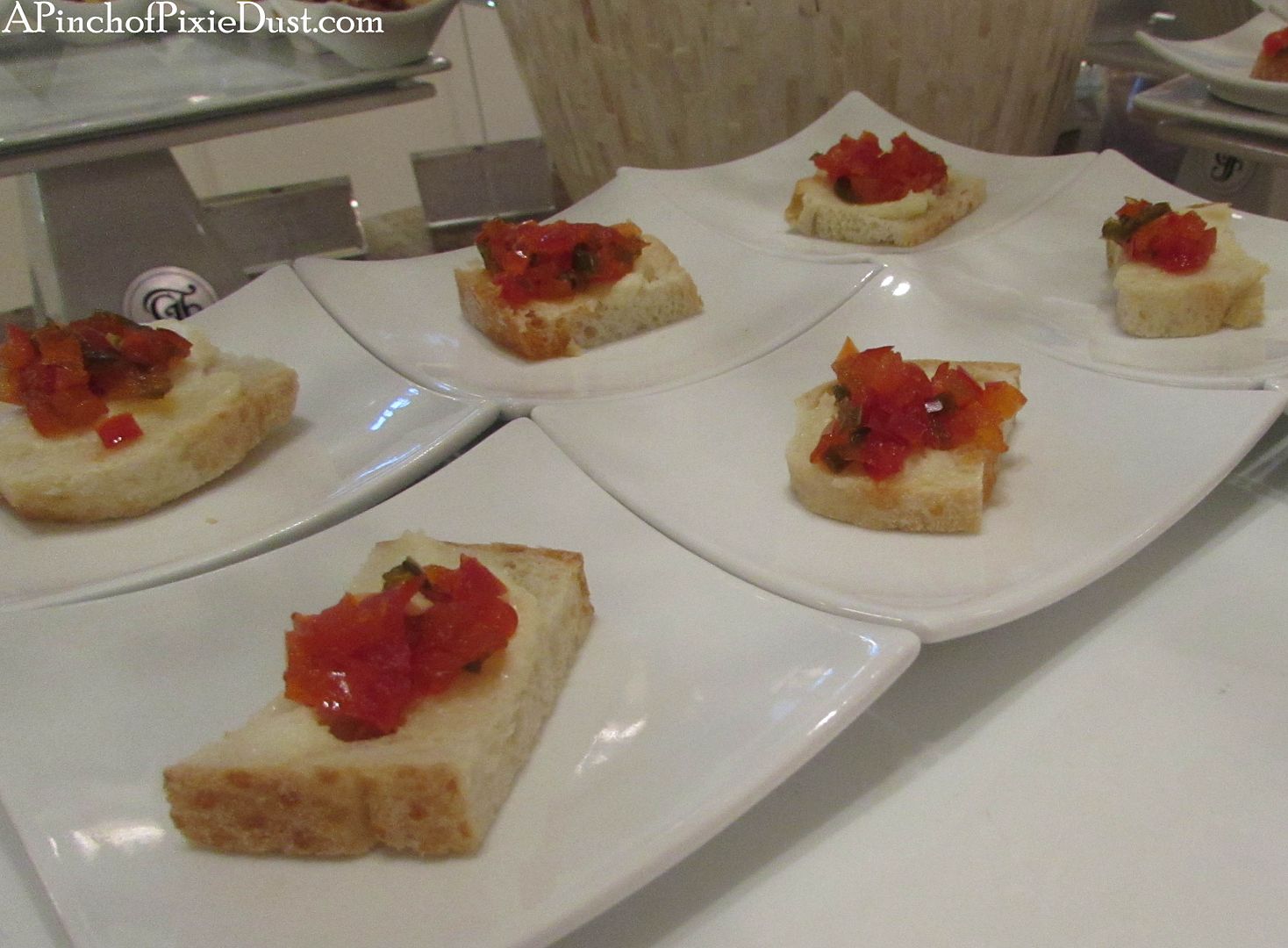 On the left is tuna poke, which I did not expect to like...but I LOVED it! On the right is pepper jam with brie...delish.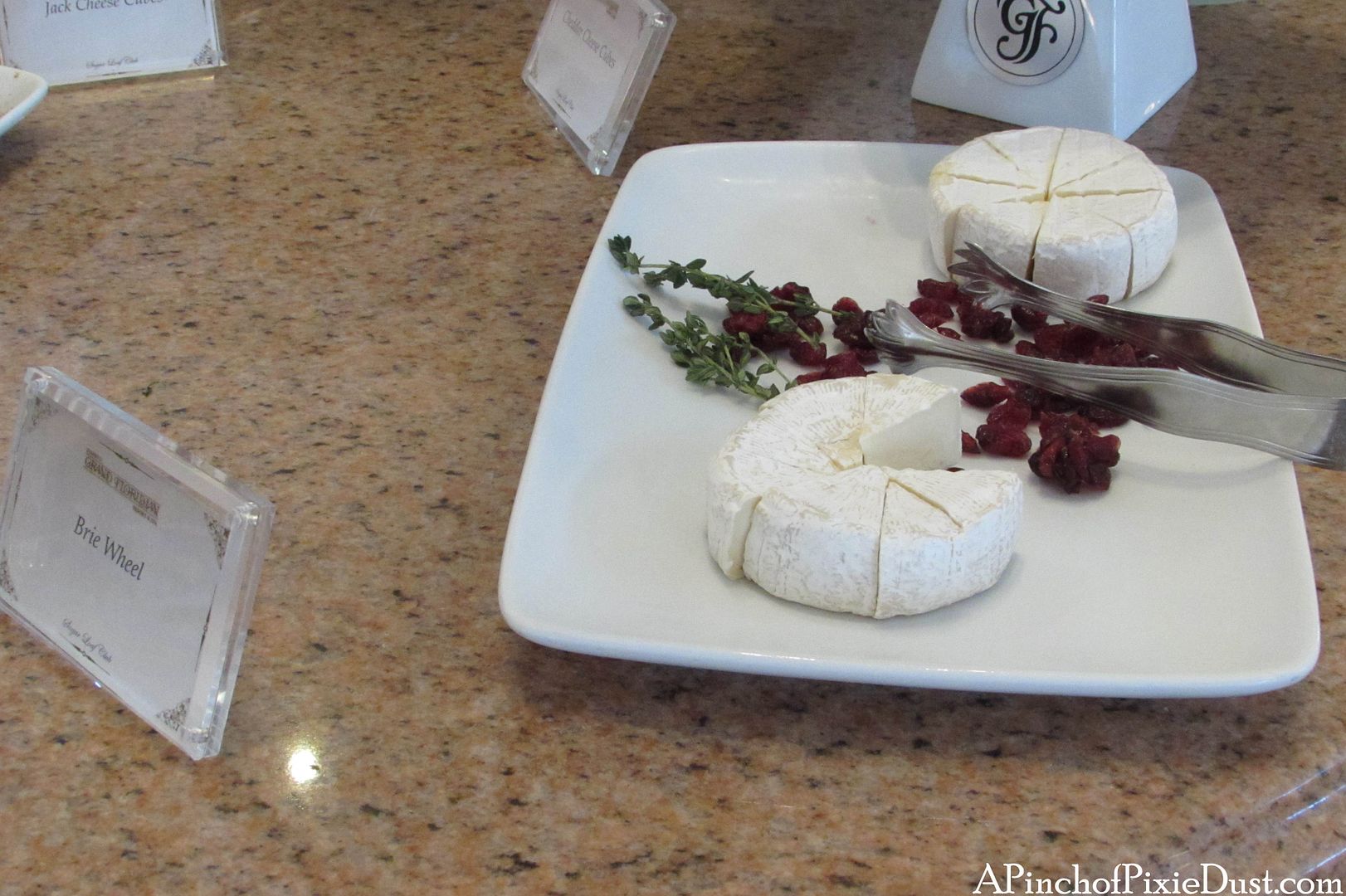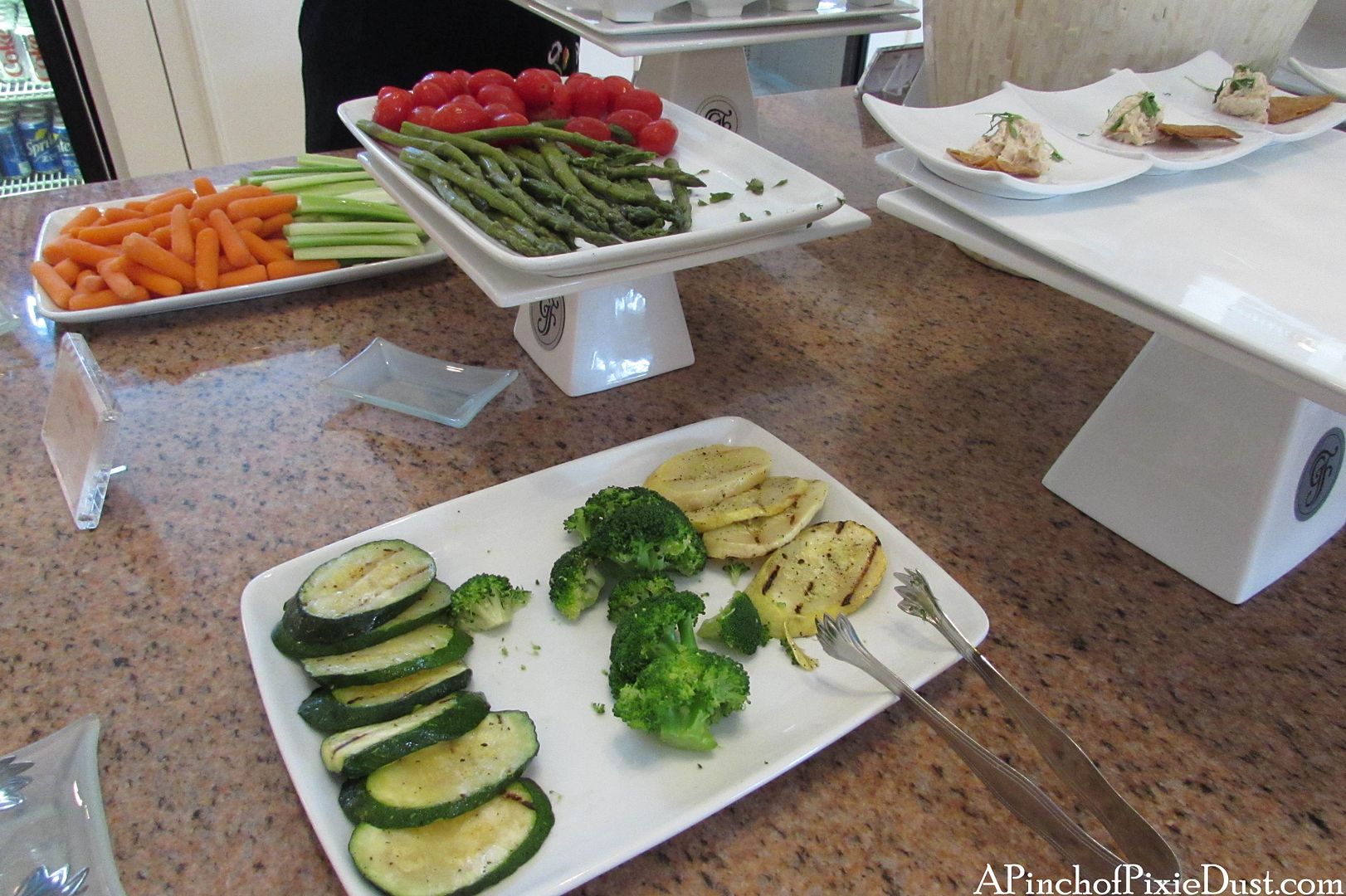 You'll also find fancy cheeses and crudite.
Also amazing bread with amazing garlic herb butter.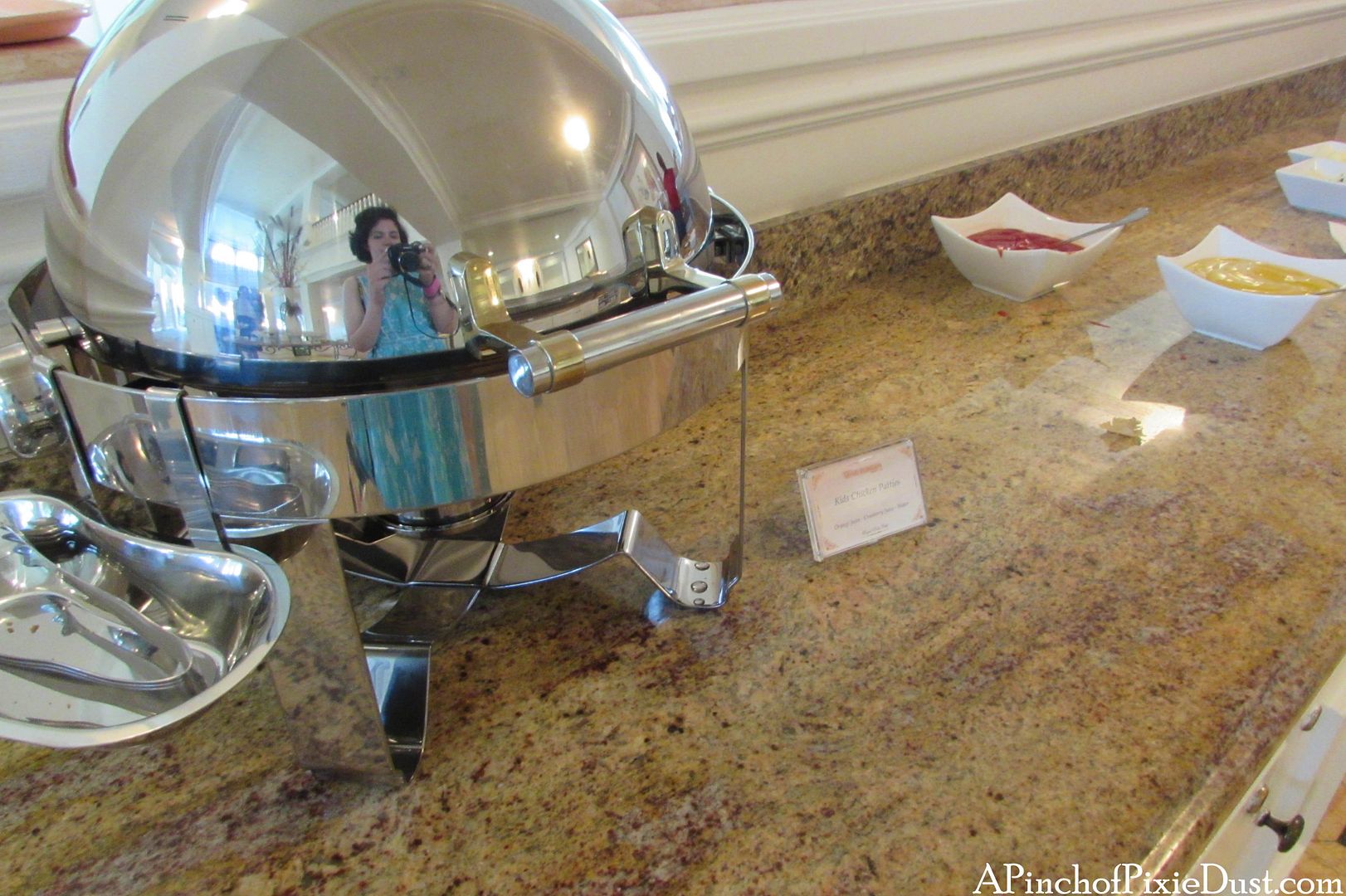 The kids have a station with pb&j and one hot item, like chicken nuggets. On our second night they had fried macaroni and cheese!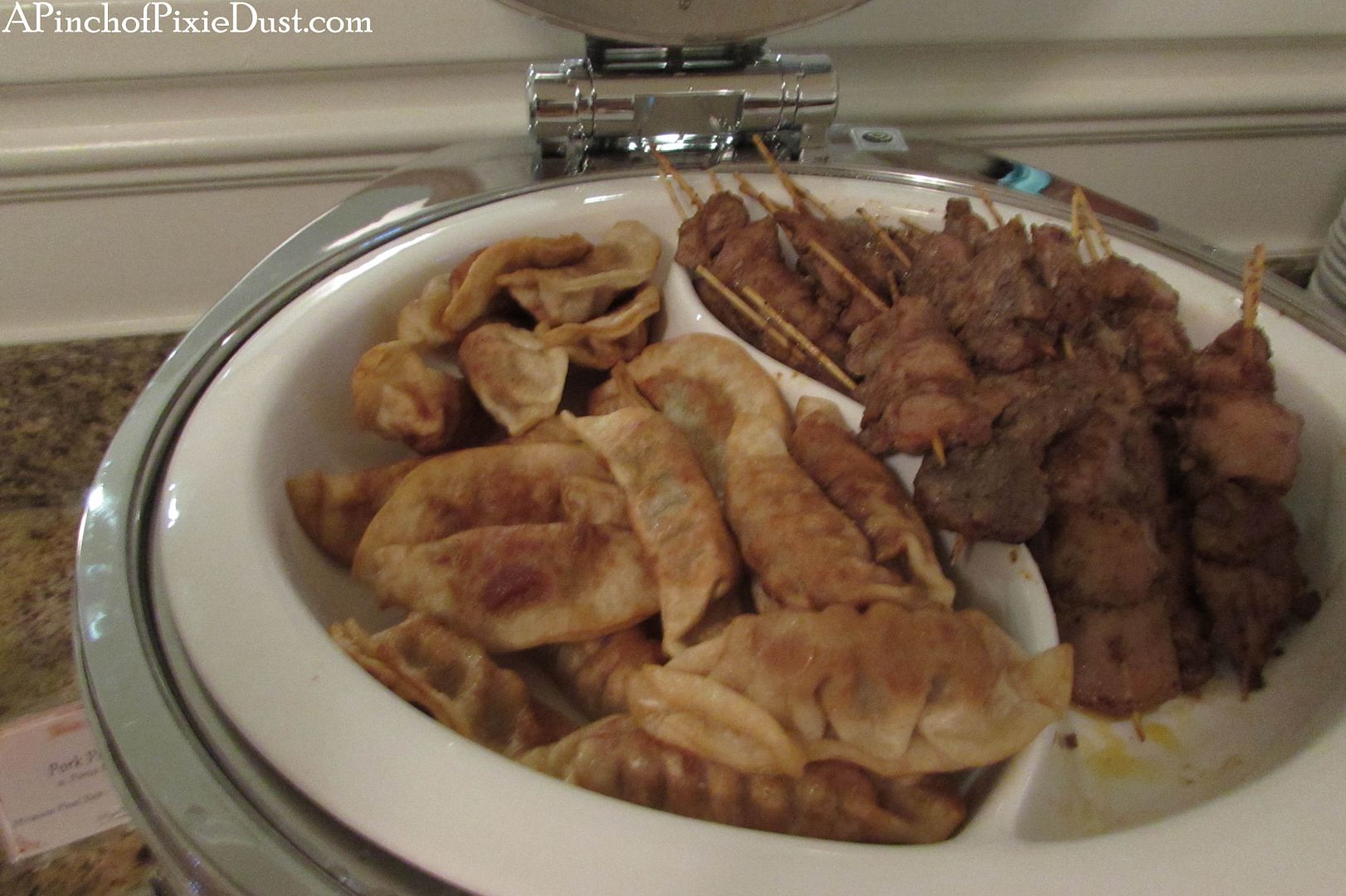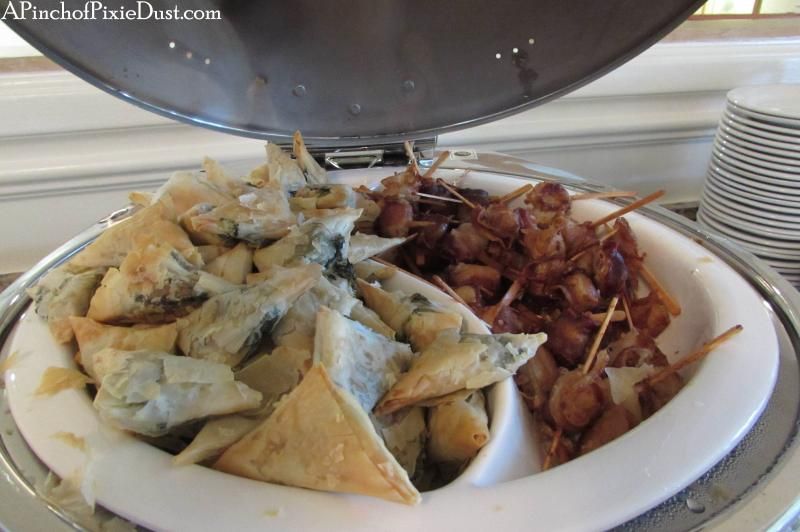 There are two more hot appetizers on the other side of the buffet. Here are the trays from two different nights - pot stickers and beef skewers one night, spinach pie and bacon-wrapped chicken the next!
It is absolutely imperative that you get hungry yet again after the appetizers end at 7...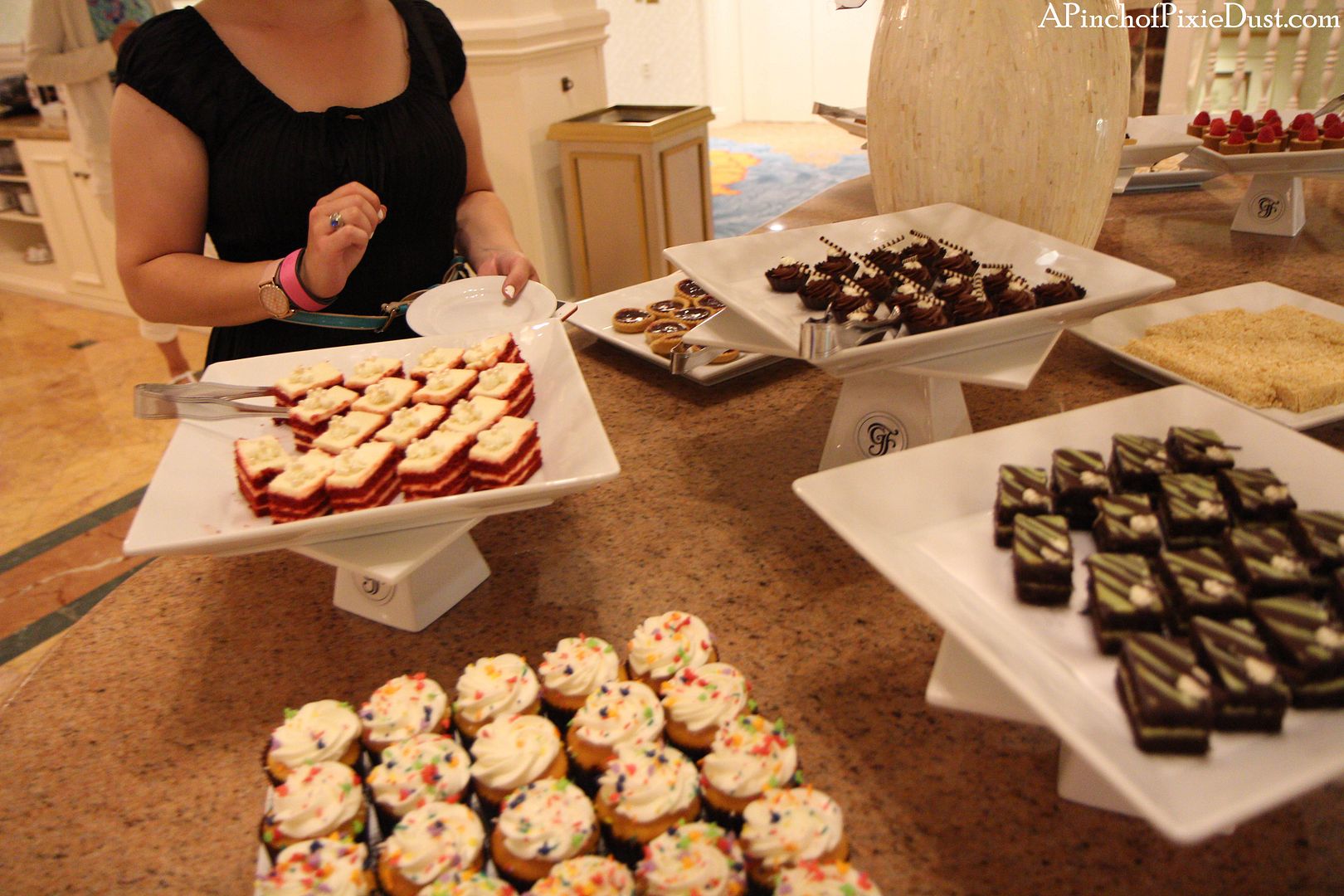 ...because the desserts start at 8! They do go til 10pm, but the good stuff can run out, so get there early.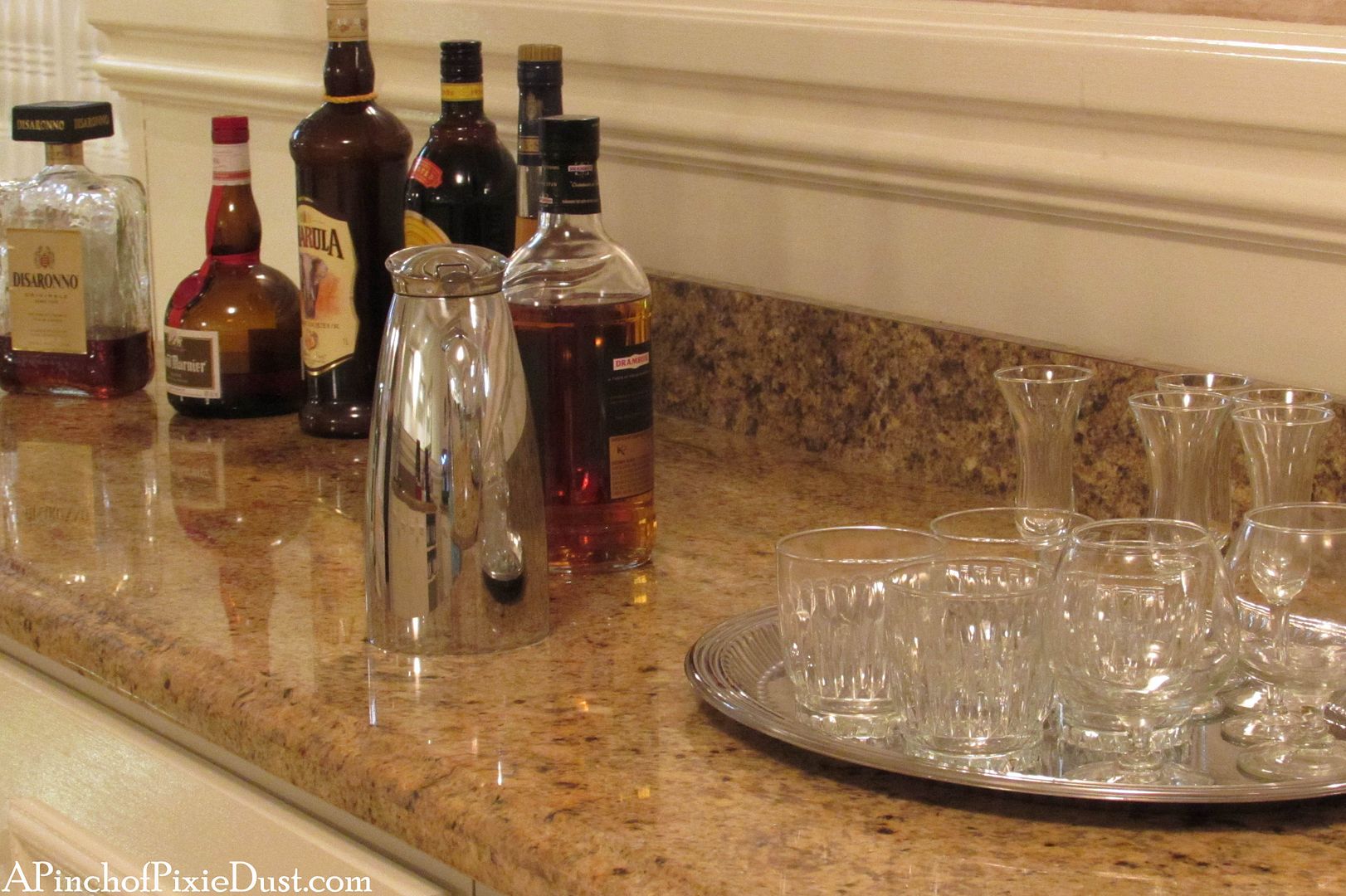 I forgot to mention - you'll find wine, beer, and champagne out with appetizers and various liqueurs and cordials with the desserts.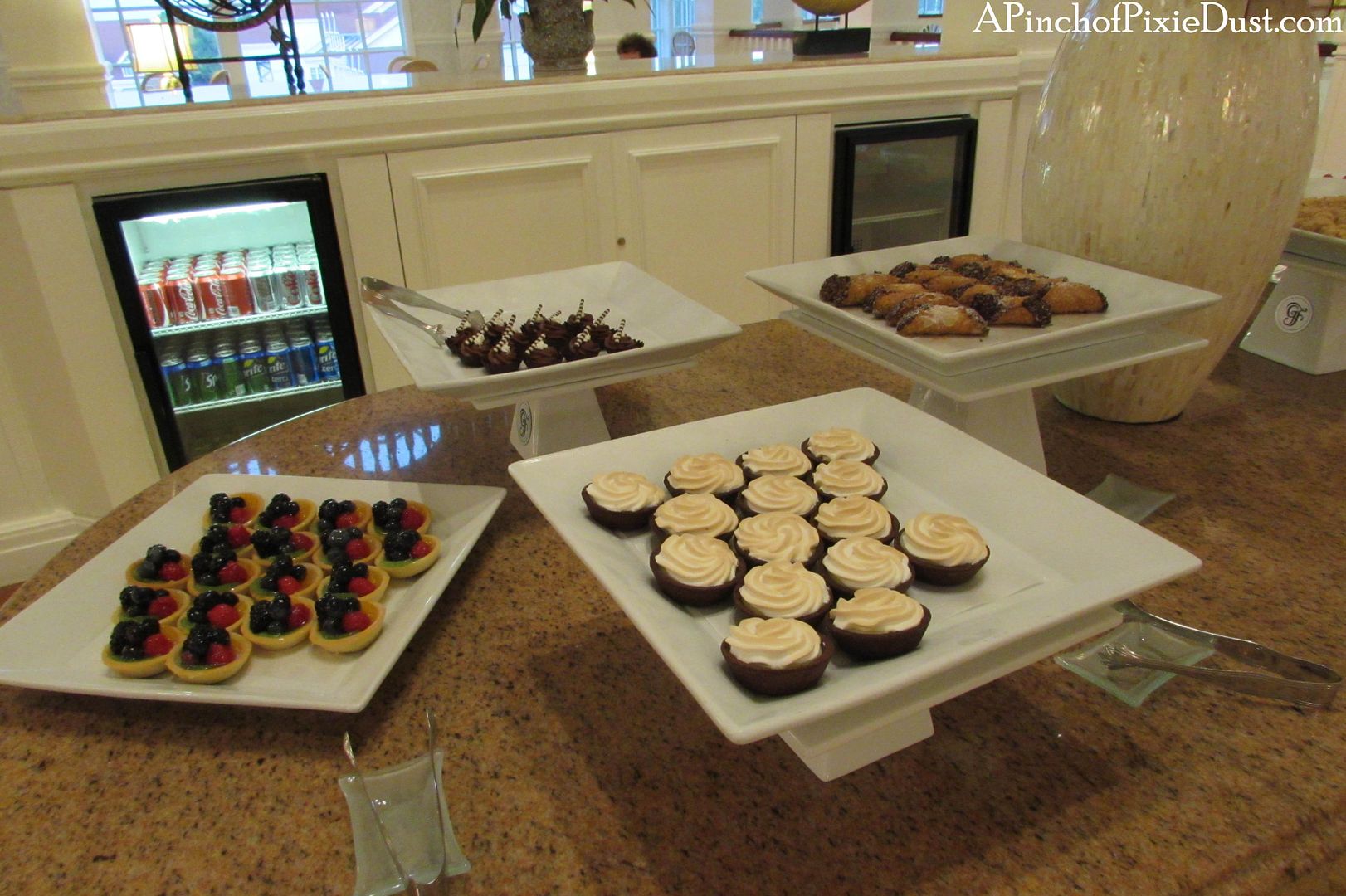 Personally I'm more interested in the chocolate. ;)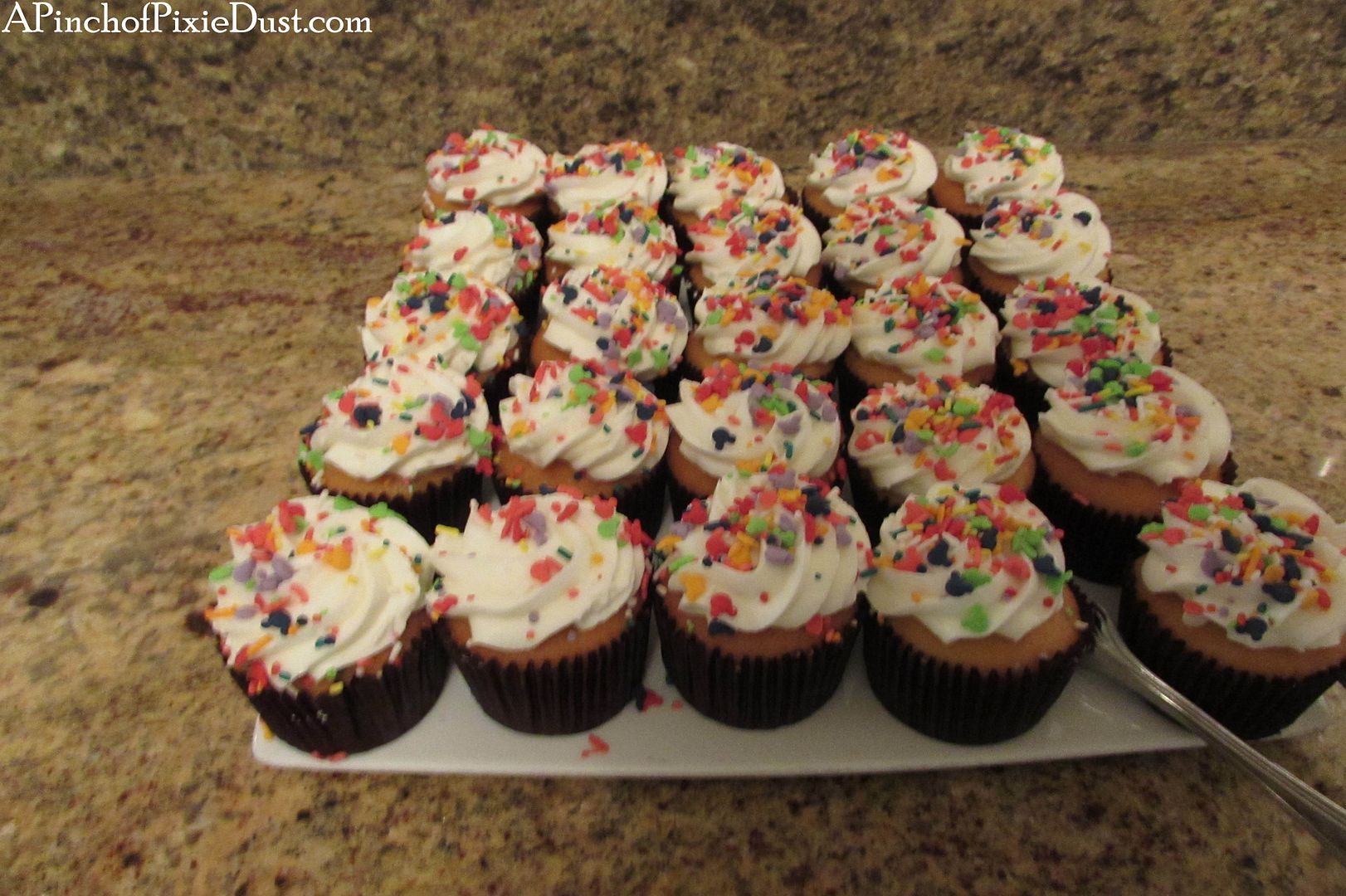 There are cupcakes, guys. They're fairly prosaic cupcakes, but we're going to count it.
Chocolate pistachio cake.
Mini cheesecakes. Very similar to the cheesecake at
1900 Park Fare
- they must come from the same kitchen.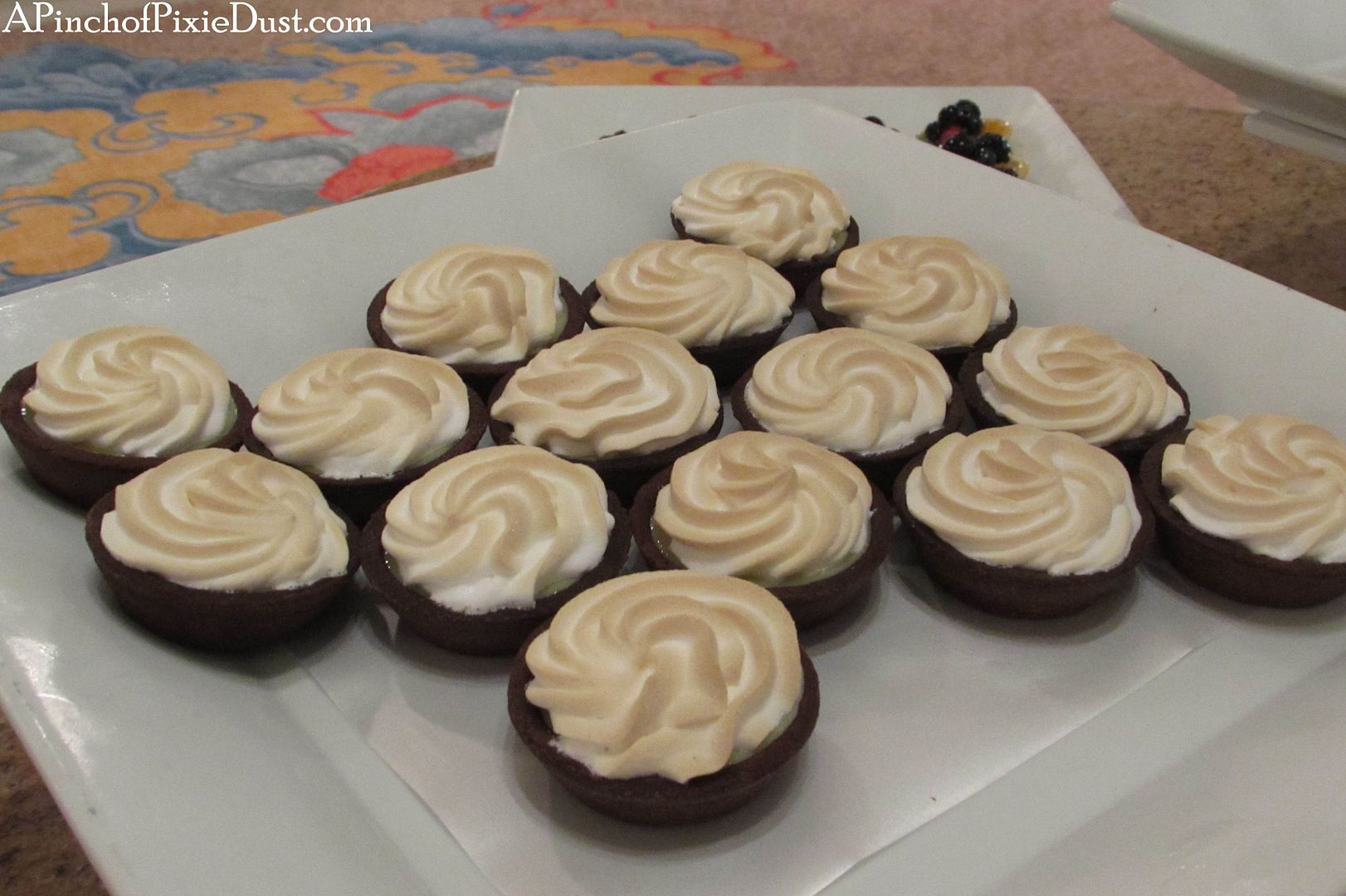 These lovely key lime tarts are identical to those down at 1900 Park Fare!
Chocolate mousse cups. It's like every time you turn around there's a new kind of dessert out.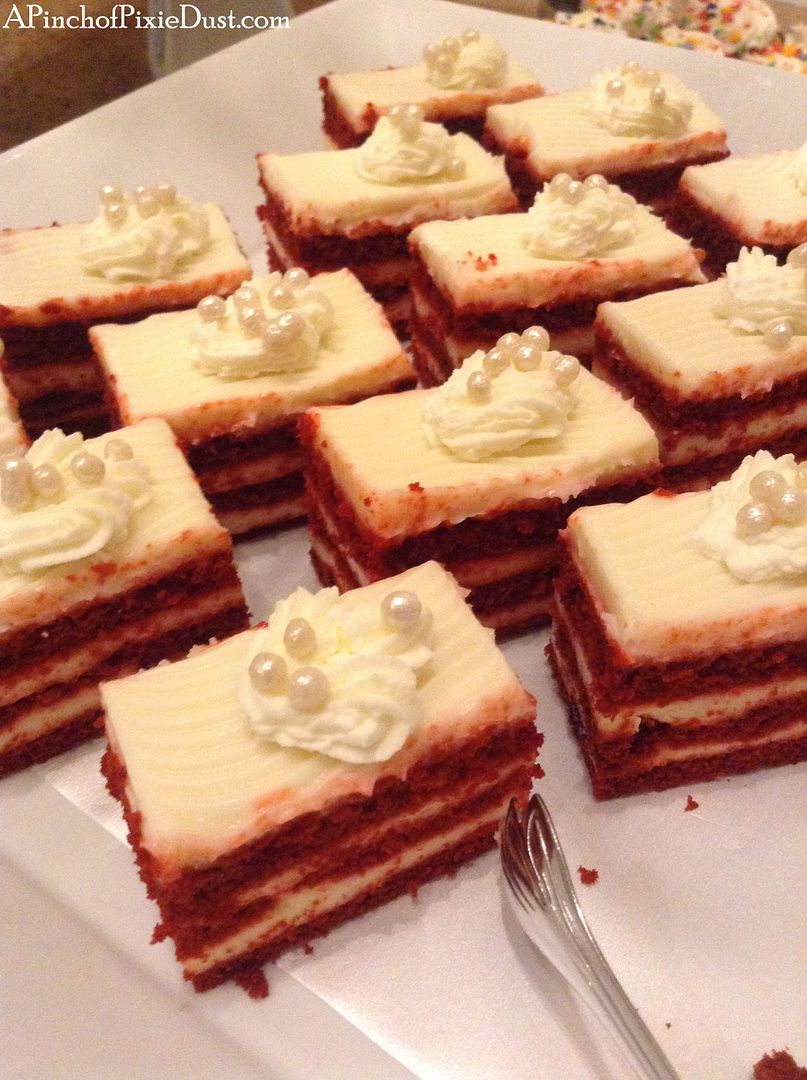 This was quite possibly the best red velvet cake I have ever eaten. Anywhere. I loved the dainty, light-as-air layers of cake and frosting.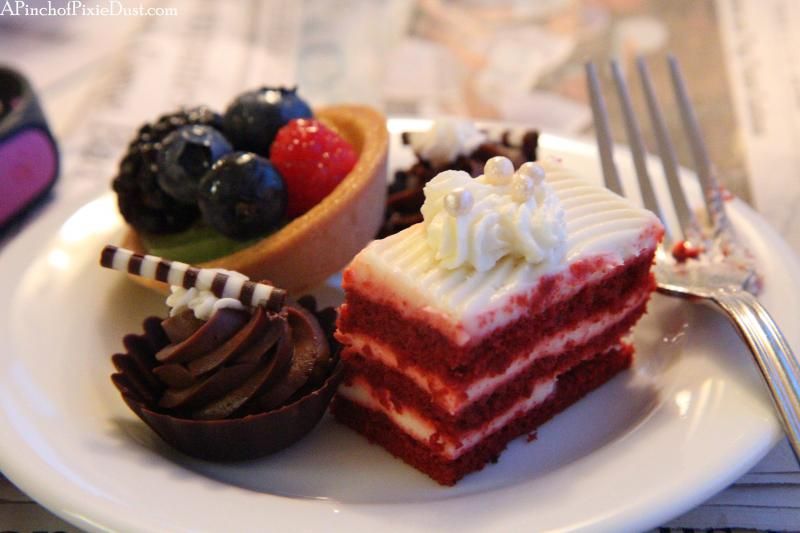 Heavenly.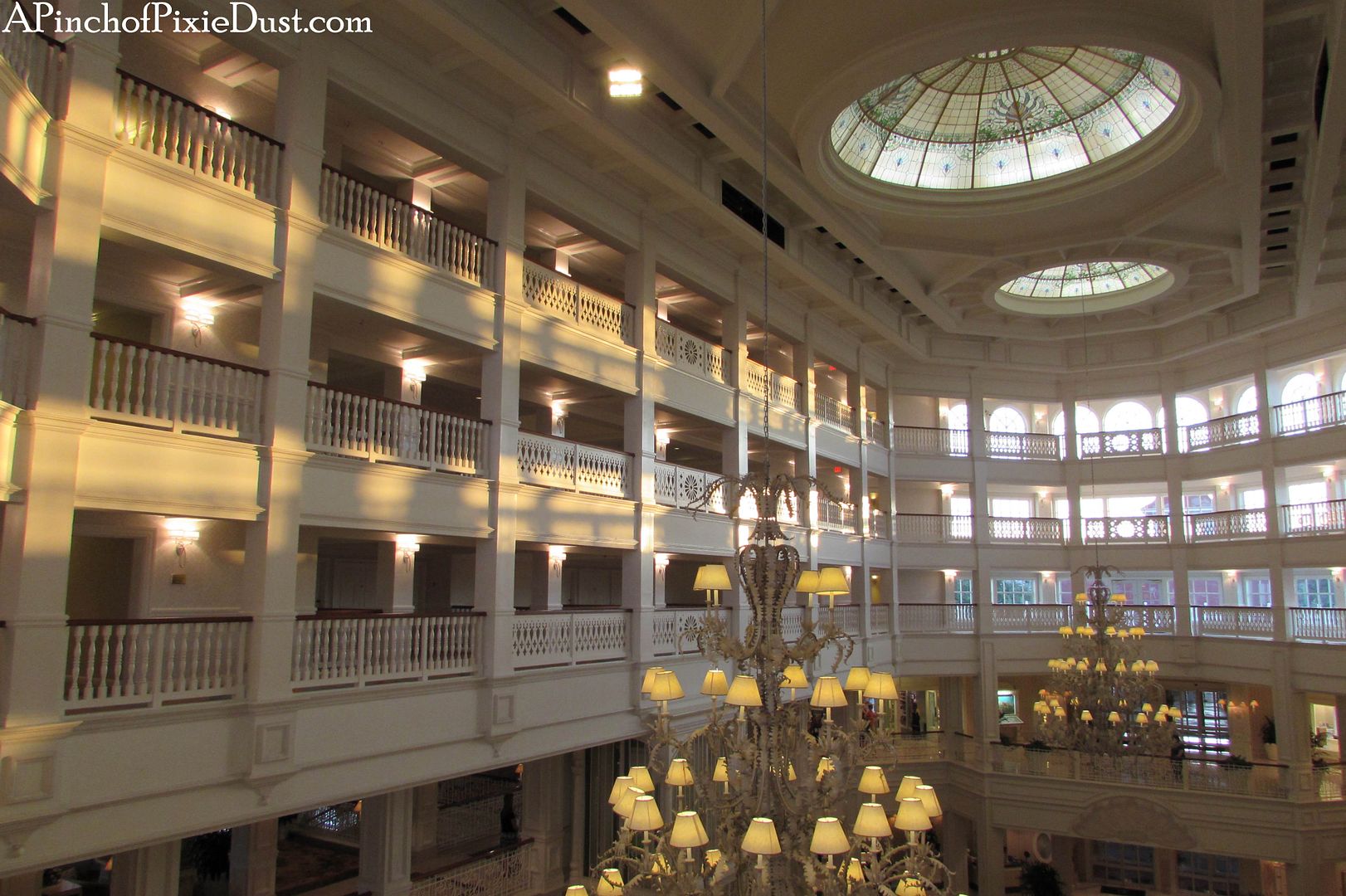 As you're sampling these delicacies, that Florida sun will be setting and spilling an ethereal golden light across the top floors of the lobby. When staying club, we plan to skip the parks and relax and enjoy the resort the whole day - and an evening at the Royal Palm I wouldn't miss for anything, largely because of these guys...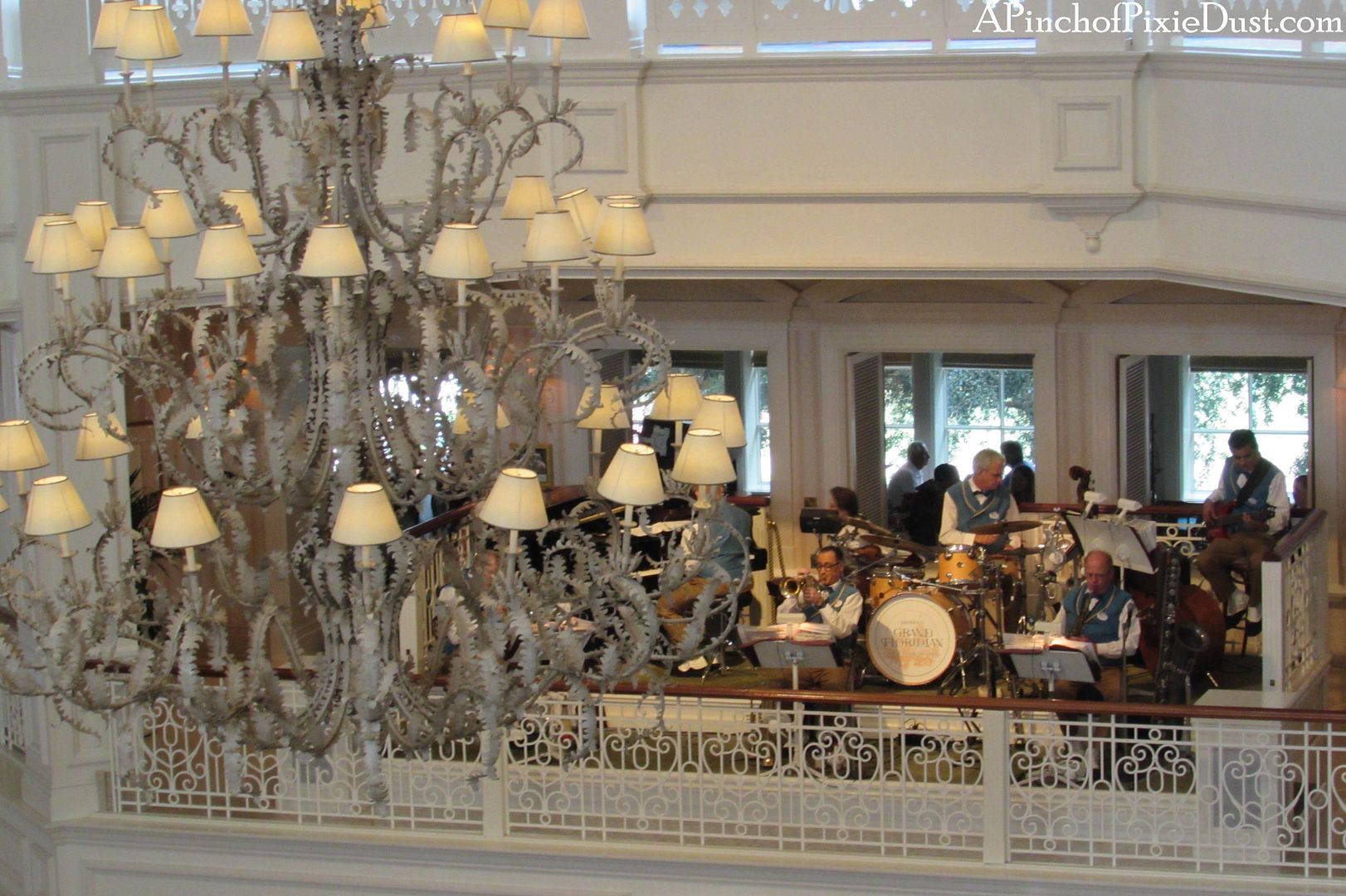 The Grand Floridian Society Orchestra and the piano provide the perfect soundtrack for your dinner and dessert. I will just hang over the balcony with my glass of POG juice and tap and dance along the whole night.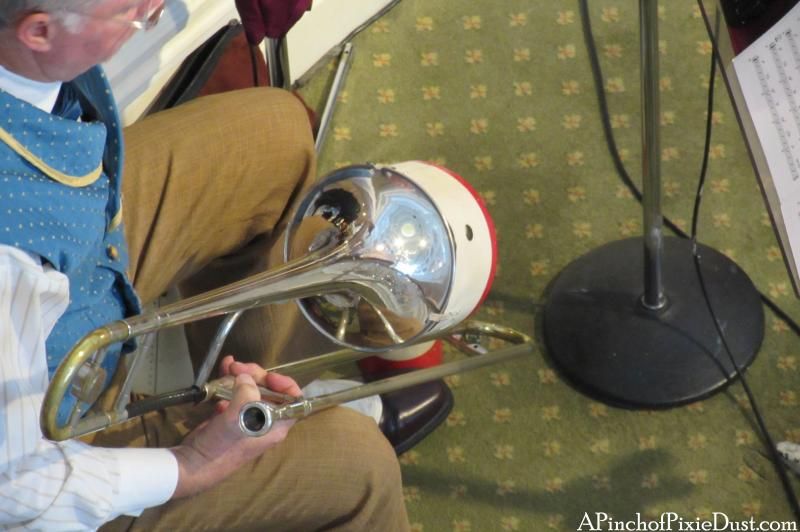 The orchestra is my favorite. It's fascinating to watch the musicians and their instruments - they have a huge stack of songs they can play. They'll often look up and wave, and you can also head down to the second floor make requests. We like to listen to 40's on 4 on Sirius XM, but Pennsylvania 6500 and Straighten Up and Fly Right sound even better from these guys. :)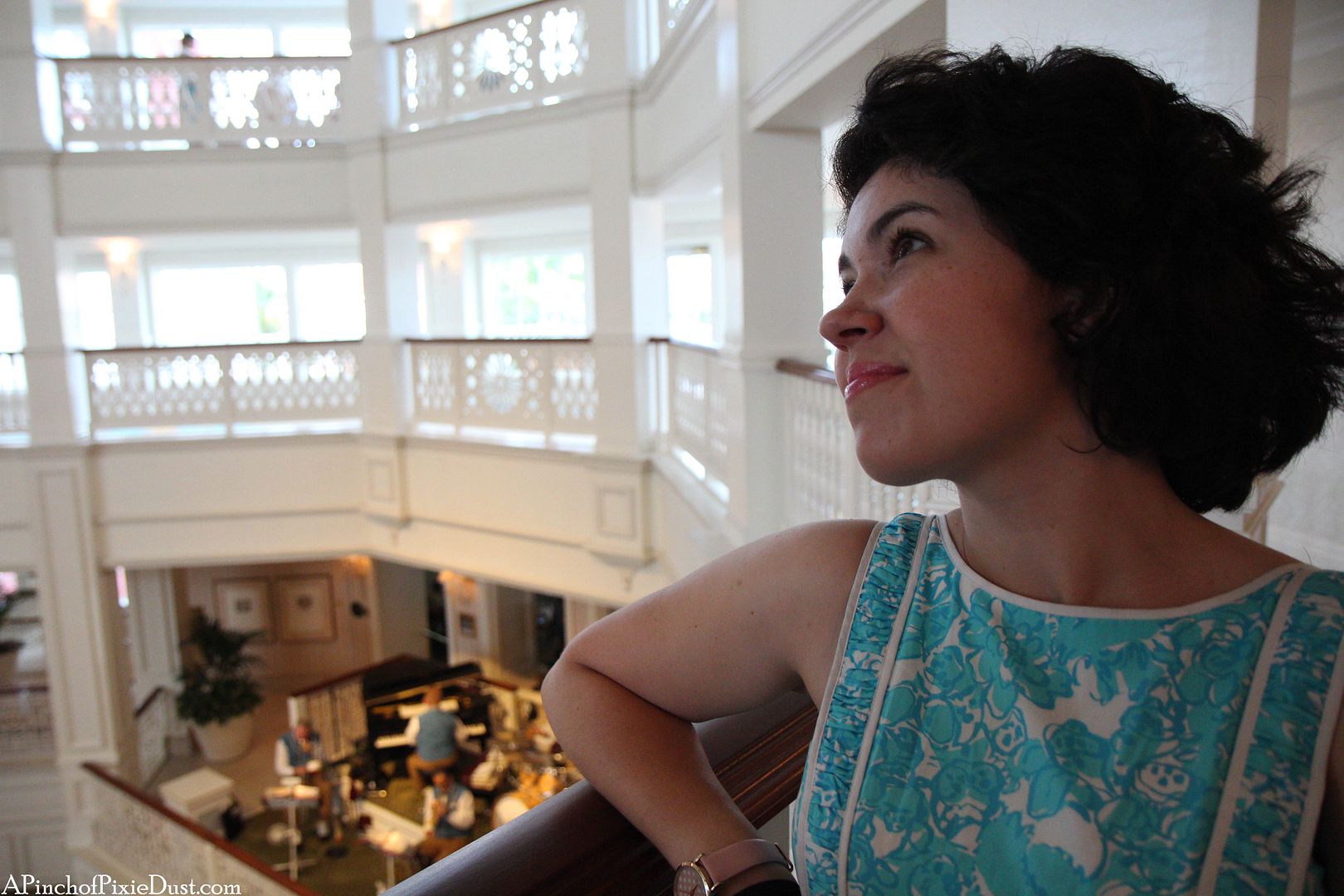 Club level magic doesn't get much grander than this!