Today, my friends, we are going on a Walt Disney World BIKING ADVENTURE!
Our destination is Downtown Disney, but we're trading the crazy parking for peaceful trails and palm trees...
We'll start off at the Community Hall at Disney's Old Key West Resort. Bike rentals go by the hour or the day - if you're going to Downtown Disney, you'll definitely want to do the whole day. The bikes have obviously been in use for awhile but are perfectly serviceable. We got them at 10:30 am, and they had to be returned by 5:00 pm. DVC members and passholders get a discount!
Stroll past the cheerful teal umbrellas and palm trees, and you'll find Community Hall just past the exercise room...
...lots of games and activities, but we don't have time to waste. We're ready to bike!
I had to do a biking adventure video!
The first stage of your adventure will take you across that bridge...
It's so fun to take in all the scenery at Old Key West during the bike ride - the water, the fountains, the golf course. Even the bus stops are so breezy and summery!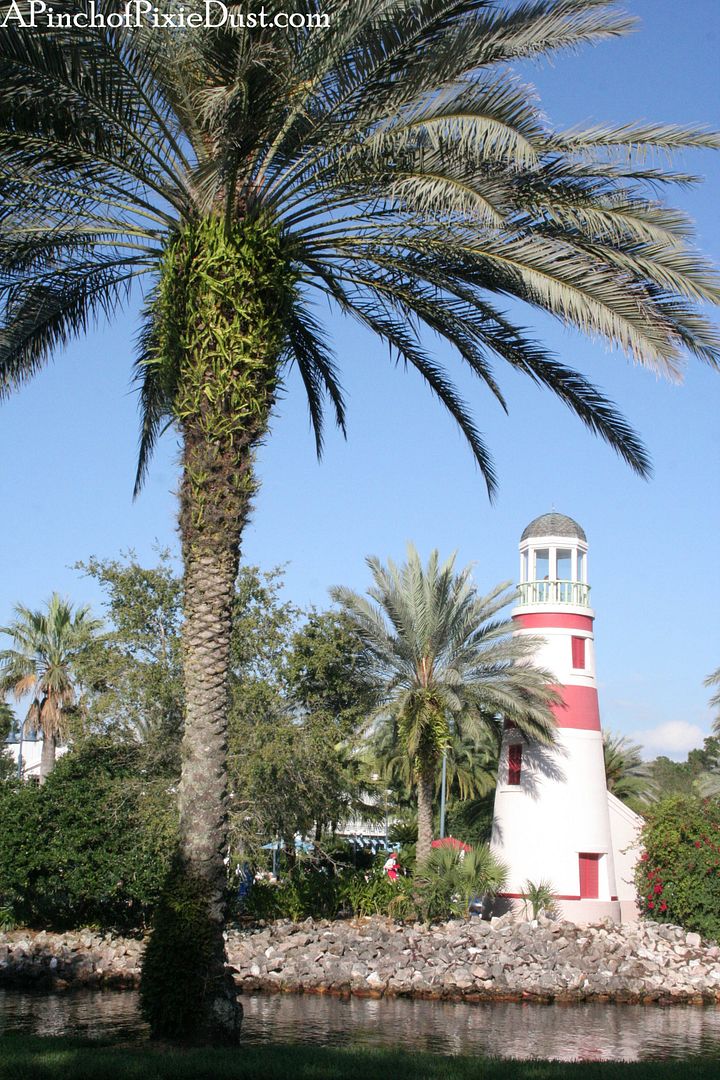 The Old Key West lighthouse!
Looking back across the water to Olivia's and the lobby / concierge building. We had never spent a whole lot of time at Old Key West before, so we really enjoyed exploring!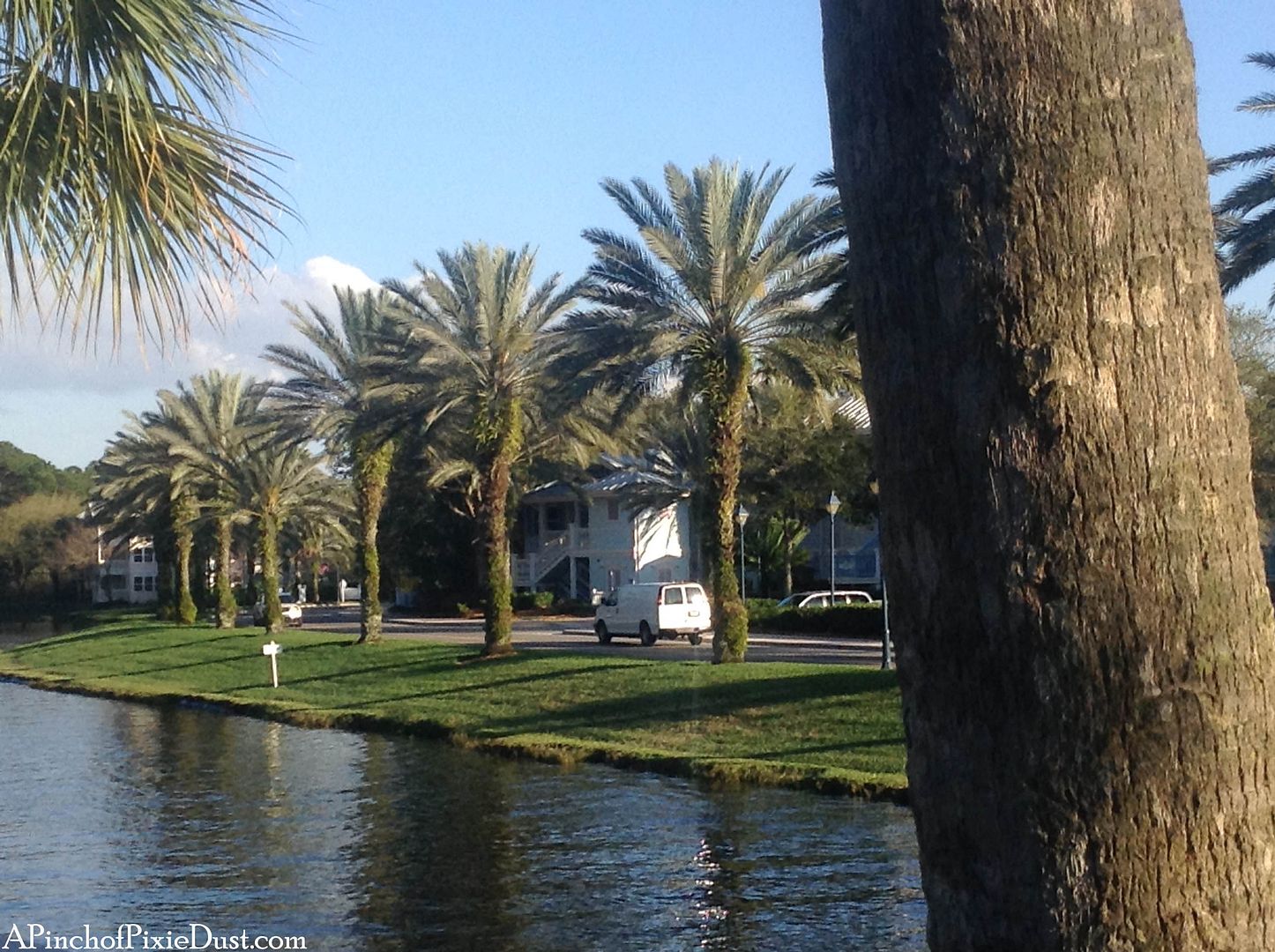 SO MANY PALM TREES.
Travelling by bike at Walt Disney World is a novelty because you don't get to do it very often! There are good pathways over at the Boardwalk too, but otherwise there aren't a whole lot of bike trails.
Zipping past the summery buildlings and tropical foliage, you'll want to find your way to building 55. Follow Peninsular Road and turn left at building 56. There's a playground and a little pool and a traffic circle that doesn't seem to connect through to anything. But you'll see a green area at the end with a sign for Conch Flats Trail - that's what you want! Bikers, walkers, and joggers are allowed on the trail.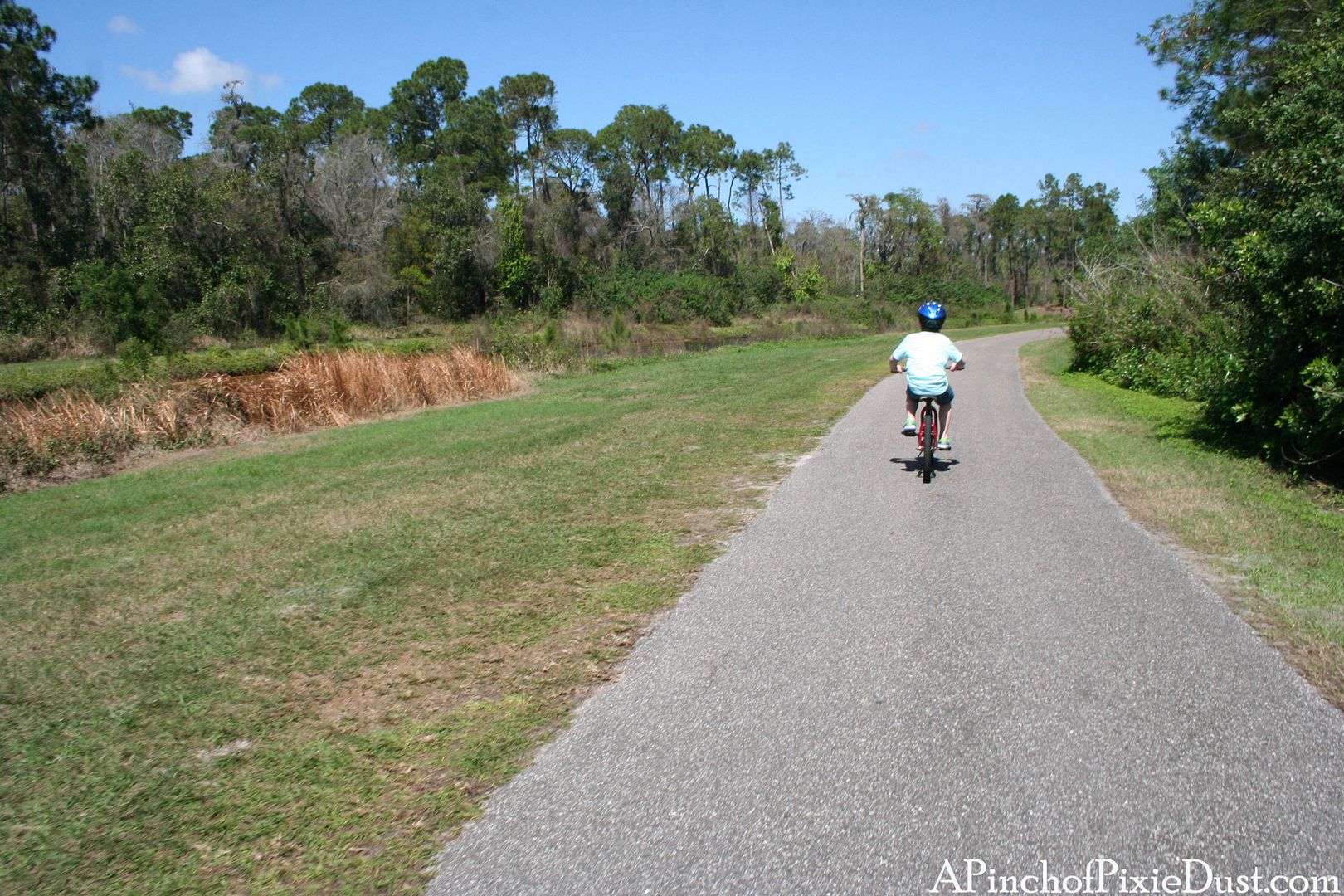 This area is so peaceful and quiet - I think we only saw one fellow walker / jogger the whole time. It's fun to wave at the boats passing by!
Just across that bridge are the
Treehouse Villas
! There are two treehouse bridges you'll pass, and then you'll reach the golf course area and a Saratoga Springs bridge - that's where we crossed.
I'm not sure if there was a way we could've gotten through the golf area to reach the Downtown Disney West Side. We didn't mind taking the long way, winding through Saratoga to get to the Marketplace.
Congress Park is the section of Saratoga you want if you're looking for the Downtown Disney path. I feel like this is not very well marked, but once you go through the building to the waterside walkways on the other side, it's fairly obvious - you can see Downtown Disney right across the way!
This was possibly my favorite part of the bike ride - gliding under the trees and next to the fountains with the colorful buildings and gardens on one side and the water and boats on the other...
I wanted to stop and enjoy those rocking chairs! I also loved spotting the hidden mickeys in the balcony railings. As you go along the path you'll see posts to mark the furlongs, in keeping with the Saratoga theme!
Whether you're on a bike or on foot, this is such a restful area and a great way to get to Downtown Disney. It couldn't be any more different from the hectic parking lots!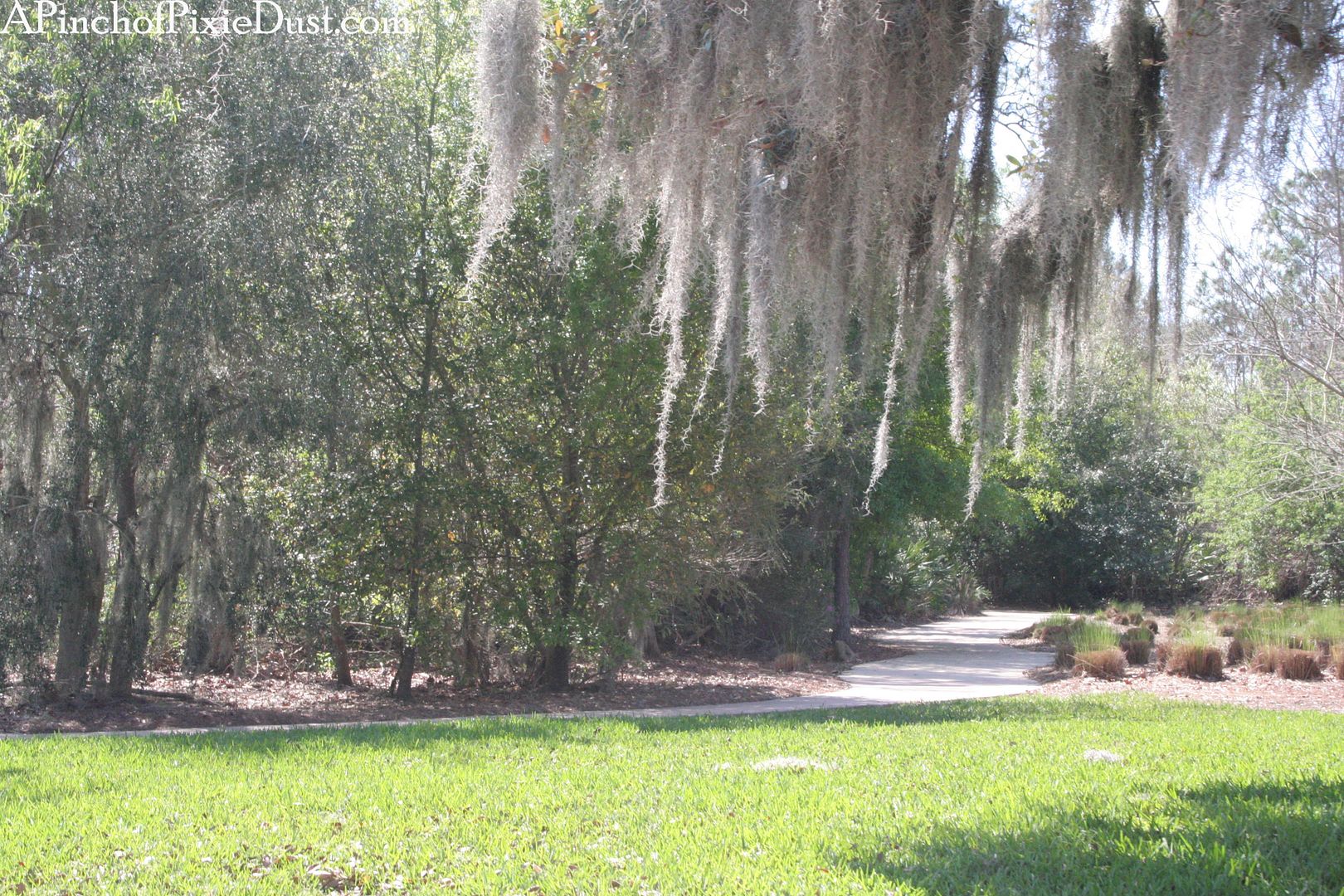 There's no gridlock or concrete - only beautiful landscaping and Spanish moss drifting gently from the trees!
As you approach Downtown Disney the energy starts to pick up a bit - the path curves around the water and runs next to the road, crossing that bridge (you can see the people on it!).
There is so much construction going on at Downtown Disney at the moment, to turn it into Disney Springs! It looks like they're building a new boat dock - or possibly a new bridge to the Saratoga Springs area? That would make the walk shorter, and you wouldn't have to go next to the road...
It's so strange walking or biking next to these signs - usually you only see them from your car!
We're nearly there!
The crosswalk will bring you out next to the bus stops and right to the Marketplace entrance.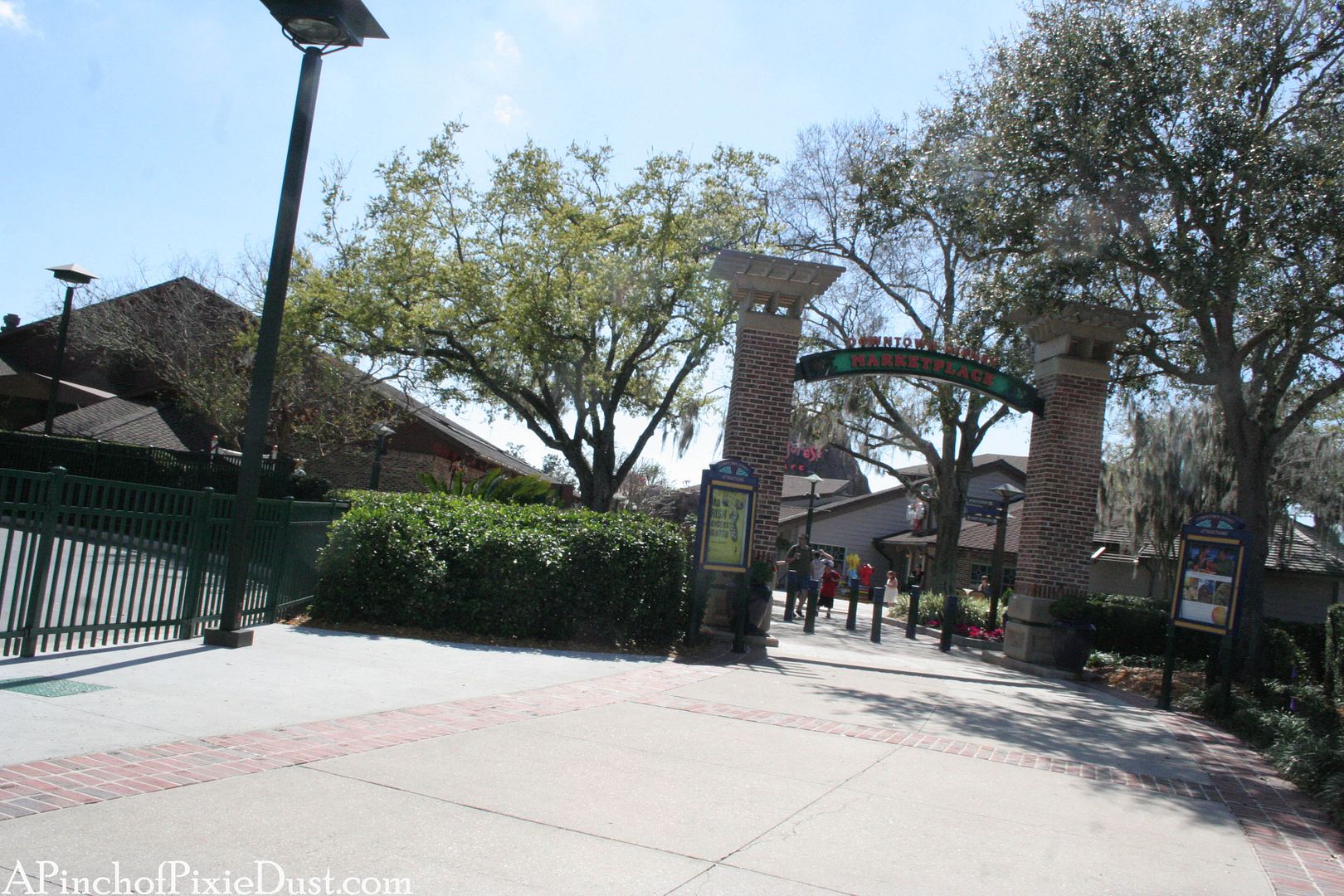 There are bike racks just to the right of those gates - and Community Hall does give you a lock (it's rusty and difficult to use, but I was glad we had one!). Earl of Sandwich, here I come! After a fun afternoon of shopping and eating, we just hopped back on our bikes and pedaled back...
...make sure you remember where you came from! When you exit the marketplace to the bus area, the crosswalk is going to be to your left. It's not very well marked and seems like it might be a cast member area, but it's for guests too!
Once you get further along, then you find a sign for Saratoga Springs!
Enjoying the flowers and architecture again...Dart stopped to try out a playground.
It looks just like the buildings!
Our bikes with our Earl of Sandwich dinner - yum!
Renting bikes from Old Key West made for a fun adventure - we got to explore the resort (and Saratoga Springs Resort too!), plus it was an easy, stress-free way to get to Downtown Disney.

Have you ever been biking at Walt Disney World? Share your thoughts in the comments. :)