Get out your fanciest hat and dust off your poshest pinky finger, everybody. This Monday's Disney World dessert is going to be extra elegant...
I think even Lady Mary of Downton Abbey would like it!
For style and sophistication at Walt Disney World, there's nowhere nicer than the flagship Grand Floridian Resort and Spa.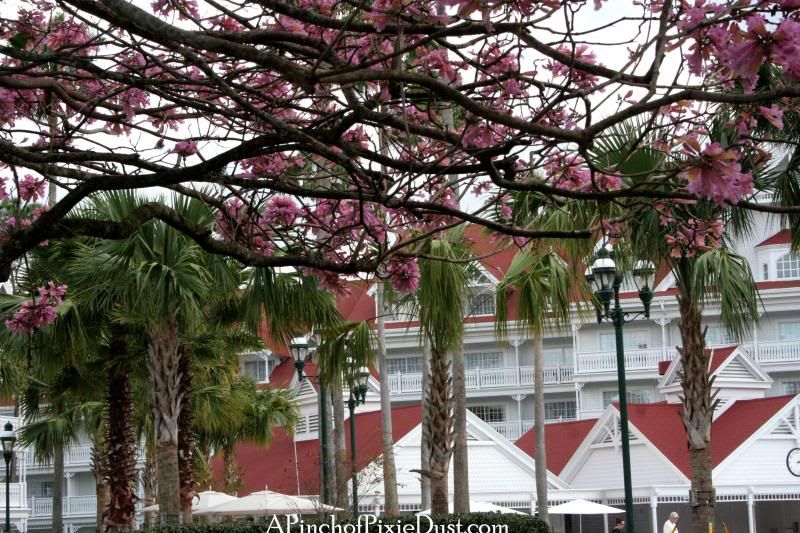 Take a stroll beneath the pink blossoms and palm trees, and when you're ready for some afternoon refreshement, you don't have to leave the gardens behind...you can just head to the Garden View Lounge for a spot of tea!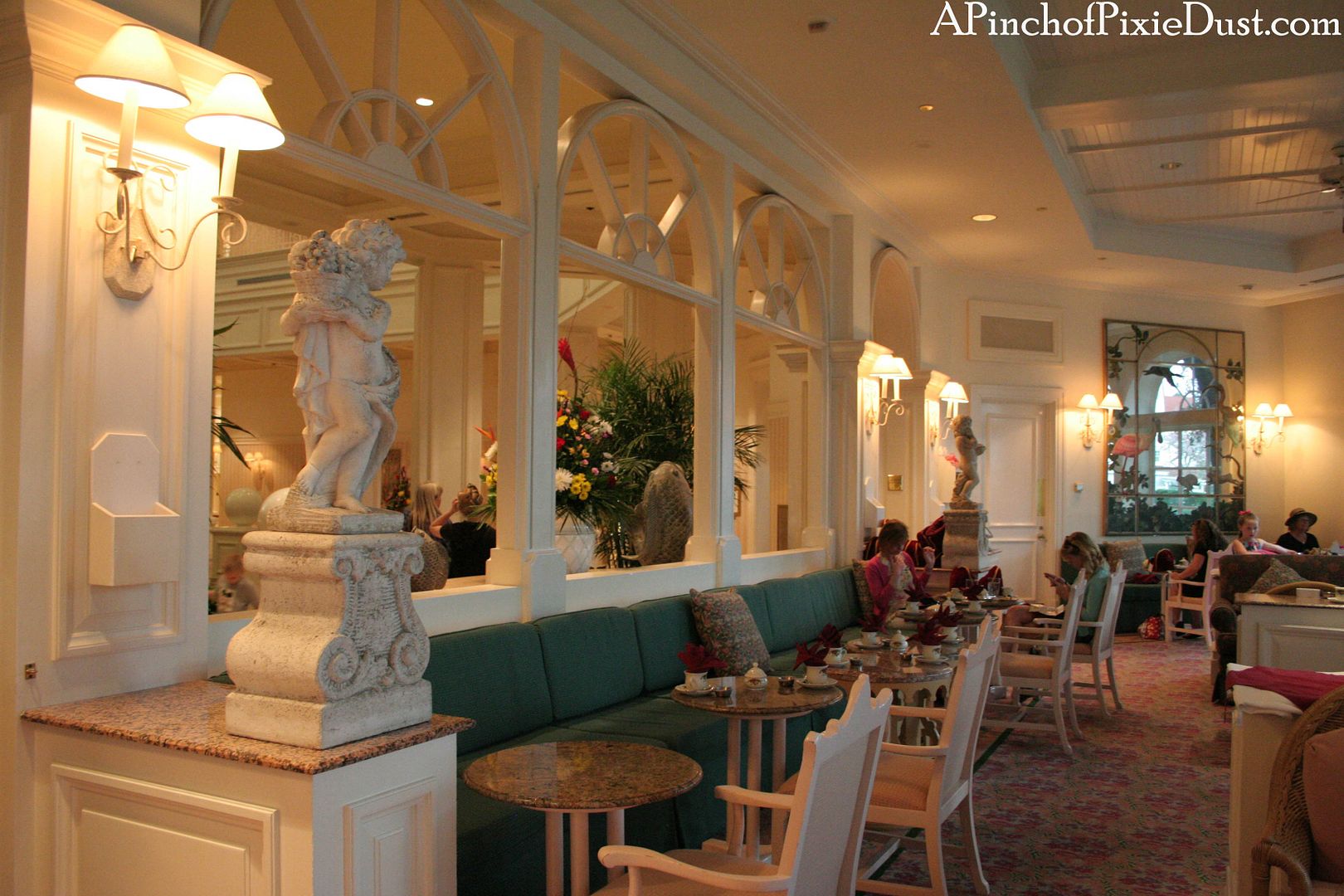 This beautiful space is located at the far end of the Grand Floridian lobby in the main building - they serve tea from 2 to 5pm, and you can hear the music from the band or the piano filtering in. I absolutely love it - you get to enjoy the atmosphere and excitement of the lobby while being set a little apart in a bubble of refinement and relaxation!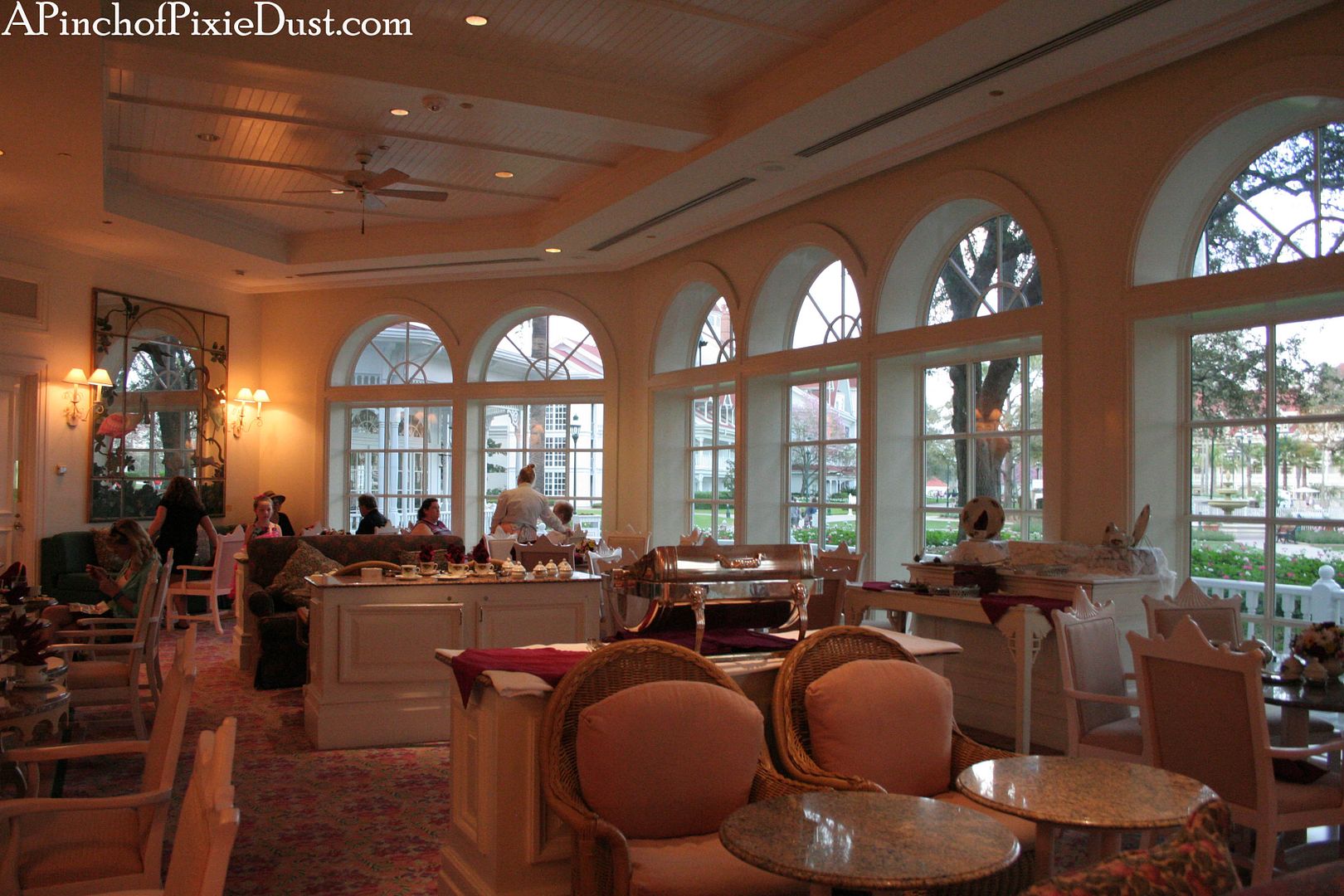 Doesn't it look outrageously, wonderfully rosy and pink? This is the perfect place to bring your mother or grandmother for a ladies' lunch!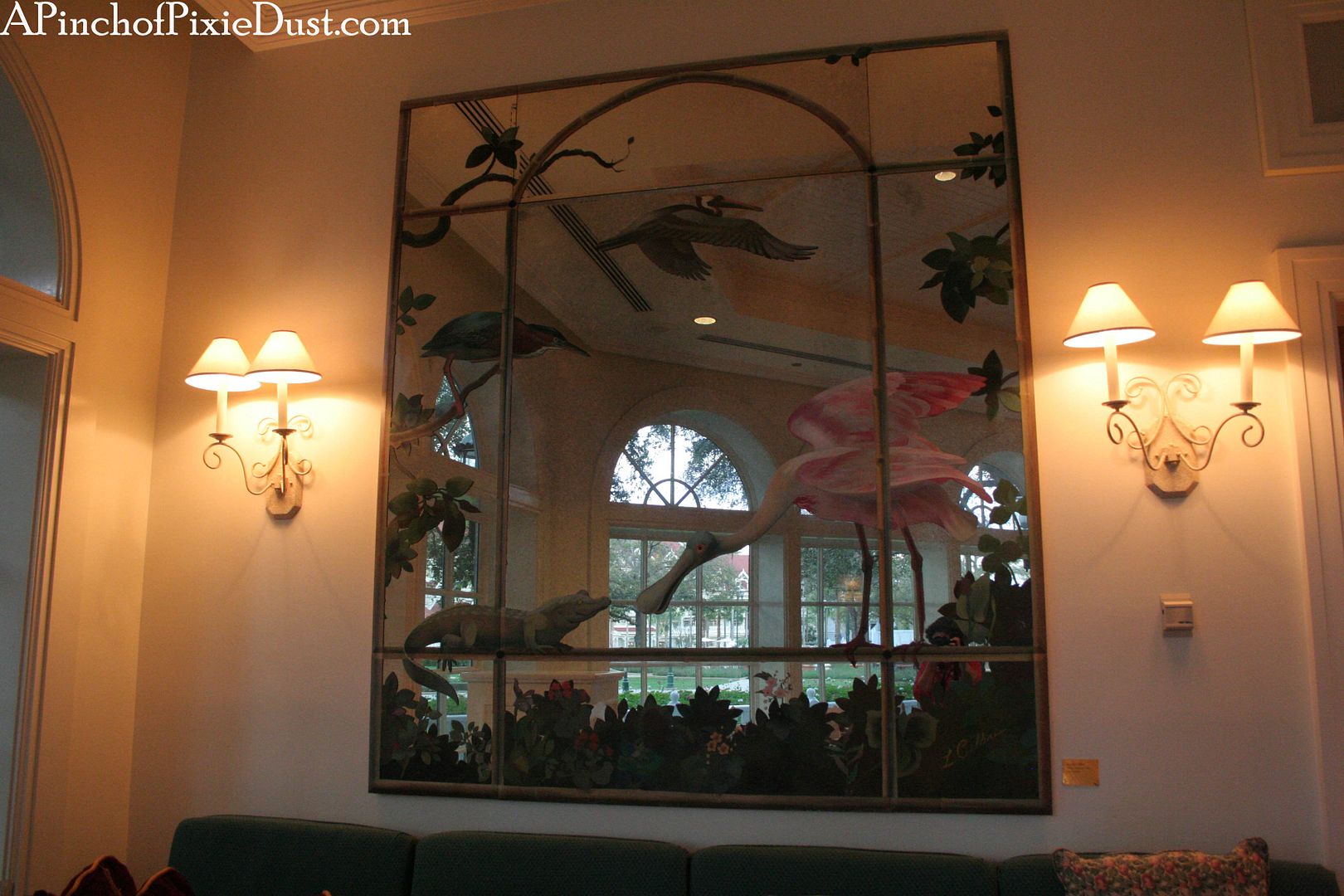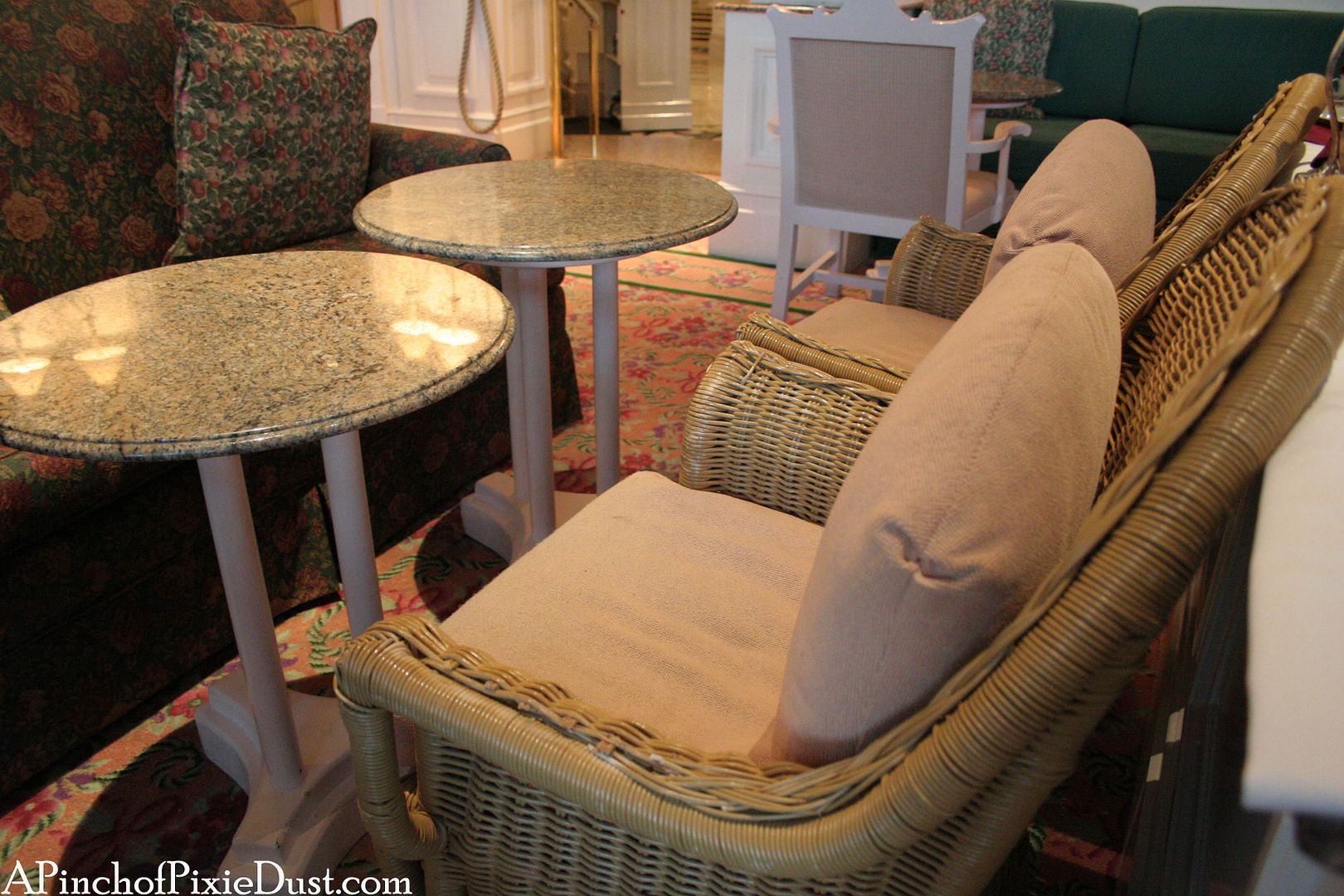 That funny mirror might
look familiar
, and I love how plush and comfy so many of the seats are. Then again, the tables right next to the large windows are also divine...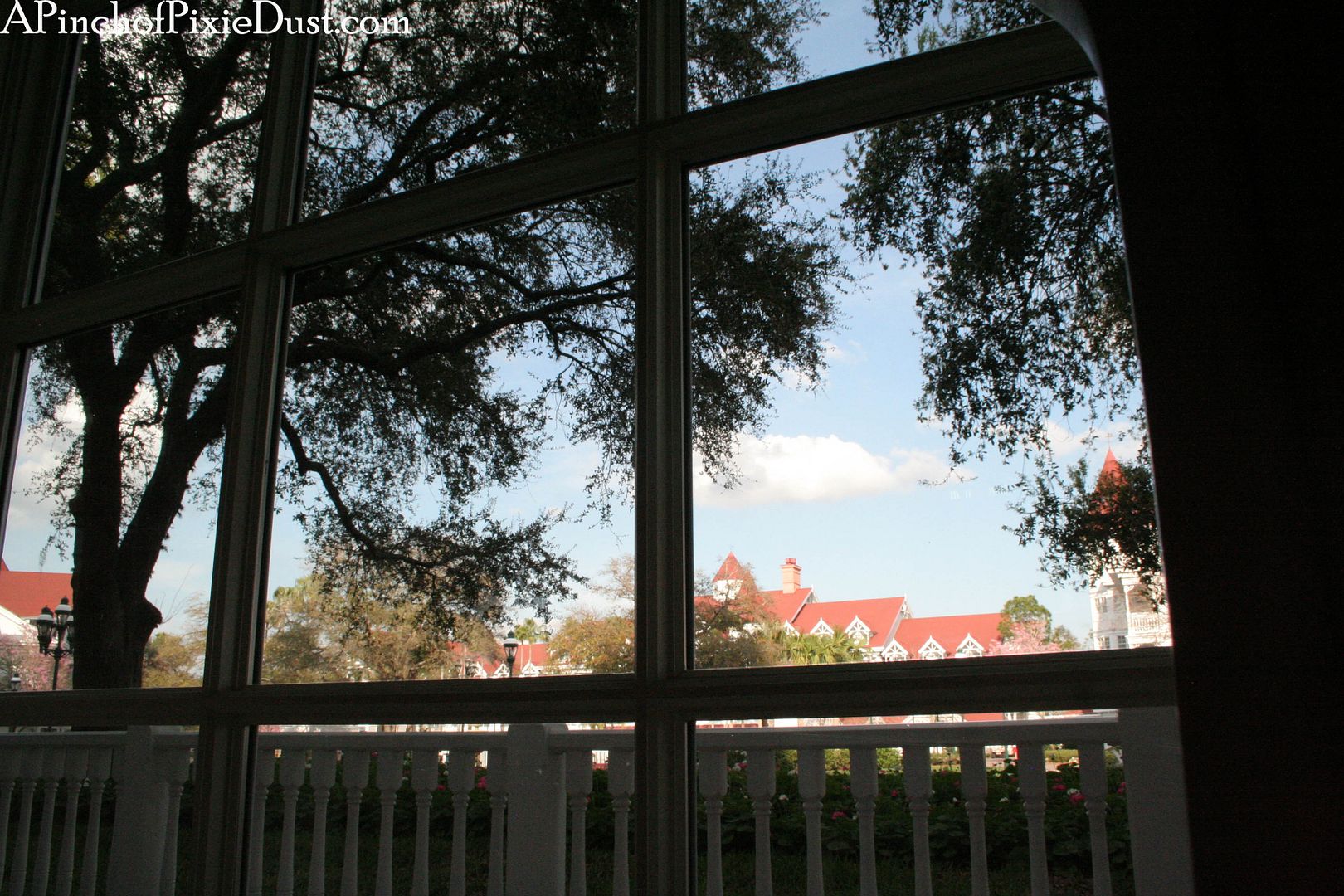 There's that famous garden view!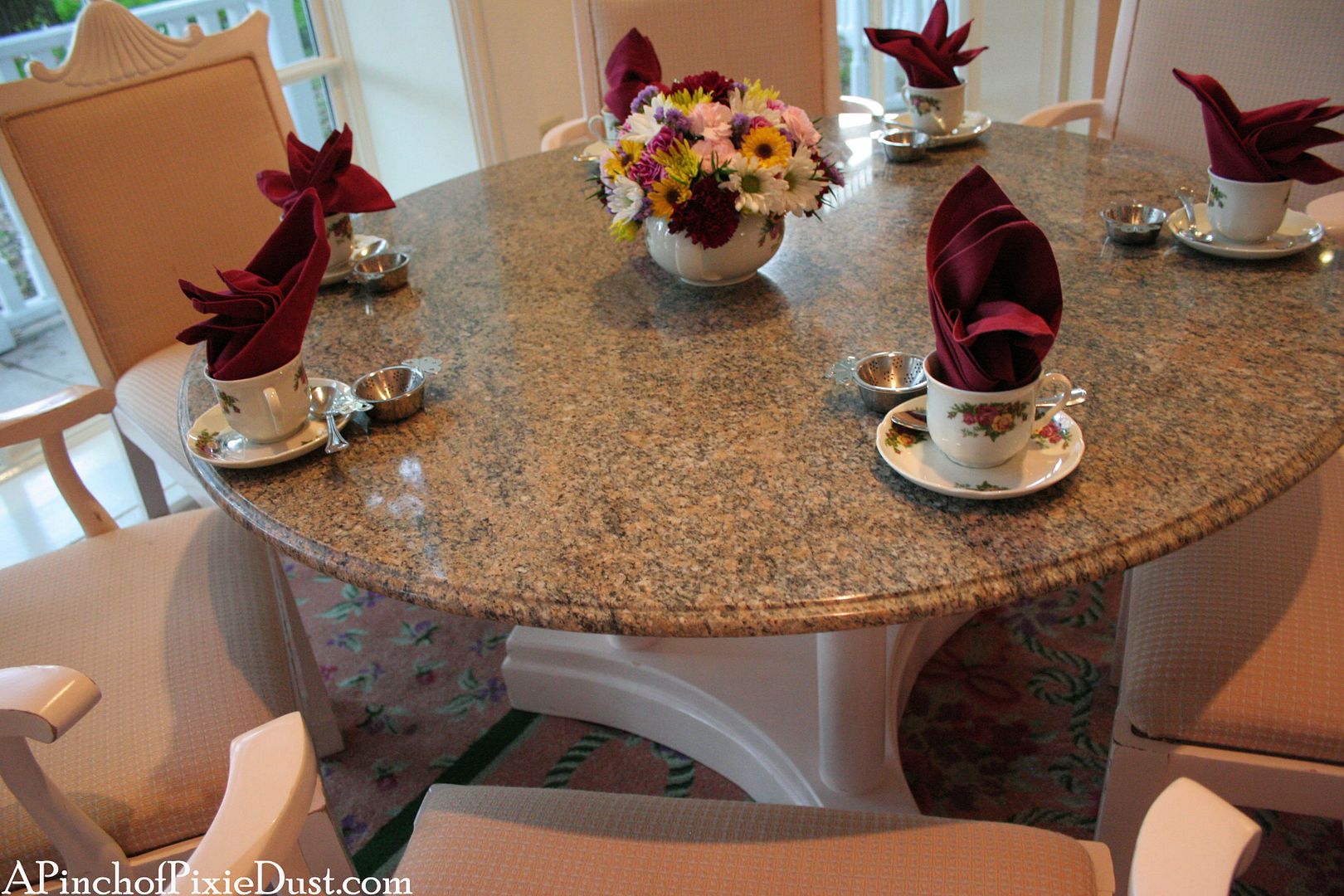 A Garden View tablescape, with bright flowers and perfectly-folded napkins!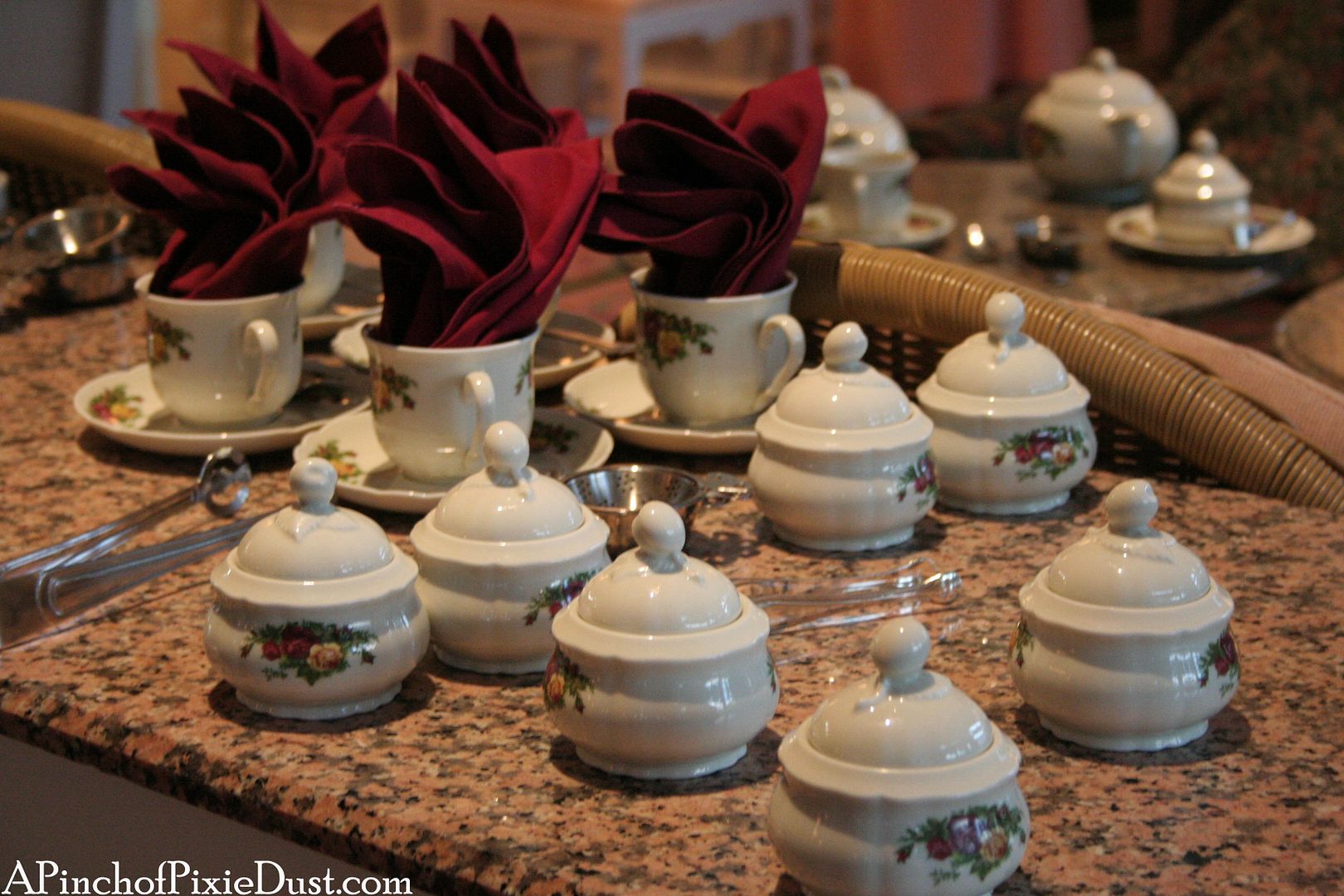 For any fellow Garden View fans out there, I have bad news: they replaced the Royal Albert Old Country Roses bone china.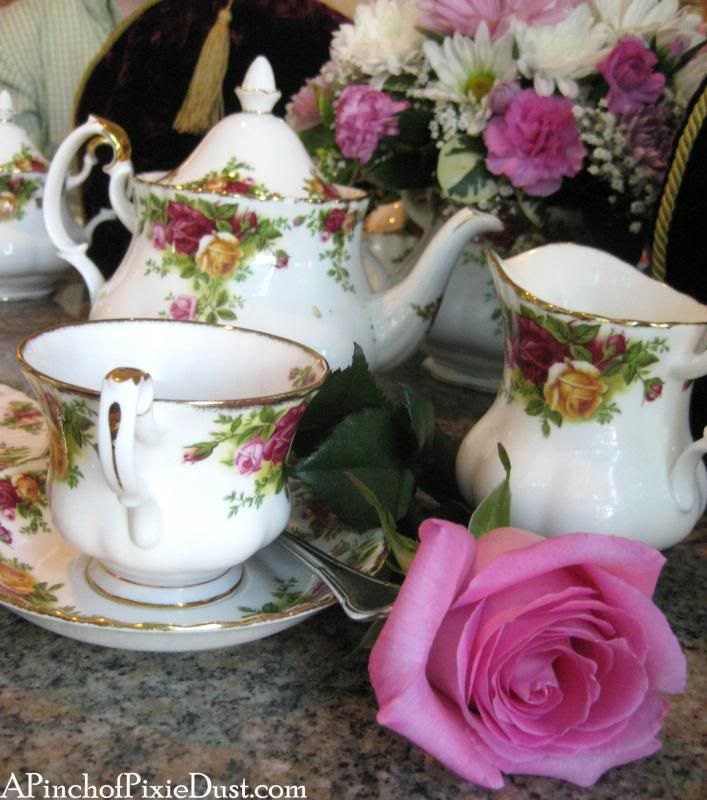 The old china - it was so beautiful and thin and perfect for the Grand Floridian - tea at the Garden View wasn't quite the same without it.
Above is the new china. We asked a manager and were told there was a problem with ordering new Royal Albert china, so they chose a new "custom" design. It's elegant enough...very similar red and yellow roses on thicker china. If they were going to do a custom design for the Garden View china, I wish they'd made it unique, maybe with some hidden mickey / Mary Poppins motif? The new tea pots have a very wide handle that gets very hot - too hot to touch really - when you leave it under the red velvet tea cosy.
I was glad to see the tea cosies were still present - you know you're at the Garden View when you have a table full of maroon and gold in front of you!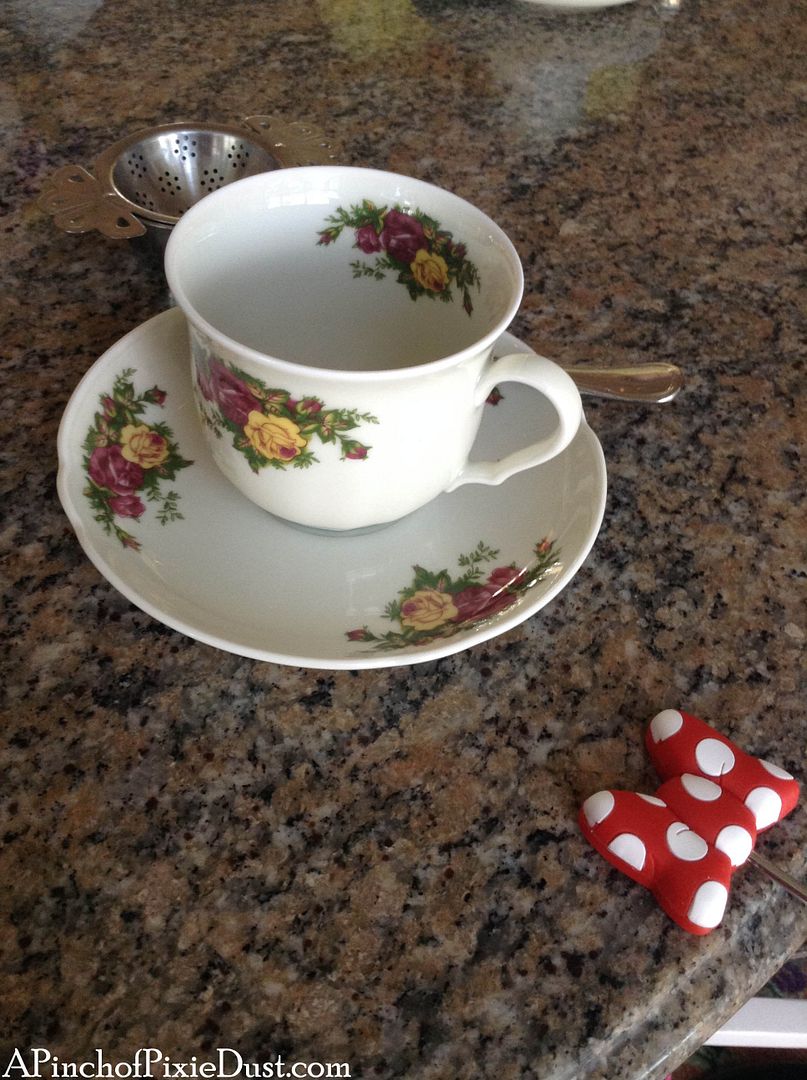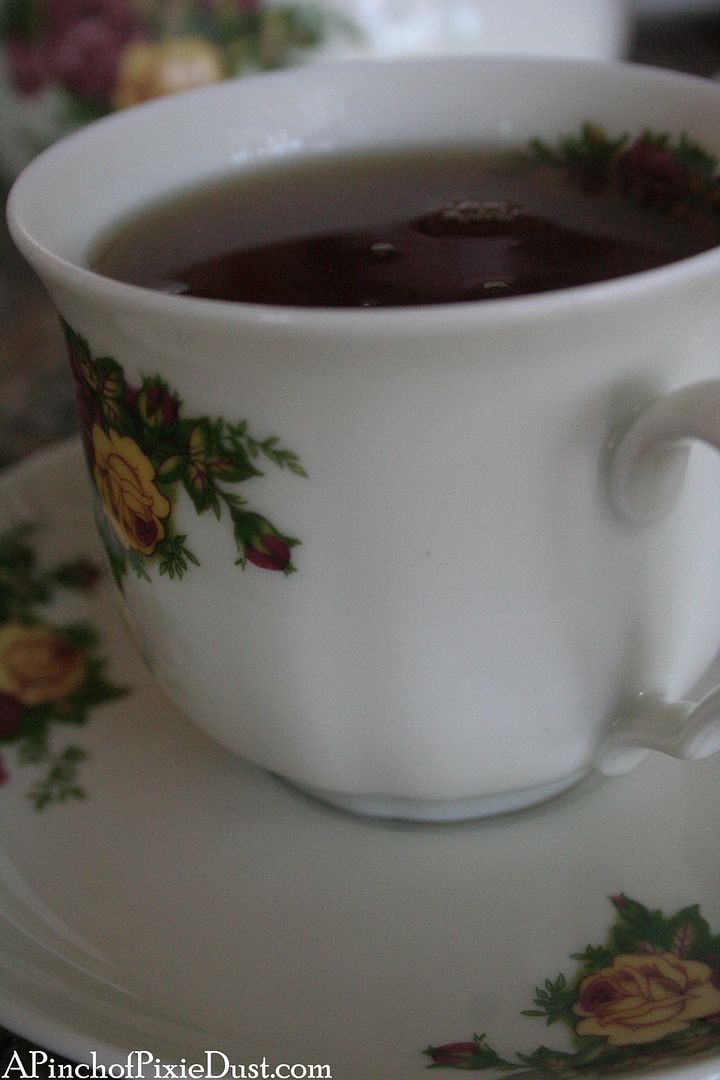 My mad hatter tea tasted just as nice in the new cups, however! Also note the Minnie Mouse purse hanger (from the
What's in My Disney Bag
post) - perfect to use at a fancy place like the Grand. ;)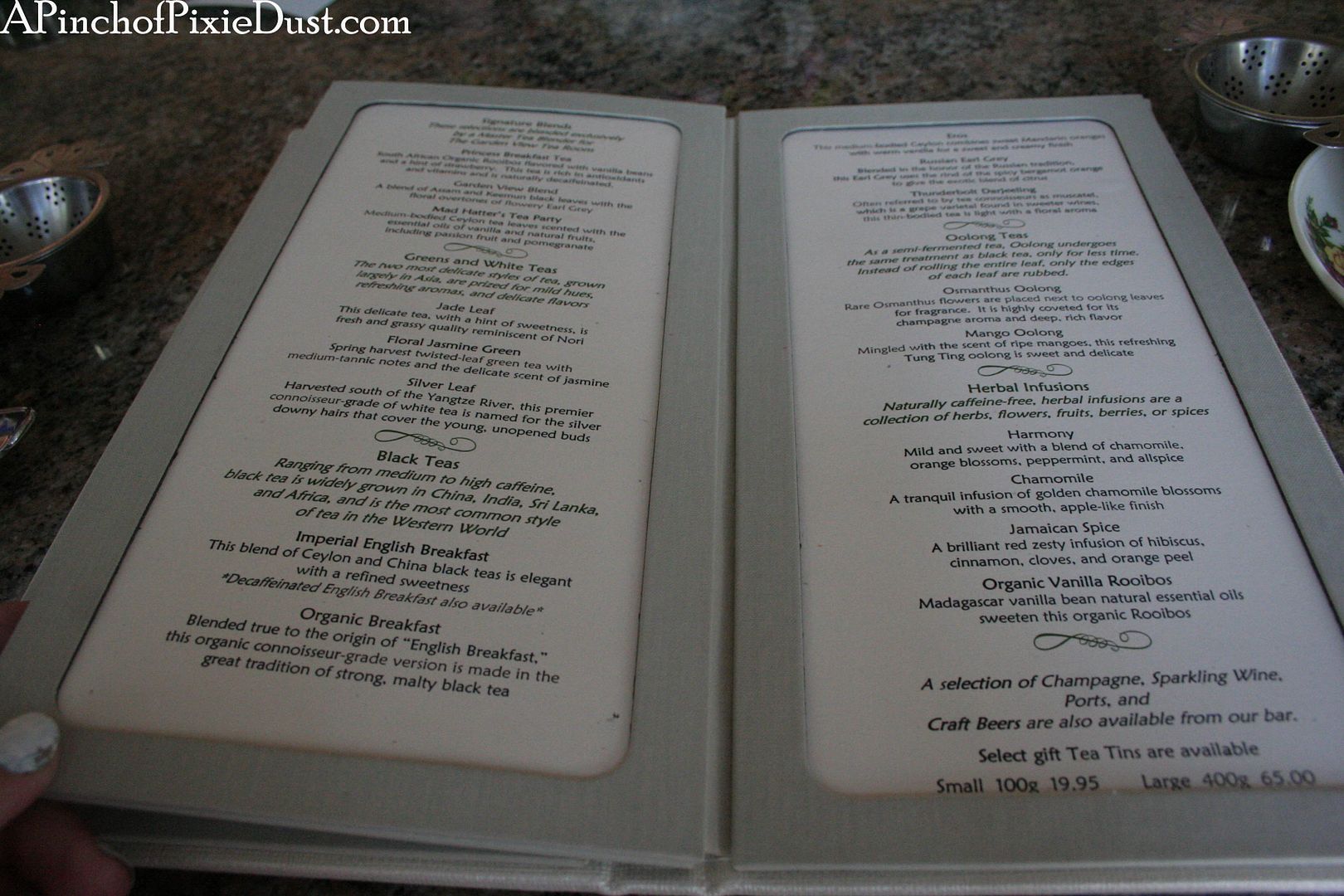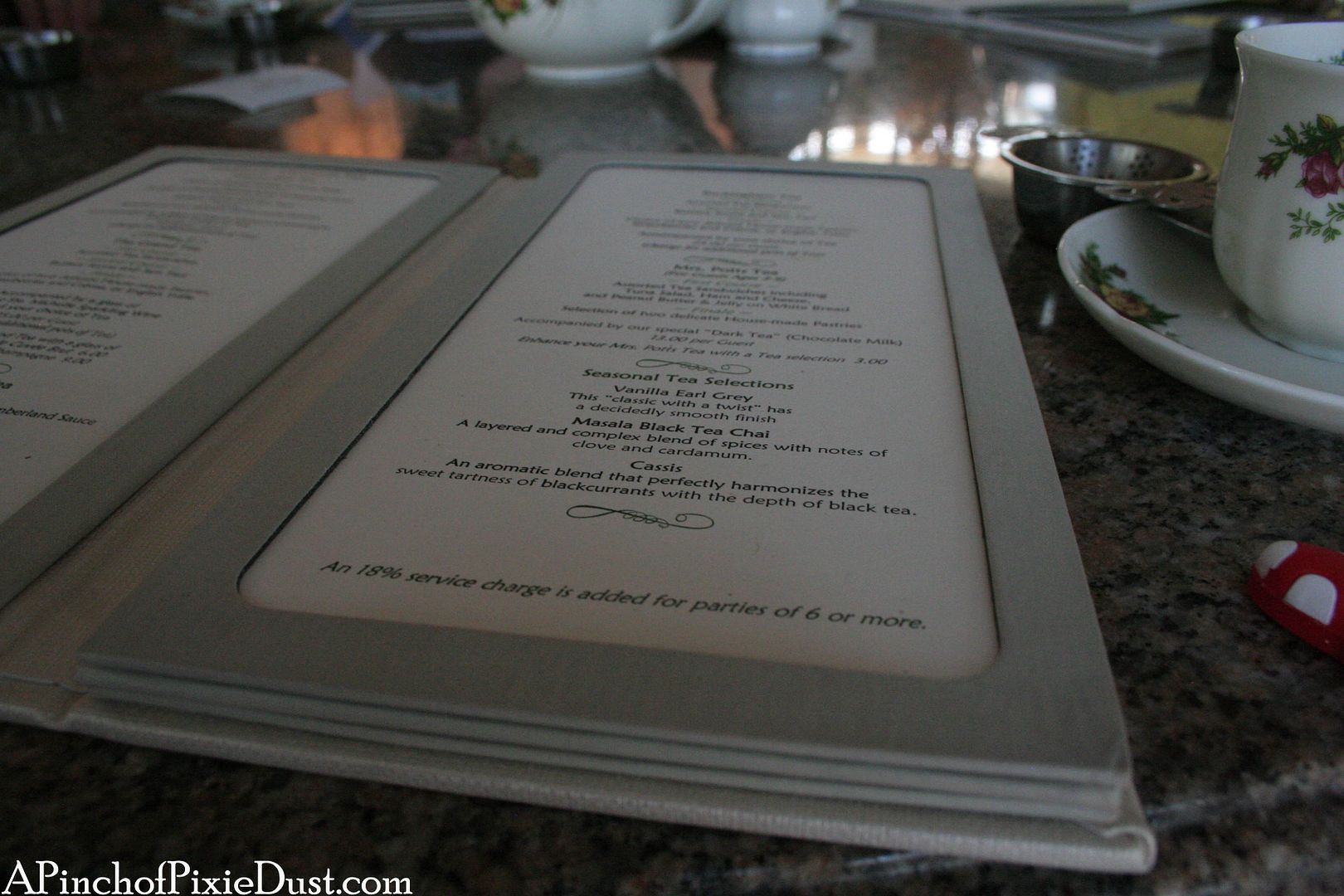 Here we have the menu! There used to be a la carte items at the Garden View Tea Room - you could order just a cup of tea and a cheese plate or a plate of scones. Now you have to choose one of the tea services, which range from pretty pricey ($25 for the Buckingham which we got) to very pricey ($45 for the Princess Kate which comes with champagne and shrimp). This is more of a special occasion type of place for us. :)
The Disney World website has the
full menu
, and of course every service comes with a pot of tea. You can choose your blend from a fairly extensive selection, and our waiter seemed to say they could even try to do a custom combination if there were diff
erent elements we wanted together. I decided on the signature "Mad Hatter's Blend" -

Medium-bodied Ceylon tea leaves scented with the essential oils of vanilla and natural fruits, including passion fruit and pomegranate.
The Buckingham begins with the tea sandwiches, from left to right: pear, chicken curry, salmon, egg salad, and cucumber. Also a small onion tart which nobody else seems to want, so I end up eating five of them. The pear sandwiches also generally end up on my plate, because other people think they're weird. They are. A little. Weird but wonderful. Now I want a pear sandwich for lunch...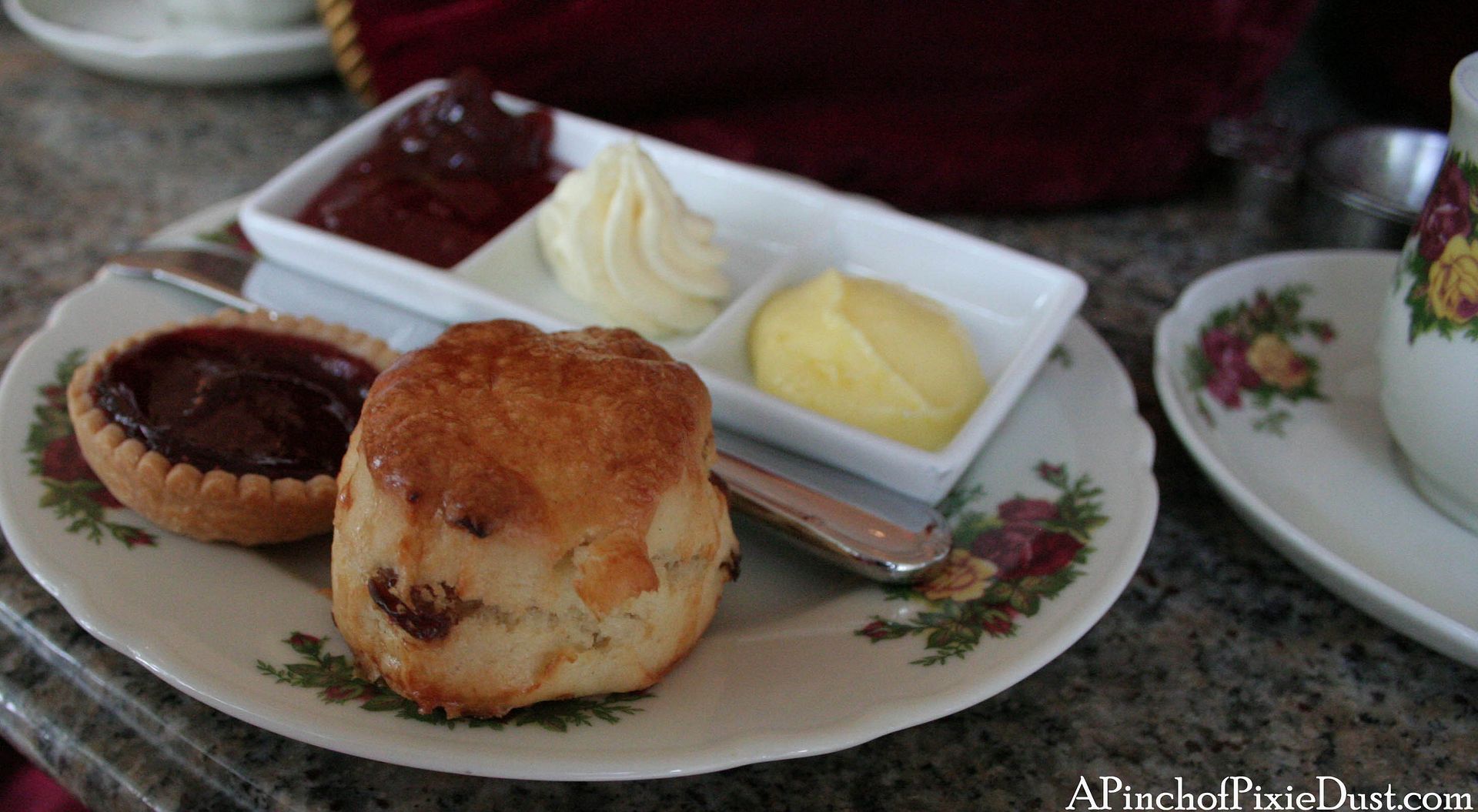 After the tea comes a rapsberry tart and warm scone with plate of spreads: jam, devonshire cream, and lemon curd.
Incidental side note: the Grand Floridian club levels (Sugarloaf and Royal Palm Club) have the exact same tarts and scones out every afternoon (sometimes both, sometimes one or the other) with as much devonshire cream as you care to consume. Just sayin. ;)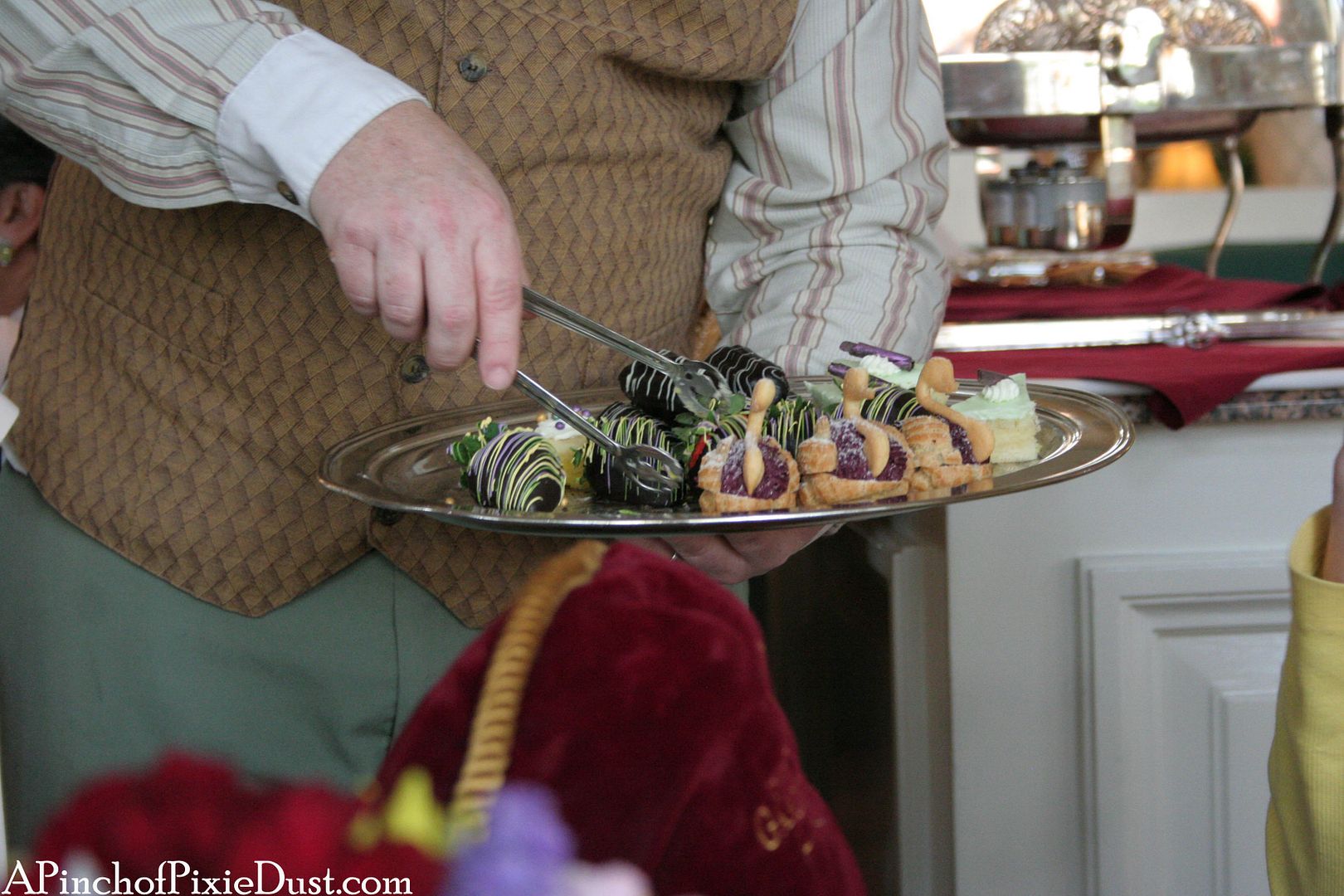 We come now to the desserts and sweet treats which finish off the Buckingham tea service. If you opt for the pastries, you can choose two from the tray, and the assortment varies by day. When we went we found chocolate eclairs, chocolate-covered strawberries, swan cream puffs with blueberry cream (they almost always have the swans, but the filling changes), and a key lime cake triangle.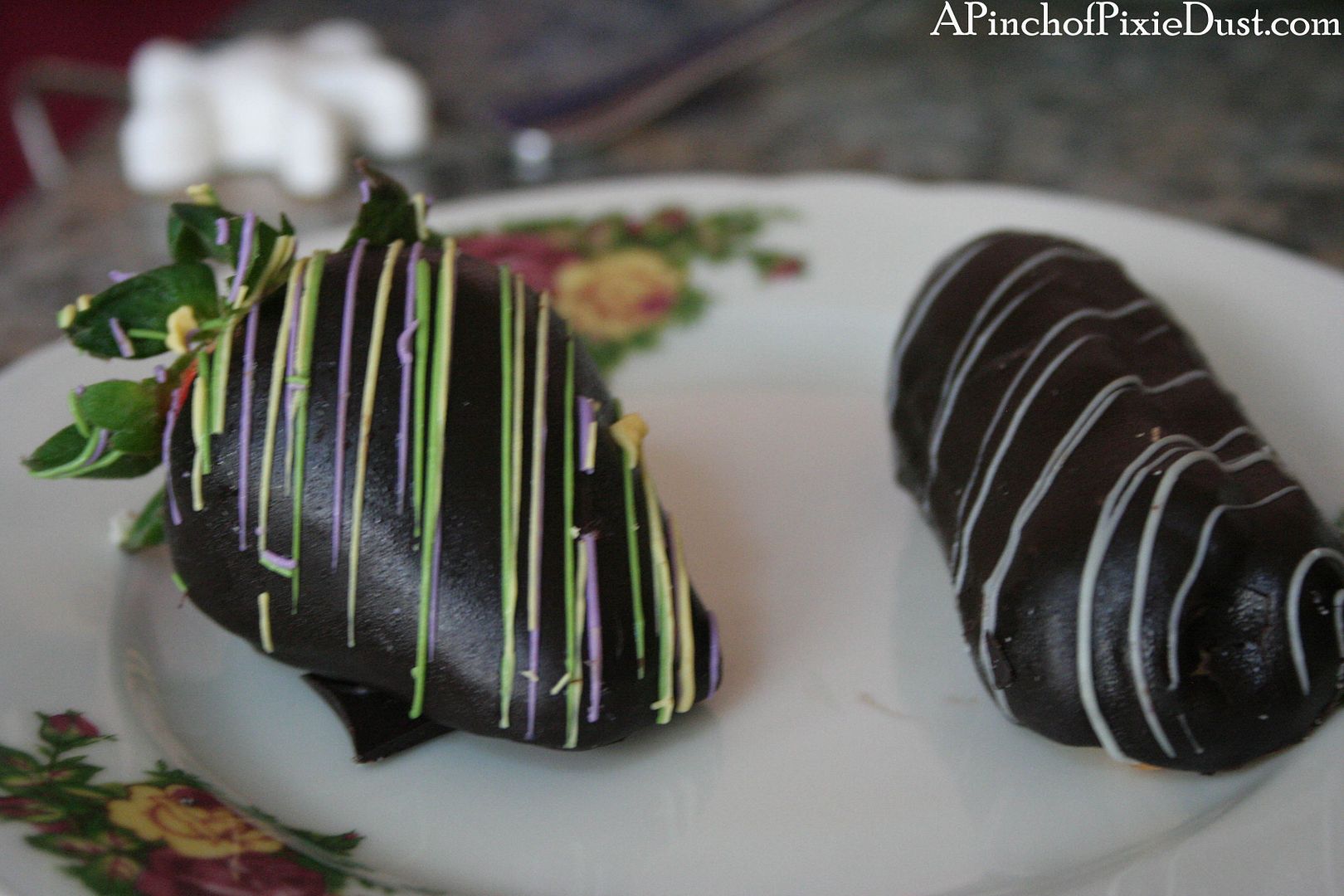 It was around Mardi Gras, so the strawberry had green, purple, and yellow drizzle!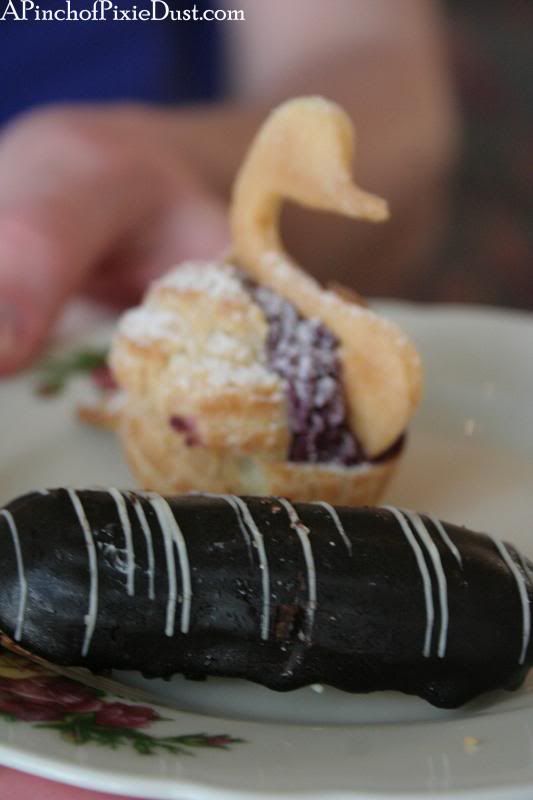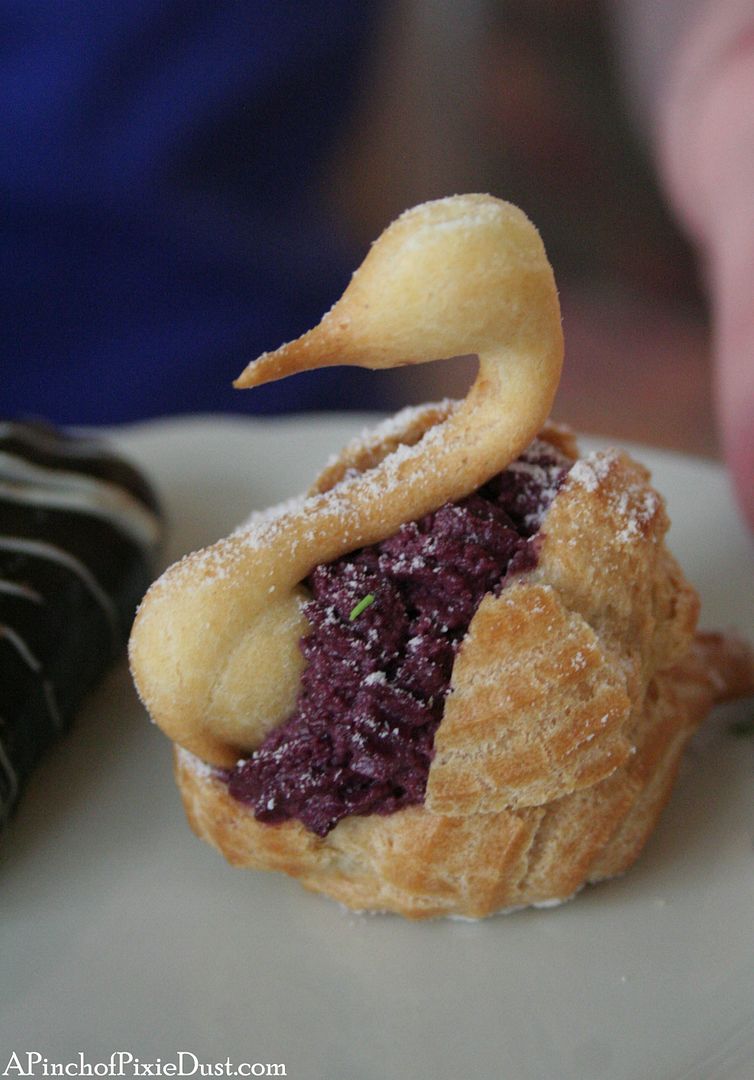 Those swans are exceedingly adorable and delicious, but there was something else I had seen when we were coming in that I was excited to try. If you don't want the pastries, you can choose instead for your dessert a bowl of strawberries and cream (always lovely) or a bowl of trifle...
In the past, the trifle has been served in a huge bowl which - if you see it when it's fresh - will have that elegant "GF" of cocoa powder on top...but now they have a mini dish with perfect powder just for you!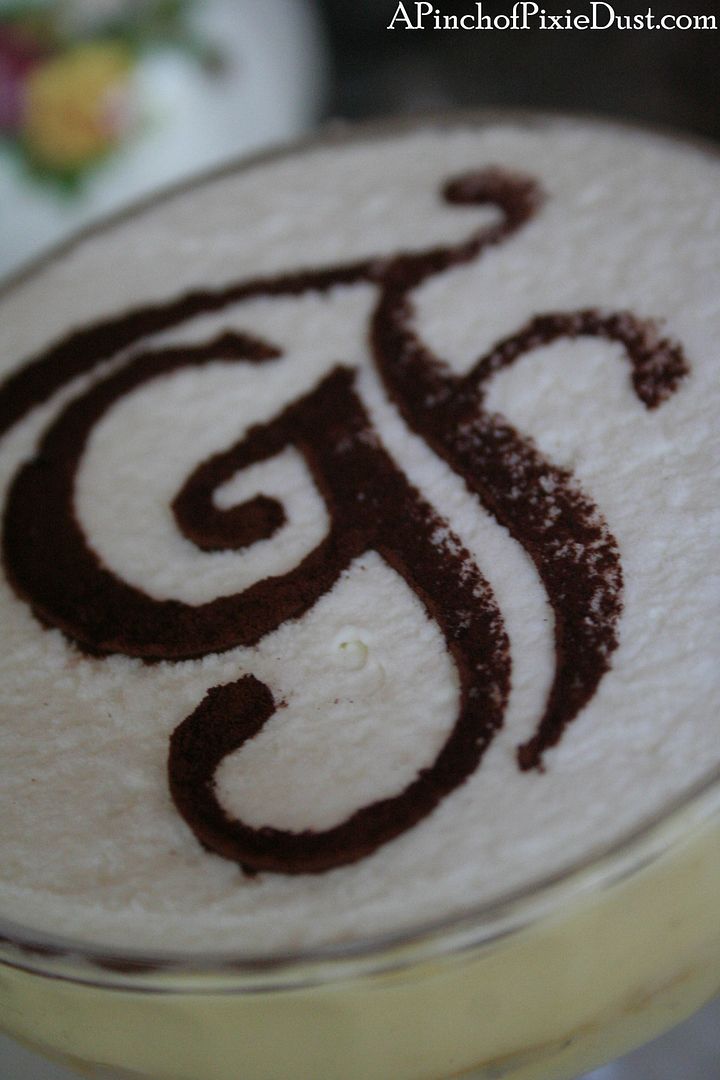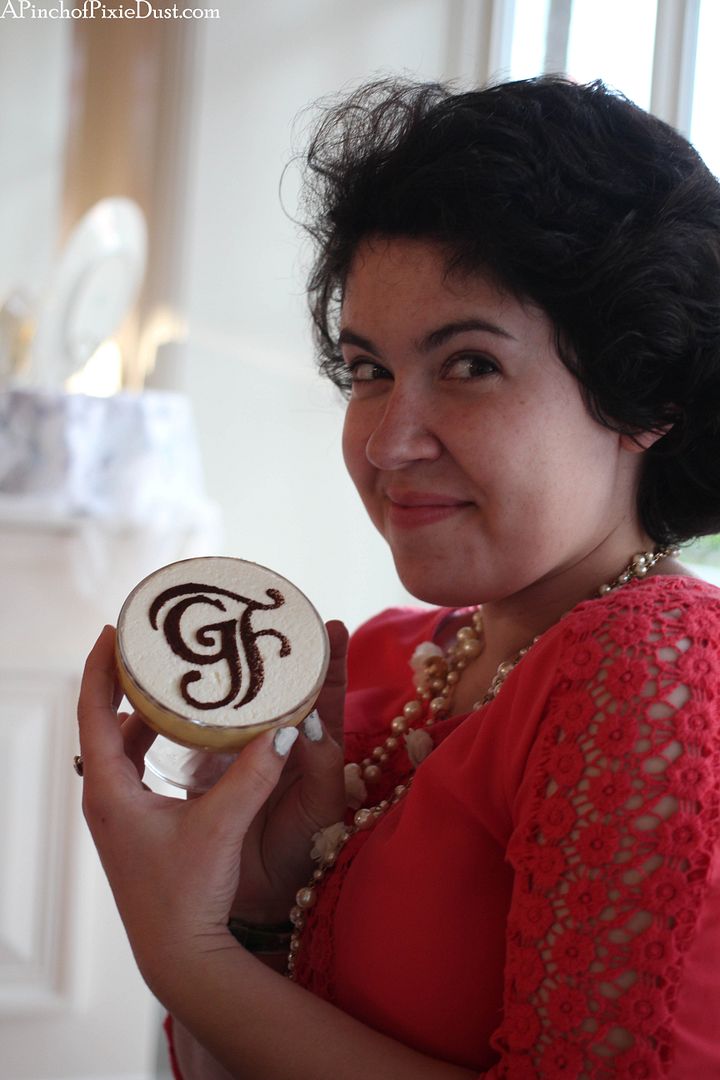 I almost didn't want to eat it and spoil the pretty logo!
...but of course I eventually did!
This was a banana trifle - creamy pudding, banana slices, a very liqueur-heavy sauce, a thin layer of whipped cream and sponge cake pieces on top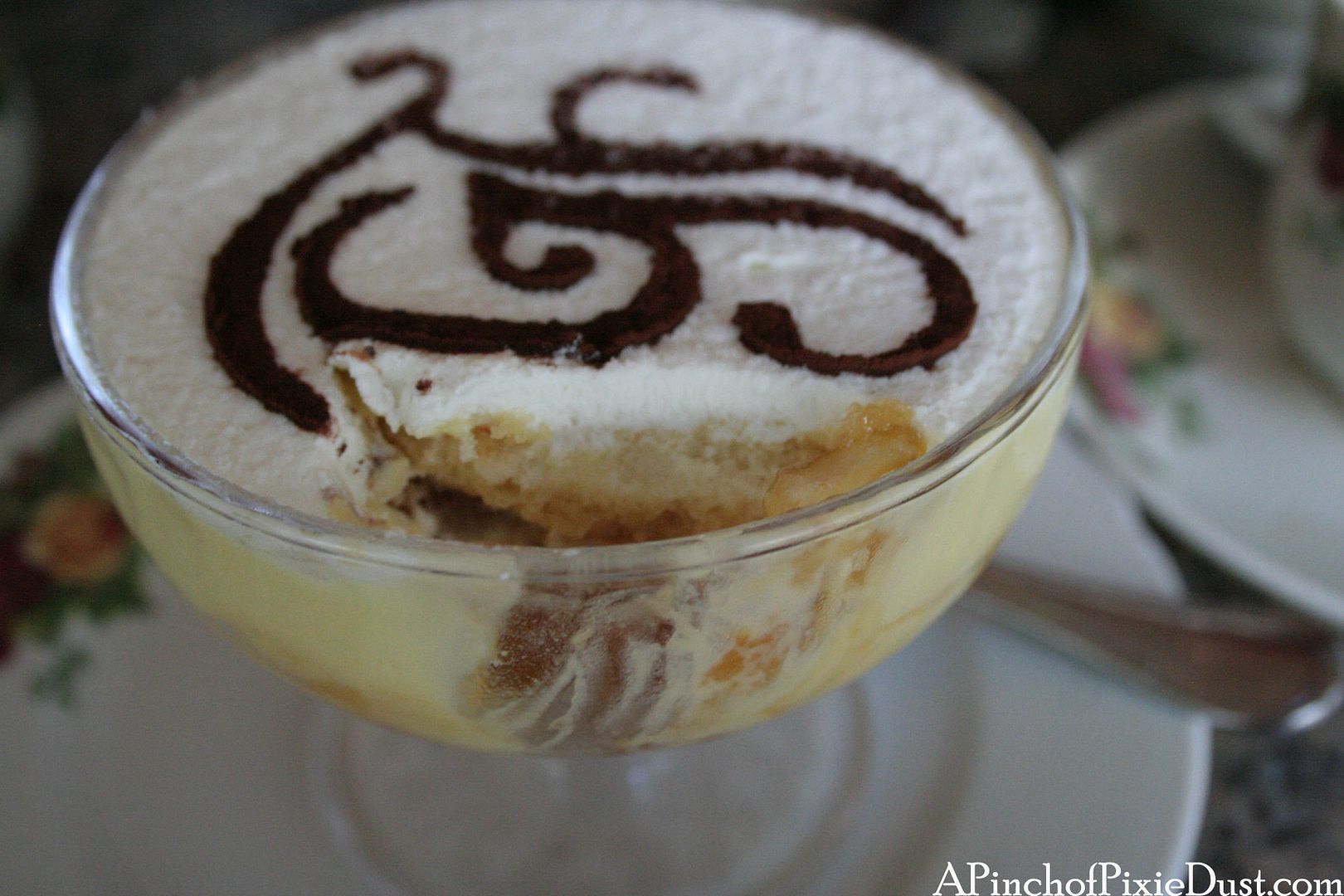 I'm not a huge fan of liqueur, and even the cake was soaked in it, so I found the trifle looked better than it tasted...next time I might go with the strawberries and cream.

But this dessert definitely gets high points for presentation!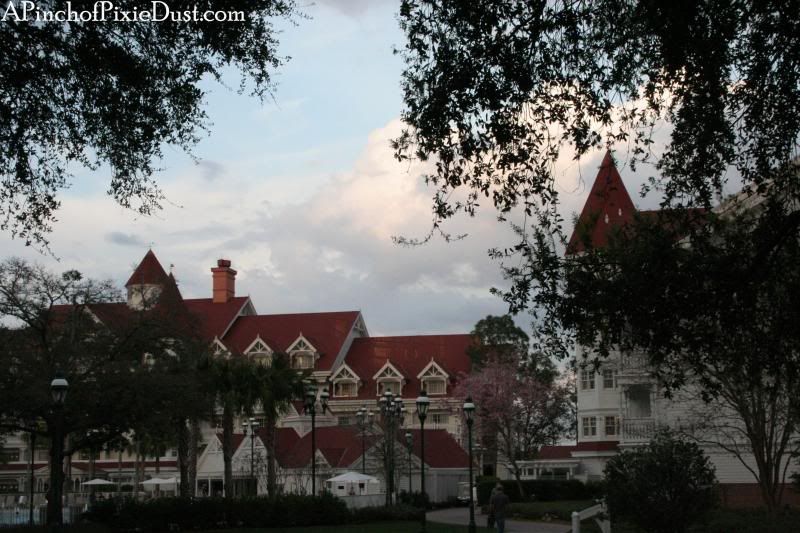 Will you be stopping by the Garden View Tea Room any time soon?