I heard the news on
twitter
just the other day.
Sunset Point at the Polynesian is no more.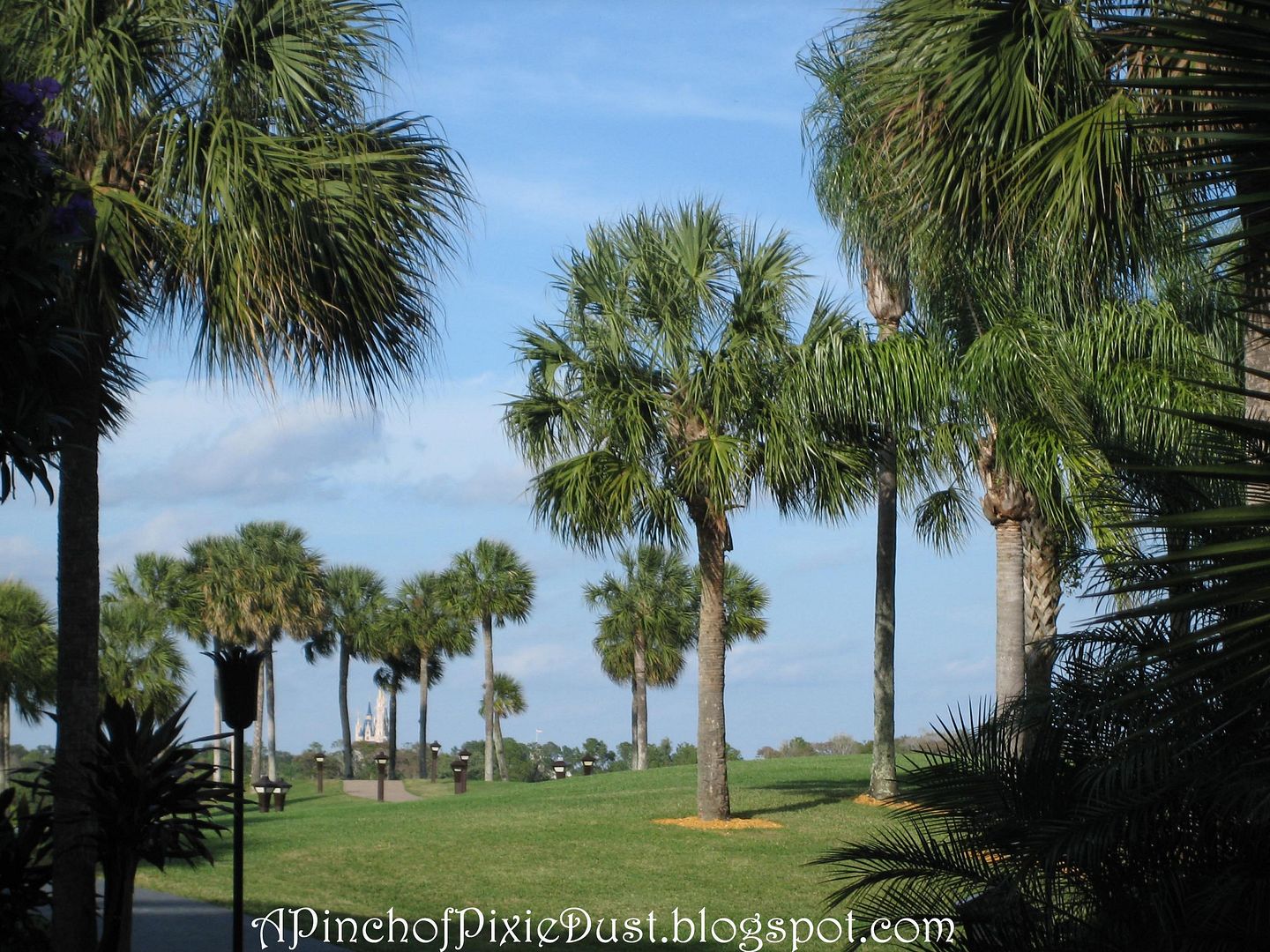 Sunset Point, that lovely, gently rolling, grassy green hill with the winding path that led to a perfect Magic Kingdom castle view...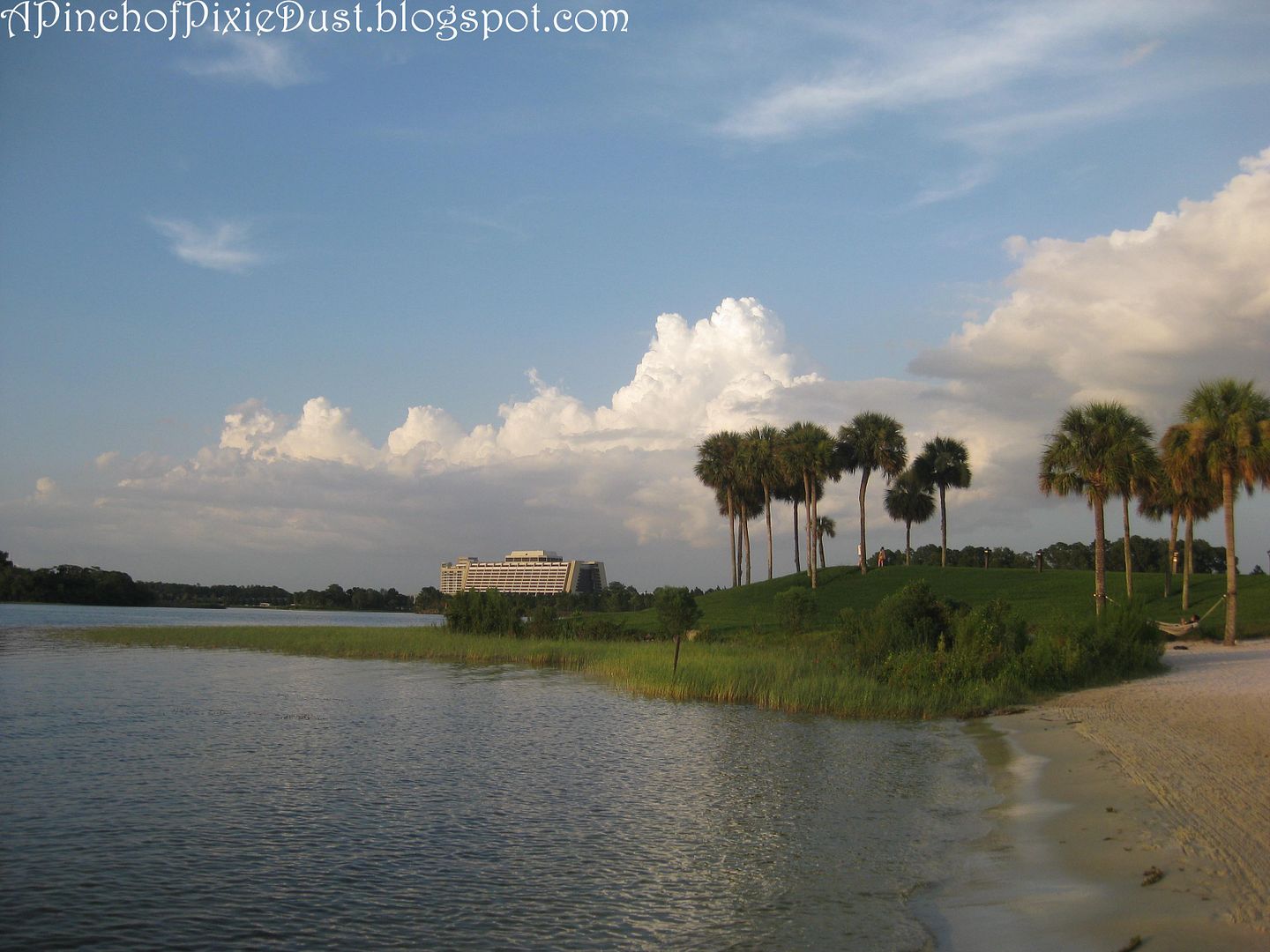 ...that perfect promontory of palm trees, so much more than just a spot to watch Wishes: it was an oasis of peace and calm looking out over the busy Seven Seas Lagoon. Now it looks like this...
It's a pile of dirt.
I guess they're putting in a dock or something for the new DVC villas. There are lots of photos in the update over on
MouseSteps
and also on the
Tikiman facebook page
if you want to look. But if you're a Polynesian person like me, it might be better not to look. Seeing one of my favorite spots on earth reduced to rubble made me feel a little sick.
This was my reaction
. It was definitely a shock and horror "NOOOOooo" moment.
I know not everyone will be especially affected by this piece of news. To many it may just seem a small sacrifice to a new Disney construction project.
But if you have been reading my trip reports on the DIS over the past six years or been reading this blog for any length of time, you will know how attached I am to the Polynesian. We stayed there on our first trip in 1997, and I've been a Polynesian snob ever since. Looking back through the photos I took during my ten months as a cast member, I realize that I visited the Polynesian more often than I visited any other Disney spot, even the Magic Kingdom. So you can imagine my dismay.
I guess I should have been prepared, because of course I
knew
they were going to be making changes to add in the Disney Vacation Club buildings at the Polynesian. I knew the construction was coming, but it's still makes me so, so sad that Sunset Point is gone.
I know we shouldn't panic yet, because, maybe -
surely
- they'll put Sunset Point or at least
some
sort of castle overlook back in, right? How could they not? I'm surprised that Disney hasn't released any concept art for the Polynesian DVC yet. At least that would give us something to look forward to.
But I have a hard time getting excited about it. I'm not sure I'll ever be a DVC member, and because I loved it so much as it was, it's hard to see how DVC will improve it. I mean, what if they make a new Sunset Point a Members-only area like the pools at other DVC properties, where you can only get in with your room key? I can't even count the number of times I have been to the Polynesian as a day guest, to get dinner at Captain Cook's, to stroll and enjoy the beach for a little while - and I always felt welcomed and encouraged to do that. Could those days be over? I hope not.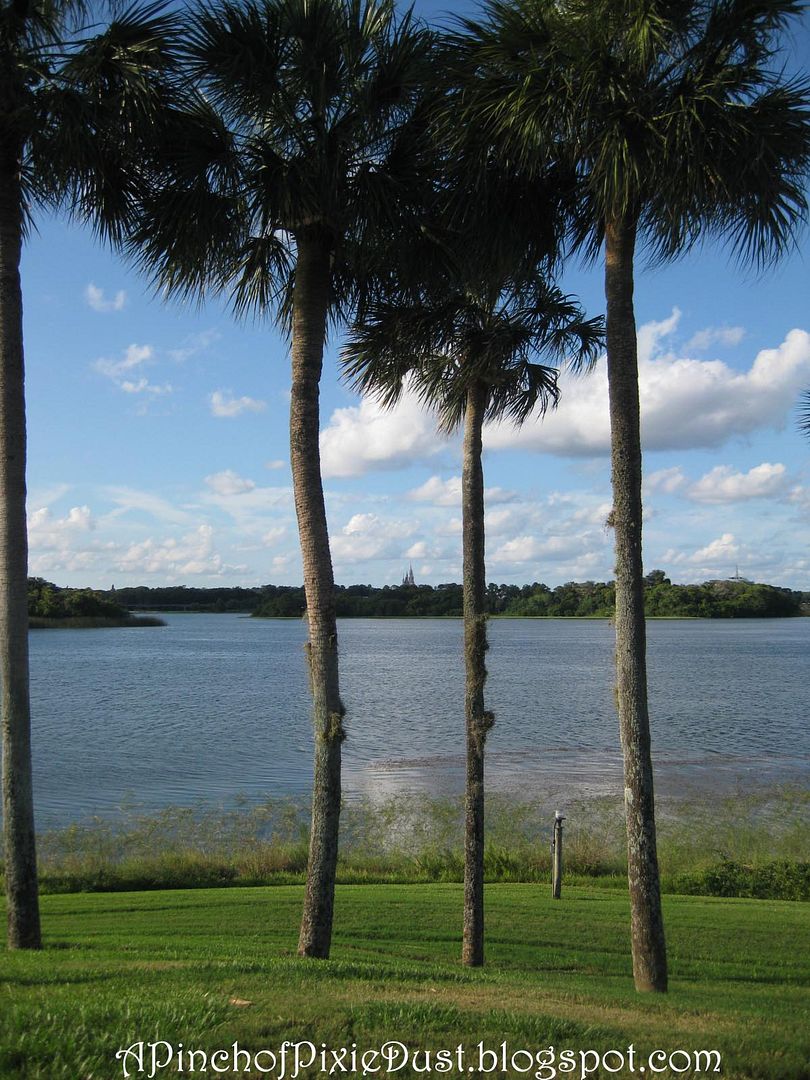 Trying to name a favorite place at WDW is, for me, like trying to name a favorite Jane Austen novel. It can't really be done, because I love them all so much. But if I had to, Sunset Point would be right up there at the very top. I love the hammocks and the beach and the resort in general; and Sunset Point contributed hugely to that atmosphere of Polynesian perfection.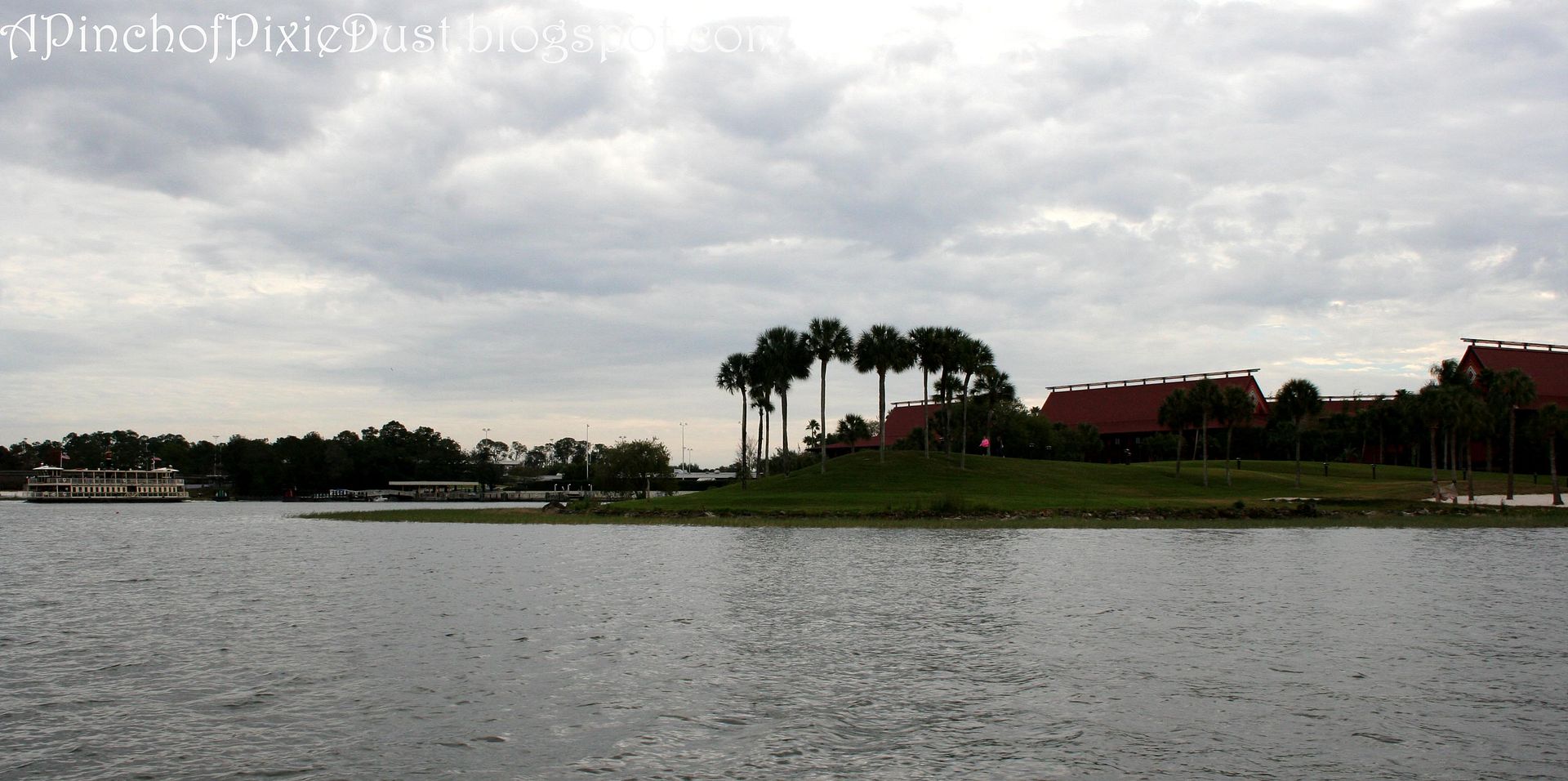 It was a big part of the Polynesian landscape. I would always smile when I saw it from the launch, coming back from a park day, and it would always seem to smile back.
A view of Sunset Point was partly what made a theme park view room in the Hawaii Club building so exciting. Watching the sunrise and sunset colors spread over that vista of green and palm trees from the comfort of your room was just sublime. What will that vista look like now?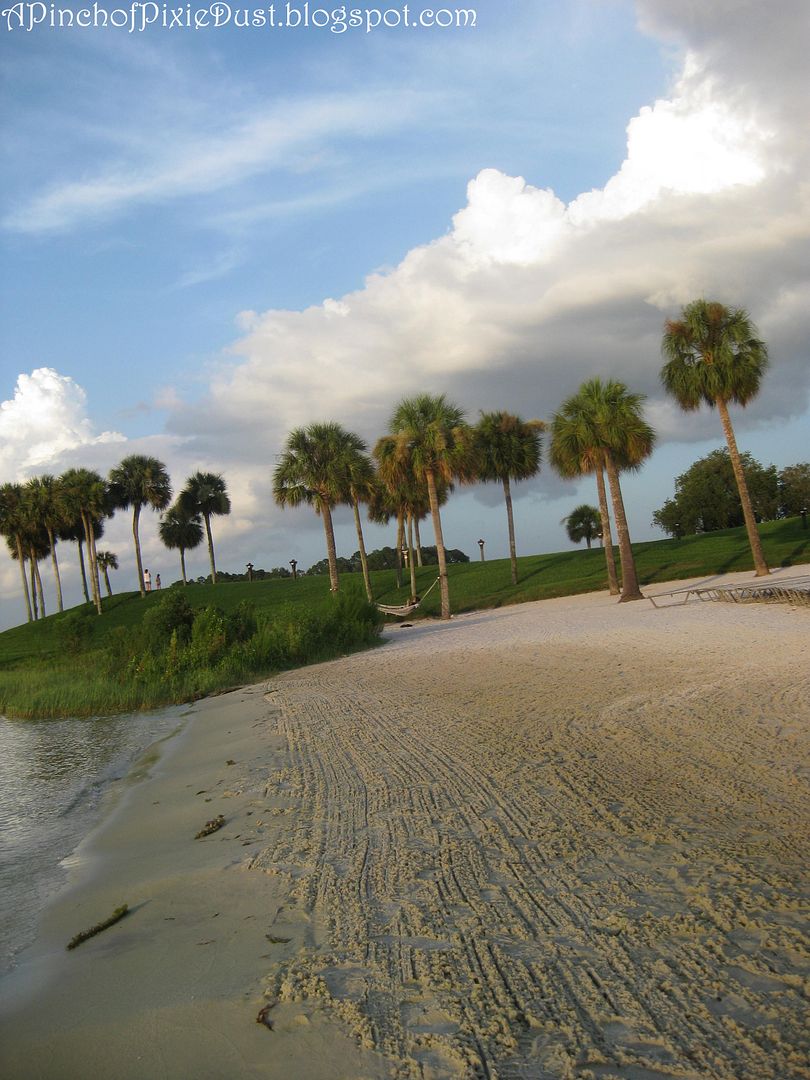 Sunset Point dominated almost every view of the beach - the crest of palm trees was the perfect frame for the long stretch of white sand.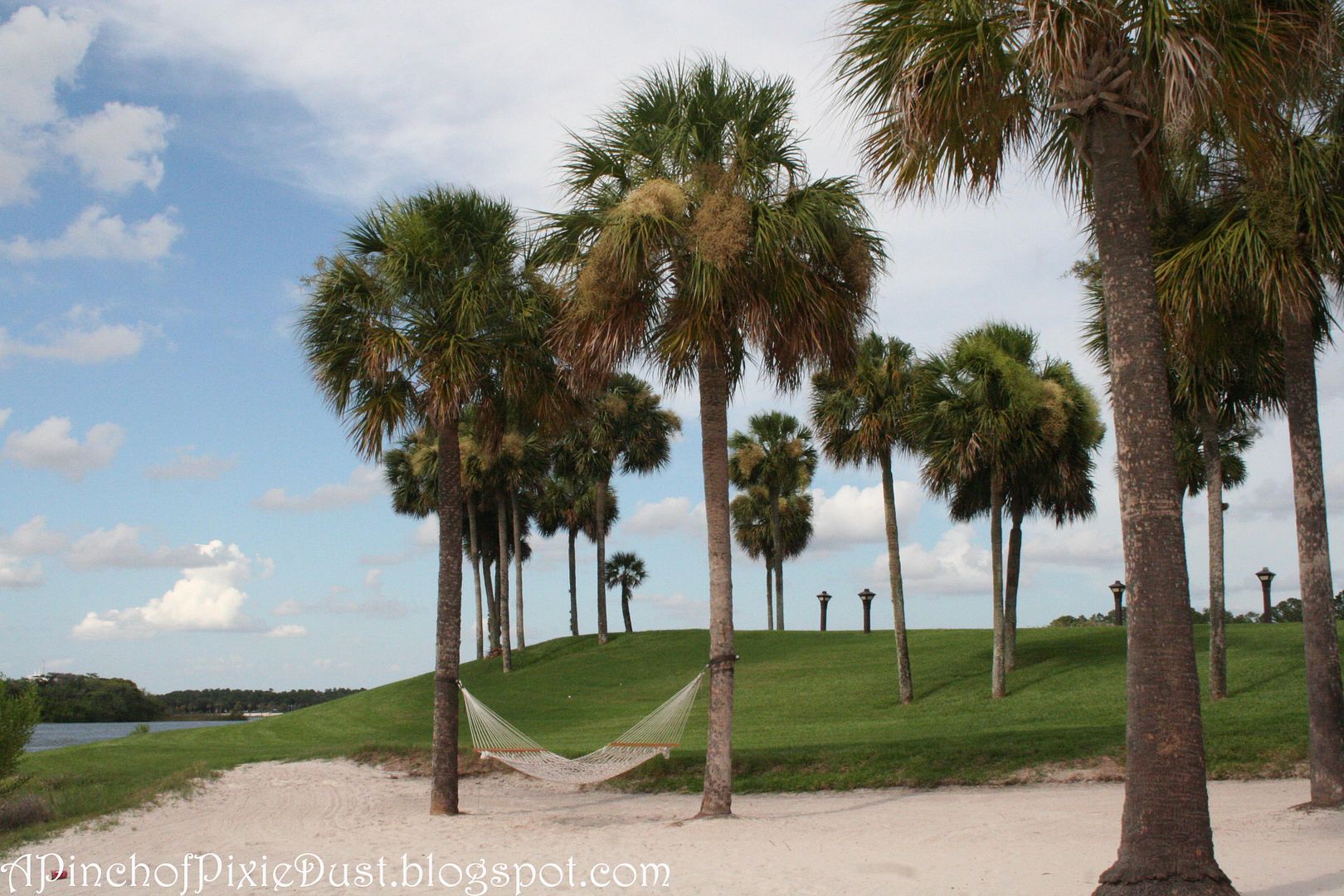 Many and various are the hammocks on the Polynesian beach, but I'd say my favorite was the one tucked away just next to Sunset Point, close to the water and that lovely castle view.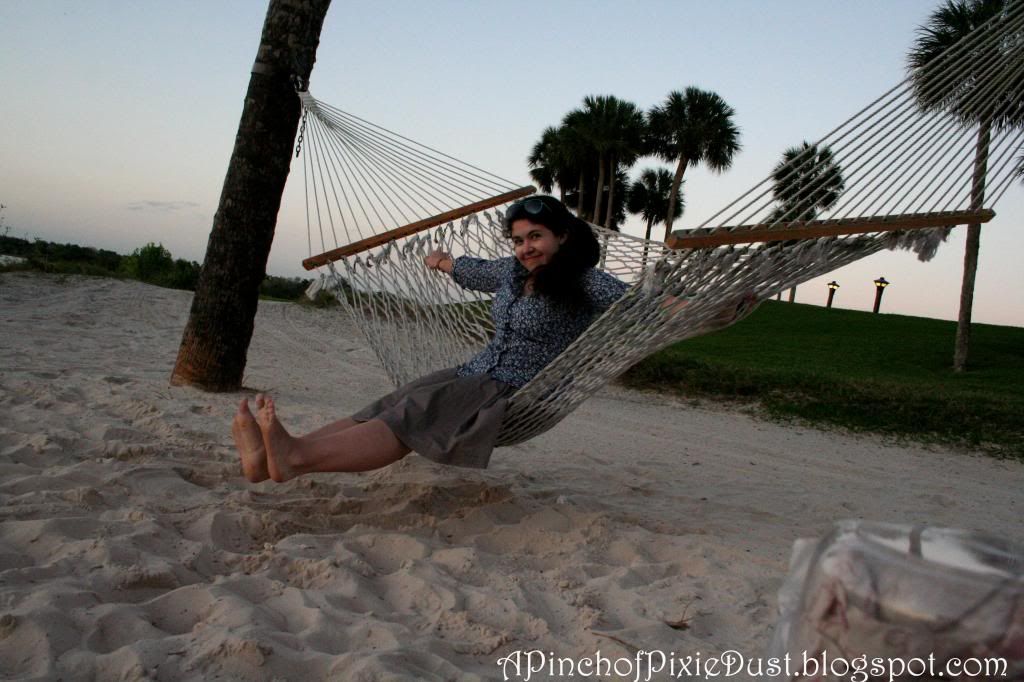 Sitting in that hammock, sheltered by Sunset Point, you felt like you had a corner of Walt Disney World all to yourself.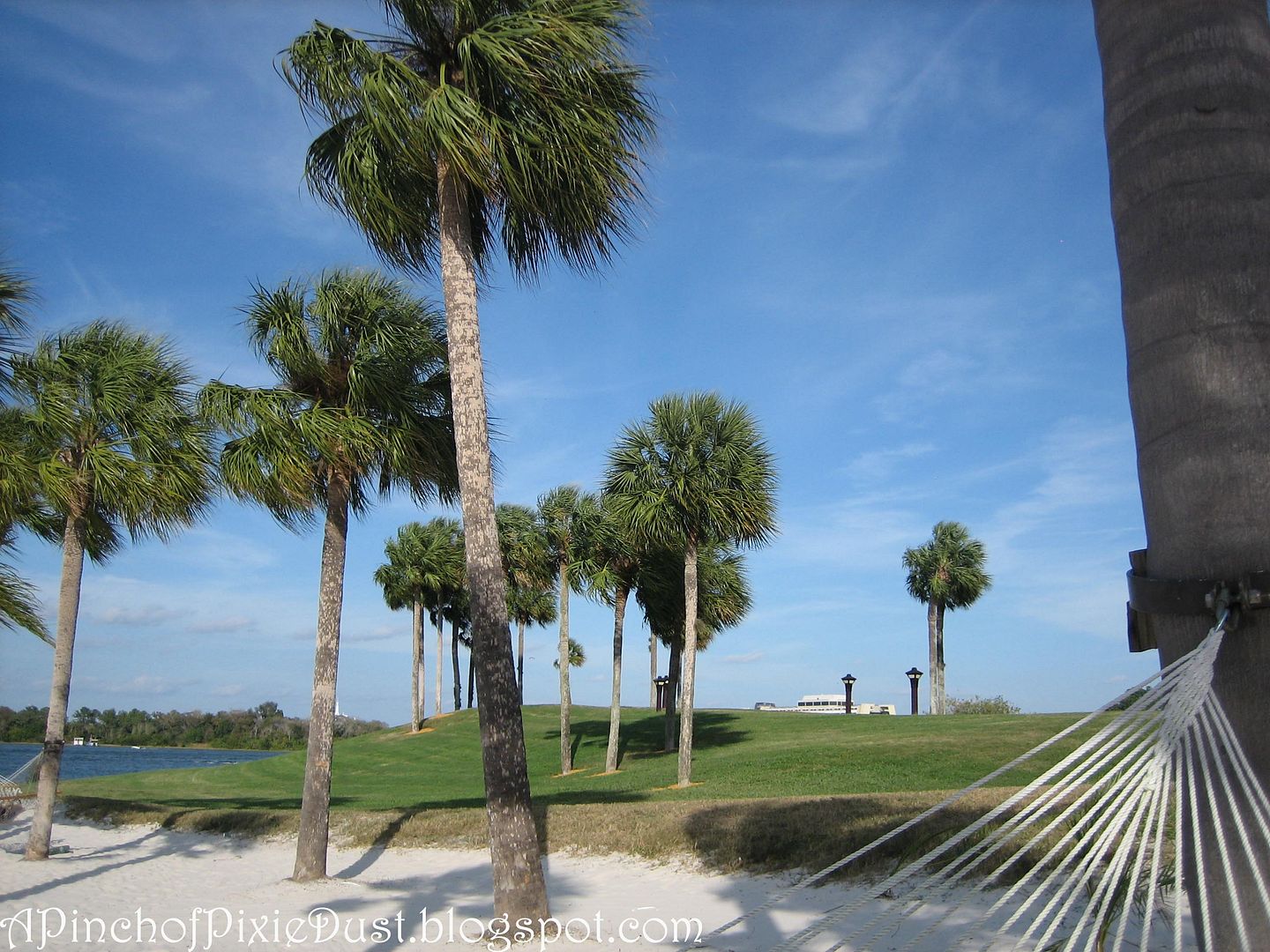 The beach and the hammocks are going to be so different without Sunset Point.
A sunset - or rather sunrise - view of Sunset Point itself was pretty much perfection. But when you actually followed the winding path to the top it got even better.
One of my favorite Polynesian memories is from a trip some years ago. It was the very start of our vacation, and we had
just
checked into our room in Tokelau, and I
had
to get out to see that beach as soon as possible. I followed the path towards Sunset Point, and
this
was the view that greeted me:
I promise you I did not touch that castle with photoshop. It literally looked that huge and perfect framed by Sunset Point's palm trees from that perspective on the path. That moment and that view were better even than walking down Main Street. I could have cried from how happy it was. I wish I could bottle up that feeling.
It was impossible to walk up this path. I always had to skip. Sometimes I think I floated.
For whatever reason, Sunset Point was a place that spoke to me, a place where I always felt that childlike magic that we Disney lovers go to Disney to find.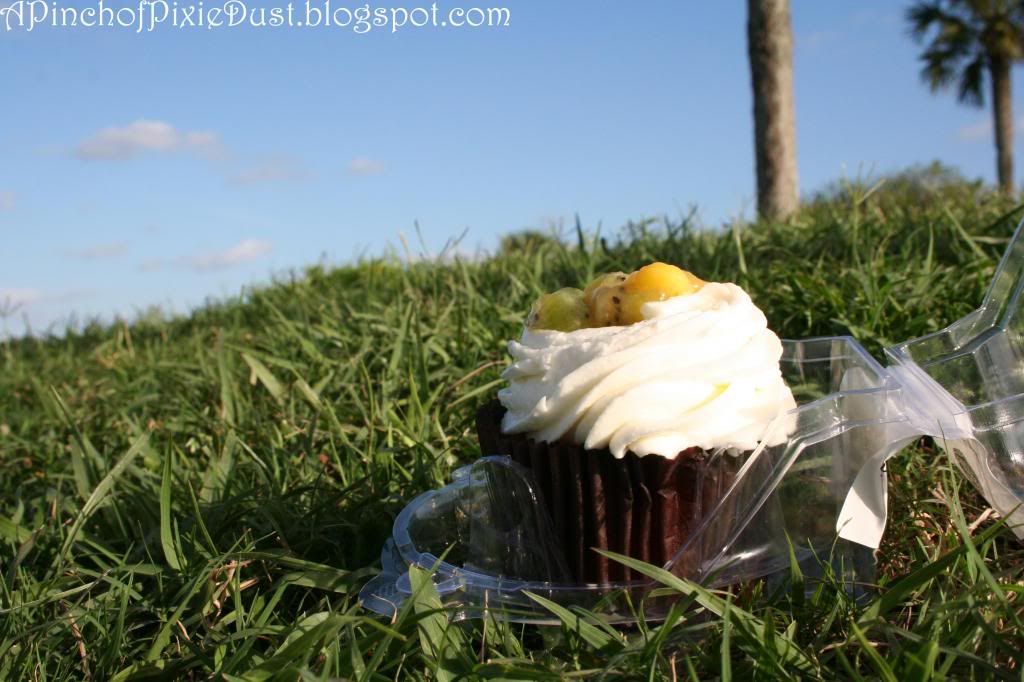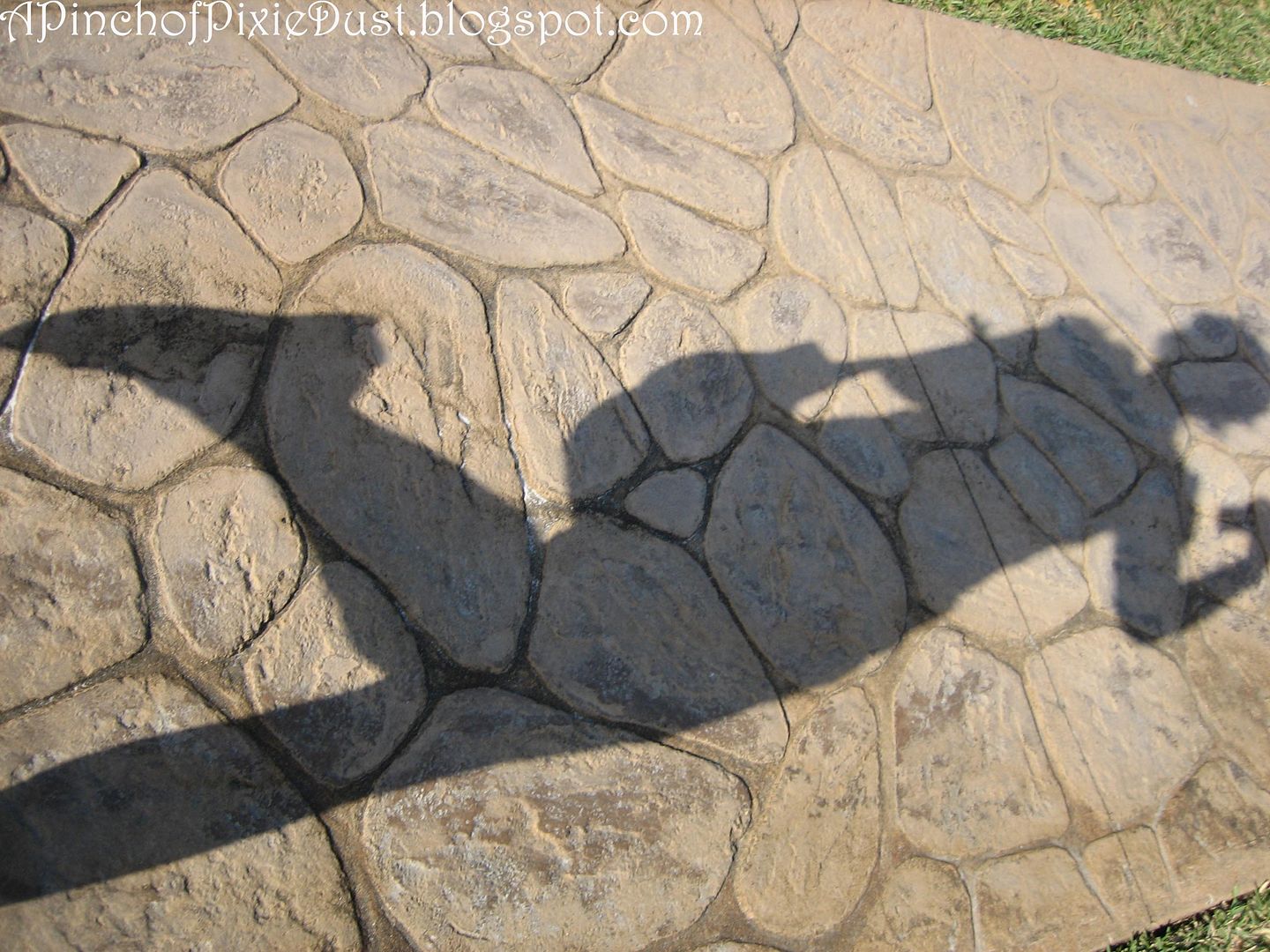 ...the many shadow pics I took for trip reports... ;)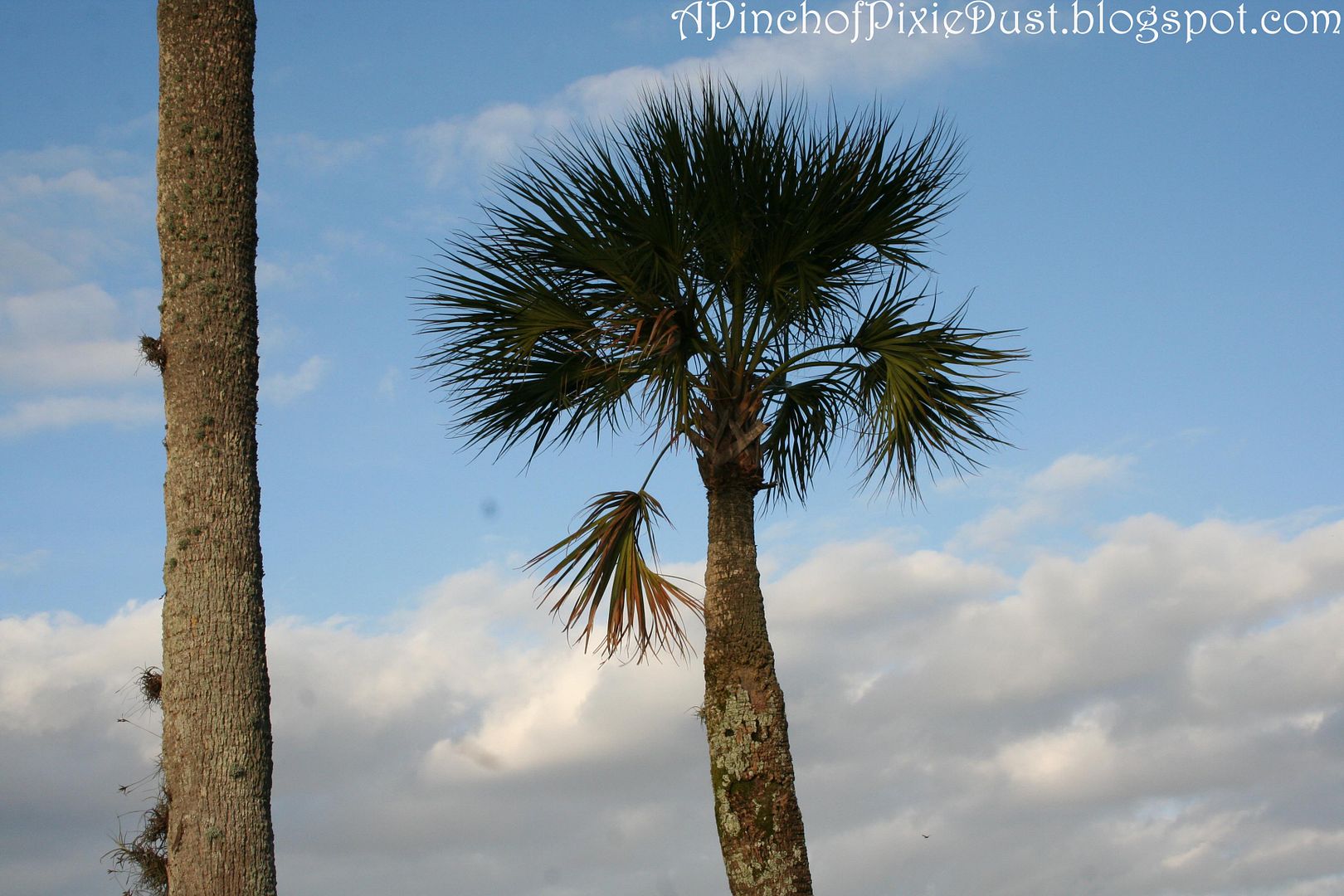 ...the palm trees I befriended...
...the weddings and vow renewals I watched from afar.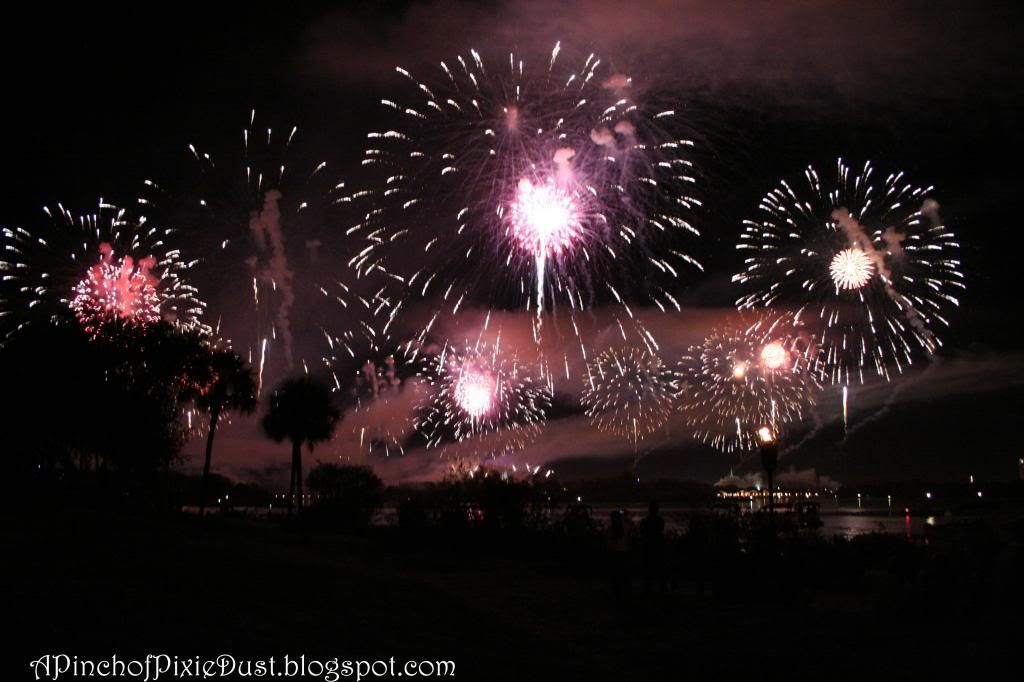 ...and let's not even talk about the Wishes watching. There was no more perfect place in all of Disney World to
ring in New Years
than Sunset Point.
THAT VIEW.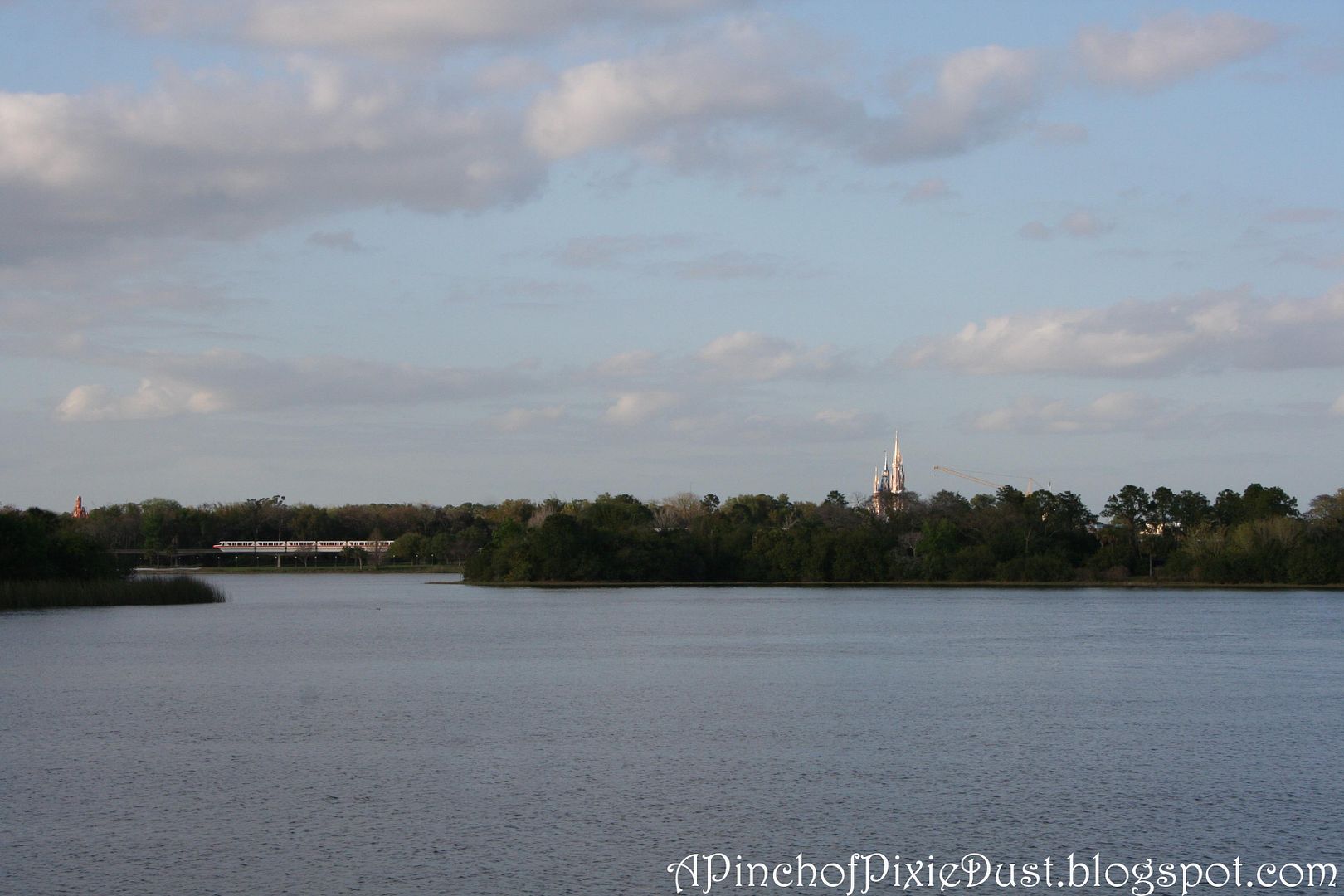 That castle. That view. And the Grand Floridian and the Contemporary just across the water and the boats going to and fro...
You had some of the excitement and sights and even sounds of the Magic Kingdom without the hecticness and the crowds of actually being in the park.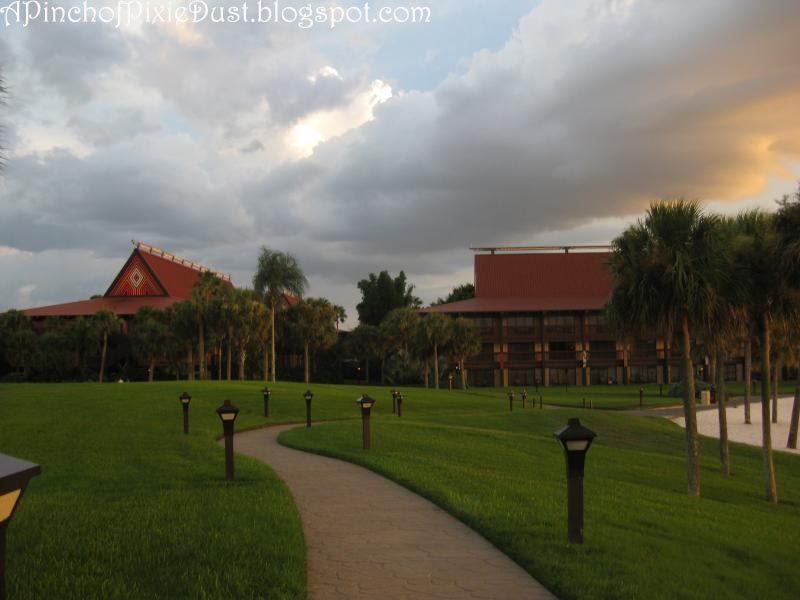 Looking back towards the Polynesian was pretty incredibly gorgeous too...
Each different time of day and type of weather seemed to give the view a different and beautiful personality. Standing at the tip of Sunset Point, I seemed surrounded on every side by loveliness.
Possibly this post is starting to sound hyperbolic. Possibly it is, a little bit. :) But the feeling I got at Sunset Point was the feeling you go to Disney World for. It was the feeling you travel
anywhere
to find: a sort of timeless joy that you take with you when you go. When you're back in the real world, you can borrow some of that happiness just by remembering it.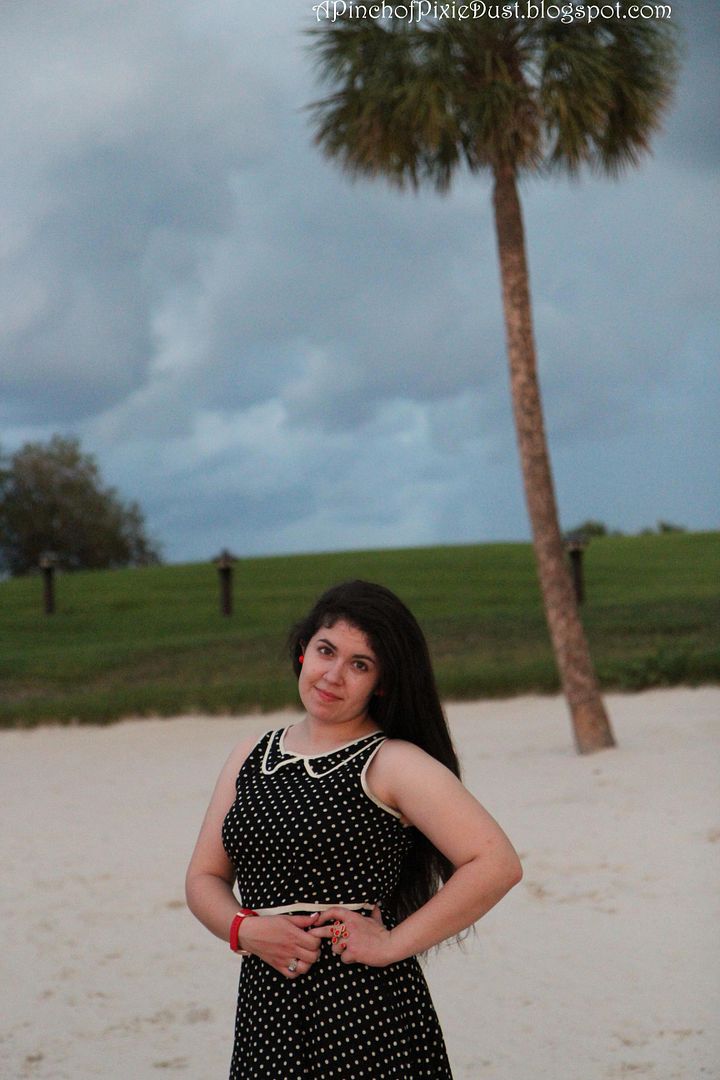 Thanks, guys, for listening. :) And if you too are mourning the loss of Sunset Point, just know you are not alone. And be sure to share your thoughts on the Polynesian construction in the comments!