AVAST ME HEARTIES! This post's pinch o' pixie dust is going to be of the PIRATE variety...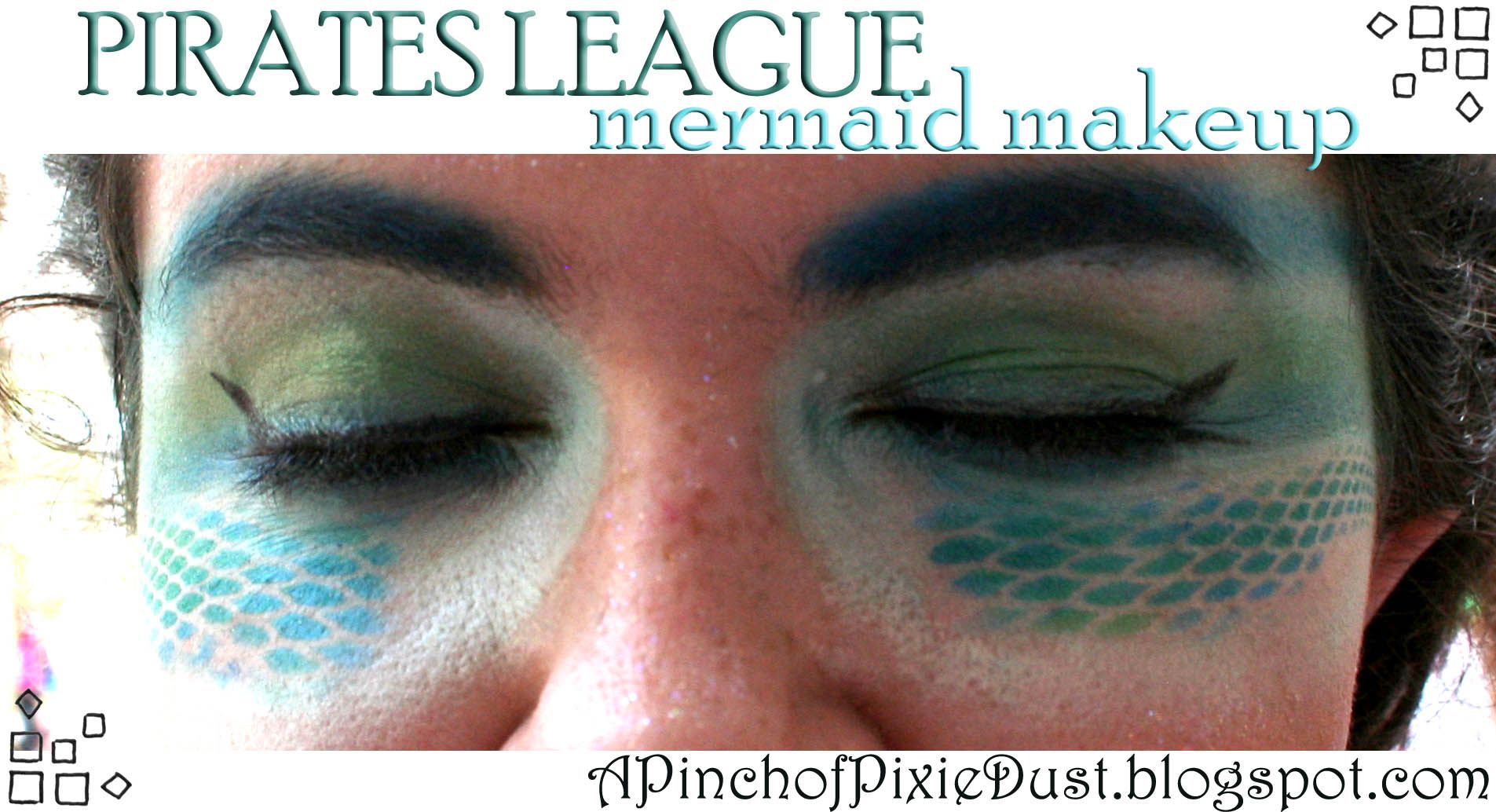 If you venture into one of those shadowy corners of
Adventureland
, there's a place where you can be transformed into - yes, a pirate - but also a MERMAID for the day. Today's post is all about the PIRATES LEAGUE at the Magic Kingdom Park!
You guys.
I totally love the Pirates League
.
I'm just going to admit that straight up.
I did the Pirates League for the first time the summer before last with my nine-year-old brother Dart. (You may remember reading about it in my
trip report
.) You do want to
make
reservations
because it can fill up - and the anticipation is half the fun!
We had looked up the different packages and made our decision months beforehand. Dart had to be somewhat bribed and talked into it; he thought he was too cool for the Pirates League. It is technically a "makeover" - but believe me, it is not even remotely girly. And by the end, Dart LOVED it.
So. As soon as you approach the podium right near the entrance to the Pirates of the Carribean ride, you are greeted by a scurvy,
sarcastic, swashbuckling crew
. The cast members at the Pirates League
make
the experience and are absolutely hilarious - they are always in character, bickering with each other, using pirate banter - they immediately transport you into the world of the buccaneer!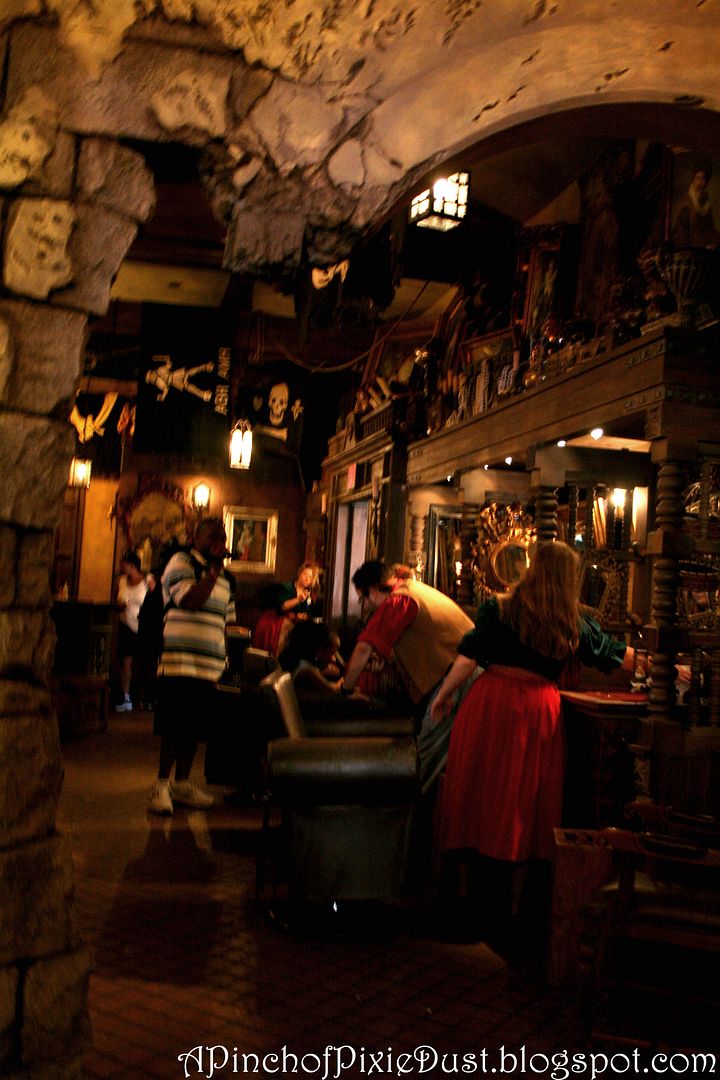 The surroundings help too of course! The walls have been battered by cannon blasts, there is (obviously) stolen loot lying around everywhere and pirate flags of every description!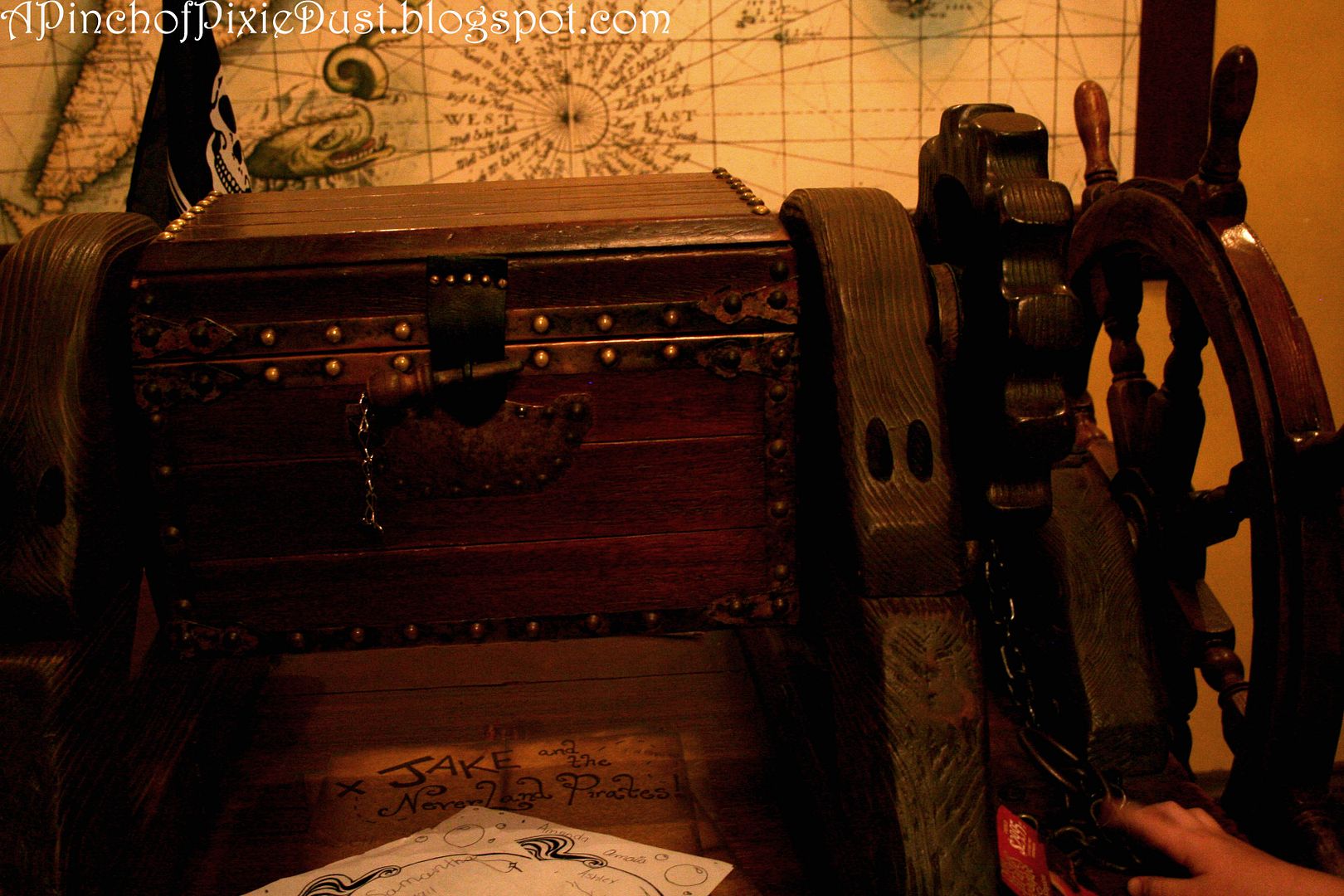 This treasure chest is just for the pirates - before you start the transformation, you spin it to figure out what your pirate name will be! They didn't seem to do this for the mermaids - though there was a little mermaid book you got to sign.
(Dart had a pretty fun time spinning that thing as fast as he could!)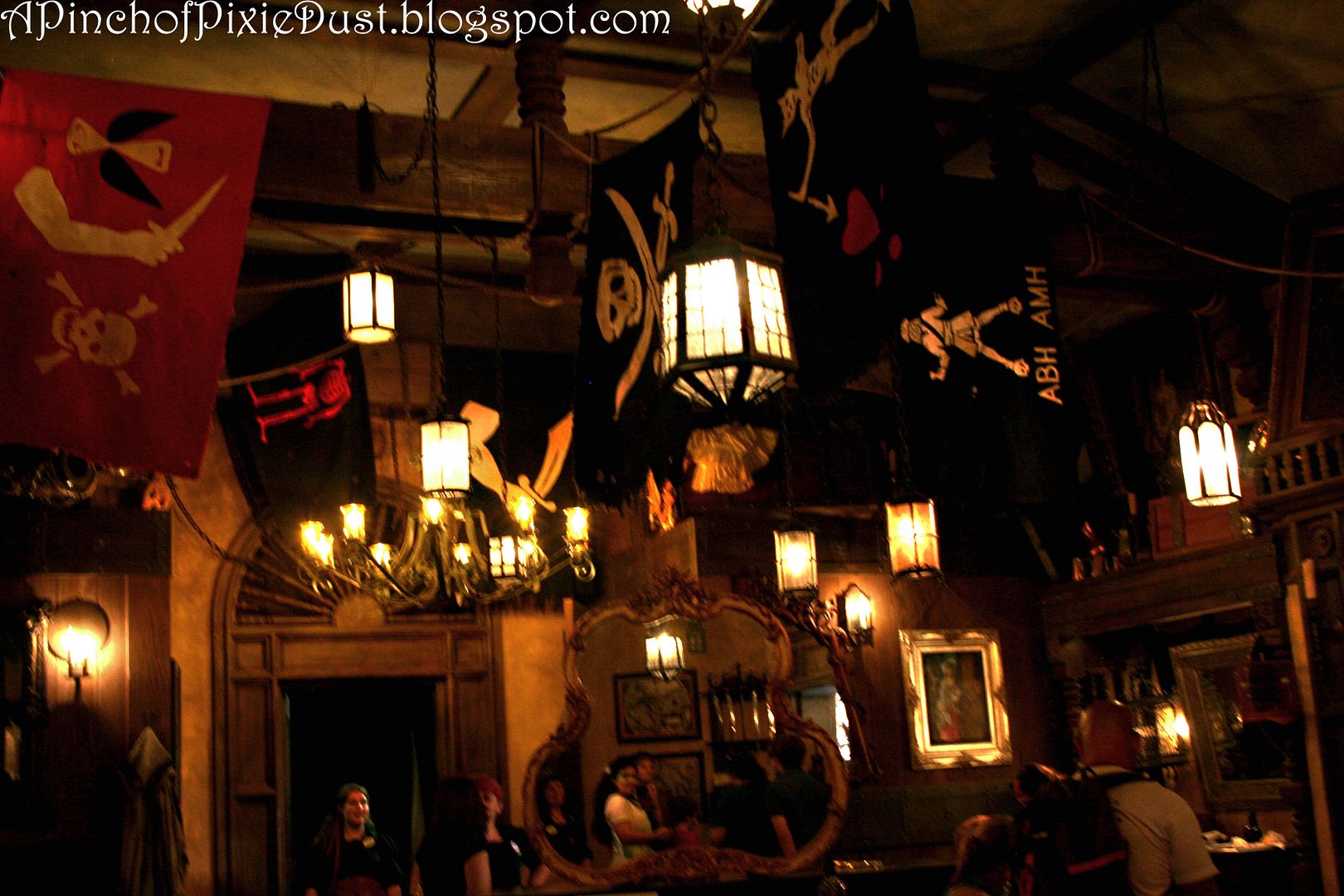 The imagineers did a fabulous job with the Pirates League decor. There's so much to look at!! Even the individual stations where you'll sit to get your transformation are so plussed out - there are extravagant, oversized mirrors angled down and big leather chairs.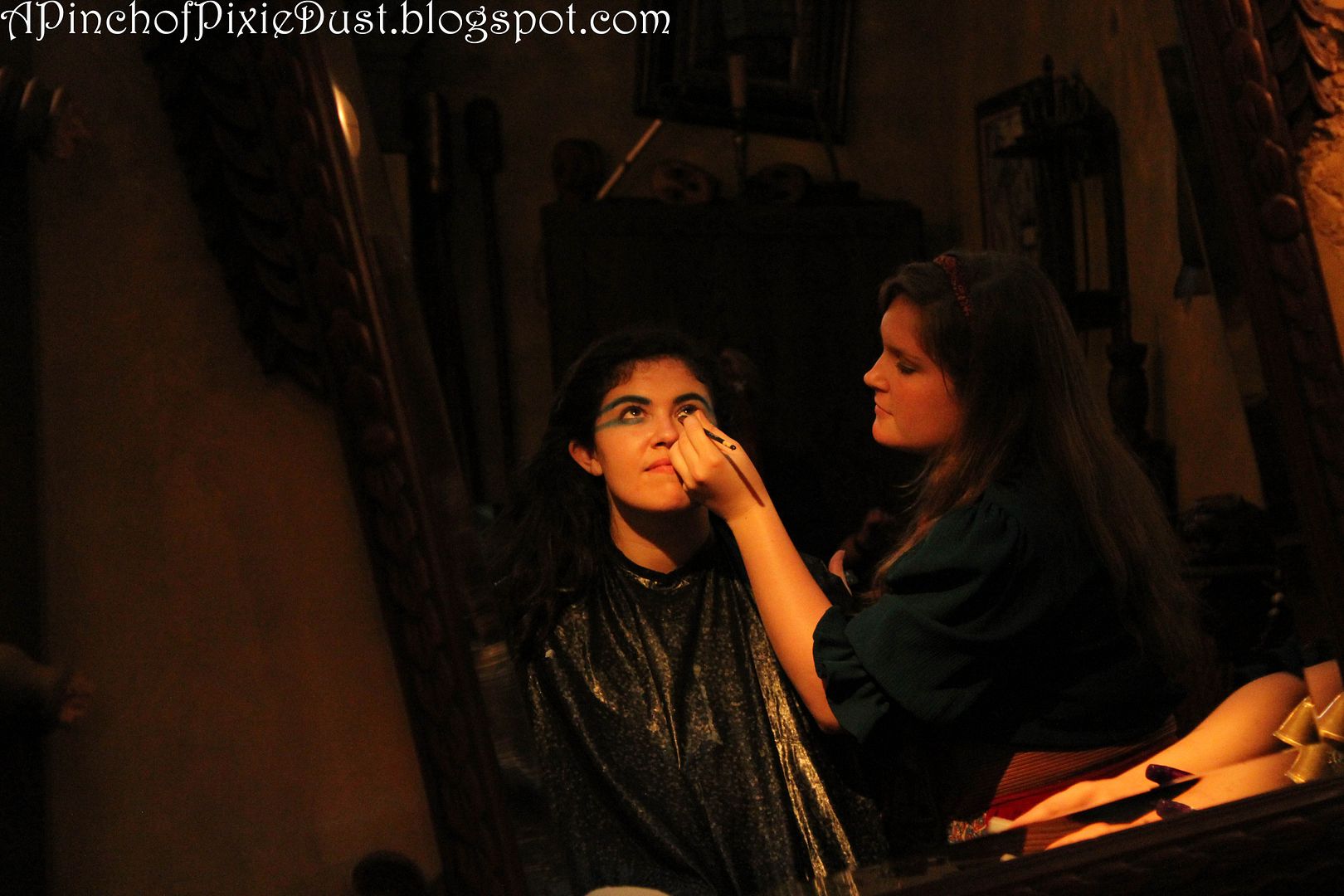 So. Shall we get started with the makeover??
Now I'll admit - I was a little nervous about doing the Pirates League as an adult.
Adults are allowed and very welcome to get a pirate makeover
(unlike at the Bibbidi Bobbidi Boutique, which is now 12 and under). I've actually seen entire families - all the way from grandparents down to the kids - get swashbuckling makeovers, which is just adorable. But I did feel a little self-conscious at first.
There was no need to be - Mallory, the CM who did my look, was great. She gave me all the pirate jokes - apparently mermaids are evil in the PoC world, so I had to promise not to eat anyone - but then we were also just chatting about working for Disney and living in Florida.
Really, Disney World is one of the few places in the world where you're not only allowed but encouraged to act like a kid and dress up like a pirate or a mermaid. And the mermaid was no cheesy, half-hearted sort-of thing. This is an absolutely gorgeous
look
that I feel like you could see a professional makeup artist doing on models for some
crazy under-the-sea fashion show
. I've been thinking it would be a cool look to recreate for a Halloween costume too!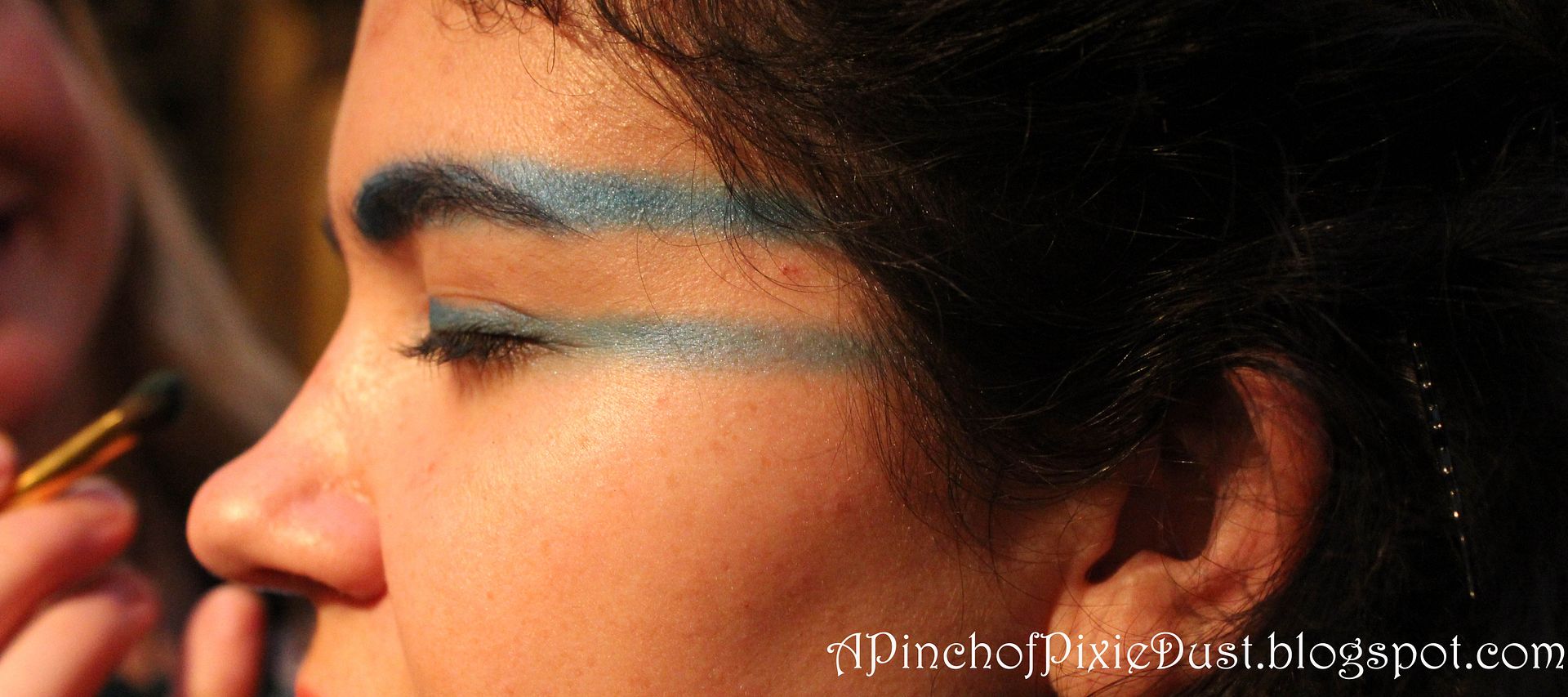 Mallory started out with some VERY blue eye shadow - she filled in my eyebrows with it and drew a line straight all the way back towards my ear, both at the eyebrow and at the lashline.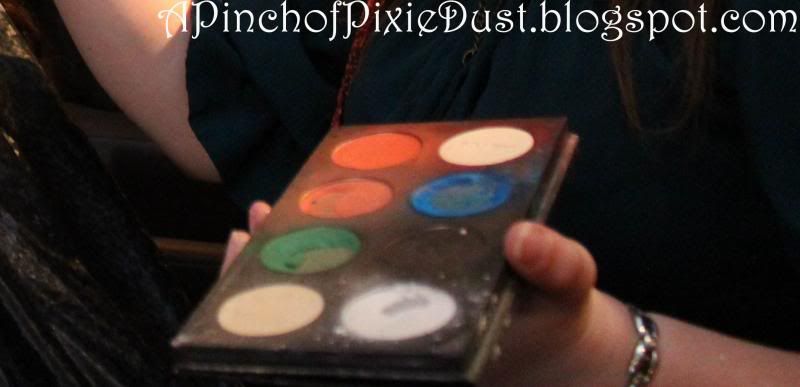 Here's the palette she used - mostly the blue and green and white.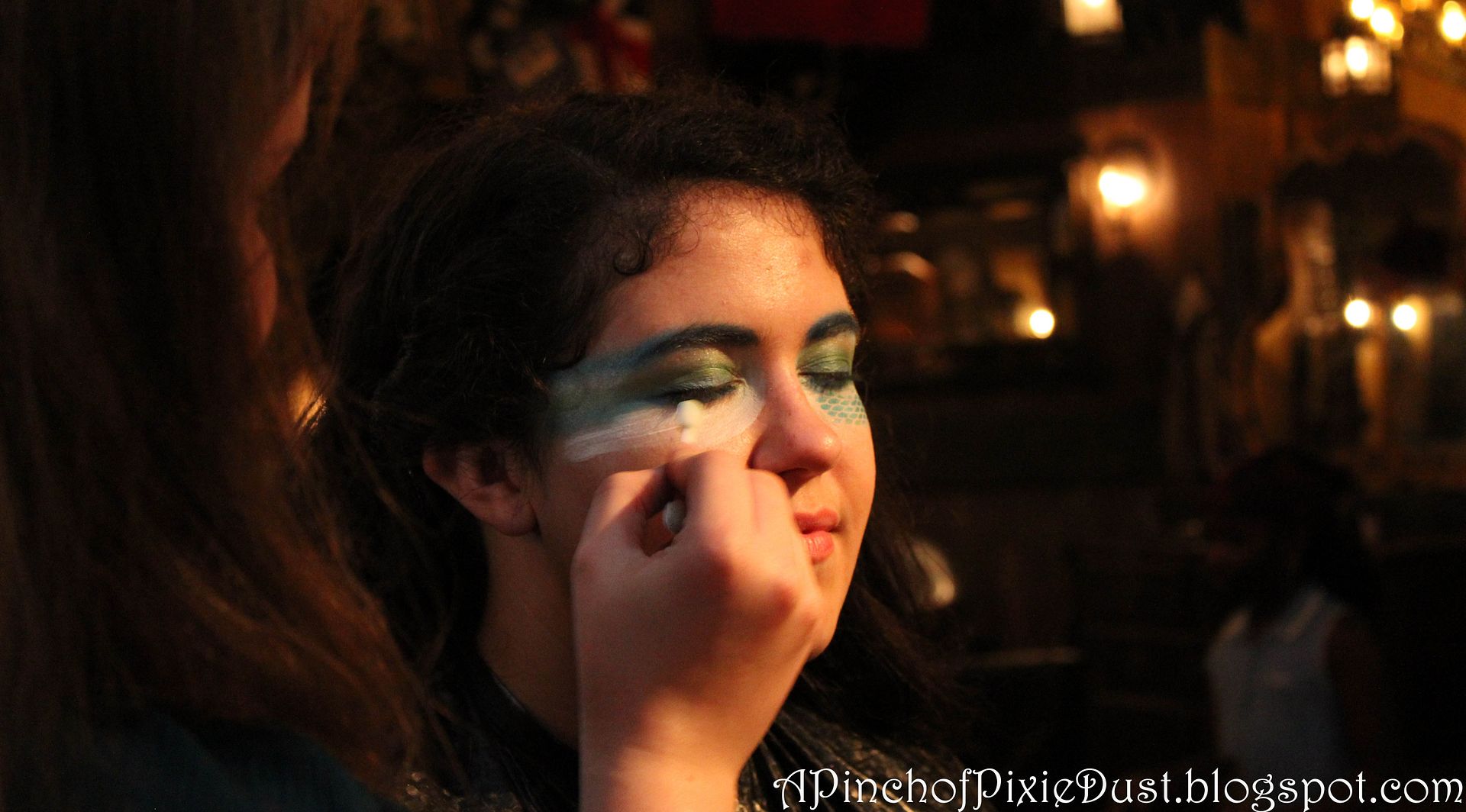 Once those first two blue lines were drawn on, she filled in the space between them with a mix of green and blue powders and also a VERY shimmery white powder/cream. The white cream she extended pretty far down onto the cheek!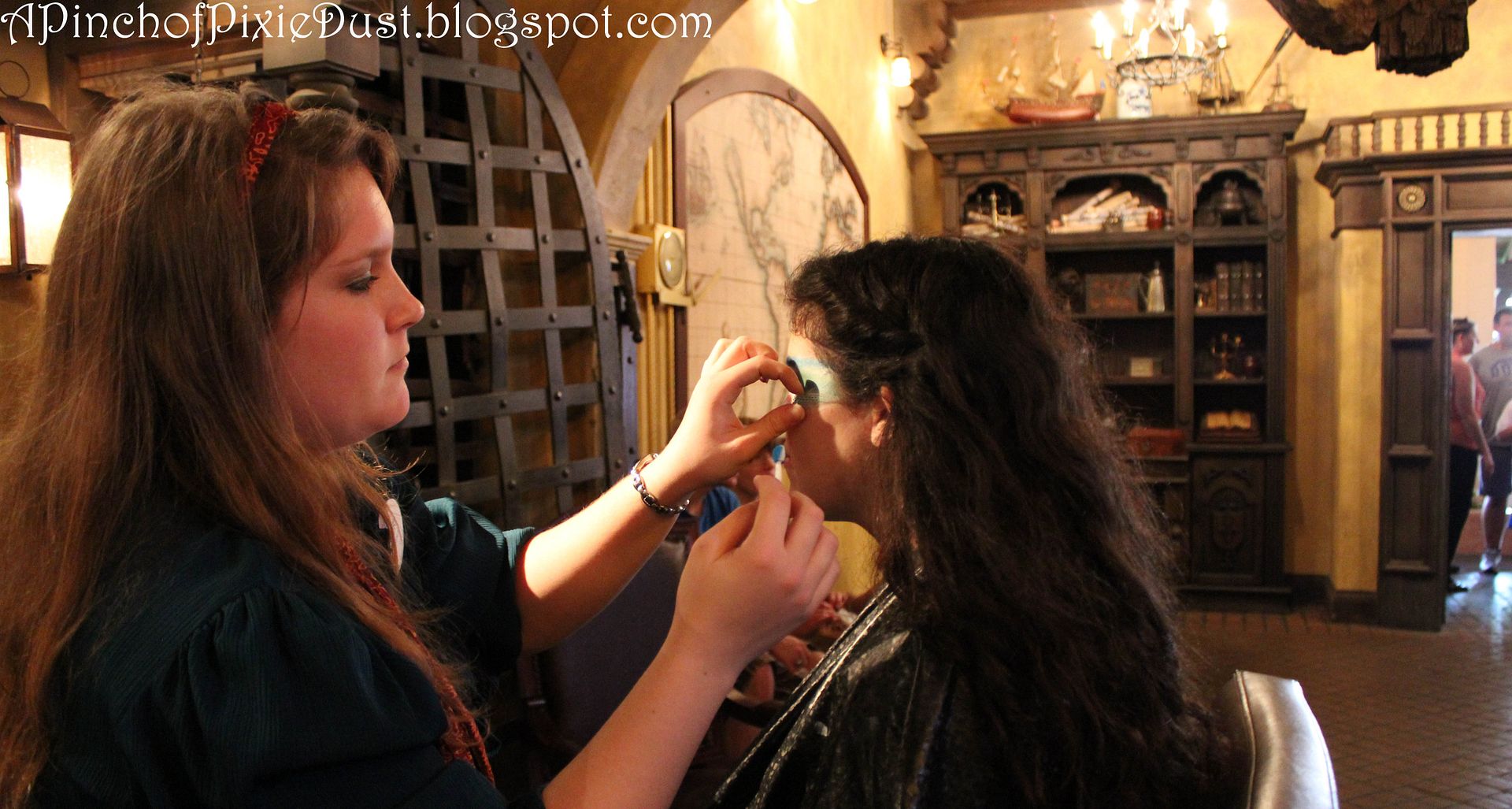 This next part was the coolest element of the makeup. At the Pirates League they have this little stencil that looks like
fish scales
, and they use it to create this gorgeous effect under your eyes and across your cheeks.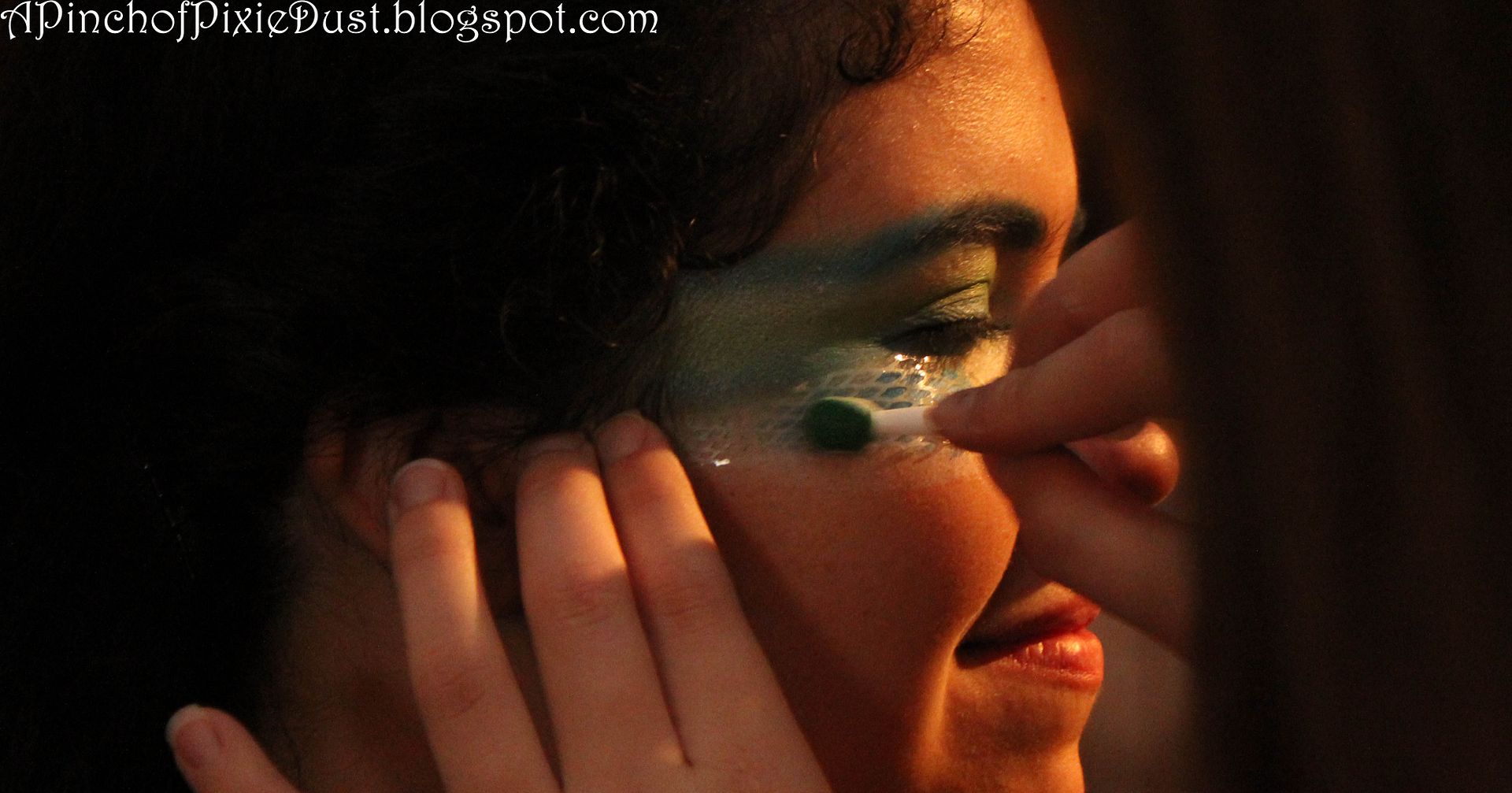 You can see the stencil a little better in this one - she just dabbed over it with green shadow.
Add a little eyeliner and lipstick and (OF COURSE) sparkly pixie dust all over the face, and I WAS A MERMAID: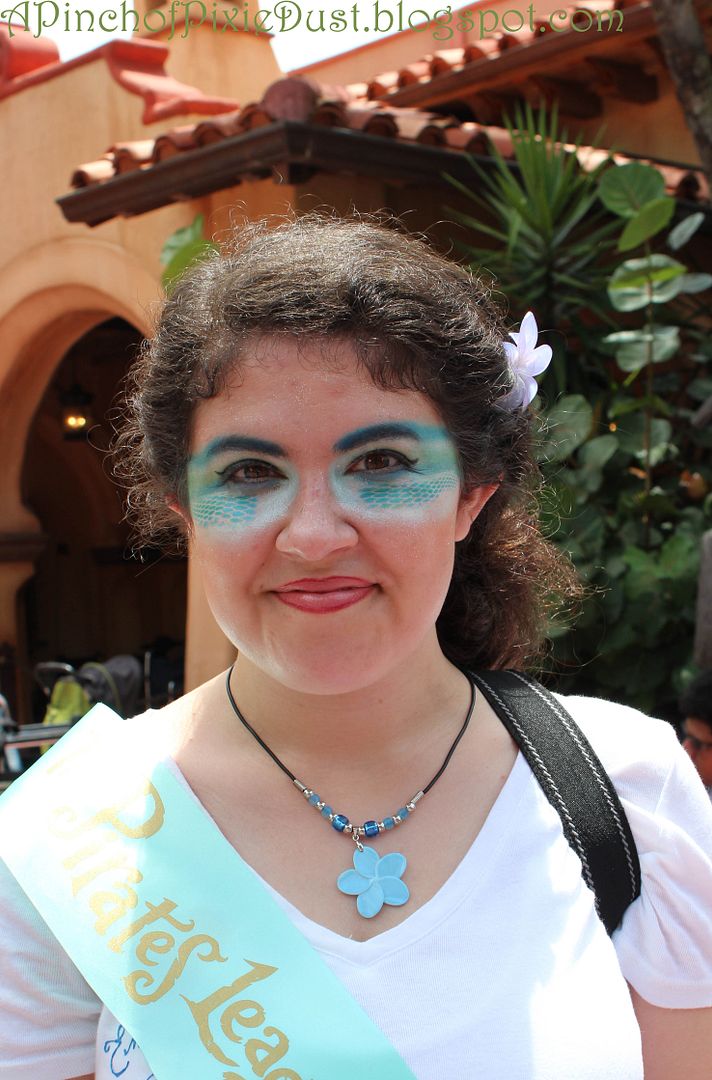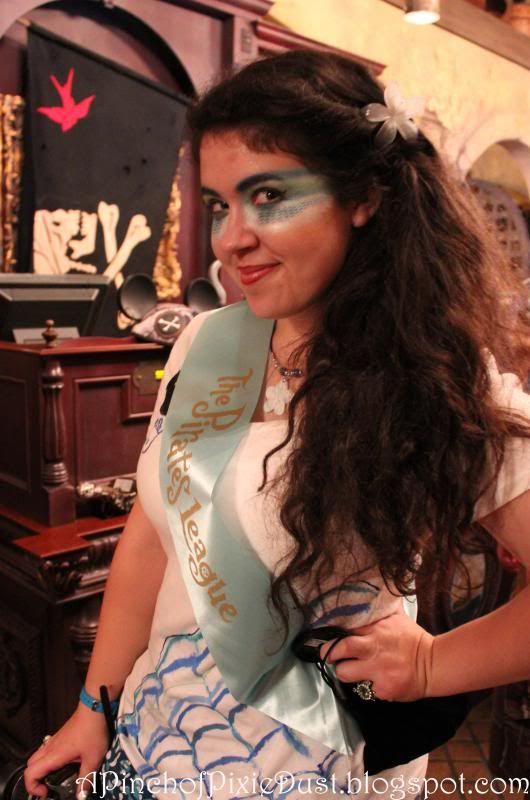 I absolutely loved it!! The makeup is so unique and the colors are so pretty - lots of cast members and other guests commented on it throughout the day.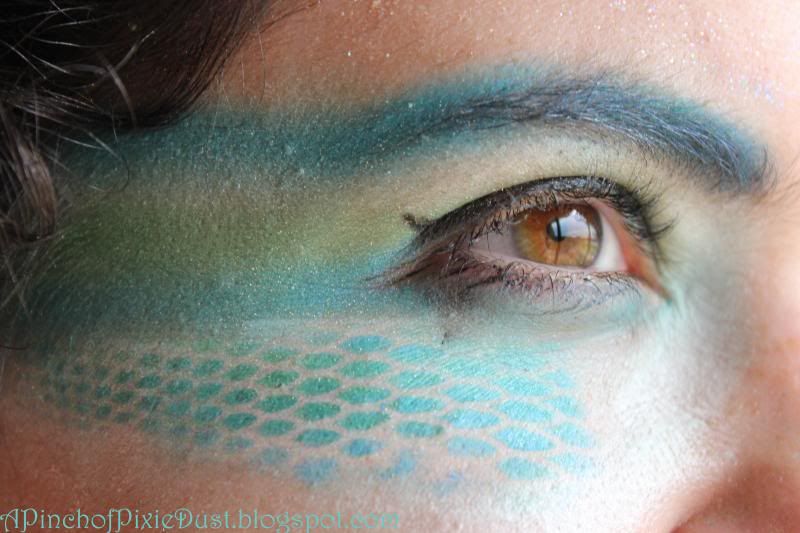 The basic Mermaid package costs $39.95, but after seeing the makeup, I do think it was worth it. I mean, that's about how much you would pay to get your makeup professionally done for an event (I've never gotten my makeup done apart from Pirates League, but google seems to second that!). And you do get some fun extras...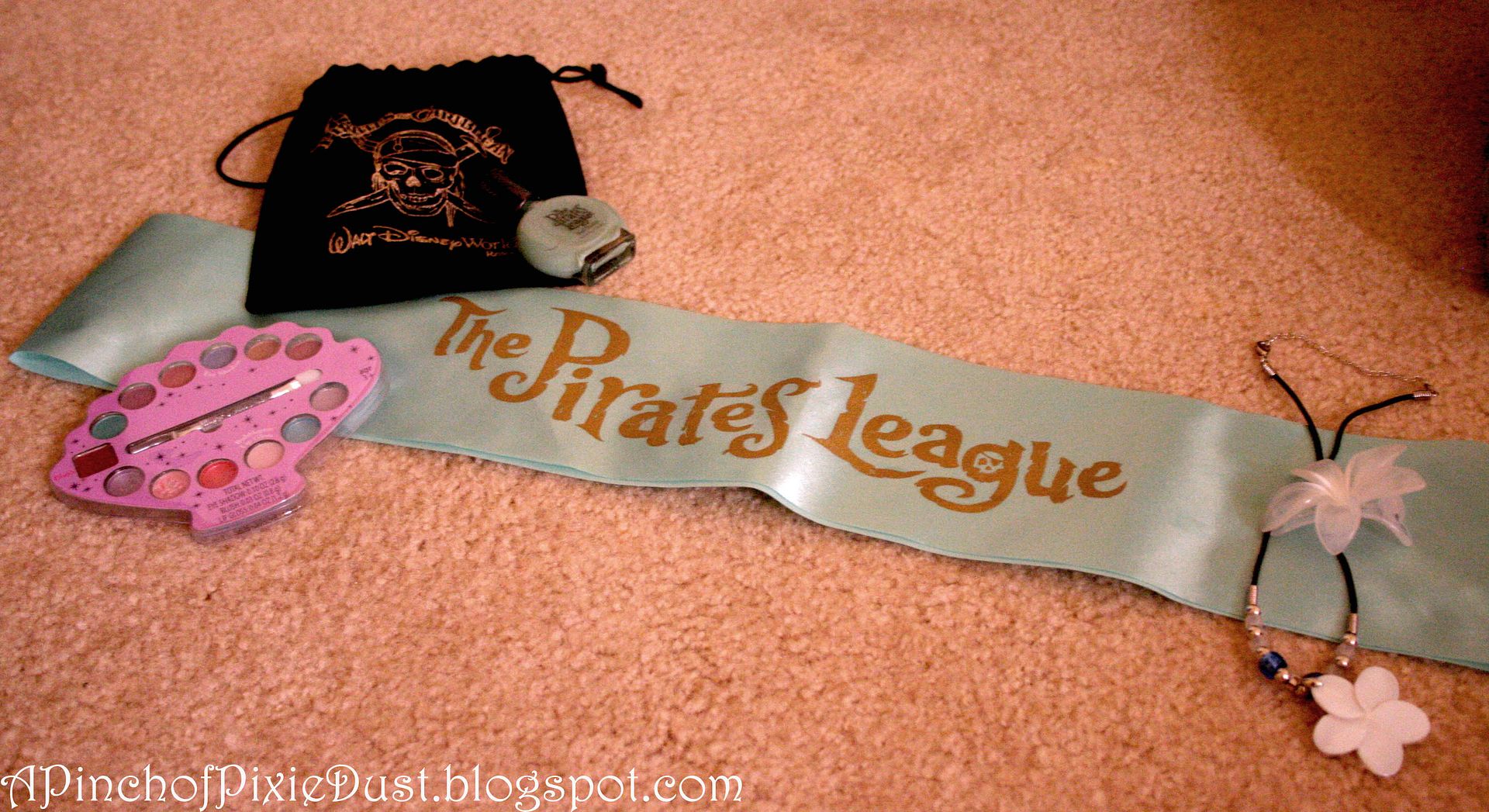 You get a seafoam colored sash, a cute necklace and hairclip (on the right) that change colors in the sunlight, a little black satchel, a mini makeup palette, and also a bottle of
seafoam green nail polish
that I LOVE and still use frequently.
One thing they do not give you but should is
makeup remover wipes
. This is the
biggest tip
I would give to anybody thinking over doing Pirates League - bring some makeup remover, because it will make it SO much easier when it comes time to de-pirate.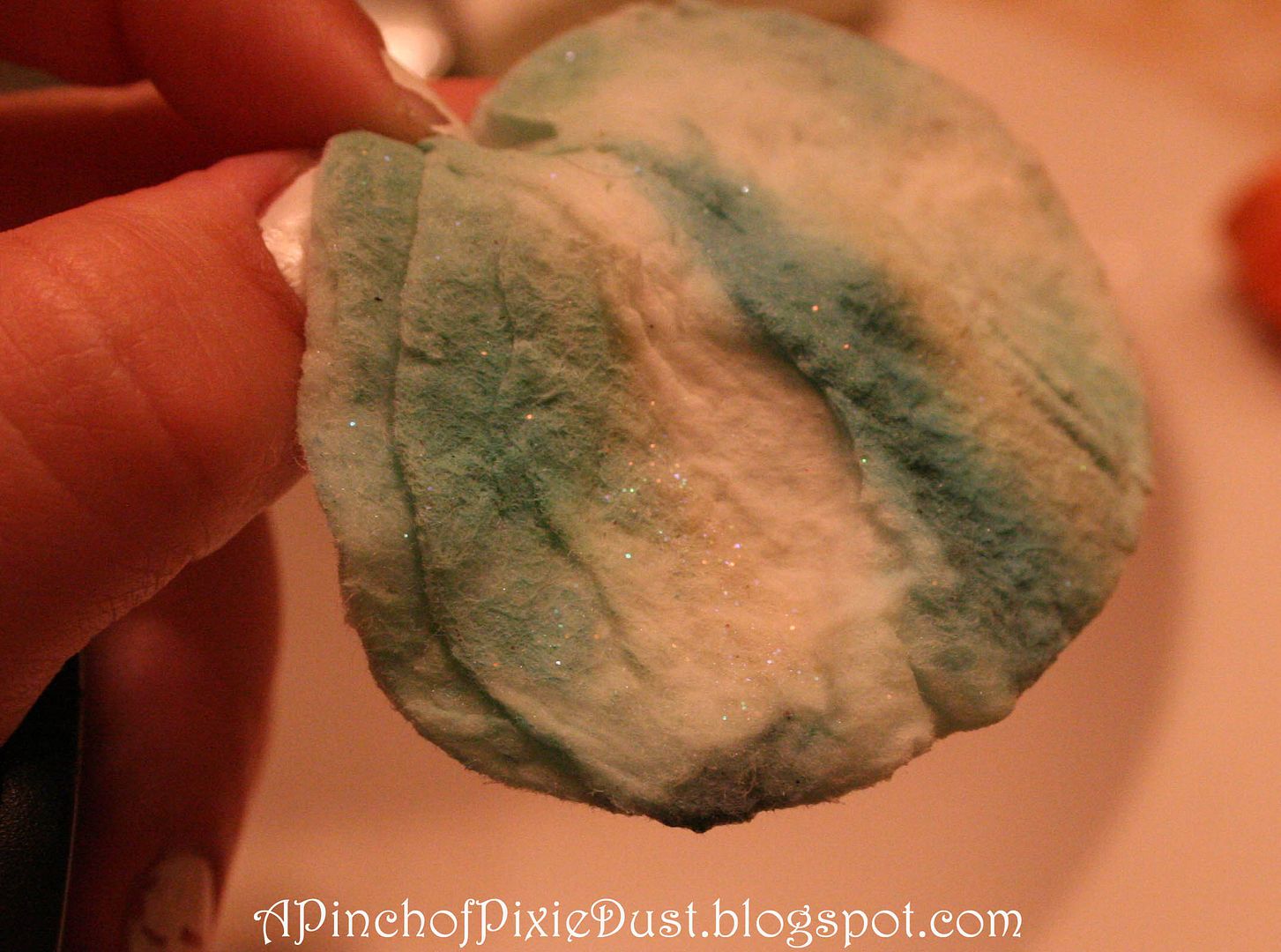 ...and this was just from one eye!
The
Pirate package
that Dart did came with a bandana, a dark brown leathery "sash" that doubled as a scabbard and a
sword
. He was waving that sword around and talking like a pirate for the whole rest of the day - it was SO fun to be able to experience the Pirates League along with him!
Dart's pirate makeup took about 10 minutes less than my mermaid makeup, but once we were both finished we swore a pirate oath and went into the "secret" room where they take the photos. They are very strict, and you are not allowed to take any photos yourself in there - they claim it's because of some copyright on the various Pirates of the Caribbean movie stuff. So you'll just have to do the Pirates League yourself to see what it looks like!
And in case you're hoping to recreate the mermaid makeup at home...