One night I was in the Magic Kingdom with my mom and one of my brothers. It had been a delightful day, and we were just trying to decide where to watch Wishes from - that's what I was doing anyway.
My mom was curiously bent on getting us over to Tomorrowland,
and when we got over to the terrace below the Noodle Station, where the Magic Kingdom Fireworks Dessert Party is held, we paused to look in frank envy on the lucky people going in to enjoy the treats. We had done the dessert party a few years previously but weren't planning on doing it again anytime too soon.
Or so I thought.
Mom stopped to ask the CM at the podium a quick question. I turned away to take a quick pic of the castle, and when I turned back,
a smiling cast member starts giving us purple wristbands. I look at my mother in complete astonishment.
She had booked the dessert party as a surprise!! It was a complete surprise and an absolutely delightful one.
Another matter of astonishment is that I haven't yet posted about the dessert party here on the blog!
As this dessert party is one of the most magical and scrum-diddly-umptious events you can possibly partake in at Walt Disney World, I naturally feel this mistake needs to be rectified ASAP!
SO. Backstory over, today's Sweet Treat Monday will also include a bonus Where to Watch Wishes element, because we are going to look at some fabulous treats and fabulous fireworks!
In case you're unfamiliar with the dessert party, it's official title is the Tomorrowland Terrace Fireworks Dessert Party, and it is held (as you may have guessed) on the Tomorrowland Noodle Terrace in the Magic Kingdom - on the lower level of seating closest to the water. They introduced it a few years ago as a temporary thing, but I'm glad to say that it seems pretty permanent now!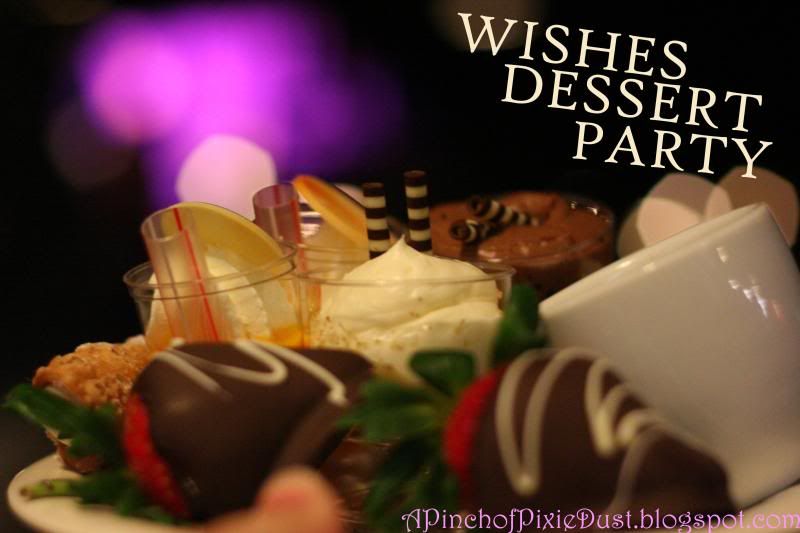 MMmmmmmmmm - just look at those beautiful sweets. But let's not get ahead of ourselves.
The dessert party opens about an hour before the fireworks - so if Wishes is at 10pm, the party technically starts at 9. But often you'll see a line forming near the podium as early as 8pm.
I've been to the dessert party twice - on the first occassion we were one of the crazy people there at 8. According to my photos, they let us in about 8:40. So definitely get there at least a little early to get the maximum enjoyment and dessertage out of the experience! And you will need a reservation because this thing is popular - you could try to walk-up, but it would be chancy.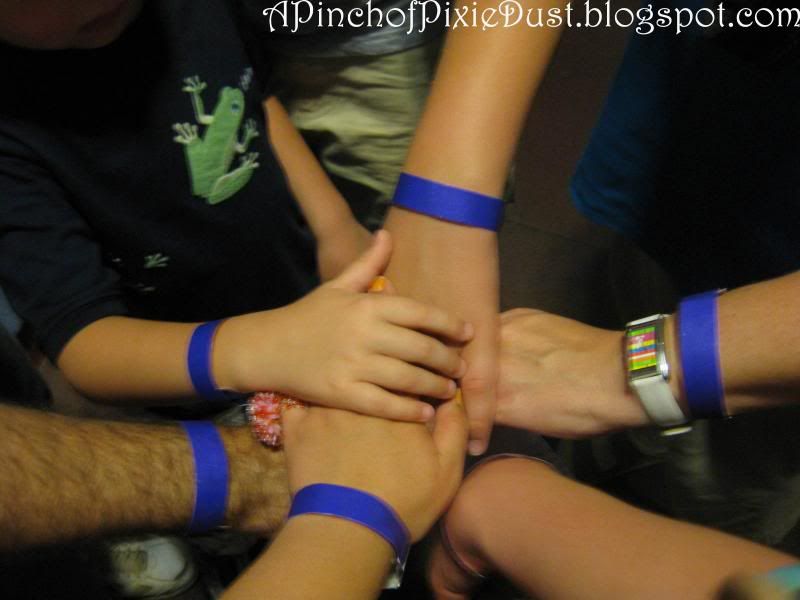 After checking in at the podium, you'll get a wristband - this'll let you back in if you need to leave to use the restroom or anything during the party.
Although with this glorious thing looming in view, why would you want to go anywhere else?? The tables are all assigned beforehand, and each one has a personalized card with your name on it, as well as some castle confetti to get you in a festive mood. This is a party, remember? And we haven't even gotten to the dessert buffet yet!
Yes, I said buffet.
The selection was essentially exactly the same both times I've been (August 2010 and February 2012). Both times it was also SO delicious. In this picture you can see the fresh fruit (hey, they had to throw something healthy in there, right?), the berry tarts, the canolis hiding in the background, the key lime tarts in the foreground, the banana creme tarts to the right, with the chocolate peanut butter tarts behind them, and to the far right the mango shooters.
I would not be surprised to find that St. Peter stands at the gates of heaven with a tray of mango shooters to welcome all the newcomers. That's how seriously delicious they were.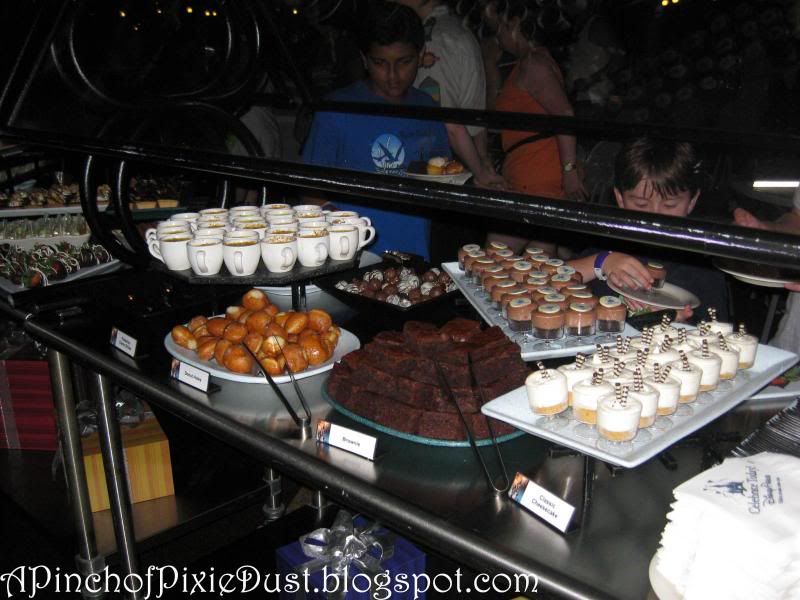 Those mugs had an amazing pistachio creme brulee (almost as good as the mango shooter. almost). Then there are donuts holes, brownies, chocolate truffles behind the brownies, and classic and chocolate cheesecake cups.
OH MY GOSH. Those cheesecake cups. I can't even talk about them, because talking about them makes me want them too much. The cheesecake is so light and delicious and almost frothy and then the crunchy base at the bottom of the cup is perfection.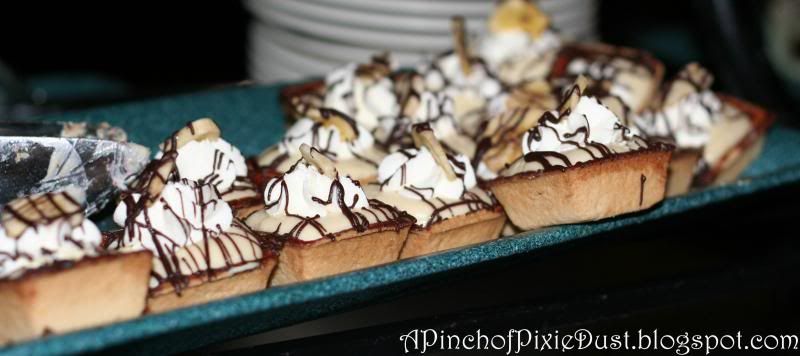 More Banana Tarts
Not pictured on the buffet line but also present were: the typical Disney buffet cookies, rice krispie treats, a second kind of fruit tart (other than the berry one), chocolate-covered strawberries, tiramisu in a little cup like the cheesecake, and mini cupcakes. That's about 20 different dessert offerings.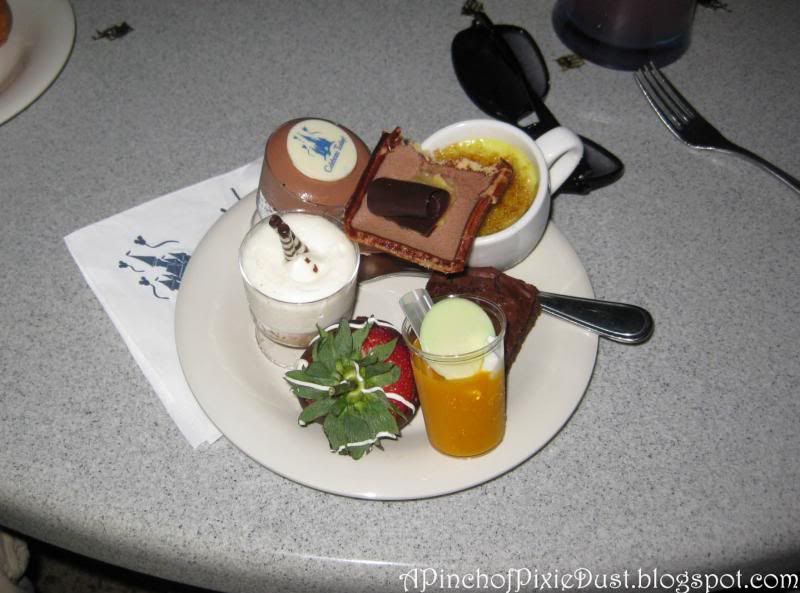 This was my plate in August 2010. In one respect February was nicer because we didn't have to worry about the heat. While these desserts would be delicious in any weather, it is nicer to eat them
when you aren't feeling all hot and sticky.
My plate from February 2012. The main difference is that I knew to get more mango shooters from the get-go. lol. Although I will say that the CM's kept the desserts well stocked to the very end (they started taking them down shortly after the fireworks ended) and never seemed to run out of anything.
You can't eat all that chocolate without something to drink! There was ice cold milk (white and chocolate) as well as...
...lemonade, raspberry lemonade (not the sugar free stuff either - YUM), iced tea, and water. There were also hot drinks - tea, coffee, and hot chocolate.
There is a very nice amount of food at the dessert party, but of course it's all dessert. So you could stop by a quick service to get a sandwich or some "real" dinner before the party.
Or you could have a light lunch and then eat nothing all afternoon so as to maximize your stomach space for the sweets.
Totally up to you. ;)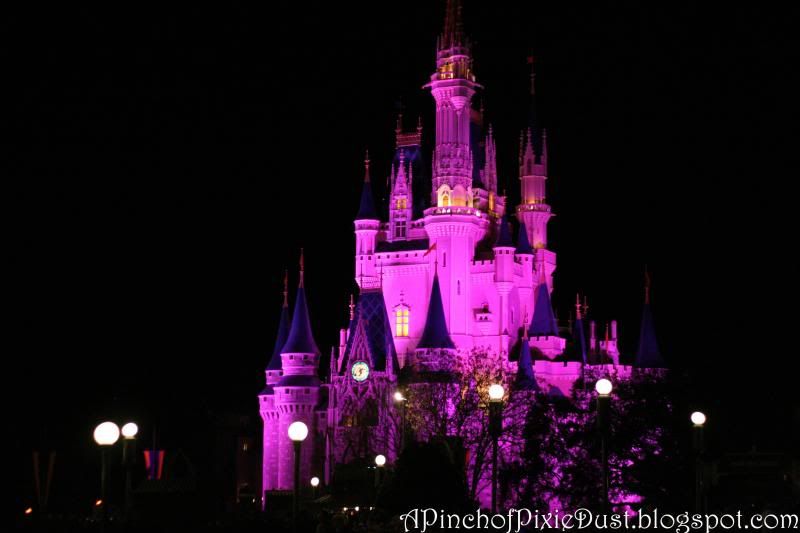 But incredibly this party isn't just about desserts...there was something else, wasn't there?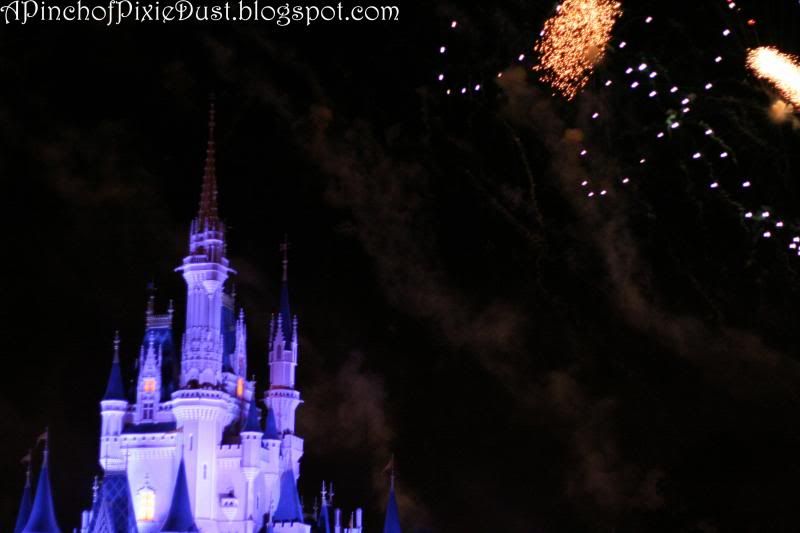 Right...the castle and the fireworks! Almost forgot about them with all that sugar. Oops.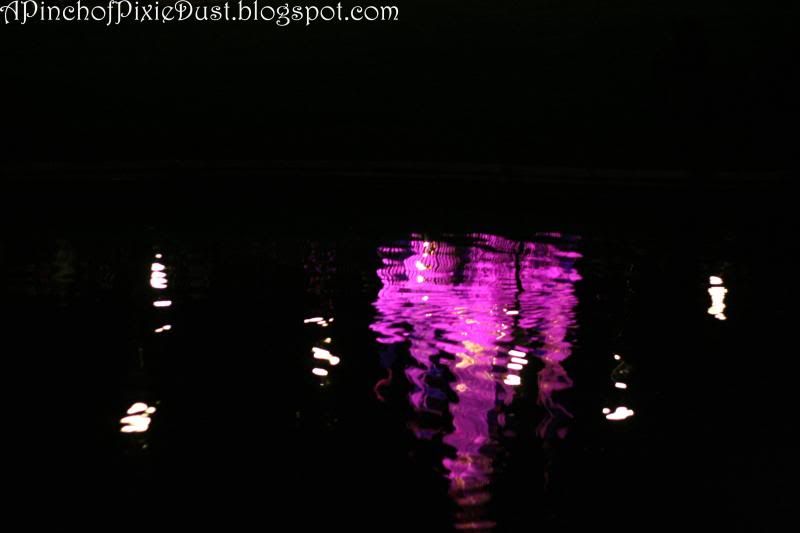 Ok, ok...so you don't really forget about the castle; it looks so lovely shining across the water. I love how you can see its sparkling reflection as well!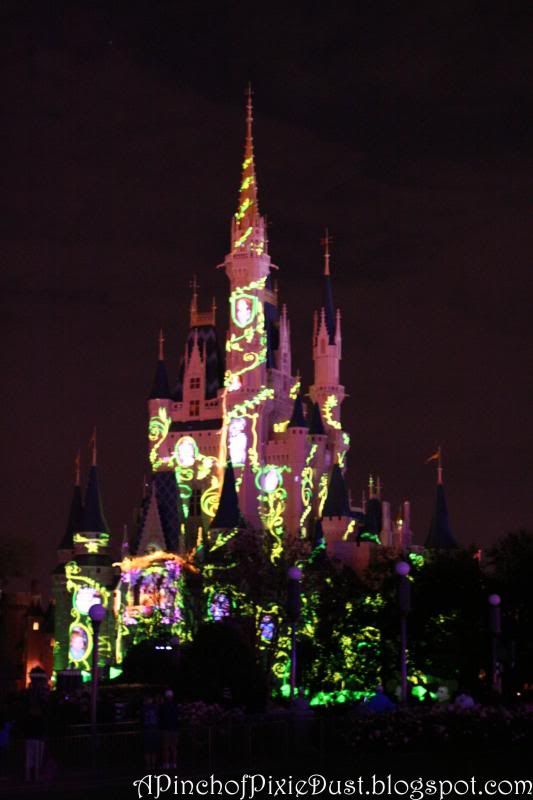 In February we were able to catch the Magic, the Memories, and You show before the fireworks started - very pretty, although it was hard to make out any of the photos on the castle from that distance.
I have to admit there were a few disappointments when it came to the fireworks viewing. This is billed as a fireworks party, so you would expect your view to be stress-free. While you don't have to combat the thousands of guests out on the street for a spot, you are still in competition with the dozens of other guests at the dessert party.
Unfortunately, only a limited number of tables are actually located near the railings - some are quite far back under the lights, and you definitely can't see the fireworks from those tables. Even from the tables nearer the railing, you might not be able to see the fireworks from your seat because of the overhang from the roof.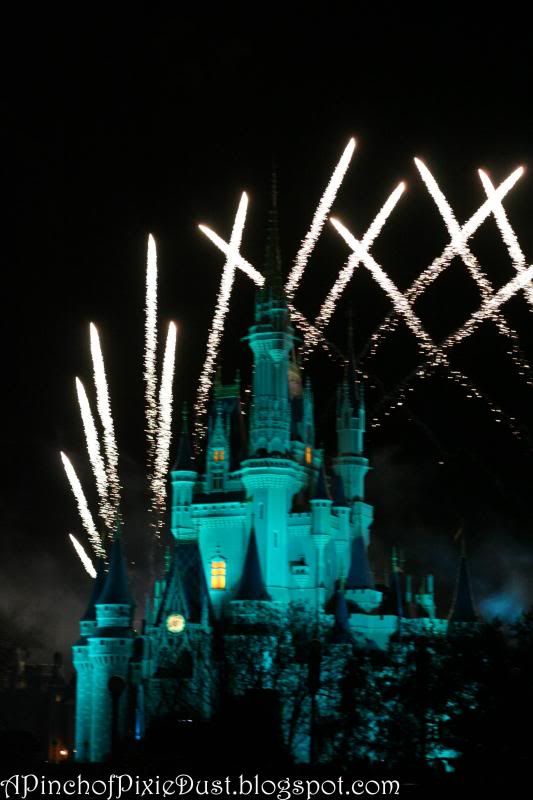 Your best bet, if you want an unimpeded view of Wishes, is to stake out a spot along the railing about 15-20 minutes before the show starts. Even if you have a table near the railing, chances are people from the less desirable tables will come up and stand in front of you if you don't grab that railing space soon enough. This definitely takes away from the relaxation of having "your own private viewing area." If you're aware of it and plan for it, though, it isn't so bad; and it is a pretty great view.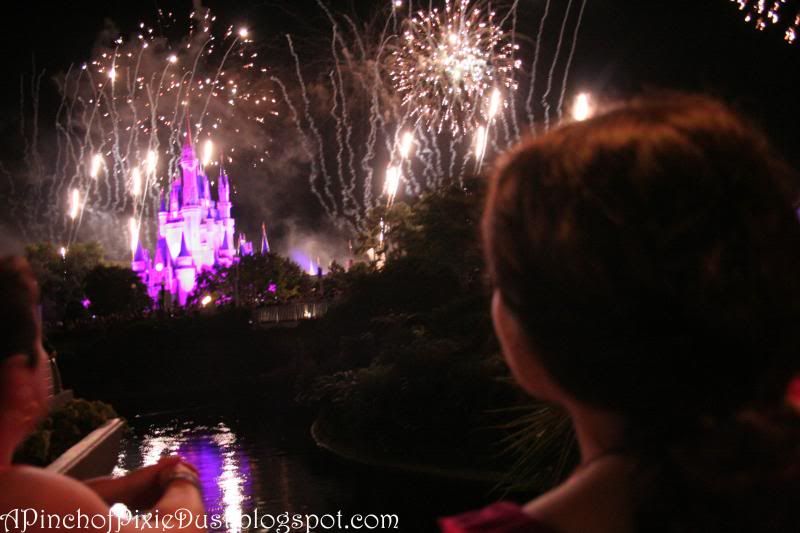 Now you may have noticed I haven't mentioned the price yet. That's because it's steep. When we went in 2010 it was about $20 a person, which seemed expensive then, and now it's more like $25-$35 depending on the season ($15 for kids).
That high season rate really is a bit much - especially considering that the fireworks viewing is not quite hassle-free.
But then I think about how completely AMAZING the desserts are, and the festive atmosphere with the confetti waiting on your table, and the way Tinkerbell flies RIGHT over your head during the fireworks...and I start to feel myself growing weak, and realize I might be willing to pay that to experience the magic again.
Have you been to the Dessert Party?? Share your thoughts in the comments!
Find more Magic Kingdom desserts
here
.
Find more Disney cupcakes
here
.