One of my all-time favorite things to do at Disney World is watch Wishes.
I've been in love with that fireworks show ever since I first saw it many years ago, and neither time nor supernumerary viewings have dulled my passion for it!
I think Wishes has that effect on a lot of us. You know that part when Cinderella and Snow White and Peter Pan and Aladdin are talking, and it seems like their words and their wishes are spiralling up to heaven in glittering explosions of pixie dust (also known as fireworks), you feel your own wishes soaring up into the sky too. It's magic.
Luckily for us, there are LOTS of places to watch Wishes. I was often surprised at the
unusual spots
I could see the fireworks going off from, and I made it my mission to experience (and document!) as many Wishes viewing spots as possible!
SO. Today we're going to watch Wishes from the porch of the Crystal Palace!
You're walking down Main Street. It's dusk. There's a special feeling of excitement in the air, because WISHES is starting soon.
You pass Casey's and turn off to your left at the Tip Board, passing by pretty rose gardens sloping down to the water. The railings there are already getting crowded, so you continue on, past the photopass person who always stands by that one tree, past the bathrooms - climb the stairs and stake out a spot on the Crystal Palace porch.
I picked the Crystal Palace area one night when I was arriving a little late -- all the spots along the railing (which are also very nice places to watch) were already full, but there was a place along the steps leading up to the porch with my name on it!
Star Light, Star Bright, First Magical Blue Star I See Tonight...
The part where you hear this collective gasp from all of the Magic Kingdom: "TINKERBELL!"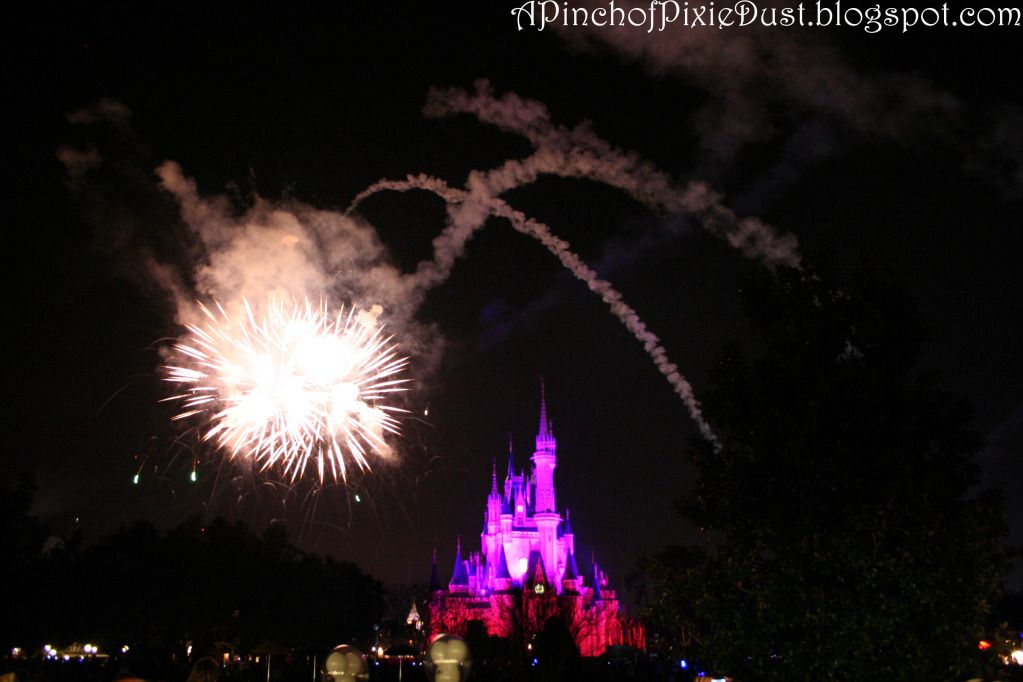 I'm a fan of most things pink, but turn the CASTLE pink, and I'm just lost.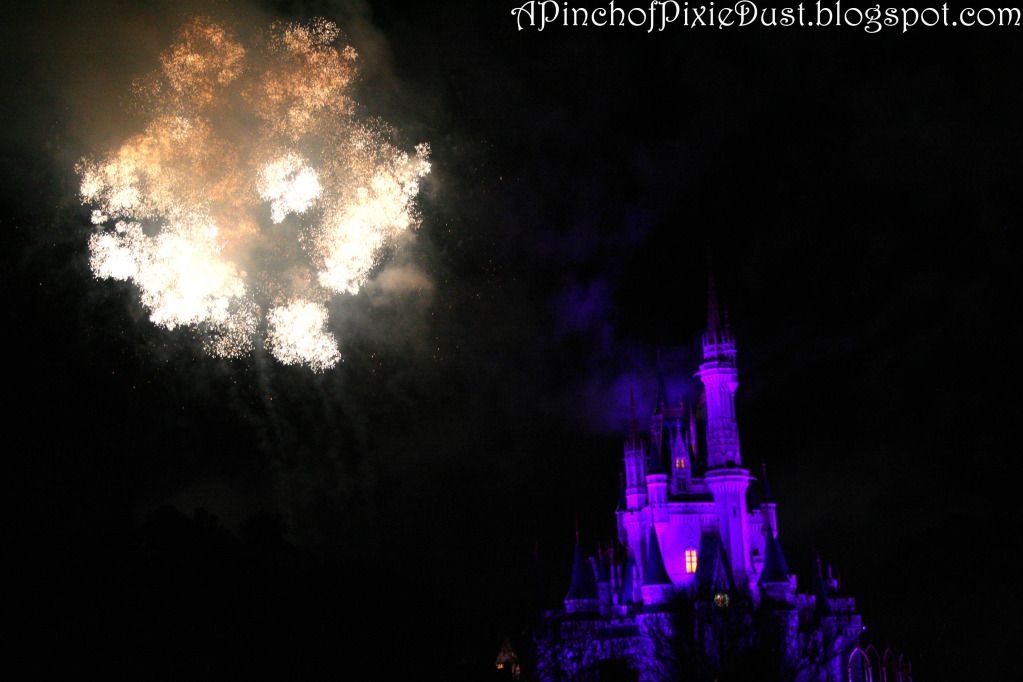 The magical sparkly fireworks right before the princess part are my favorite. But then it's so hard to decide...
Of course the framing fireworks are also utterly gorgeous. Plus they're set to Beauty and the Beast music!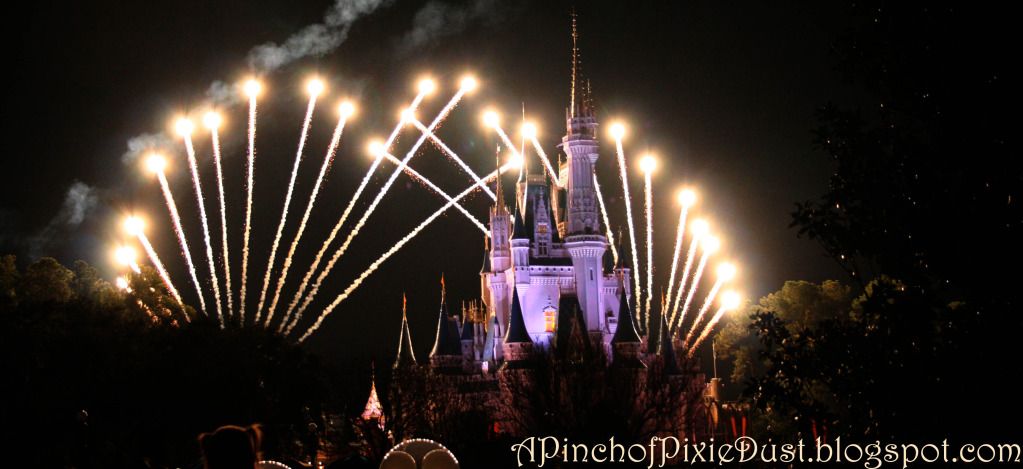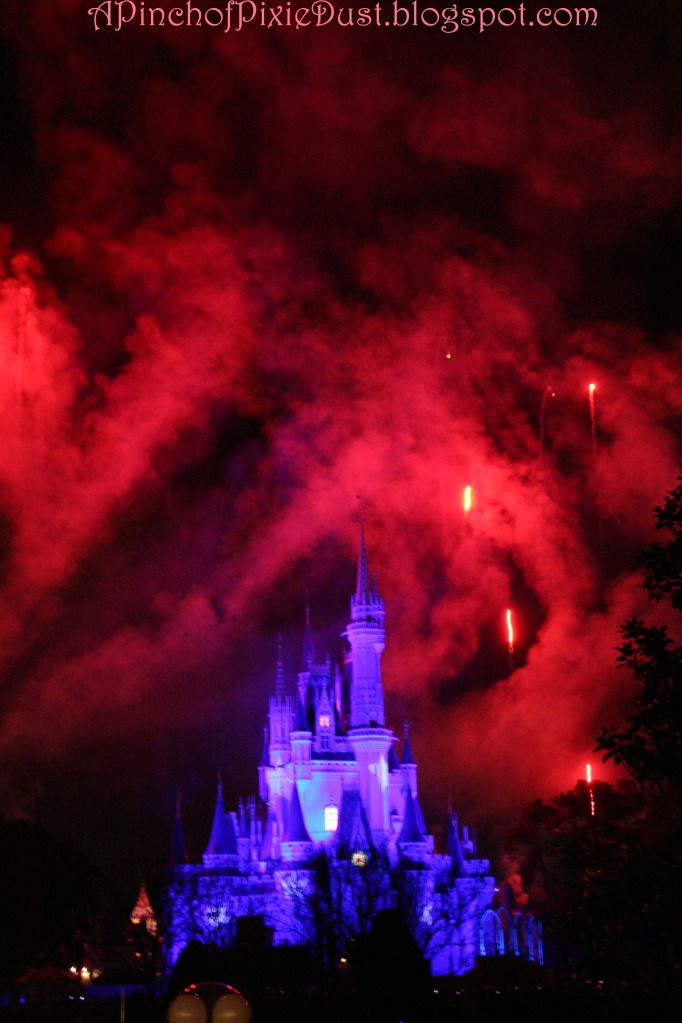 Uh Oh...looks like we're in for some trouble...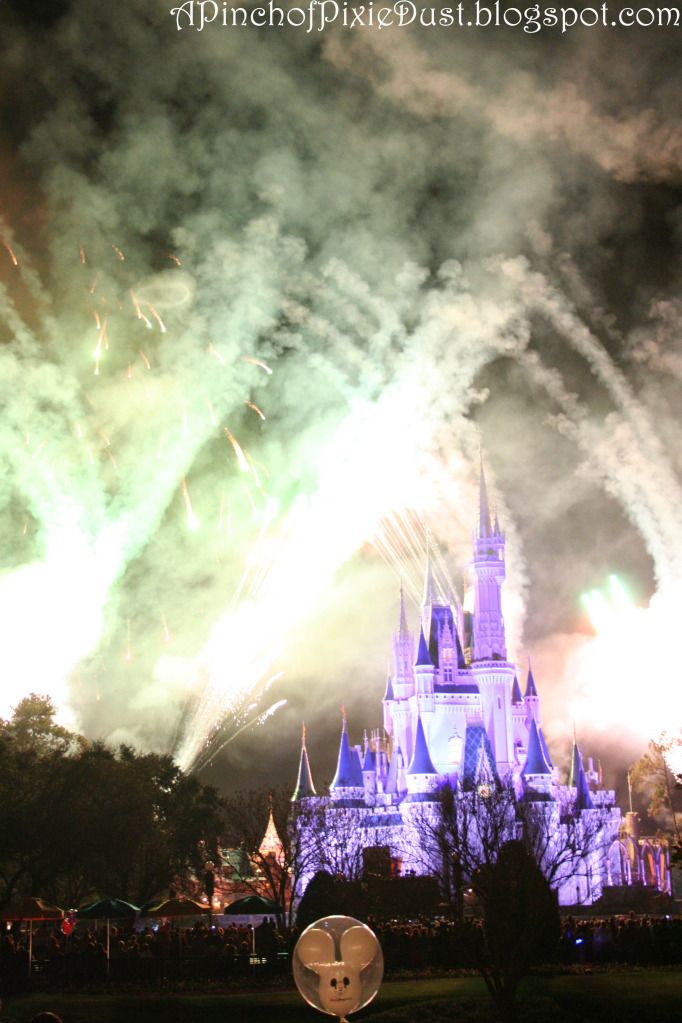 That wicked witch sure can cause a ruckus!
Be still my heart. So beautiful!
SO. Some thoughts on Crystal Palace viewing.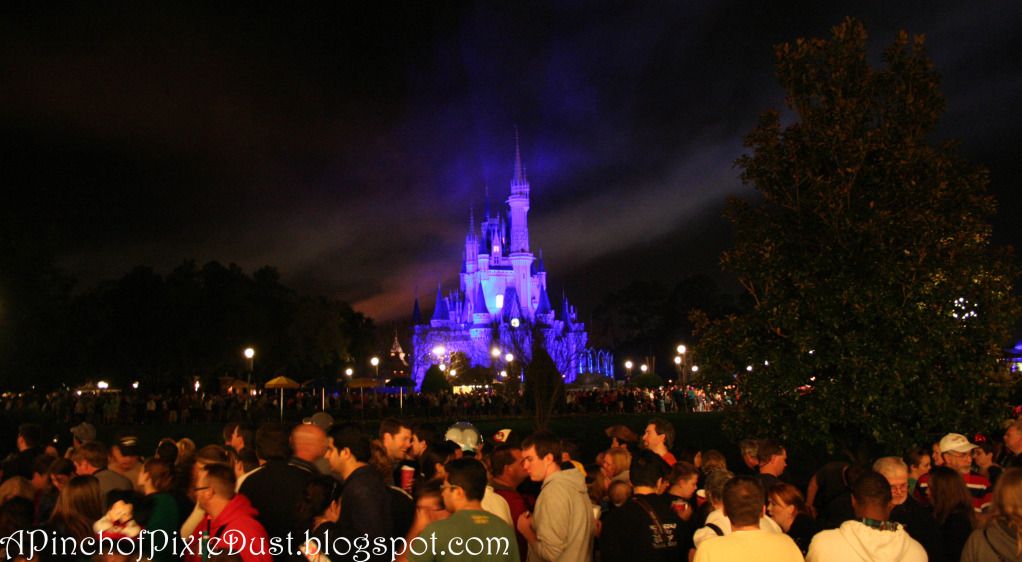 PRO: Very nice, mostly unimpeded view of the fireworks and the castle (that tree to the right does block a bit of the framing fireworks, but not much). I love watching from Main Street, but it's fun to get a slightly different perspective from the side. By being up on the porch you're a little above street level, so you won't have heads directly in front of you. Also you'll be more likely to get a spot if you arrive later.
CON: This isn't exactly a quiet area - there will be movement during the show both in front of you with guests passing through and behind with people waiting to be seated at the restaurant on the porch. Also the lights behind you on the porch do stay on. I didn't find it that distracting, but good to know.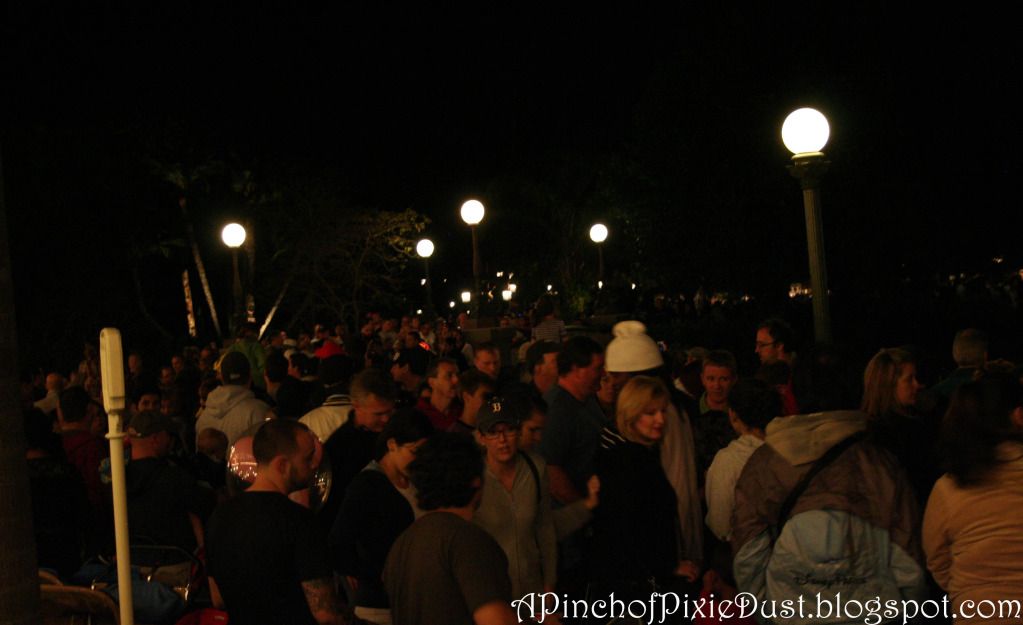 The biggest con of this location was the gridlock after the show was over. Usually there are cast members stationed here to keep a lane open for traffic, but on this night there weren't and the whole area in front of the CP was jammed. Luckily I snuck right off and headed back to Main Street, but if you wanted to go over the bridge to Frontierland it was just a mess!
So it's not the absolute best Wishes spot, but it's also definitely not the worst. It's a spot you wouldn't necessarily think of at first, but a good one to keep it mind!
And if you have actually read through all these lengthy details, then I applaud you. You must be a true Wishes fan too!