If you've been following my blog or YouTube channel for awhile, you may have picked up from occasional references to going to Mass or quotes from my favorite saints that yes, I'm a Catholic. My whole family is Roman Catholic, and one thing we love about traveling is discovering different churches all around the country. One place we obviously love to travel to is Walt Disney World, and many is the time we have paused the magic for a jaunt to Sunday Mass.
(but let's be real, it still follows us to church...nowhere else in the world will you find so many people in the pews wearing MagicBands...)
I've gotten several emails over the years from fellow Disney-going Catholics asking for advice on where to go to Mass while at Walt Disney World, and I'm surprised it's taken me this long to think of writing up a blog post about it! So without further adieu, here we go...
Is there Catholic Mass on Disney property?
The simple answer is NO, alas there is not. The exceptions are the big holidays - on Christmas Day and Easter Day you'll often find Mass celebrated in a ballroom at the Contemporary Resort (there's also a Protestant service - make sure you check your holiday times guide for the exact location and times).
I could go reminiscing about ye olden days when the Spirit of Aloha Dinner Show in Luau Cove at the Polynesian Resort made way for a different kind of Spirit every Sunday morning (#catholicjoke #ohcomeonihadto). Actually if you go to Mary Queen of the Universe for Mass, you may hear them reminiscing about the days when there was a Sunday Mass at the Polynesian!
So where can I go to Mass while I'm at Disney?
I'm so glad you asked: I have two favorites. We often let our schedule and where on property we're coming from determine which we pick.
1. Basilica of the National Shrine of Mary, Queen of the Universe.
8300 Vineland Ave, Orlando, FL 32821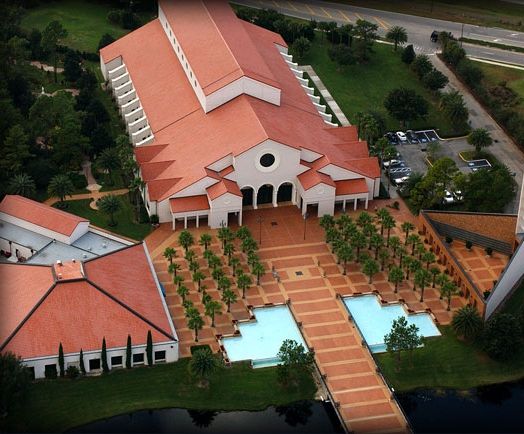 This is a beautiful basilica! Since they're here to serve the tourists, they will totally understand if you show up in flip flops - in fact they usually spend the first 15 minutes on a little welcome speech/history of the shrine because they know lots of people may be running late. Actually, you do want to plan for the traffic because it can be brutal in that area, but the good news is that after Mass the police are there to stop traffic and let all the Catholics make their left turns. They often have visiting choirs, and their own choir must be made up of all the best musicians and singers from the surrounding theme parks, because they sound so gorgeous.
2. Corpus Christi in Celebration.
1050 Celebration Ave, Celebration, FL 34747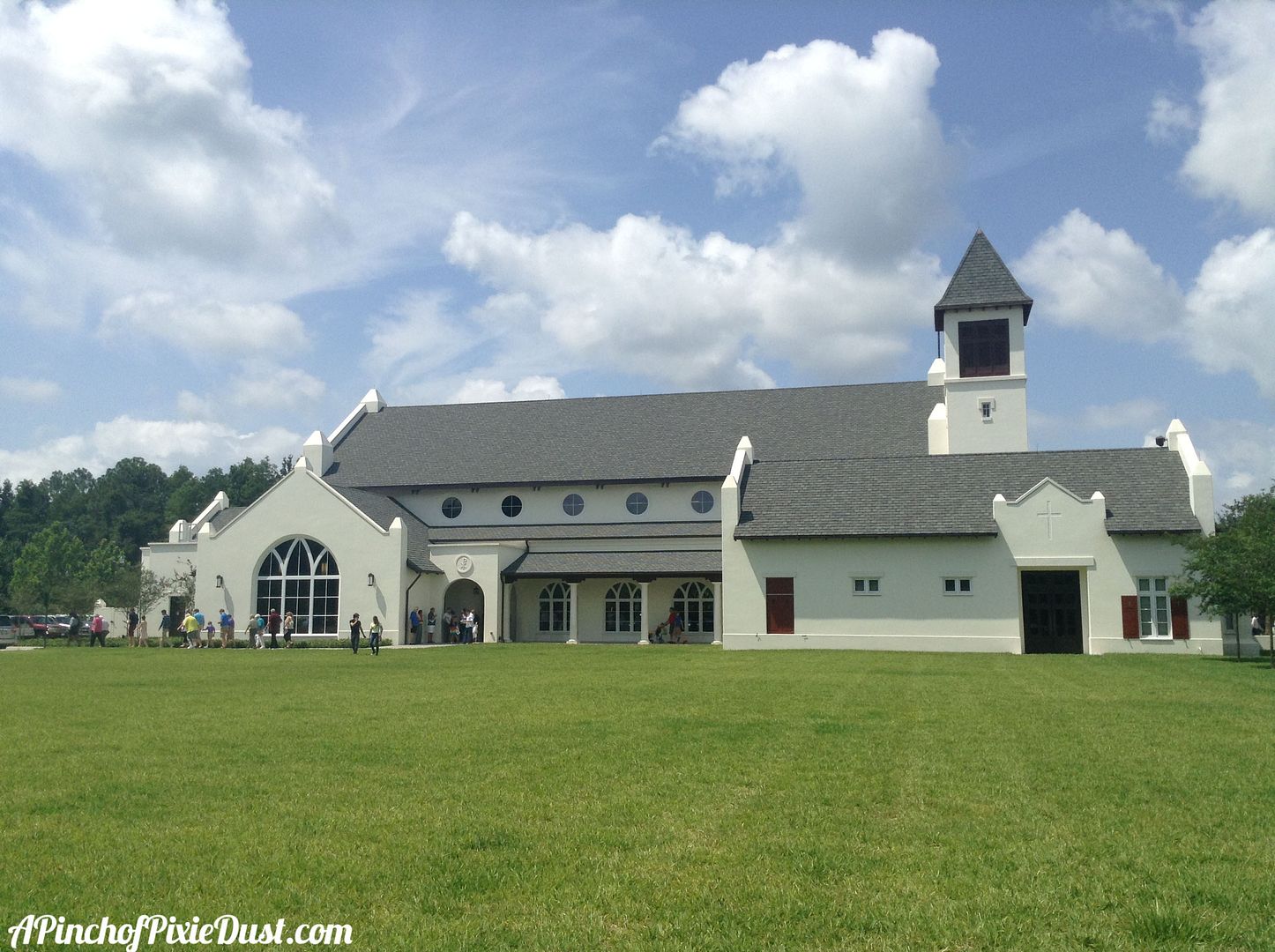 This is quite different from Mary Queen and a little bit further out in Celebration, South of property - it's a parish church, but you will still see plenty of fellow tourists, and depending on what time of year you go, the priest may be welcoming back all the snowbirds. The parking lot can fill up fast, but there is parking on the surrounding streets (just make sure you obey the signs). Some of the Masses feature very lively praise and worship music, which can be wonderful but also surprising if you're not expecting it and are used to more sedate hymns at home!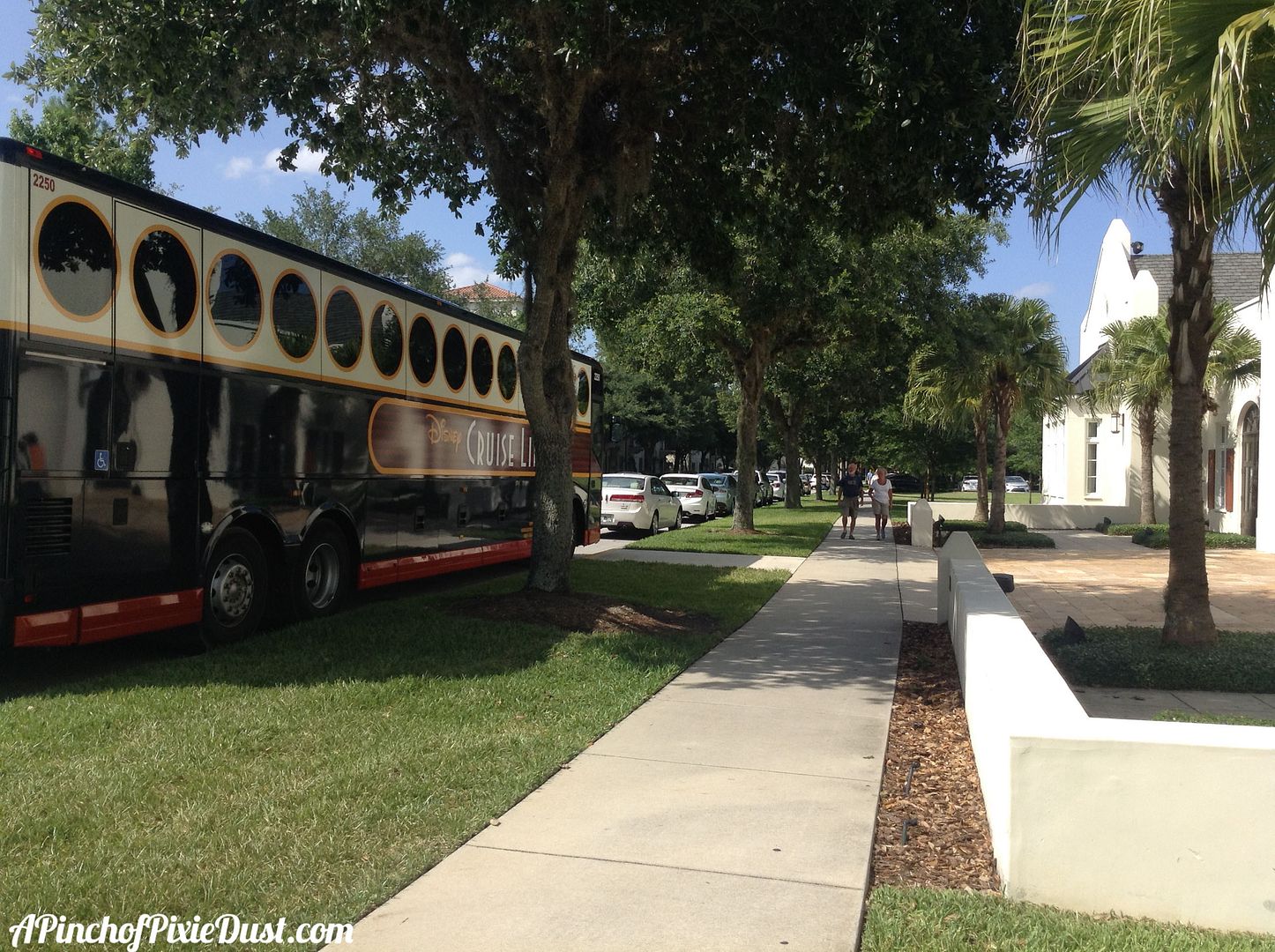 When I was going through photos for this blog post, I found one of this random time we saw a Disney Cruise Line Bus outside Corpus Christi!
If you've never been to Celebration, you could make a day of it and check out the fun shops in the downtown area after Mass. And if you end up at Mary Queen, you could also make a quick jaunt to the outlets nearby!
Is there a Sunday Mass near Disney World that I'm missing? Let me know down in the comments!