There are at least a dozen posts about holiday decorations at Walt Disney World in the archives of A Pinch of Pixie Dust (let's be honest...there are considerably
more than a dozen
); but looking through my old photos I found, surprisingly, some that I never got around to posting. So get yourself a cup of hot cocoa (with whipped cream, of course) and cozy up for some Disney holiday cheer...
...it will be brought to you today by the American Adventure pavilion in EPCOT's World Showcase!
A rotunda as stately as this one certainly deserves the circle of swags and wreaths. Also, let's take a moment to admire the wintry wear of the Voices of Liberty. I want that maroon velvet bonnet. Only not to wear in Florida. Obviously. I bet the Voices are glad they don't have to go out in the heat in those costumes!
Some more detail shots...trees festooned with flowers!
Over in the counter service there's a fountain full of poinsettias!
And outside there are kiosks selling holiday gear right next to where you can meet Santa...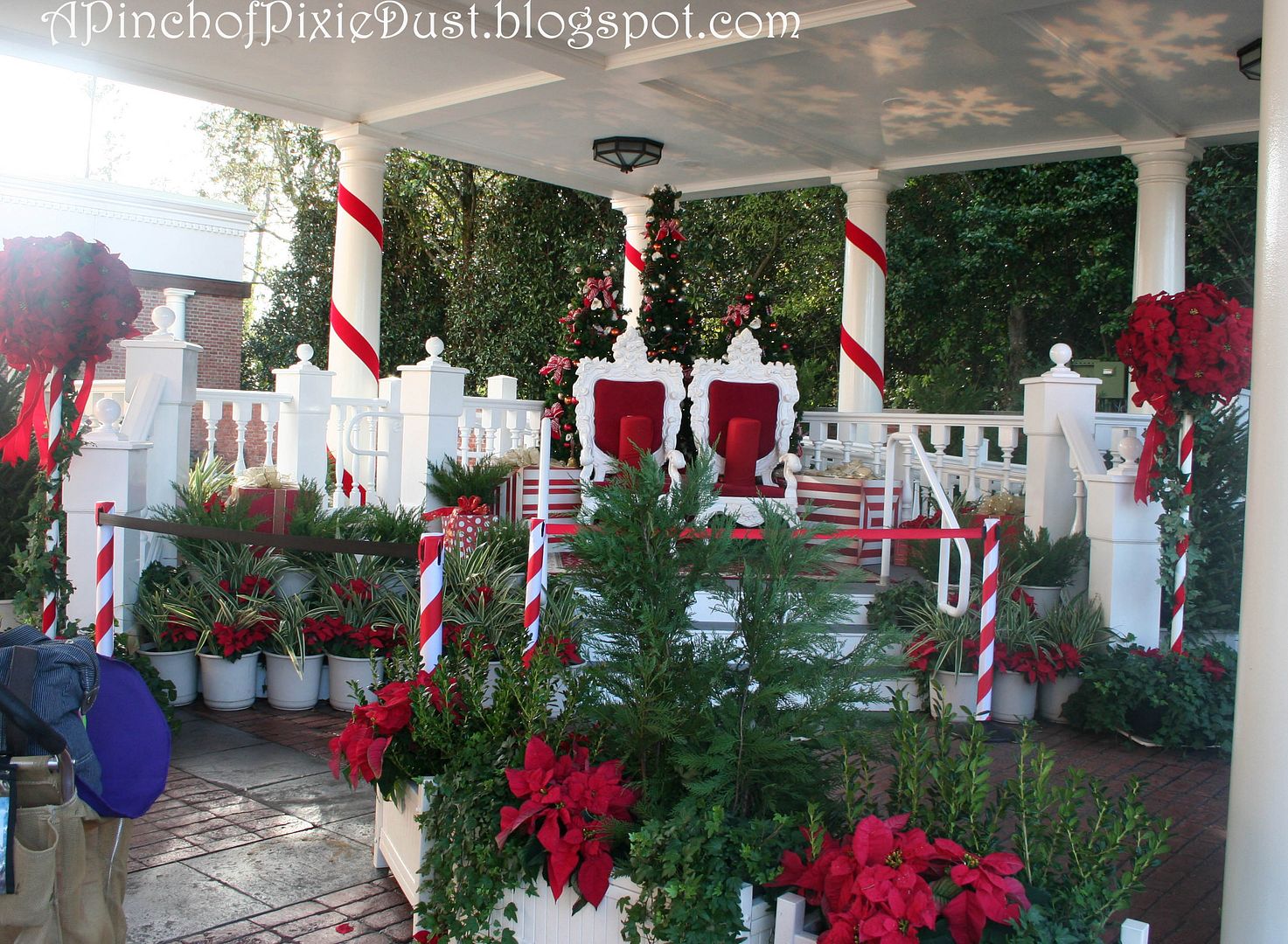 I'm seriously regretting not buying that Santa Dumbo now. And the Minnie with the holly in her hat. These pics are from two years ago, but Disney plush doesn't turn over that fast, and I bet they still sell them, right? I need to stop looking at these photos...
More poinsettias and also pineapples, which makes me think the Disney decorator in charge of the American Adventure pavilion must be a not-so-secret fan to Psych.
It has been far too long since I've seen a Candlelight Processional. It's such an investment of time to get a seat (even if you do the dining package that's gets you the priority seating) - I usually content myself with admiring the decorations on stage as I walk by in the daytime - but one of these days I'd love to go back!