I think October has become one of my new favorite times to visit Walt Disney World. One of the reasons is, of course, the fabulous Mickey's Not-So-Scary Halloween Party at the Magic Kingdom. The other reason can be found over at Epcot...
It's Epcot's wonderful Food & Wine Festival that runs every year in the fall!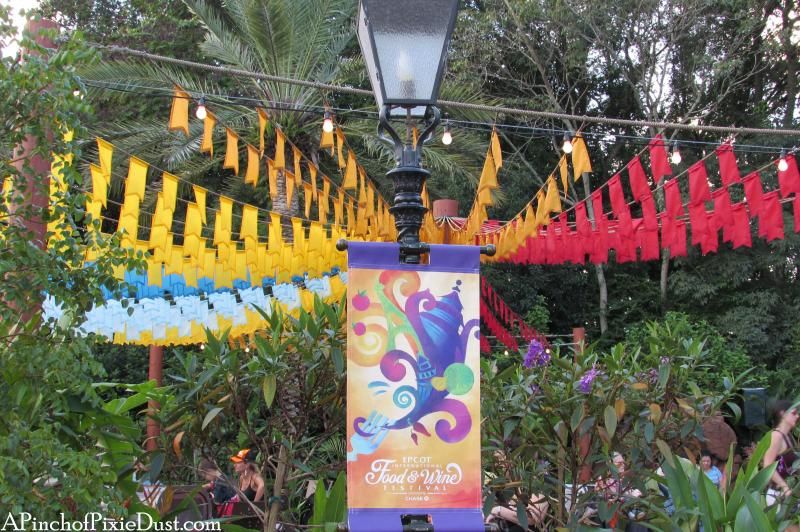 The 2014 Food & Wine Festival just ended this weekend, and I thought we'd take a look back at some of the deliciousness...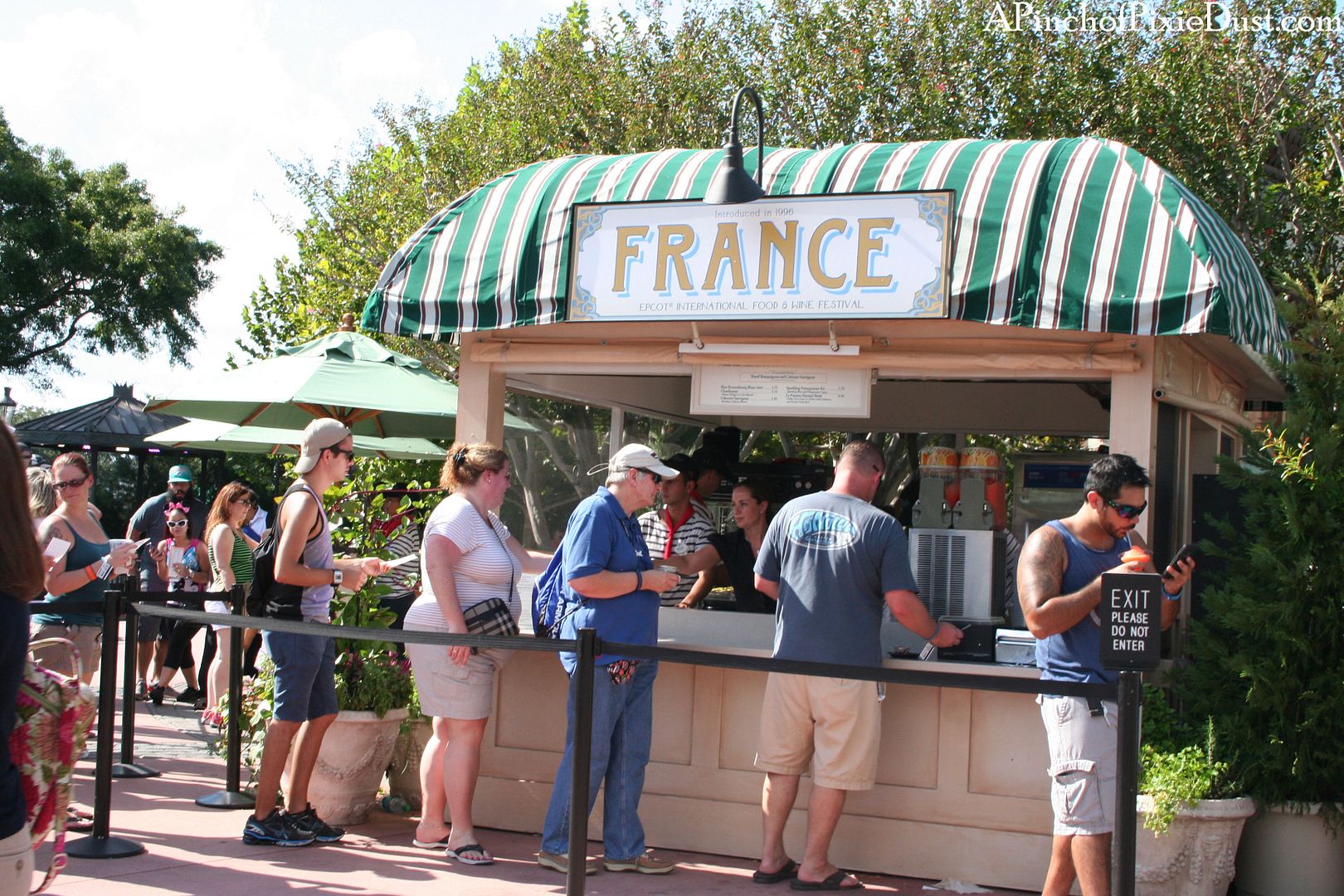 Sampling the offerings is obviously half the fun, but just strolling around World Showcase during Food & Wine can be so exciting. I wanted to stop and admire each different booth.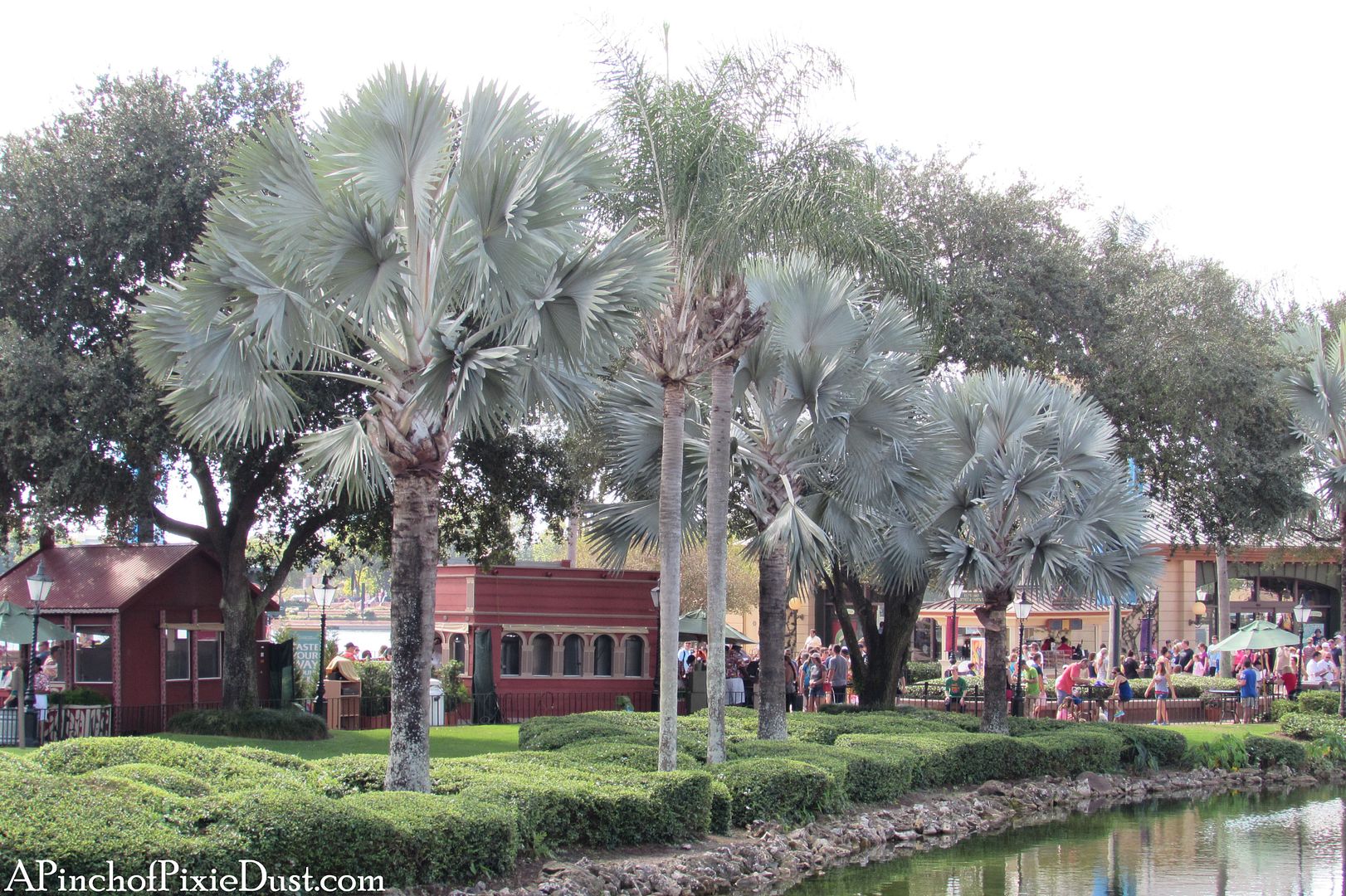 Ahhh...palm trees with the adorable, international F&W booths in the shade beneath - each one is unique and themed to its country.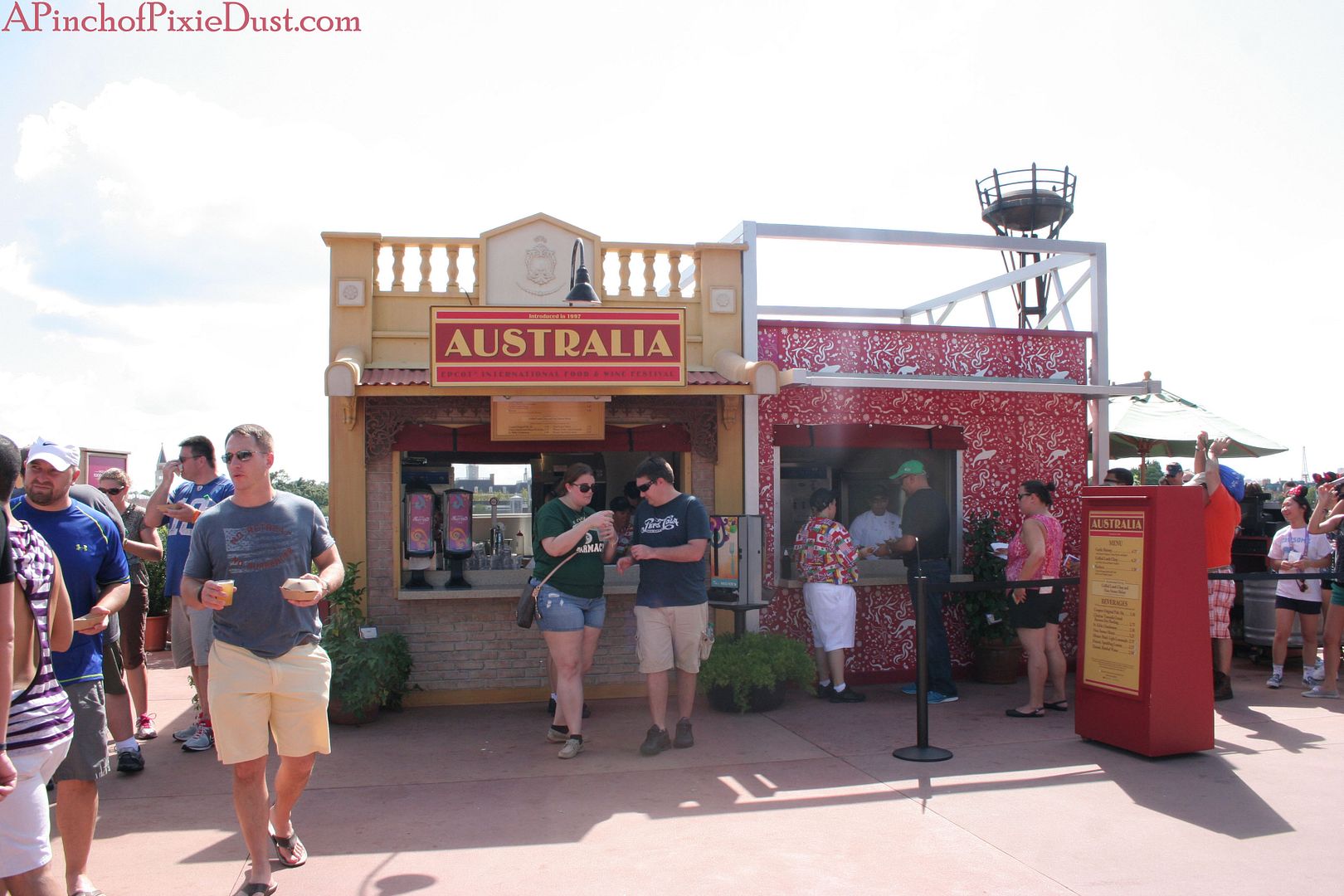 I see hidden kangaroos at the Australia booth! The architecture is so interesting too.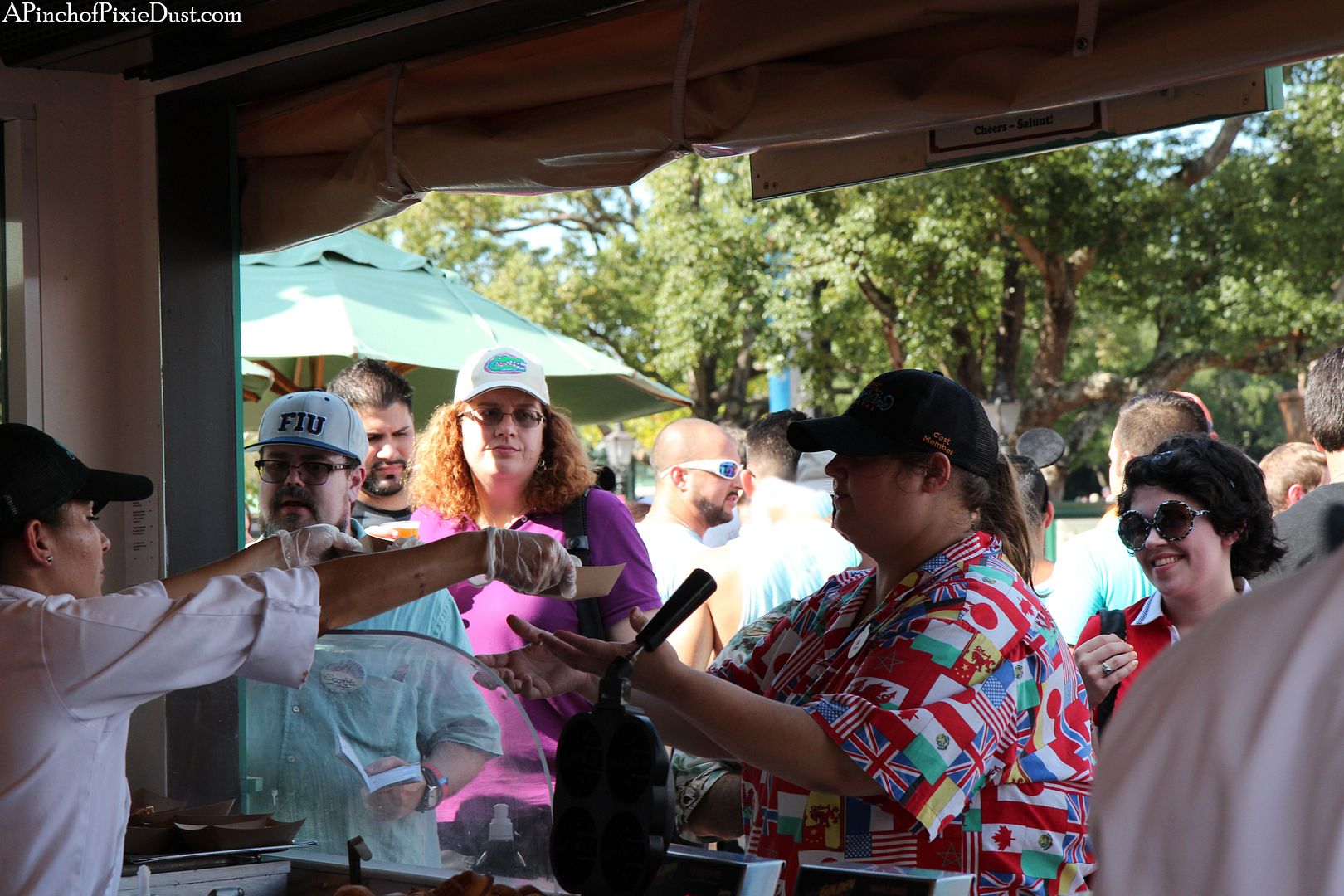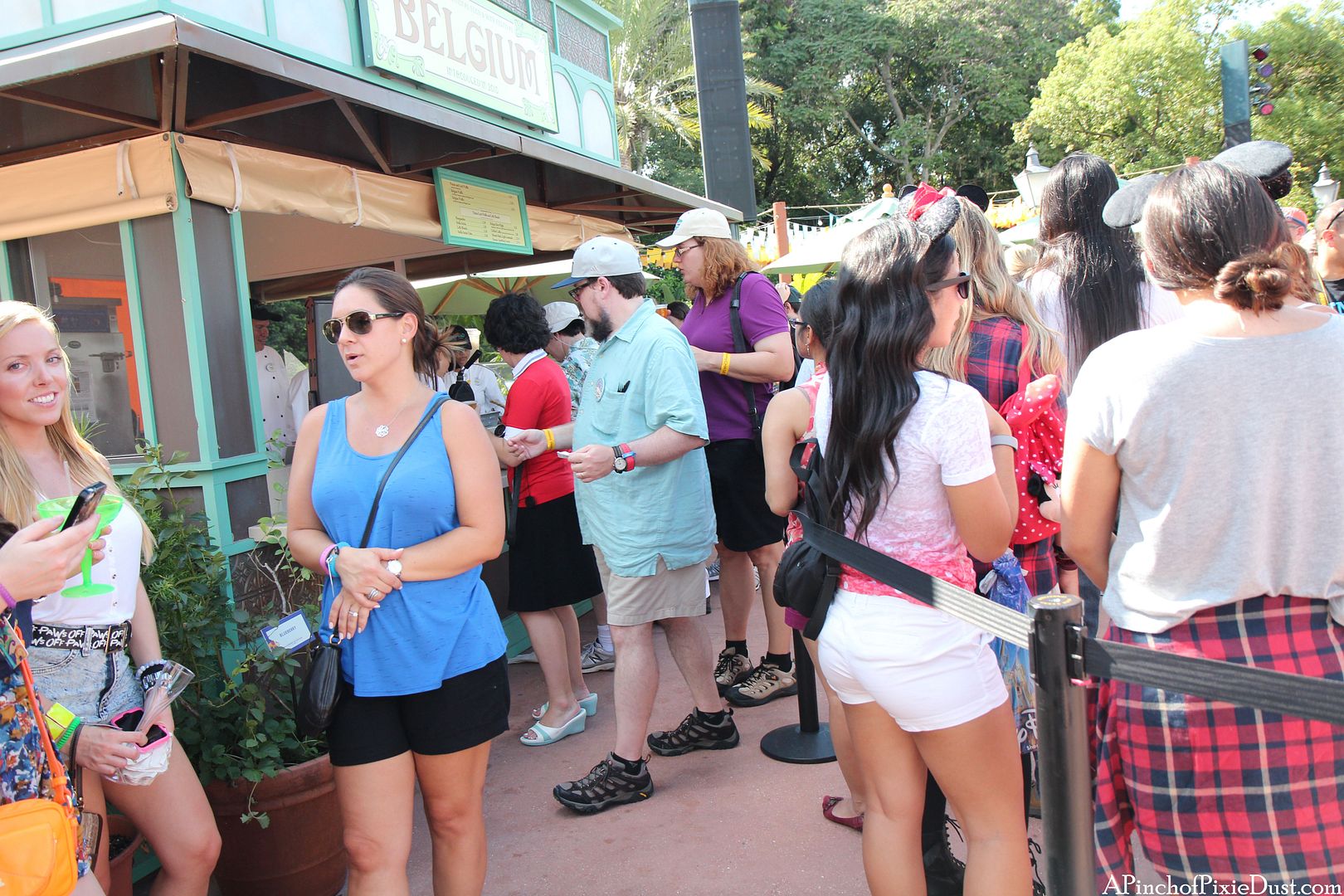 Food and Wine gets a little less restful when it's crowded - and it is very popular! If at all possible, try to avoid the weekends - especially later in the day. The way our trip plans worked out, we ended up at Epcot on a Saturday evening, and after about 6pm the lines were just insane. Very hectic!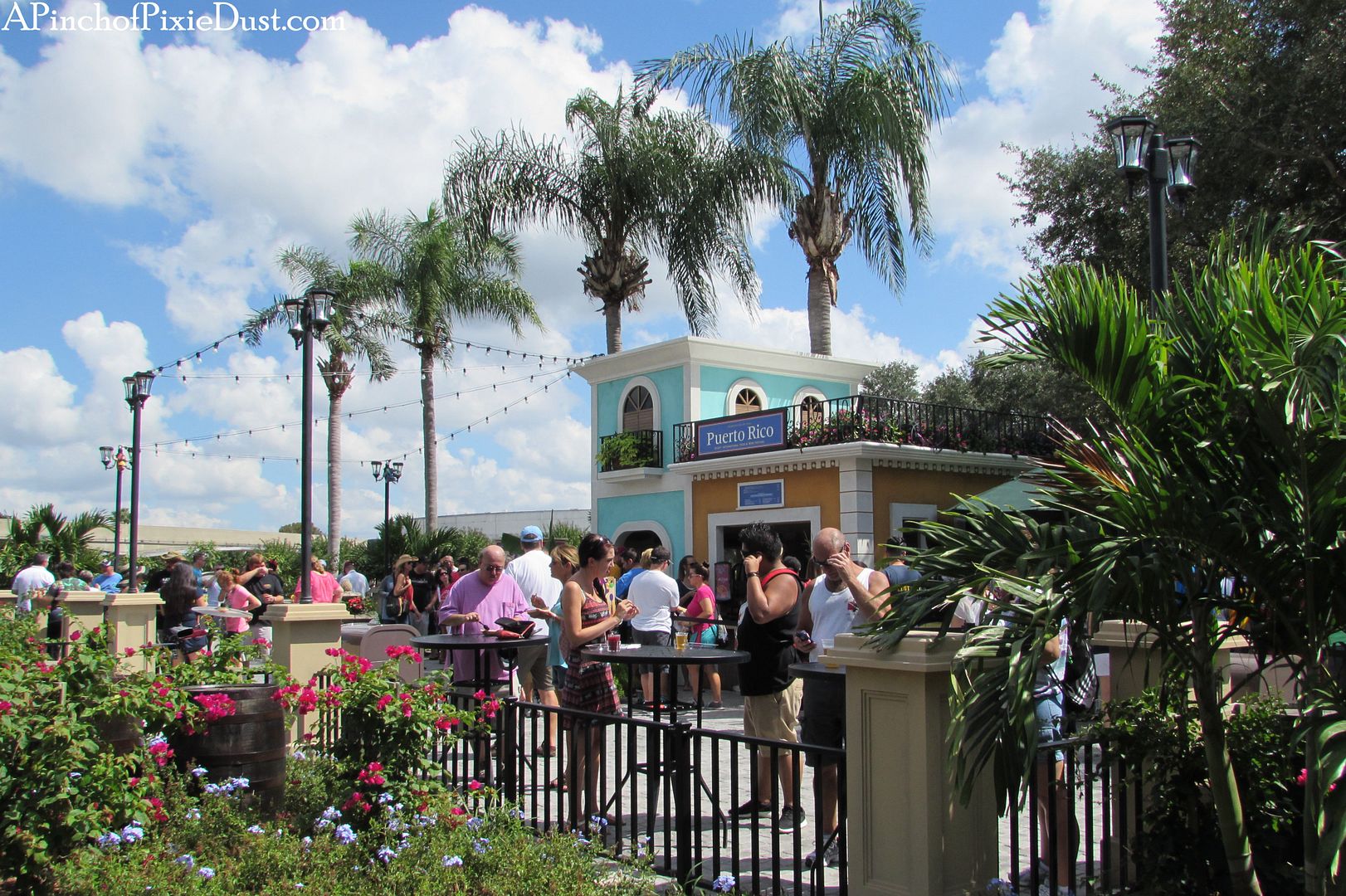 There are a number of cocktail tables out in World Showcase, but there's sadly not a whole lot of seating for eating.
We did find a charming seating area between Morocco and France near the Belgium booth...it had these cheerful banners strung above the tables and chairs. Charming!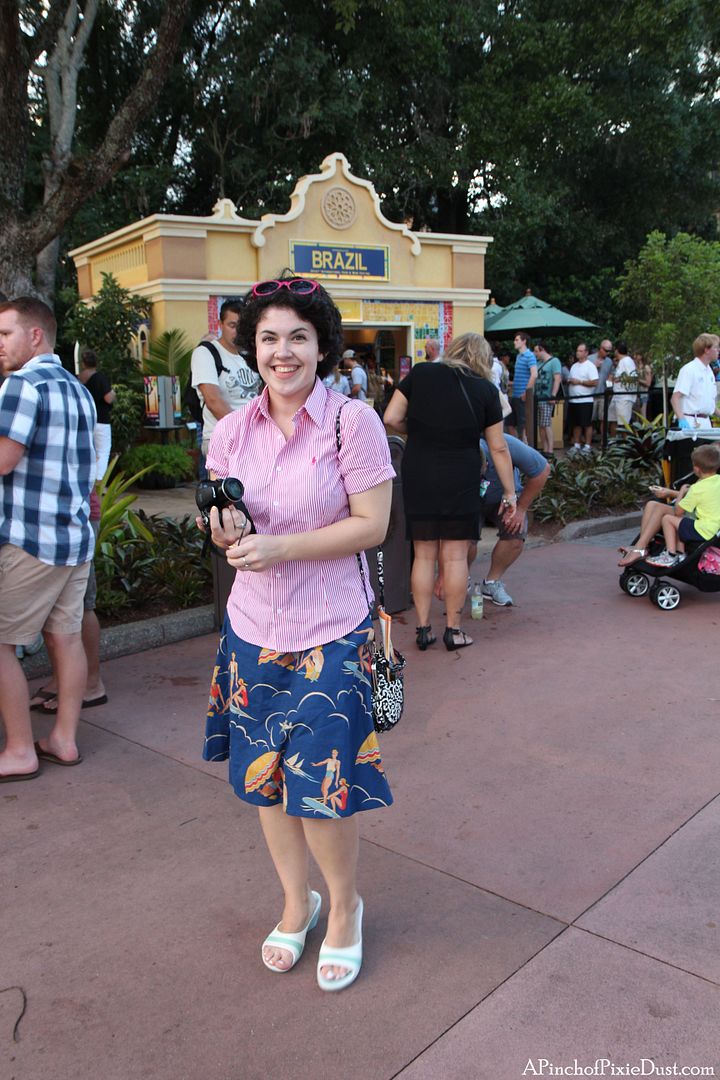 I wish they had had more sitting spots like that. Expect to be doing a fair amount of walking and munching. Some people even bring trays!
There is some special Food & Wine merchandise...that "Taste around the World" shirt was cute! We saw lots of groups of guests wearing matching shirts that they had planned just for Food & Wine, many with slogans like "Look like a Beauty, Drink like a Beast" etc. It was pretty funny!
Let's get to the food! We'll start with my favorite booth - Ireland. Look at that thatch! Ireland deserves a whole pavilion. Really.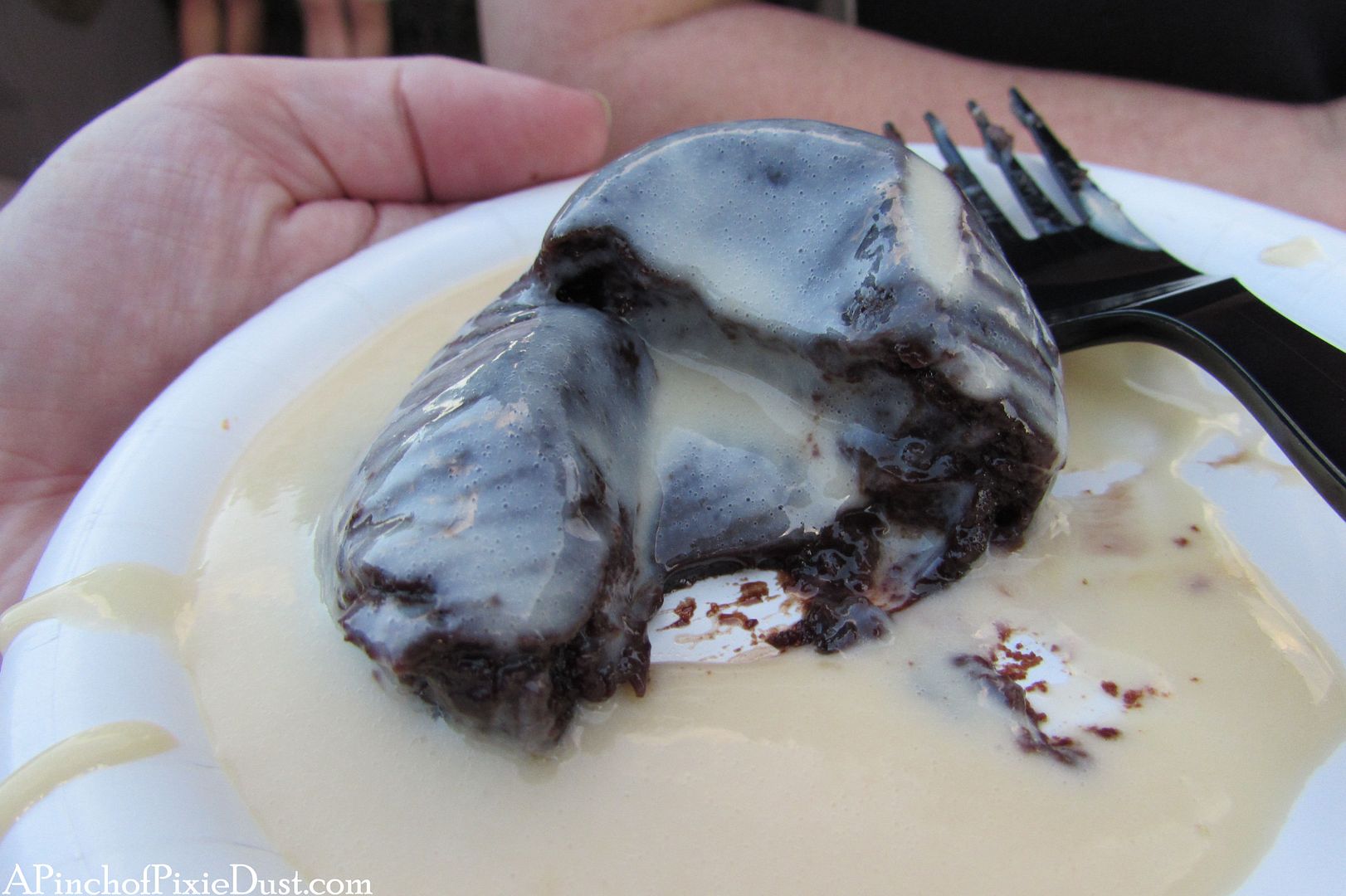 Then maybe I could get this amazing chocolate lava cake - it's called Warm Chocolate Pudding on the menu - all year round. I was a little nervous when I saw the chocolate ganache sauce had been replaced with a Kerrygold Irish Cream Liqueur Custard...
...I'm not normally a fan of liquer, but I'm glad to say Kerrygold did not disappoint. Creamy and complimented the chocolate perfectly. SO. GOOD.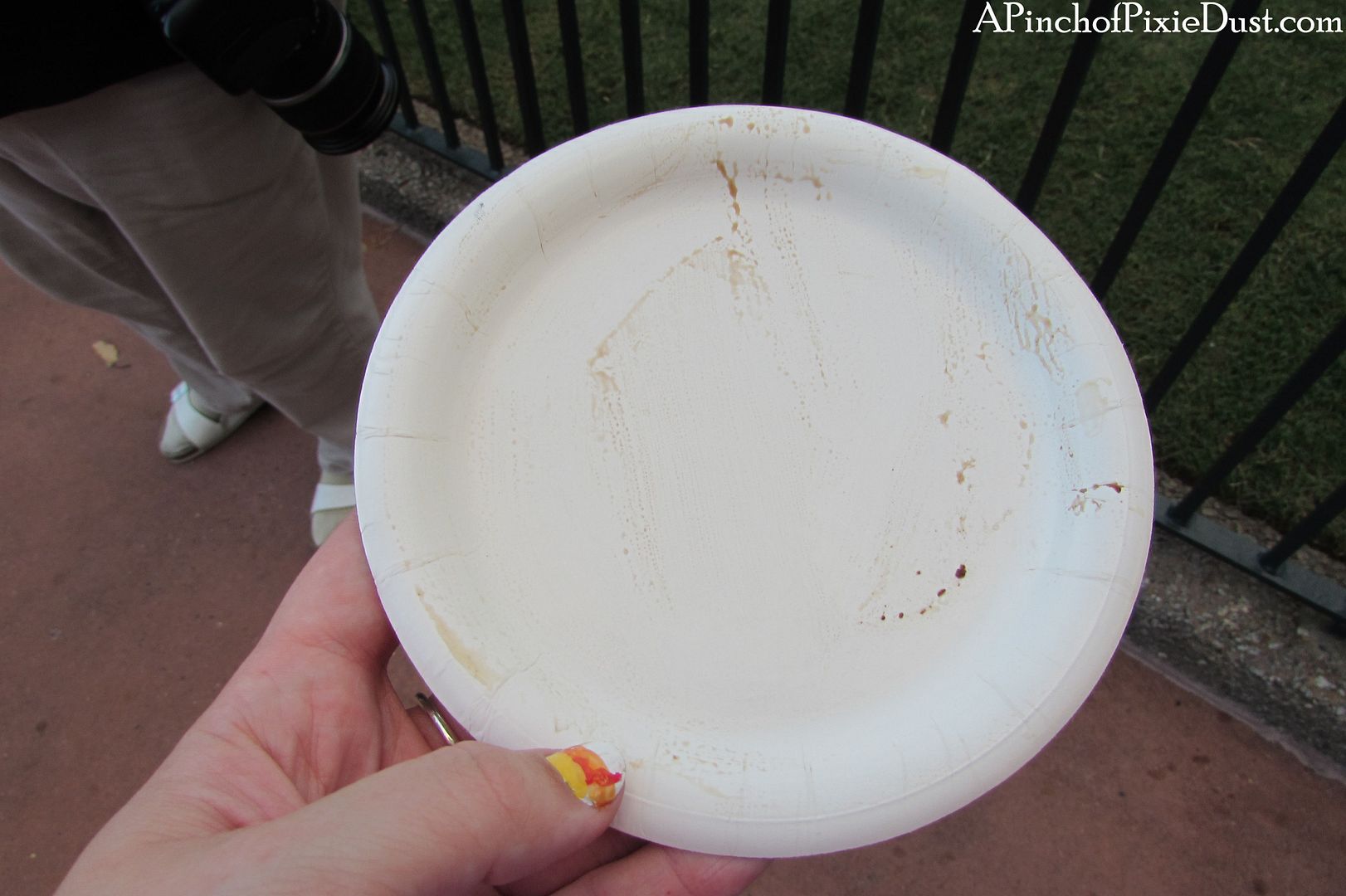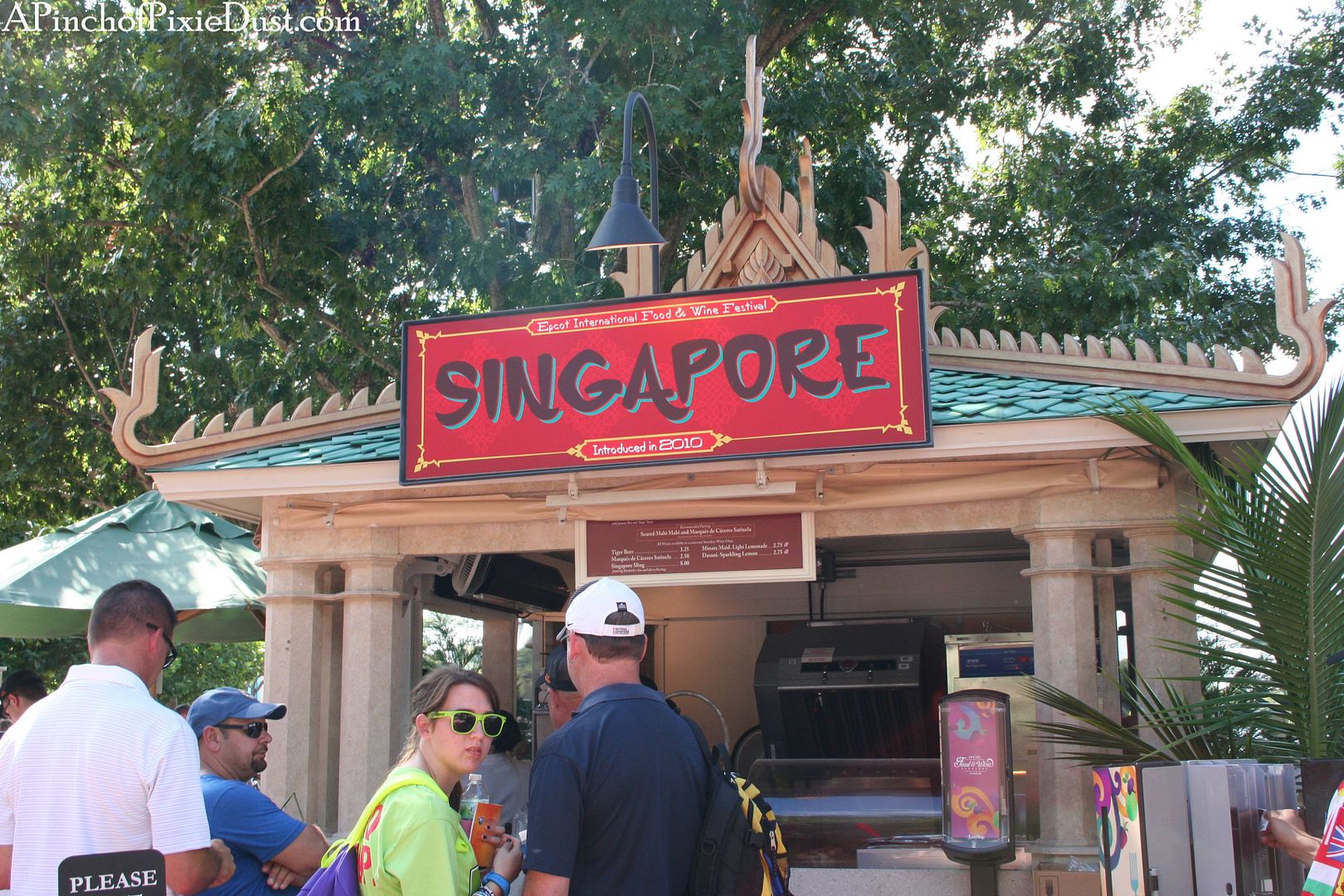 Next up we'll look at a savory something from Singapore (they've got an awesome roof too!).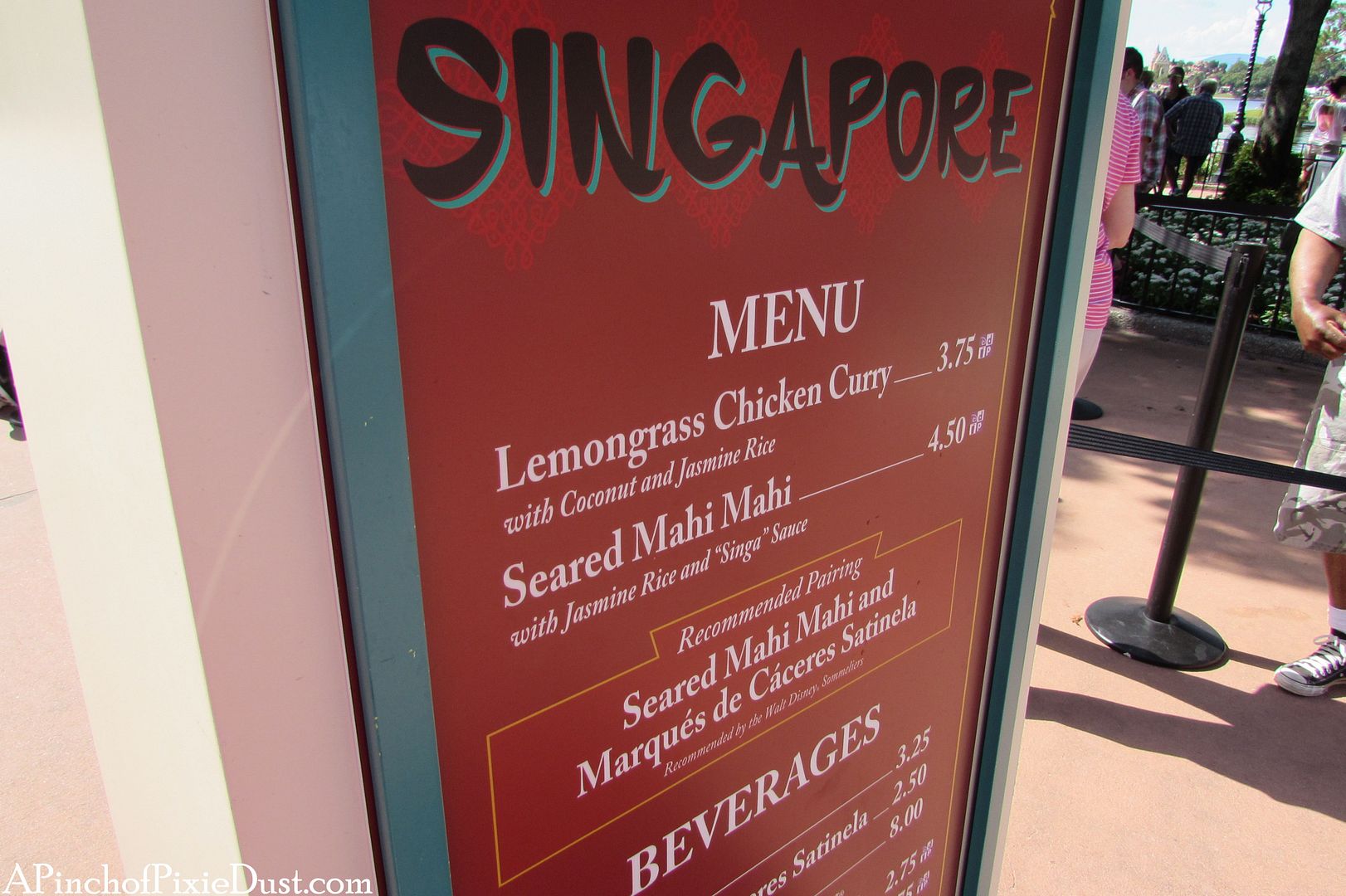 I was excited to try the Seared Mahi Mahi with Jasmine Rice and "Singa" Sauce...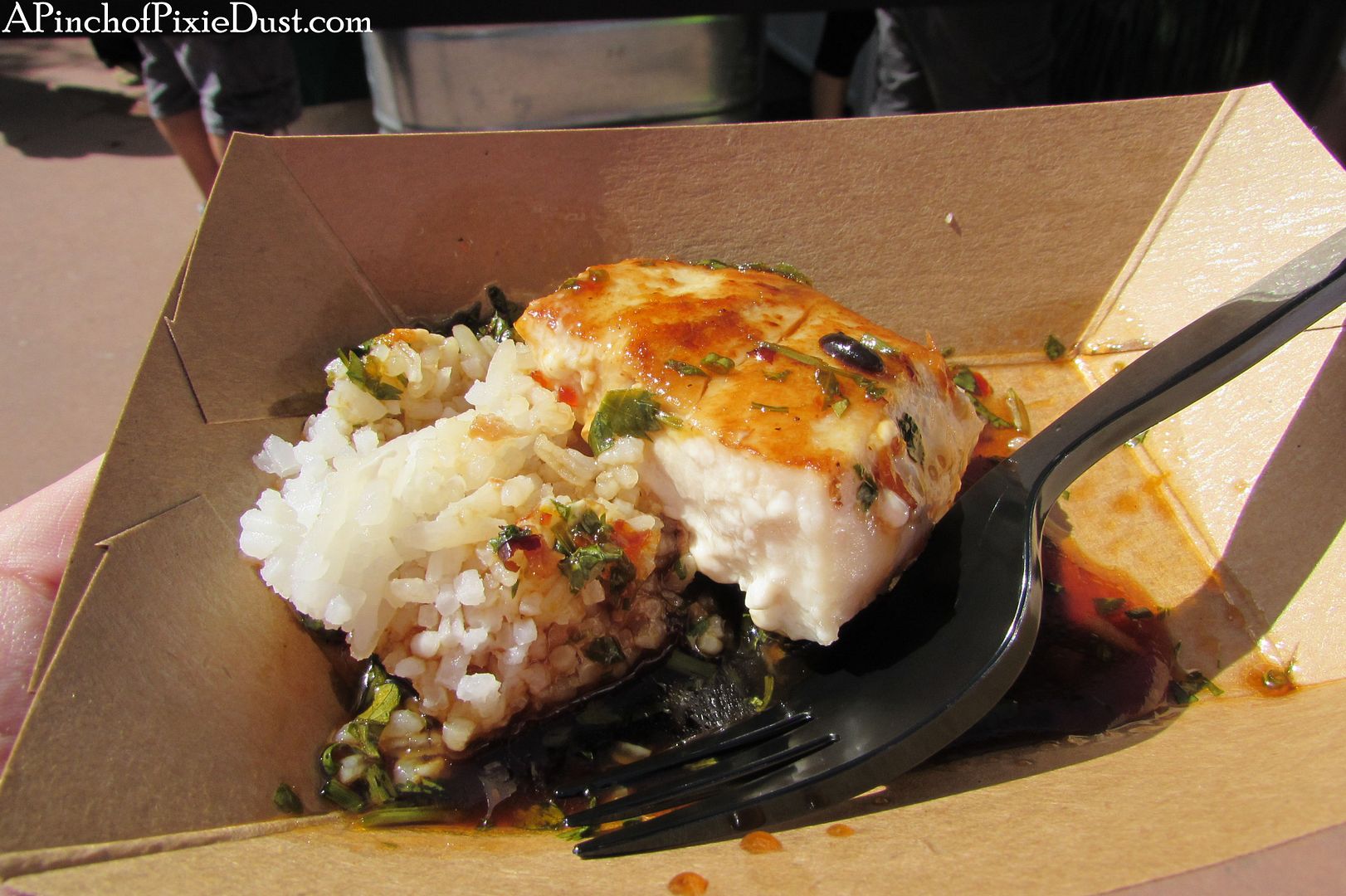 Nom Nom Nom! It was flavorful, fragrant, and a little spicy. The fish was my favorite, but I loved the rice too - and there was plenty of sauce.
My brother tried the Bobotie with Turkey and Mushrooms from the Africa booth and let me steal a bite. I've tried this dish before at the Animal Kingdom Lodge, but this one was amazing!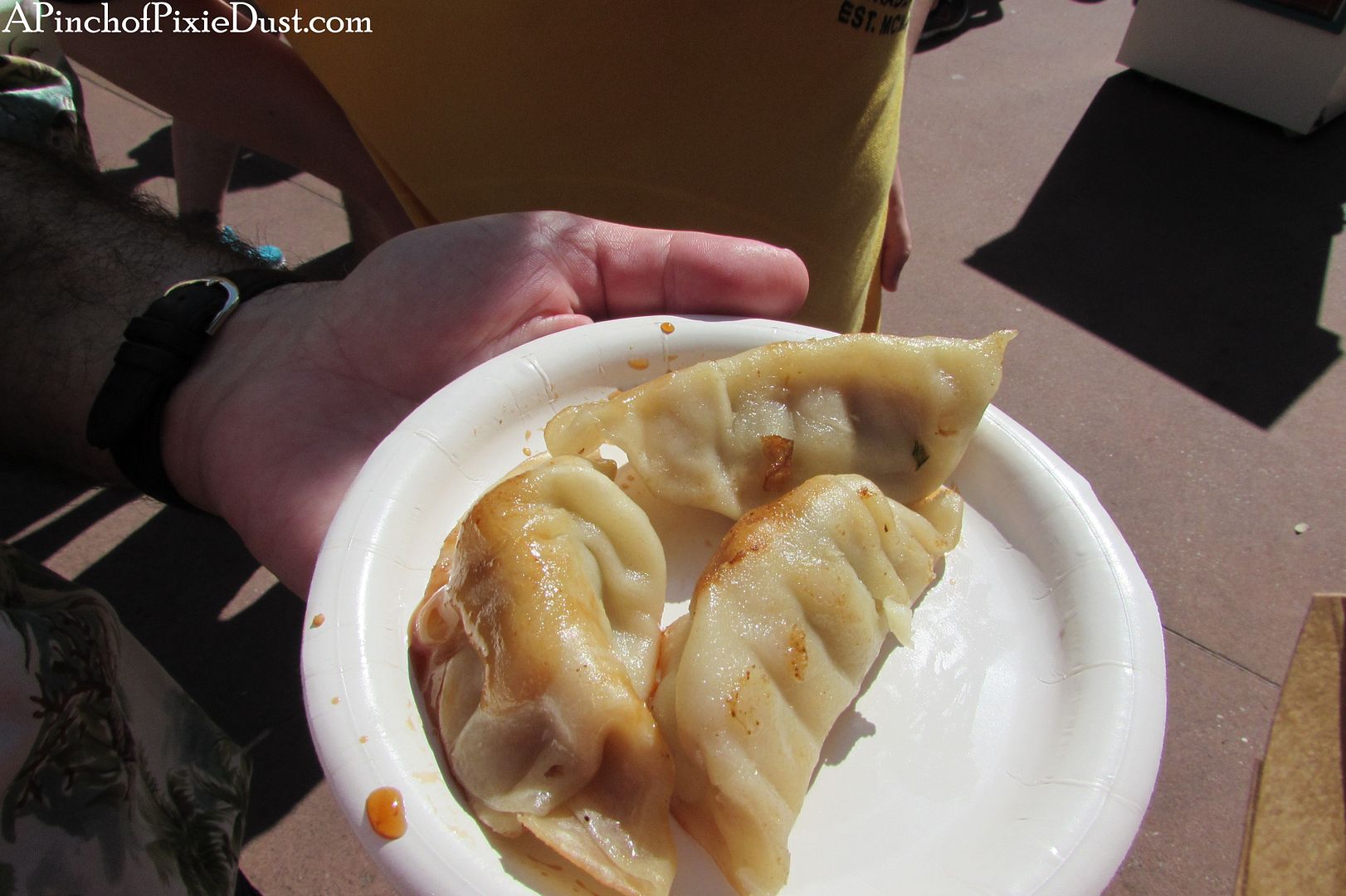 Athos can never pass up a pot sticker - these were from the China booth. They're very similar to the pot stickers available all year long at the Lotus Blossom Cafe.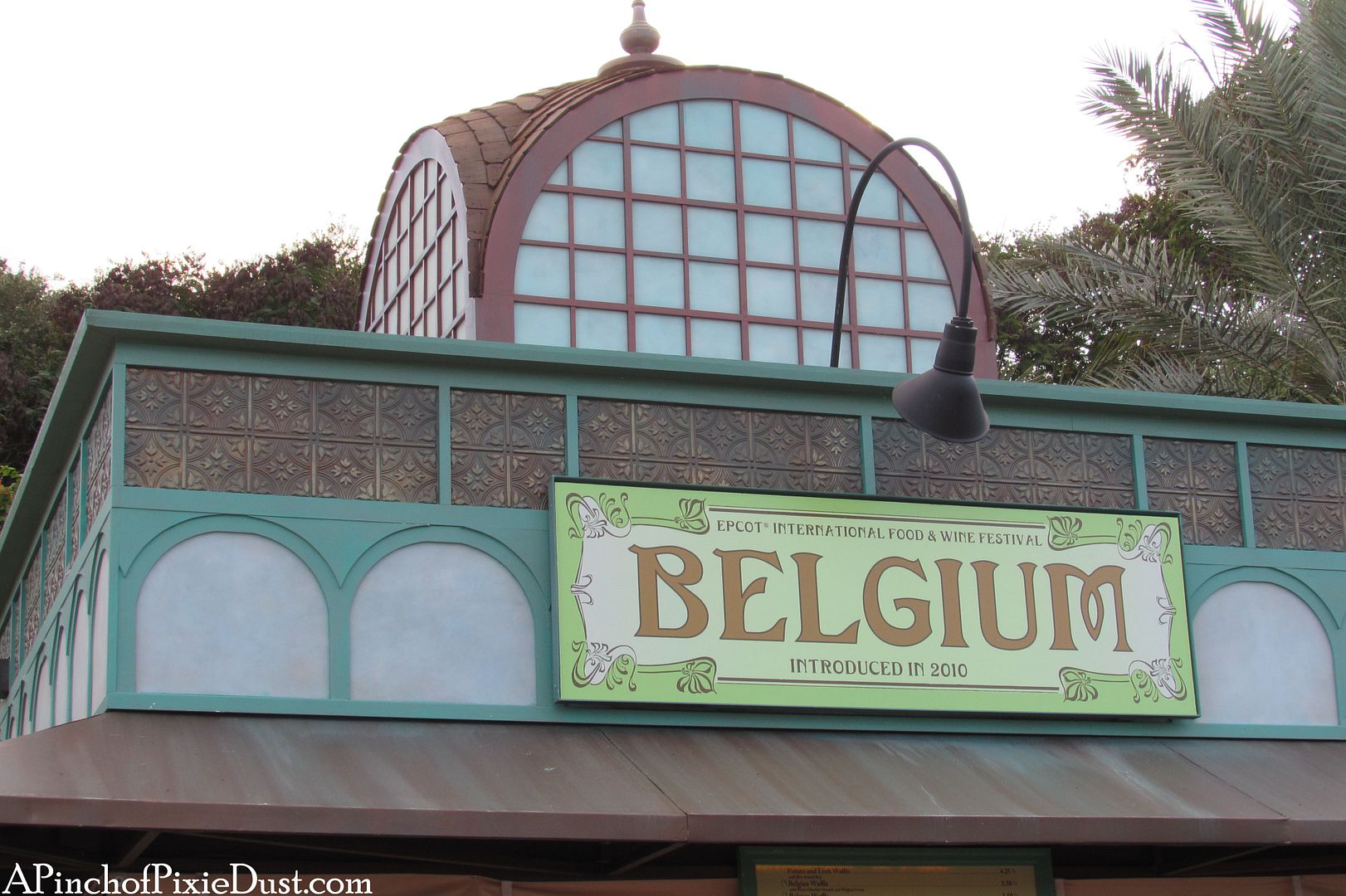 The Belgium booth ended up being a family favorite...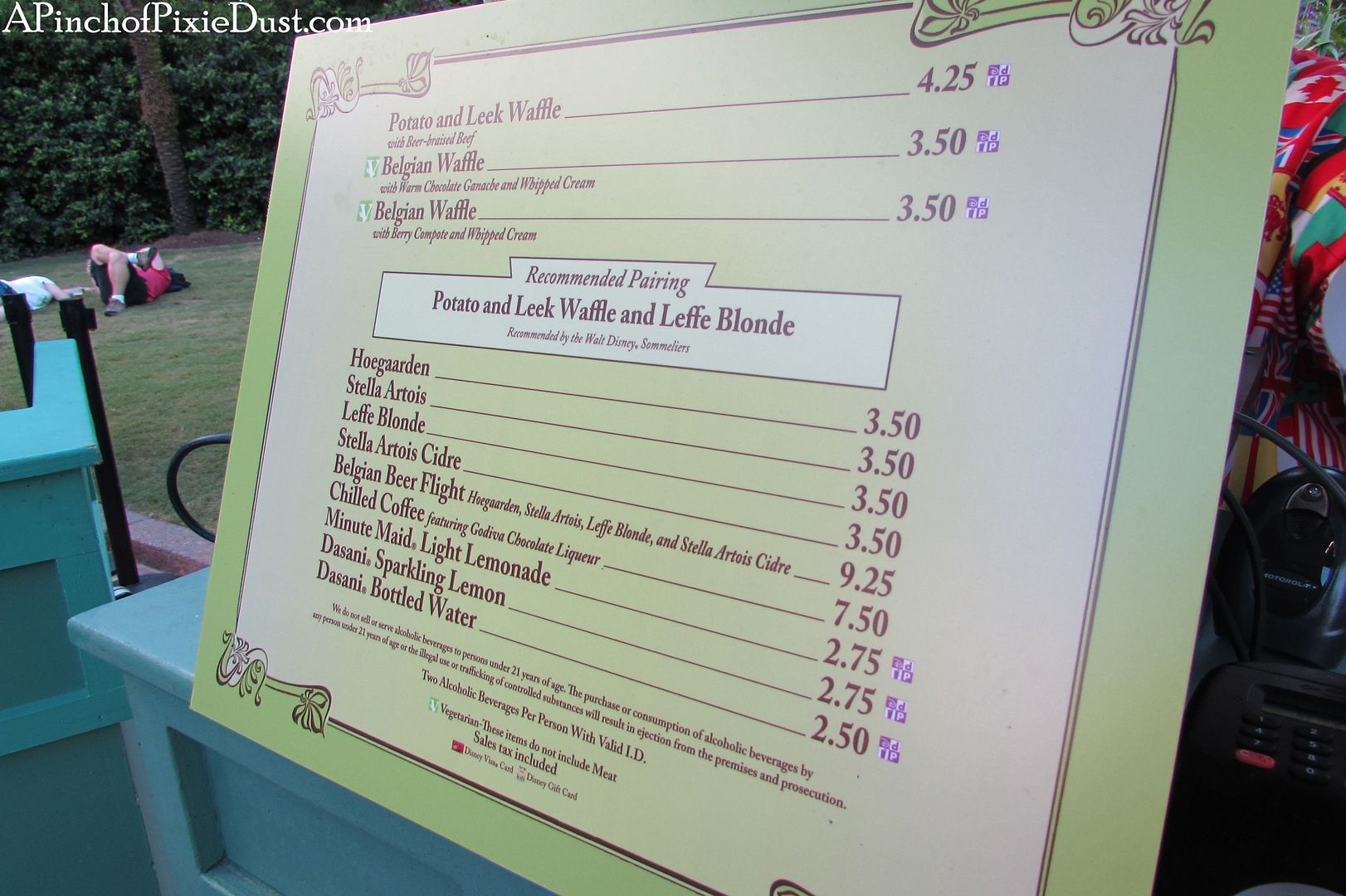 A look at the menu...they've got waffles!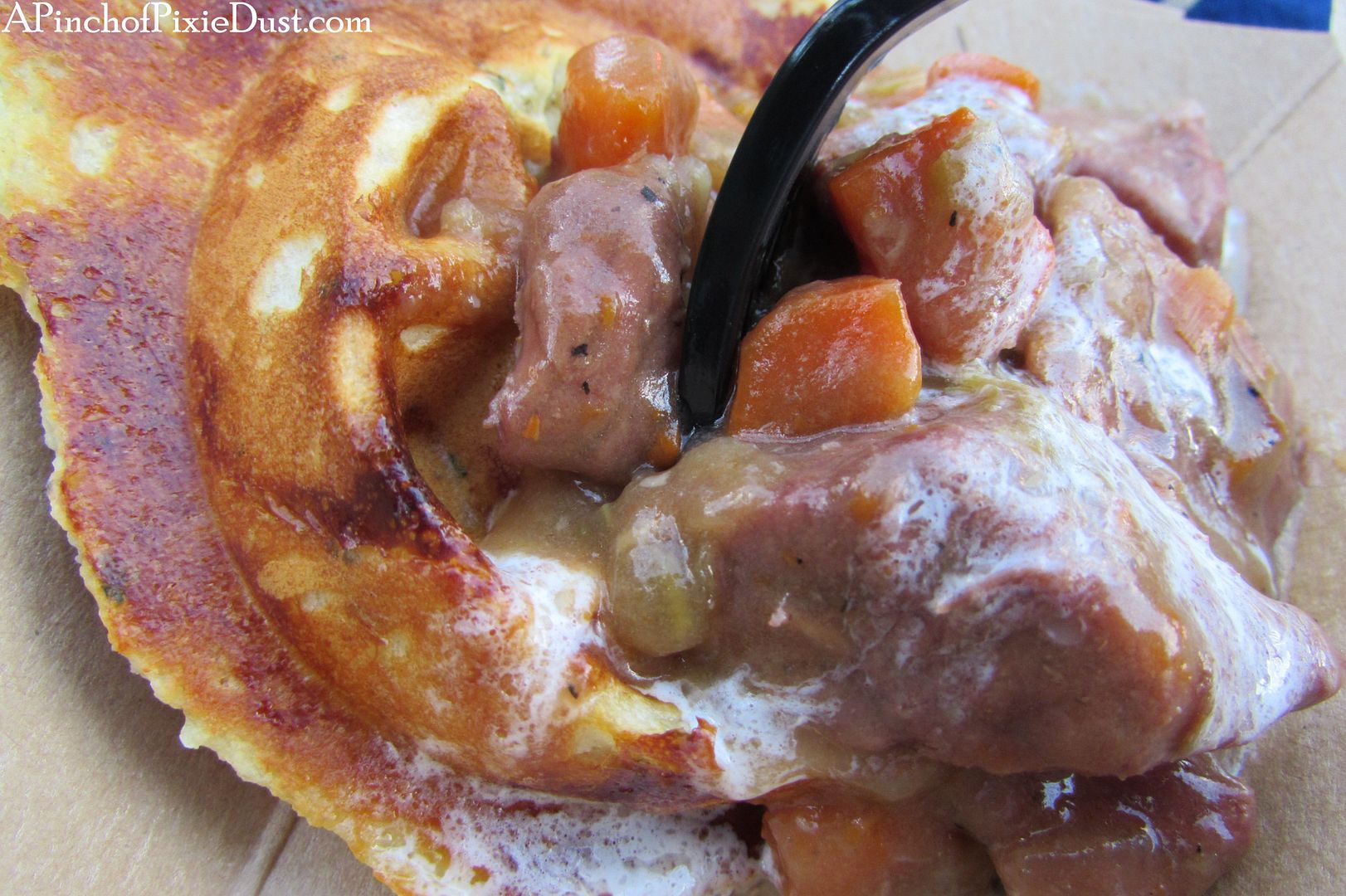 This is the Potato and Leek Waffle with Braised Beef for $4.25. Overall, I thought the prices were pretty good for what you got.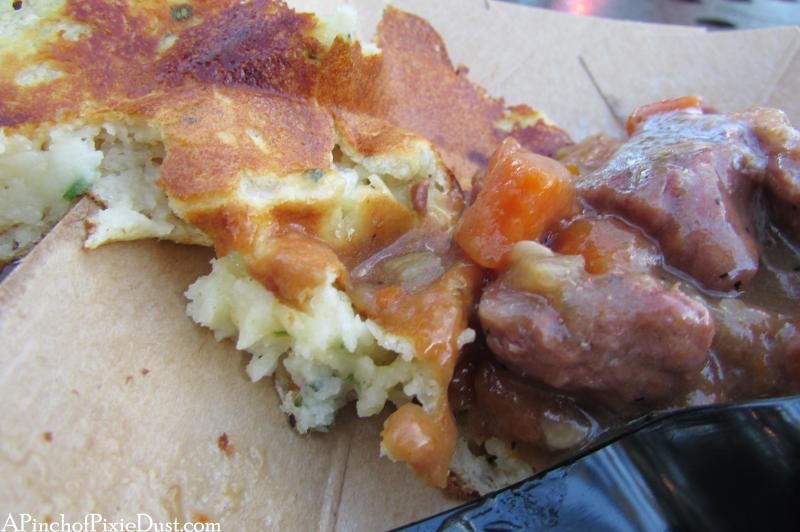 The waffle itself is actually made of potato and leek, like a potato pancake but then fluffy on the inside and crispy on the outside like a waffle. The beef on top was also quite nice. Now I want to try making potato leek waffles at home!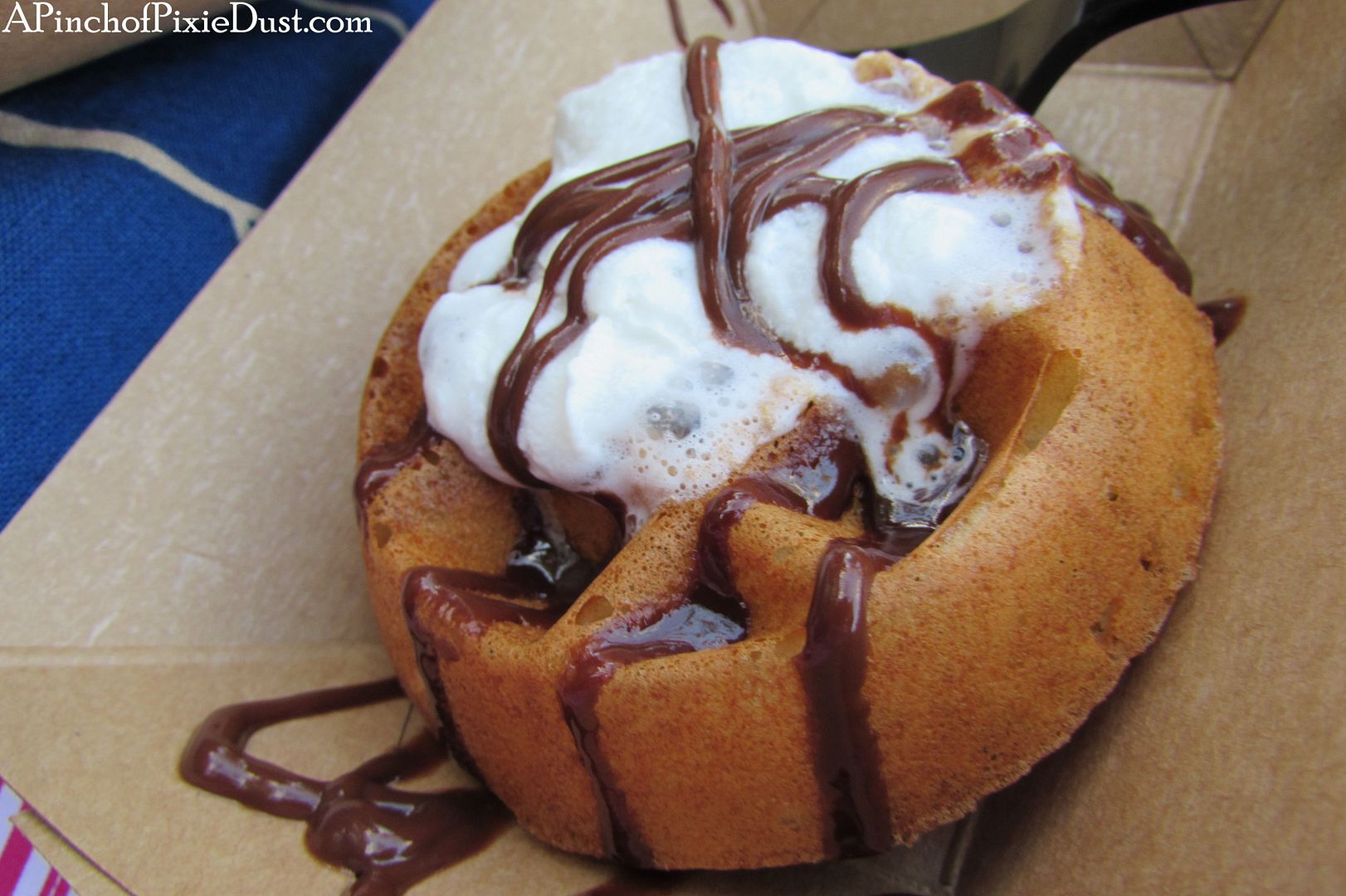 Here's the Belgian Waffle with Warm Chocolate Ganache and Whipped Cream for $3.50. I wouldn't really call the chocolate sauce a ganache - I think of ganache as thicker - but you could tell it was really good chocolate. The waffle itself was lovely, although I do wish there'd been more whipped cream!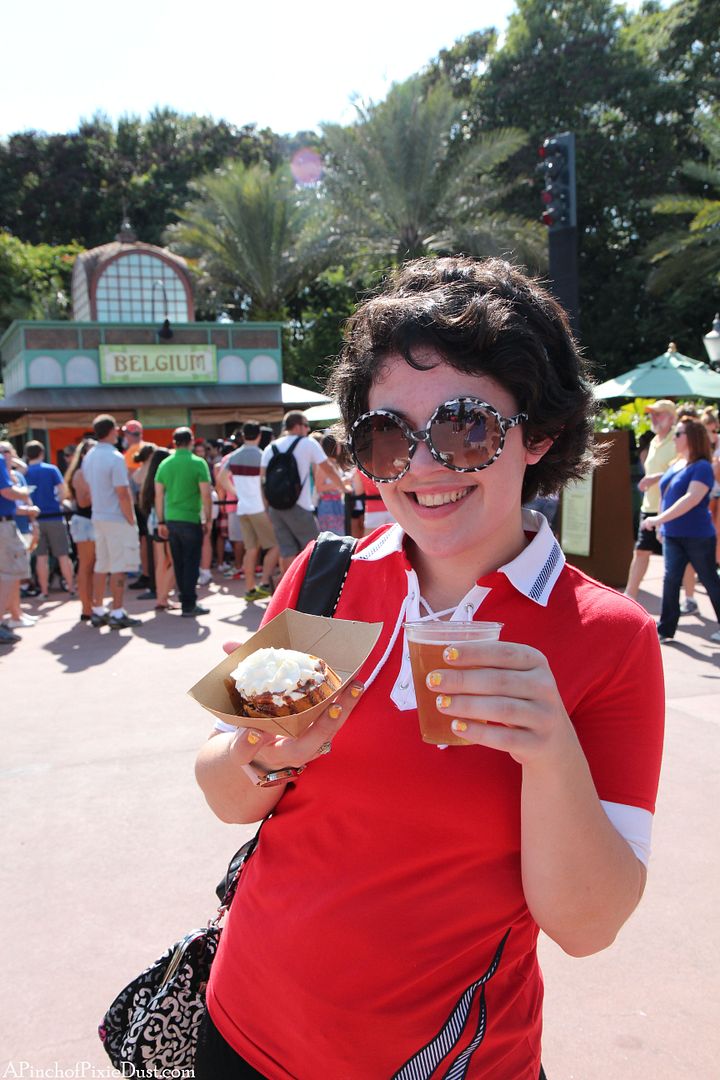 We sampled the Stella Artois Cidre ($3.50) with our waffles. Generally I save my budget for the food over the drinks, but this was very nice. I think it's a toss up between Belgium and Ireland for my favorite booth of all!
Be sure to share your Food & Wine favorites in the comments! :)