We have just returned from an October trip to Walt Disney World, and I'm just going to say it: Mickey's Not-So-Scary Halloween Party is completely. AMAZING. Definitely one of the most epic events you can experience at Disney. We had a fantastically fun time.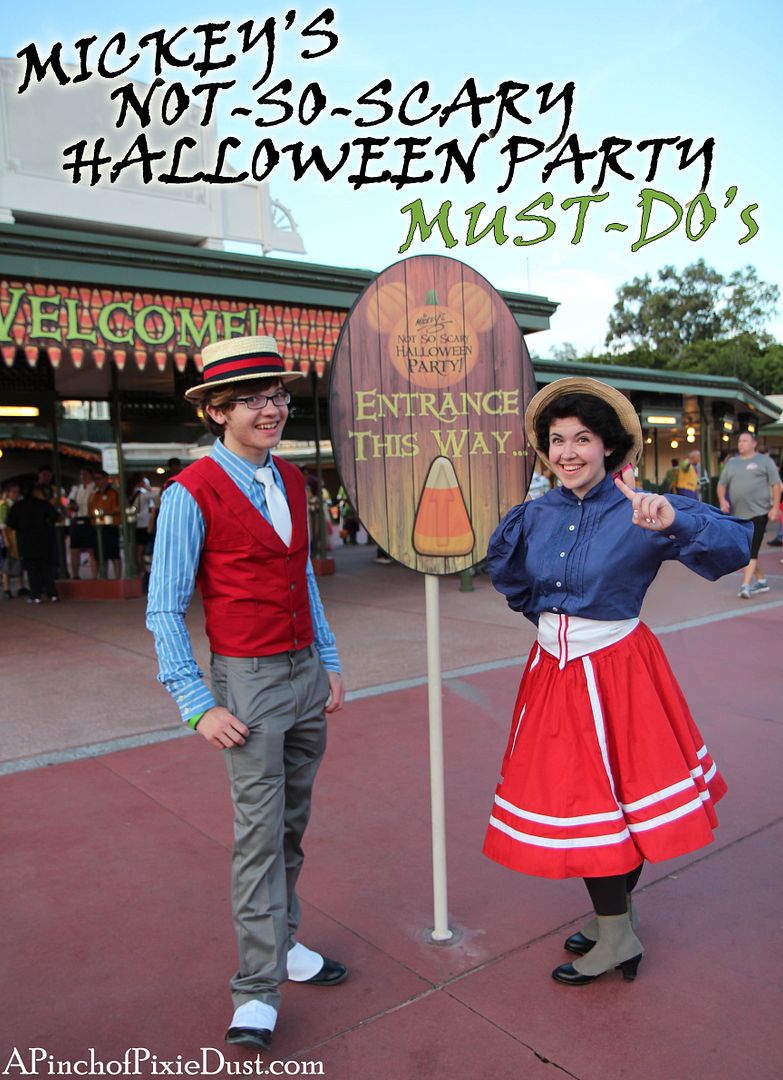 However - there are so many things to do - characters and trick or treating and the special parade and fireworks - and so much to take in that it can get pretty overwhelming! So I thought I'd break our MNSSHP up Stacy-style and give you the must-do's. Are you ready?
1. ENJOY YOUR ARRIVAL
The anticipation leading up to the party - planning your trip and planning your costume - are half the fun! If you're at all tempted to wear a costume, do it. There are plenty of other adults who dress up for the occasion so you won't feel at all out of place. Lots of families dress up together in themed costumes - I roped my brother Athos into being a Trolley Show person with me. He's an old soul, so he liked the hat and the spats. ;)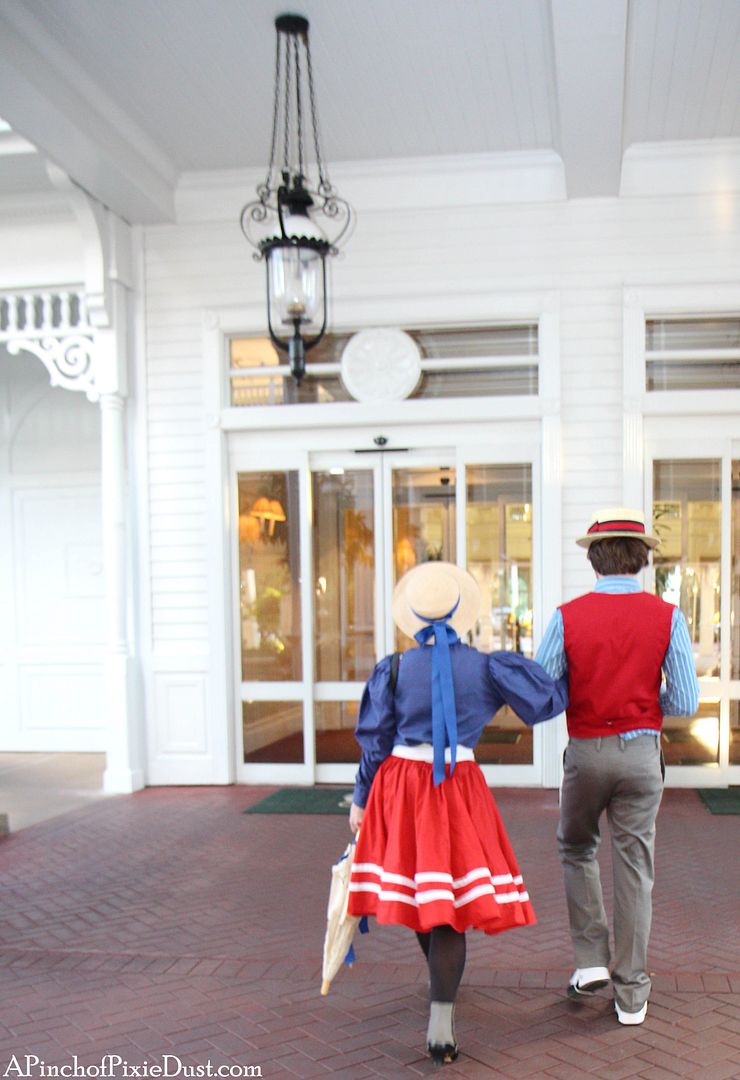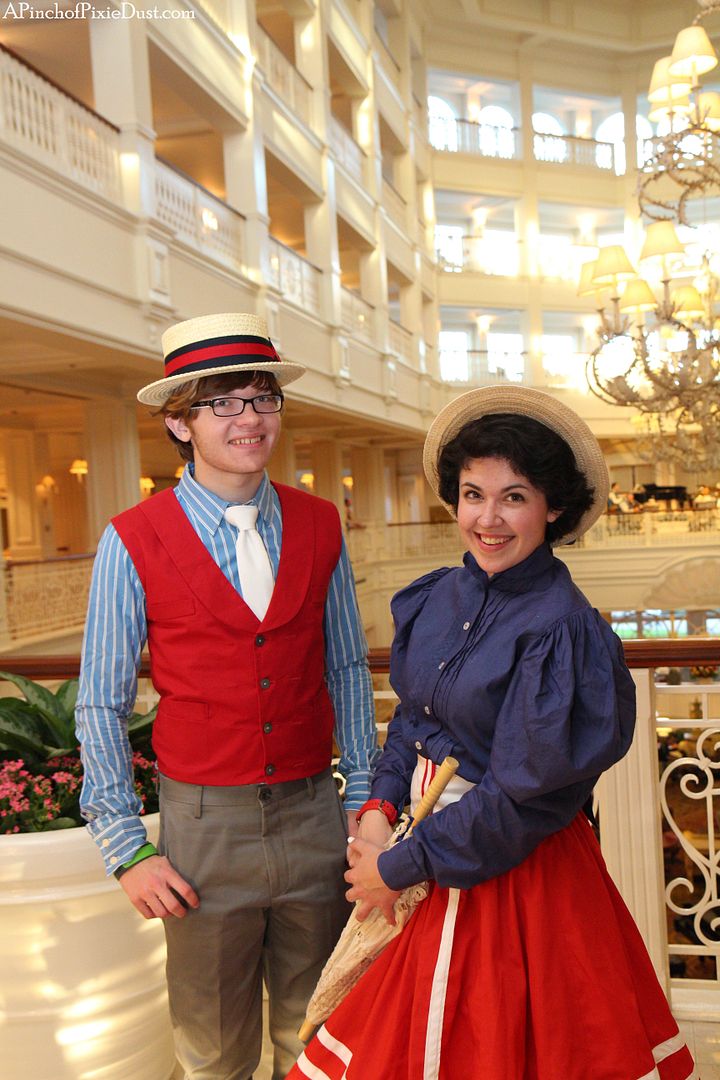 We were staying at the Grand Floridian and got ready there. If you're staying at a WDW resort, the Halloween fun starts well before you arrive at the party. Many of the other guests at the resorts and on your boat/monorail/bus/Disney transportation heading to the MK will be dressed up in costumes for MNSSHP too!
"Join us on select dates in September and October in the Magic Kingdom for Mickey's Not-So-Scary Halloween Party!" I love the fall gourds and autumnal display that greets you as you walk up to the security check at the Magic Kingdom. Make sure you get your party tickets in advance - they often sell out the day of, if not sooner. The nice thing about a MNSSHP ticket is that it counts as park admission starting as early as 4pm (although the special characters/events won't begin until the official party start time at 7pm). Spend the earlier part of the day relaxing at your resort and then come ready to party!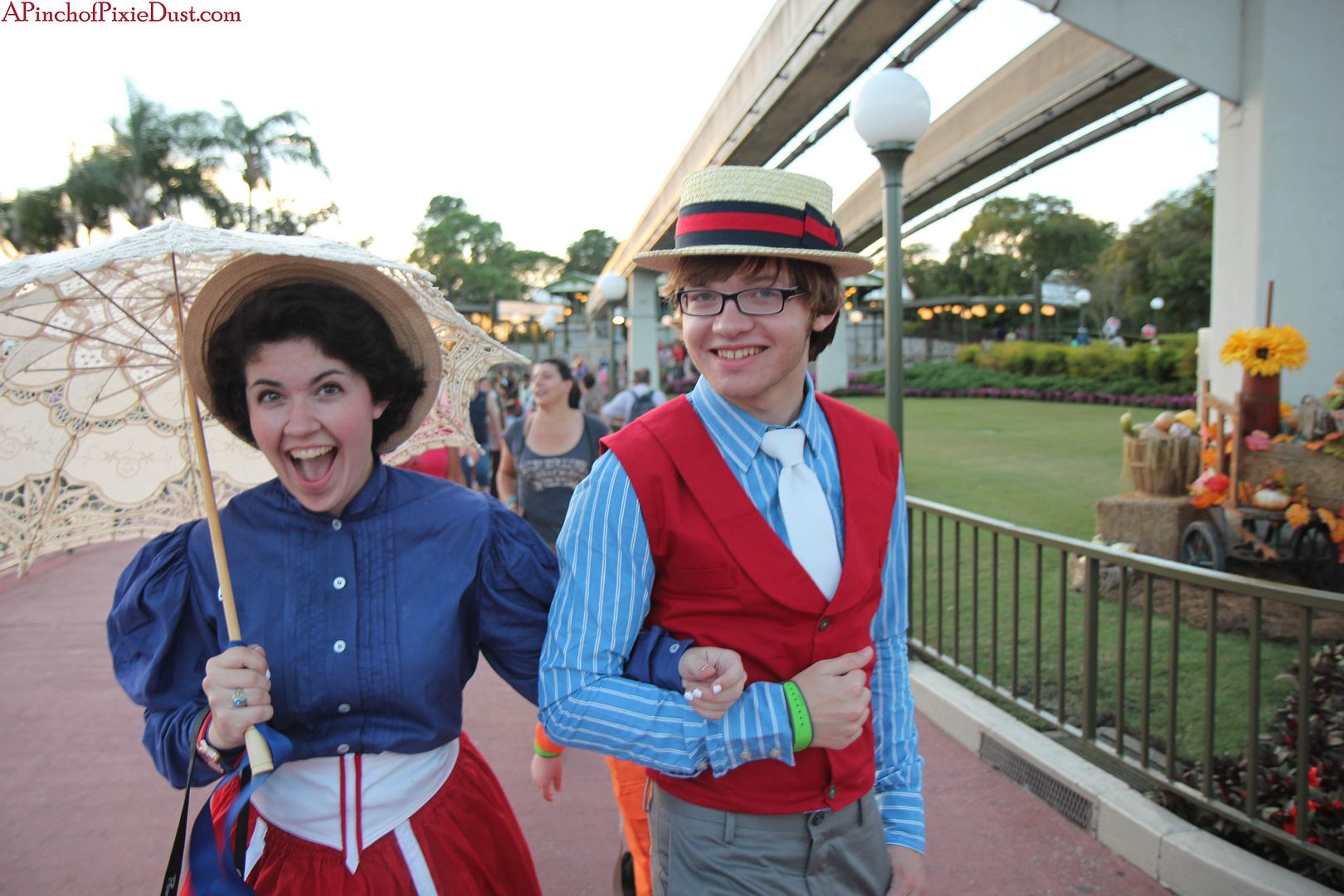 We were so ready.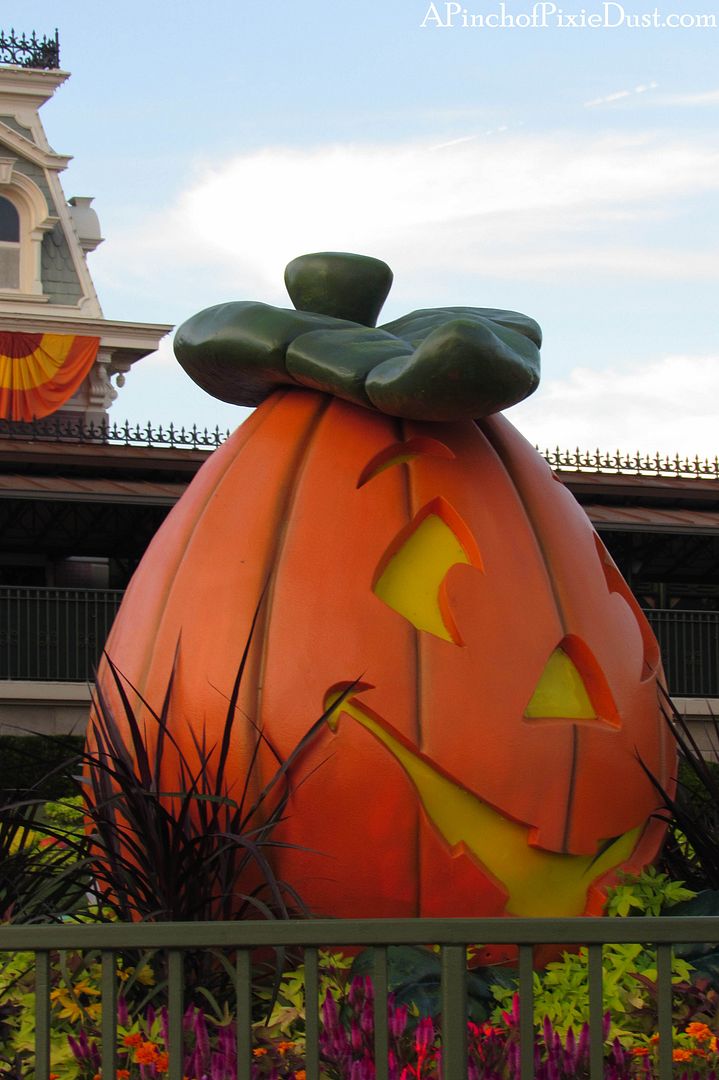 There are so many charming fall decorations at the Magic Kingdom - some are up all the time, some come out exclusively for the party. We took our time heading in the turnstiles to snap some photos and just soak in the atmosphere.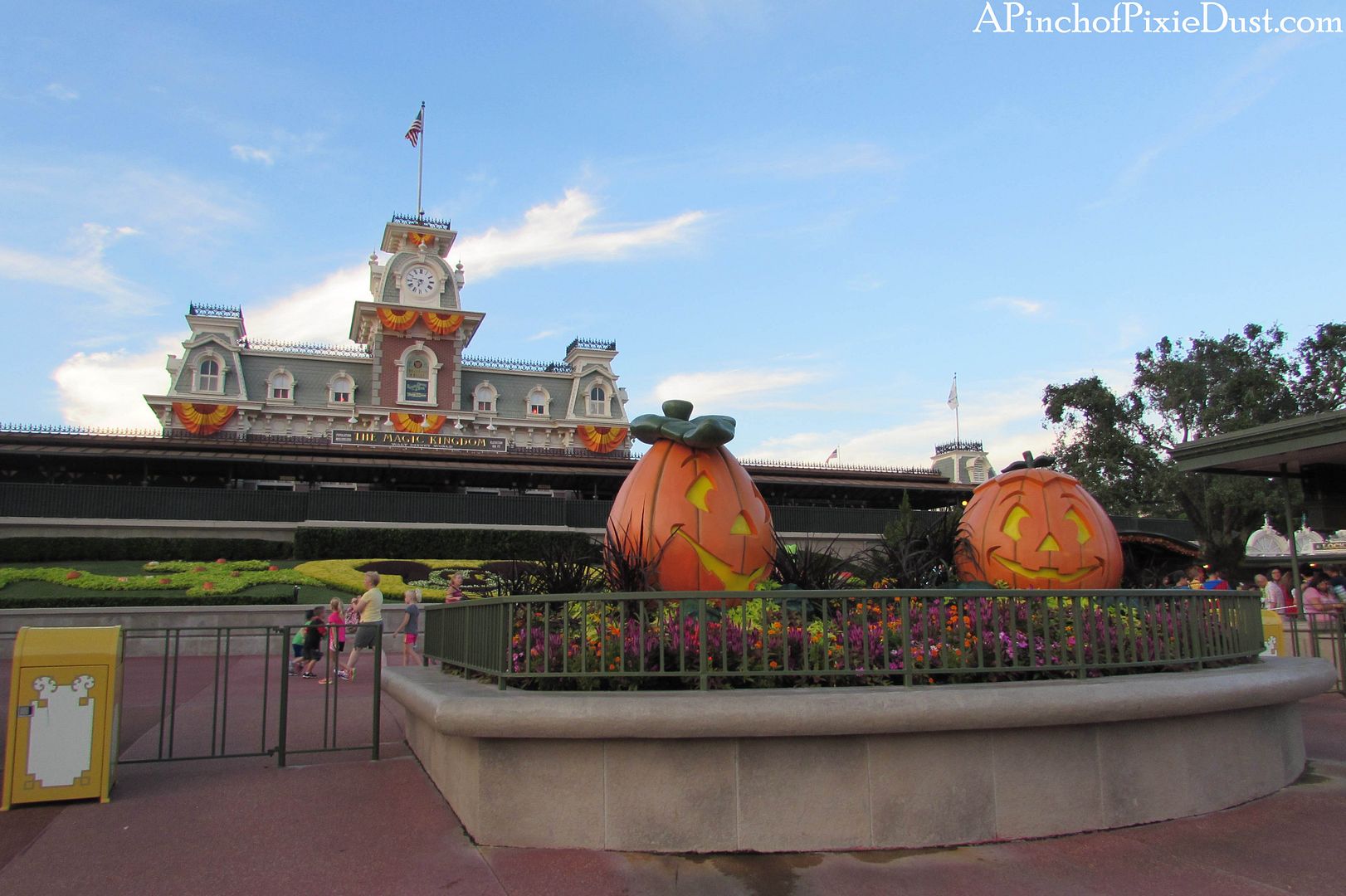 We had such good luck weather-wise. The sun was just starting to set as we entered Main Street, but some other ghoulish lights were about to come out and play. The clock above the train station, for instance, was flickering!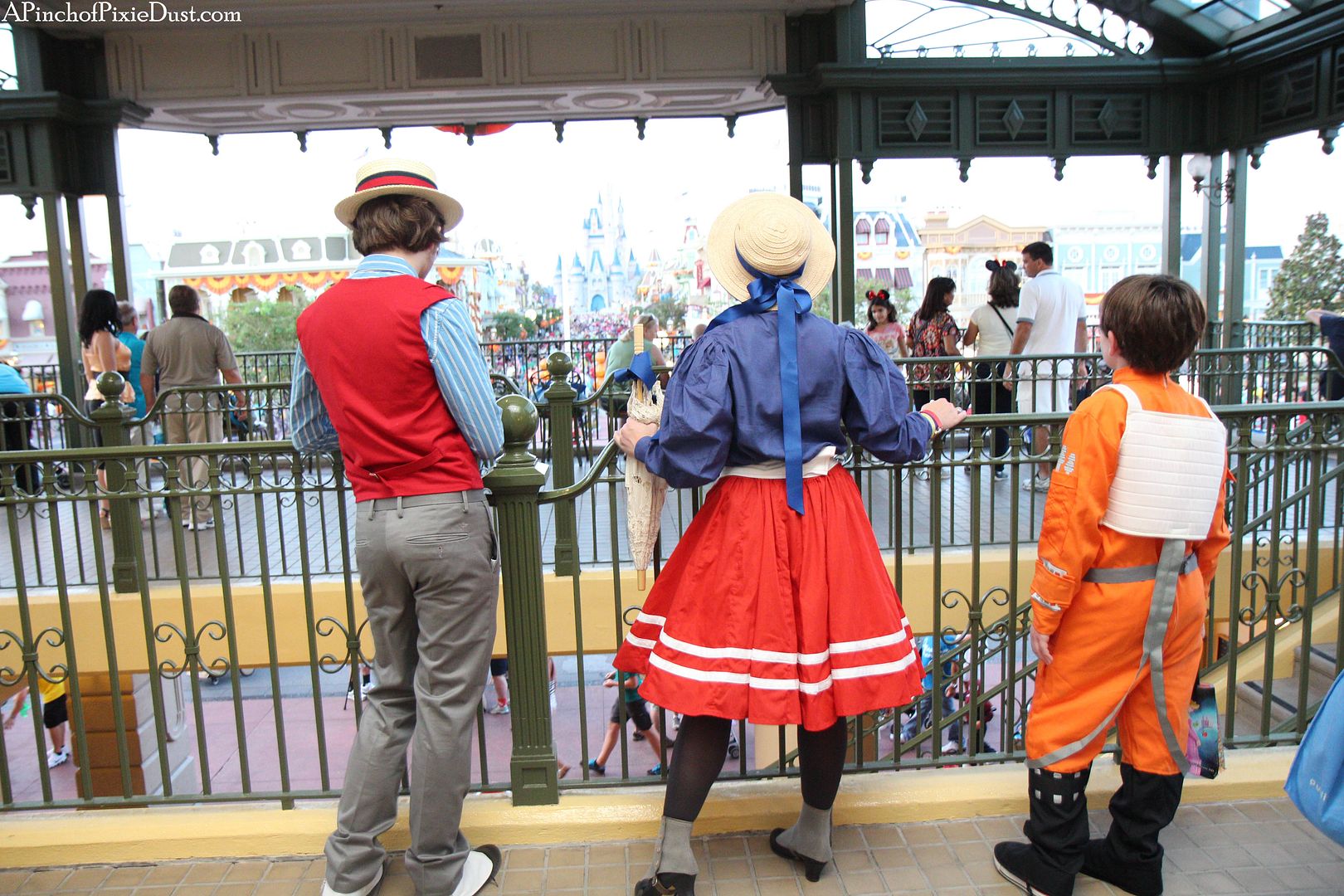 We ended up arriving just before 7pm. Main Street was packed - all the normal, non-MNSSHP guests are leaving on one side and all the party-goers are coming in on the other.
It was exciting to be on Main Street at 7 though - you have to stop to listen to your Ghost Host announcing the spooky park takeover!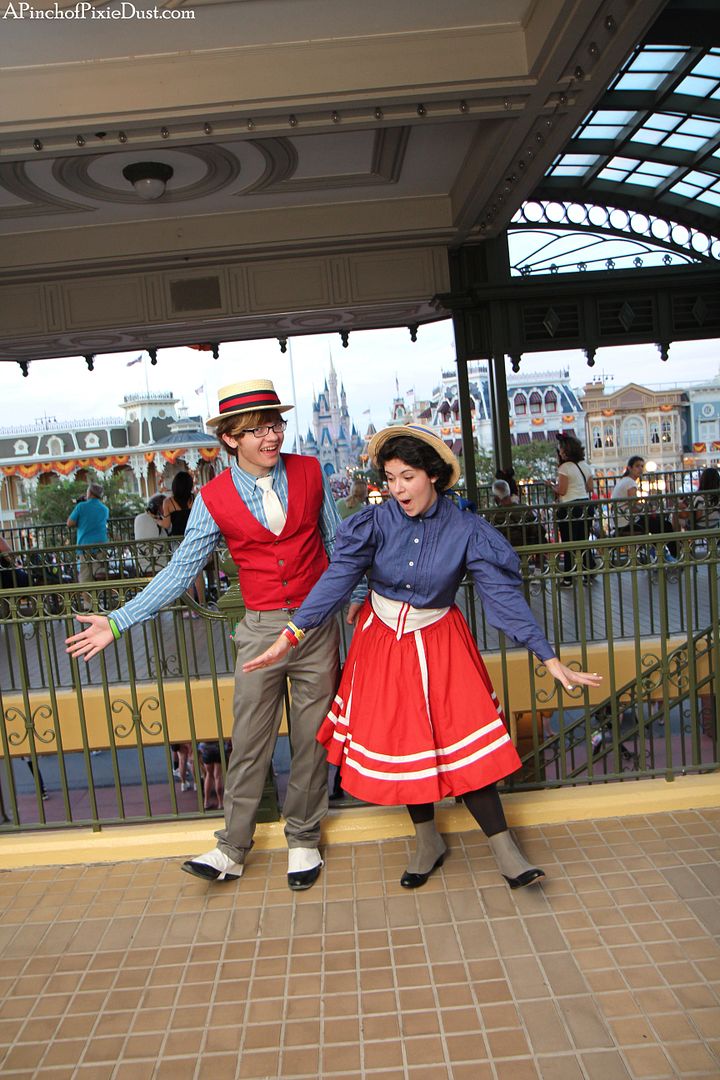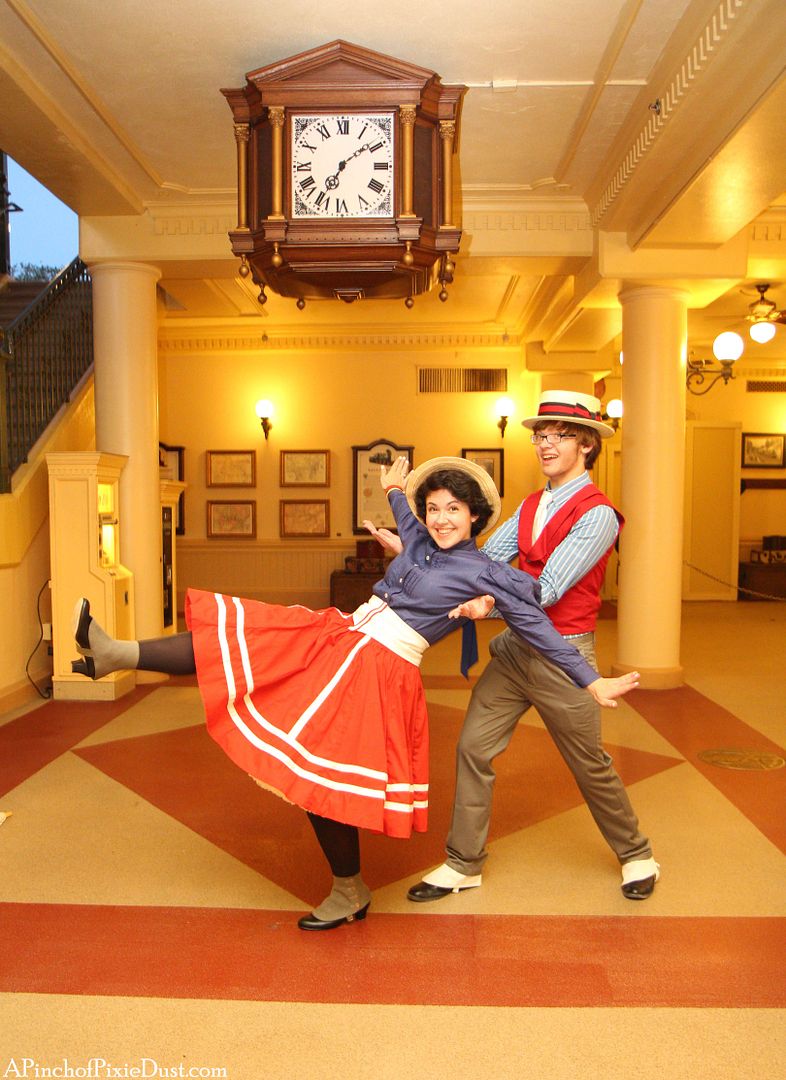 We had to swing by the Train Station to practice our Welcome Show / Trolley moves. As Athos hashtagged it, #gottawelcomeeverybody!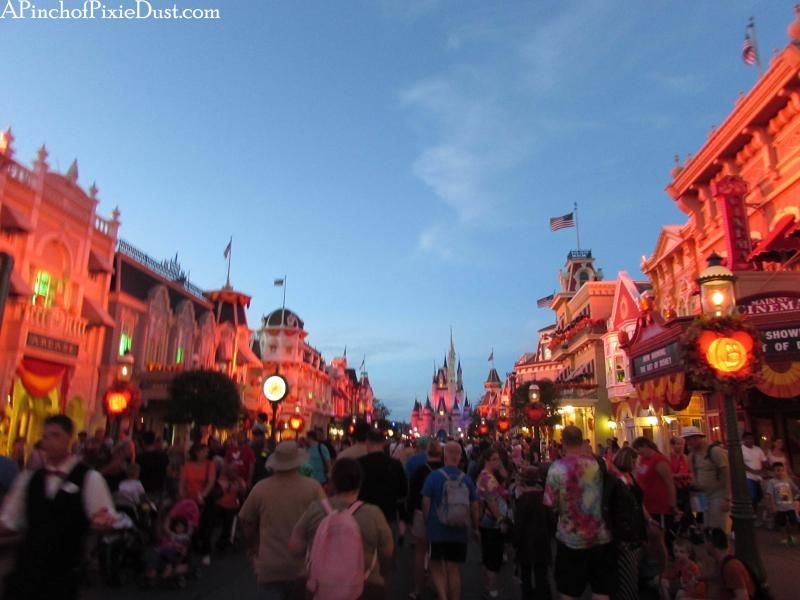 Main Street never looks cooler than on a Not-So-Scary night! THOSE LIGHTS! And they flicker and change and dance to the music.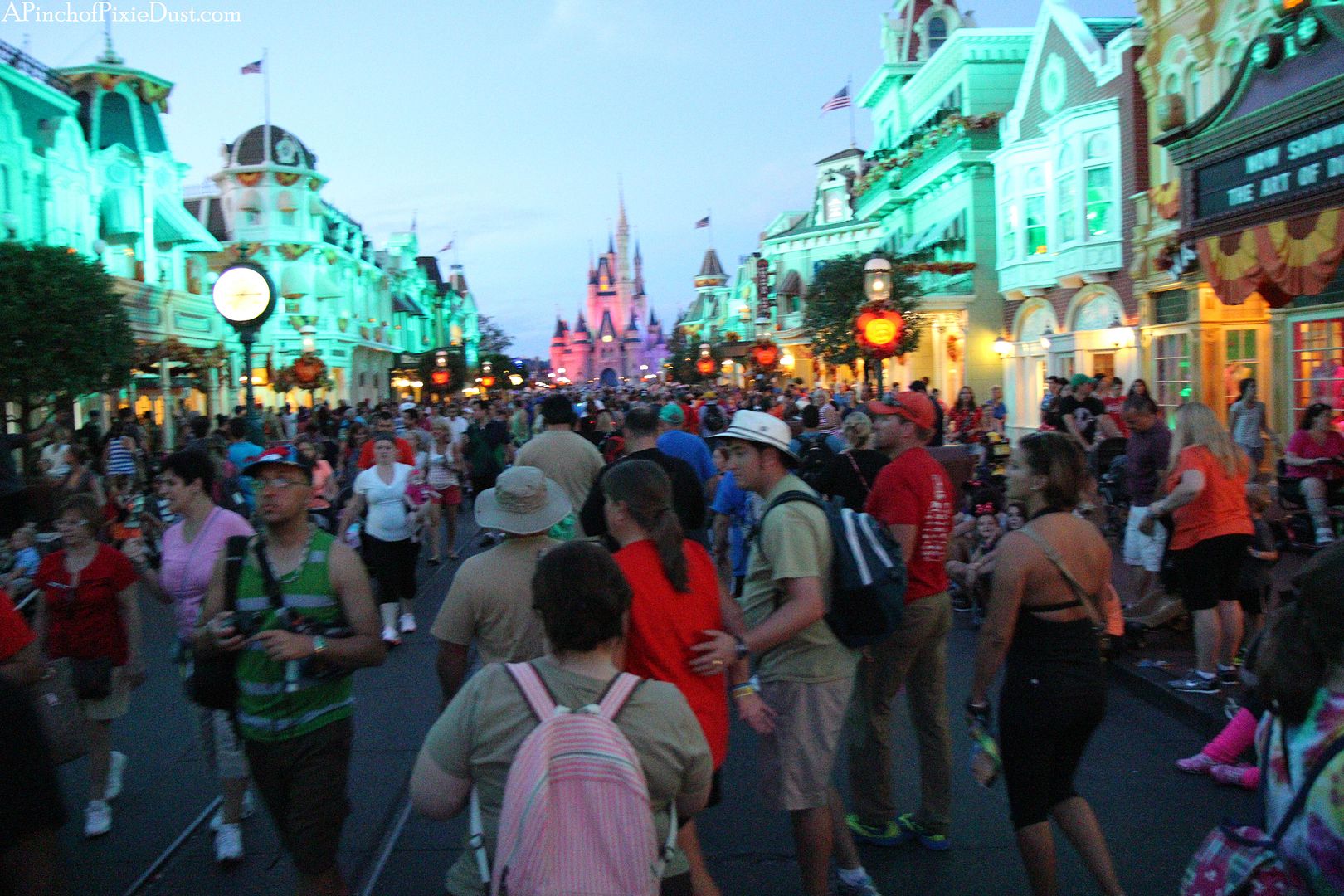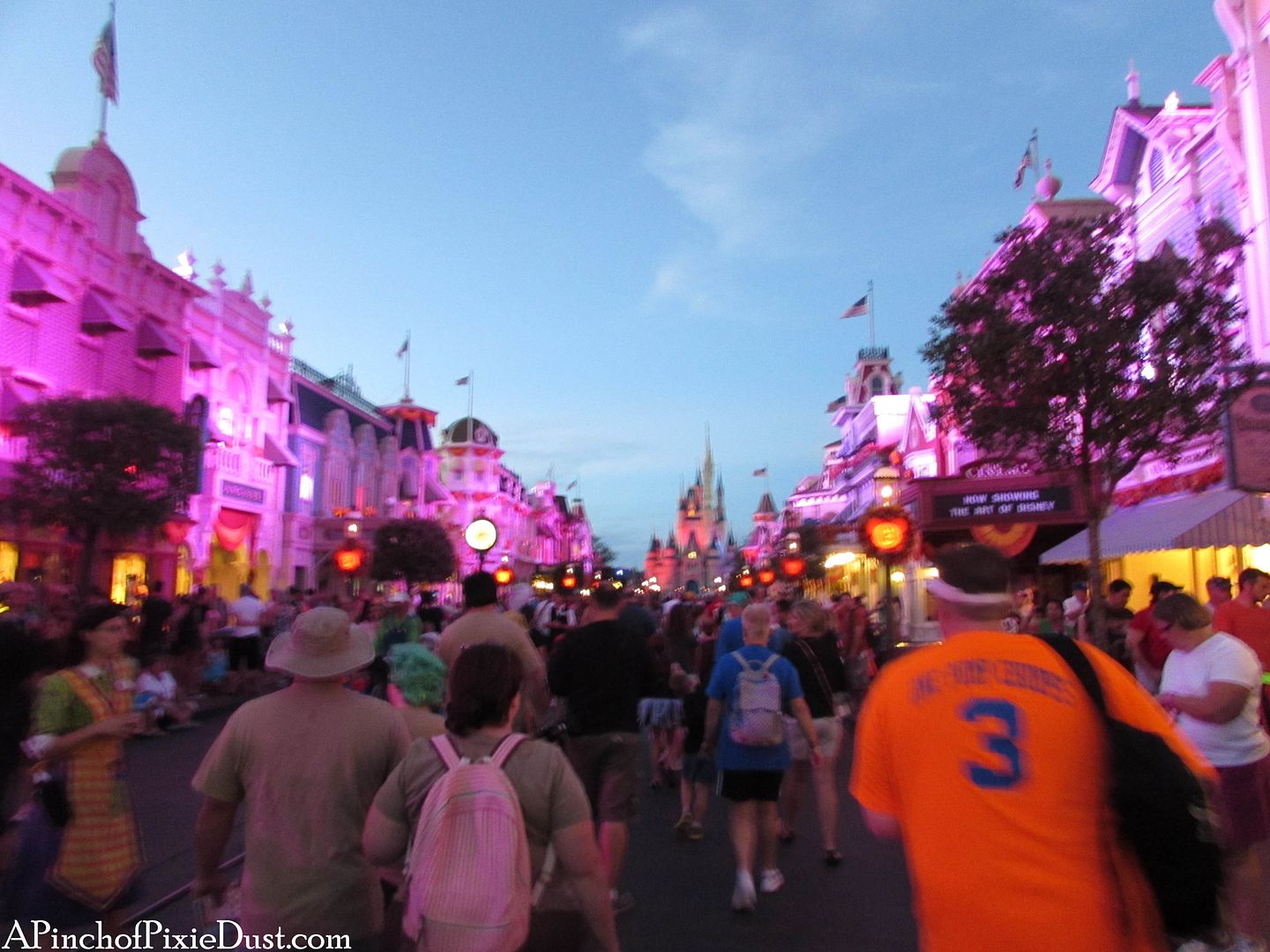 There are Halloween tunes and Disney villain songs playing throughout the entire park on party night. It's so weird to hear "Thriller" in Frontierland instead of Western music!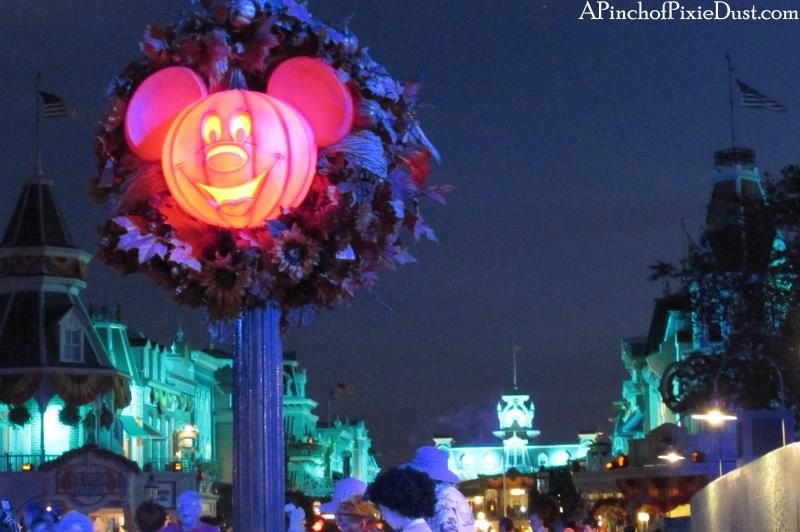 All the jack o' lanterns in the windows and the Mickey pumpkins on the lampposts are glimmering and glowing!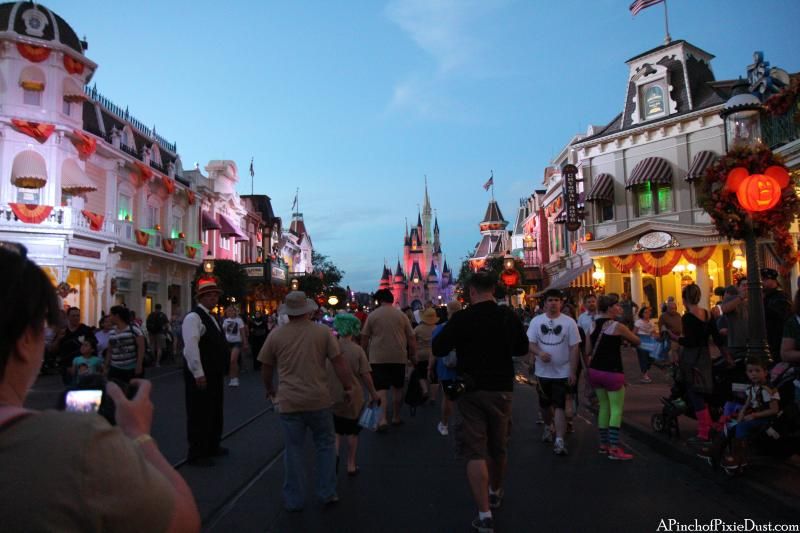 Plan for some party time to just meander and marvel. It's so cool to take in everybody's costumes as well...
For instance I found this gorgeous mermaid and darling Wendy at the bakery. ;)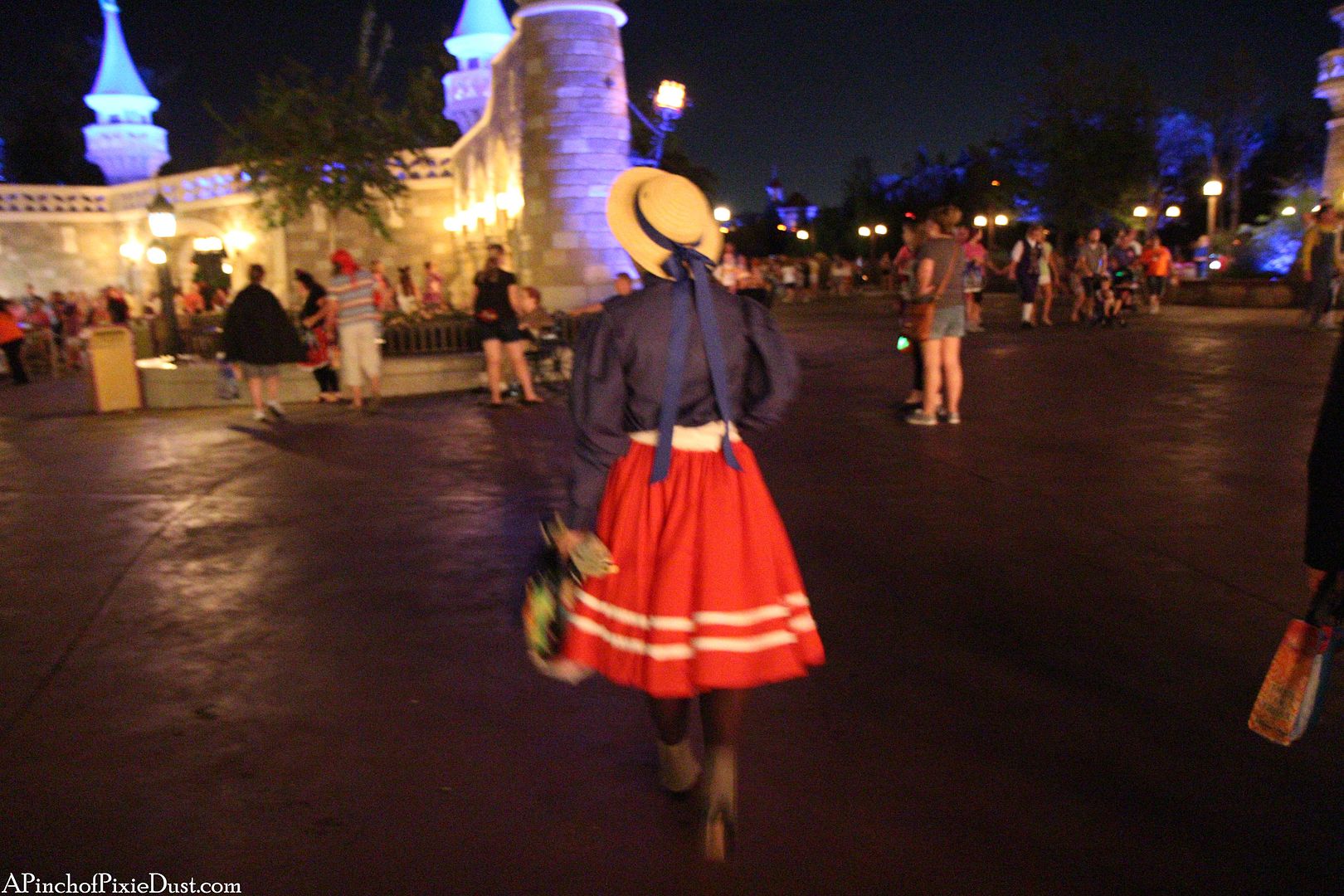 The whole park - as well as Main Street - is lit up in Halloween greens and purples, and we really enjoyed strolling around to take it all in. There were already some guests lined up along the parade route on Main Street at 7pm for the first Boo to You parade, but I would have been kinda bummed to have to stop and wait right when the party started. We decided to do the later parade and spend the early hours exploring the Halloween magic in the rest of the Magic Kingdom.
2. VISIT THE HAUNTED MANSION
Even if you don't plan on riding the ride, make sure you swing by Haunted Mansion to check out to the truly swinging wake going on. Grim grinning ghosts are out to socialize!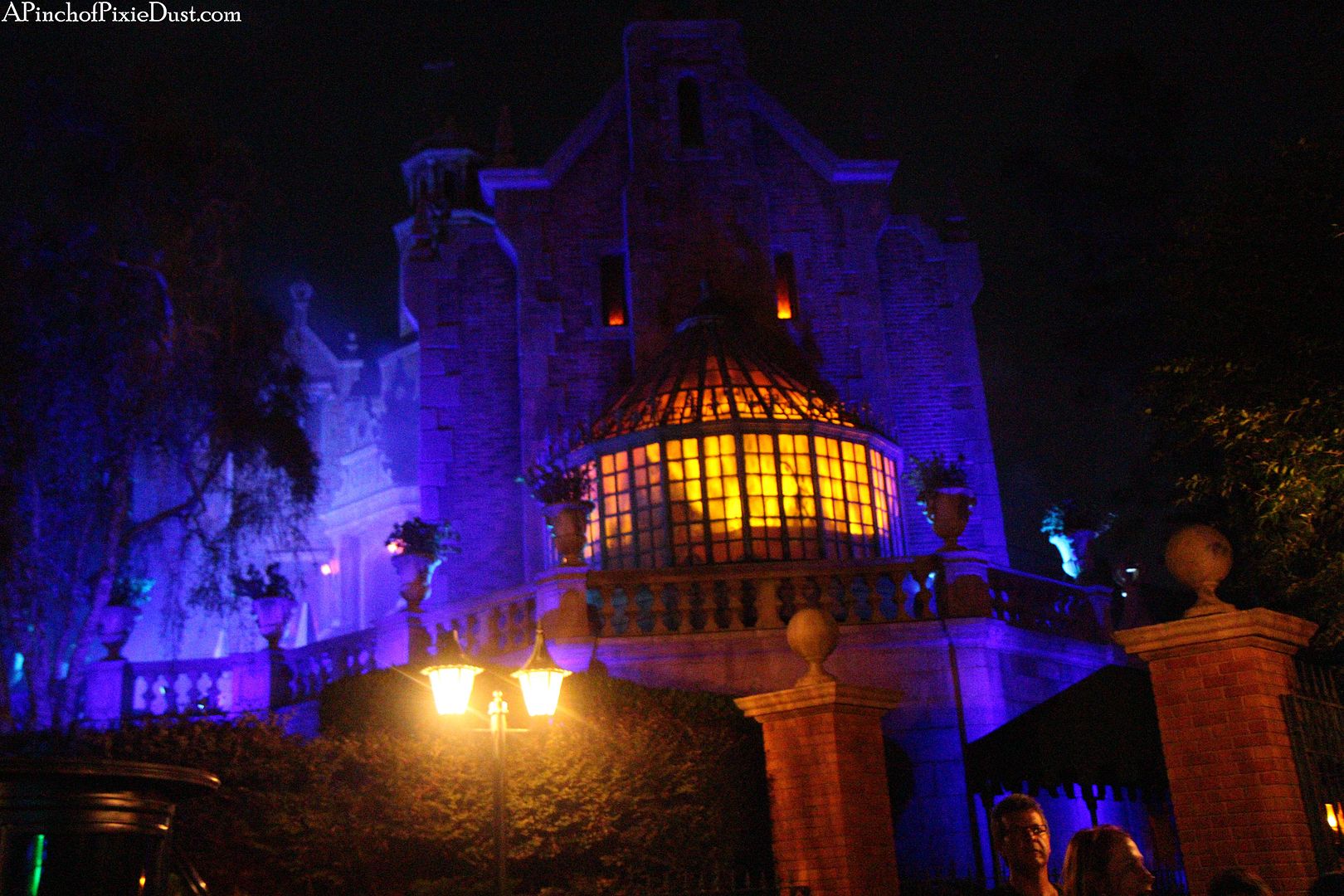 You might even catch the conservatory unexpectedly bursting into flames!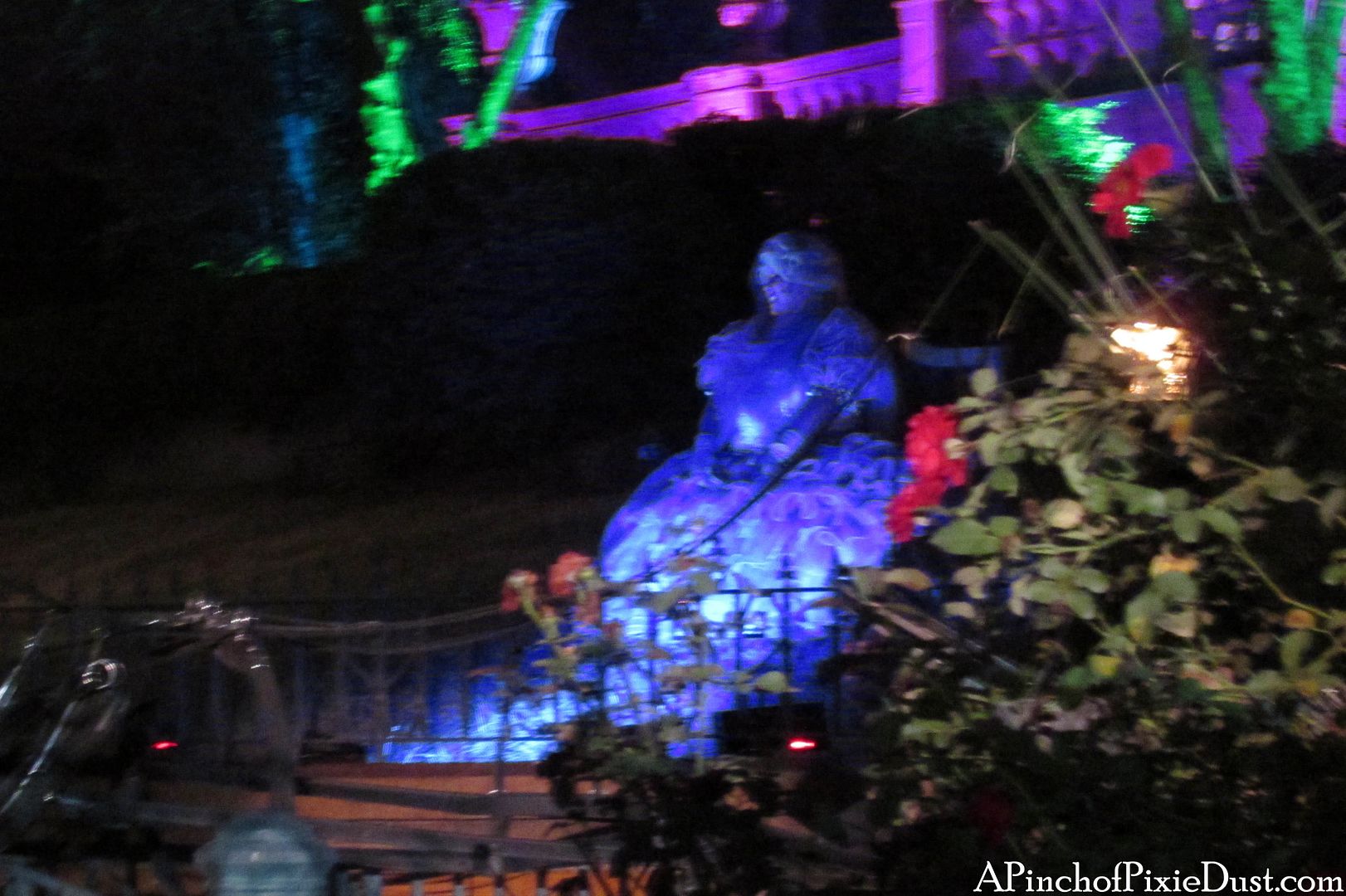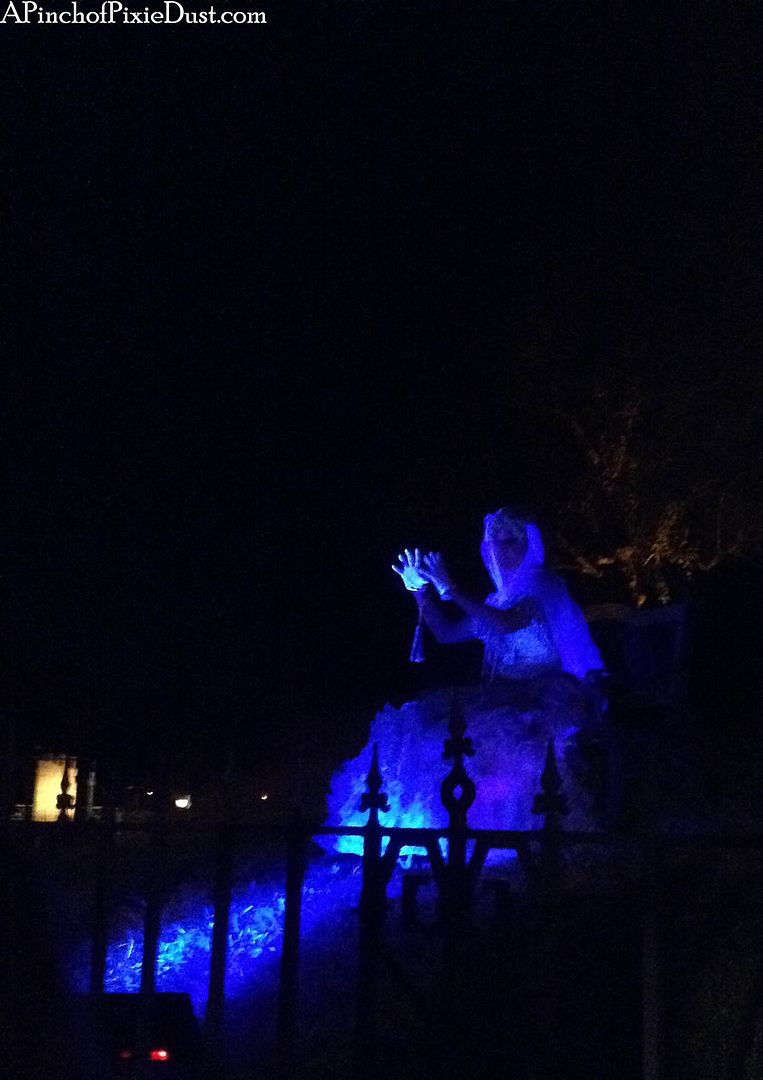 Two of the happy haunts have materialized on the lawn to chat with the guests strolling by. Madame Carlotta and Madame Rinotta take turns. As one of them was leaving, she caught sight of us: "Oh those Trolley People - they dance all day and trick or treat all night!"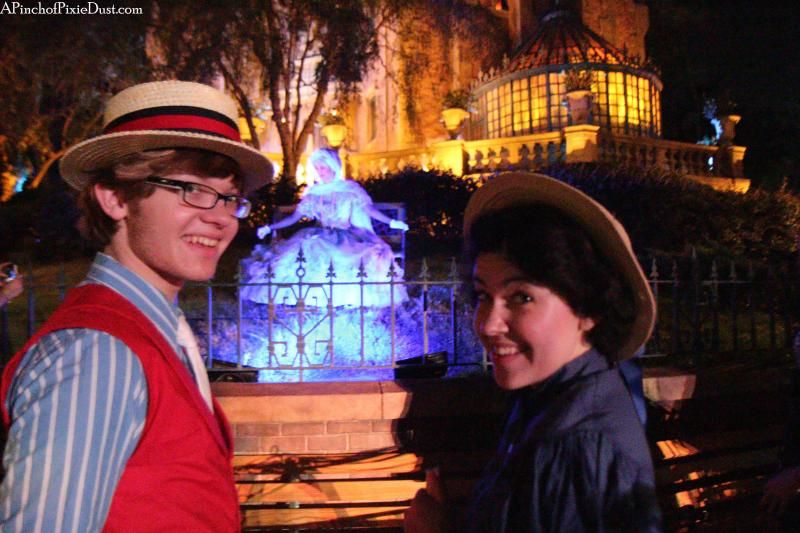 You can walk through the exit to stand right next to the railing for a neat photo...Madame was even talking to some of the guests waiting on the benches here!
The ordinary cast members are dressed up with cobwebs and incredibly spooky makeup as well. A ghostly selfie with them is definitely a MNSSHP must-do!
3. GET SOME GHOULISH MAGIC SHOTS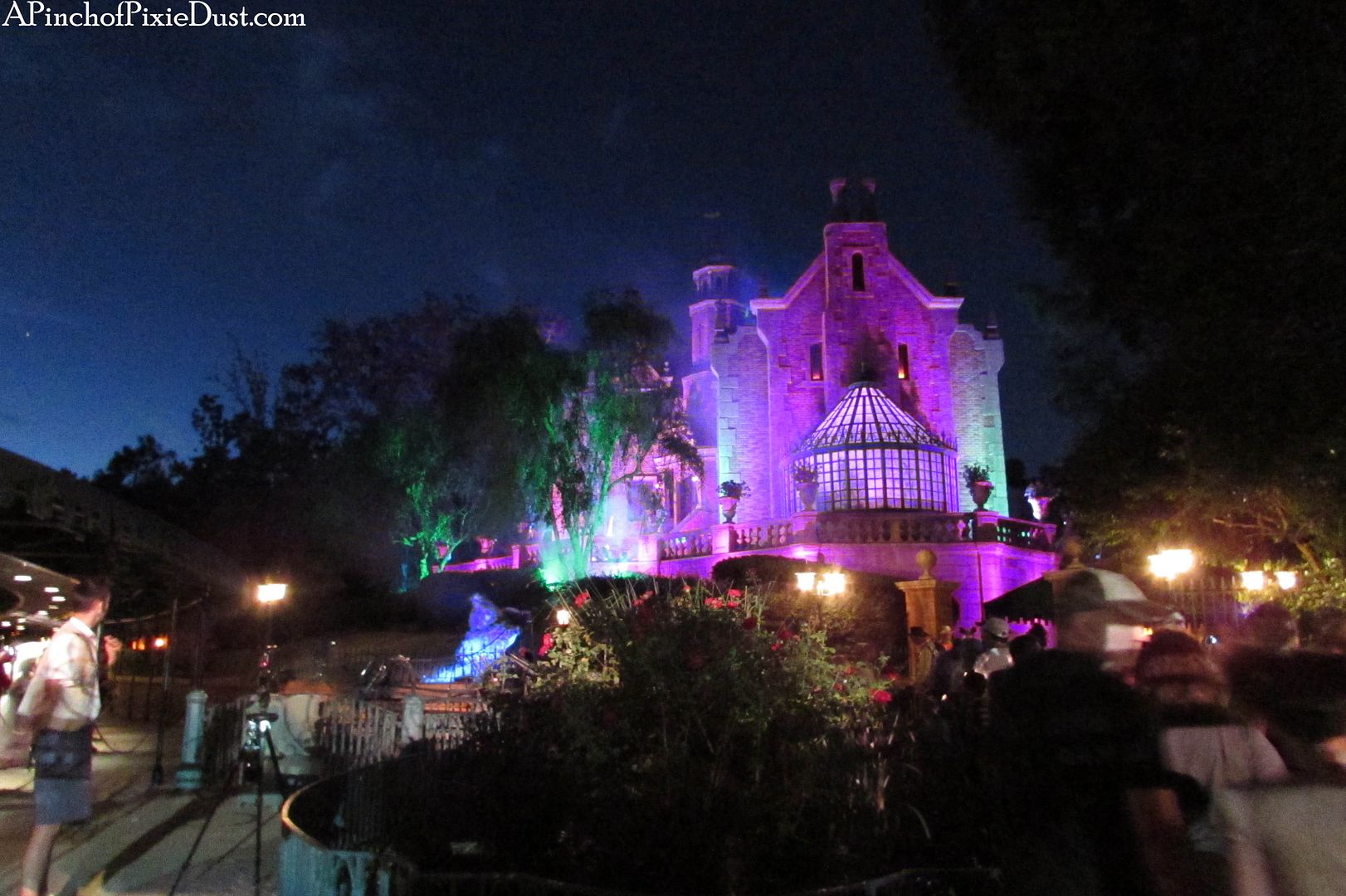 While we're at the Haunted Mansion, we have to check out the photopass opportunities! There are several magic shots unique to Mickey's Not-So-Scary. One of them is at the horseless carriage - there might be a bit of a line, but it will be worth it! Another magic shot featuring the hitchhiking ghosts is set up across from the Mansion entrance near Columbia Harbor House or the Tangled area. There's also a "poison apple" shot you can get at the Hub.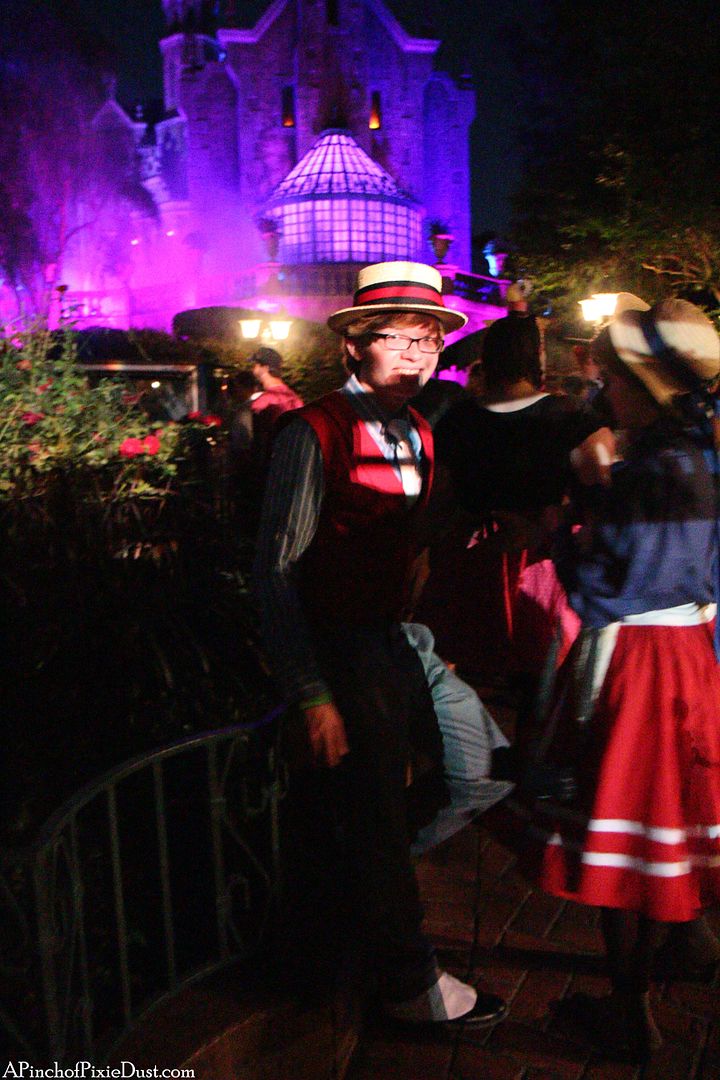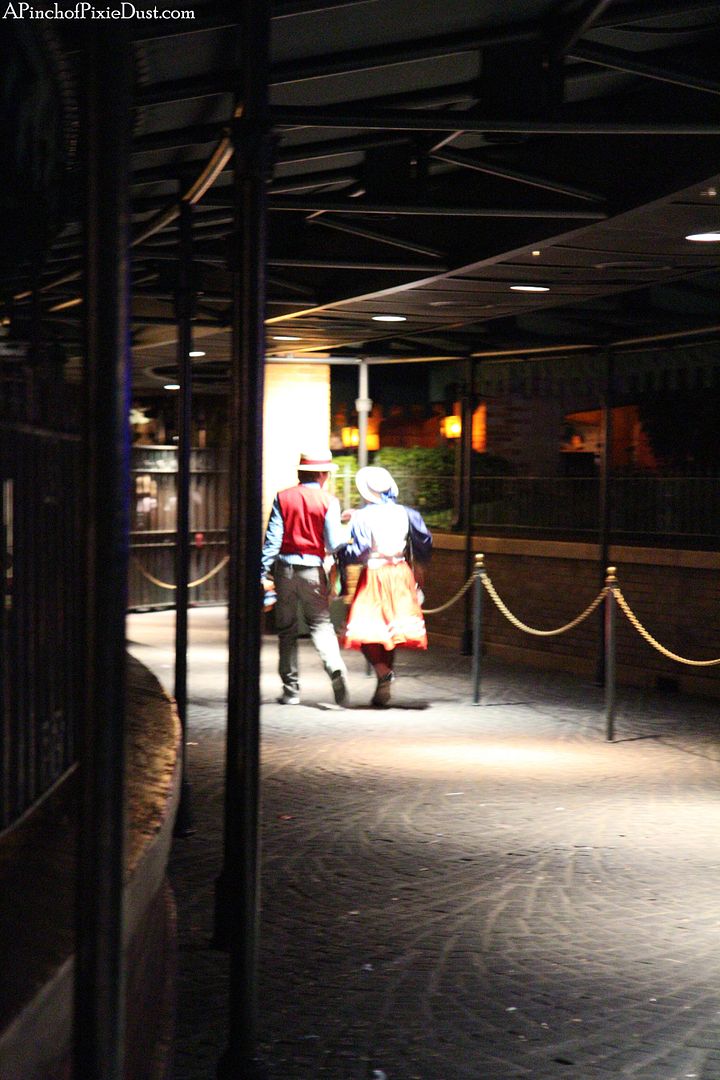 Trolley people in line for the magic shot and getting in line for the ride! This was the only attraction we did that night - we didn't spend party time on the rides (which you can do during the day!), but we made an exception for the Haunted Mansion. We waited until later in the night when the wait was only about 10 minutes.
Before you arrive at the party, look at the list of special characters that will be out (Kenny the Pirate has an amazing guide) and prioritize. Some meet and greets are very popular and could require a substantial wait in line.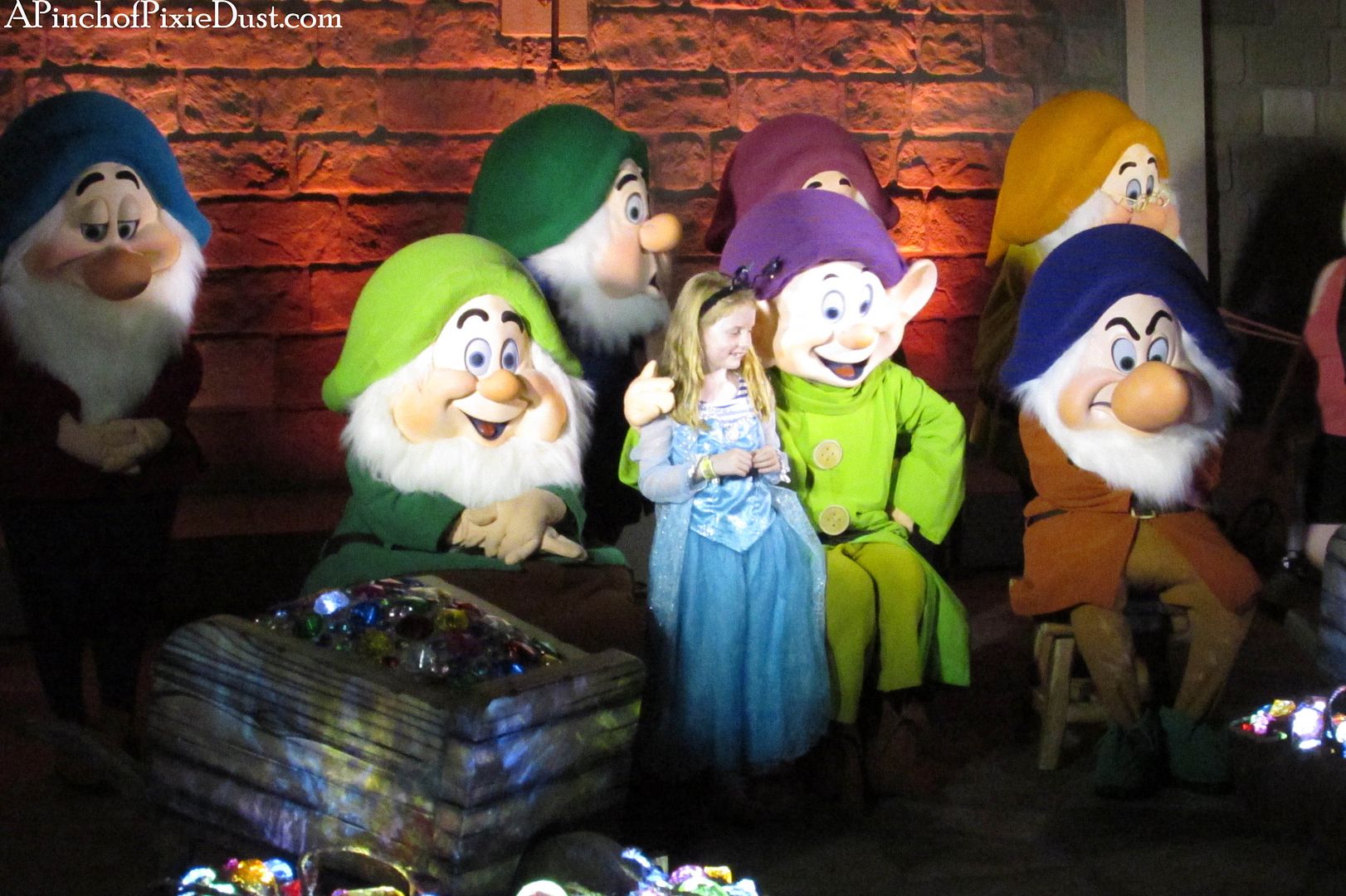 The Seven Dwarfs are a big draw, as are Jack and Sally. One nice thing about many of the characters is that they're out in the open. So if you don't need to actually meet them, you can still walk by to see them. The seven dwarfs came out, swinging buckets of glowing diamonds, as we were walking by. It was so cute!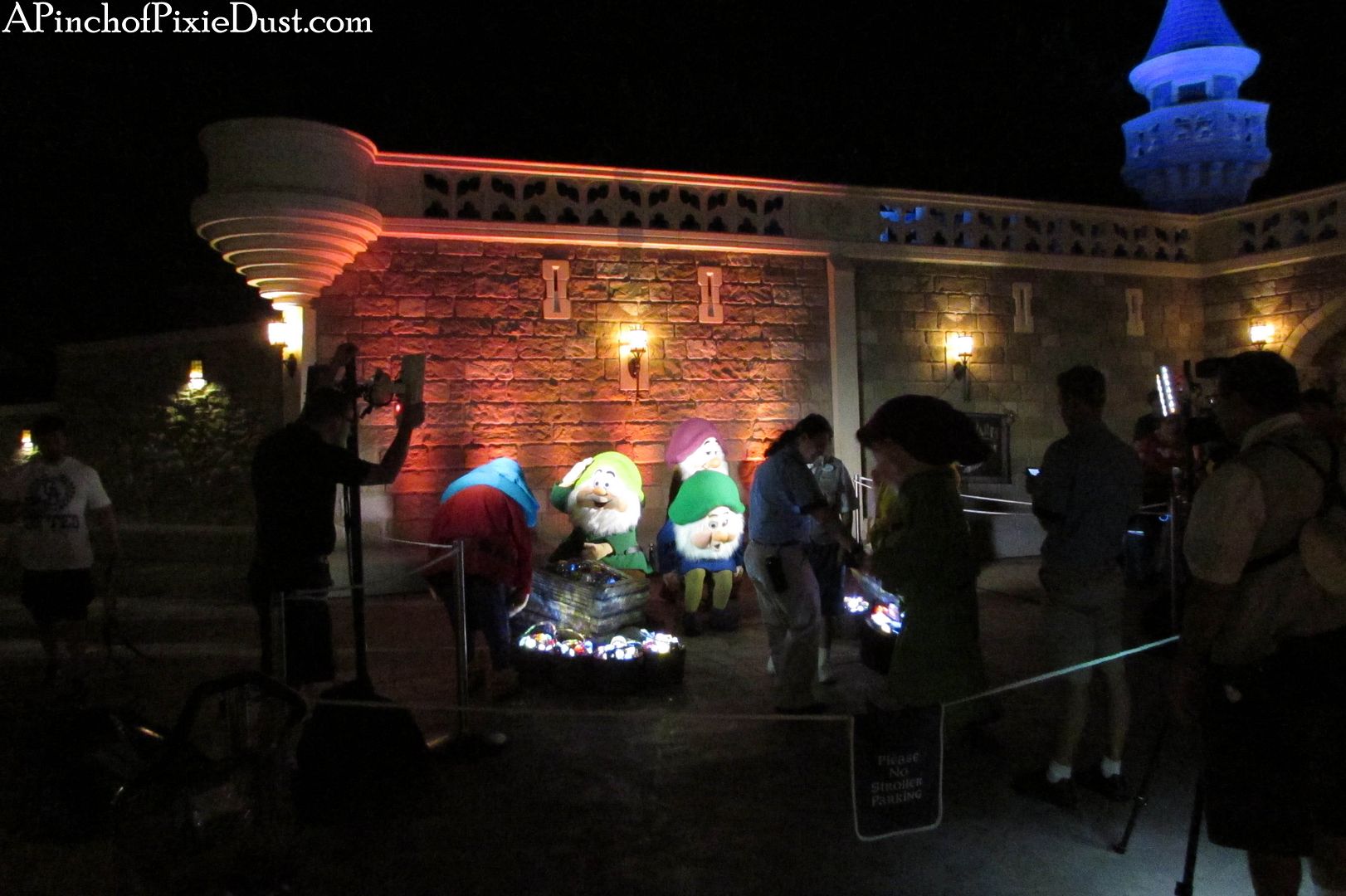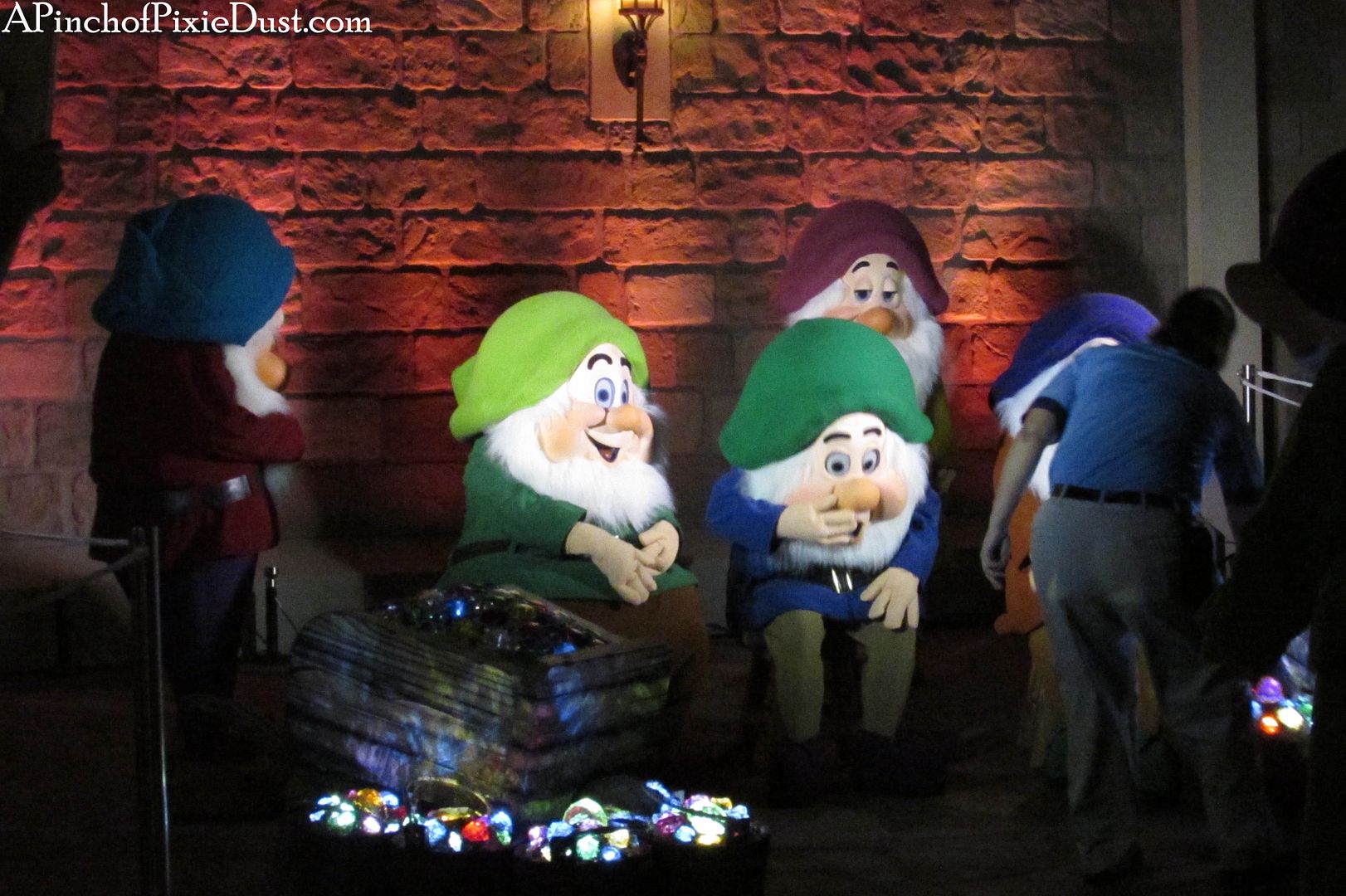 Also: it looks like Sneezy is sneezing in the photo on the right. Love it.
High on my character list was the one and only Minnie Mouse - she's dressed as a witch! You'll find her right outside Storybook Circus. Princess Daisy, Pumpkin Donald, and the Great Goofini are all nearby as well. Daisy had a 10-15 min. wait. Minnie's was more like 25-30 minutes.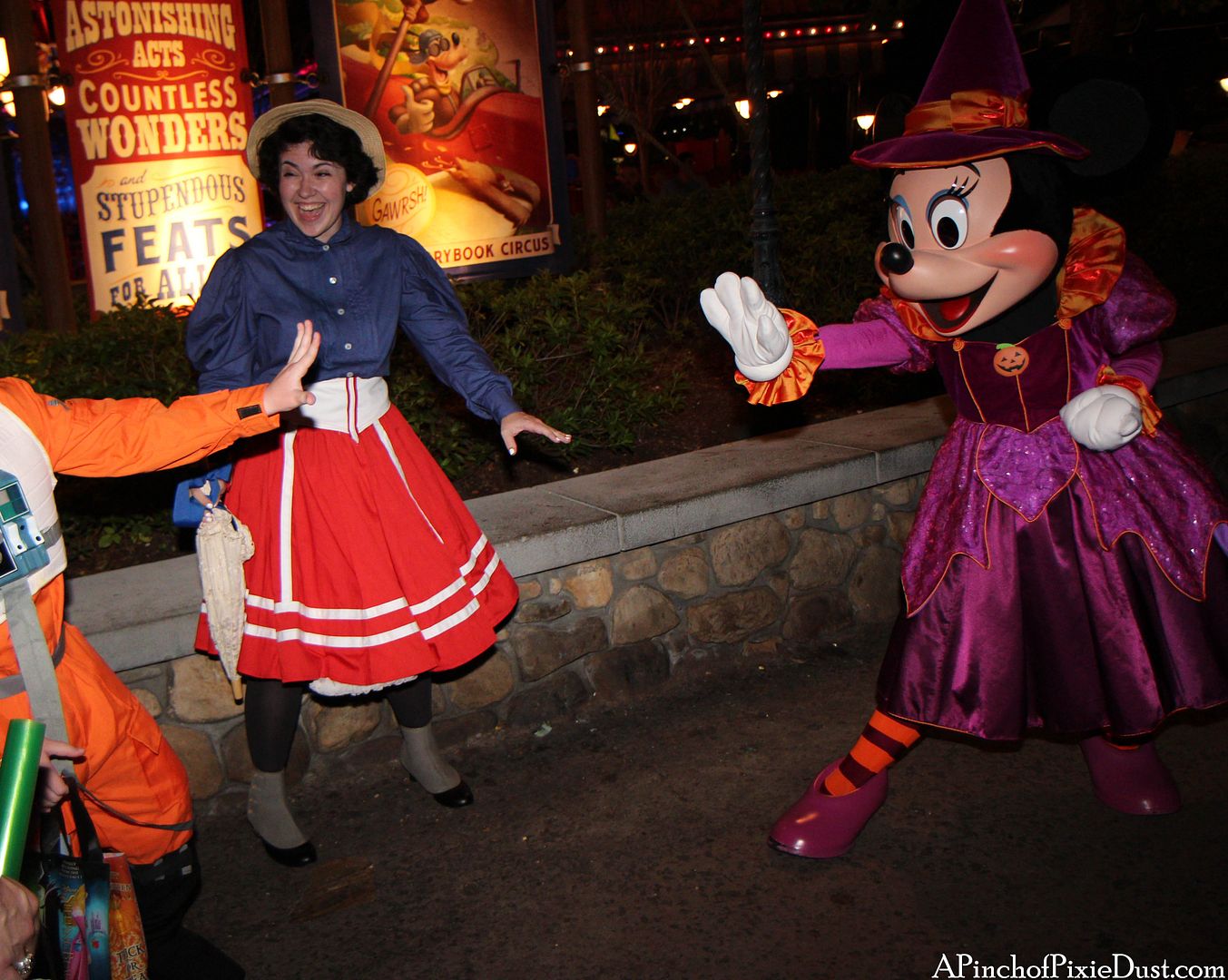 Use the force, Minnie! She liked Dart's rebel x-wing pilot costume.
Tarzan and Jane are another popular photo op - Athos and I swung by the Adventureland Terrace hoping to catch them. There was already a line formed in front of Terk the gorilla, but no one was moving to meet him...Tarzan was arriving in fifteen minutes - they were waiting for him! We decided to skip Tarzan and show Terk some love.
I had been hoping to swap notes about parasols with Jane, but Terk absolutely LOVED my parasol. She took it and was dancing around - hilarious.
A zero-minute character wait - who would have thought?
5. DANCE PARTIES

You'll also spot some characters getting down and funky with it at the dance parties!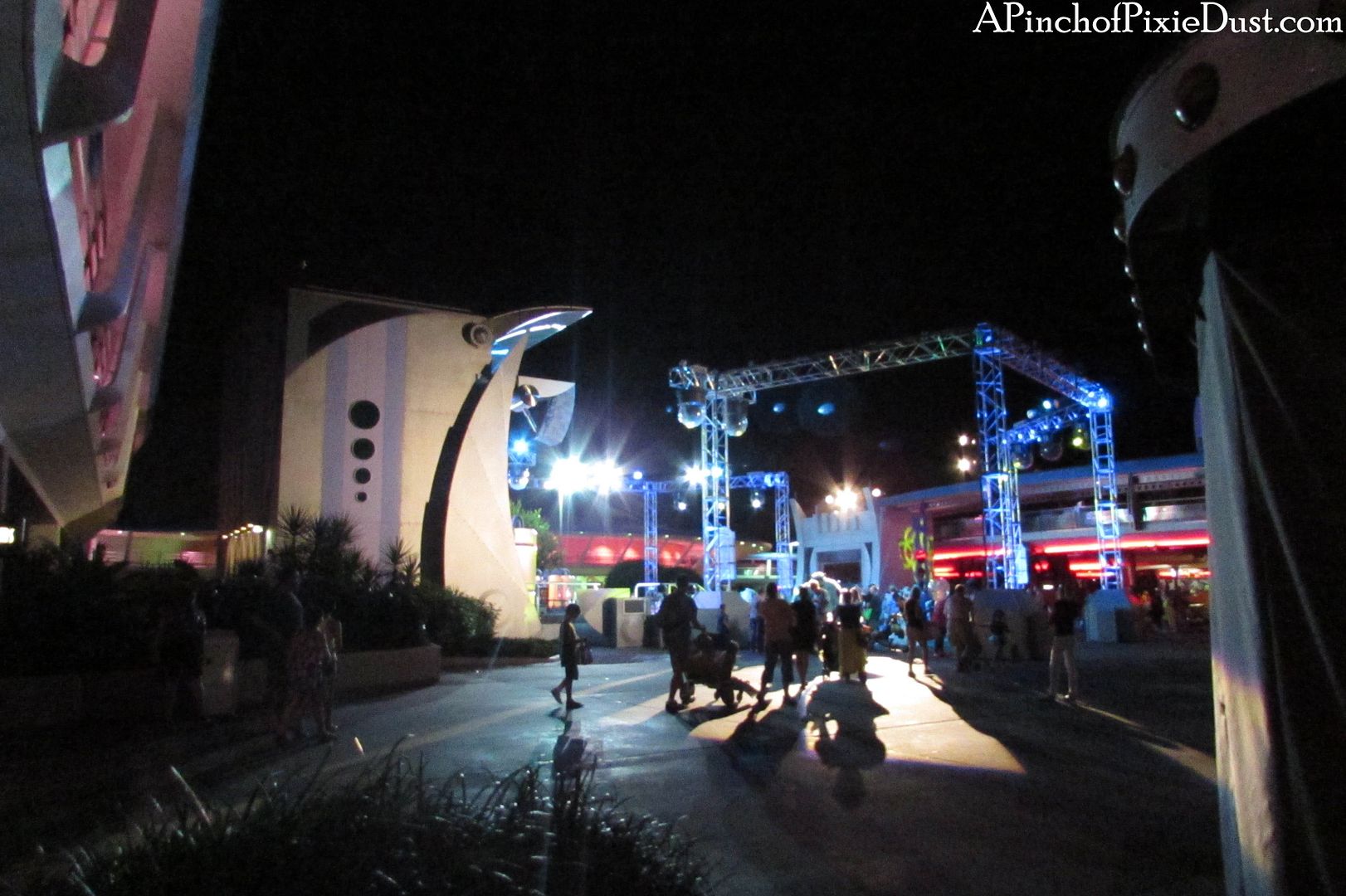 The Monstrous Scream-O-Ween Ball is going on at the Tomorrowland Stage, with characters from Monsters Inc. out to dance with the guests.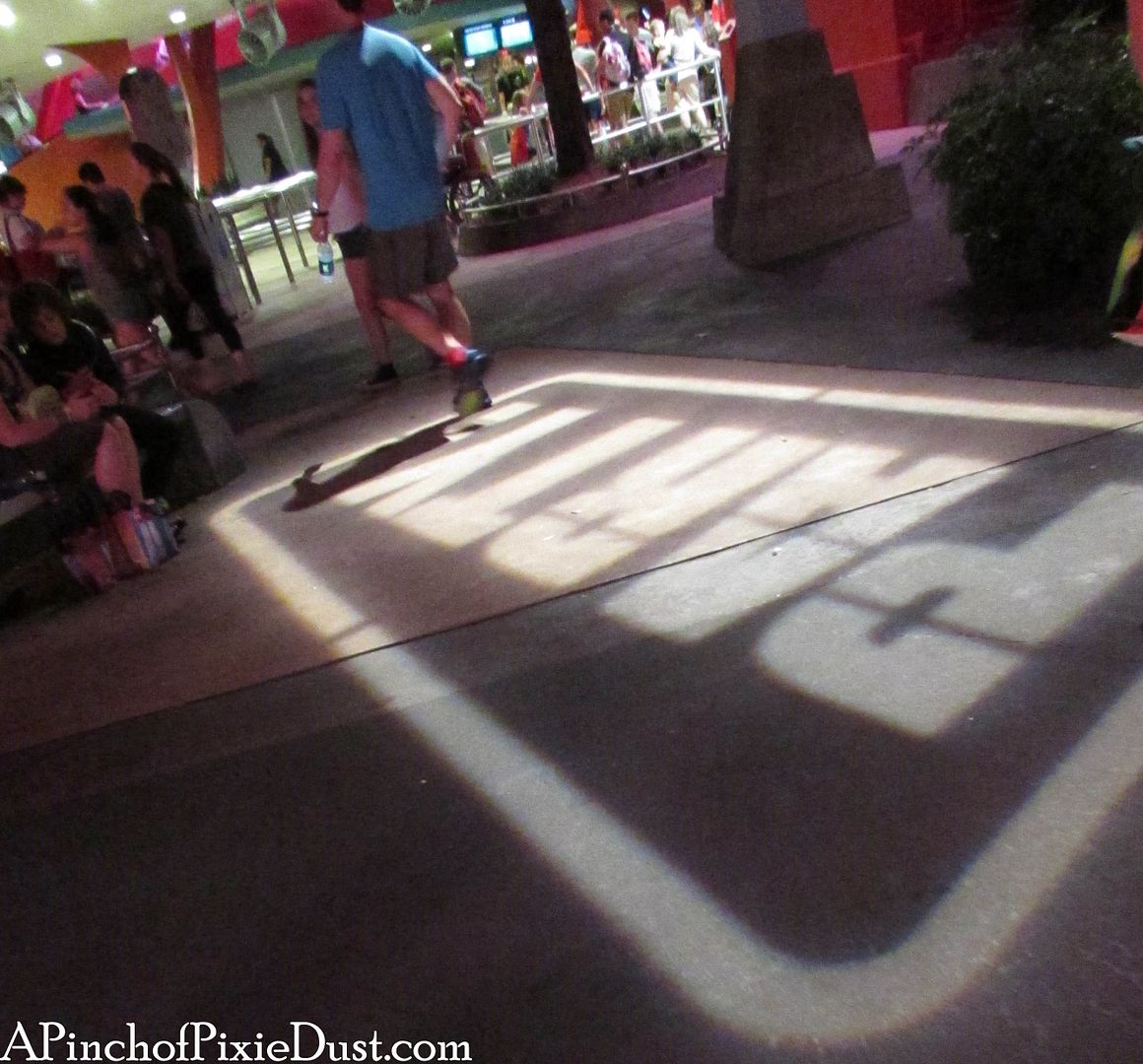 I love the giant lights on the ground - you can find the Monsters Inc. logo and also an injunction to "PARTY!"



Over in Frontierland, the Diamond Horseshoe Saloon had been transformed into CLUB VILLAIN.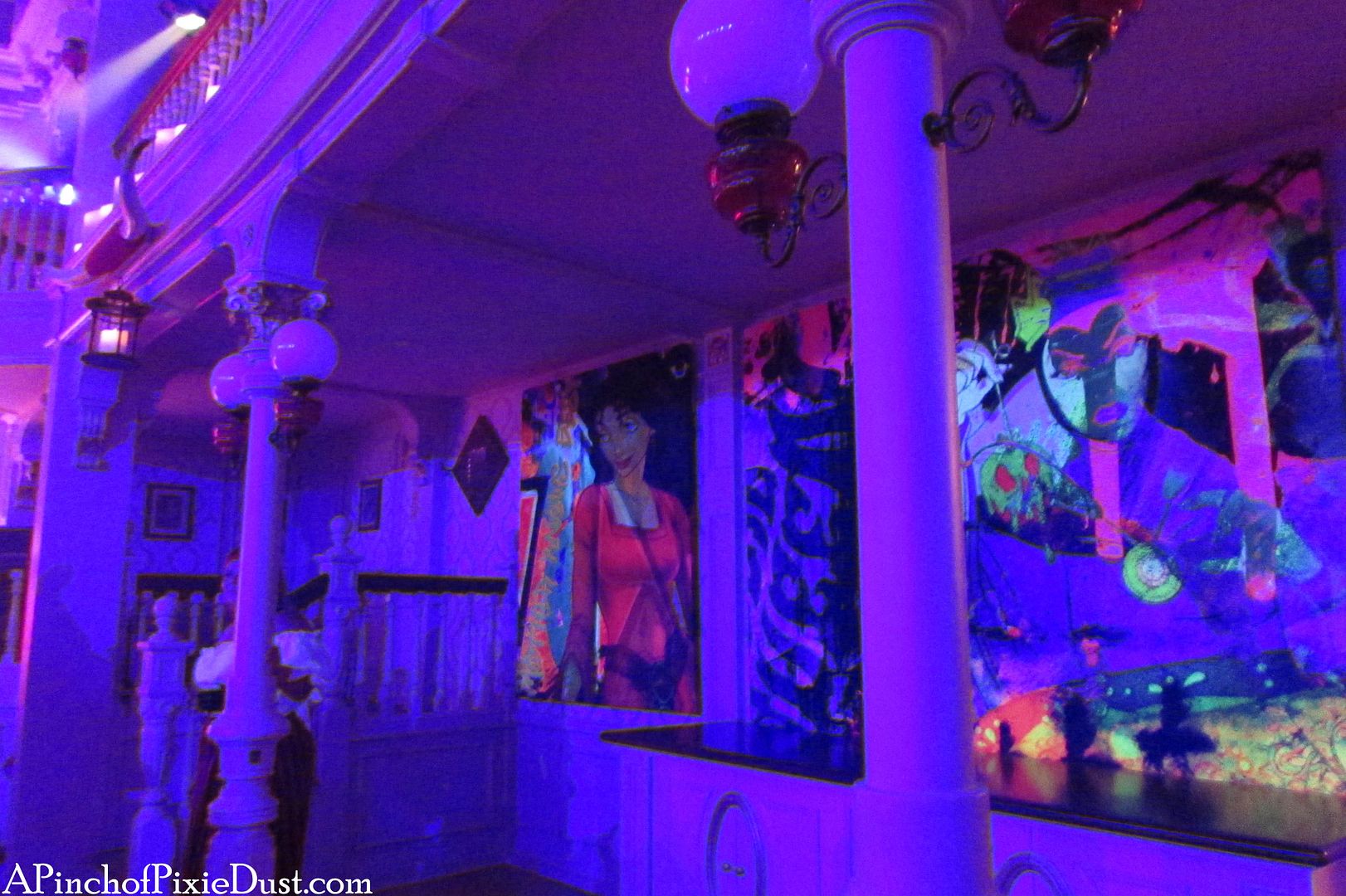 There are crazy neon villain paintings on the walls - the whole space is neon and - just a warning - it's very very loud! But it's fun to see some face character villains - like Cruella de Vil and the Evil Stepsisters.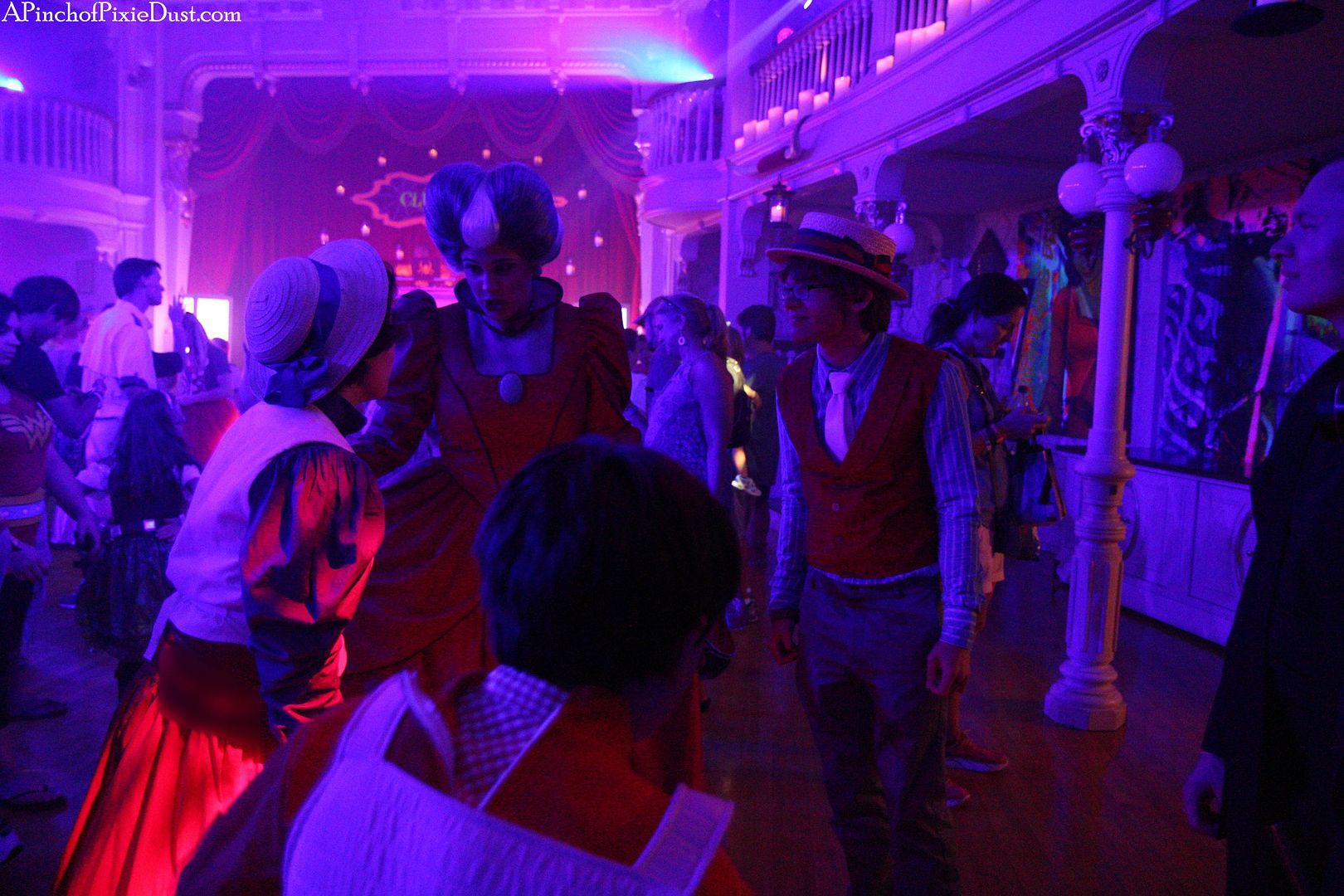 When Lady Tremaine saw us, she ran over screaming "TROLLEY PEOPLE." I'm not even kidding you. And then she danced the Charleston with us.
It was one of the highlights of the night!
6. TRICK OR TREAT
There are trick or treat stations set up throughout the park on party night - just look for the big round glowing orange light.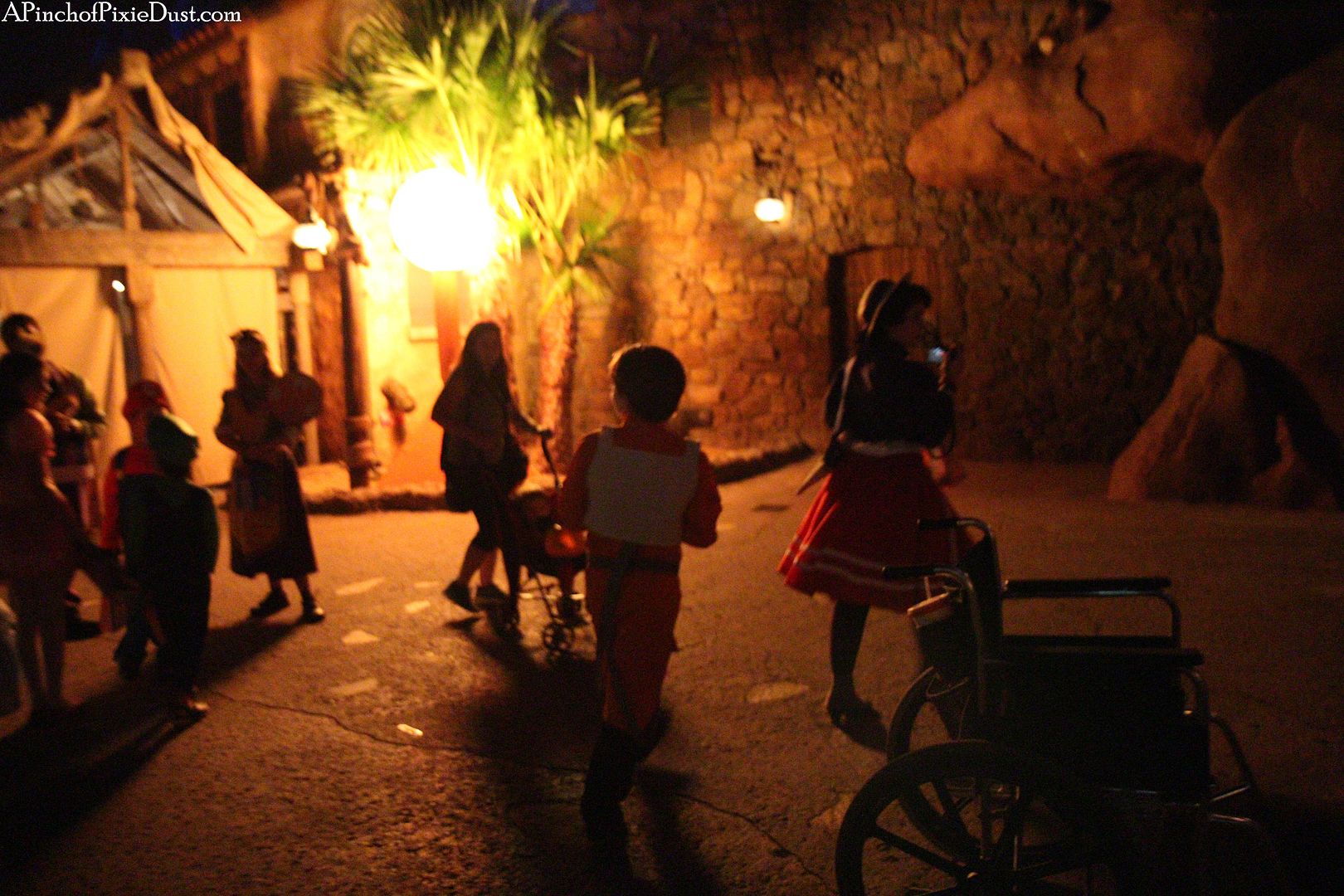 The number one rule for trick or treating is this: never get in a candy line that's not moving. Sometimes we would pass by a candy line that was miles long...but ten feet away we might find another candy line with no wait at all!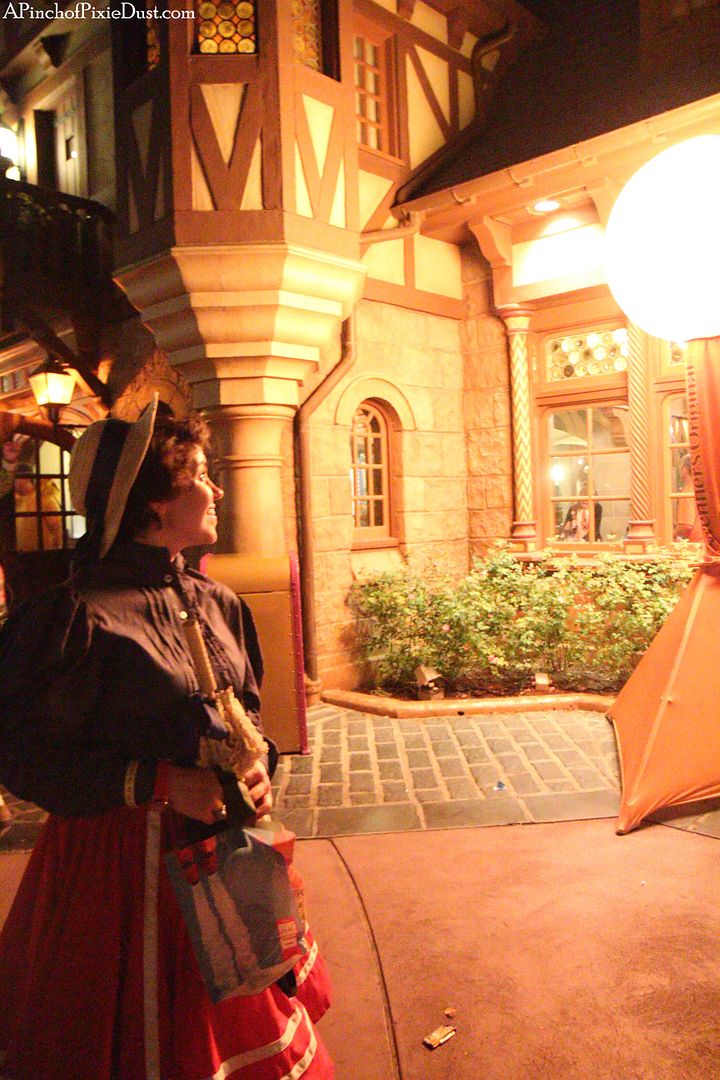 All ages are welcome to trick or treat, and there was actually some pretty good candy. One of my brothers would ask the cast members for Reeses peanut butter cups - and they would try to pick them out for him!
When we went through a trick or treat station with no line, my older brothers says, "Let's go through again!" My younger brother says, "Can we do that?" A cast member standing nearby overheard them and replies: "OF COURSE YOU CAN!" Love it. :)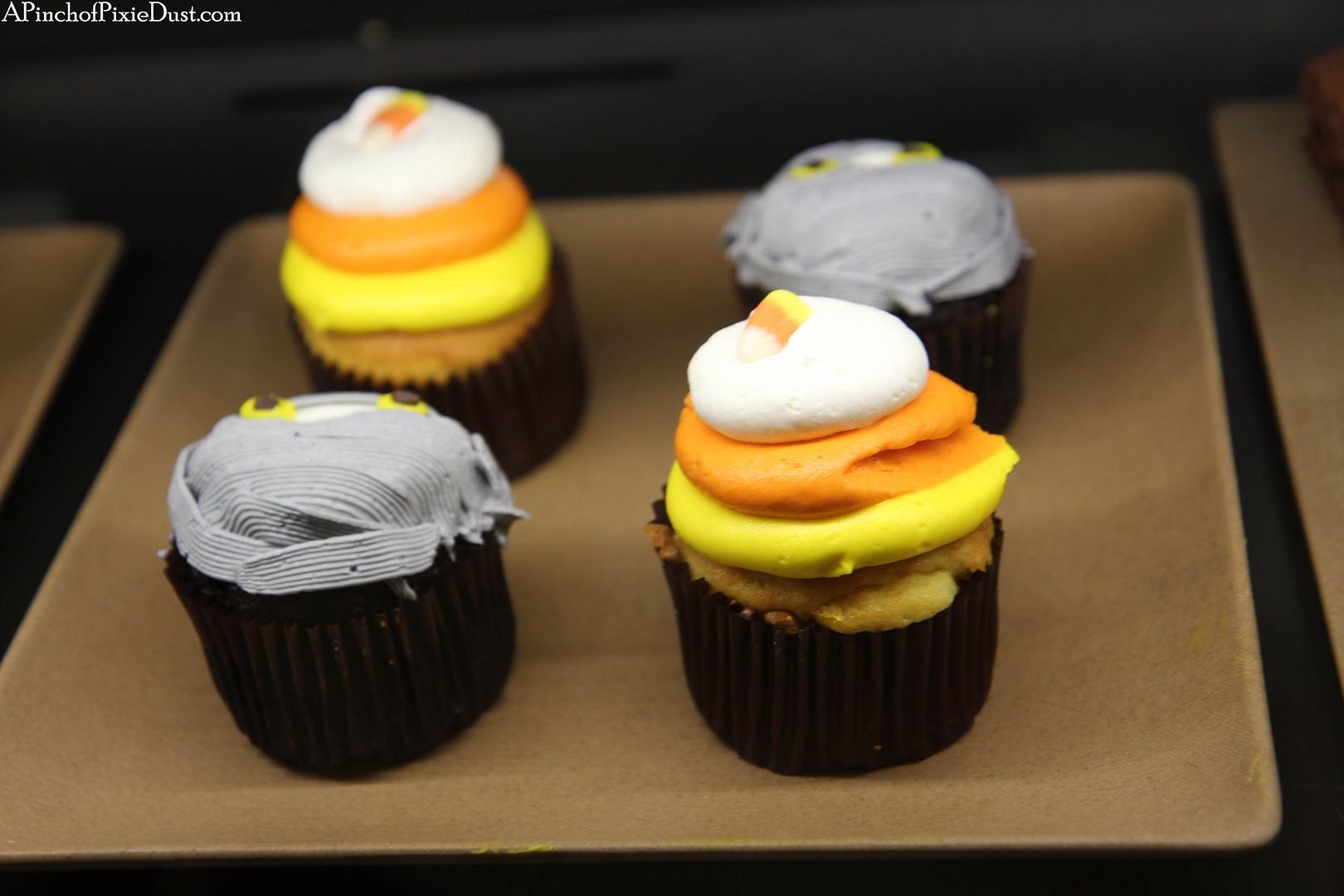 There are some special treats you can buy as well as the trick or treating (which is included). For more info on the Halloween cupcakes,
click here
!
7. HALLOWISHES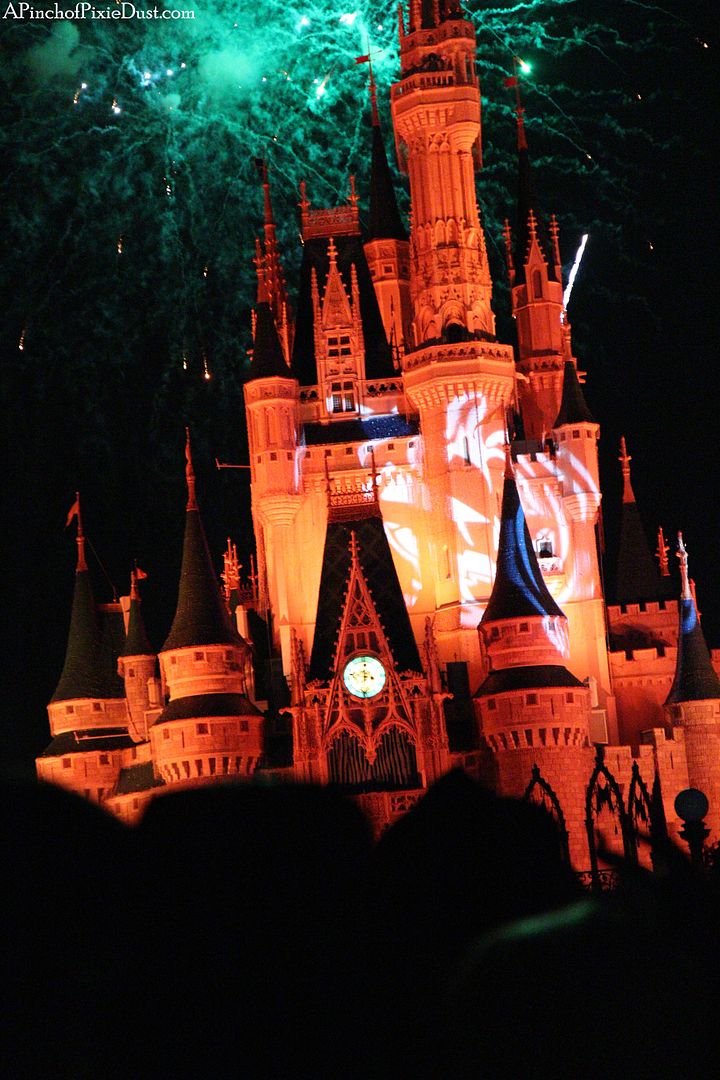 Hallowishes - the Mickey's Not-So-Scary fireworks show - takes place at 9:30, with a showing of the Celebrate the Magic castle light show at 9:15. We arrived at the Hub just after 9:00 to grab a spot to watch from.

I love the spooky projections on the castle and all the crazy pyrotechnics...


Pinwheels of pixie dust on the castle!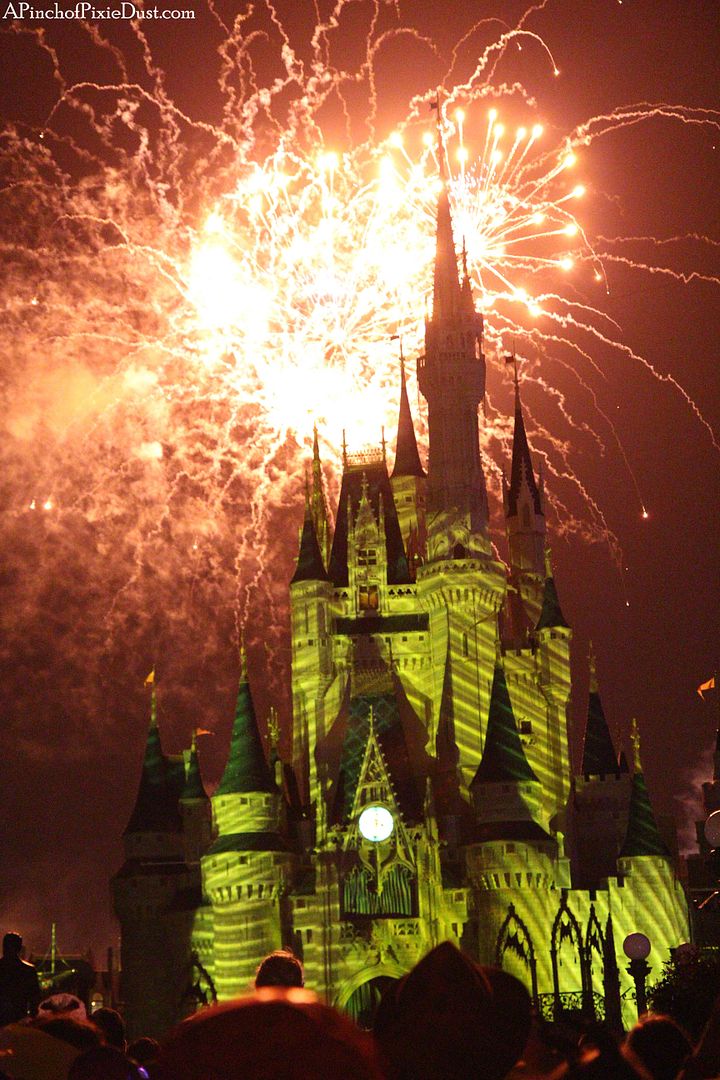 Hallowishes did feel a little bit short...and I would've liked to hear more of the Ghost Host. If you're a Nightmare Before Christmas fan, there is plenty of Oogie Boogie!
8. BOO TO YOU PARADE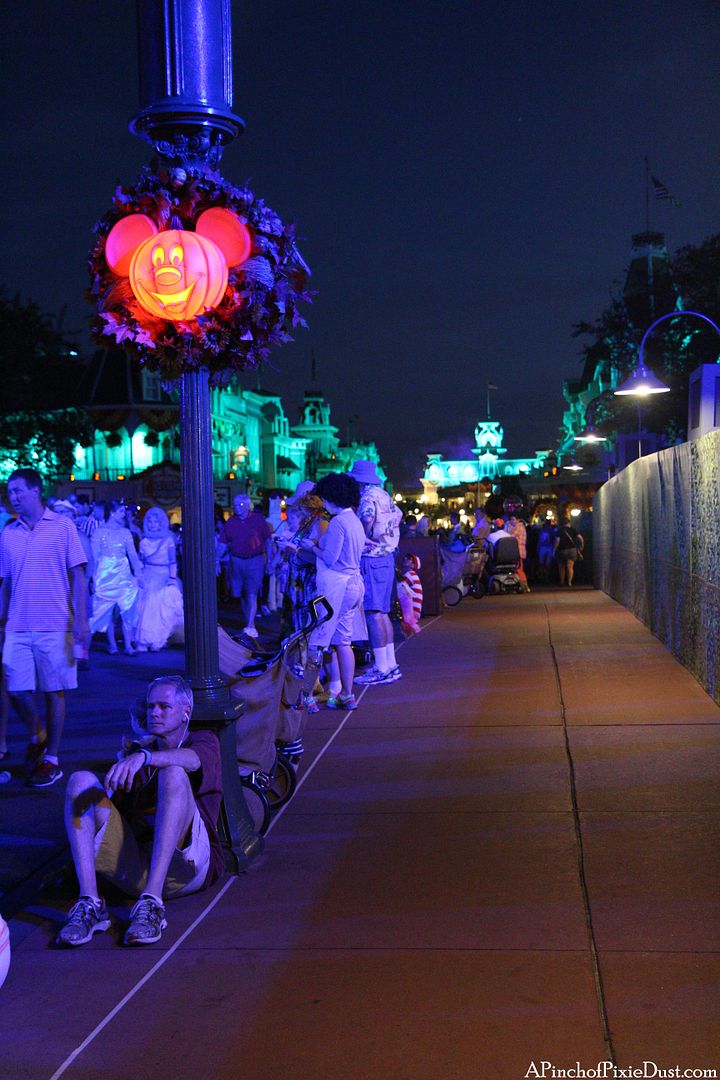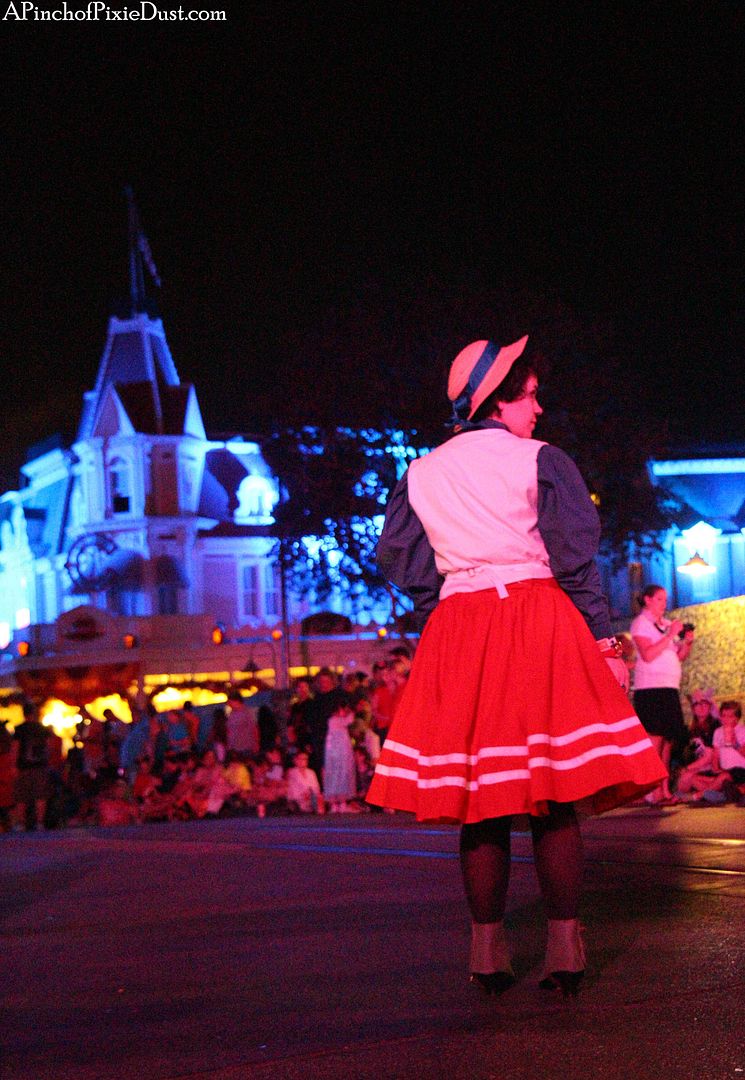 There are two showings of the Boo to You parade - one at 8:15 and one at 10:30. As soon as Hallowishes ended around 9:45, we snagged a spot for the second parade along Main Street. There is some shuffling going on - a number of guests from the first parade had simply stayed put to watch the fireworks, but it seemed like as soon as they got up after Hallowishes, their spaces were very quickly filled - so be ready to move as soon as the fireworks end if you want a parade spot!



Getting a parade spot in Fronteirland would probably require a smaller investment of time...but then watching the parade go down Main Street is pretty special.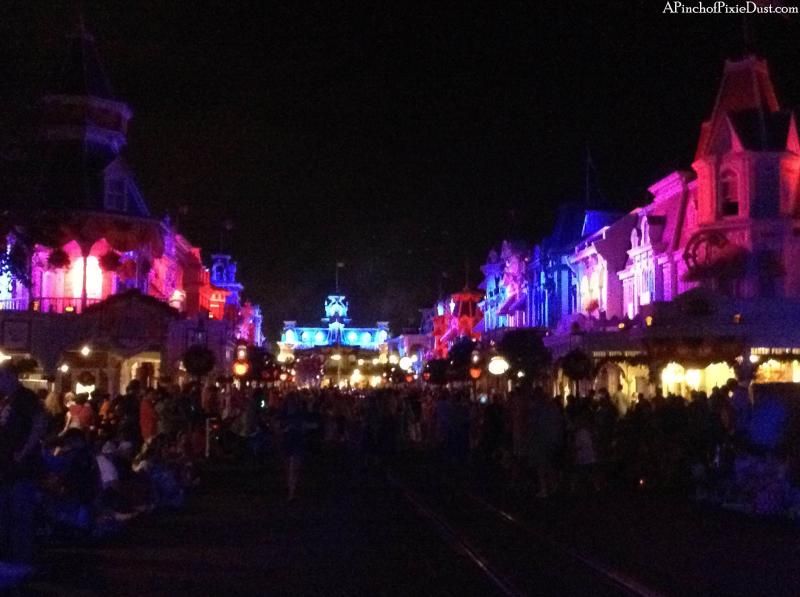 And as we waited, we got to watch the lights on the buildings! We could also see part of the Villains Mix and Mingle Show on the castle stage. I'm not a huge fan of that show, so a partial glimpse was plenty.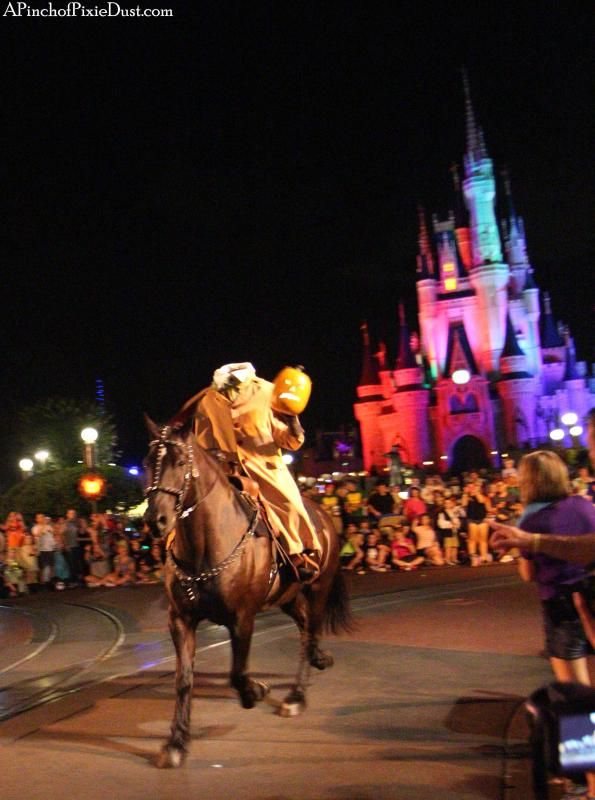 The Headless Horseman rides along the parade route about twenty minutes before the parade itself - so spooky!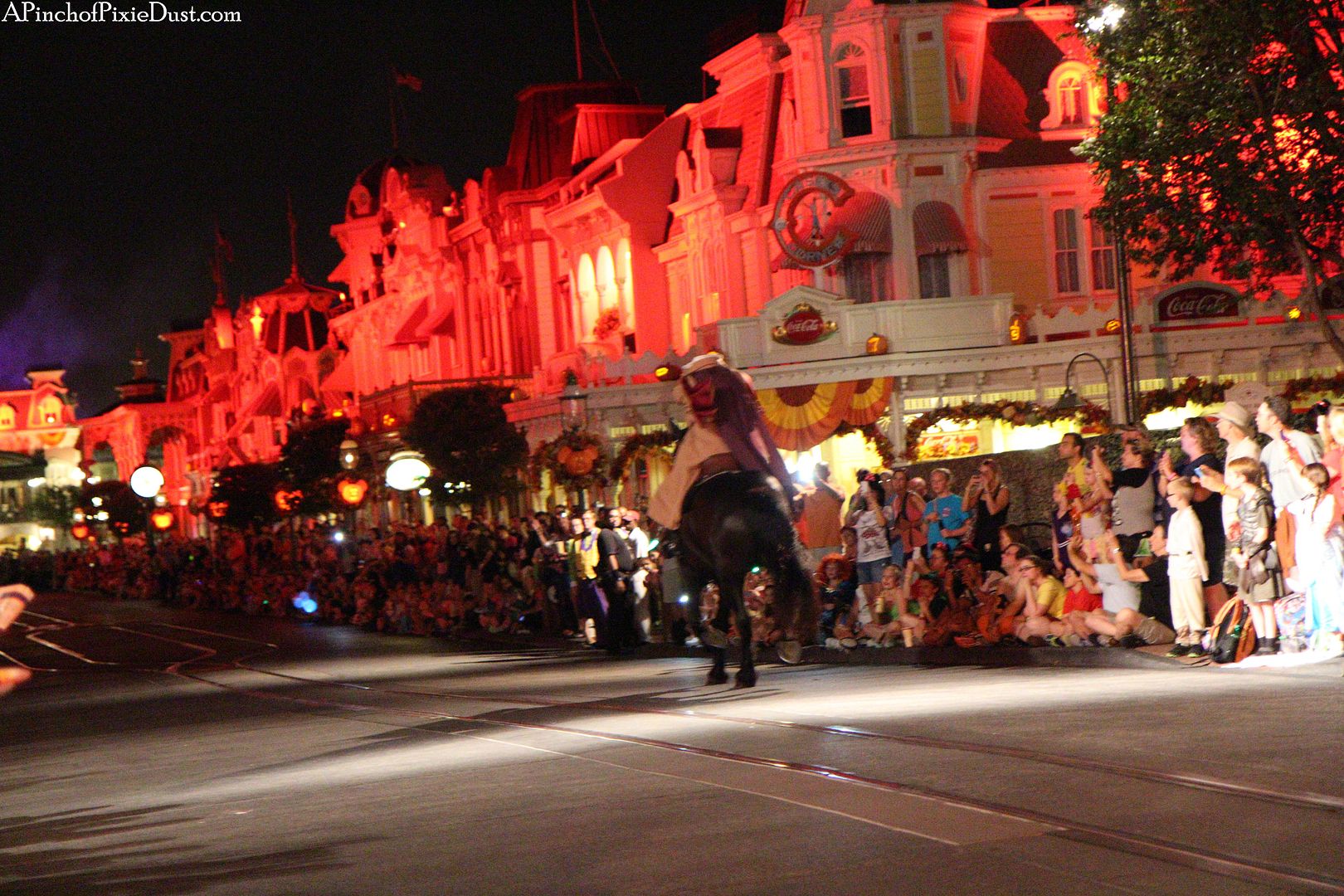 I had read about the Phineas and Ferb Creepa Crew - which is a quick pre-parade dance party in the street. This takes place right after the Headless Horseman - but you can only really see it/participate from the middle of Main Street - we were further towards the castle, although there were cast members trying to get the kids dancing in our area as well. The parade starts at 10:30 in Frontierland. It reached us about 10:45...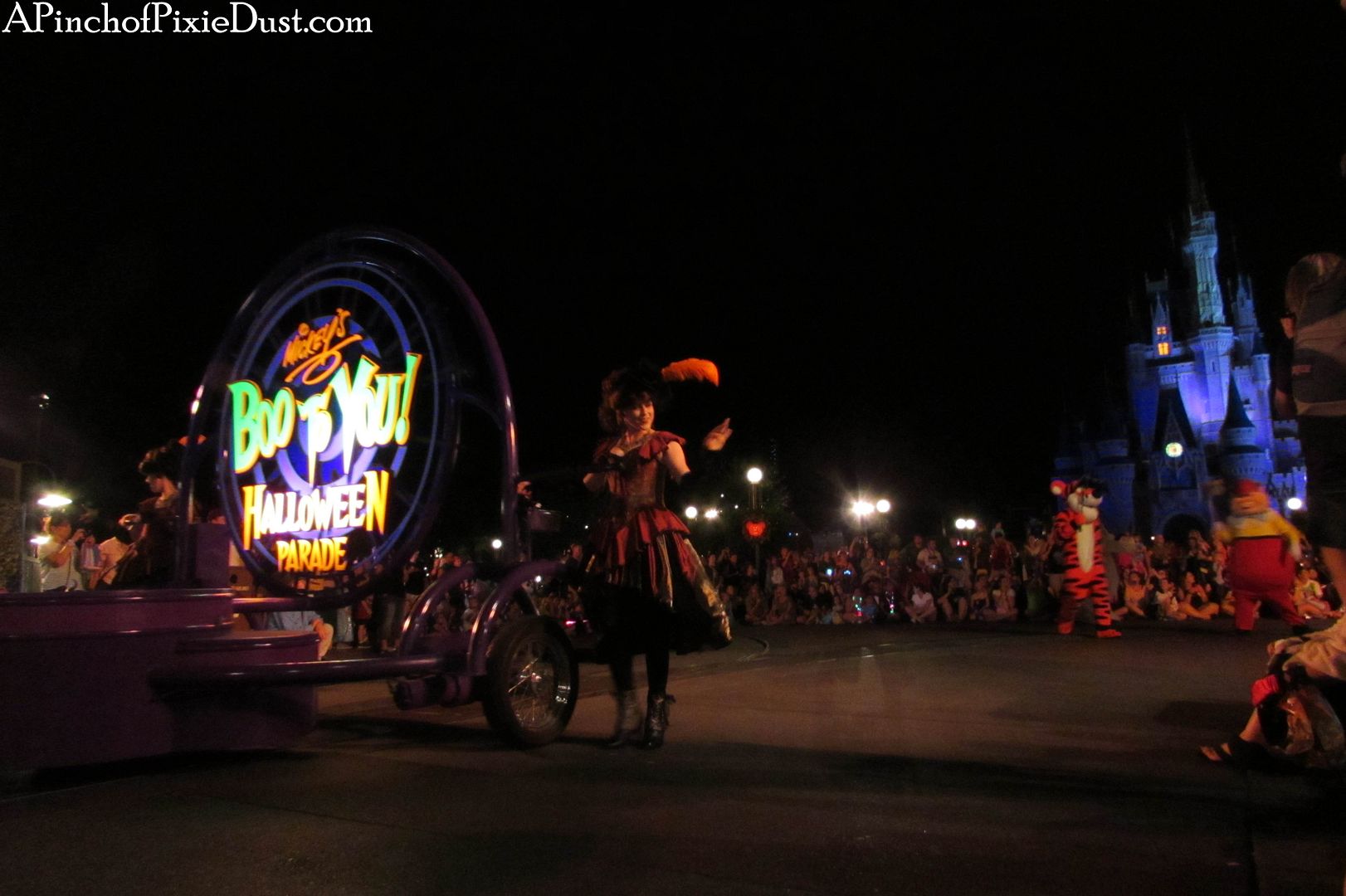 Mickey's BOO TO YOU Halloween Parade!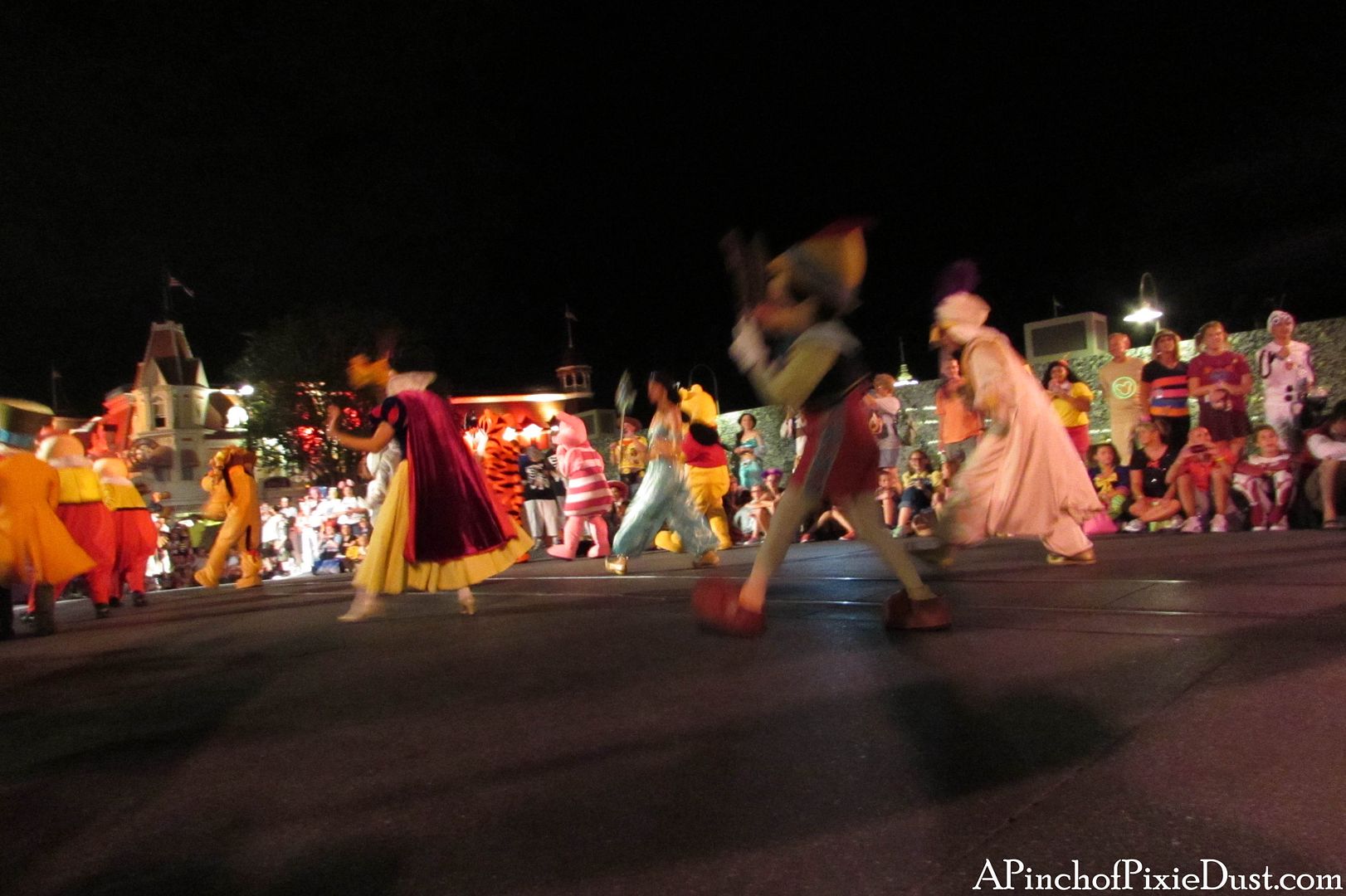 The celebration starts with classic characters going trick or treating - they each have a fabulous themed mask, and they make such adorable "suprised" faces when they come out from behind them. This was one of my favorite parts - I wish it lasted longer and involved more character favorites!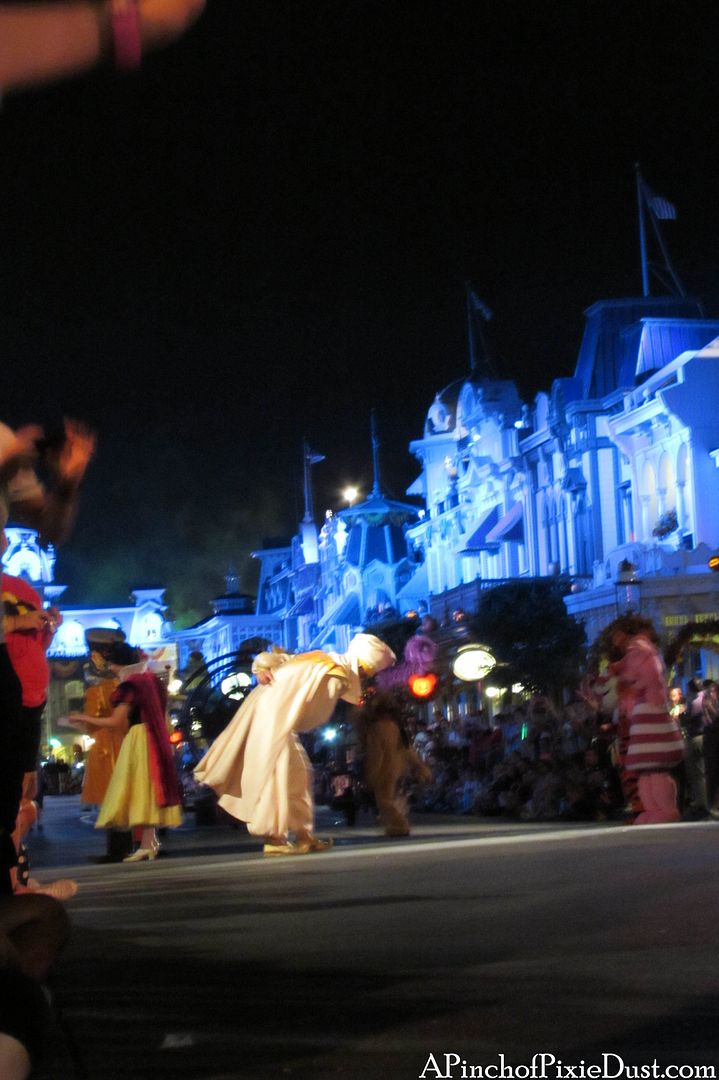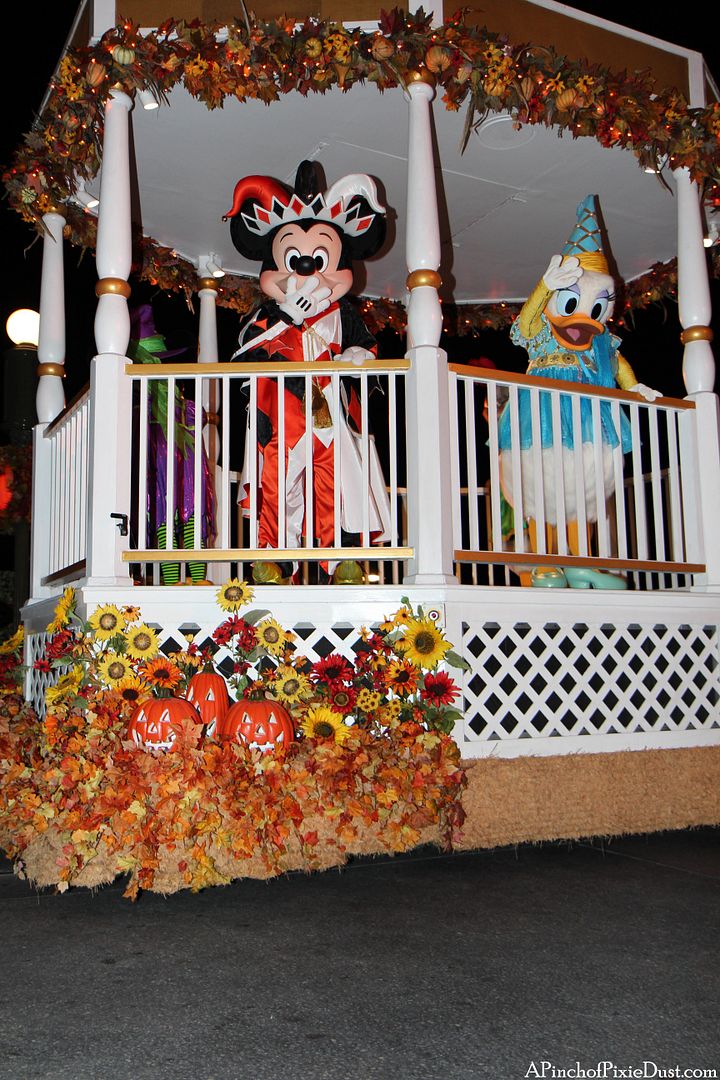 Mickey and the gang lead the way in a festive gazebo float! Then come some pirates...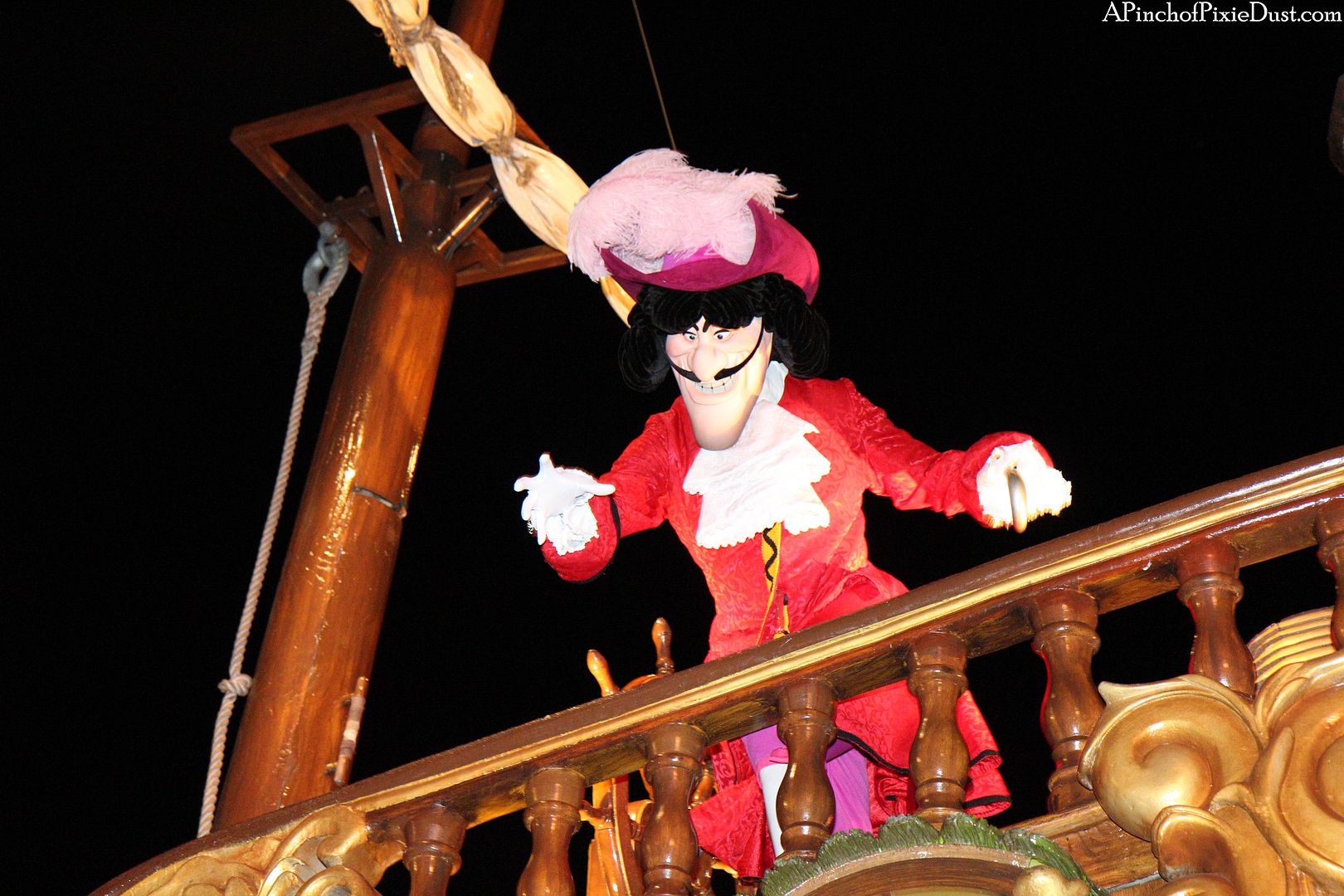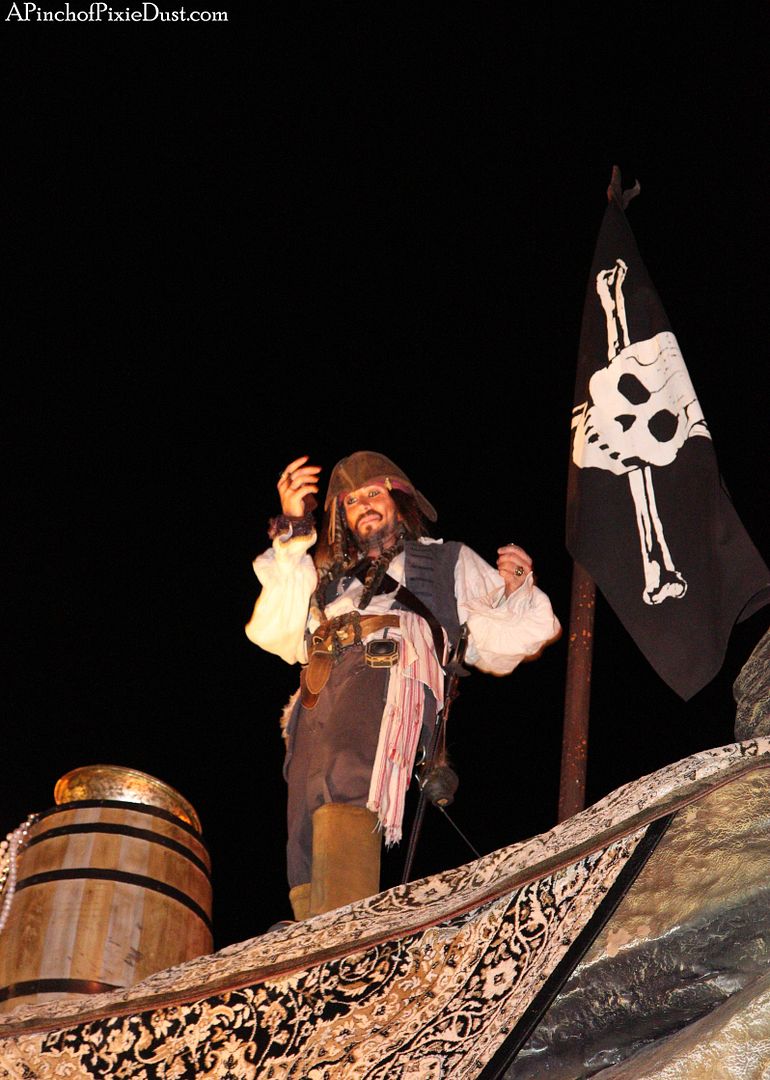 Captain Hook and Captain Jack! Looks like Sparrow's been at the rum again...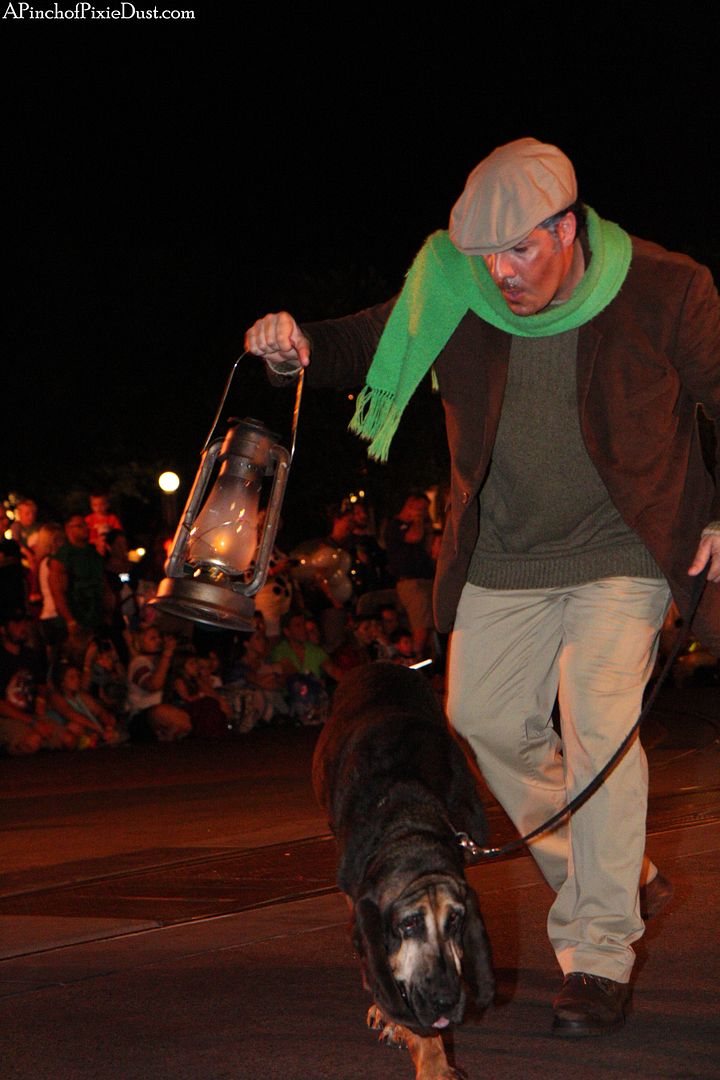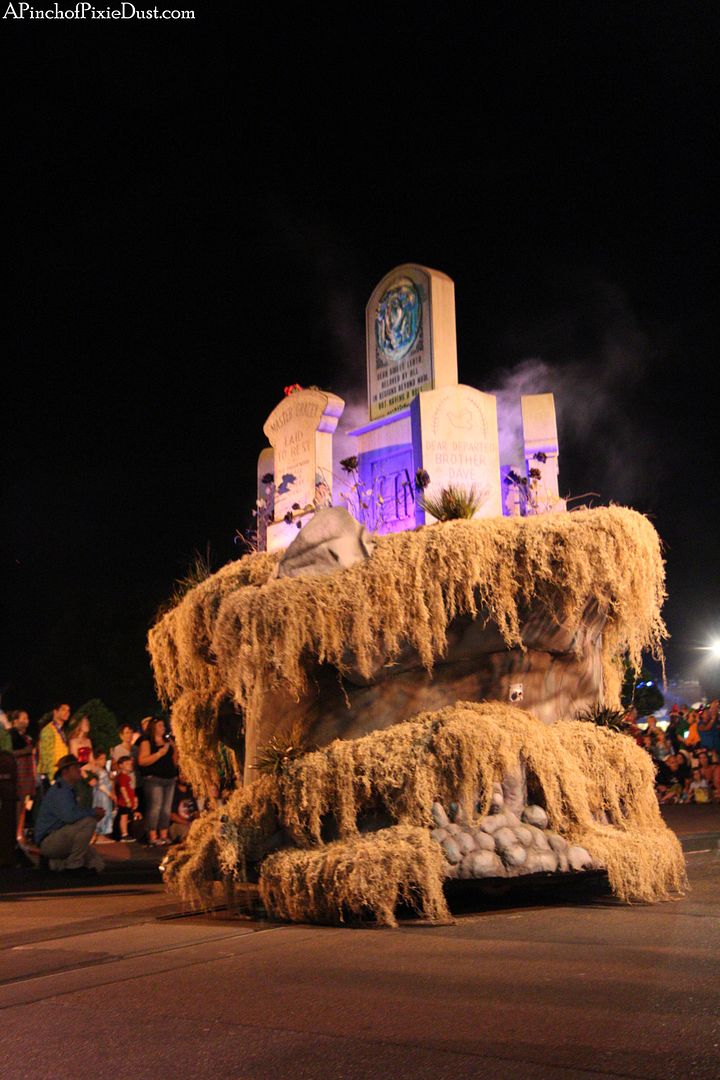 Uh oh...look what's coming...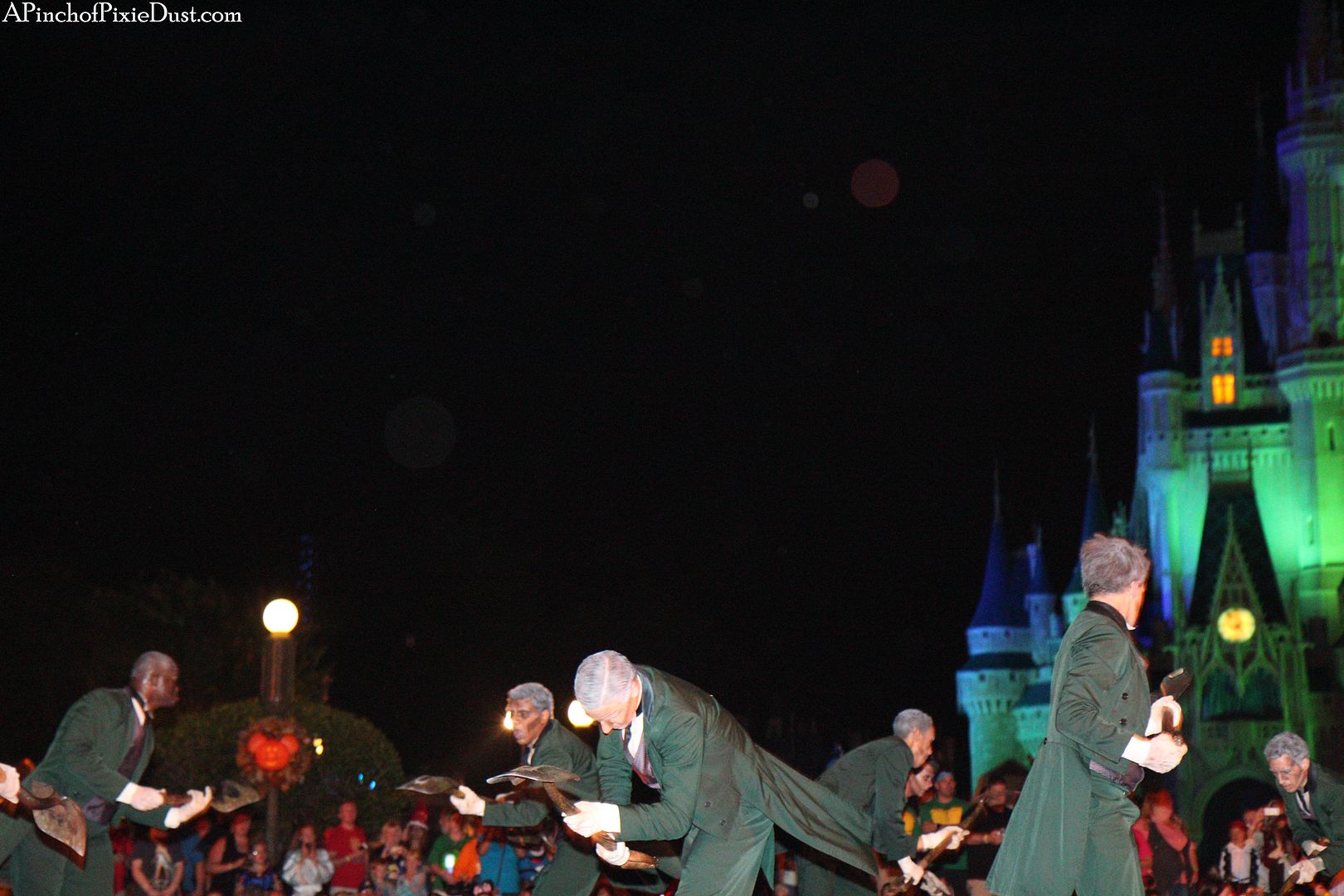 The residents of the Haunted Mansion have strolled right out of the ride and are zombie walking down Main Street. The grave diggers' movements are amazing - they throw sparks with their shovels on the pavement!



So cool but SO CREEPY!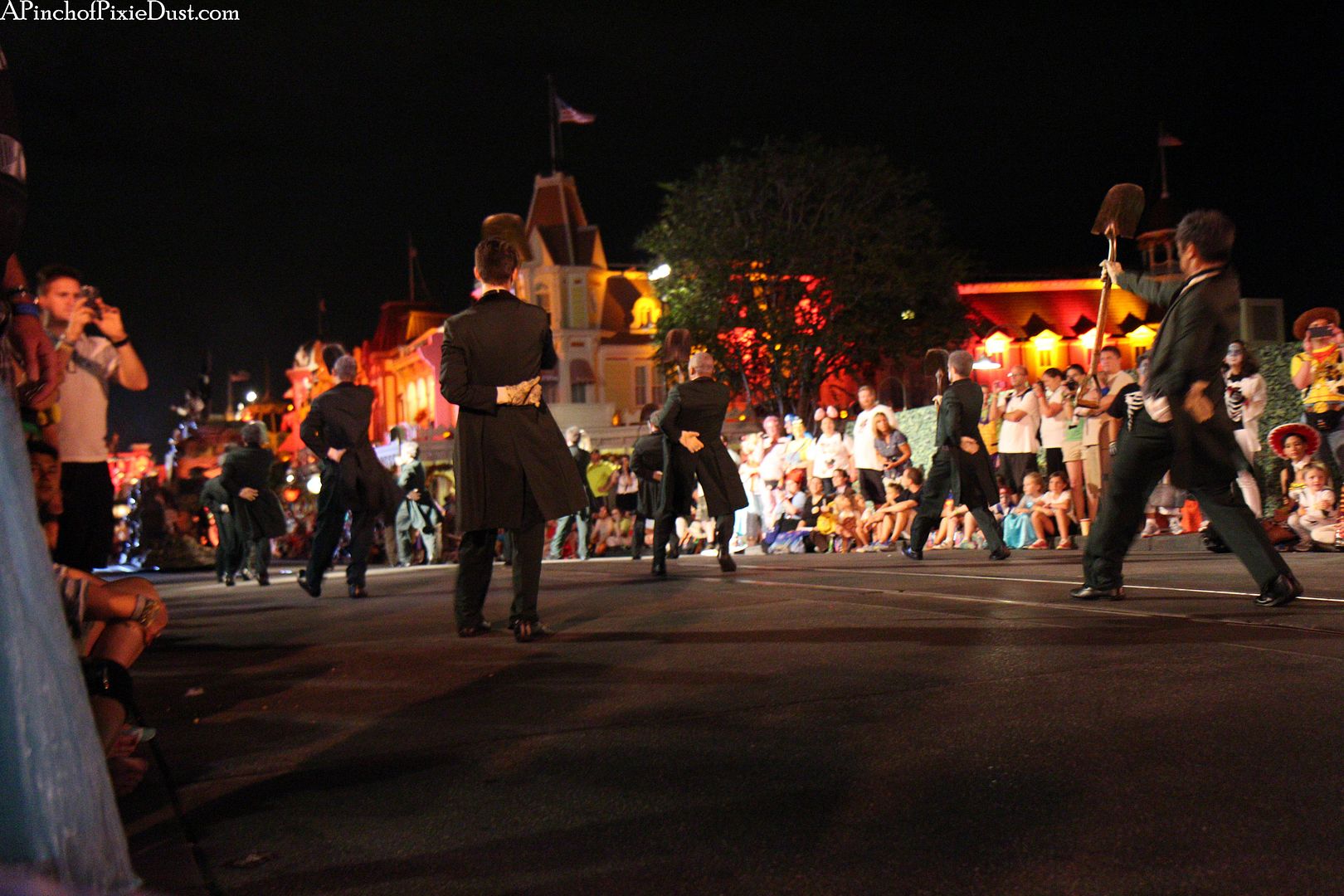 The grave diggers swagger away, and just as you're thinking this can't get any cooler...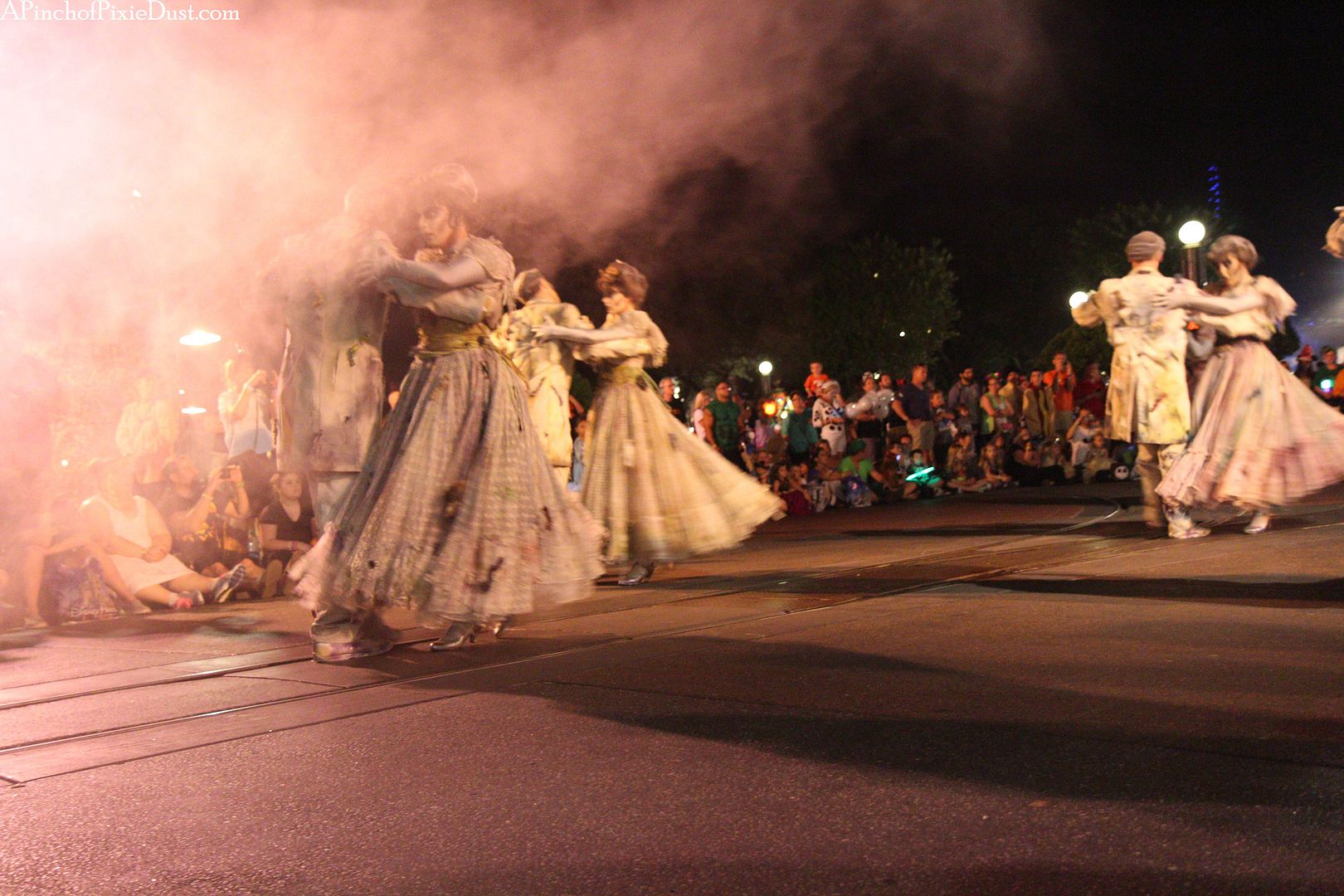 ...the ballroom dancers arrive...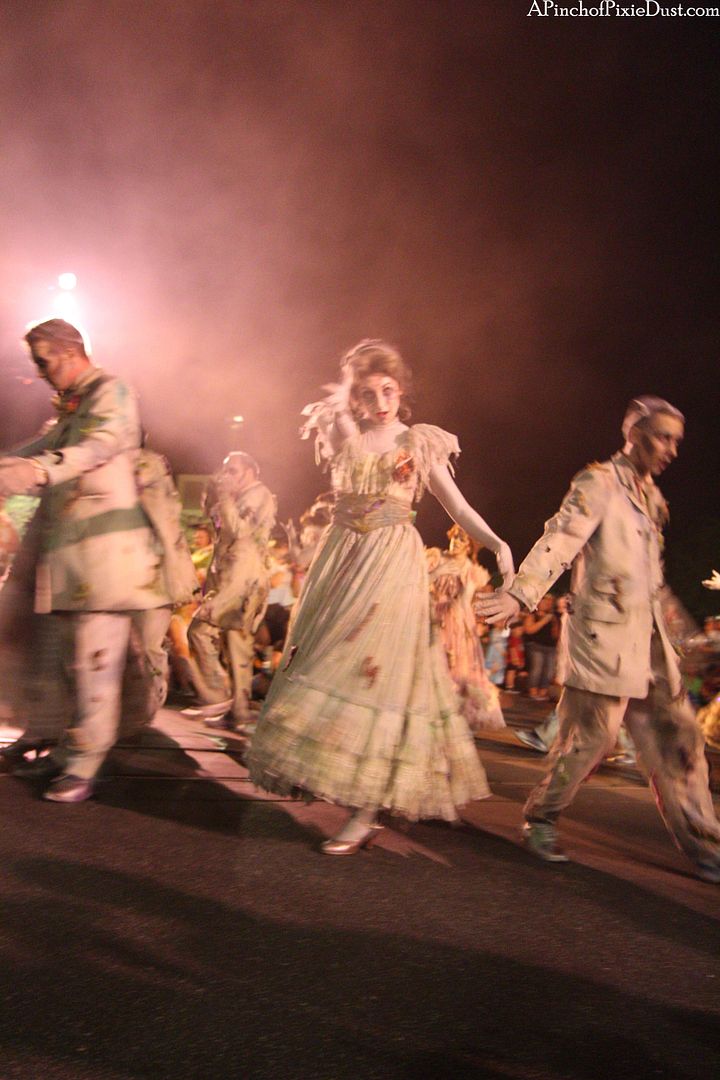 These couples are elegant and terrifying at the same time. I love the way they interact with the crowd - giving you a ghostly stare or beckoning to you. Remember...there are 999 happy haunts...but there's always room for one more!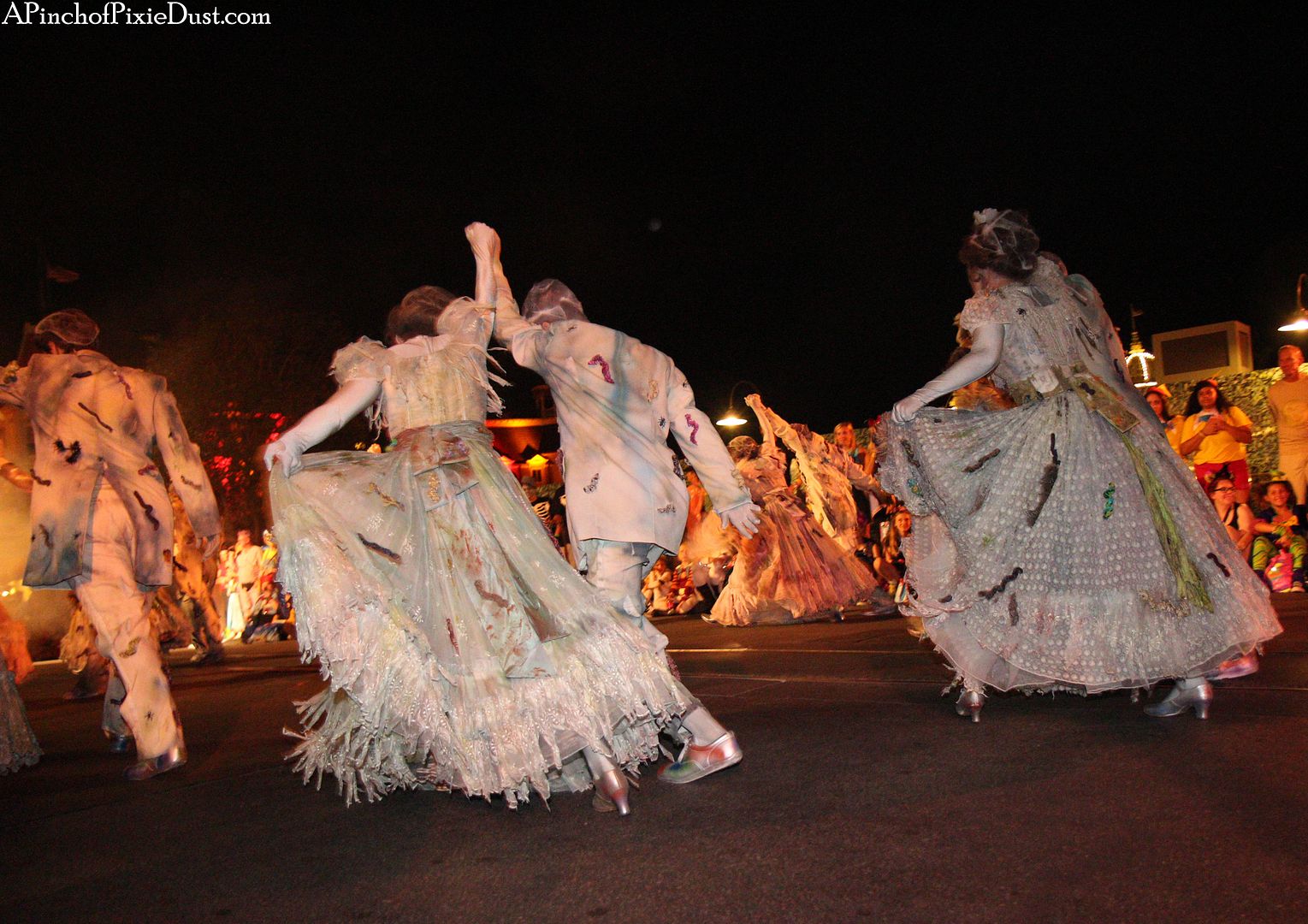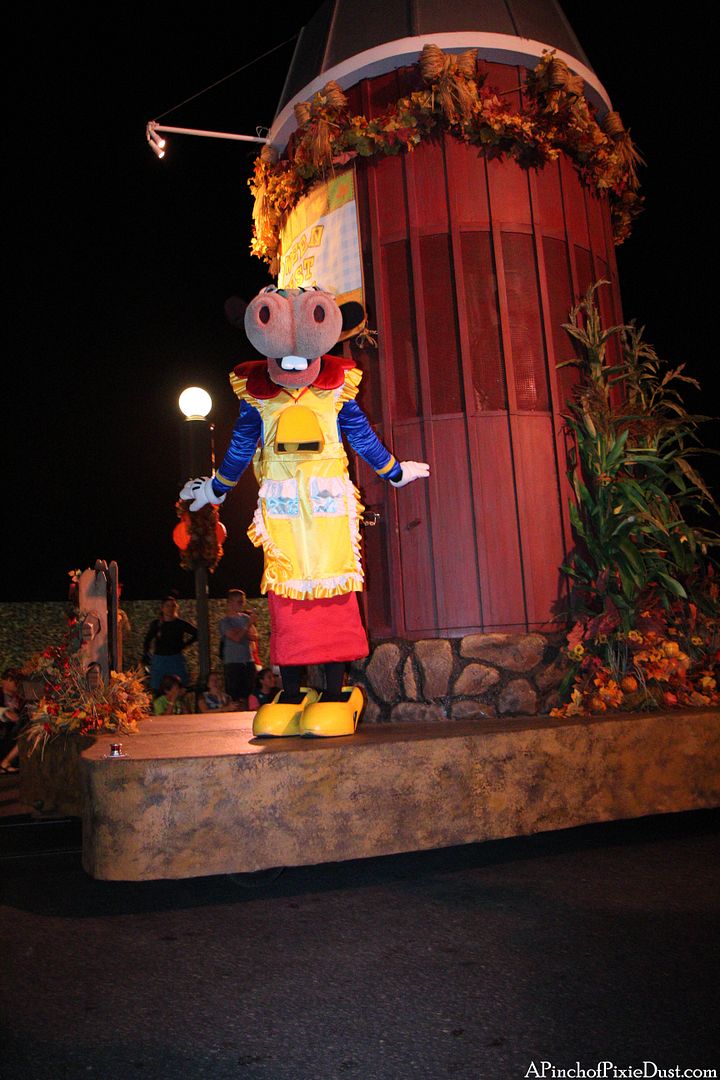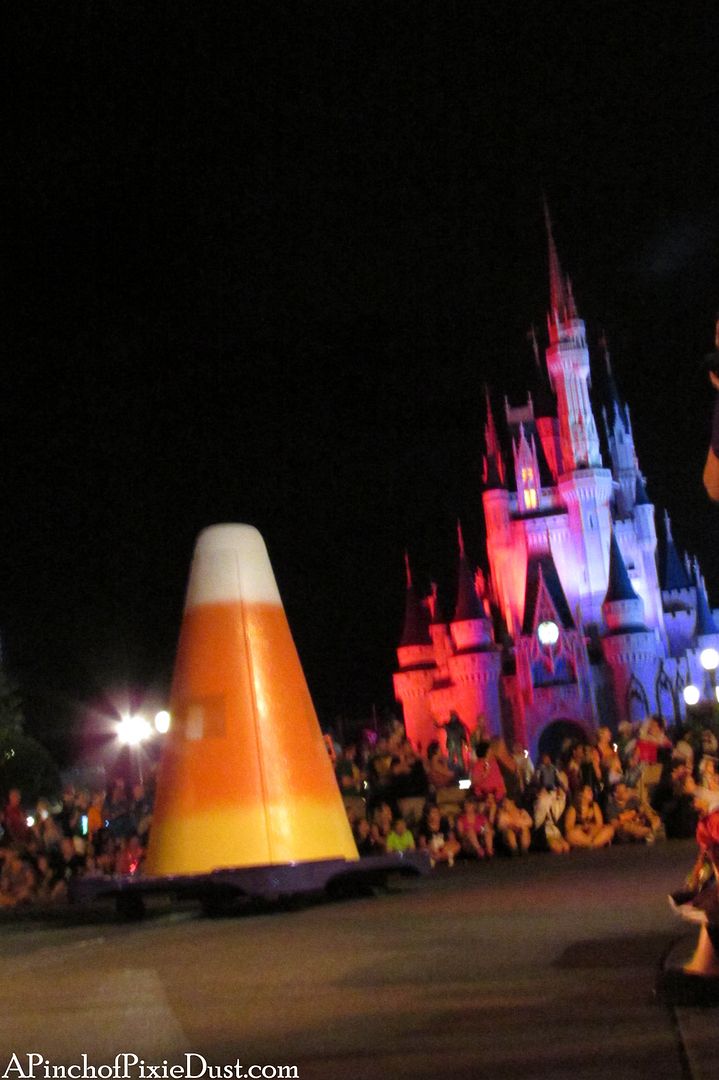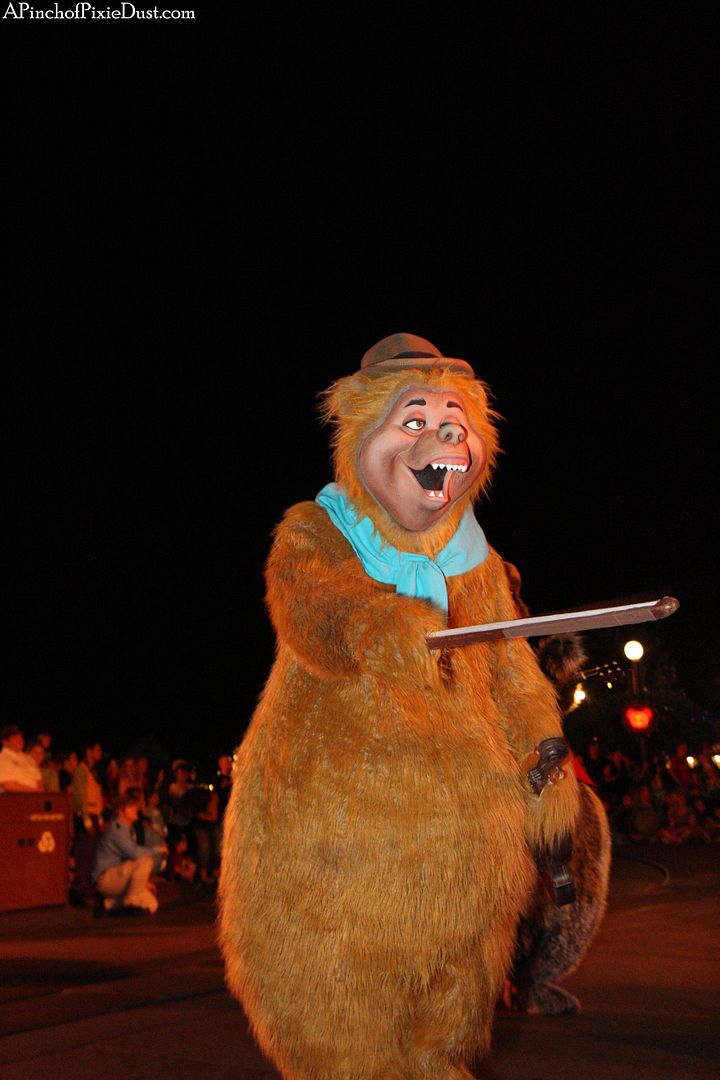 If the Haunted Mansion parts were too spooky, don't worry. Cowboy dancers, Clarabelle, and giant candy corn come next. Then again...I feel the Country Bears can be just as terrifying as any grim grinning ghosts. ;)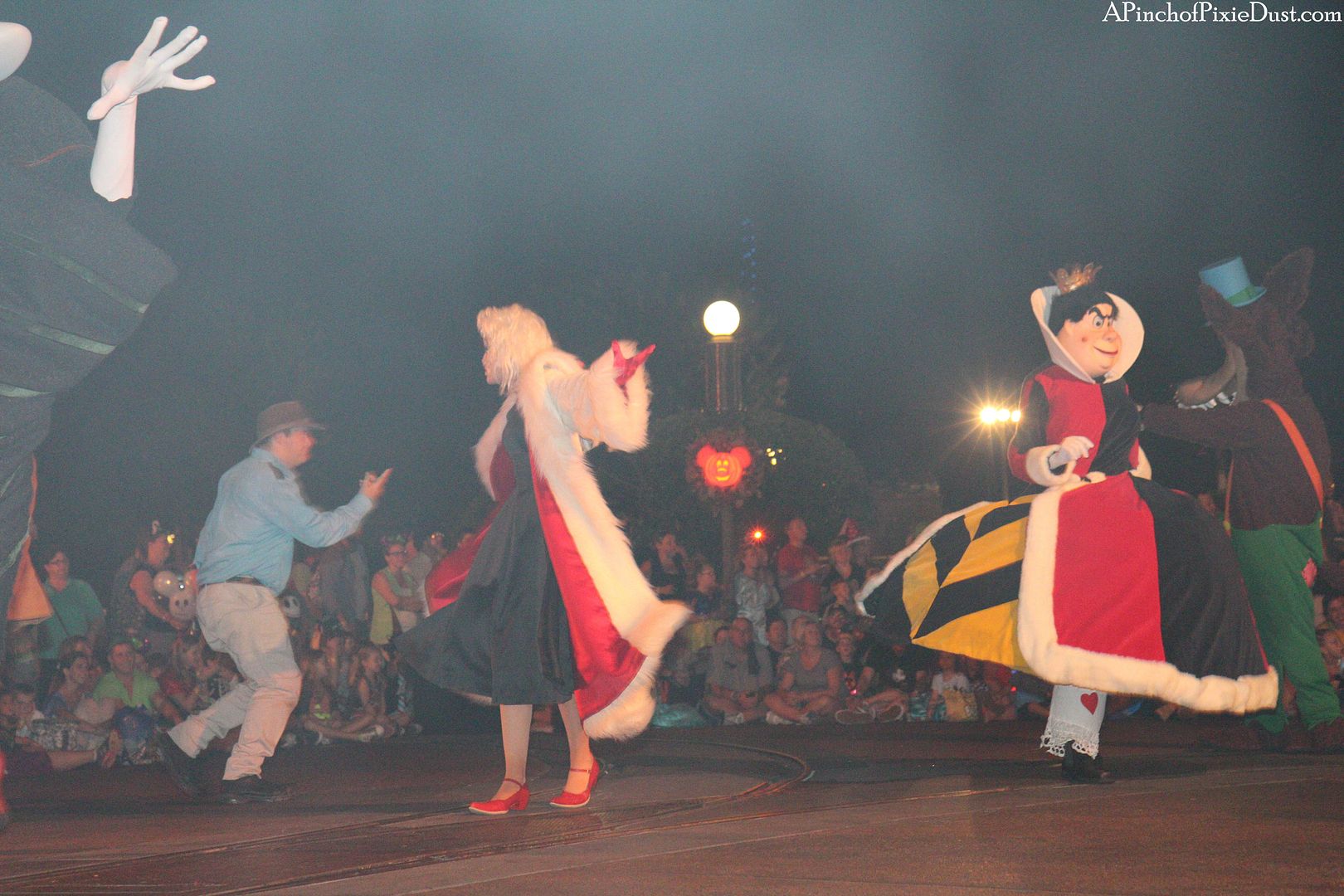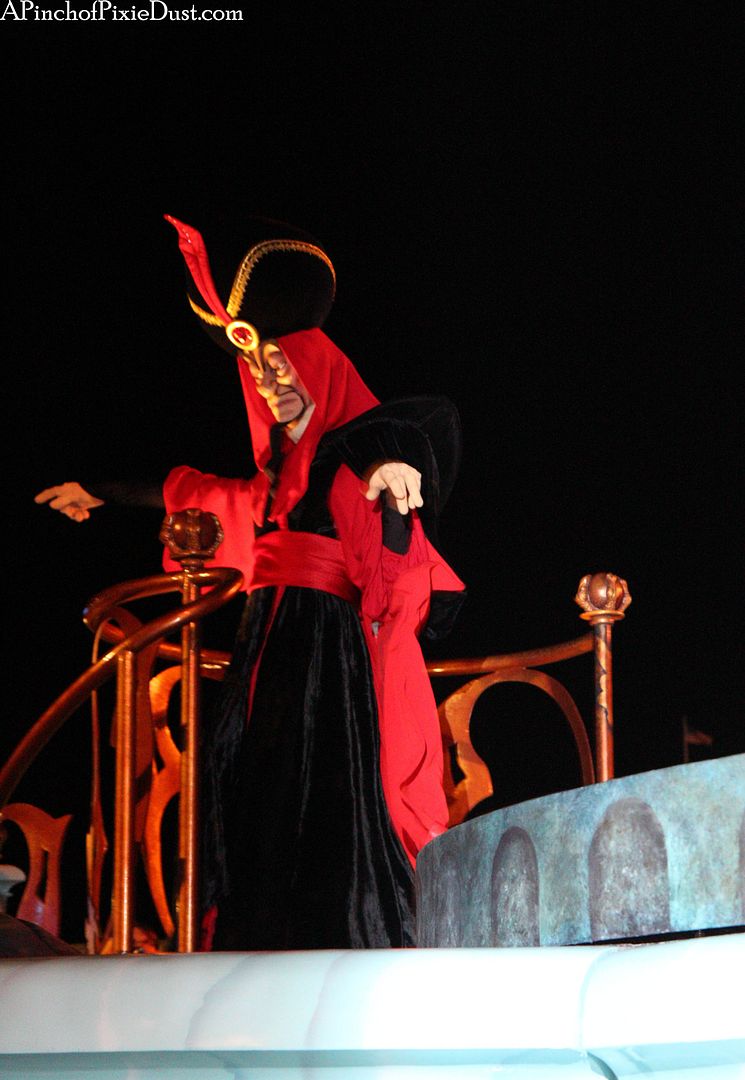 The parade winds up with some dancing villains. Jafar knows how to boogie.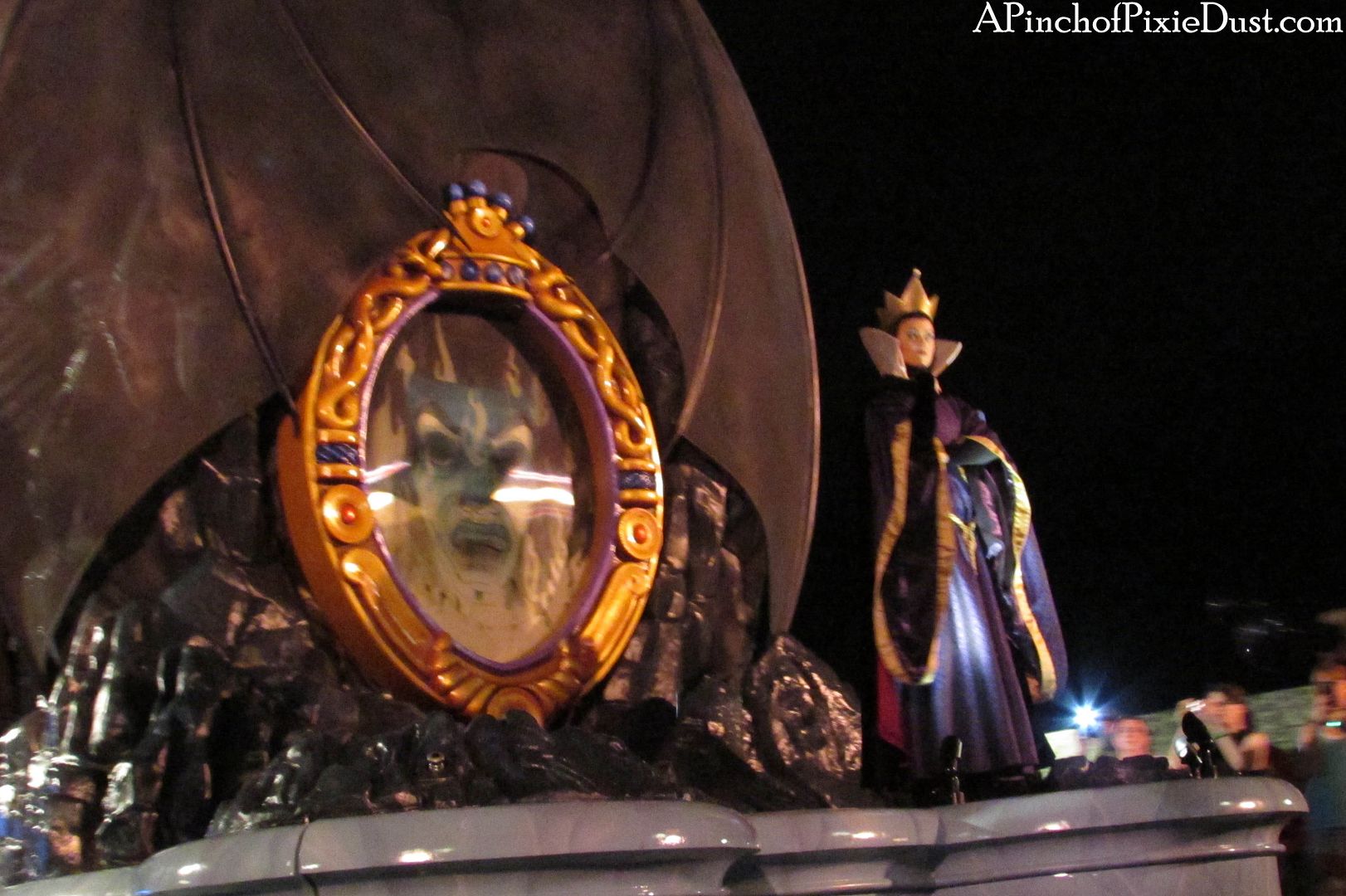 The Evil Queen is just like, "I am so not amused."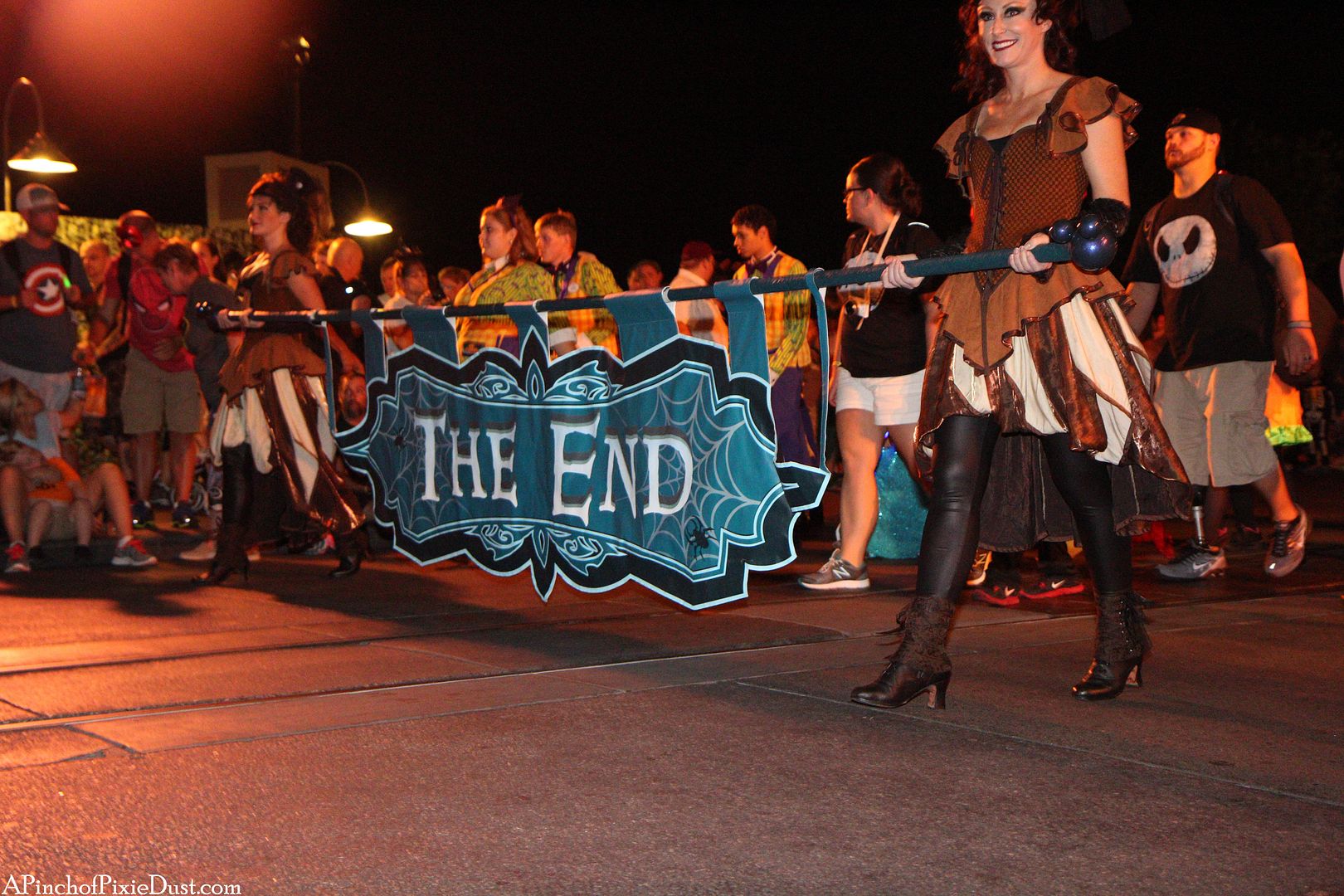 THE END!


Walking right down the middle of Main Street USA! In conclusion, the trolley people highly approve of Mickey's Not-So-Scary Halloween Party.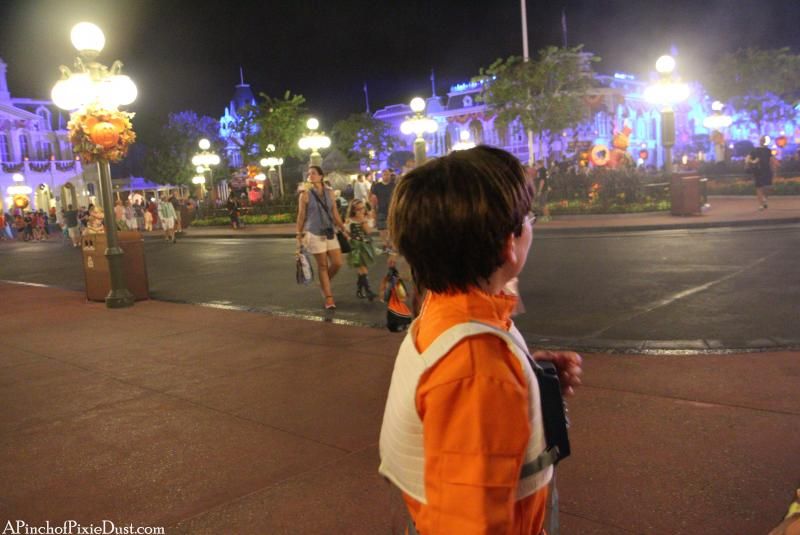 We made it all the way to park close at midnight! If you have younger kids, you'll want to take into account the late hours and spooky sights to decide if this experience might be right for you.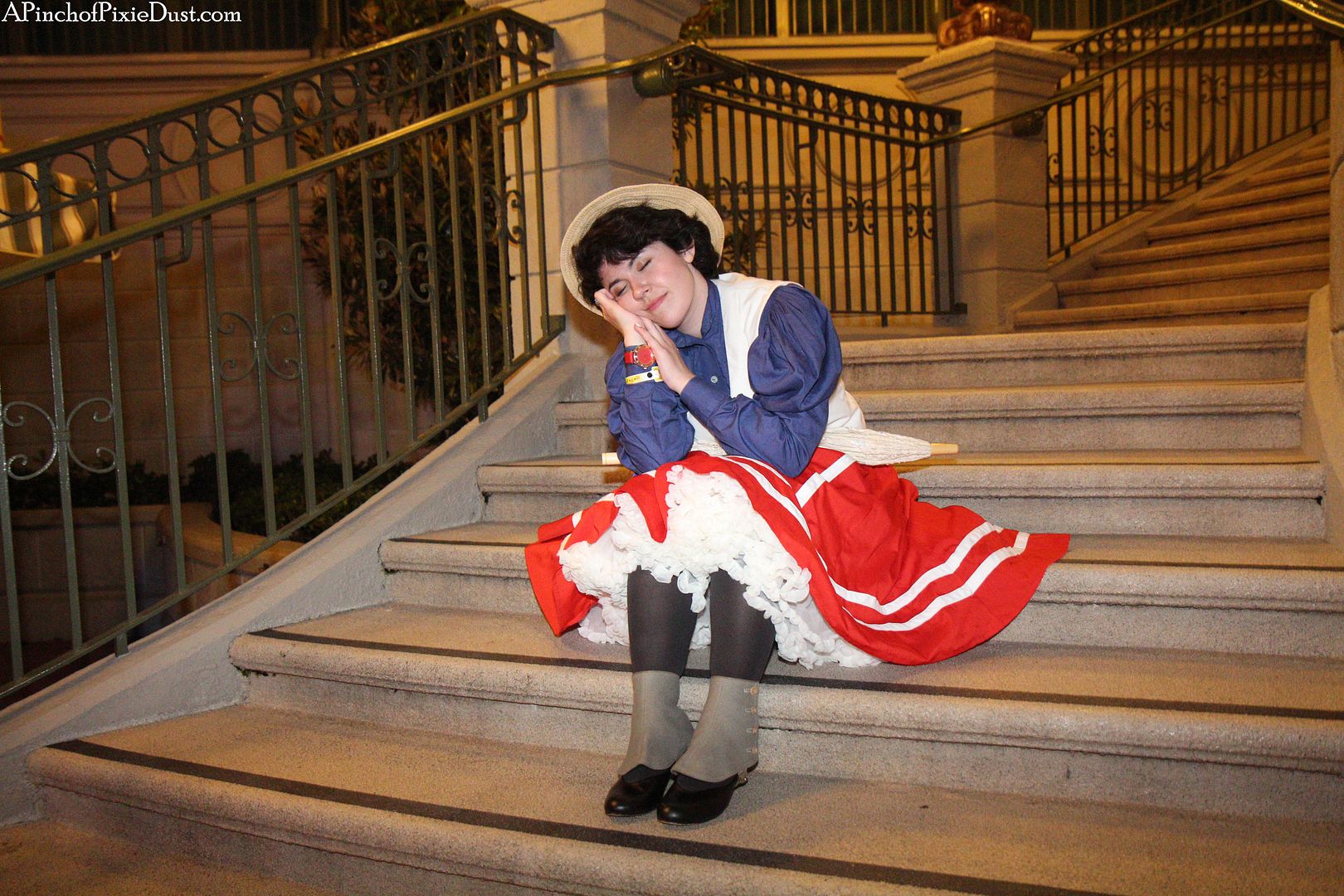 Trolley girl was
exhausted
.
This is an incredible event, but it was overwhelming too - especially as we hadn't been in so many years, so it all felt new and unfamiliar. You won't be able to take in everything on the one night...but then that's just a good excuse to go back, right? ;)
Don't forget to check out the video!