Happy Halloween Week, everybody! To celebrate, we're going to talk about...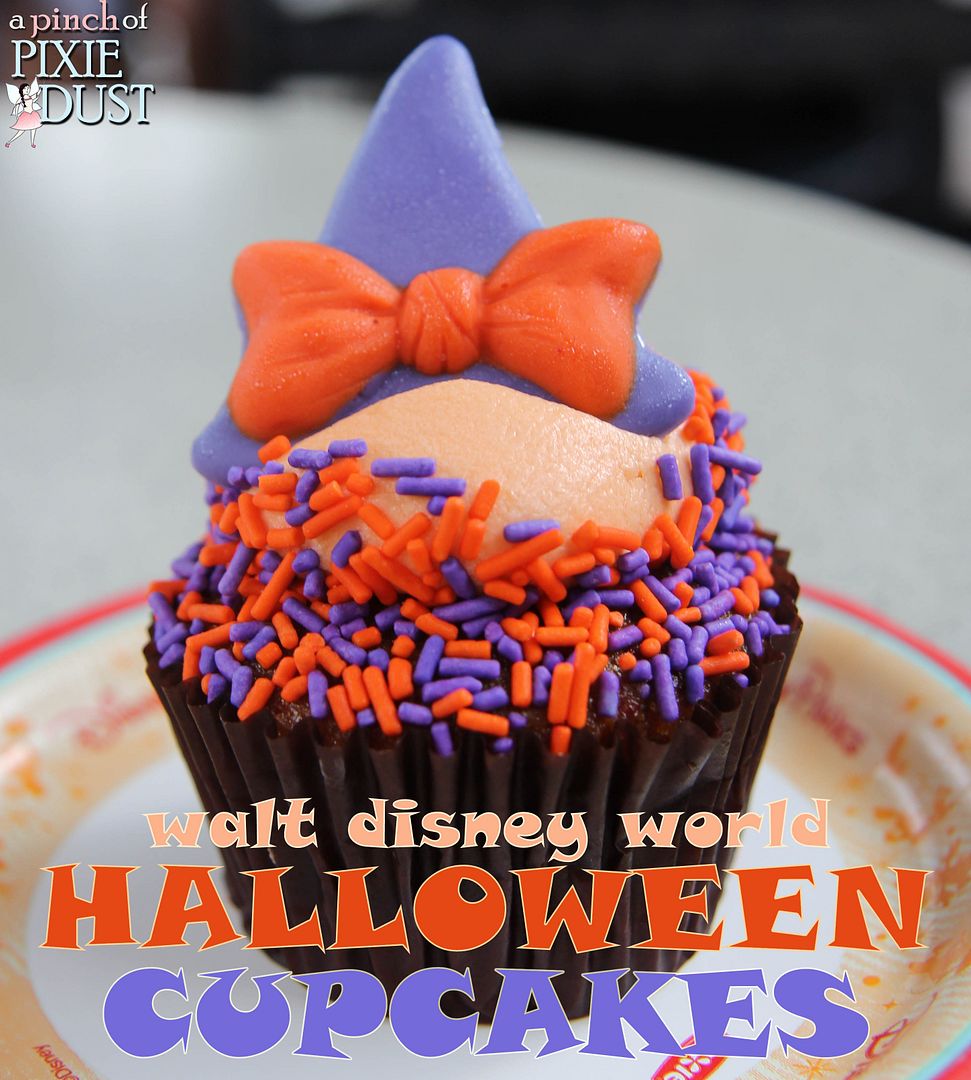 ...what else...Halloween CUPCAKES at Walt Disney World! Whether you've got an October trip or are just looking for some autumnal inspiration for cupcake decorating at home, I've got plenty of charming - or should I say terrifying? - Disney cupcake creations to share. Like the lovely Witch Minnie Mouse above...
...or this adorable grim grinning ghost from the Boardwalk Bakery.
Mickey Ears are still a must, of course! There are so many spooky sweets in the Disney bakeries this time of year. :)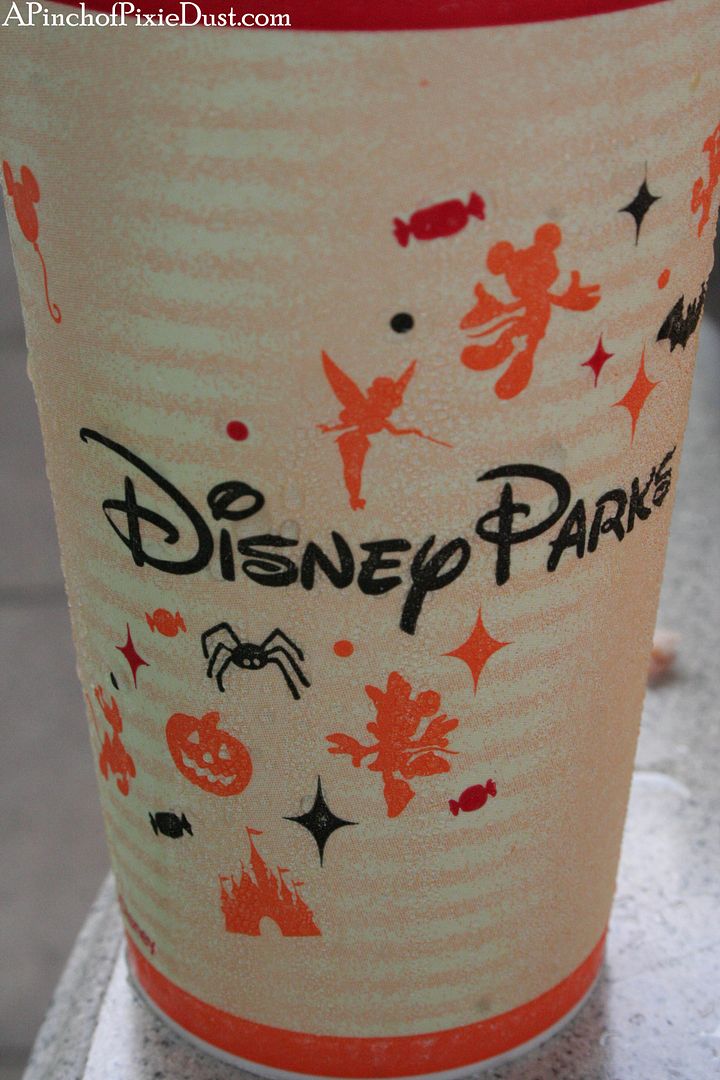 Even the drinking cups are dusted with ghoulish pixie dust!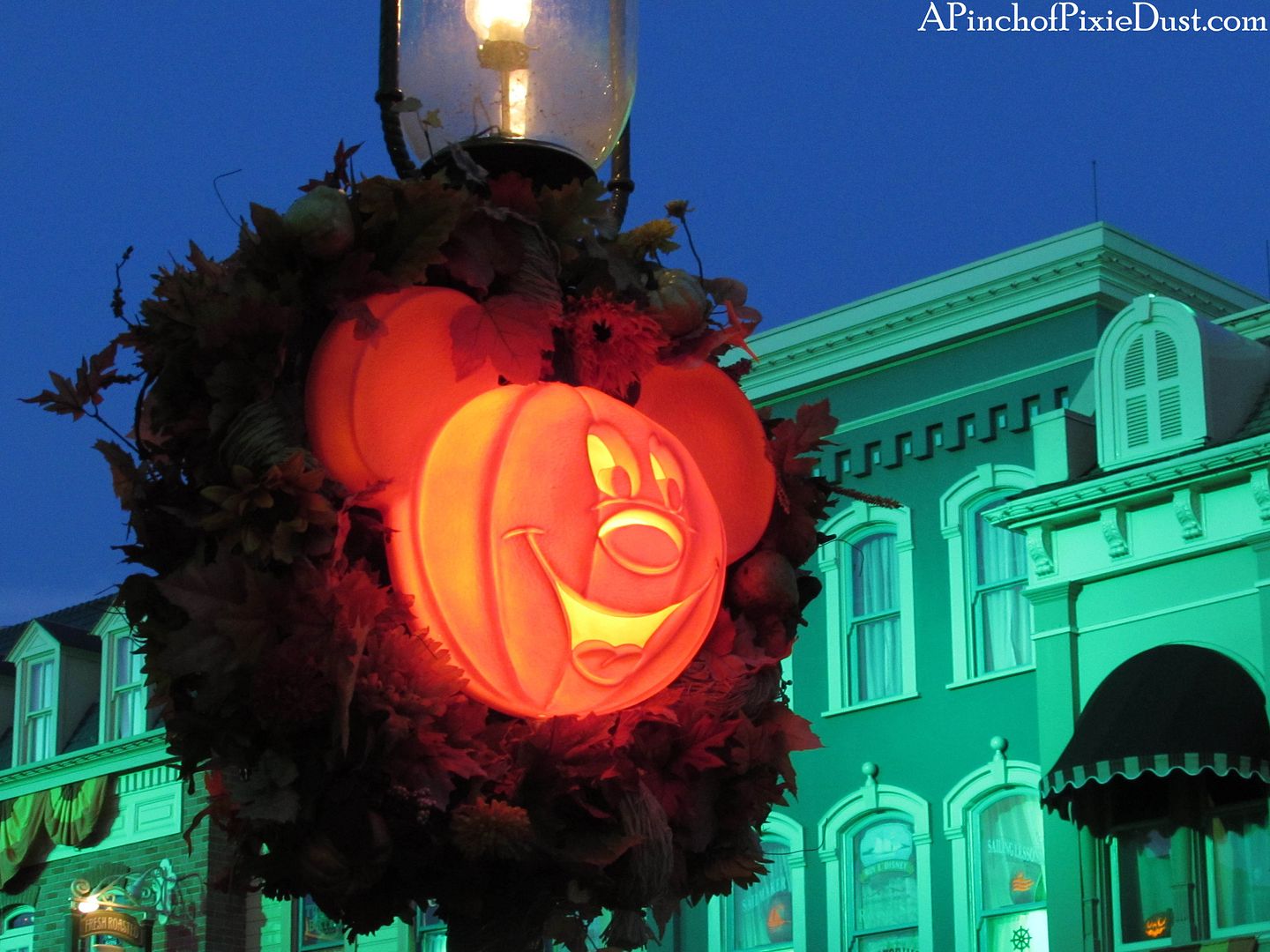 So. Let's start our new cupcake quest at the Magic Kingdom at the most magical Disney Halloween event -
Mickey's Not-So-Scary Halloween Party
. There are special treats that come out after 7pm just for party guests...and some of them are cupcakes!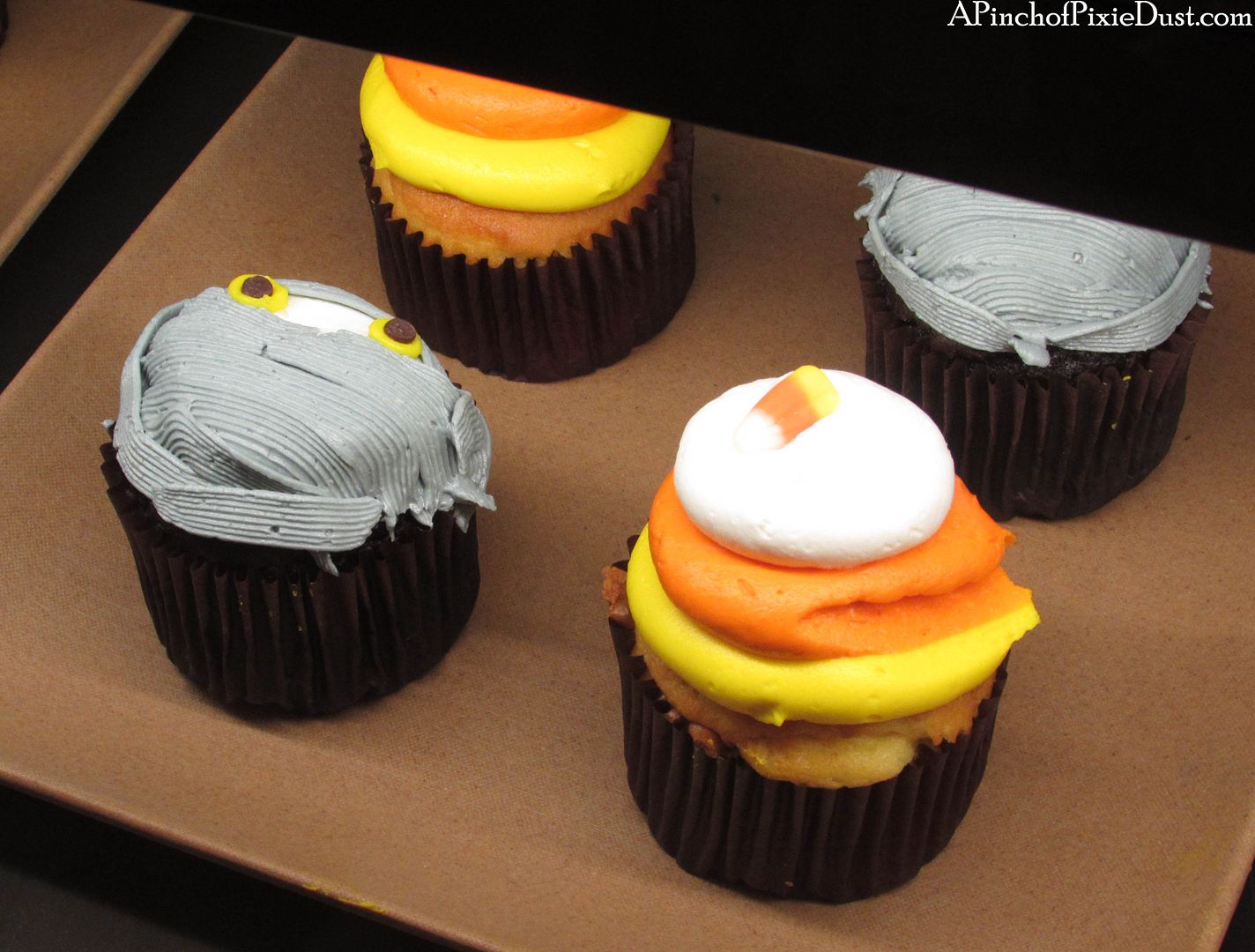 The
Main Street Bakery Starbucks
has two tasty treats for the season - a vanilla cupcake with candy-corn-inspired (but not flavored) icing and an adorable chocolate monster cupcake wrapped up like a blue mummy! As with most Main Street Bakery cupcakes, these guys didn't have a filling inside. I've seen the mummy cupcake at MSB in
past years
- and remember the cupcake that landed on the witch?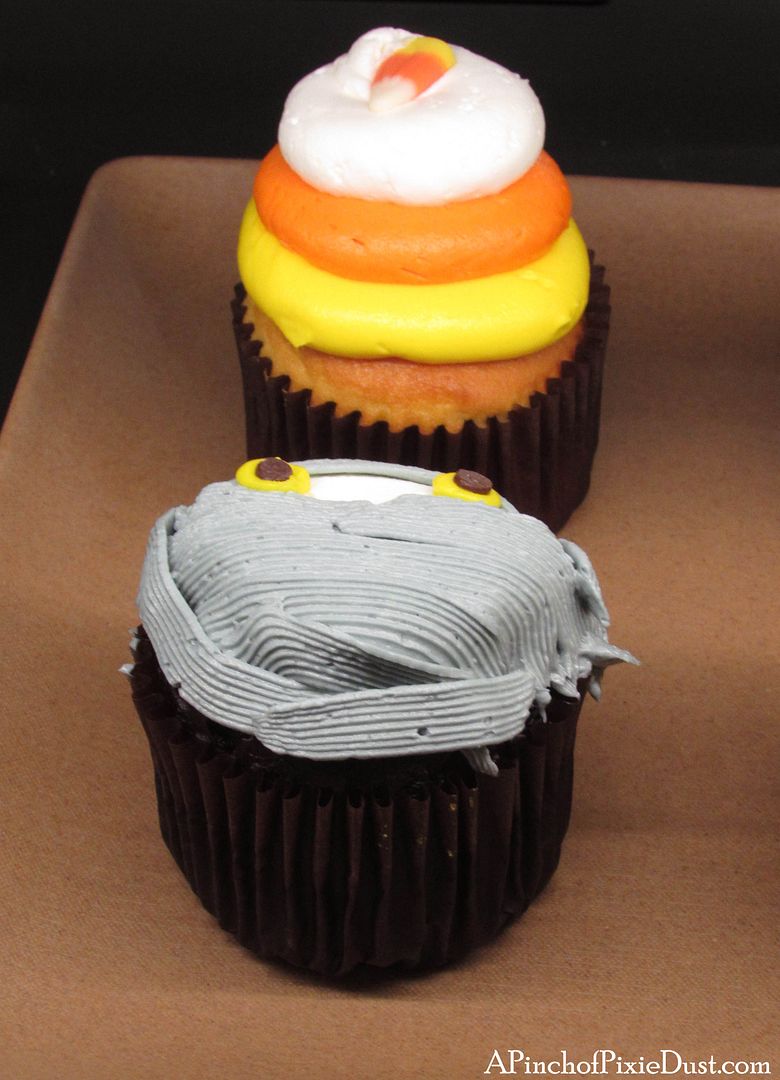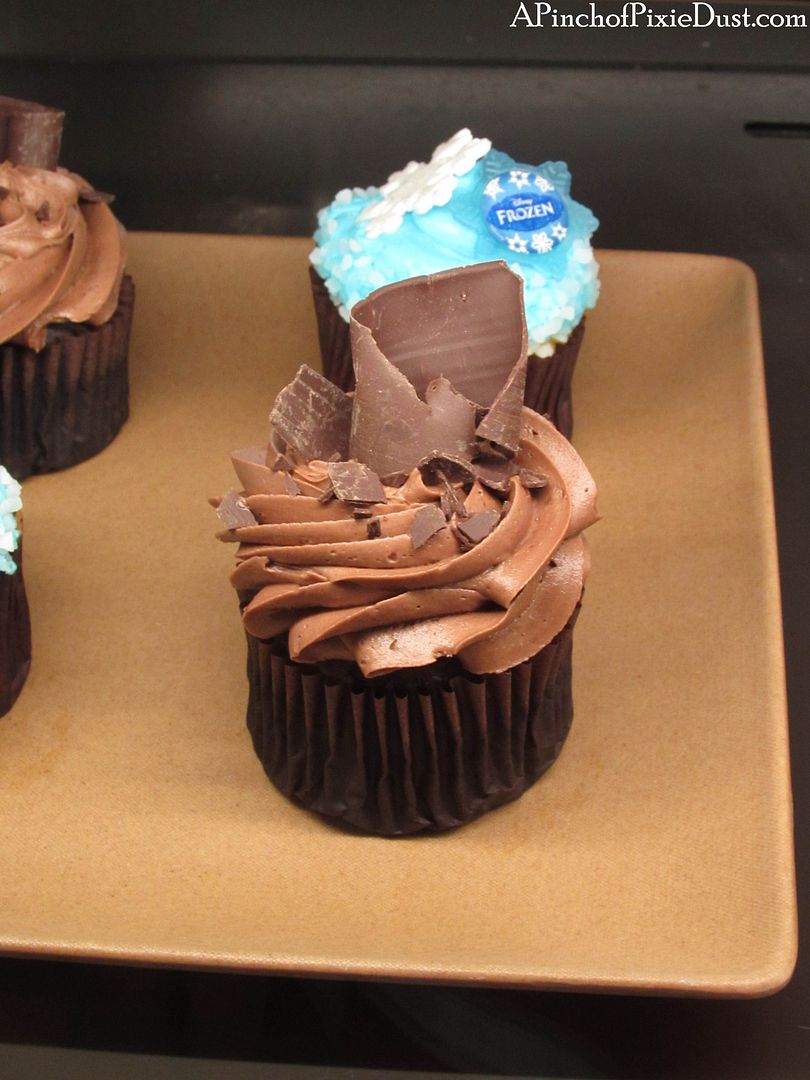 In addition to the seasonal offerings there was the obligatory
Frozen cupcake
and a rather decadent-looking chocolate cupcake. There's so much to do at the party that I just didn't have the time or the appetite to sit down with a cupcake, although I was super tempted by this adorable ghosty over at
Gaston's Tavern
...
An enormous chocolate cupcake with oreo crumbs and a marshmallow ghost!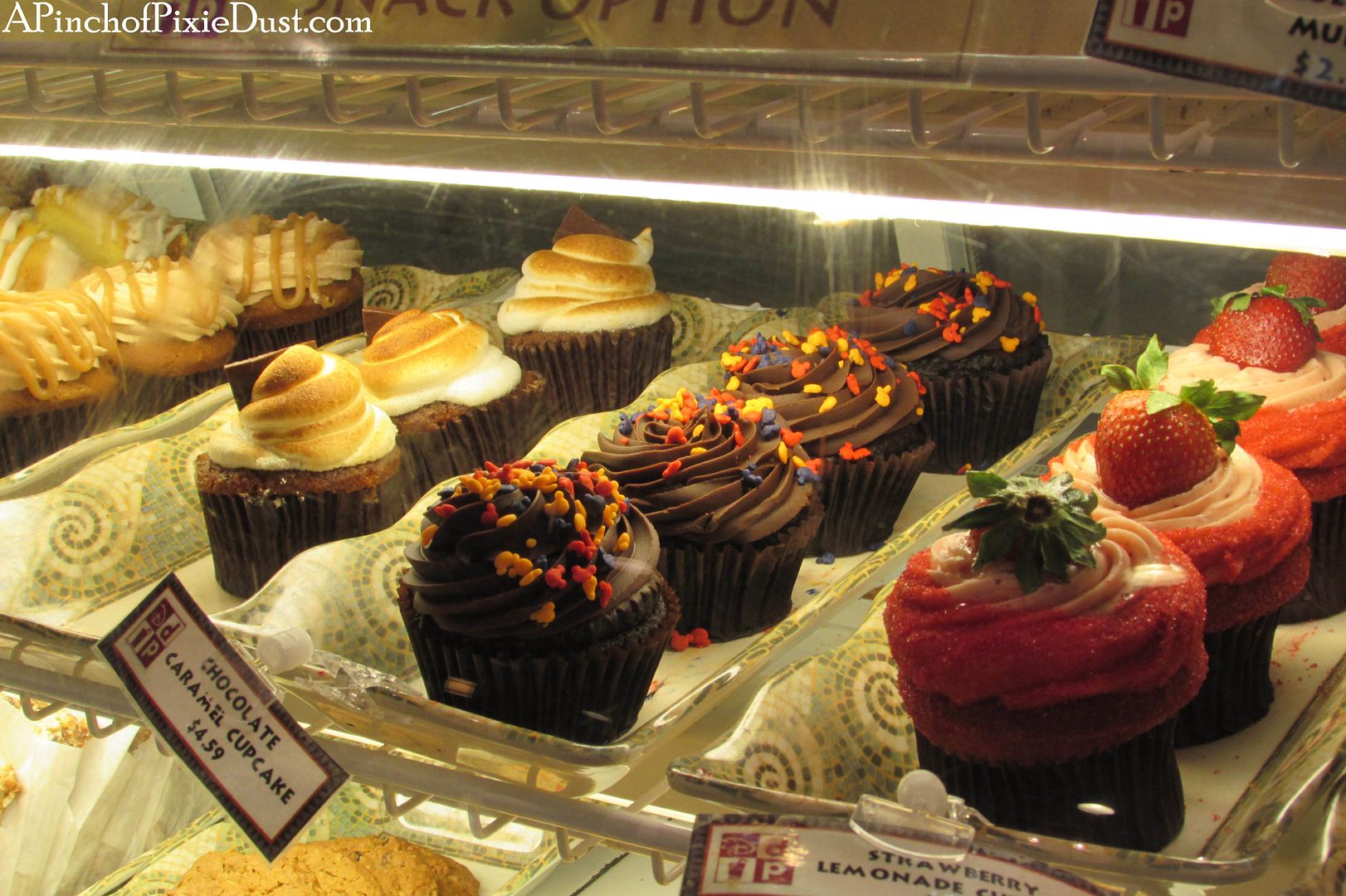 Magic Kingdom and MNSSHP aren't the only time or place you'll find seasonal cupcakes. We had to swing by Roaring Fork at the Wilderness Lodge (one of my
top Disney cupcake spots
) for my mom's favorite
Strawberry Lemonade Cupcake
- and I was so excited to see a new autumnal face in the case...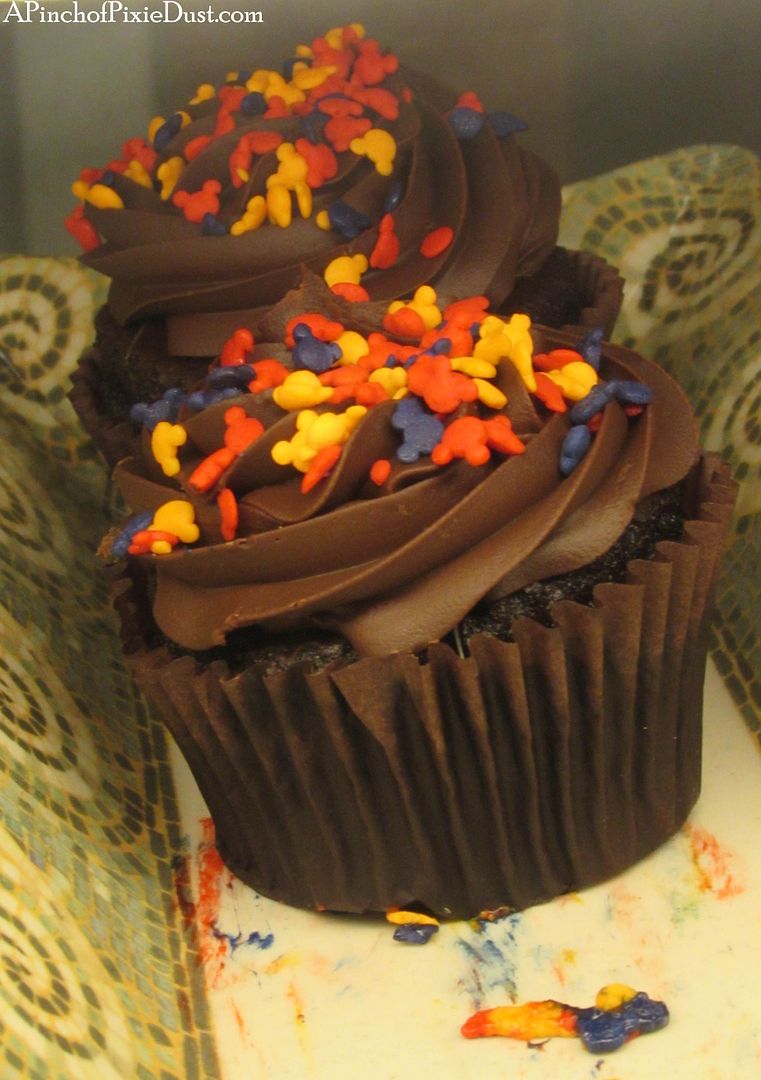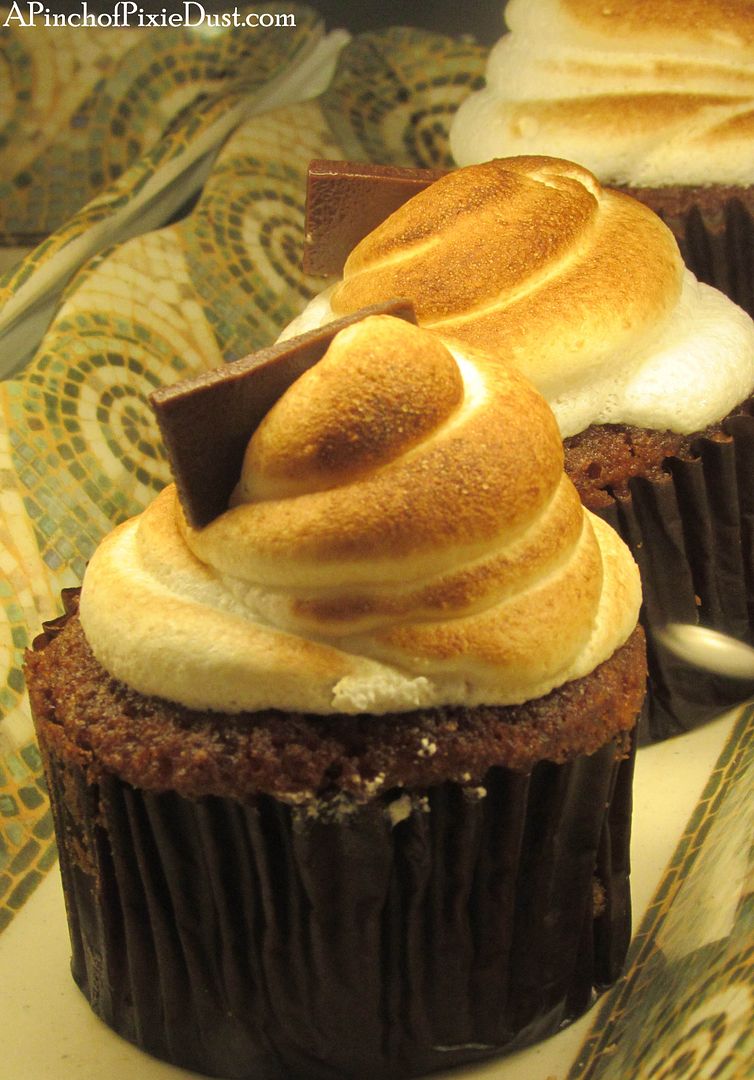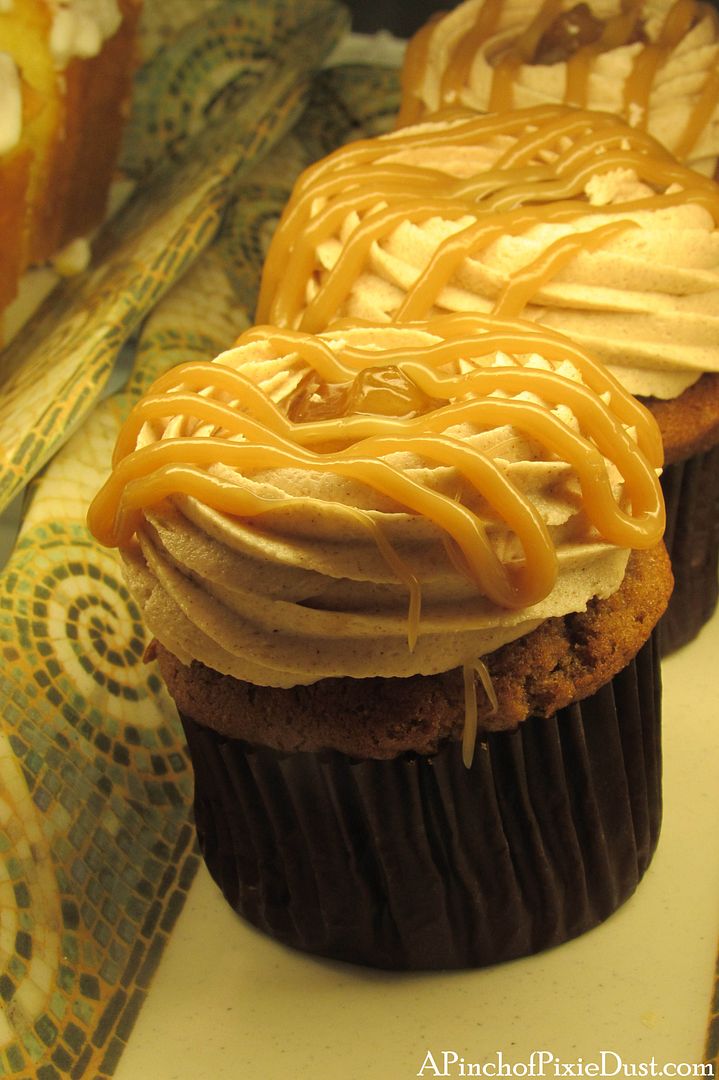 The Chocolate Caramel and S'mores cupcakes are old favorites - but that third one is a brand new Cinnamon Apple Cupcake!
The cupcakes at Roaring Fork are so huge and beautiful, and I love that you can get them fresh from behind the counter rather than out of a refrigerator. They do have carry out boxes if you want your cupcake to go!
That cinnamon icing was utterly amazing. I never wanted to stop eating it. And that thick caramel drizzle!!
I'm not normally a huge fan of apple, but I did love this apple filling - not too gloppy, plenty of crunchy apple pieces - and there wasn't too much of it. The cake itself had a wonderful spiced cinnamon flavor. I didn't even mind that there was no chocolate. It tasted like fall in cupcake form. YUM.
If you like the sound of an autumnal apple cupcake, there's another one to try over at the
Boardwalk Bakery
!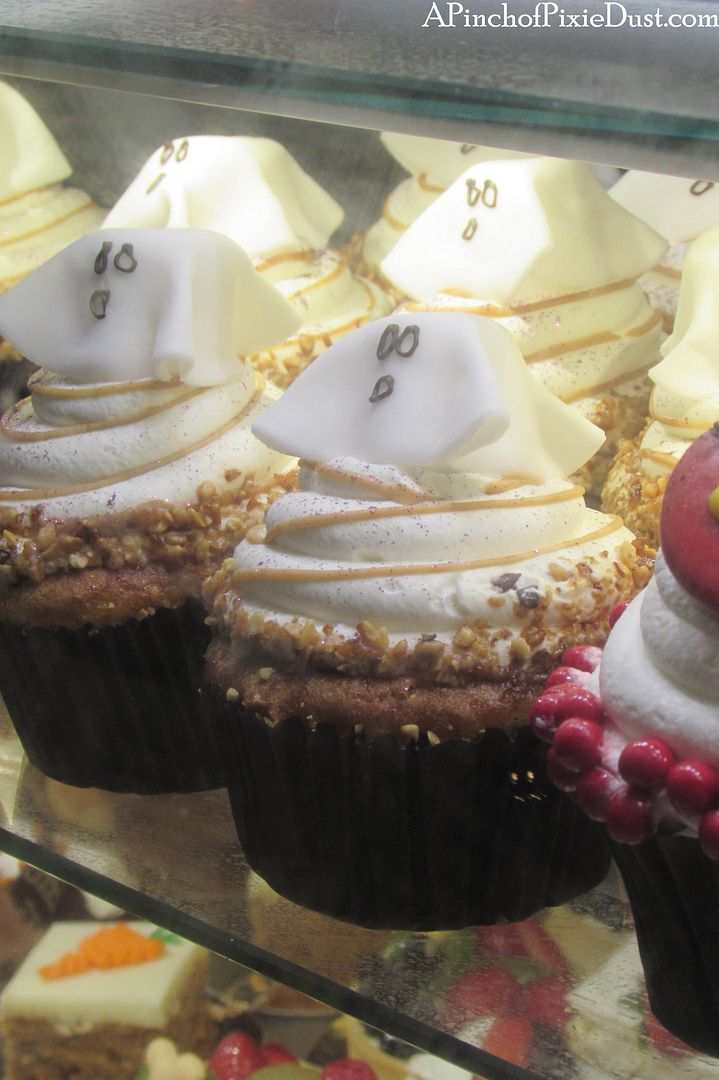 These guys are sometimes decorated with marshmallow-fondant ghosts and sometimes grow bat wings!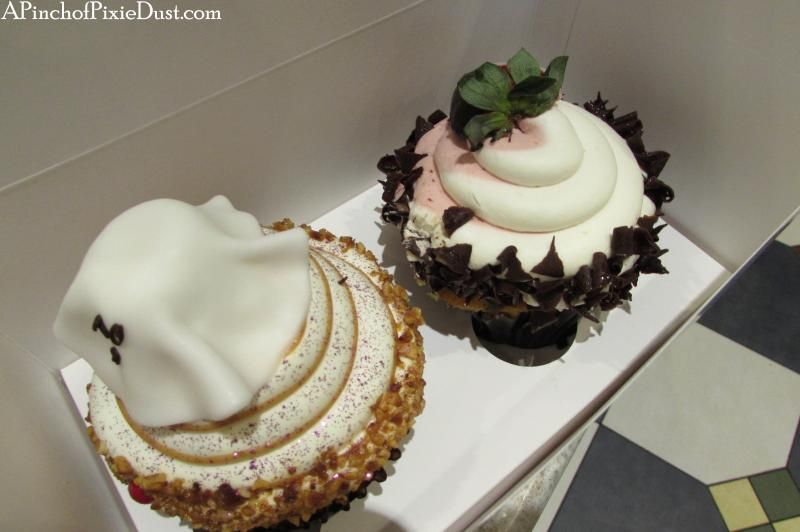 I love the big white pastry boxes your treats come in at the Boardwalk Bakery.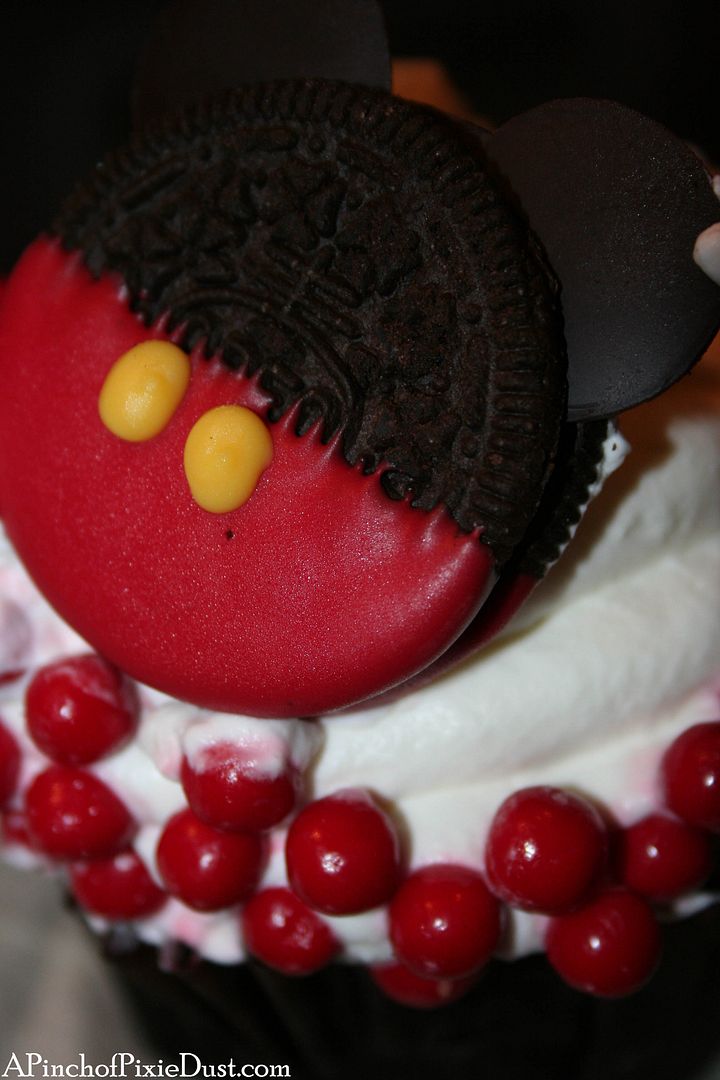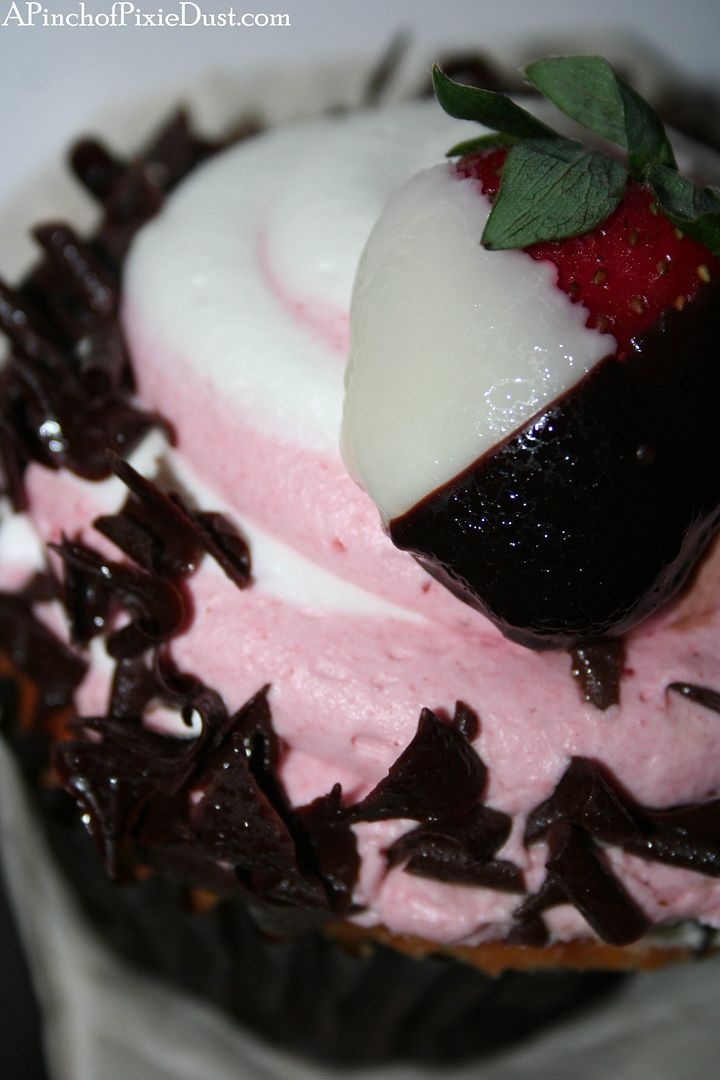 In other cupcake news, the Boardwalk Bakery's classic Oreo Bon Bon Cupcake and the Strawberry Shortcake Cupcake have both gotten new looks. There's now only one oreo on top of the Mickey cupcake, but it is dipped in red chocolate - and the strawberry on top of the pink cupcake is now chocolate covered (with additional chocolate shavings around the icing edge!).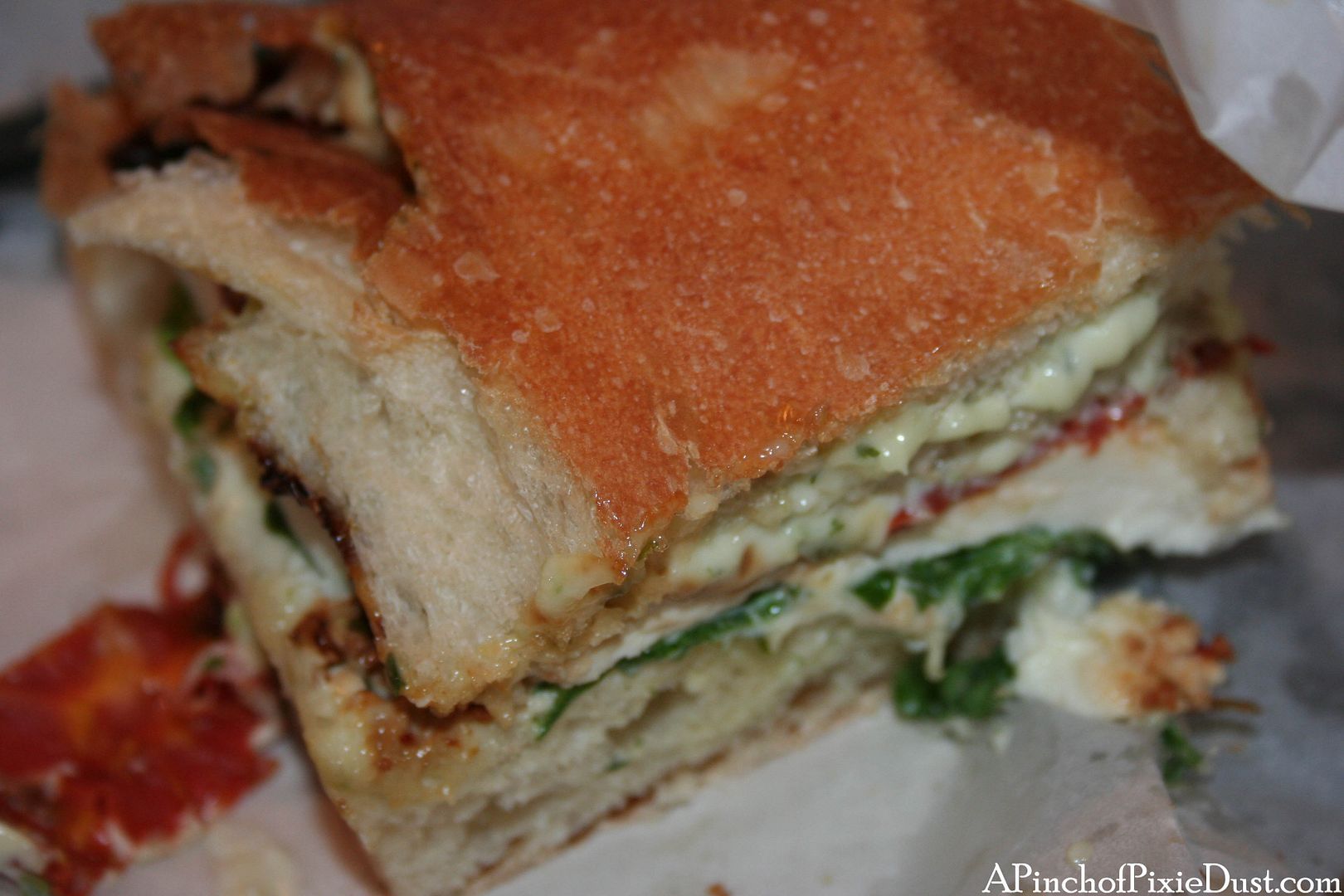 In other Boardwalk Bakery news, the tomato mozarella sandwich is as toothsome and amazing as always. ;)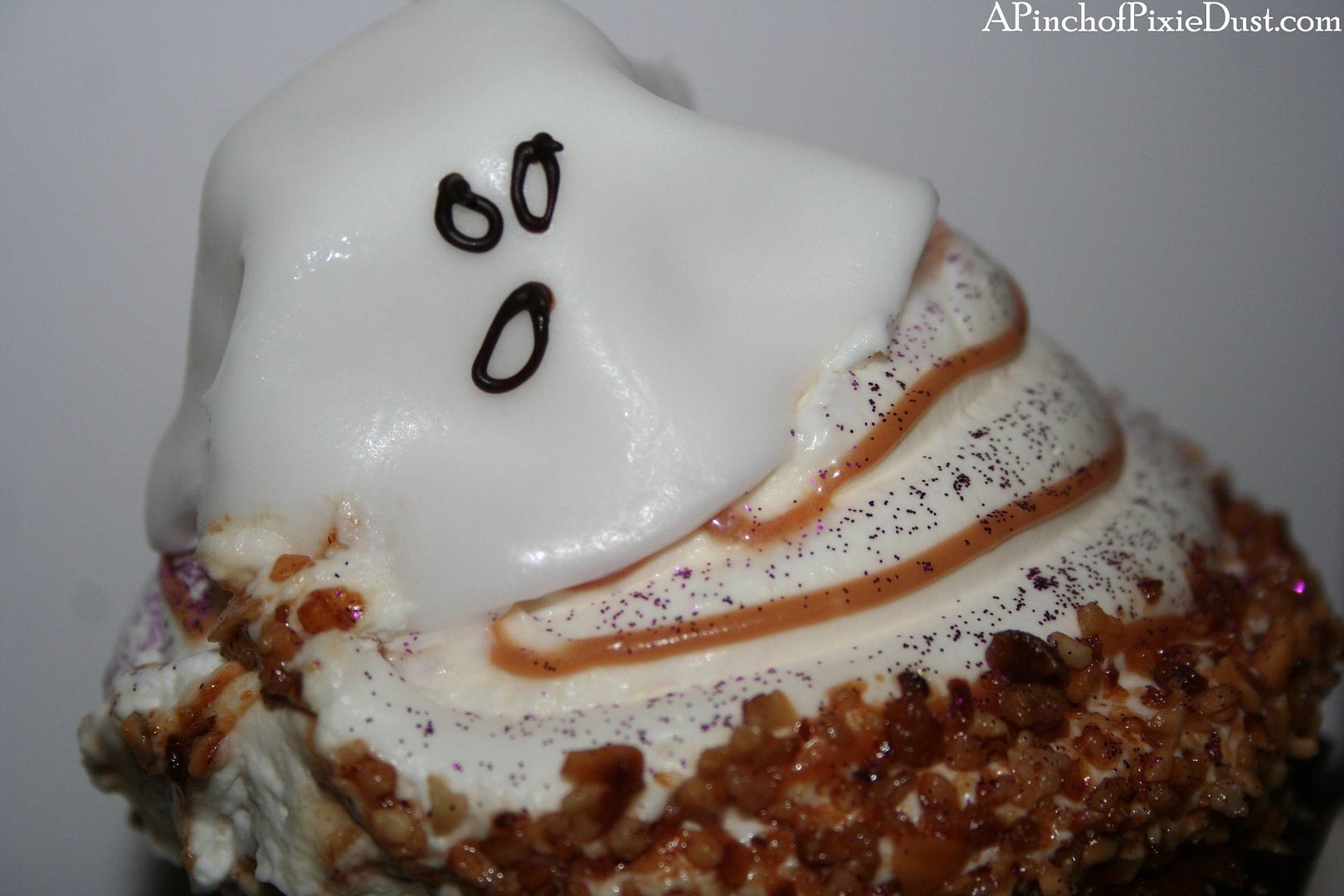 ANYway, back to our Halloween cupcake...
...I love the nuts around the edge and the caramel drizzle swirled into the icing. No one does icing better than the Boardwalk Bakery - it's like eating a cloud of whipped cream! The cake itself was ordinary vanilla, and I didn't care much for the apple filling. I liked the Roaring Fork apple cupcake better, although this one might have been cuter.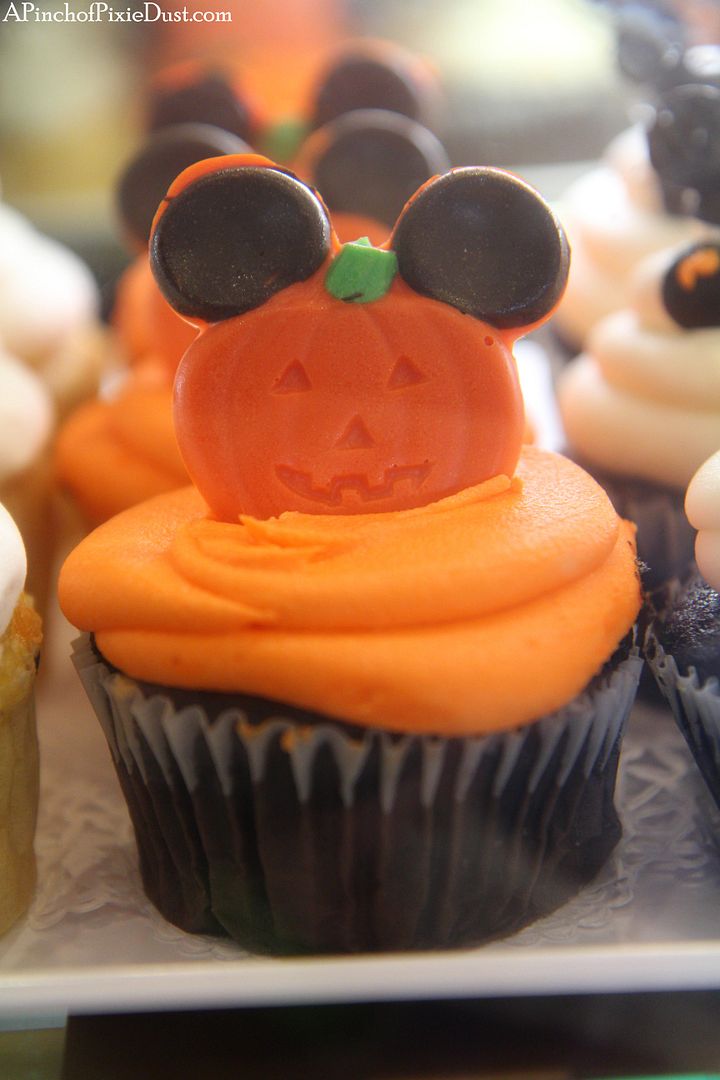 Speaking of cute decorations, the candy counters at the parks often have adorable seasonal cupcakes, like this jack o' lantern with Mickey ears we spotted at Villains in Vogue on Sunset Blvd in Hollywood Studios.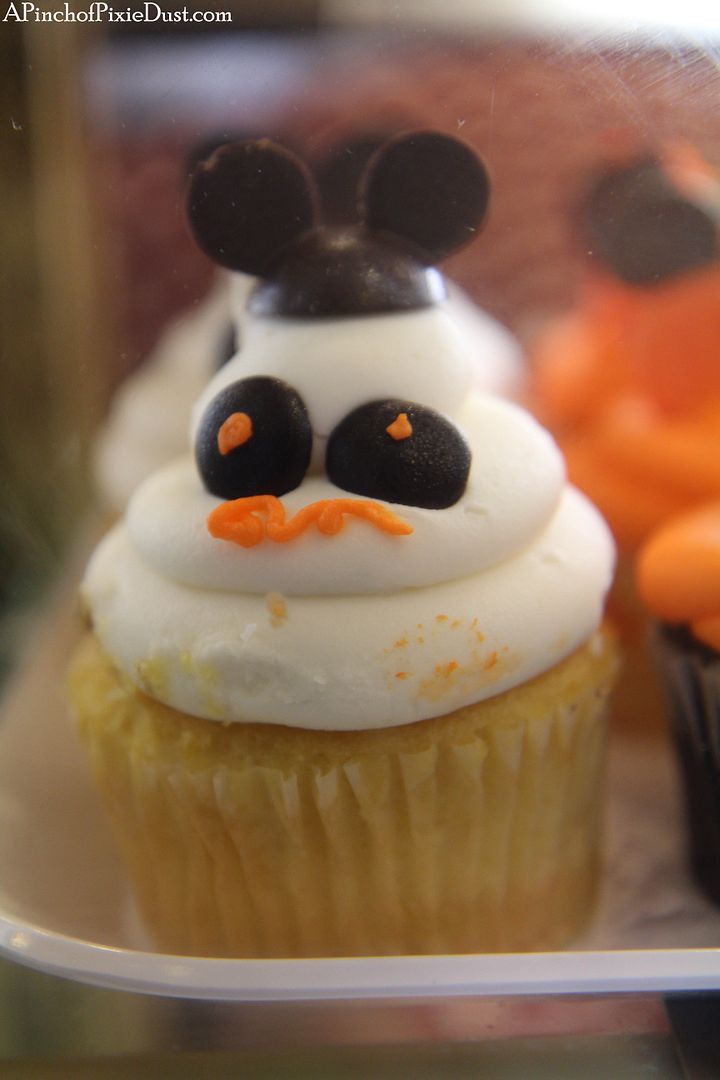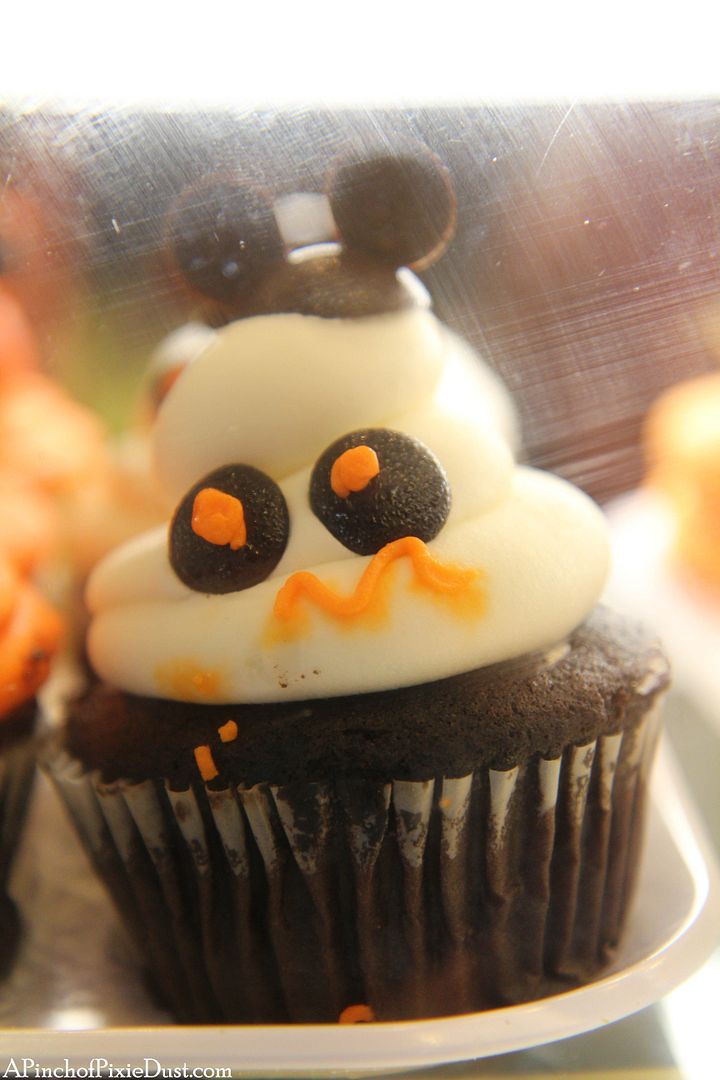 More tiny Mickey ears on top of some ghosts! In my experience, cupcakes from behind candy counters like Villains in Vogue taste like sugar and are not as high in quality as cupcakes from the Disney bakeries. So I decided to wait at Hollywood Studios and check out what my favorite cupcake spot had to offer...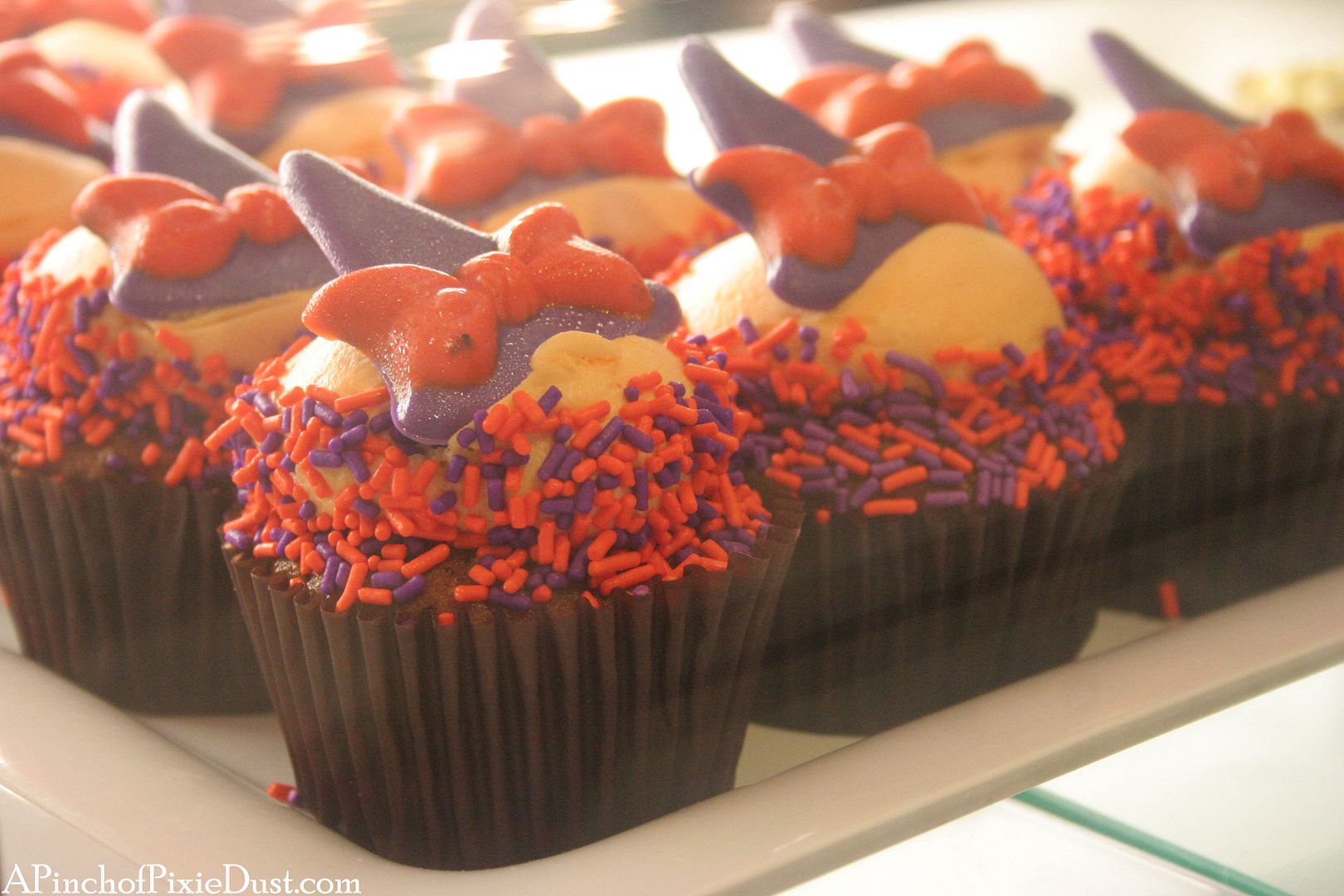 Starring Rolls, as usual, did not disappoint!! They had the cutest Minnie Mouse Witch Cupcake I have ever seen.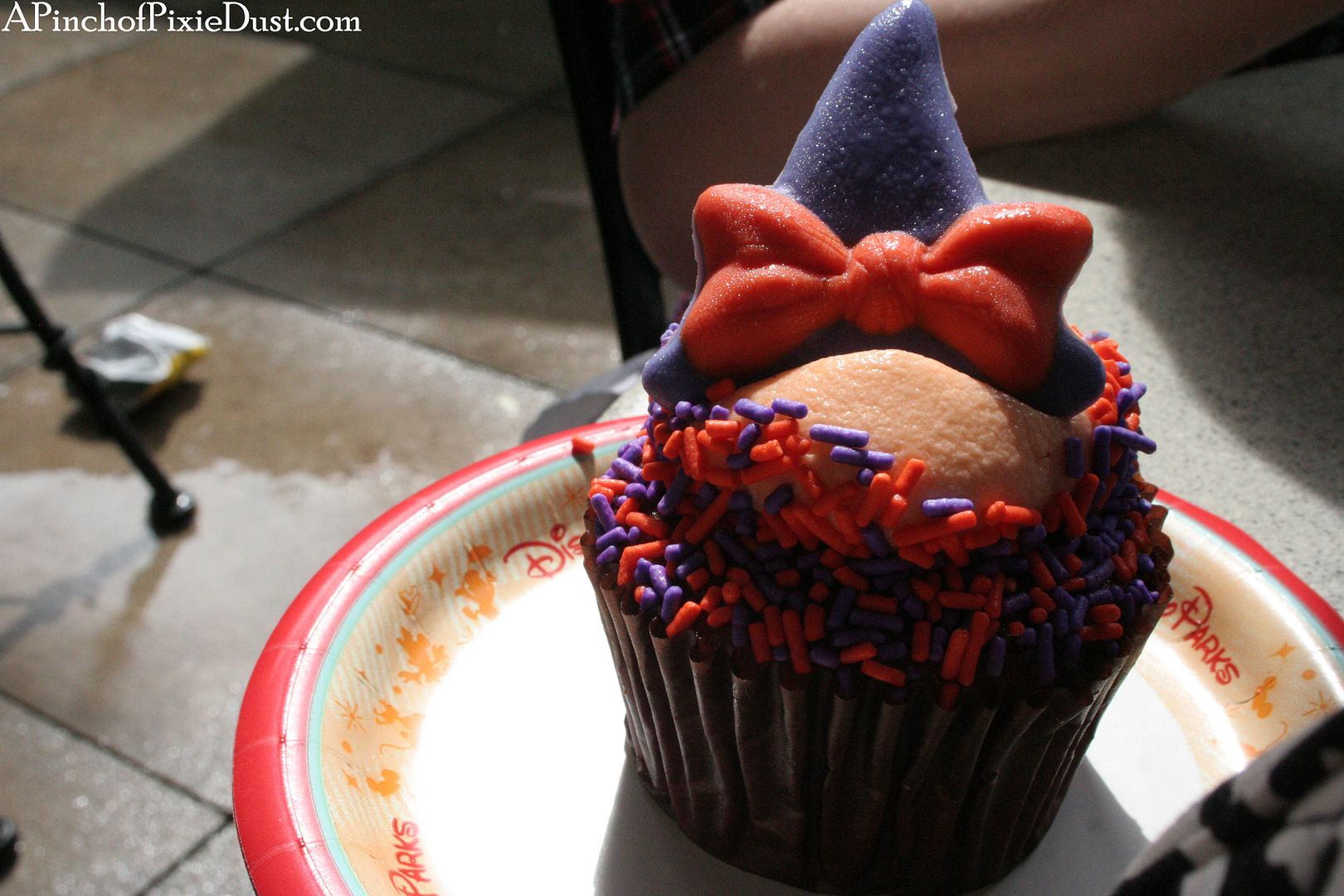 There was no way I was resisting that. I have a Minnie Mouse witch hat that totally matches this cupcake - I wish I'd brought it to the parks that day! ;)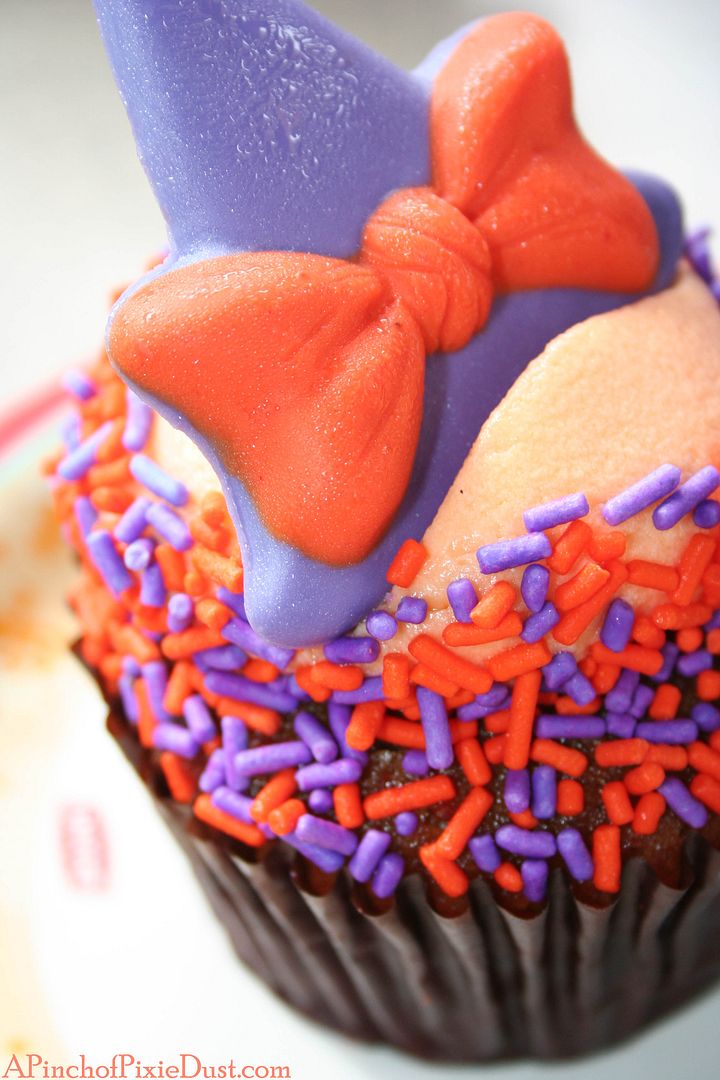 I'm sorry, but I'm so not sorry about this overabundance of cupcake photos. SO PRETTY.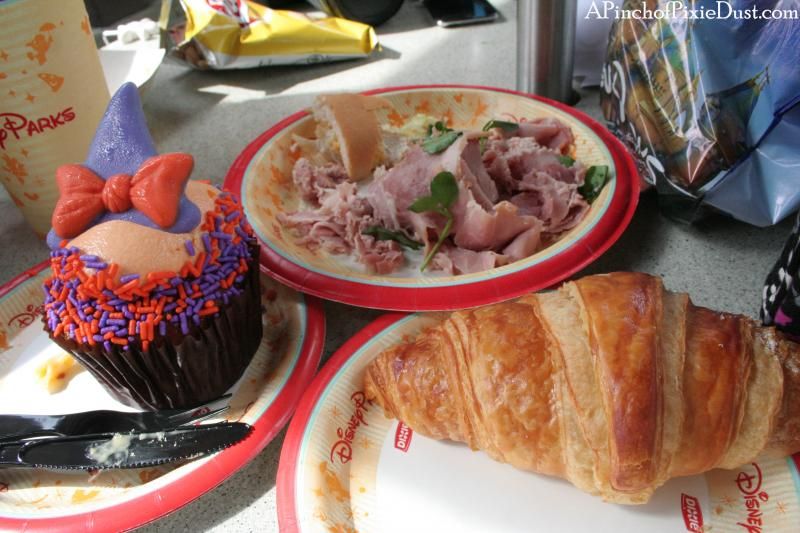 Disney Snob Pro Tip: If you want to be able to eat one of those amazing sandwiches from Starring Rolls for lunch and still have room for a cupcake for dessert, get someone to split the sandwich with you! Mama Snob and I love the ham sandwich, but it has way too much meat for one person. So we split the ham; I bought an extra croissant and built a second sandwich . Delish!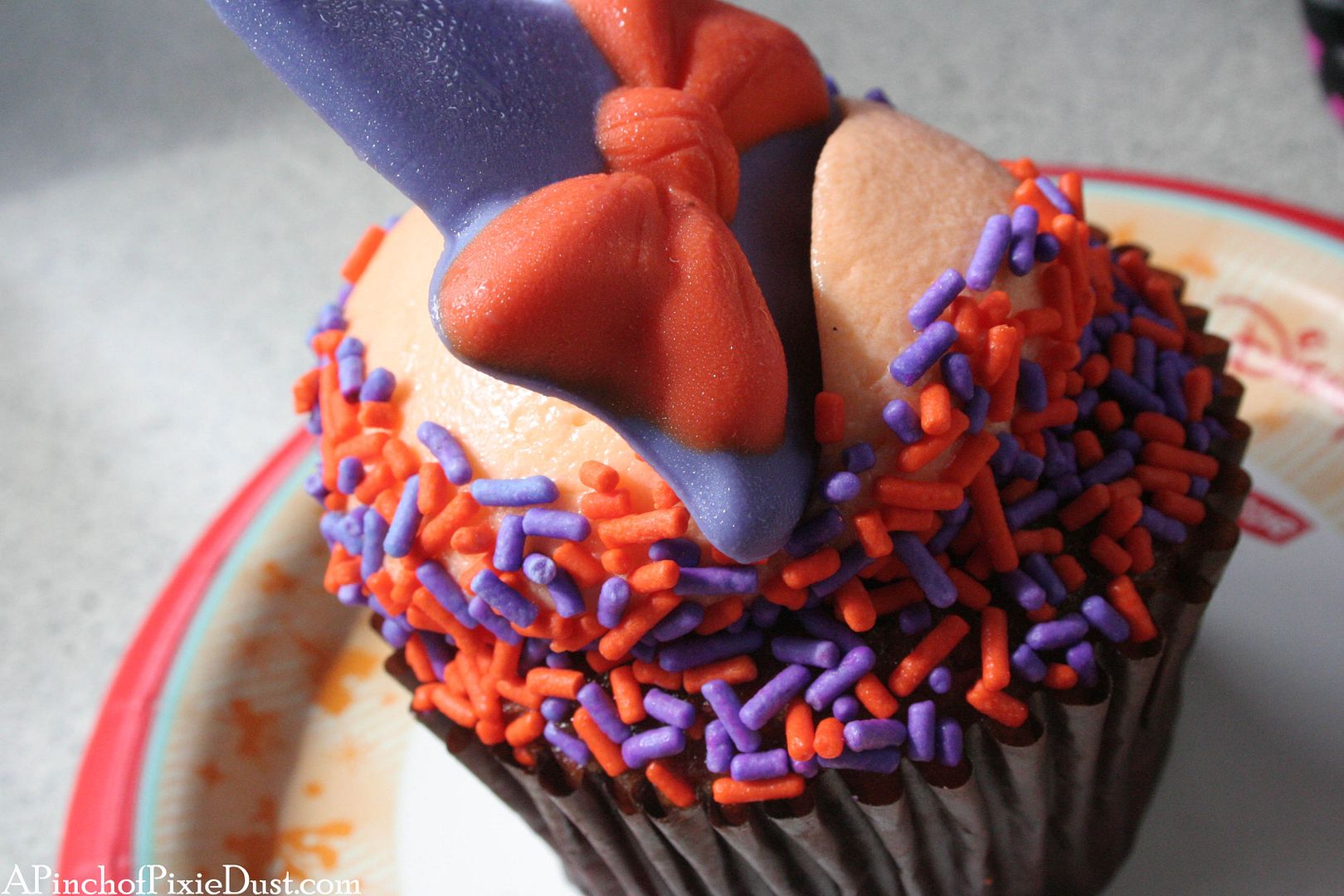 The cake itself was carrot cake with cream cheese icing - no filling on the inside.
It was a delicious cupcake, and there was a nice amount of icing on top, but I would've loved a little something extra in the middle.
I've heard of
more Halloween cupcakes
at the Mara at the Animal Kingdom Lodge, the Contempo Cafe at the Contemporary, and Kusafiri at the Animal Kingdom Park.
Do you have a favorite Disney cupcake or Disney meal for the fall season? Share in the comments. :)