We have just returned from an October trip to Walt Disney World, and I'm just going to say it: Mickey's Not-So-Scary Halloween Party is completely. AMAZING.  Definitely one of the most epic events you can experience at Disney.  We had a fantastically fun time.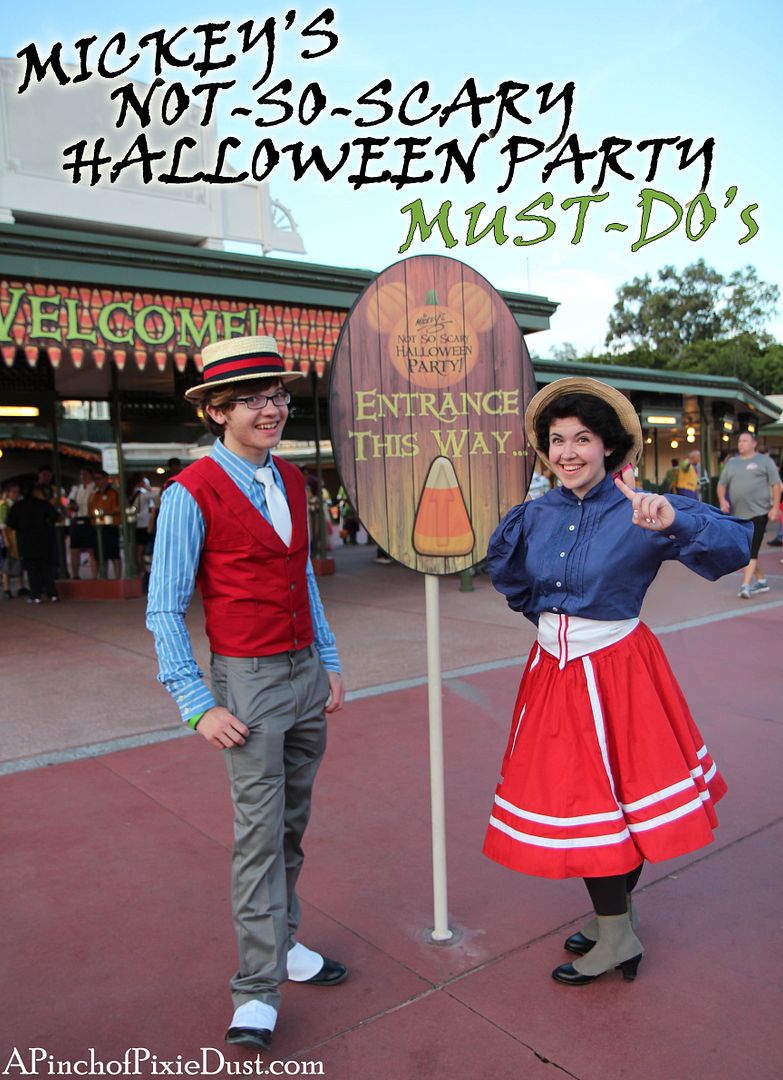 However - there are so many things to do - characters and trick or treating and the special parade and fireworks - and so much to take in that it can get pretty overwhelming!  So I thought I'd break our MNSSHP up Stacy-style and give you the must-do's.  Are you ready?
1. ENJOY YOUR ARRIVAL
The anticipation leading up to the party - planning your trip and planning your costume - are half the fun!  If you're at all tempted to wear a costume, do it.  There are plenty of other adults who dress up for the occasion so you won't feel at all out of place.  Lots of families dress up together in themed costumes - I roped my brother Athos into being a Trolley Show person with me.  He's an old soul, so he liked the hat and the spats. ;)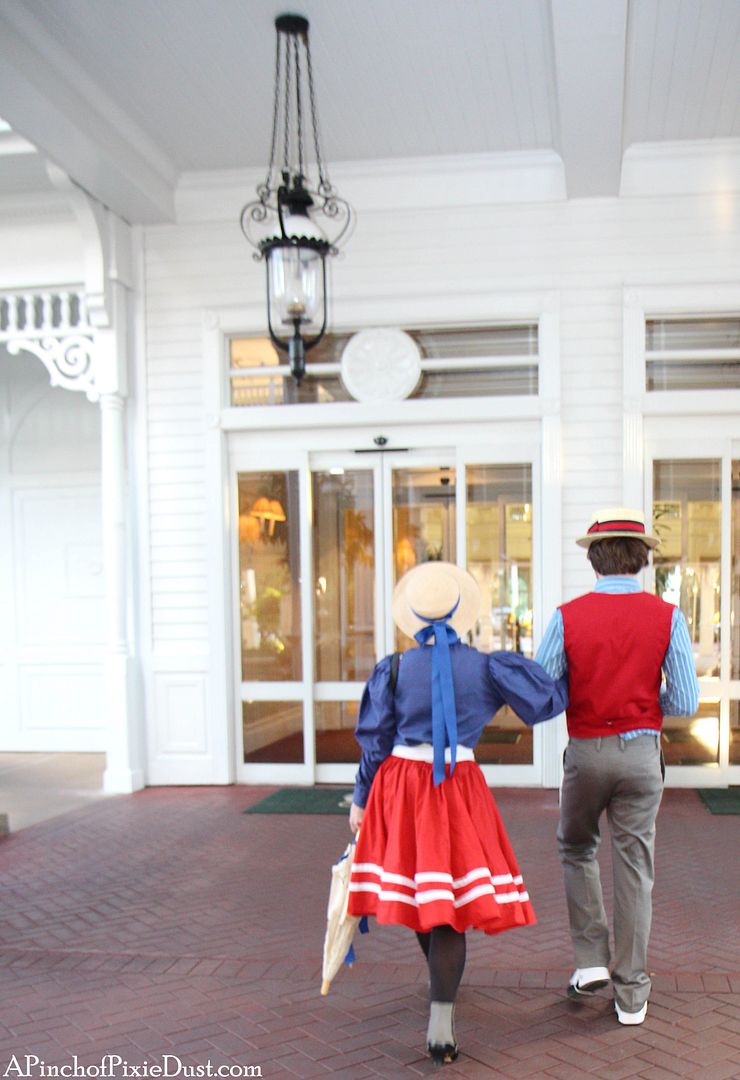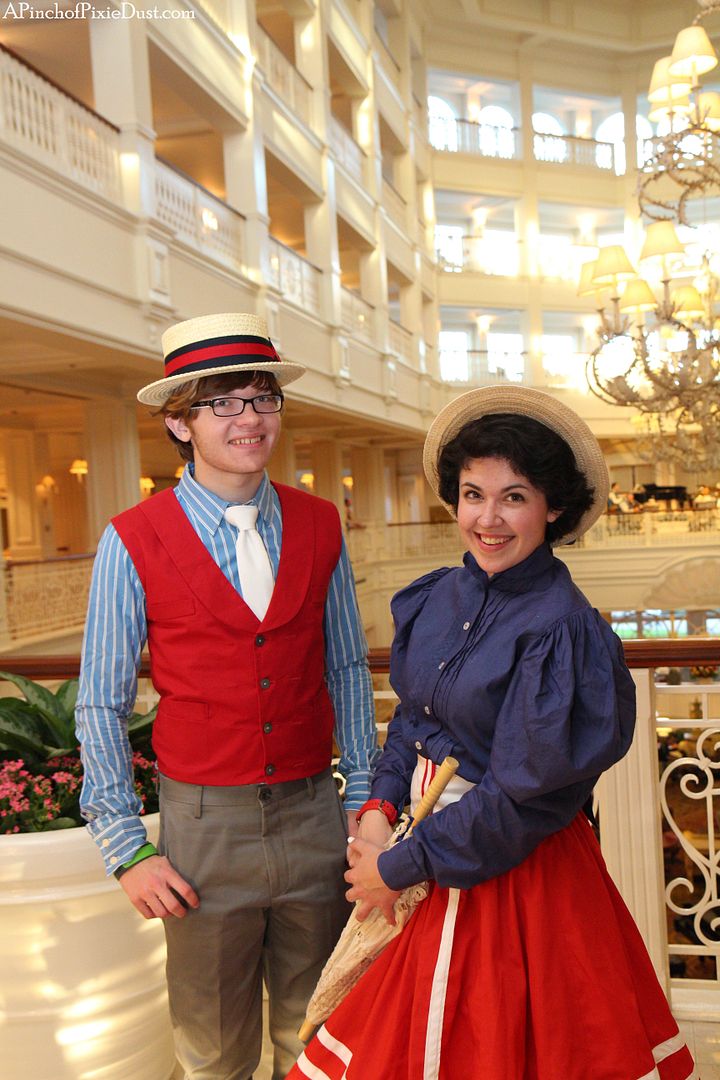 We were staying at the Grand Floridian and got ready there.  If you're staying at a WDW resort, the Halloween fun starts well before you arrive at the party.  Many of the other guests at the resorts and on your boat/monorail/bus/Disney transportation heading to the MK will be dressed up in costumes for MNSSHP too!
"Join us on select dates in September and October in the Magic Kingdom for Mickey's Not-So-Scary Halloween Party!"  I love the fall gourds and autumnal display that greets you as you walk up to the security check at the Magic Kingdom.  Make sure you get your party tickets in advance - they often sell out the day of, if not sooner.  The nice thing about a MNSSHP ticket is that it counts as park admission starting as early as 4pm (although the special characters/events won't begin until the official party start time at 7pm).  Spend the earlier part of the day relaxing at your resort and then come ready to party!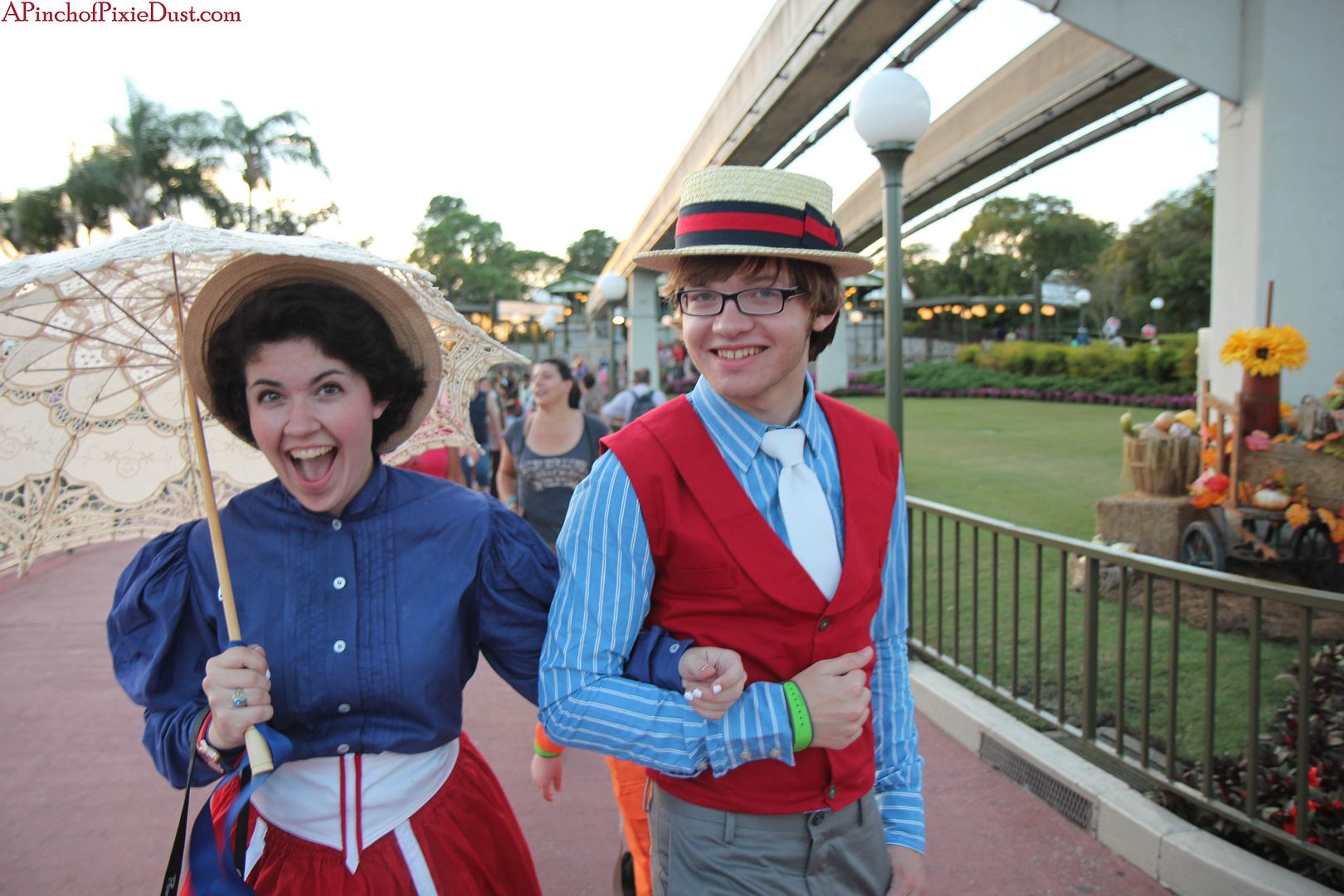 We were so ready.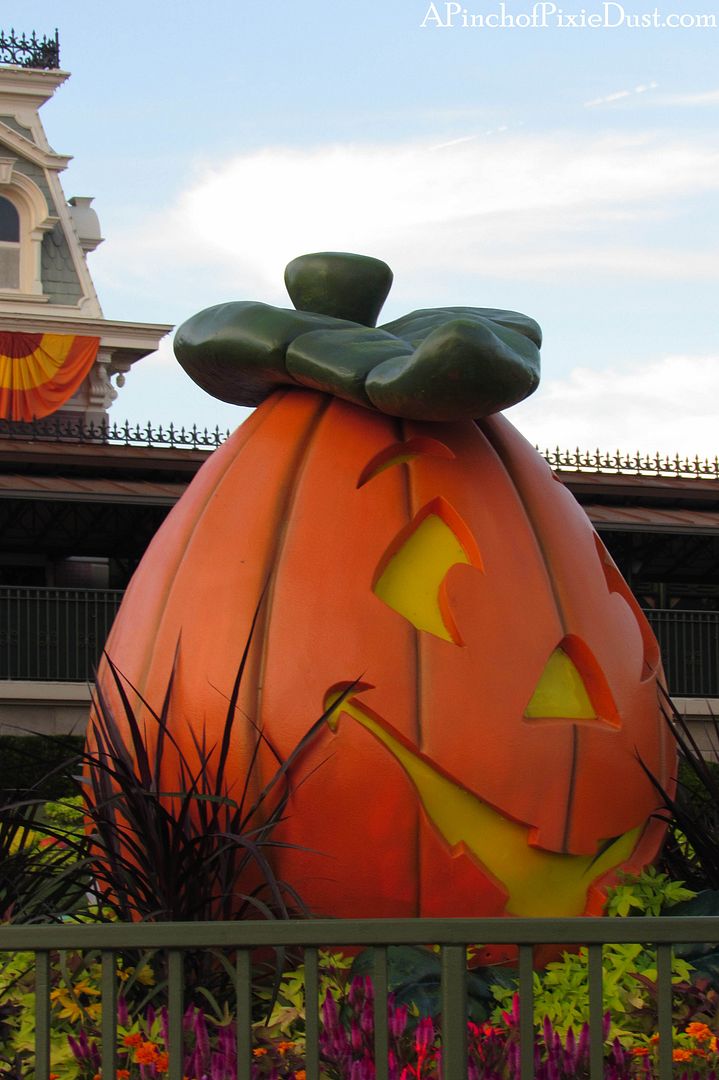 There are so many charming fall decorations at the Magic Kingdom - some are up all the time, some come out exclusively for the party.  We took our time heading in the turnstiles to snap some photos and just soak in the atmosphere.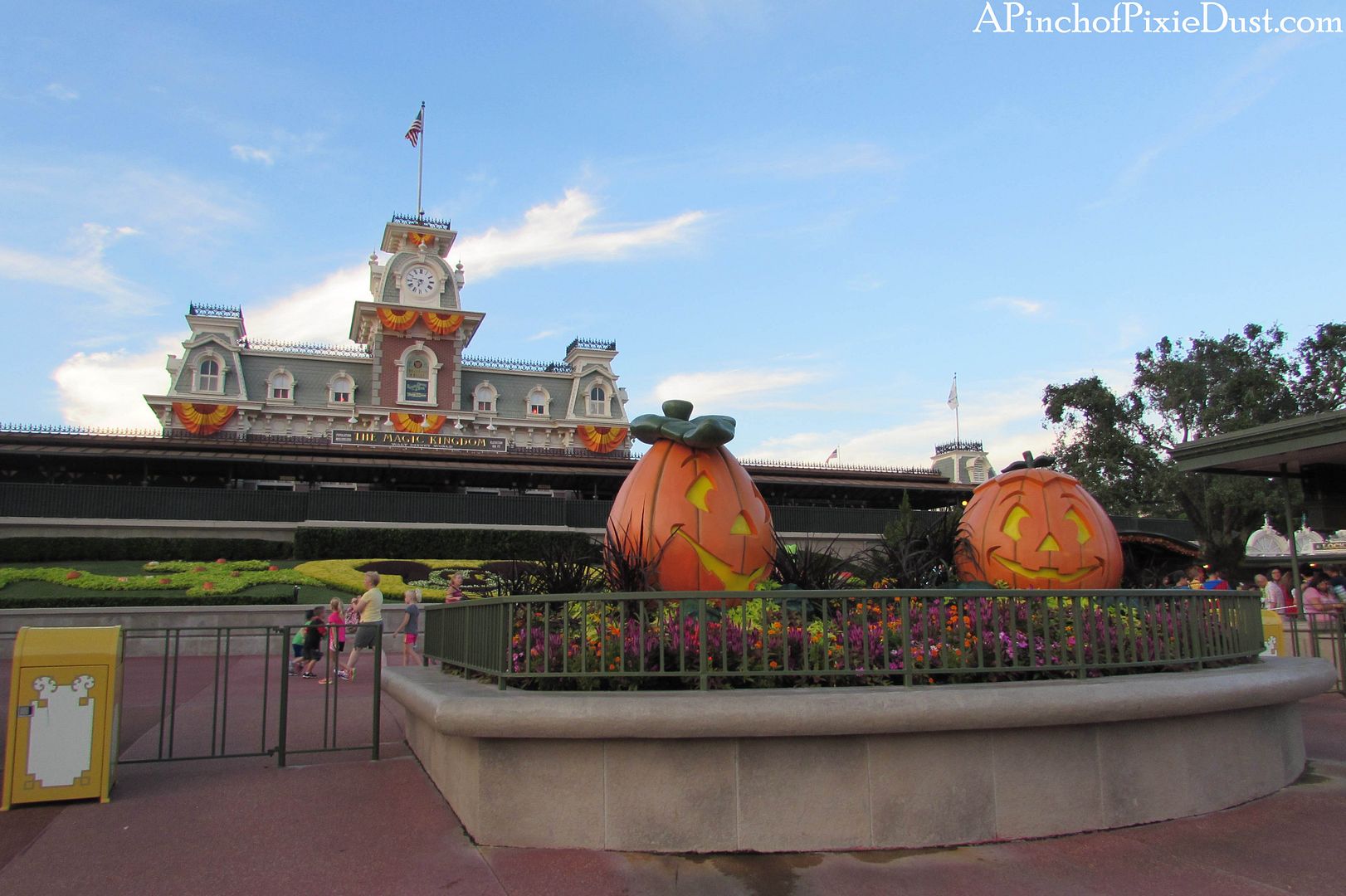 We had such good luck weather-wise.  The sun was just starting to set as we entered Main Street, but some other ghoulish lights were about to come out and play.  The clock above the train station, for instance, was flickering!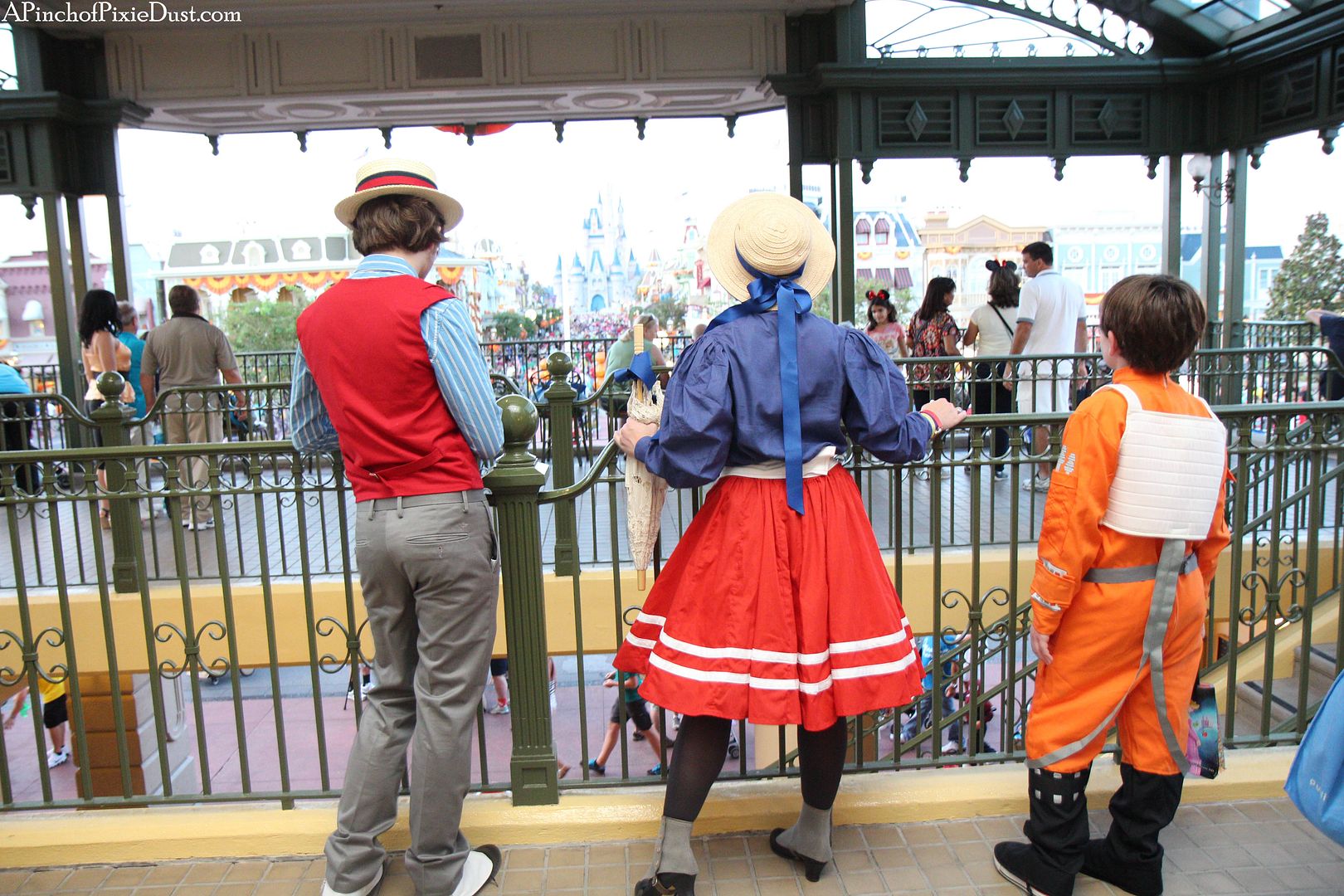 We ended up arriving just before 7pm.  Main Street was packed - all the normal, non-MNSSHP guests are leaving on one side and all the party-goers are coming in on the other.
It was exciting to be on Main Street at 7 though - you have to stop to listen to your Ghost Host announcing the spooky park takeover!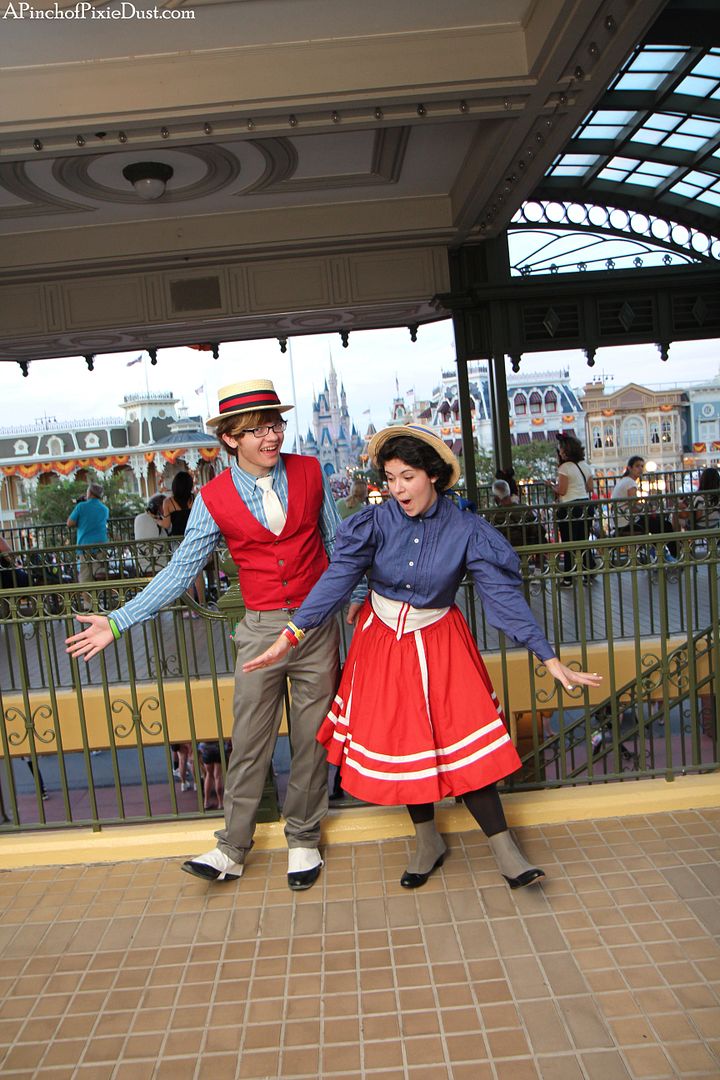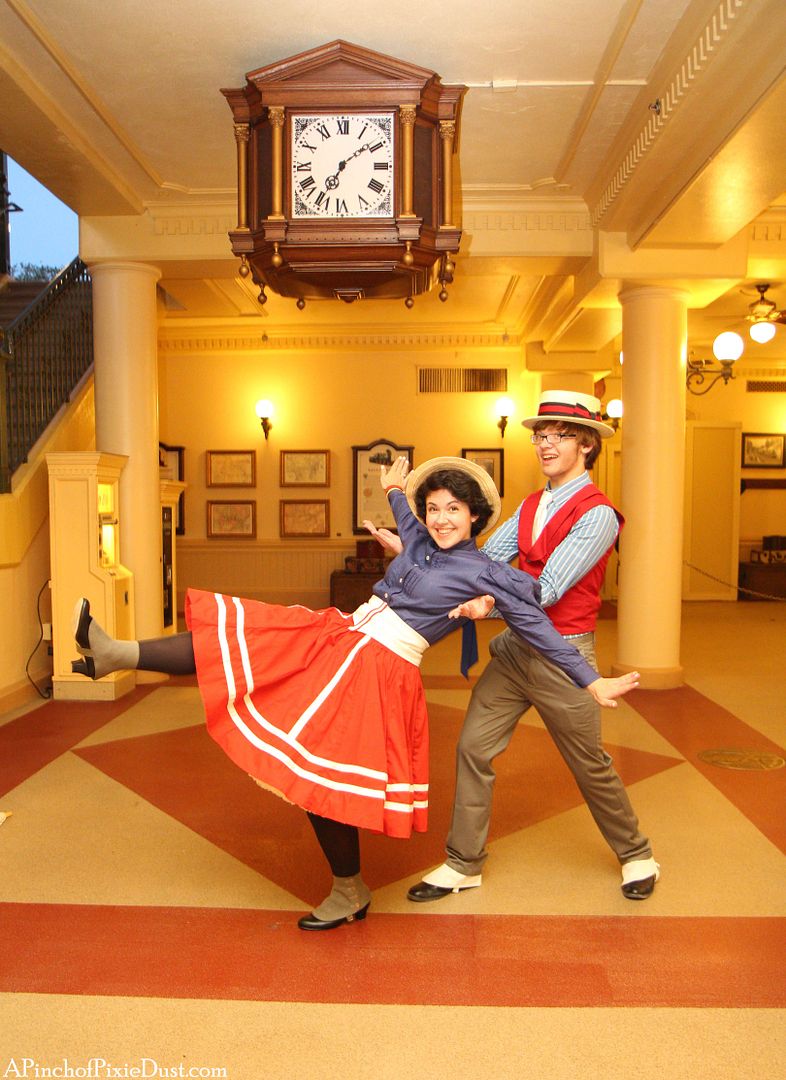 We had to swing by the Train Station to practice our Welcome Show / Trolley moves.  As Athos hashtagged it, #gottawelcomeeverybody!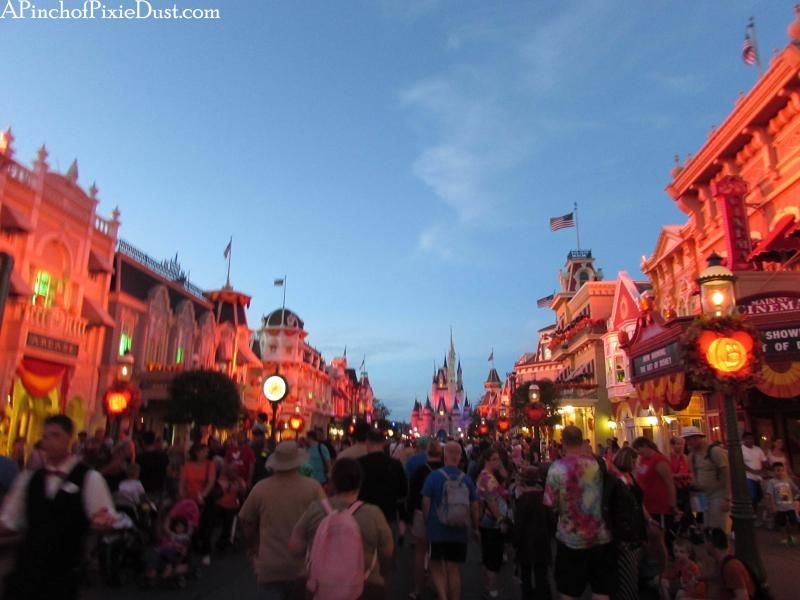 Main Street never looks cooler than on a Not-So-Scary night!  THOSE LIGHTS!  And they flicker and change and dance to the music.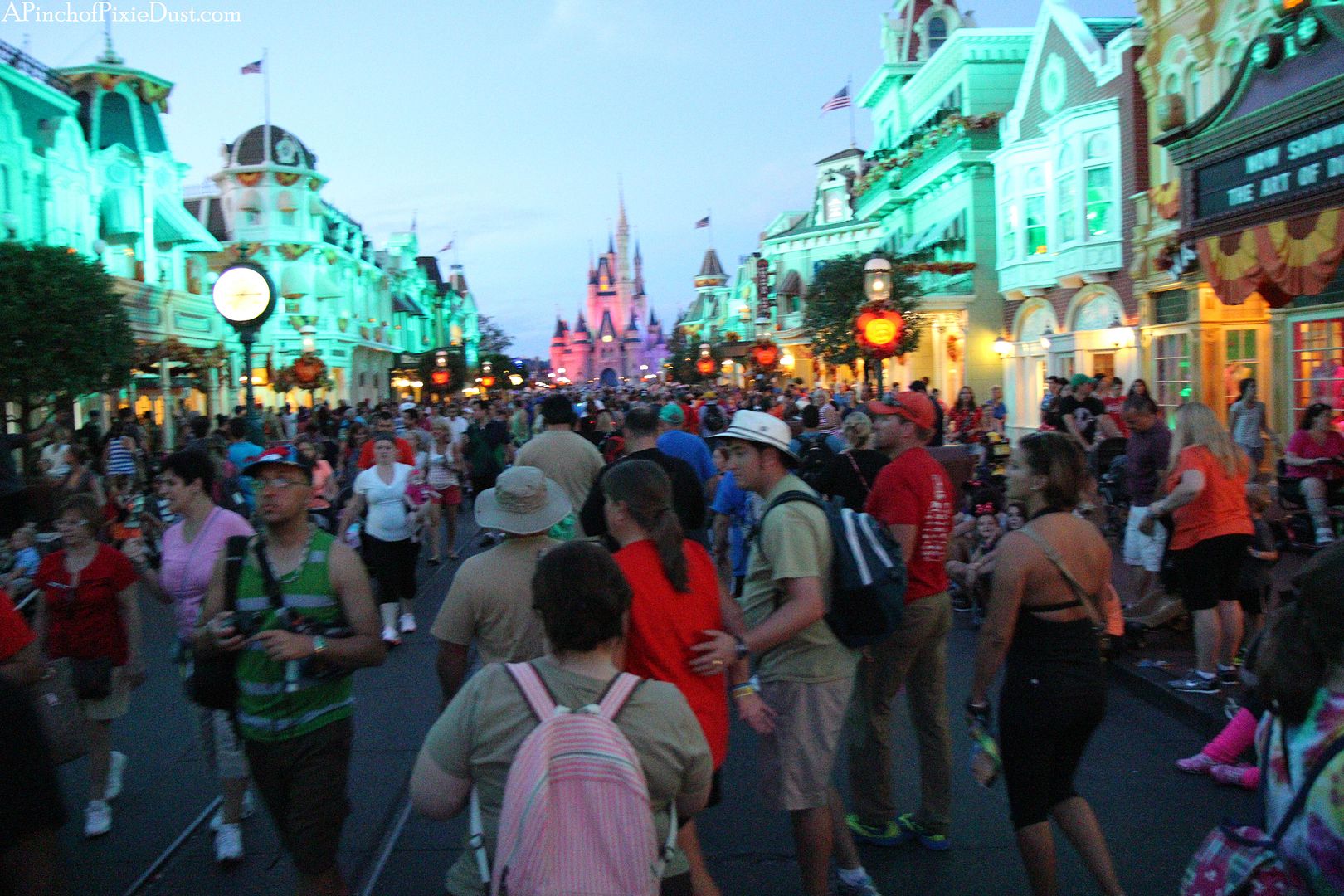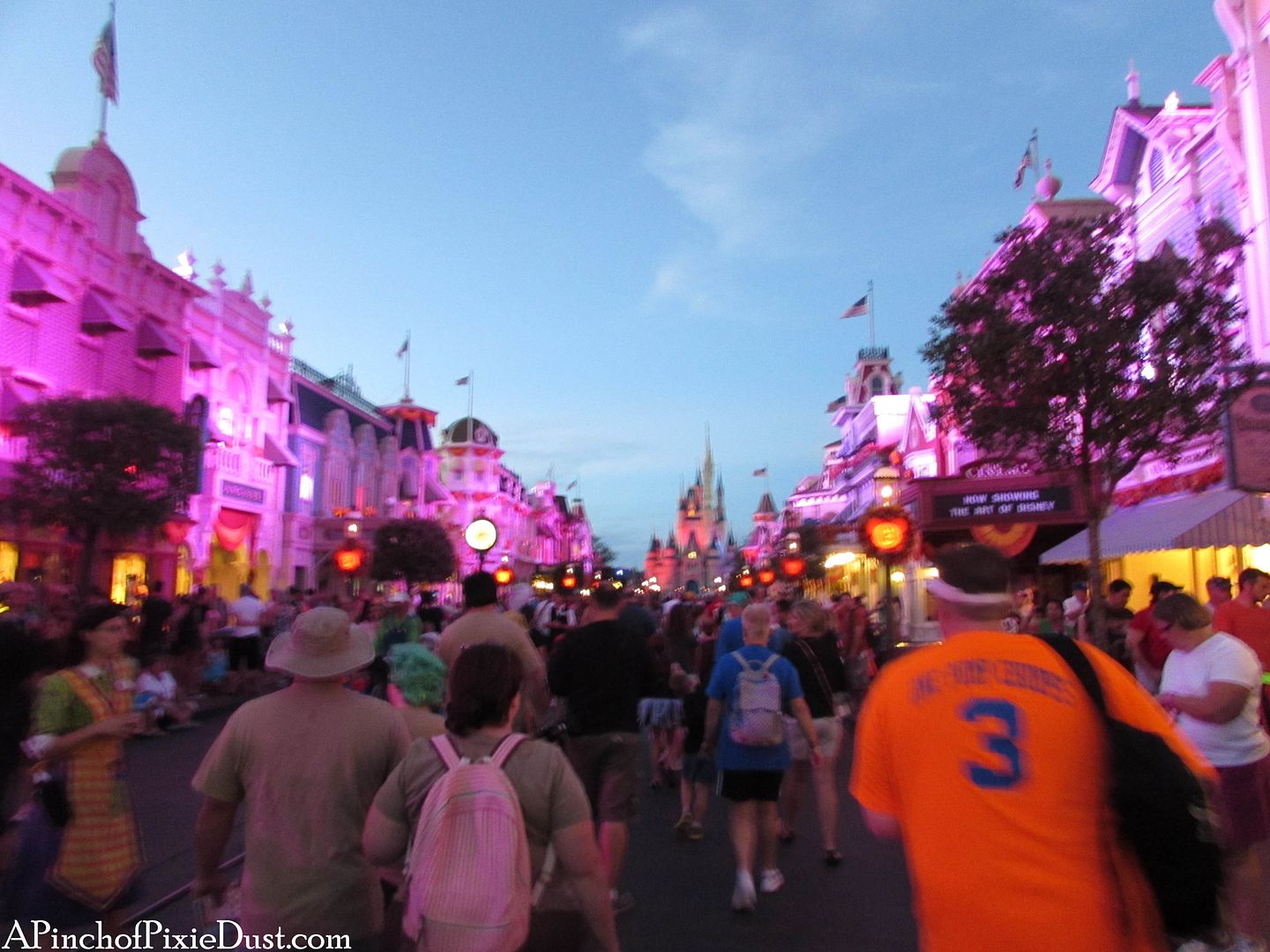 There are Halloween tunes and Disney villain songs playing throughout the entire park on party night.  It's so weird to hear "Thriller" in Frontierland instead of Western music!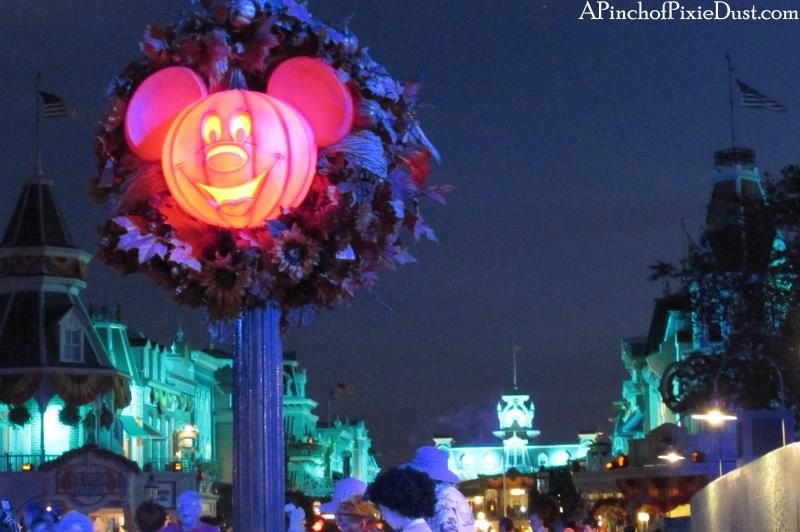 All the jack o' lanterns in the windows and the Mickey pumpkins on the lampposts are glimmering and glowing!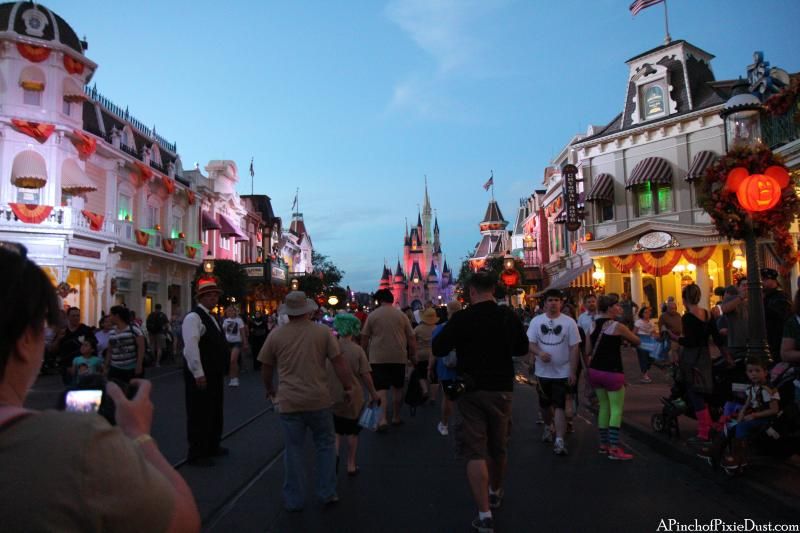 Plan for some party time to just meander and marvel.  It's so cool to take in everybody's costumes as well...
For instance I found this gorgeous mermaid and darling Wendy at the bakery. ;)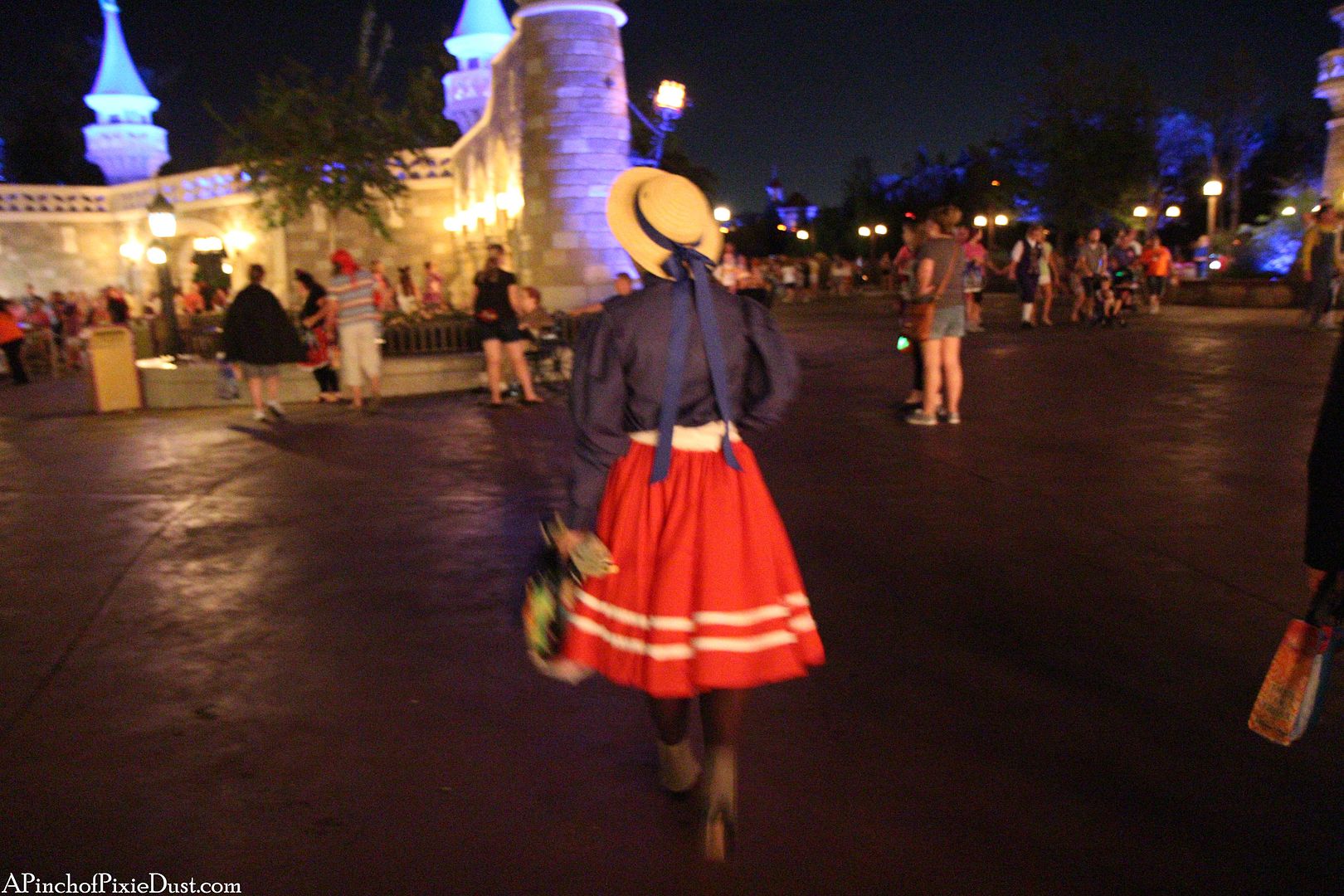 The whole park - as well as Main Street - is lit up in Halloween greens and purples, and we really enjoyed strolling around to take it all in.  There were already some guests lined up along the parade route on Main Street at 7pm for the first Boo to You parade, but I would have been kinda bummed to have to stop and wait right when the party started.  We decided to do the later parade and spend the early hours exploring the Halloween magic in the rest of the Magic Kingdom.