Get ready, everybody. Today I'm taking you on a safari...
...and not just any safari! This is the WILD AFRICA TREK tour which you can embark on at Disney's Animal Kingdom Theme Park.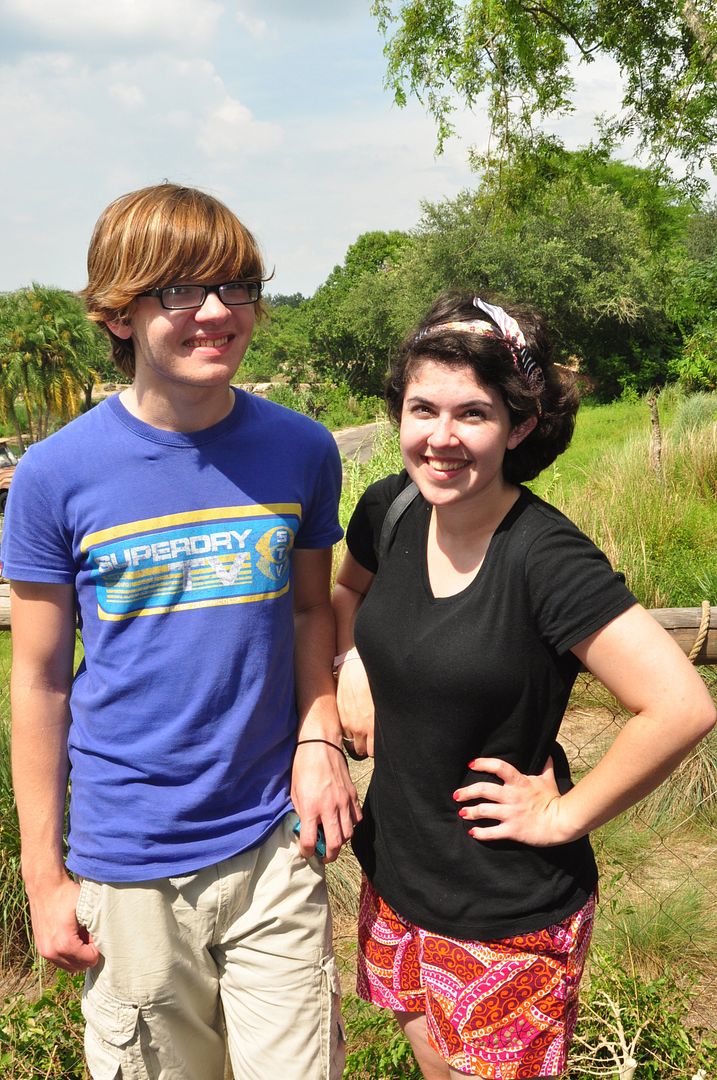 My brother Athos graduated from high school this year, and all he wanted for his graduation present was to go on the Wild Africa Trek! We did this during August, and we went in the afternoon (the hottest part of the day) to get the $50 discount - it was about $150 a person. You do want to book it in advance, and unfortunately it does not include park admission.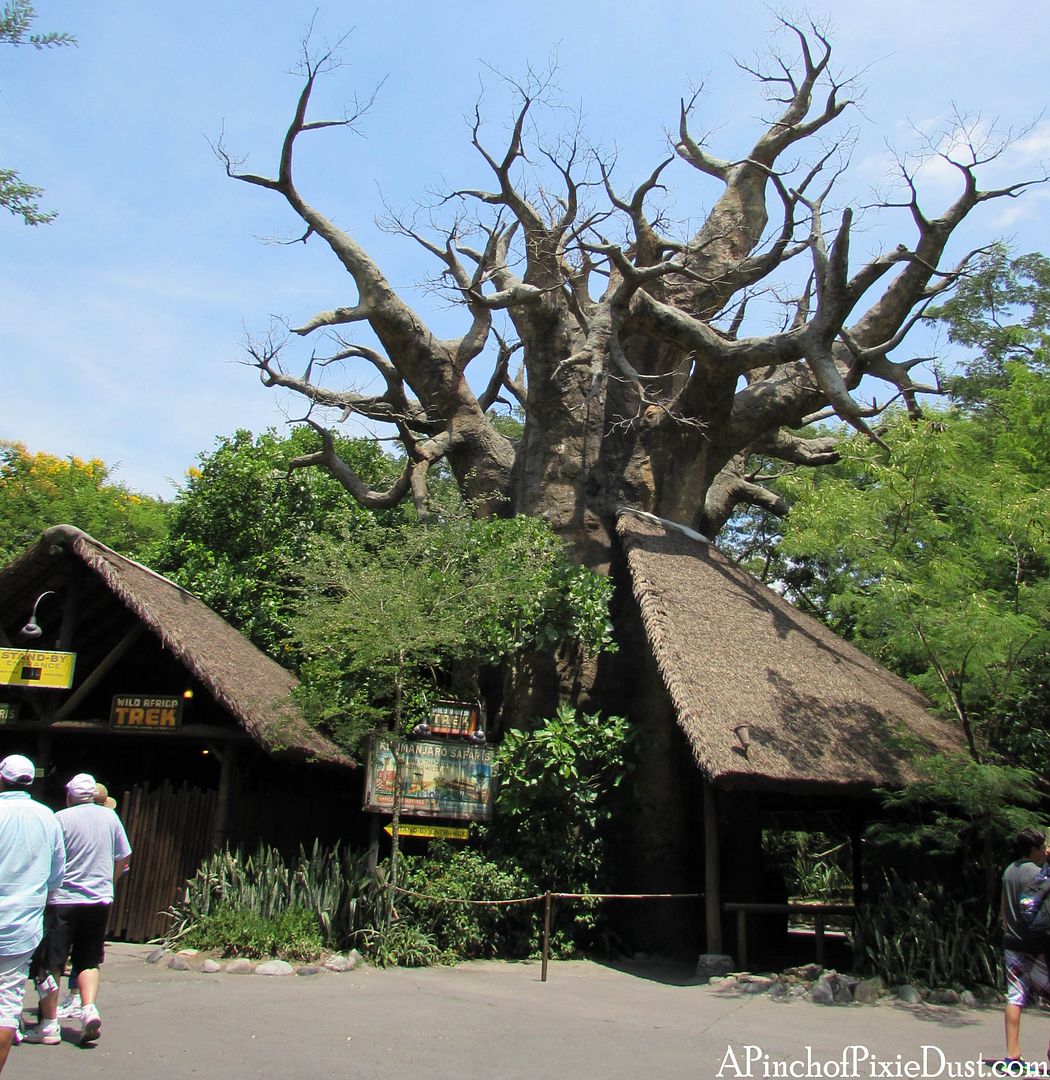 The check-in for the Wild Africa Trek is right next to the entrance to Kilimanjaro Safari! You can see the green sign just to the left under the roof.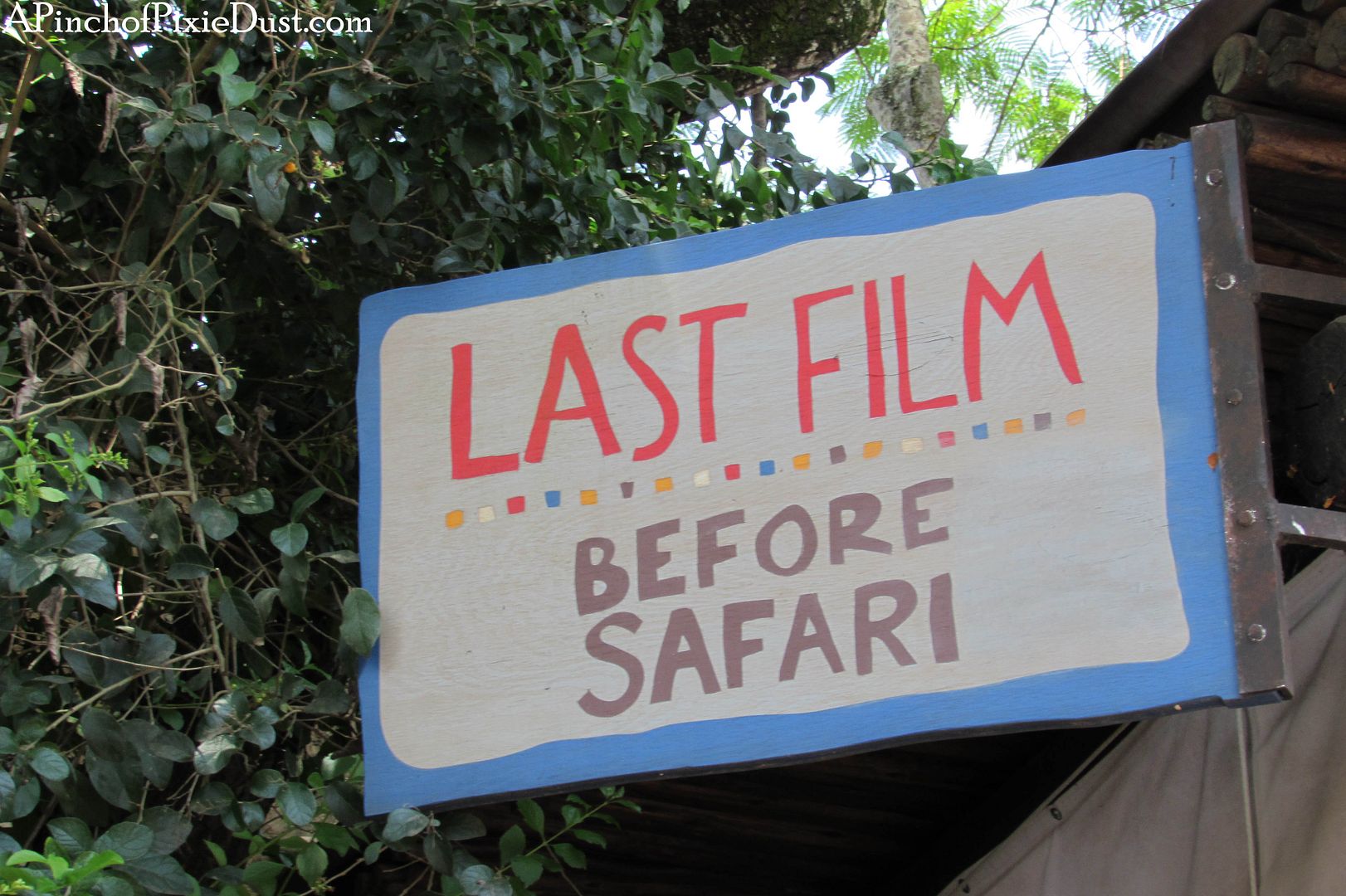 A quick note about Trek photography: you are allowed to bring a camera - it just has to have a wrist strap or a neck strap so it can be securely fastened to your person. I love my Disney photography, and I would've been so bummed to leave my camera behind. I had my Canon PowerShot SX510 HS which was great for the trek - not too heavy and let me take photos and videos!
The trek guides have a nice camera which they use quite a bit during the tour to get photos of both you and the animals - and all those photos are included with the price, which is pretty sweet. So you don't have to settle for a selfie on the rope bridge. ;)
This is a three-hour tour, and you want to check in about 15 minutes early. I did not want to take any chances, so we were originally there about half an hour early - we spent the extra time exploring Harambe then came back to get started...
The first order of business on the Trek (after you've signed the paperwork!) is to get geared up. We met our guides, Josh and Julie, who helped us get suited into vest and harness. Their are some clothing requirements: make sure you're wearing closed-toe shoes with a strap and shorts/pants (not a skirt/dress).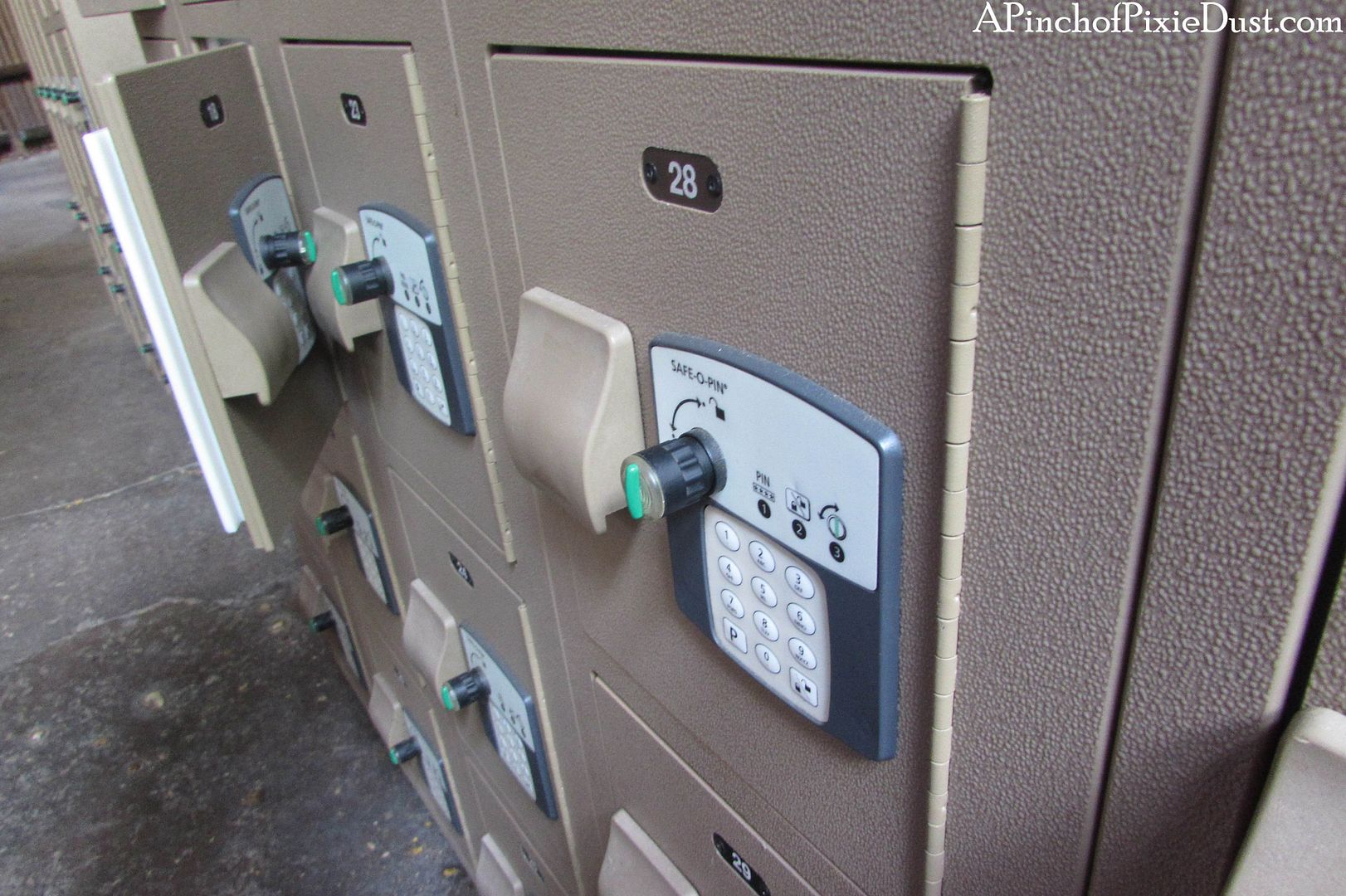 You can't have anything in your pockets during the Trek. Everything apart from your camera - even your MagicBand - needs to be left in the lockers provided. They're so fancy - you pick an electronic pin for the lock. Just make sure it's something you'll remember. ;)

You can bring your sunglasses - I believe they give you a neck strap to attach to those - but I left mine behind.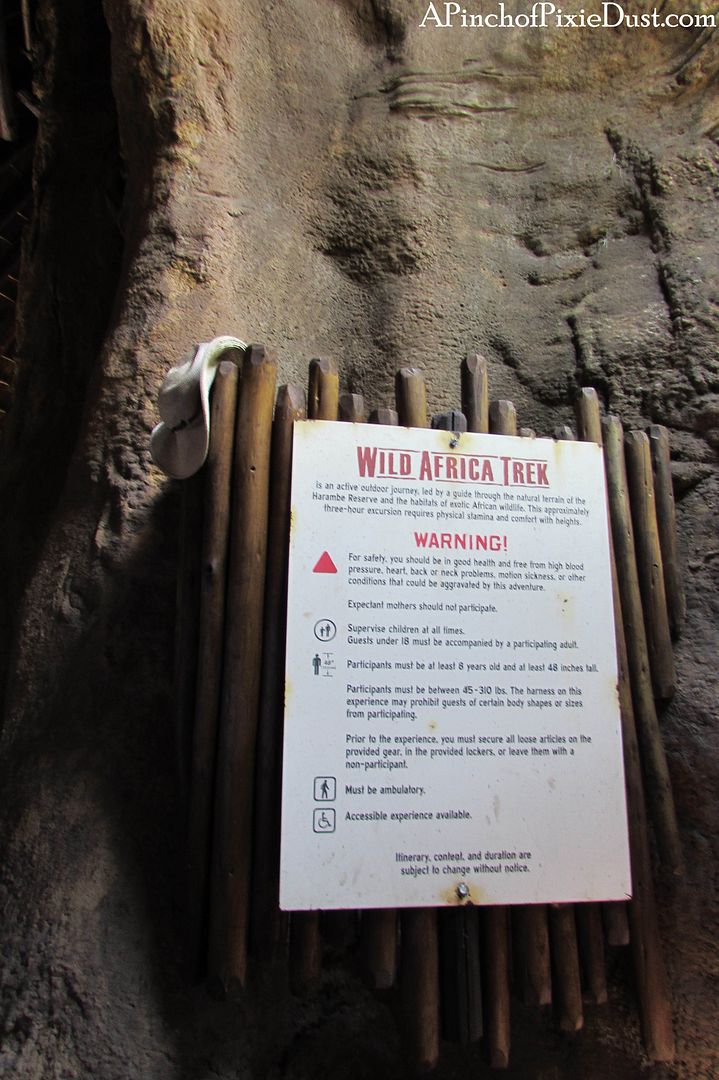 A few last warnings! I like the hat hanging up on top of that sign. It could be Disney theming...or it could just be somebody's hat. ;)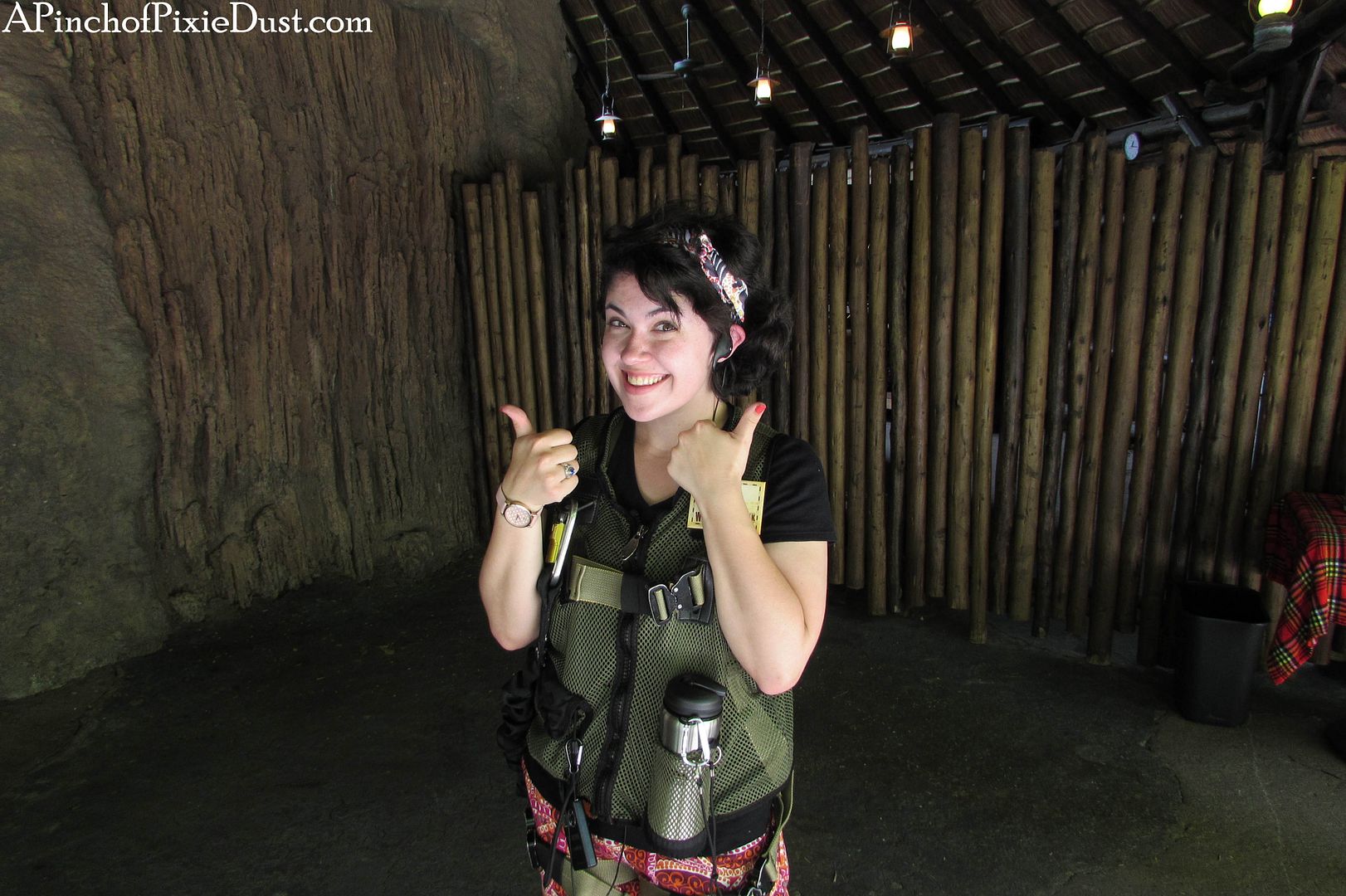 All ready to go! You're given a water bottle (which you get to keep at the end of the tour along with your name badge), and there's a station to fill it up. There's also a little table with bug repellent and sunscreen. Once everyone was assembled - there were nine of us total - we were give some earpieces so we could hear the guides throughout the tour.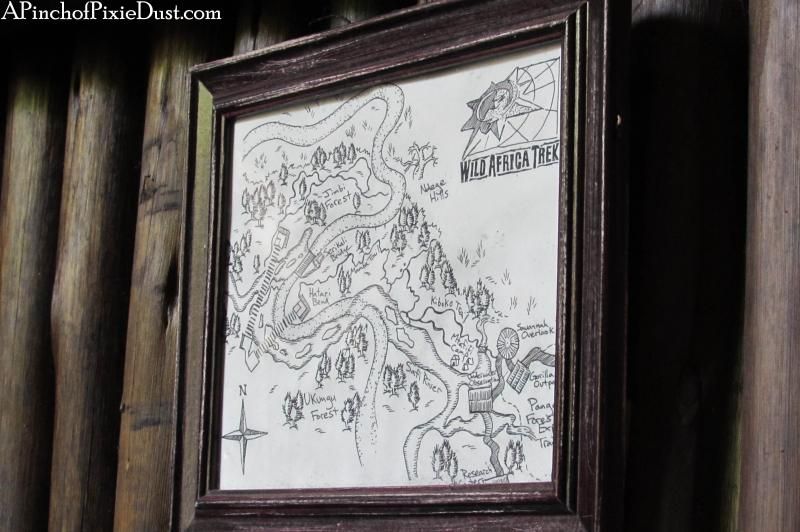 A map of the route through the jungle we'd be taking!
For the first portion, your guides take you through the Pangani Forest Exploration trail, which is open to all guests. Our group paused to hear about a few of the animals and birds, and then it was time to step off the trail through a "Trek Only" gate!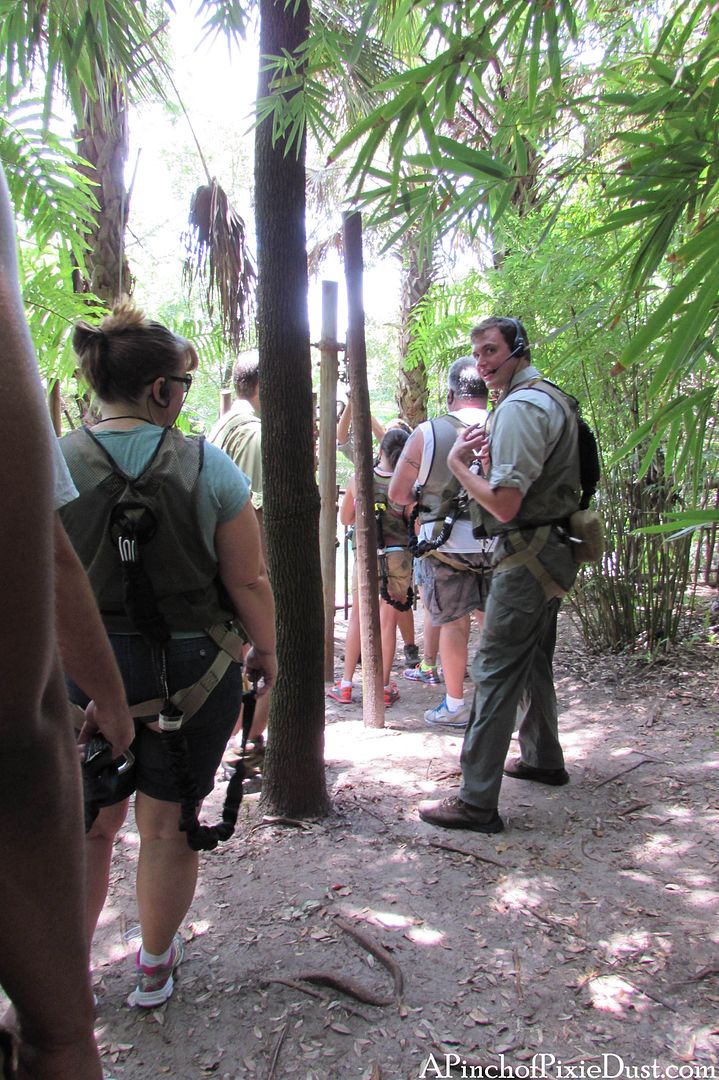 We wound along a narrow dirt path through the tropical forest, soon reaching the hippos! There was a bridge we had to cross first, so we got a quick view from above (we weren't supposed to stay on the bridge for too long, as the hippos were a bit territorial and didn't like us there!), then it was time to go out on the ledge...
Everybody's "monkey tail" harnesses were hooked up securely, so there was no danger of falling down into the water...
The hippo enclosure is quite lush and green and pretty - they've got palm trees. Jealous. ;) On the road just beyond there were constantly trucks with Kilimanjaro Safari guests going by. That'll be important in a minute...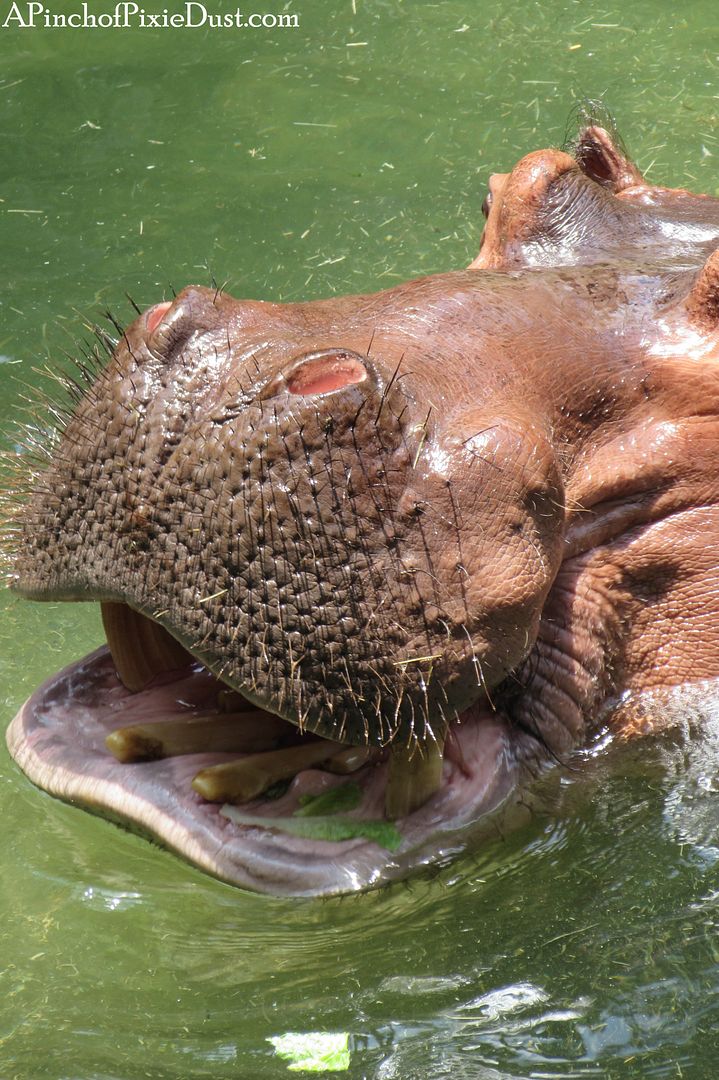 I believe this was Henry. There were two hippos out for us to meet - Henry and Hans. Another tour guide, Turin, was there to tell us about the hippos and was feeding them a snack - big heads of lettuce and whole or halves of cantaloupe!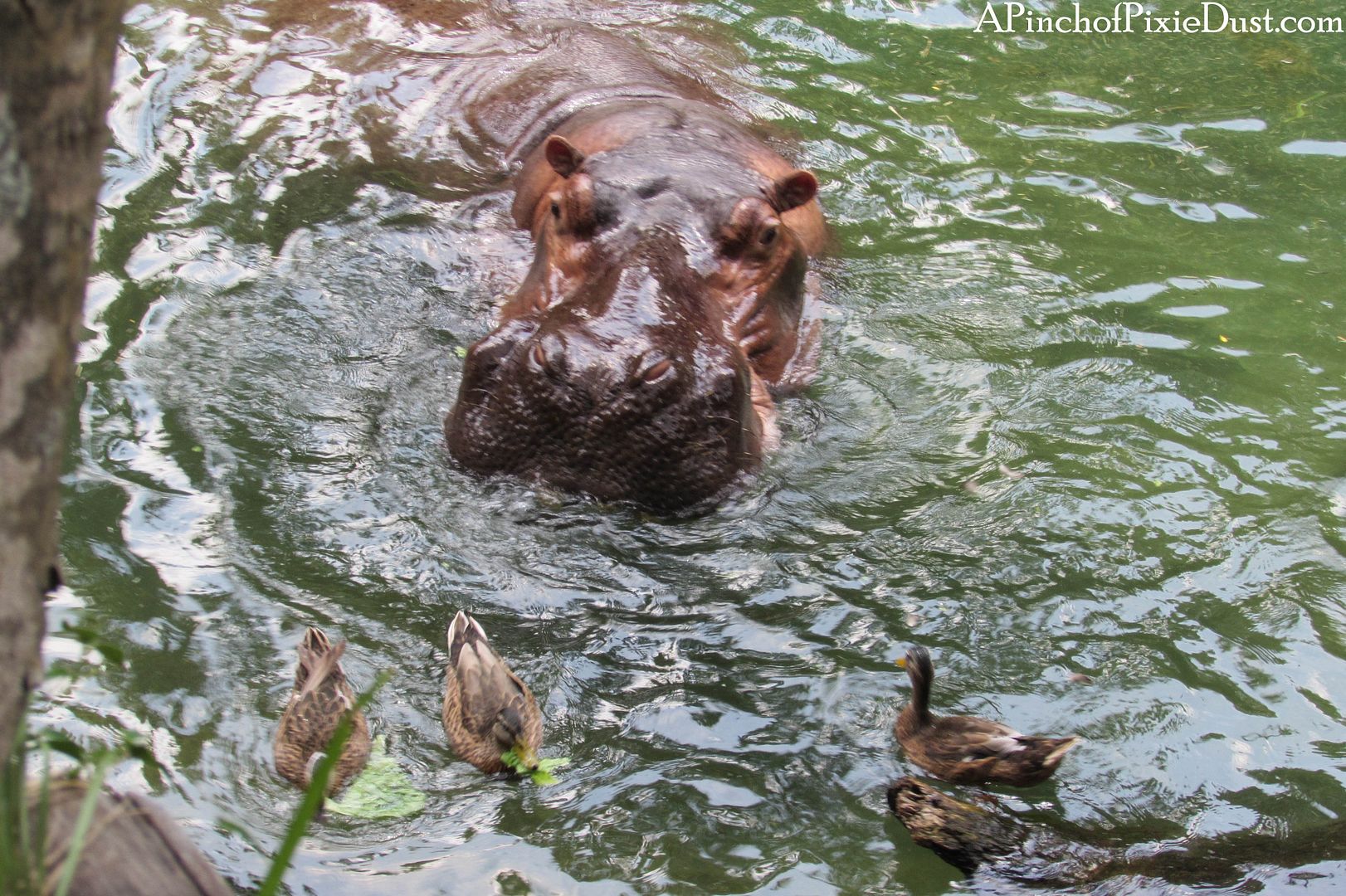 The ducks apparently wanted a snack too and were not at all afraid of the hippos!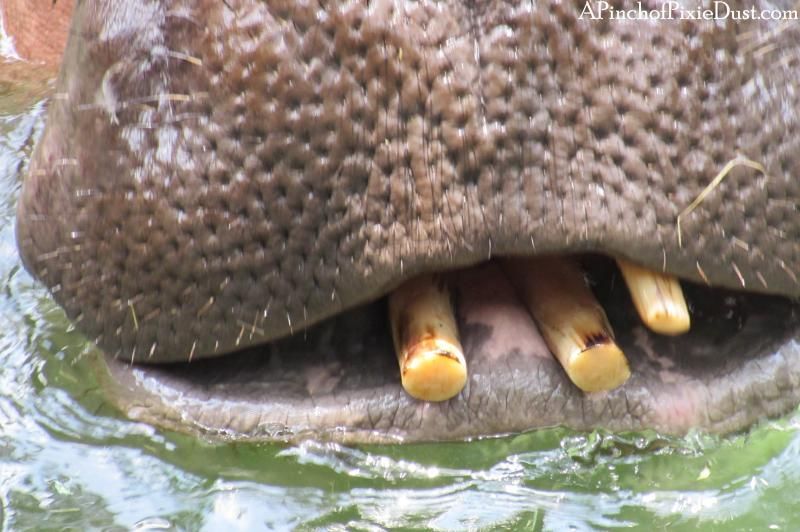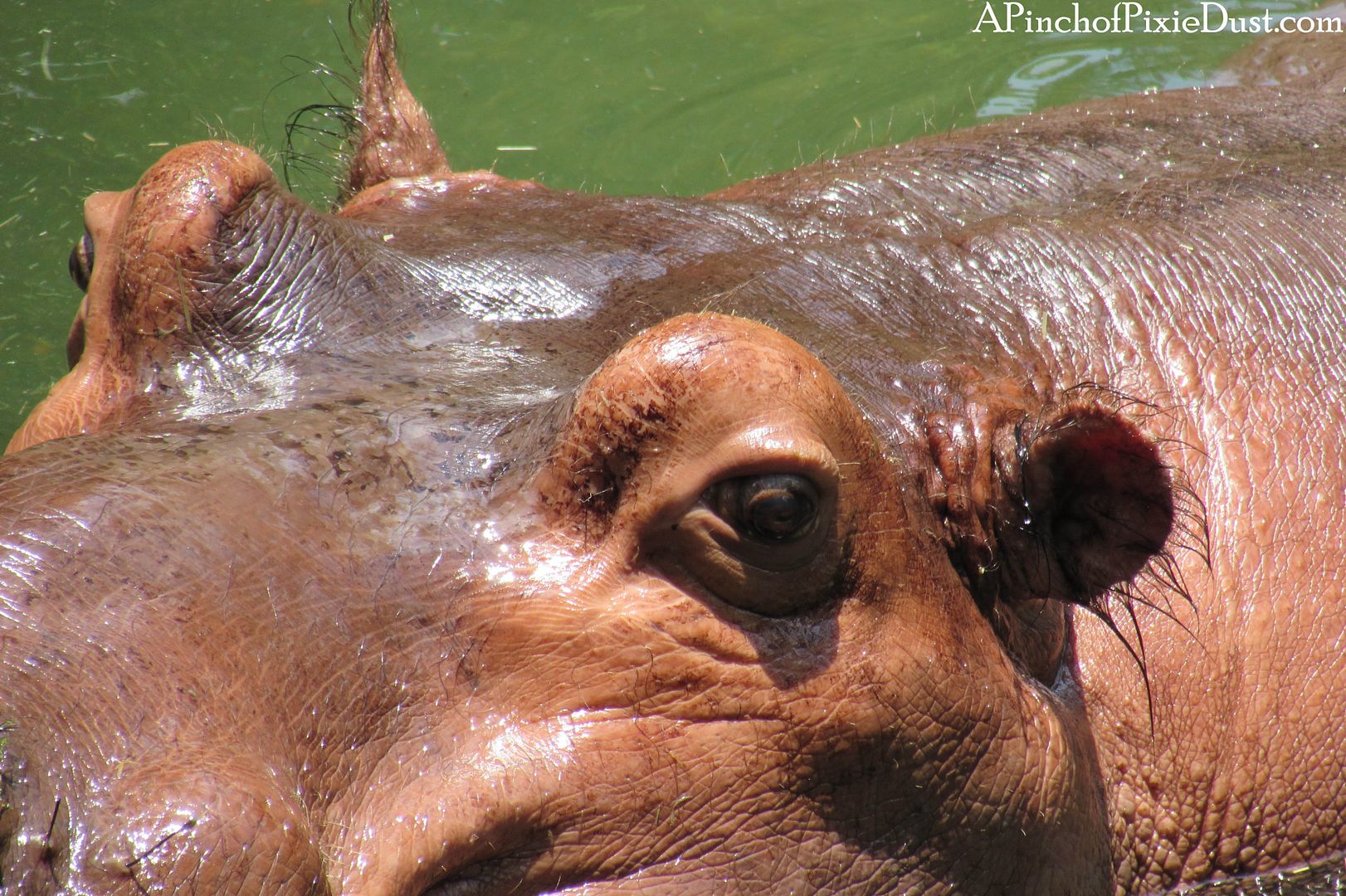 I was a little freaked out by them, though - those tusks are crazy! Apparently hippos sharpen their teeth just by grinding them together. Hippos can actually be pretty vicious, and the guides warned us not to wave or make any sudden movements...which was especially difficult a few minutes later when our family drove by in one of the Kilimanjaro safari trucks!!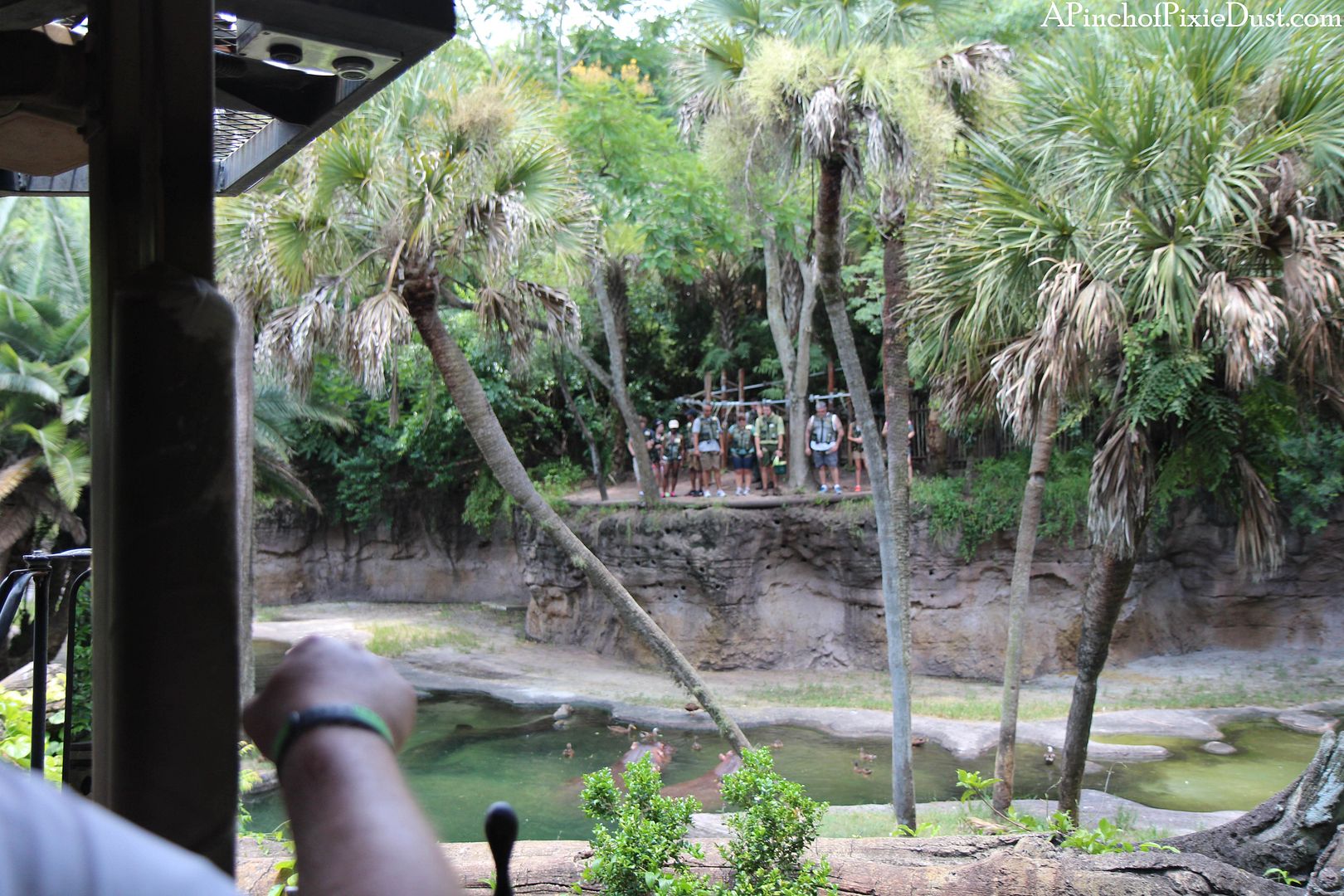 Mama Snob had cleverly planned their safari ride time hoping to get a glimpse of us! Our trek started at 1:15, and they got on the safari around 1:45 - we saw them at the hippos about 1:50. It was still pretty lucky, as parts of the tour take place in the forest or away from the Kilimanjaro Safari view.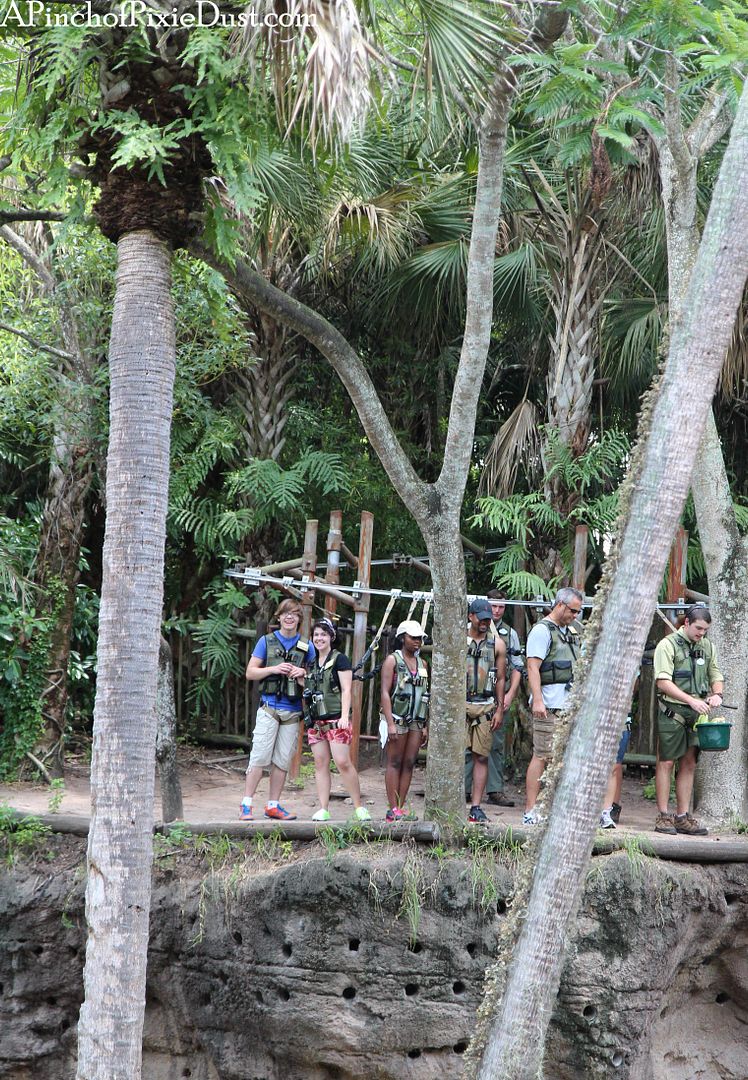 "HI MOM! I would wave, but I don't want to annoy those big hippos down there!" The driver of their truck slowed down a little and told everybody, "It looks like we have some family members on the trek there..." :)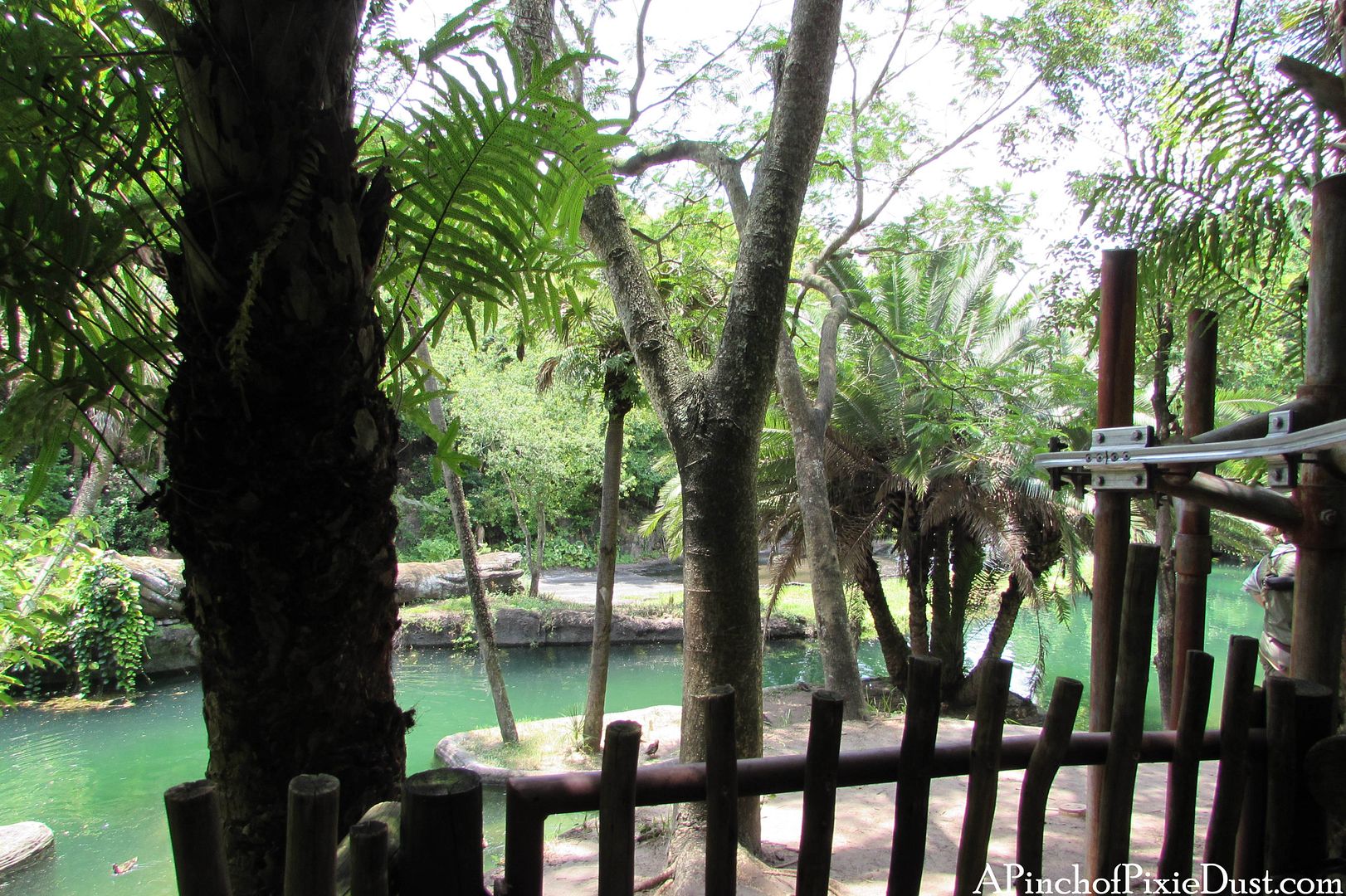 Here's one last view of the hippo overlook - soon we were moving on, heading through the forest, listening to Josh tell us about different ancient legends about the hippo. Very cool!
It was fun to catch glimpses of familiar sights from the safari ride through the trees - maybe that's the rickety bridge that nearly collapses every time??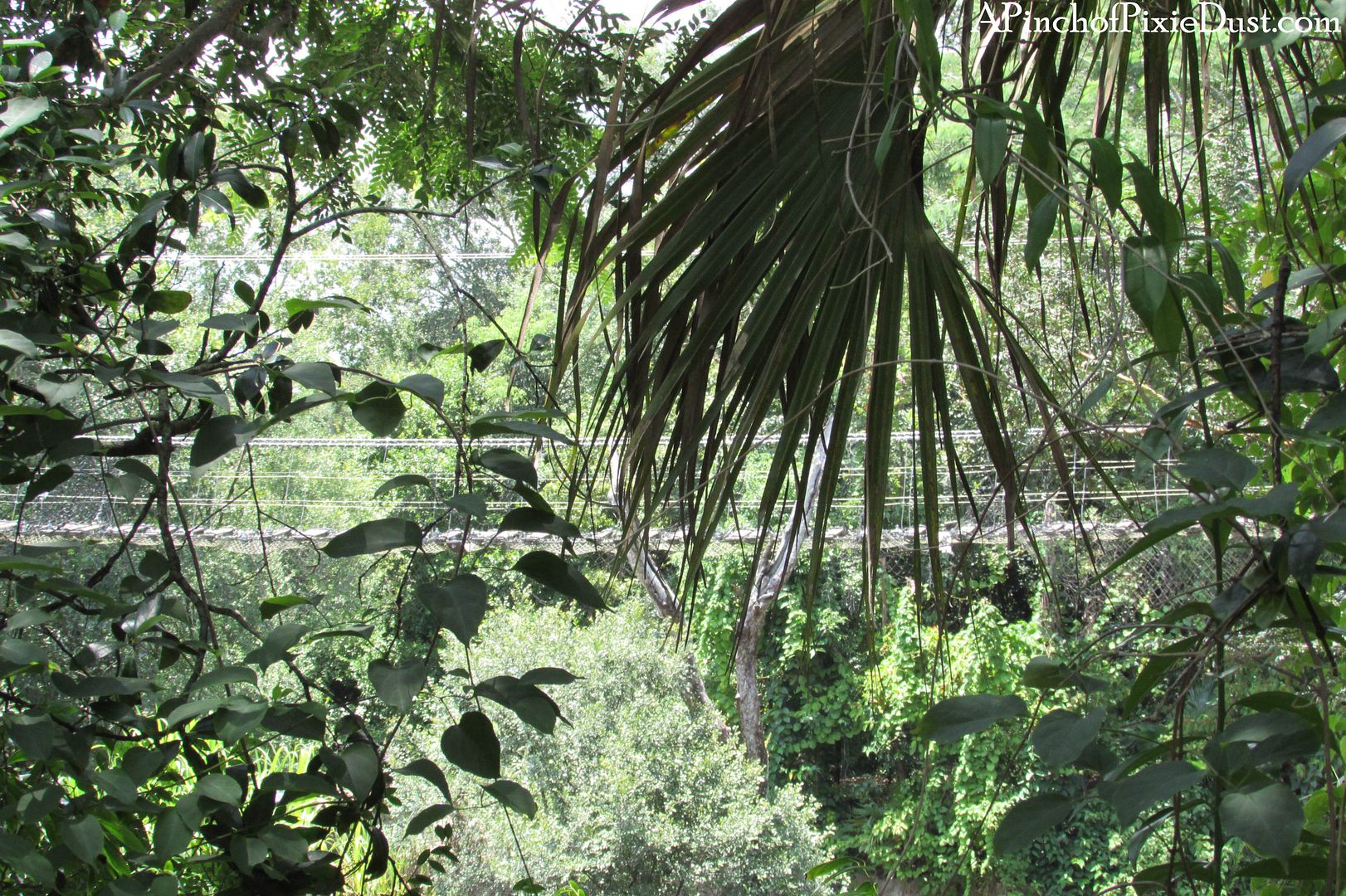 Soon we saw this through the trees!! ROPE BRIDGE TIME, GUYS.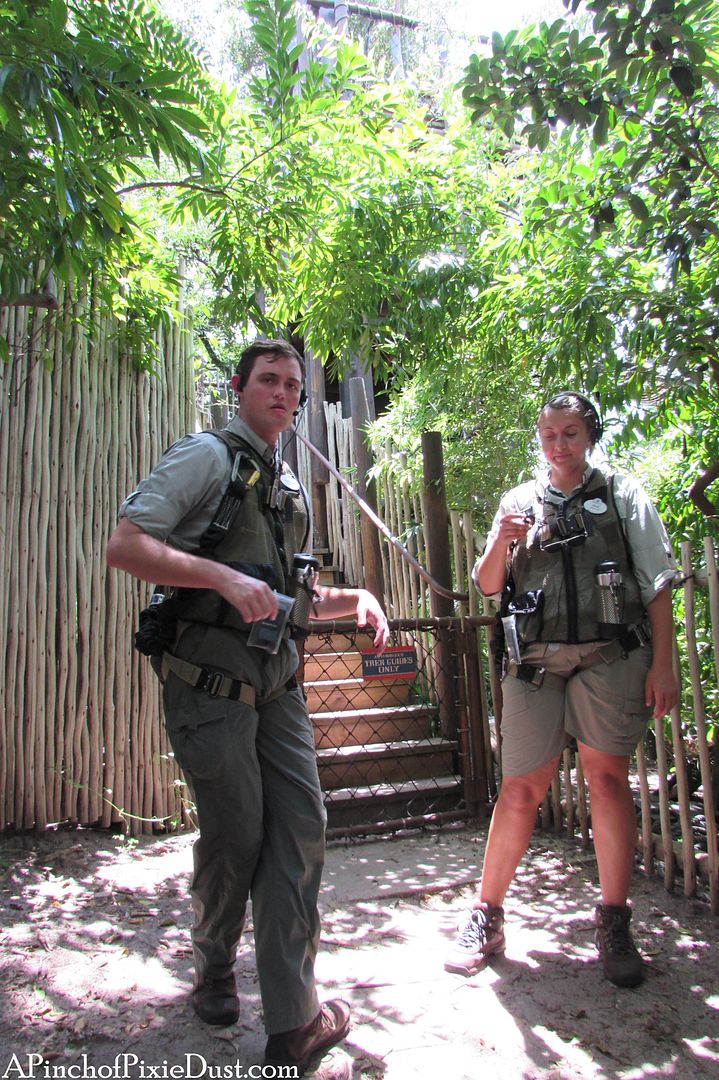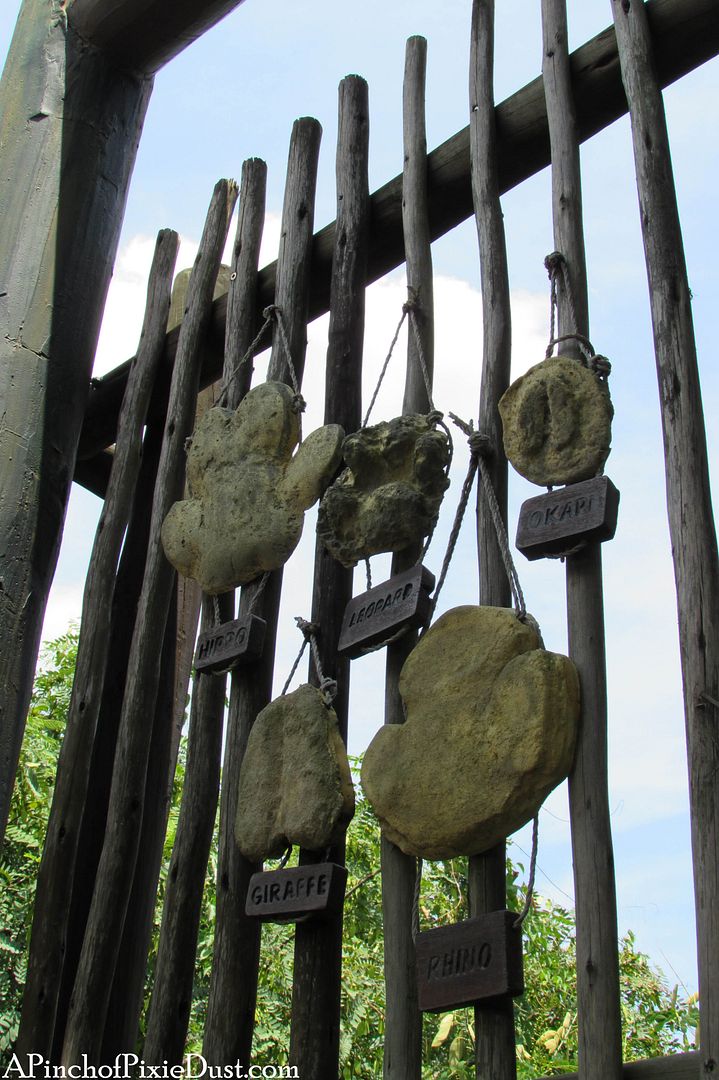 The guides walk you through everything - you climb up a tower to get to the bridges. I liked that even here, the Disney details weren't lacking - note the guide to animal footprints on the fence.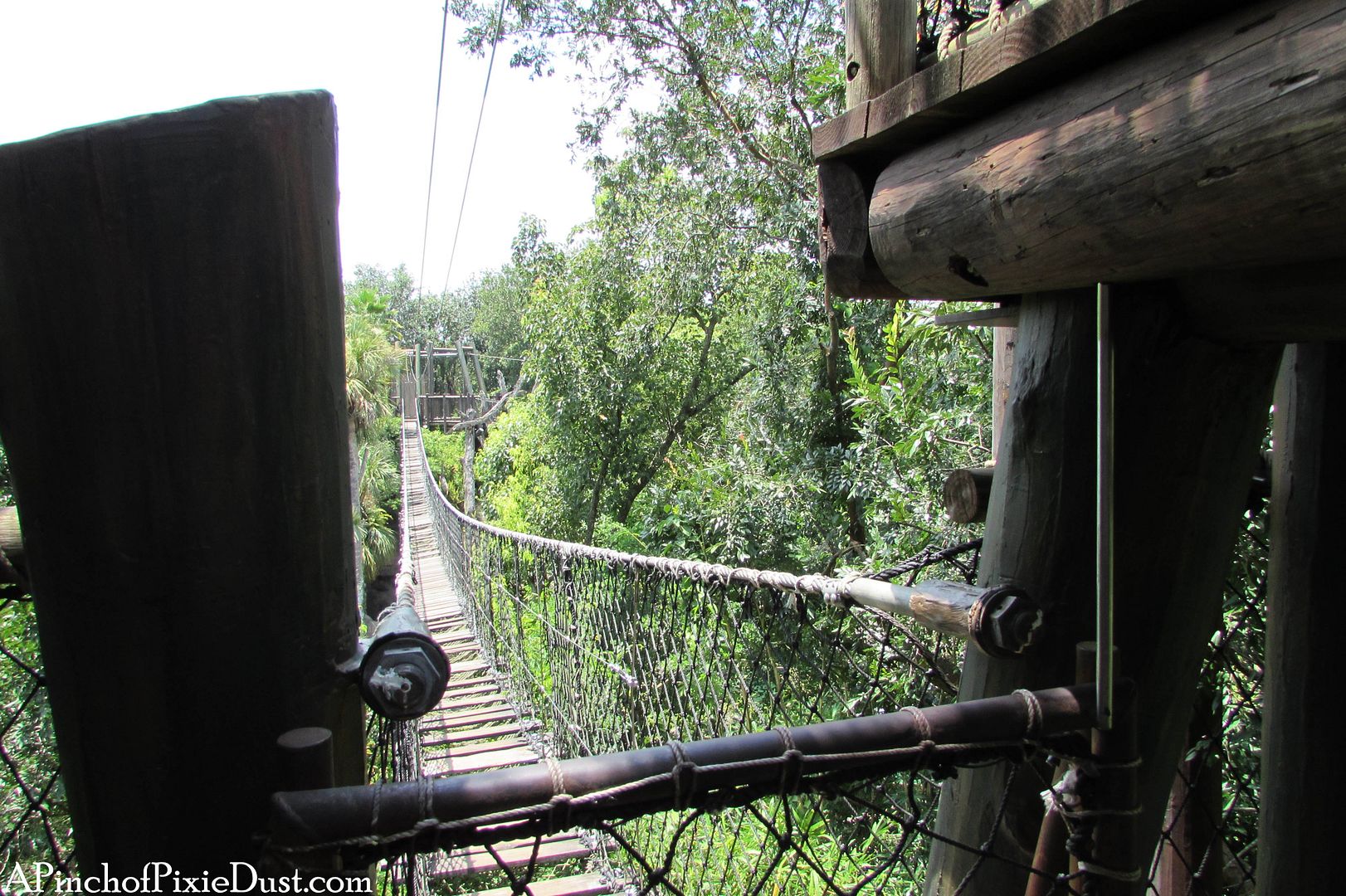 THERE IT IS.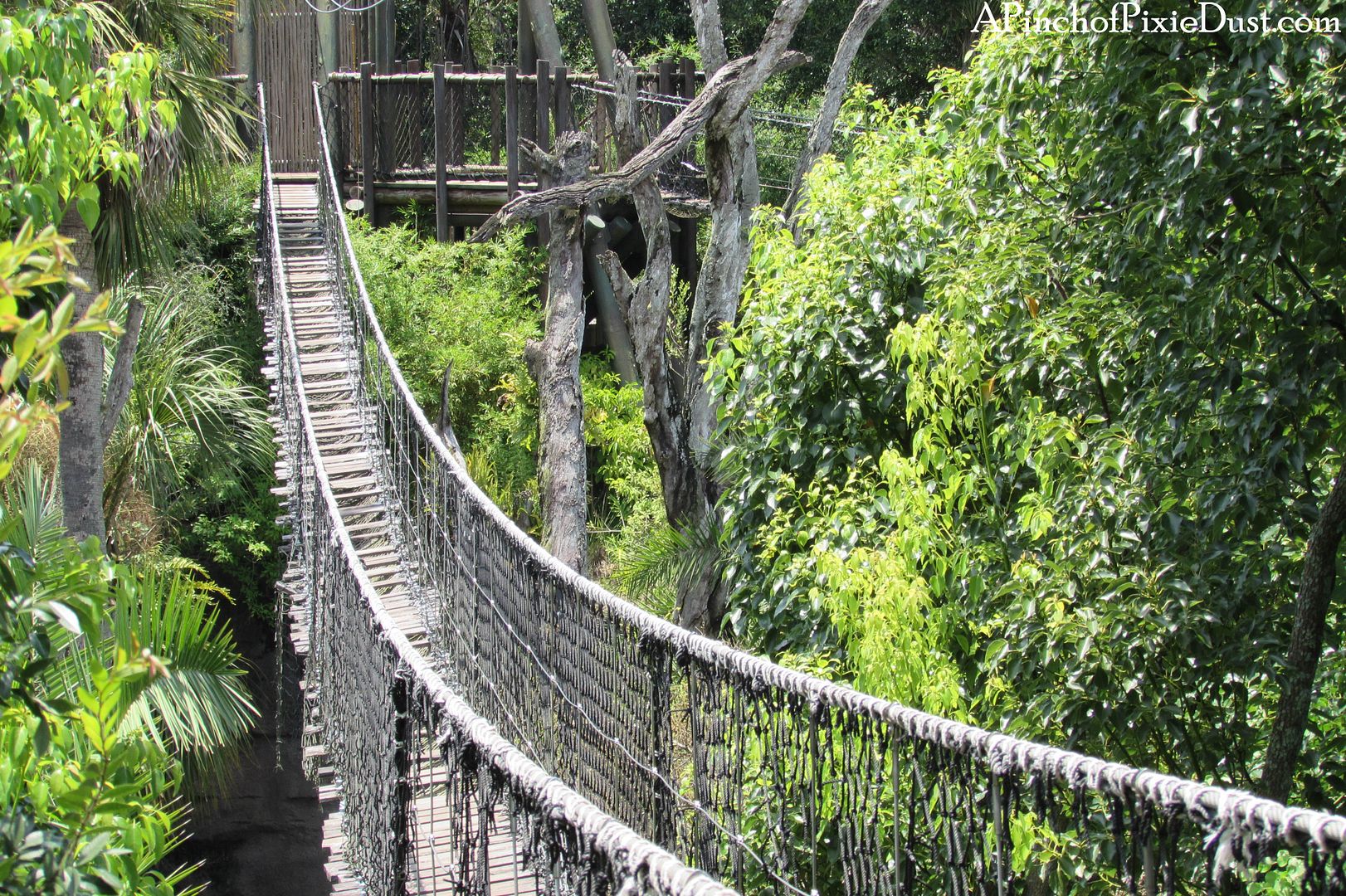 AHHHHHHHHHHHHHHHHHHHHHHHHH.
I was just a little excited. Can you tell?
The first step! The guides assured us there was no danger of falling - you've got your harness, and there's a net beneath the bridge planks. I actually did stumble a bit and stepped into the net once or twice (I think Athos conveniently caught it on video...). The planks are very spaced out - but then it's easier to see to the habitat beneath you.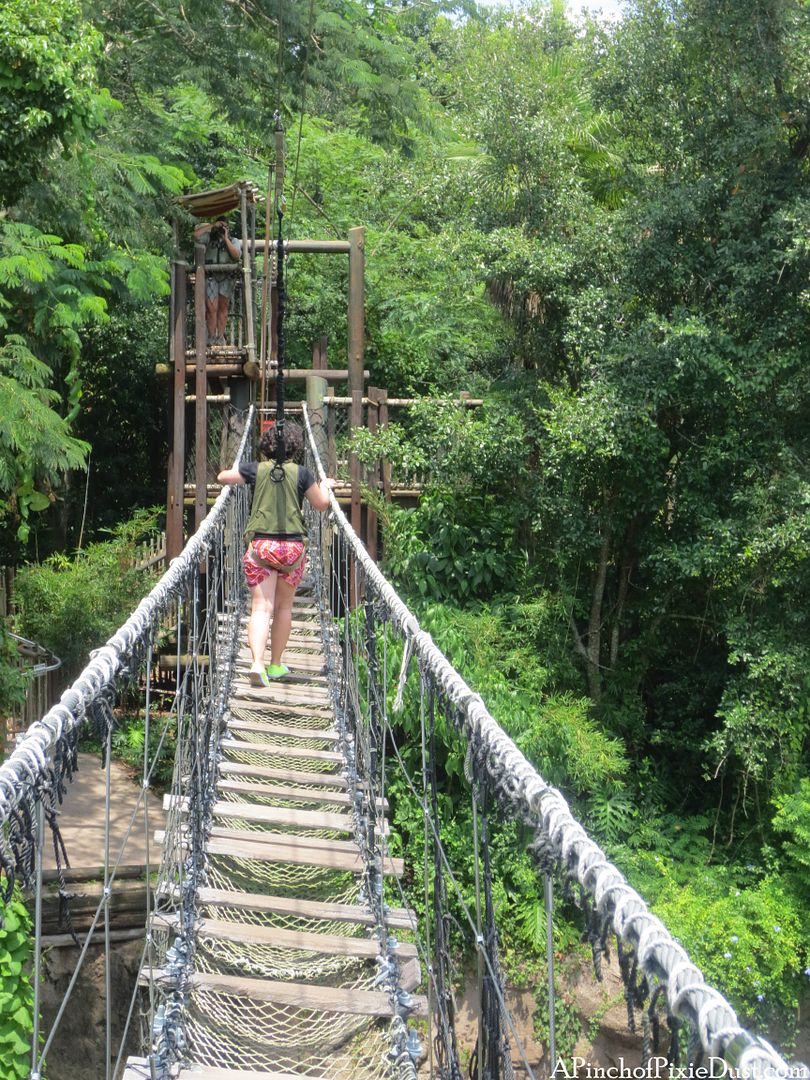 Making my way across and Athos waiting to start.
Our view out over the crocodile enclosure - and the Kilimanjaro safari road! We've seen these rope bridges on safari rides in the past, so it was pretty incredible to be out on them.
You can see the rope bridges a bit better in the part I video! :)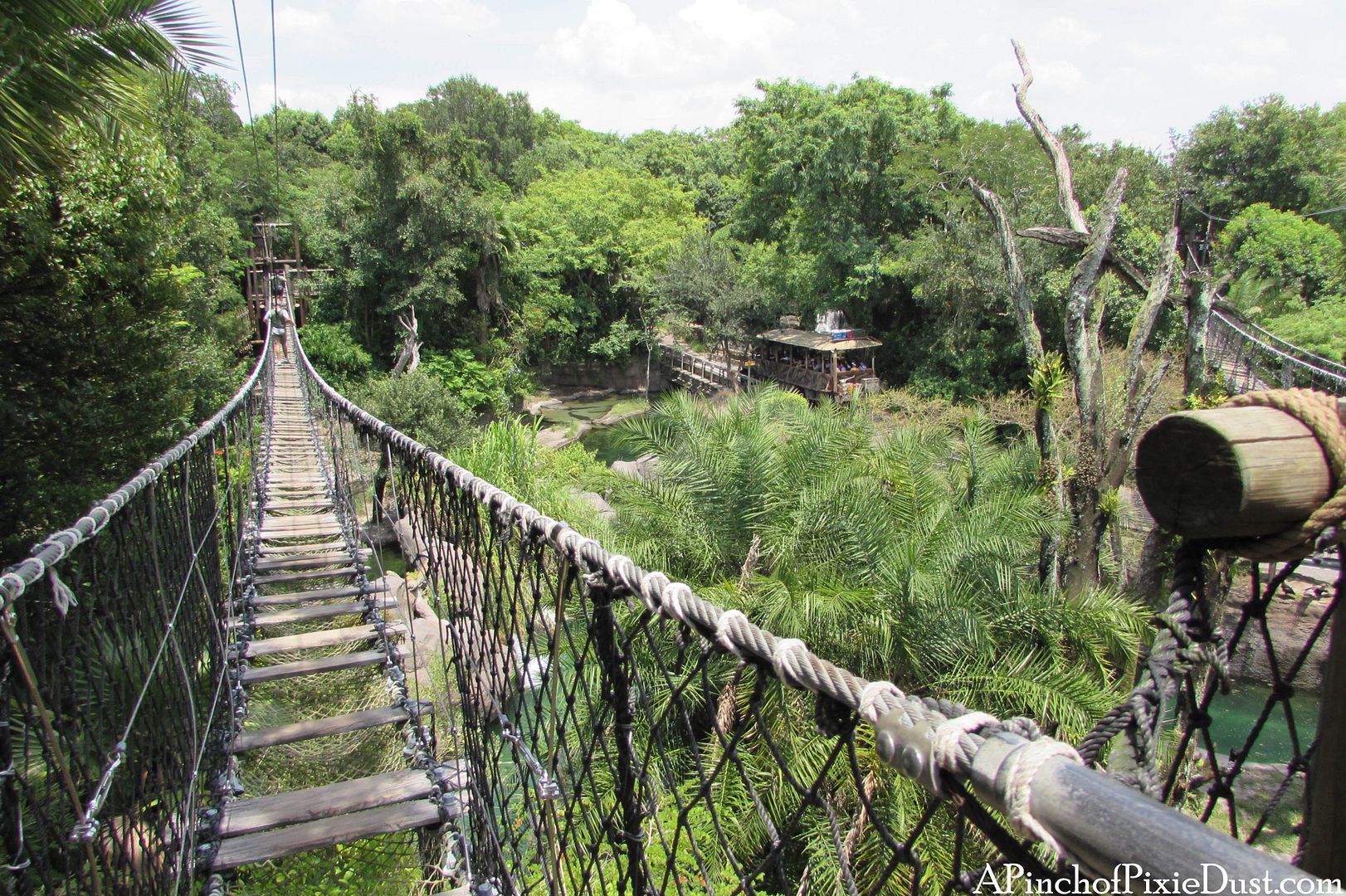 Halfway through!
One half of the enclosure had a bunch of birds, but on the other side were...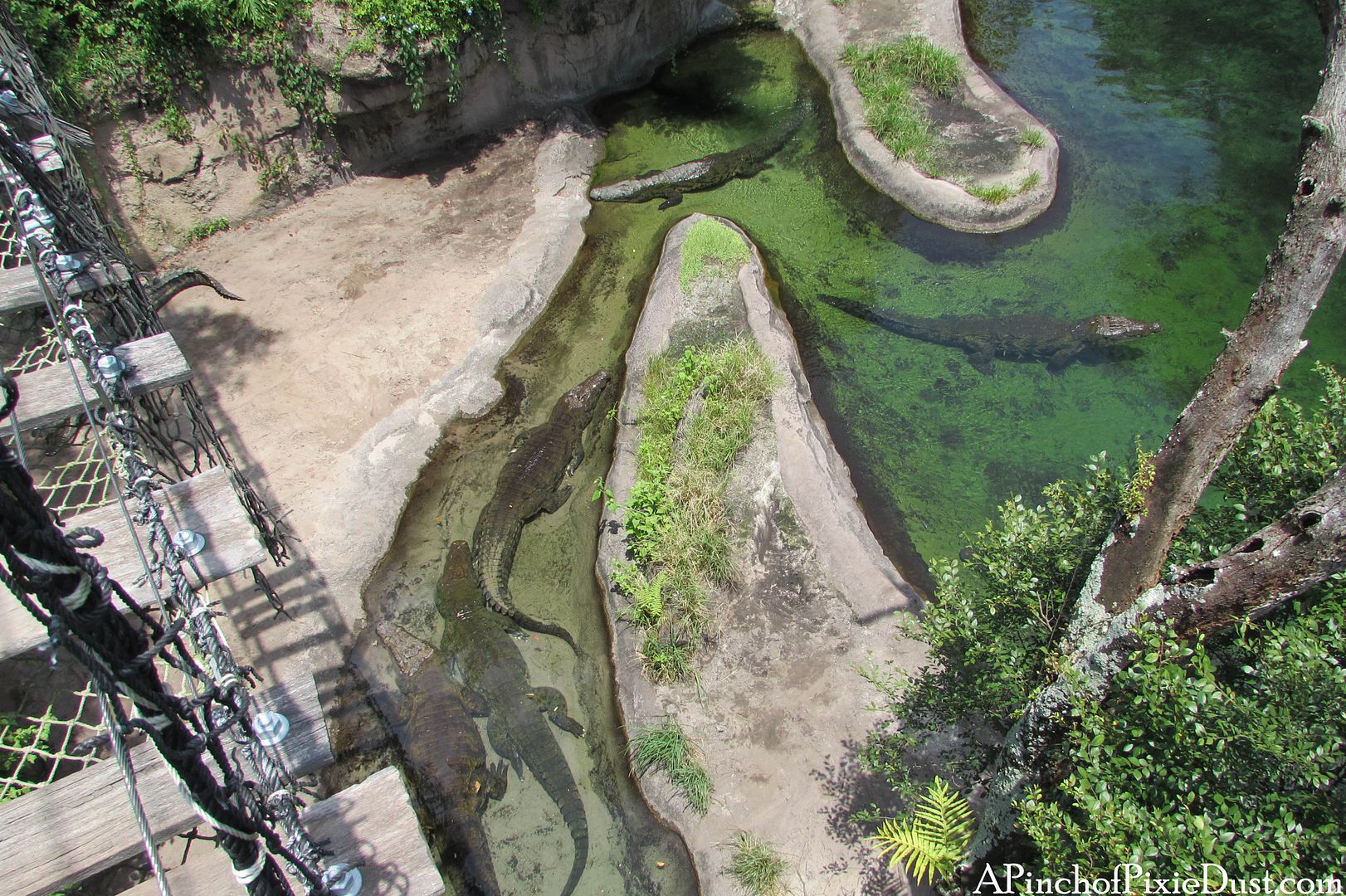 ALL THE CROCODILES. They were just sprawled out, completely still. I think I was just saying, "Oh my gosh..." over and over the whole time.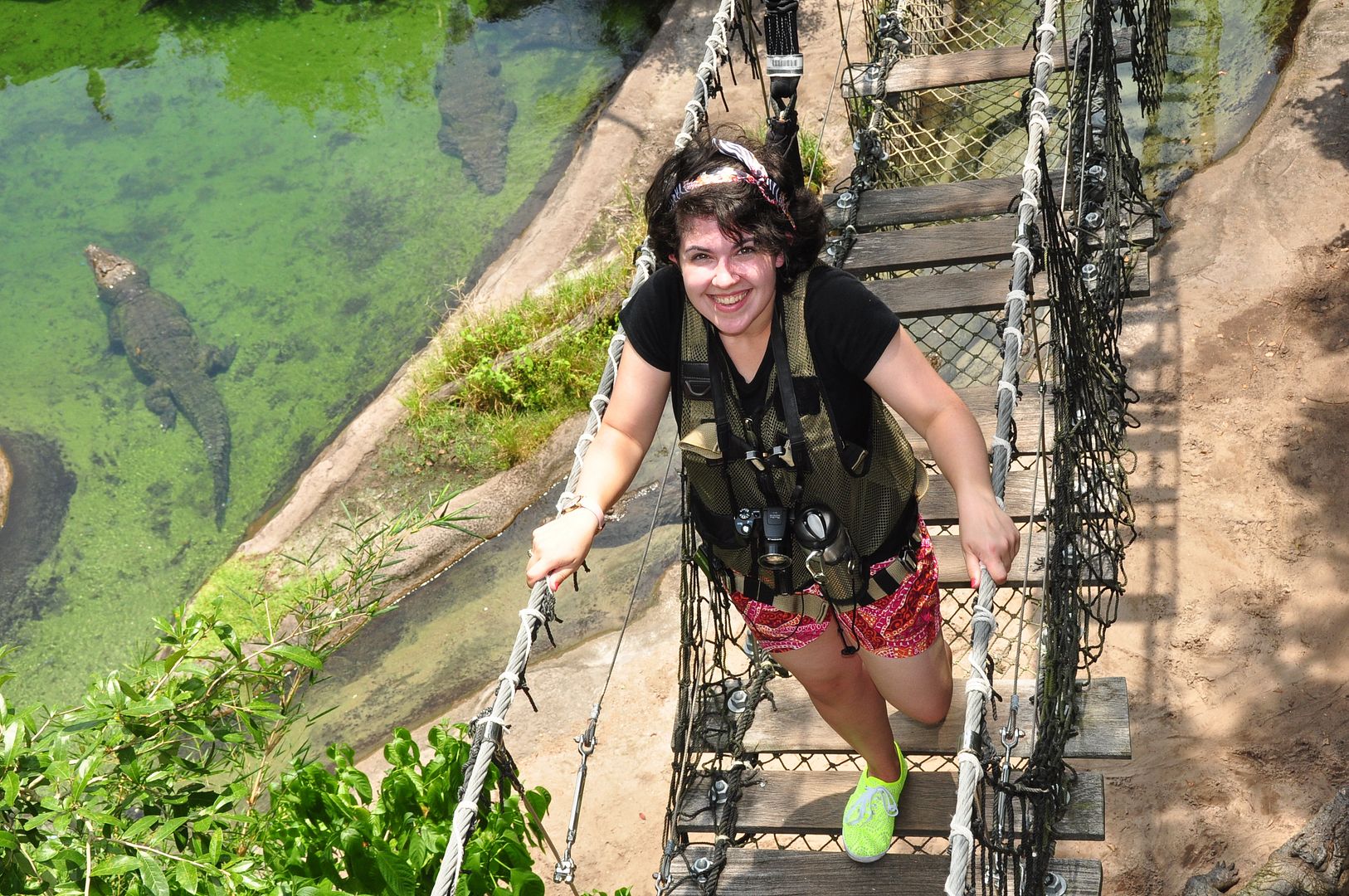 One of the shots the tour guides snapped!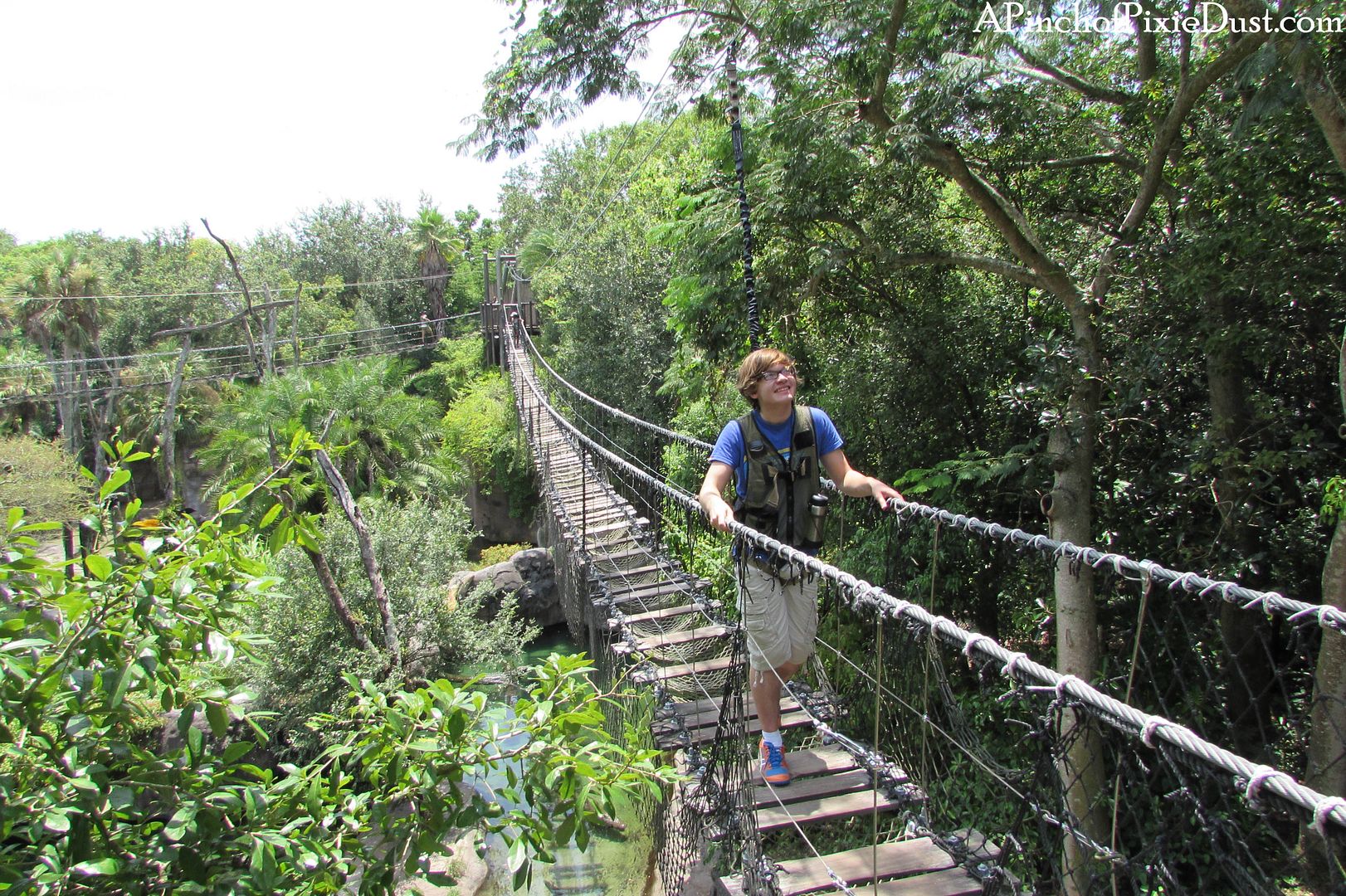 Athos pausing for his photo.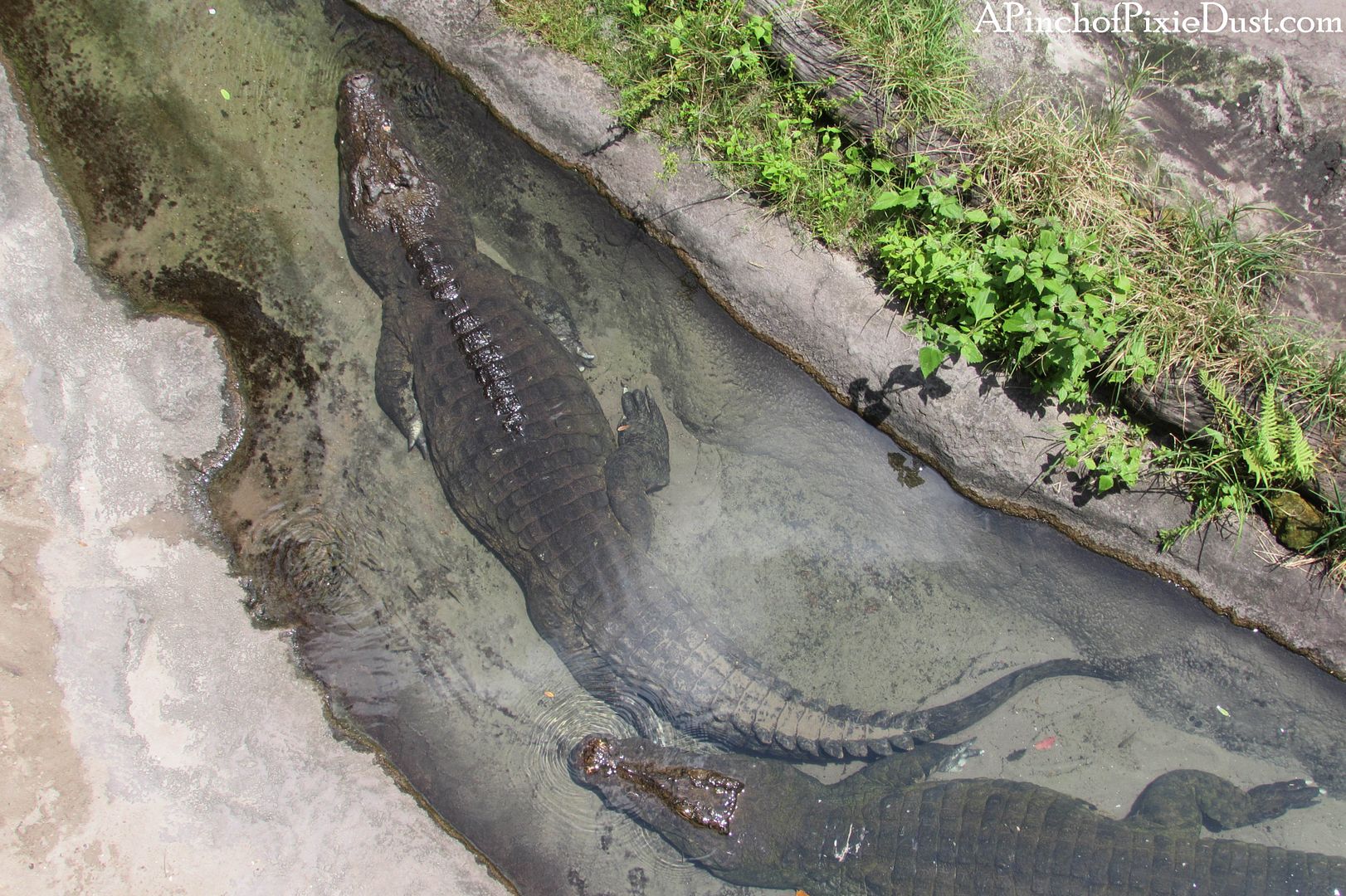 SO MANY CROCODILES.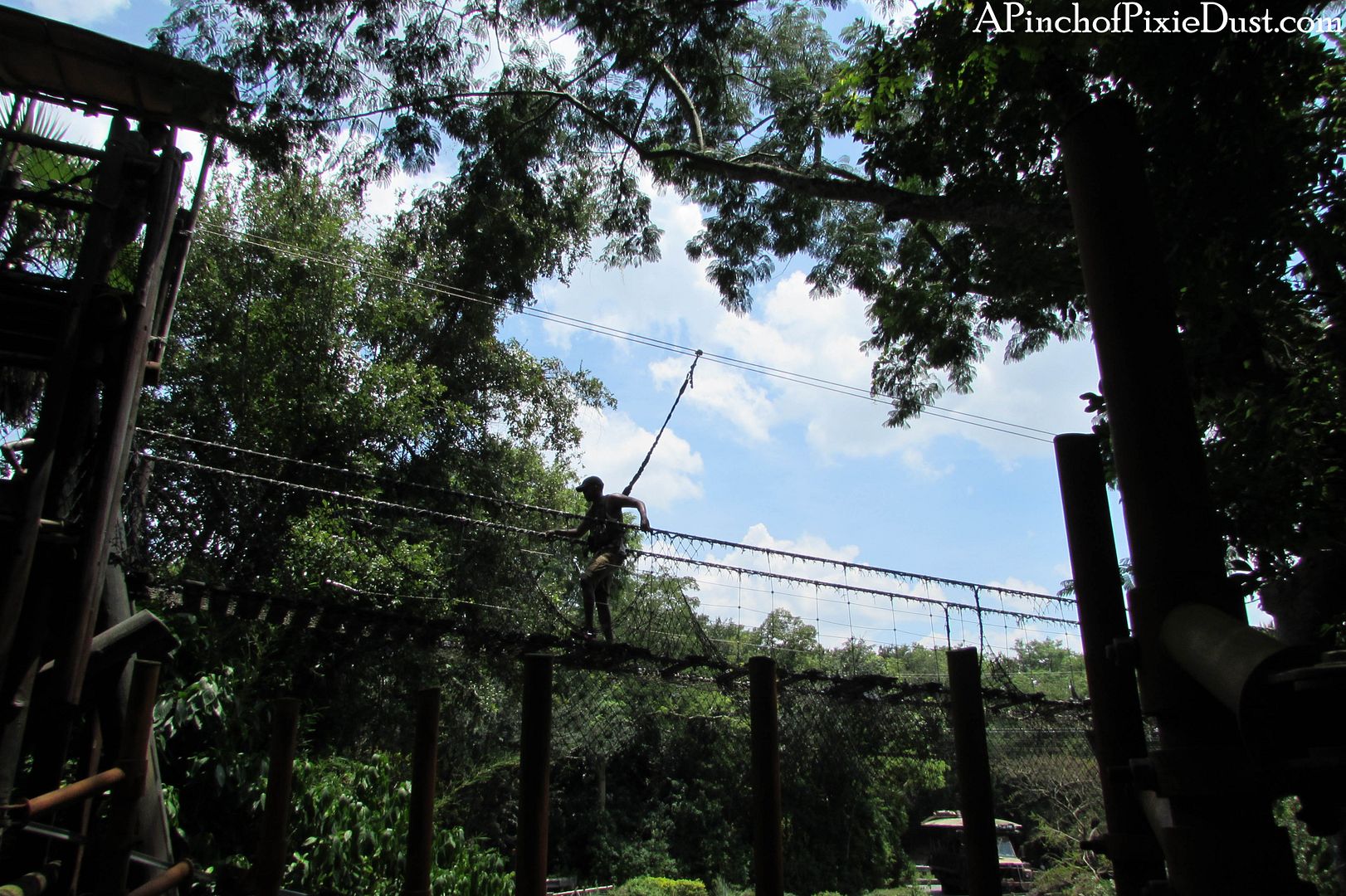 After everyone made it across the bridges, it was time to get out even closer...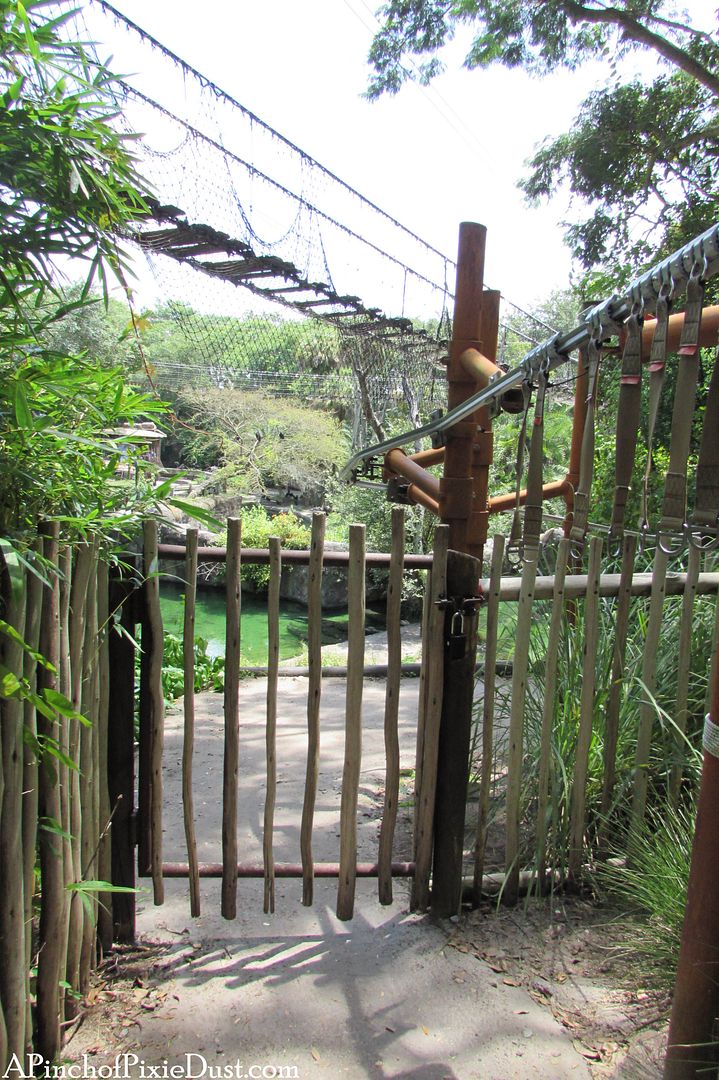 There's a little ledge to step out on (once you've connected your harness of course!) just like we did with the hippos.
The harnesses were not that tricky to work, and the guides were there to help you.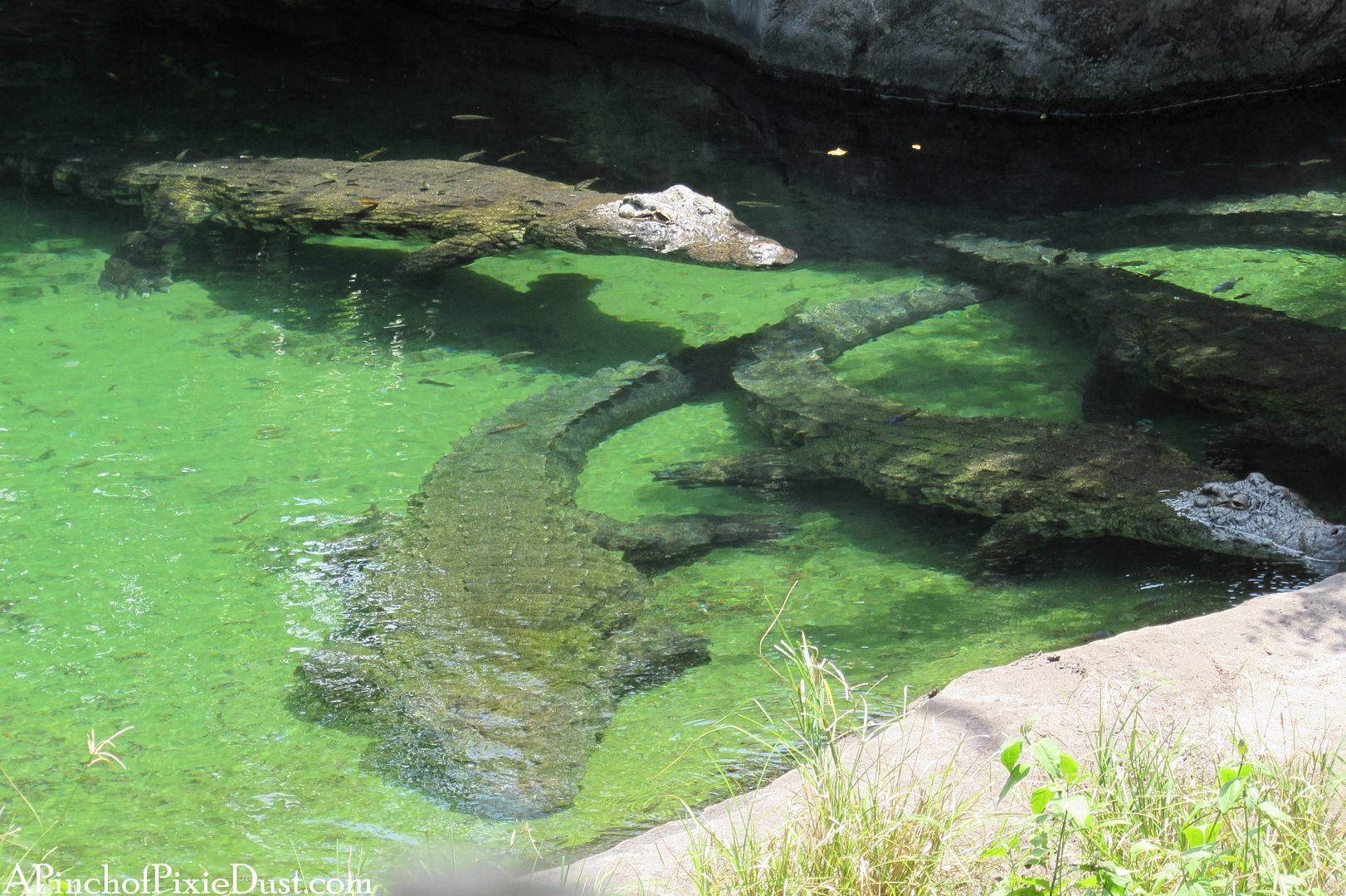 There they are! Right. there. They were all lying so perfectly motionless in the water - although at one point two of them suddenly and briefly snapped at each other!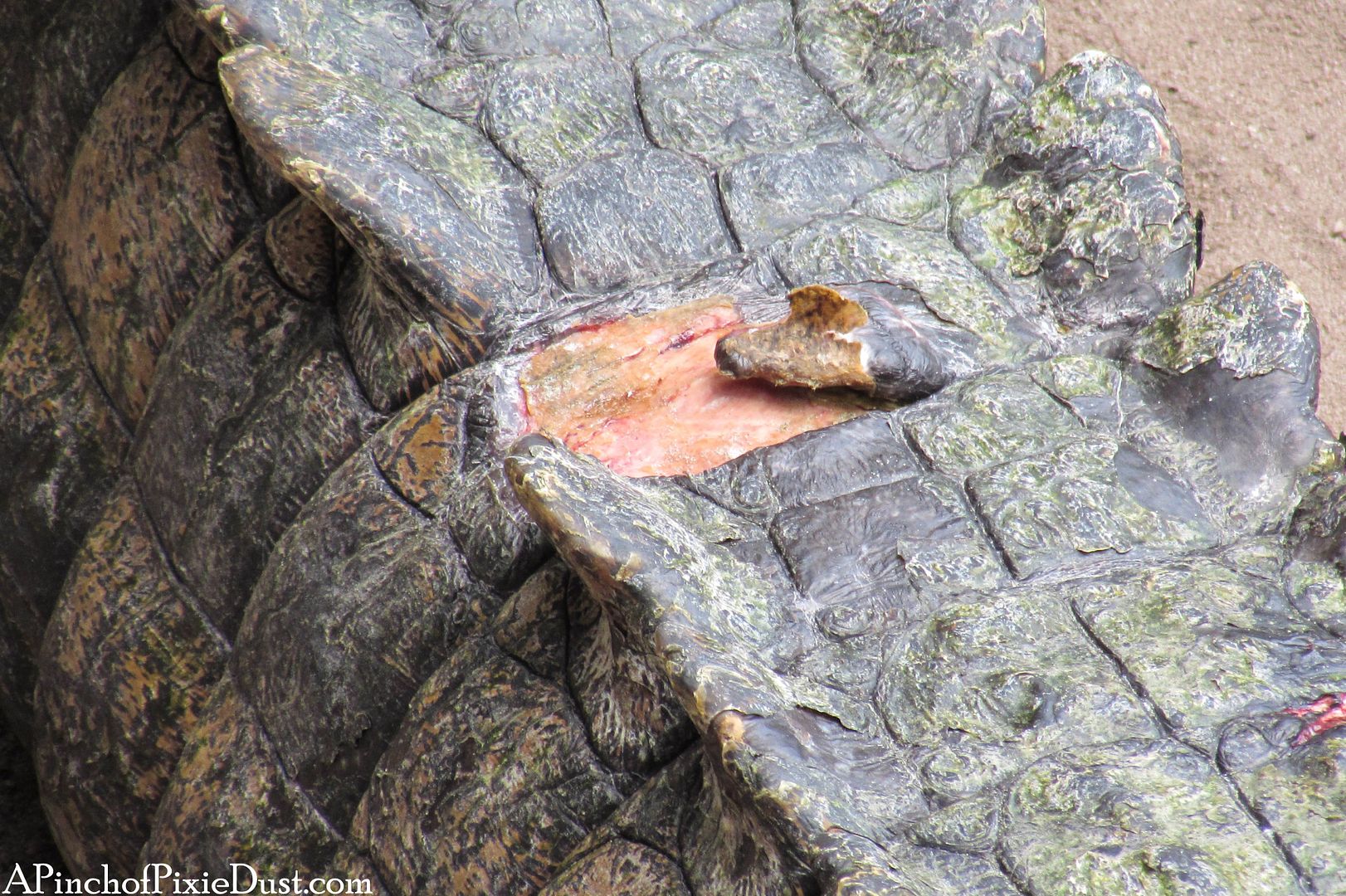 Just a flesh wound?? Apparently crocodiles are incredibly resilient and that skin should grow back quickly.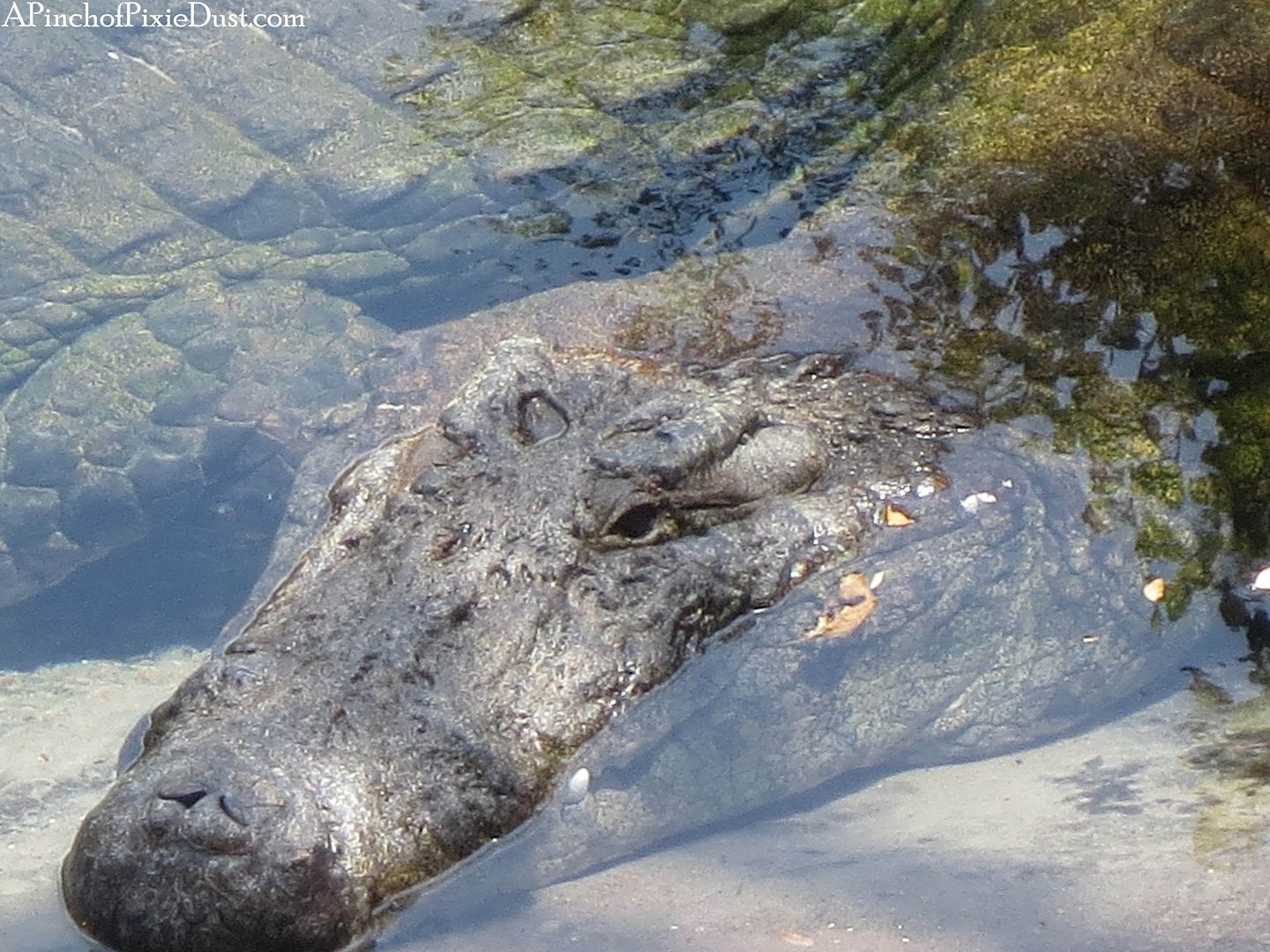 Just hanging with my crocodile buddies. We learned a few crocodile facts and had the opportunity to ask questions.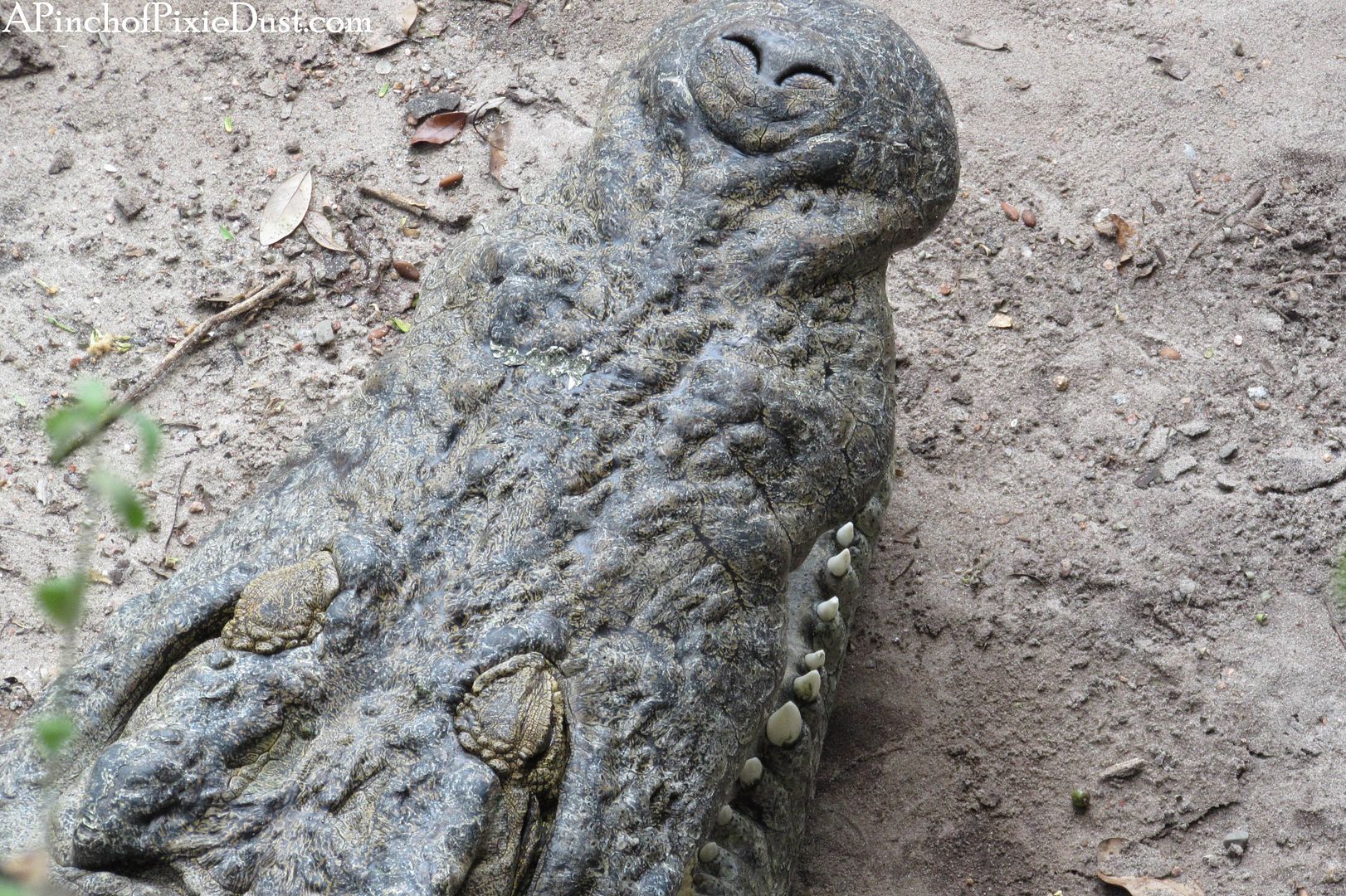 Camouflage croc.
Look at those claws!!
As we were leaving the crocodile ledge, Athos and I were admiring a distant croc resting perfectly still on a log with his jaw open. One of the guides heard us and snapped a pic! (Just FYI with photos in this post: if it has the "APinchofPixieDust.com" Athos and I took it - most of them are ours - but if there's no logo it came from the trek guides!)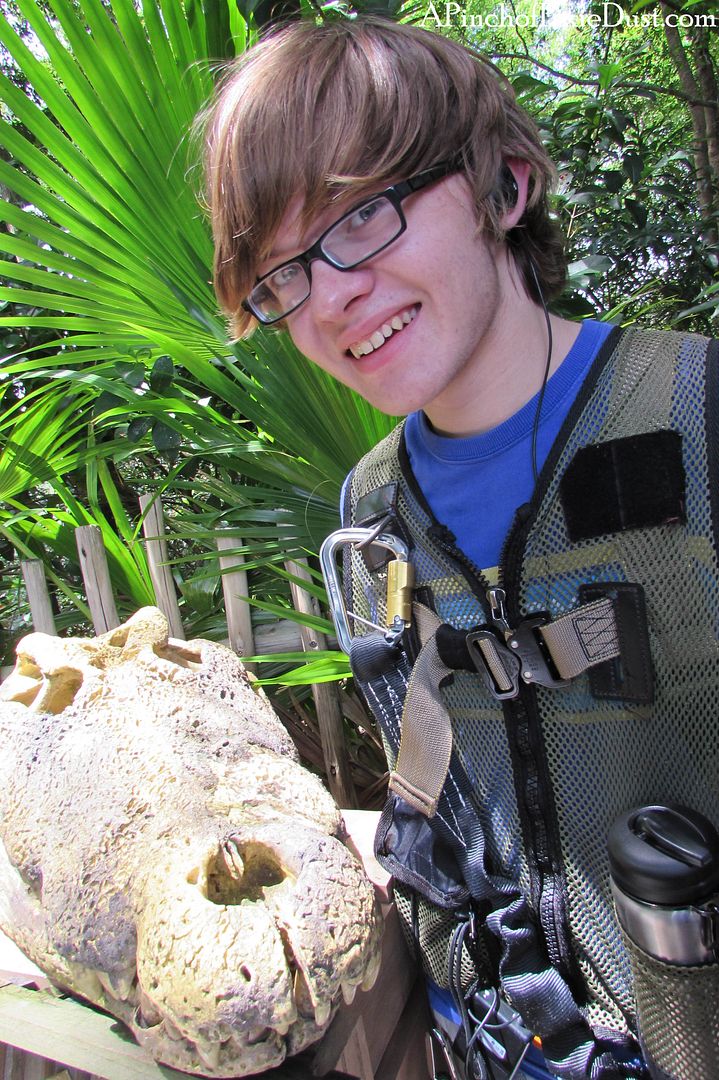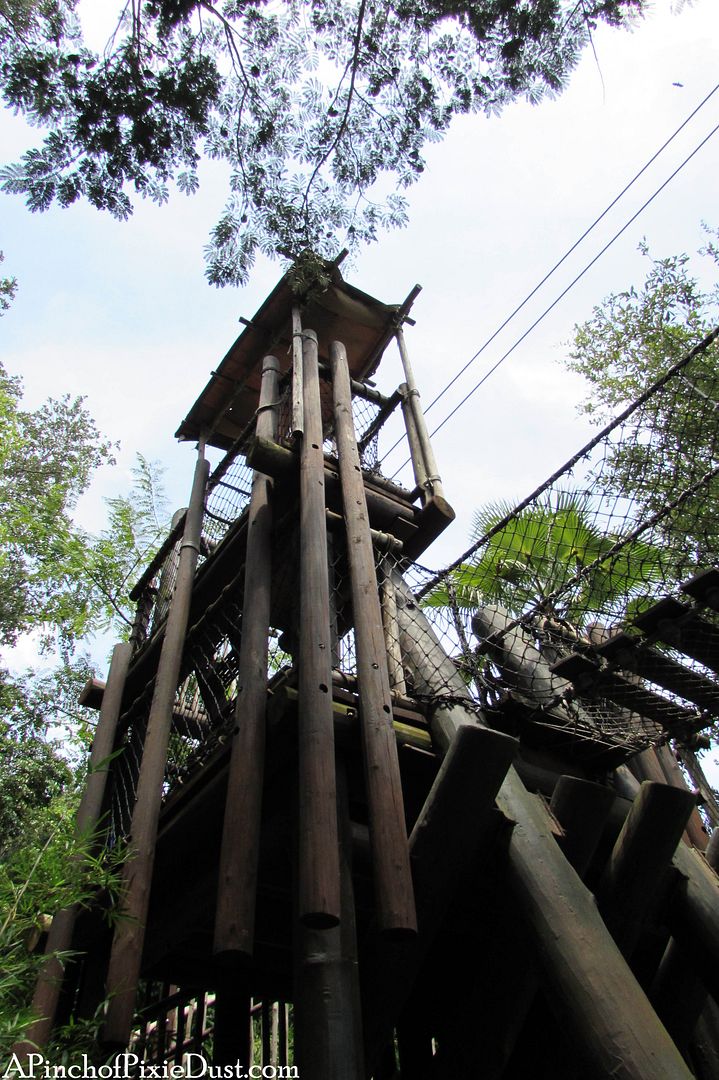 Athos pausing to look at a croc skull and looking up at the bridge tower.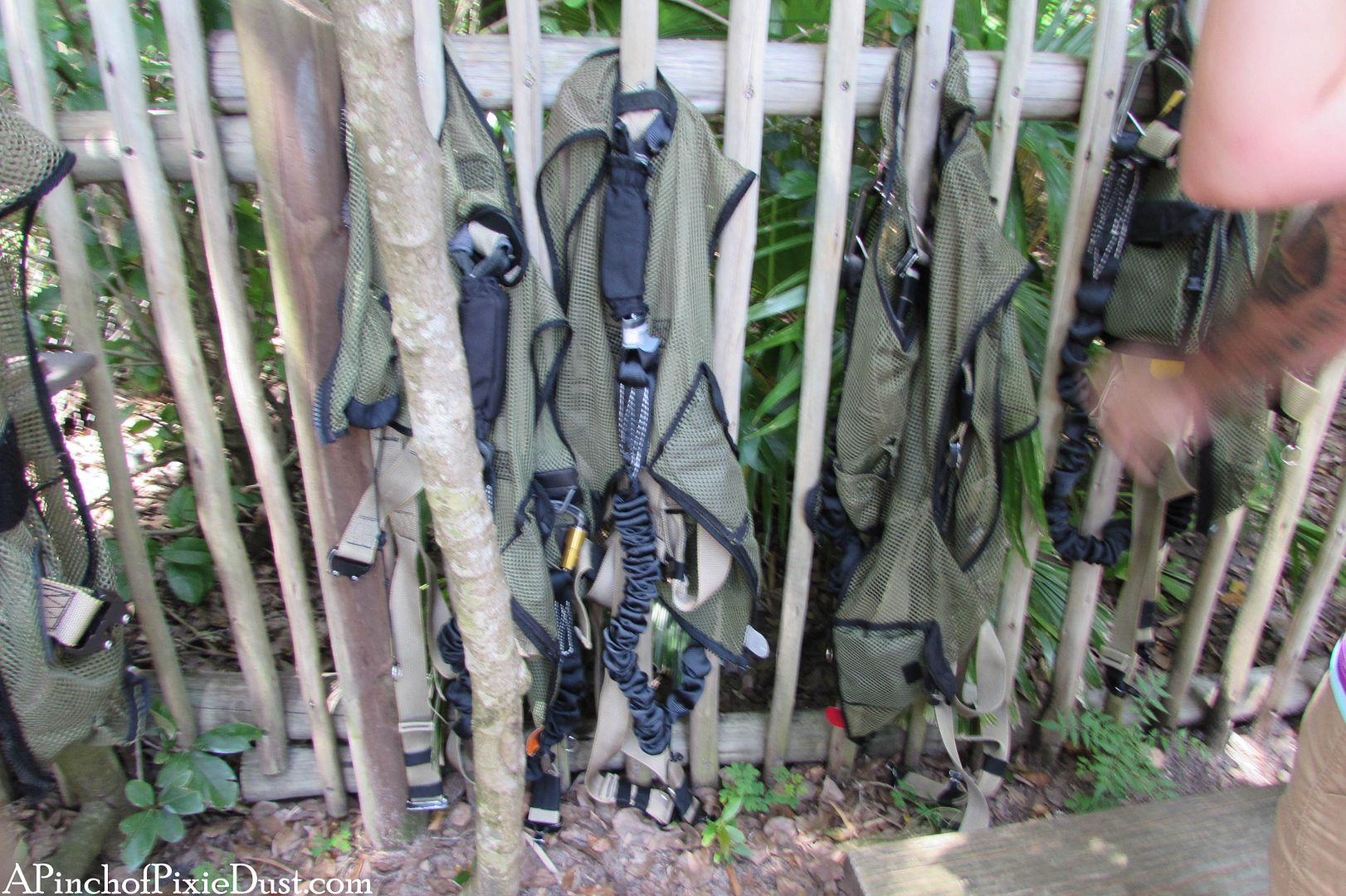 We were finished with the vests and harness and gear - I hadn't realized how heavy it was until I took it off and felt so light! At the same time, it was kinda sad to take it off...it meant the tour was halfway through.
Saying adieu to those awesome rope bridges...
...and heading back into the jungle! We made our way to a platform where a small safari truck was waiting for us. There were cold towels waiting - there had been a chance to refill on water right after the rope bridges. We then joined the road the Kilimanjaro Safari trucks take out on the savanna...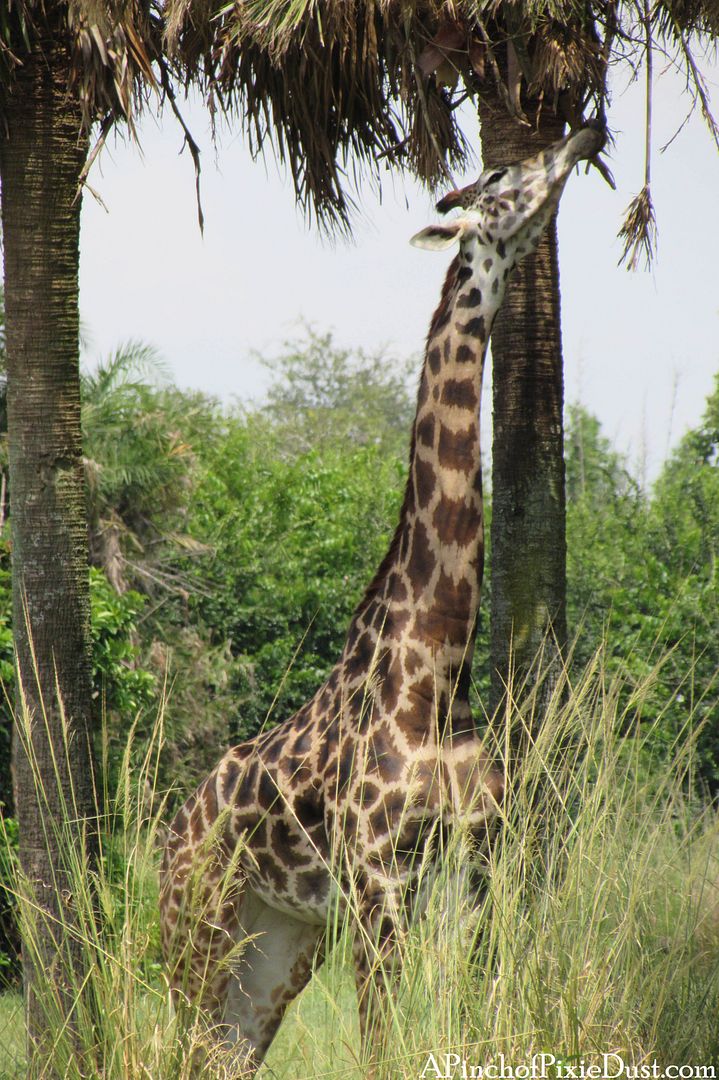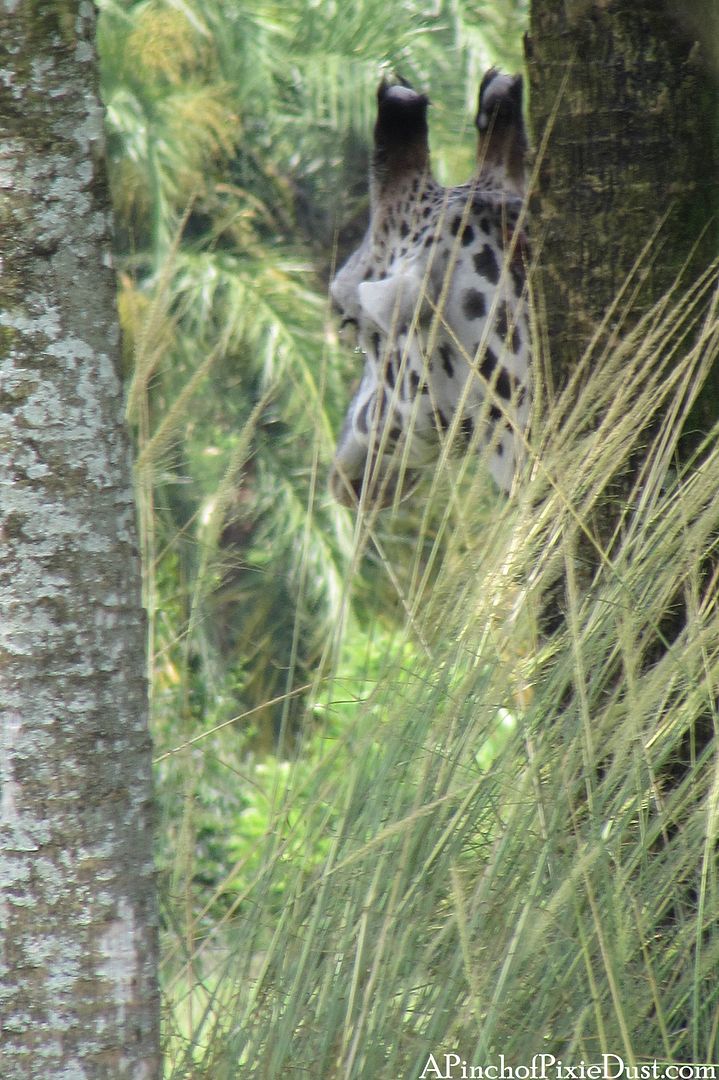 Look at the giraffes! I like the one that is just demurely sitting behind the trees and grasses.
Our truck pulled off to the side so we were able to admire and take photos for a few minutes. I never really considered before how quickly the regular safari goes - it was such a luxury to have a little extra time to watch the animals instead of just madly snapping photos as you four-wheel by Stacey-style.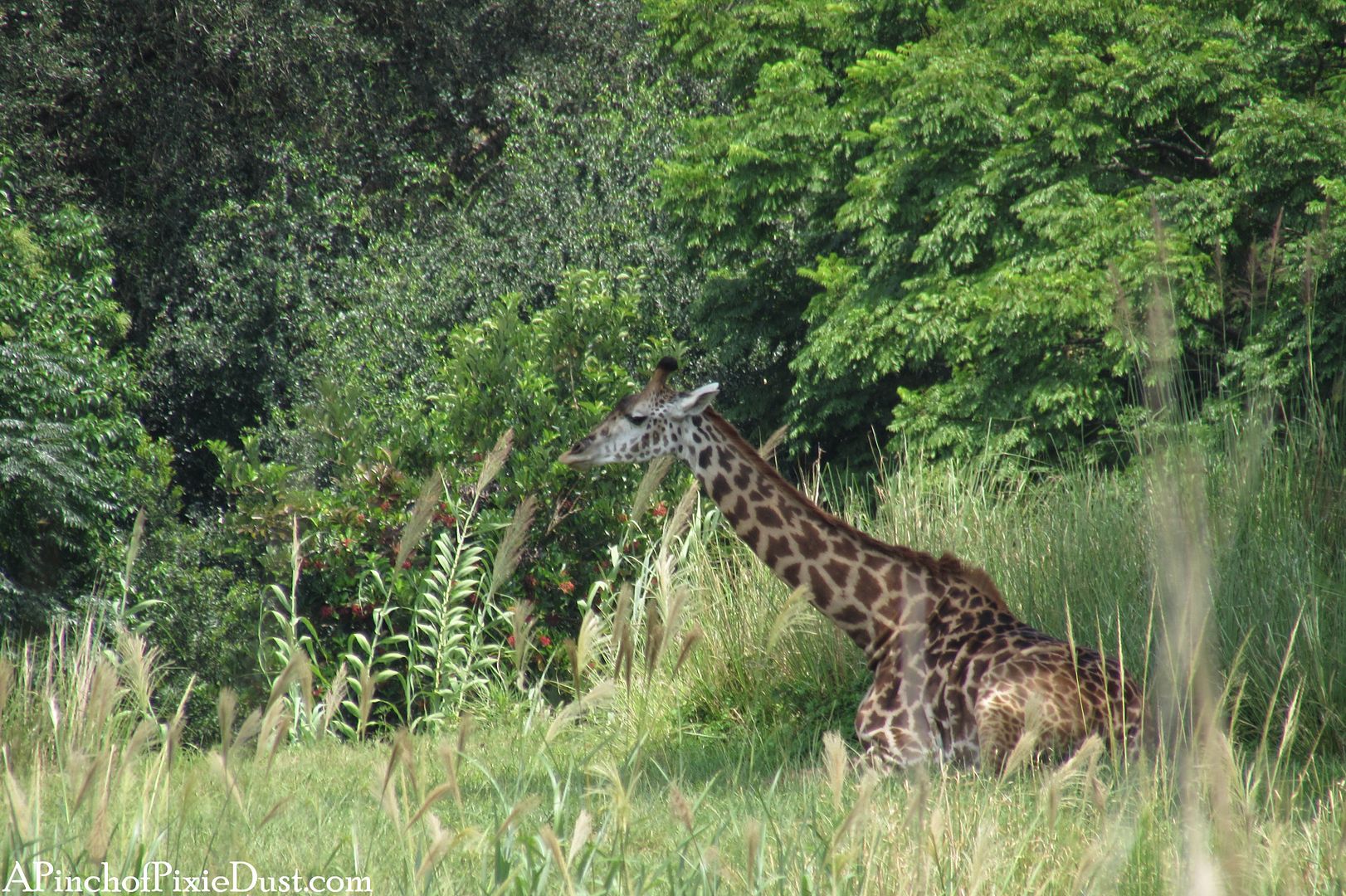 This guy reminded me of Ferdinand the bull from the children's story...hopefully there weren't any bees nearby!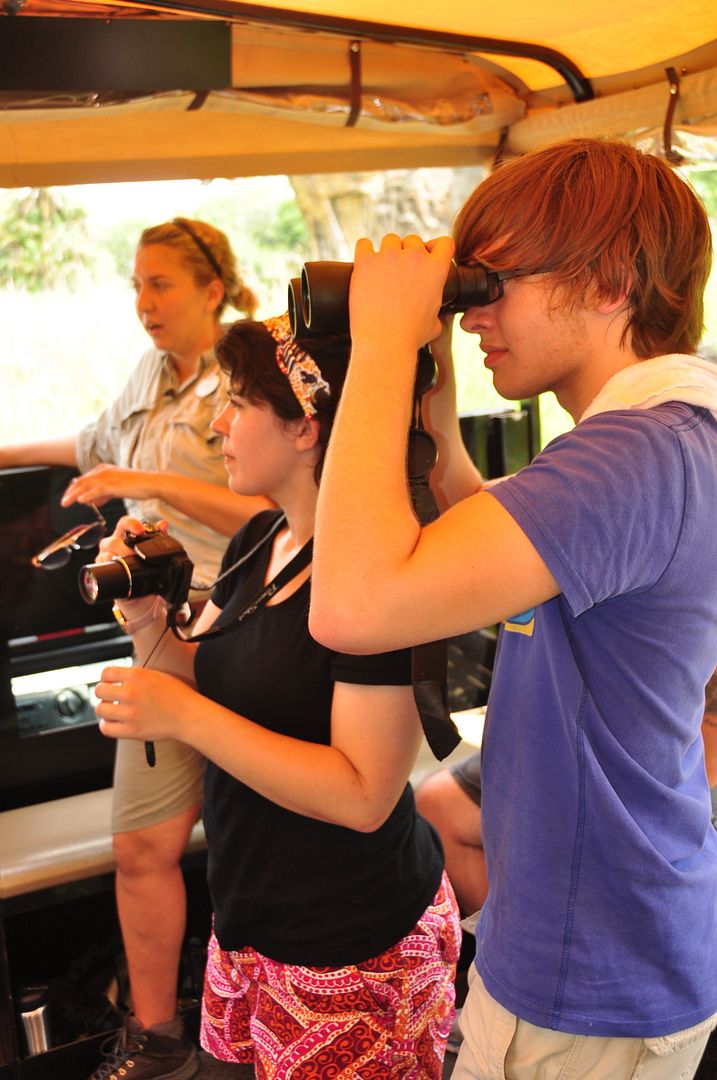 My dad had suggested we bring binoculars on the tour, but they actually provide them, which is really nice!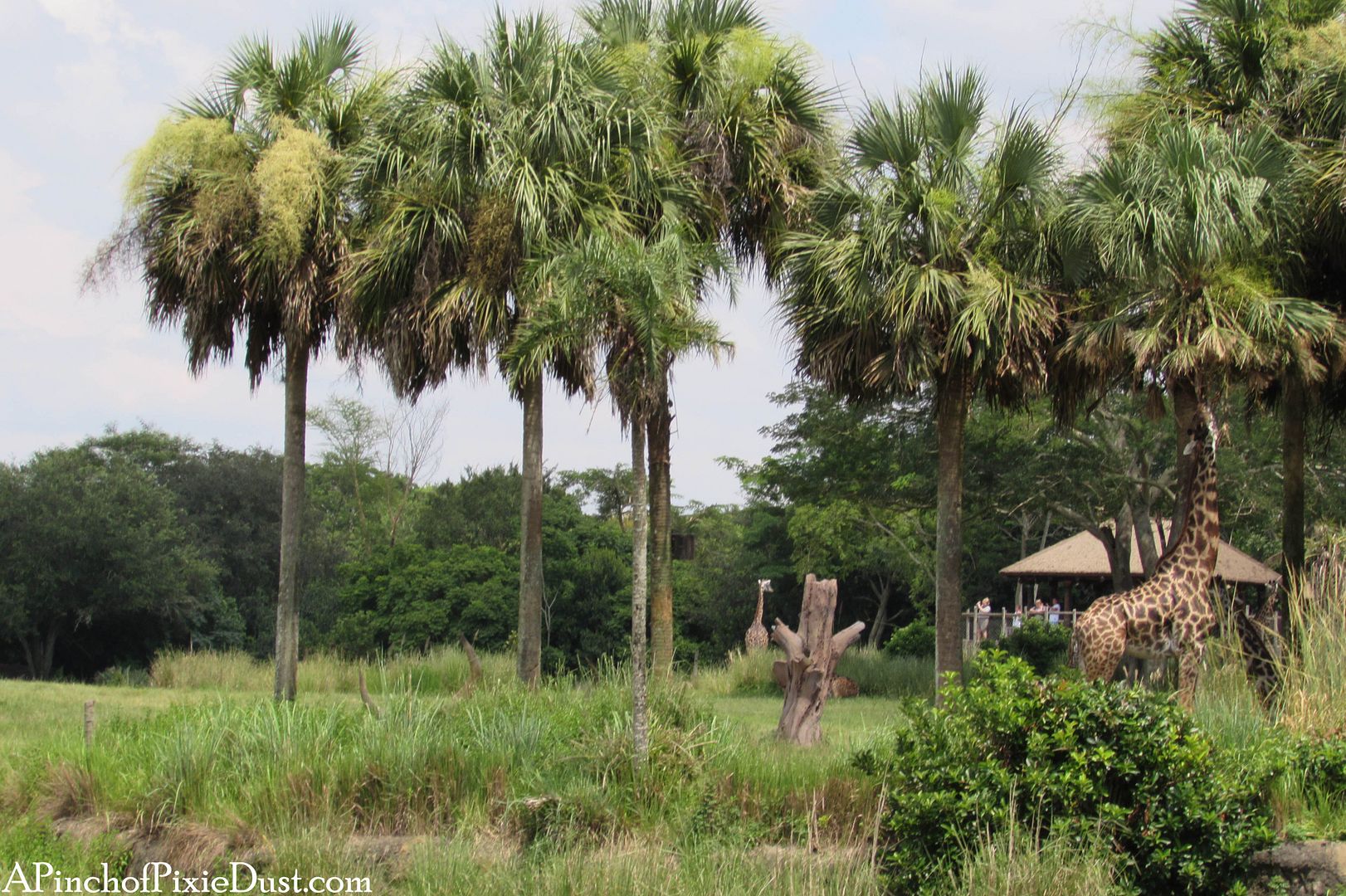 See the people under the little roof on the right? That's the "boma" - same name but not
the restaurant
- where we would be hanging out and having our snack shortly. But first...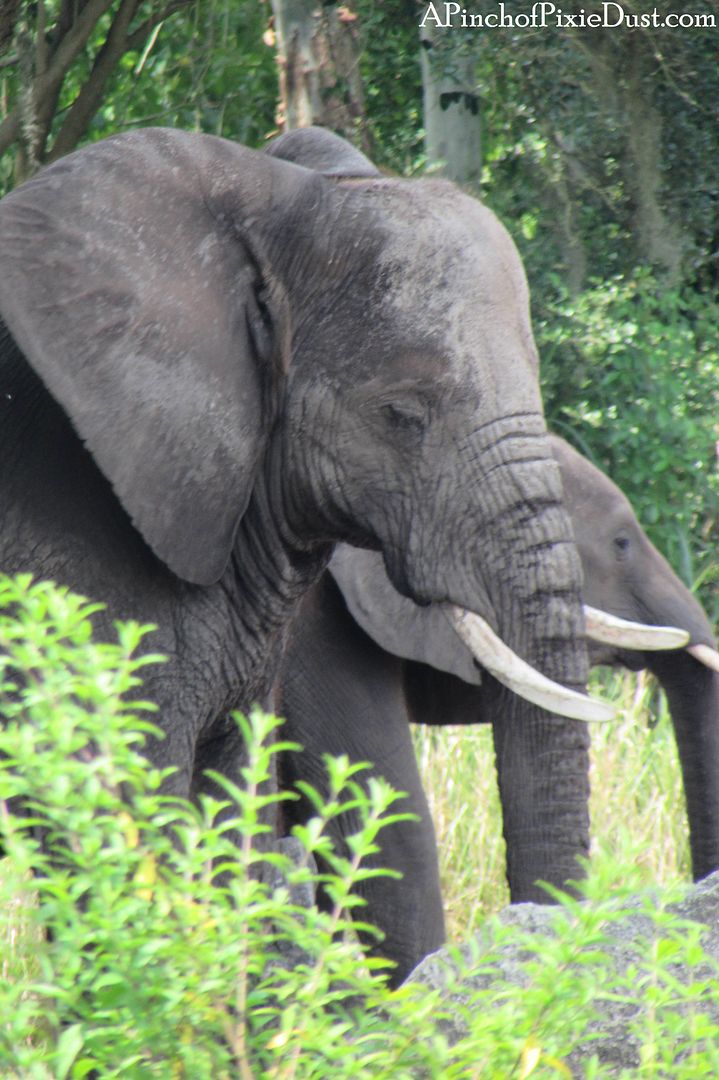 ...elephants.
Ok, now let's go to the boma. ;)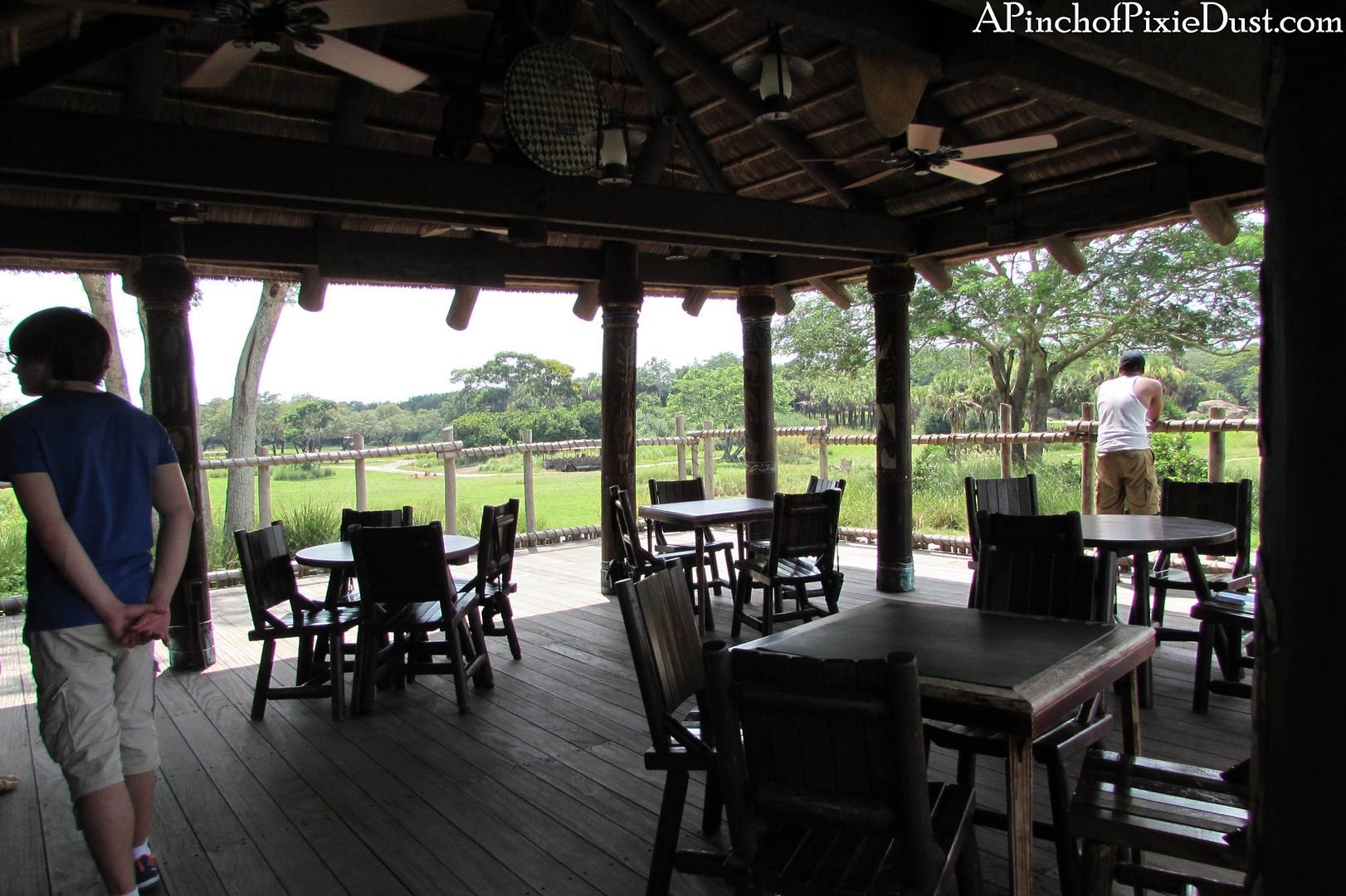 After a busy few hours meeting hippos and navigating jungle trails and bridges in the hot sun, it was so nice to sit for a bit in the shade - especially when the space was just beautiful!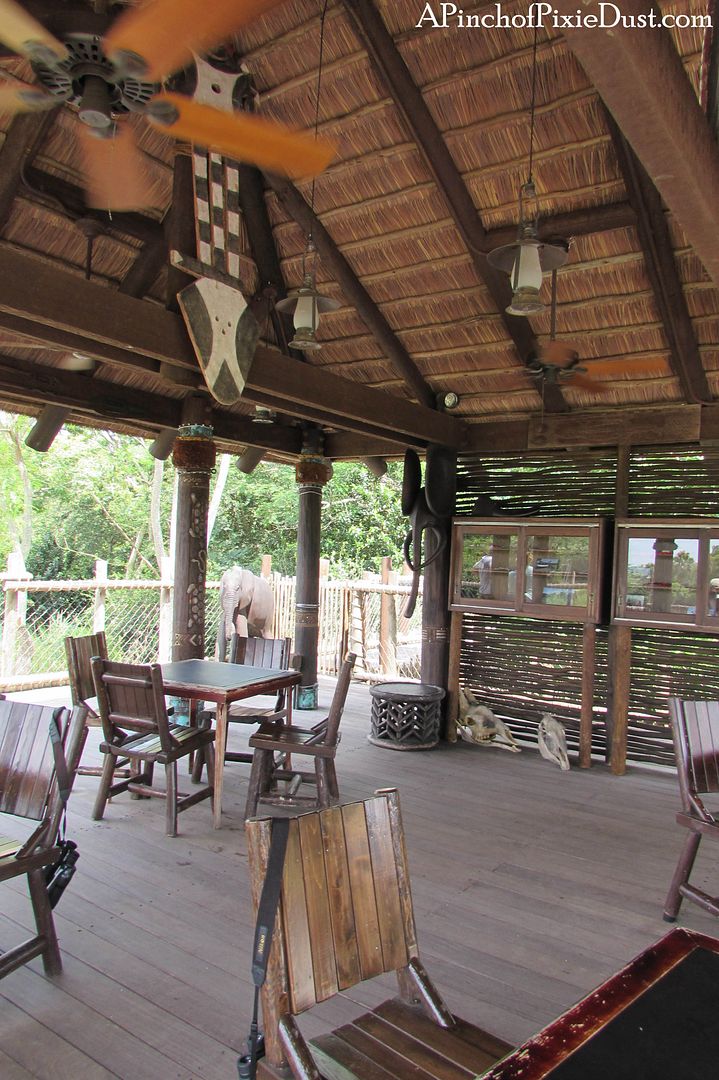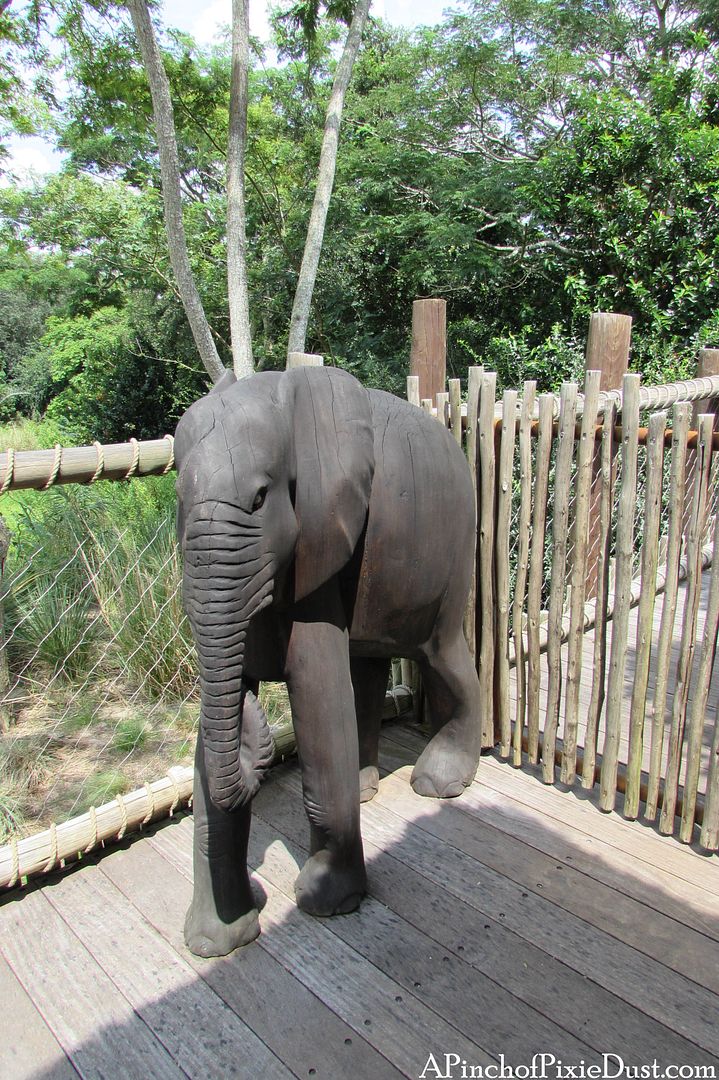 There were oversized masks decorating the rafters, and the pillars all had animal carvings and beads. I loved the various details - a camp chair, an elephant statue - even the bathrooms were full of beads and so beautiful!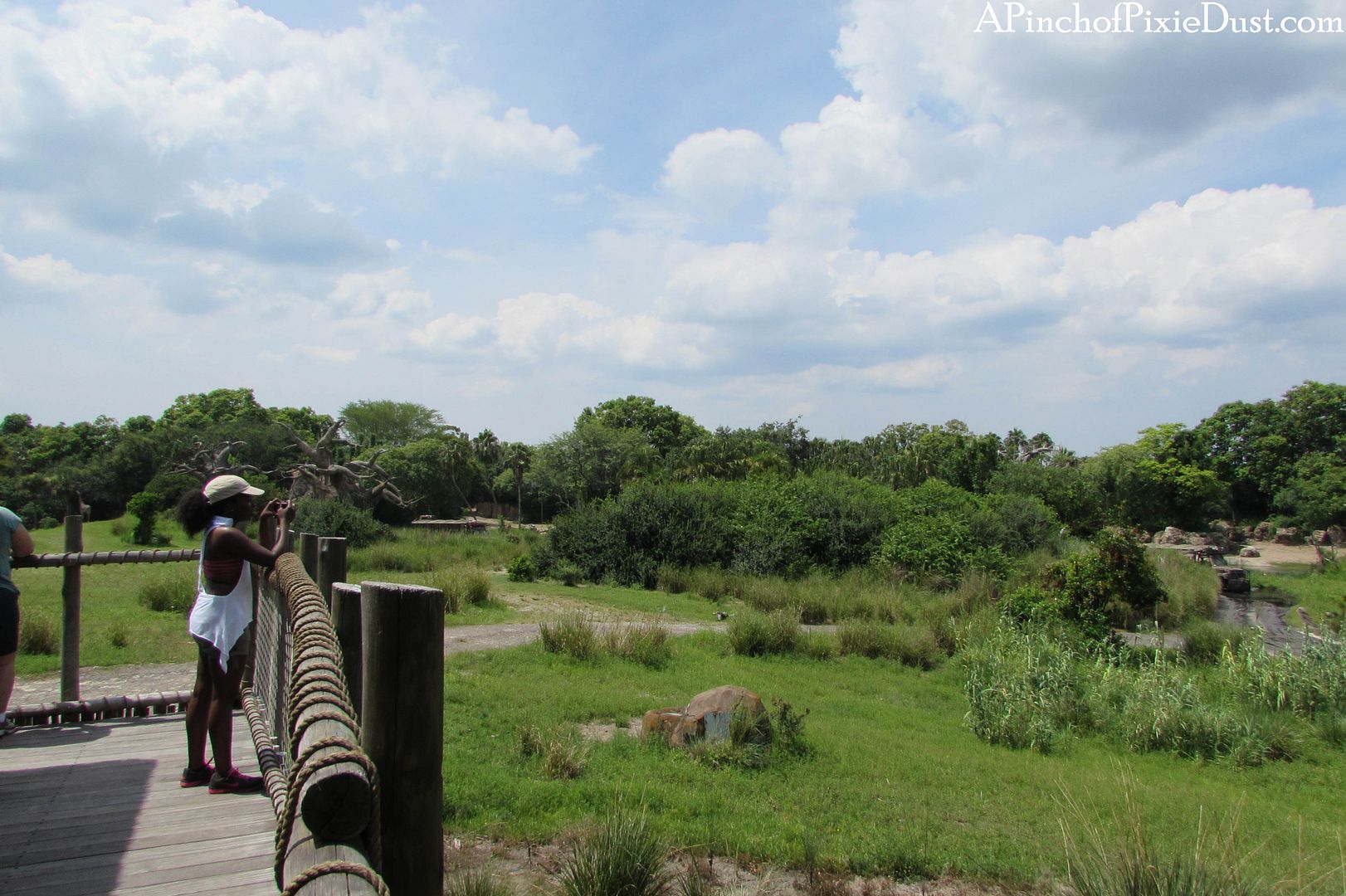 The main attraction, however, had to be just beyond the boma...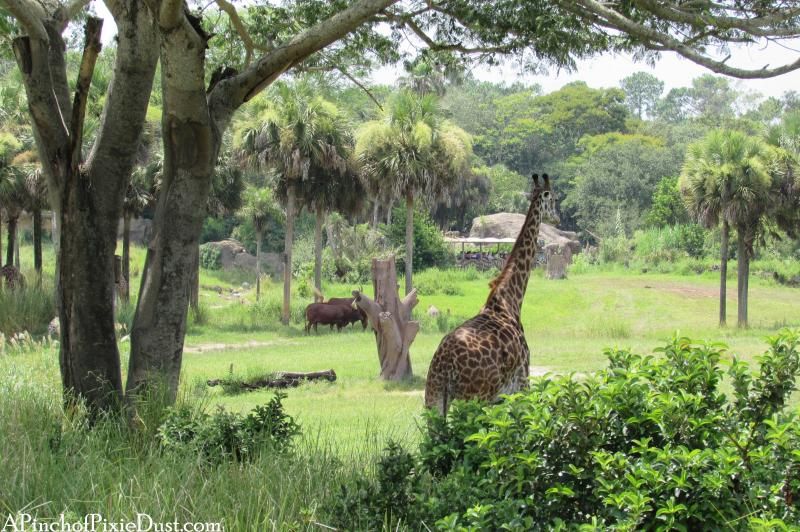 ...the savanna was so gorgeous! We spotted giraffe, wildebeast, and anokoli cattle (they're my homeboys).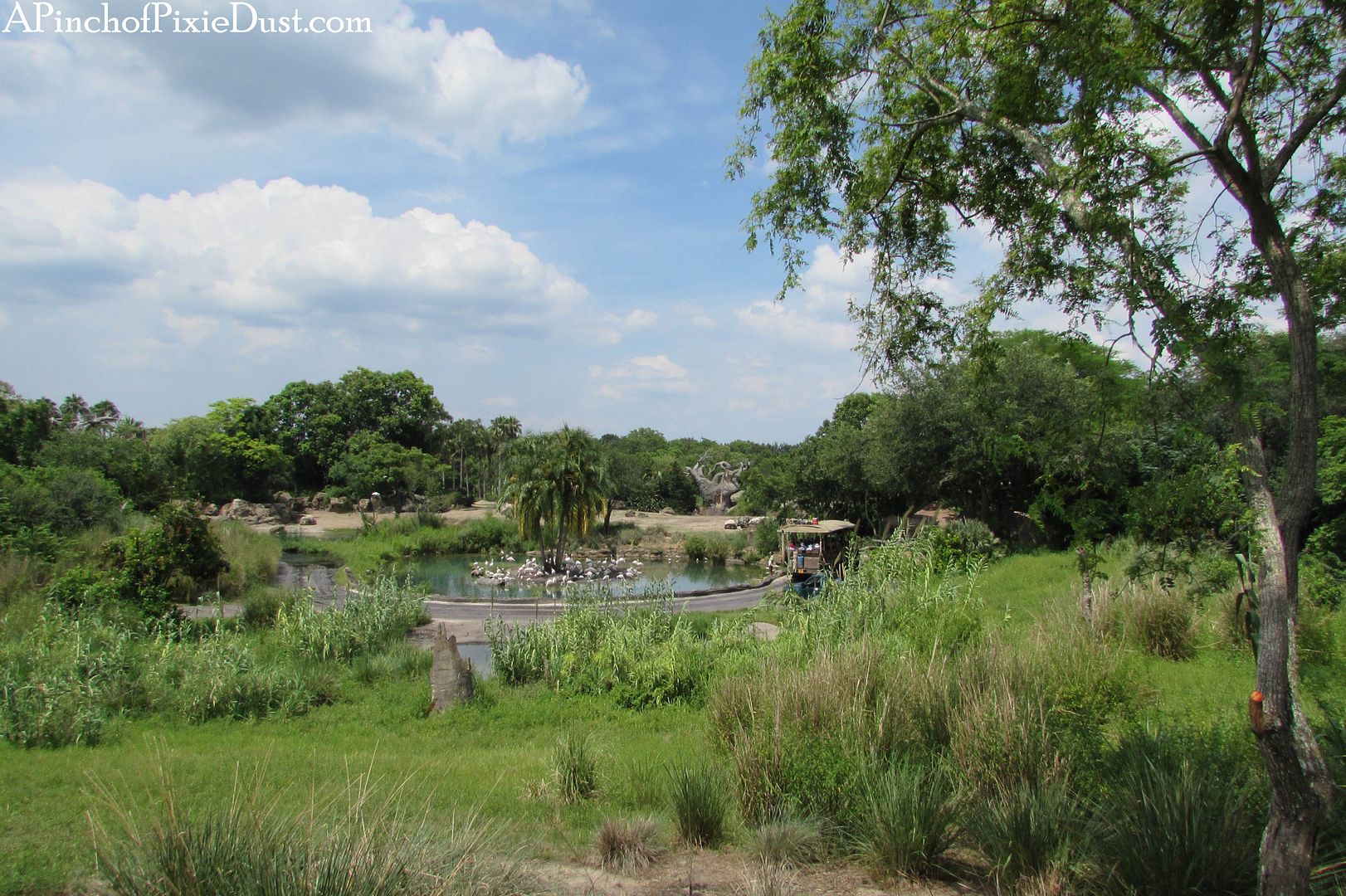 You could also look down to the flamingo pond and elephant area.
We watched them giving themselves an afternoon dust bath and having a drink - trying to keep cool!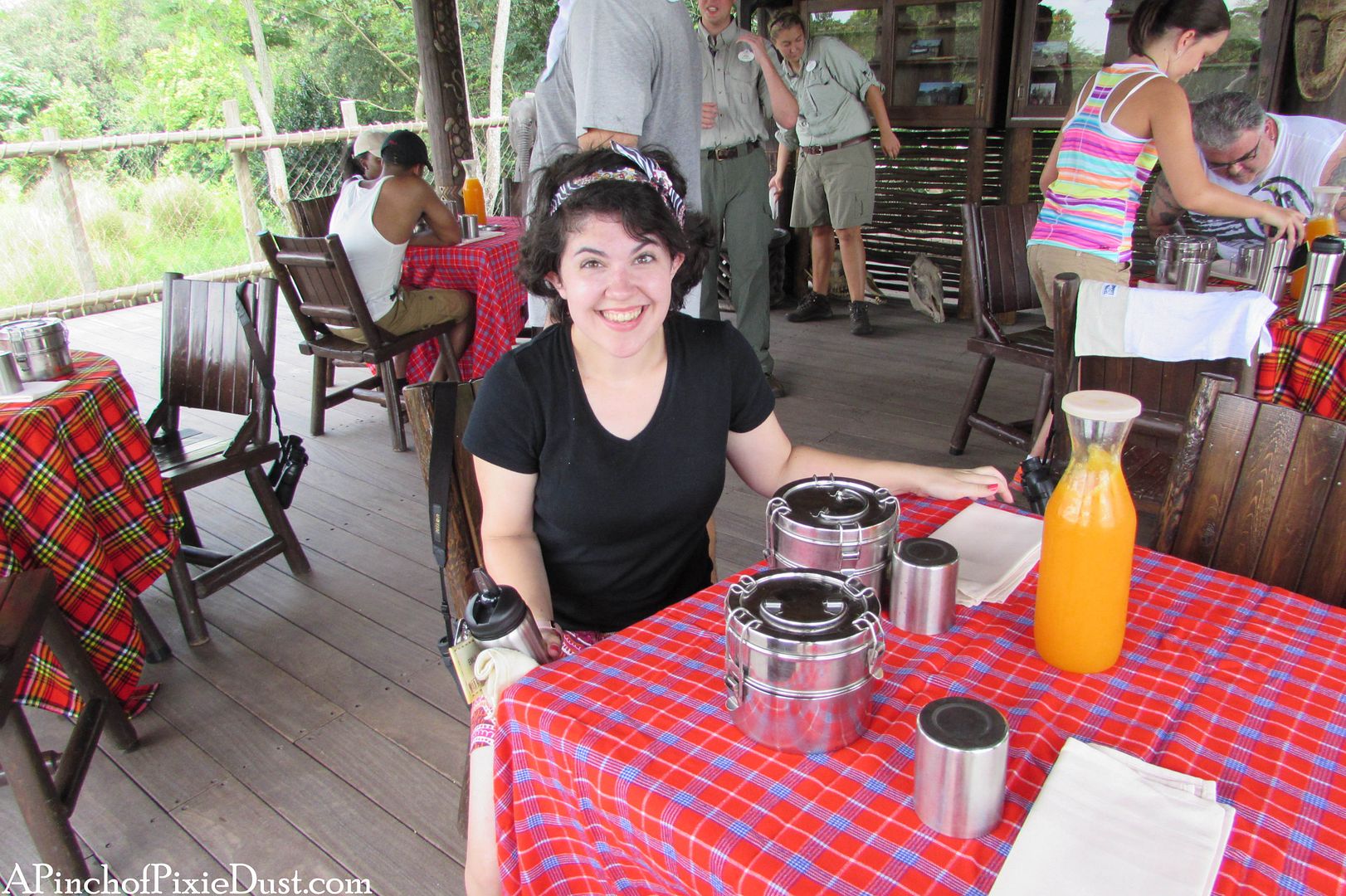 We had a different way of staying hydrated...it was time to eat. :) Look at that whole carafe of jungle juice - YUM! The silver bento-box-style tins were so neat and had two compartments filled with tasty things...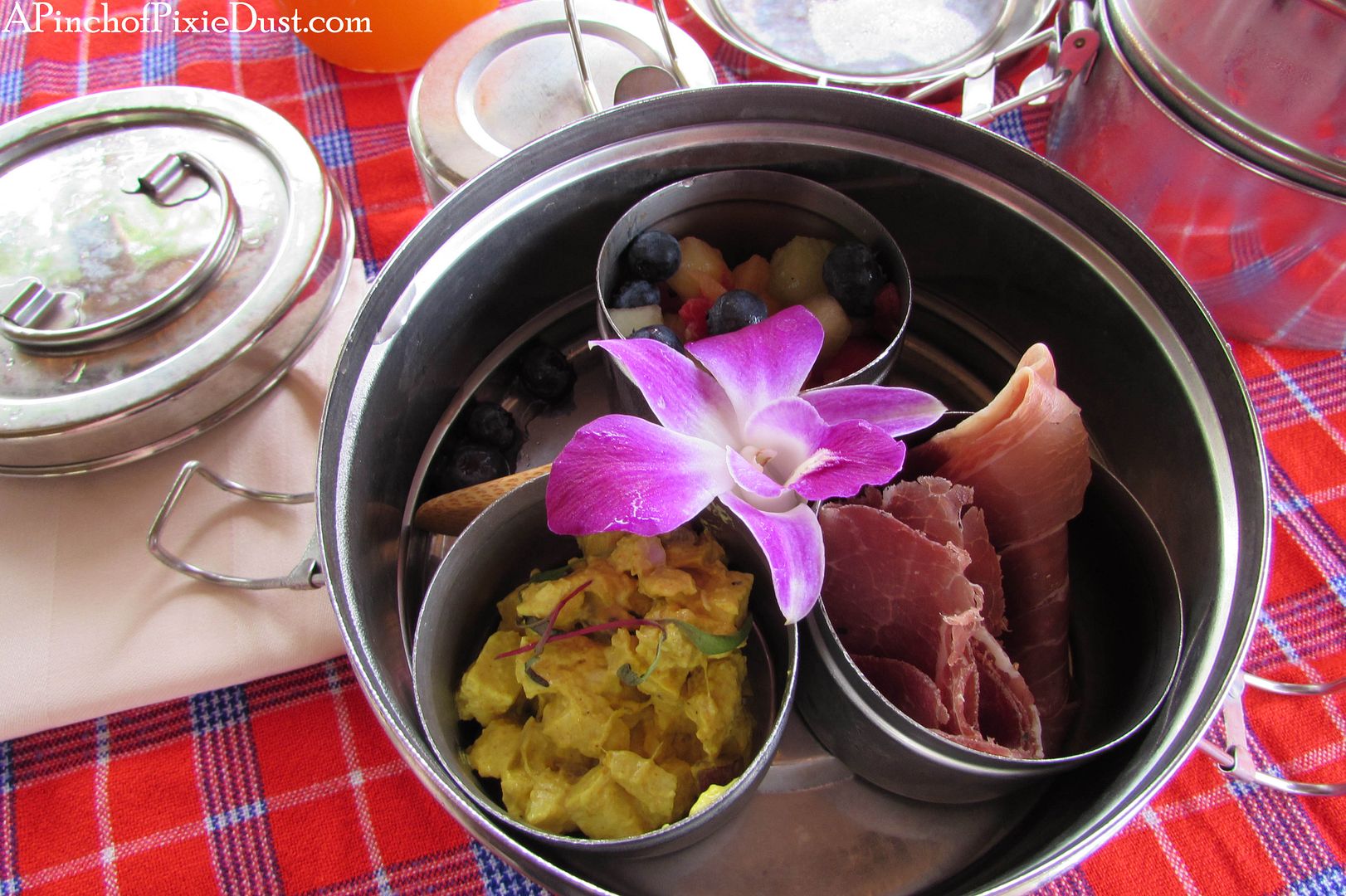 I'm planning a whole post all about the Trek food soon (
here it is!
), so for now we'll just do a quick overview: on the left, fruit salad, spicy chicken salad, prosciutto, and an edible flower. On the right, tandoori shrimp, mini pitas, hummus, and a salmon wrap with cucumber. Everything was delicious, and we were very hungry!
Here's the part II video with that beautiful boma.
After the meal, there was plenty of time to explore the boma and watch the animals. We did not feel rushed at all - this ended up being one of my favorite parts of the tour! The guides are also around to snap whatever photos you want. Josh and Julie were great and so friendly - Julie and I were chatting about the Lizzie Bennet Diaries, and Josh is into dinosaurs like Athos. Athos wants there to be a Wild Dino Trek!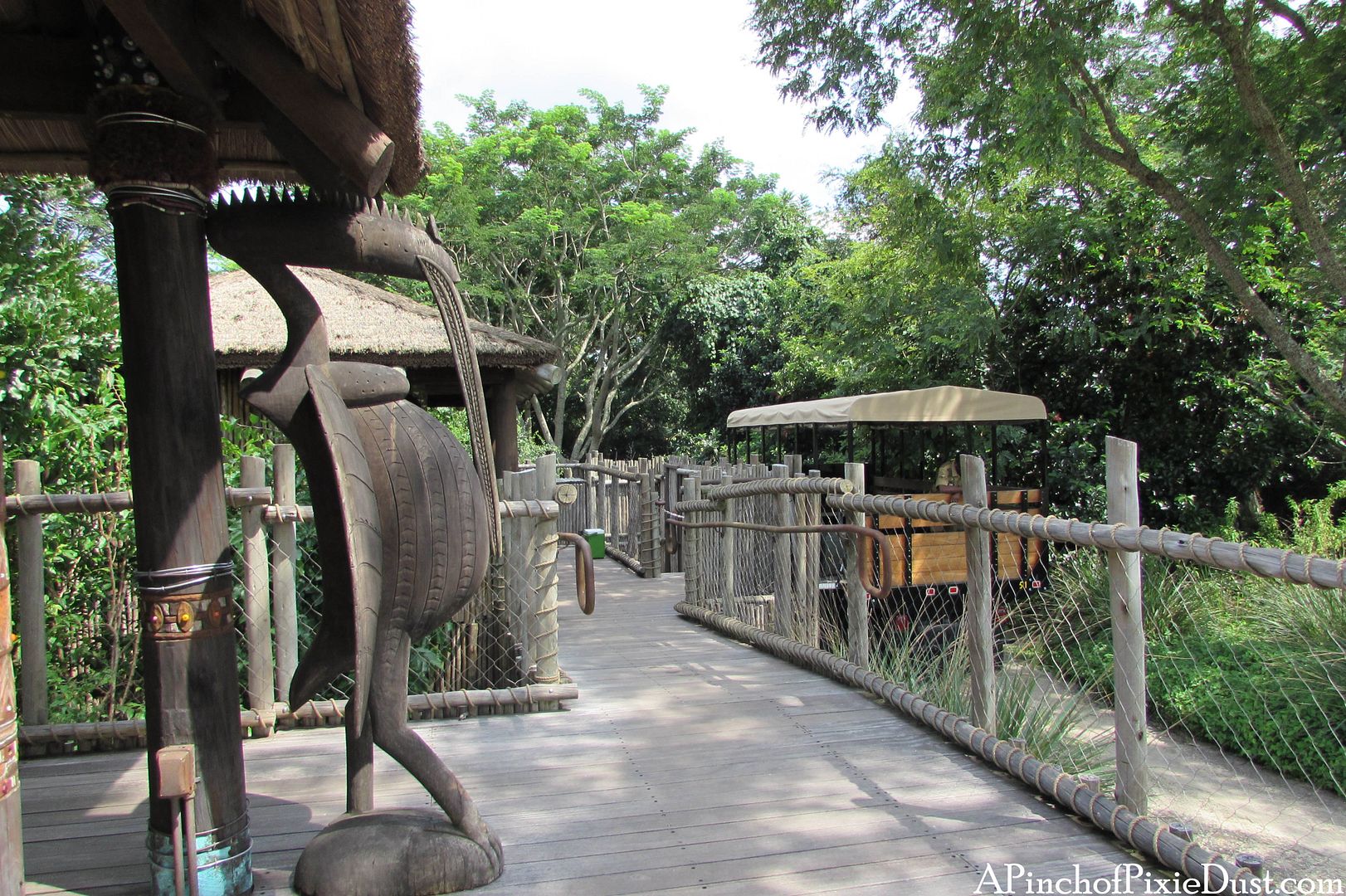 Our truck waiting for us - we said goodbye to the boma and went to see some lions...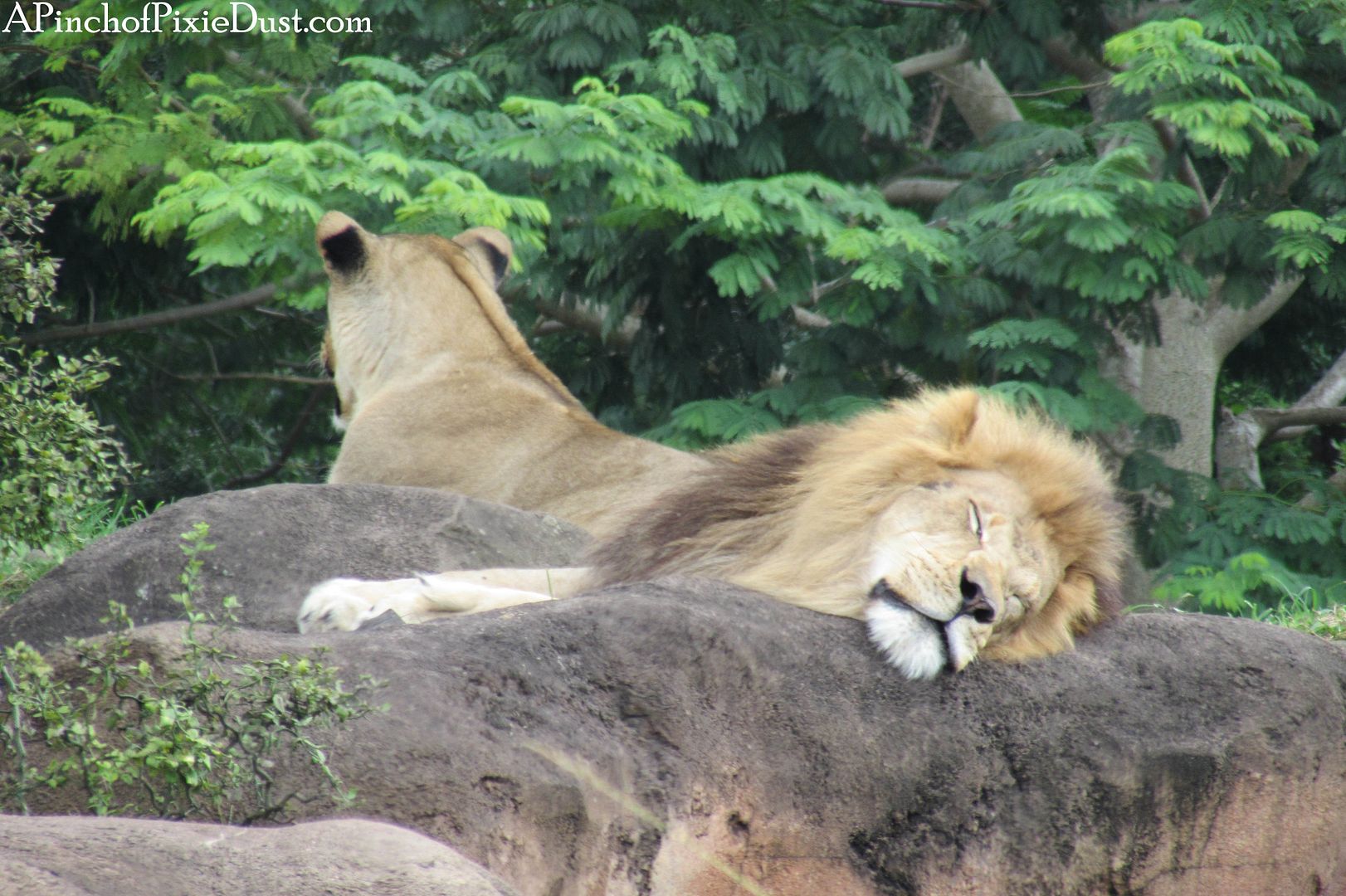 Awwwww....Simba's taking a nap...
I like the paw coming up in the background...looks like the lion's wife is about to slap him!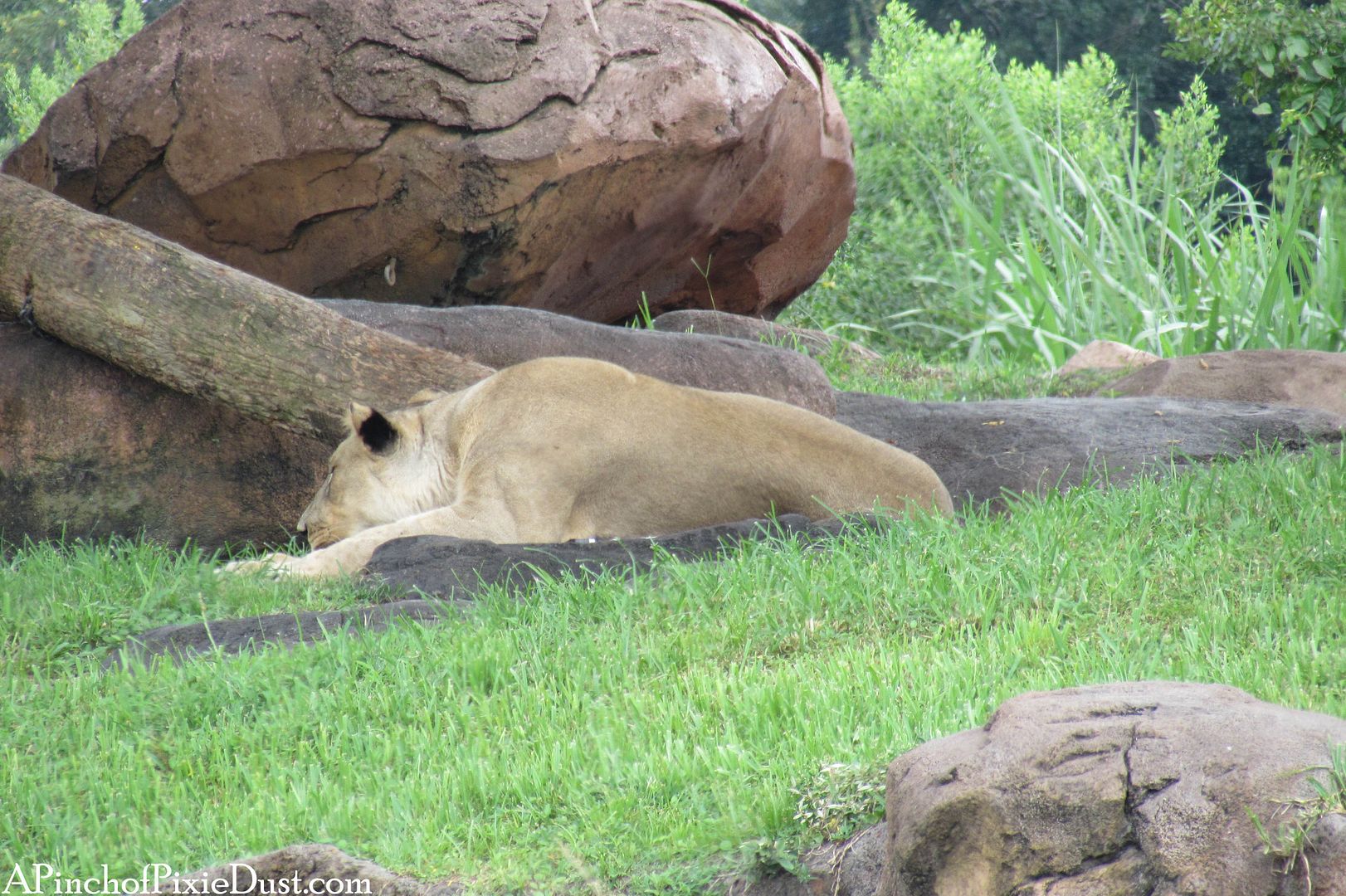 It was so interesting to hear about the lions from the guides - apparently they often will put out a rabbit frozen into a big block of ice, so the lions will lick away the ice (to stay hydrated) and eventually get to the meat.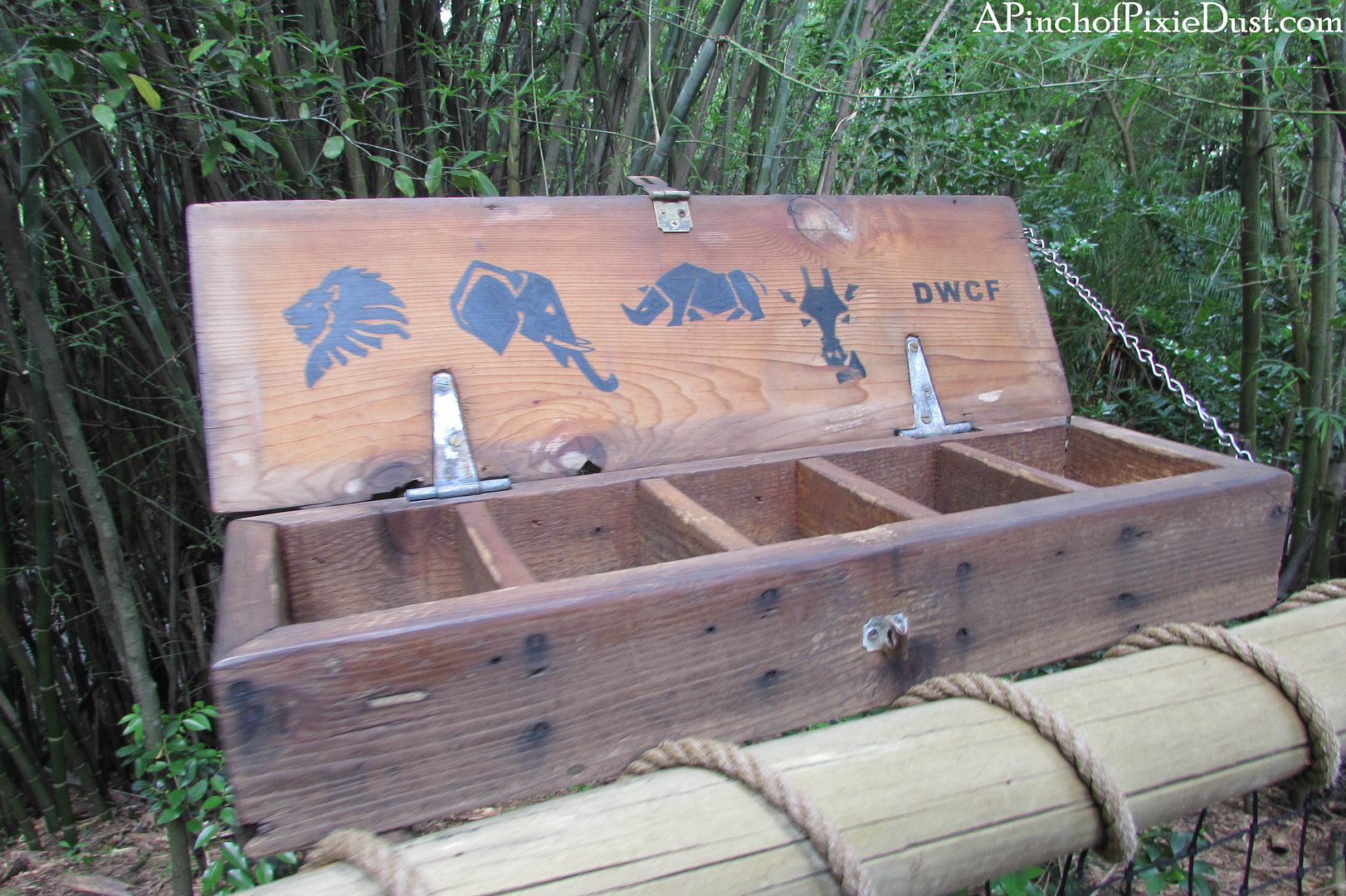 Part of the cost of your trek includes a donation to the Disney Wildlife Conservation Fund, and your group gets to vote on which animal group you want to the donation to go to. You put your stone in the corresponding bin at the end.

Before we disbanded we were also given a sheet of paper with the website and password to view our photos online. Our guides cleverly suggested we take a picture of it right away in case we lost the paper!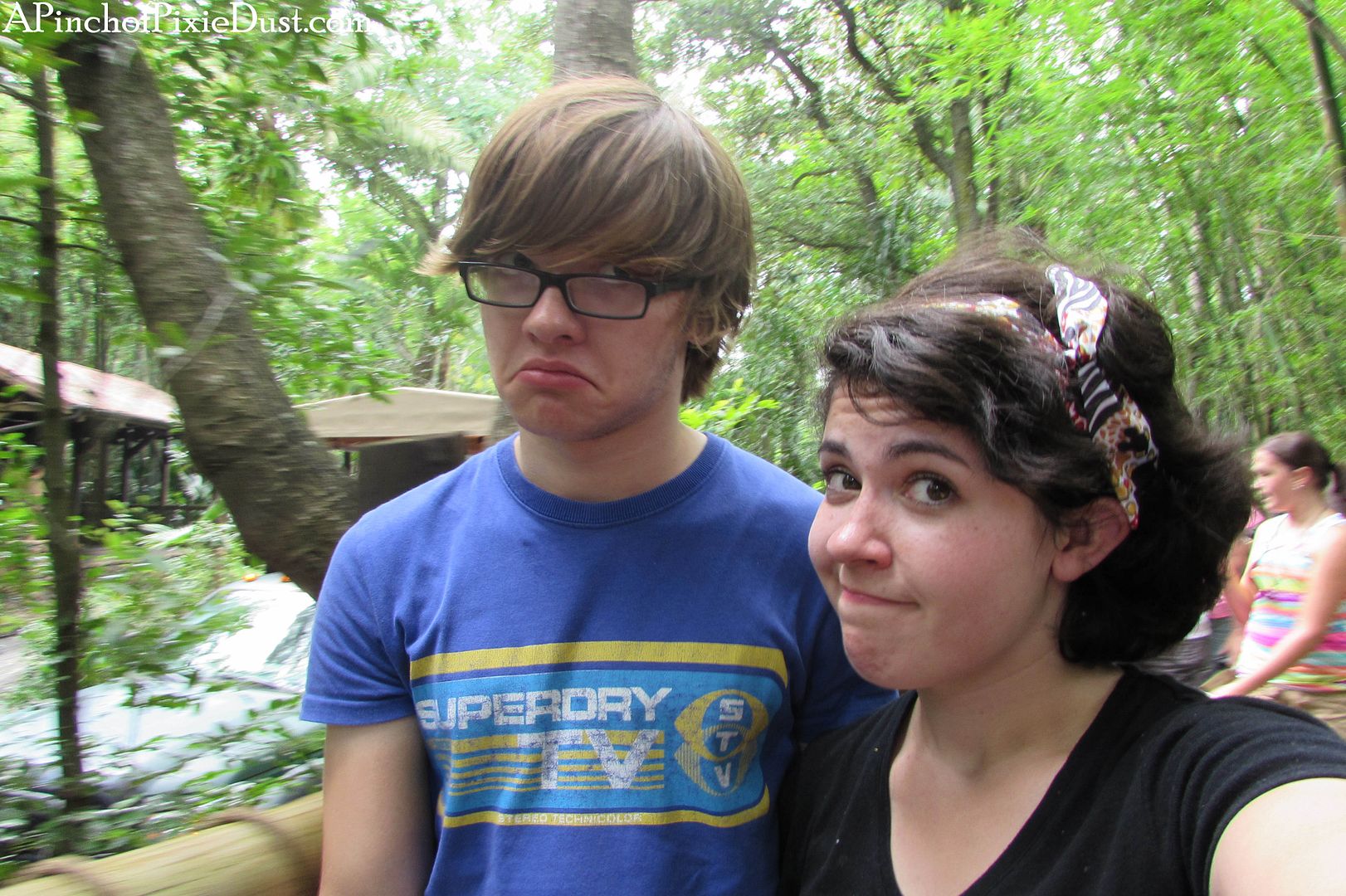 Does it have to be over? Can we go again??
I'm so glad Athos wanted to do this and let me tag along - it was fantastic! If you're on the fence about the Wild Africa Trek, I would definitely give it a try. It is expensive, but there was a quite a lot of value with the meal on that beautiful boma, the photographs, and all the unique experiences. We had a simply wonderful time!
A quick overview vlog I edited together during the trip!