KEEEEETTTTTTTCCHHHHUUUUUUUUUUUUPPPP!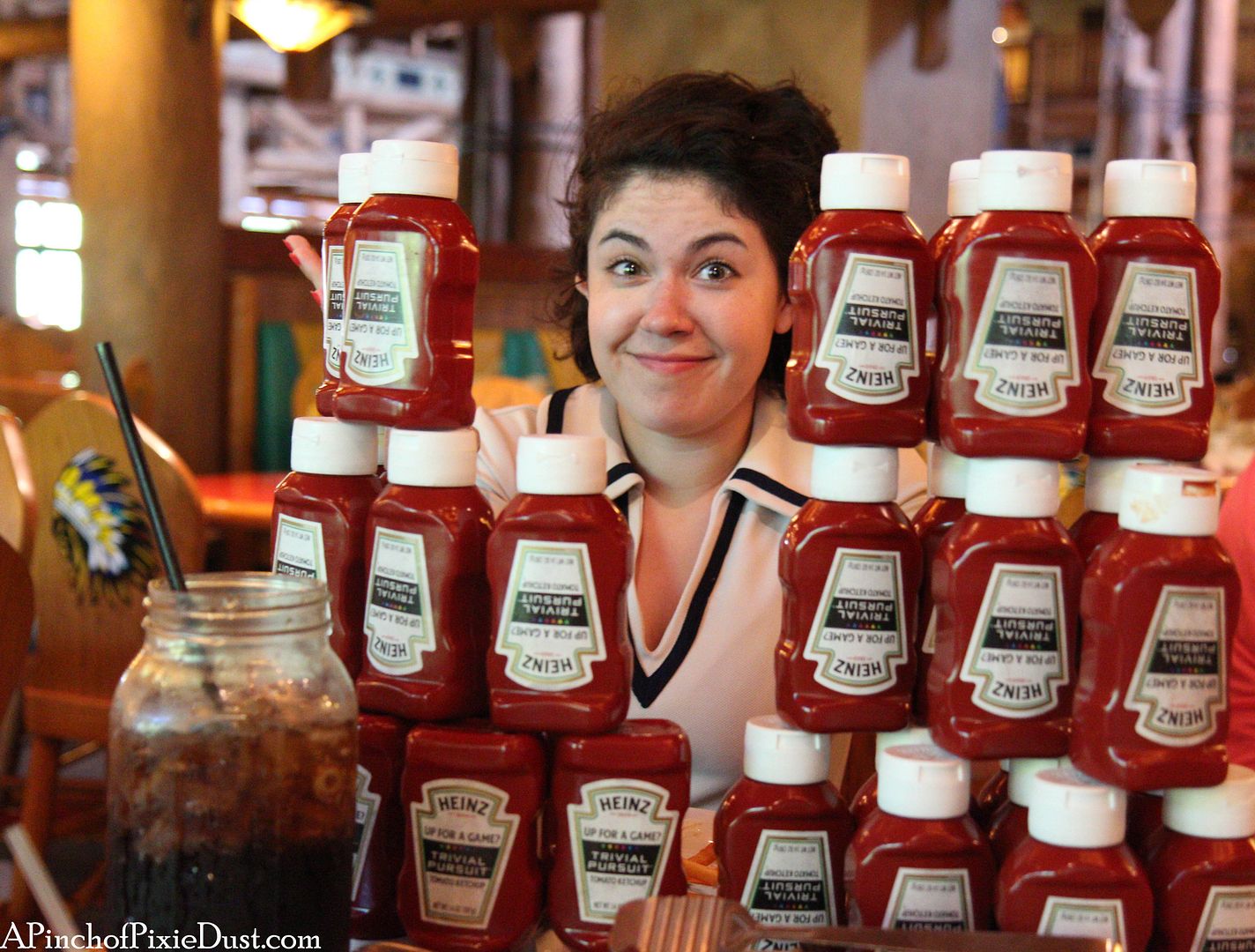 For this blog post, we're going to need ketchup. Lots and lots of ketchup.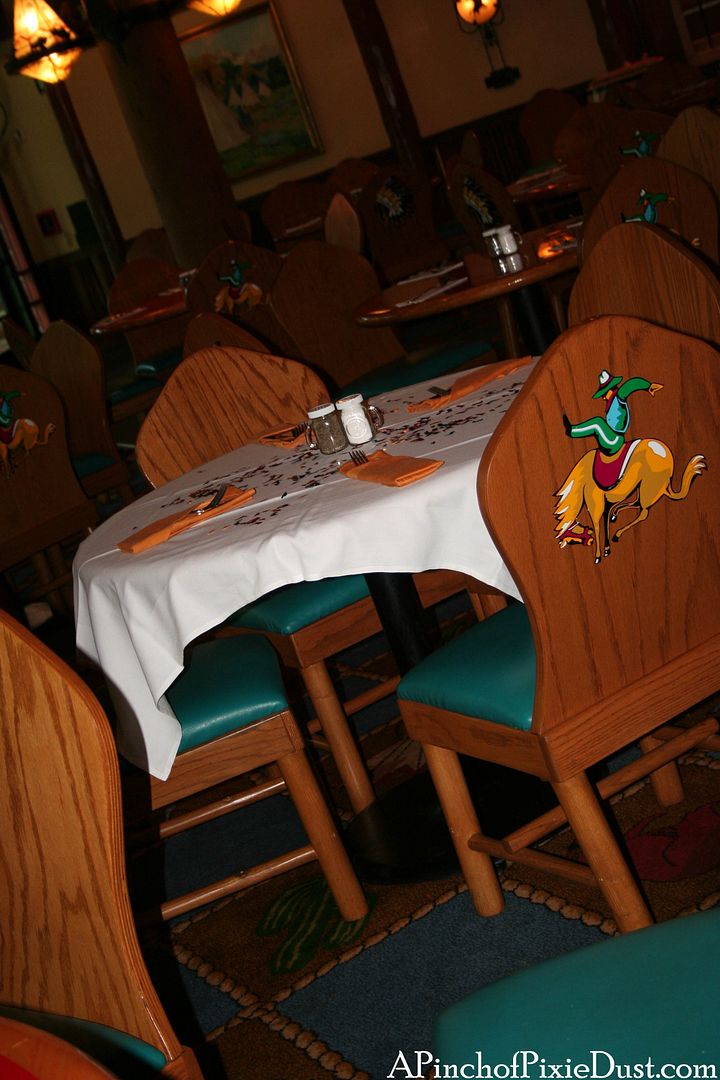 Why all the Heinz, you ask? Because today's blog post is taking us to the soaring log lobby of the Wilderness Lodge Resort at Walt Disney World, where we've got a table waiting for us at the Whispering Canyon Cafe (looks like somebody is celebrating something so the cast members decorated a table with confetti - so fun!).
Whispering Canyon serves breakfast, lunch, and dinner and is located just off the lobby. It's one of two table service restaurants at the Wilderness Lodge.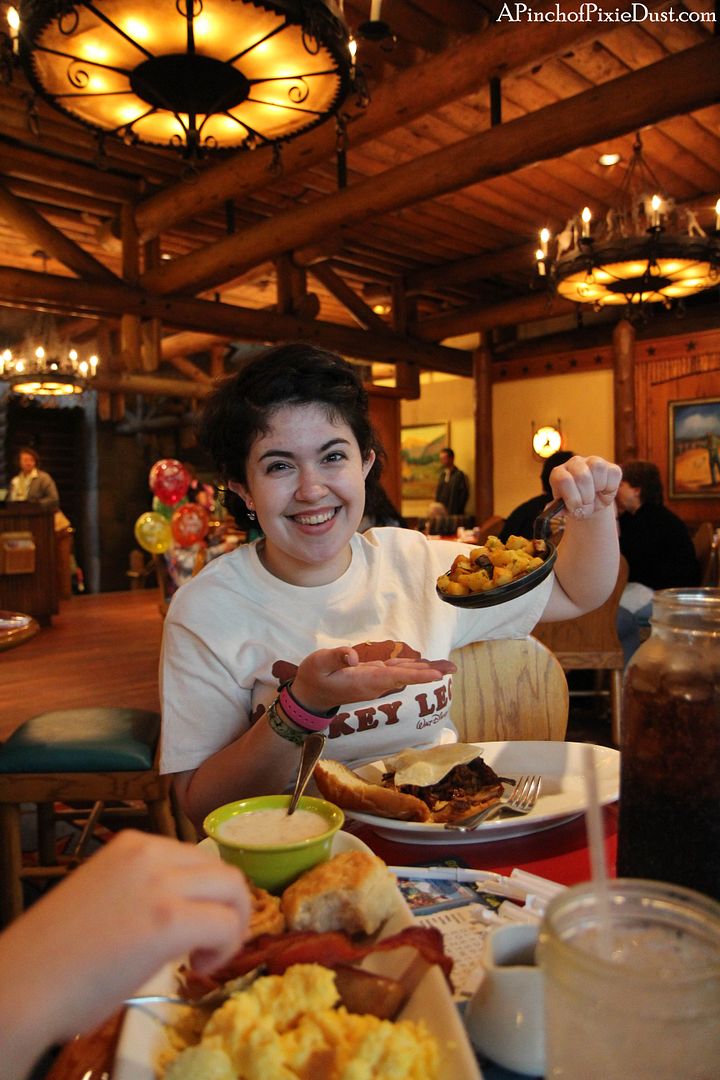 This location is famous for their all-you-care-to-enjoy skillet, and we're going to look at not one but two skillets today - the breakfast skillet (in the foreground on the left...I'm holding a mini skillet of potatoes that came with my breakfast sandwich!) and the lunch/dinner meat-lover's skillet!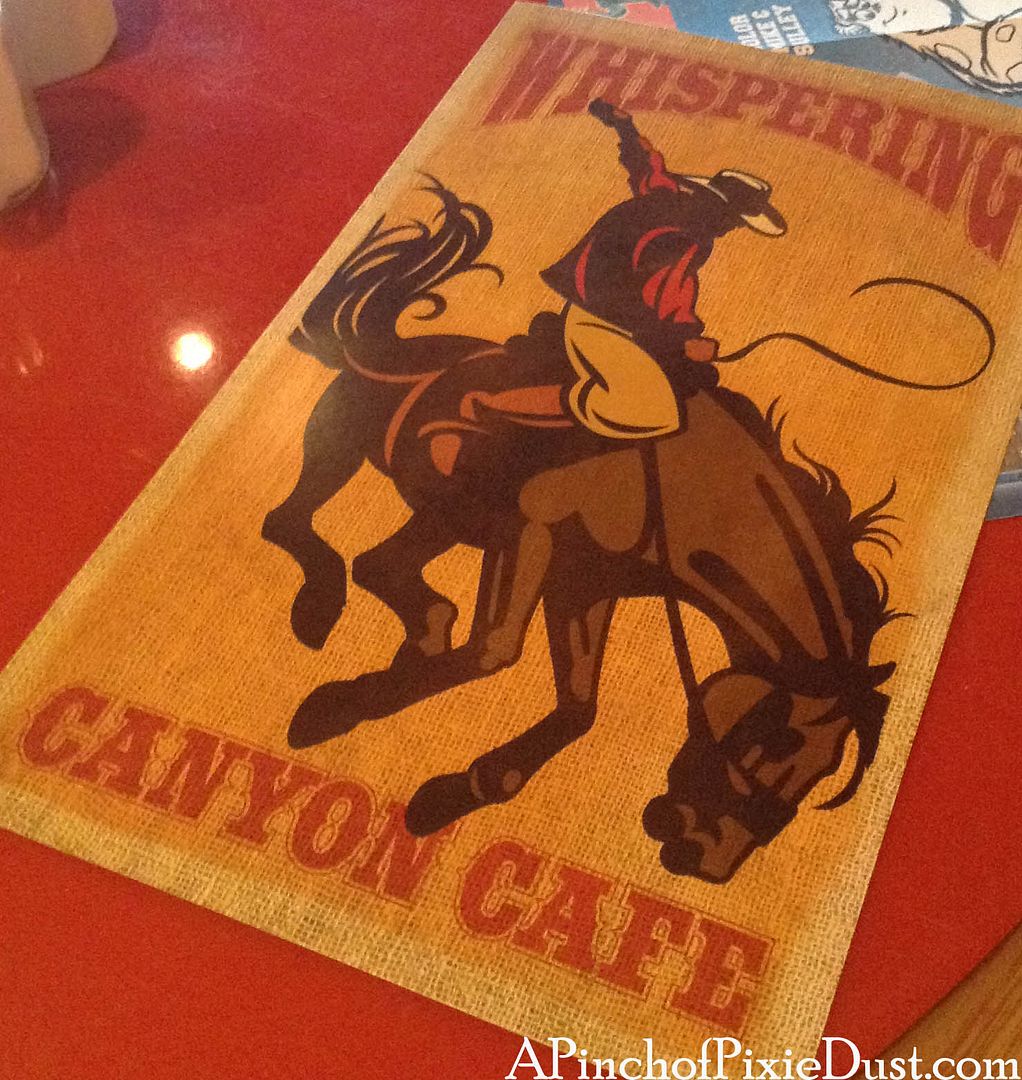 Here's the breakfast menu from earlier this spring with a buckin' bronco!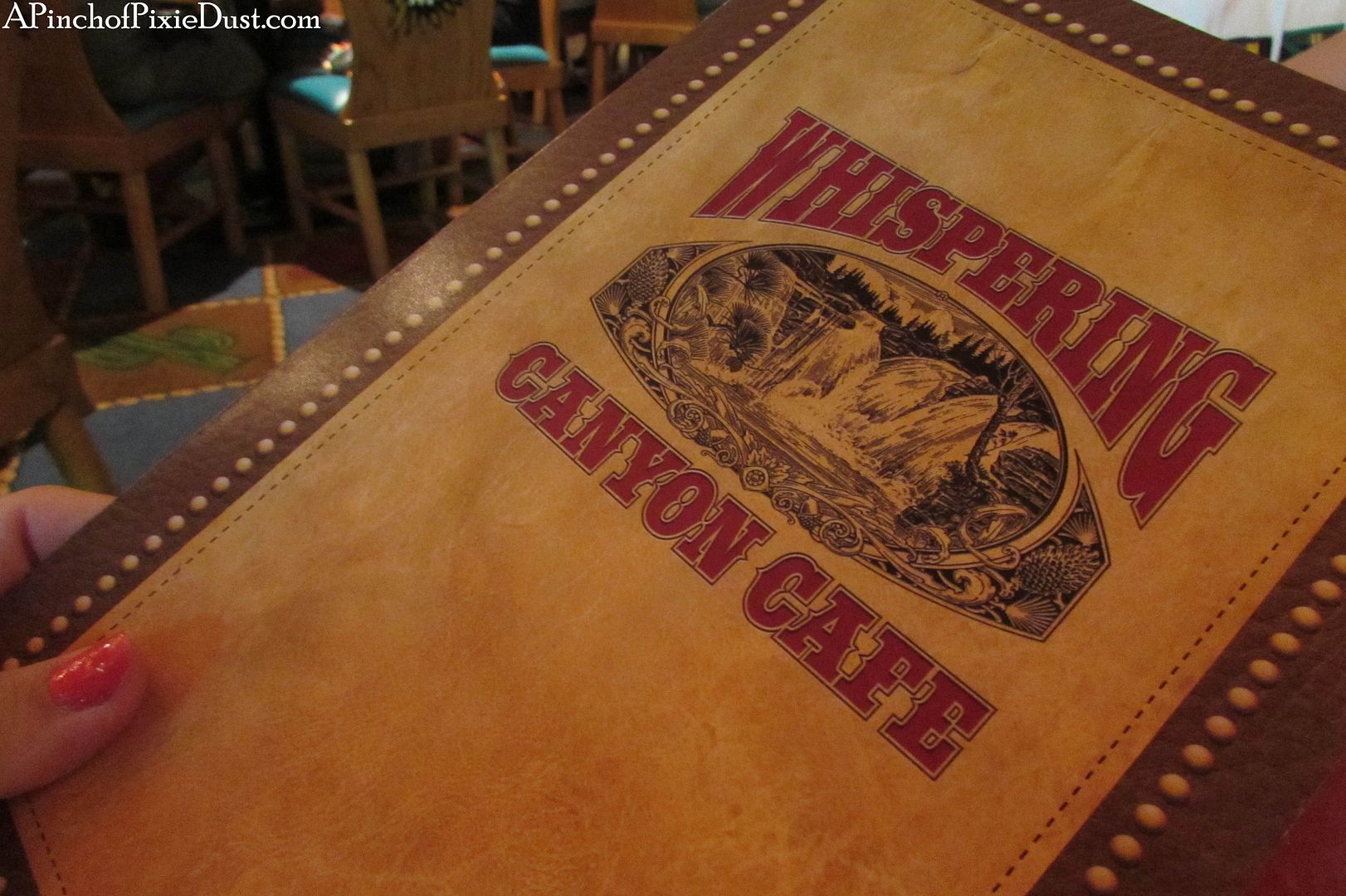 And here's the lunch menu from this summer with a peaceful-looking river scene.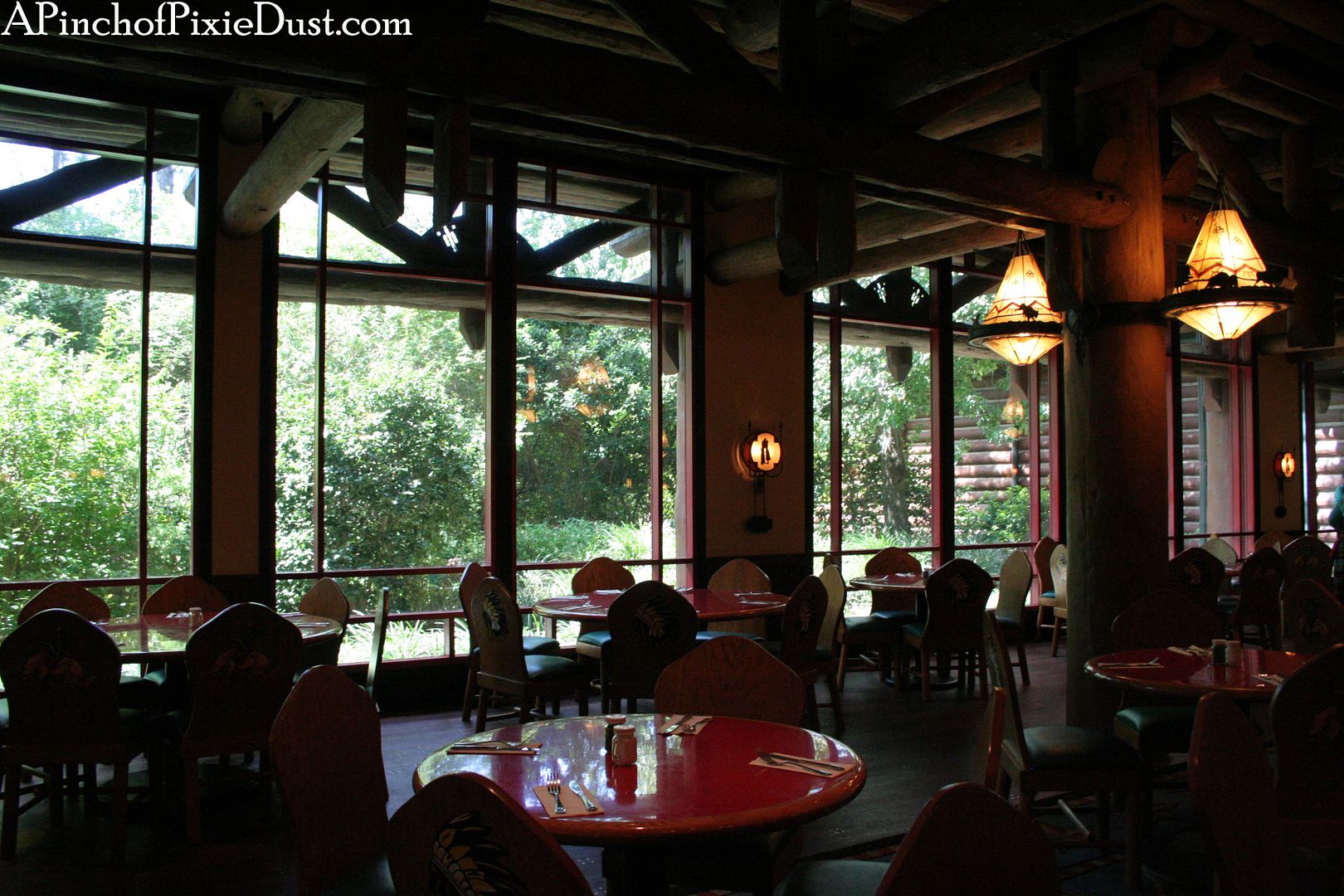 It looks like a peaceful dining room when it's empty...to one side you've got a wall of windows looking out at at the green wilderness...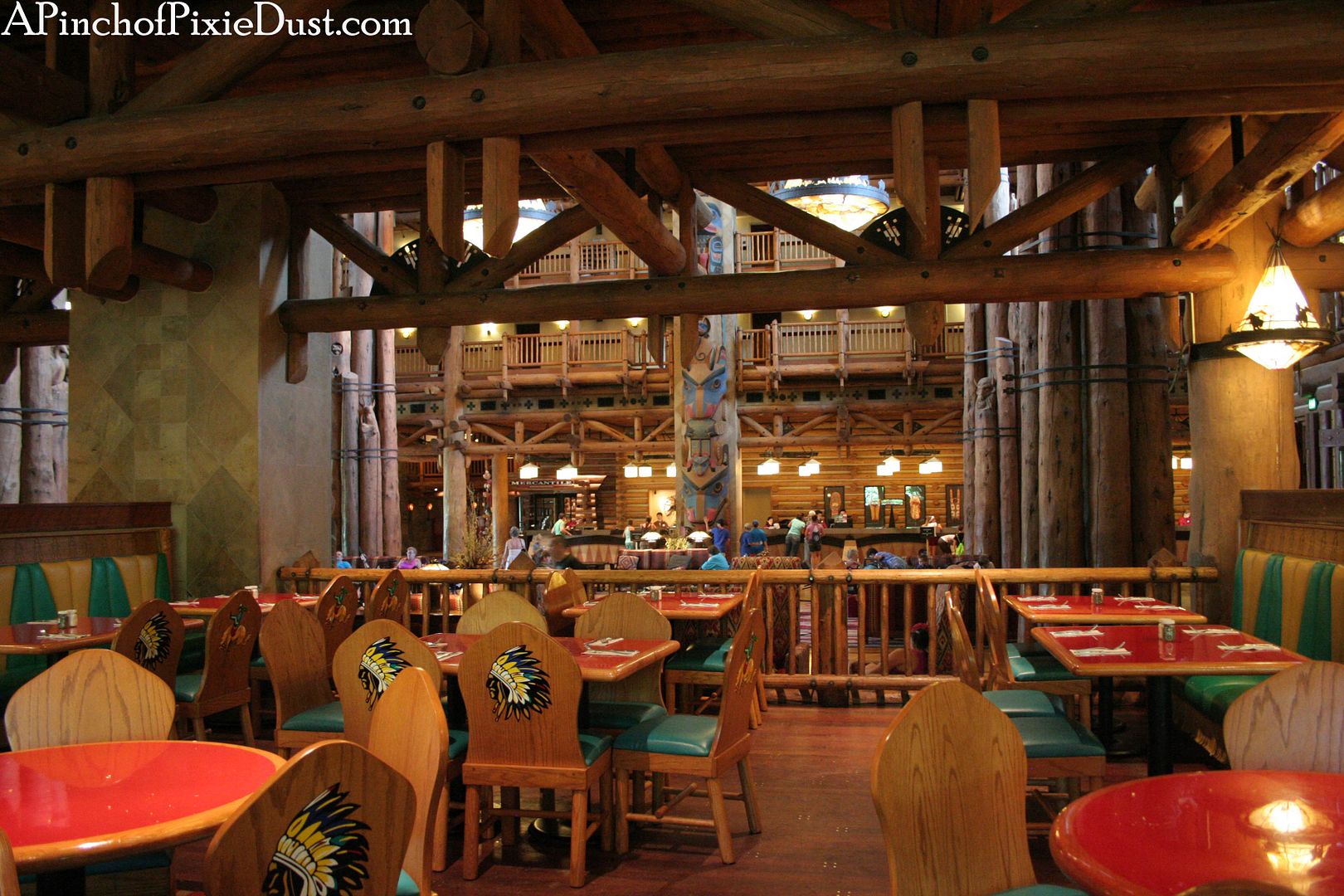 ...the other side is open to the lobby, so if you get a seat next to the railing you can look out at those beautiful totem poles and tepee chandeliers.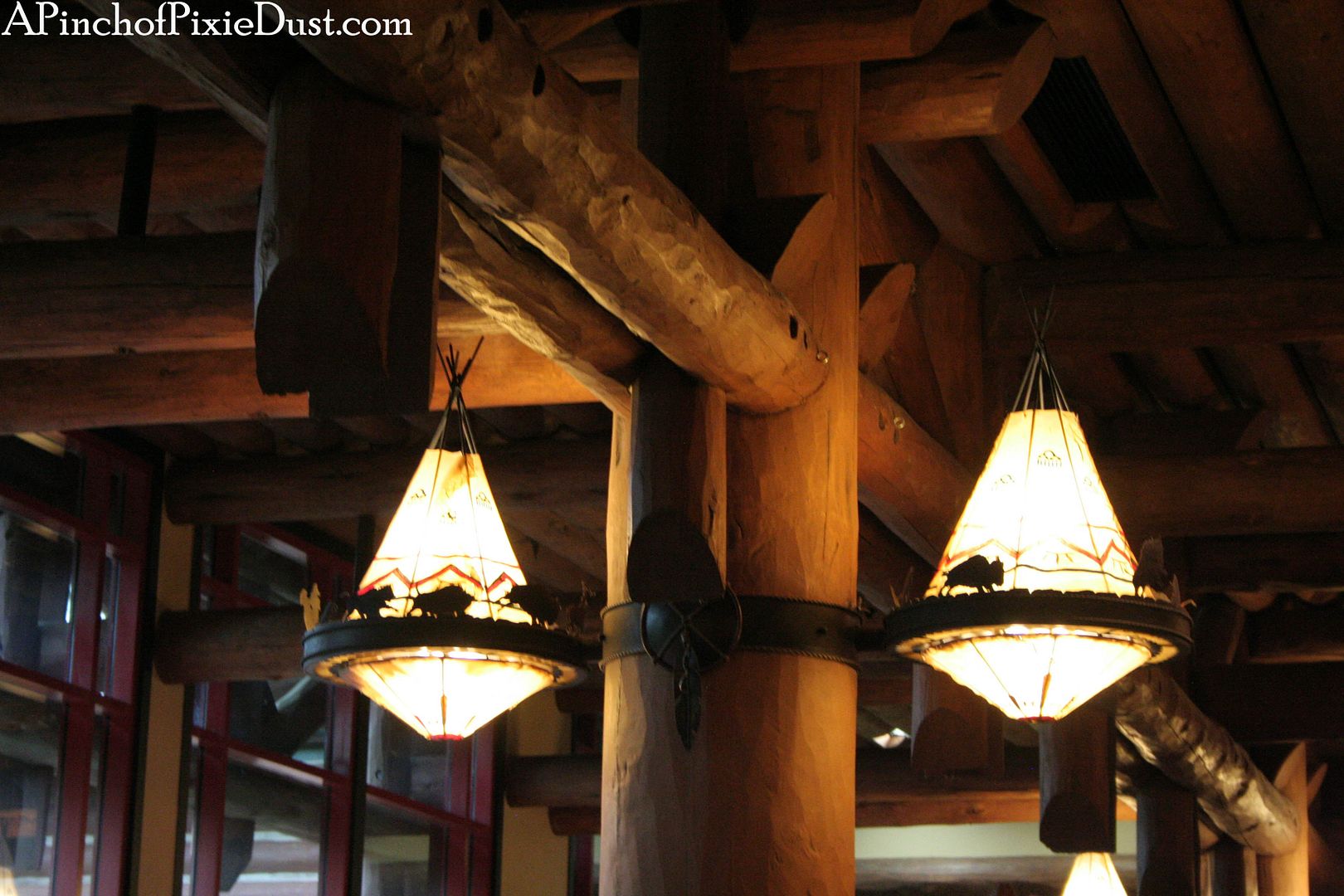 There's some gorgeous Western chandy candy inside the restaurant as well - including mini versions of the giant lights in the lobby!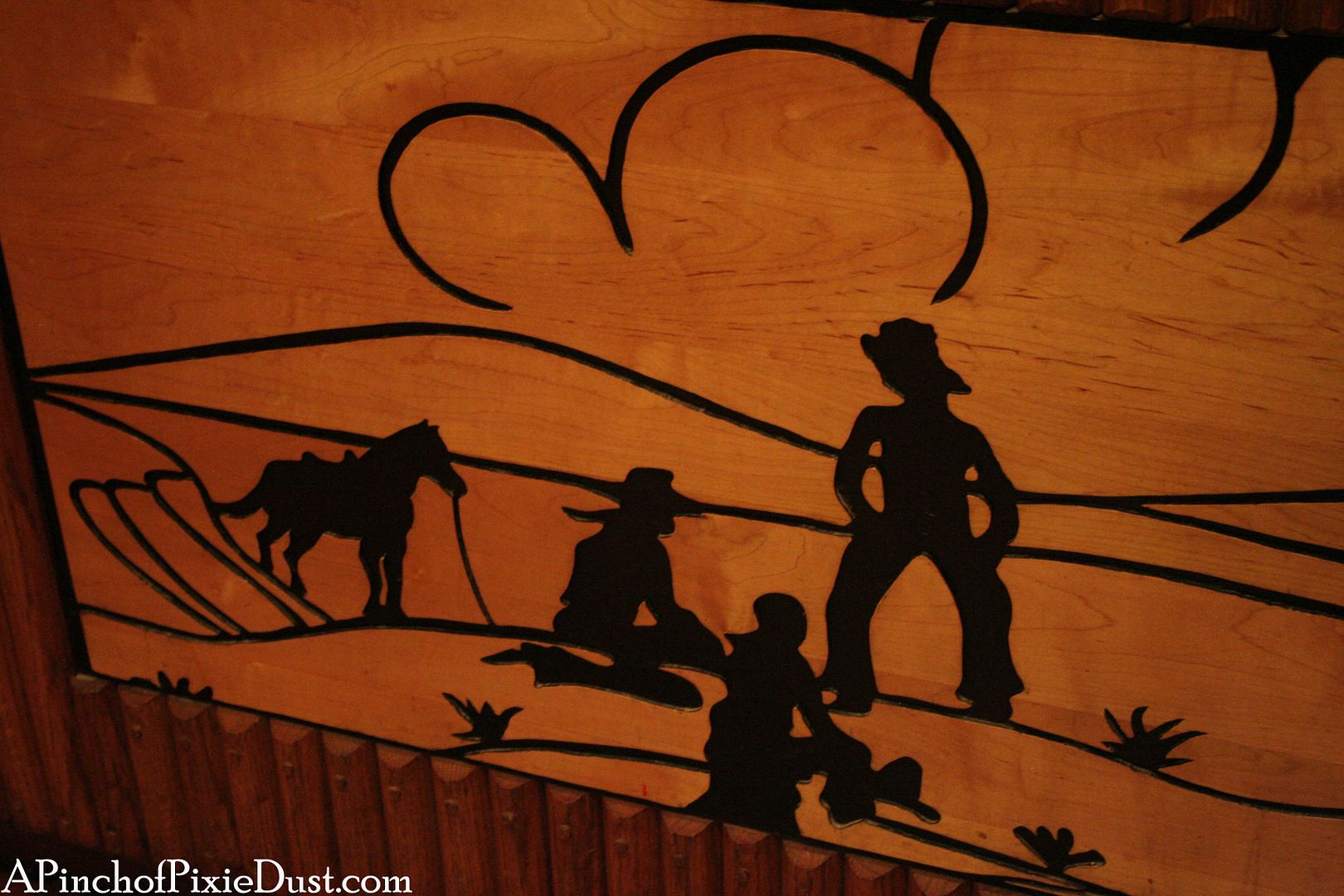 But don't be deceived by appearances...the cowboys at Whispering Canyon are anything but quiet! There's always a rollicking good time going on here...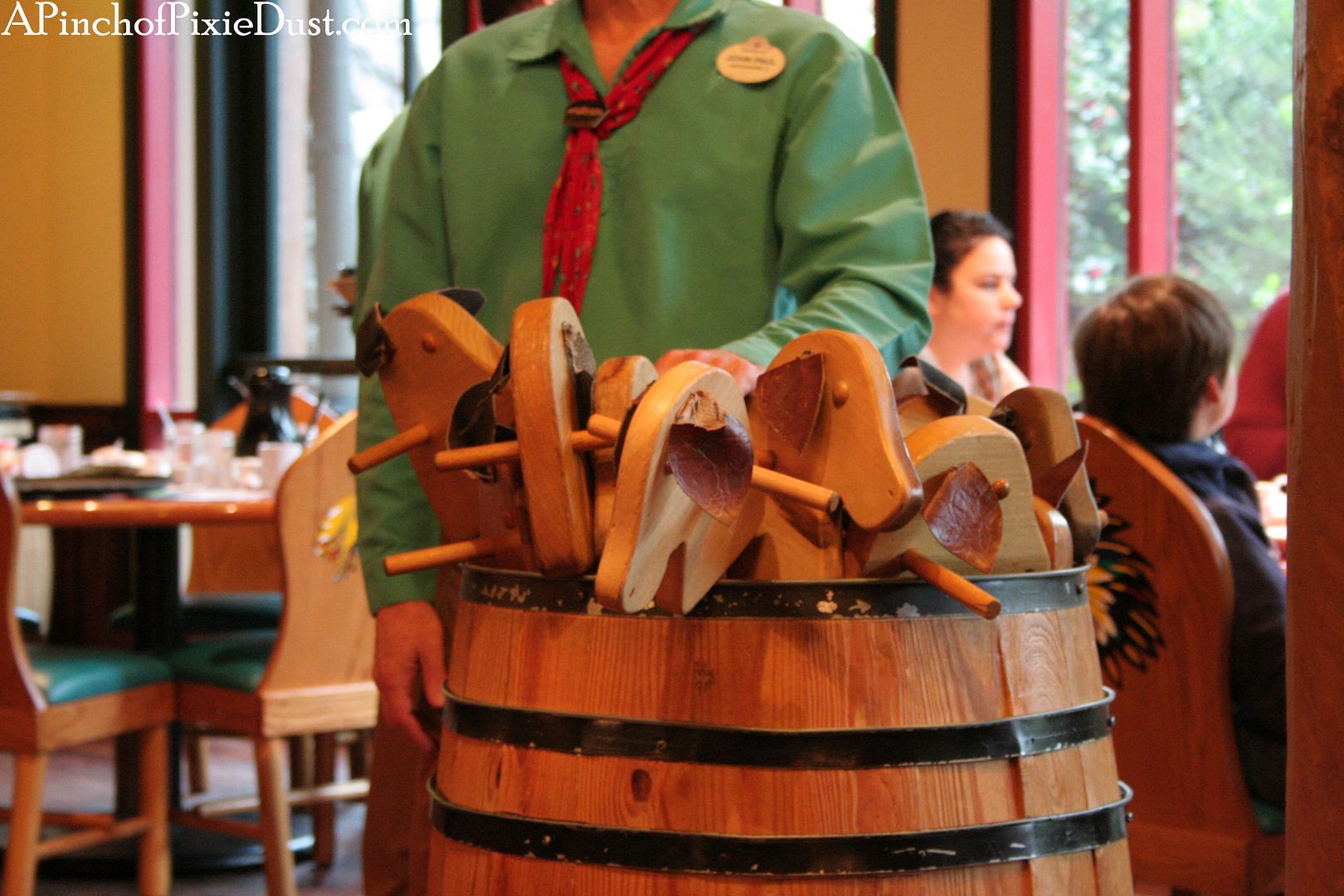 You might find a toy horse race stampeding around the restaurant! And when your server comes to the table, you may find them flinging straws and napkins at you...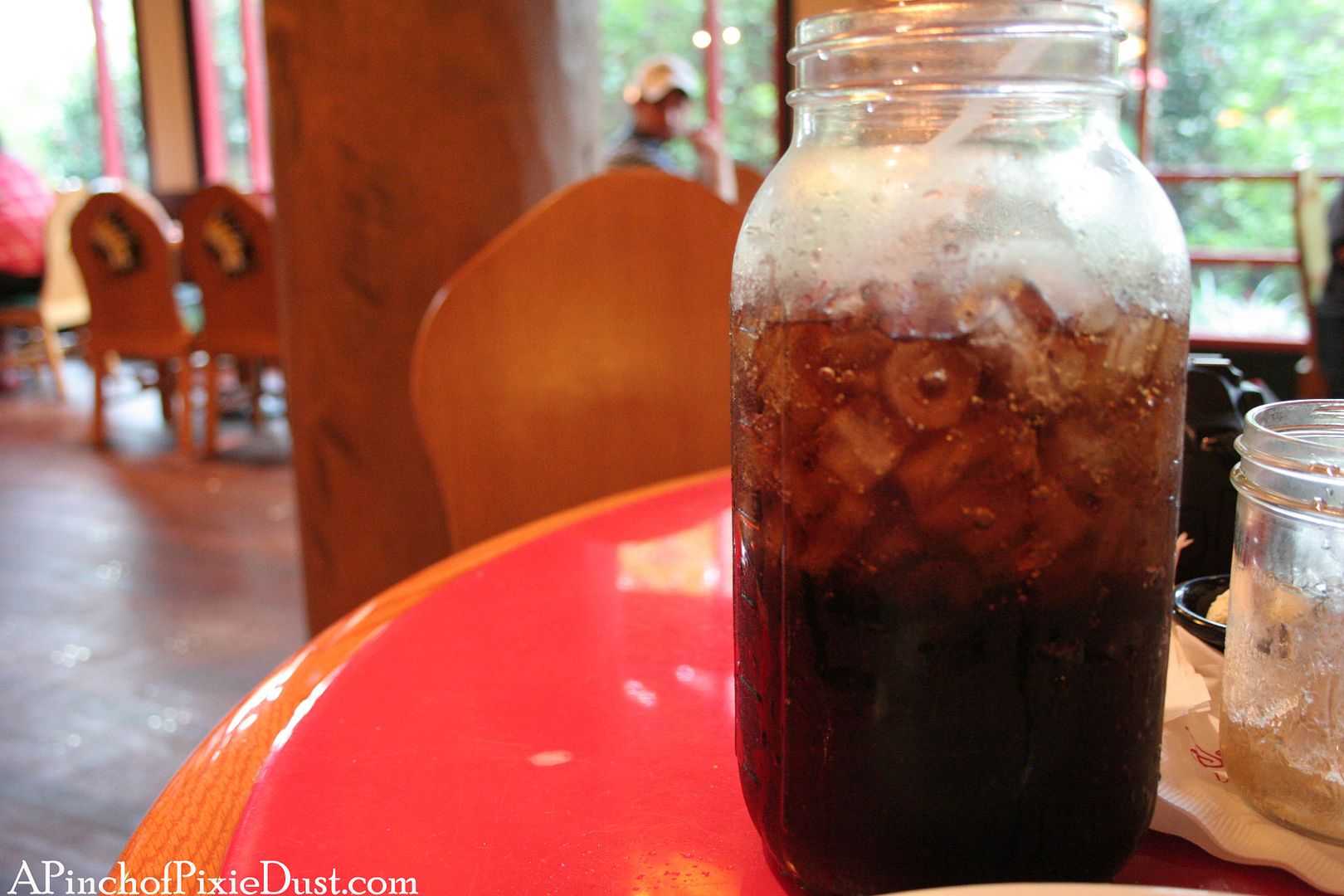 Be careful what you ask your server for...if you want too many refills, they might just bring you out an ENORMOUS jug! You want ketchup? You won't just get one bottle - you'll get every bottle in the restaurant.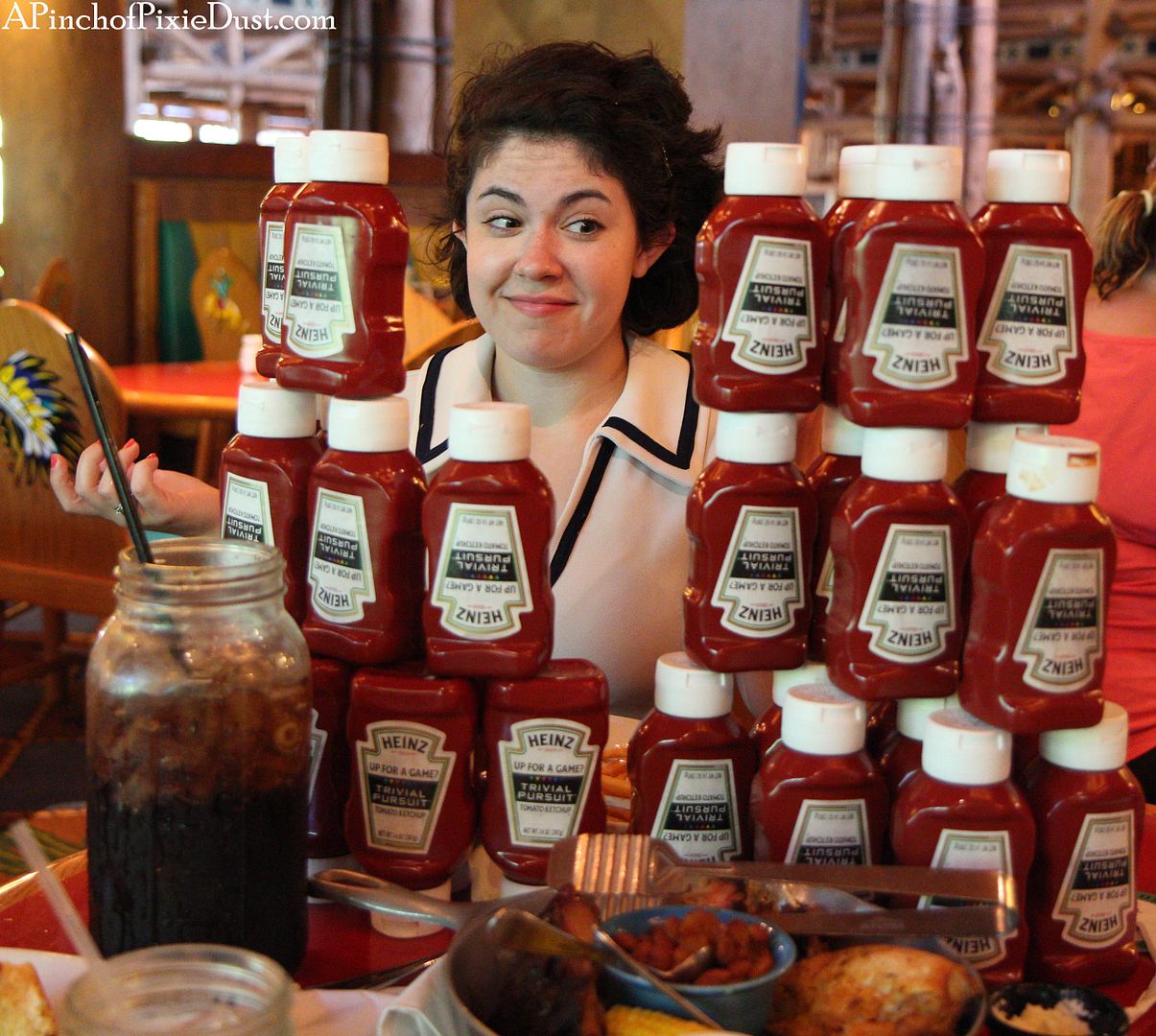 I'm really not sure what to do with this much ketchup! And the next time somebody else wants ketchup, you'll be roped into helping deliver it to their table. If you'd rather watch the shenanigans rather than take part, there is a little coaster you get when you check in - so you can let your server know just how much fun you want. ;)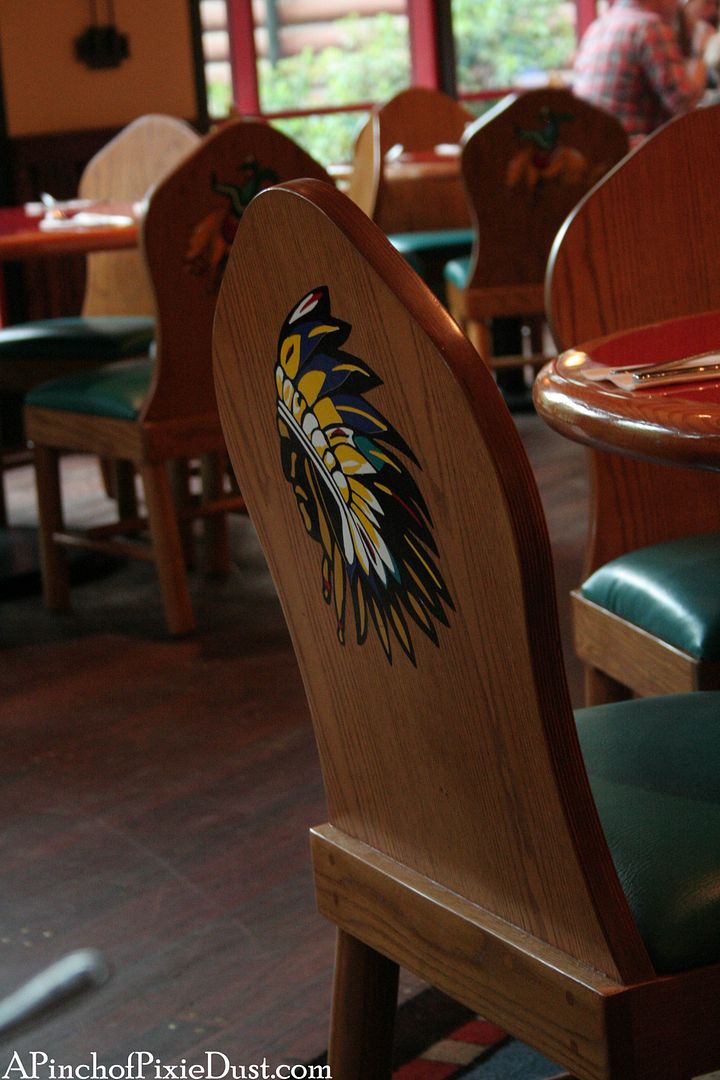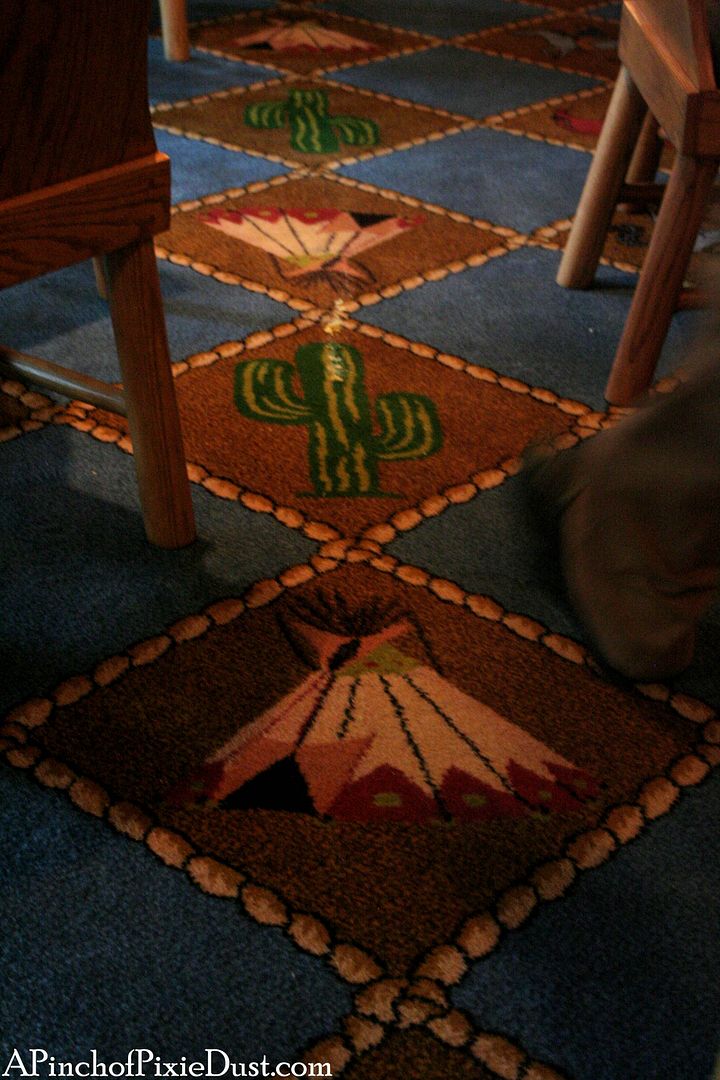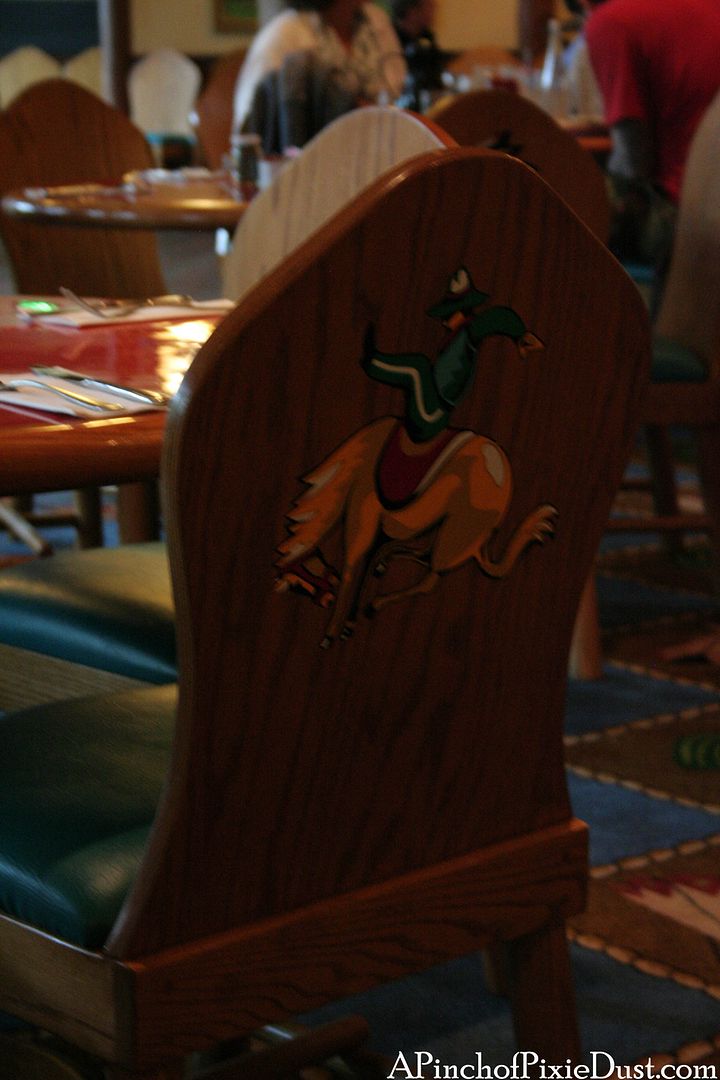 The decor definitely gets you into an Old West mood - I love the painted designs on the backs of the chairs and the carpet motif.
A BUFFALO!
Alright. Let's get to the food - we'll start with the breakfast skillet and MICKEY WAFFLES.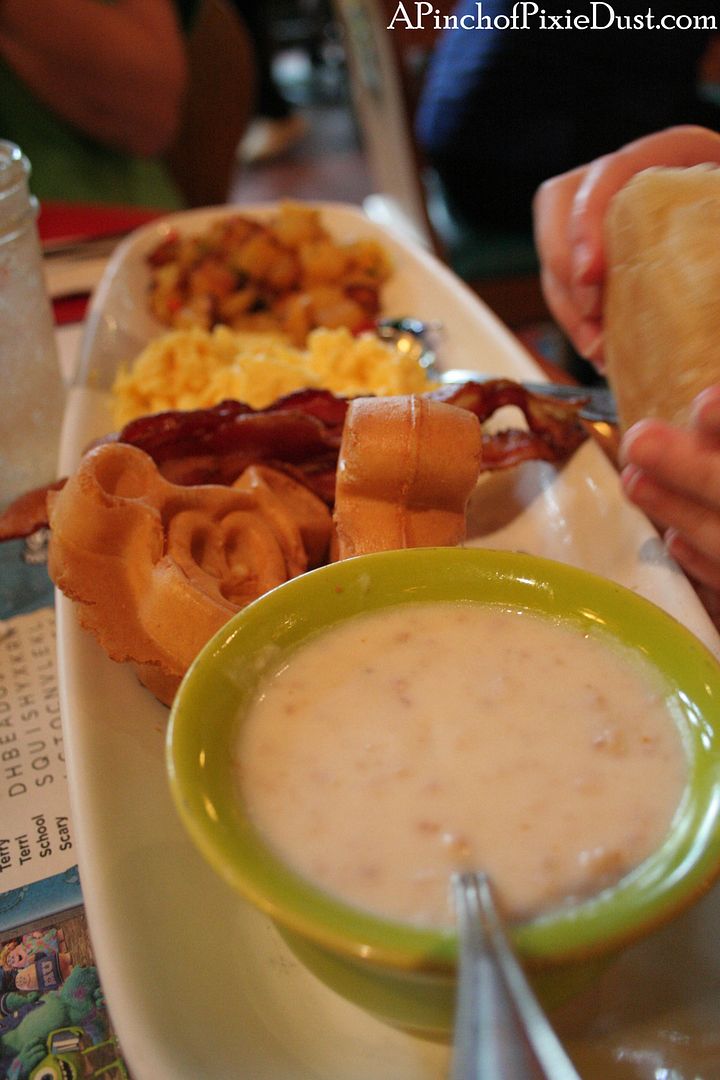 My little brother Dart got the kids breakfast skillet which came out on a long plate (normally the skillet comes out literally in a big skillet dish). The kids version does include all the same items as the adult skillet: Mickey waffles, buttermilk biscuits and sausage gravy, scrambled eggs, breakfast potatoes, bacon, and sausage. You can ask for more of whatever you want, and two Mickey waffles were definitely not enough for Dart. ;)
The all-you-can-eat platter did sound tempting...but then there were so many other interesting items on the breakfast menu! Mama Snob tried the Banana Bread French Toast. They make french toast out of banana bread. Seriously. It comes with a bananas foster sauce and bacon.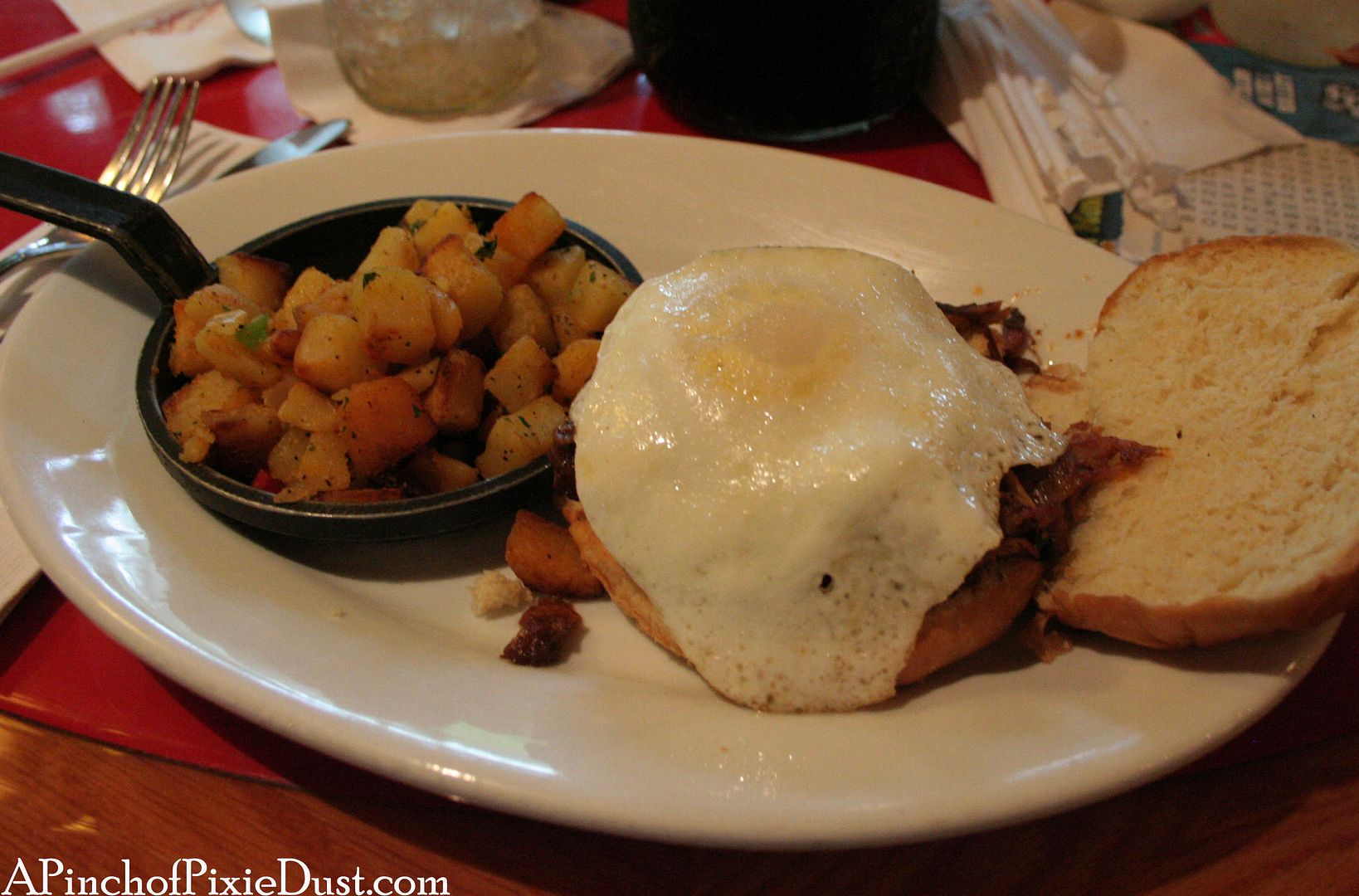 I was intrigued by the slow-smoked pulled pork over easy egg sandwich. It also has pepper jam, which just sounds awesome and is mostly what made me order it - and it comes with breakfast potatoes served in a little skillet of their own.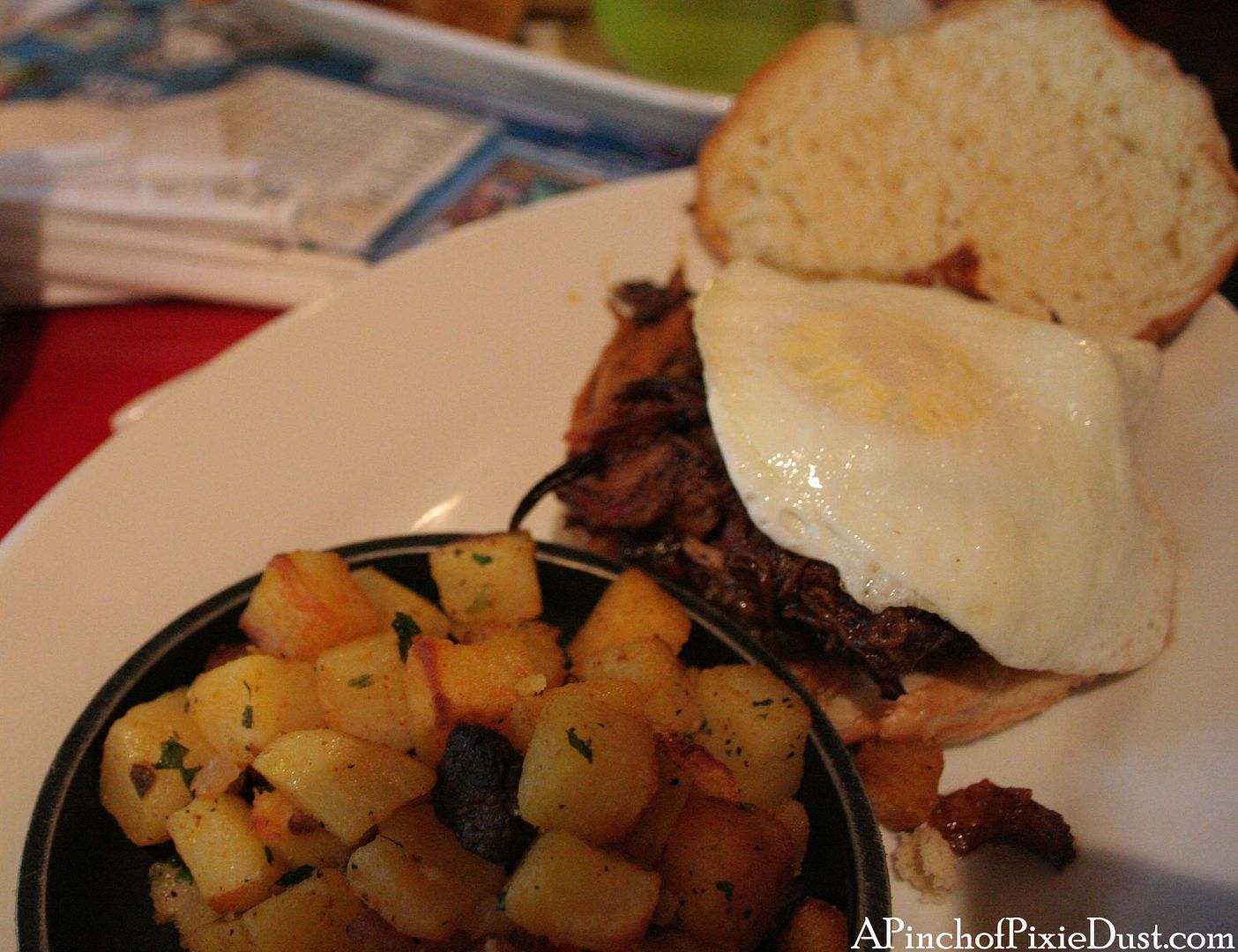 If you go to a late breakfast and are feeling like something a little more substantial, this is perfect. I loved it - pepper jam, eggs, meat, and all!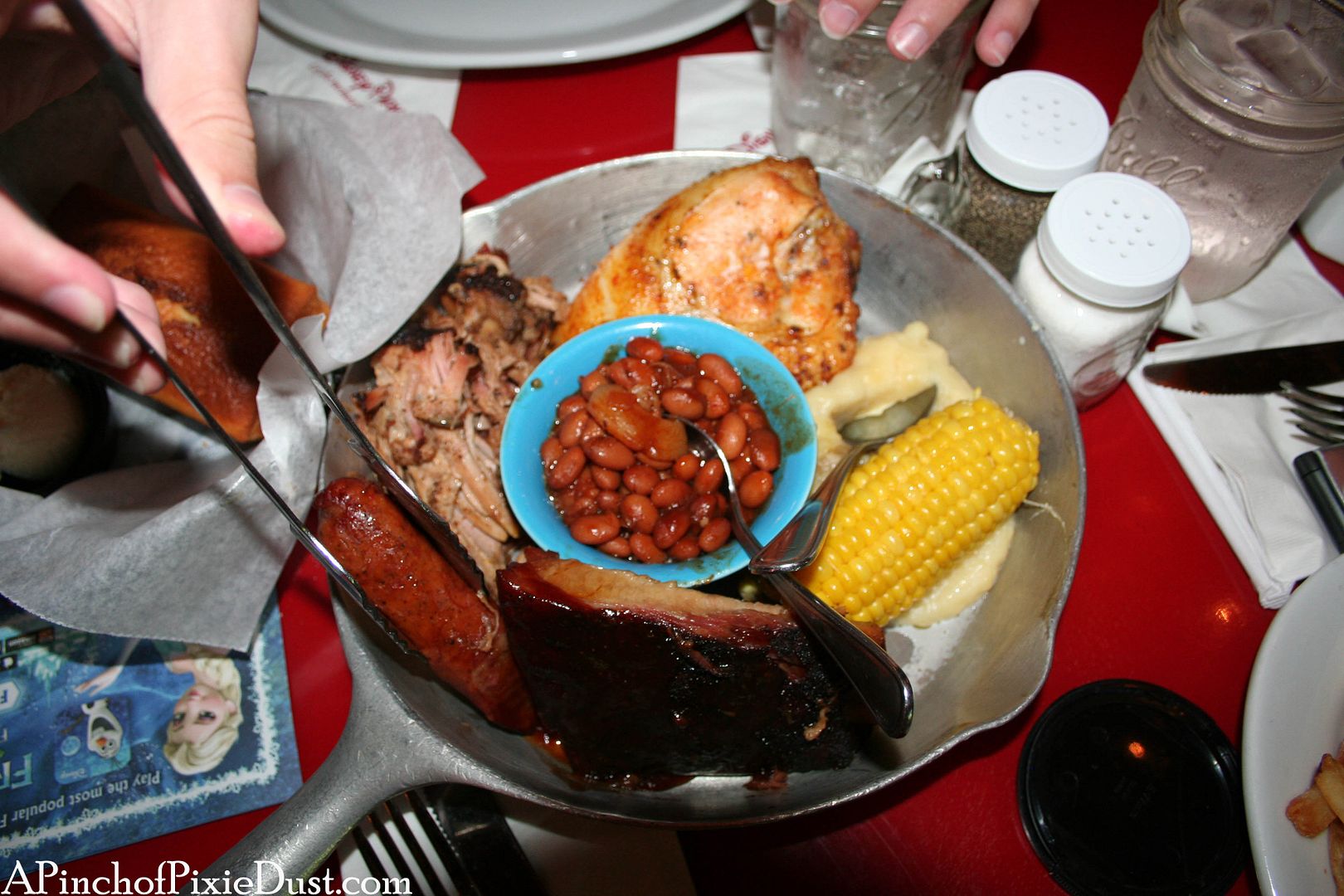 ...then again, if it's meat you're looking for, you definitely want to come back for the lunch or dinner skillet! This is an absolute feast: slow-smoked pork ribs, barbequed pulled pork, roasted chicken, western-style sausage...
Also: mashed potatoes, baked beans, corn-on the cob, and CORNBREAD.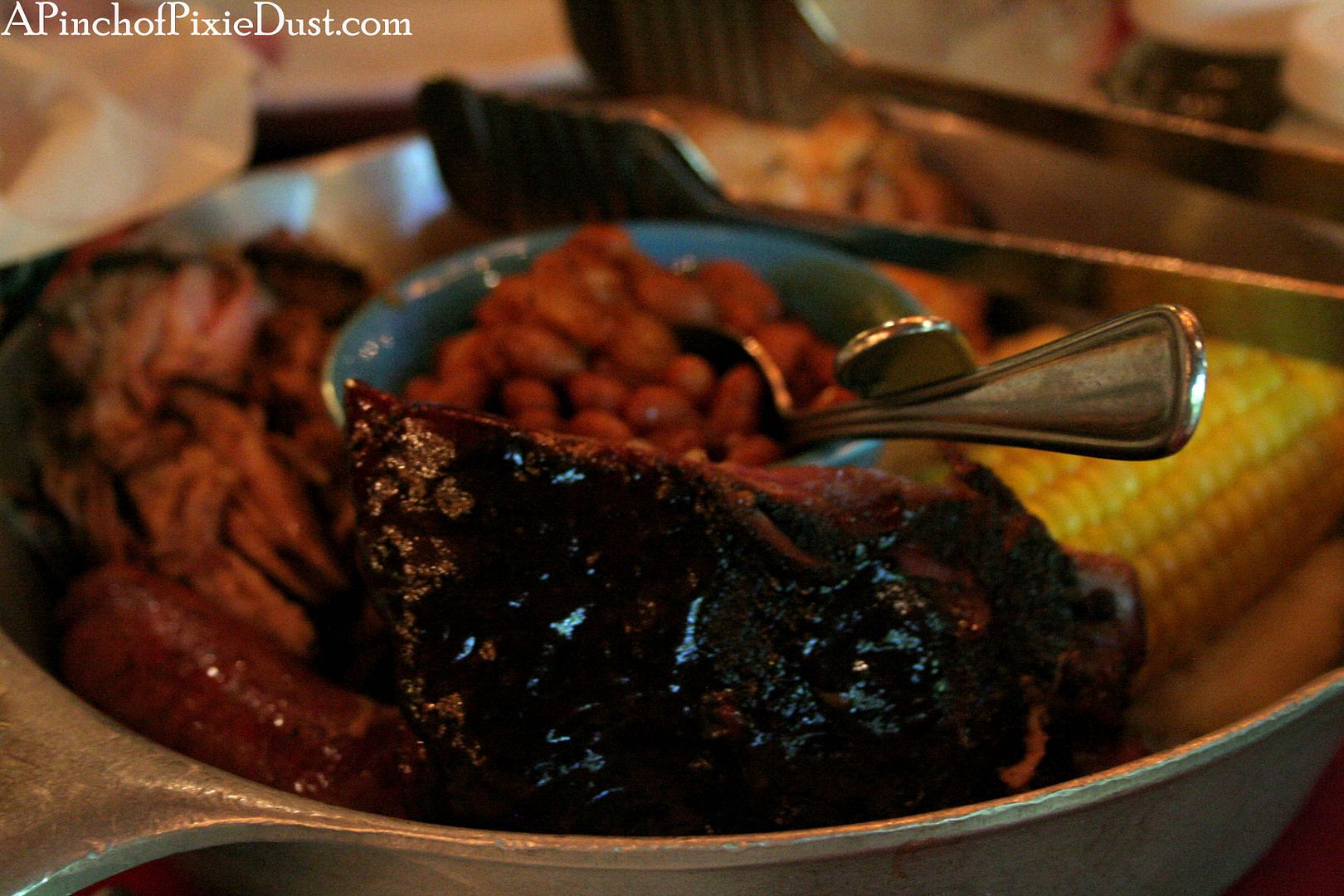 I was blown away by the skillet - everything on it was finger-licking delicious! It's $21.99 at lunch and $29.99 at dinner. The dinner version also comes with salad, vegetables, and oak-roasted beef strip loin. The lunch skillet was plenty of food for us!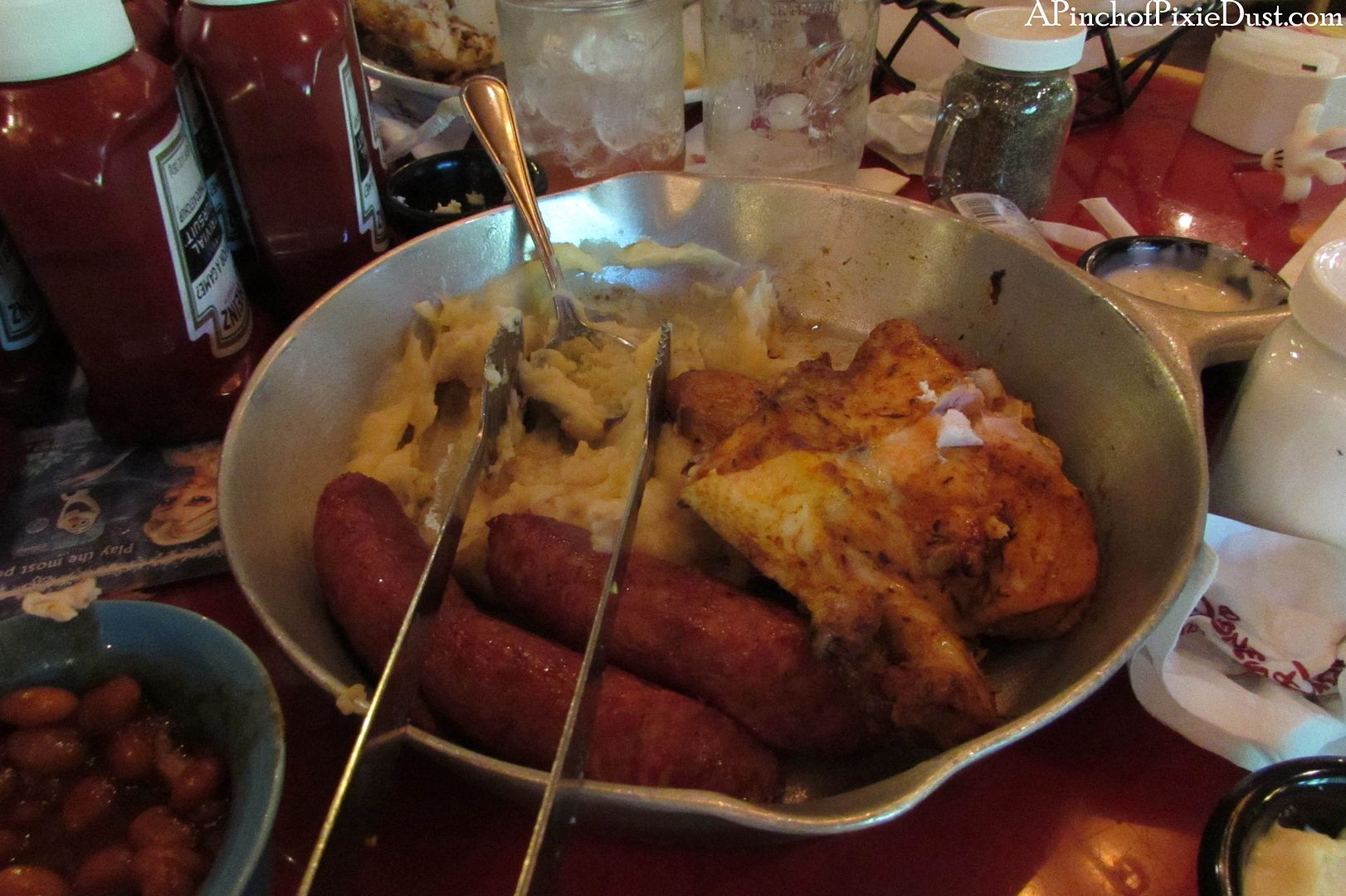 As with the breakfast skillet, you can ask for more of whatever you like: the chicken (FAVORITE - melted in your mouth), sausage, and mashed potatoes were some of the biggest hits with our table.
We enjoyed both our Whispering Canyon meals, but it's the lunch skillet I'd go back for! Will you be heading to this Wild West eatery anytime soon?