There's a
new California video
from Disneyland up on my YouTube channel, and putting it together made me remember what an
amazing
time we had experiencing Disney on the West Coast! I've been sharing bits and pieces of that trip on here (you can search
the Disneyland label
to find them) and on YouTube, but I thought it would be fun to do a trip report about it so I don't leave anything out. :)
SO. We had two days at Disneyland Resort this past April and were determined to make as much of our time as possible!
After a fun day in LA with
croissants
and
dinosaurs
, we arrived and checked into the Paradise Pier Hotel in the evening - just a glimpse of Disney's California Adventure park from the edge of the pool deck sent me into raptures. We know the parks and resorts at Walt Disney World very well, but Disneyland was a whole new world, and I was SO RIDICULOUSLY EXCITED. I
had
to stay up late to
watch World of Color
from the top floor. It was amazing!! The very next day we would be heading to DCA to see it and also CARSLAND in person for the very first time ever. AHHH. :D
Guests staying at the three Disneyland hotels have access to Extra Magic Hour early admission at the parks (just as WDW resort guests do). The next morning, regardless of the jet lag, we were up at the crack of dawn to take advantage of the EMH at DCA!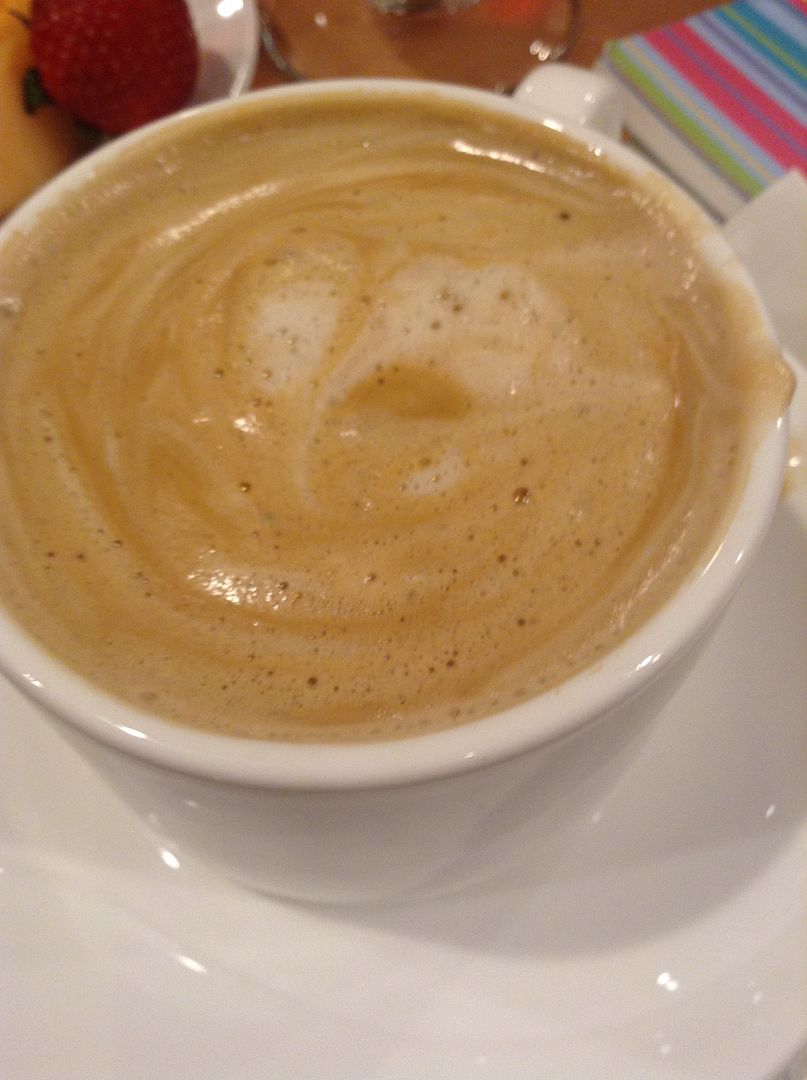 We had a quick
club level
breakfast (YUM) and headed across the street to Disney's Grand Californian Resort...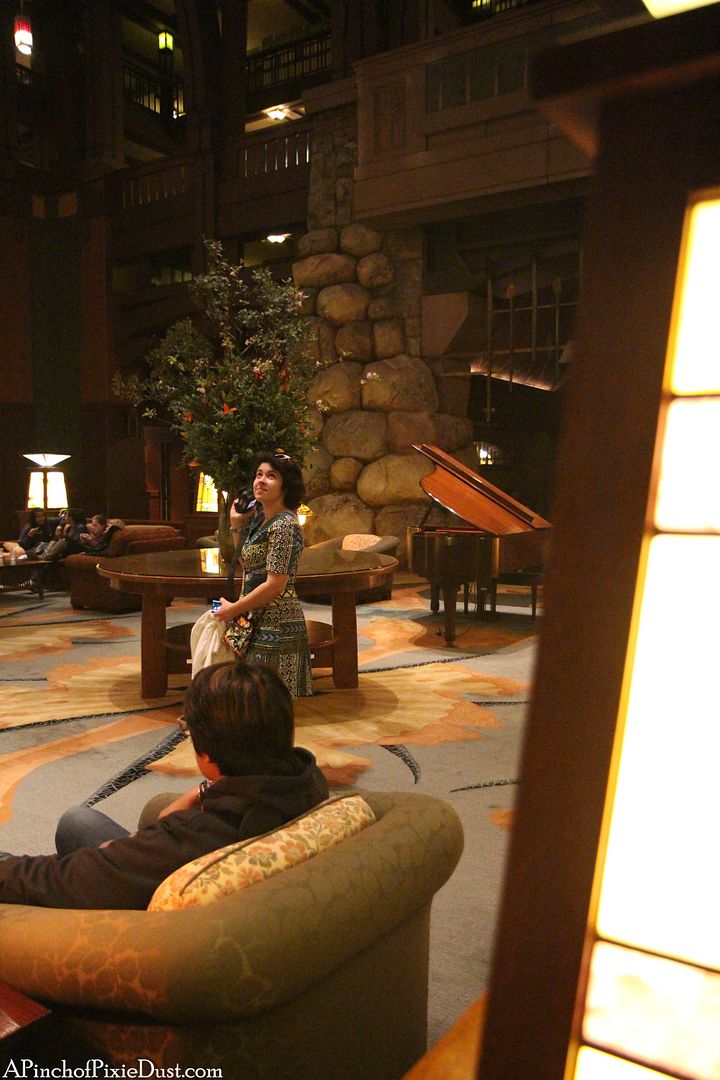 There's an entrance to DCA inside the Grand Californian that all guests staying at Disneyland hotels are welcome to use. The early opening was at 7am - it was around 7:20 when we reached the Grand Californian turnstiles, and, as you can see in the vlog, the security line was CAHrazy long.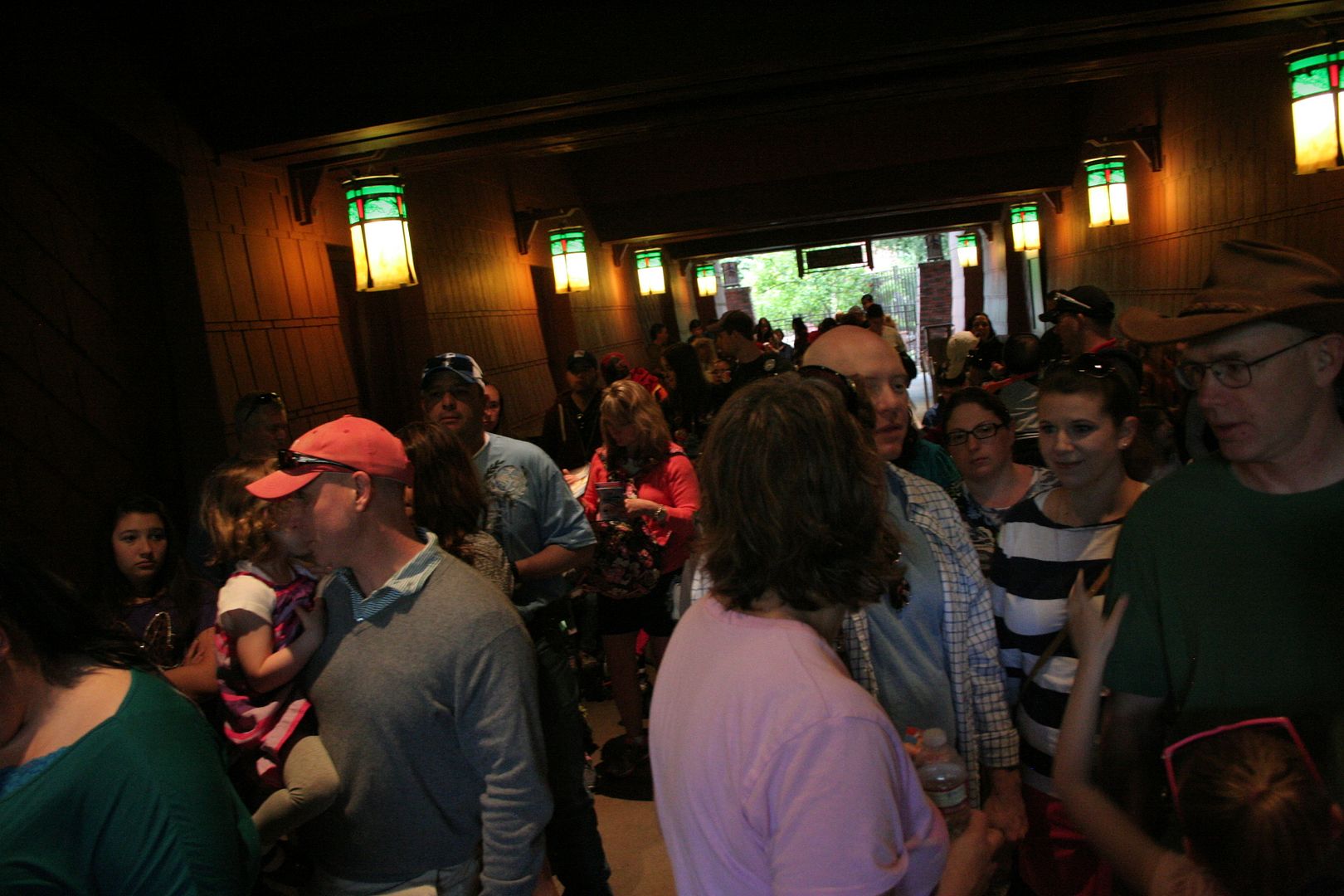 It kept wrapping around hidden corners so you didn't even realize how long it was at first! We passed by the resort's counter service restaurant, White Water Snacks, which Athos insisted was actually Roaring Fork. The Grand Californian is very reminiscent of the Wilderness Lodge!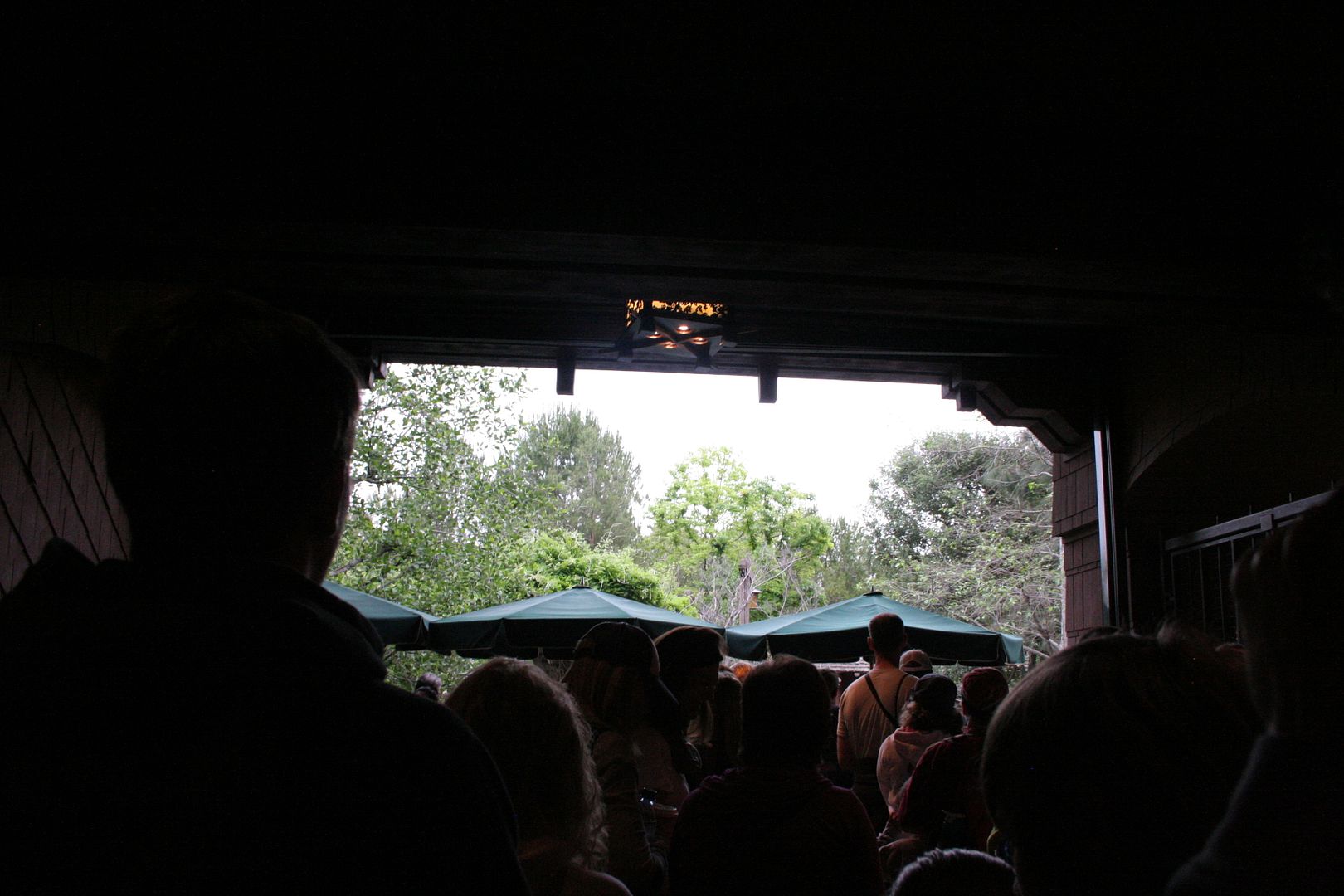 Luckily the line moved fairly quickly - we entered the park at 7:35 or so. We had vouchers for our park admission, and they print your tickets right there at the turnstiles! They also
are
still turnstiles, unlike the
"touch" stiles
at Disney World. They don't have finger scanners, but for multi-day tickets they actually take your picture.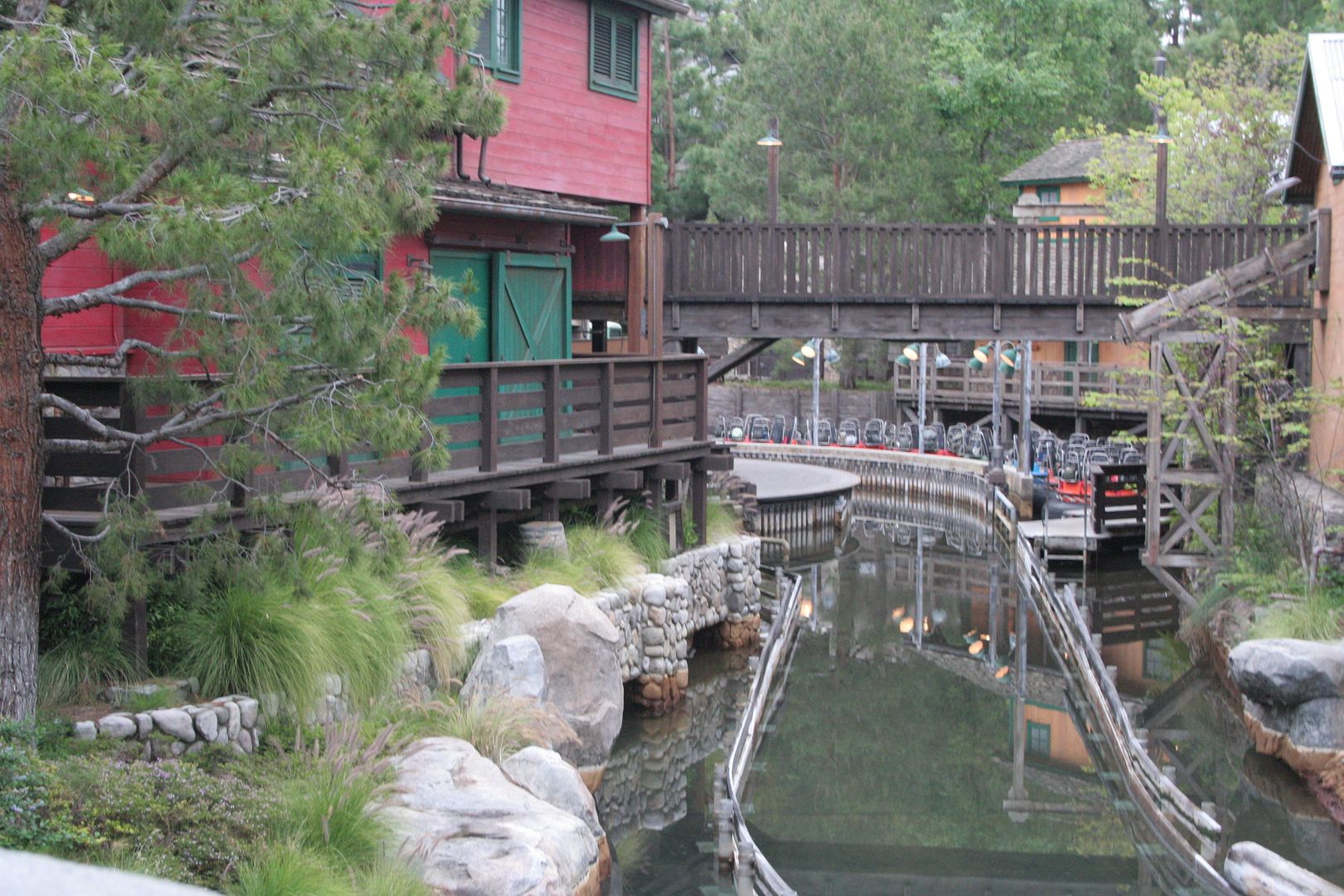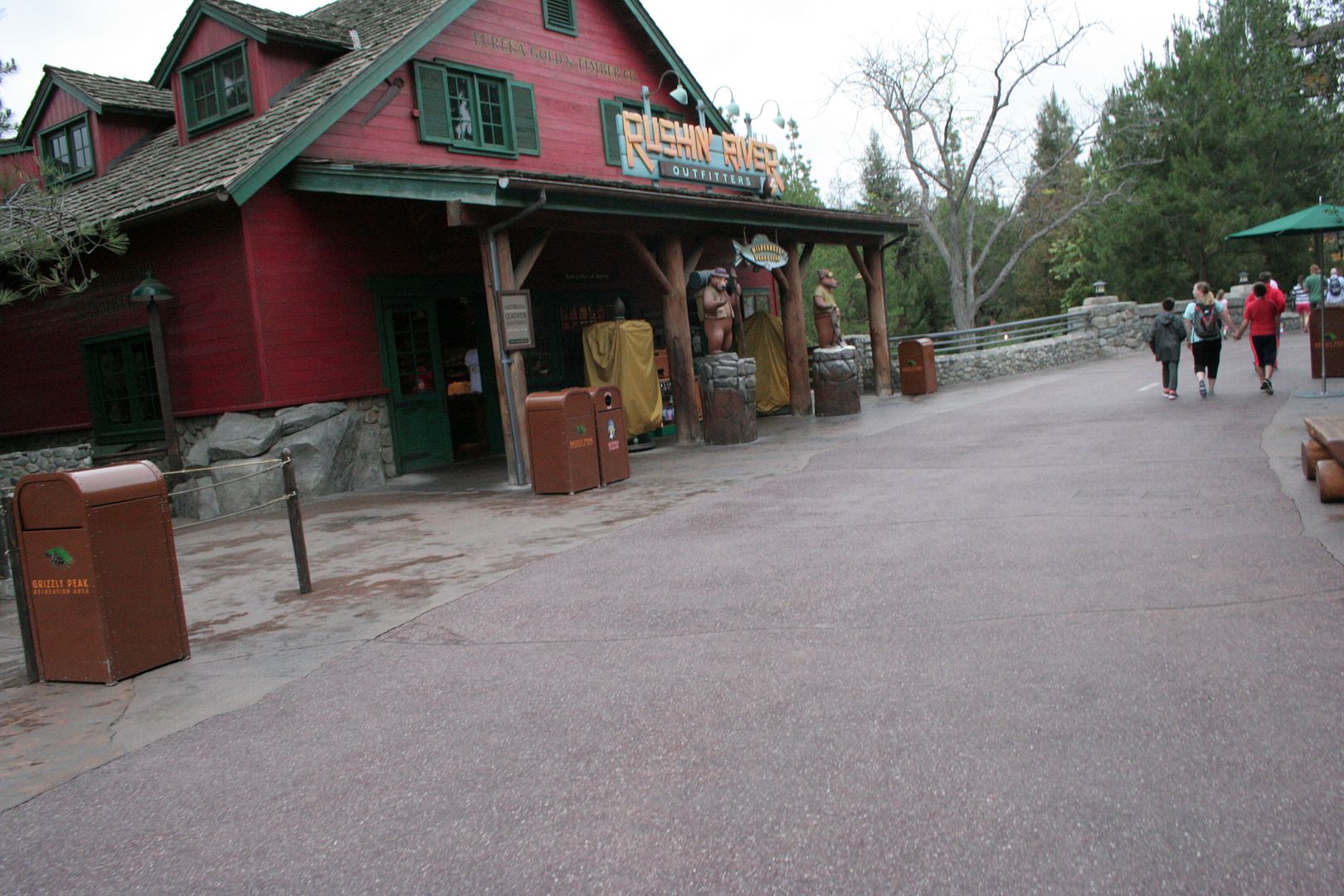 First Disneyland park photos of the trip!! We zipped past Grizzly River Rapids (which I believe was closed during our visit...the April weather was just chilly enough that I probably wouldn't have wanted to ride it anyway!). First stop was CARSLAND. The park was pretty darn deserted since the regular guests hadn't arrived yet.

We cut through an empty Pacific Wharf area - we were actually entering Carsland from the back, but it could not have been a more perfect approach...

First you see an enormous arch (it looks curiously like a car...) with the cliffs and red rock of Ornament Valley still indistinct off in the distance. Apart from one lone photopass photographer (who was actually very nice and snapped a great family pic), there was literally no one else around - it felt like we had the whole of Carsland to ourselves. As we got closer the arch, we started to hear the 50's tunes, and I already felt like dancing.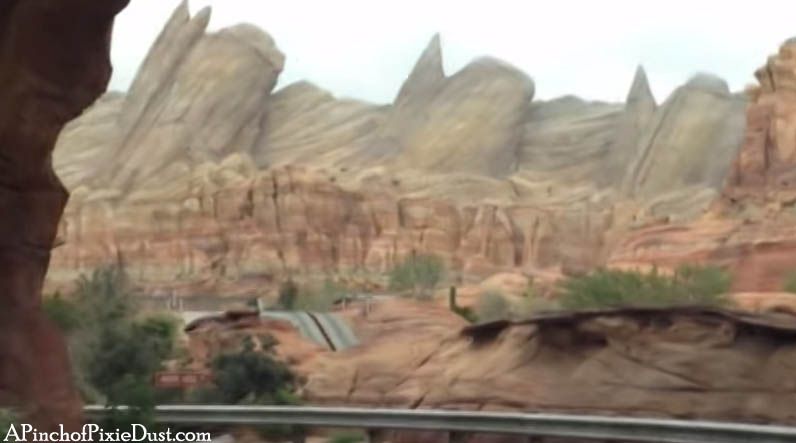 You round the corner and suddenly the Cadillac Range comes into view, Willie's Butte rising before you - and then some racers from the ride come zooming over the rise - it feels like you just stepped right into the movie. Such a pixie dusted reveal.

I could not stop saying "Oh my gosh. Oh my gosh." SO embarrassing, but I was just blown away. This is exactly the sort of magical, intelligent, fantastic planning and Imagineering that we come to Disney for.
Can't even handle it. ;)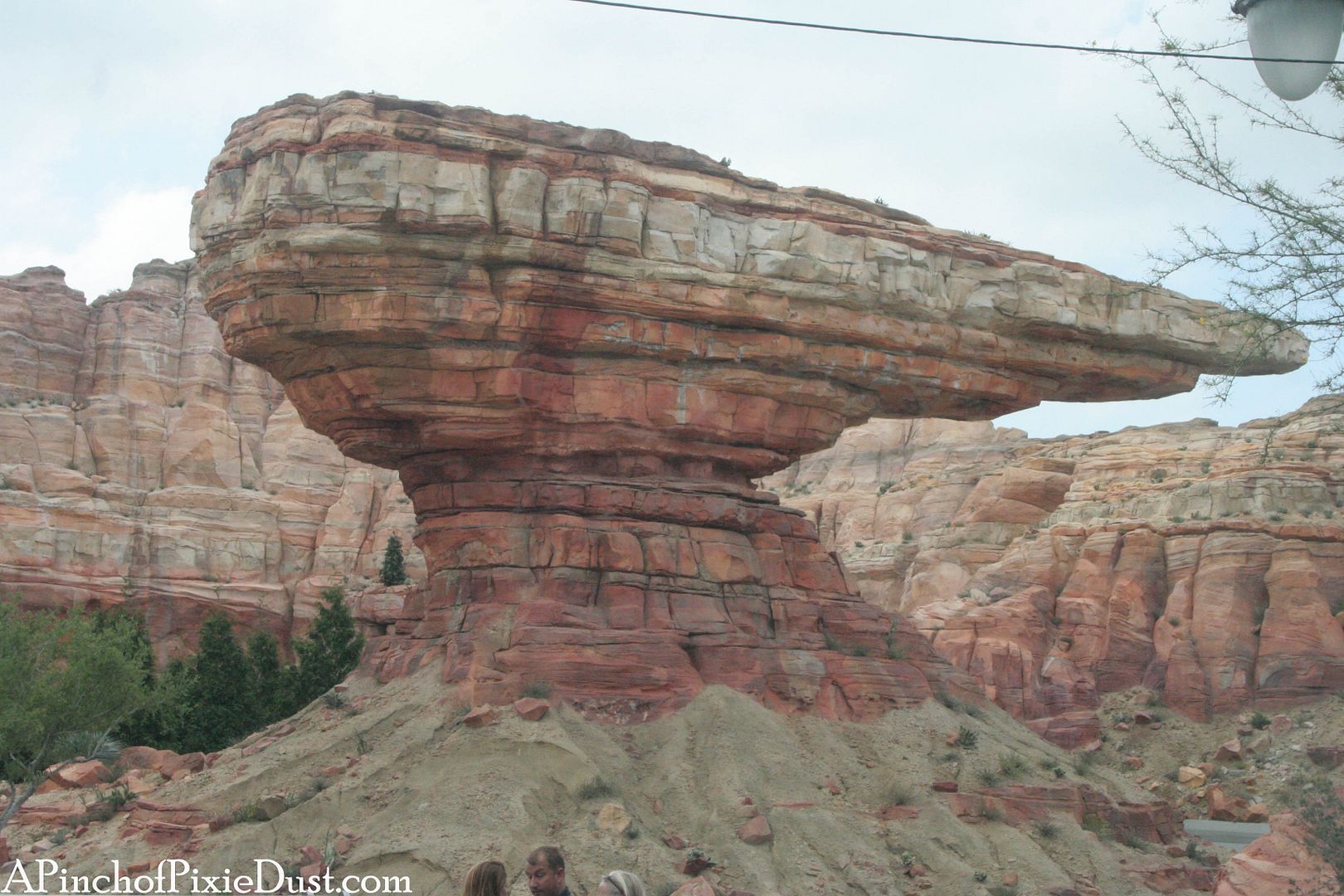 Larger than life.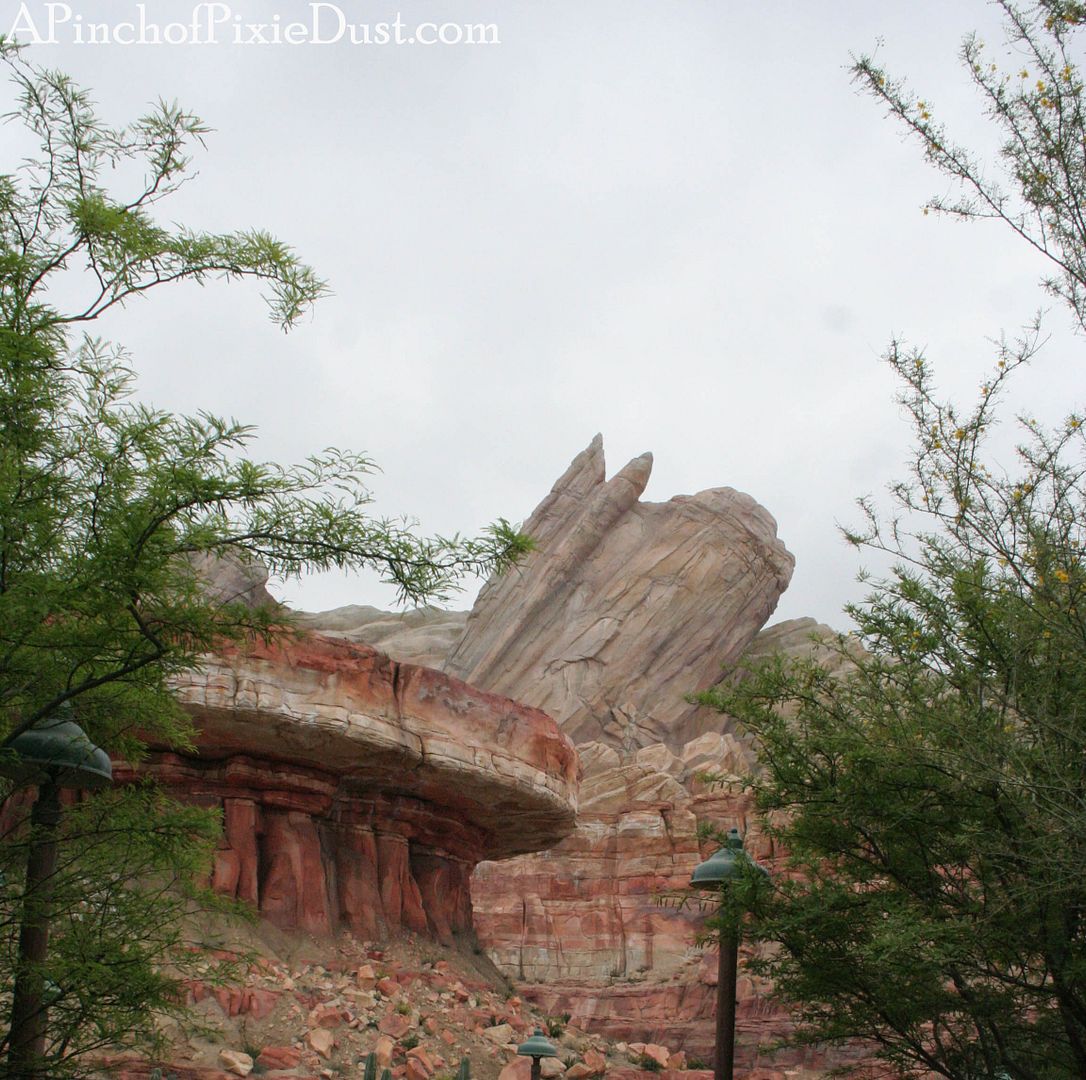 The way you walk along the cliffs in the valley and gradually come to
Flo's V8 Cafe
and the rest of Radiator Springs...just completely immersive!

Our first stop was Radiator Springs Racers, but every other early-entering guest had obviously had the same thought - the line was already 60 minutes long! Maybe if we had arrived closer to 7 it would have been better? We decided to get fastpasses and hit some of the other Carsland rides that still had no wait.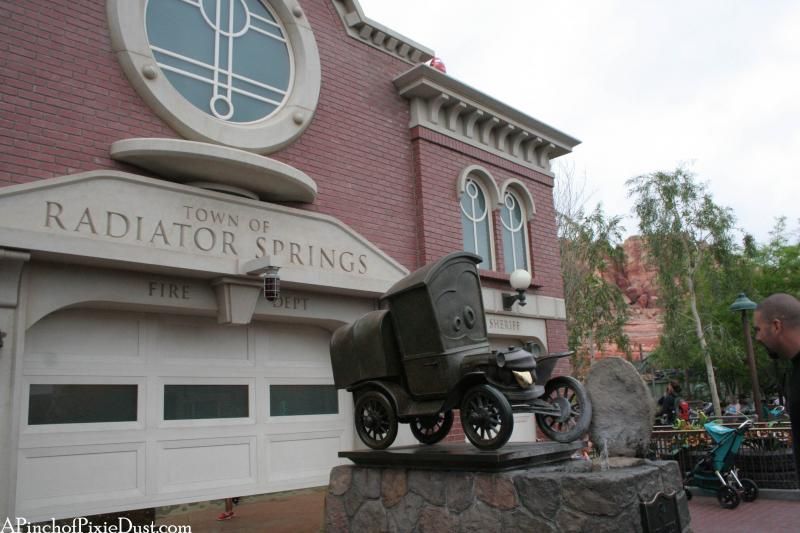 But first we had to pay a visit to Stanley in front of the fire department. And then we found the mural...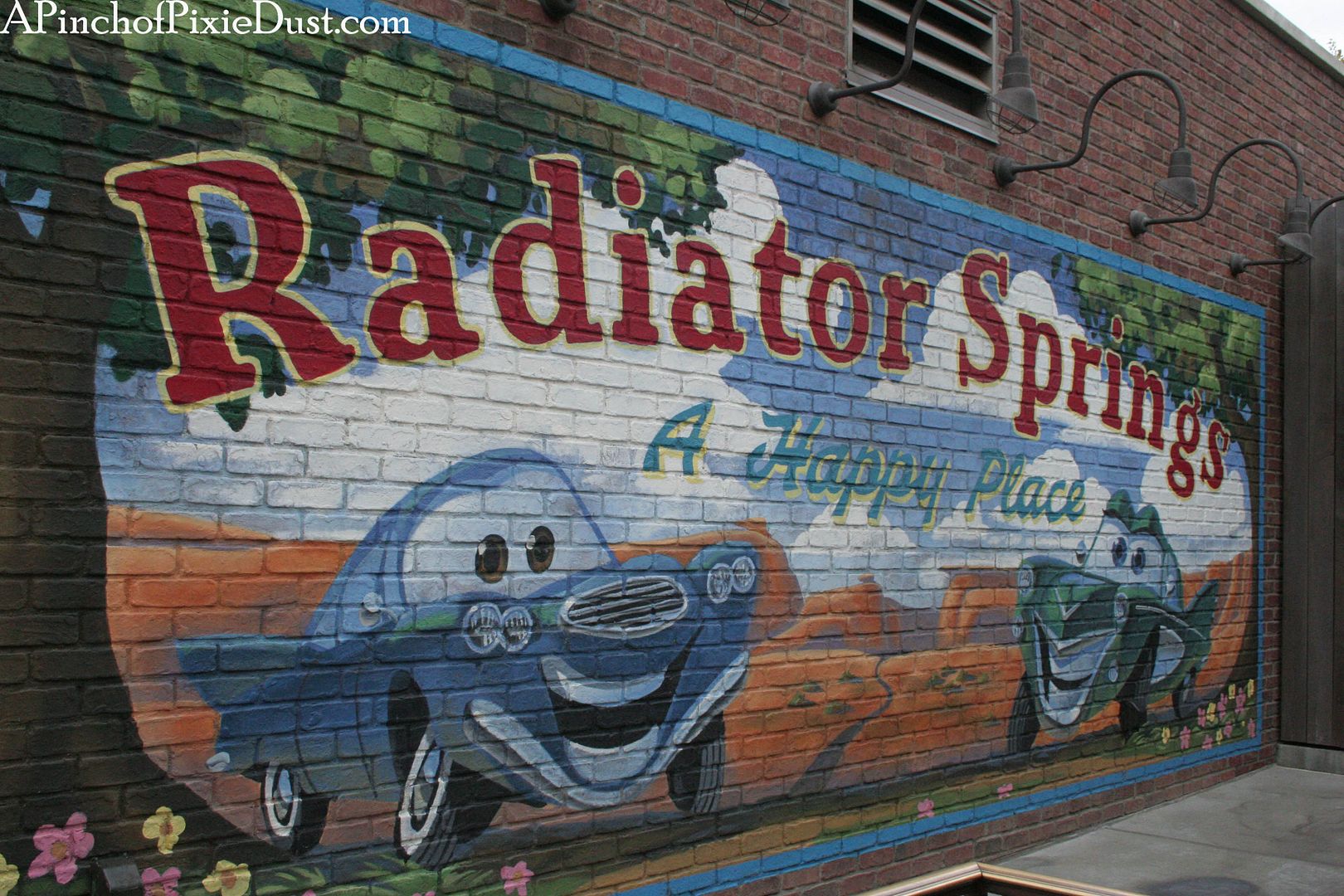 IT EXISTS IN REAL LIFE, GUYS.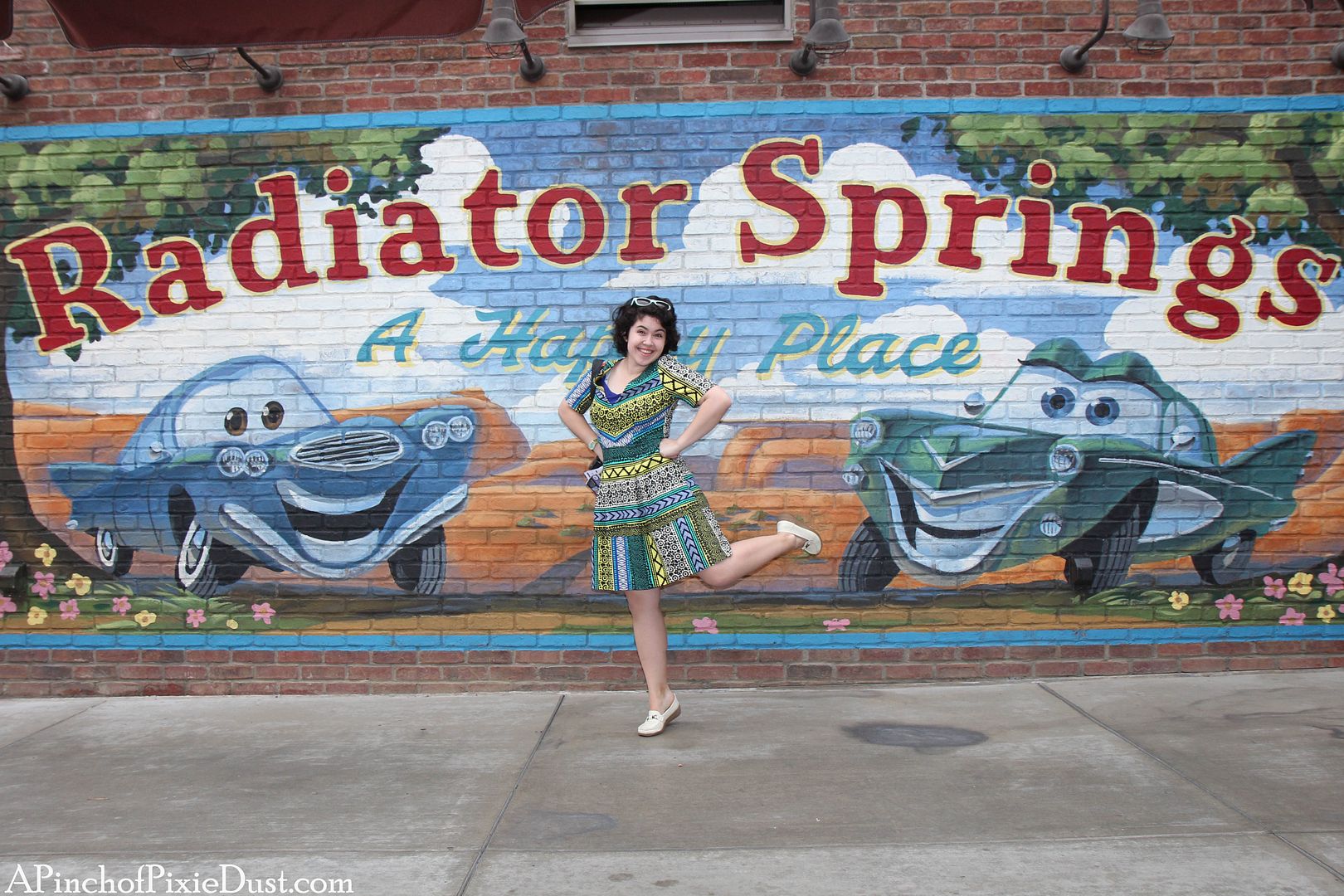 It's such a happy place. Also my dress totally and unintentionally matched perfectly. :)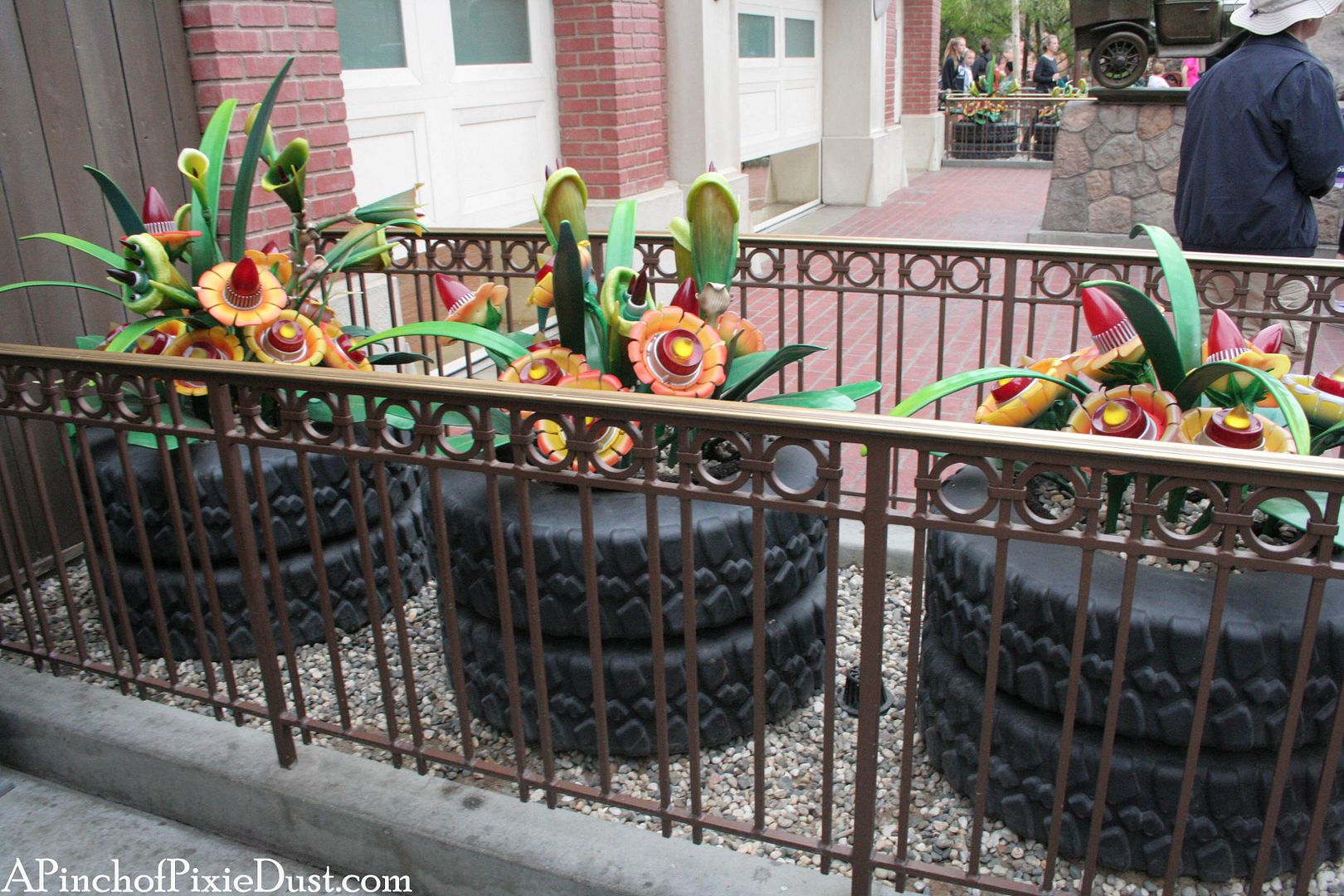 There were tubs of brake light flowers, like the ones Red the fire truck takes car of in the movie. There were so many little details I never even noticed in the movie that I now notice because I've seen them in Carsland! I just loved the minute attention to detail - everything is in exactly the place it was in the movie. That mural, for instance, is right next to the fire station in the scene where Mater tells Lightning McQueen he owes him 10,000 dollars in lawyer fees. Oh, Mater. :)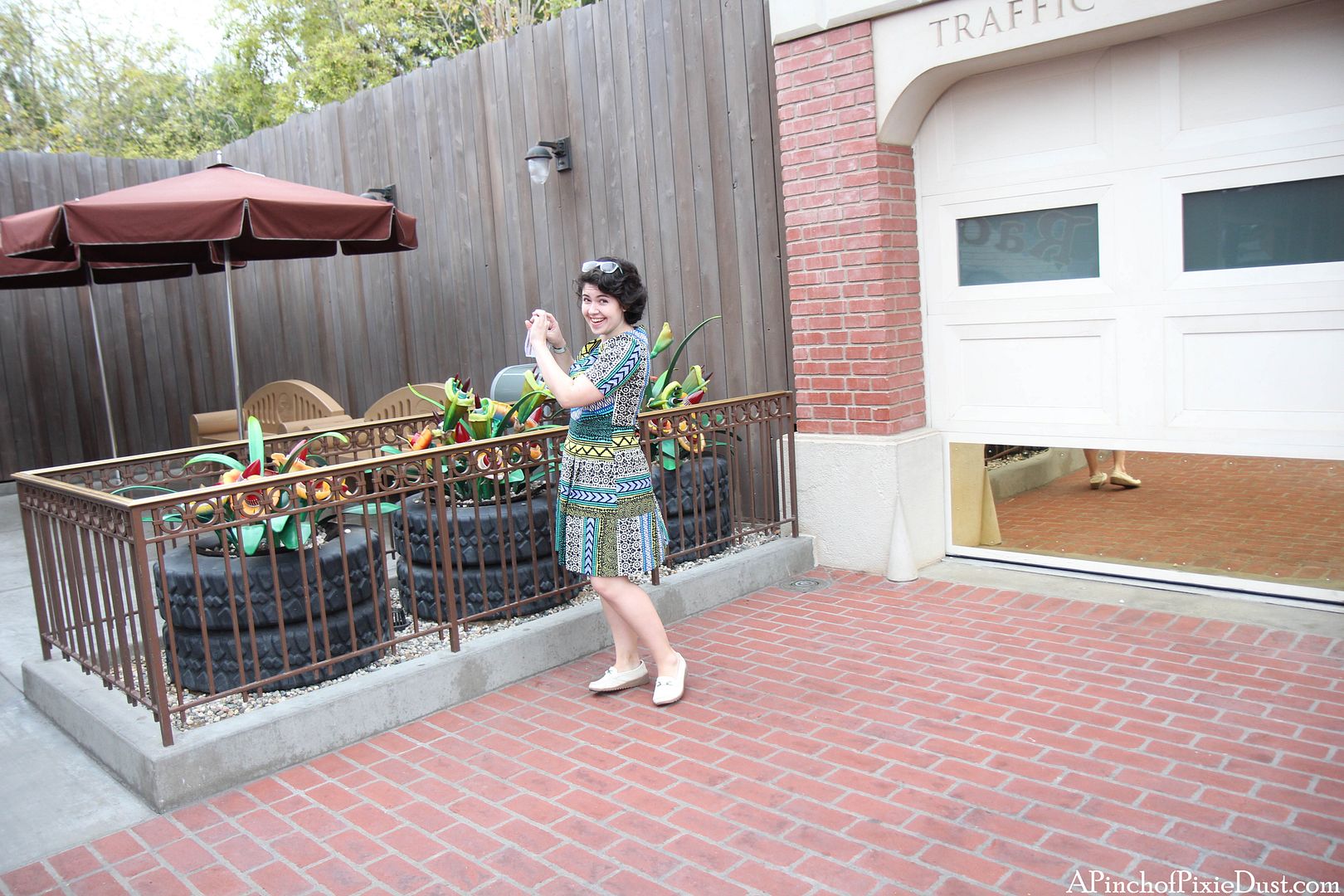 I mean who even knew I loved the Cars movie this much, right??
It's the Cozy Cone Motel!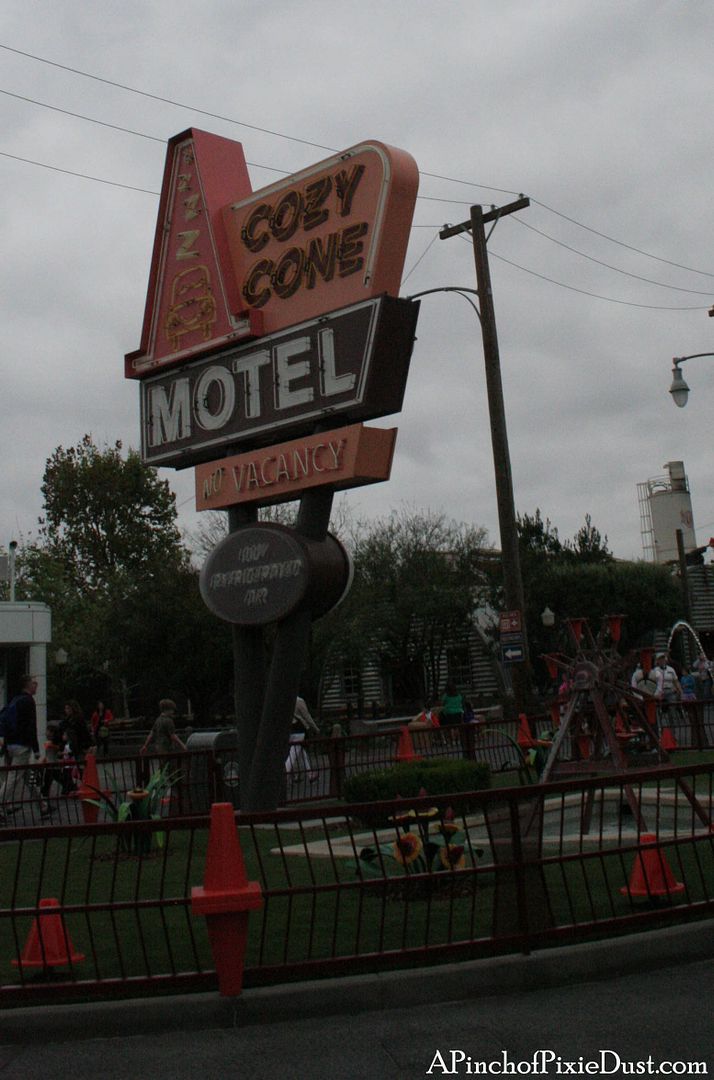 Safety cones on safety cones and orange everywhere - it reminded me of the
Art of Animation Cars
section and pool.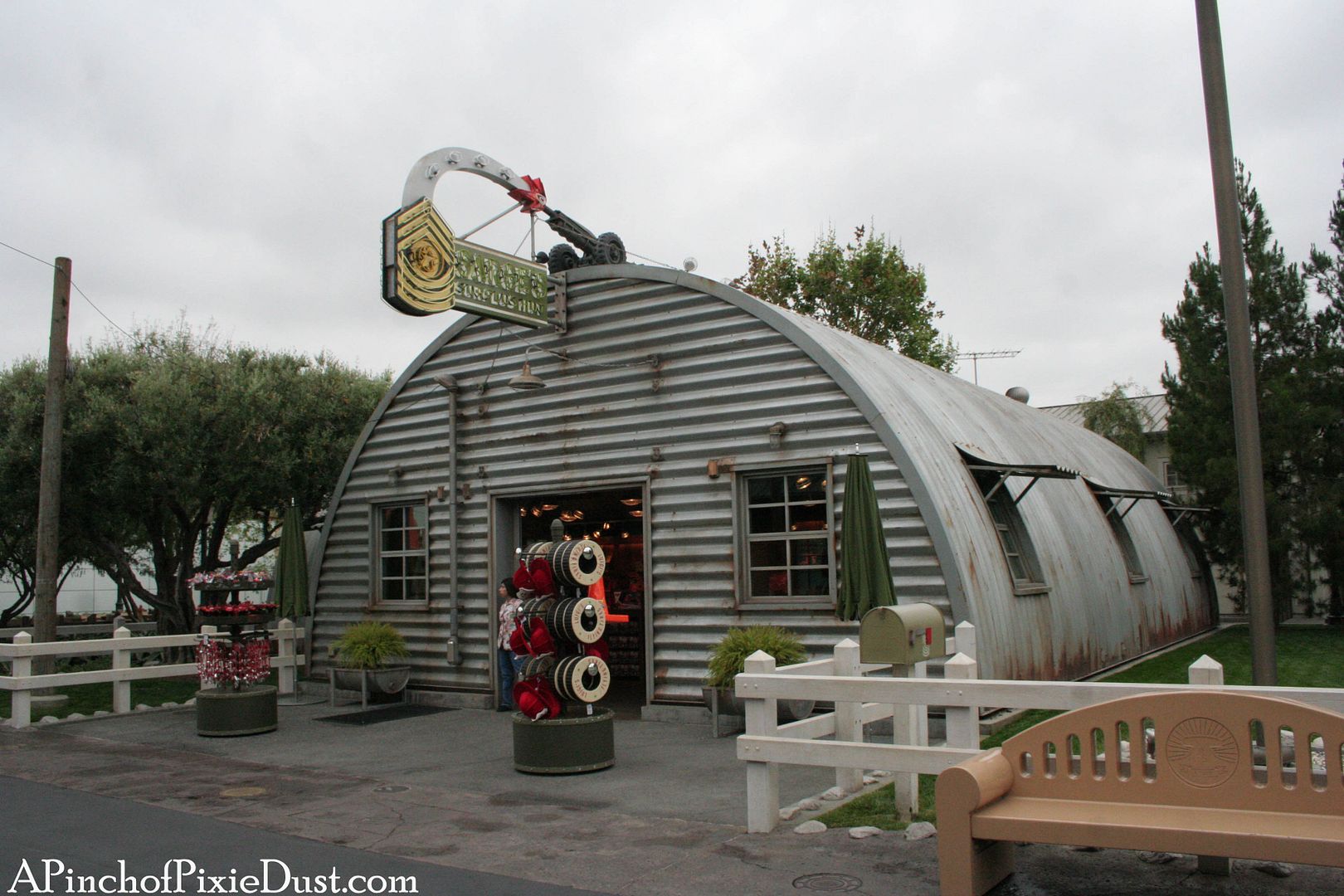 There's Sarge's Surplus Hut!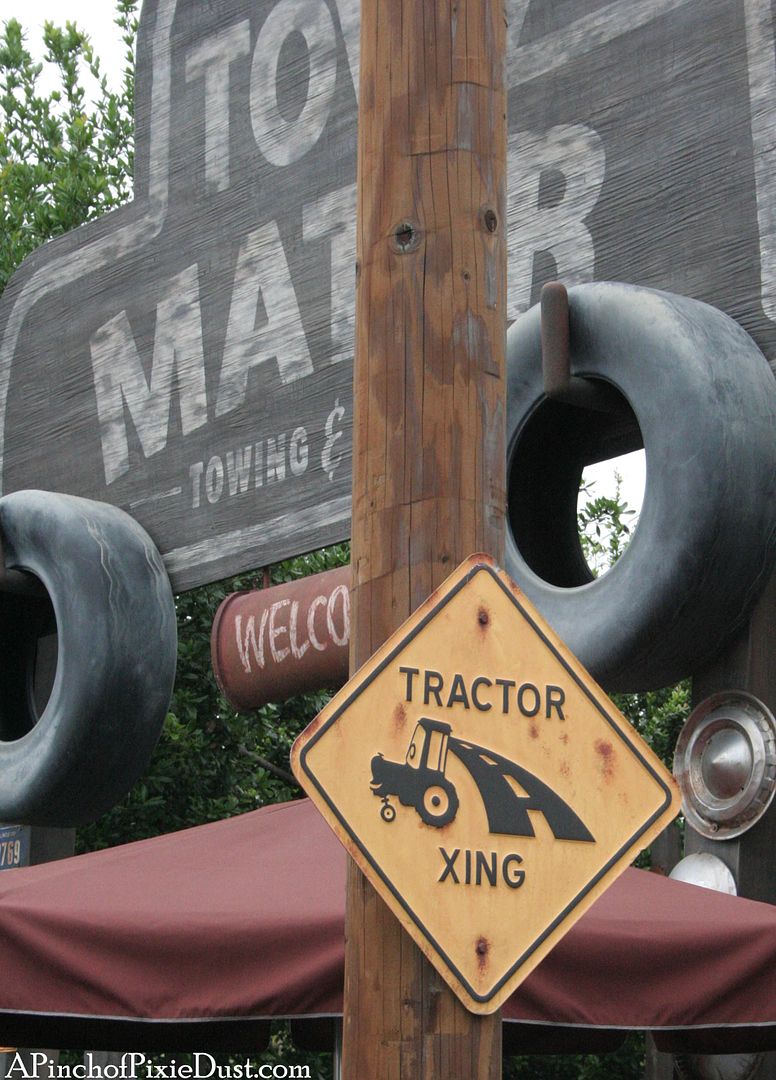 ...and Mater's Towing Service (watch out for tractors!)...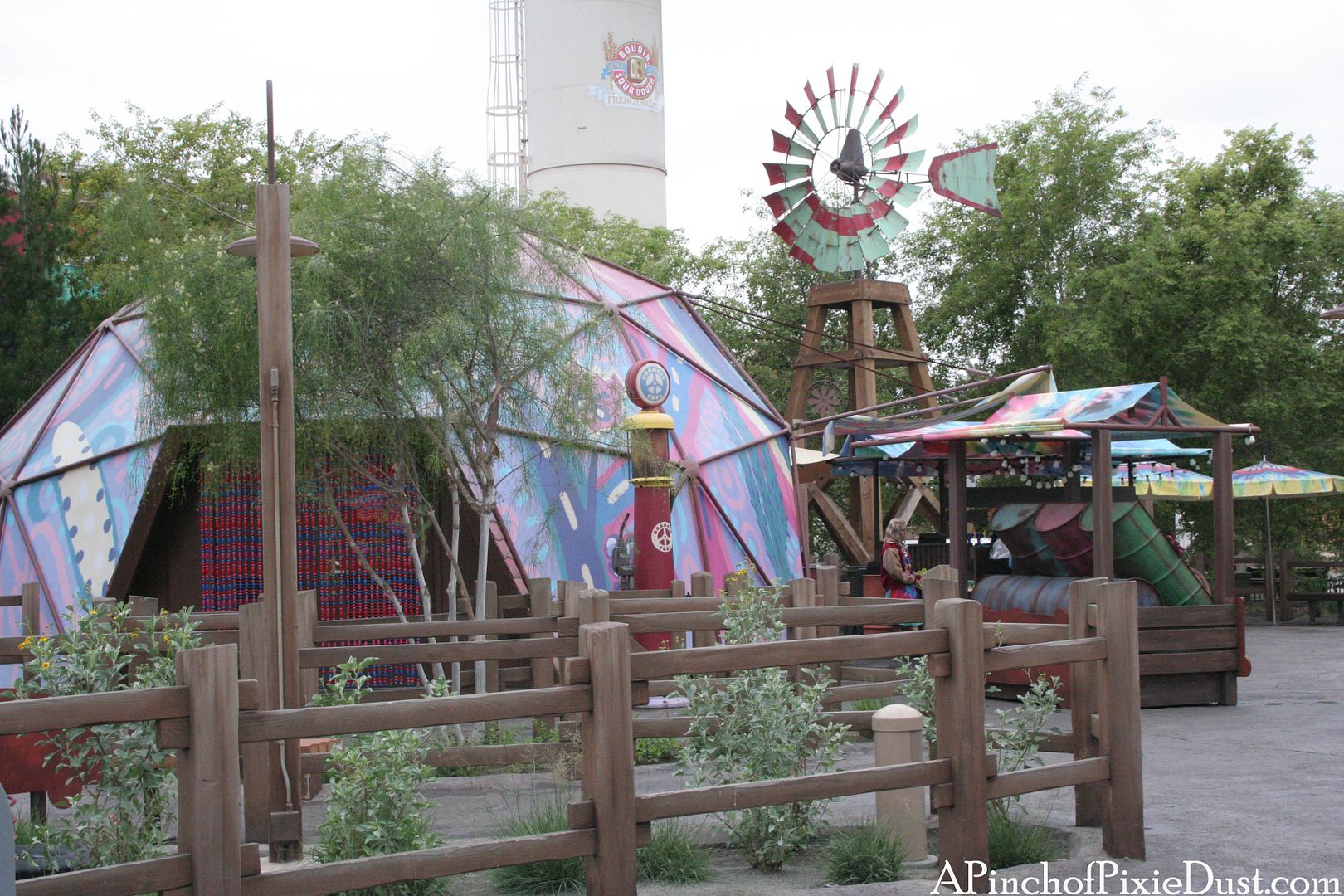 ...later we'll have to swing by Fillmore's for some organic fuel, but first...

There's a FESTIVAL going on today?? COUNT ME IN.
Carsland attractions coming up in the next post! I'll also be posting this on my trip report over on the DIS - if you want to read about some of our
pre-Disney adventures in California
, you can catch up on them over there. :)