This week's Disney World dessert comes from Polynesia...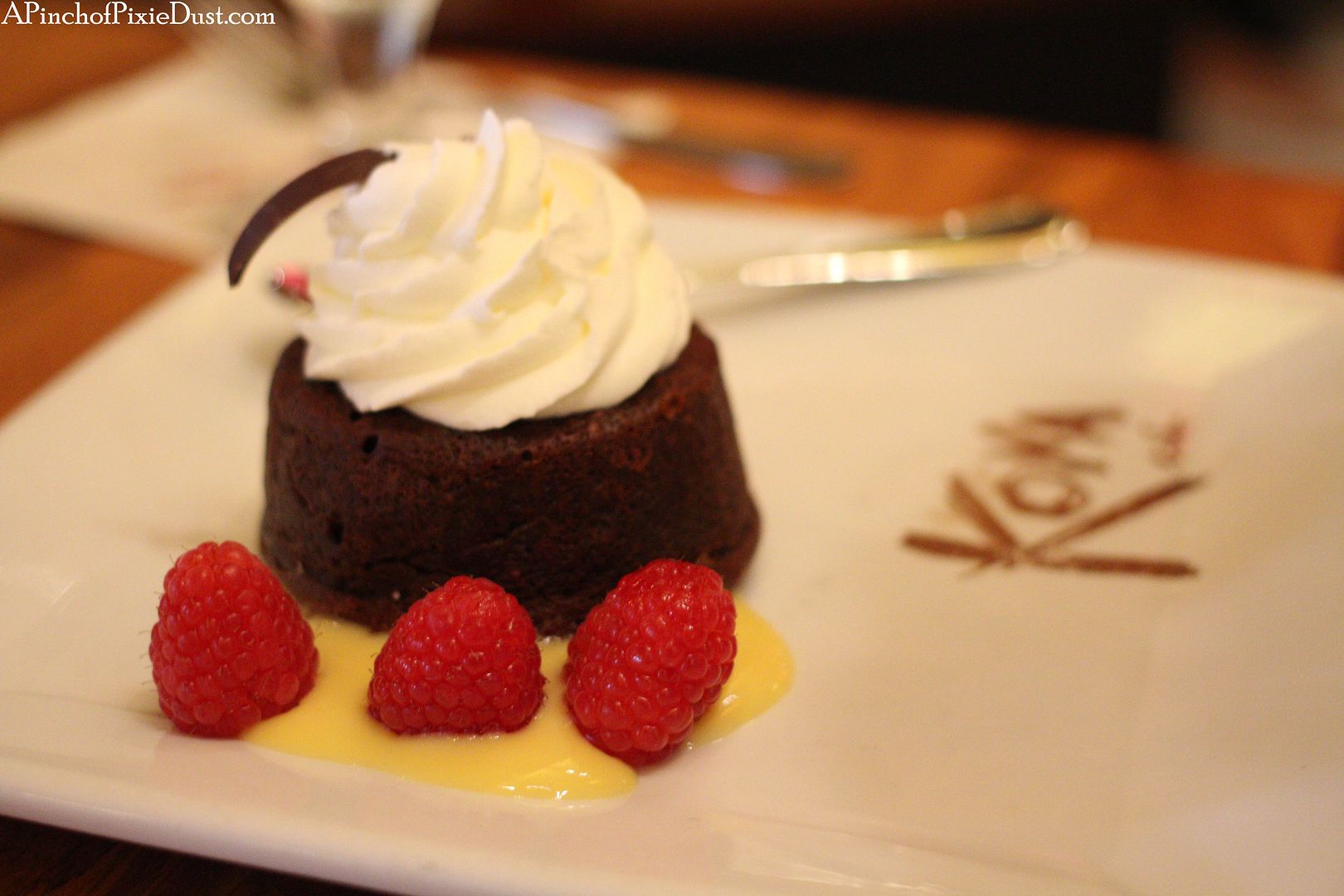 It's the Kilauea Torte from the Kona Cafe at the Polynesian Village Resort!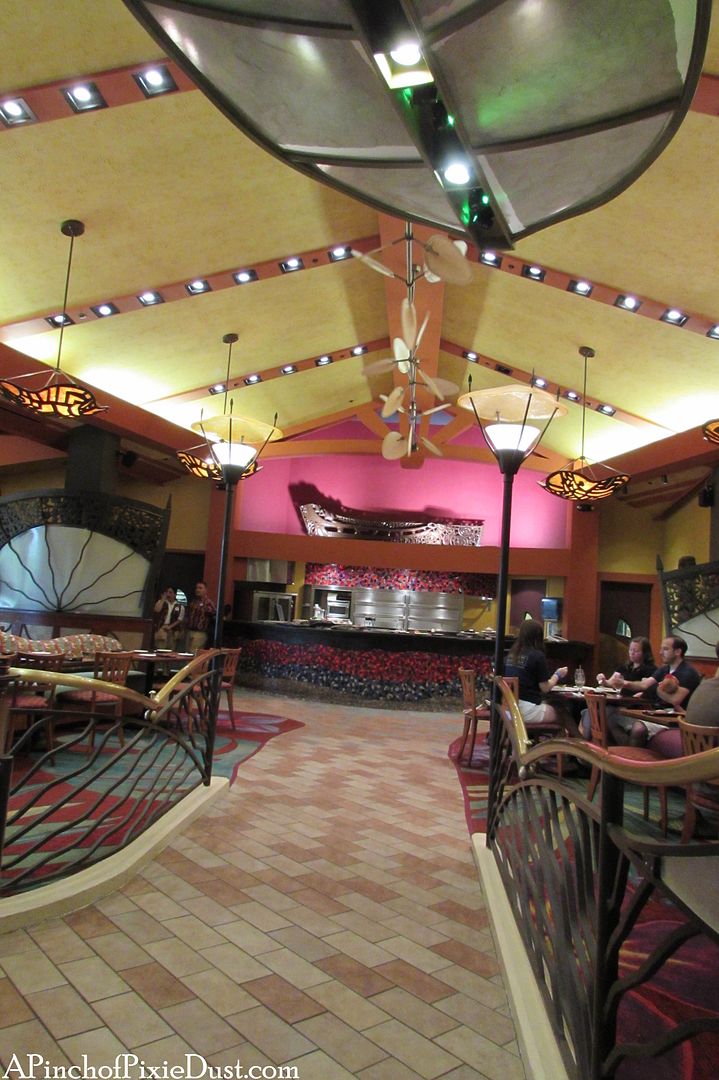 This eatery is on the second floor of the Great Ceremonial House, and it is open in the midst of all the construction going on.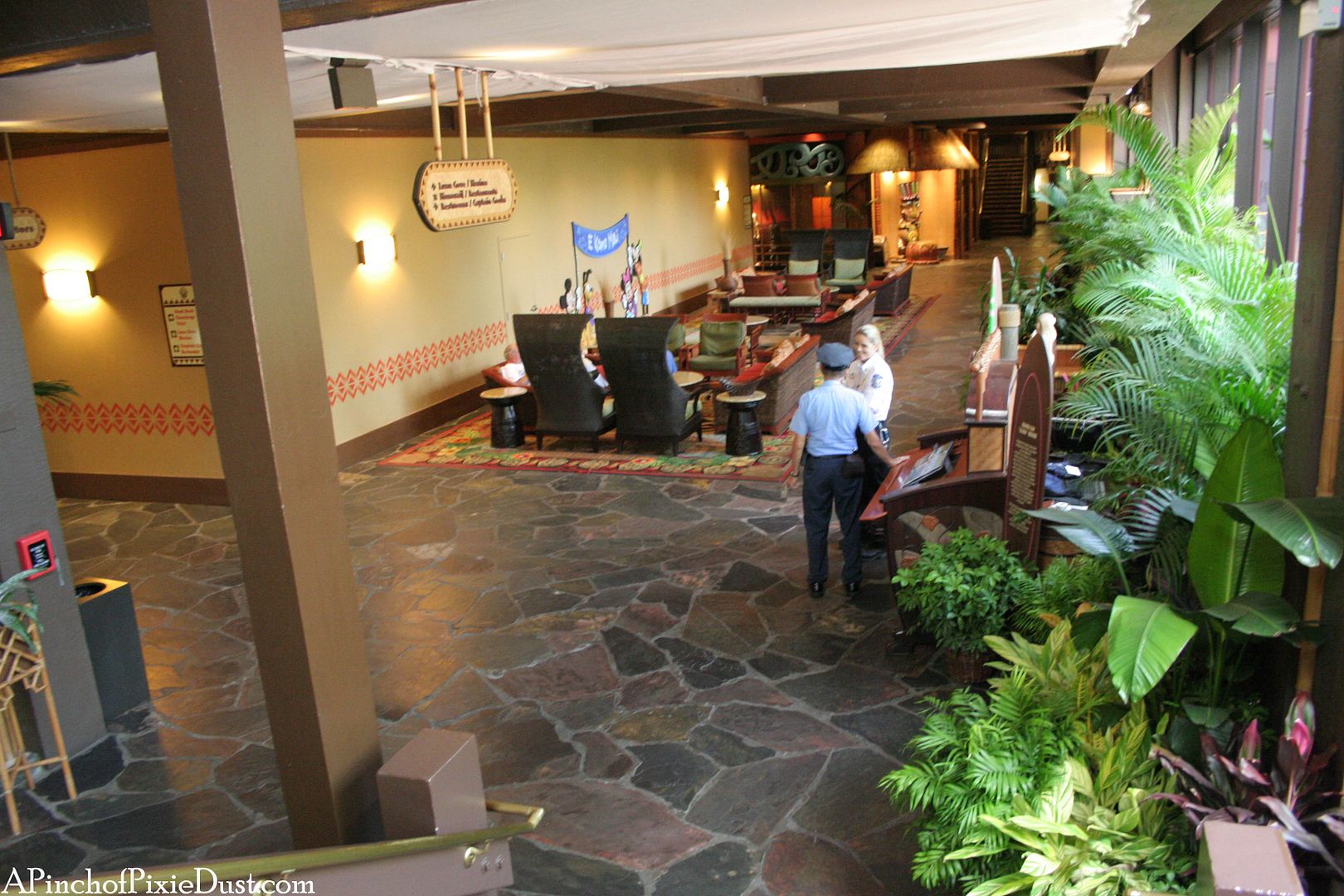 That gorgeous waterfall feature is gone and all walled off. Sniff. I know, I need to be patient, and I'm sure it'll be cool when it's done...y'all know
how I feel
about the changes at my beloved Poly. :(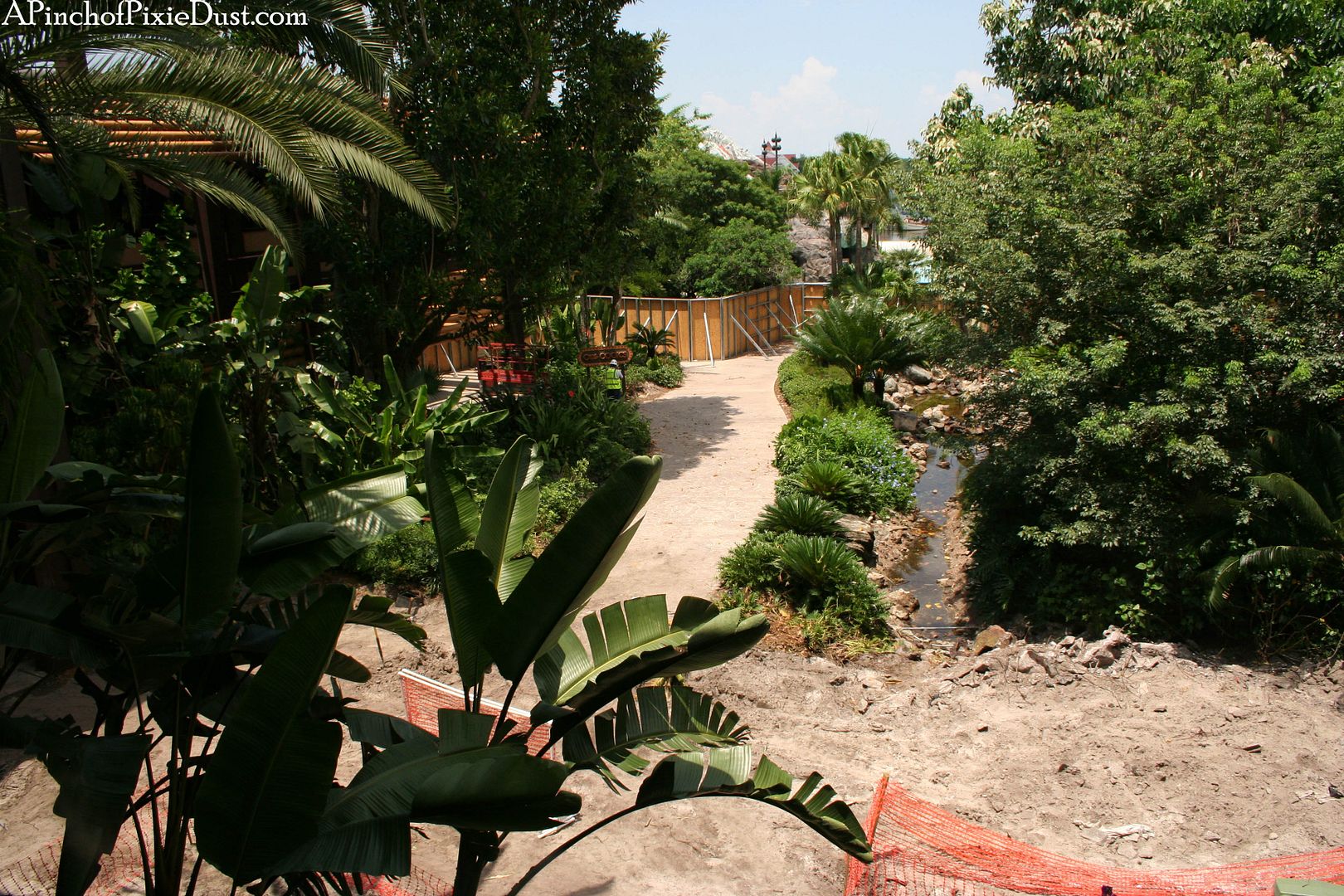 The whole central space of the GCH is walled off on both floors, and the back door leading out towards the pool is blocked off. You can see the pretty stream is all dug up. I know it'll only be like this during the construction, but it felt so enclosed and dusty and sort-of sad and abandoned. lol...maybe that's me projecting, but it was depressing walking around. I was glad to escape into the Kona which is still pretty and cheerful...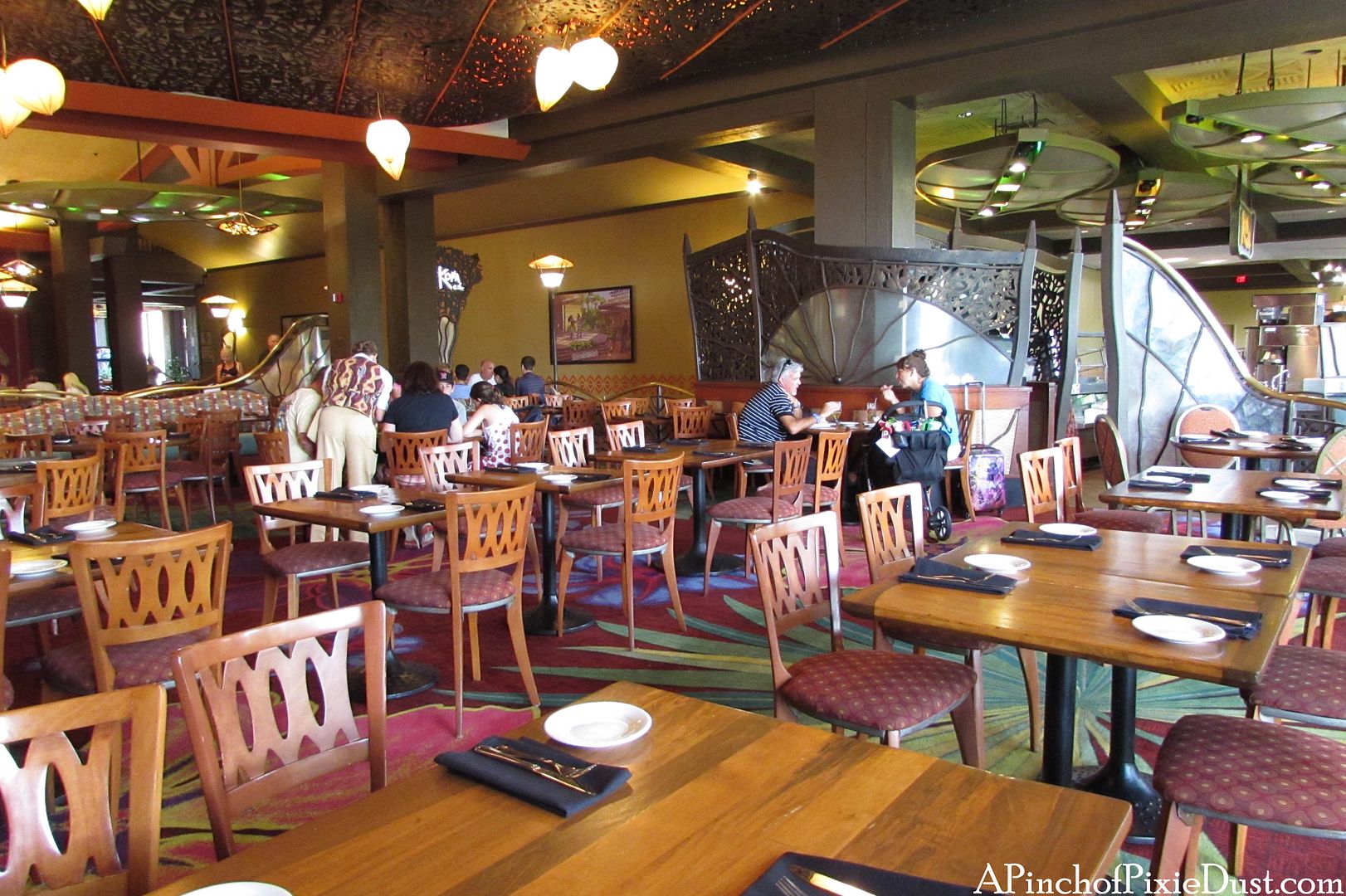 This is such a restful, tropical space...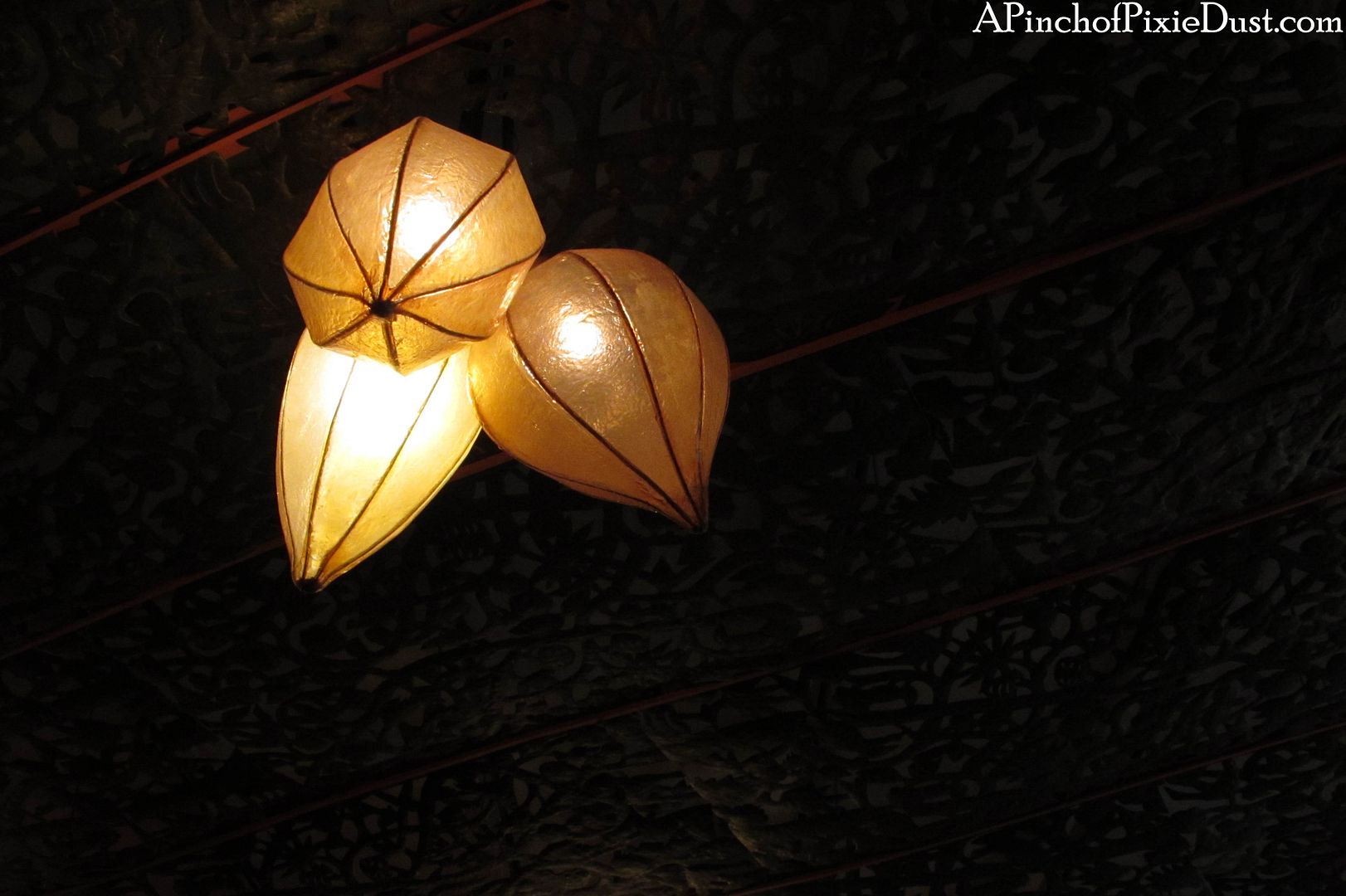 Funky fruit chandy candy!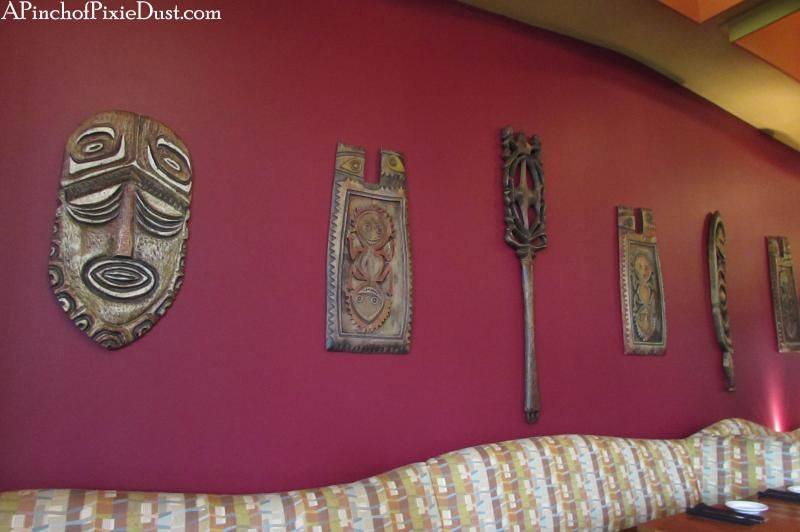 There are tiki gods on the walls!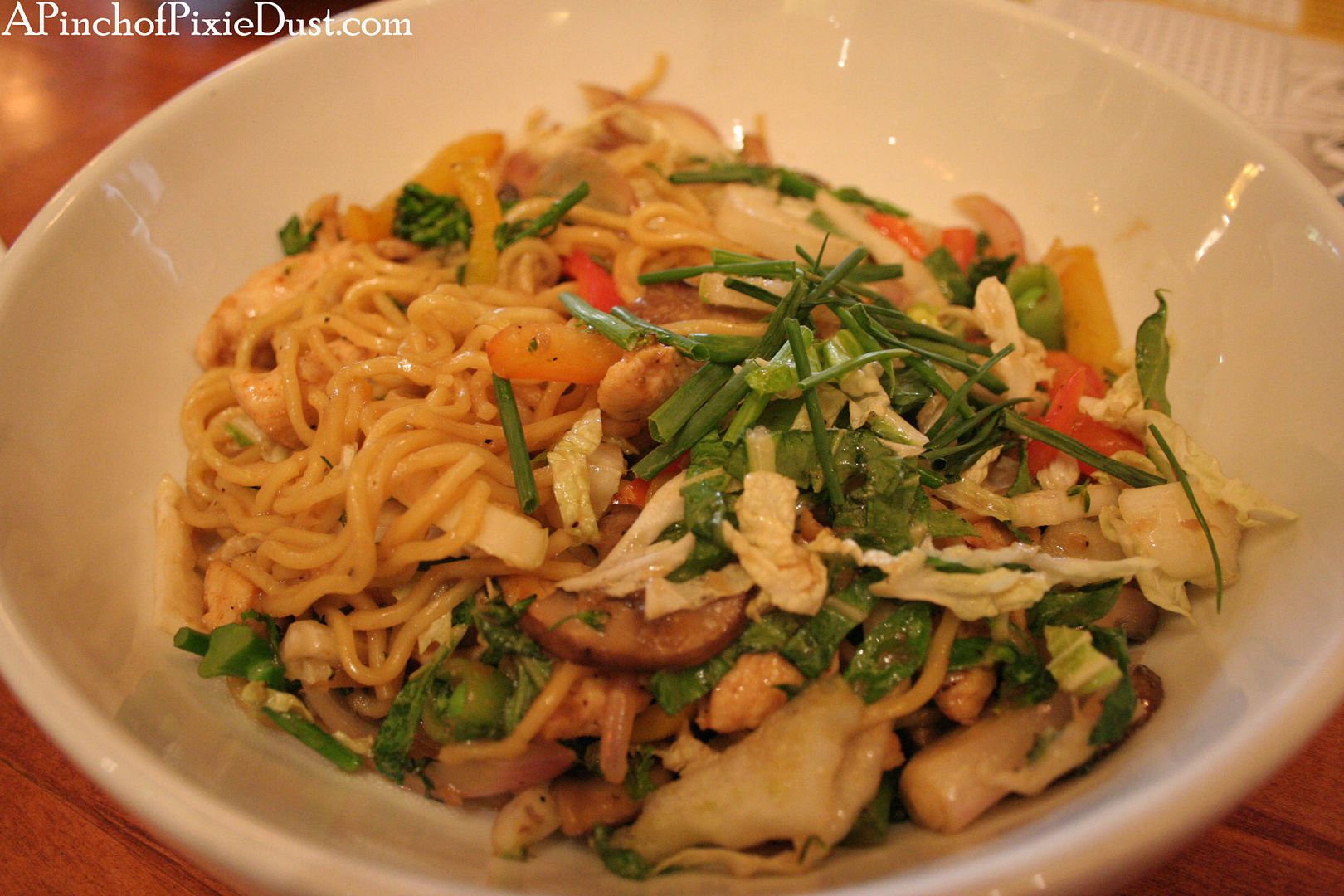 Whenever I have a whole meal to myself, I'm always too full for dessert! So Athos and I decided to split the Pan Asian Noodles: Yakisoba Noodles, Wok-seared with Vegetables and your choice of Chicken or Tofu in a Ginger-Garlic Sauce. We got chicken...it was a huge bowl, plenty to share!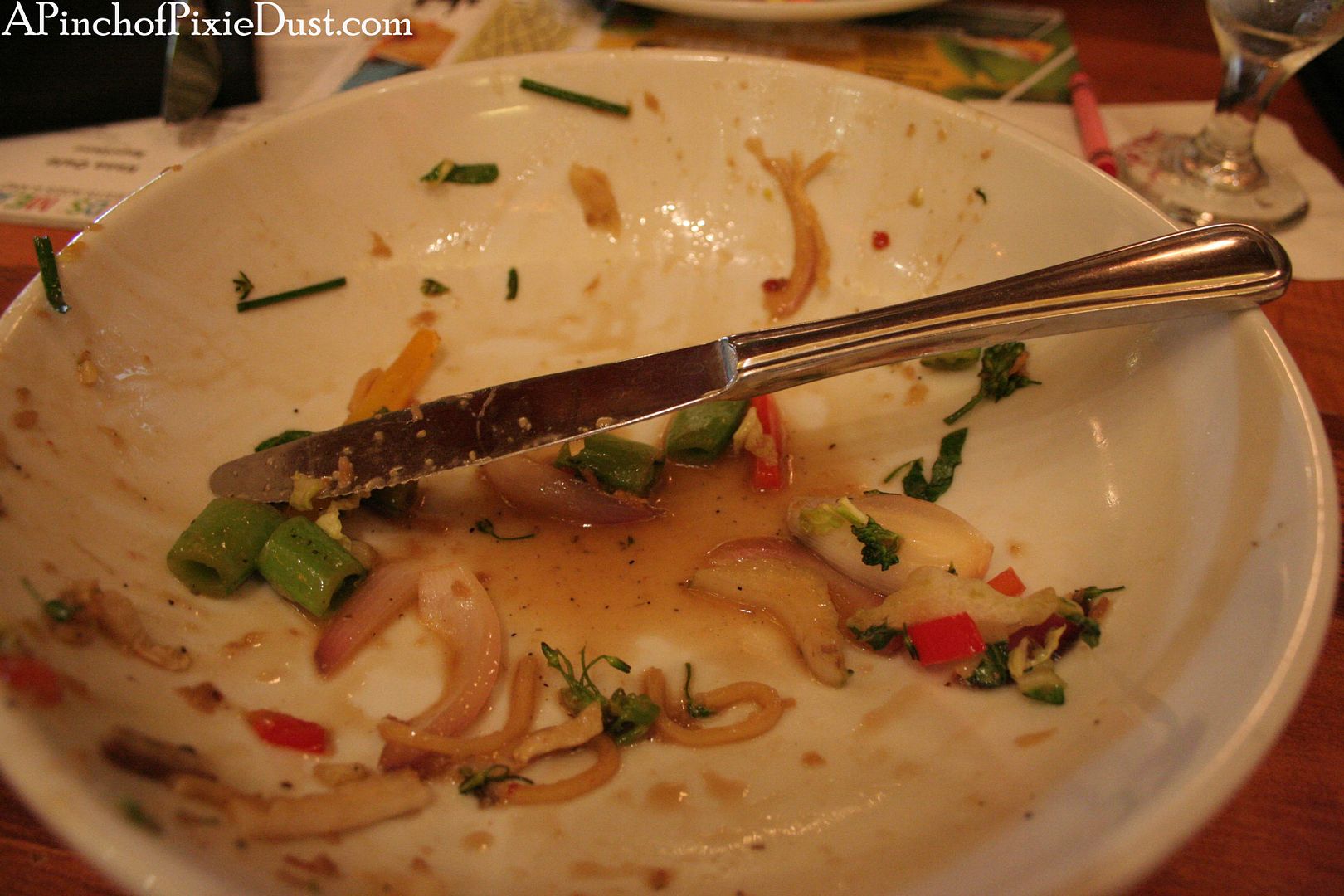 I ate every bite...it was delicious! I loved the sauce, and the veggies were very tasty: brocollini, mushrooms, peppers, onions, peas. But the best part was still to come...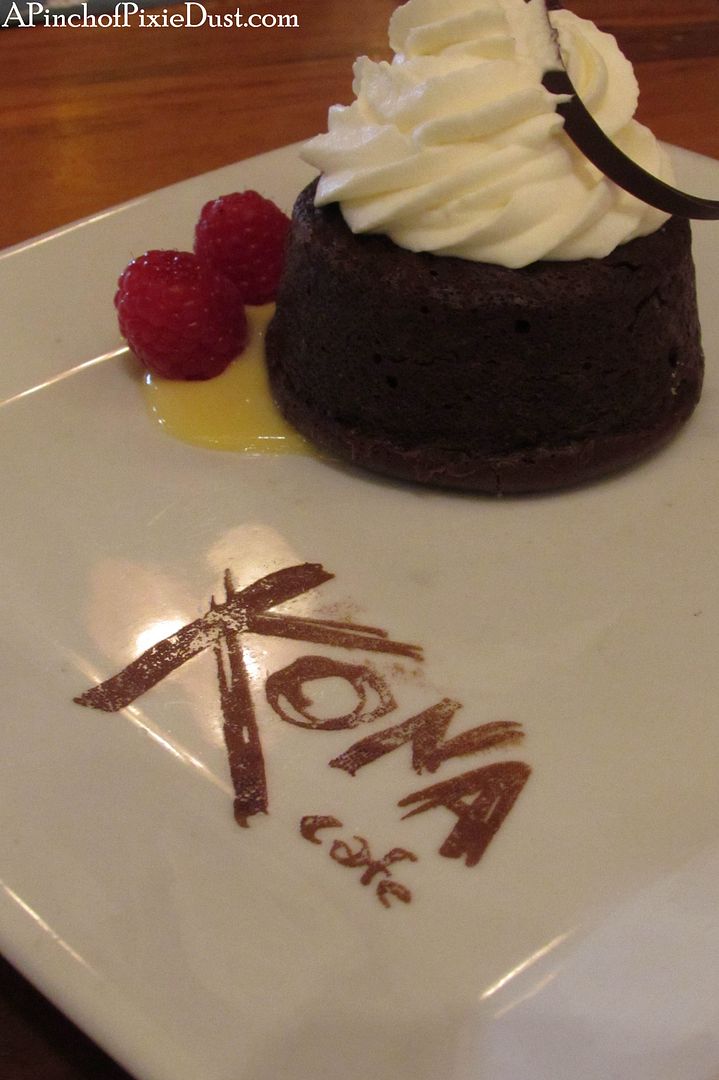 DESSERT!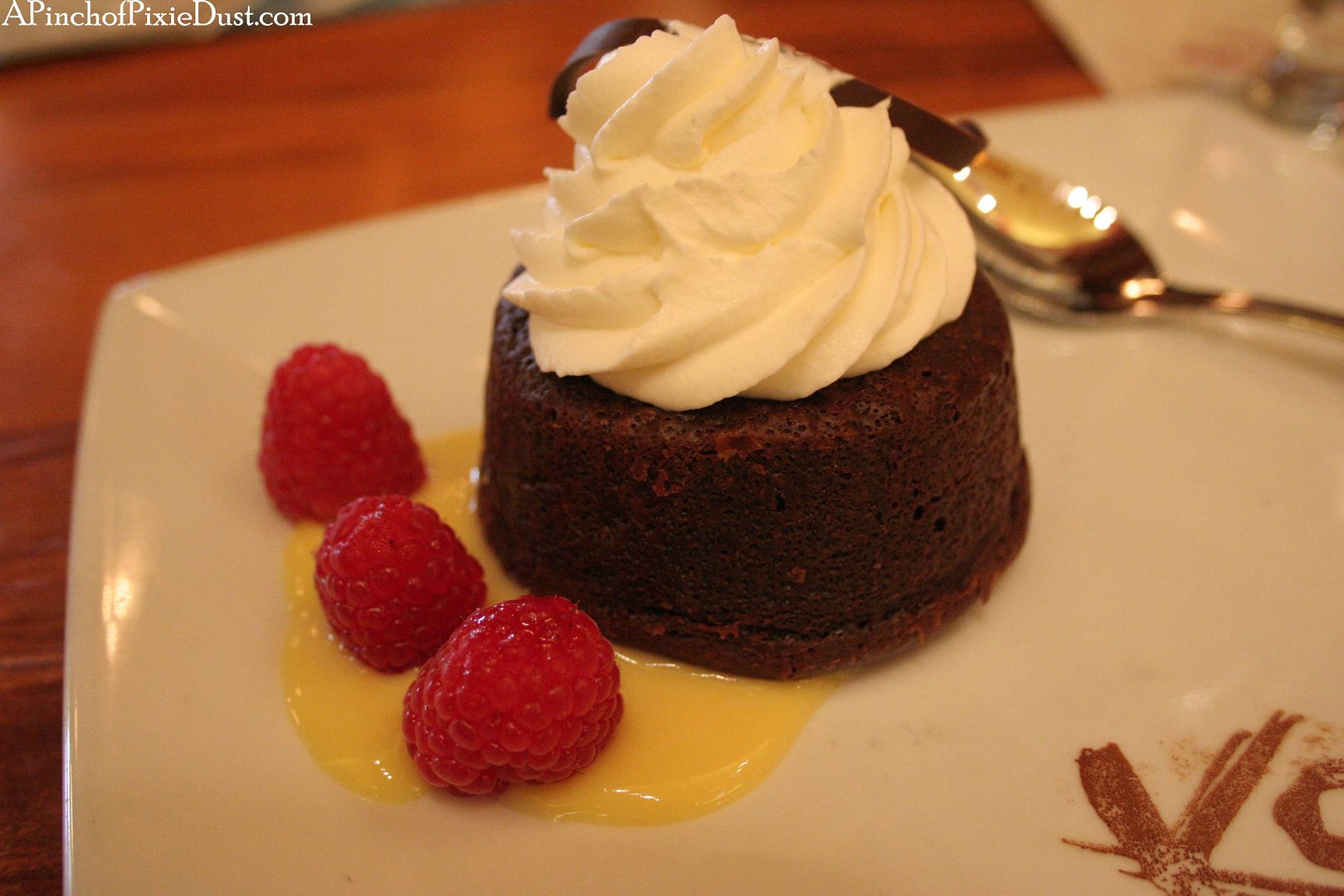 The Disney World website describes this as an explosion of warm liquid chocolate inside a chocolate volcano.
The inside is soft and melty and SUPER chocoaty, but not quite liquid. The outside cake is the perfect consistency - moist and not too dense. The whipped cream on top is real (I hate it when they use fake ingredients...you can always taste it) and light as air. And the fruit sauce and raspberries added the perfect tart tanginess!
My brothers sampled the Kona Cone...which really ought to be called a Kona Waffle Bowl! It's fun with the cotton candy base and all the Mickey sprinkles, but I miss the days when this came in an actual cone - they would stand it up by adhering the point to the plate with melted chocolate!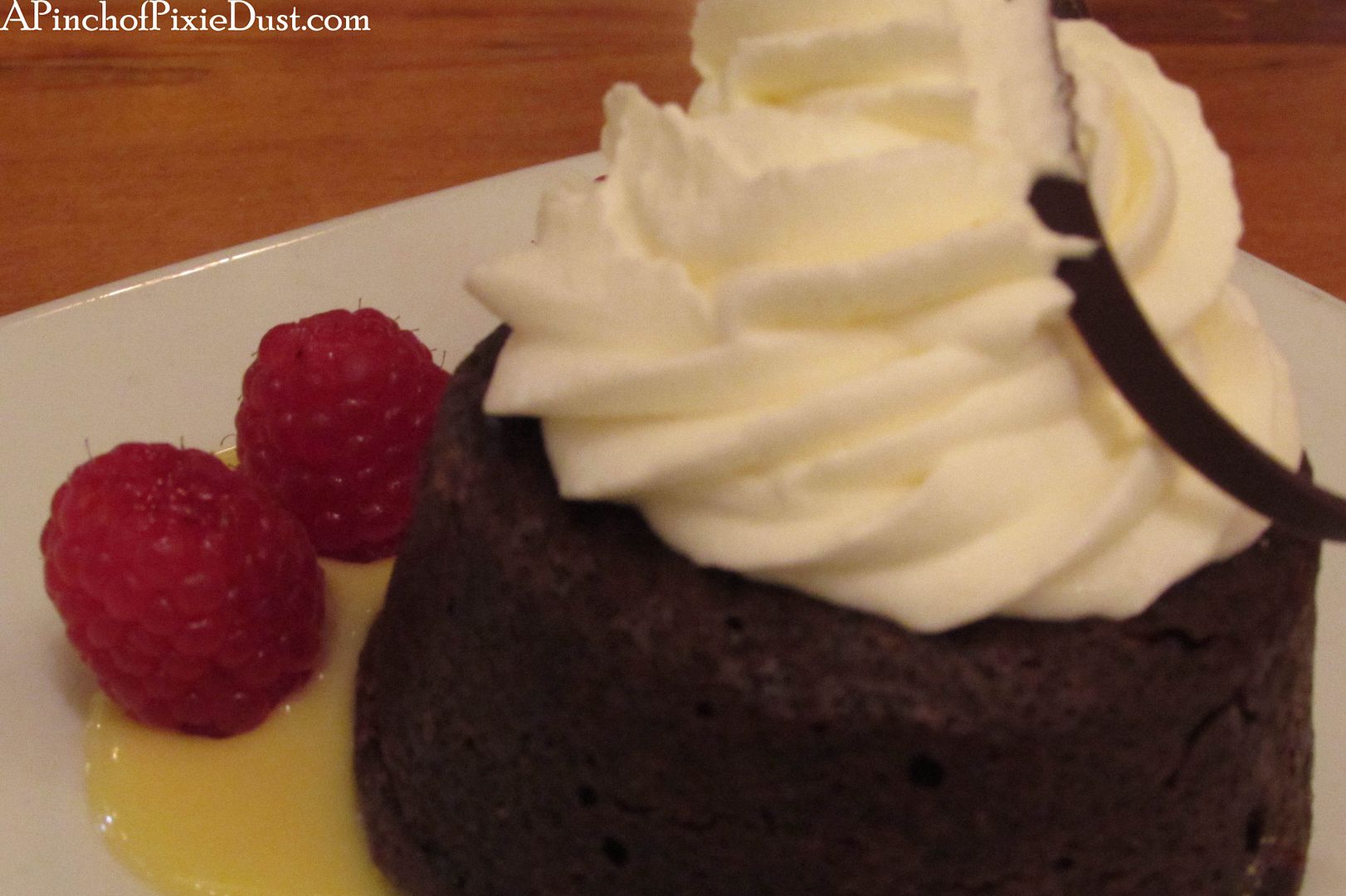 It had been awhile since we had last visited the Kona, but I would definitely like to make a return trip soon just for the kilauea torte. It's up there as one of my favorite chocolate Disney desserts!
Have you visited the Kona Cafe? Share your thoughts in the comments. :)