Ready for some more Festival of Fantasy fun, guys?
Last week
we looked at the very beginning of the Magic Kingdom's new parade with elegant dancers and a certain beauty and her beast. This Friday we've got even more princesses...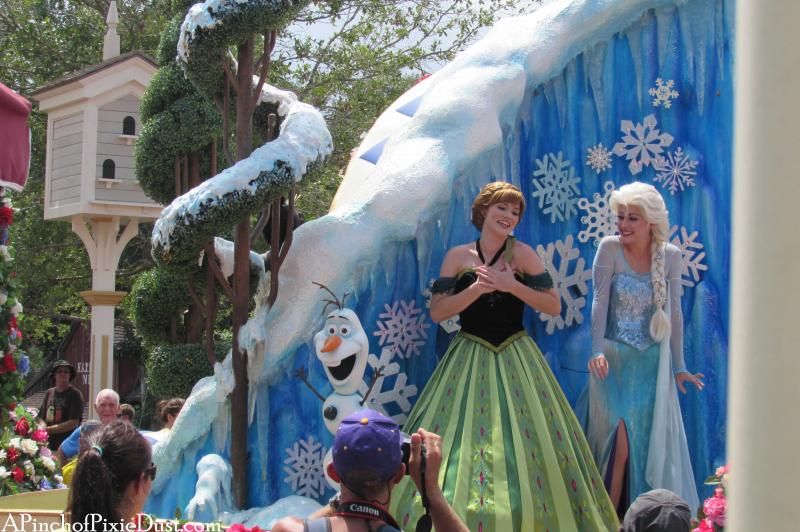 ...including the fabulous Frozen sisters! This photo is my favorite...Elsa is giggling at Anna, who is just being totally herself. :)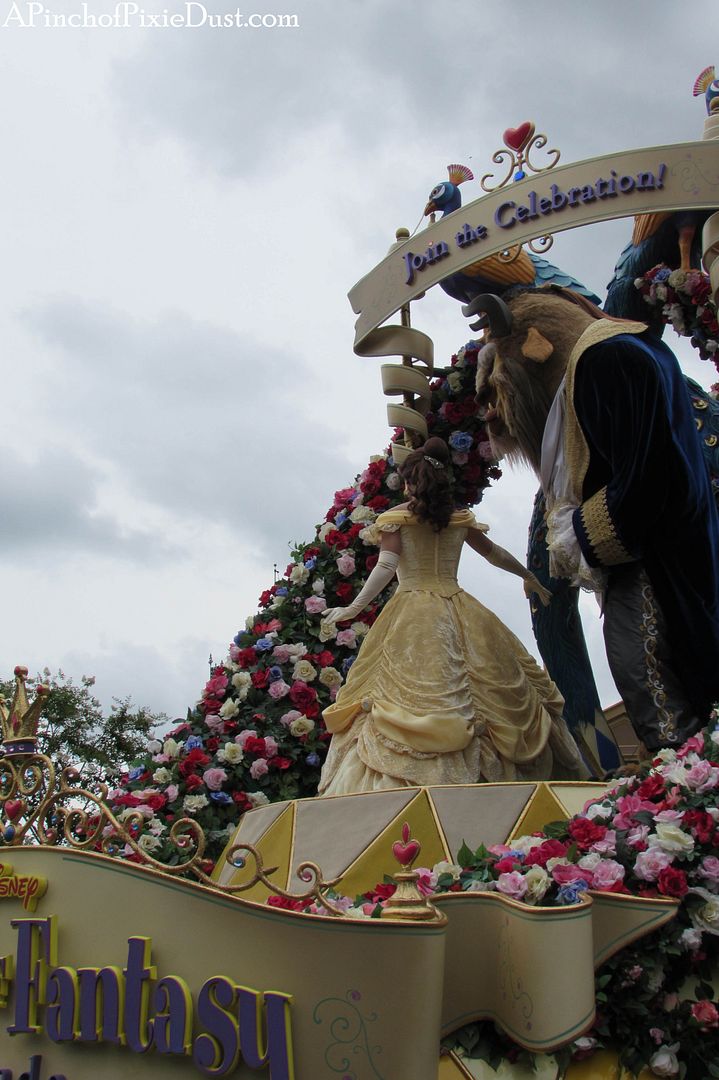 Belle and the Beast head the front of the parade's first float, and towering behind them, half hidden by peacocks and a wealth of roses, you'll see...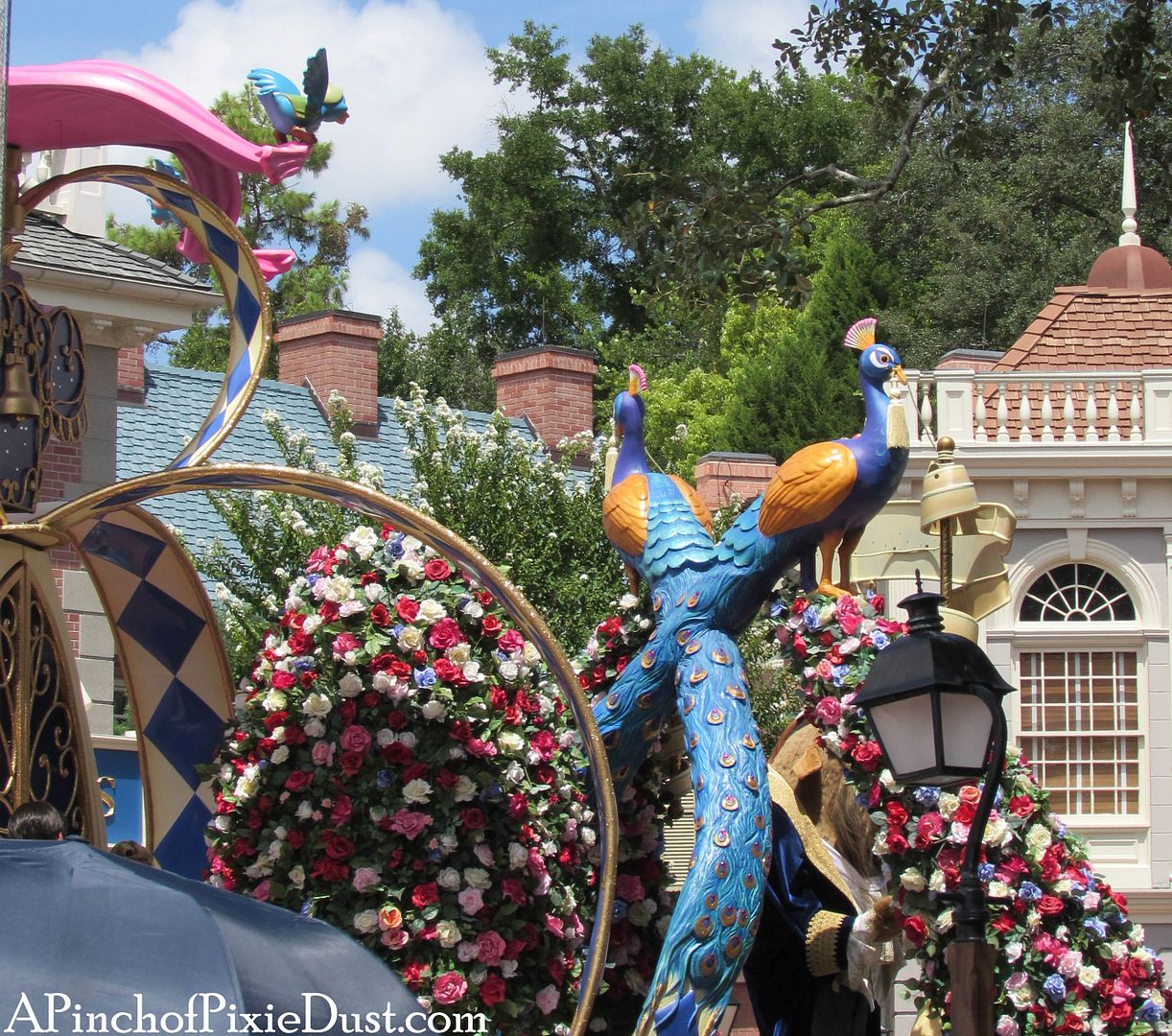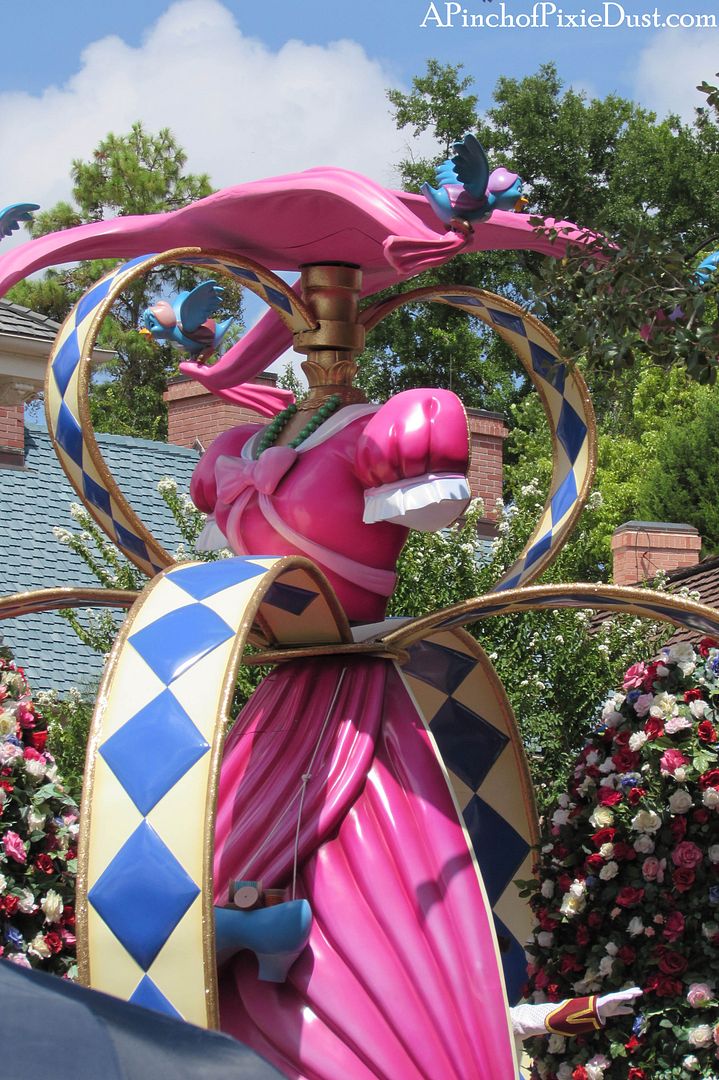 ...Cinderella's pink dress being constructed by her friends, the mice and birds. This dress is larger than life and such a fun element of the parade. Even if you don't have a curbside seat and are looking from a distance through a sea of heads, you can't miss it!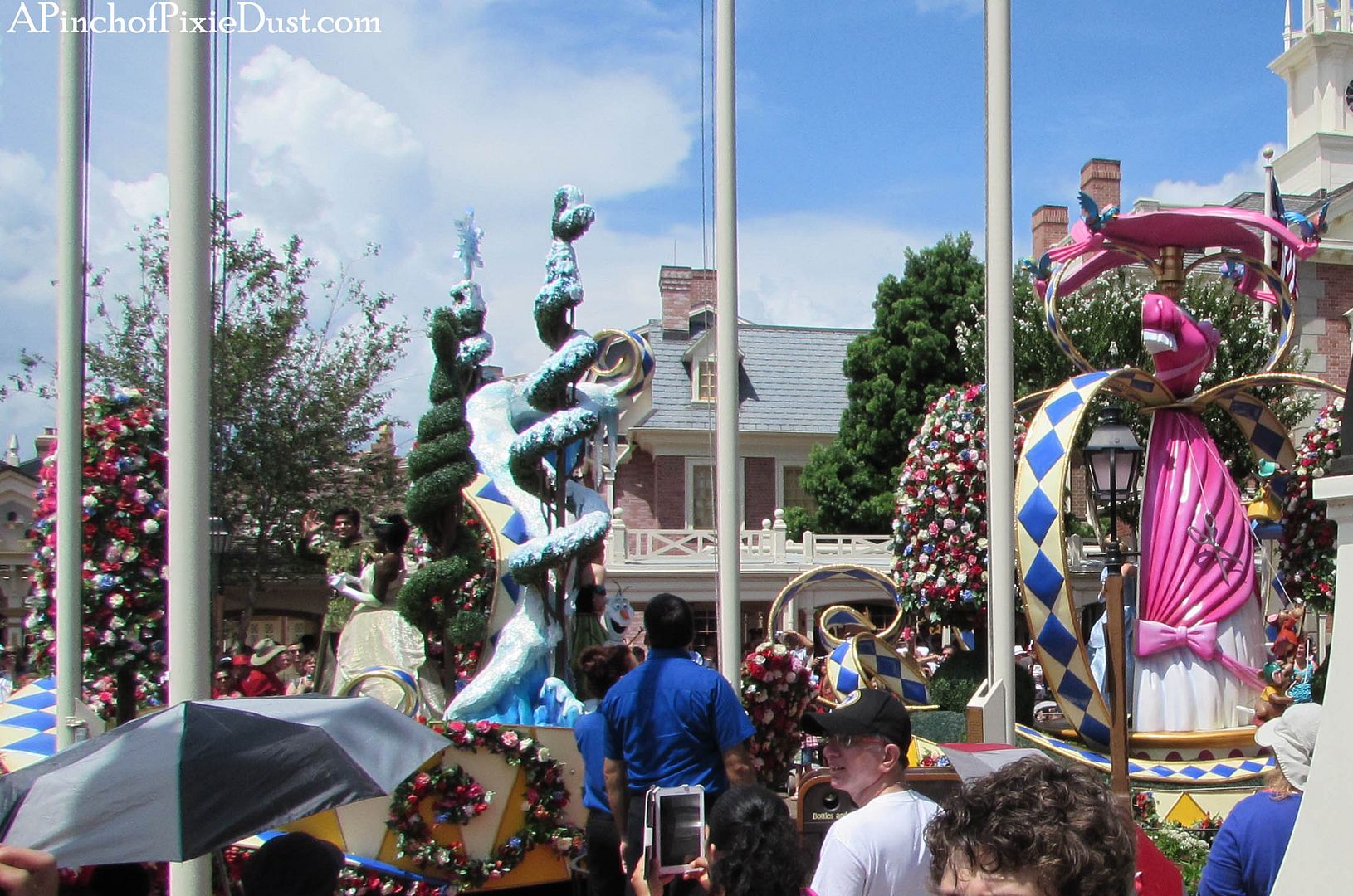 We watched Festival of Fantasy from Liberty Square, and it was so cool to watch this float curve around towards the hub, to see it from different angles.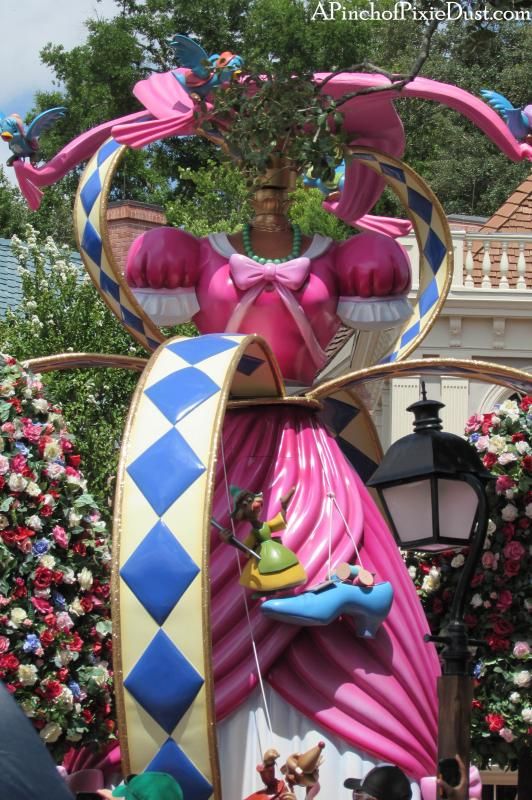 There are so many rotating parts that you'll end up with different perspectives no matter where you sit! On the other side of the pink dress is the princess herself...
Cinderella and her Prince Charming! These two are so sweet...although I was so busy trying to take in the rest of the huge float and all the details, I almost missed them.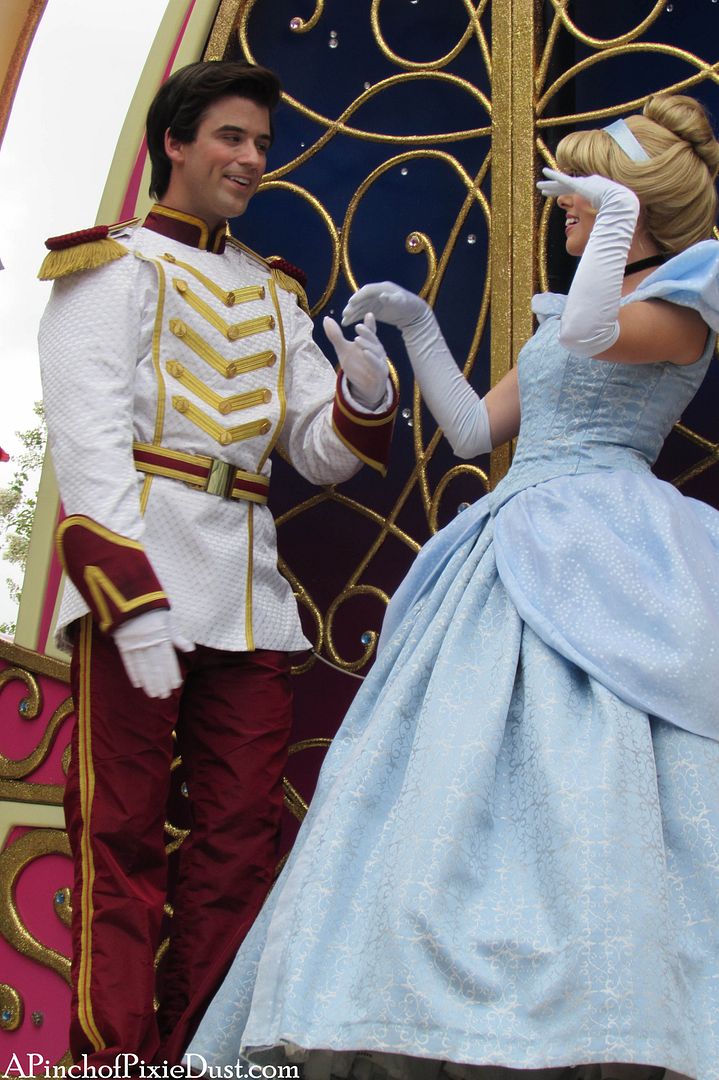 This pic just makes me laugh...the prince is all bashful and awkward. ;)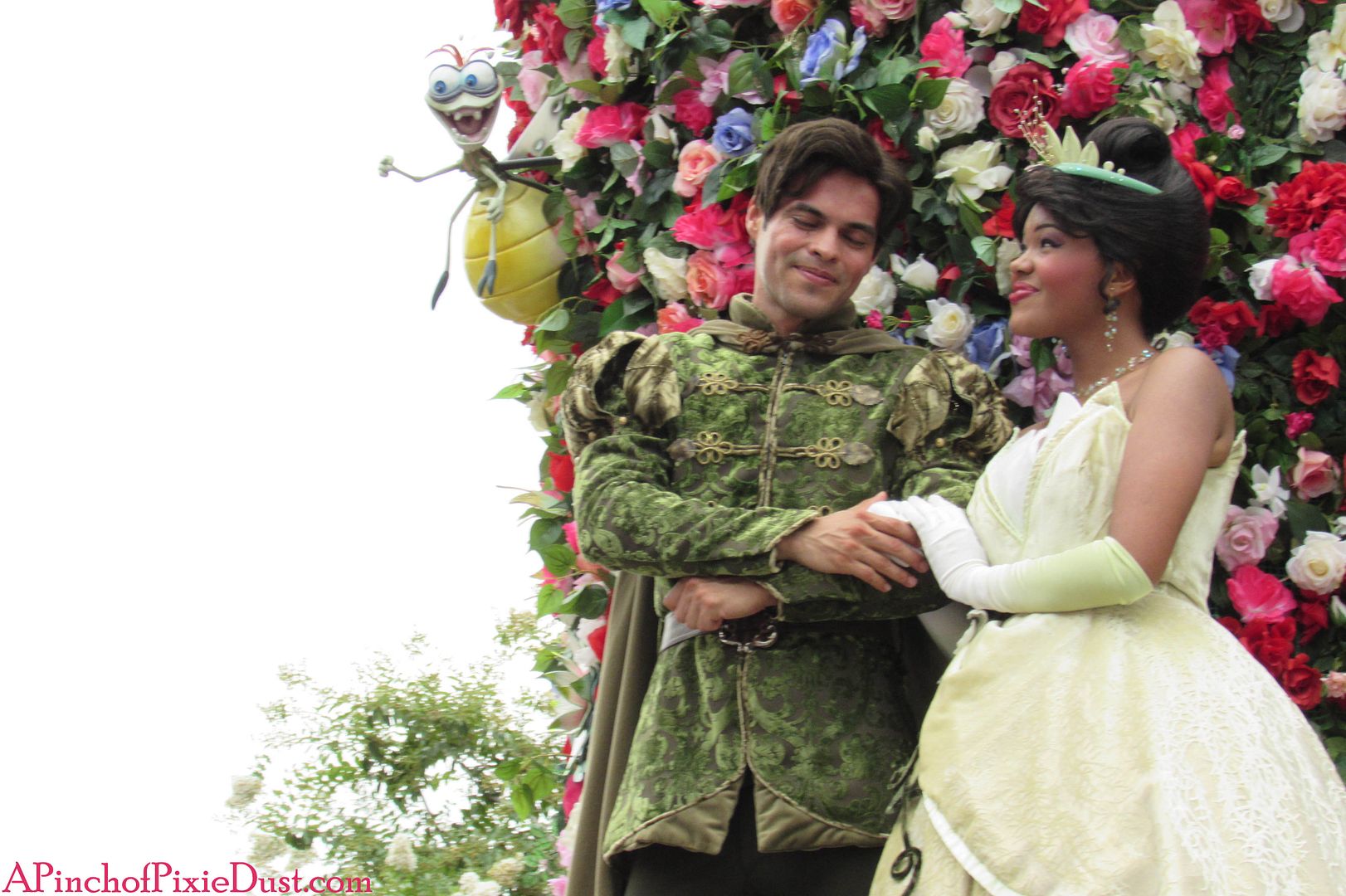 Following Cinderella is a rotating stage with Tiana and Naveen on one side and the Frozen girls on the other. I didn't notice at the time, but there's Ray from The Princess and the Frog hanging out in the flowers!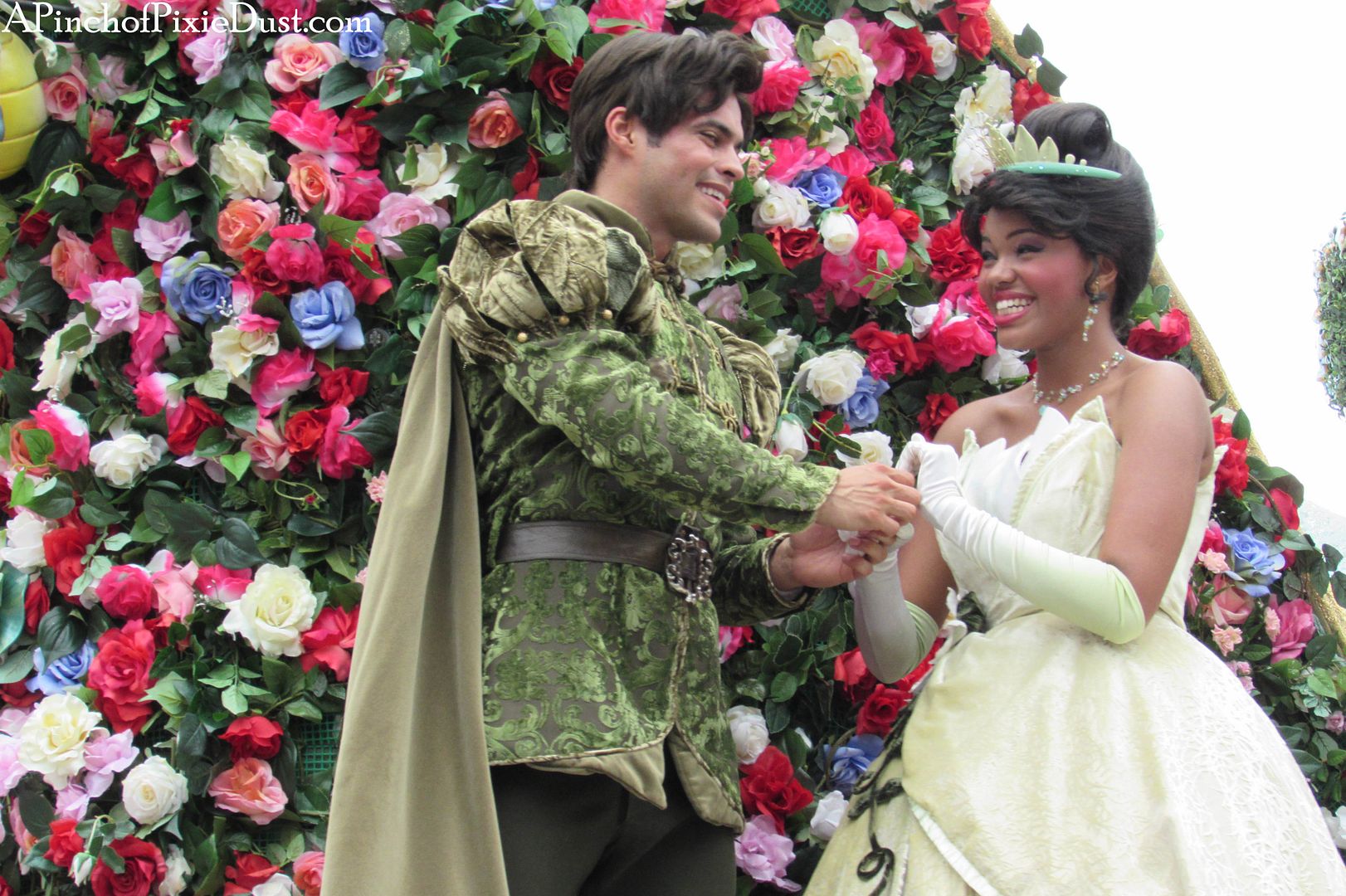 These two were so sweet...I have to say though...this Naveen was almost too charming. Maybe I happened to catch him at a rare chivalrous moment, but I miss the Naveen from
the old parade
...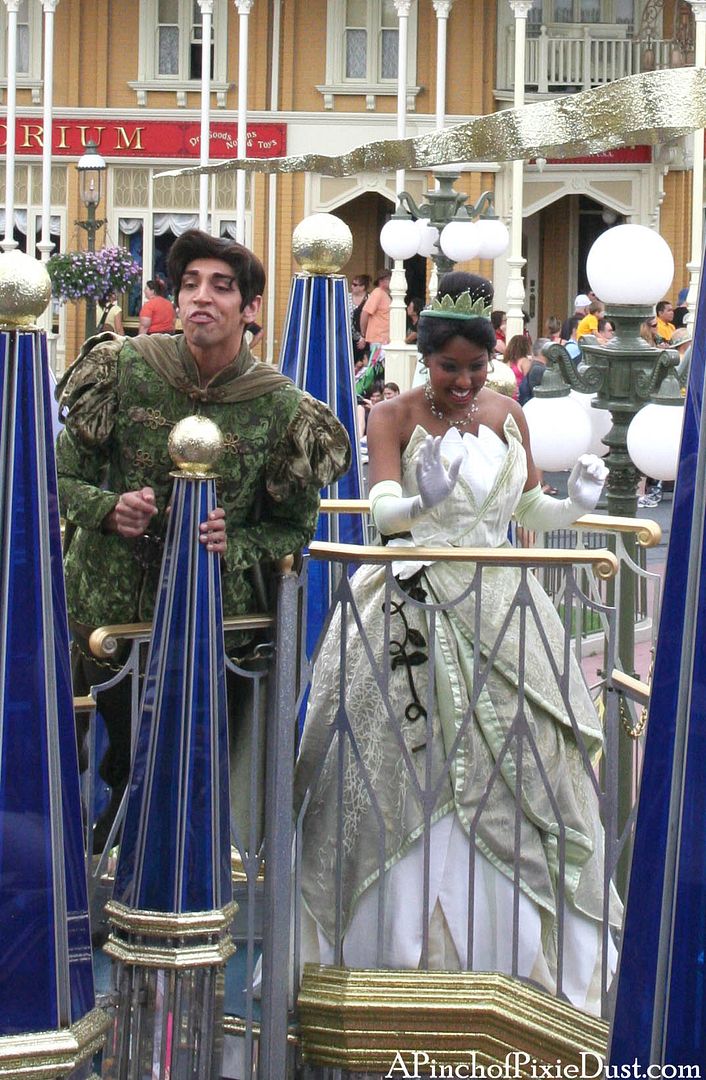 He was just rocking out on top of the castle float, totally trying to stealing Tiana's spotlight and the entire show. Then again, Naveen would have a hard time upstaging these two...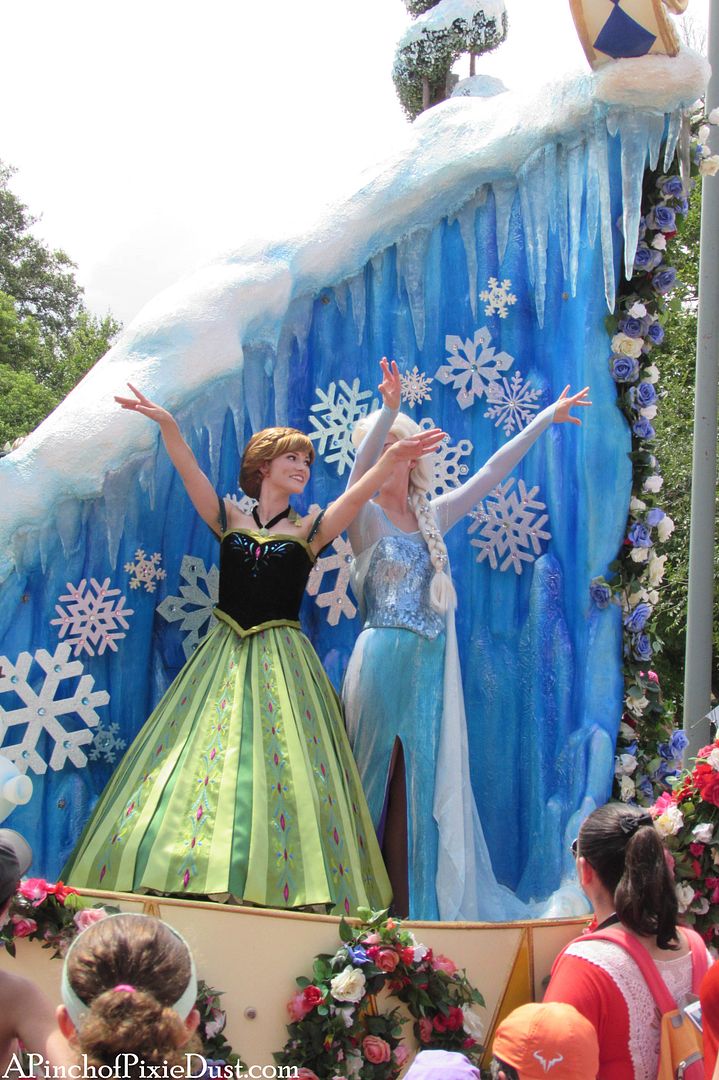 Anna and Elsa are standing against an icy backdrop on the other side of the rotating stage. I wonder if they ever get dizzy!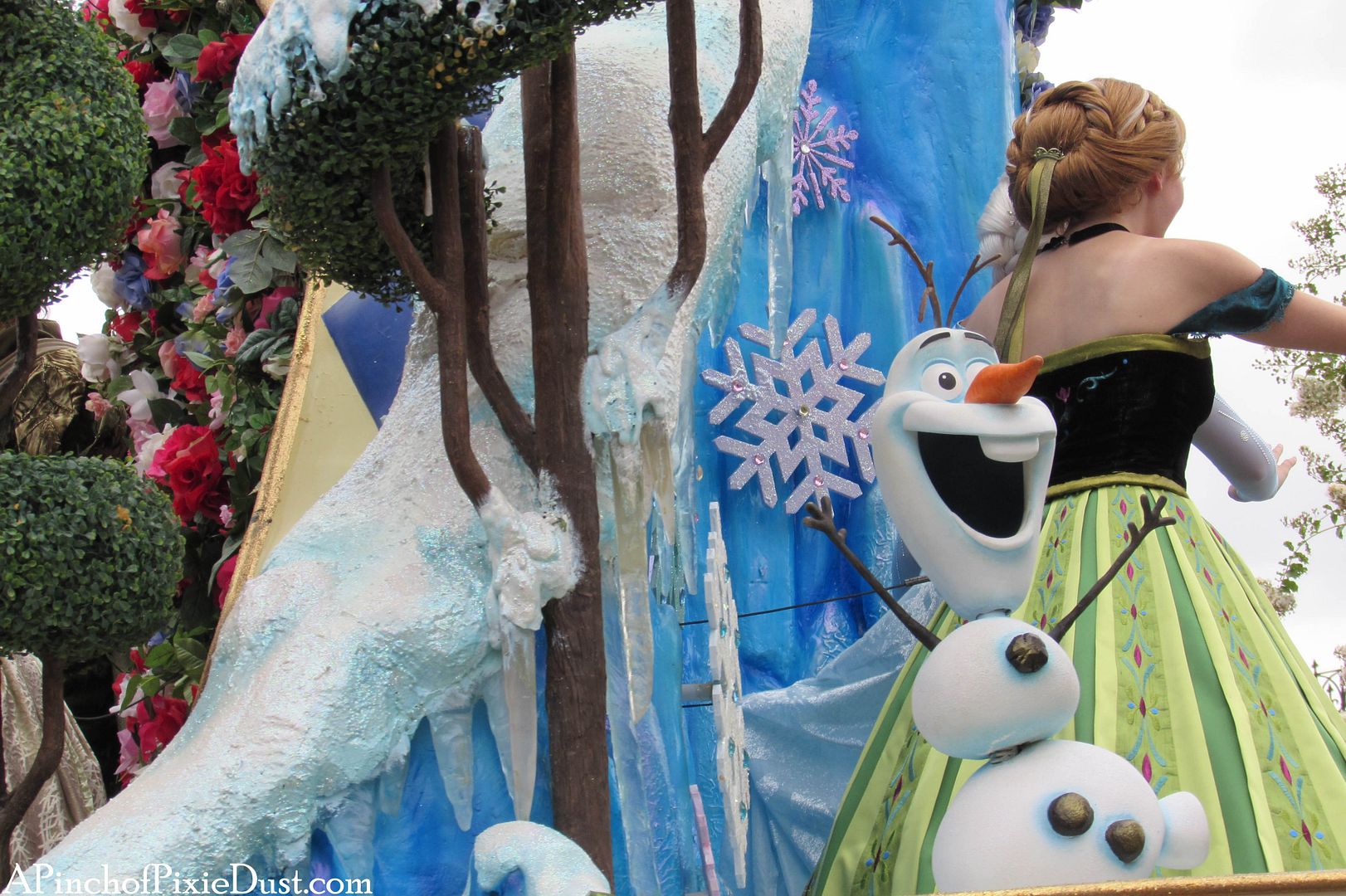 Olaf is representing next to the Arendelle sisters!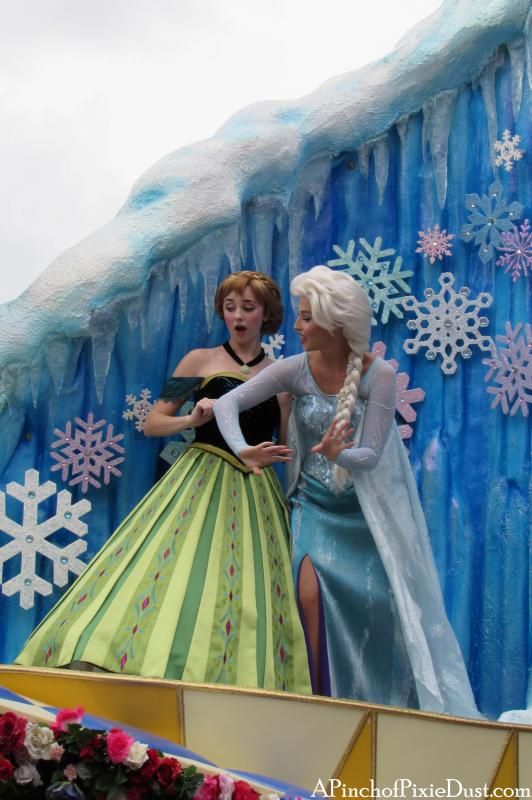 I love the little stories you'll catch the characters performing during the parade - look, Elsa has an idea! She conjurs up an icy wind to keep Olaf chilly...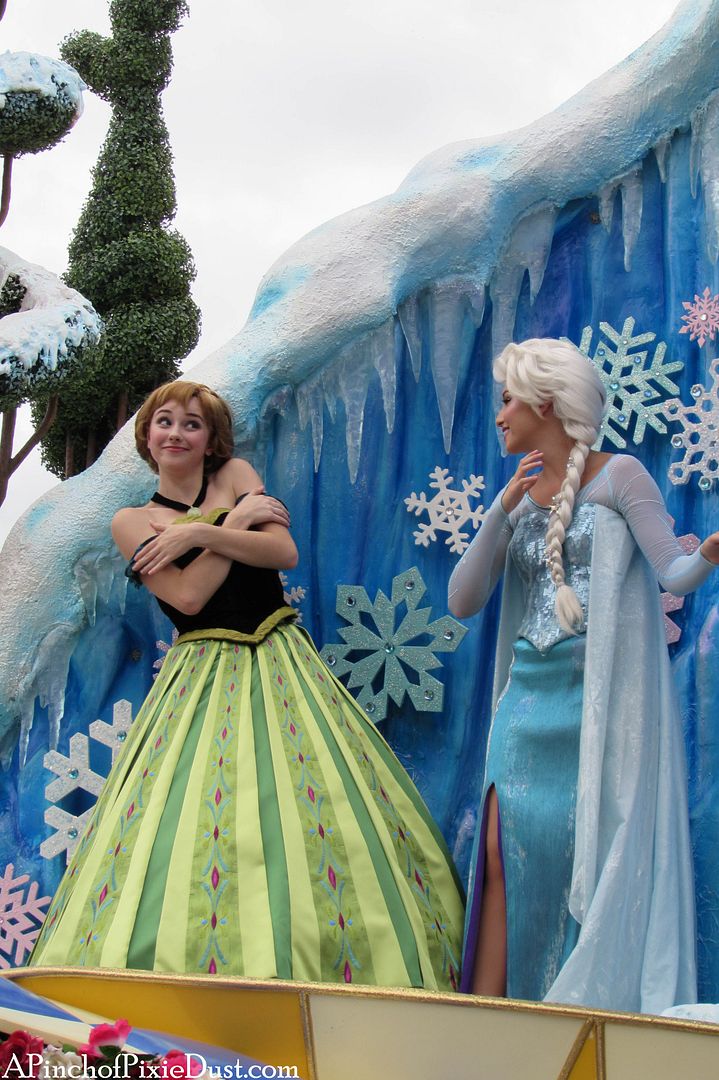 ...just be careful not to cause an eternal winter, Elsa! Actually I wouldn't have minded some snow to cool down that hot Florida weather. ;)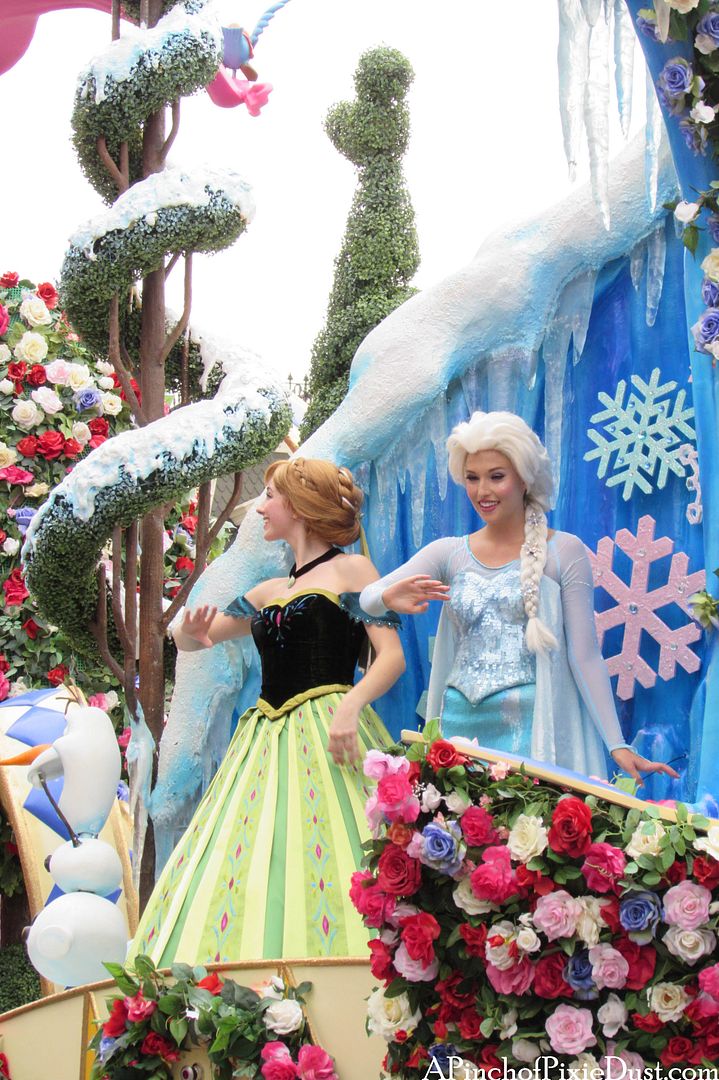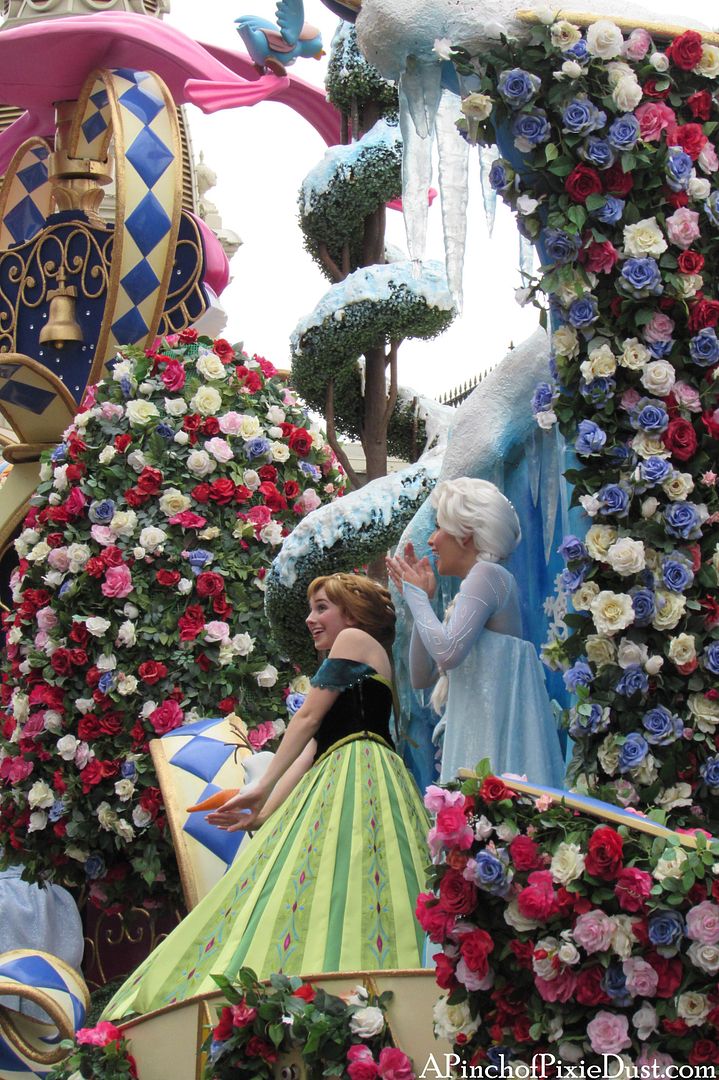 The fact that the stage rotates means you might lose sight of Anna and Elsa (or Tiana and Naveen) for a minute or two, but when they come back into view, it's fun to see the stage and characters from so many different angles, set against different frames!
One last picture perfect pose! Hope it's a fabulous Friday!