We've been looking at the
club level services
at many of the deluxe Disney World resort hotels on A Pinch of Pixie Dust - the
Contemporary
, the
Wilderness Lodge
- and today we're going to explore another - the
Sugar Loaf Club Level
at Disney's Grand Floridian Resort and Spa!
When you book a room that's concierge level, you pay a little more, but you also get special access to a club lounge with free food offerings. The
Grand Floridian
has two separate club levels - the Royal Palm Club is located in the main building and is usually a bit pricier. Sugar Loaf is one of the outer buildings.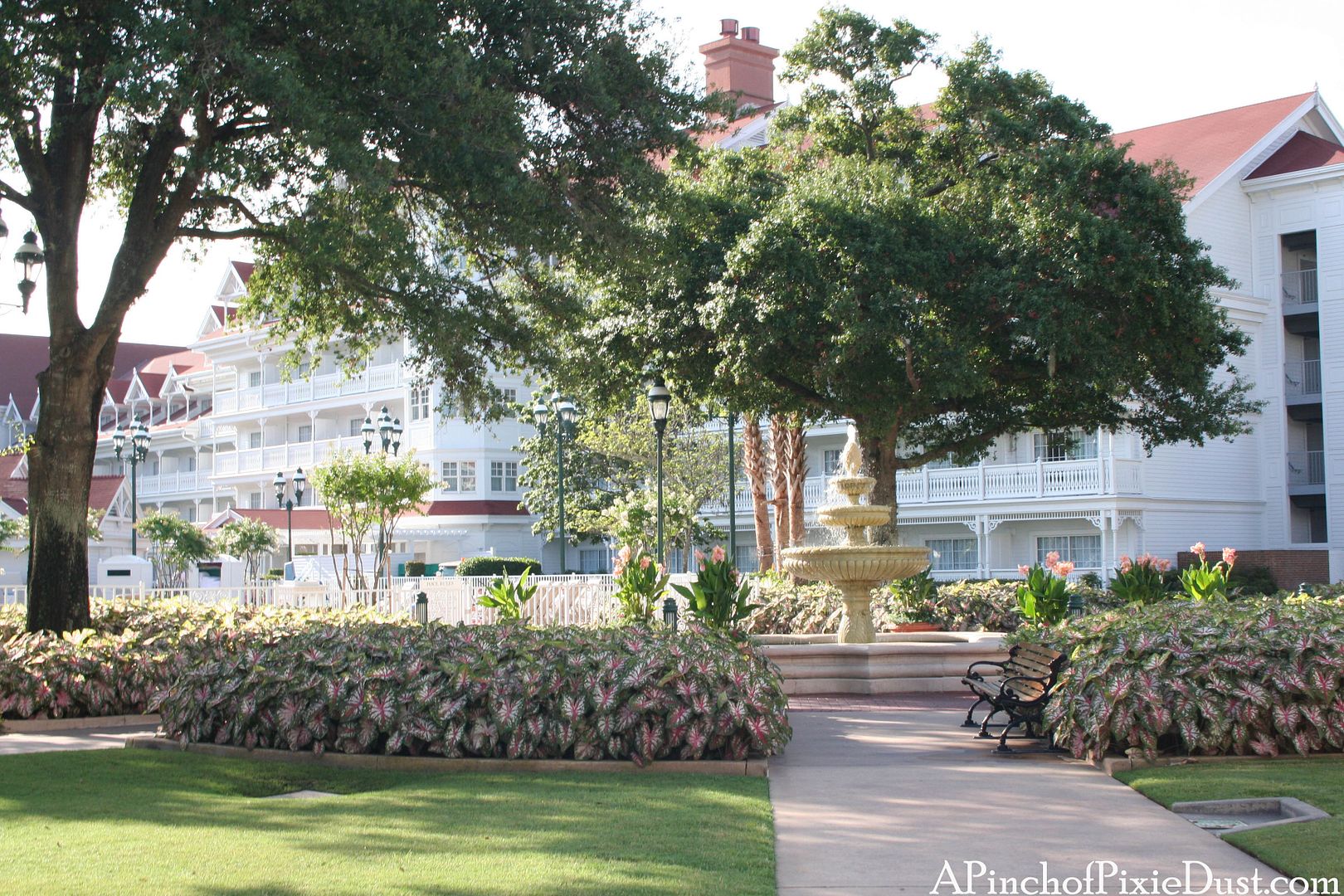 A sunny stroll around the Grand Floridian grounds is such a lovely way to spend an afternoon...and when your room is in one of those fresh white and russet buildings, it's even nicer!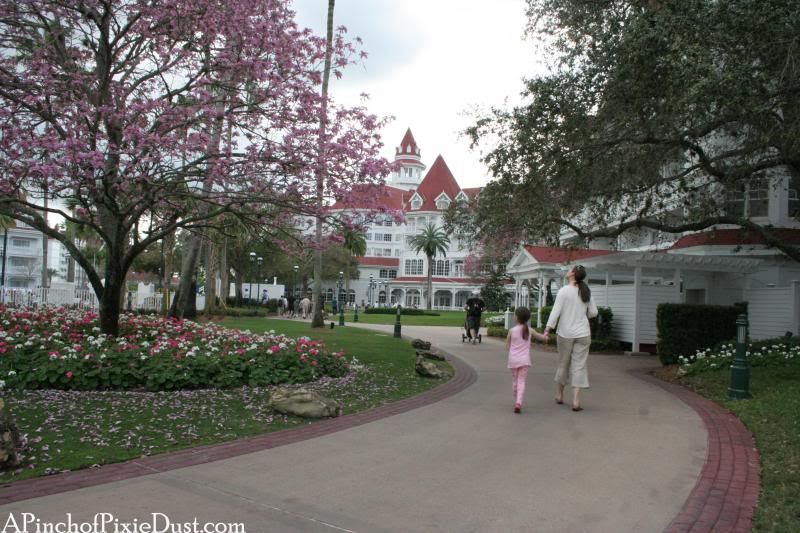 Sugar Loaf is located about halfway between the main building and the boat docks, just across from the Courtyard Pool. You'll need your room key to get in.
Here's an aerial view of the main space! Many of the outer buildings at the Grand have an atrium like this, and in Sugar Loaf they use it as the lounge. There are two concierge desks at one end (bottom of the photo) and the food service area and tables at the other.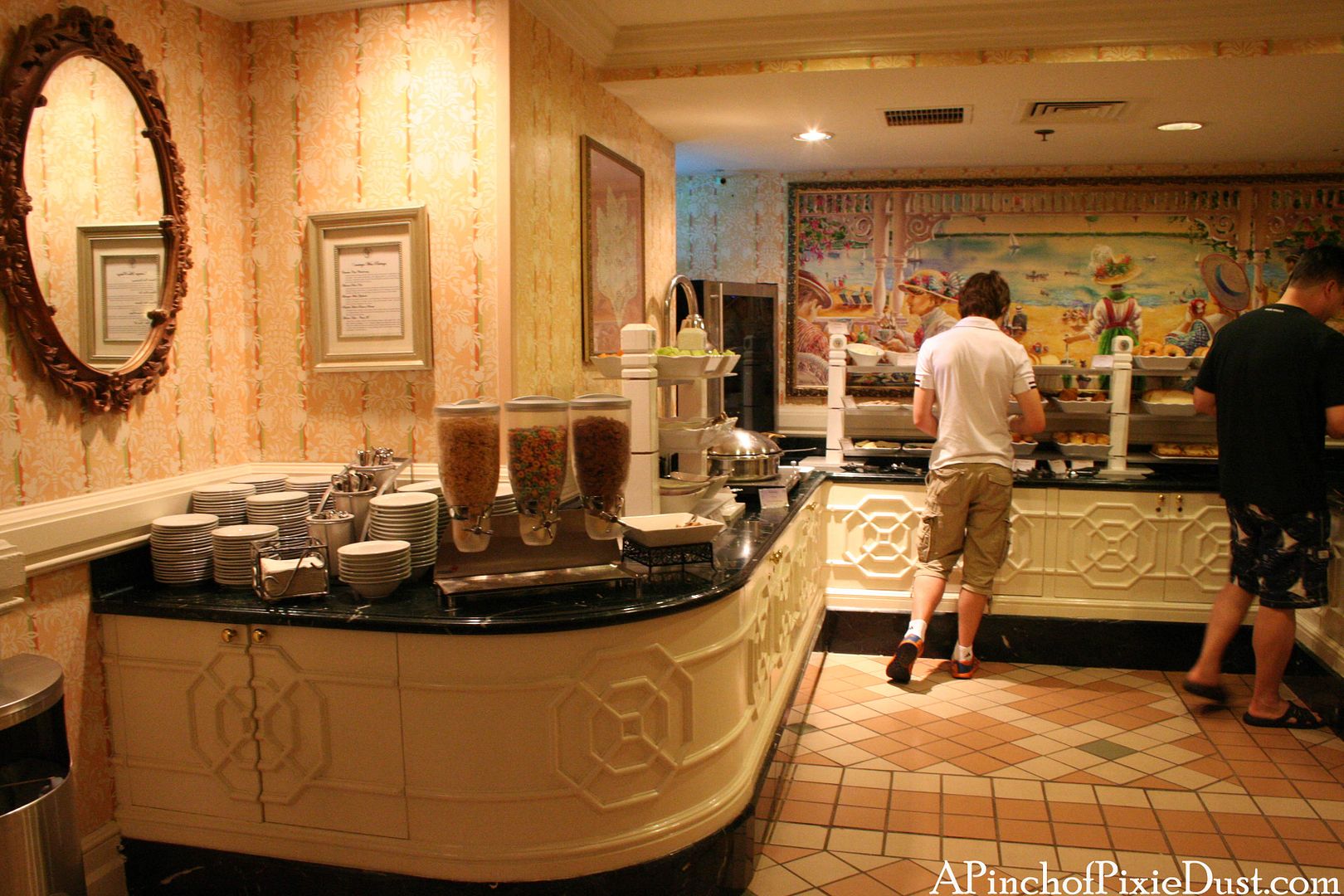 Here's where all the deliciousness happens! I love the Victorian mural behind the counter...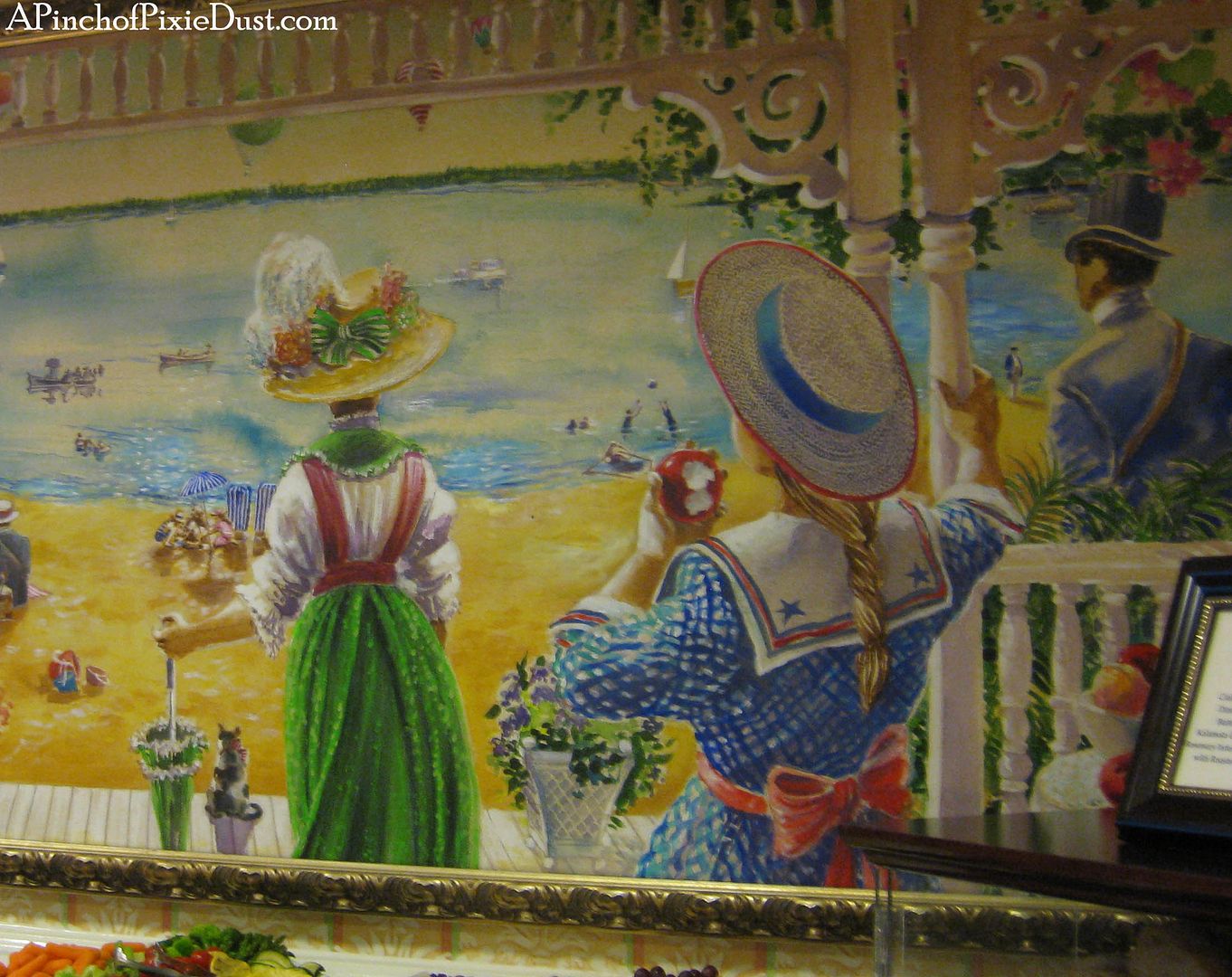 That lady's delighted expression on the left is my favorite. That's exactly how I feel when I'm staying club - a cup of tea and plate of goodies and Sugar Loaf contentment. :)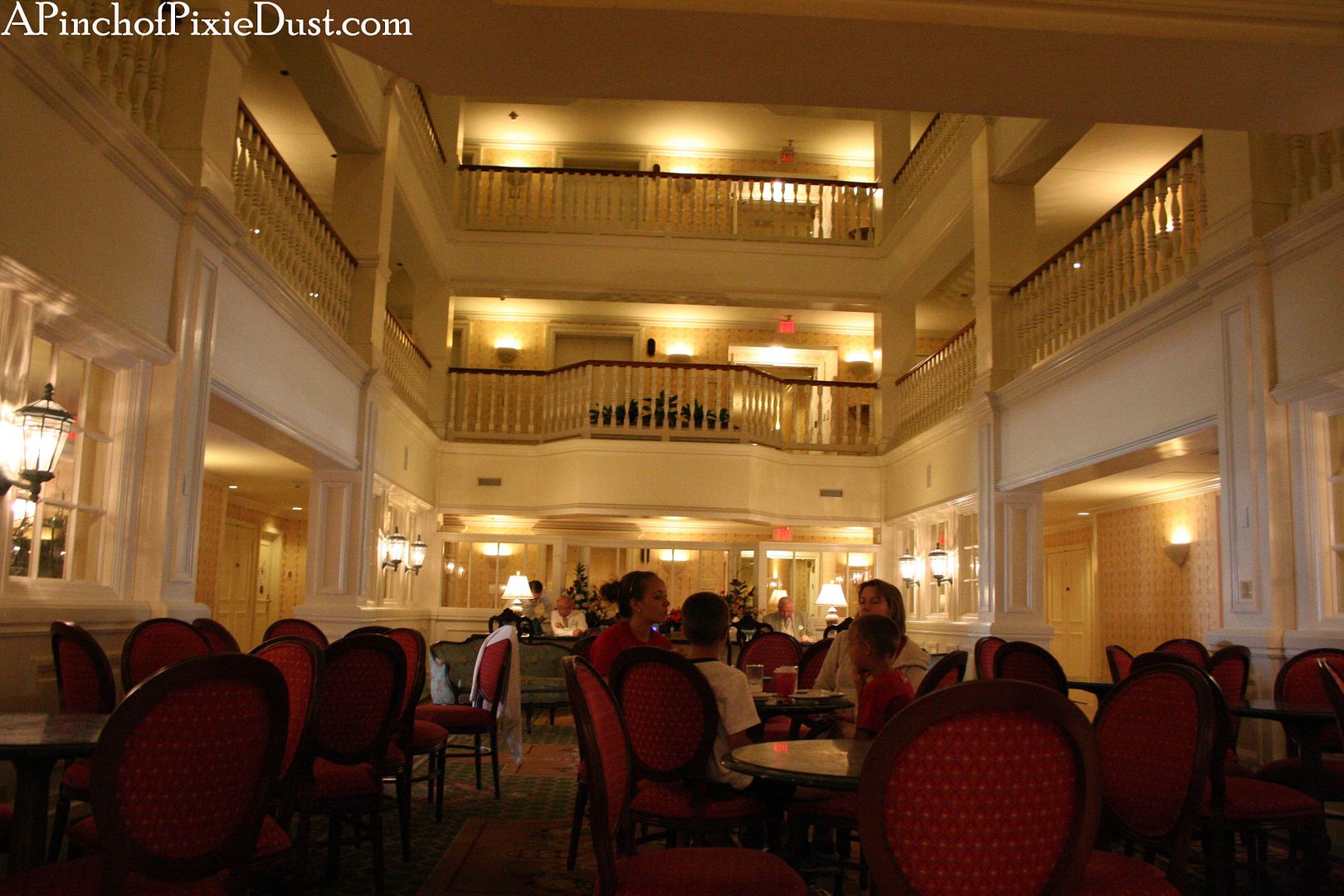 I have to admit the tables can feel a little bit crowded together, especially when the space is full. It can also get fairly loud and echo-y. There are some additional seats and a tv and kids' area off in one corner...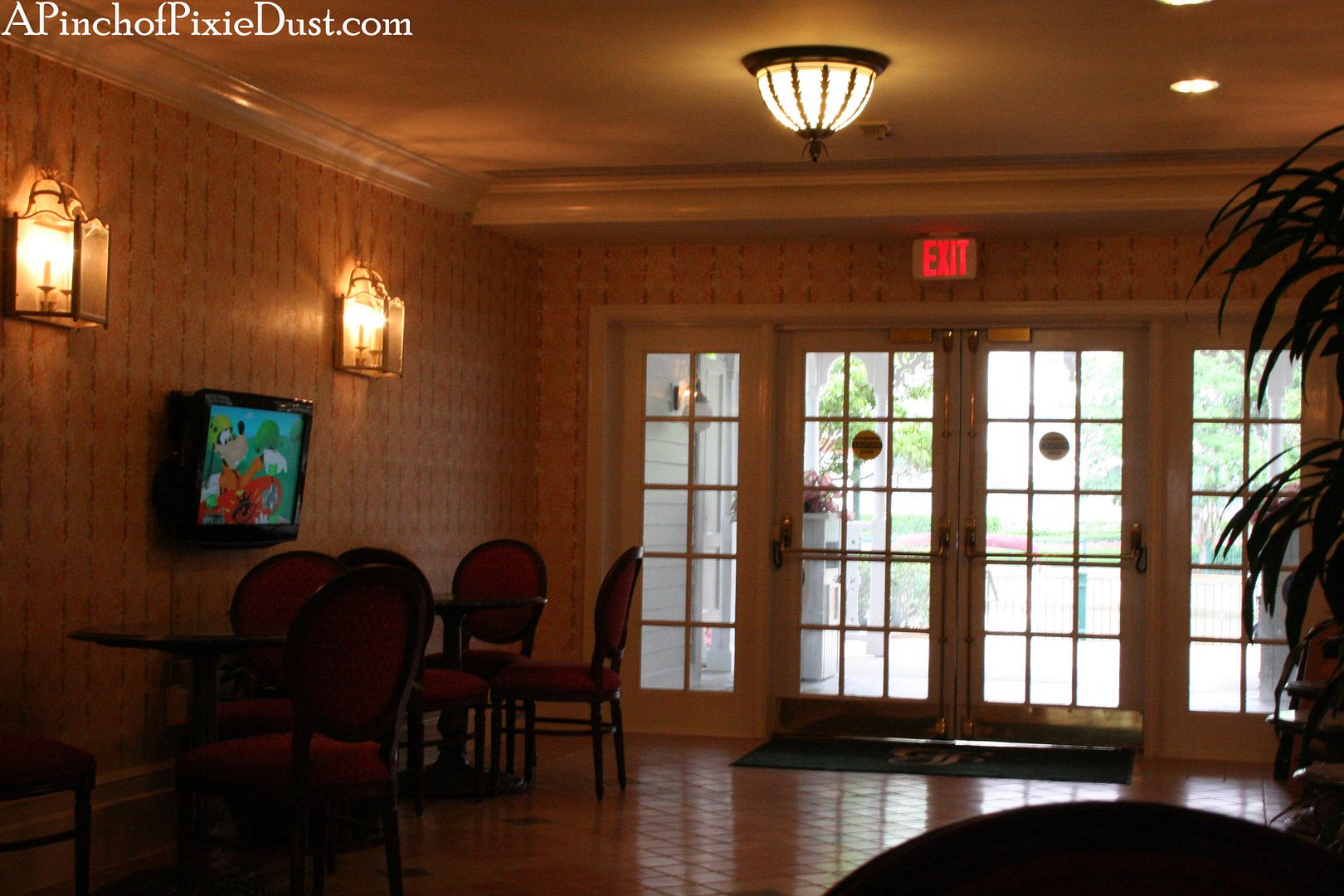 Disney never does ordinary kids furniture - these little club chairs are just as elegant as the big ones!
Another favorite Sugar Loaf detail of mine is the hutch with various elegant tea sets that you'll find right when you walk in. Look closely and you might find some familiar faces...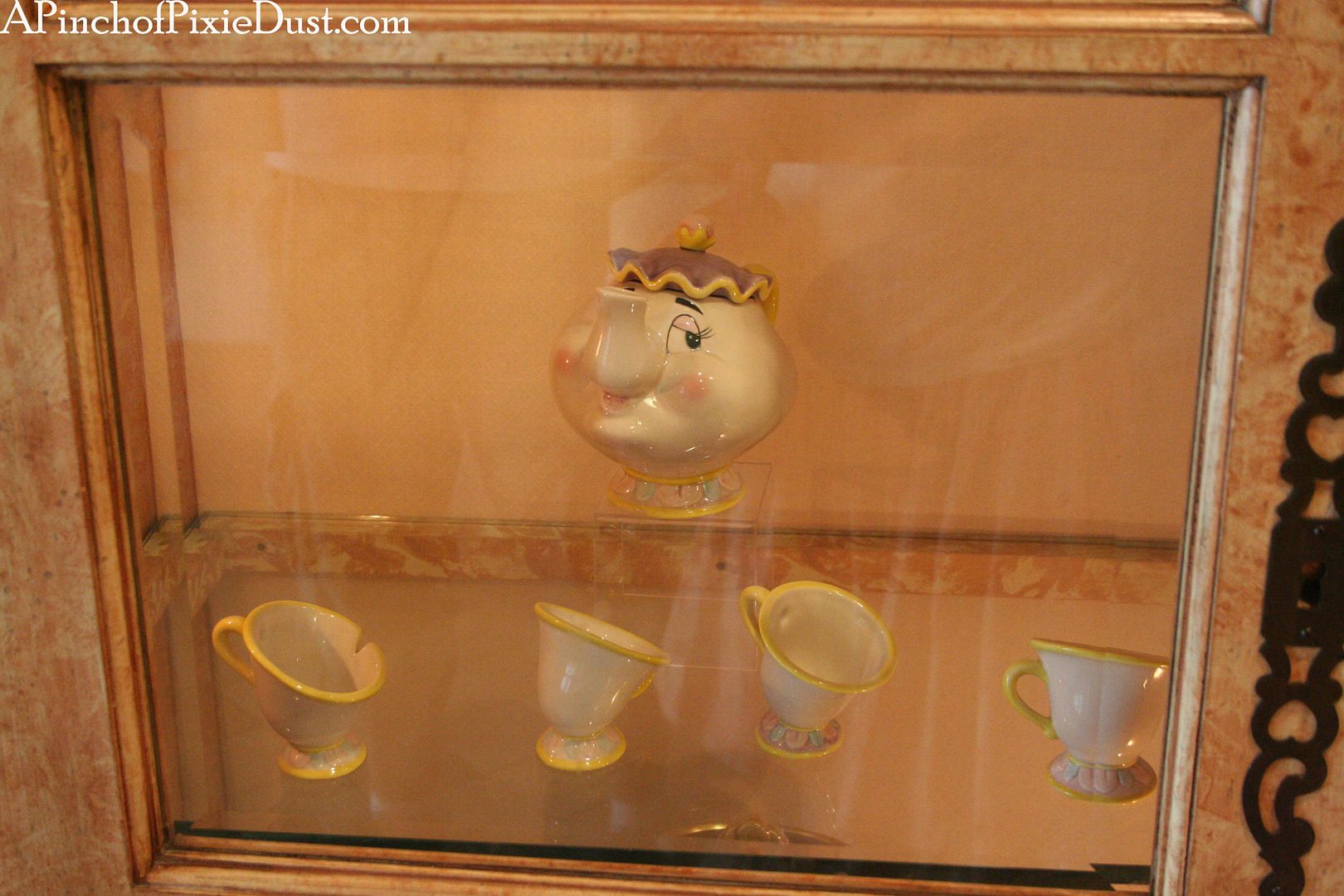 Belle's favorite tea set, with Mrs. Potts and Chip!
The Sugar Loaf club rooms are located on the floors and hallways around the atrium.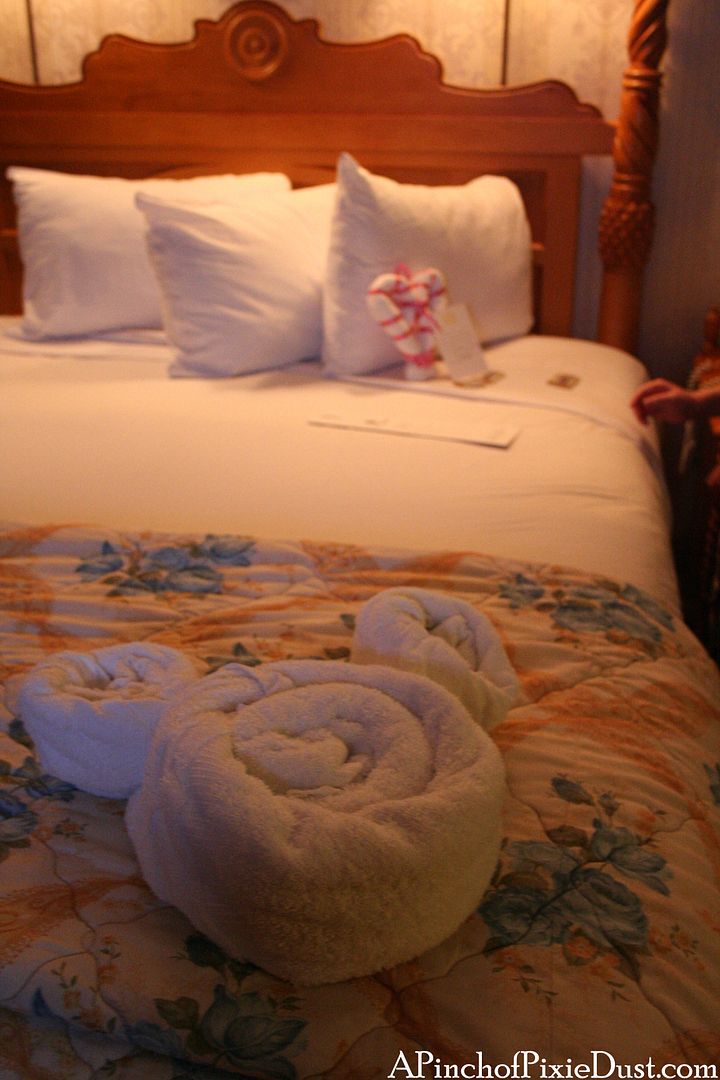 When you're staying club level you get turn down service every night - with chocolate mints and Mickey towels! I should note that sadly that beautiful gold and blue coverlet has been replaced with a plain white one, but the rest of the room is still beautiful...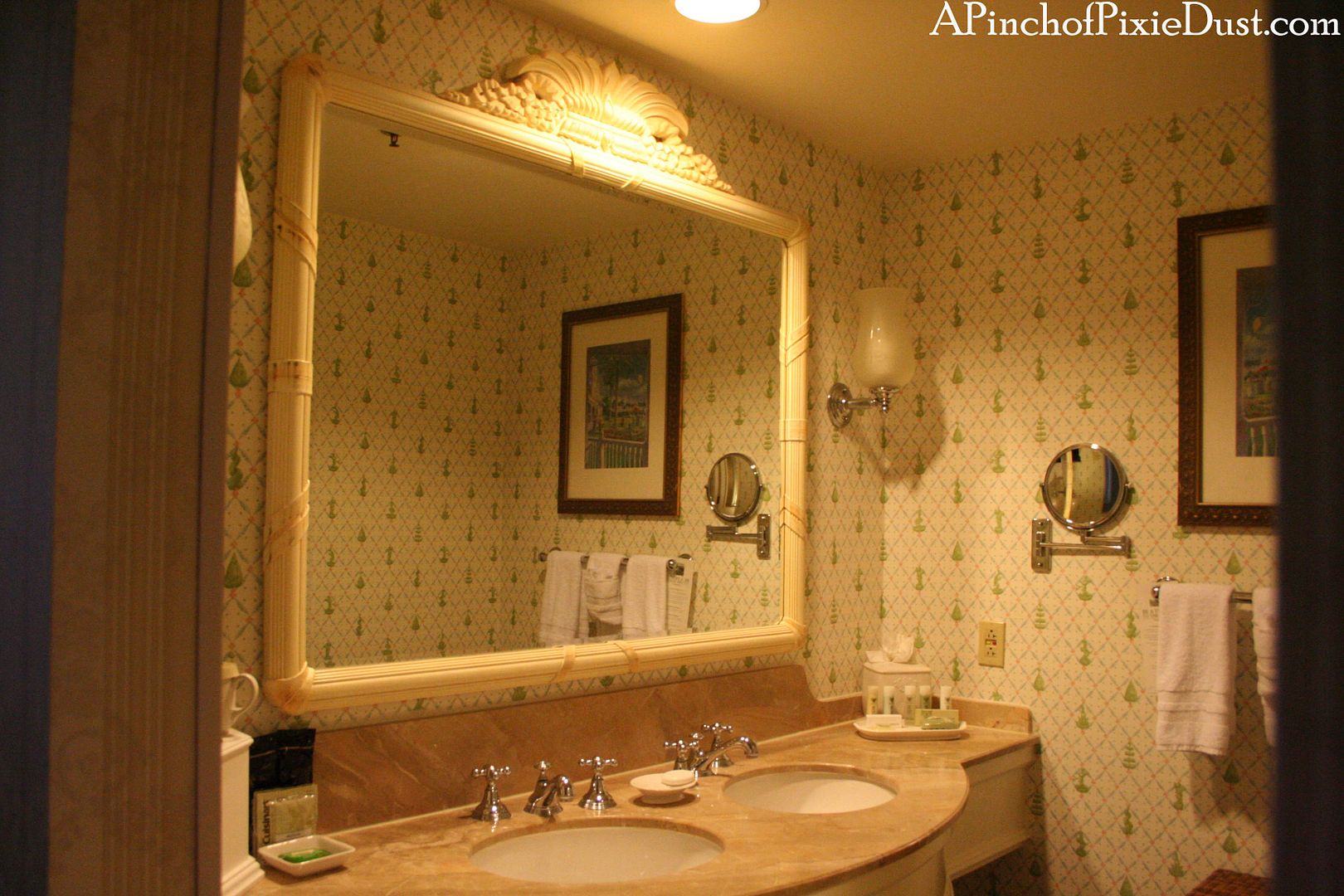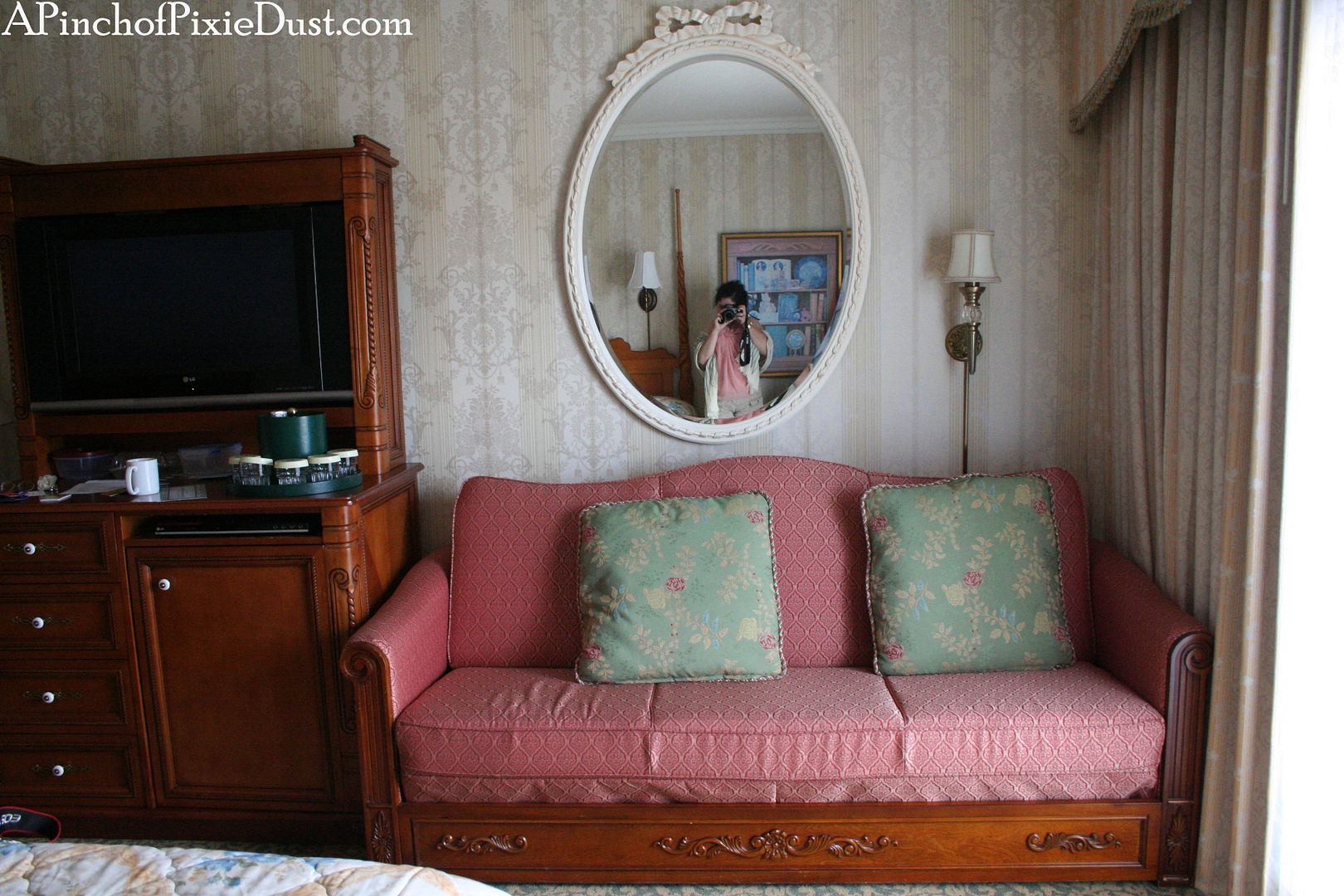 A few more photos - the sink area and the day bed and tv.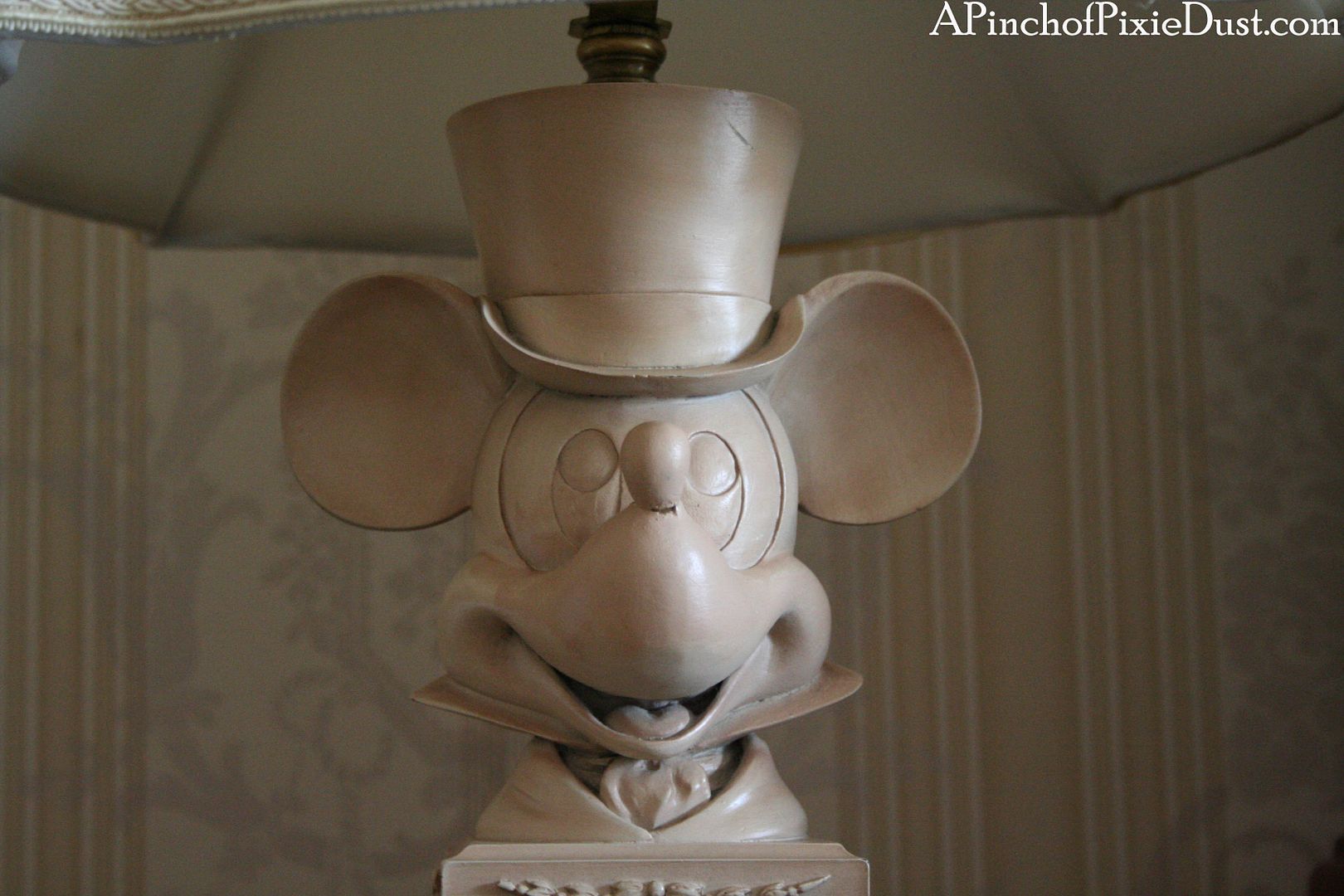 No Disney hotel room is complete without a Mickey Mouse lamp - and this one has a top hat!
The wallpaper has classic character topiary! This is such a restful space; I often like to bring my plate of snacks from the club lounge back to the room or the balcony...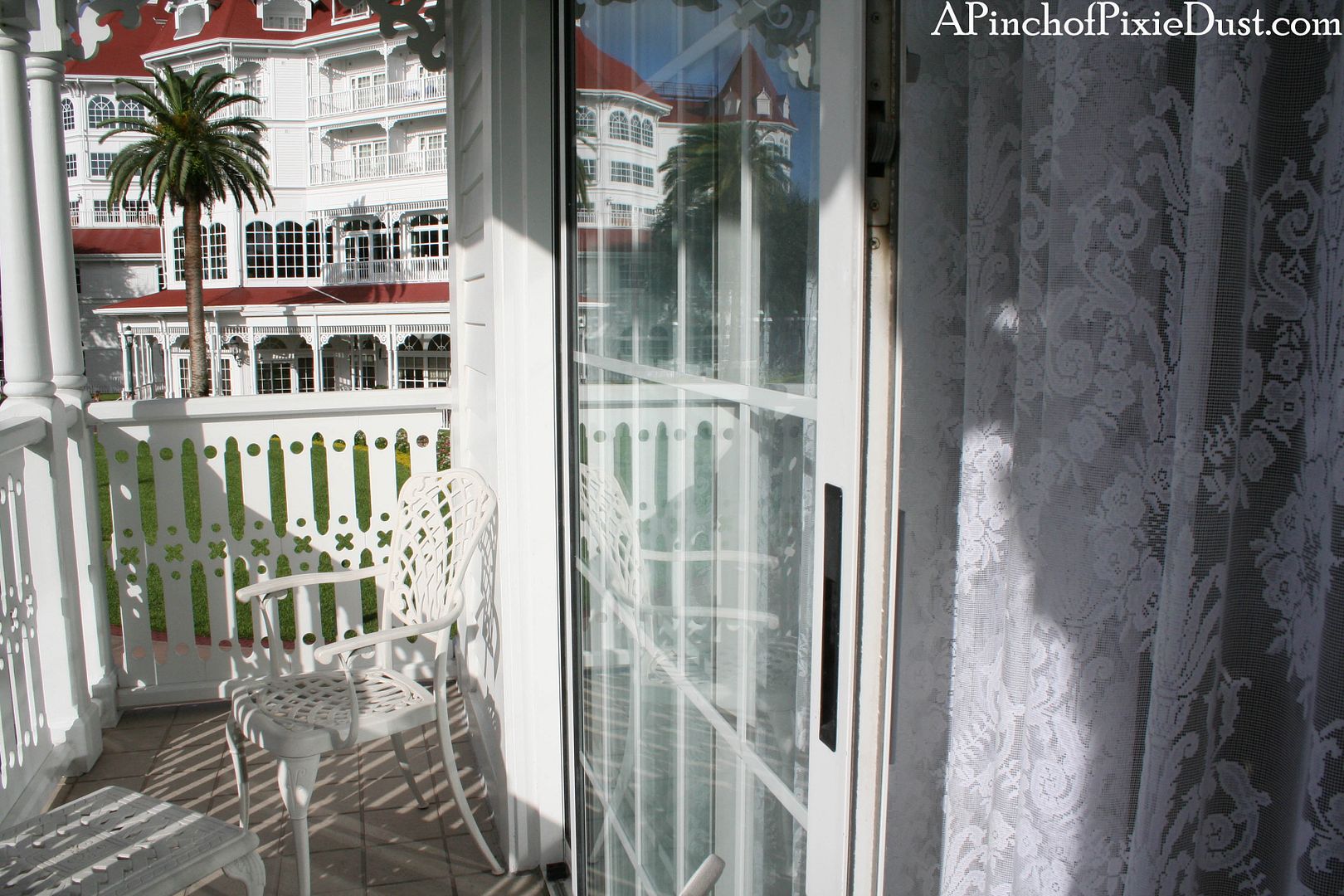 Having your morning coffee out here is perfection!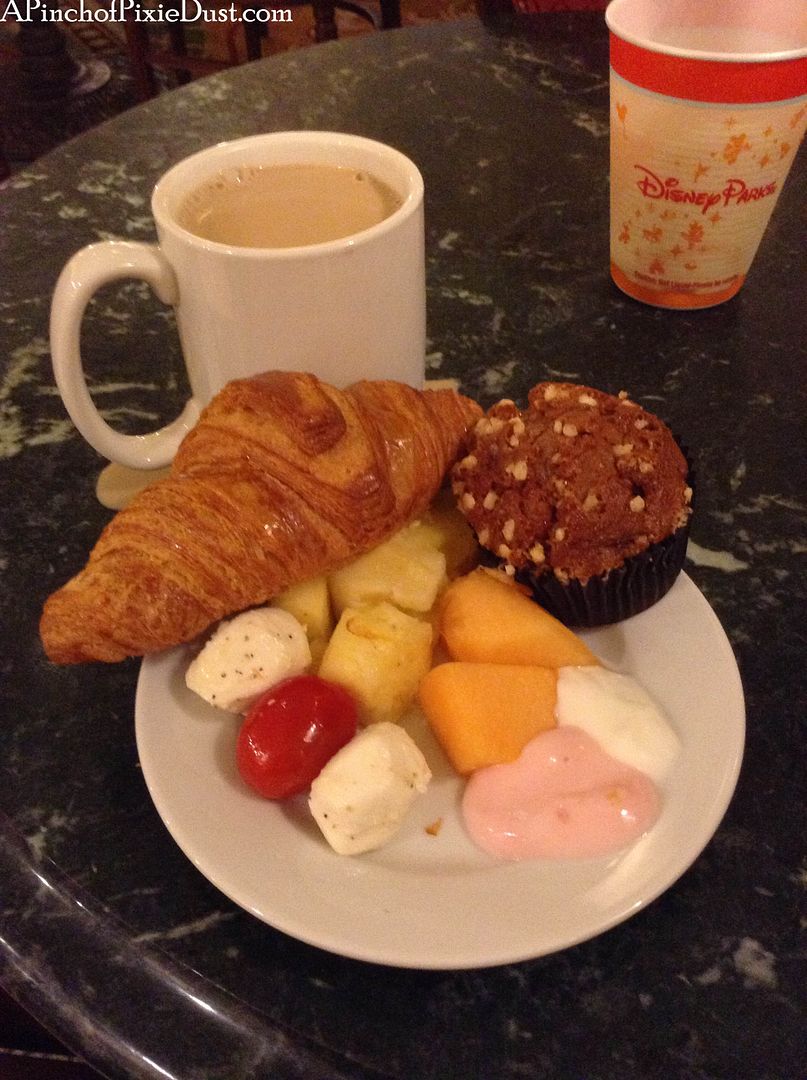 Speaking of coffee, shall we have a look at some of the Sugar Loaf snacks? Disney World club lounges all have amazing food offerings, but at the Grand Floridian, each service seems to stepped up a little from the others. In my experience, the food offerings at the two Grand Floridian clubs - the Royal Palm and Sugar Loaf - have been identical. Let's start with breakfast!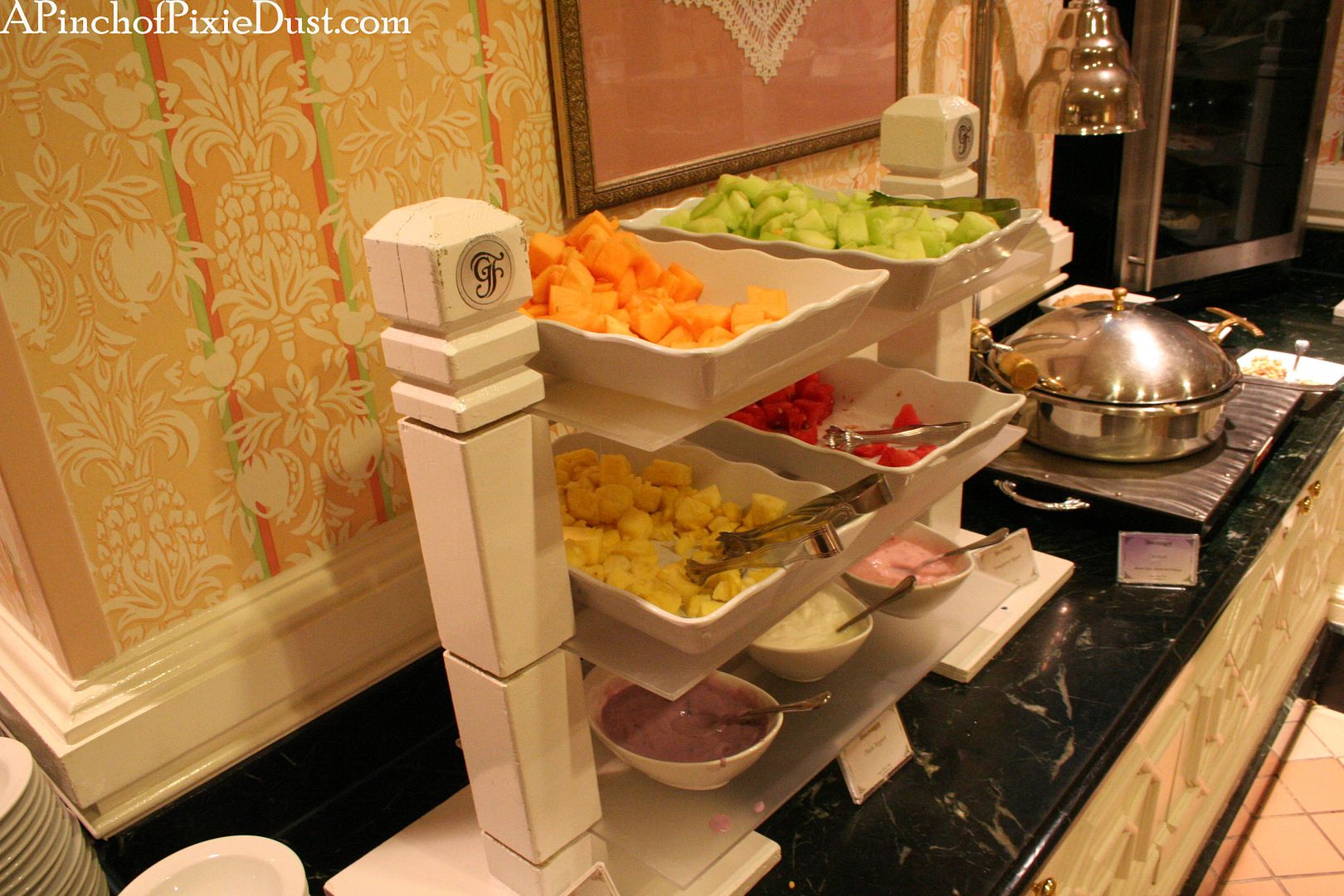 It runs from 7 am to 10:30 am. You have cereals, fruit, yogurt, and oatmeal...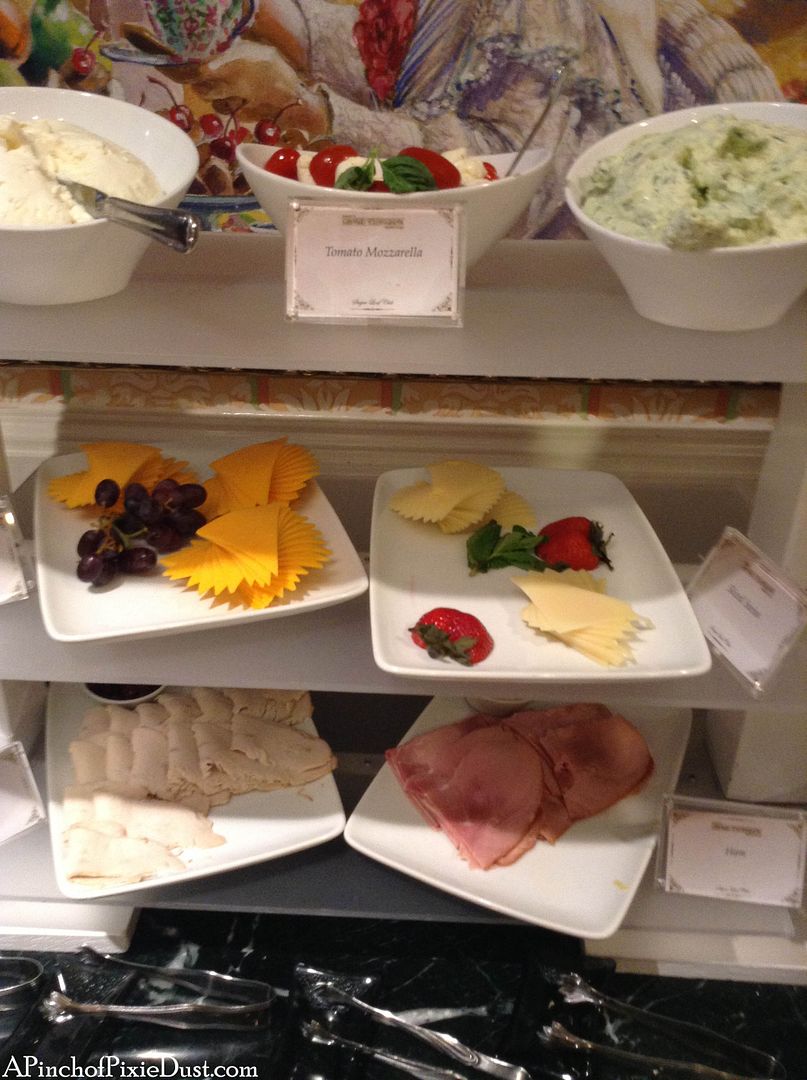 ...and also some more European options - meats, cheeses, and spreads. The tomato and mozzarella salad is delicious!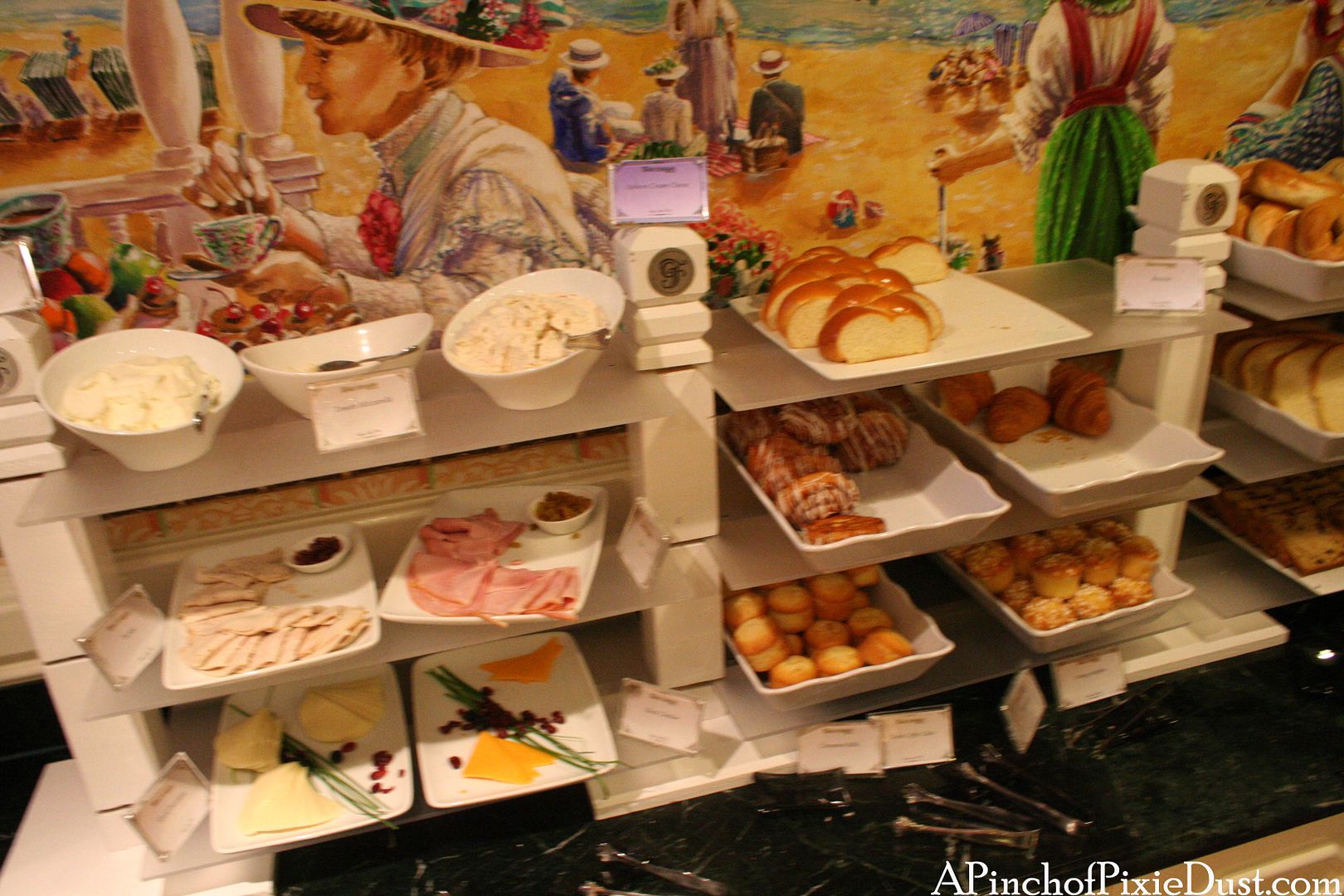 I love these tiered serving platters - just down the way you'll find plenteous pastries and breads and bagels for toasting.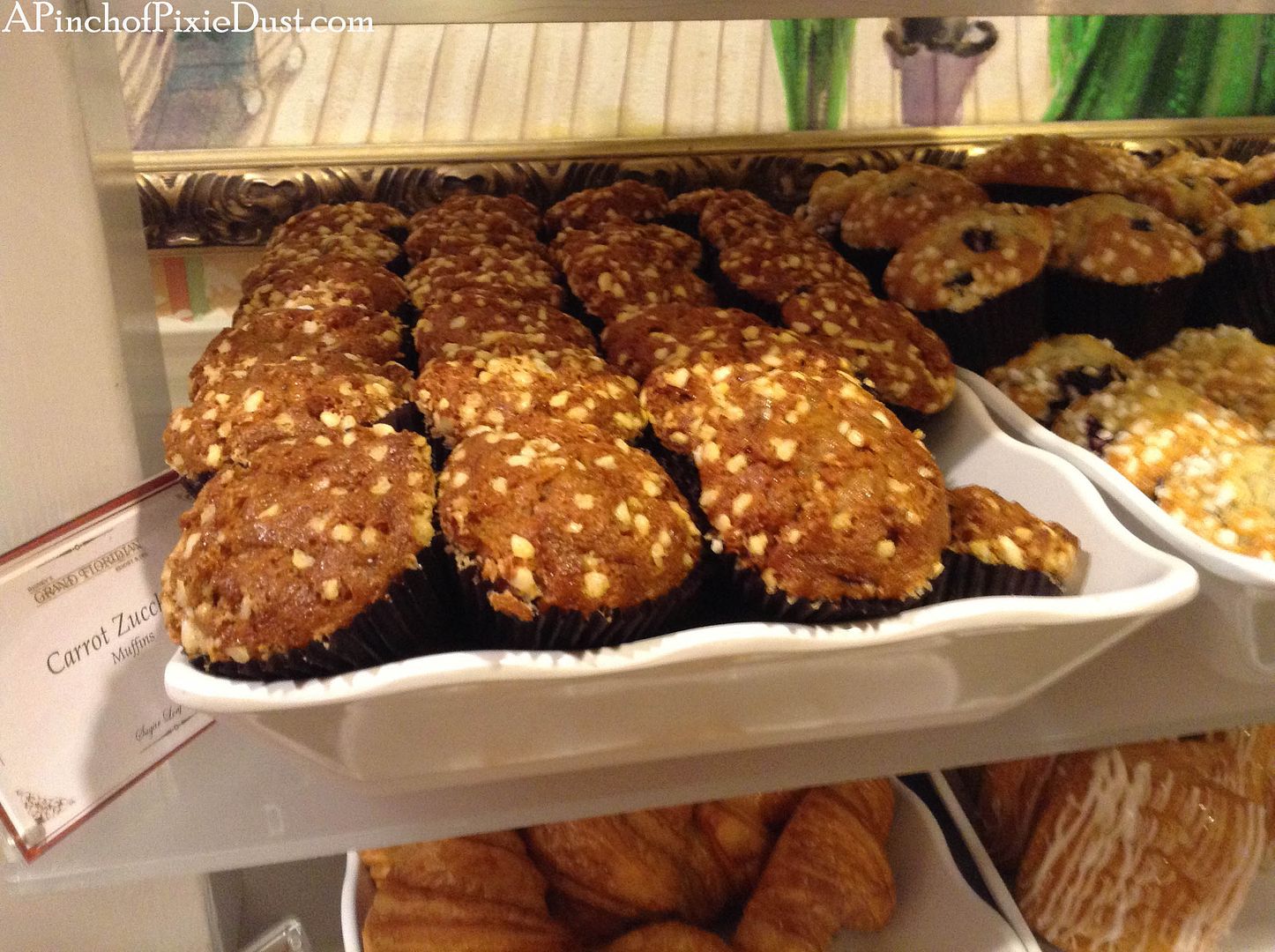 Yummy croissants and muffins!
POG juice fans rejoice: they have it at Sugar Loaf! You'll also find pineapple orange guava juice at the
Kilimanjaro Club
at the Animal Kingdom Lodge and of course the
King Kamehameha Club
at the Polynesian.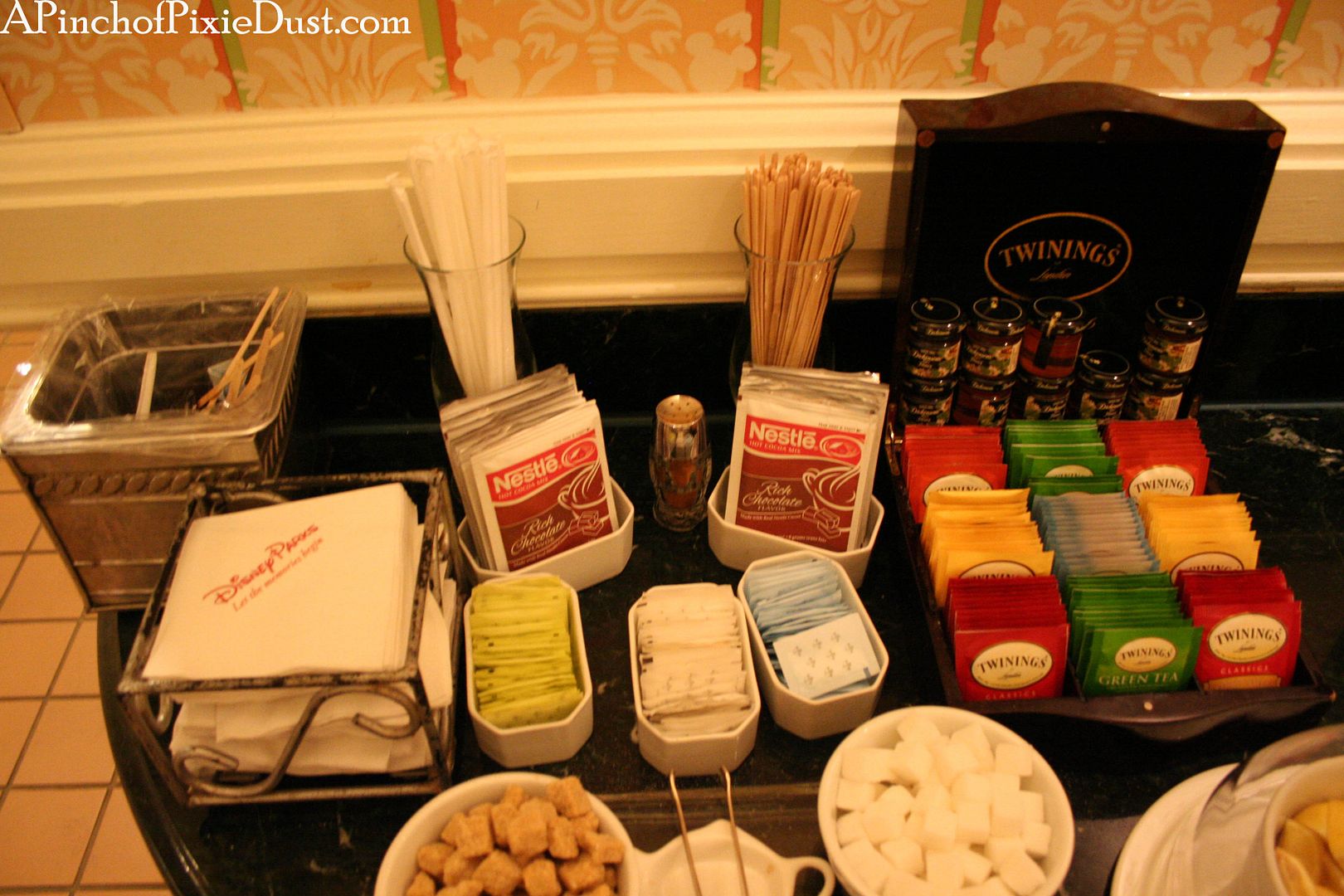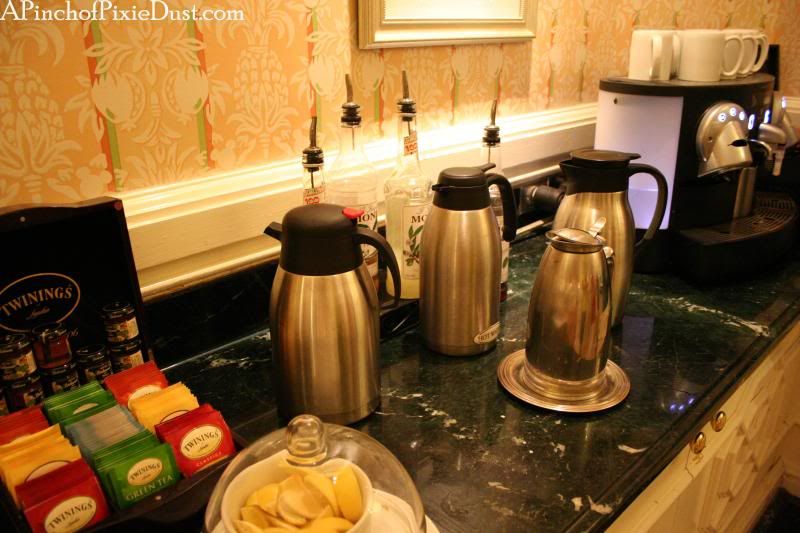 There's a drink counter with hot chocolate packets, tea bags, coffee, coffee syrups, and a nespresso machine for cappuccinos!
One hot afternoon I made myself an iced coffee - YUM!
Later in the morning, at 11 am, just as your beginning to feel some post-breakfast peckishness, the afternoon snacks begin. At some resort club levels, this can be as simple as a bowl of chips and some cookies. At the Grand it's a little more deluxe...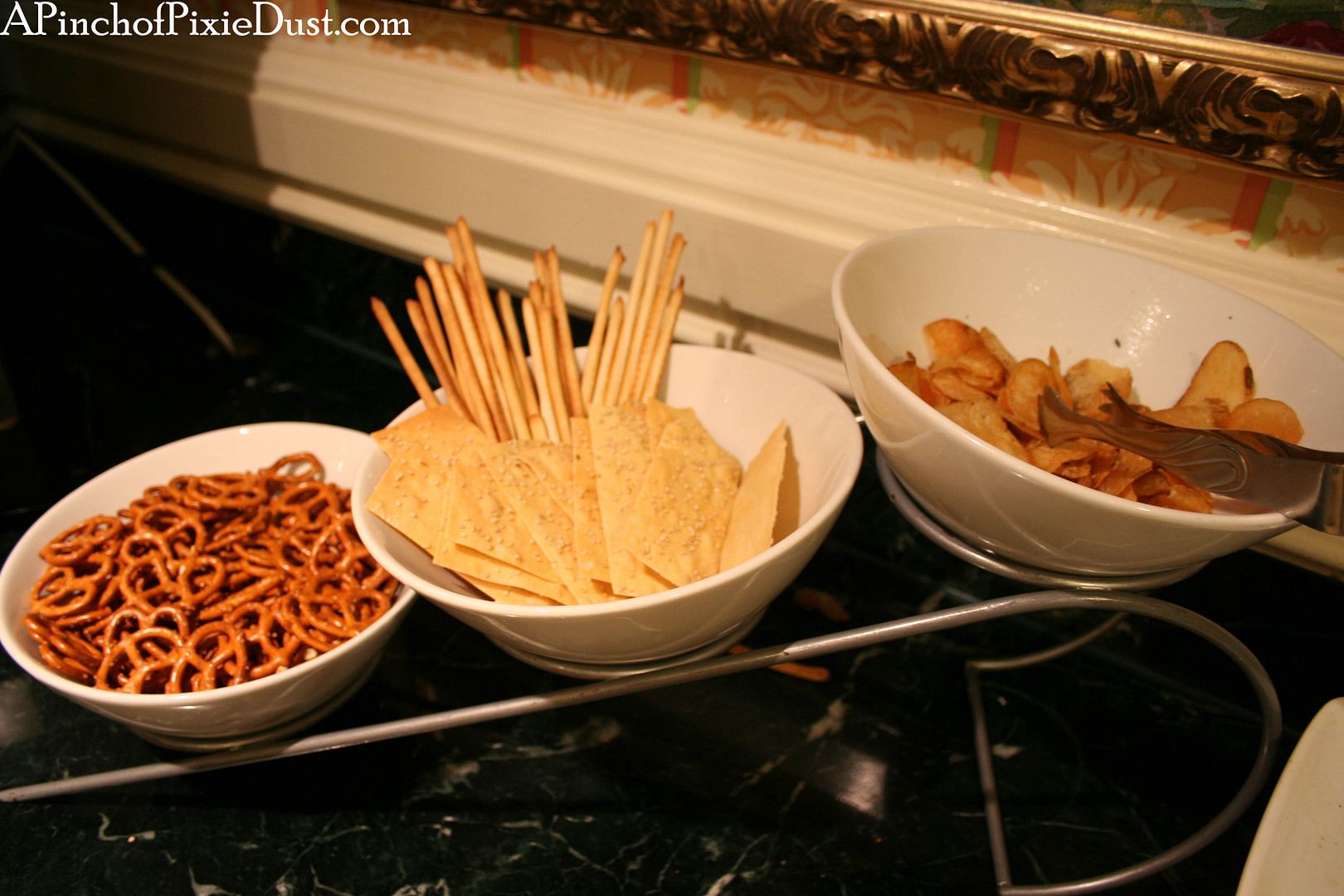 There are pretzels, crackers, chips, and dips like tzatziki, tomato and pesto, and spinach and artichoke.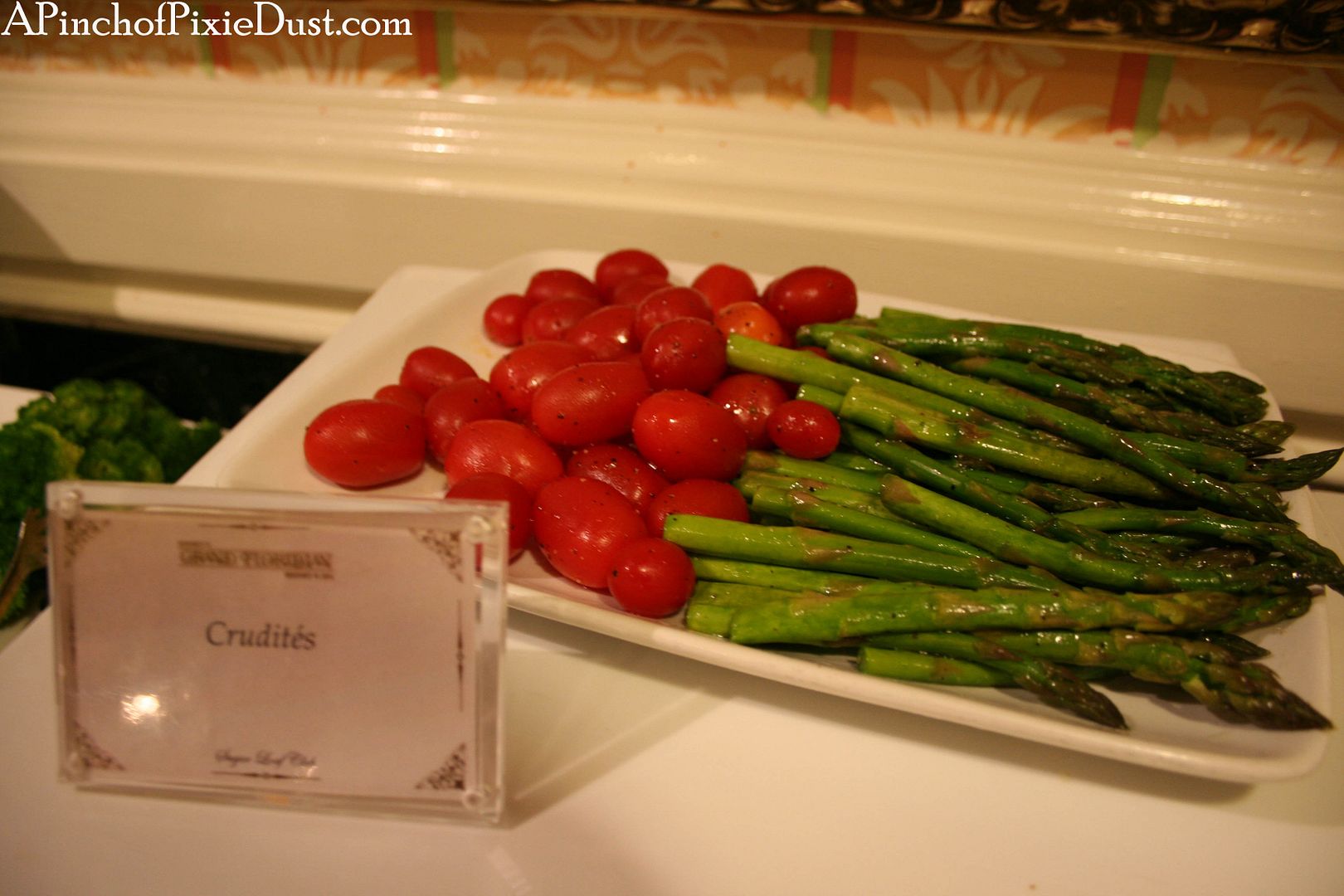 There's also a tasty selection of cold crudites like asparagus spears, cherry tomato, zucchini slices, and broccoli.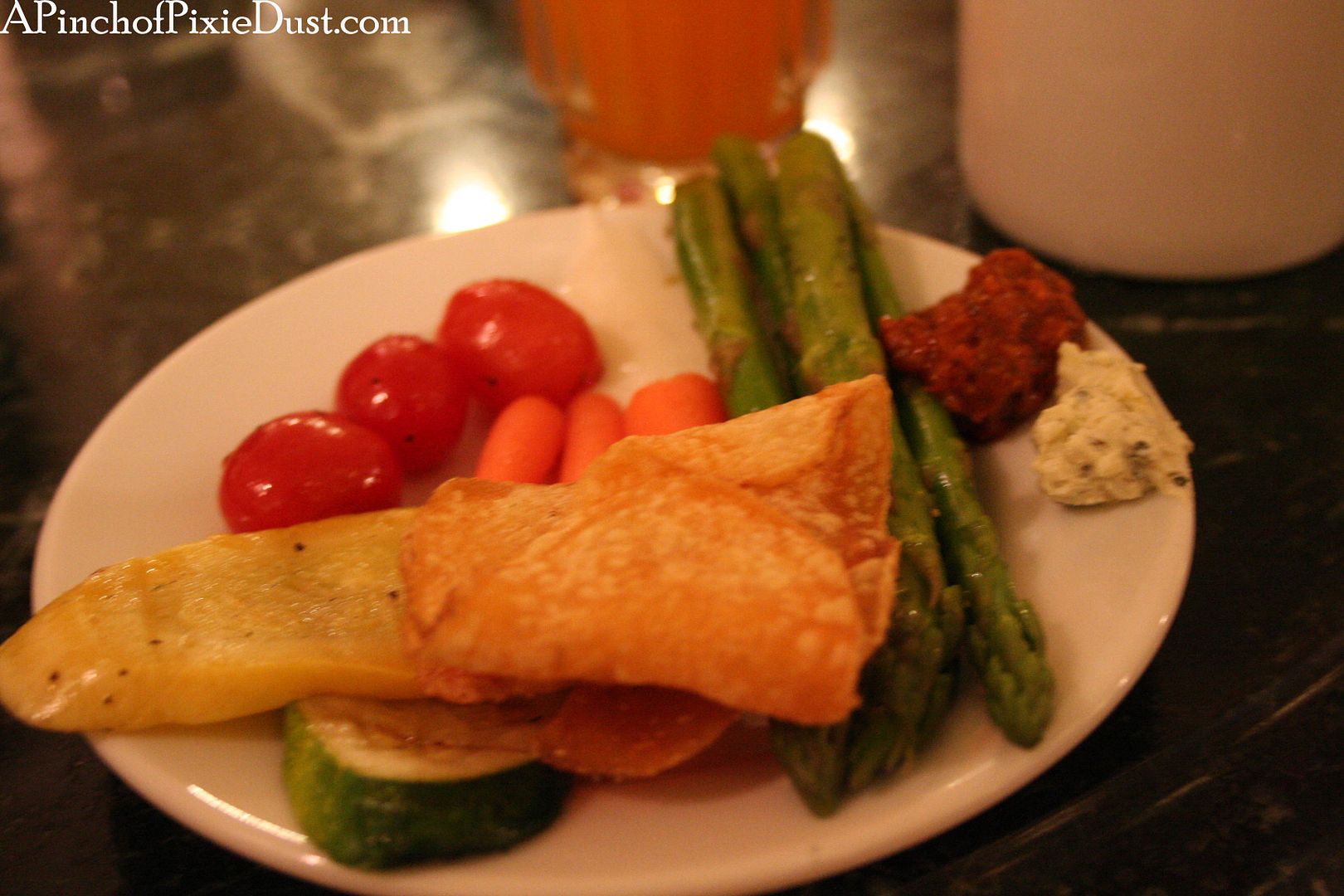 All those snacks make for a very tasty plate - and fairly healthy too...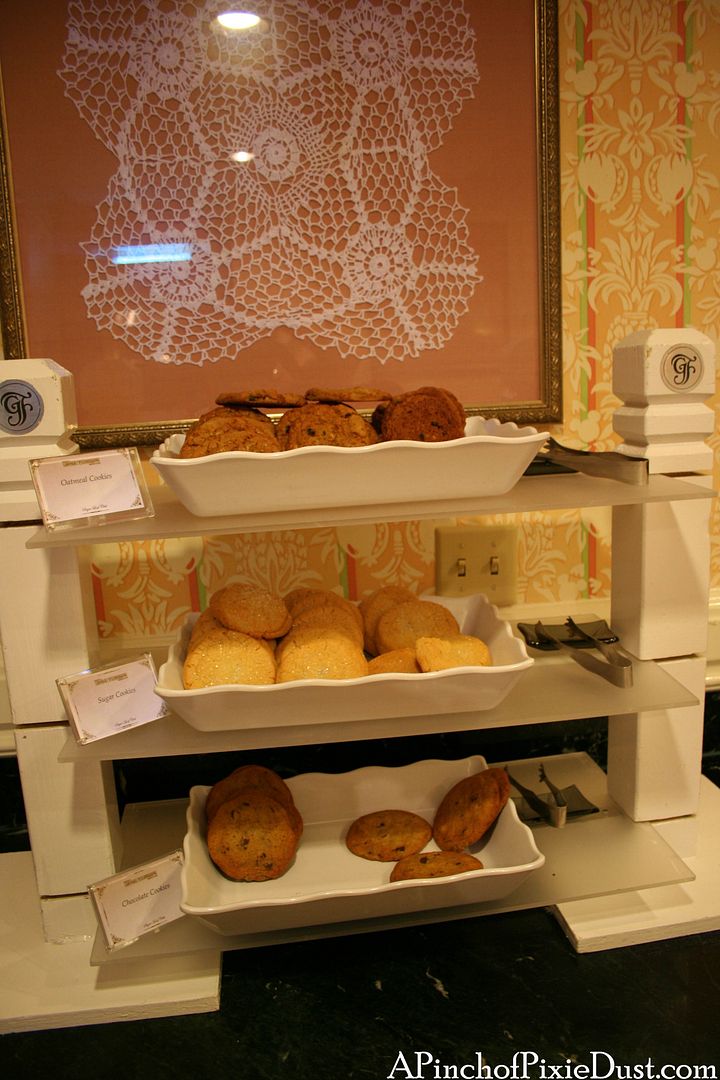 ...but don't worry, there are cookies for dessert too! Later in the afternoon, from 2:30 to 4 pm, there are plenty more sweets.
I love going to afternoon tea at the
Garden View Lounge
over in the main building, and an afternoon tea in Sugar Loaf has many of the same delightful treats...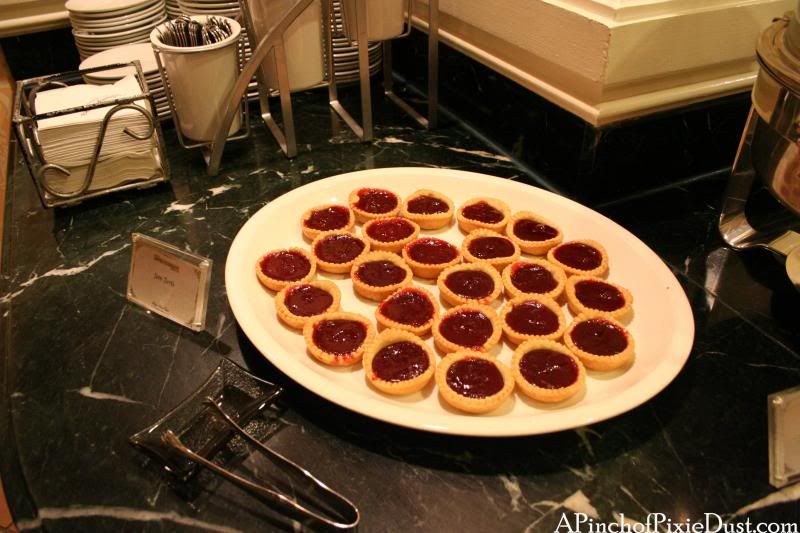 ...like those lovely jam tarts - a whole lovely plate of them, and you can take as many as you like!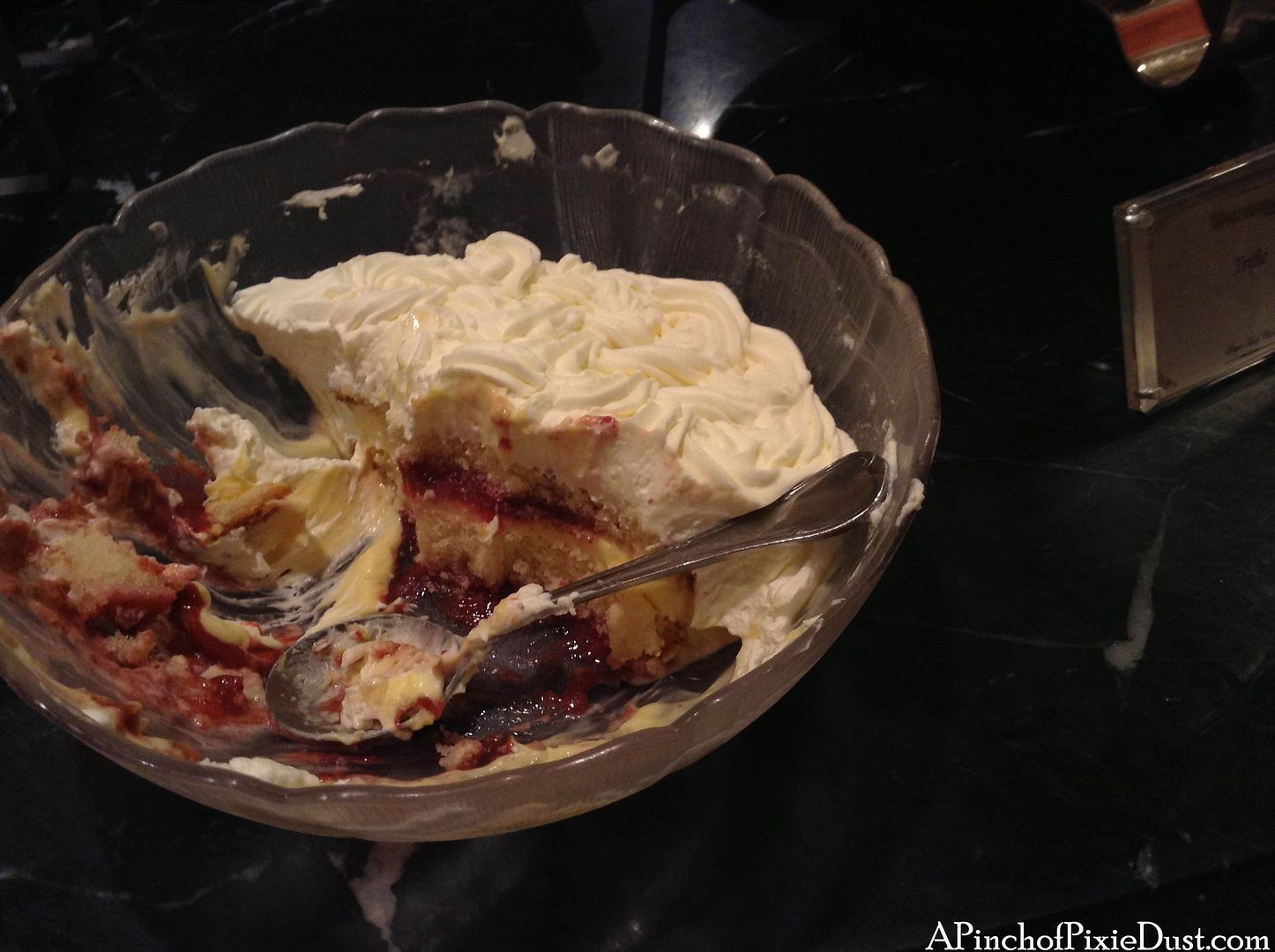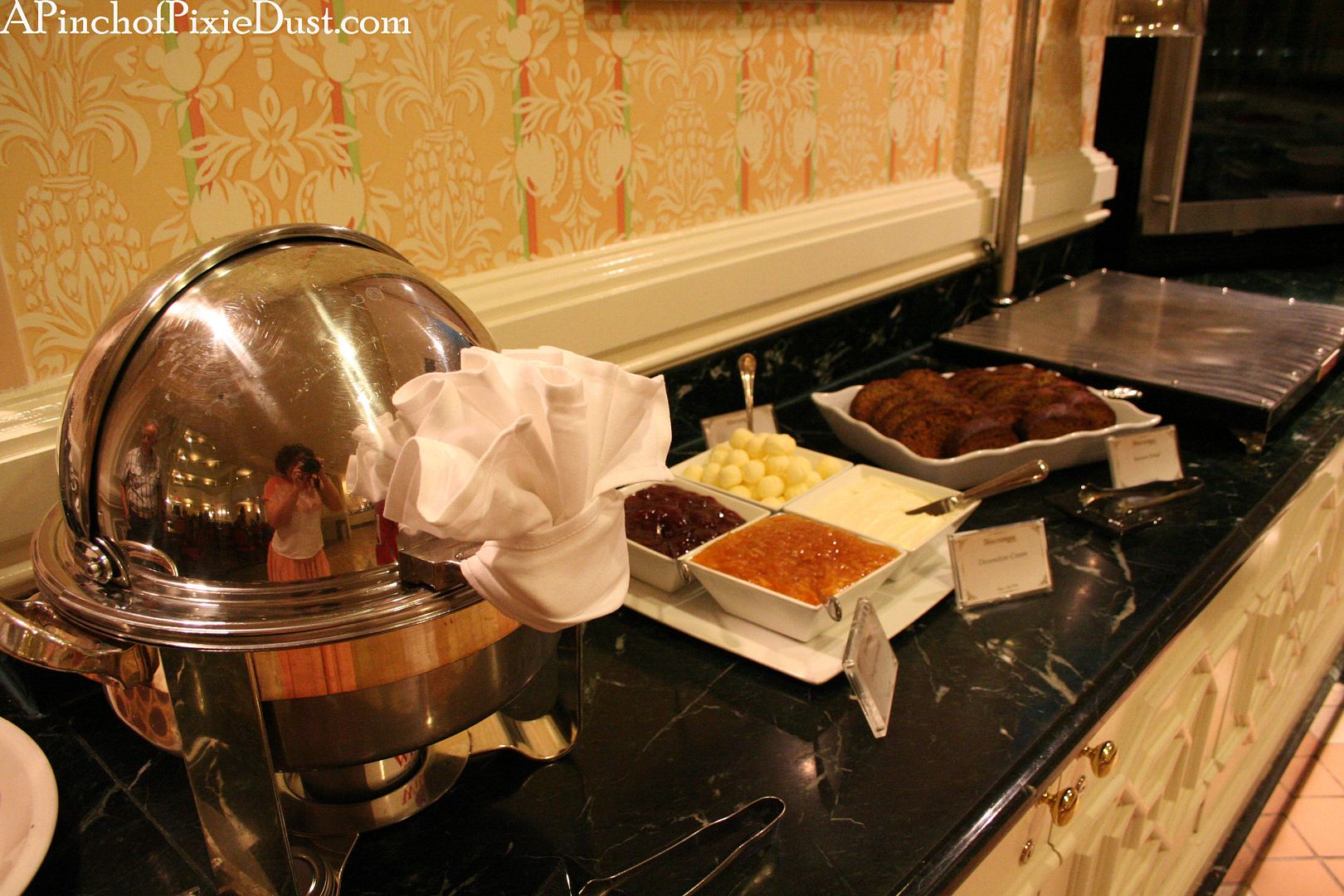 There's also a big bowl of trifle to help yourself from and a warmer full of scones.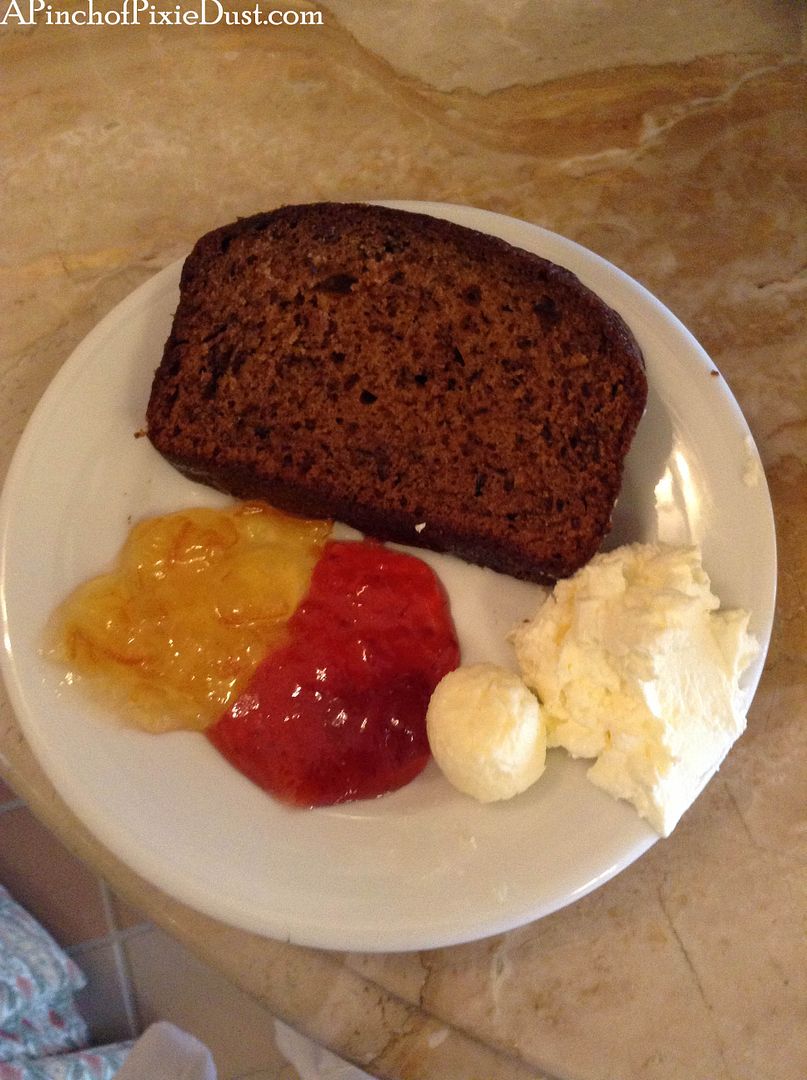 Instead of the tiny scraping of toppings (like that AMAZING devonshire cream) you get on the side of your plate at the Garden View, you can help yourself to exactly how much you like. I sometimes like to make a dessert sandwich with a slice of banana bread!
After tea you might feel like taking a nap, but what you really should do is take a walk over to the Polynesian or hop the monorail and run around the Magic Kingdom, because you desperately need to work up more appetite. We haven't even gotten to the evening offerings yet - they run from 5 pm to 7 pm.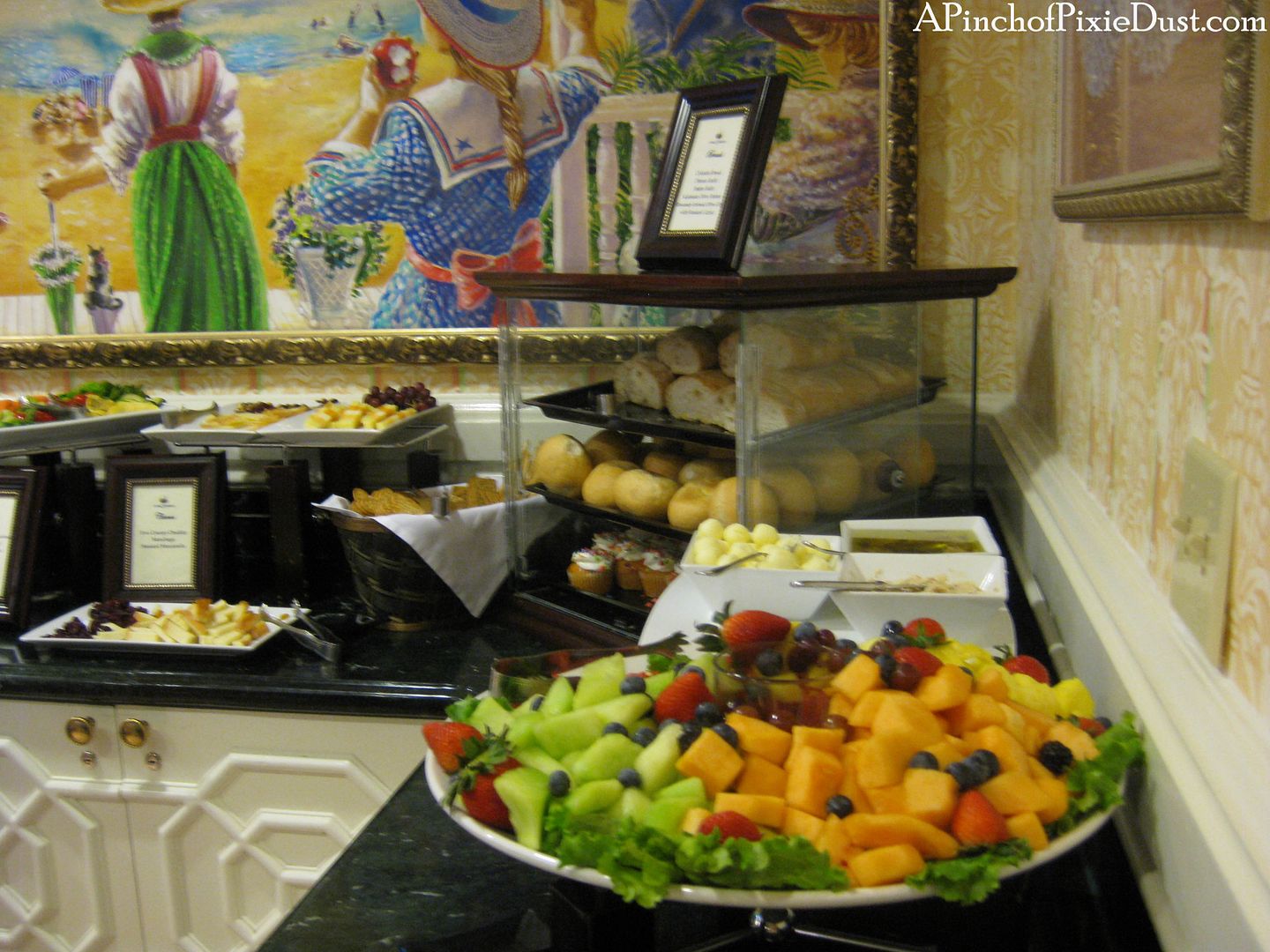 The appetizers include a mix of hot and cold foods - fruit, veggies, cheeses, delicious rolls. They have the same delicious white bread that's over at
1900 Park Fare
!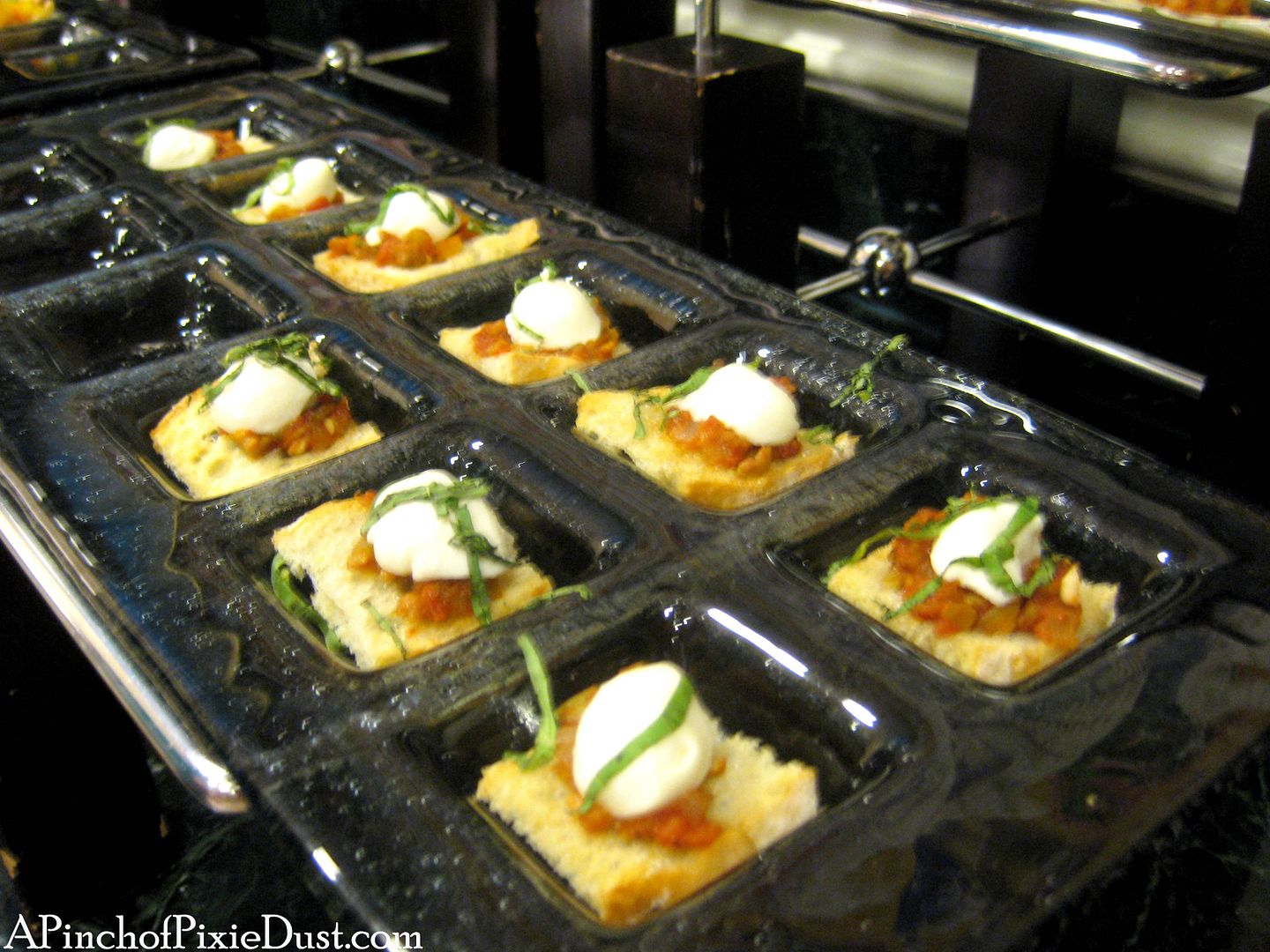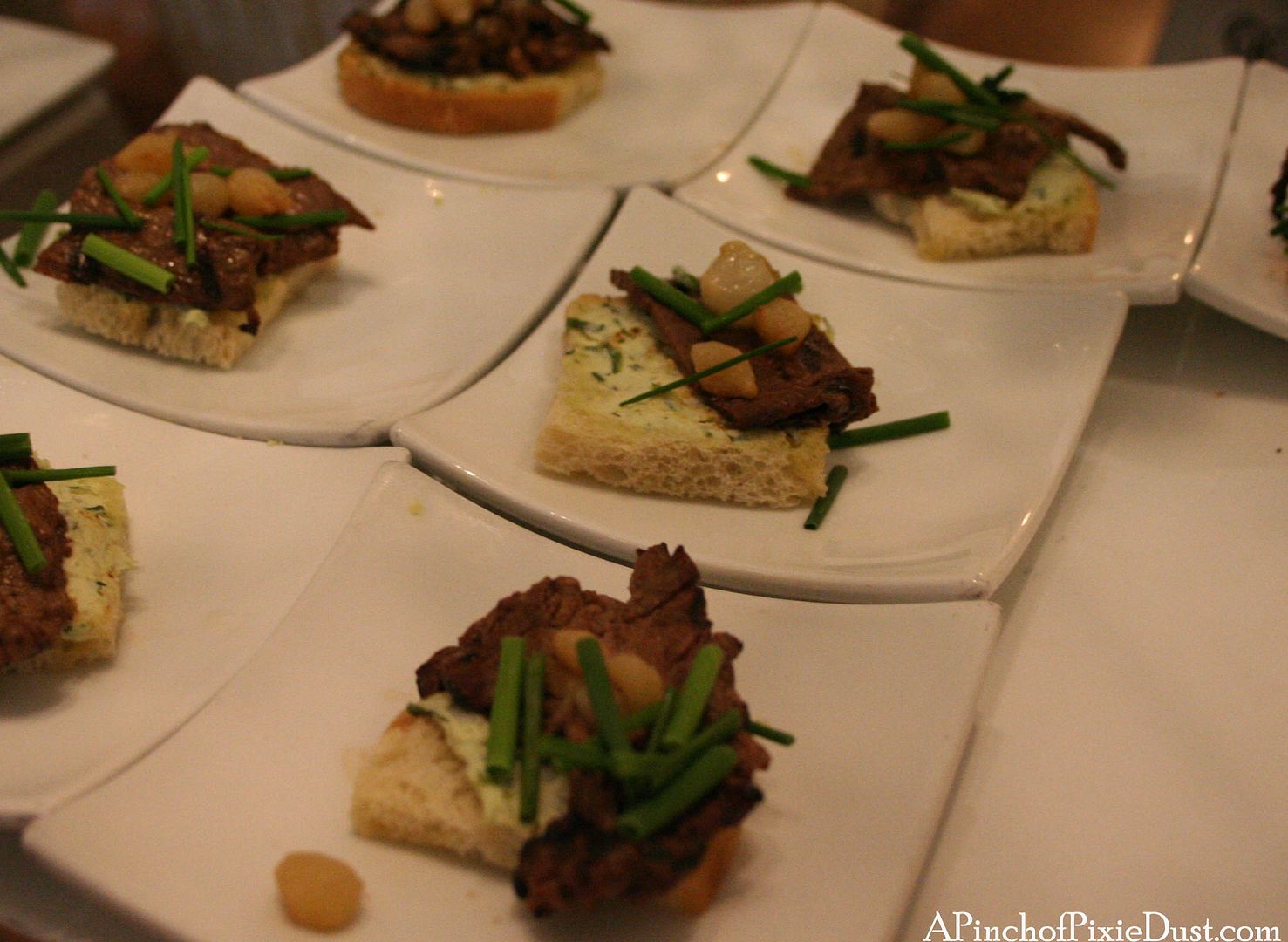 There are two or three small plates, and each night the selection changes - there might be regular bruschetta one night and beef bruschetta the next!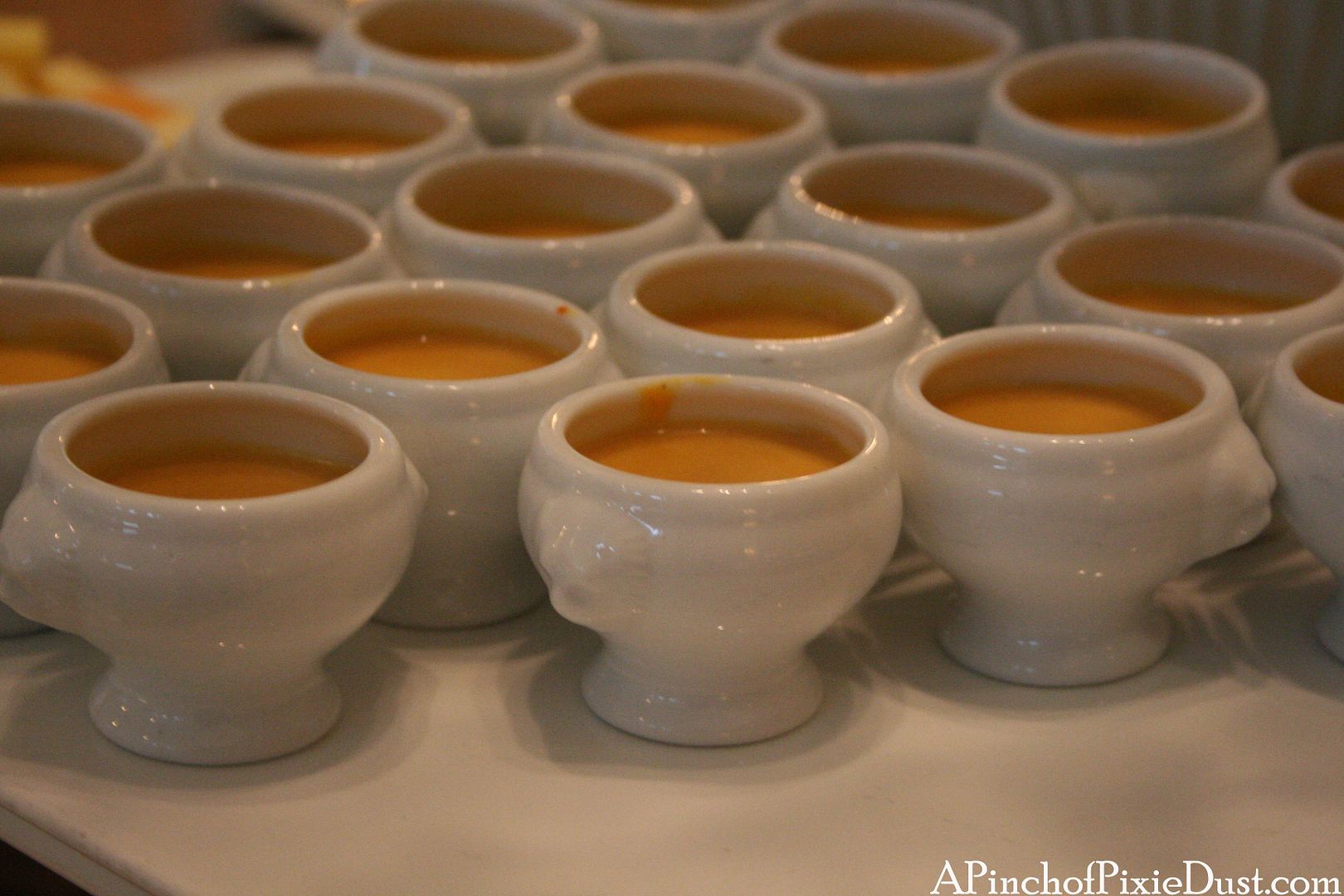 I love the presentation - one night they had tiny bowls of carrot soup. I've seen bowls of strawberry soup too!
You'll also find two plates of hot appetizers - maybe pot stickers and bacon pinwheels (on the left) or spinach pies and bacon-wrapped chicken (on the right).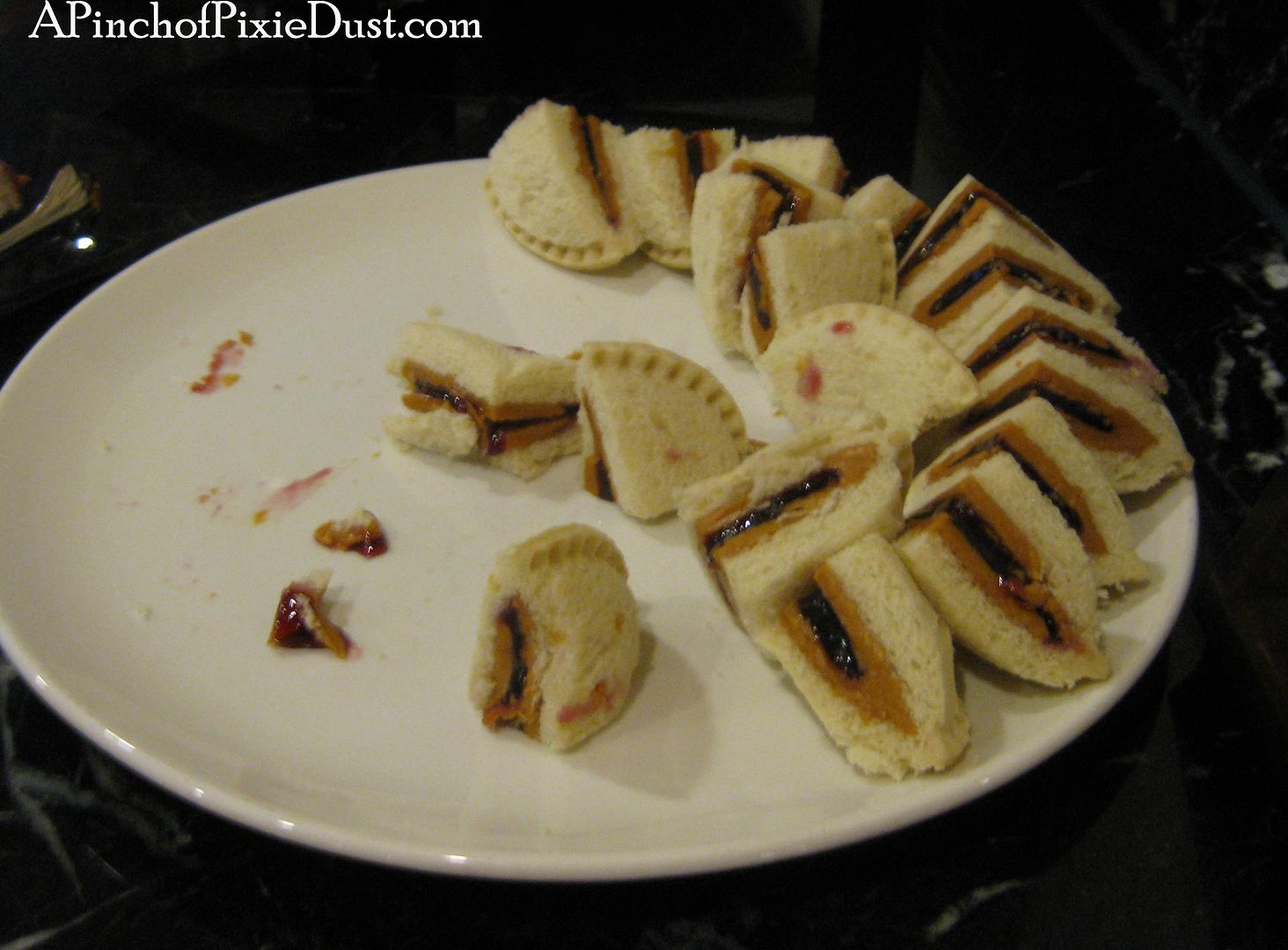 For the kids there are peanut butter and jelly sandwich bites and cupcakes - so you can start on dessert early. ;)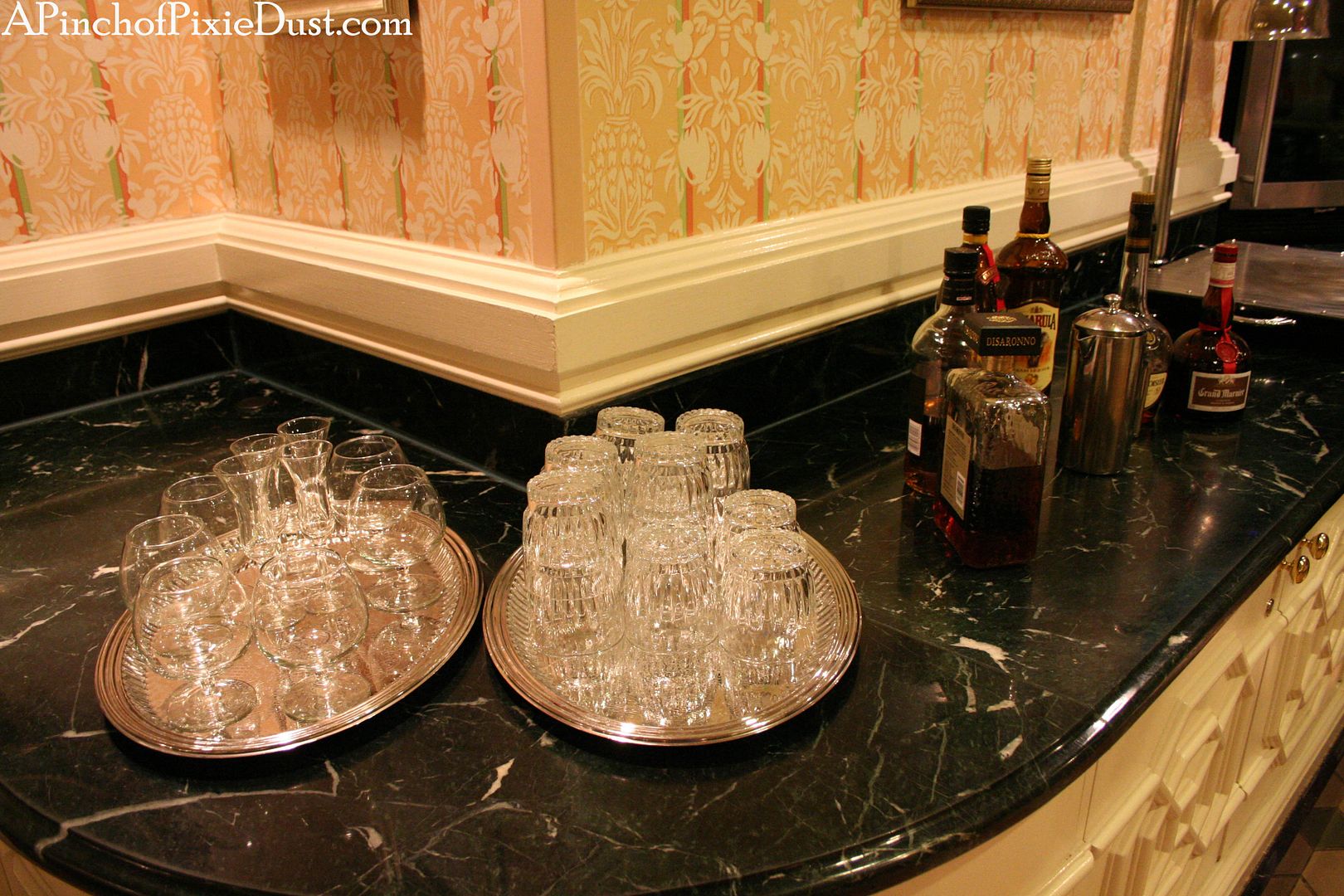 There are wines and beer available during the appetizers, and later there are cordials and liqueurs out with the desserts from 8 pm to 10 pm.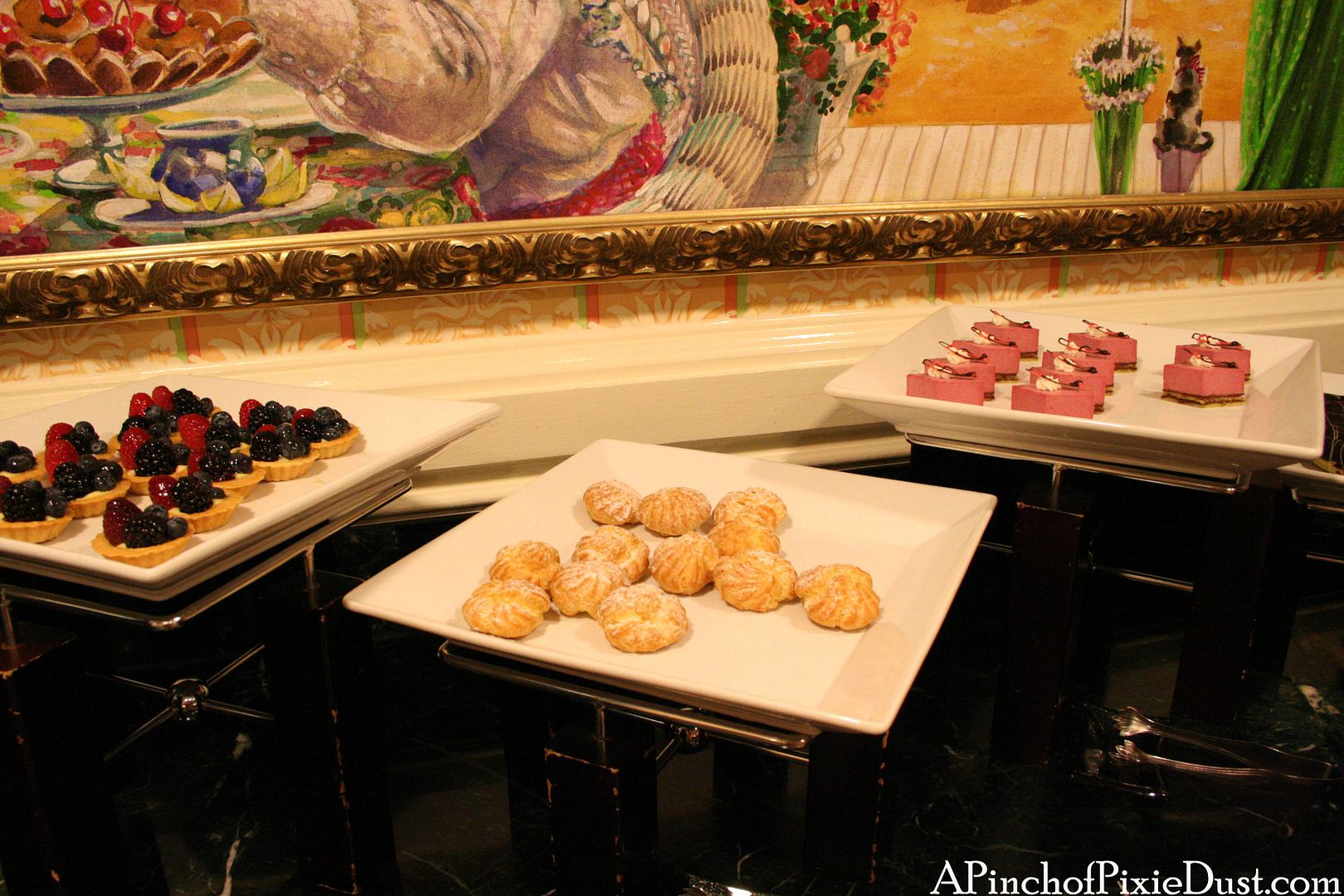 I'm more interested in the sweets - here are some fruit tarts, cream puffs, and raspberry mousse diamonds! I've also seen mini carrot cake, chocolate eclairs, and chocolate-covered strawberries - there are three or four offerings out each night.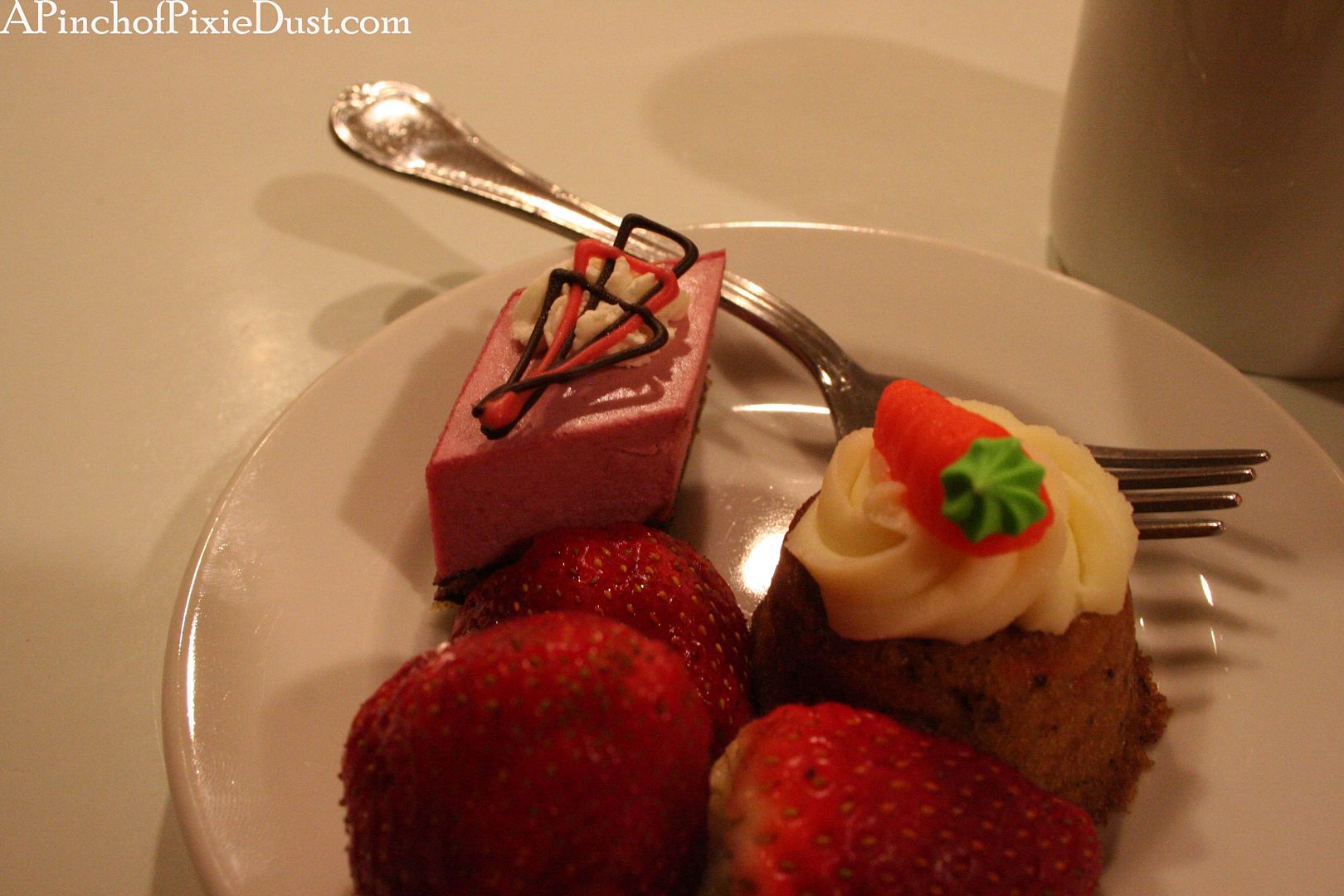 A delicious end to a Sugar Loaf day!