Get ready for some CARSLAND pixie dust from Disneyland, my friends!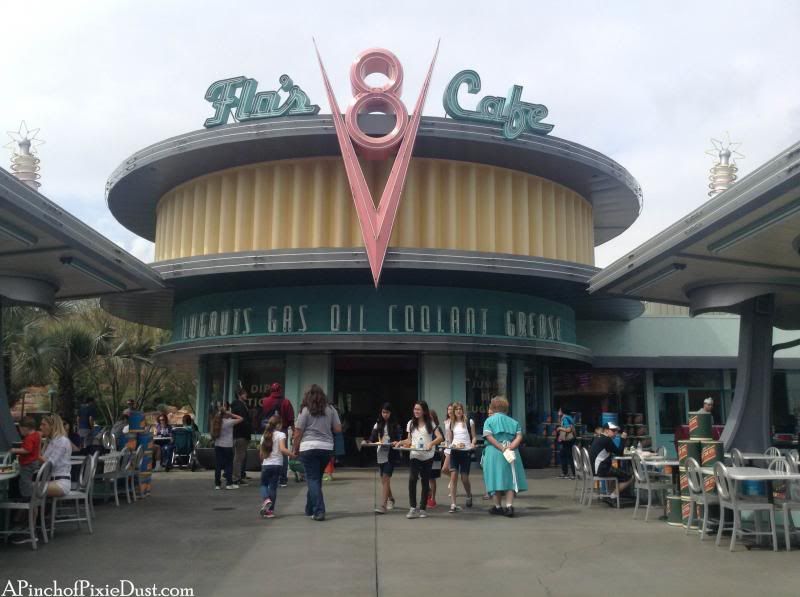 Today's sweet treat comes to us from the one and only Flo's V8 Cafe...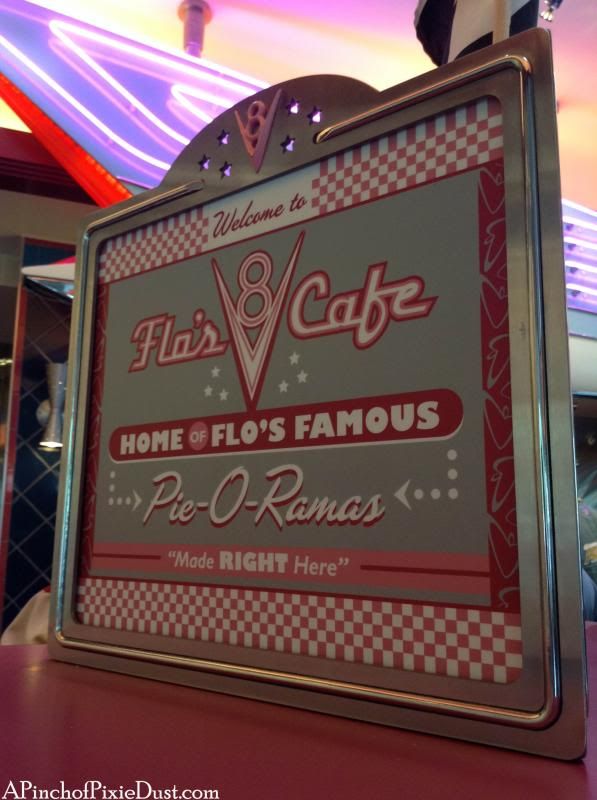 ...home of Flo's Famous PIE-O-RAMAS! ("Made RIGHT Here")
When you see something with a name as awesome as pie-o-rama, you have absolutely no choice but to try it.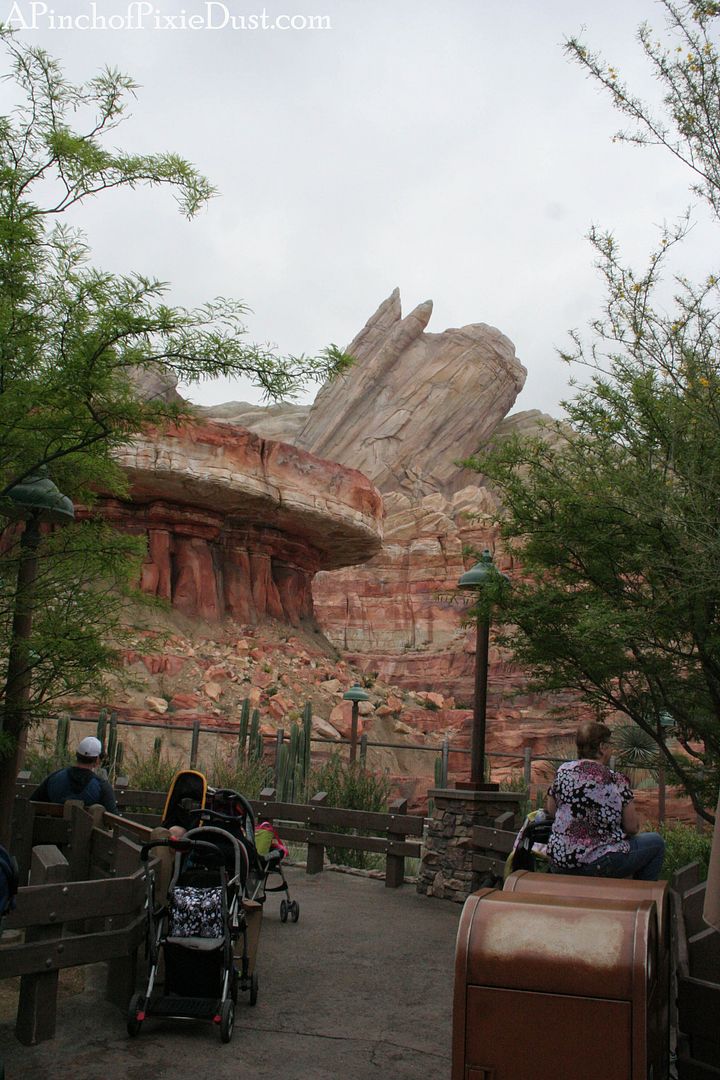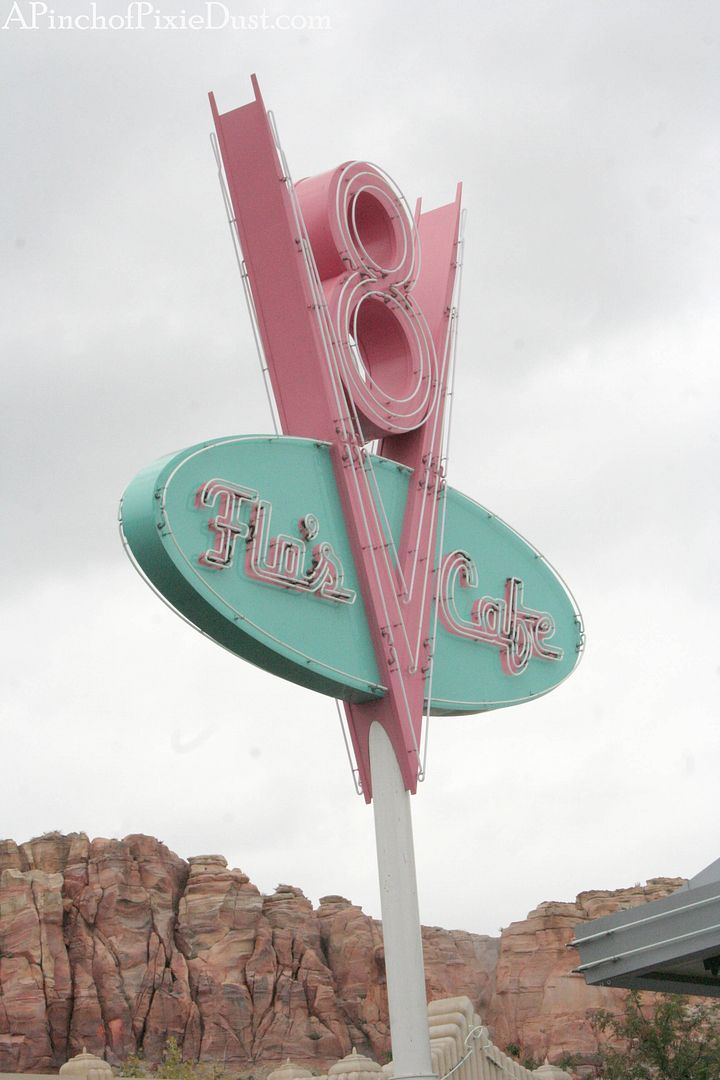 SO. We'll turn our wheels through the cliffs of Ornament Valley to Radiator Springs.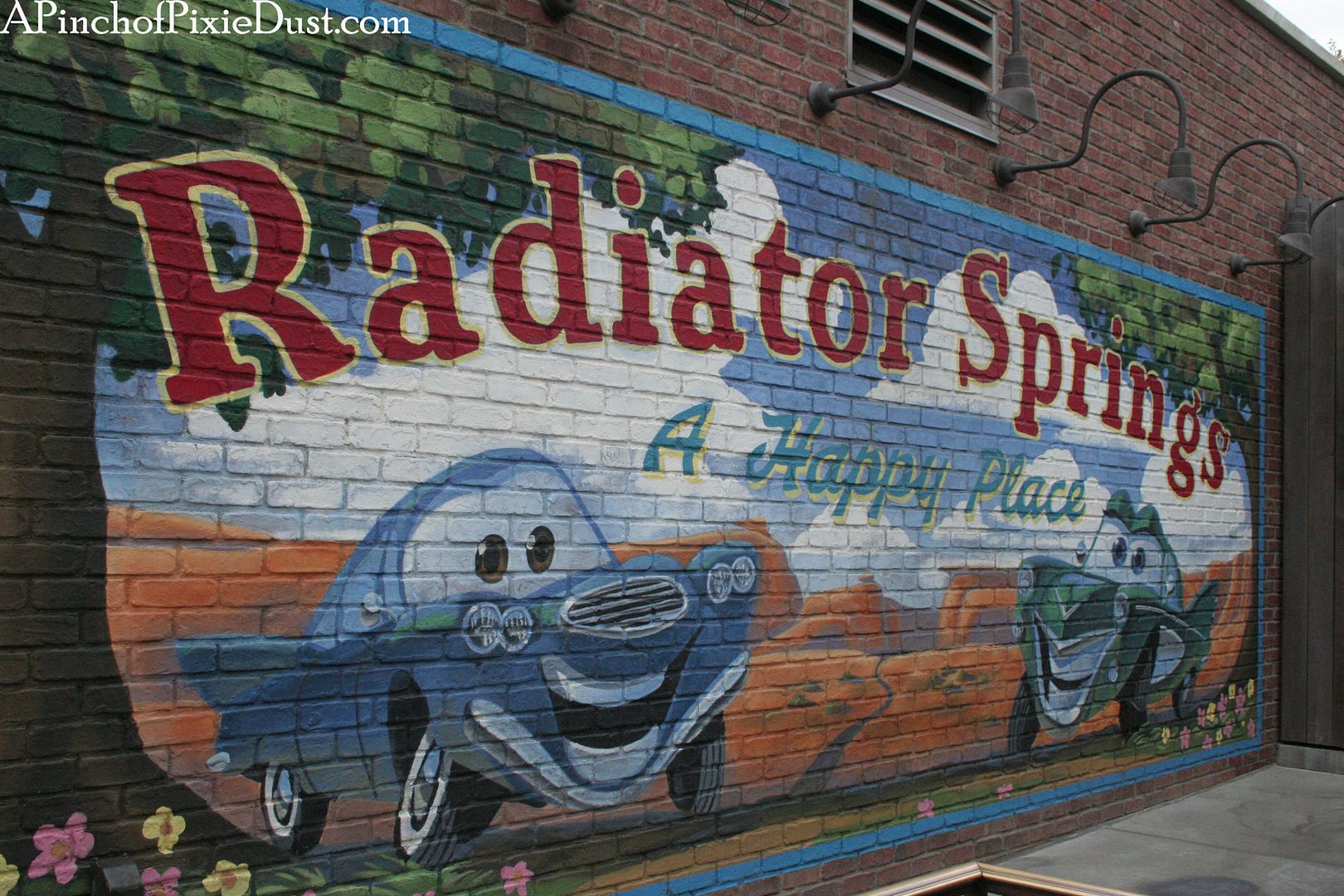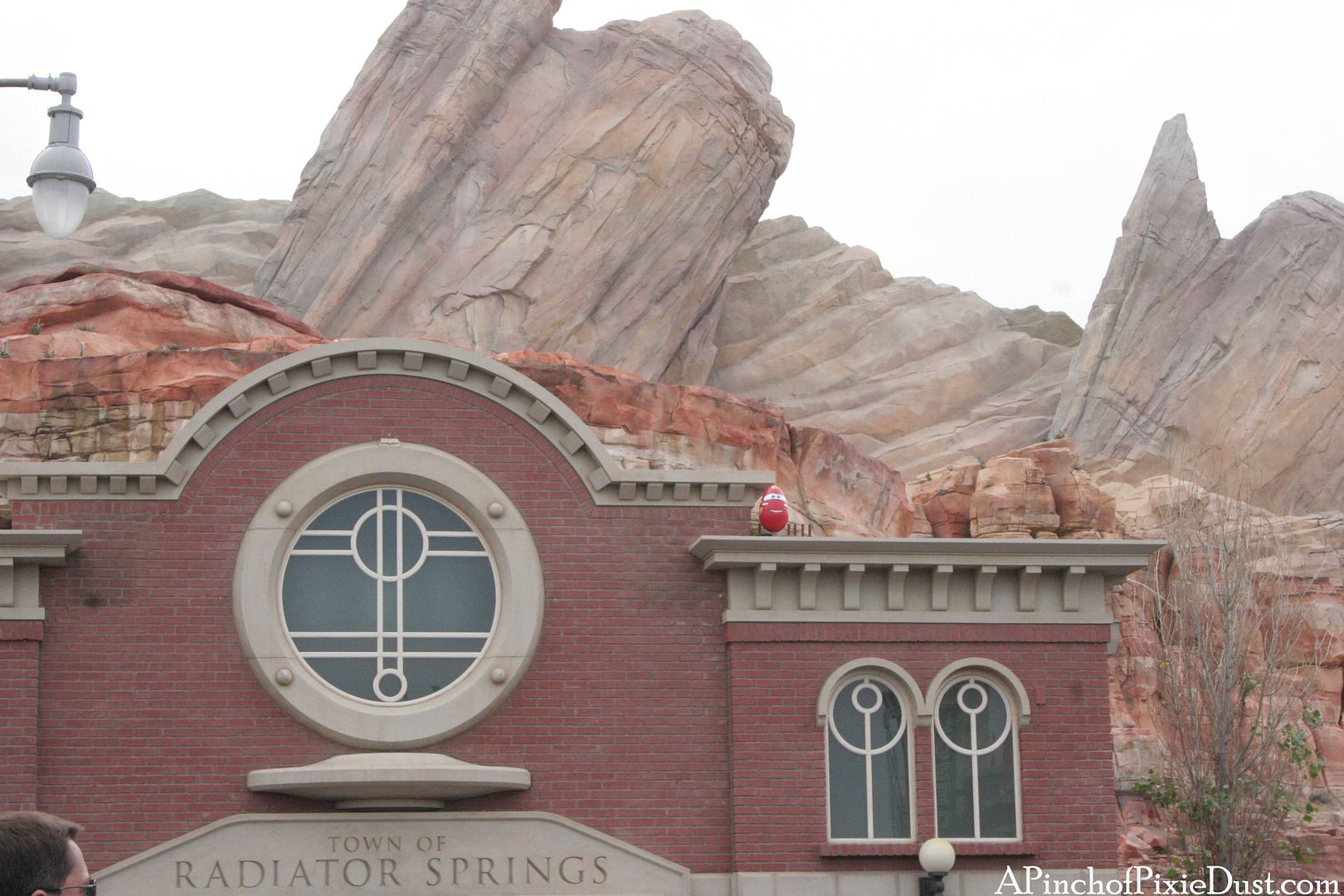 It's ok if you get distracted by some of the awesome sights along the way or go for a quick race. I couldn't even take how cool Carsland was and how full of interesting and beautiful details!
...but some of my favorite details I discovered right at Flo's! It really feels like stepping into the movie walking past the familiar gas pumps and oil cans.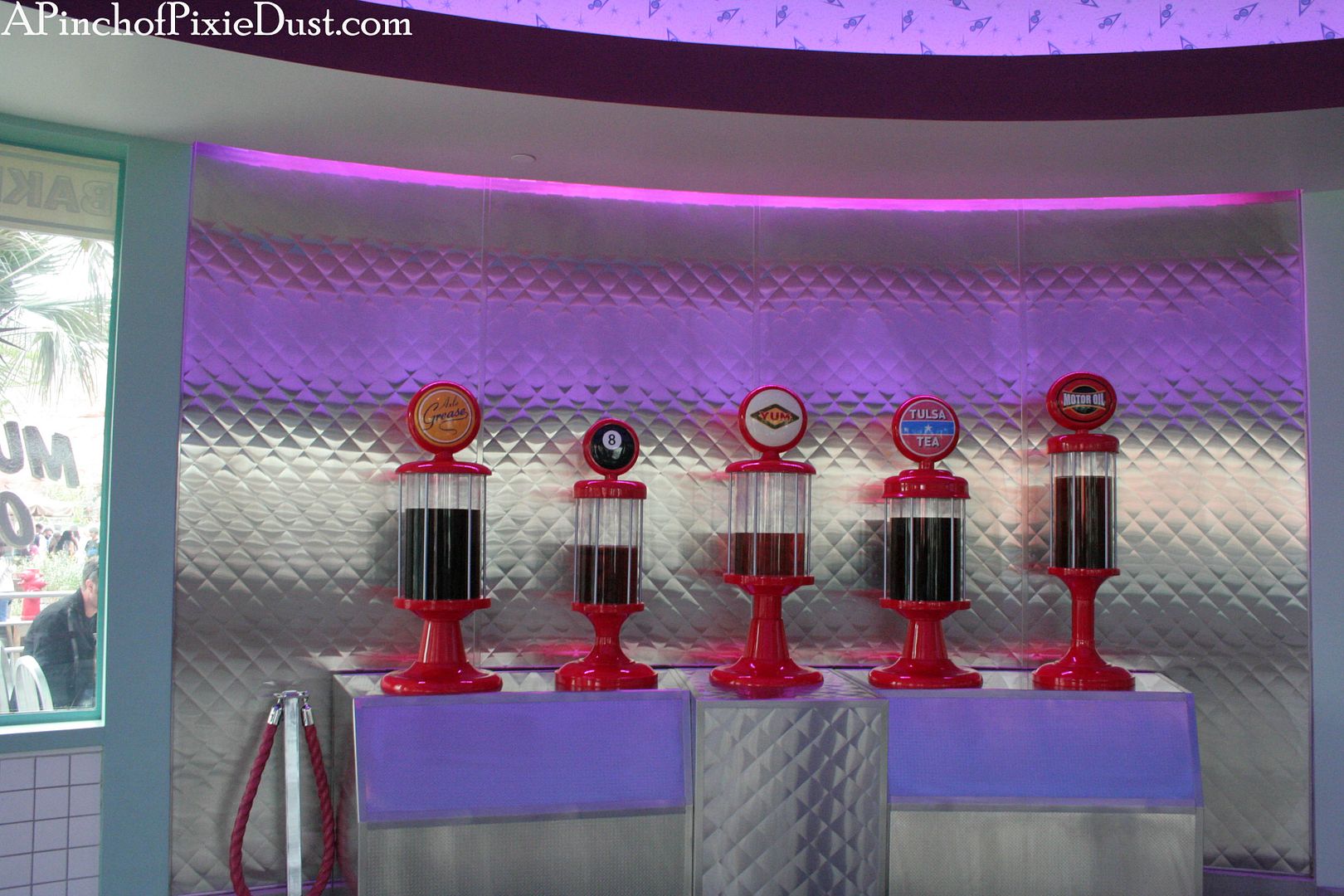 I love the entrance atrium where the line winds around - there are gas pumps lined up off to the side with Flo's specialty blends, and the Motown tunes cannot be beat.
Even the lights and crazy retro chandelier are dancing along!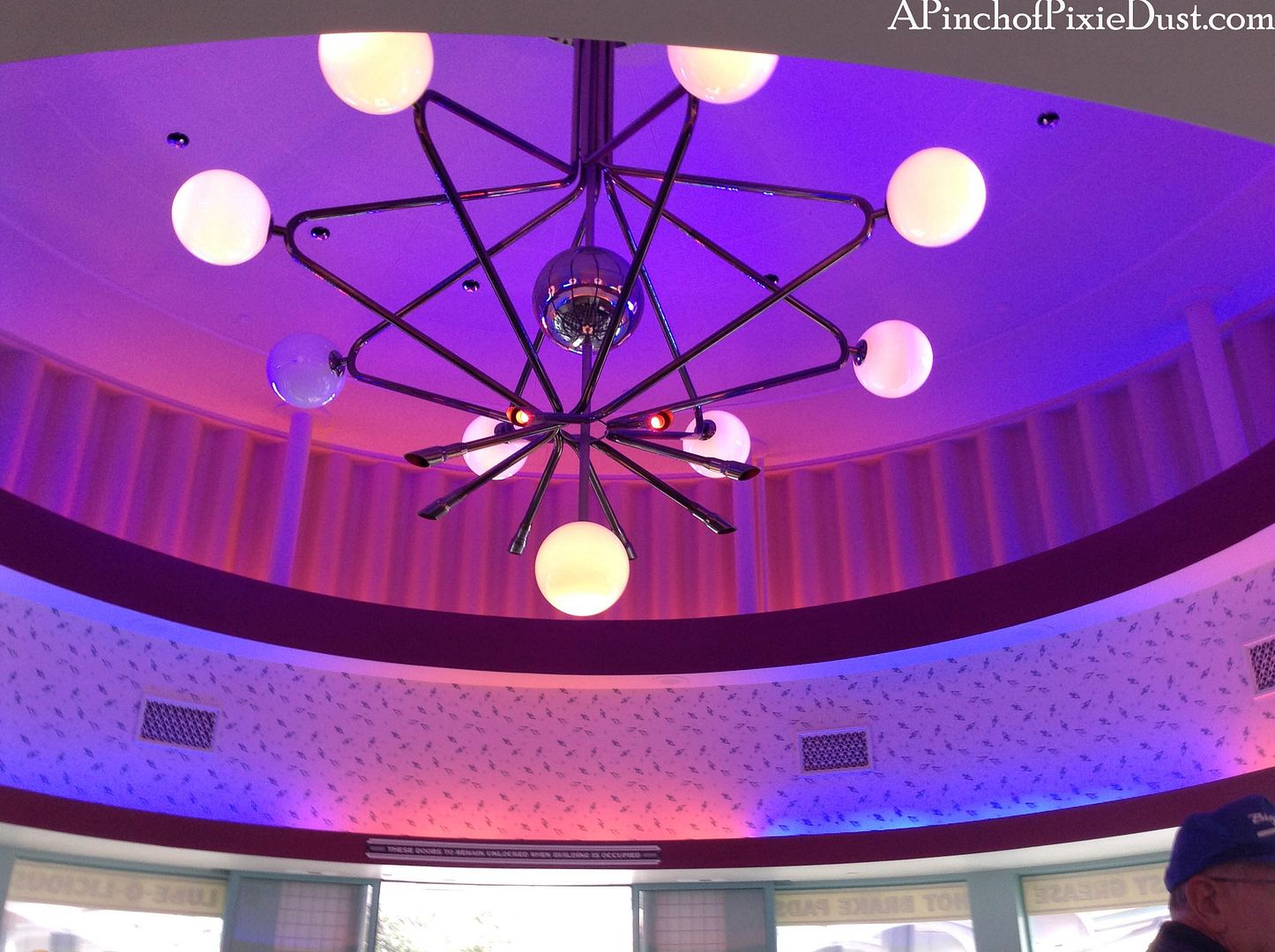 I could stand here dancing and watching the up lighting change from purple to pink to orange to blue all day...but we've got to place our order!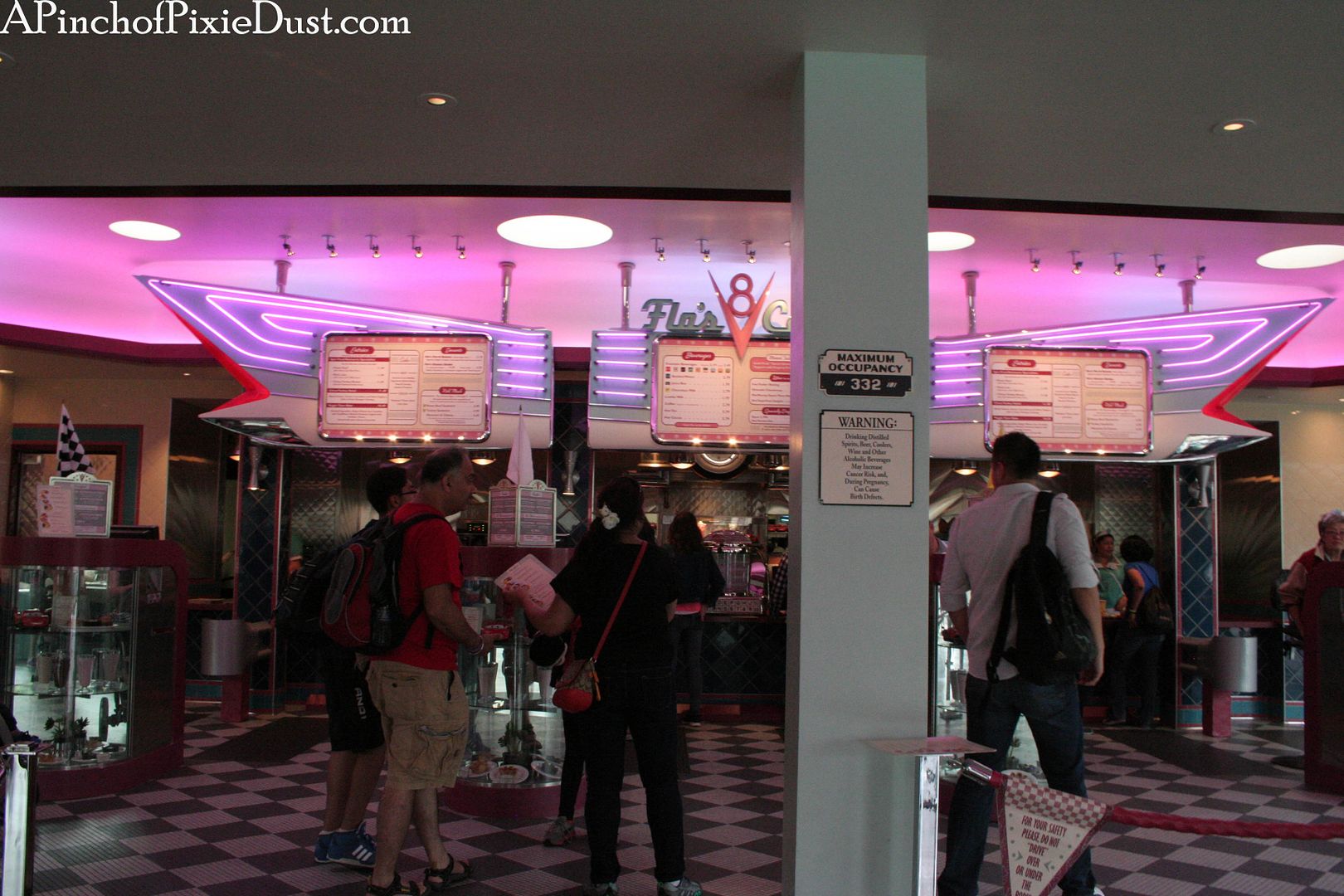 You'll probably still be tapping your feet to the beat as you stand in line. ;)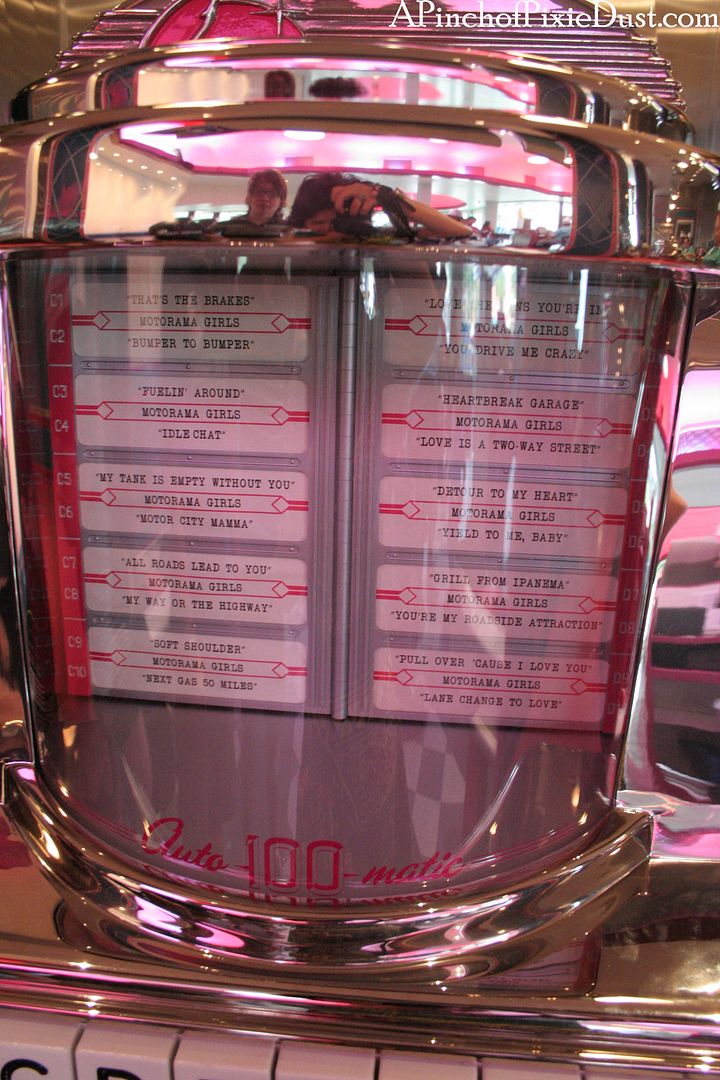 Sample pie-o-ramas and the milkshakes are on display in the cases, and there are pretend jukeboxes (with hits from the Motorama Girls listed) up at the counter. I love the Cast Member sign - "Car Hops Only."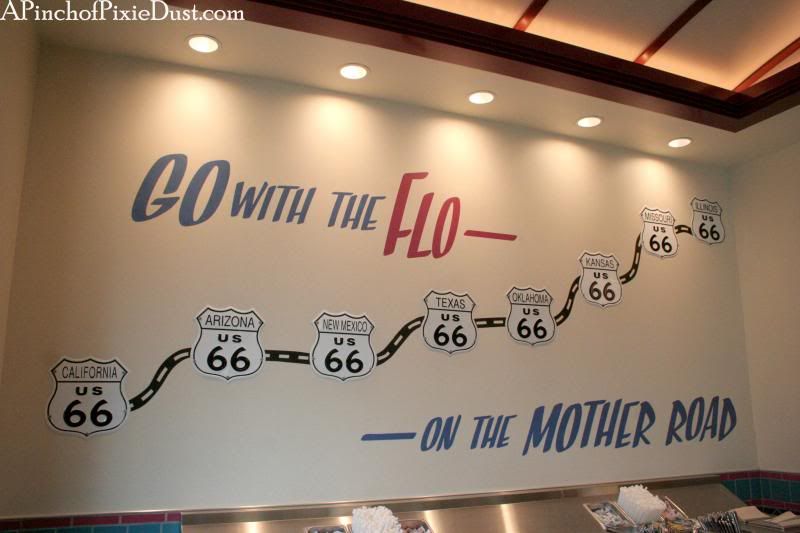 Go with the FLO on the Mother Road, route 66! This space is positively packed with fabulous art and designs inspired by and right out of the movie.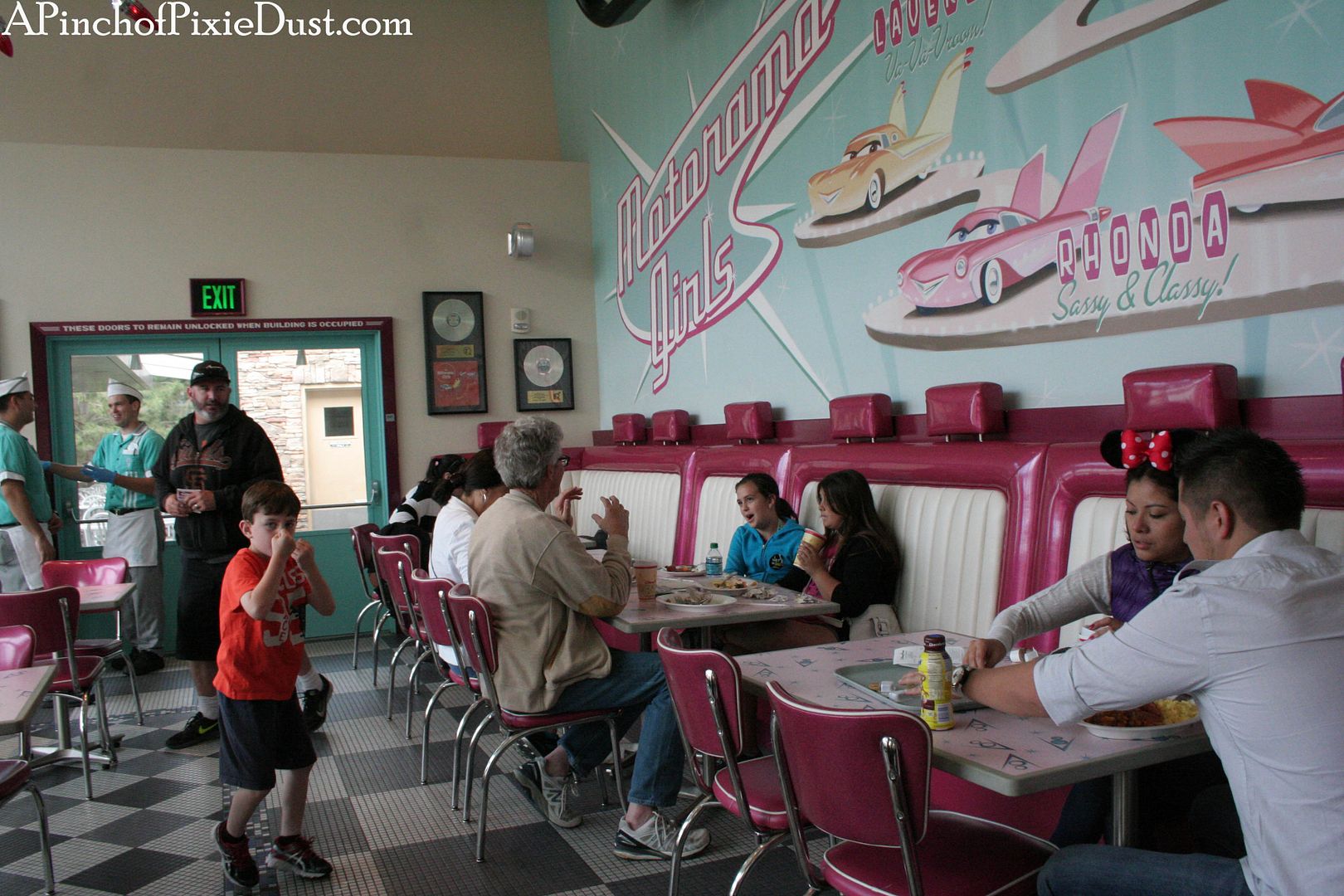 Y'all already know how much I adore the
Motorama Girls
and their room and records and mural!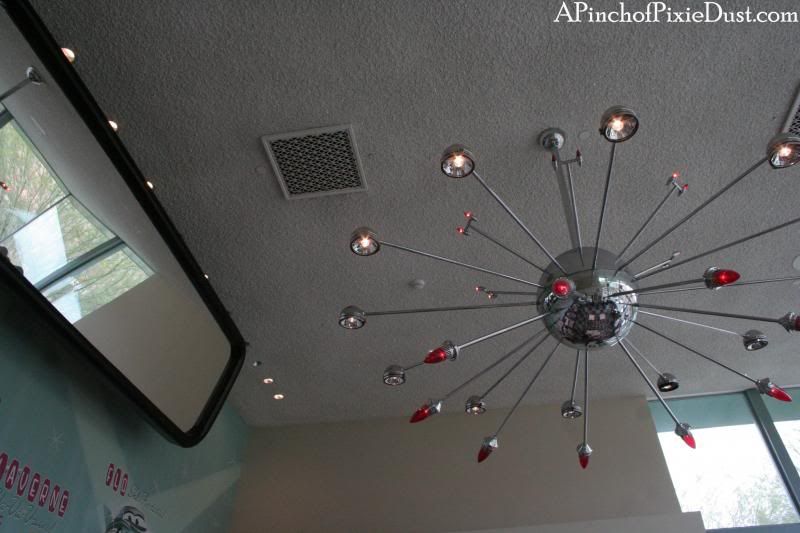 There's more retro chandy candy here and a giant rear-view mirror!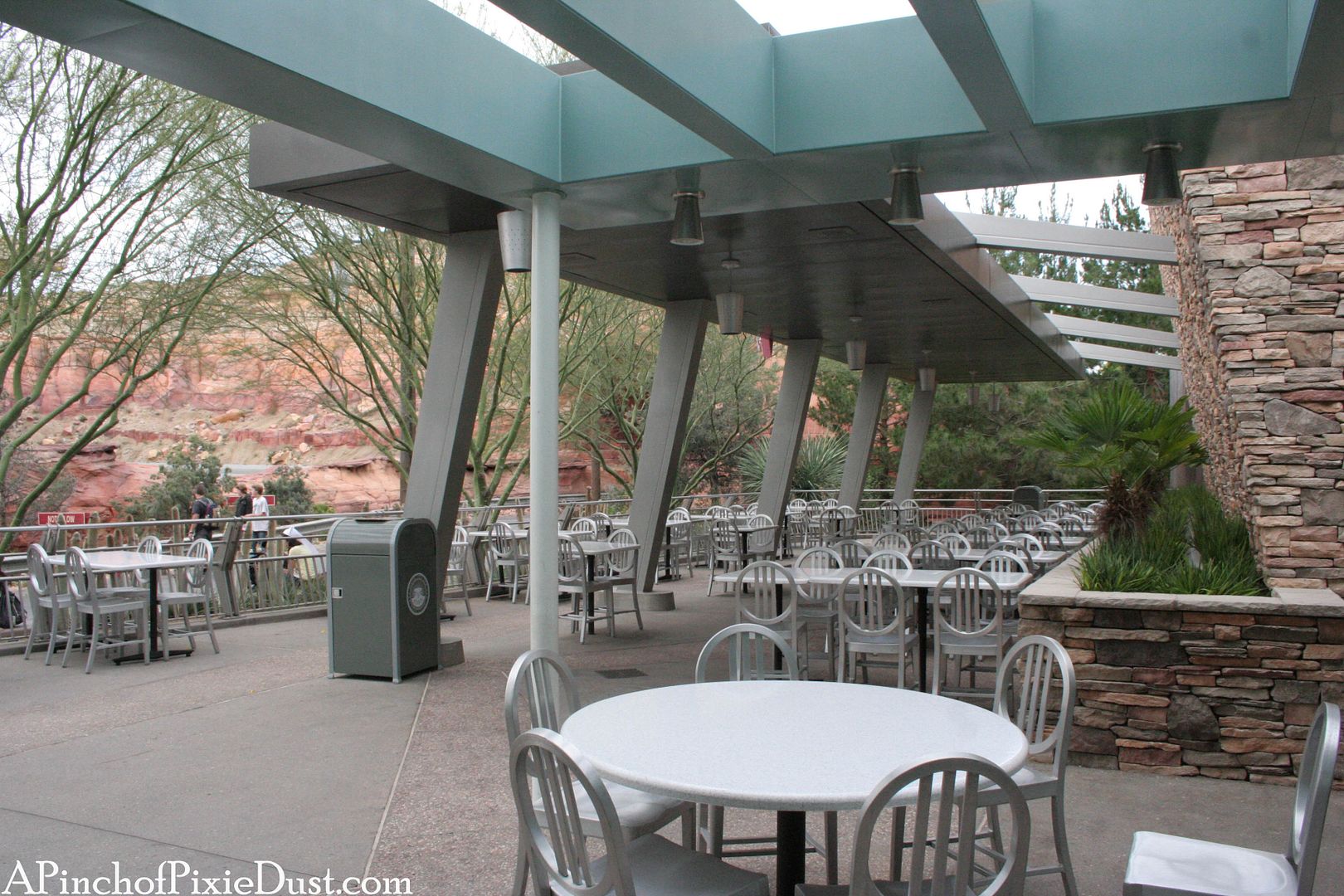 There's more seating outside of the Motorama Girls room, but if you'd rather be in the AC, there's another room off to the other side of the ordering area.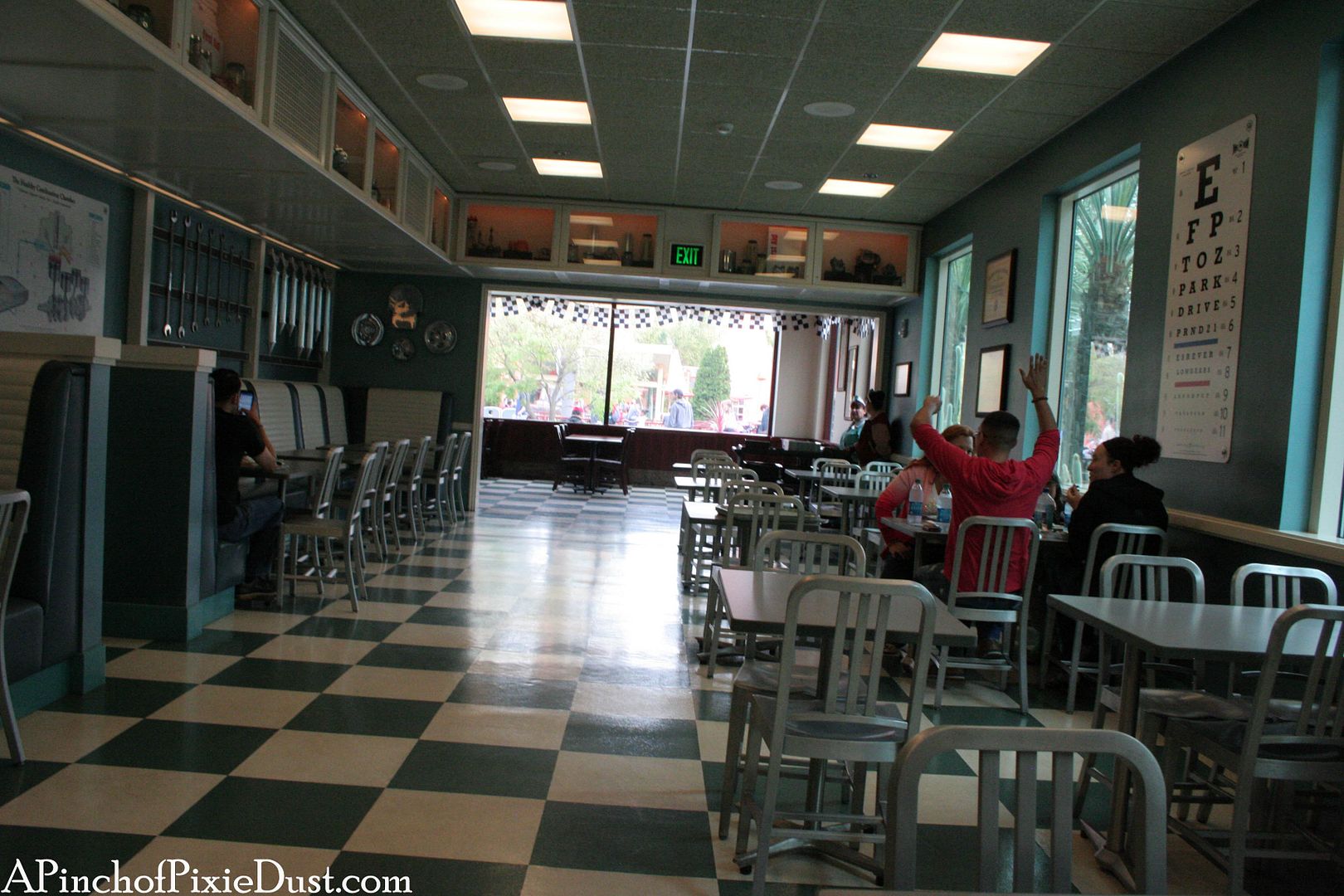 It's Doc Hudson's clinic and museum! Once again, the details are just everywhere...
The Hudson Hornet's Piston Cups are on display! A grumpy old car once told me, it's just an empty cup - so you'll also find Doc Hudson's medical degrees in Clinical Studies of Internal Hydraulics and his Doctorate in Internal Combustion.
Sorry, guys. I'm getting sidetracked by all the Pixar pixie dust! Let's get back to the topic of today's post:
THE PIE-O-RAMA. It comes in three flavors: strawberry-rhubarb, apple and cheddar cheese, and chocolate!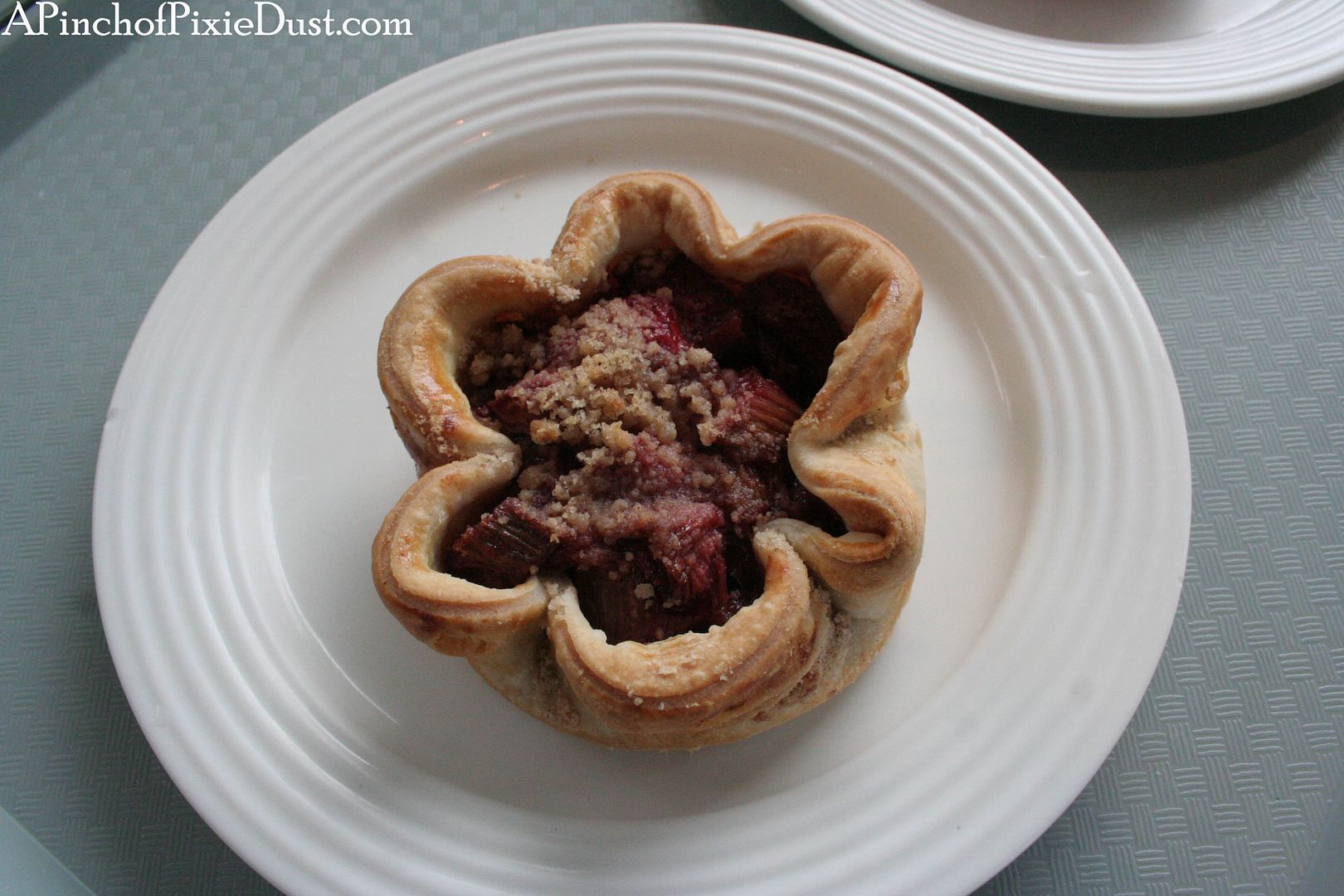 I sampled the strawberry-rhubarb version.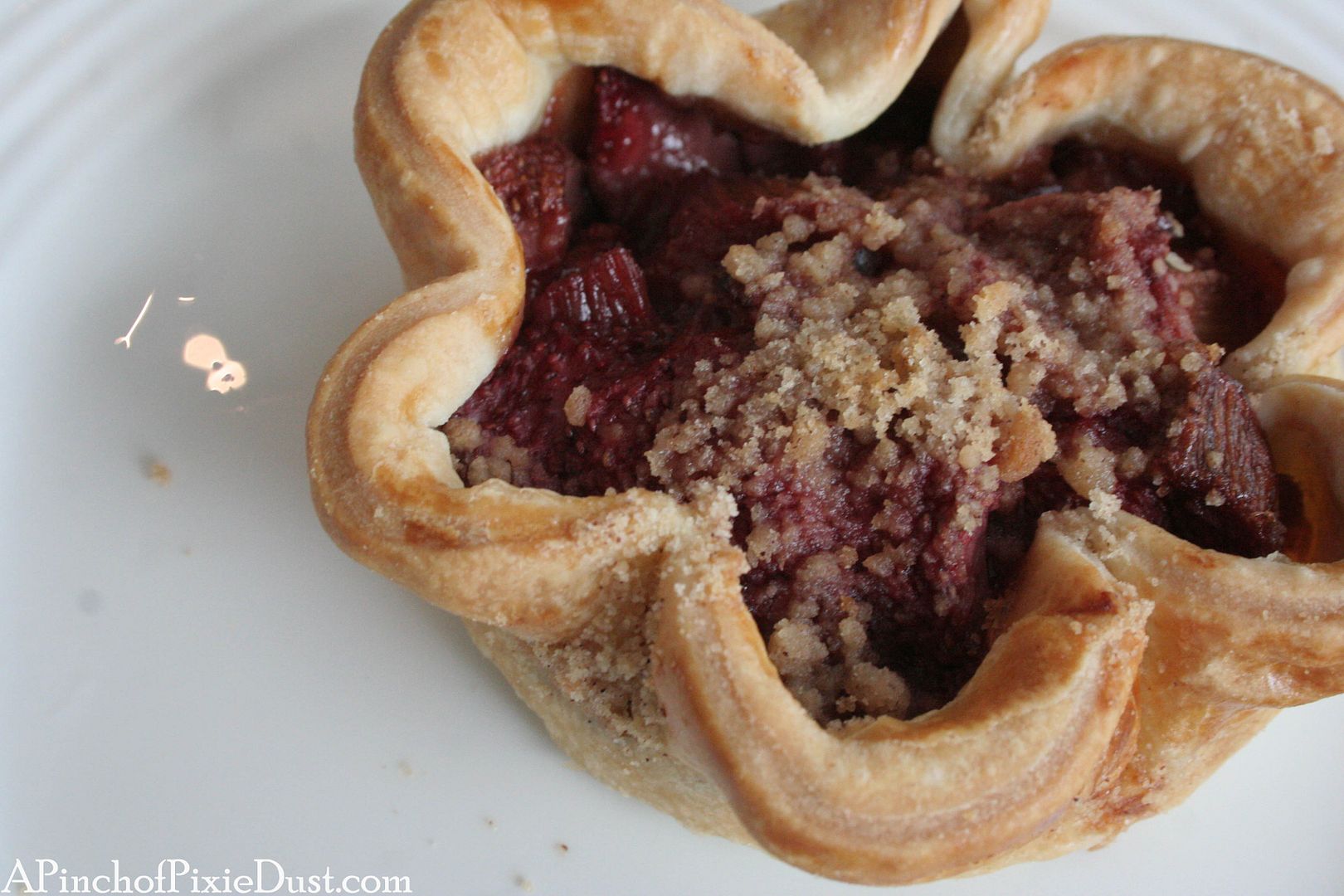 Isn't it cute? And it had such a great name - I really wanted to love it. But to be honest I'm not a huge fan of the strawberry-rhubarb combination, and the filling was a little mushy. It was warmed up and the crust wasn't bad, but it wasn't quite the home run I'd hoped for.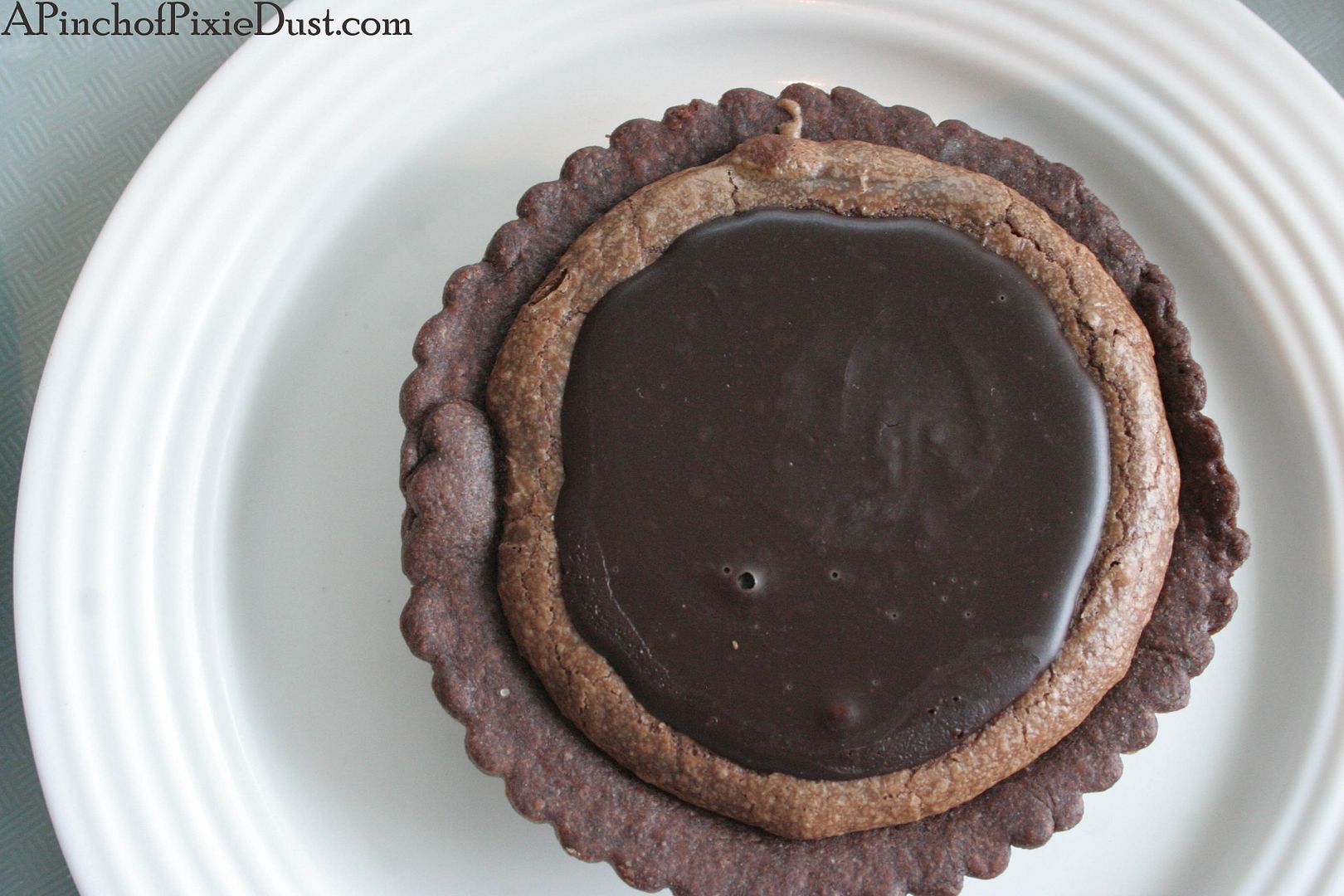 The Chocolate Mud Pie-O-Rama I did not sample, but it was apparently also a disappointment.
Mama Snob described it as involving pudding from a box mix. We're all chocolate fans, and these did not even really get eaten! It's such a pity, because I love the idea of a pie-o-rama, but the reality was not so great.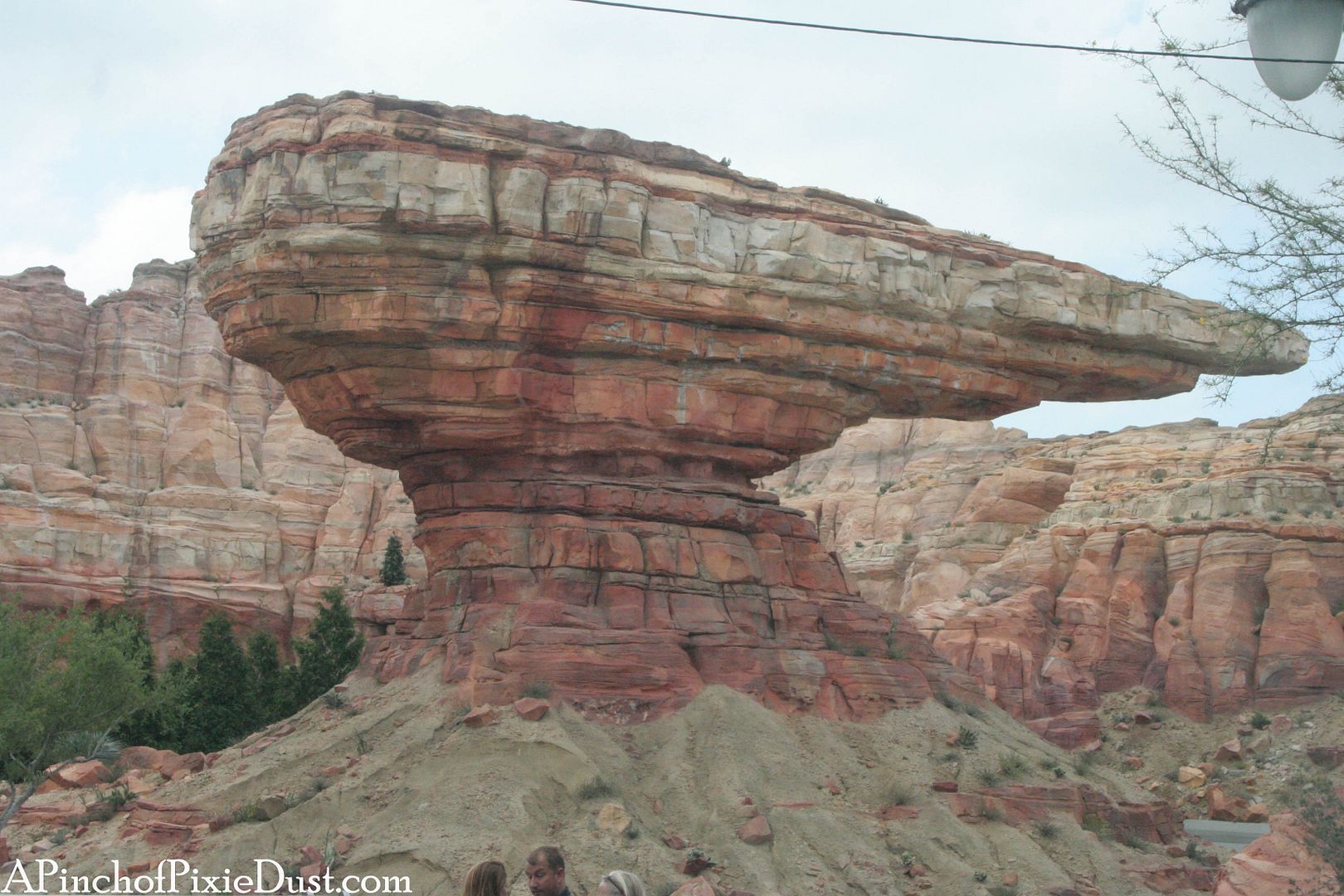 Even if you don't try the pie-o-rama, you should still swing by Flo's because there's so much to see. The sweet treat may have been a wash out, but Carsland itself was a complete success.