I feel like we need a chocolate sweet treat to start this week, guys.
How about some Ghirardelli Chocolate?? Our destination is the Ghirardelli Soda Fountain Ice Cream & Chocolate Shop at Downtown Disney.
This is a fun place - I love the tubes of chocolate running around the room...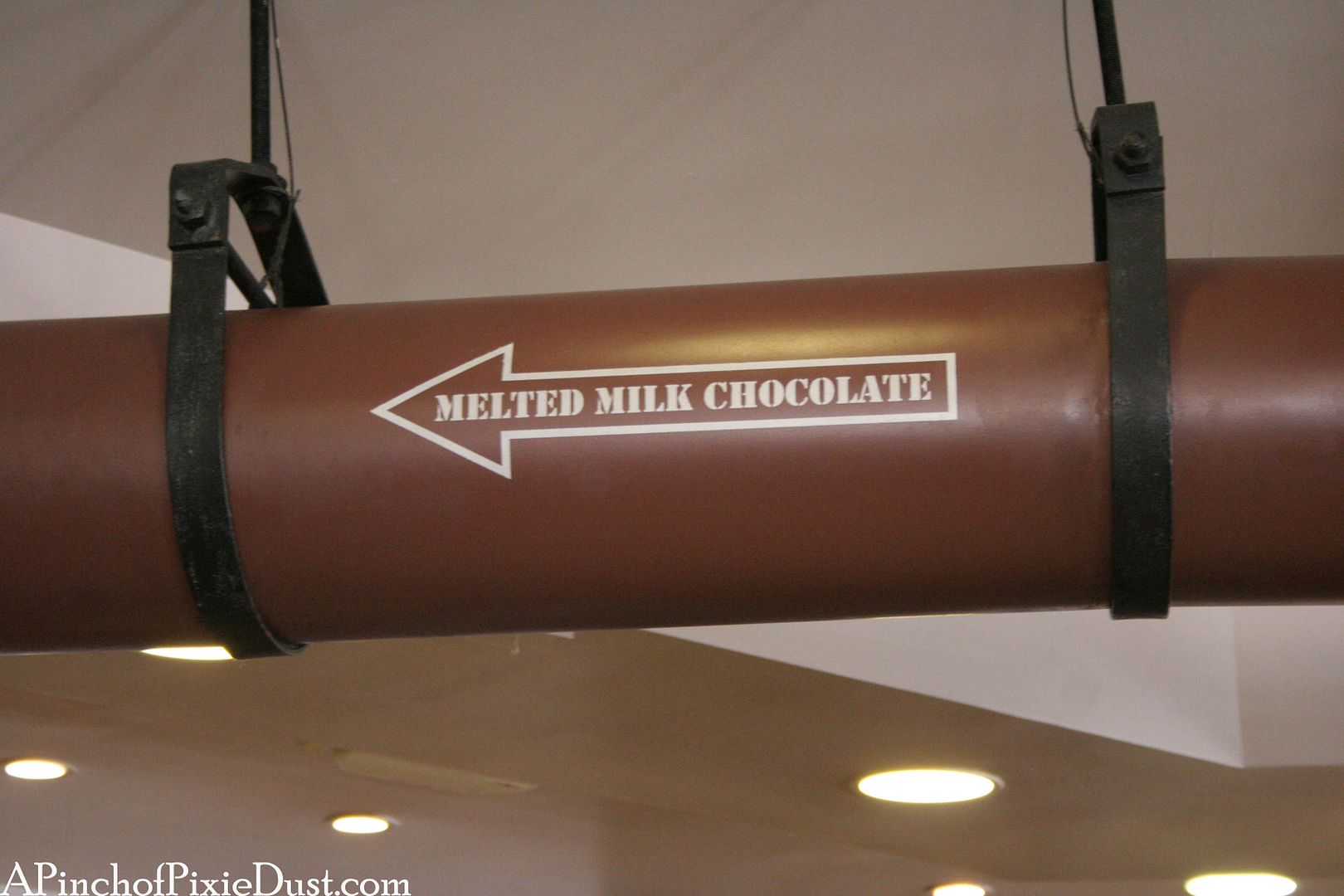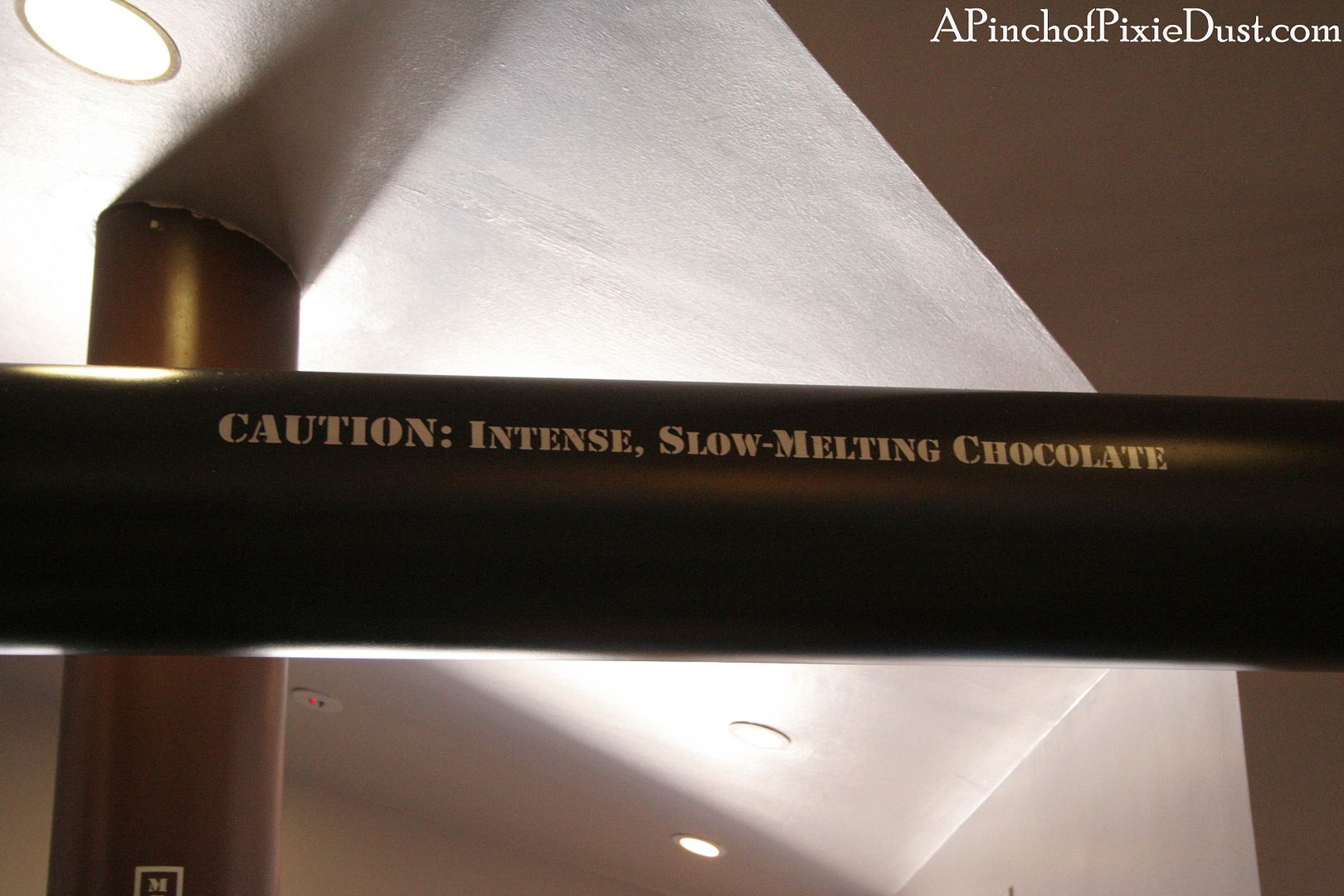 "Caution: Intense, Slow-Melting Chocolate." Yummmm...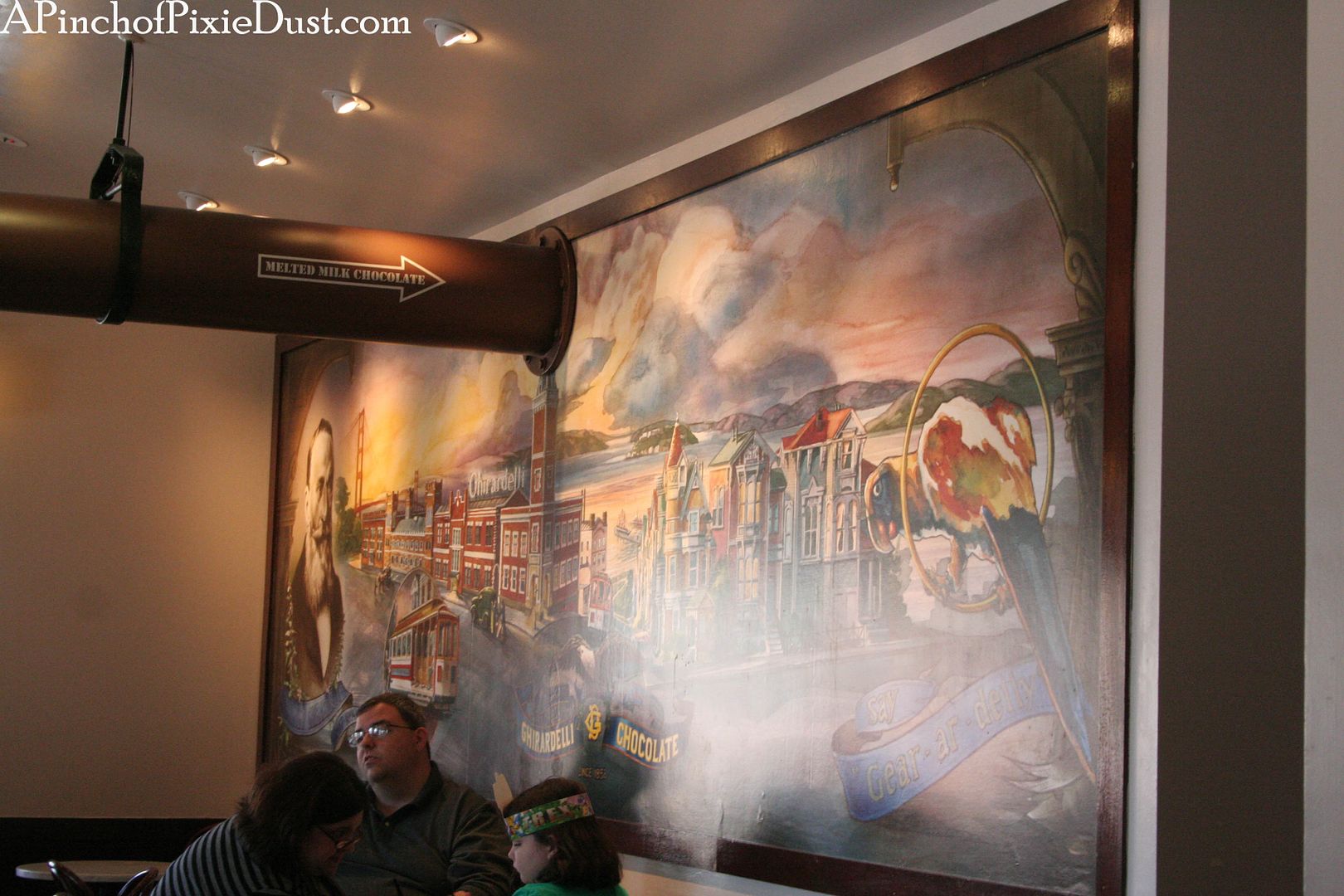 I've sampled decadent
ice cream cones
and
shakes
here before, but never any of the drinks. They always sound SO delicious and tempting on the menu - Sea Salt Caramel Hot Cocoa, Decadent Drinking Chocolate, Lombard Street Cocoa. But in that Florida heat I never really feel like carrying around a cup of steaming hot chocolate. I finally caved on a not-too-hot day this past spring.
The deluxe hot chocolates I was looking at were $4.95 - I was able to use a dining plan snack credit on it, which was great. In March we were told anything under $5 here counted as a snack (there isn't a whole lot actually - most of the shakes and sundaes are over $8), but looking at the Disney World website's page for the Ghirardelli Cafe, it claims dining plans are not accepted. I guess it's changed? Or maybe they just mean you can't use a meal credit?
I was initially leaning towards the Decadent Drinking Chocolate, but when I asked the cast member she said it was basically a melted chocolate bar - so a fairly small portion - and she sounded unimpressed. I went with the Lombard Street Cocoa instead...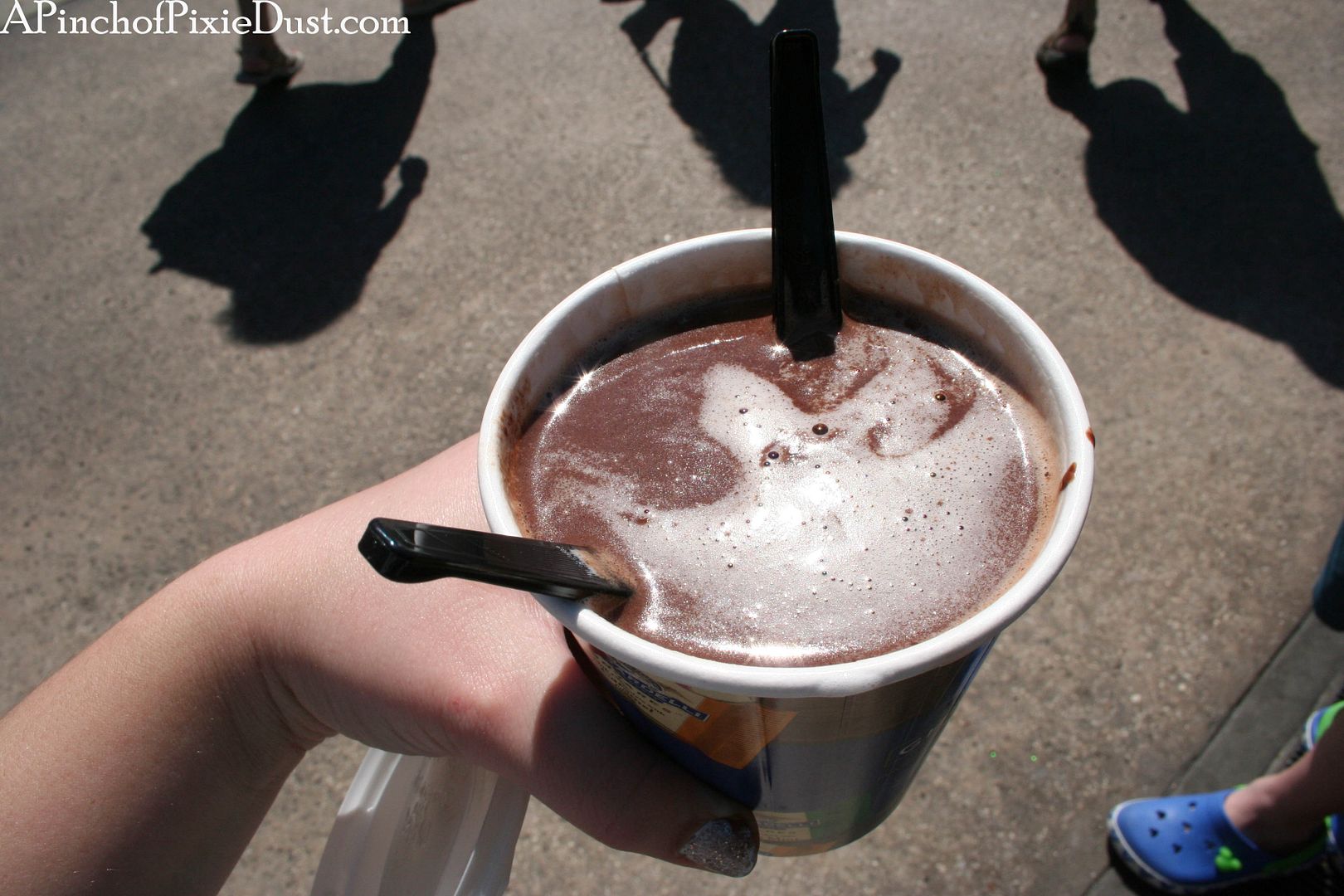 It's a cup of steamed milk with four Ghirardelli milk chocolate truffle squares to stir in. If you go into the store next door and get a free sample square you could always stir an extra one in too. ;)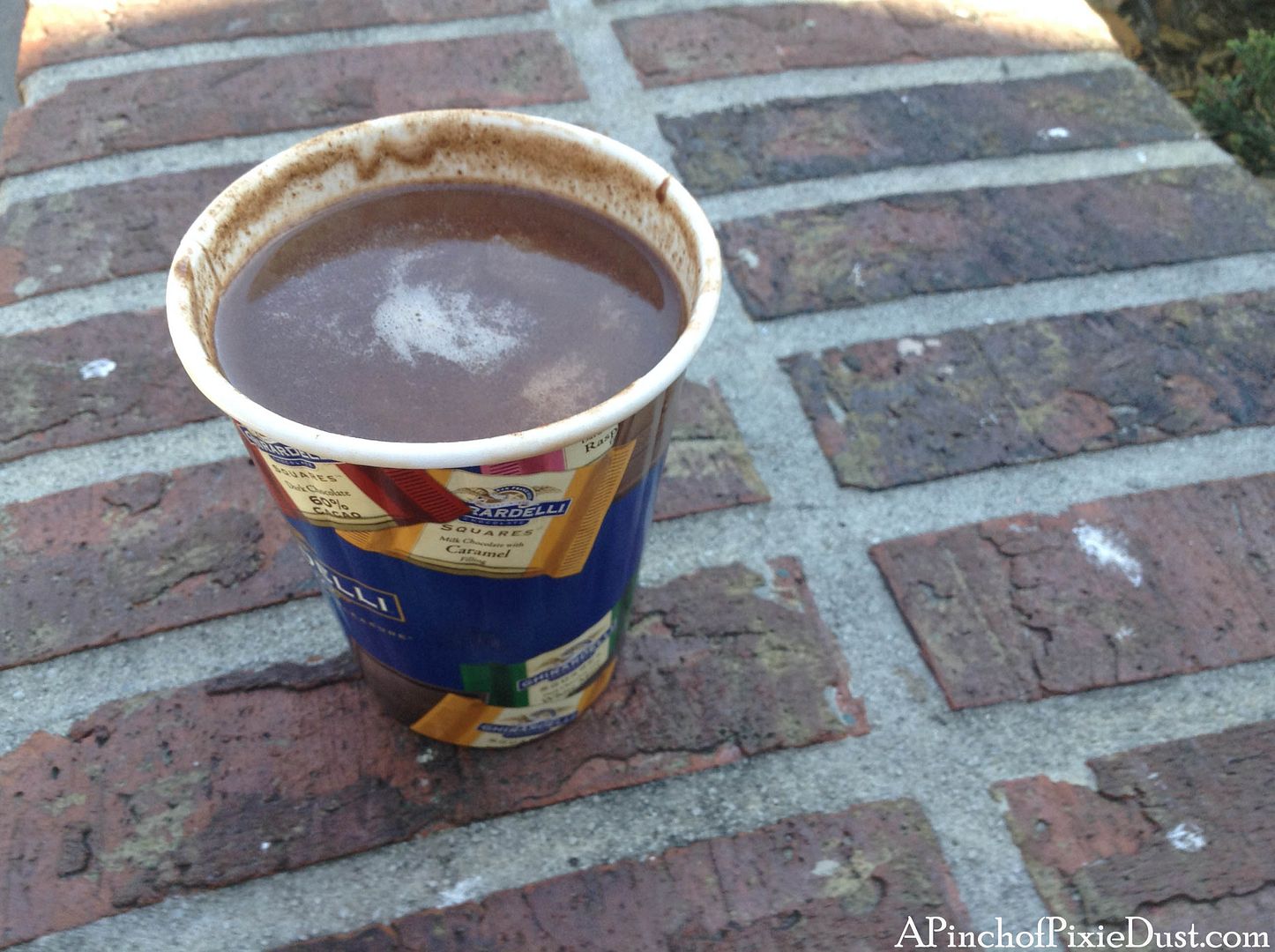 I stirred in all four pieces, and it made for a VERY delicious and creamy and chocolaty drink - I like the cup with the squares on it too. I did enjoy it, especially after wondering about it for so long; but another time I would probably save my snack credit for something unique that I can only get at Disney World. I feel like I could buy a package of Ghirardelii squares and make the Lombard for myself quite easily back at home!
Have you tried any of the Ghirardelli drinking chocolates? What's your favorite chocolaty snack at Disney?