We're returning to England with today's blog post! In the
last update
, we were staying in the city of Chester at the Grosvenor Place Guest House...
I really enjoyed this hostel with its bright red door and
"unlimited" toast
for breakfast. We stayed here two nights and had a room up two narrow flights on the top floor.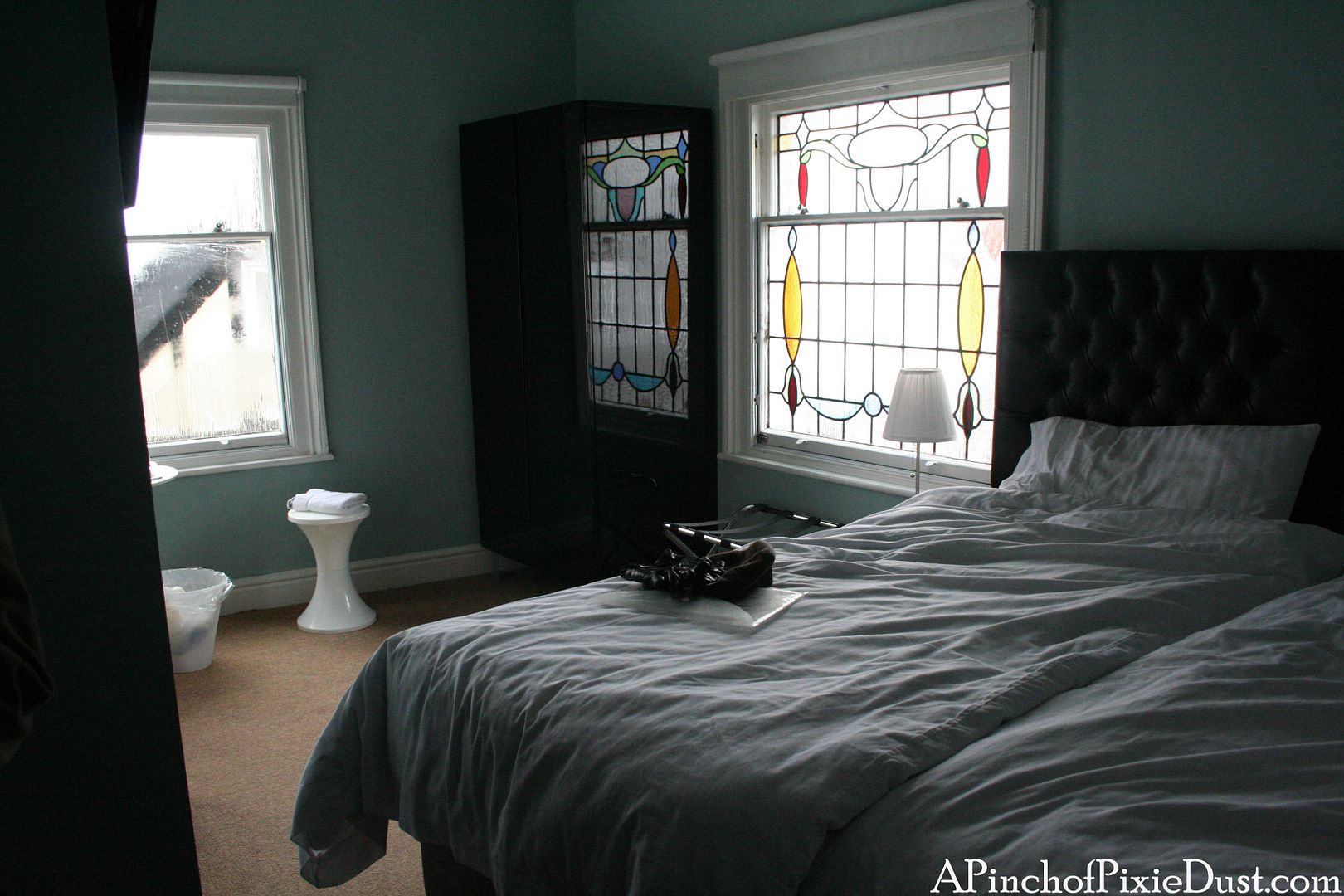 It had a neat view over the rooftops, and I loved the colorful glass in the window!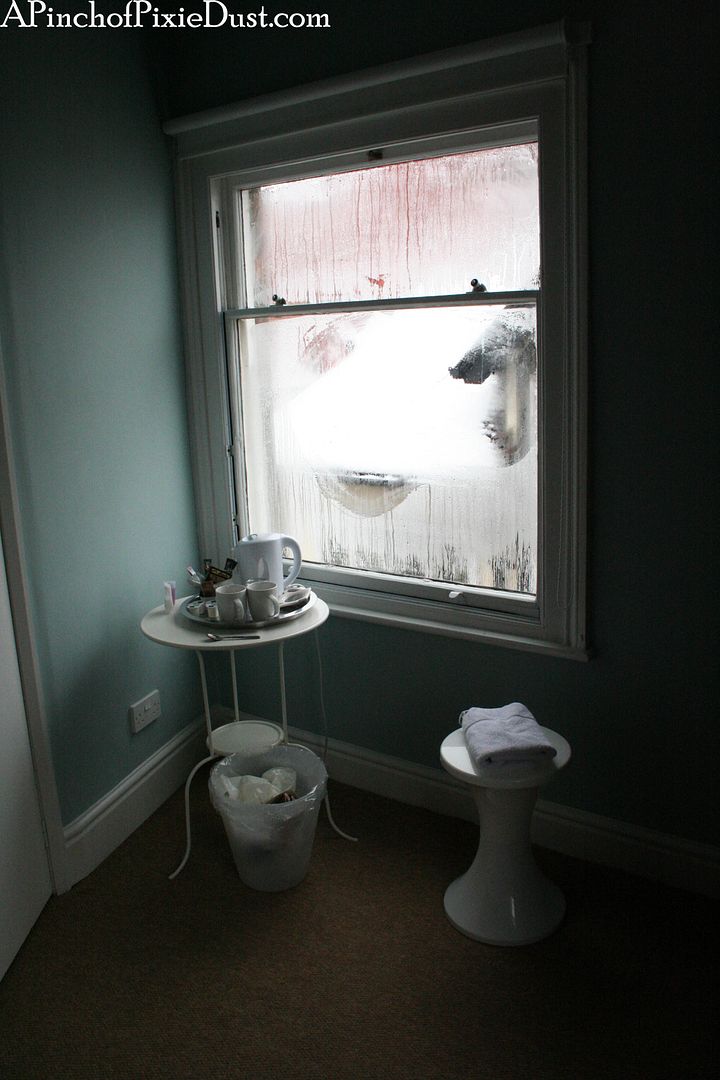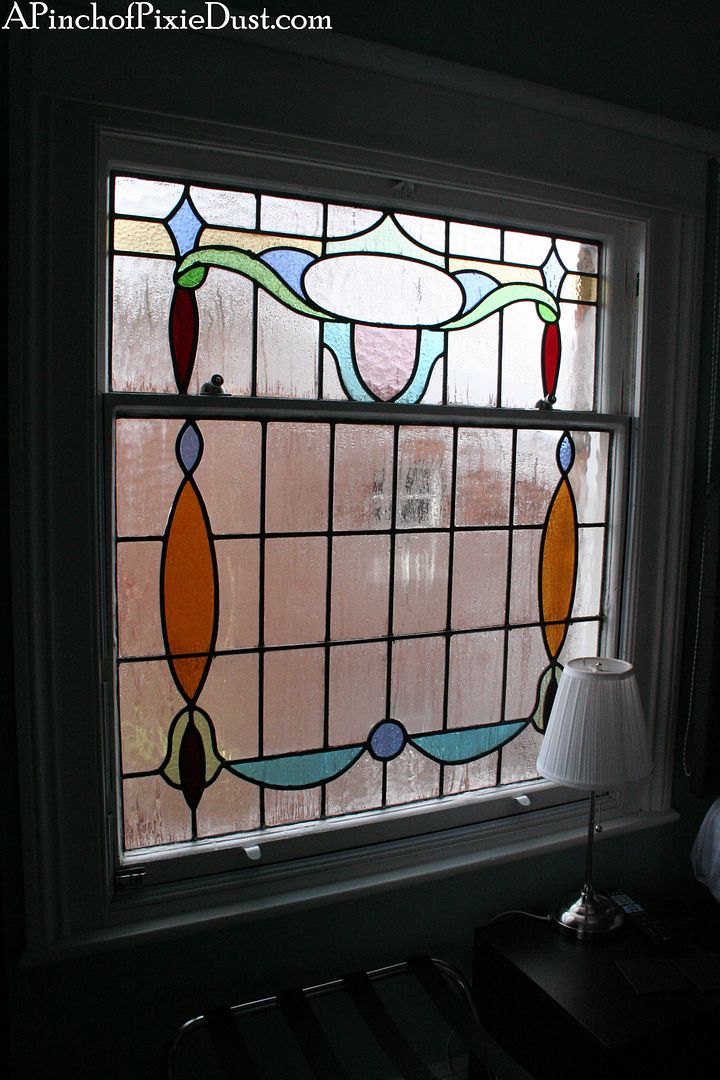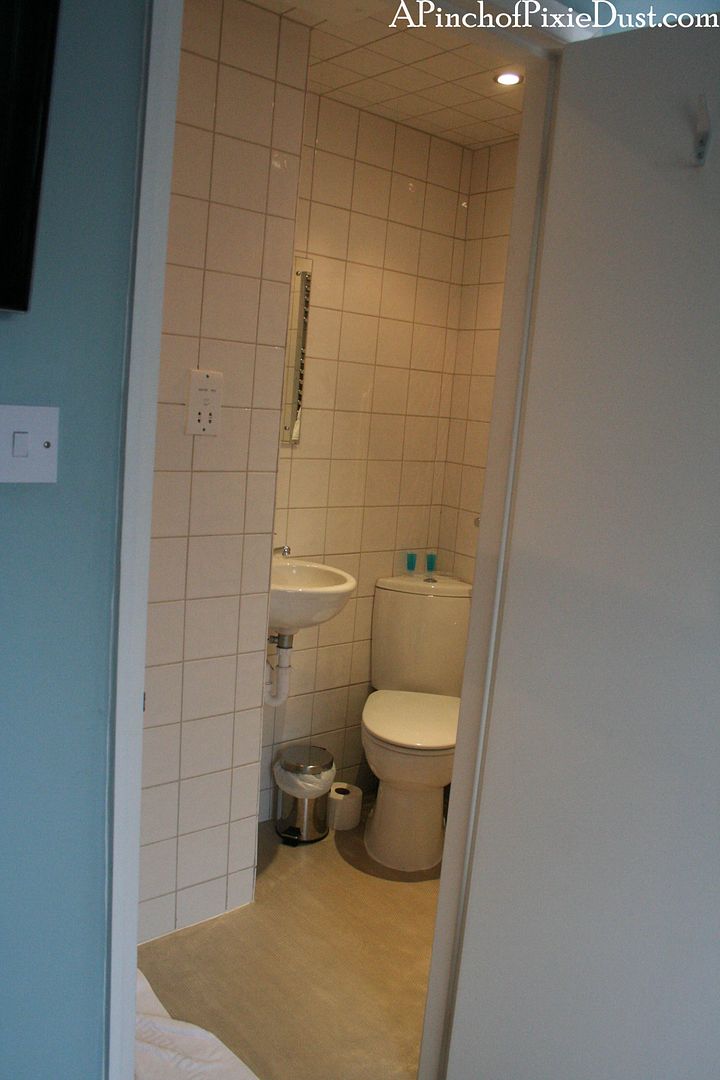 I'm so used to taking photos of everything in the hotel rooms at Walt Disney World, now it's just instinct! Note the electric kettle on the little table on the left. In the US, hotel rooms have coffee makers, but in England they have kettles for tea. :)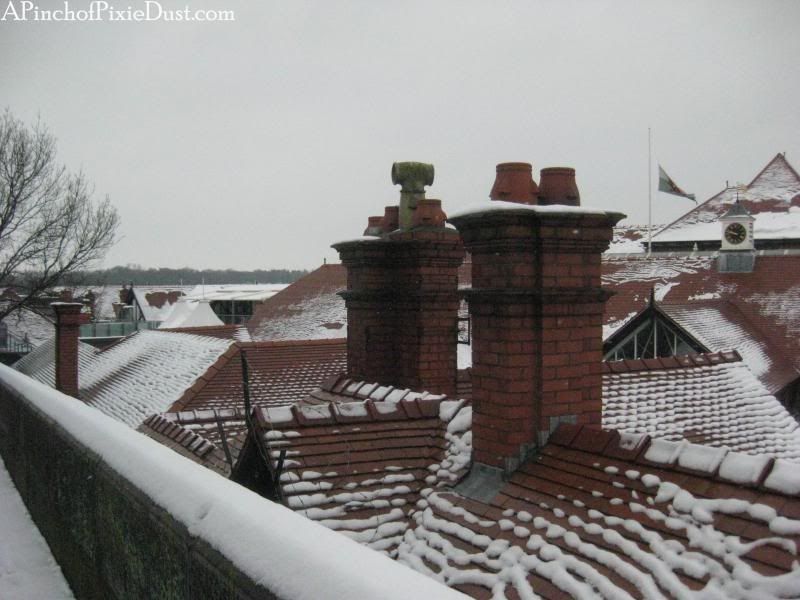 It wasn't quite as cold as the
previous day
, but we still bundled up to take a morning walk on the walls. After seeing Chester blanketed in white, I would love to go back someday and see it blooming in green during a warmer month!
I felt a little bad for my brother Porthos - I had been dragging him around shops and tea rooms in Chester. Luckily he's a tea person too, but that morning we headed to the Cheshire Military Museum for him. We learned about the history of the British military - there were some old uniforms and redcoats that probably drove Lydia and Kitty mad! It was interesting to hear about the Cheshire regiments. We were the only visitors in the museum - no one else wanted to venture out in the cold!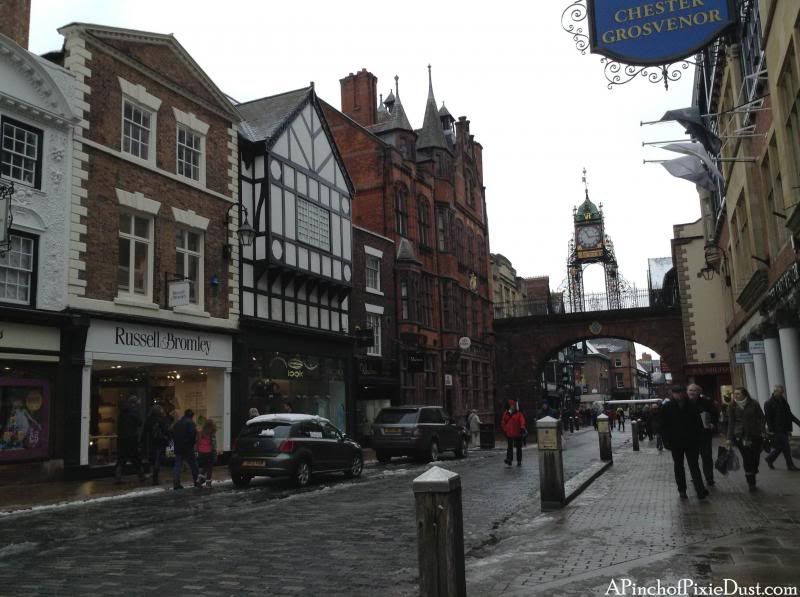 A last stroll through the slushy streets before it was time to catch our train...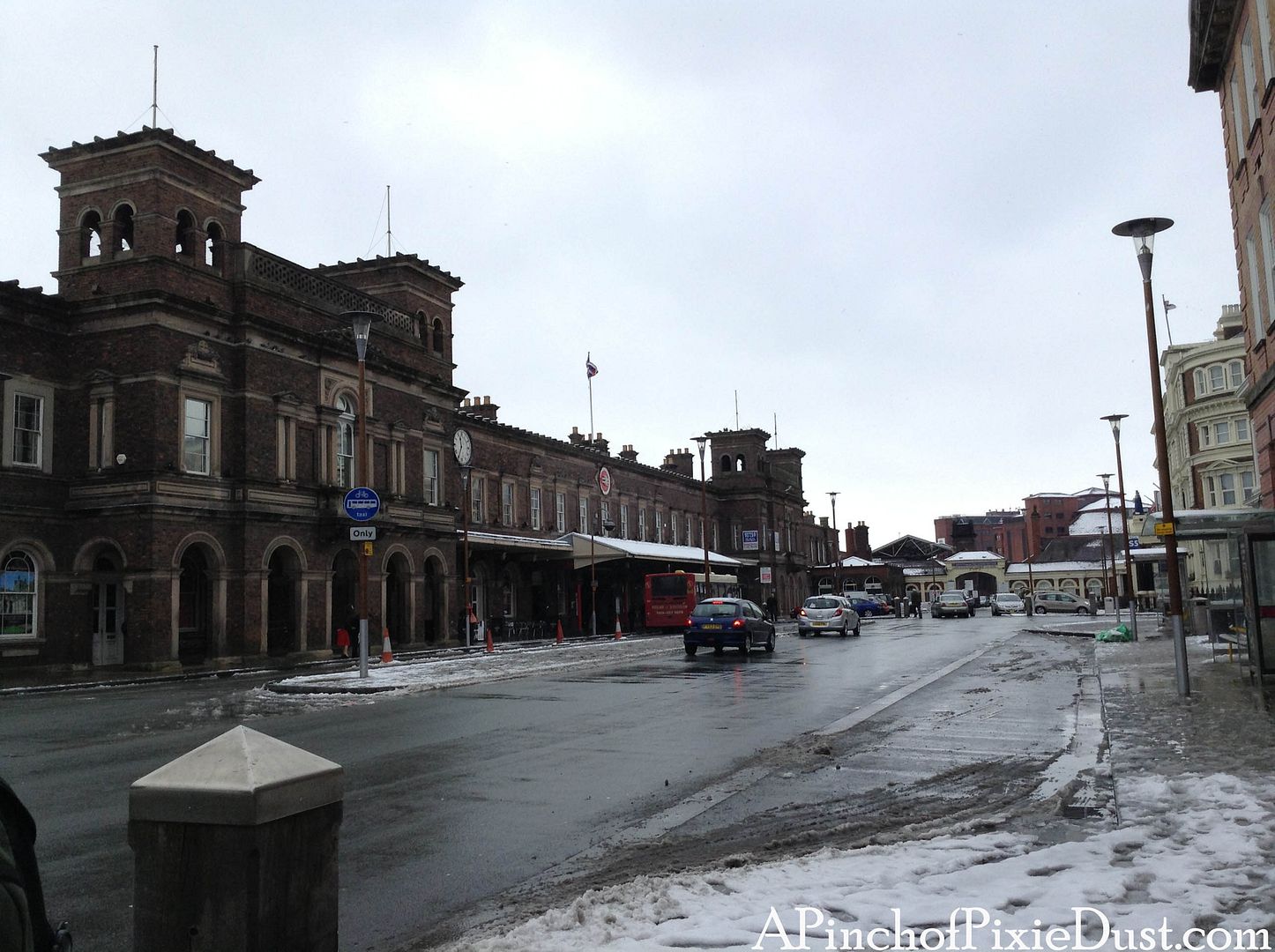 Back to the station! Luckily the guest house was not too long of a walk - when travelling by public transportation, that's always something you have to take into consideration! We really enjoyed the trains and stations though.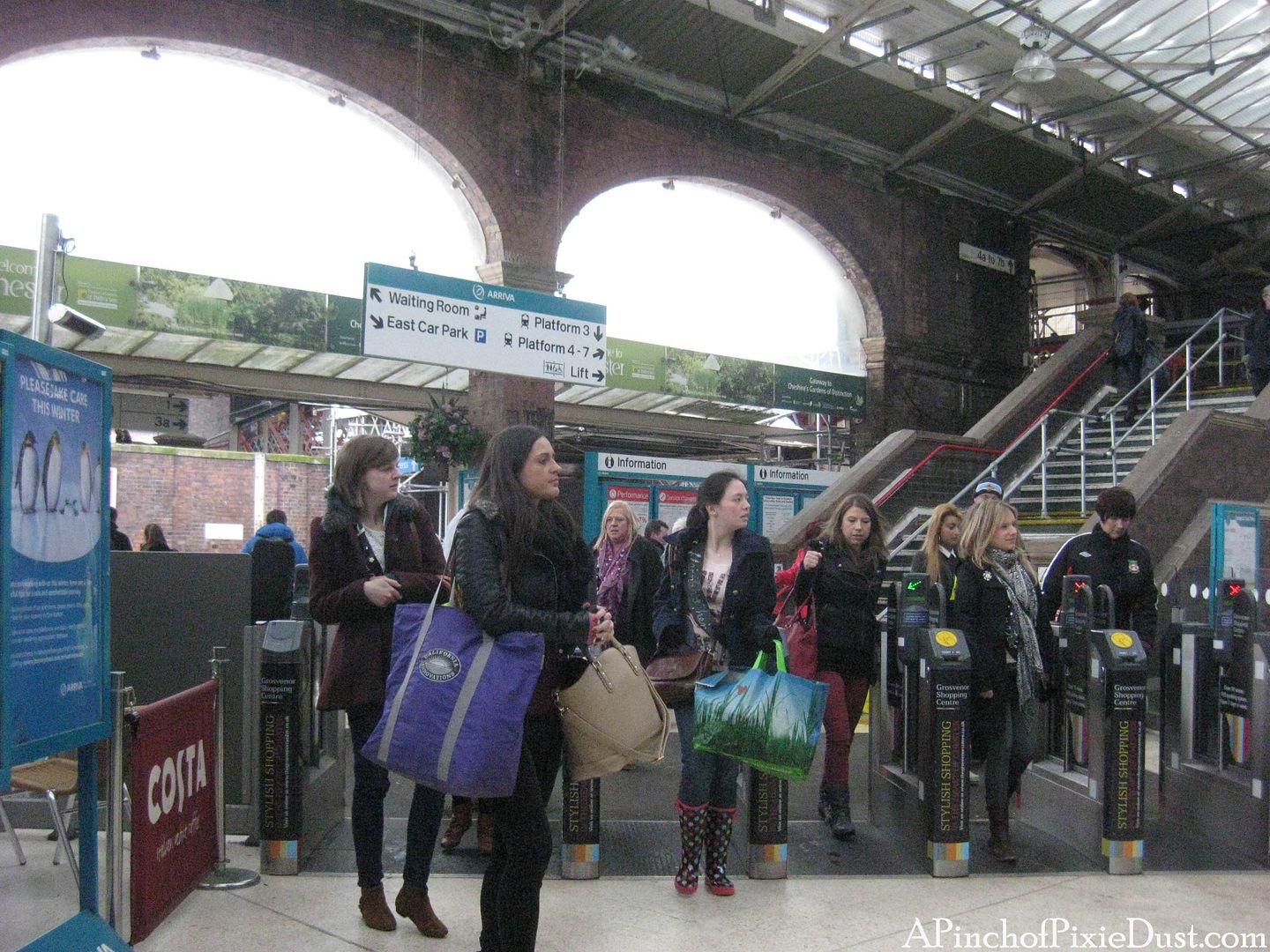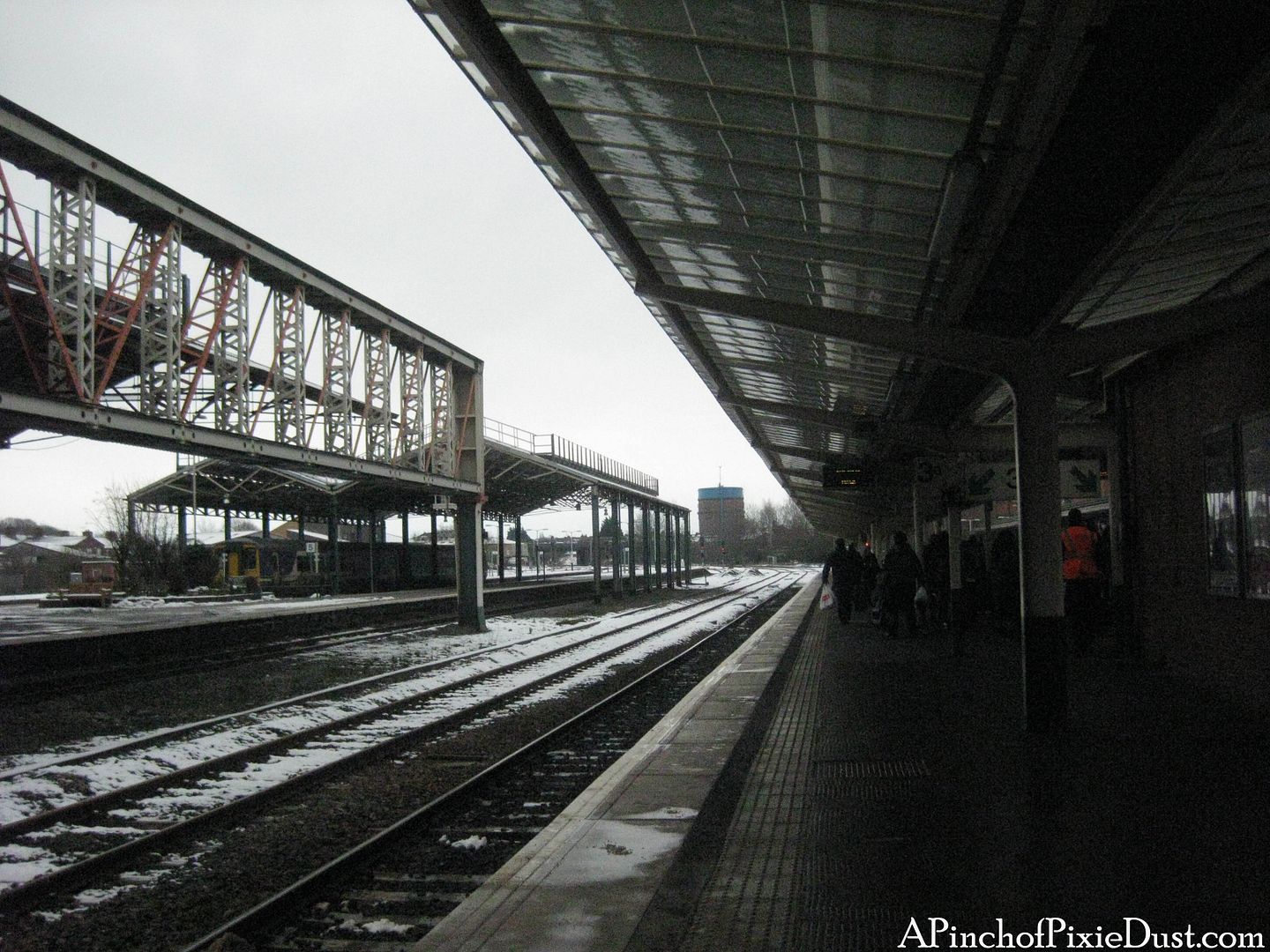 Just a few station scenes. I love watching British tv dramas just for the train station scenes - they take me straight back.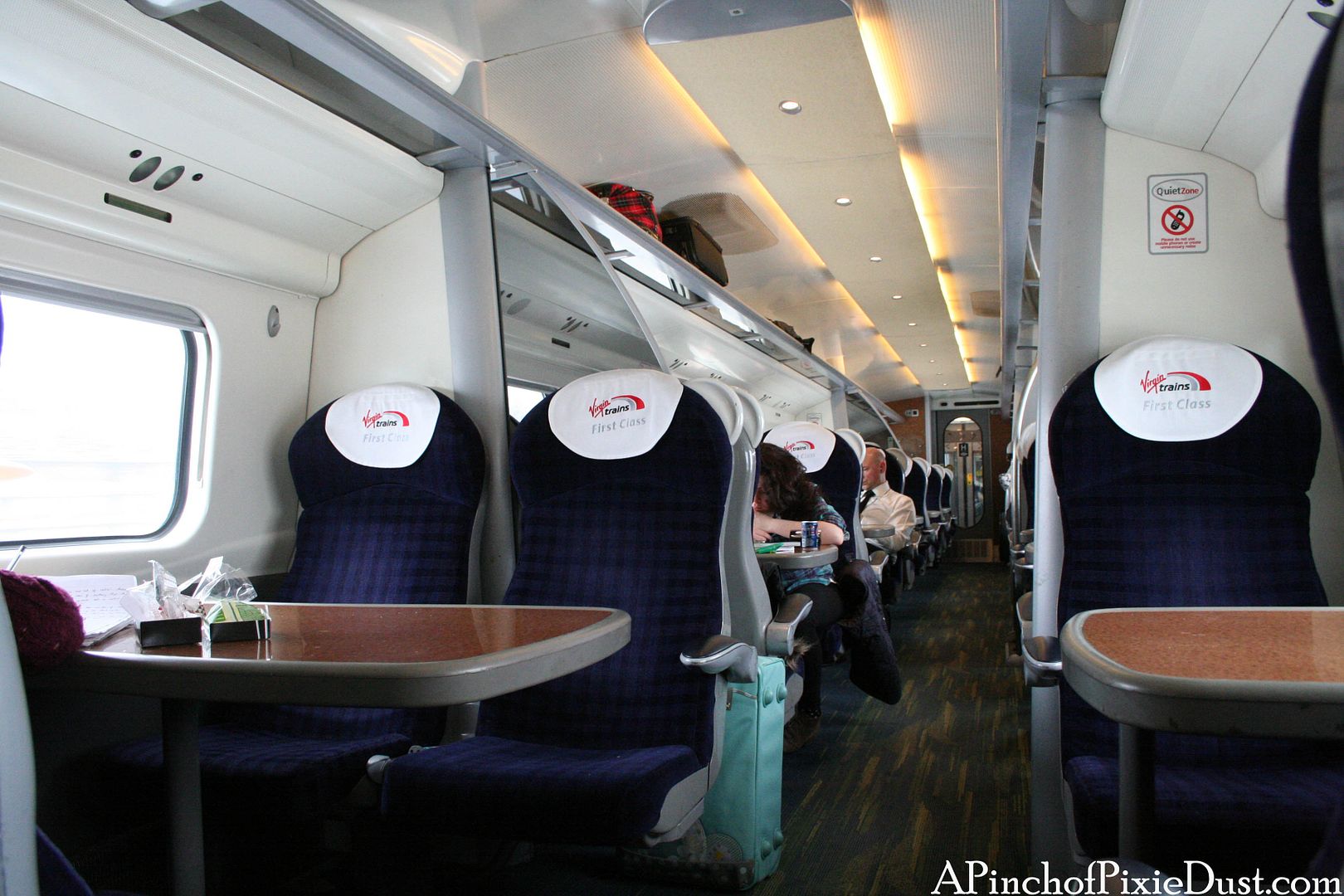 I had booked our tickets a month or two in advance - the costs are much lower the earlier you buy! Both Porthos and I had 16-25 railcards, so that gave us an additional discount. I thought about getting a britrail or eurrail pass, but the individual fares were all reasonable and didn't nearly add up to the cost of the pass.
Researching tickets and finding the best websites and options took up quite a lot of planning time, but it was exciting too. I haven't had the heart to remove my email from the Voyages SNCF (French train service) coupon list yet. It's fun to see what the TGV deals are to Paris at the moment!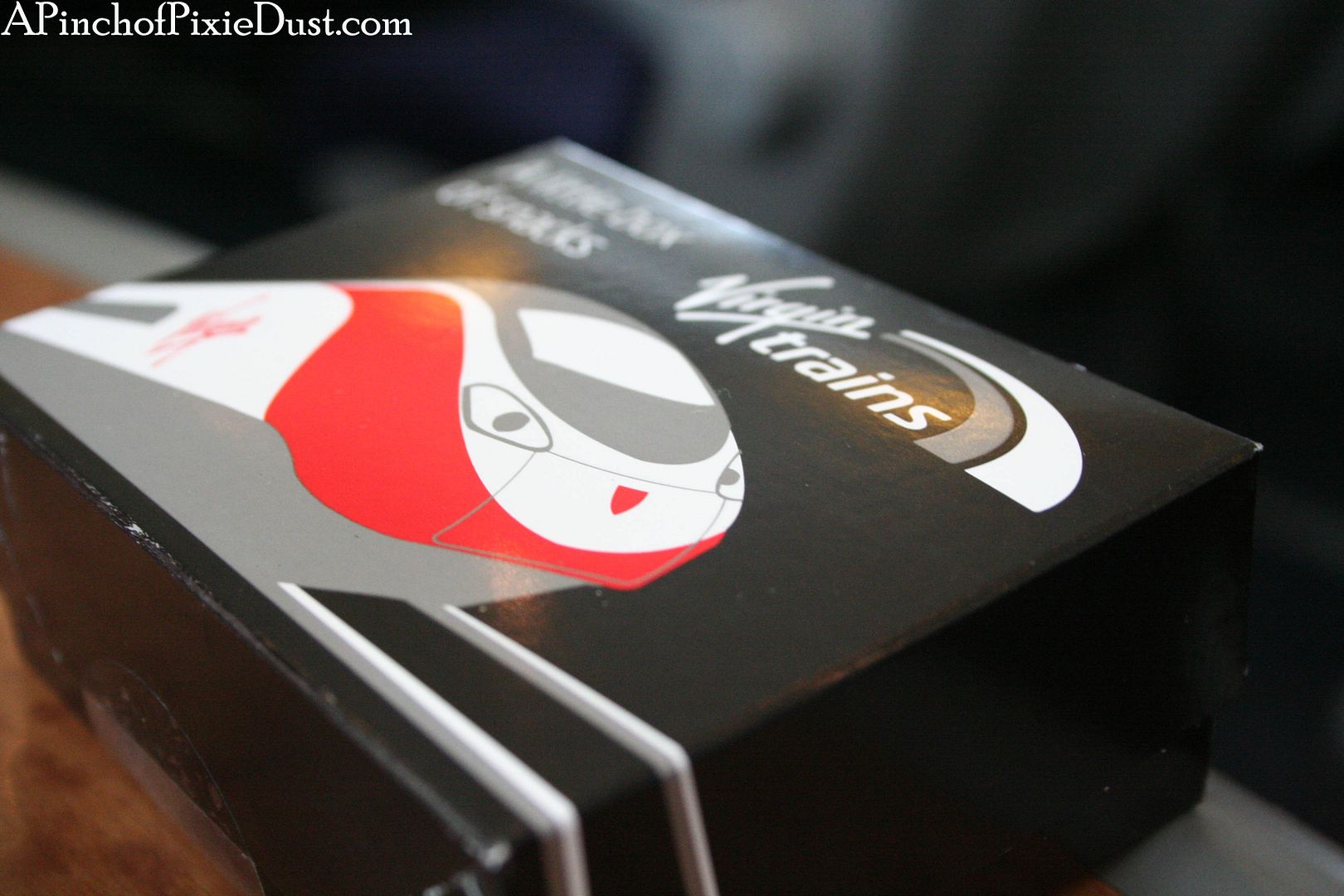 Our train ride that day was from Chester to Cambridge on Virgin trains. I had booked the ticket early enough that the first class fare was - crazily - cheaper than the normal fare. So we got to travel in style. Our train compartment had a buffy trolley with free tea, coffee, and snack boxes!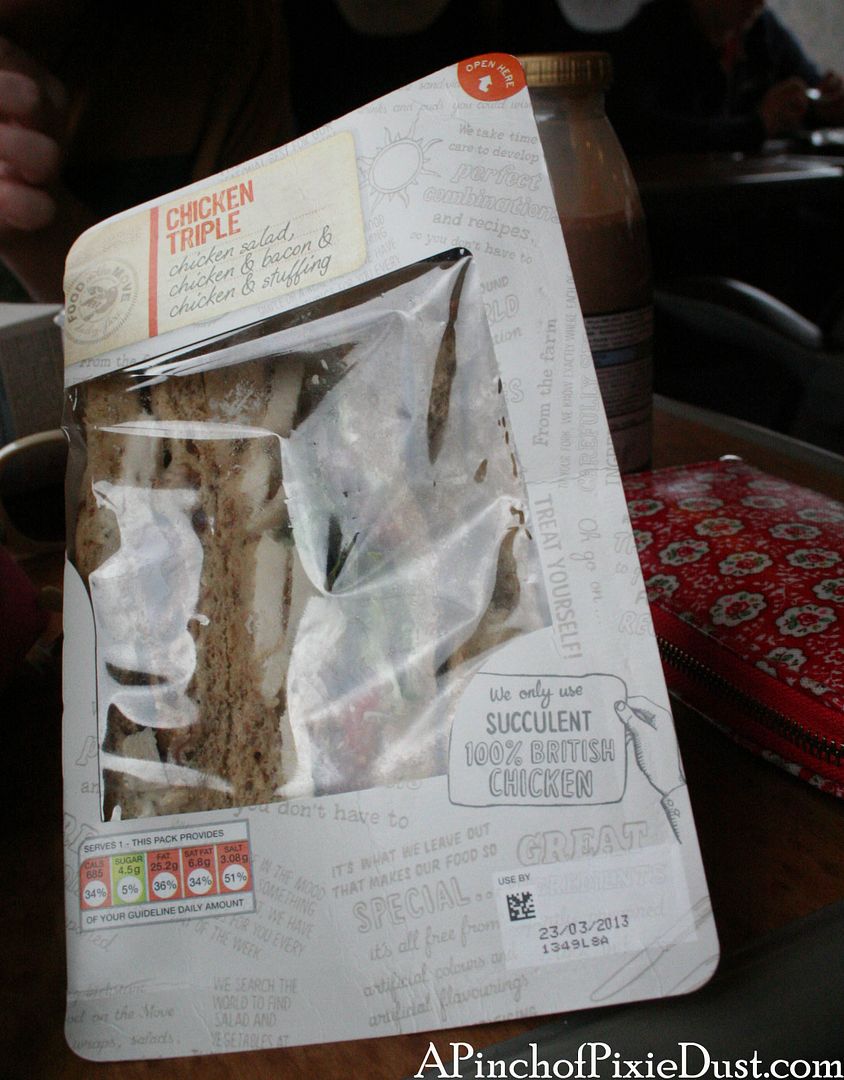 We had brought some snacks too - a chicken triple from Marks and Spencer AKA sandwich trio of extreme amazingness. Now I want a chicken triple so badly.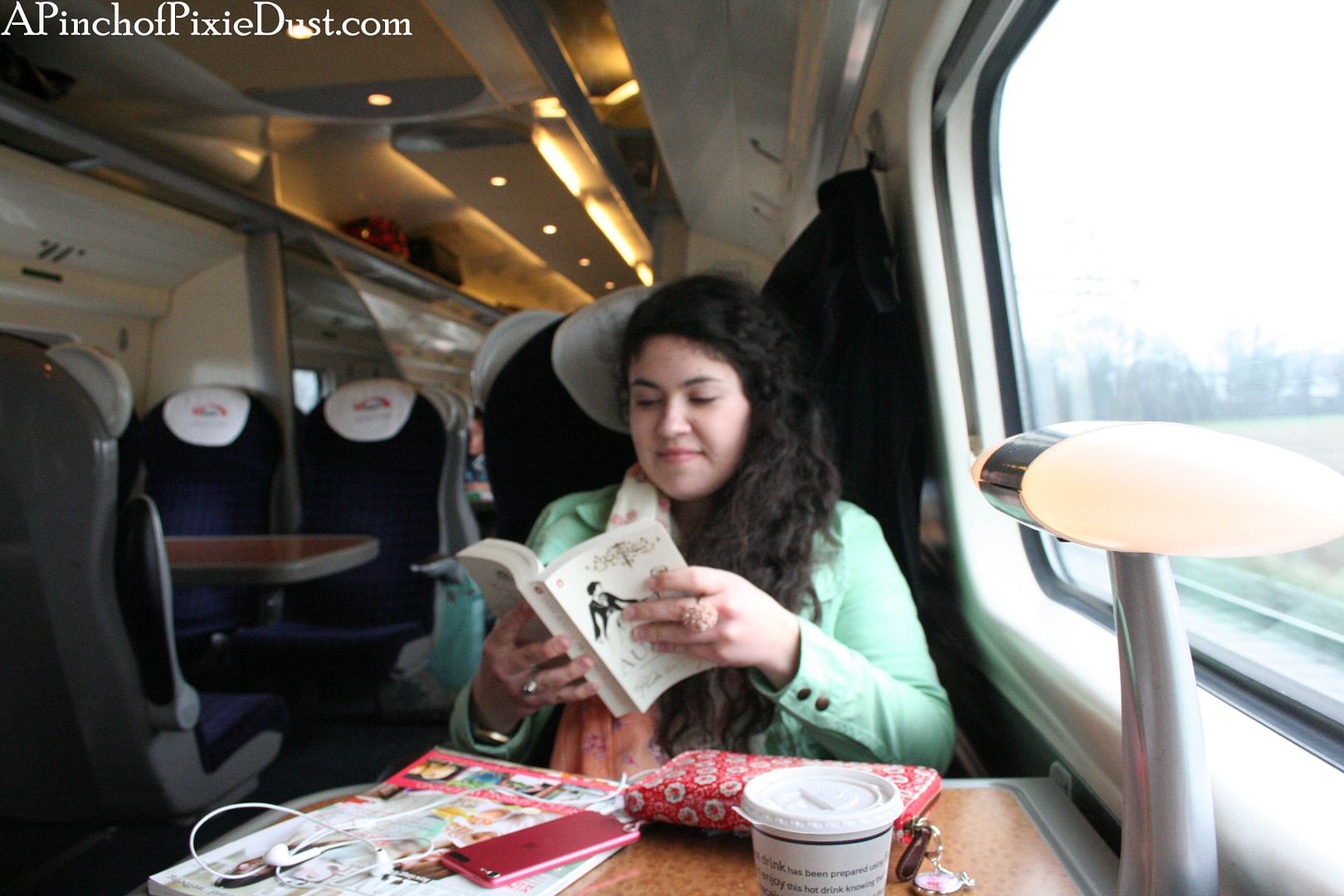 With the strawberry and my cup of tea and books and magazines and train impedimenta, it was a simply wonderful ride. Sigh. I love train travel. We were coming to the end of our trip and therefore our triain trips too, so I made to soak in the magic of this one as much as possible. :)
Our train was delayed by about ten minutes - which gave us ten minutes longer in our cozy first class coach - but then of course we were scrambling to catch our next train! We had to change in London - the train from Chester gets into Euston station, but the one to Cambridge leaves from Kings Cross.
Luckily Euston and Kings Cross are only one stop away from each other on the tube, so I thought we would probably make it. The trains to Cambridge run fairly frequently, so I wasn't as worried as I might have been.
I'll admit, though, that with the schlepping of heavy bags and trying to keep track of timetables, my enthusiasm for train travel was waning a bit. I remember thinking then that I wouldn't be too sorry to get back home to some quiet. Right now, of course, dashing between train stations in London sounds pretty fun.
Kings Cross has a stunning ceiling! I only had time for one quick photo as we hurried to find the right platform. We just made it!
Settling in for the short ride to Cambridge...to be continued!
More England and Europe adventures
here
!