There's nothing like a pink castle glowing against a dark, Disney night sky...
Sleeping Beauty Castle at Disneyland is small but just gorgeous!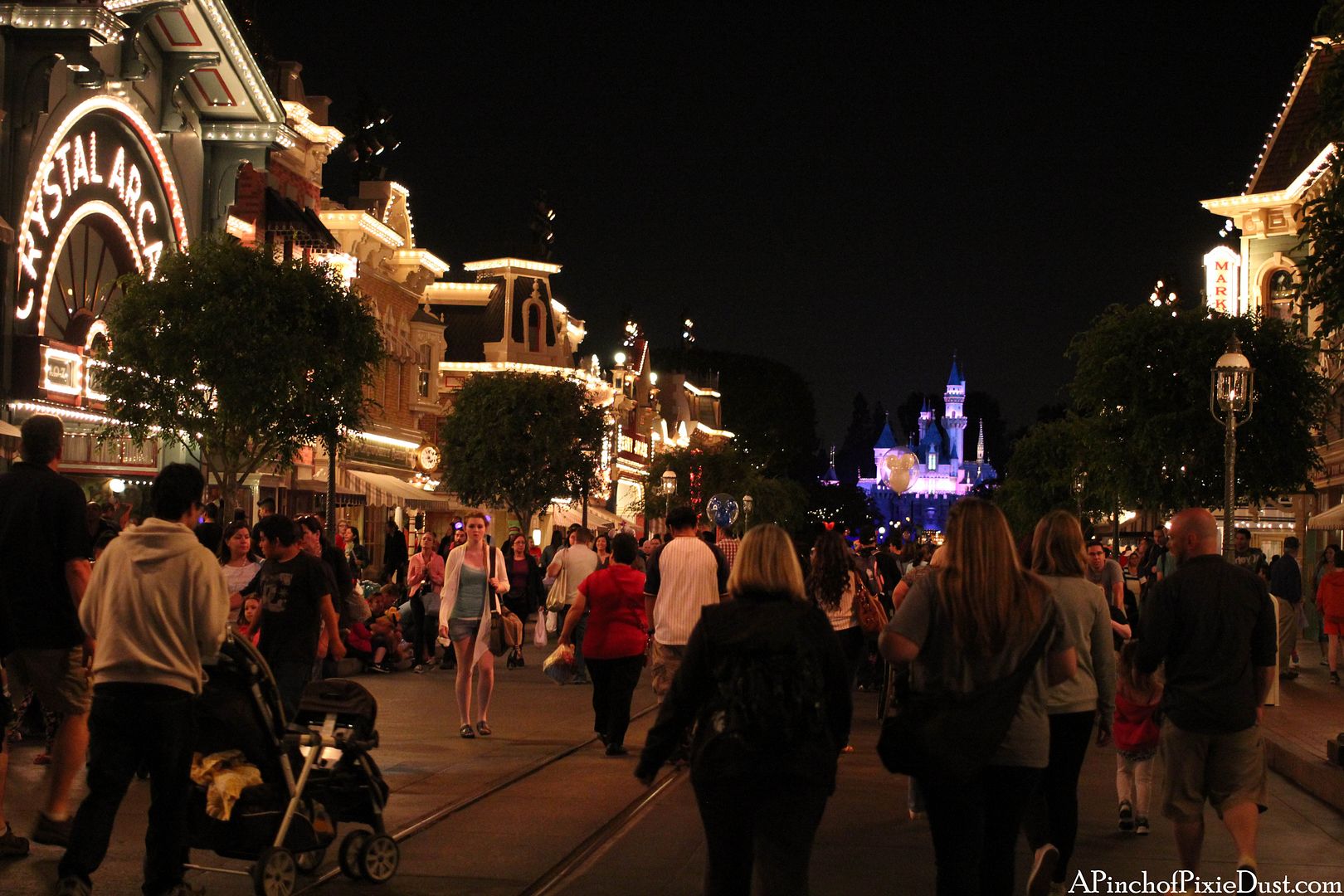 Our recent Caliornia trip only included two Disneyland days, and after resting at the
Paradise Pier
with some dinner from the
club
, I had to get back over to the park on our last night to see those spires lit up!
We entered the park about half an hour before the fireworks were due to start...Main Street and the Hub were already full to bursting with watchers! We might have been able to snag a spot, but I didn't have thirty minutes of my Disneyland night to waste.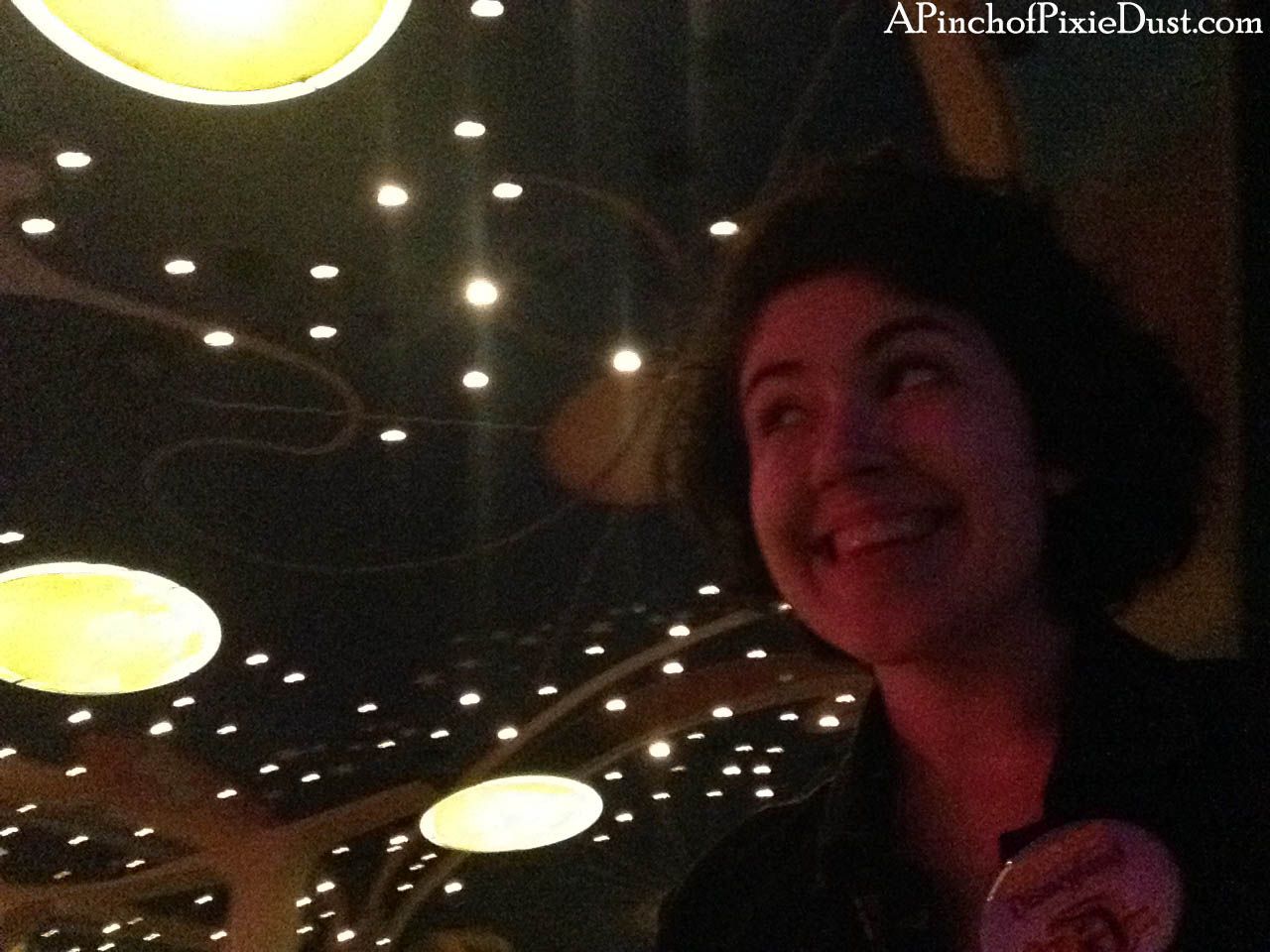 I had to see the lights! I had to school my brother on Buzz Lightyear (the blasters are completely different from the Disney World version - you can pick them up!!).
But I did really want to catch some of the fireworks too! So as the beginning of the show approached, we decided to do a walking tour of Wishes...I kept calling it Wishes, but it's not really. ;) That's the
Disney World show
- this is "Remember...Dreams Come True."
There were cast members keeping a circular path clear all around the hub during the show - you couldn't stop of course, but you could still see...
The music at the beginning of the show is just like Wishes, only when the narrator comes in it's Julie Andrews instead of Jiminy Cricket! The fireworks then take you through all the classic Disney rides - SO SO cool. Tinkerbell's flight is also way more impressive than the Disney World version - she zips all over the place!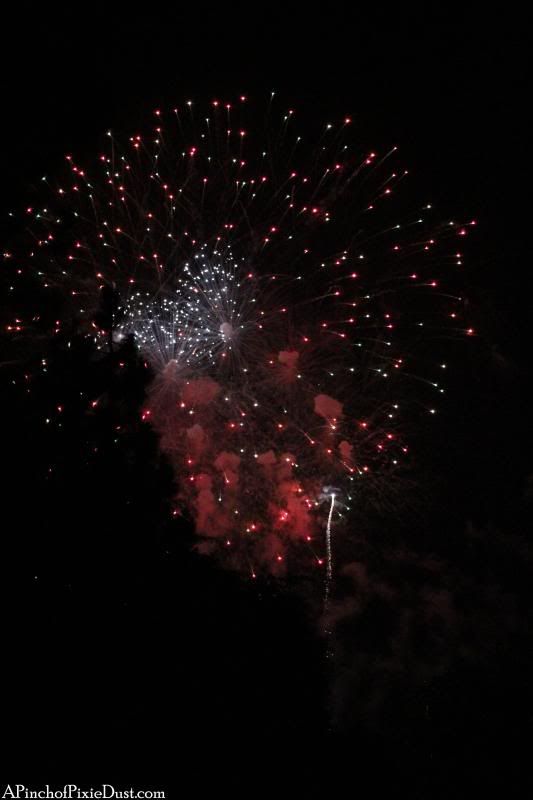 We kept walking towards Fantasyland and paused with a small crowd by the Matterhorn - you couldn't see the castle, but it was a pretty good spot for seeing the fireworks!
We were eager to hit some rides while the lines were still short, so we kept walking. Off in the distance we could see there was a matching show going on on the facade of it's a small world - that'd be a neat place to watch from too!
Most of Fantasyland is closed during the fireworks - and at least that night, it didn't reopen for a good 10-15 minutes after the show eneded - but we found, to our surprise, that the tea cups were still going...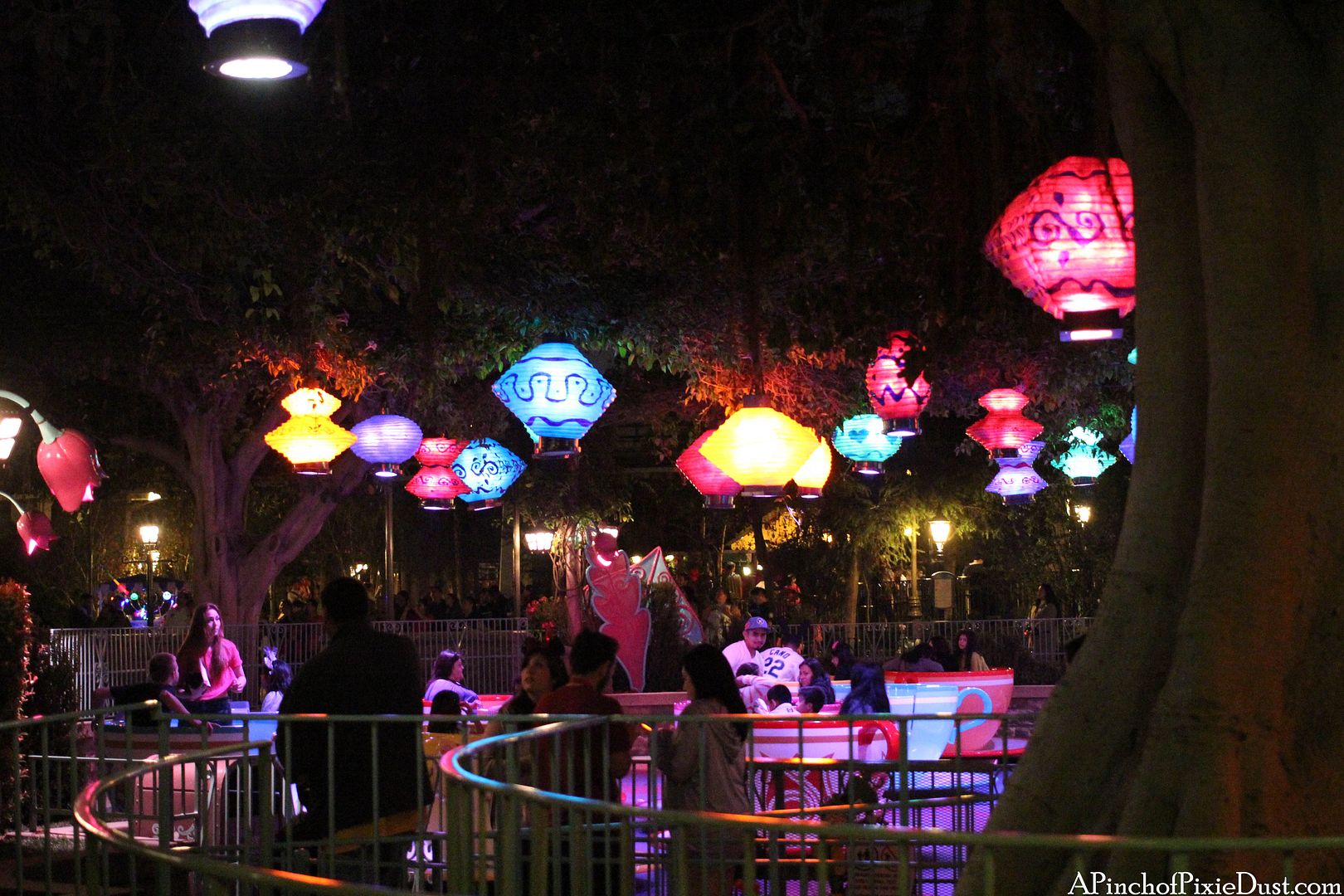 ...and they had NO line, everyone was too busy watching the fireworks!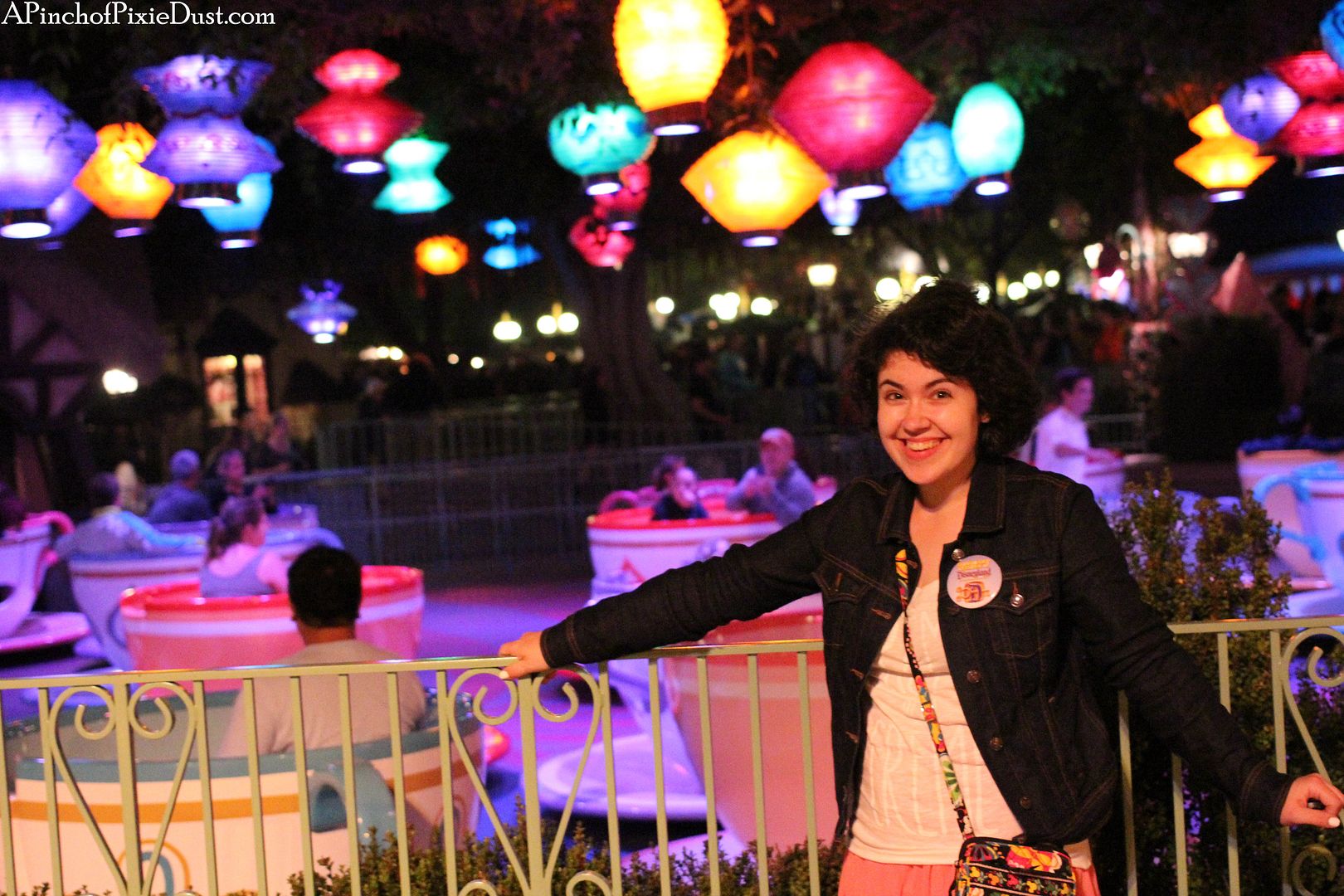 The Disneyland tea cups at night, just by themselves, are completely beautiful and glowing and pixie-dusted. Add in the fireworks booming overhead, and it's quite simply MIND BLOWING.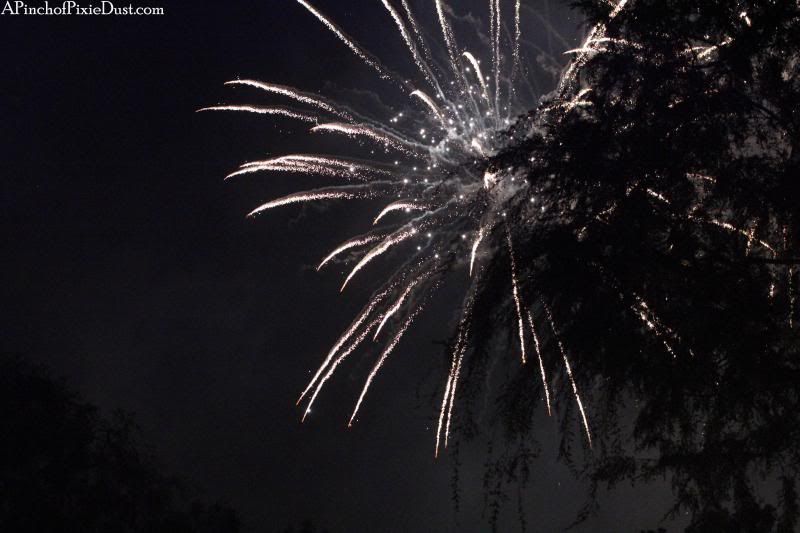 Our tea cup began to spin just as the finale began - it was absolutely incredible.
Fireworks and lanterns, and you could even see Tinkerbell right overhead.
Can you see her?? That's TINKERBELL!!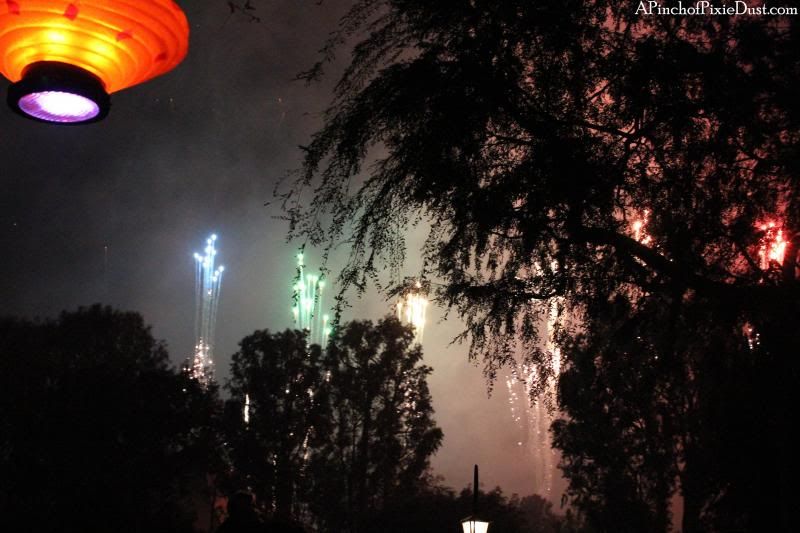 I was kinda freaking out - I wanted to be looking everywhere at once!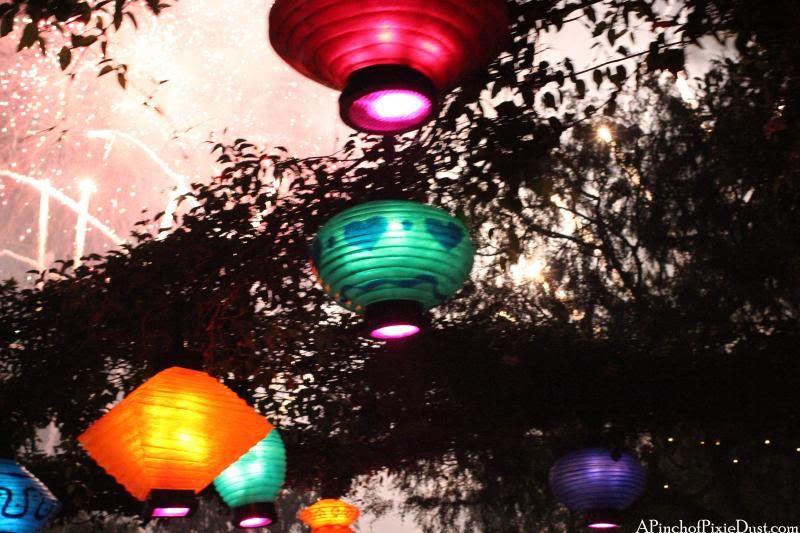 I have many favorite Disney moments from past trips, but this definitely goes up there as one of my favorite Disney memories EVER. It also is one of my favorite
Disney vlogs
-
I was just a little excited. ;)
I would really love to watch the fireworks properly from in front of the castle someday, but I'm not sure they could match the same magic of that tea cup ride! All during our trip, I felt the pixie dust of Disneyland working on me - I've always liked to say I'm a Disney World snob, and I certainly don't love WDW any less, but after that last night and those fireworks, I can't deny it anymore...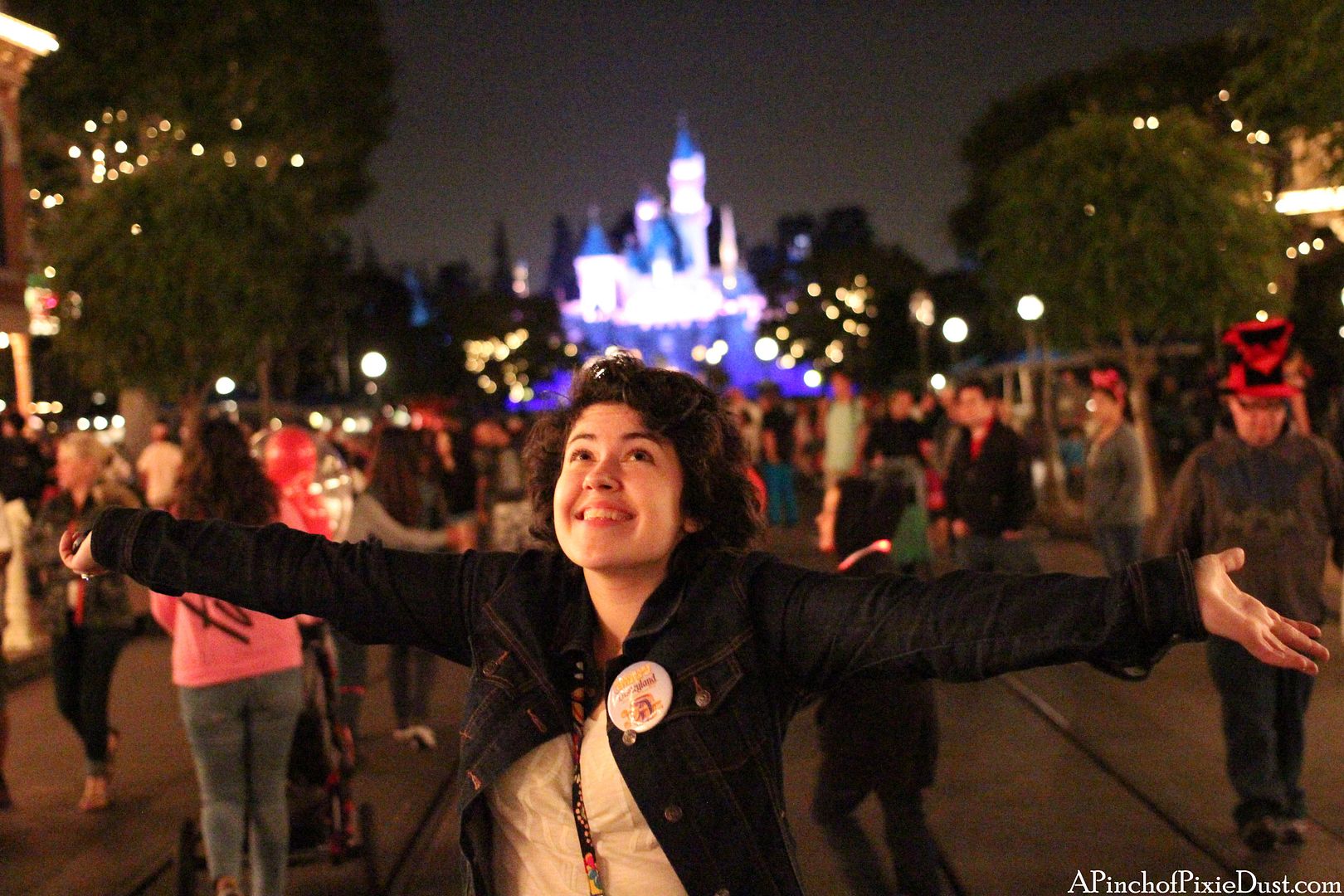 I'm a Disneyland Snob too, guys. ;)