Walt Disney World has many delicious breakfast buffets around property, and today we're going to look at one of my favorites: it's got tasty eats, cute characters, elegant surroundings, and maybe even a castle view...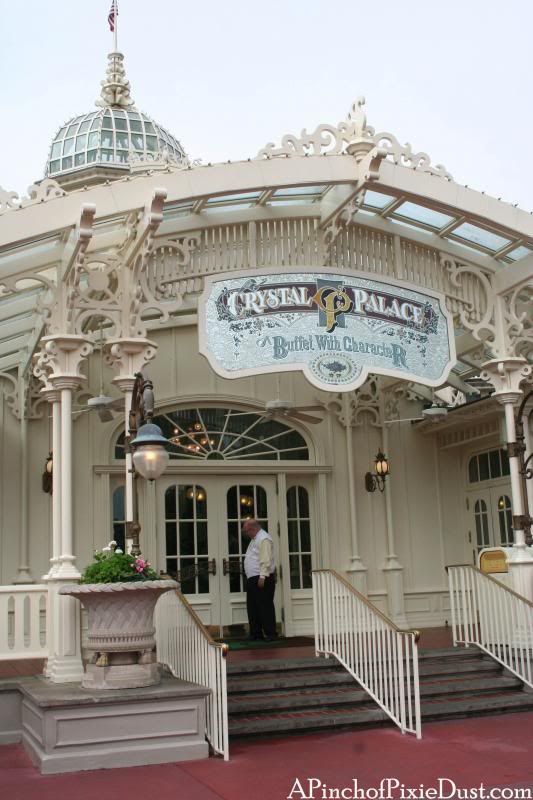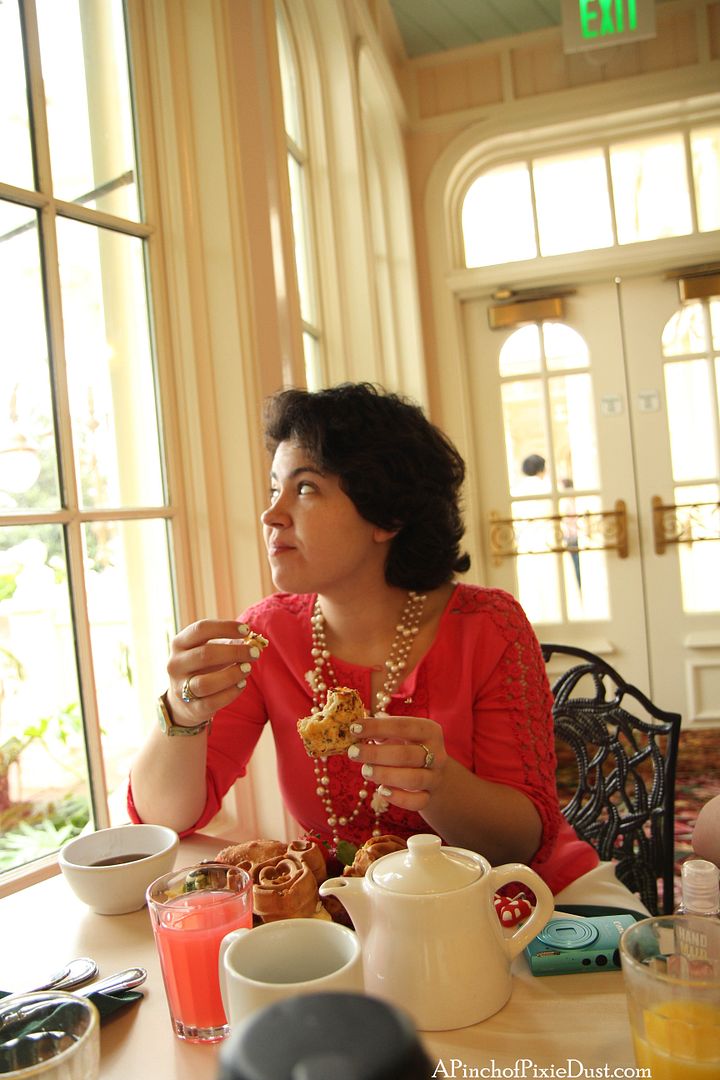 It's the
Crystal Palace
at the Magic Kingdom! Of course the very nicest way to experience this breakfast, as
I recently posted
, is to get a very early reservation - before the park opens at 9 AM - and then you get to enjoy the walk there (with a few photo stops) through an
empty Magic Kingdom
...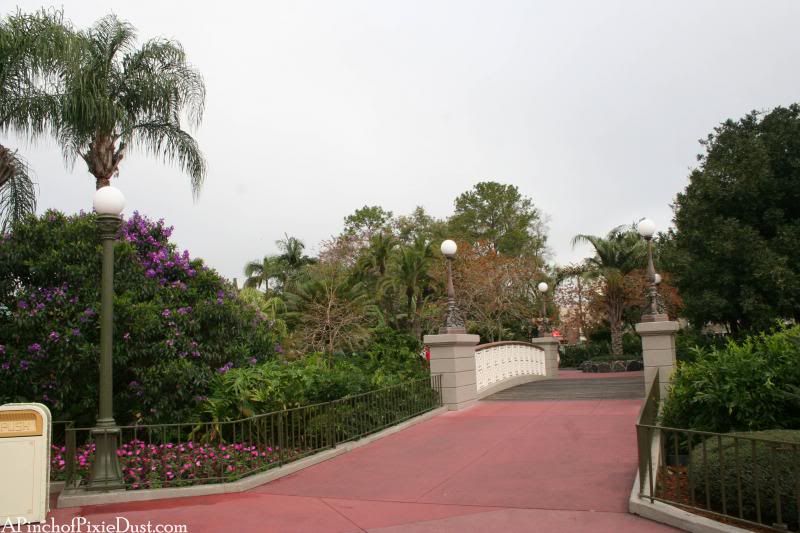 It's so fun to see the walkways deserted - they're usually clogged with crowds! After a peaceful stroll, you turn into the Victorian splendor of the Crystal Palace...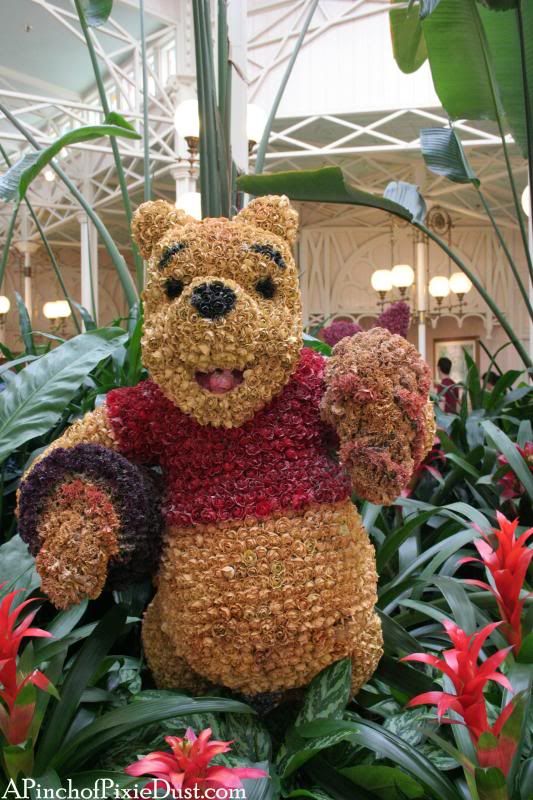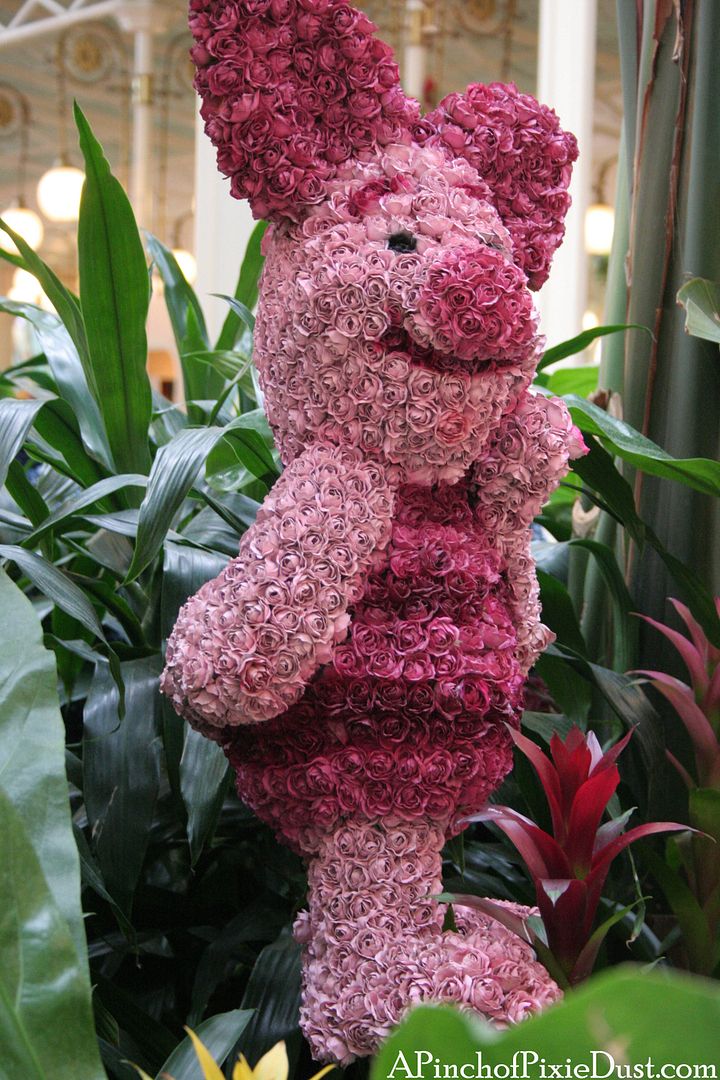 You're greeted by rose topiary of the Hundred Acre friends you're about to meet!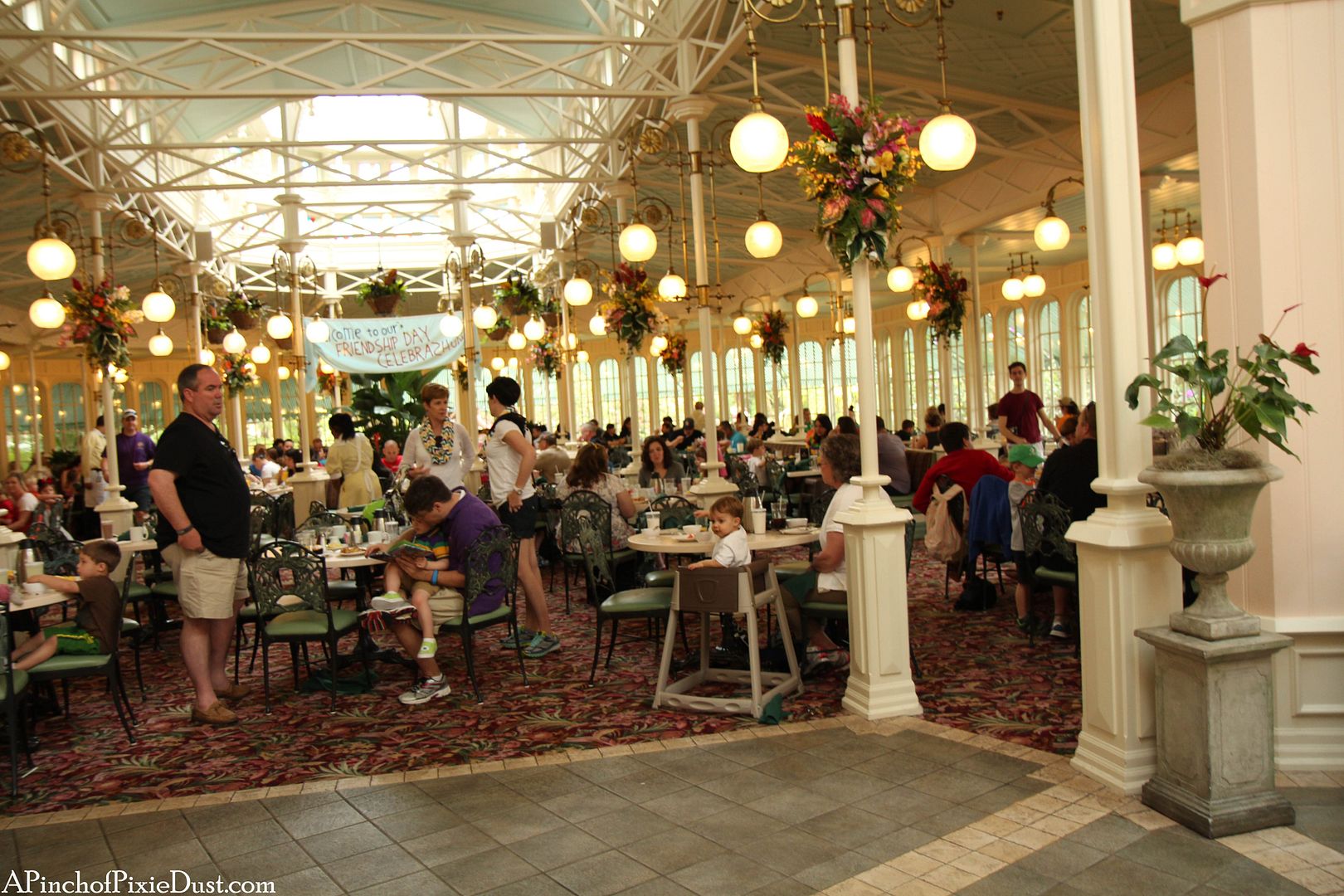 The seating areas are in two long rooms, one on either side of the buffet area. This is such a bright and airy space thanks to all the windows and mirrors.
Sitting along the windows is coziest...from some seats you can even glimpse the spires of Cinderella Castle outside!
Ready for some Disney deliciousness? We were in for a few surprises on our recent visit...good and bad!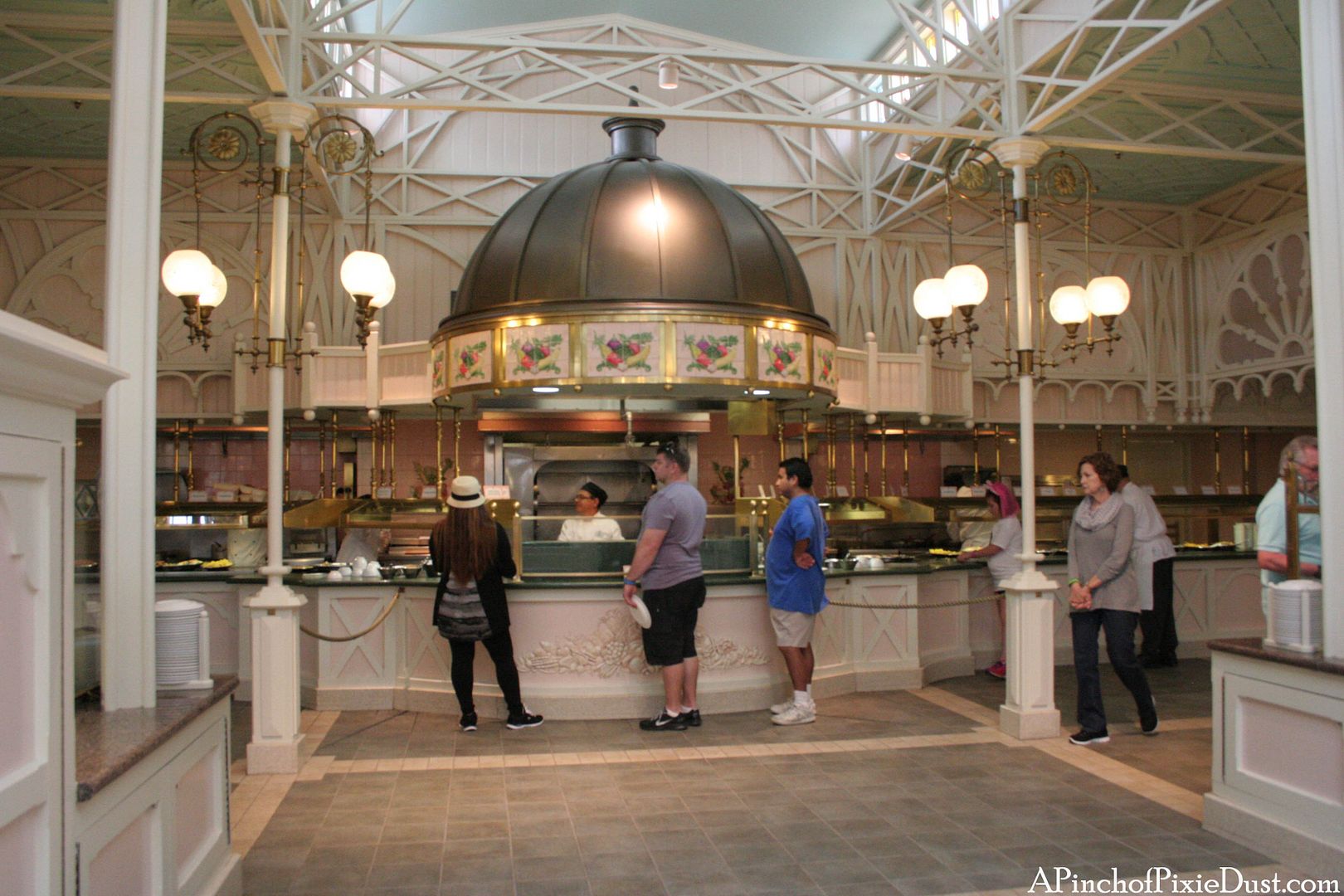 The buffet is fairly spread out: there's the main line with hot foods beneath the domed hood (isn't that pretty?), then there are cold foods off to either side, the children's food offerings (called 'Pooh's Corner' - this is where the puffed french toast and mickey waffles are!), and two islands with even more pastries and cereals...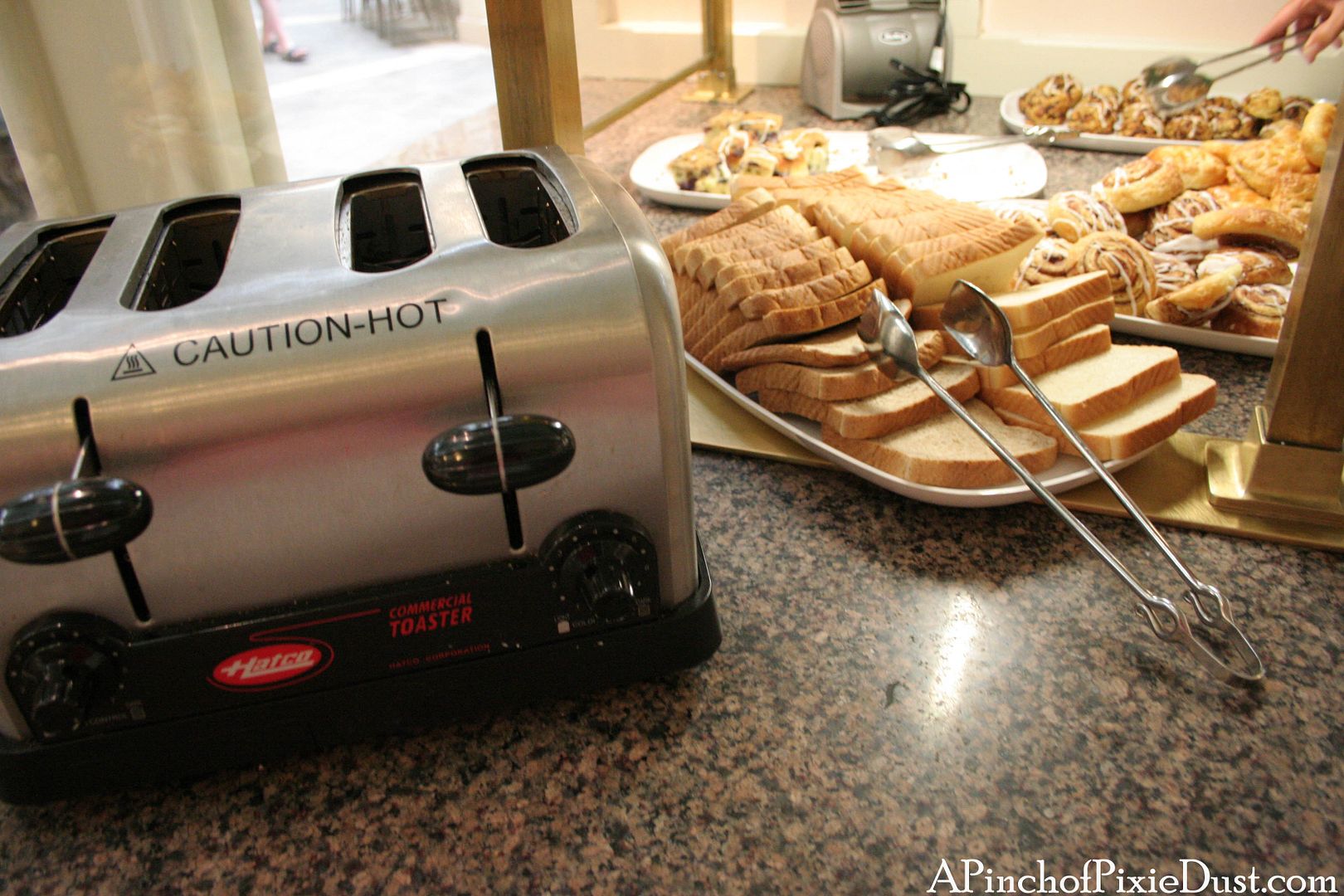 I was surprised that the two islands had different selections instead of the same dishes repeated. One had this plate of amazingness: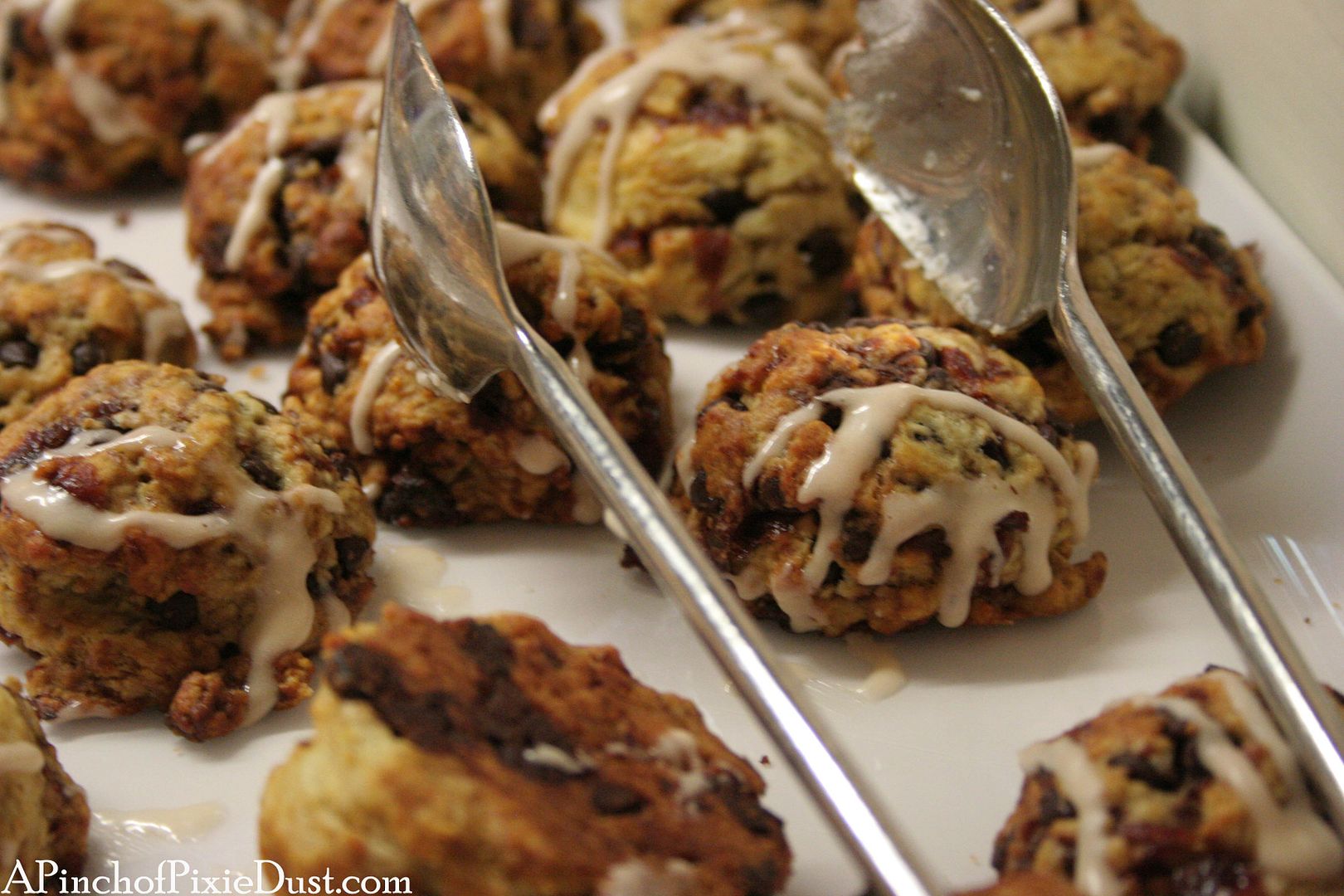 When you see these chocolate chip scones, just pile them on to your plate. Probably you will think, "Well, I'll just try one - I might not like it." You are going to want more than one. Trust me on this. ;)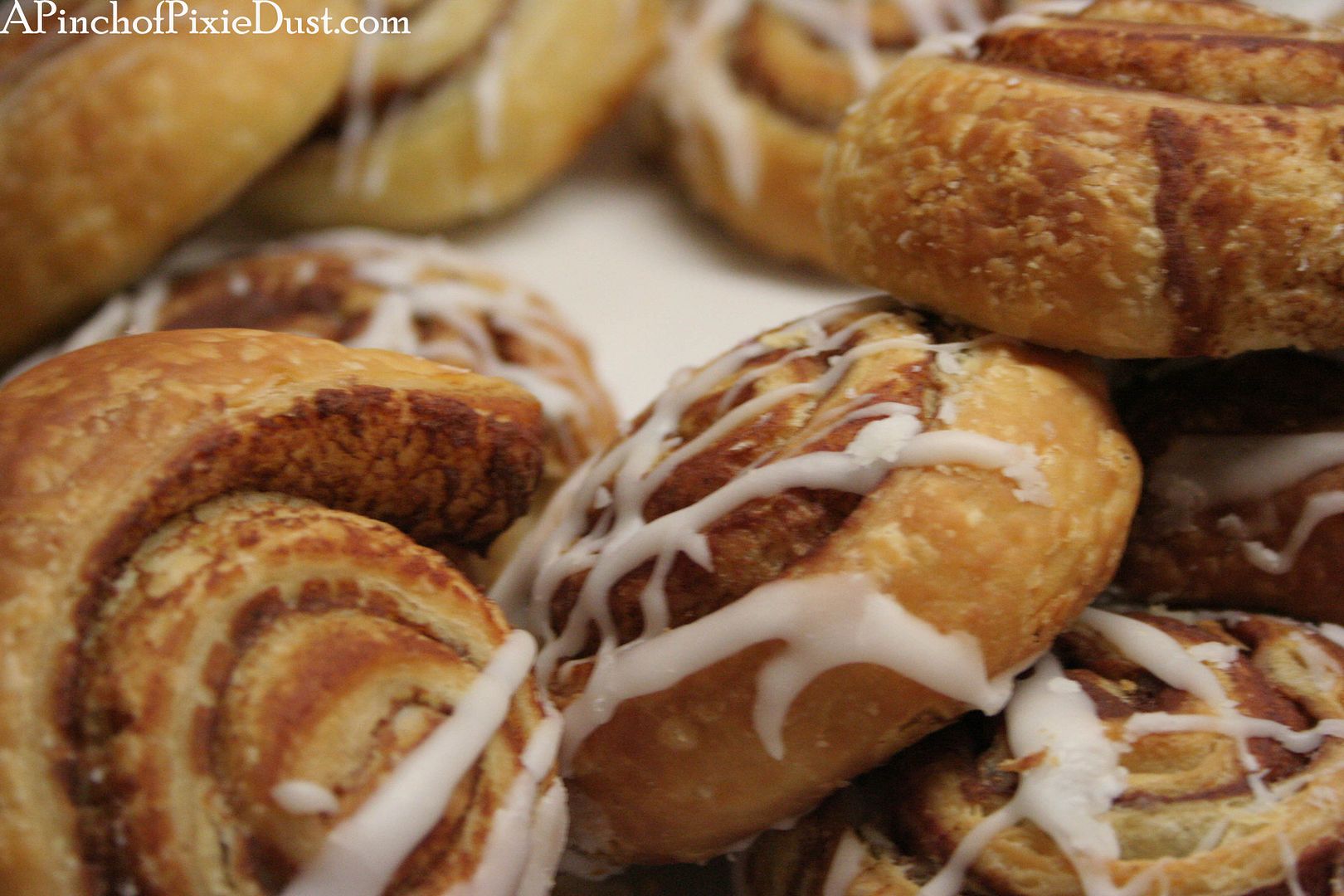 There were other pastries as well, but they looked very dry and prosaic - like something out of a bag at a grocery store. And yet right next to them were those incredible scones and also THIS:
A chef was just putting out a new dish as I was snapping some pics nearby, and he says, "You're going to want to photograph this." HE WAS SO RIGHT. My eyes grew wide as I read the description on the sign...
"Breakfast Lasagna: Layers of Waffles, Pancakes, Pound Cake, Strawberries, and Banana Topped with Pastry Cream and Carmelized Sugar."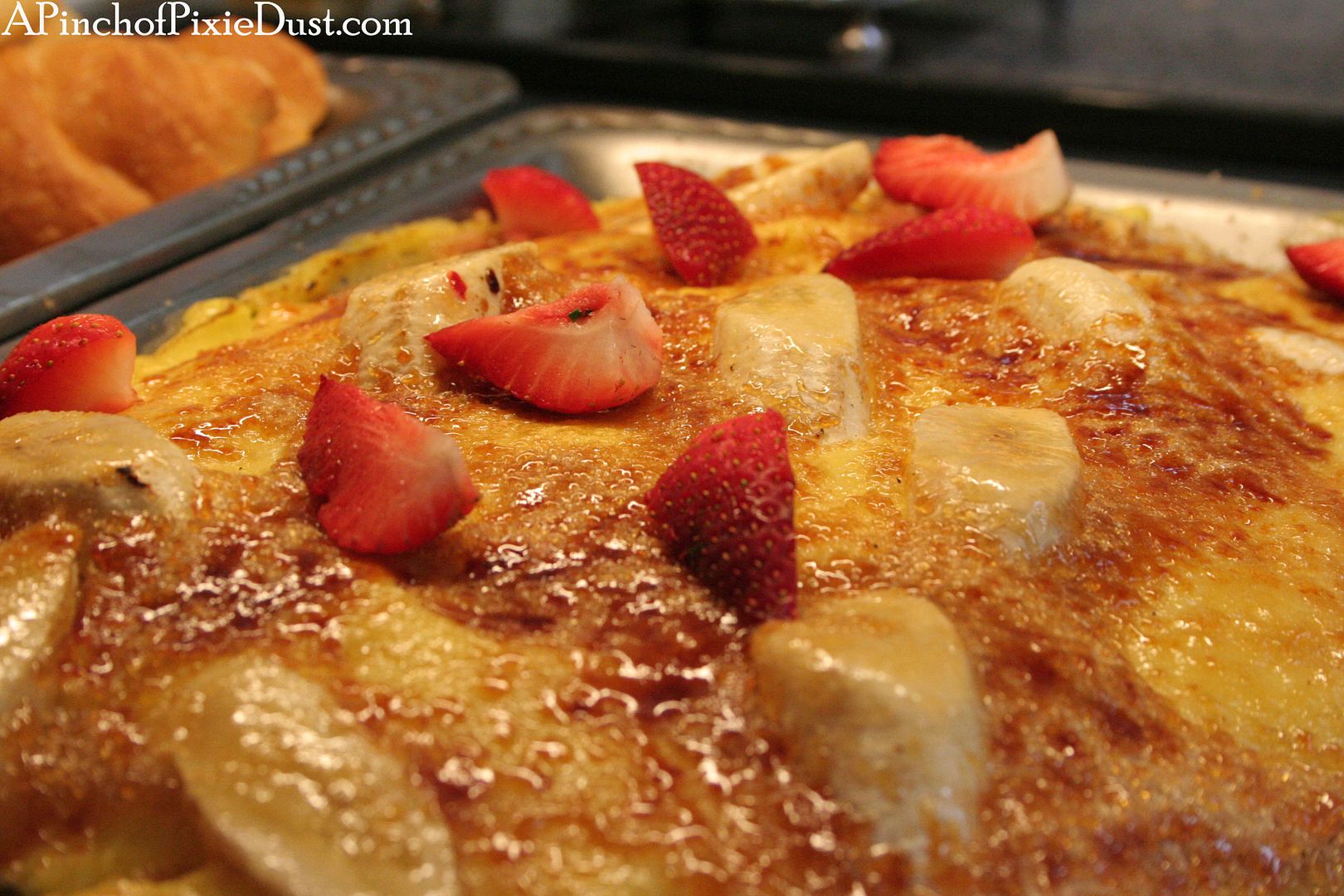 Have you ever heard of such a thing?? Have you ever even dreamed such a thing to be POSSIBLE?? Of course a corner of that had to go on my plate.
You would think we'd be past all the carbs, but you'd be wrong. There were more bagels, croissants (again, they looked preprocessed), and various kinds of pound cake...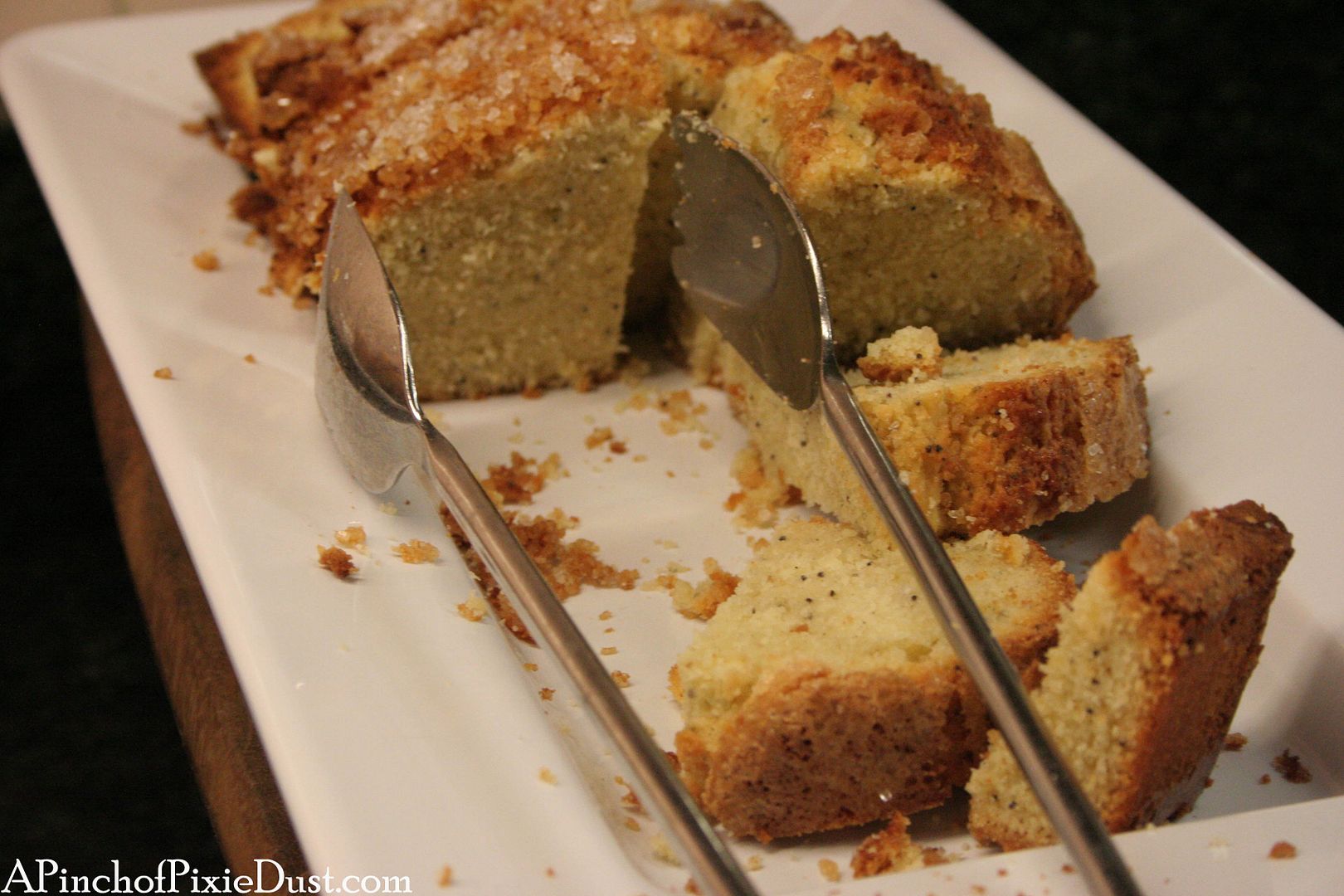 There was pound cake in that lasagna, but this was just in case you want your pound cake separate from your waffles and pancakes. ;)
More cold foods and fruits...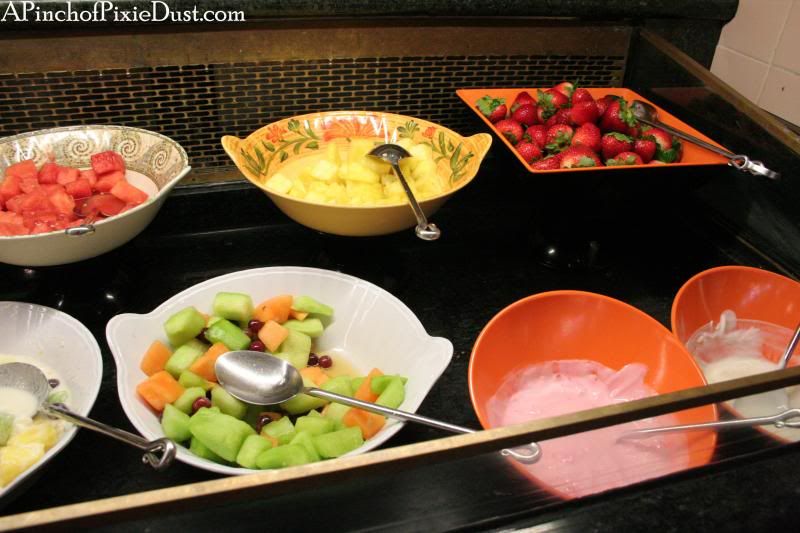 Crystal Palace breakfast has always been synonymous with a heaping pile of strawberries and whipped cream in my book, but they were a disappointment this time. I know you can't always help it when the fruit might be out of season, but there was NO whipped cream in the buffet line. I was shocked. I can't eat strawberries without whipped cream - at least not at Disney World, and especially not at the Crystal Palace! :(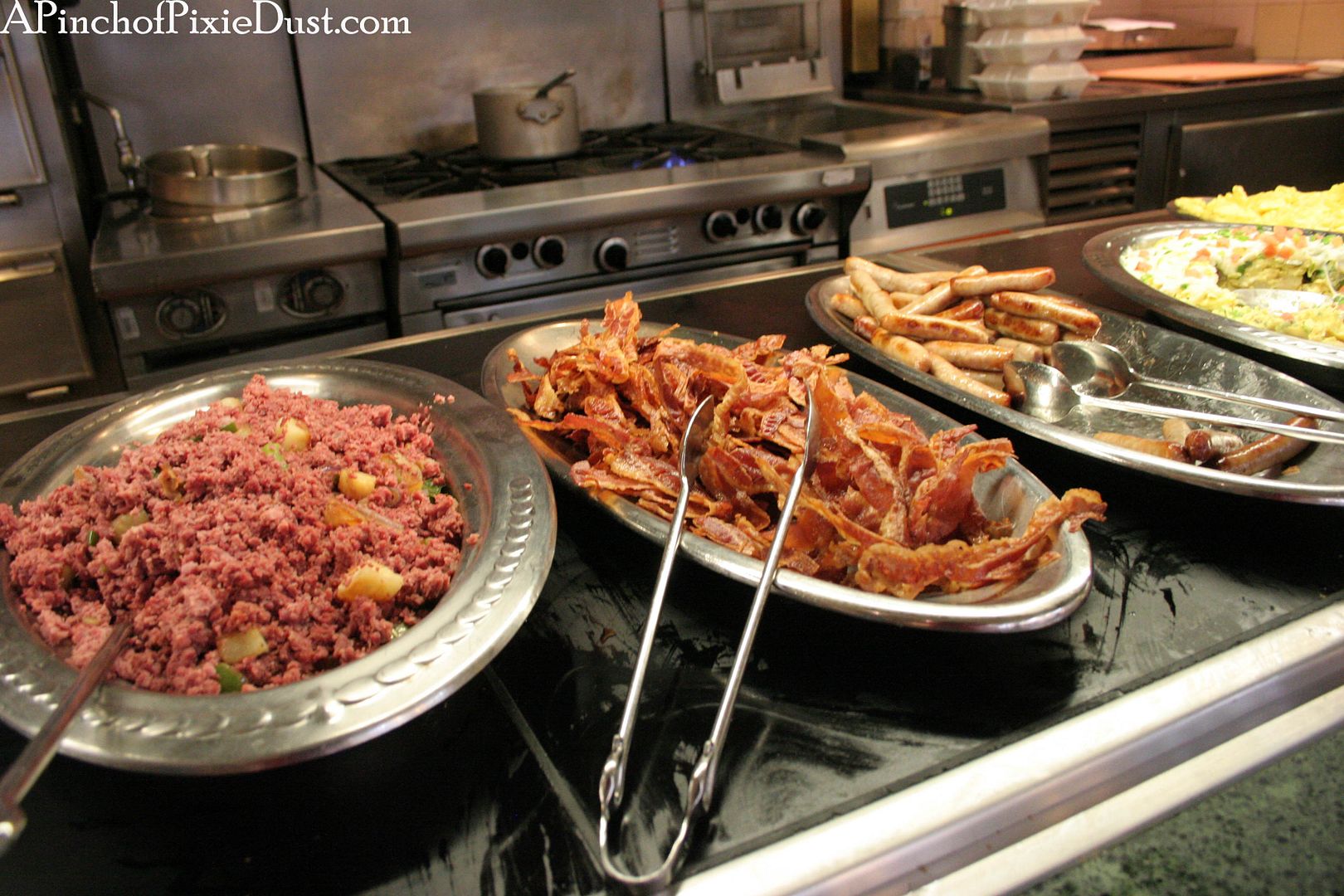 I consoled myself by moving on to explore the hot food options - corned beef hash, bacon, sausage...
...plenty of potatoes!

I was impressed with the eggs - that frittata was delish!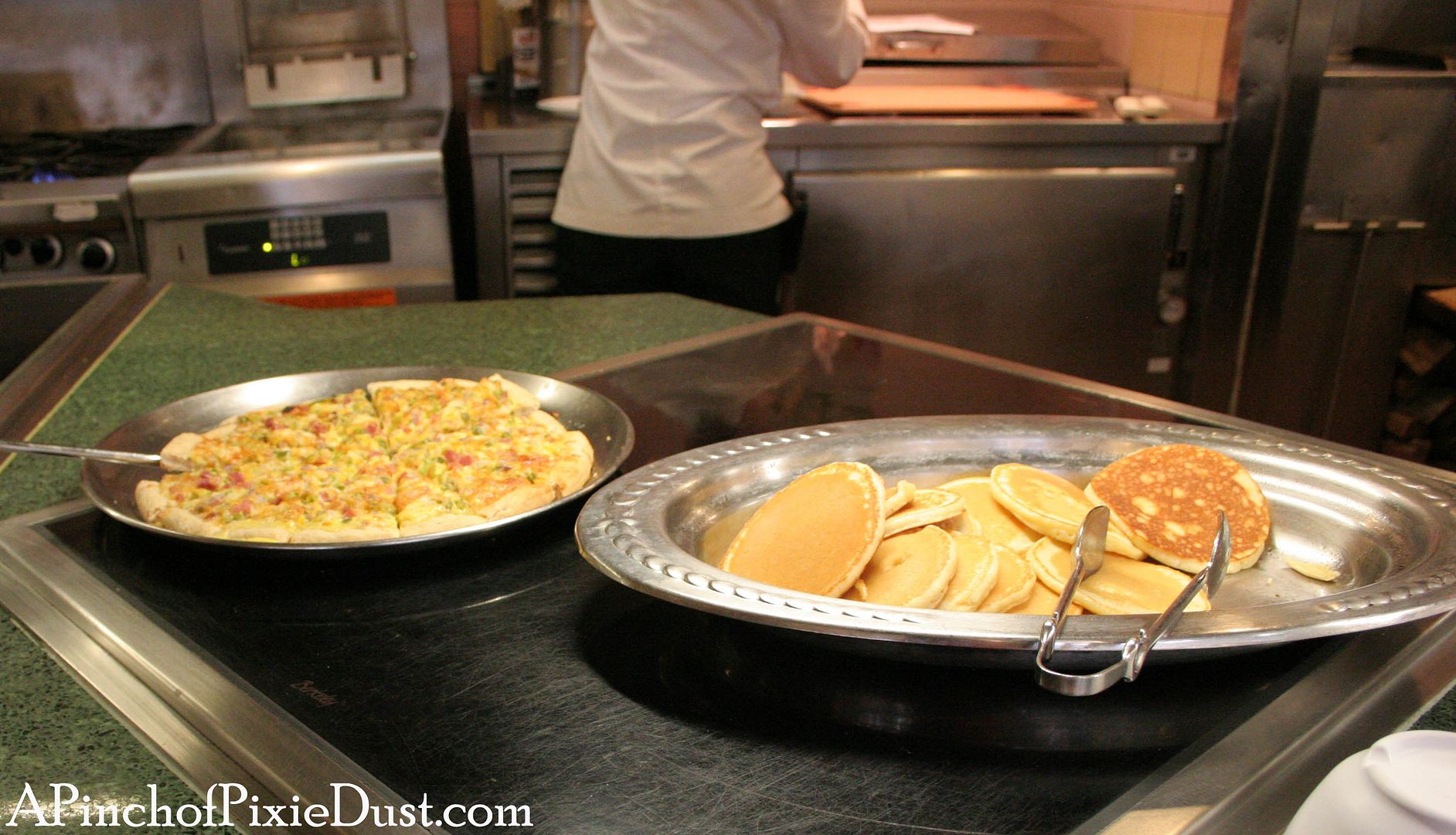 Breakfast pizza and pancakes!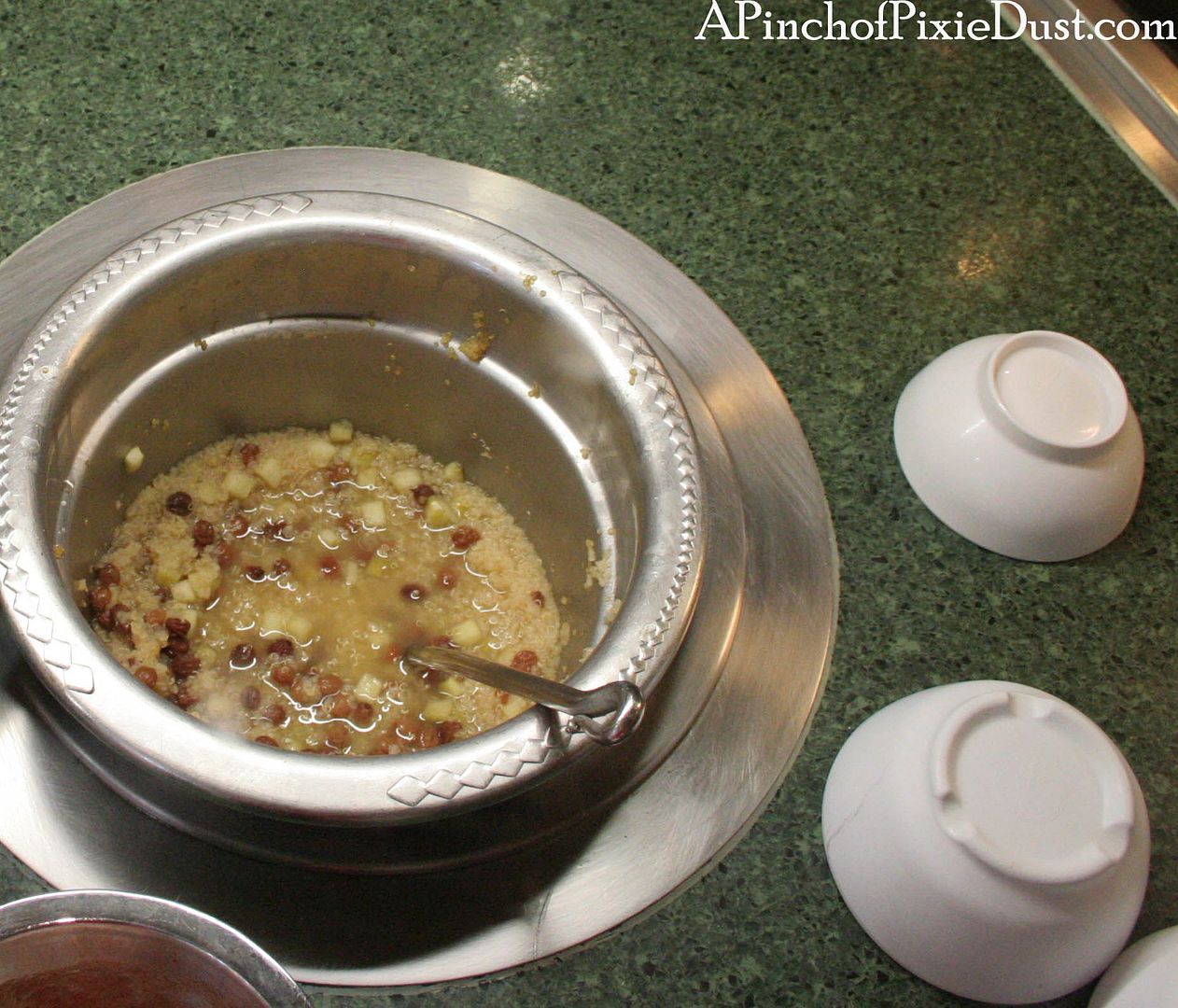 There was normal oatmeal and there was also a fancy healthy quinoa with apples and nuts!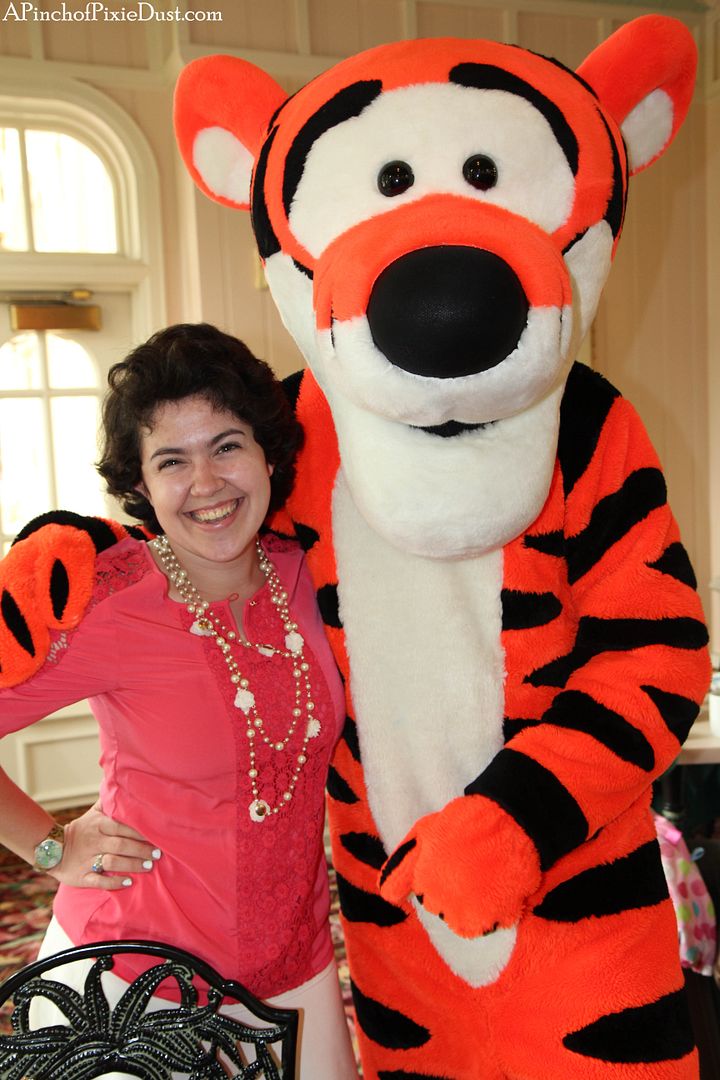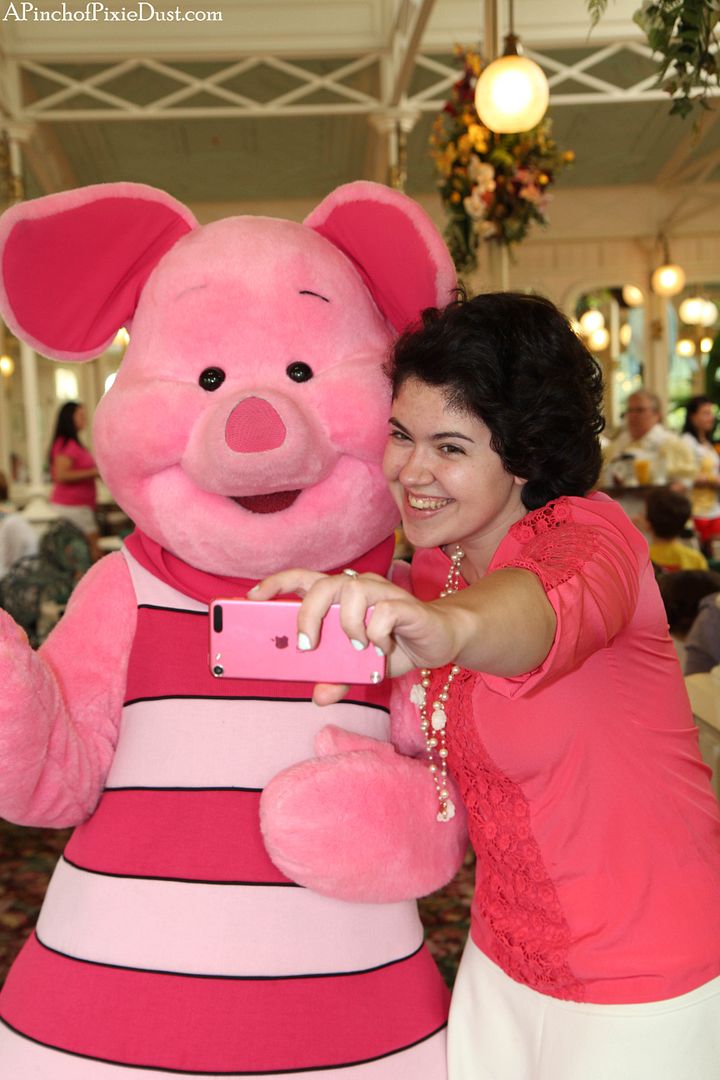 With character buffets you always have to on the watch to scurry back to your table to get some photos and autographs. We bounced with Tigger, and a pink selfie with Piglet taken with the strawberry was absolutely necessary! Since everyday is "Friendship Day" at the Crystal Palace, the kids also want to be ready for a Friendship Day Parade!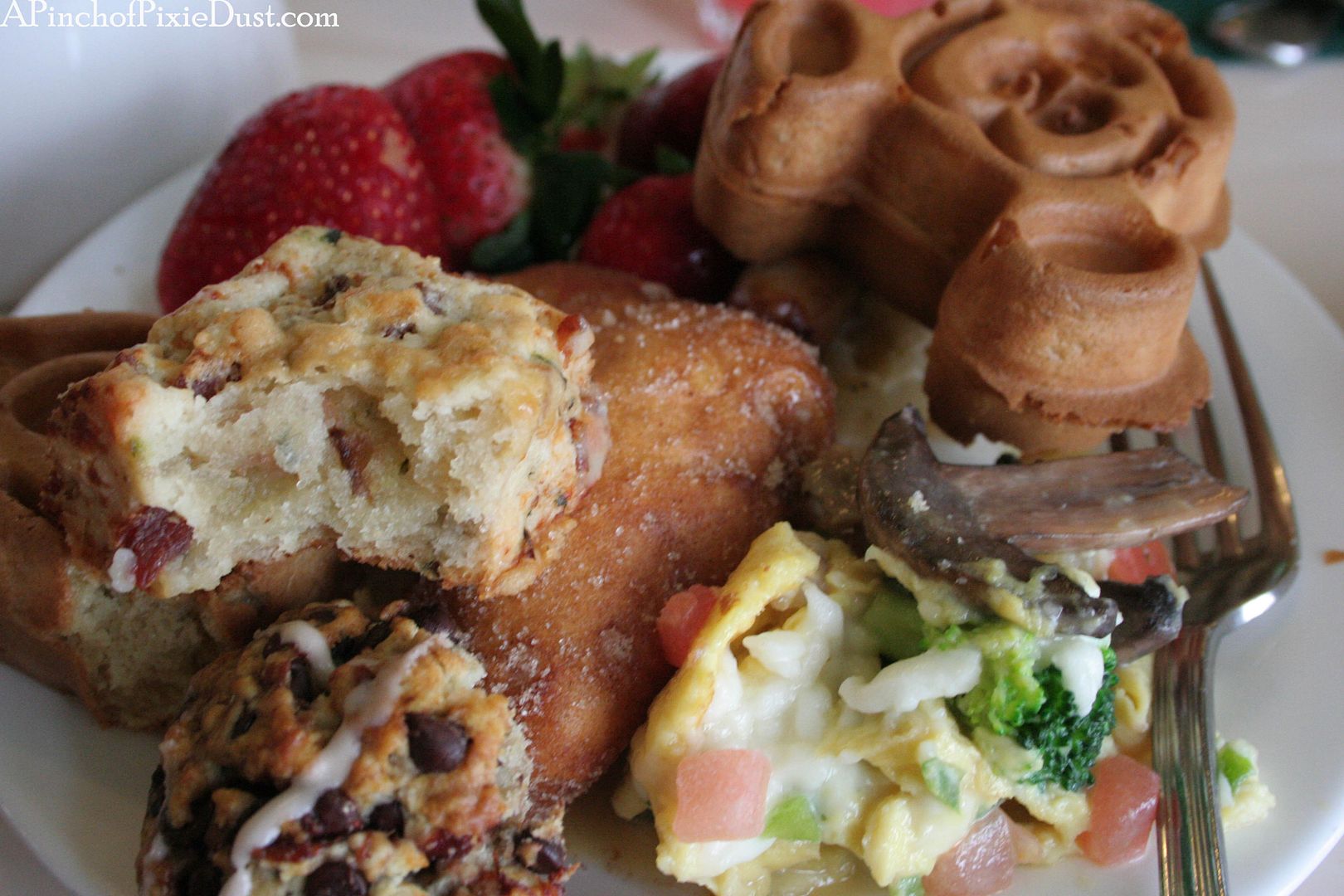 Then it's back to the food...a little bit of everything on my plate. :)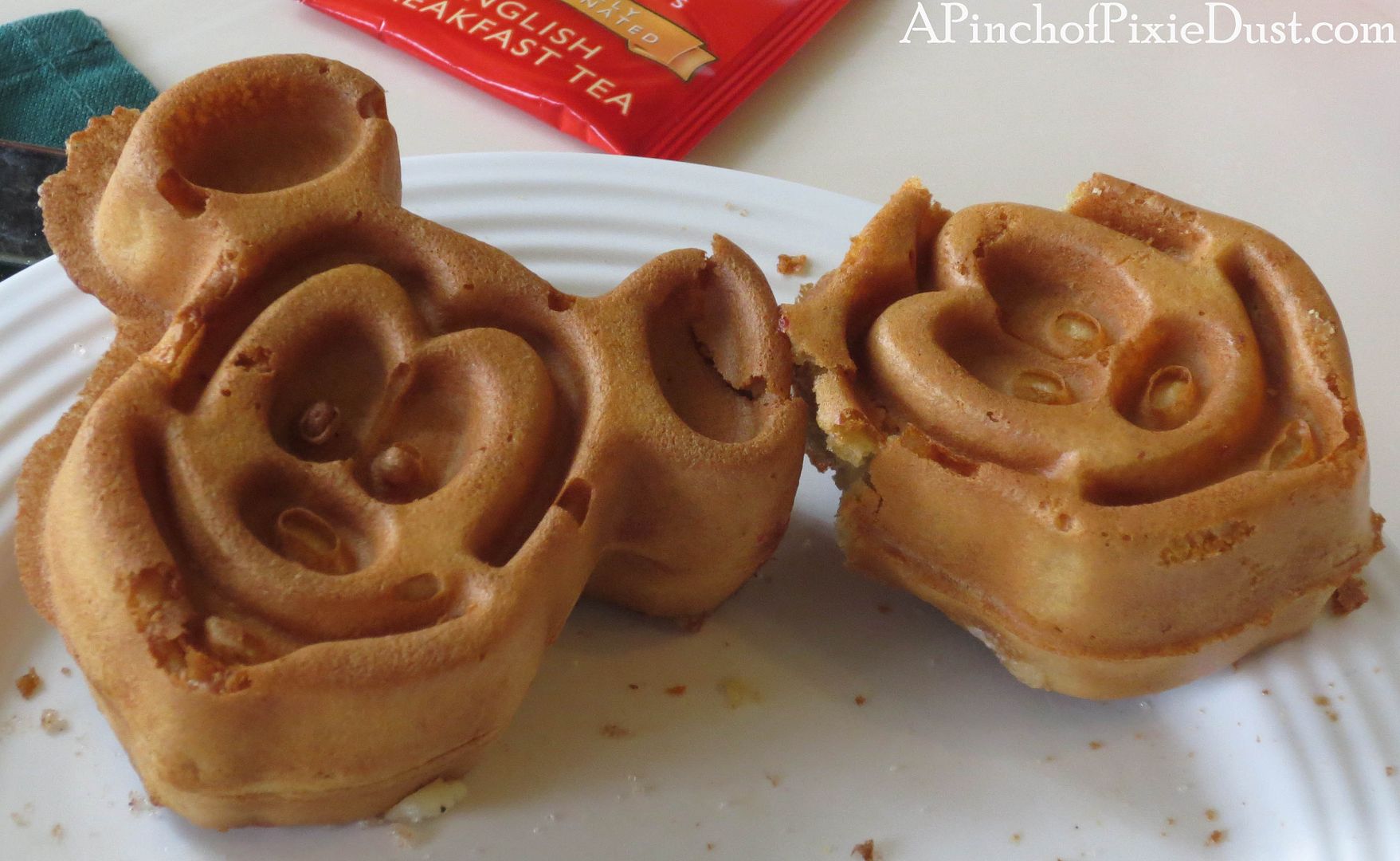 I'm sad to report that some of the usual Crystal Palace favorites were just not up to par on this visit. The Mickey waffles were uneatable. It wasn't even that they weren't soggy or stale (always a danger at buffets where they might sit out for too long) - it was the batter I didn't like. It almost tasted like some strange sort of whole grain waffle.
Pooh's puffed french toast was also sadly off its game. I would not have thought I could meet a puffed french toast I didn't like, but that day they were way too dense and chewy - the outside wasn't crispy the way it usually is. I'm hoping it was just a bad day, and hopefully they haven't changed the recipe.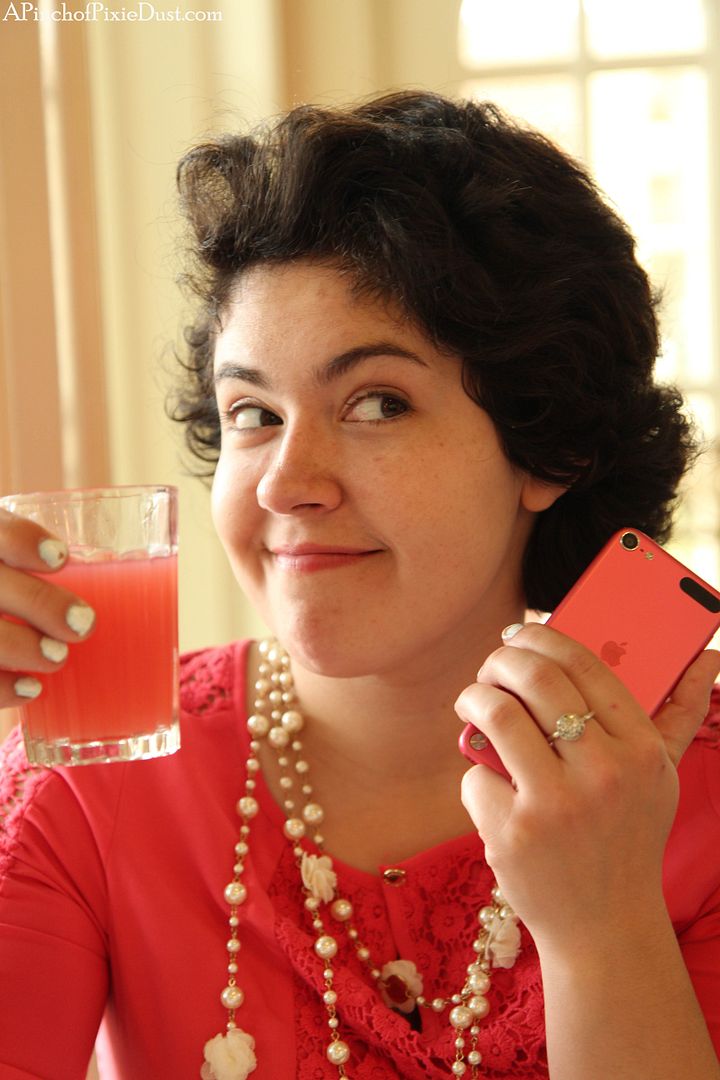 Another thing I missed was Pooh's pink lemonade - although I had grapefruit juice instead, so at least it still went with my Piglet-inspired pink color scheme. ;)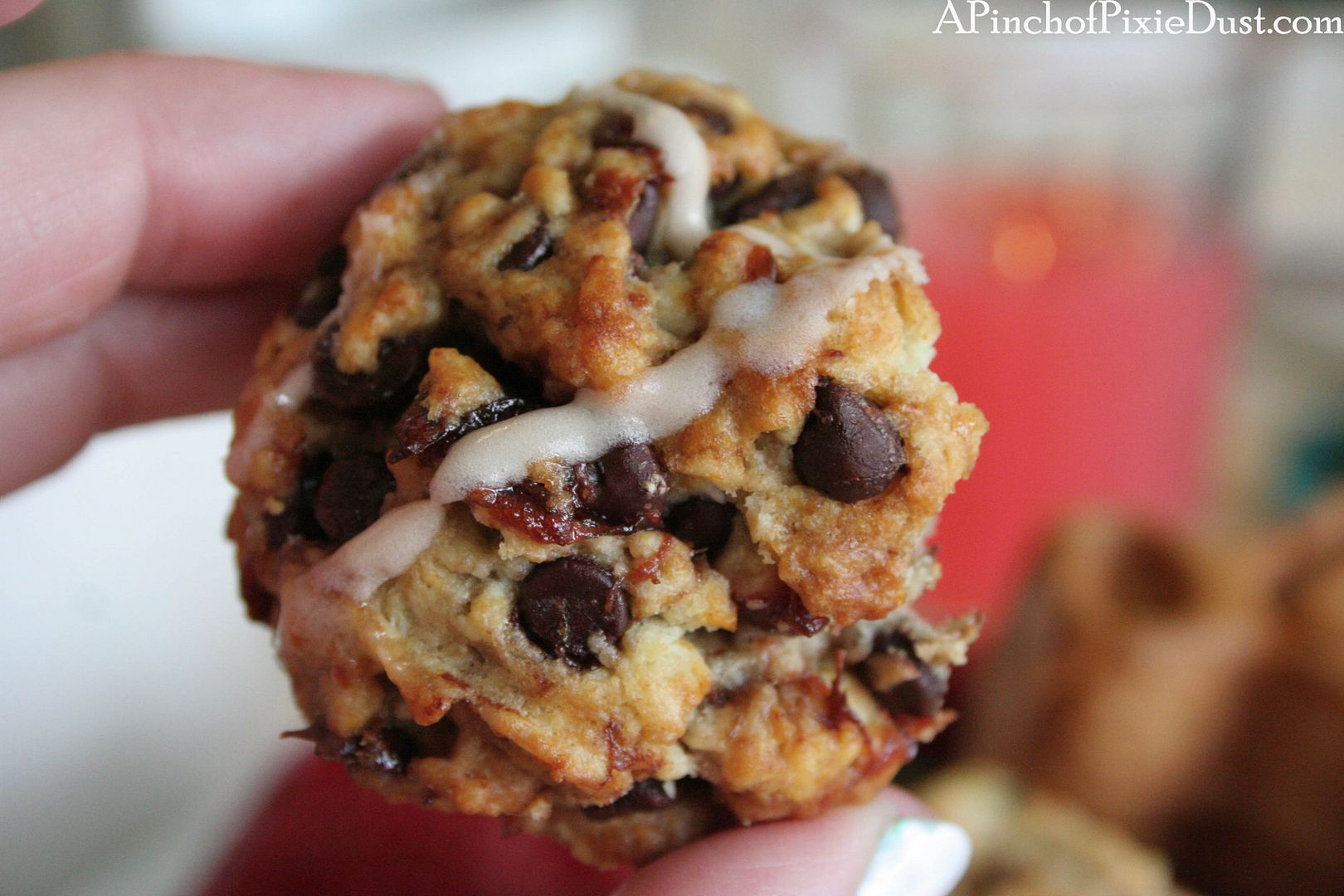 On the other hand, I'm happy to report that there were some new amazing items to compensate for the disappointments - I could've eaten those scones FOREVER.
Sometimes scones are too hard and crunchy, but these quite simply melted in your mouth. The chocolate chips were perfectly soft and melty too. There were a few cranberries, but I didn't even notice them - it was so delicious!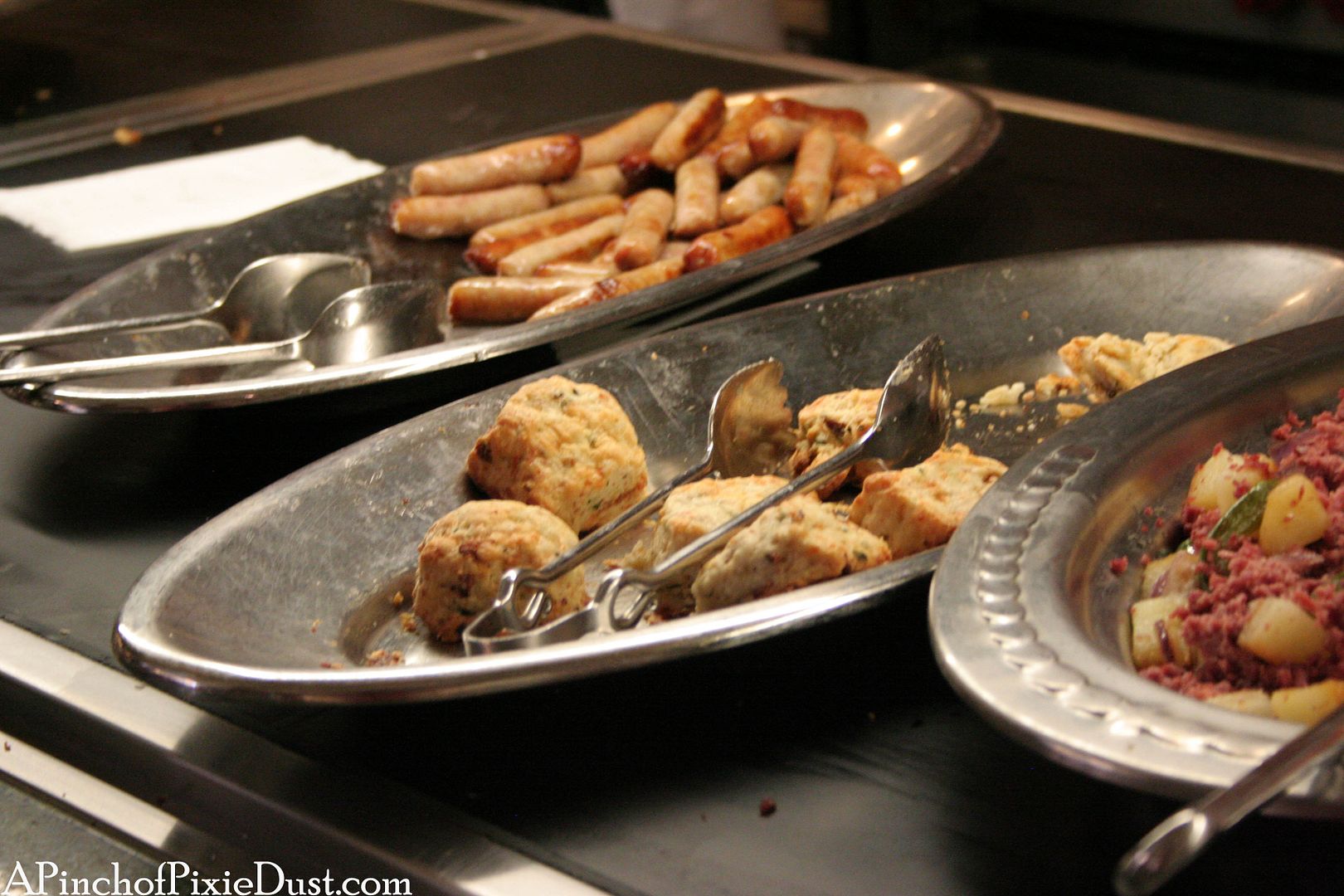 I didn't try the savory scone at first - it was cheddar and bacon - but after falling head over heels for the sweet scone, I made sure to sample one. It was JUST as amazing.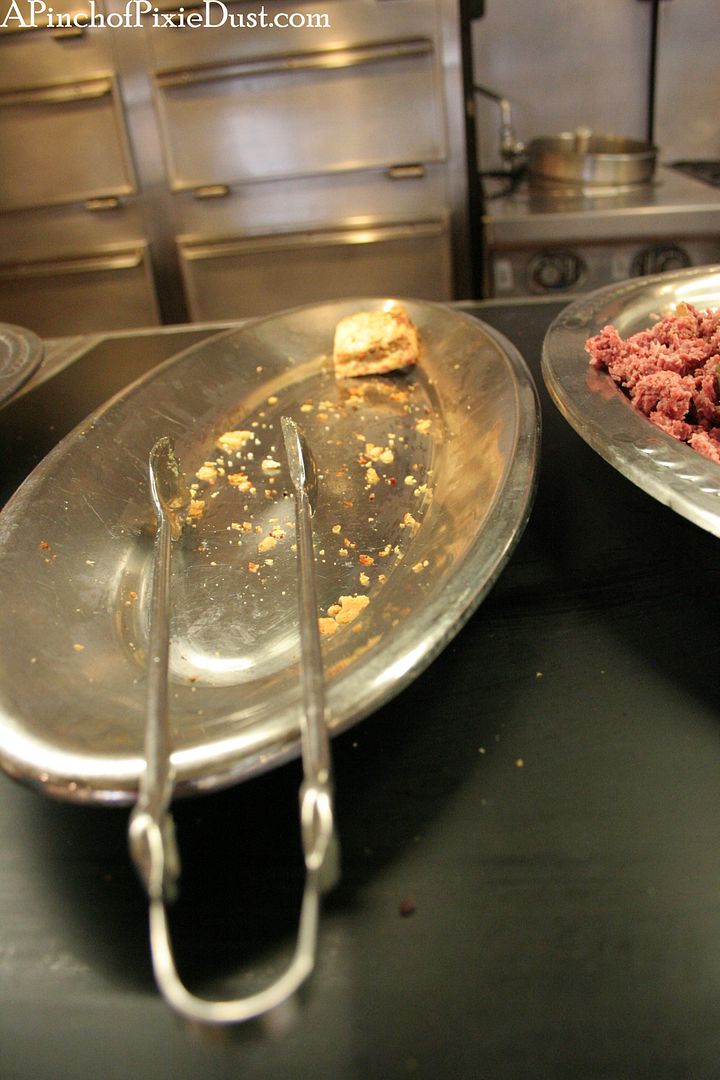 You could tell they were good because they ran out quickly!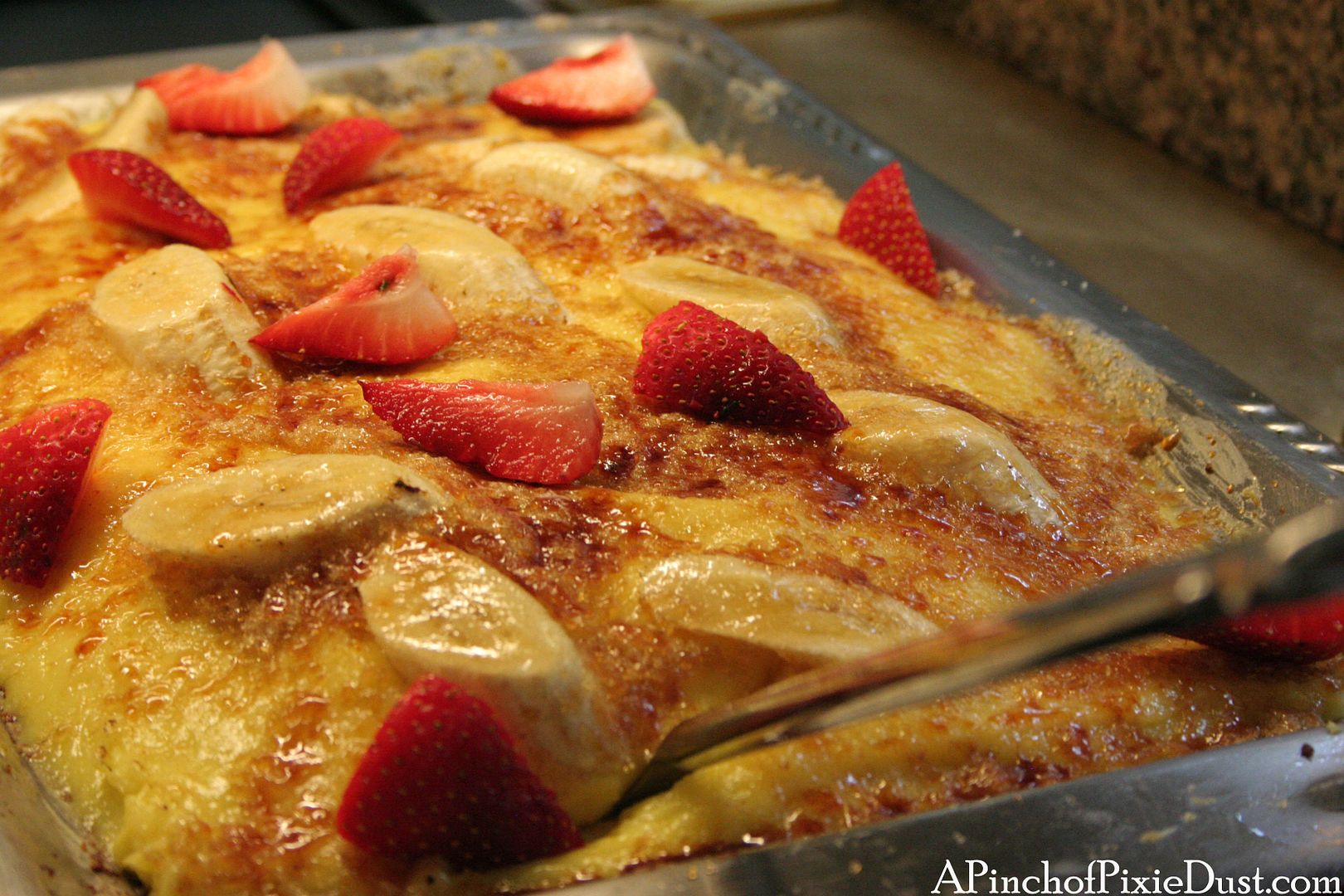 And we haven't even discussed the breakfast lasagna yet...
I expected it to be way too much, but it wasn't overly-sweet, and I actually liked it! It was an extremely rich and extremely interesting breakfast explosion in your mouth, although to be honest I could only manage a few bites. I had already eaten three or four scones but that point, so maybe that was probably part of the problem!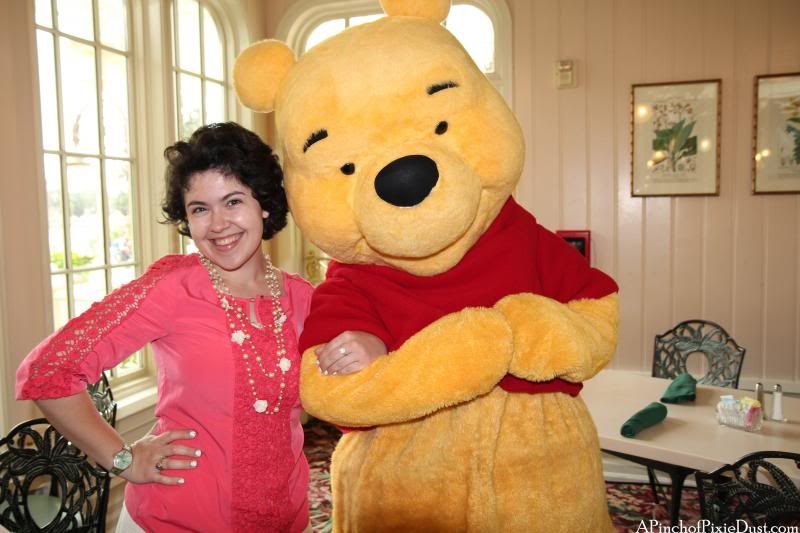 In spite of some of the buffet let-downs, we had an extremely fun breakfast at the Crystal Palace with Winnie the Pooh and friends. I would highly recommend it!