Get ready for some truly stunning style, my friends. We are travelling into the past to look at fashions from one of the most popular tv series around at the moment...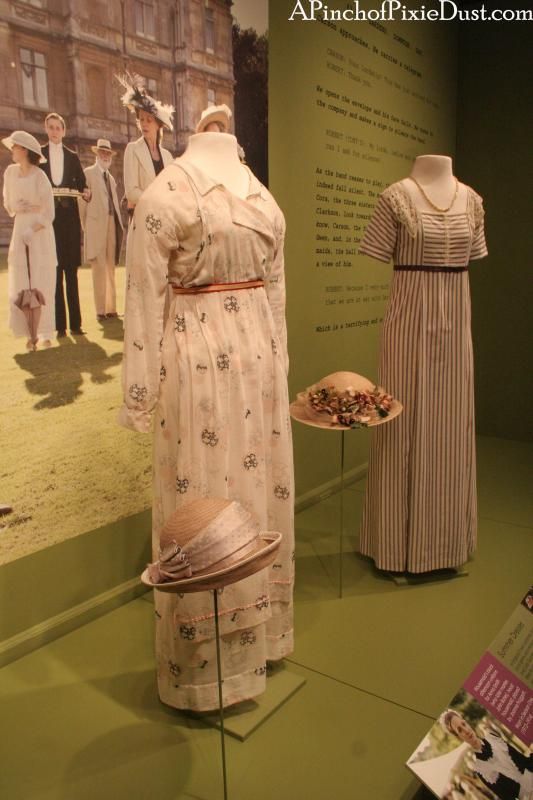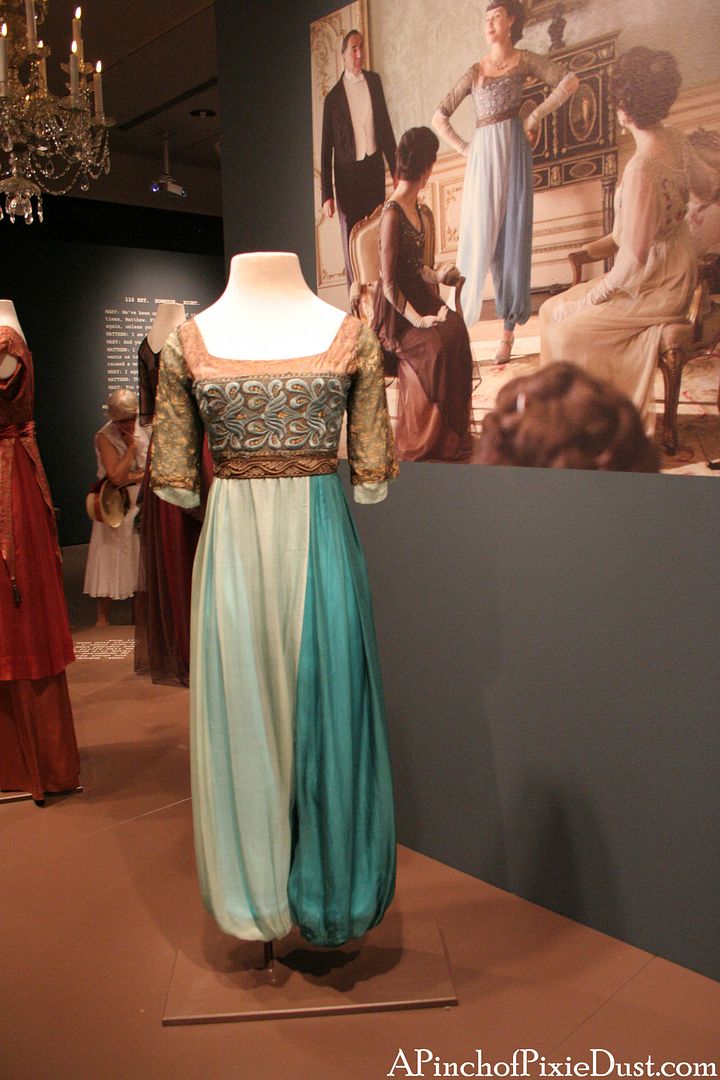 ...can you guess what it is??
I'm talking about DOWNTON ABBEY, of course!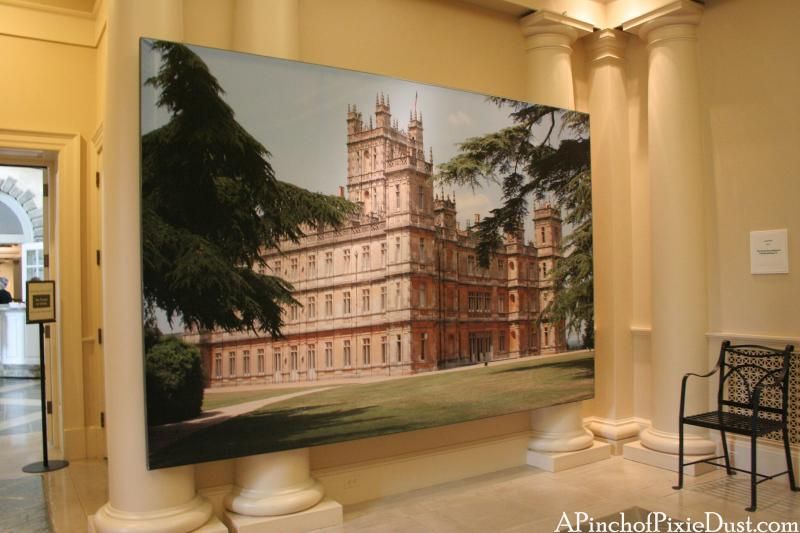 Ohhhhh...
Downton Abbey
. Overall I do love this series, but we've had our moments. There are certain parts that make me very sad (still not over Sybil), but when it's good, it's just superb! It's got such delightful characters, ENGLAND with beautiful houses and train journeys and cups of tea (
I love England
), and above all else, incredible costumes.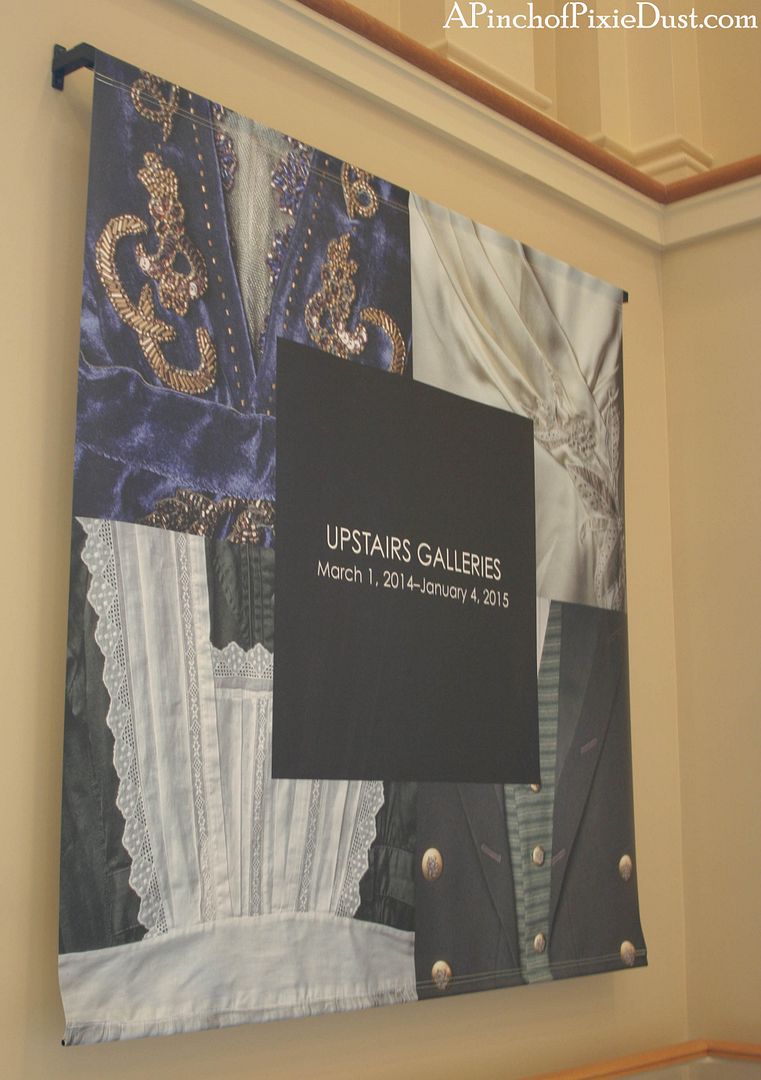 A few weeks ago I met up with a friend at
Winterthur
, a beautiful estate, house, grounds, and museum in Delaware. This year they have an exhibit called the
Costumes of Downton Abbey
running in the galleries - they have many of the outfits created for and worn in the show on loan for you to come and see!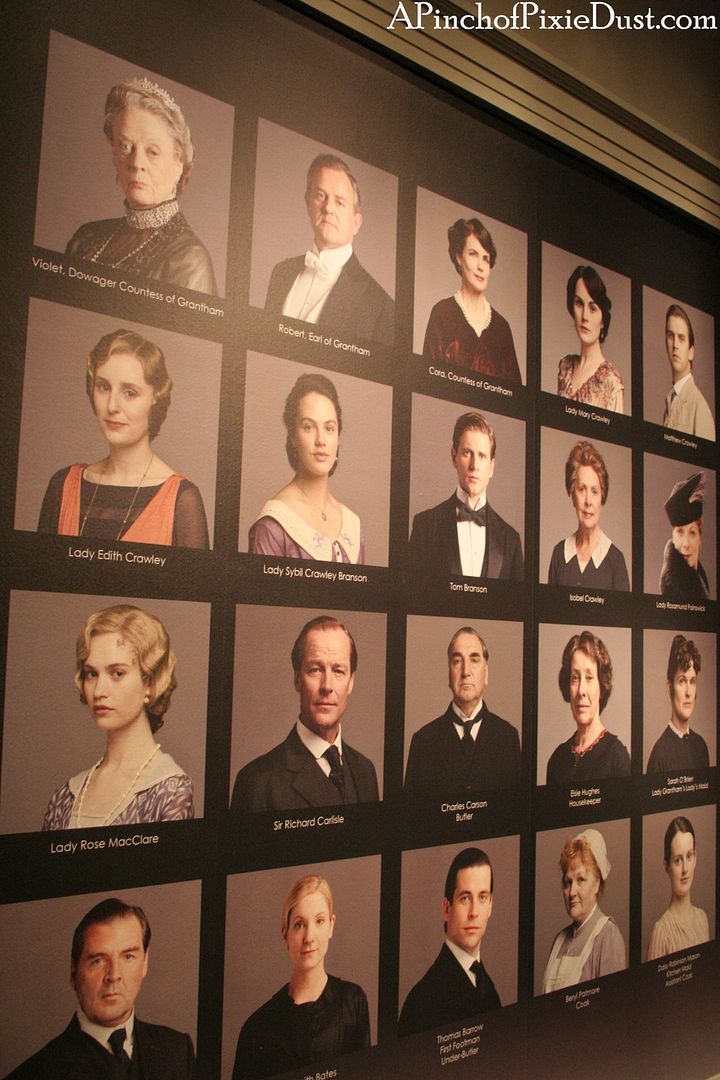 The exhibit starts out with a wall with all the main faces of Downton!
Here's a quick video overview. :)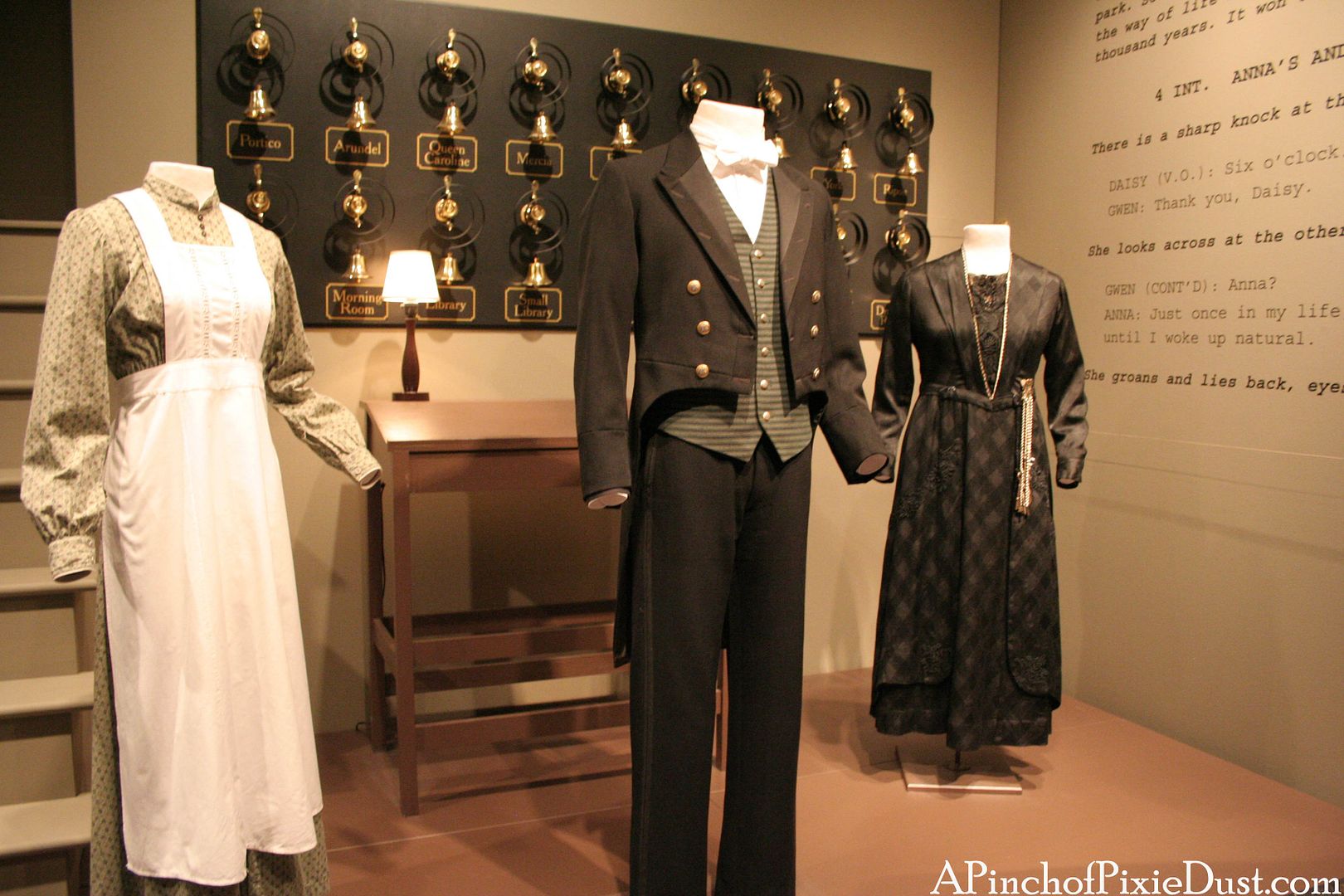 Some classic costumes from the servant's hall. I loved the presentation of the exhibit - the backdrops often featured lines from the script or photos. And the first room had those amazing bell pulls for all the rooms in the Abbey...
I'd like to stay in the Queen Caroline room, I think. ;)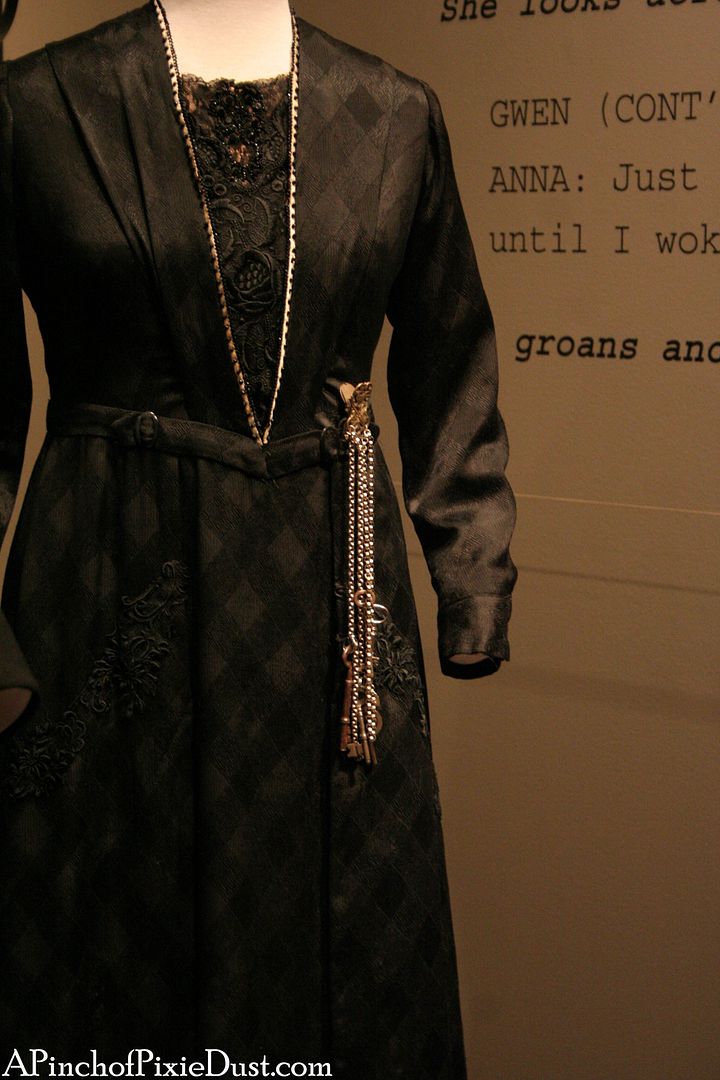 It's so fun to get to see these outfits up close and in person after having seen them on the screen. The housemaid day dresses (on the right) are actually very pretty! And I've always been jealous of Mrs. Hughes' impressive collection of dangling keys and useful housekeeper accoutrements (doesn't she even have a little pair of scissors there?).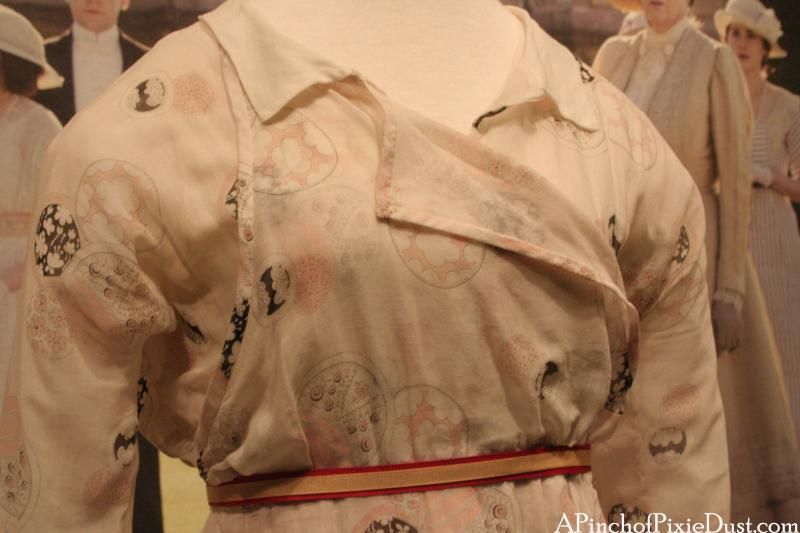 When you're watching the tv series, you're sometimes too busy following the plot to pay very close attention to the costumes - you might miss the details of the outfits. I never realized that Sybil's tea party dress had this pretty pattern, for instance.
Lots of elegant and surprisingly colorful prints from the Edwardian era. The dresses were of course amazing to look at up close, but I also loved...
THE HATS! Can someone please explain to me how classy ladies' hats ever went out of fashion?? I love the polka dots on Lady Sybil's straw creation.
This gorgeous hat of Lady Mary's is possibly my favorite. I need one just like it. It is way too pretty. And then hats need to come back into fashion. And then I will wear it everywhere. Sound like a plan? ;)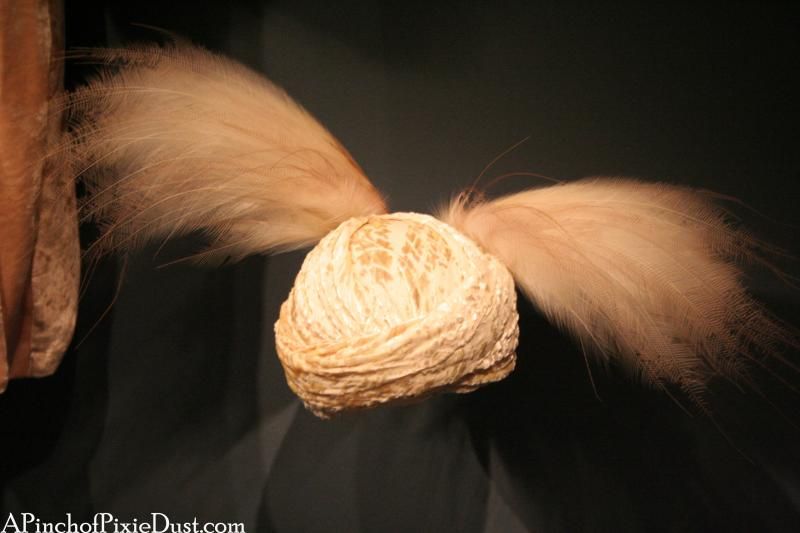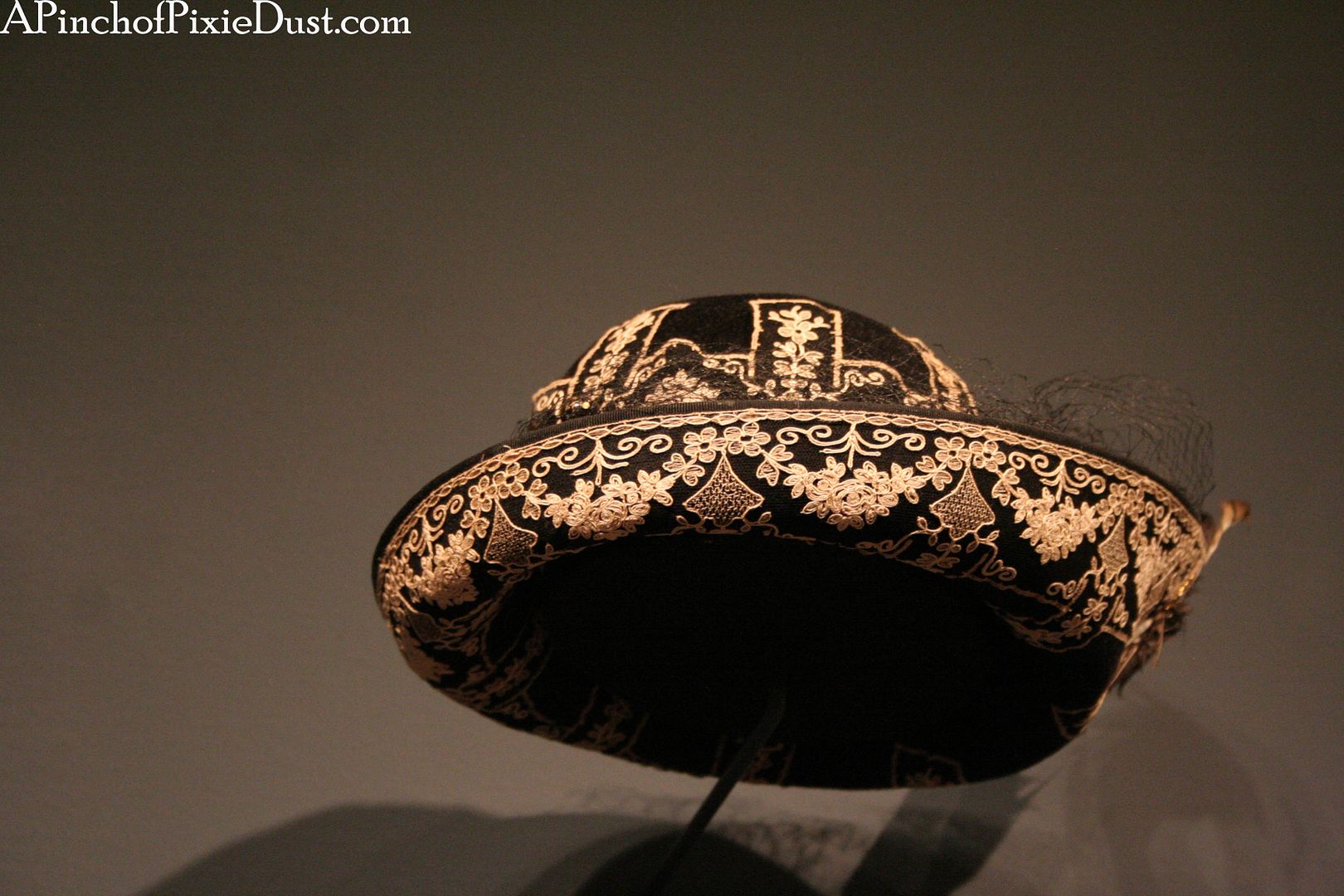 Crazy hats with feathers and embroidery!
An utterly gorgeous purple hat of Cora's. AHHhhh...we need to stop talking about hats, guys. I'm so incredibly envious of the Crawley family fashions.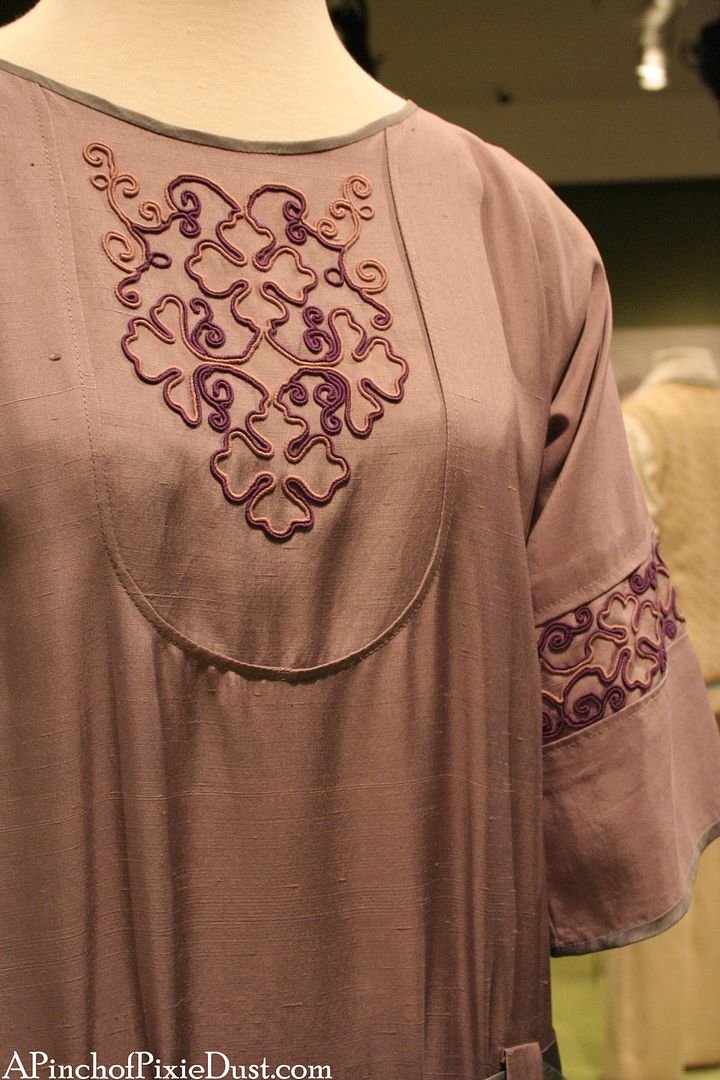 More purple! Unfortunately I think some of these costumes were from when beloved characters were being killed off (STILL NOT OVER SYBIL), and the lavender was for mourning, but I do love that color!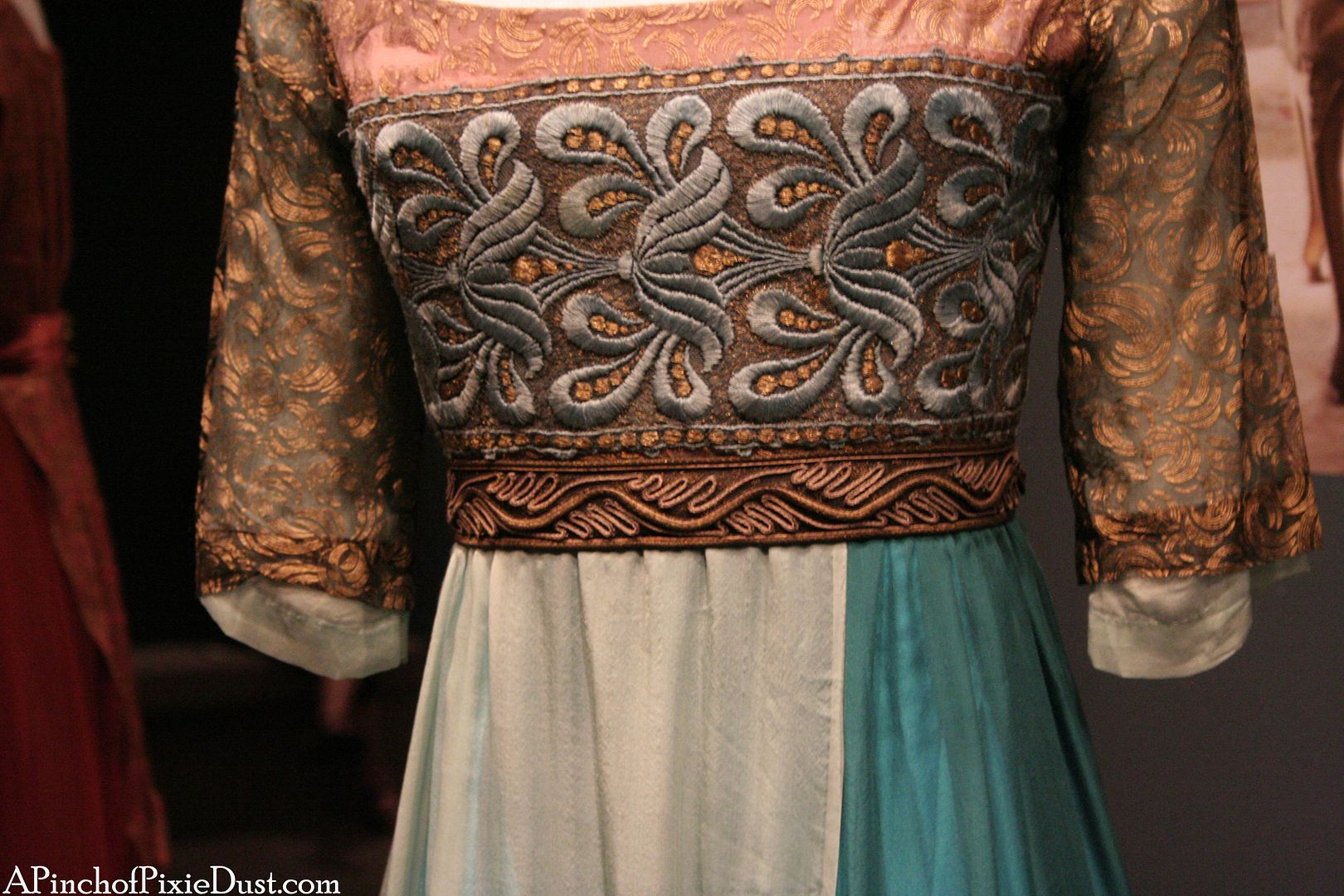 I was thrilled to see the very daring new "frock" - or rather harem pants - that Lady Sybil got on the sly in Ripon in season one. (And then Branson's at the window smiling all adorably - remember?? C'mon, I know you loved that scene too...)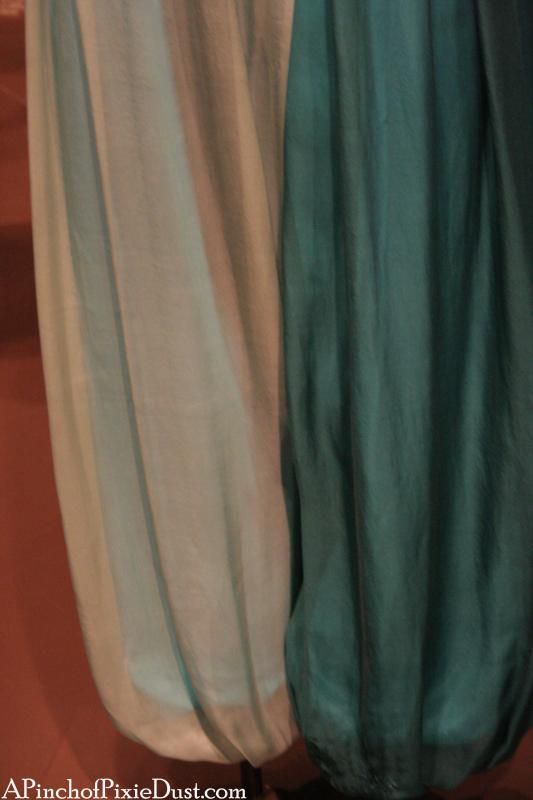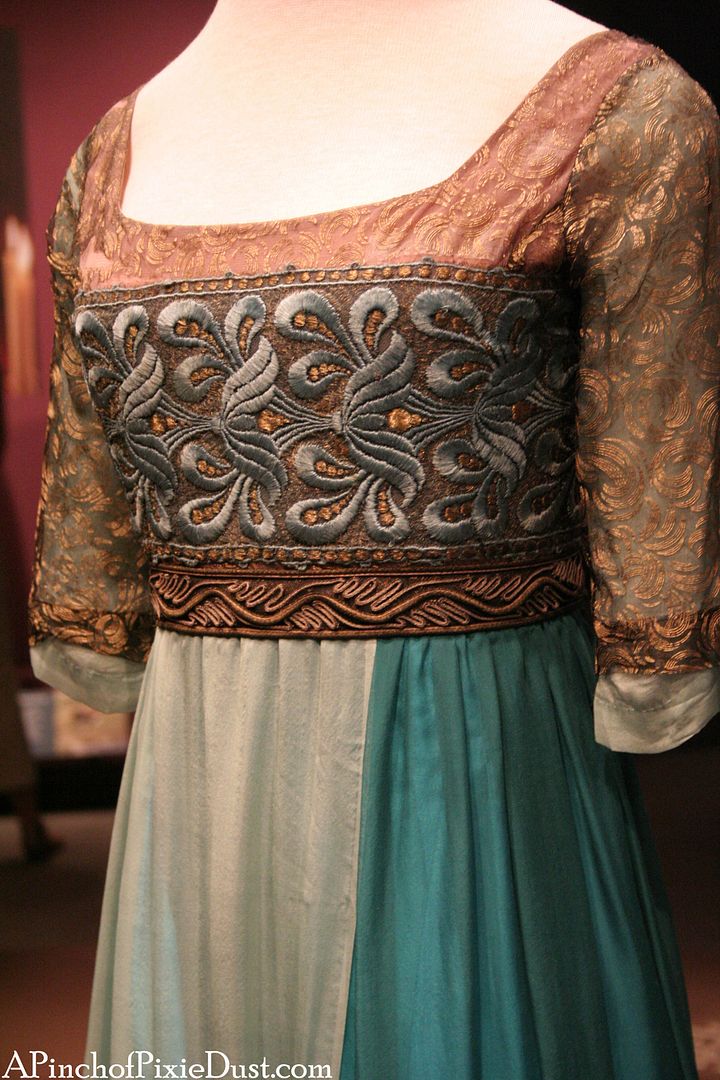 This is possibly my favorite costume from the whole series - I love the colors!
SO many pretty costumes to admire and remember from the different episodes! It was so interesting to read about the construction of the dresses as well. You would think that they would make multiple copies of a costume in case one got damaged, but apparently many of the gowns incorporated vintage materials and were one-of-a-kind!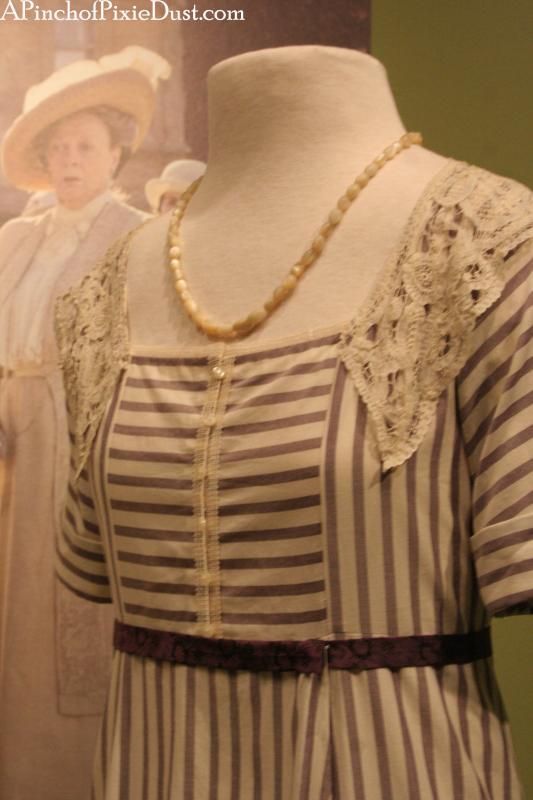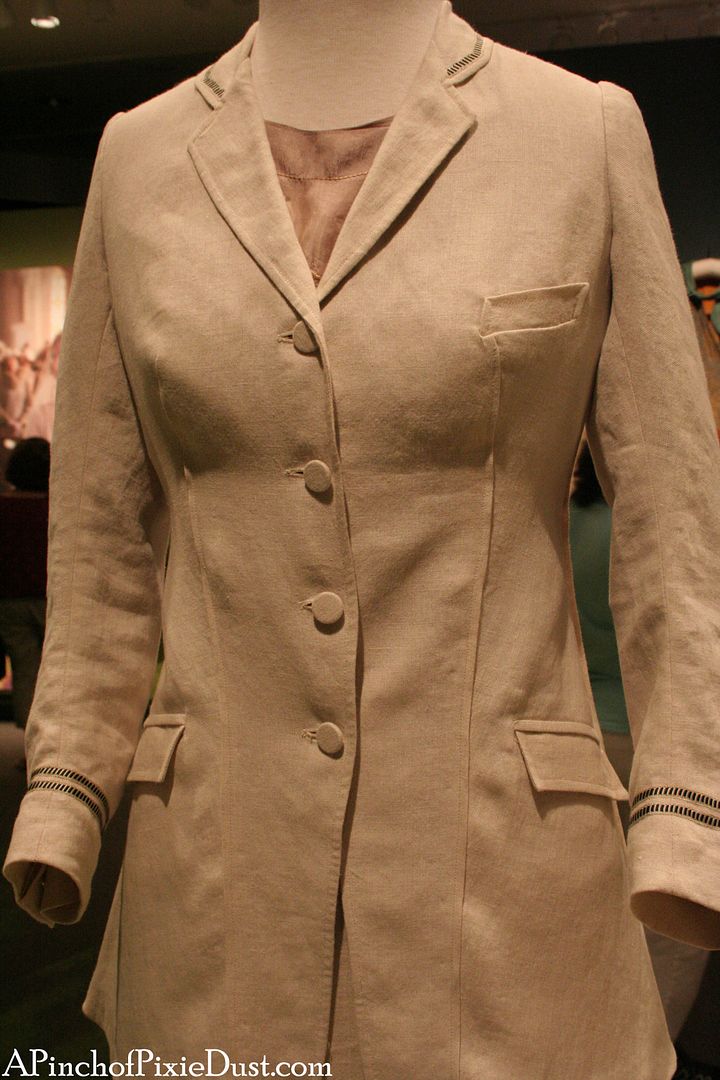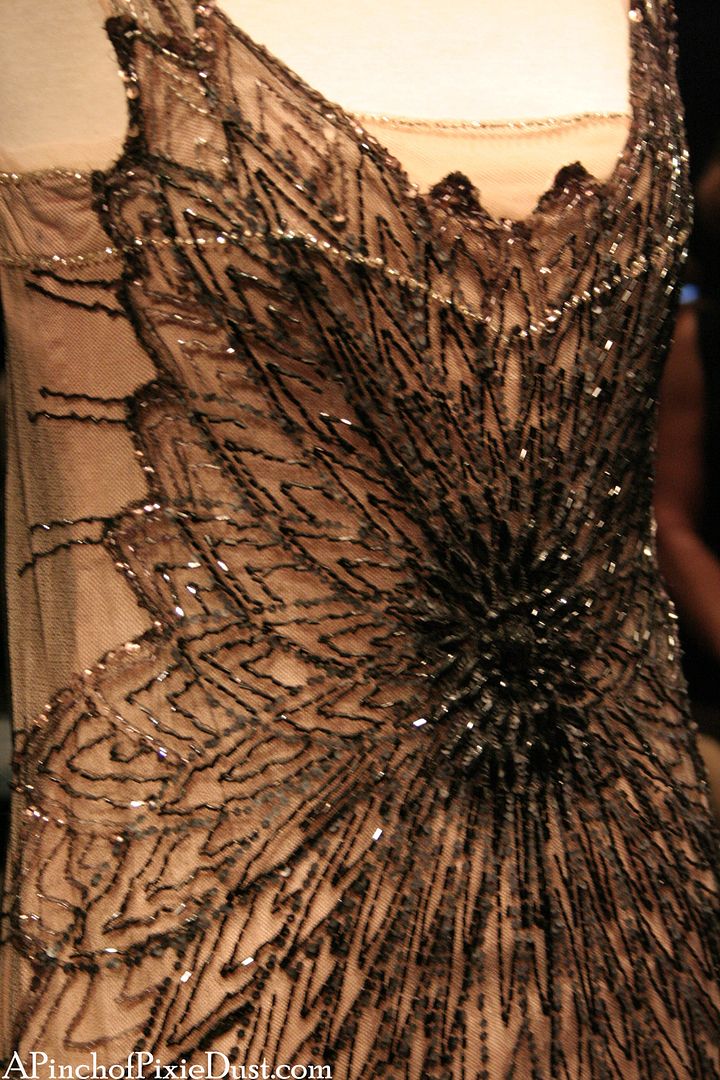 I love the evolution of style from season to season. I wasn't a huge fan of that striped dress on Lady Mary from season one, but I LOVE the spring coat from season two - and the beading on her evening gown was gorgeous.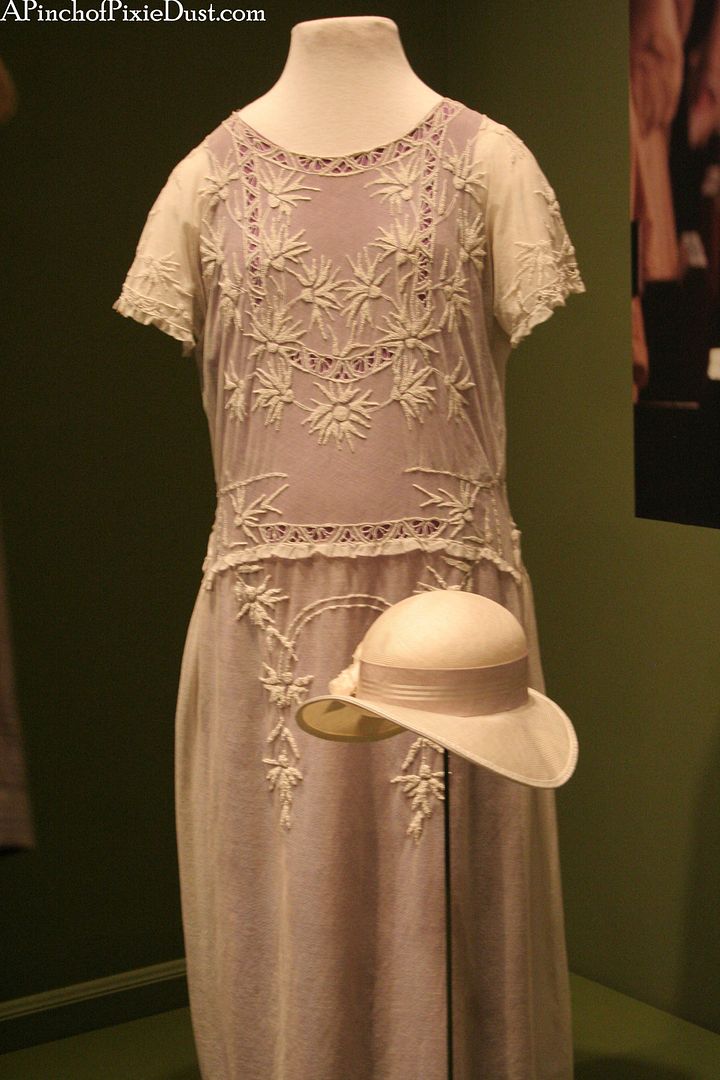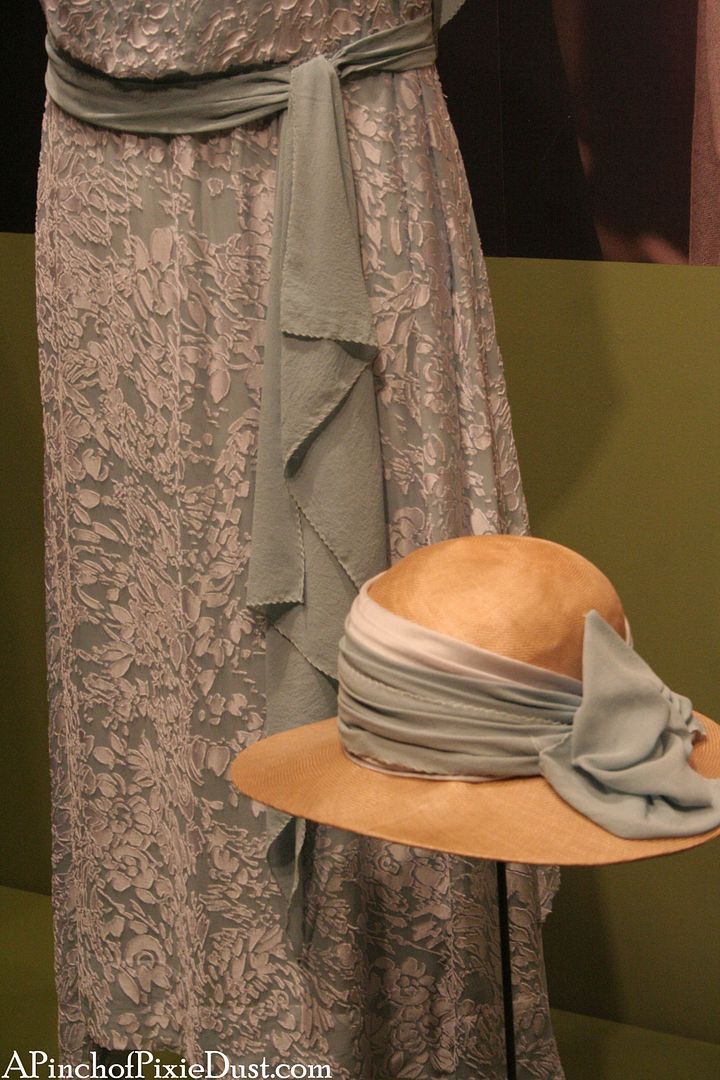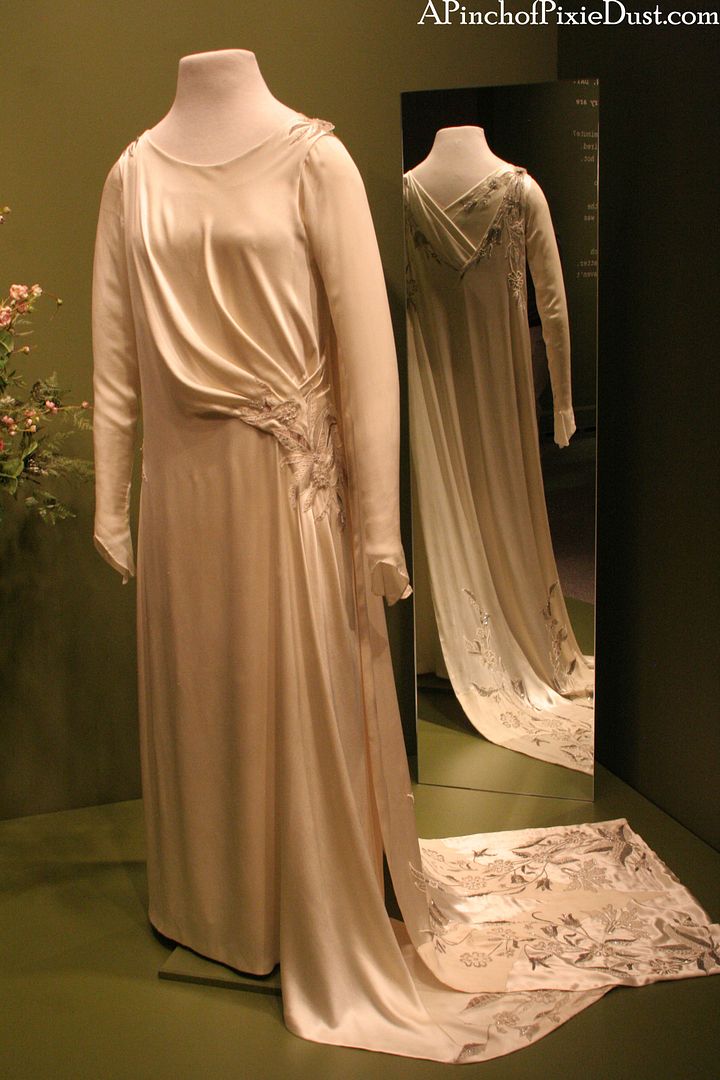 Some fashions from Edith's almost-wedding to Sir Anthony Strallan. Poor Edith...Julian Fellowes just will not give that girl a break. I loved the train of her wedding gown...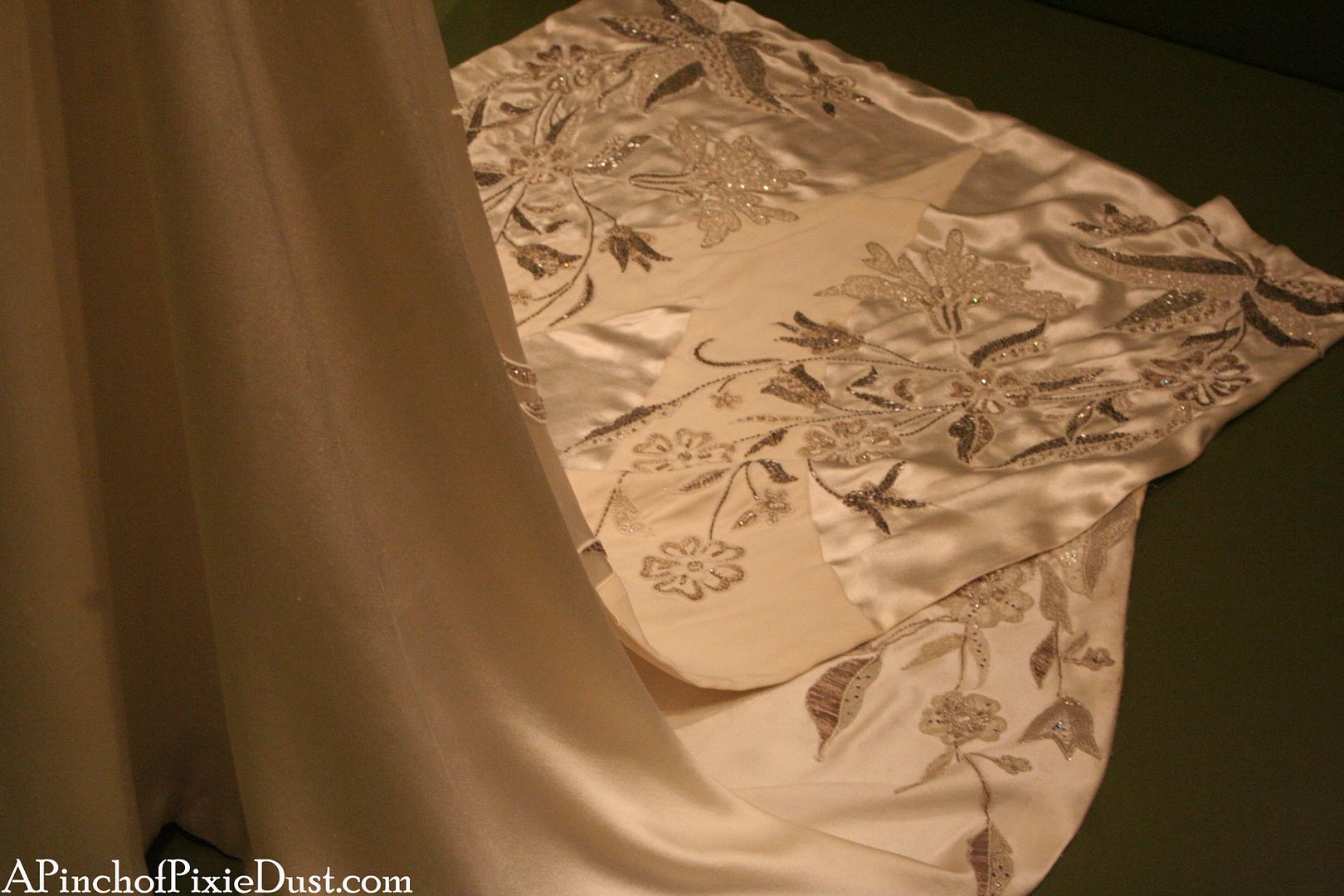 Just lovely!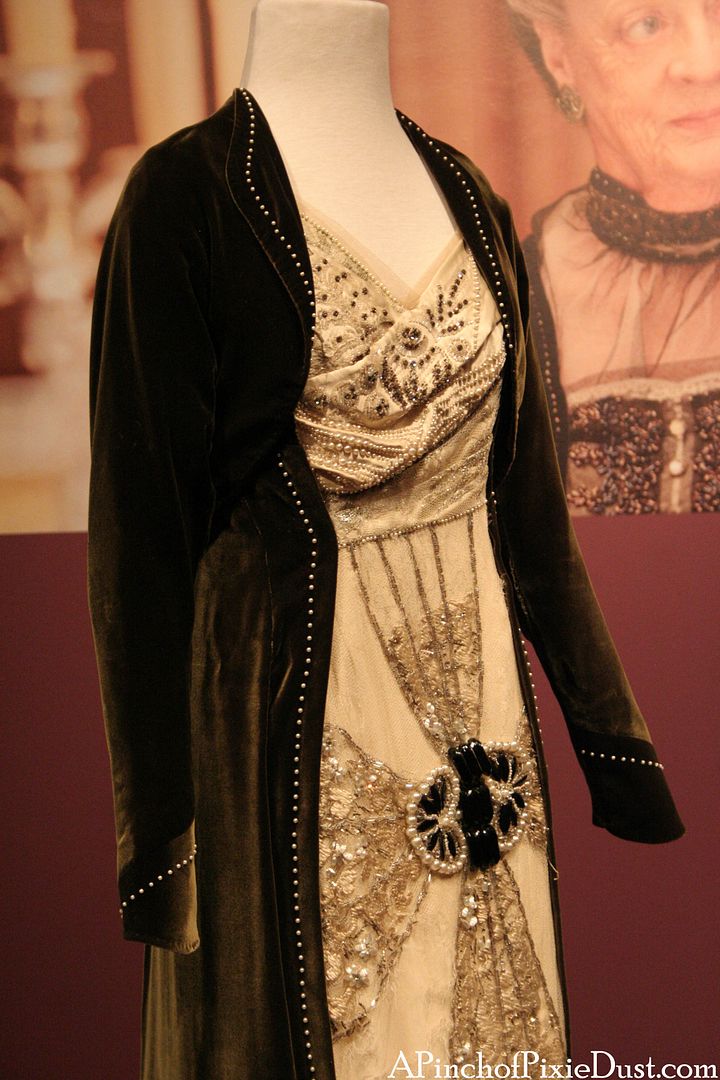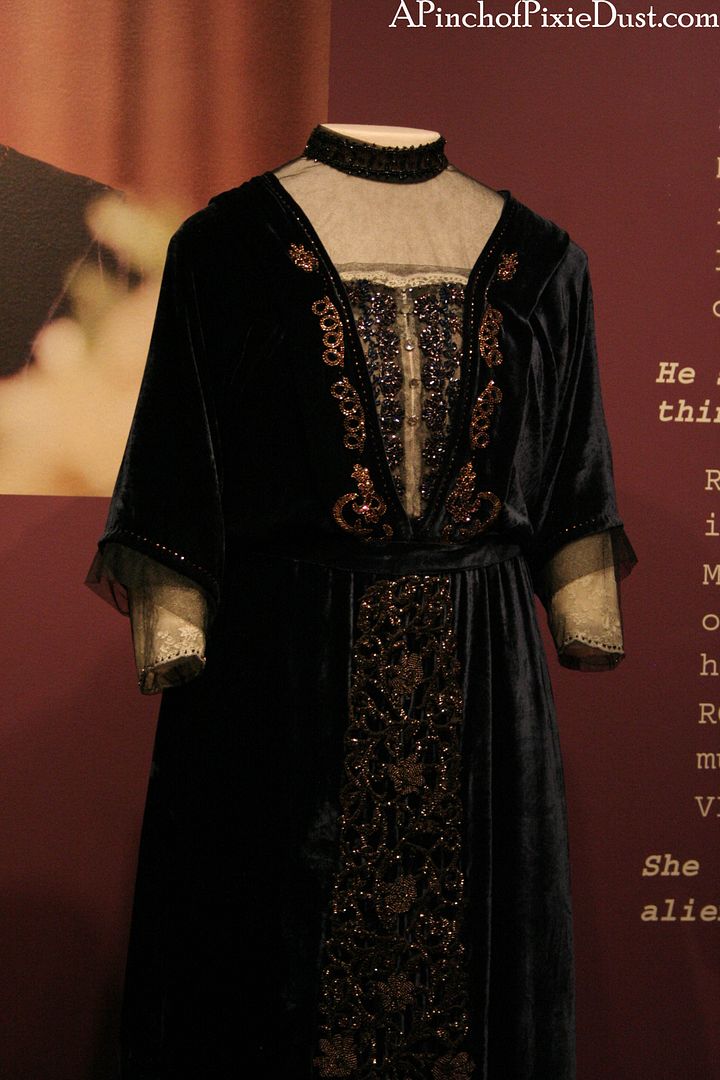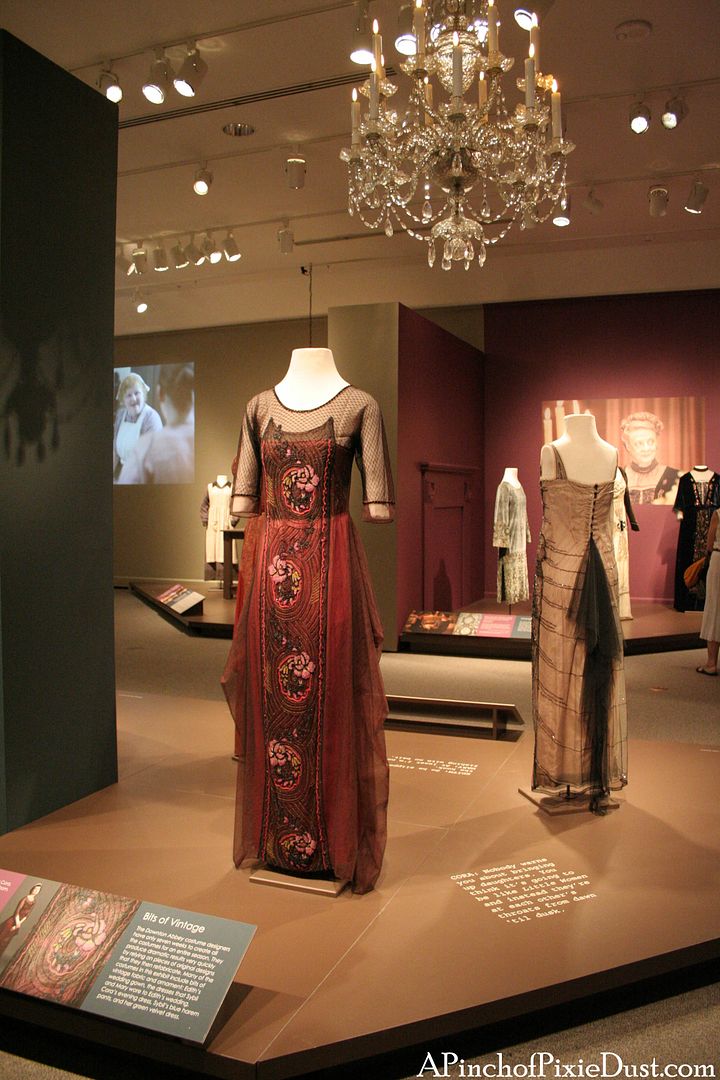 More styles from Lady Cora and the incorrigible but always refined Dowager Countess.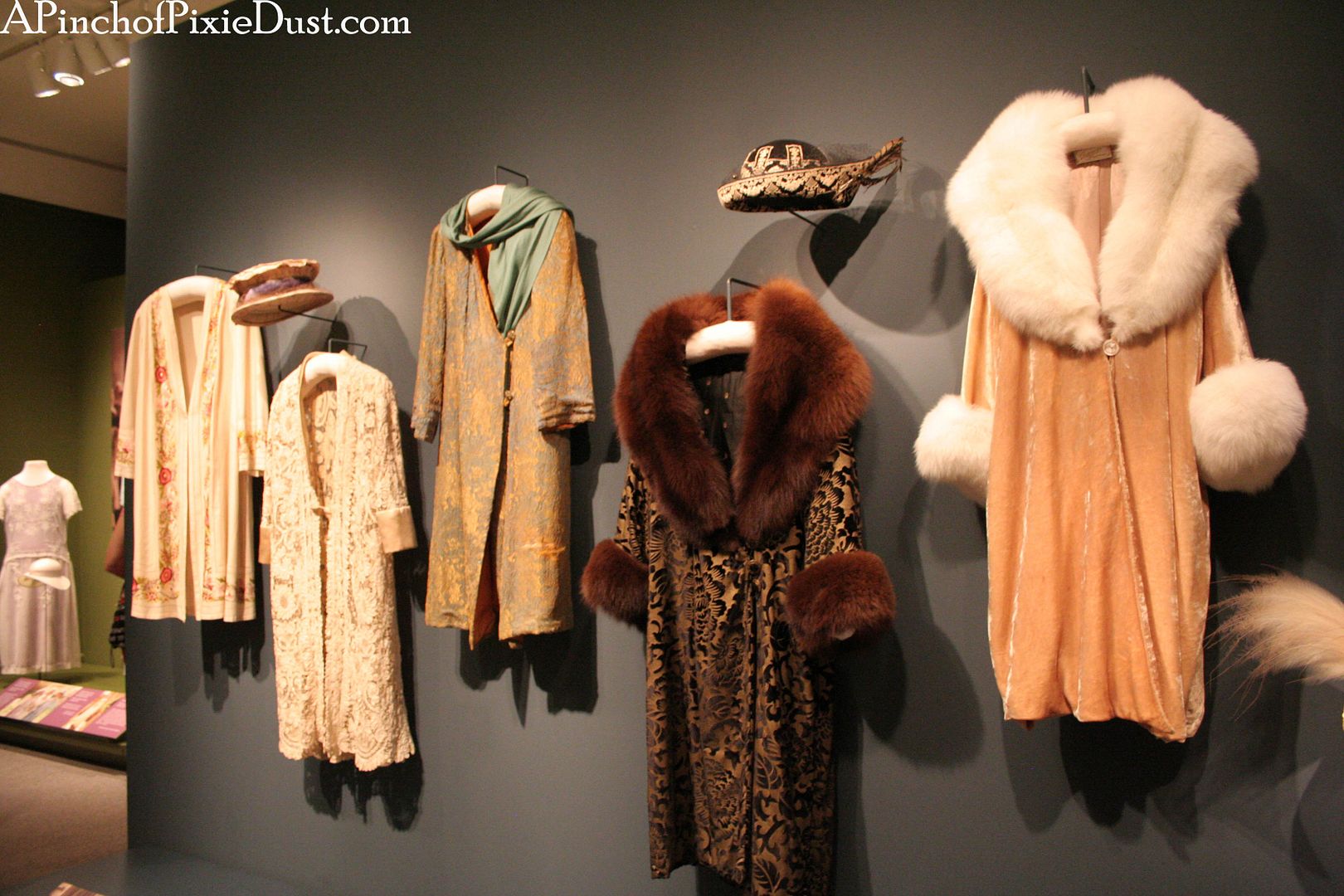 A few stunning coats and jackets and wraps! I love that one in the middle with the teal scarf - didn't Edith wear that to the Jazz Club?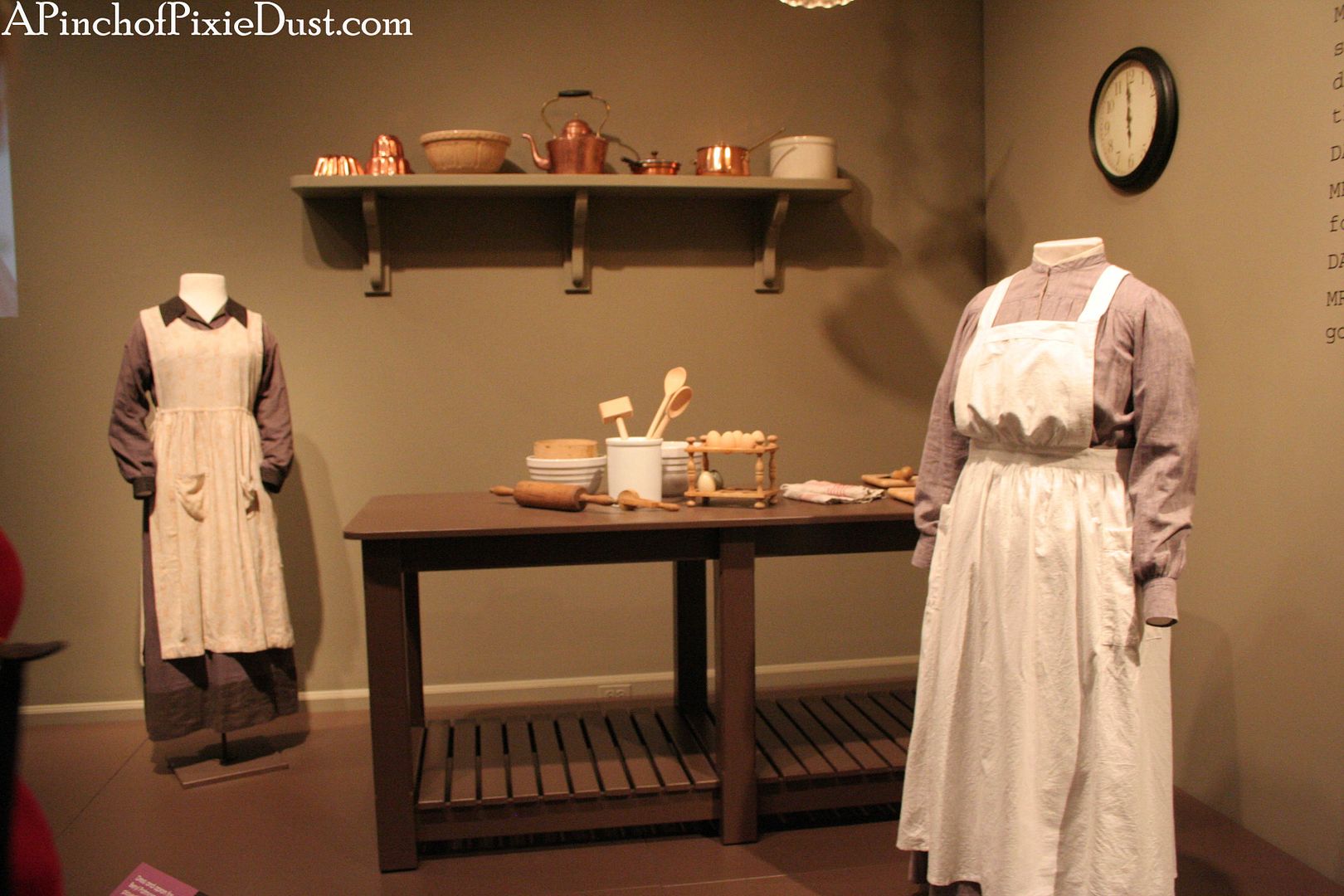 There were costumes from above and below stairs interspersed throughout the exhibit. I always feel a little bad for the actresses who play the servants - all the fancy stuff goes to the family!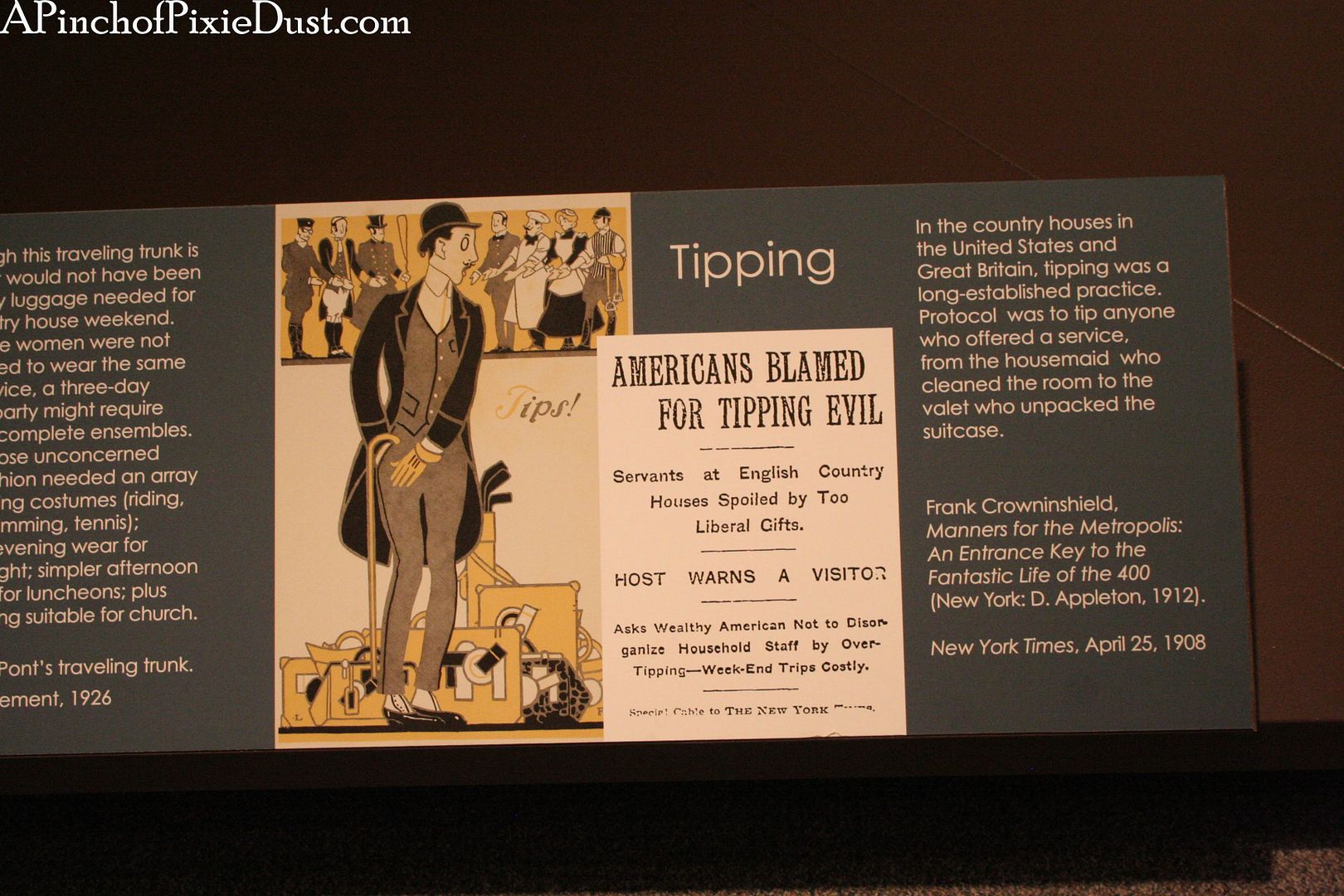 Apparently Americans tipped the servants more than the British! Throughout the exhibit, the characters and scenes from the Downton Abbey were juxtaposed with the real-life wealthy du Pont family and their servants at Winterthur.
This was the travel case for Mrs. du Pont. Can you imagine hauling that on vacation to Disney World and opening it up on the vanity at the Grand Floridian? Well...you wouldn't be hauiling it around, your lady's maid would!
\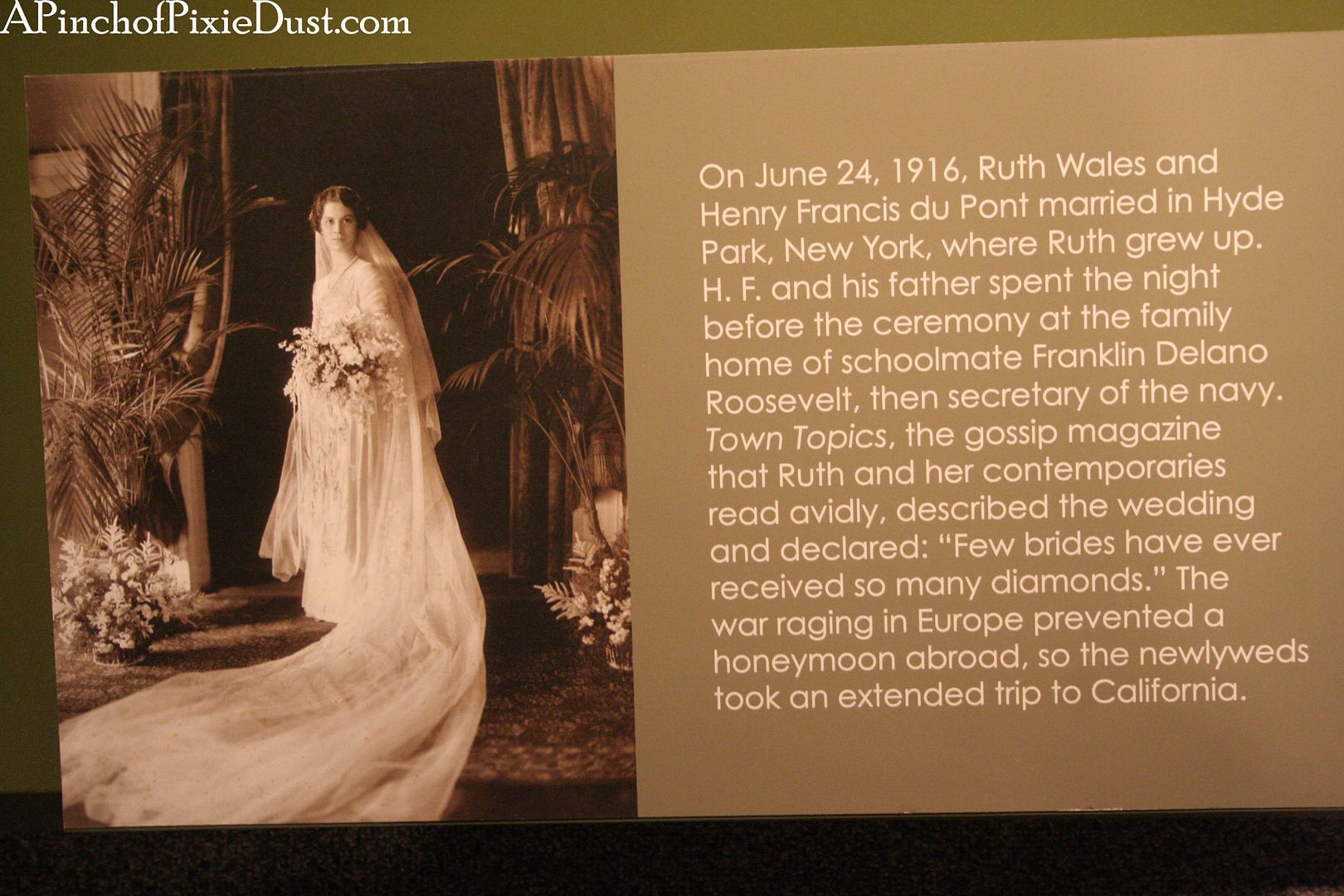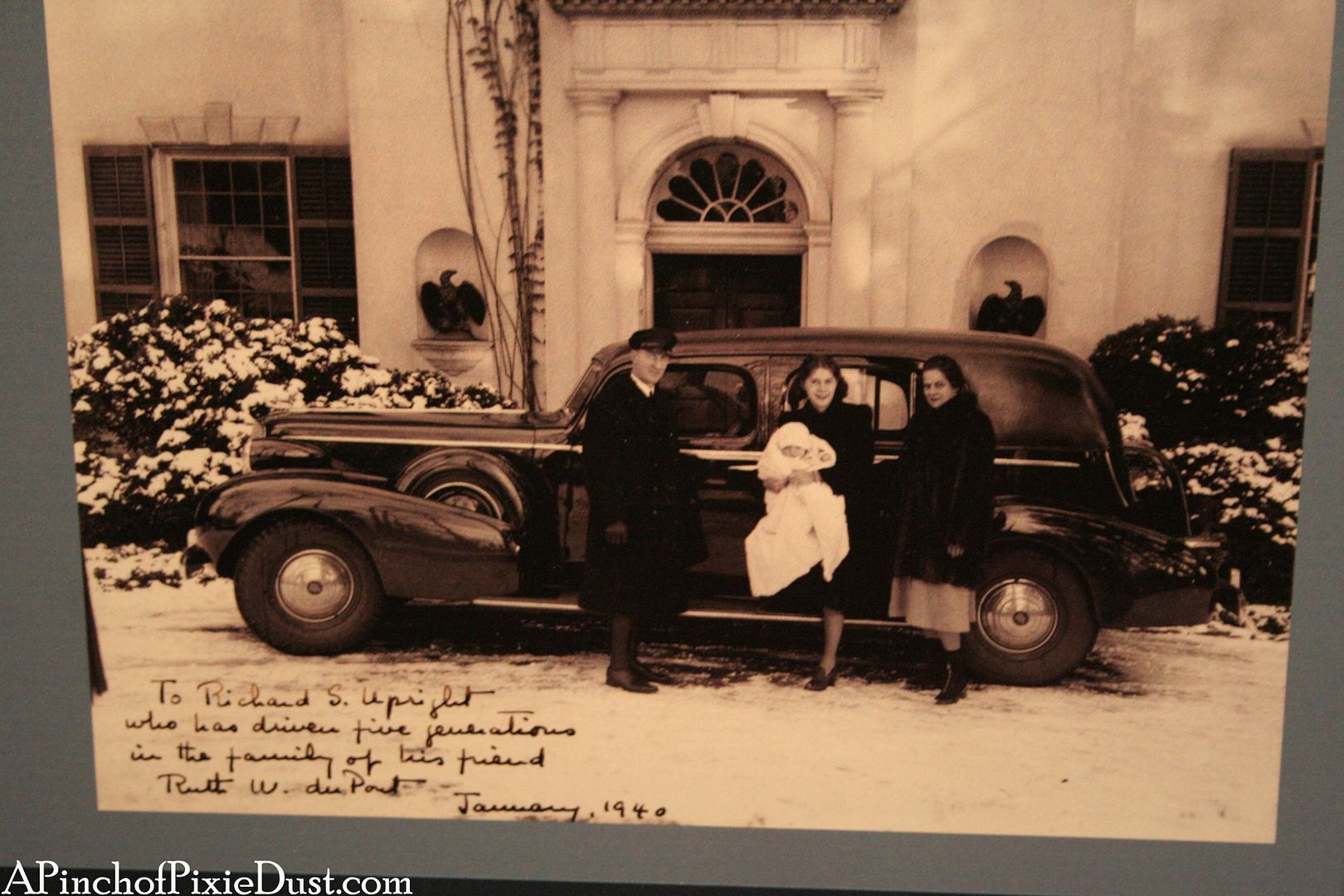 It was fascinating to learn about the du Ponts and to see their old photos. The Downton Abbey exhibit was off in a side wing, but you can also go through many of the grand rooms of Winterthur itself - it is like an American Downton Abbey! I want to see a tv series featuring a wealthy turn-of-the-century American family now. Actually I want to write that series - I love the history and stories from that era!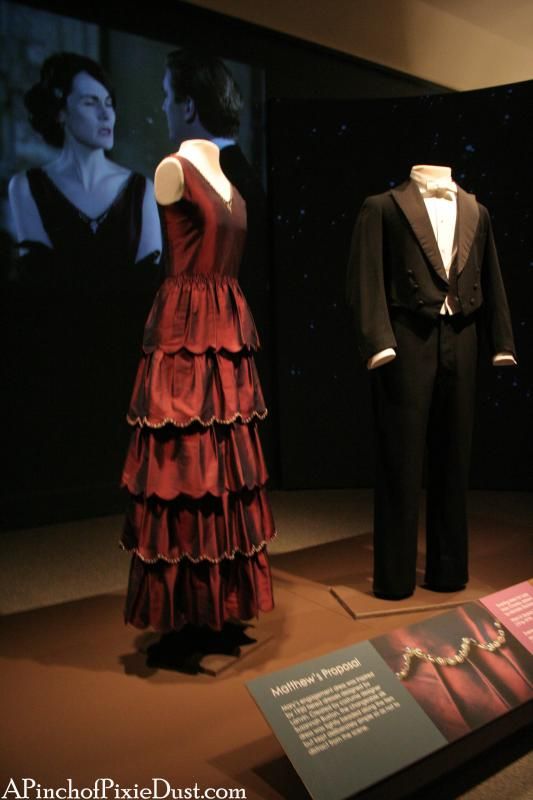 Towards the end of the exhibit was a special platform for Mary and Matthew's costumes when they got engaged at the end of season two...with a tv screen playing a loop of the proposal, complete with swirling snow.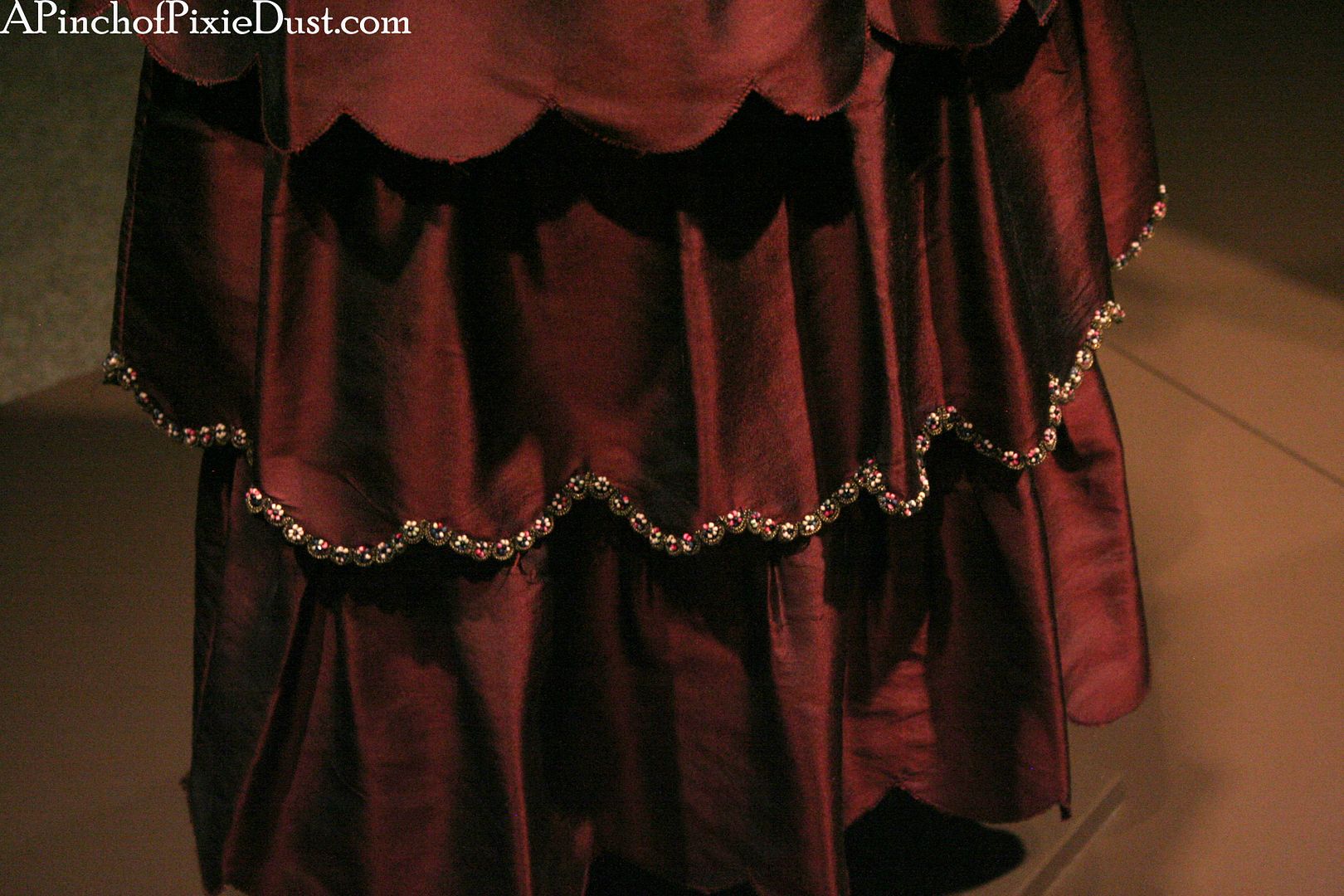 Delicate scalloped edges and beading on Mary's gown!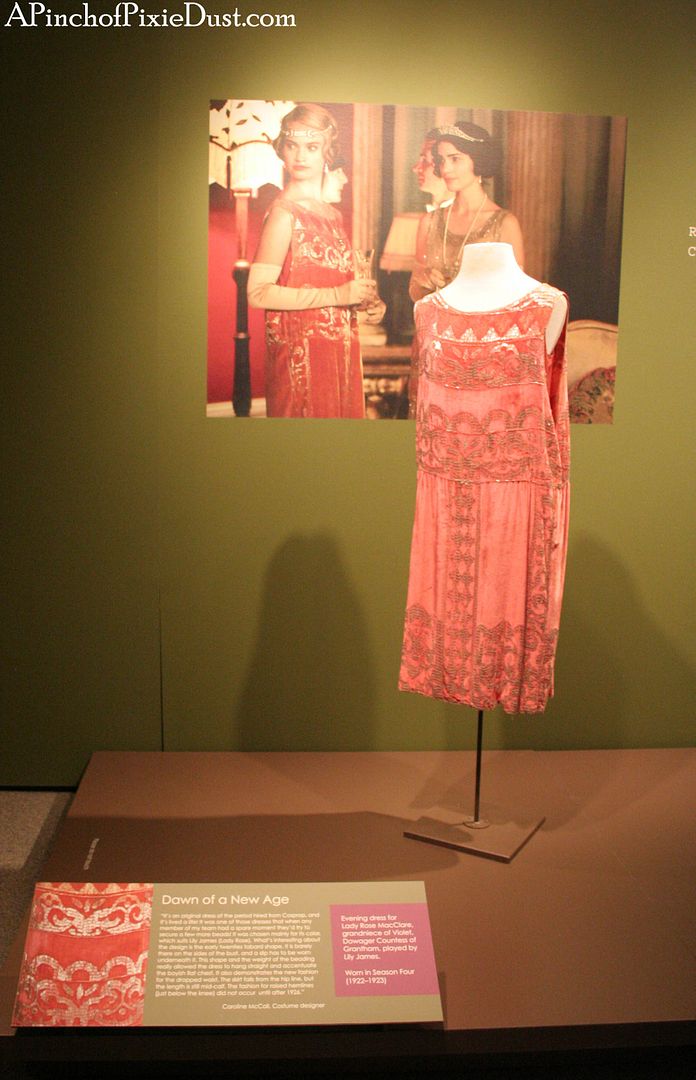 I just recently finished watching season four - Lady Rose is a pretty fabulous character, and while I don't normally love the 1920's flapper fashions (dresses with waistlines are just so much more flatttering!), I do love Rose's outfits. Downton Abbey was just nominated for the Best Costume Emmy, which does not surprise me at all! If the series continues into the 1930's it'll be so exciting to see those styles too.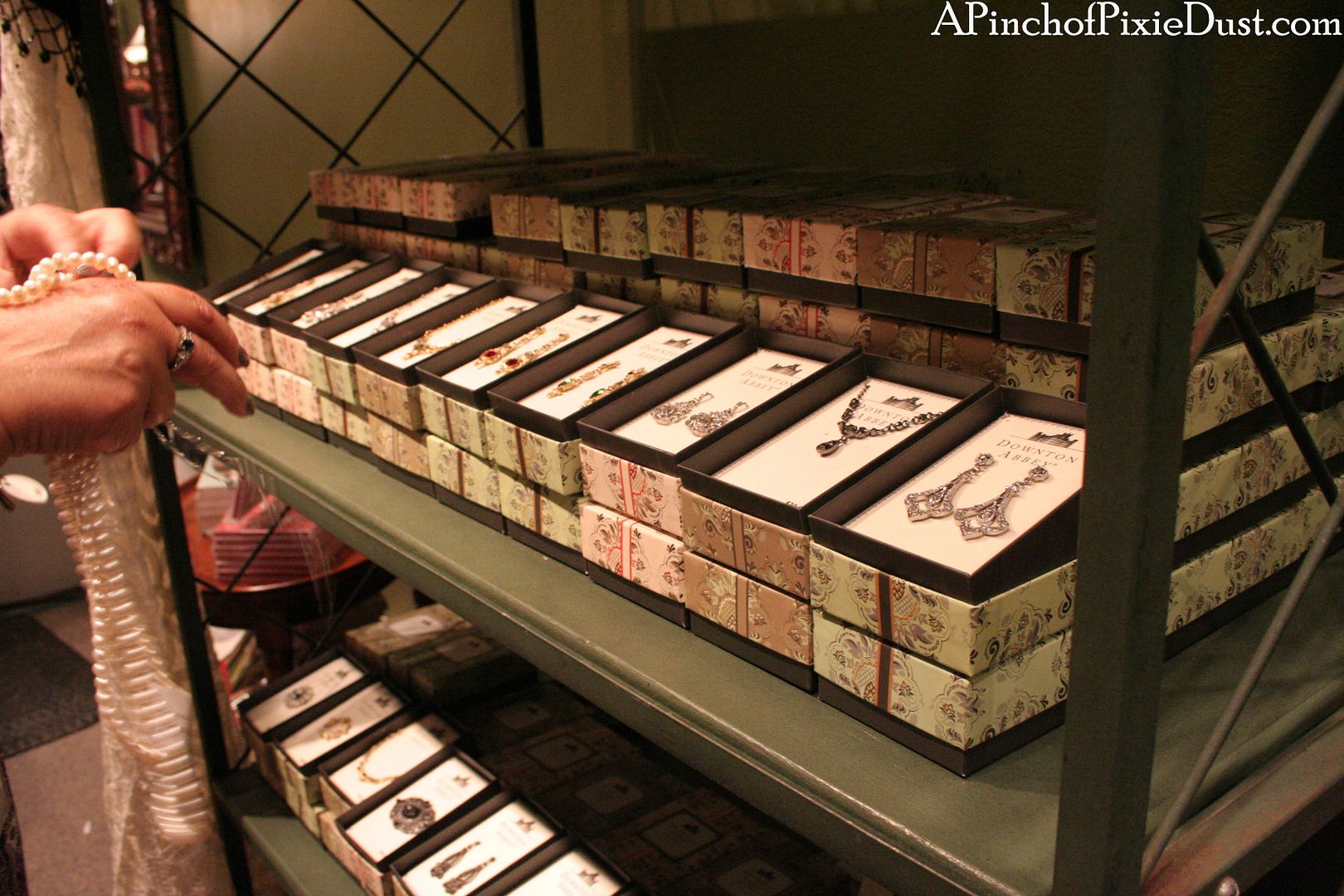 There was a small gift shop with Downton Abbey merchandise...including hats! I resisted those, but I had fun looking - there were jewelry pieces inspired by the series as well.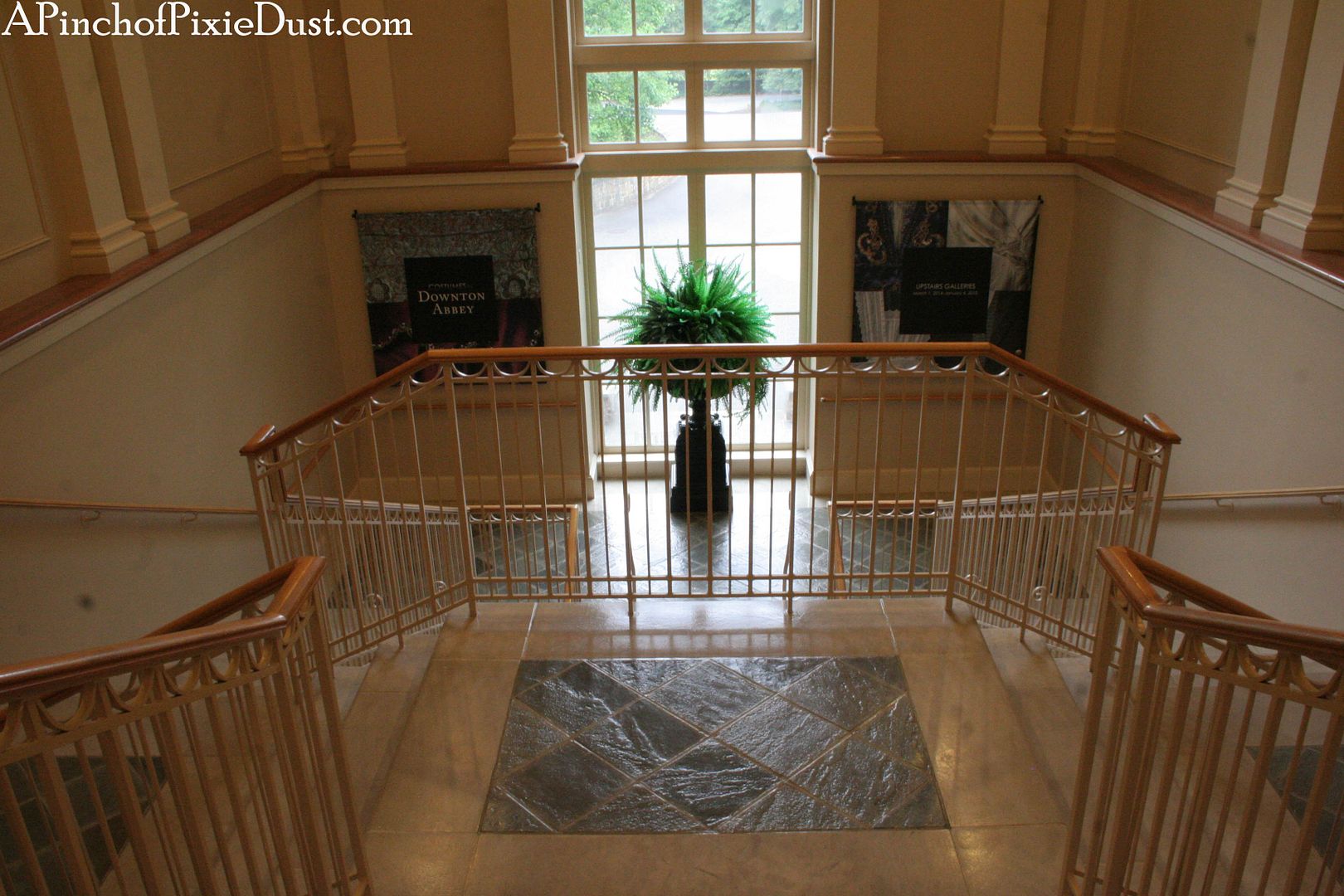 If you are anywhere near Winterthur, I would highly recommend heading out for the Downton Abbey exhibit! I had such a fun afternoon with my friend, and it was amazing to explore the grounds and learn about the history of Winterthur and the du Ponts as well. I have more photos of the house and gardens (they have a fairy playground for the kids!), but I'll have to save that for another post. :)
Are you a Downton Abbey fan? Which is your favorite costume?