There are lots of elements to plan when it comes to your Disney World vacation...and not least among them is your dessert schedule.
You may laugh, but y'all know I'm perfectly serious. There are so many tasty treats, and you want to hit all of the best spots...especially when it comes to the cupcakes...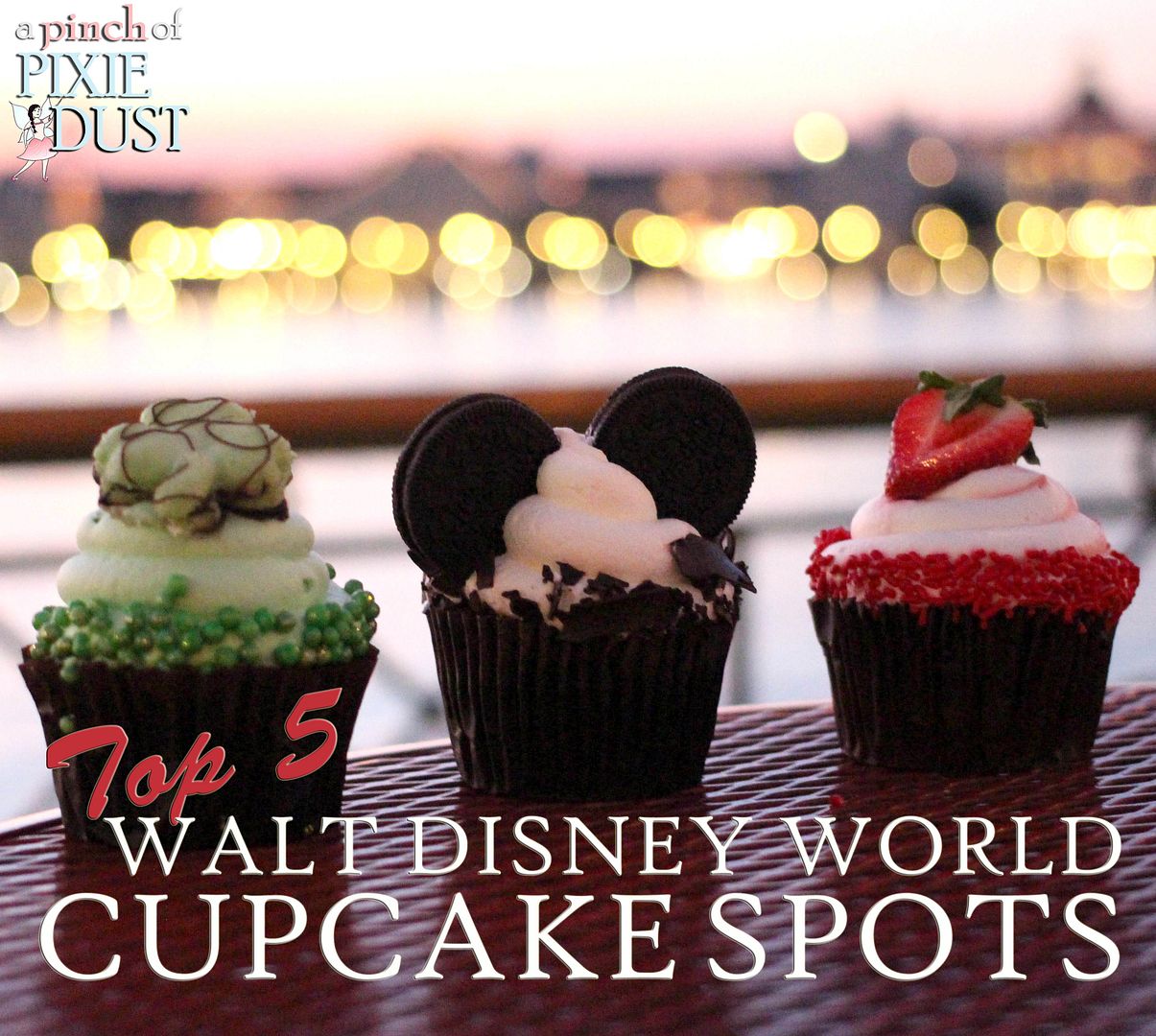 It's easy to get overwhelmed by
Disney cupcakes
because there are
dozens and dozens
all around the parks and resorts. I've got an
extensive visual list
over on my cupcake page, and there are great cupcake crawls and reviews out there as well...but today we're going to streamline things and focus on just the cream of the crop, the best of the best - the
Top 5 Must-Do Cupcake Spots at Walt Disney World
!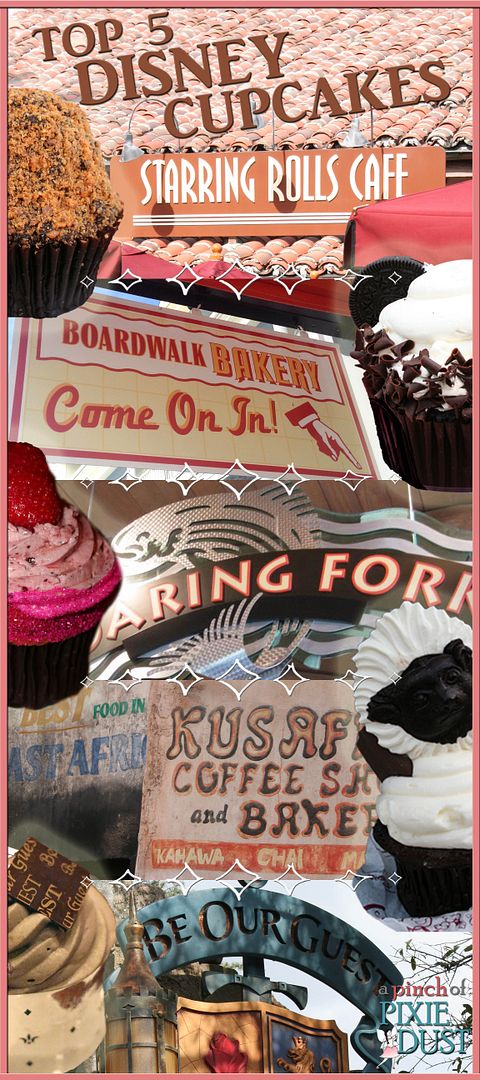 Ahhhh...there they are. So much deliciousness. The cupcake selections do change unexpectedly at Disney bakeries, cafes, and food courts - but these are five places that have had reliably amazing cupcakes year-round...whether they're seasonal sweets or regularly-appearing favorites!
-----------------------STARRING ROLLS CAFE
------------------------------------------------BOARDWALK BAKERY
------------------------
------------------------ROARING FORK
------------------------------------------------KUSAFIRI COFFEE SHOP
------------------------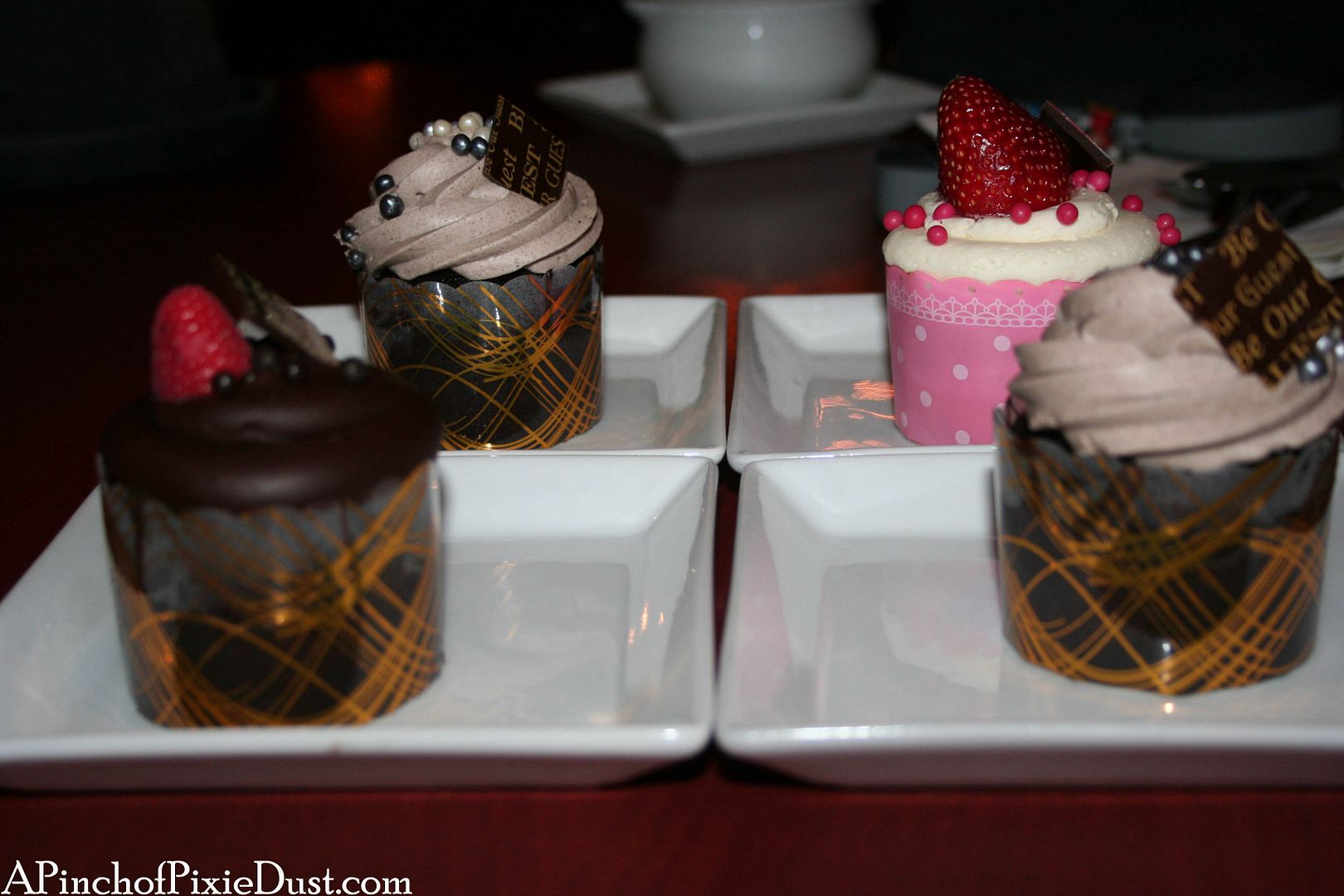 ------------------------BE OUR GUEST RESTAURANT
------------------------
A little taste of what's to come...get your sweet tooth ready my friends, here we go...
Can you guess which cupcake spot we're starting out with?? It's...
STARRING ROLLS CAFE AT HOLLYWOOD STUDIOS
Ohhhh...that butterfinger cupcake. Really we should call this Hollywood cafe Starring Cupcakes instead of Starring Rolls, because that's what it's all about...
When spectacular cupcakes first began appearing on the Disney dessert scene a few years ago, Starring Rolls was one of the first places I noticed them! They still have an incredible selection, including the
butterfinger
and these
two beauties
...
The peanut butter chocolate (as you can see, everybody's reaching for it!) and a lovely red velvet cheesecake cupcake. A marble cupcake and a carrot cake cupcake are two other recurring stars here, but you'll also find something festive for different events and occasions throughout the year...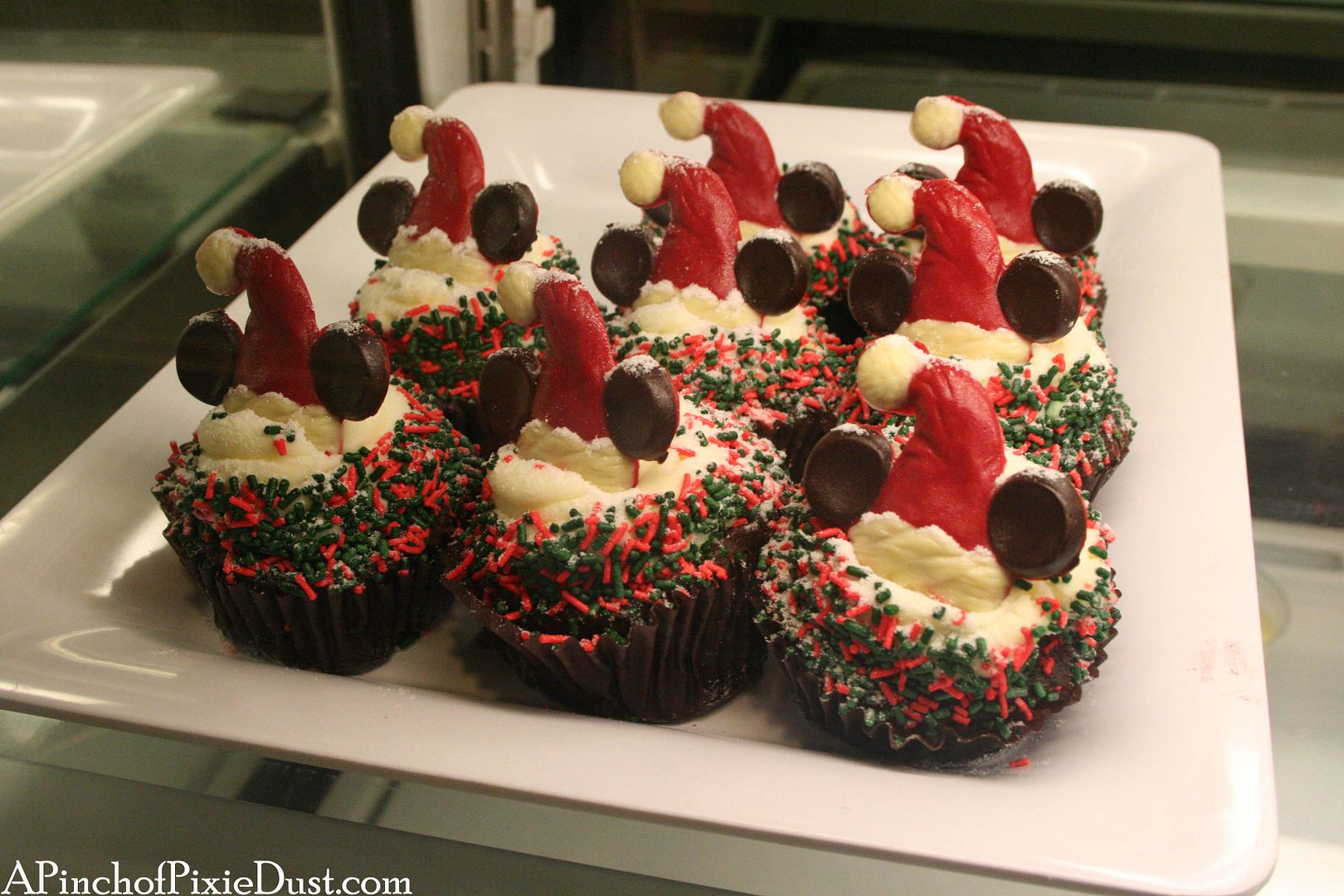 ...like a
strawberry and cream
cupcake for the summer and a cute
gingerbread cupcake
bedecked with Mickey Santa ears for the holidays. The force is strong here...they also have Darth Vader and Yoda cupcakes for Star Wars Weekends!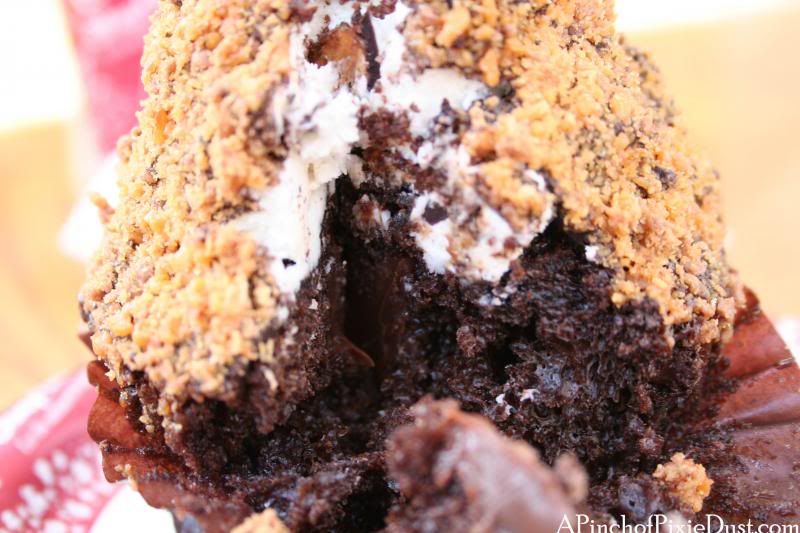 I had to sneak in one more butterfinger photo...it may be my favorite Disney cupcake of all. But then again, maybe the number one spot belongs to this next cupcake...
It has MICKEY EARS! And to find it you've got to head to to...
THE BOARDWALK BAKERY AT THE BOARDWALK RESORT
The only problem with the Boardwalk Bakery as a cupcake spot is that it has so many other tasty desserts that will tempt you as well! But trust me, these cupcakes are NOT-TO-BE-MISSED.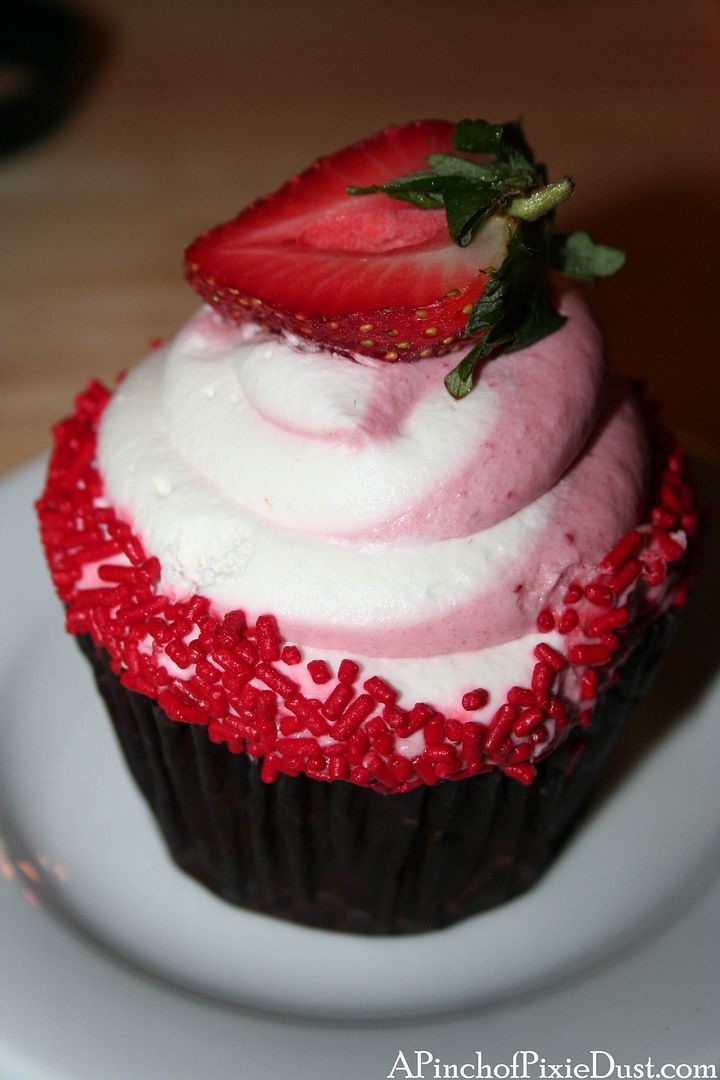 The two year-round stars are the
oreo bon-bon
and the
strawberry
. The icing and the filling are as light as air, and the ratio of cake to icing is perfect!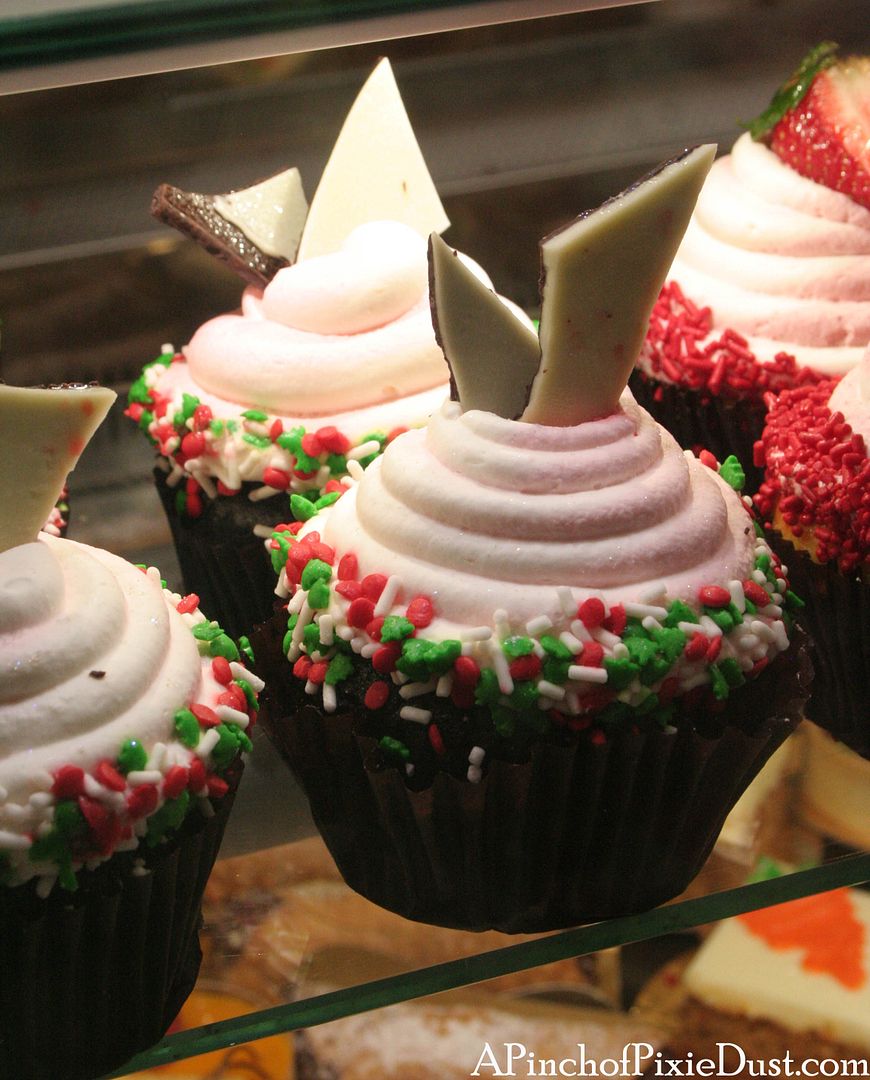 The Boardwalk Bakery can also be depended on for stupendous seasonal cupcakes - above is a mint
St. Patrick's Day cupcake
with a tasty shamrock macaroon on top and on the right an amazing peppermint cupcake for the holidays!
ROARING FORK AT THE WILDERNESS LODGE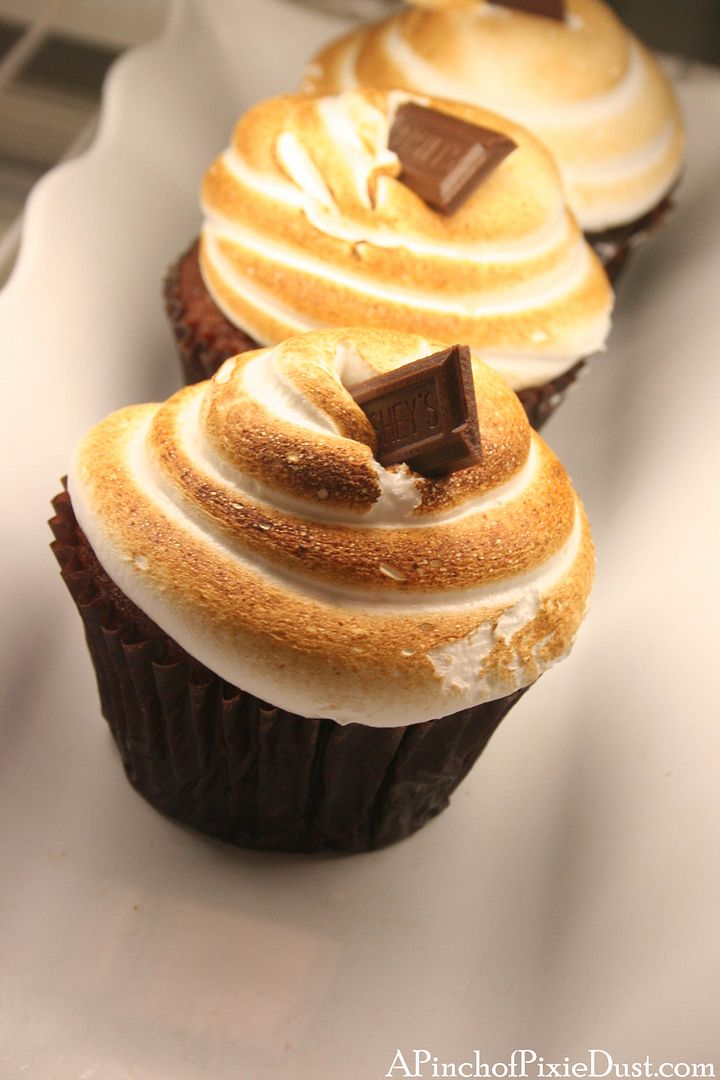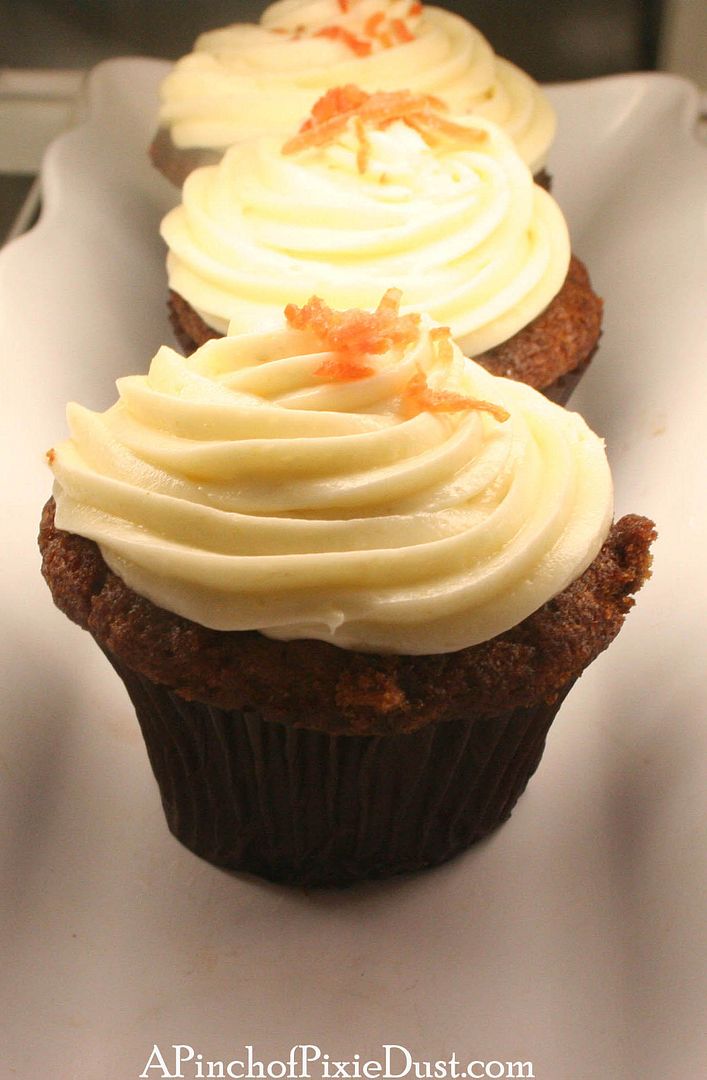 Next on our list is the counter service restaurant at the Wilderness Lodge. Many resort food courts - at the deluxe resorts especially - feature lovely cupcakes, and Roaring Fork always has something tasty! You might find the
s'mores cupcake
(left), the
chocolate caramel cupcake
(middle - the sprinkles change out to fit the seasons!), or the
carrot cupcake
(right).
I love them all, but I have to admit, the reason Roaring Fork won out over other resort cupcake spots was this recent addition to the dessert case...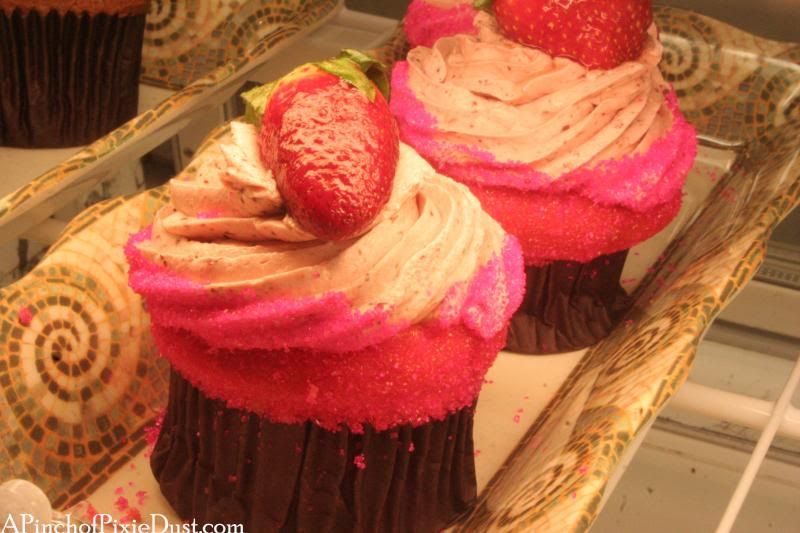 KUSAFIRI COFFEE SHOP AND BAKERY AT THE ANIMAL KINGDOM PARK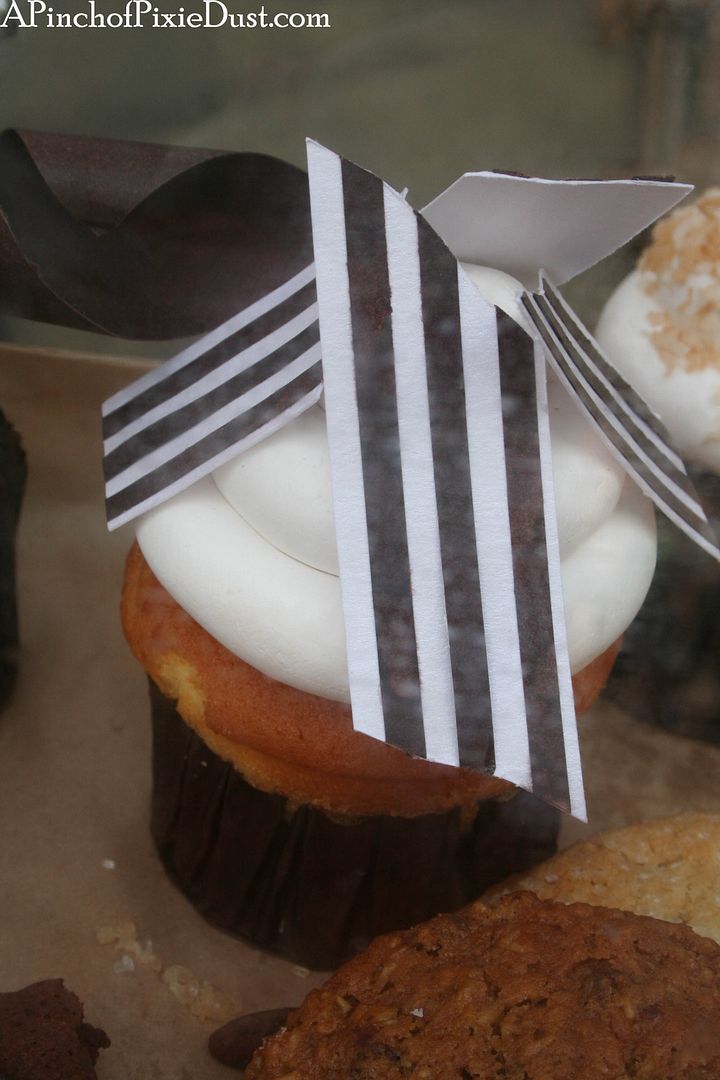 This little coffee window tucked back in Africa at the Animal Kingdom has some wild cupcakes! Kusafiri's line-up includes: the
White Chocolate Elephant cupcake
(with lots of coconut!), the Cotton Top Tamarin cupcake, and the Zebra cupcake.
The
Cotton Top Tamarin cupcake
is my favorite - you have an adorable tamarin lollipop and
then
enormous chocolate shavings stuck into the icing as well. This cupcake is often also available at the coffee stand right across the bridge as you enter/exit Discovery Island, so you could grab one on your way out
We have one last Disney Cupcake Must-Do...
BE OUR GUEST AT THE MAGIC KINGDOM
As soon as you get your red rose, you know a
grey stuff cupcake
can't be too far away! The rooms you're eating in at Beast's Castle are so beautiful...they make everything extra-pixie-dusted and even tastier. :)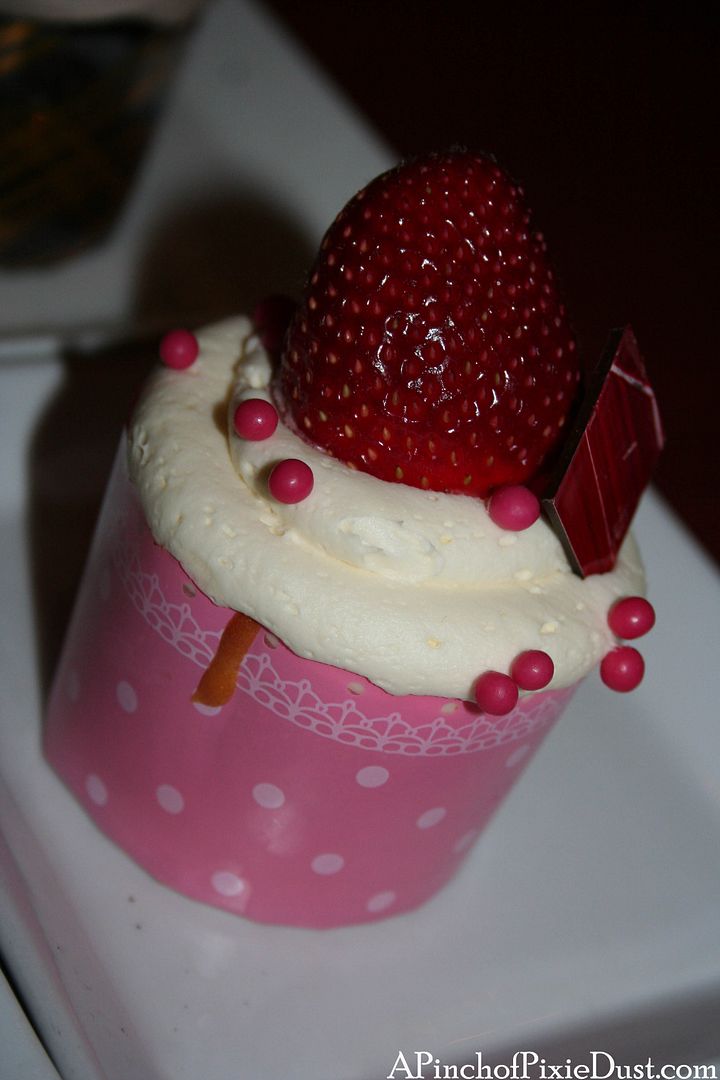 Here we have
triple chocolate
, "the Master's" with the grey stuff, and strawberry cream cheese. There is also a lemon meringue cupcake, and at the holidays they've had a poisoned apple cupcake and an eggnog cupcake!
Be Our Guest cupcakes are smaller than other Disney cupcakes but just as delicious - they are a little cheaper as well at $4.19.
The typical cost of a specialty Disney cupcake is $4.59 or $5.19 - many do count as snacks on the dining plan. Seasonal cupcakes are usually a dollar or two more.
The cupcakes are huge, but that is still a lot - yet, I do find myself paying it at my favorite spots. And as I savor my butterfinger/oreo bon-bon/strawberry lemonade/cotton-top tamarin/grey stuff cupcake...I don't really find myself regretting it. ;)
Honorable Cupcake Mentions go to the Contempo Cafe at the Contemporary Resort and the Mara food court at the Animal Kingdom Lodge. It was a tight race between those two and Roaring Fork!
What are YOUR top five Disney World cupcake spots??