The world, my friends, is a carousel of color...wonderful, wonderful color...
...a rainbow of imagination...a blue, rolling sea...a red summer rose...a sunset in the sky! (You should really have
this soundtrack
in the background while you read this post) Can you guess what words are shimmering into view? It's the
WORLD OF COLOR
!
This spectacular nighttime show at
Disney's California Adventure
has SO MUCH PIXIE DUST. It was definitely one of the most exciting parts of our recent
Disneyland trip
.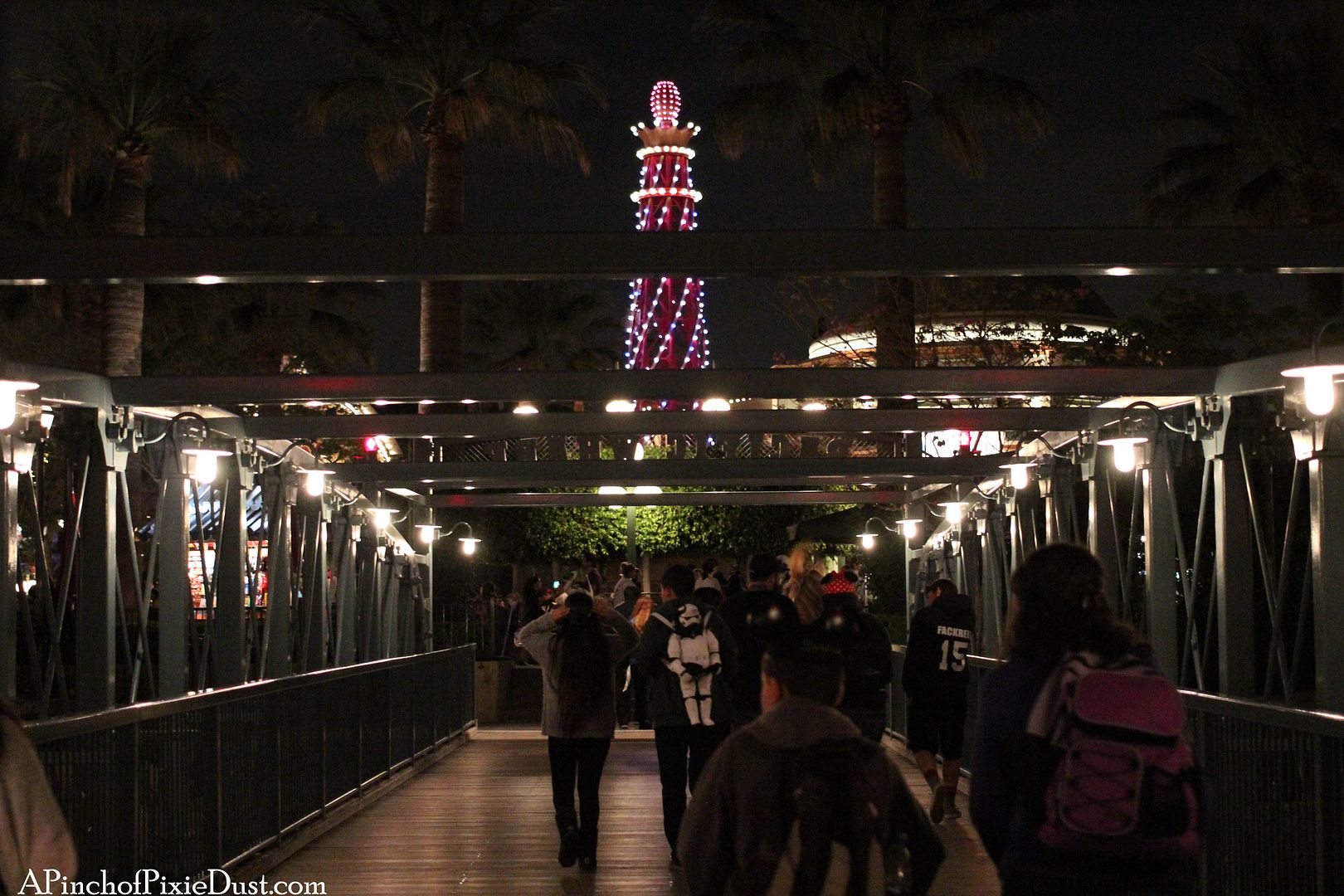 The entire park is very pretty and festive after the sun sets - I loved the lights of Pacific Wharf and the glam and glow of Buena Vista Street (it's even better when you're munching on an
evening ice cream bar
from Clarabelle's).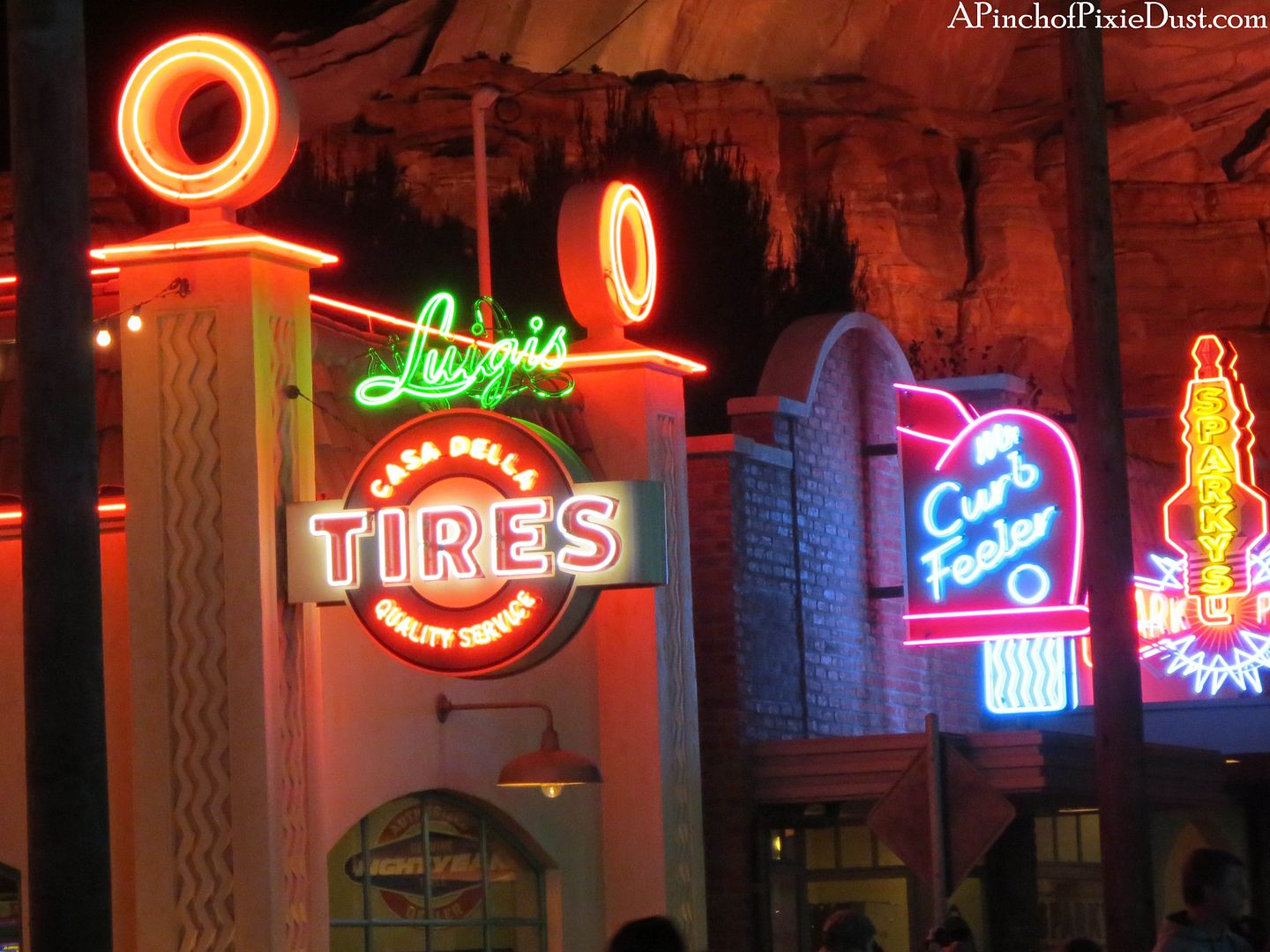 And of course you're GOT to get over to Carsland to see all the neon glowing in Radiator Springs, but that's a subject for another post. Tonight we're going to get to know Paradise Pier and Mickey's Fun Wheel a little better..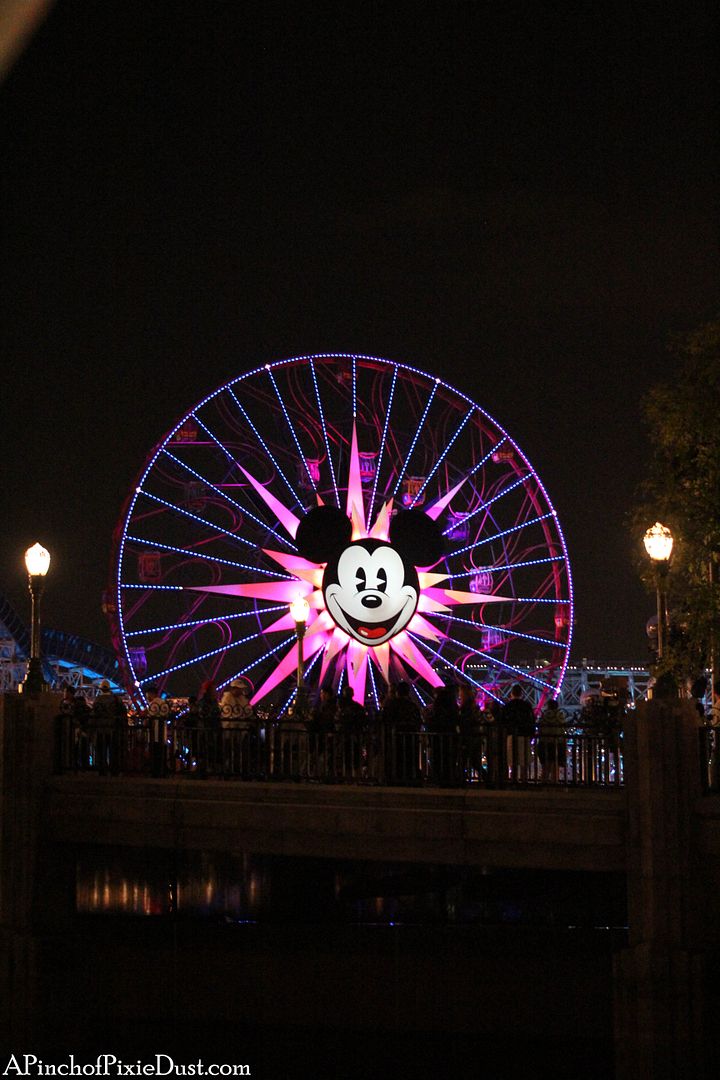 I love how cheerful and colorful that ferris wheel is against the night sky!
There are the lights of Paradise Pier! Our destination is the Paradise Pier lagoon...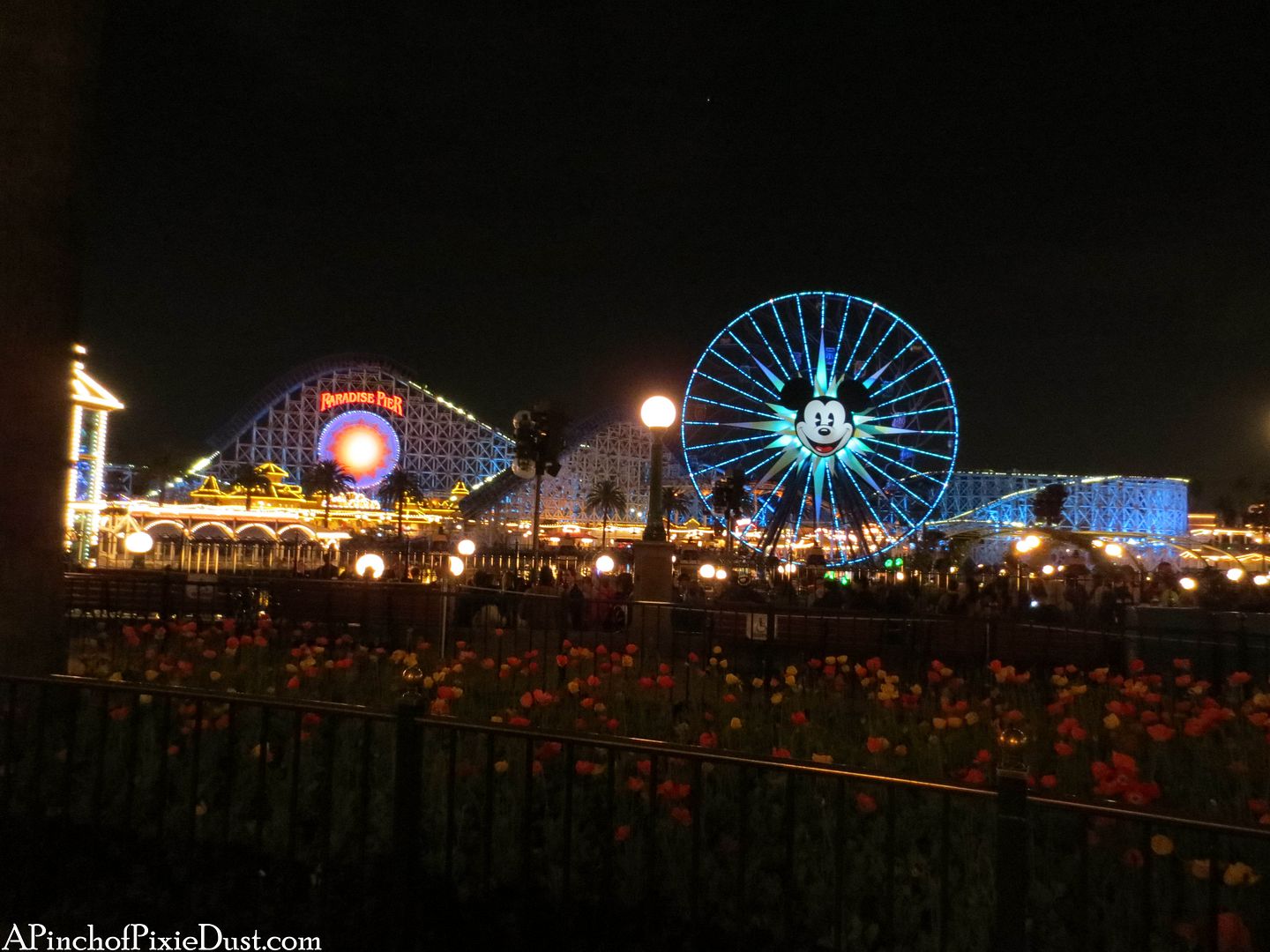 World of Color is
popular
, and as with many of the nighttime shows at Walt Disney World, some advance planning for your World of Color viewing is a good idea.
Probably you're going to want to get a fastpass for the show - they're distributed outside of Grizzly River Run, and they're separate from your other attraction fastpasses (so you can still go grab one for another ride right away without having to wait). A World of Color fastpass lets you get into the Paradise Park viewing area - essentially it's a big terrace across the water from the fun wheel.
The show starts at 9:45, and our fastpass let us into the "blue" viewing section at 8:45. We got there about 8:35, and there was already a sizeable crowd waiting near the blue entrance by the Paradise Pier bridge. As soon as they started letting people in, there was a mad dash for spots - very stressful! What you really want is anywhere against a railing so there will be a minimum of heads / light poles / other obstructions blocking your view. There are some spots right down by the water, but they say you can get wet, so we didn't try for those.
We ended up, alas, not against a railing, but at the top of a short flight of steps that was directly across from the fun wheel, so we knew we'd be looking at the projections front on - and we were a little bit elevated over the heads, which was great.
If you'll be seeing World of Color for the first time, I would definitely do some googling to get familiar with viewing strategies, because it can be a little overwhelming with all the crowds, and you do need to get there pretty early to get a good spot. I know most of the Disney
World
nighttime shows and viewing like the back of my hand (
WISHES FOREVER
), but World of Color was a whole new experience!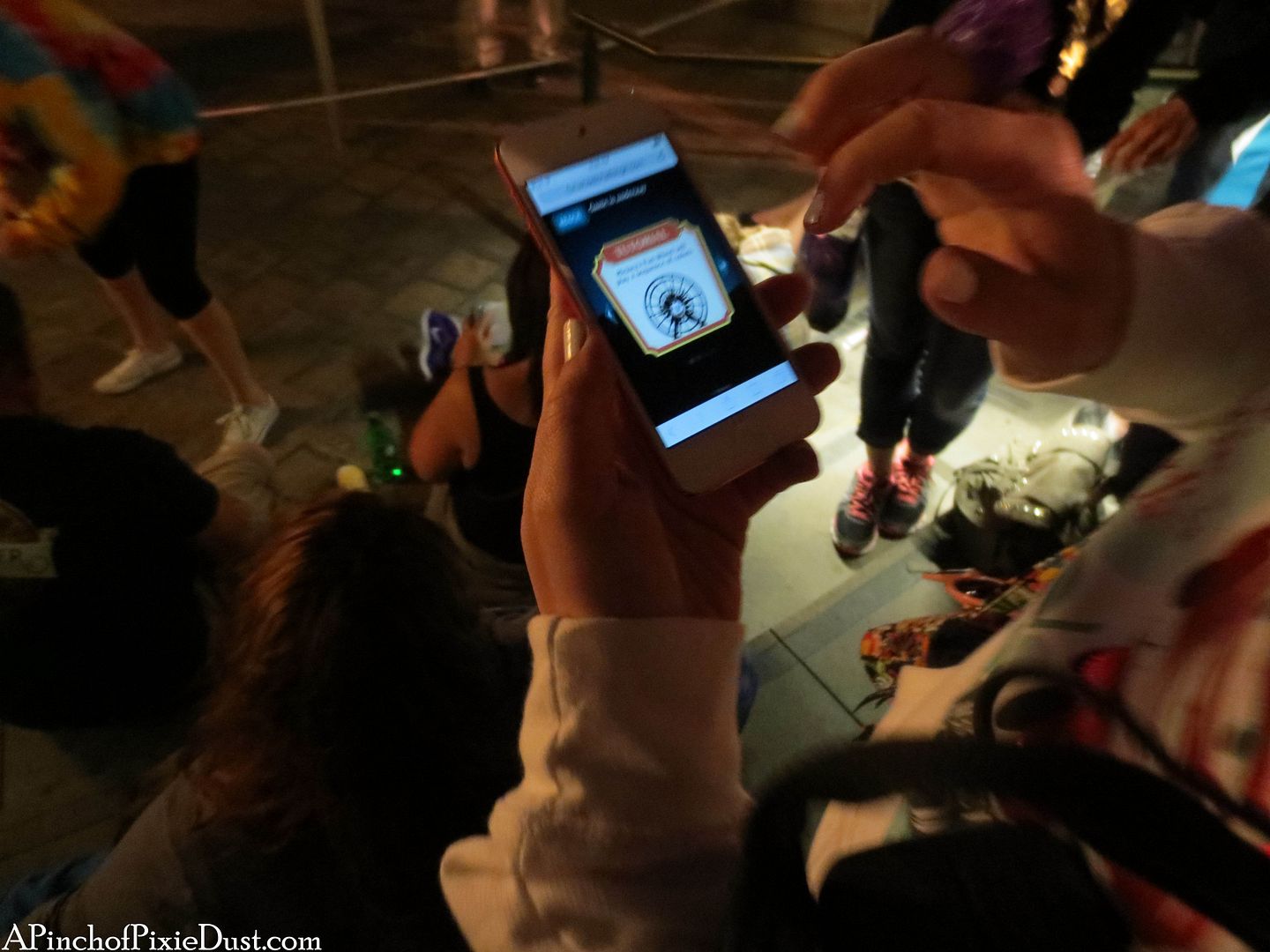 Once we were settled in our spot, we could relax! One of the ways you can pass the time before the show starts is the the "Fun Wheel Challenge." There is no free wifi at Disneyland, but there
is
a free network your device can connect to just to let you play the game. The wheel lights up in different color sequences, and if you click the right colors fast enough, you can control the lights on the color wheel for 30 seconds!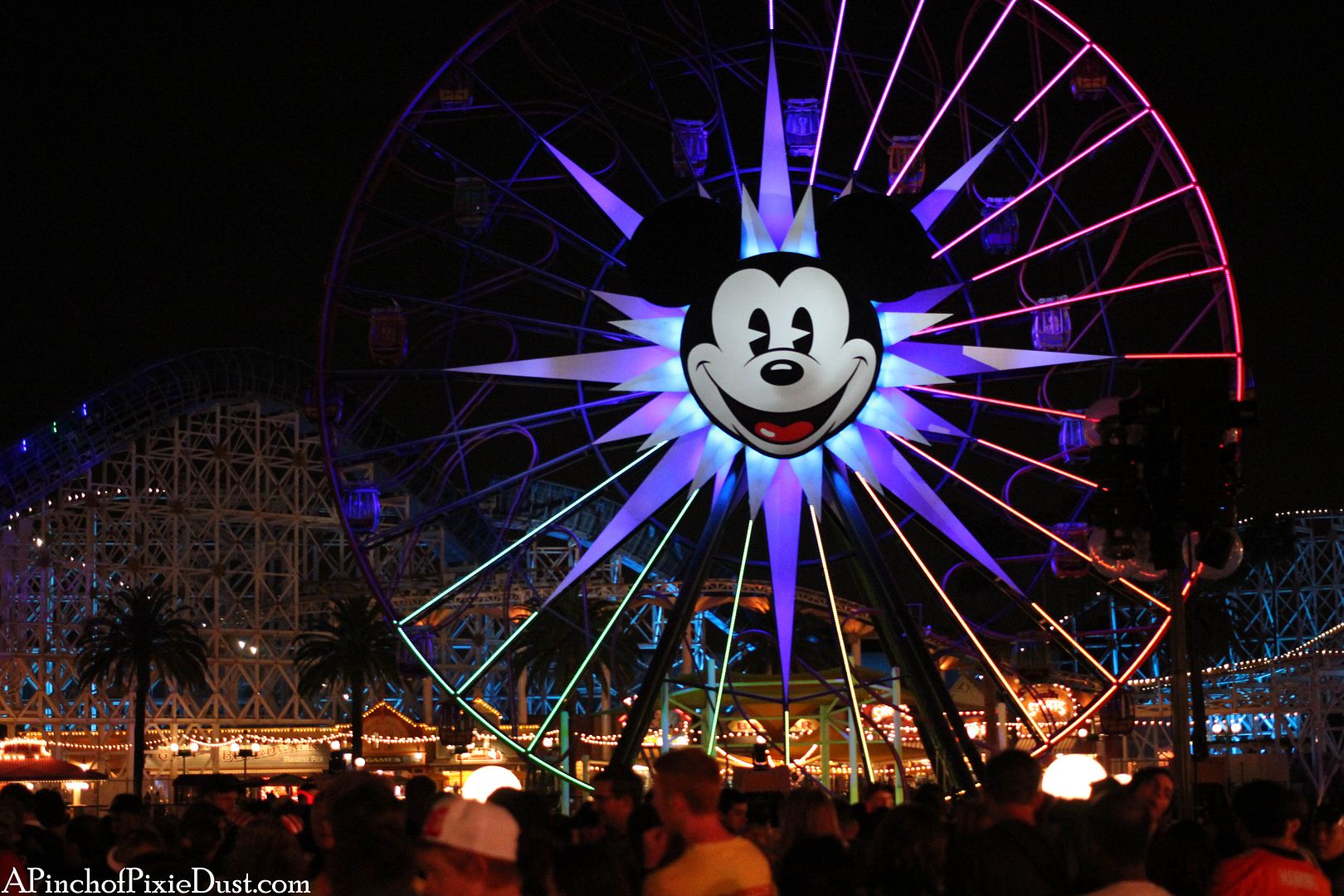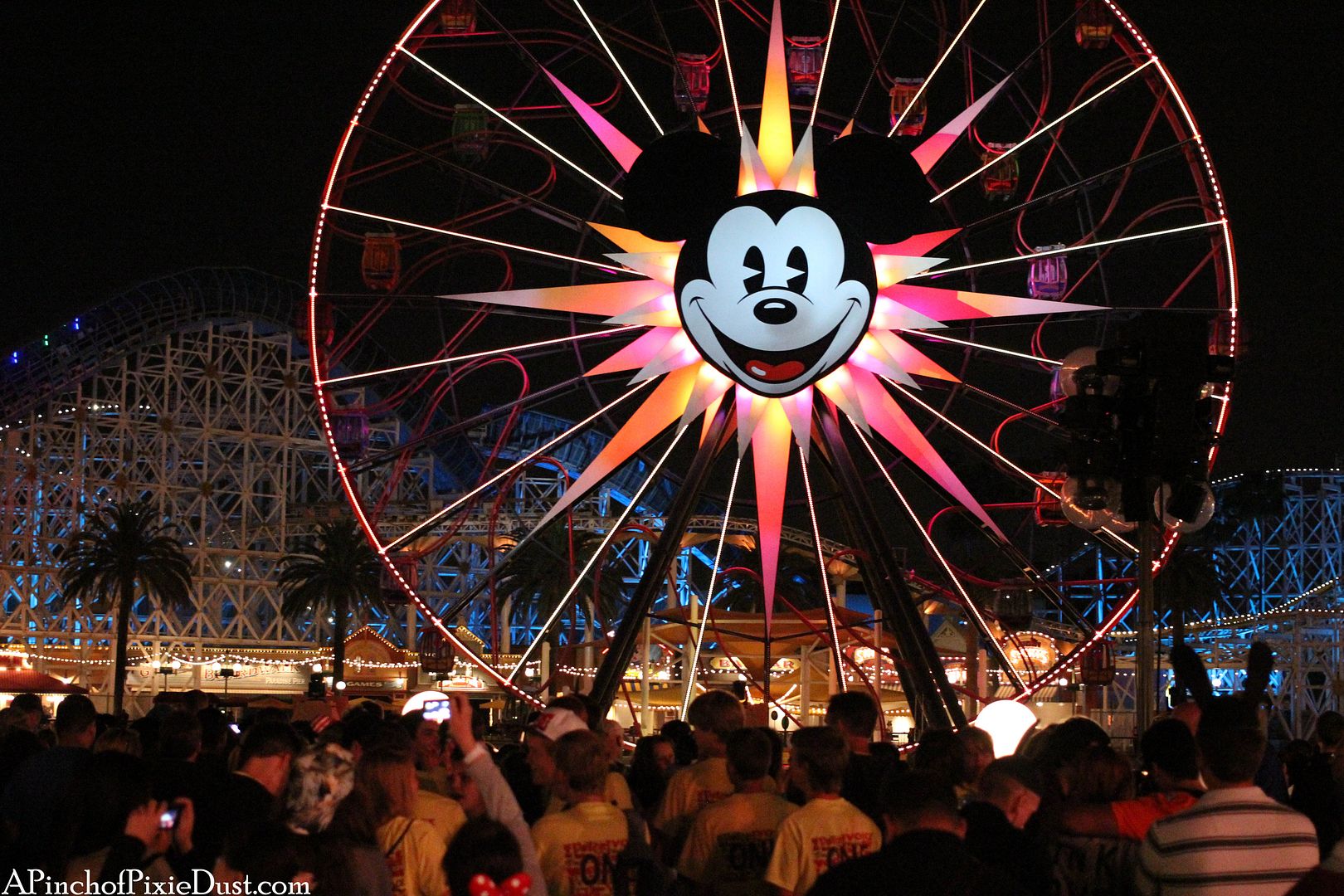 Unfortunately we didn't get to control the lights, but we were entertained during the wait!
So colorful...and we haven't even gotten to the
World
of Color yet!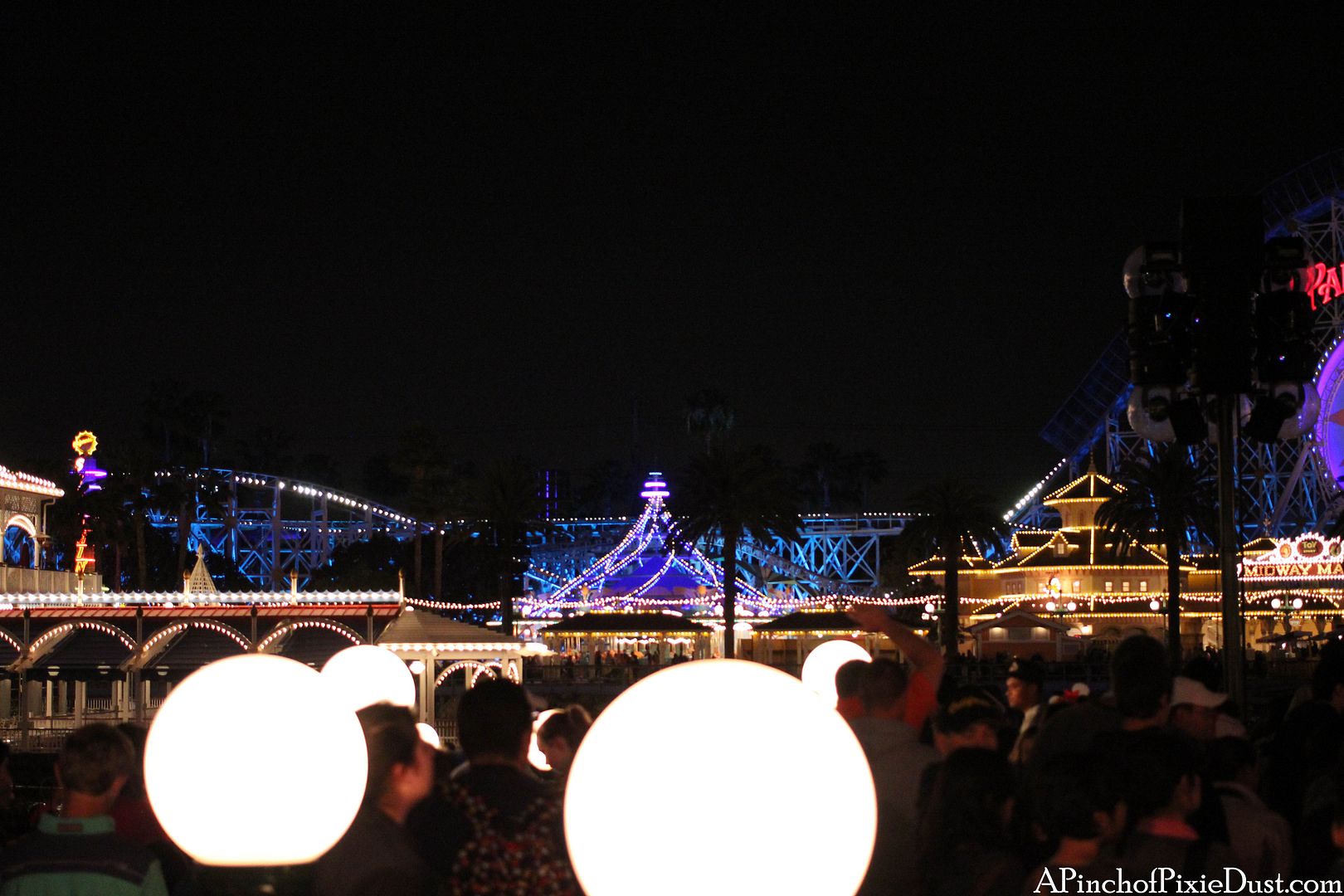 Still waiting for the show to start...see those bright round lights? During the show they glow in different colors to match the water bursts and projections - I didn't even quite notice this until I was looking back through my photos...
SO NEAT. And there were little fountains scattered throughout the gardens that seemed to dance along with the bigger show on the water too. Now I want to go back to really see them properly! It was hard to take everything in during World of Color, because there was so much to see!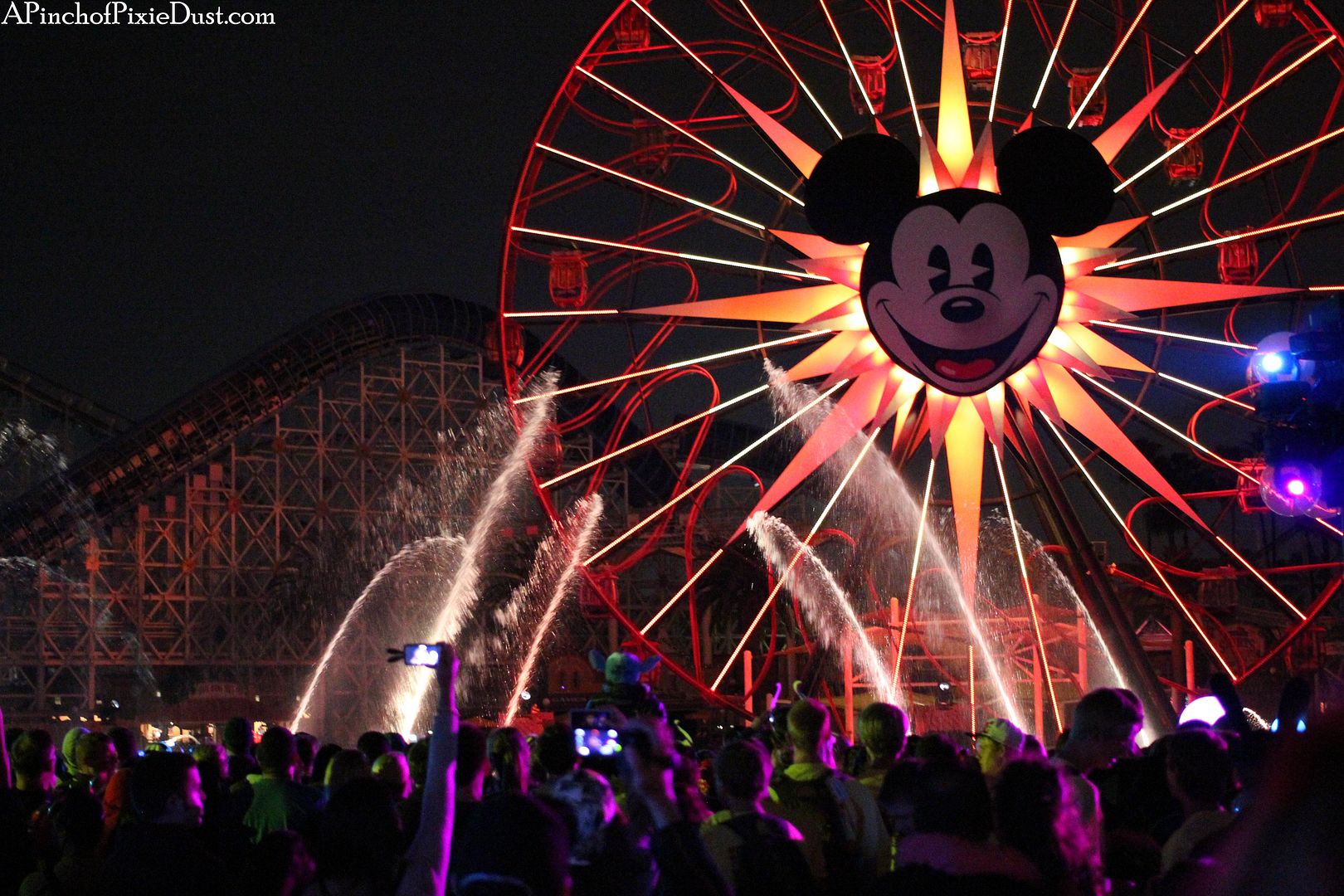 I had not watched World of Color on youtube, so it was brand new, and I was totally blown away! The music, the lights, the videos, the water - it was so impressive! I liked the length too - 28 minutes - and it certainly keeps your attention throughout.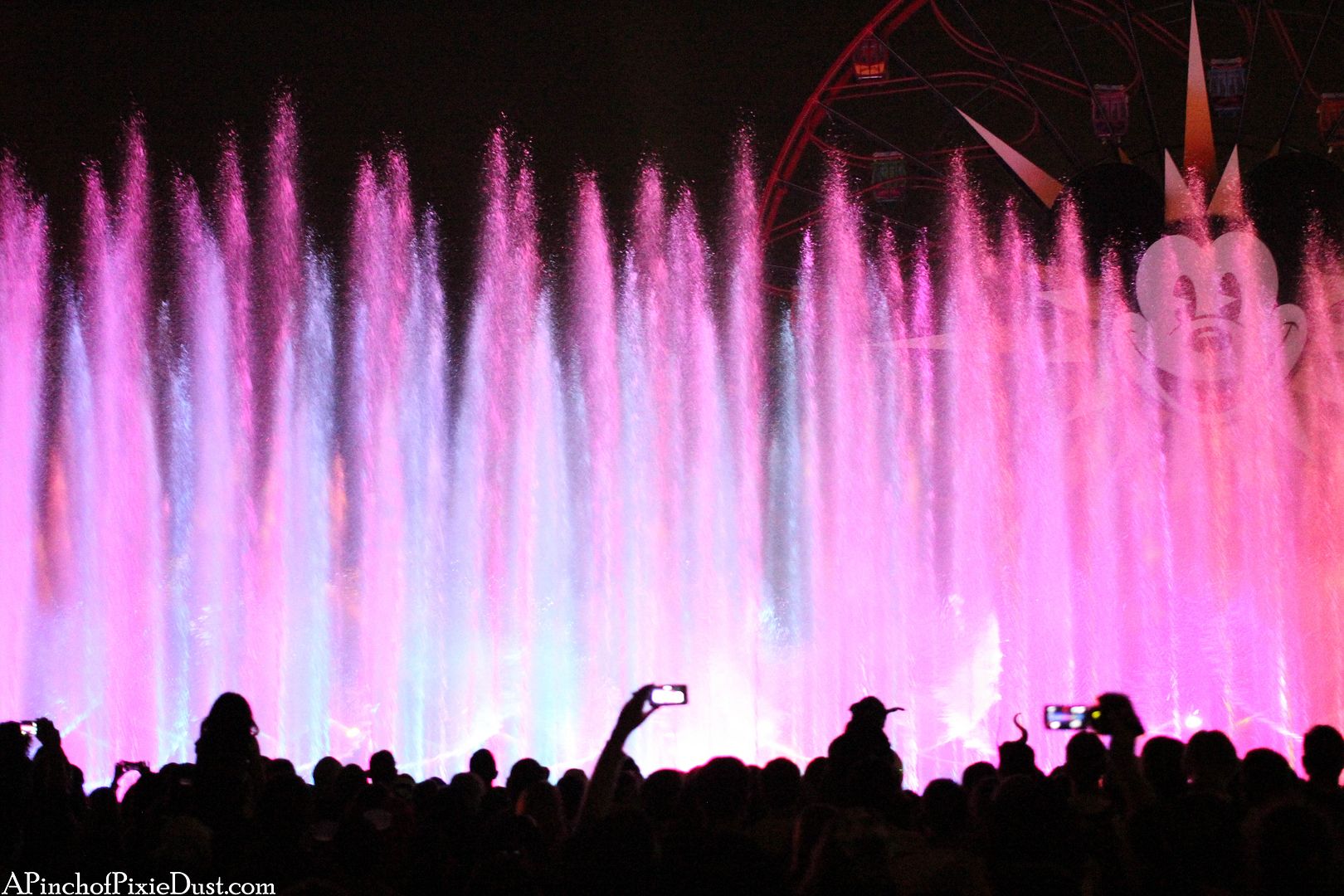 The video projections were neat, but just the shimmering sheets of water and color by themselves were stunning!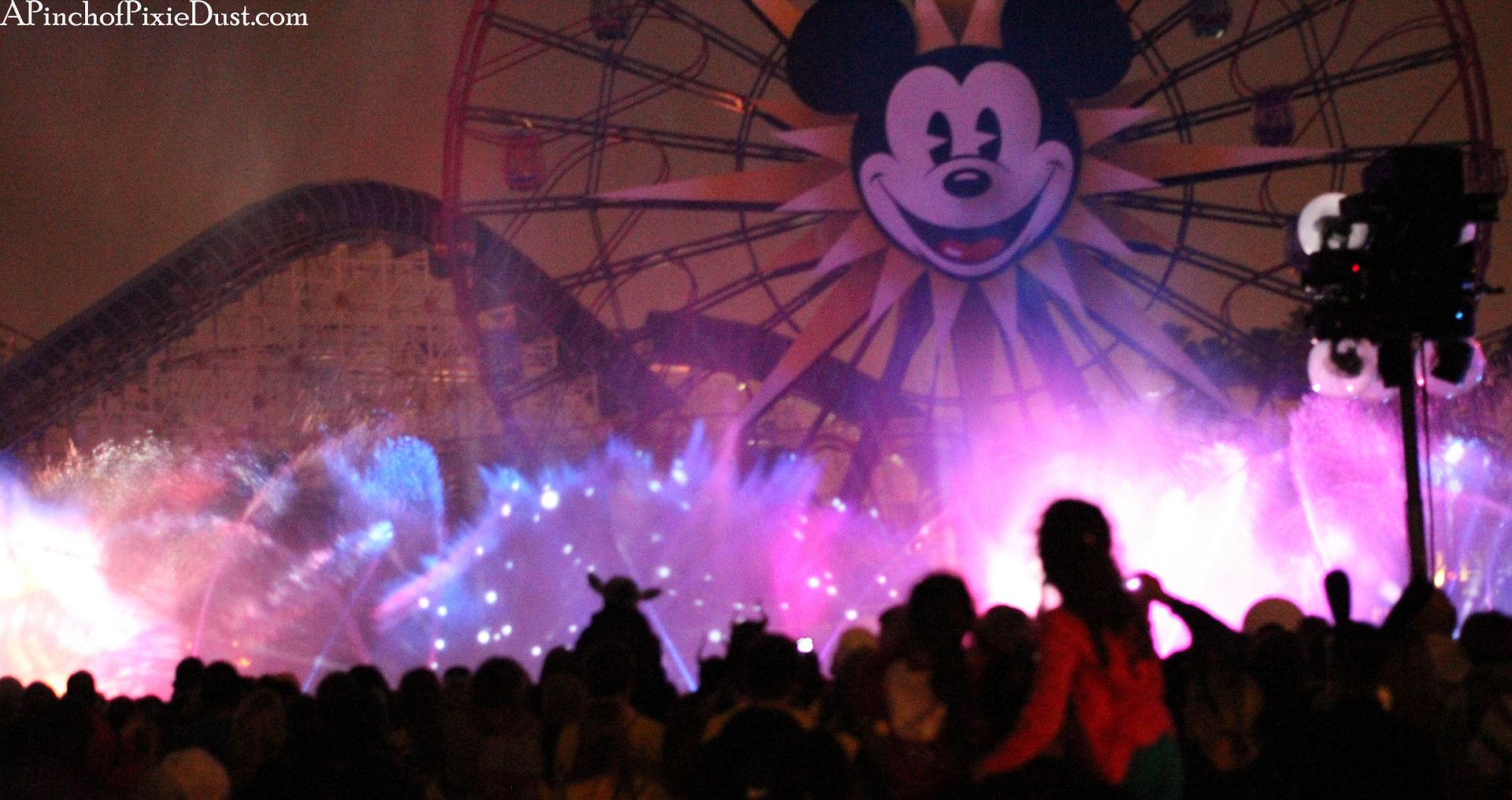 The silhouettes of Mickey ears, Stitch ears, Oswald ears, and more (there were even some Maleficient horns!) added to the fun!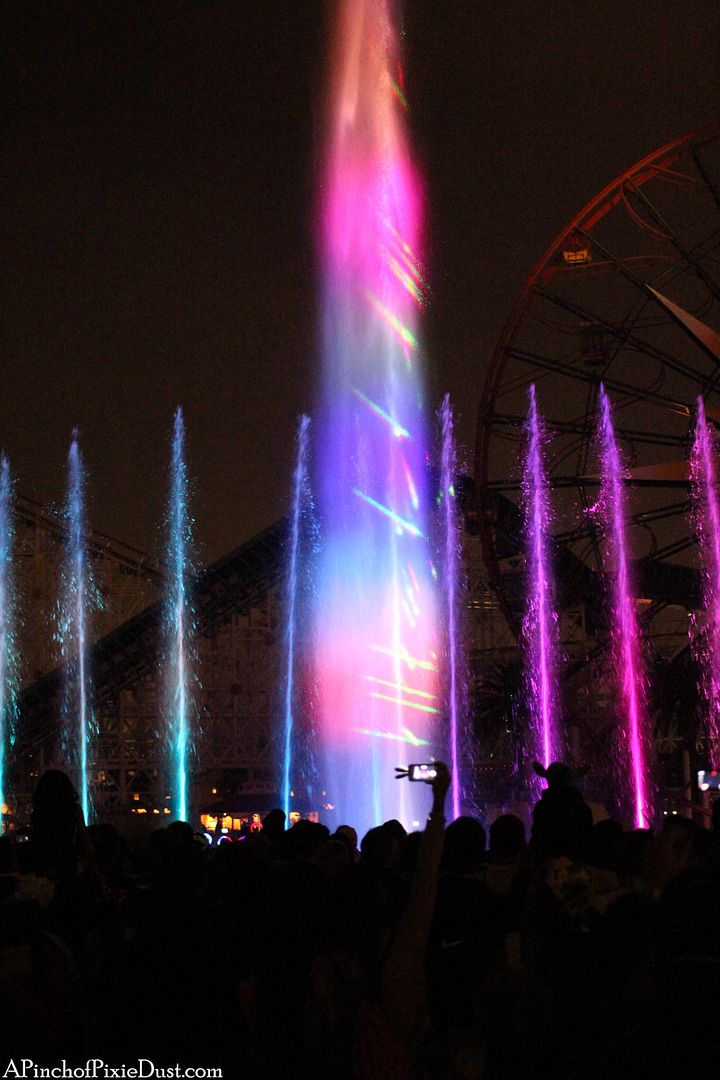 I DARE you to watch this show and
not
come away with "The world is a carousel of COLOOOR" stuck in your head. I'm pretty sure it's not possible.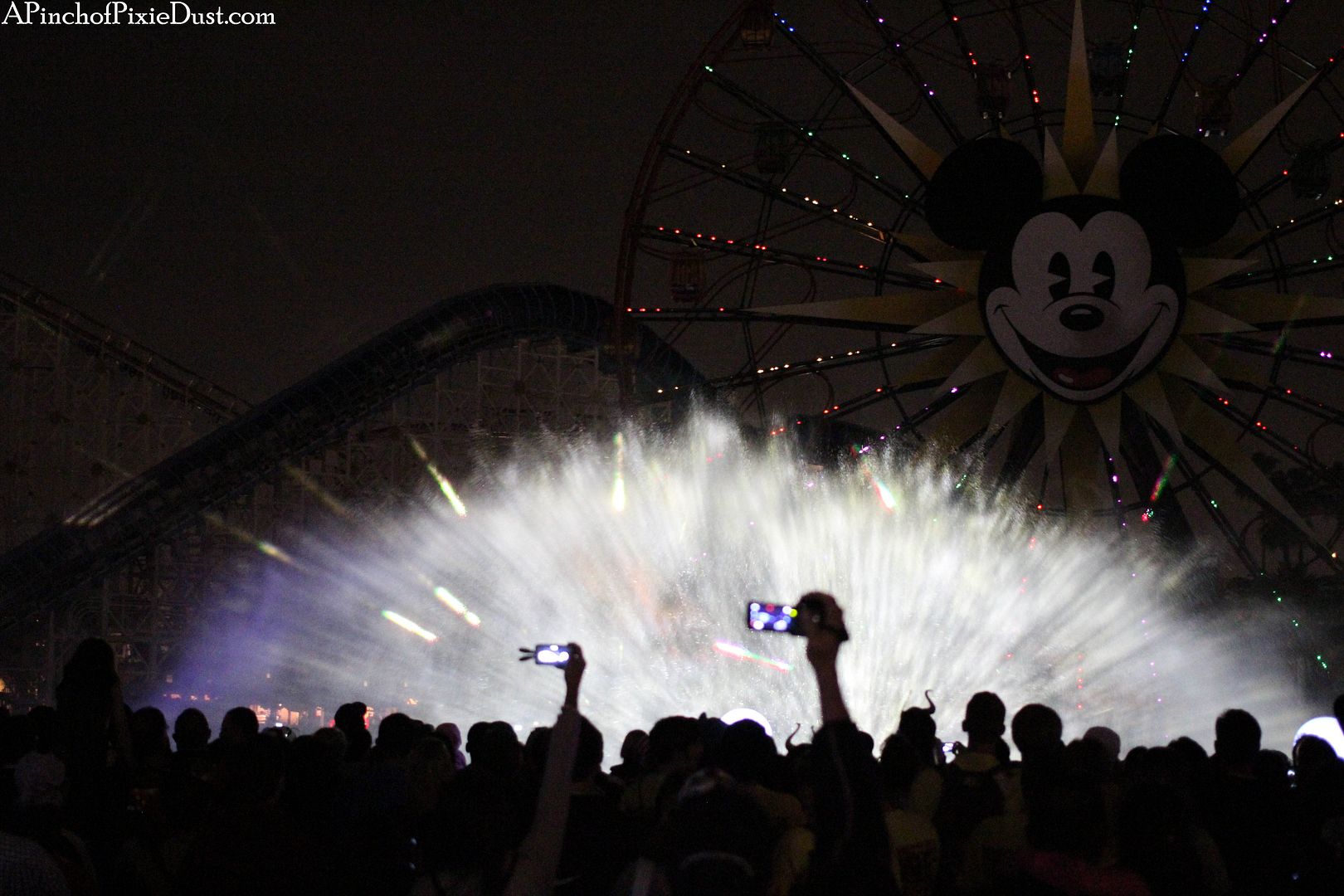 Your mind is about to be blown!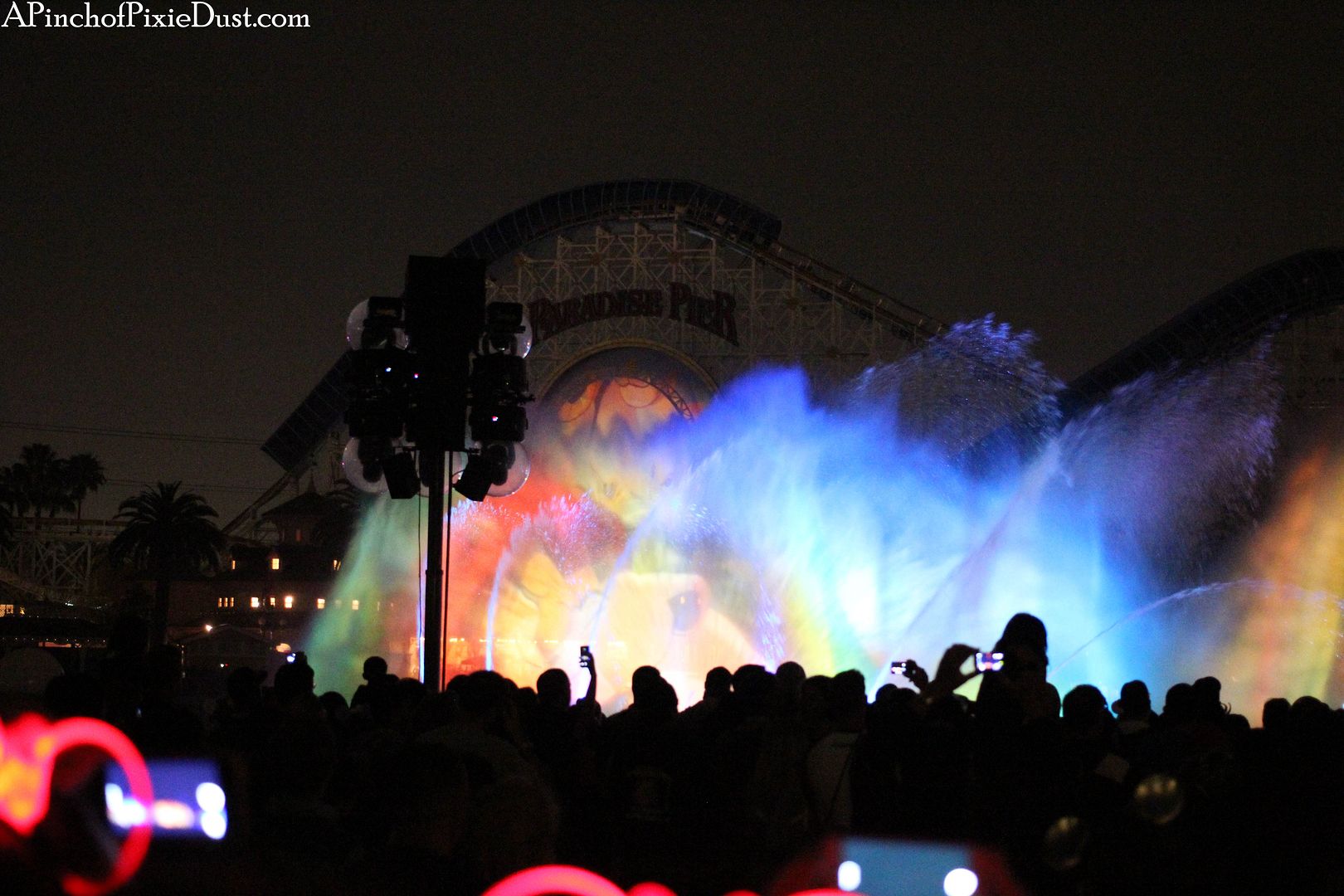 Of course some of your favorite Disney movie characters and scenes are represented...I think that's Nala and Simba on the water there.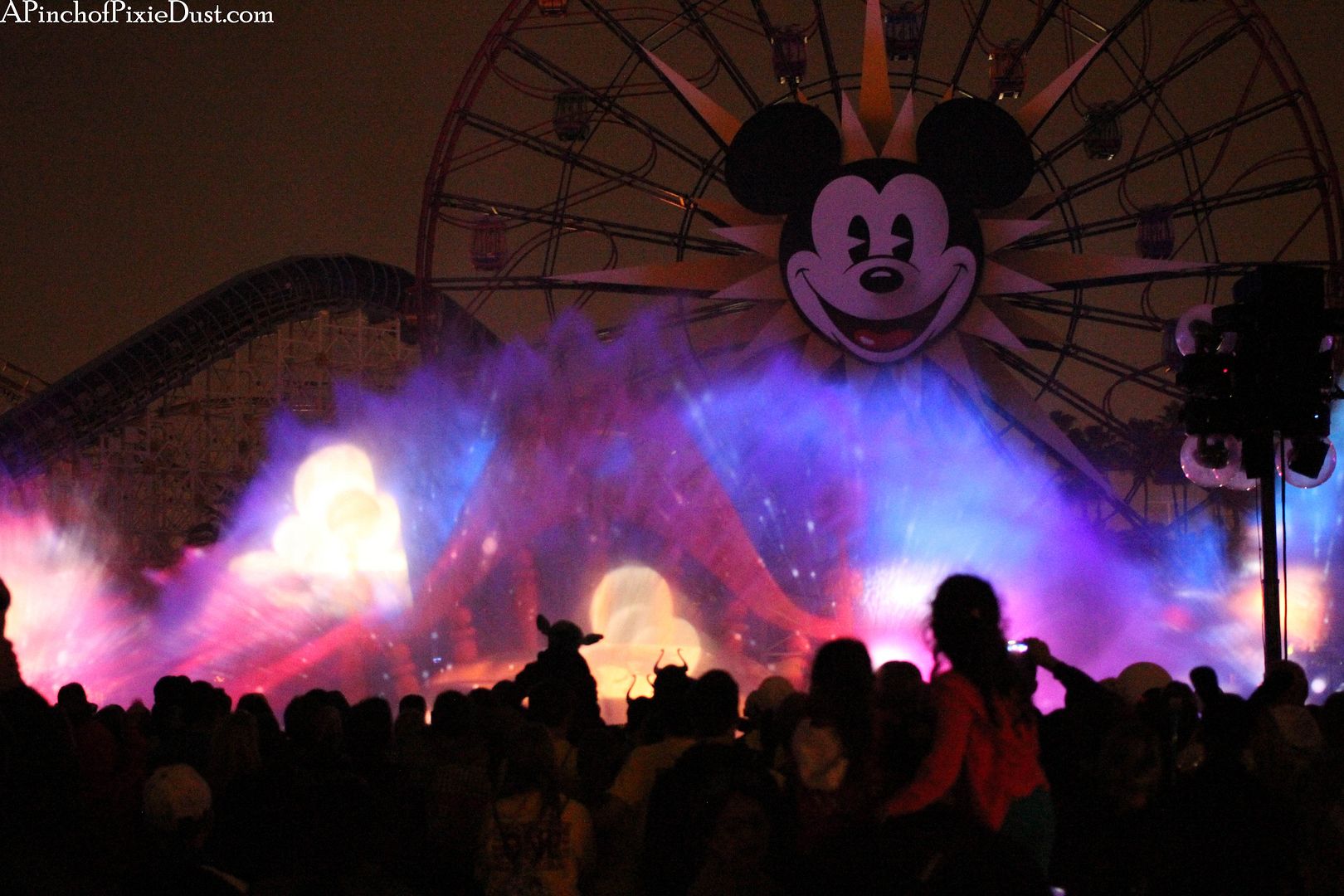 I think this was from the Toy Story portion...that's Andy's room...
...and that's Buzz, blasting off...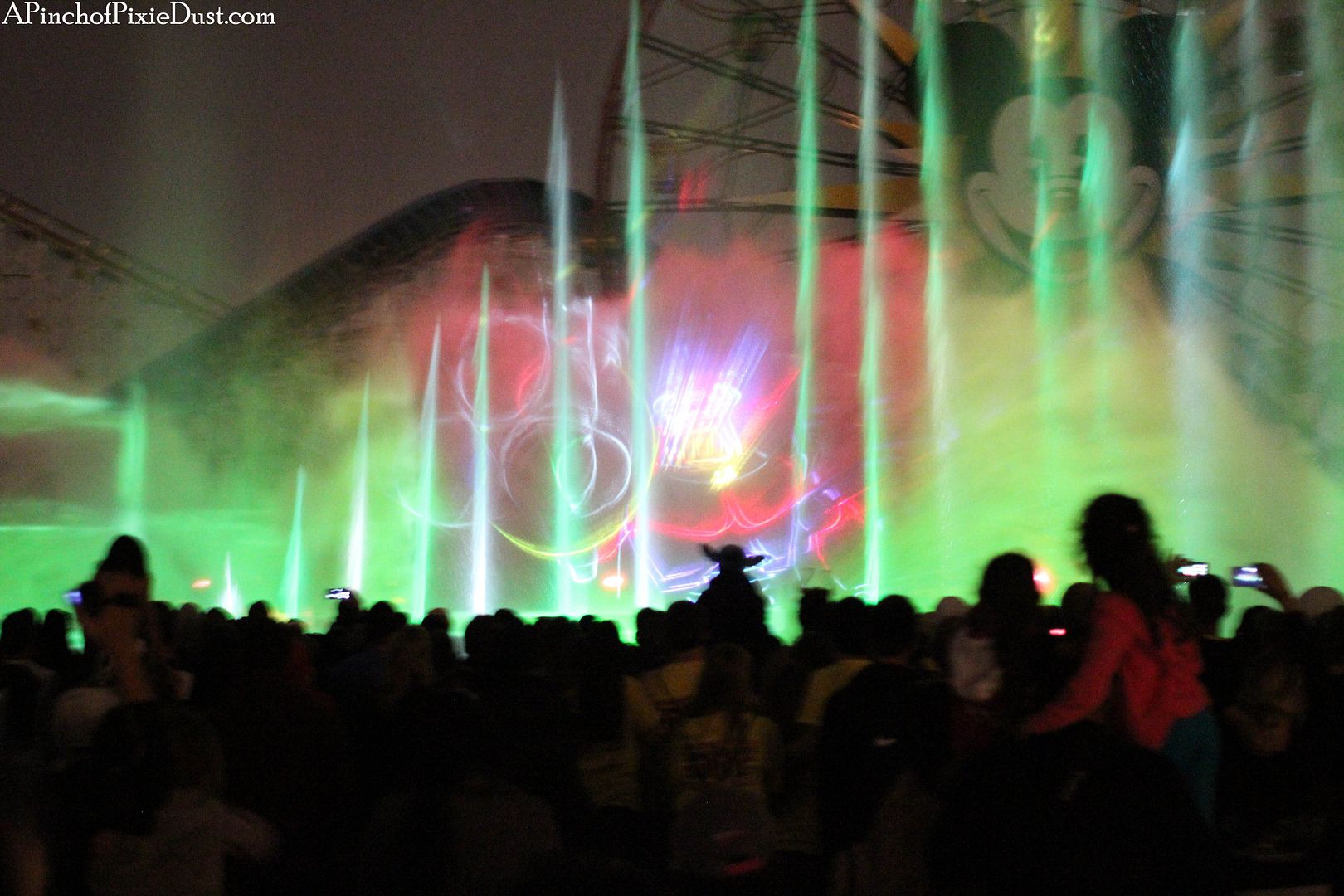 Watch out, it's Zurg!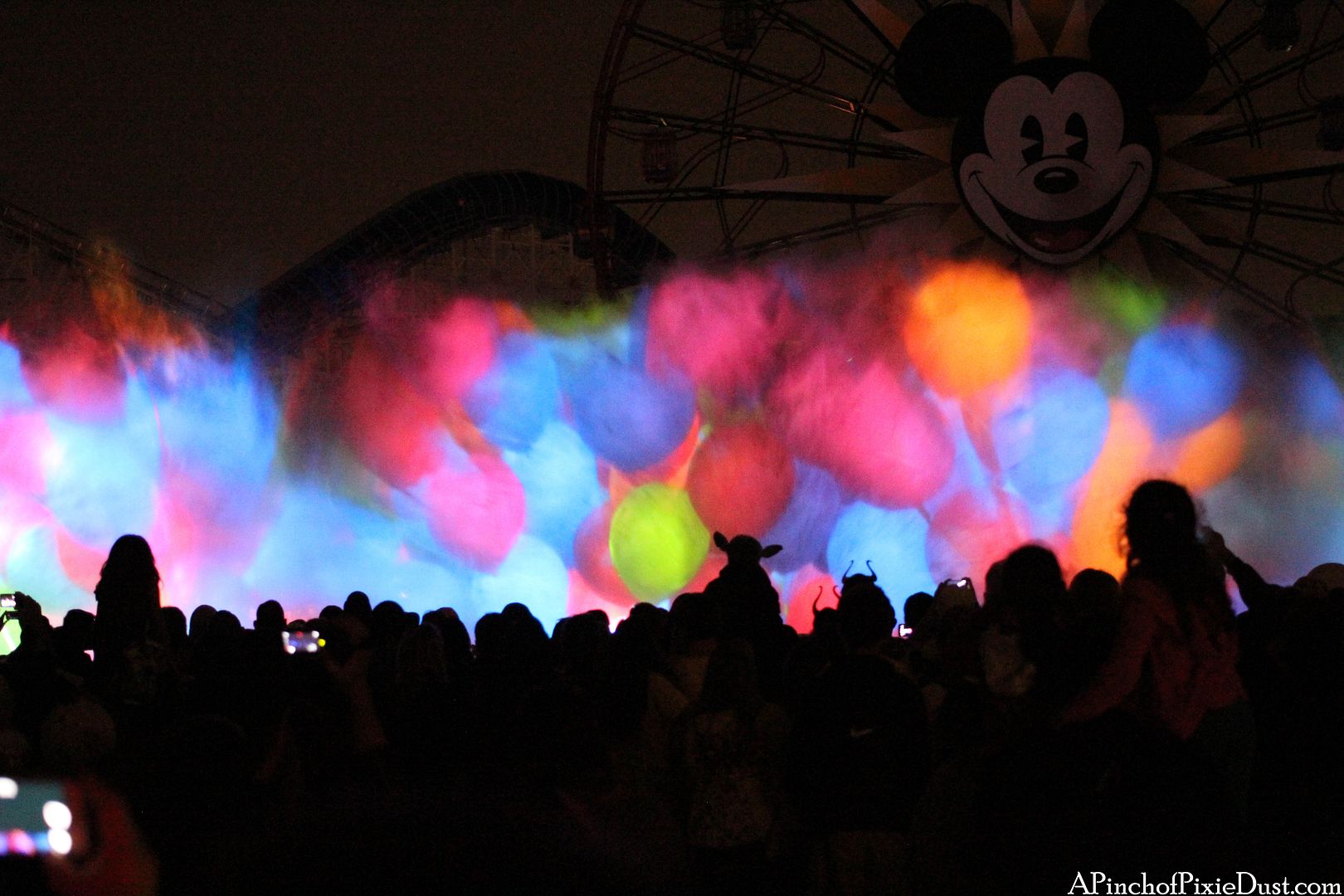 Here are balloons from the UP portion...there was plenty of Pixar in this show!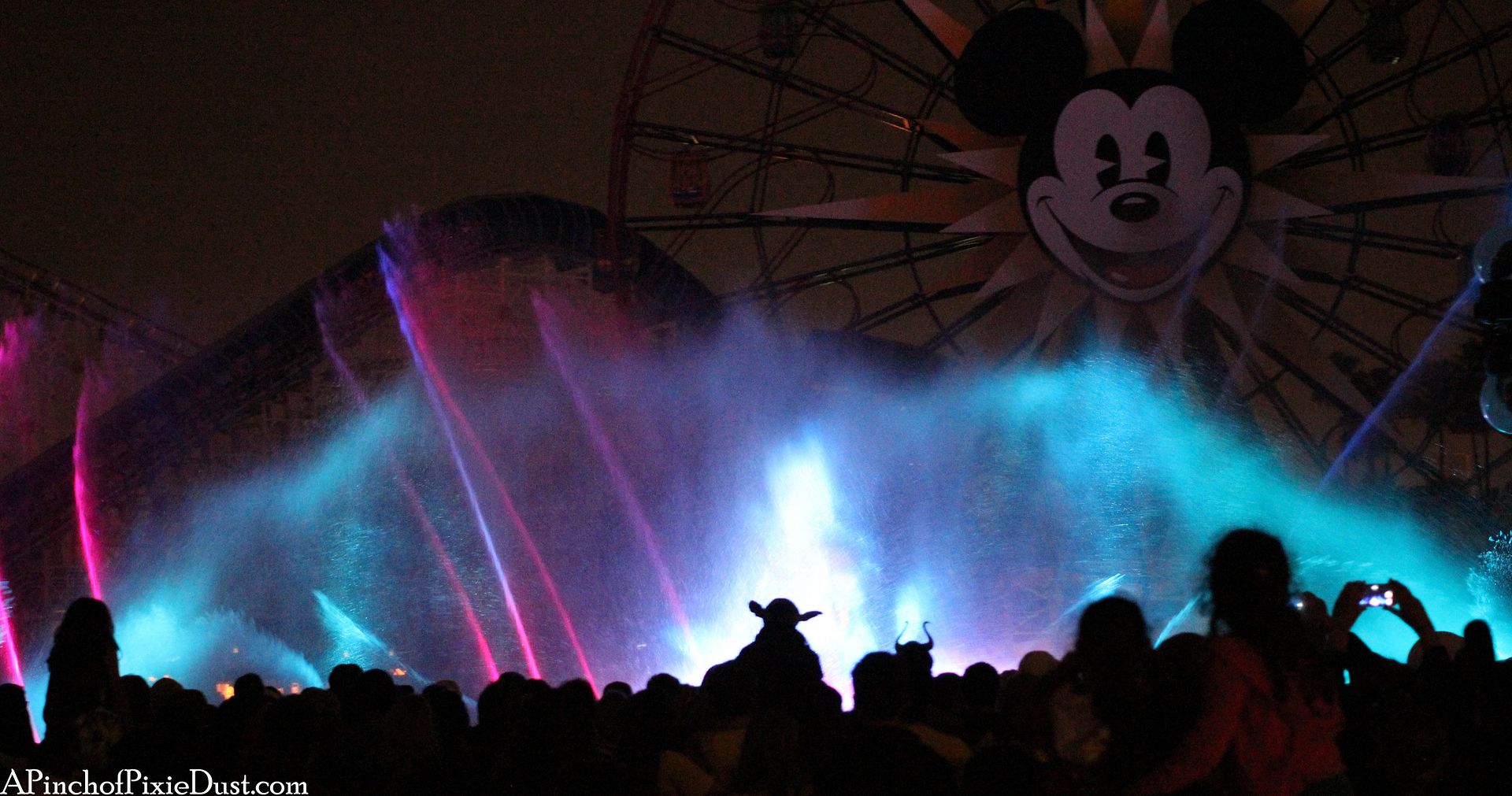 Hmmm...not sure what this part was, but it looks purple and sparkly. :)
This looks rather menacing...
SO gorgeous. The way the jets of water moved and curved was incredible!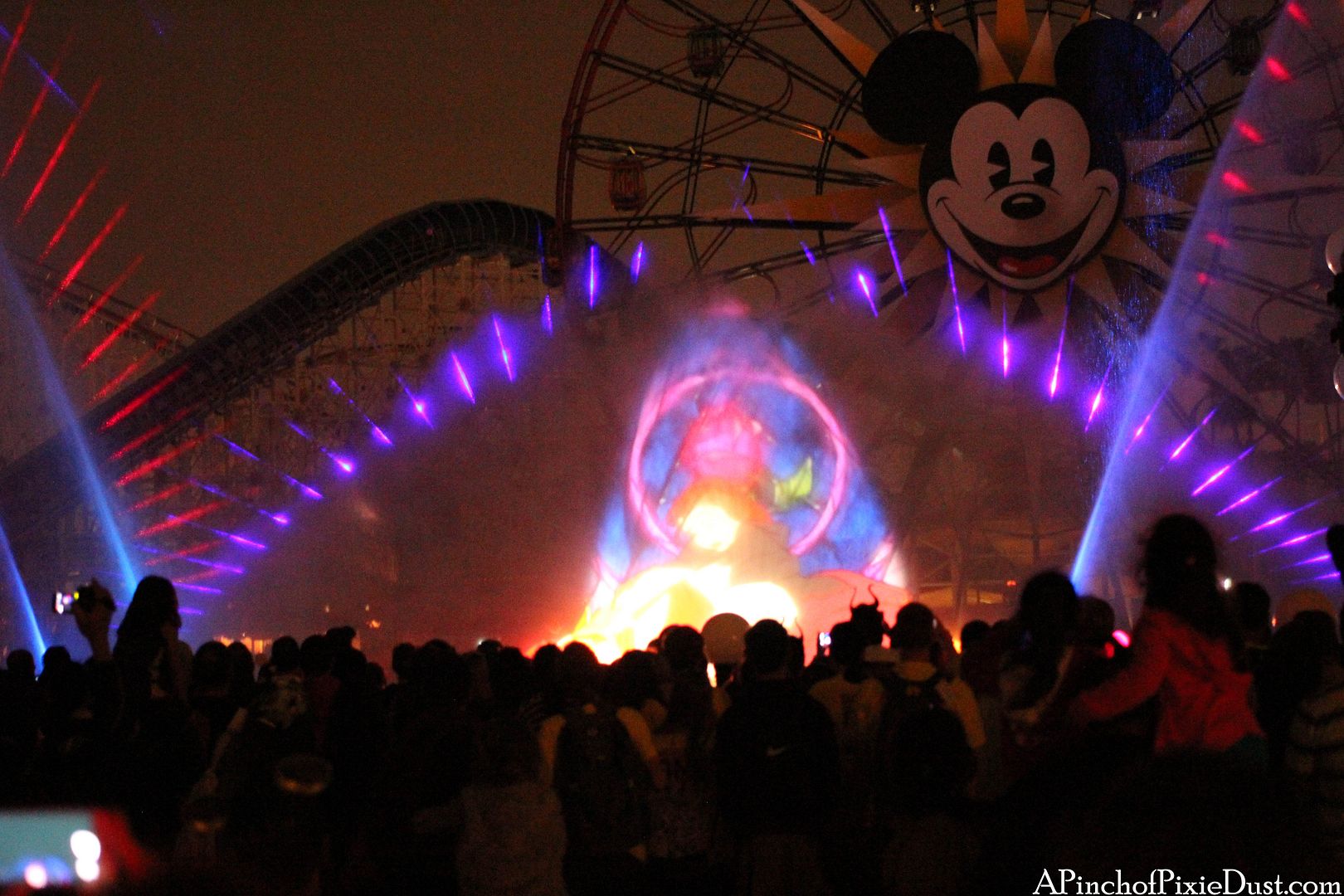 Beauty and the Beast!
A wall of red - I'm pretty sure this was from the Pirates of the Carribean portion, which involved both fire AND water and was pretty darn epic.
You can catch some of it in the World of Color Disney Snob vlog! :)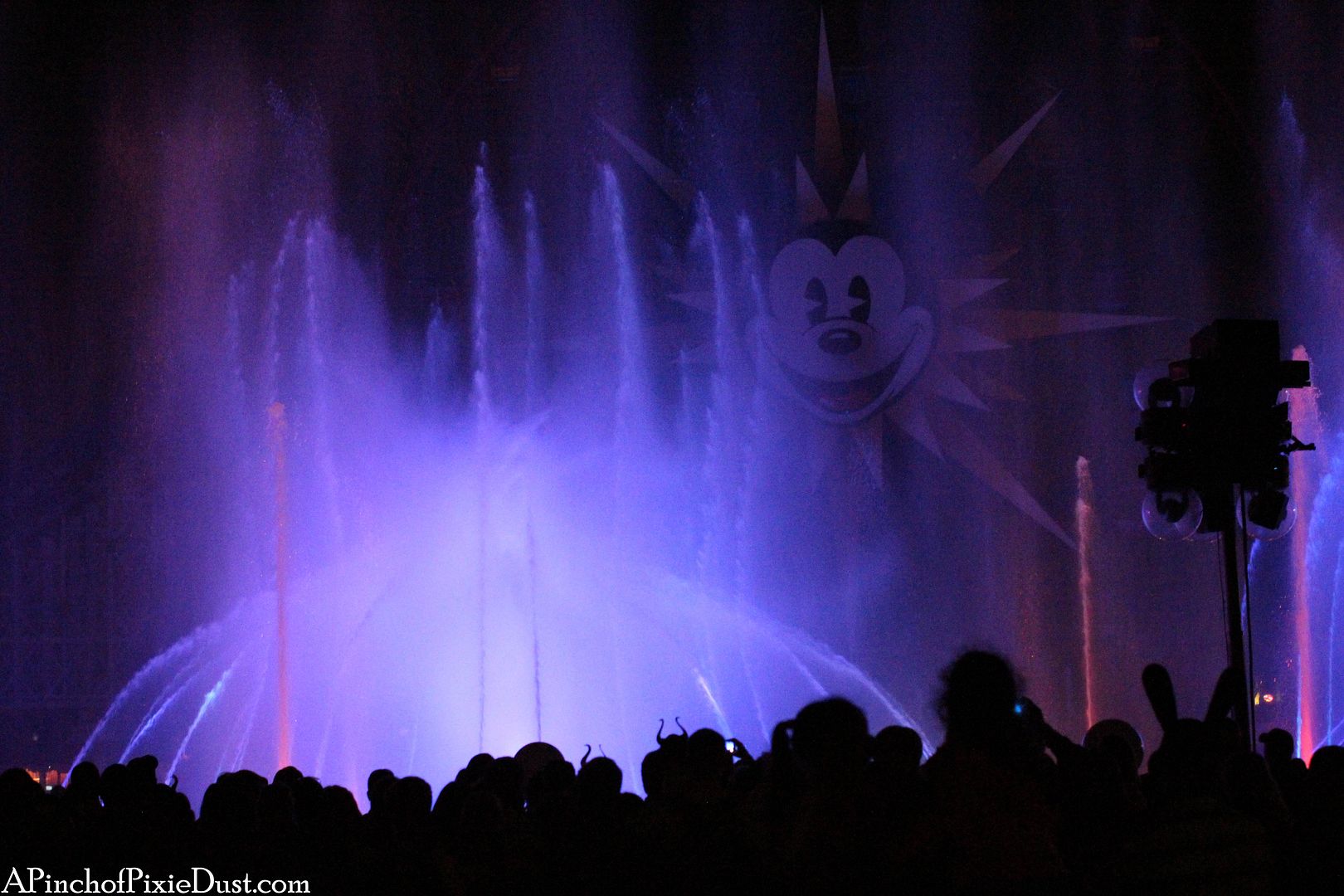 When the show was over - as soon as I could stop ooohhing and aaaahing - one of my first thoughts was, "HOW DOES DISNEY WORLD NOT HAVE ANYTHING LIKE THIS??" The
Illuminations
globe at Epcot or the water effects from
Fantasmic
at Hollywood Studios don't stack up too well against the dancing waters of Disneyland.
But luckily it sounds like we won't have to wait too long for a water and lights show in Florida - Disney recently announced a new nighttime spectacular coming to the Animal Kingdom called "
Rivers of Light
." I cannot wait to check that out.
Then again...I also can't wait to get back out to California to see World of Color in person again! Have you seen this show yet?