Happy Monday, everyone! Ready for some tasty Disney World eats?
Our dining destination lies in the heart of Epcot's World Showcase, in the shadow of the colorful Temple of Heaven...
...and the treats we're going to sample are just as colorful as the surroundings!
This is the Nine Dragons Restaurant, a table service location in the China pavilion. It was one of those lingering places that my family had somehow never tried before, so I was excited to step inside and have lunch here with my brother on a recent trip...
I had no idea it was such a large space and so pretty! I love the lanterns and screens and the swirly clouds on the carpet...
A few more views of the main dining area...we did not have a reservation, but we had no trouble walking up for a late lunch - it was bustling but not crowded.
How can you not smile looking at those bright lanterns - the perfect pop of color!
We sat towards this corner of the restaurant...don't you love those cool round booths? I also loved how there were windows surrounding the space on almost every side - they were almost like pictures, each the frame for a unique, international view.
Not all of them looked out on China - this one had a Norwegian scene! Only at Epcot. :)
Some fun Disney details...little pots for sauces, and you could learn Chinese characters on the place mats while you waited!
Soon the table was filled up with tasty eats! I decided to try a cold drink...
With a name like "Shangri-la Smoothie" how could I resist? It was strawberry and mango - my favorites!
Super
fruity and refreshing, and I loved the cherry on top. I believe there was an alcoholic version with rum as well. It was such pretty shades of yellow and orange and pink and red - like drinking a sunset. ;) And it matched the
colorful lanterns
!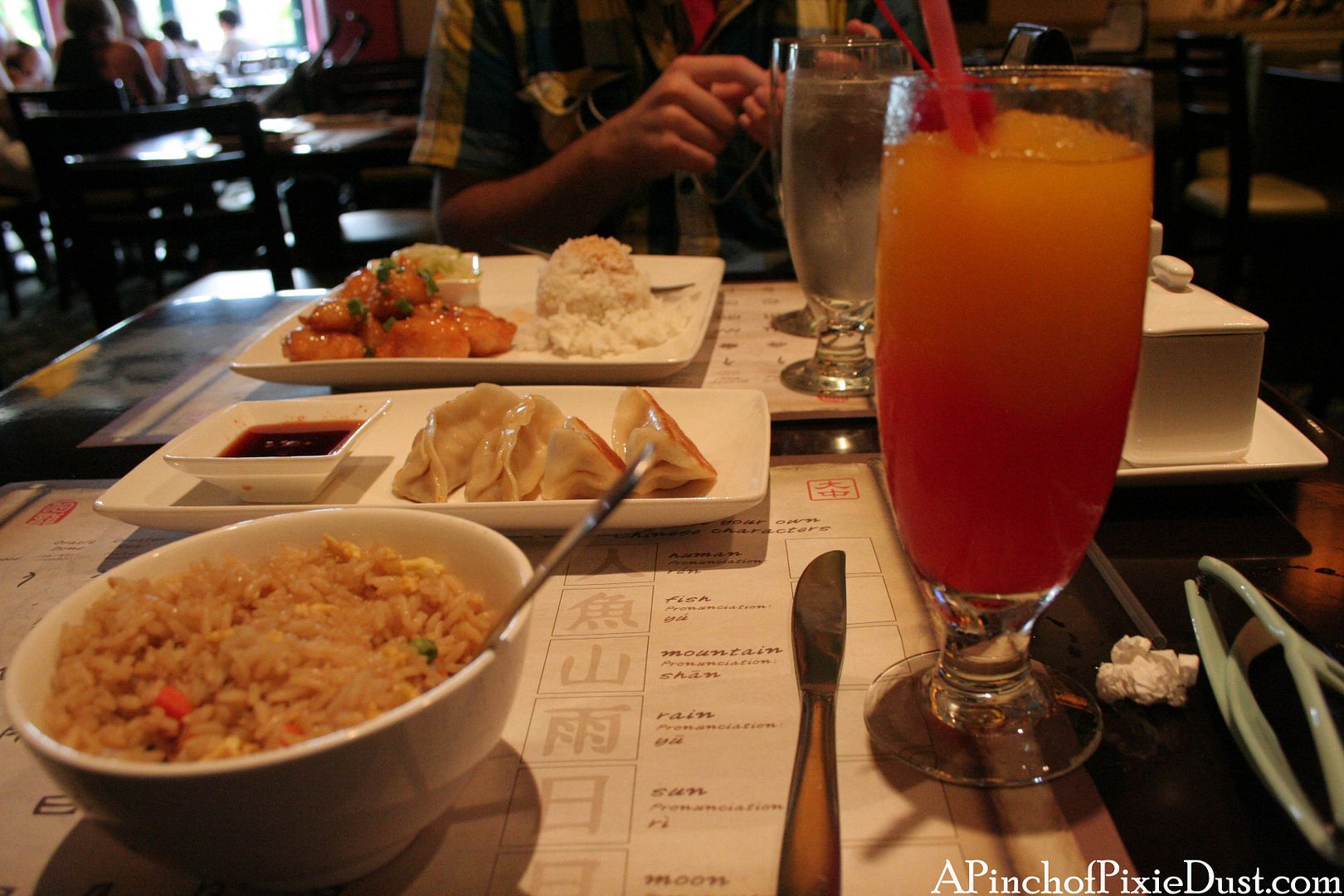 We really enjoyed the savory items too...
My brother tried the honey sesame chicken and let me try a bite...very nice!
I got some pot stickers...tasty, although they seemed just about the same as the ones outside at the Lotus Blossom Cafe. The unexpected favorite of the meal was...
The vegetable and egg fried rice! I ordered it as a side - it was about $4 - but it was a generous-sized bowl, and both my brother and I loved it. Yum!
Lunch video tour! And here's a scan of the
Nine Dragons lunch menu
from the Disney World website if you're curious to see more of the offerings!
Our server was very friendly and efficient, the food came out quickly, and it was all tasty. I tend to favor the counter service options in World Showcase because they're all delicious as well and a little cheaper, but a table service like Nine Dragons does give you a more relaxing escape from the heat and crowds. And I would definitely go back for another Shangri-la Smoothie!
Don't forget to swing by and tell Mulan how you liked your lunch. Mushu might be one of those nine dragons, right? ;)