Ladies and gentlemen, boys and girls, the Magic Kingdom proudly presents our spectacular festival pageant of nighttime magic and i-mag-i-nation..in thousands of sparkling lights and electrosynthomagnetic musical sounds...
It's the Main Street Electrical Parade! Anybody feel like watching it tonight??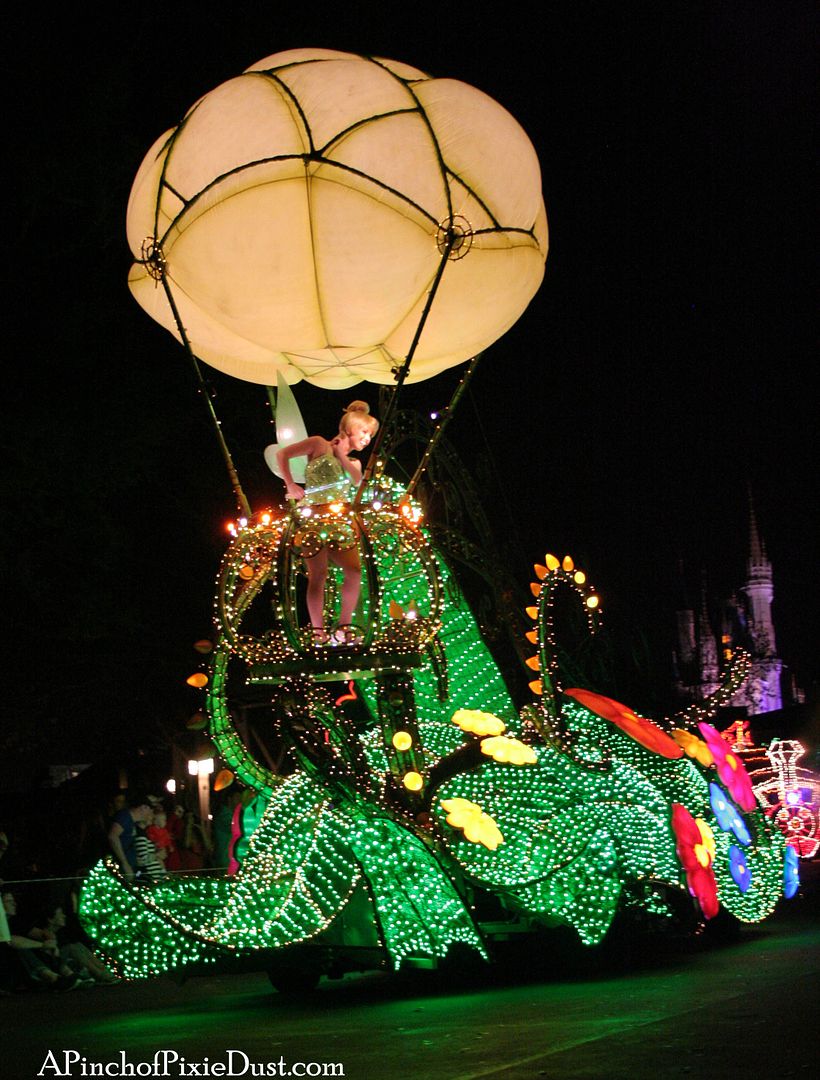 We could watch it from Frontierland, with the towers of the castle rising majestically off in the distance behind all the floats...
We could watch it from Town Square (that's always a good spot for a quick getaway if you're leaving right after the parade!)...
We could watch it from Main Street itself...
We could watch it from Liberty Square, sitting in front of the Hall of Presidents with the floats crossing the bridge towards us from the Hub...
We could watch it from a distance - even when I haven't invested the time to save a curbside seat and am just walking by (ride wait times can sometimes be shorter during a nighttime parade or show like
Wishes
), I still love catching glimpses of the sparkly floats gliding through the darkened streets.
I love how
Tinkerbell
and her fairy friends lead the way...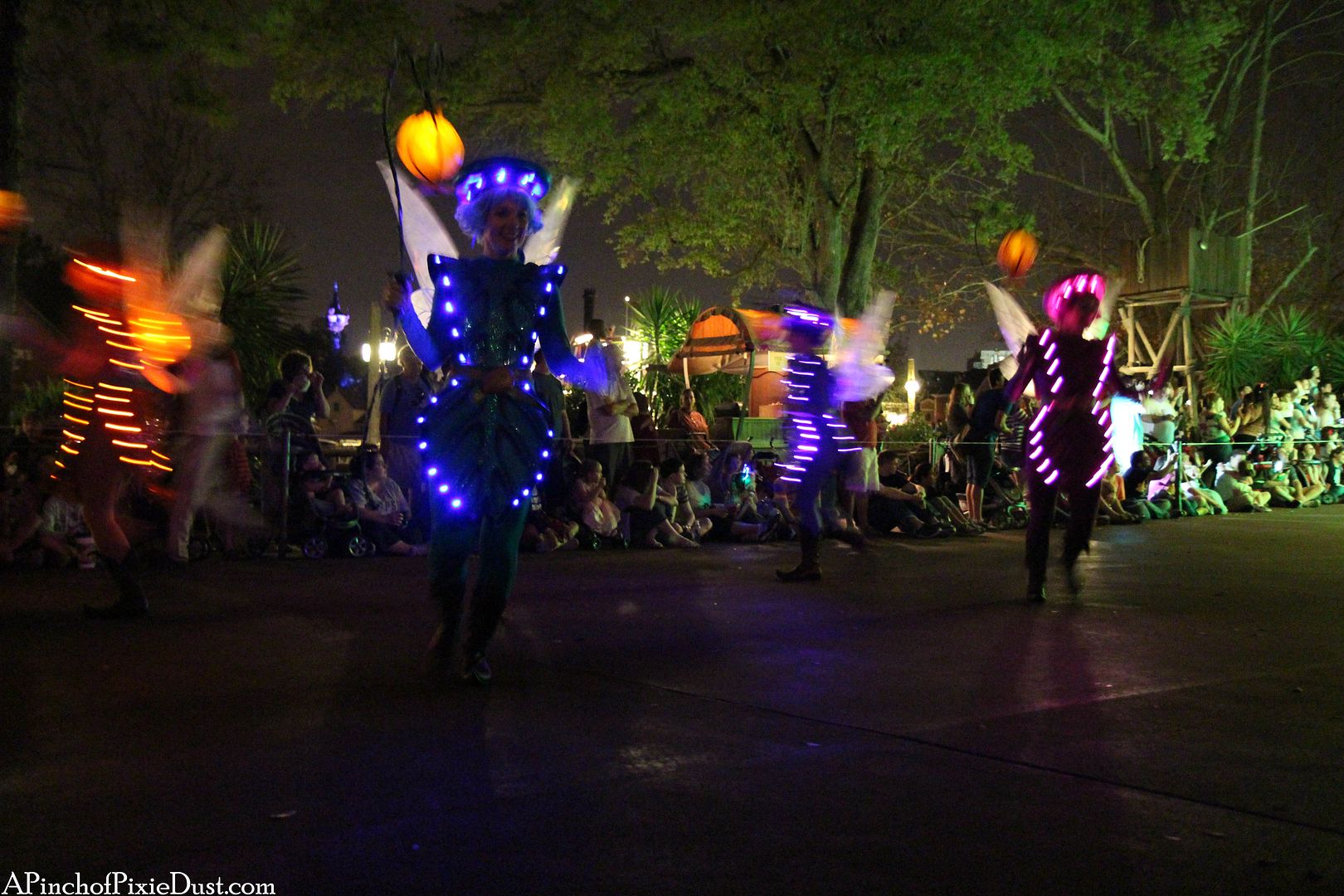 It's so dark it's difficult to get a proper look (or photograph!) of them, but I love those leaf tunics and lanterns!
Tinkerbell cut off Mickey and Minnie and their glowing train so that
she
gets to go first.
SO MUCH SASS.
I'm listening to the Main Street Electrical Parade soundtrack as I put together this post. You should go
put it on too
. :)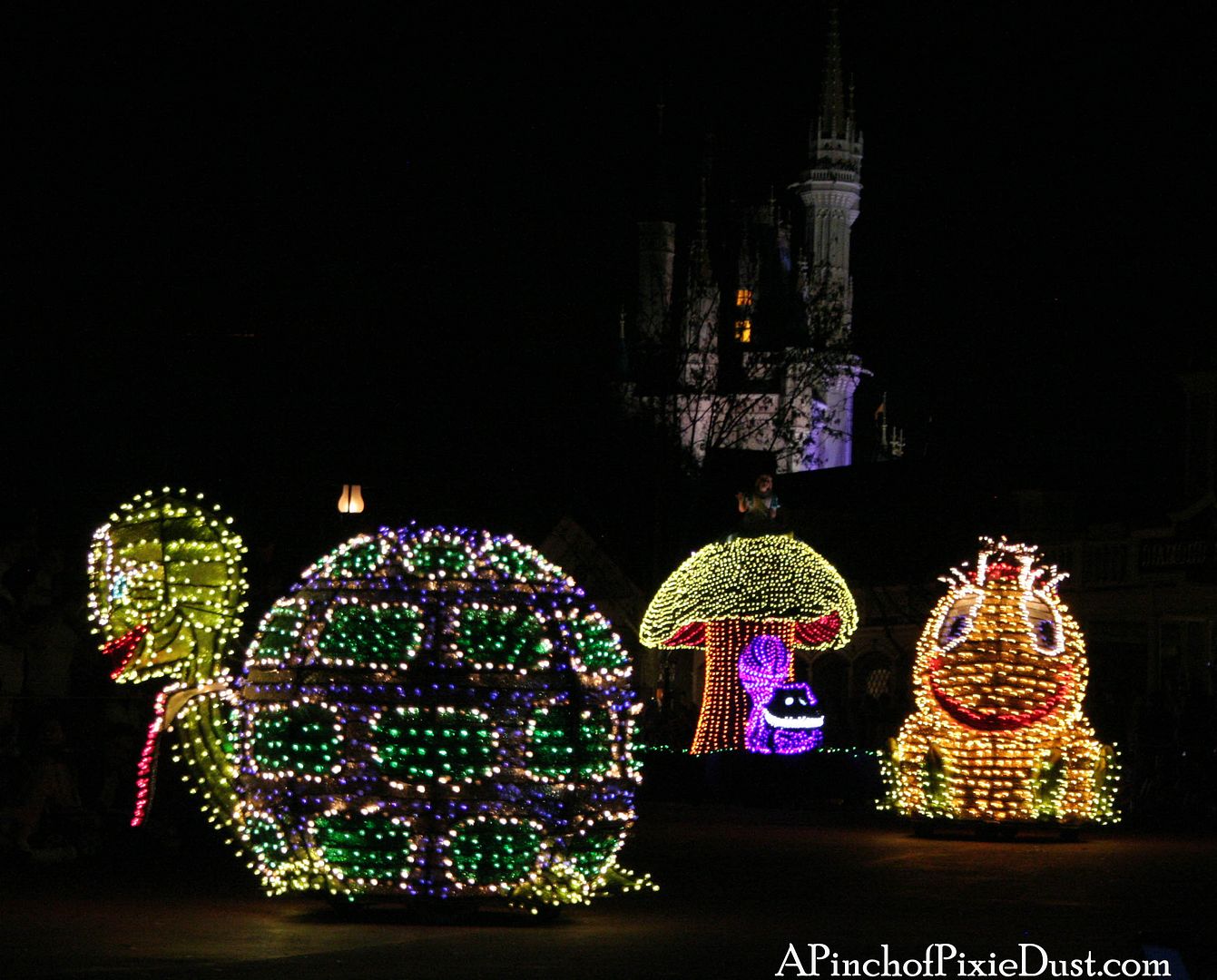 Next up are the crazy twirly creatures with Alice and friends in tow...
Watch that cheshire cat carefully...he might disappear, leaving nothing but a ghostly smile! Also keep an eye out for the frog swallowing a fly!
I can never decide which is my favorite: the turtle in the hipster glasses or the turtle in the sombrero? They're both pretty great.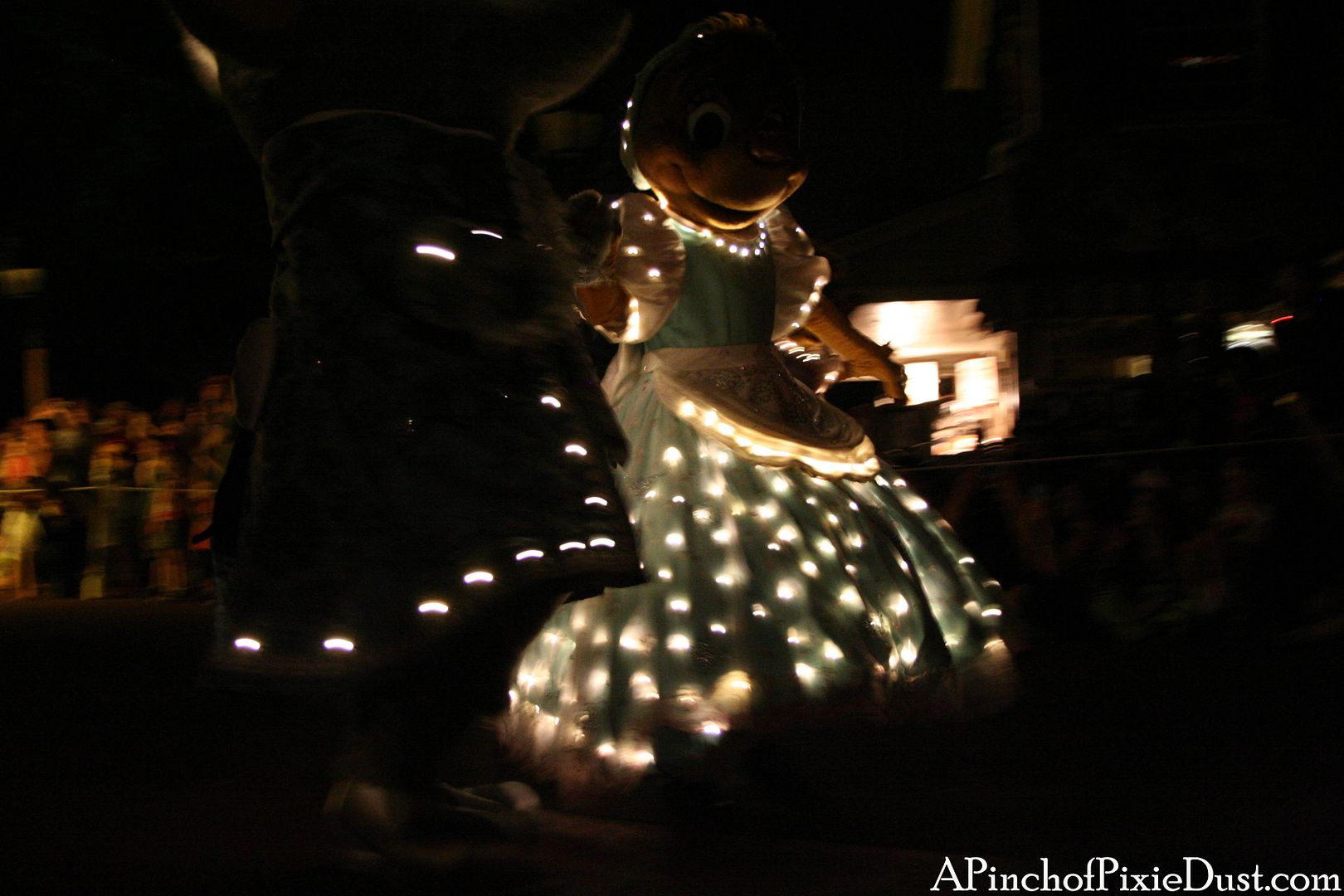 It's time for the PRINCESSES, y'all. Don't Suzy and Perla's dresses remind you of that one dress from My Big Fat Gypsy Wedding that had all the lights??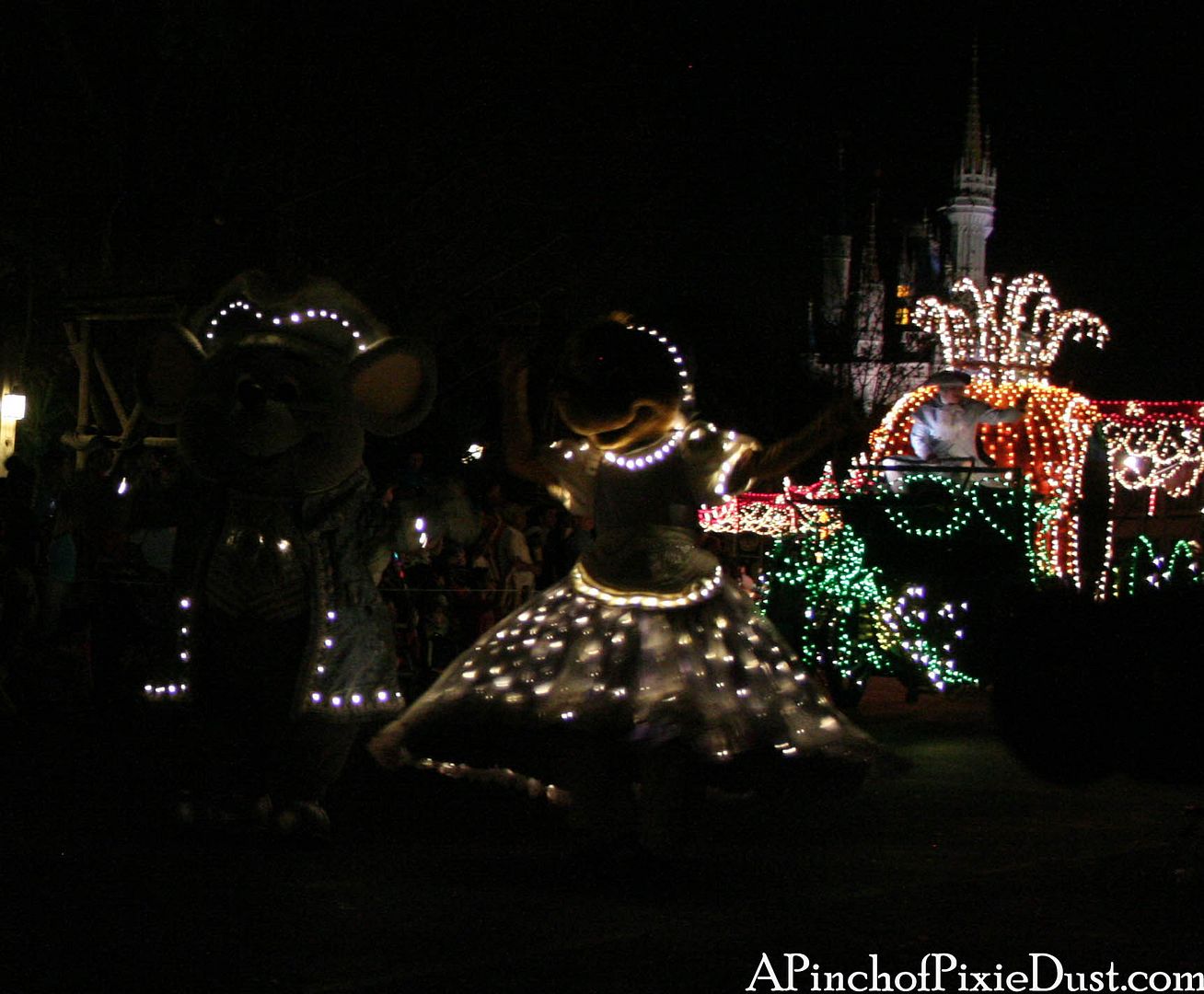 Cinderella's arrival is heralded by her dancing mice friends...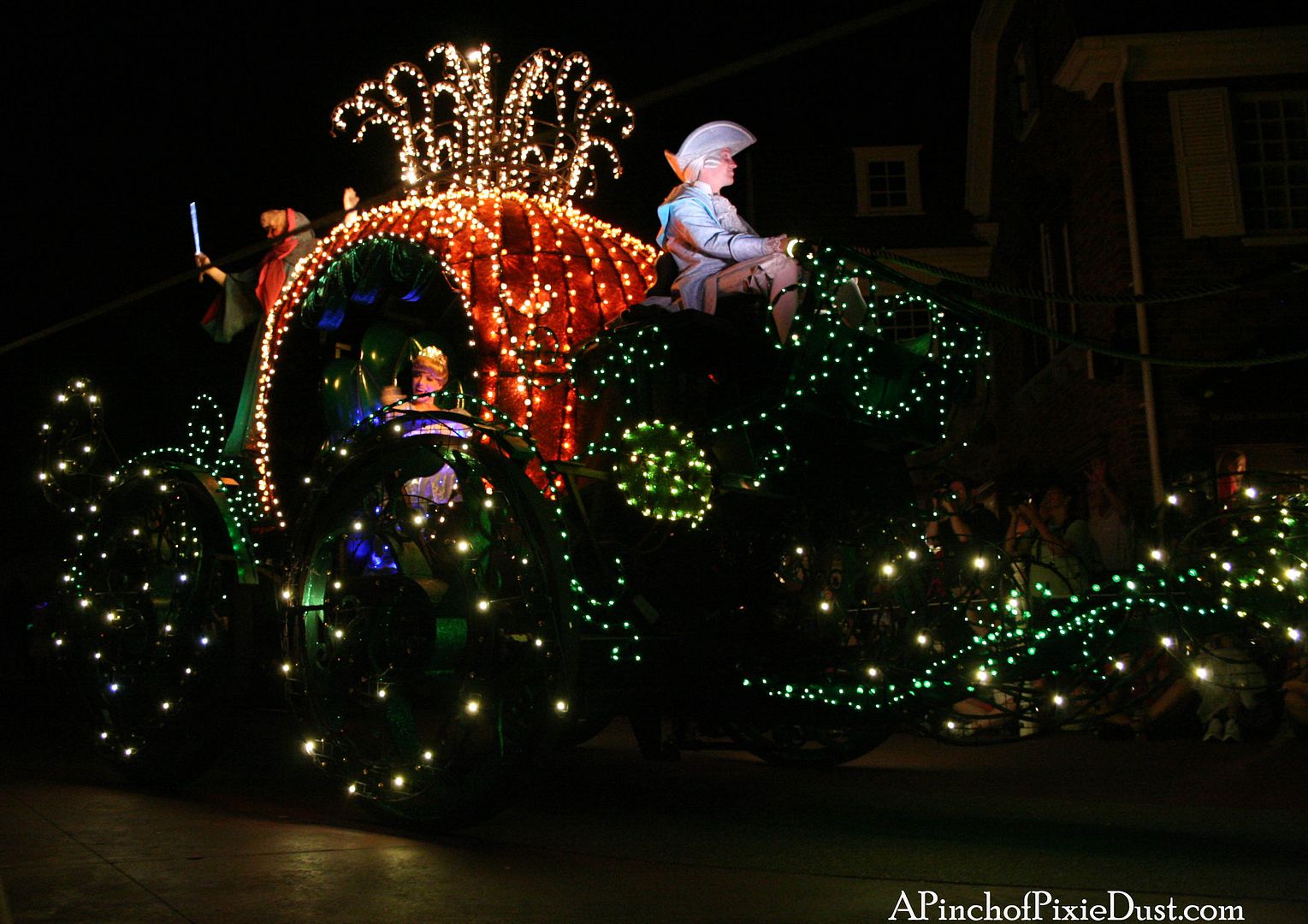 There's Cindy!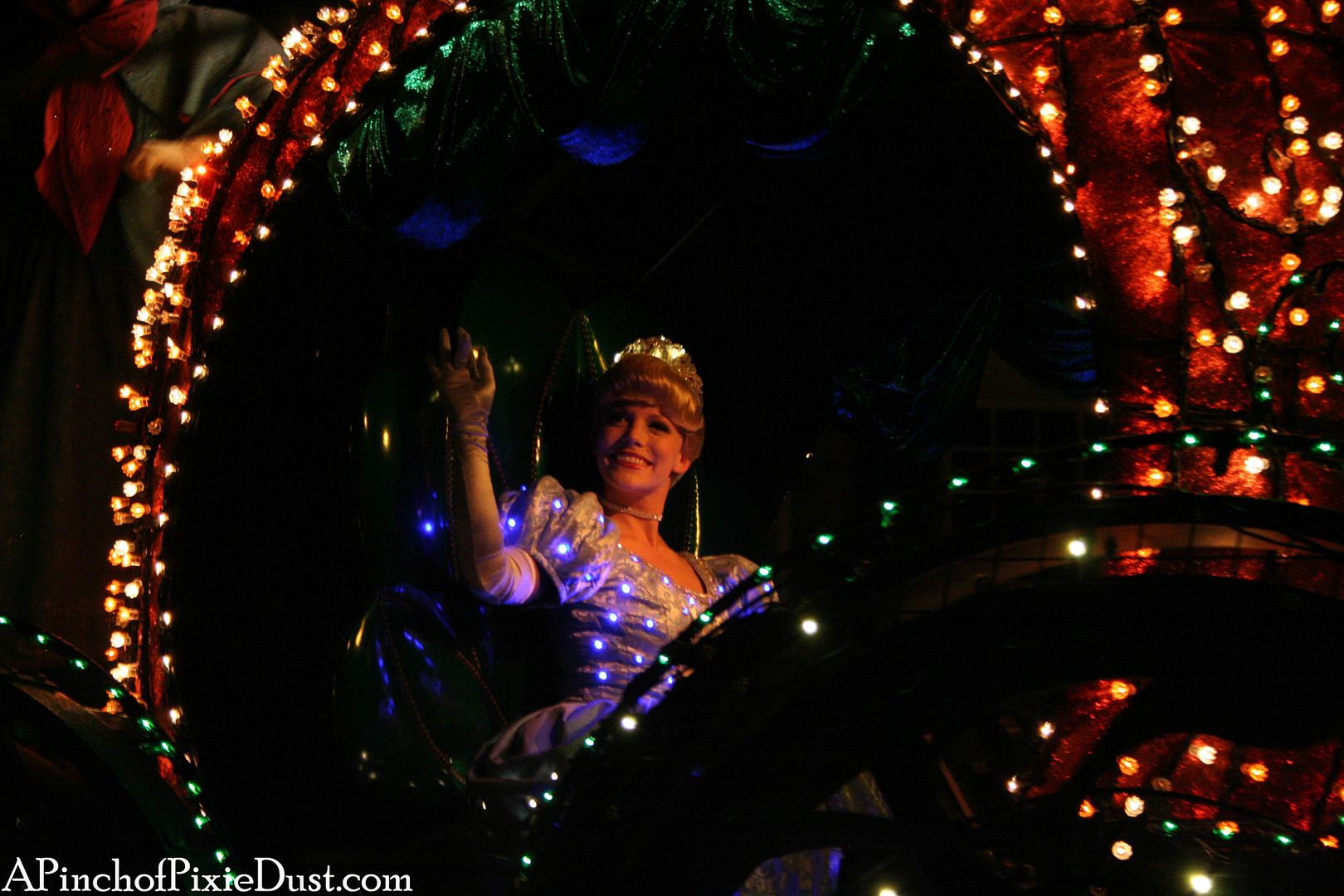 Always so gracious and graceful. :)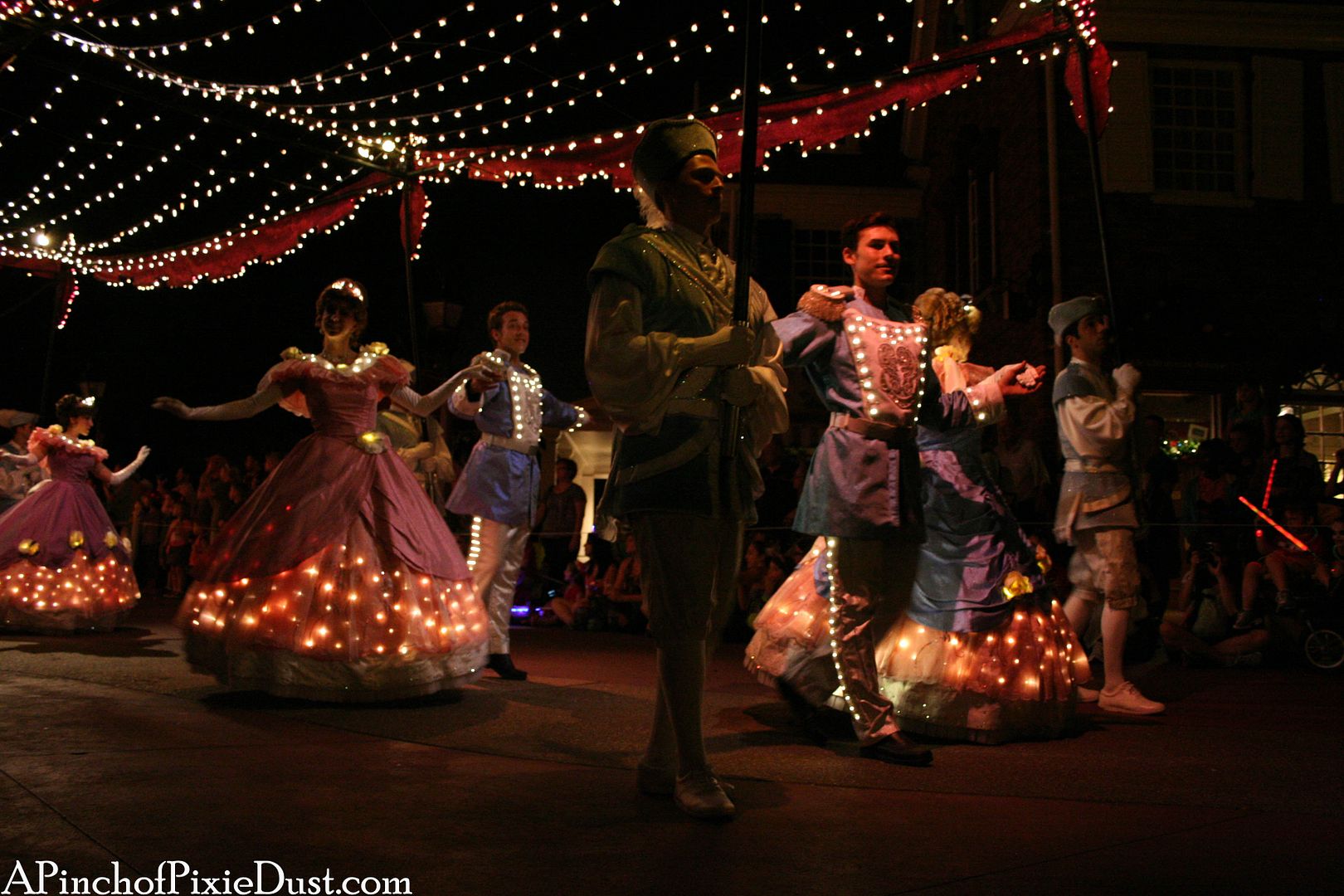 More lords and ladies! This is one of my favorite parts of the parade - the performers have the best expressions. When there's a pause in the dancing, the ladies will come together to gossip...it's so fun to watch!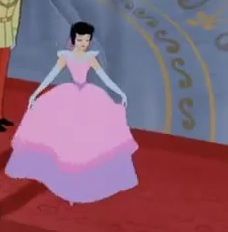 I suspect these dresses were inspired by the dresses at the ball in the movie - don't you think they're similar?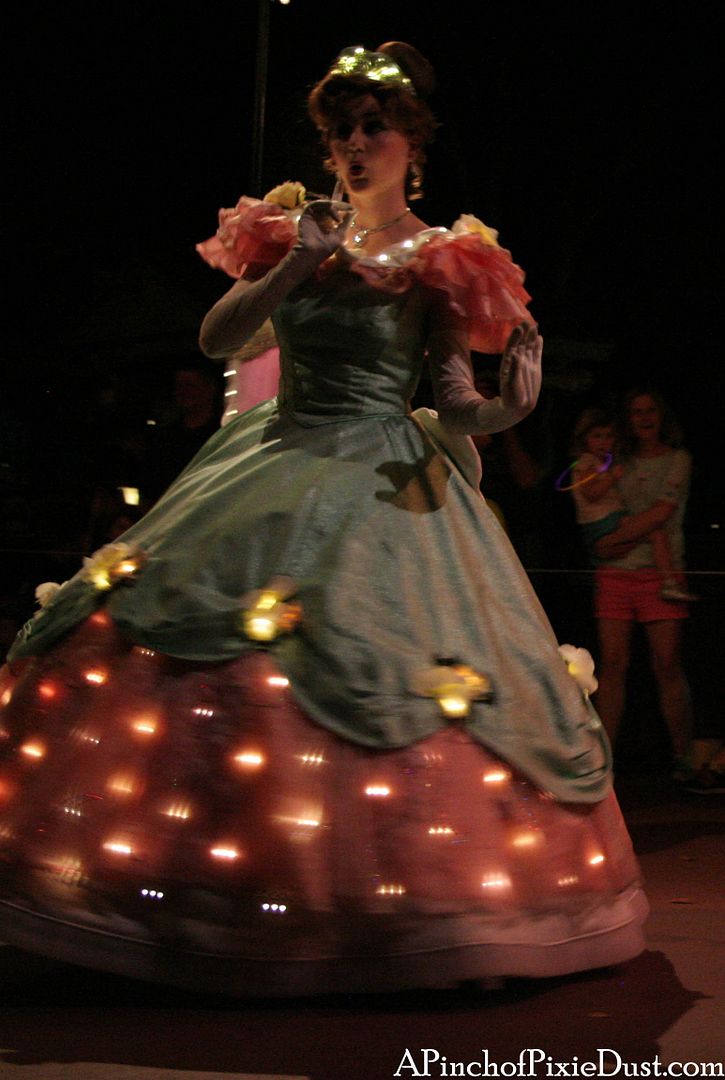 Very elegant and very...surprised? Once I was suprised by one of the dancing couples on Main Street who suddenly turned out of the line-up and cut through the crowds by Casey's to get back to a Cast Member only area...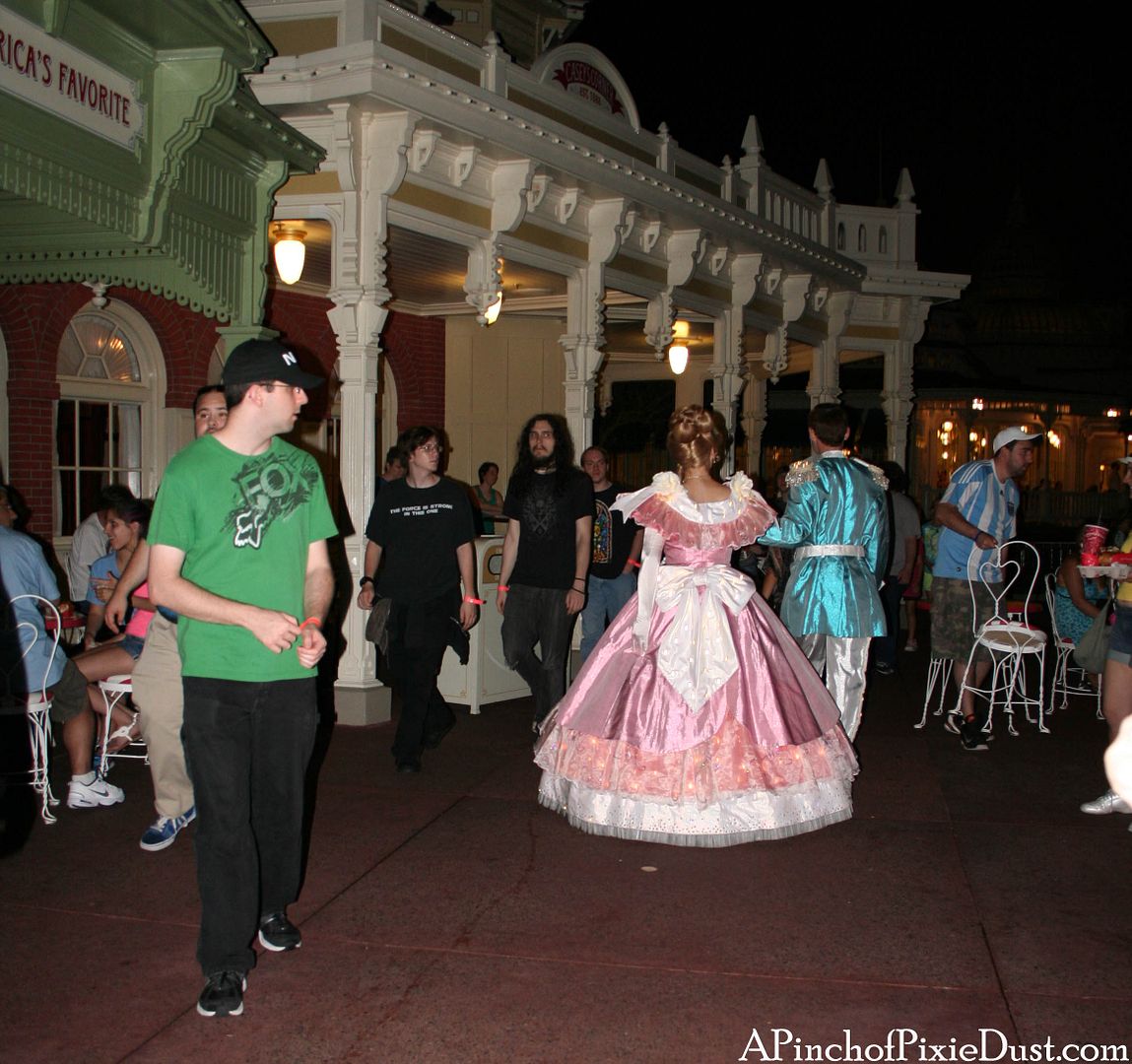 All the guests eating their hot dogs did a double take, but the dancers were as cool as cucumbers, bowing and nodding to everybody as if it were the most natural thing in the world. I wonder why they had to duck out - wardrobe malfunction? Were they late for another ball?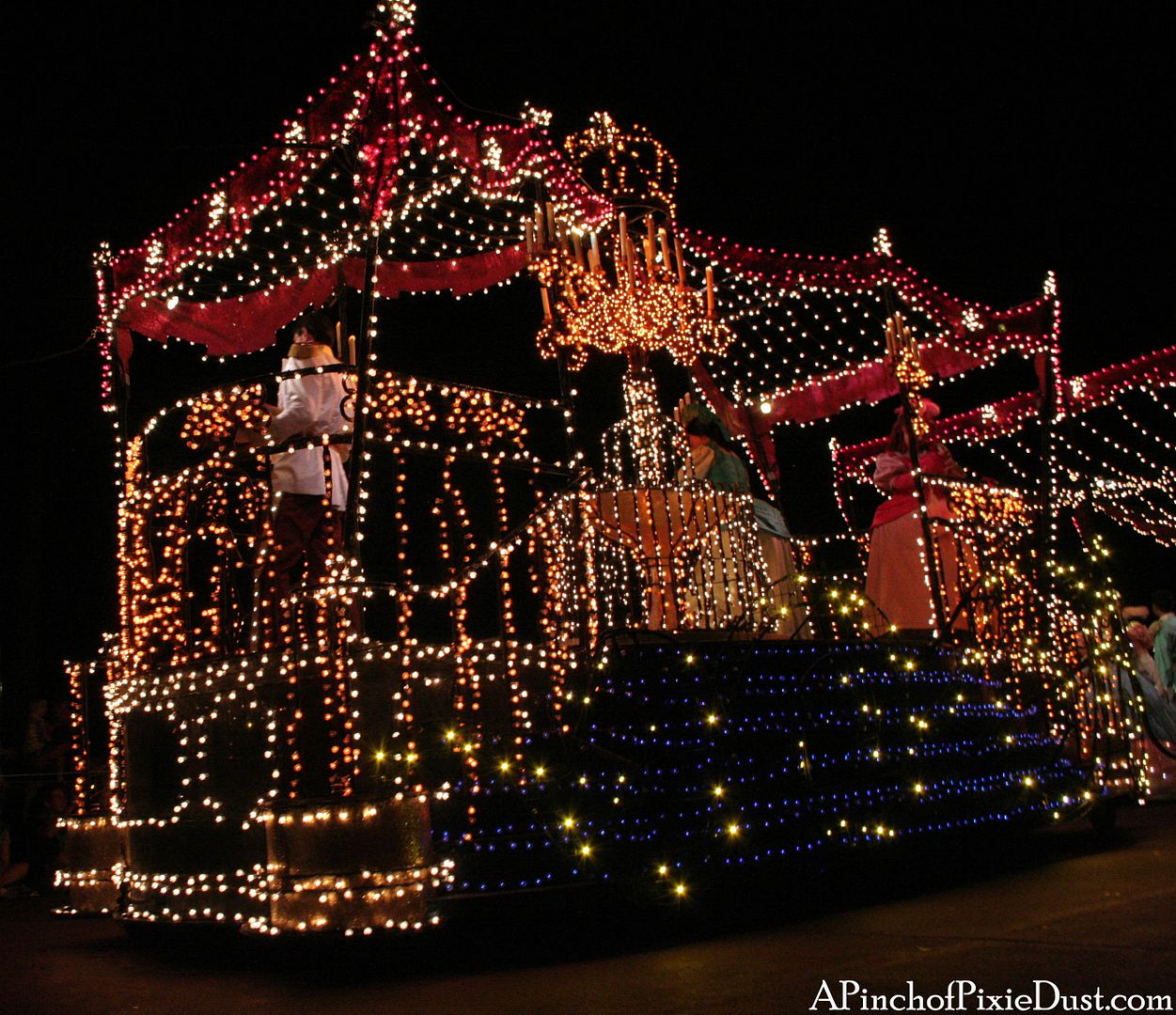 Speaking of royalty, we mustn't forget about Prince Charming and the evil stepsisters! They are so outrageous, competing for the prince and shouting to the crowd. When watching the parade with my little brother Dart, I suggested that he blow Anastasia a kiss. Dart is a good sport, so he did, and Anastasia was transfixed and utterly delighted: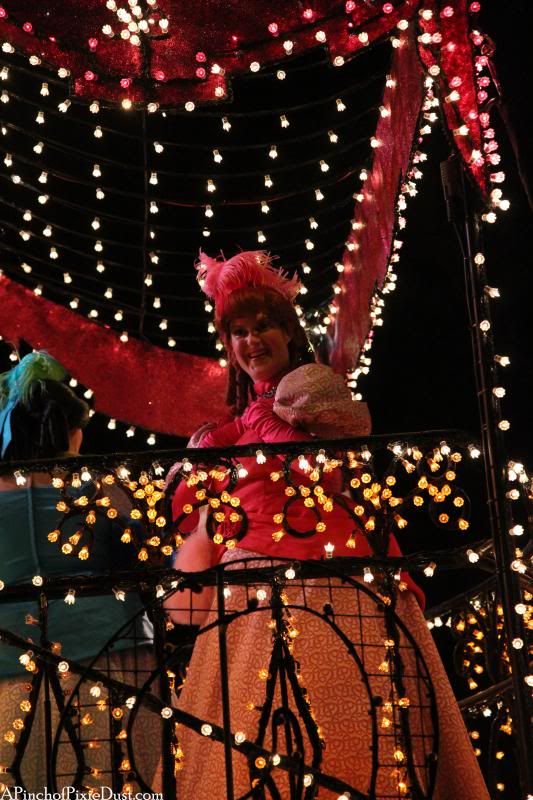 Mama Snob got these pics - it was SO funny! Prince Charming was entirely forgotten and Anastasia was fawning over Dart from the float, yelling "BLOW ANOTHER ONE." Then Drizella came over and wanted some attention too. HILARIOUS.
You can see it in the video...although I'm afraid I was laughing so hard that bit was rather shaky!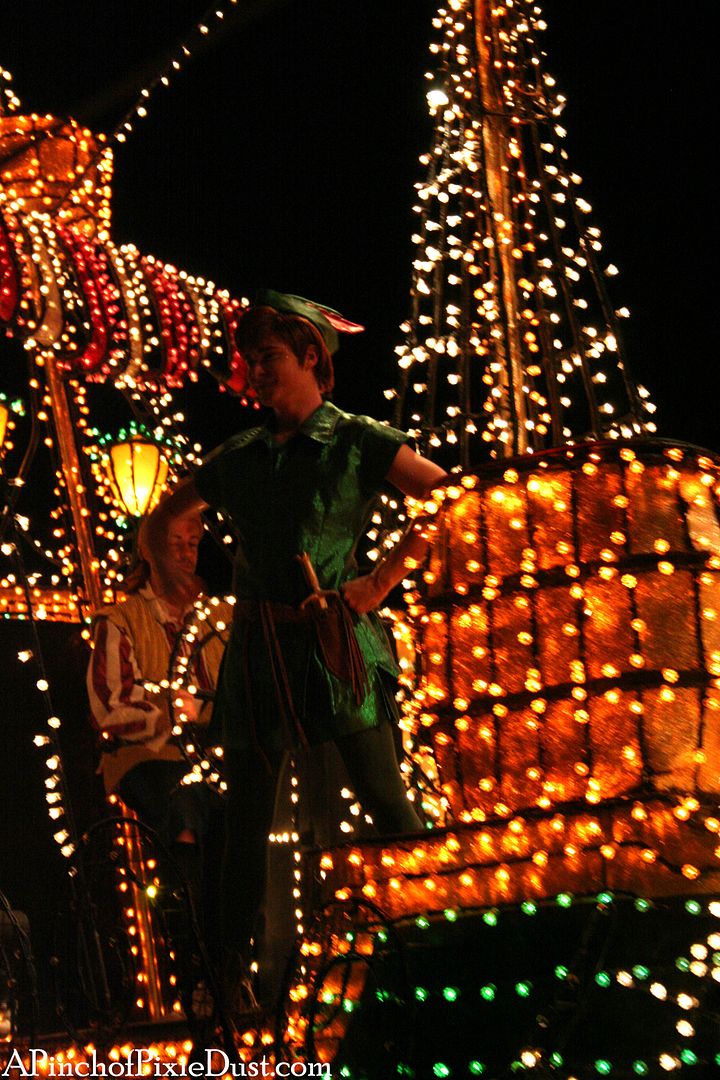 Peter and Captain Hook sailed by next, battling it out on the Jolly Roger...
Smee's like, "Seen any crocodiles?"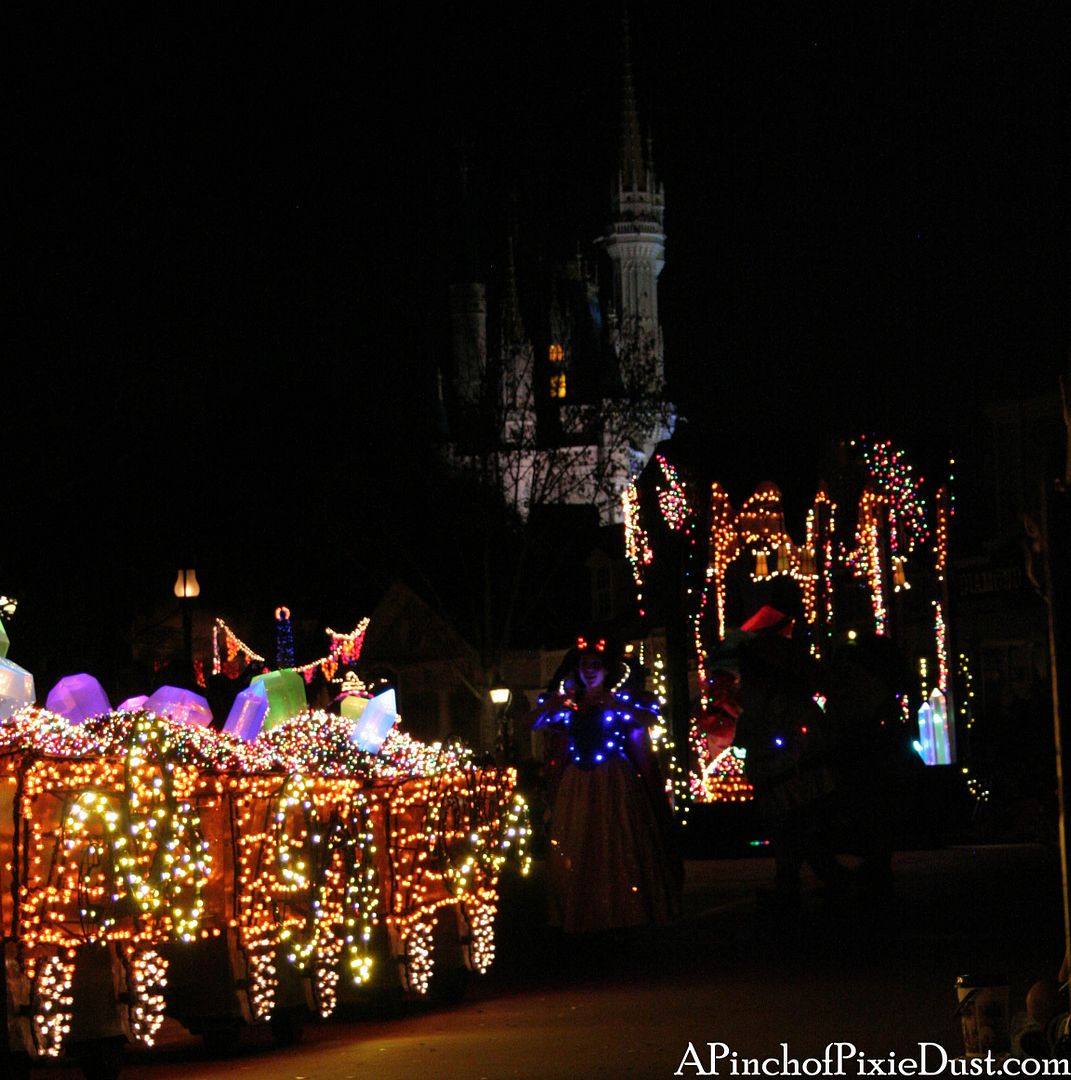 Snow White and her dwarfs come sparkling and dancing along - they must be taking a break from all the Mine Train construction. ;)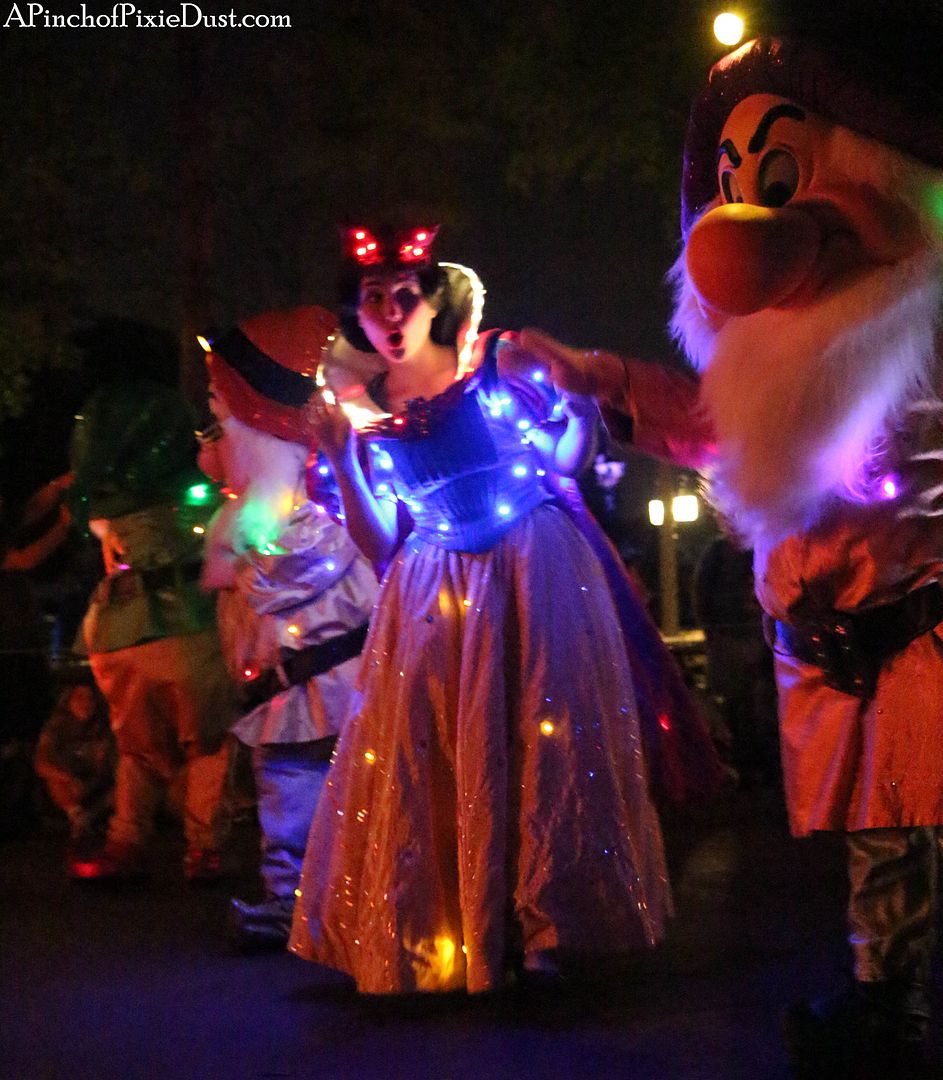 Another fun character face captured by Mama Snob!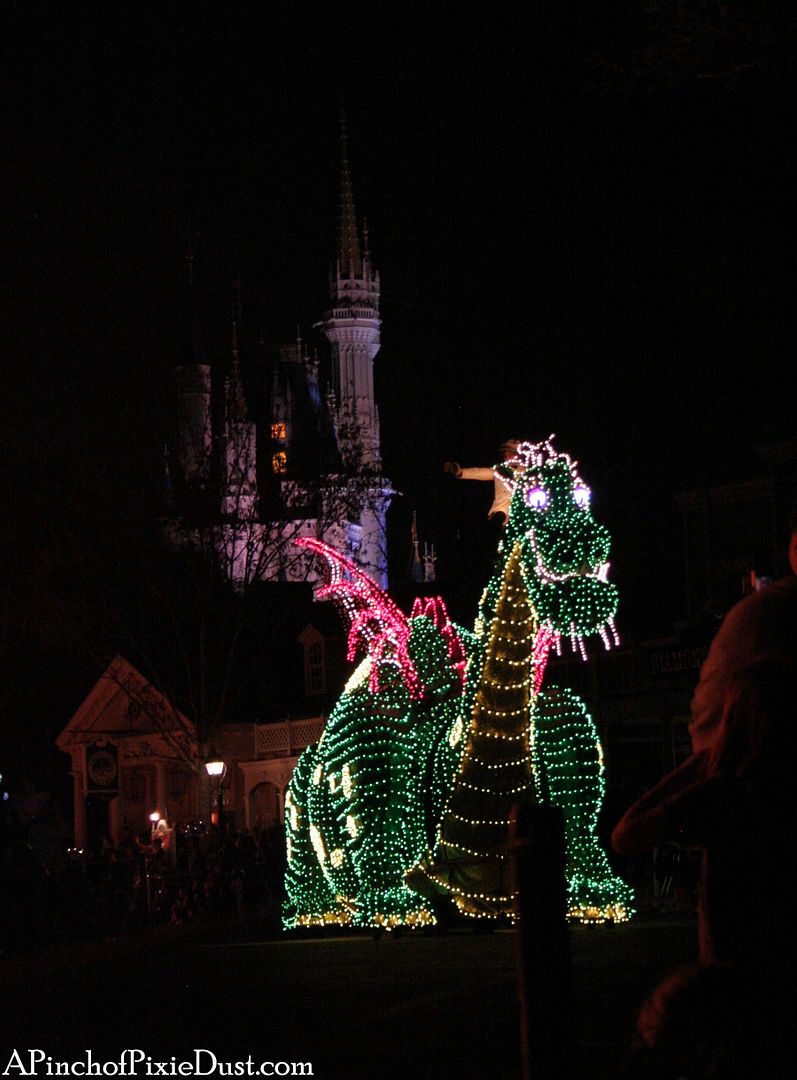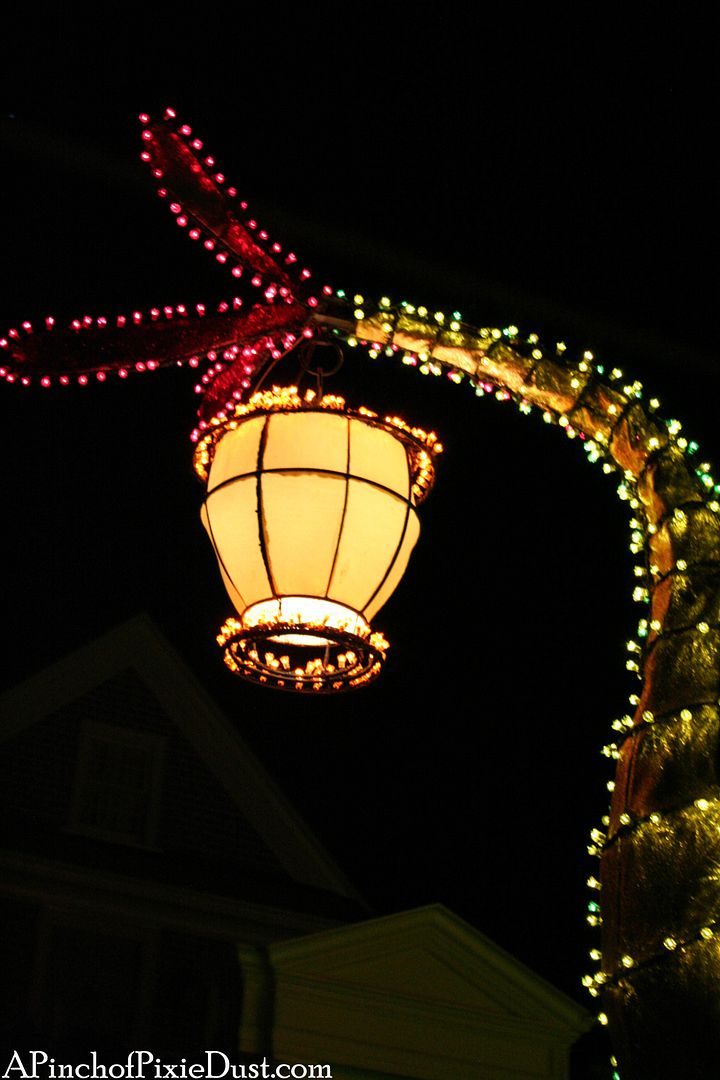 Then it's Pete the friendly dragon! After him is the rather frightening giant head / lost boys float. Tucked away at the back is one of my favorite parade details...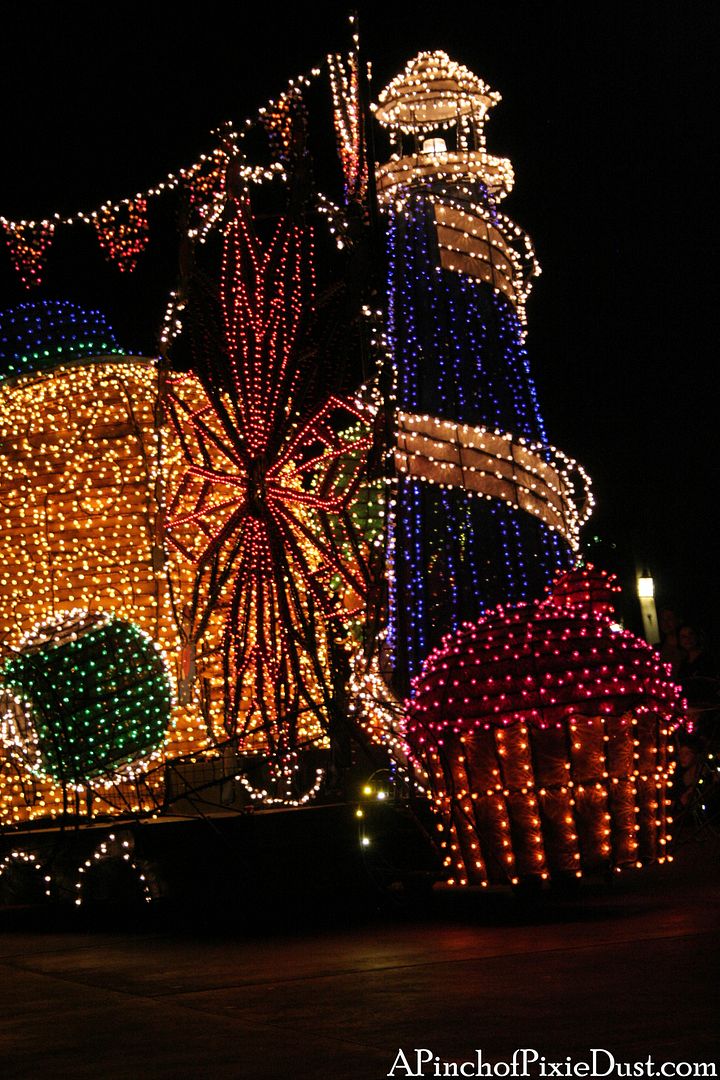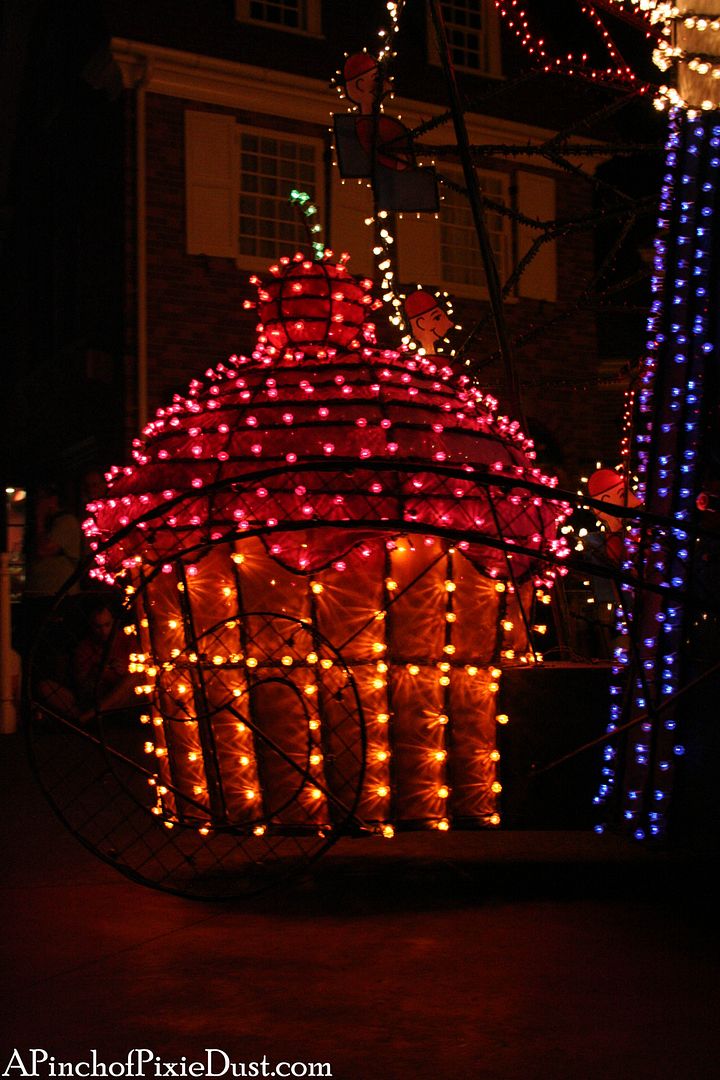 ANOTHER DISNEY CUPCAKE! Now if one of the WDW bakeries could make me a light-up cupcake, that would
definitely
make
my top 5 list
. ;)
We finish off with a salute to all nations...but mostly America. Oh wait, that's the Muppet show, isn't it? But the end of the Electrical parade feels similar!
I have to admit that, in spite of the bizarre clowns, I do miss SpectroMagic sometimes. The music was just perfection: "Shimmering, glimmering, carouseling...pure enchantment lights our way!"
But the Main Street Electrical Parade is a pretty darn pixie-dusted parade too! What's your favorite spot to watch? Share in the comments!