No one knows how to do a hotel lobby like Disney. The Disney World resorts feature some spectacular and inspiring spaces...but then so do the Disneyland hotels!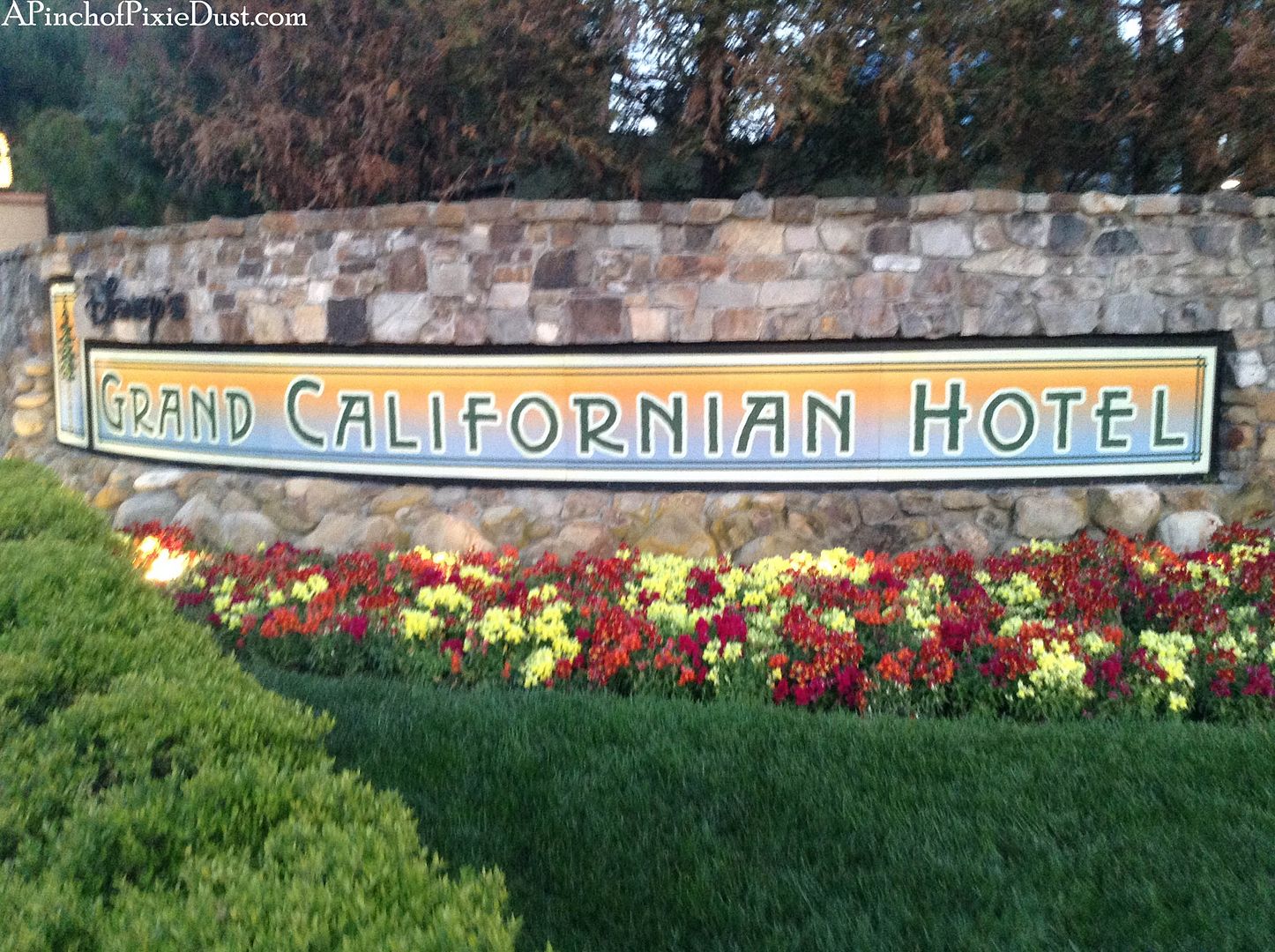 I was excited to see the Grand Californian Hotel again during our recent jaunt to the West Coast. Peter Dominick, the architect, also designed the Wilderness Lodge and the Animal Kingdom Lodge in Florida!
On this trip we stayed across the street at the
Paradise Pier
- we did cross through the Grand Californian a few times to use its Resort Guest only access to Disney's California Adventure Park! (Tip: arrive early if you're using this entrance for an extra magic hour opening - there are only a few turnstiles, and the bag line can get quite long!).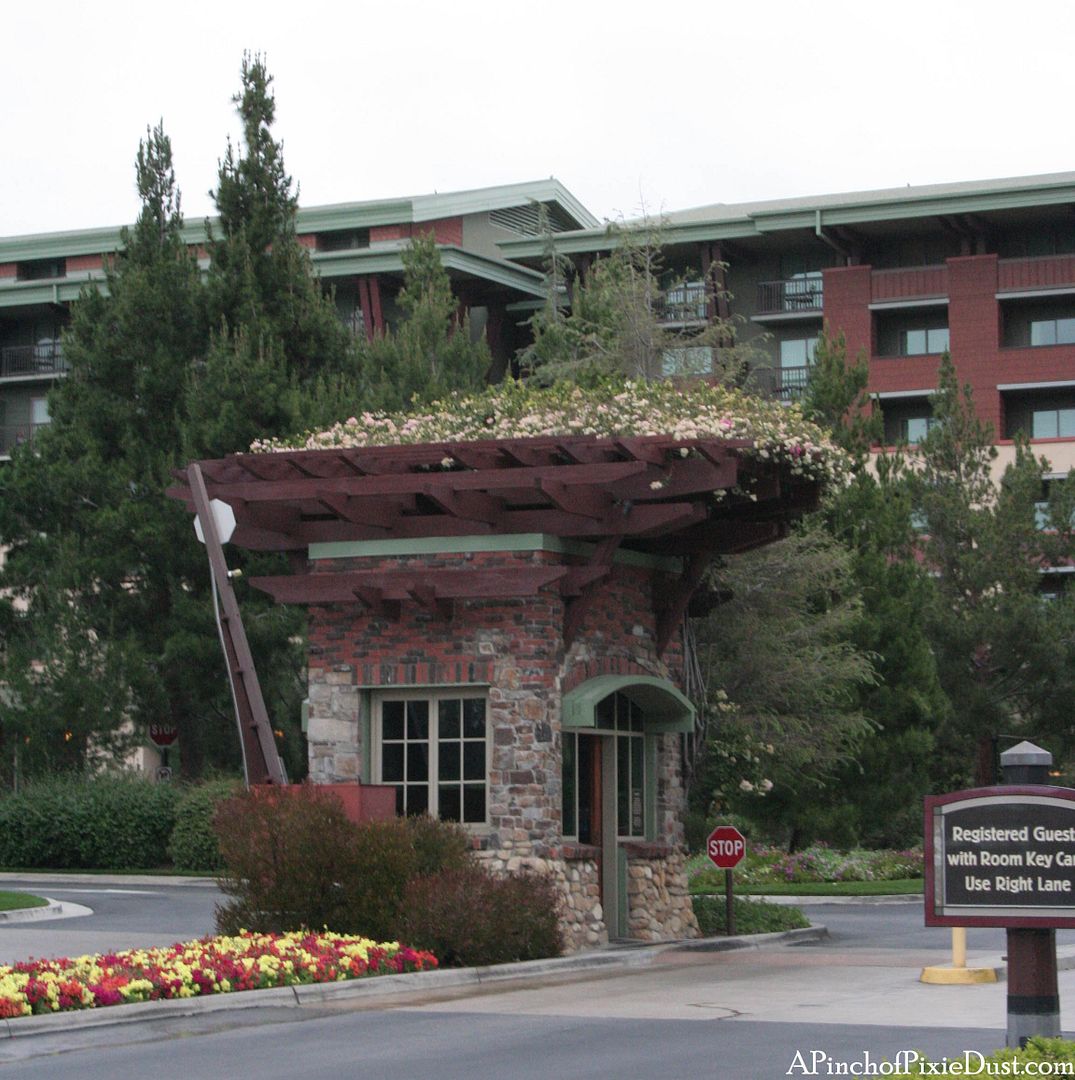 I loved walking past the big sign and stone gates - look at the wooden trellis covered with flowers!
You wind up a pretty, tree-lined path, and through the branches you'll catch glimpses of lanterns and rustic architecture. Make sure you enter through the main sliding doors at least once - they are set with a stunning stained glass scene. I didn't even remember the doors, and they were already open from other guests as we approached, but then when they closed it was such a gorgeous surprise! And then you see this...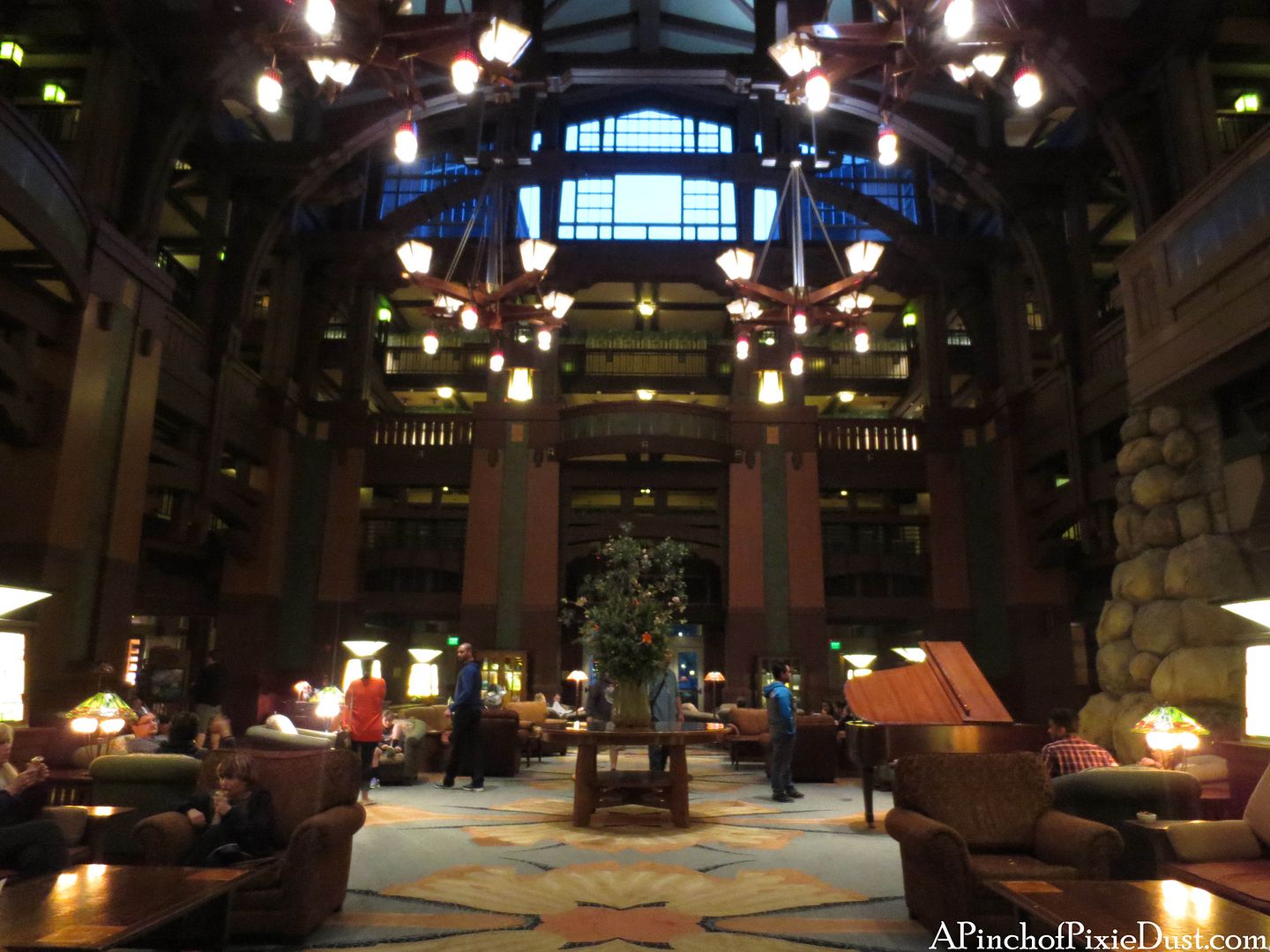 Stunning! It's so comfy and cozy and yet so regal - very much like the Disney World lodges...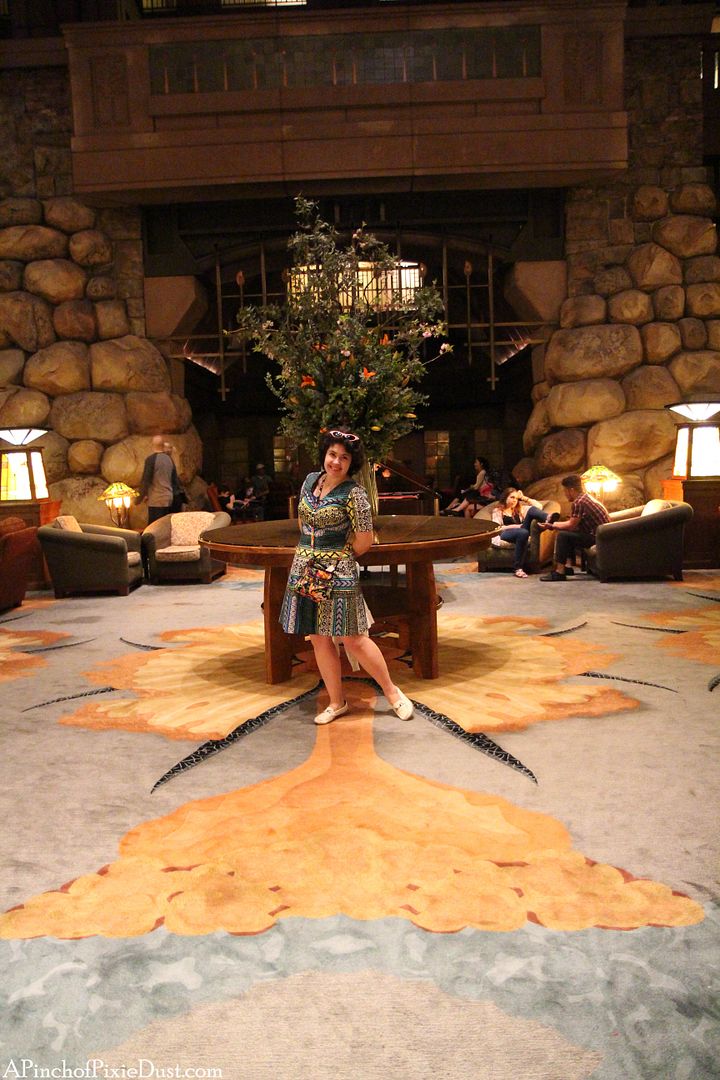 It's fun to look back through photos, because there are so many different things that I didn't have time to take in while we were there - like that incredible floor!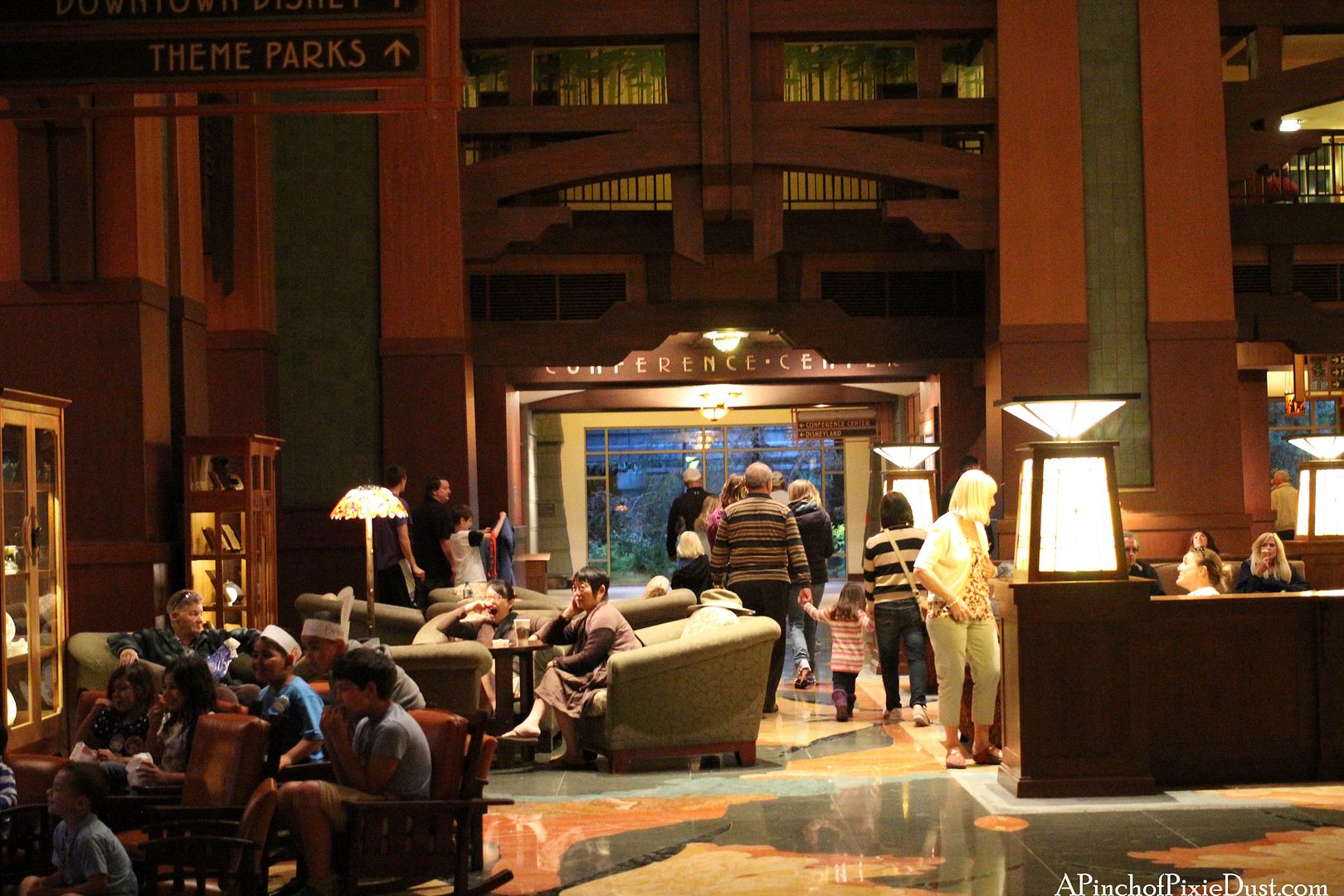 It's fun to see the stories in the pictures too - all the different groupings of guests enjoying the space - I think there must've just been a silly joke on the tv - all the kids on the left look like they're laughing!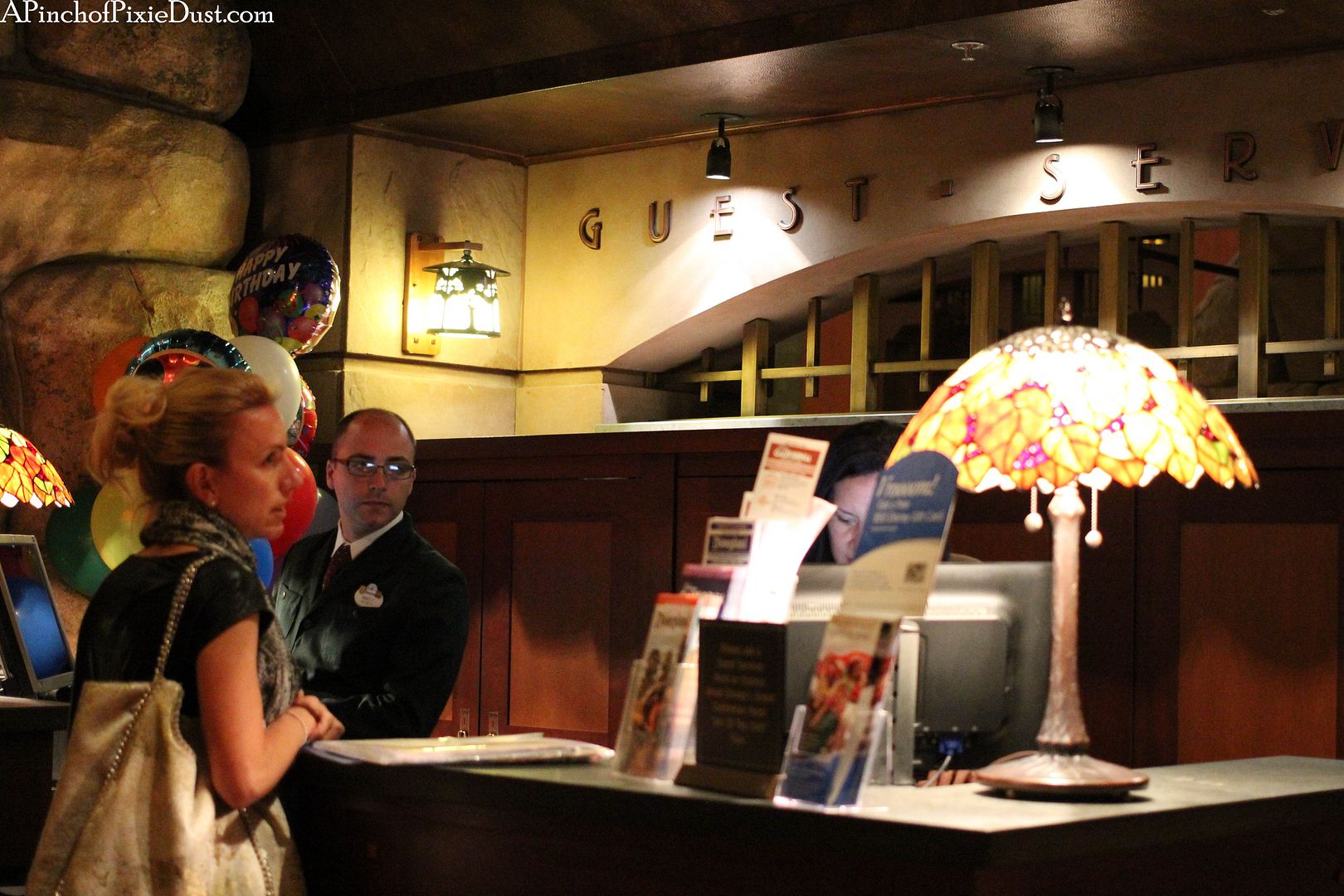 I wanted to snap a photo of the Guest Services podium (look at the lamps!), and I feel like I inadvertantly captured some sort of story going on there as well! Also, those birthday balloons look exciting!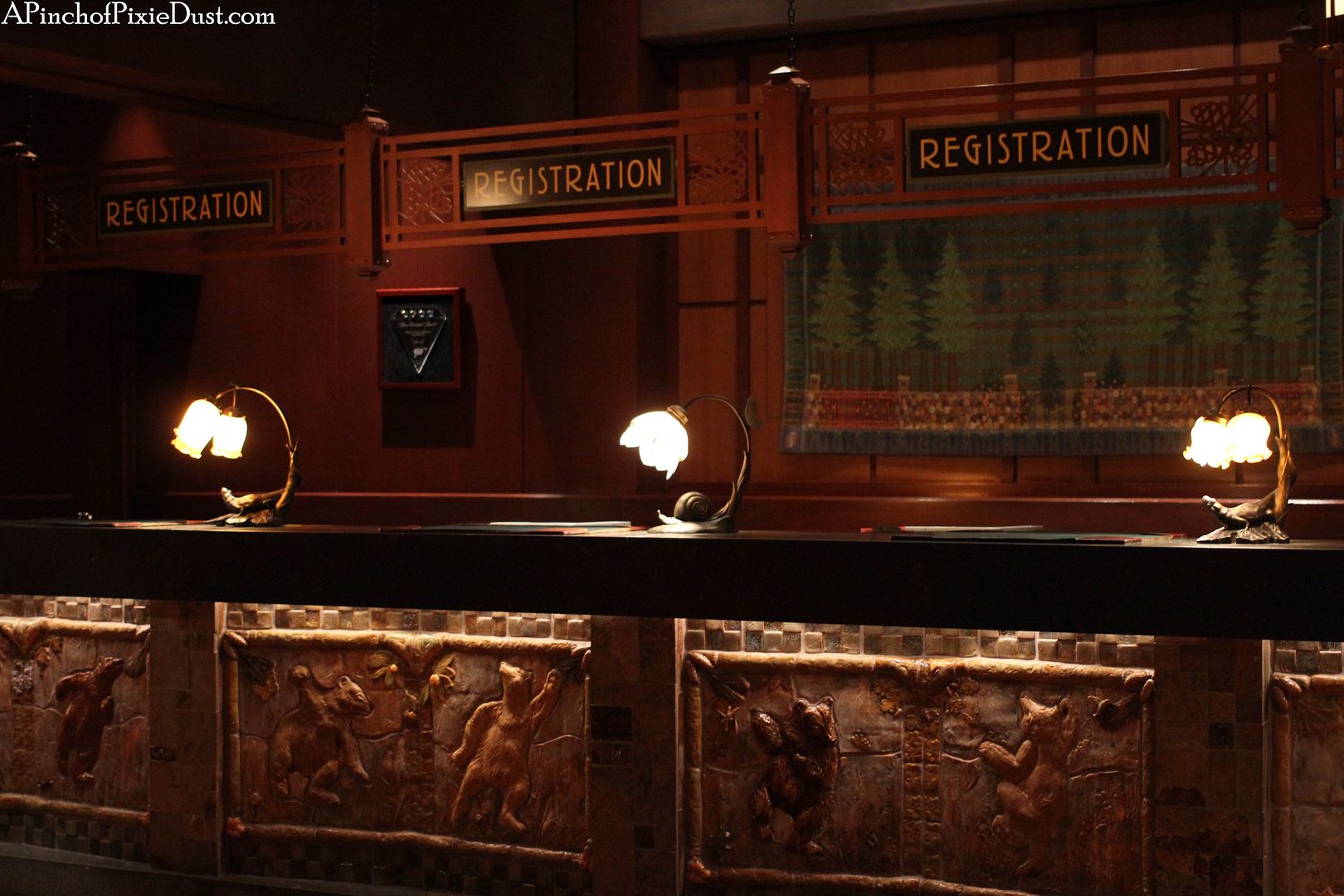 The check-in/registration desks are set slightly off the lobby and have some absolutely adorable bears dancing across the front.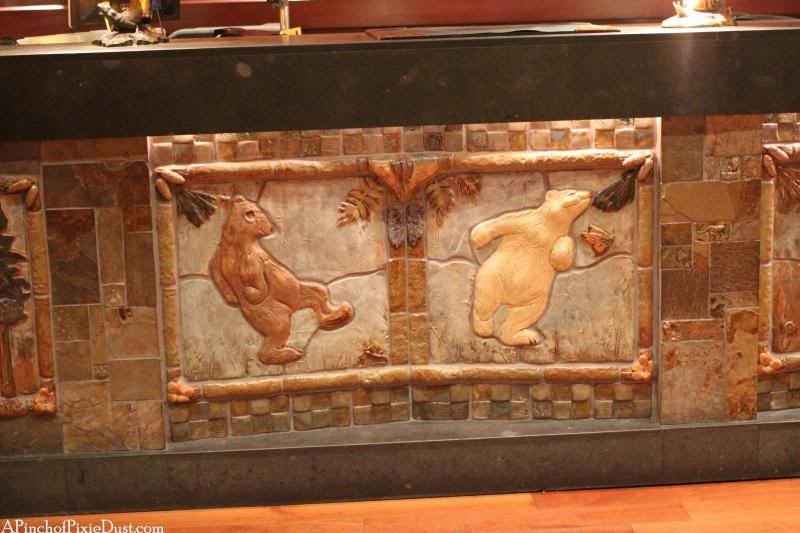 Look at dem moves!
Groove it out you grizzlies!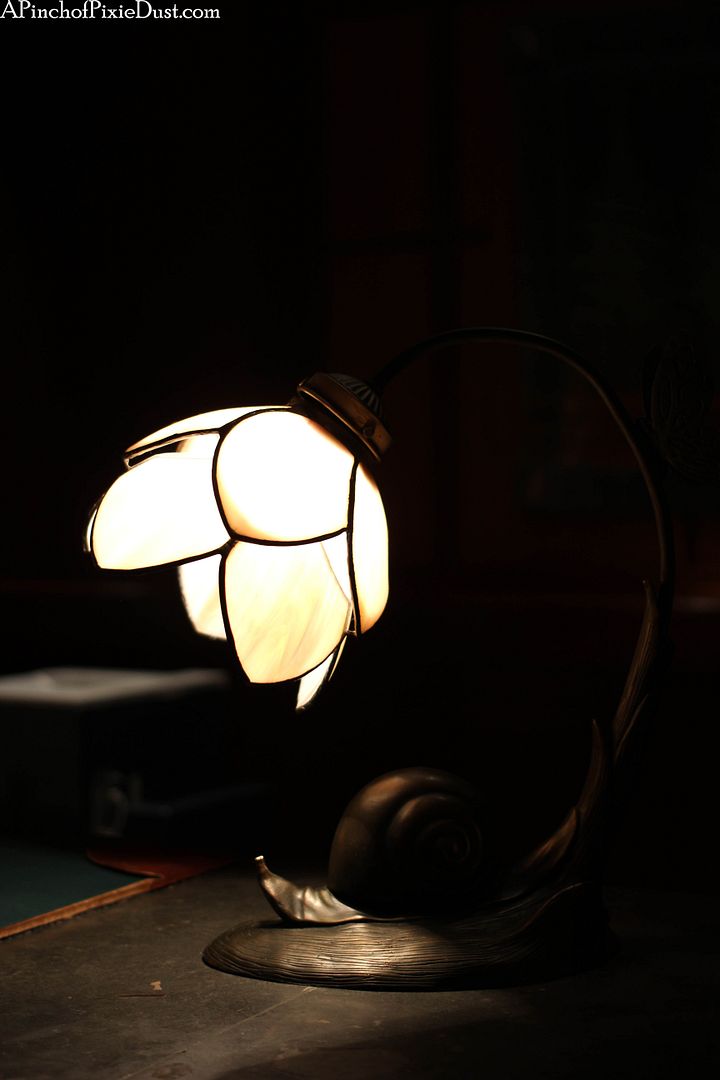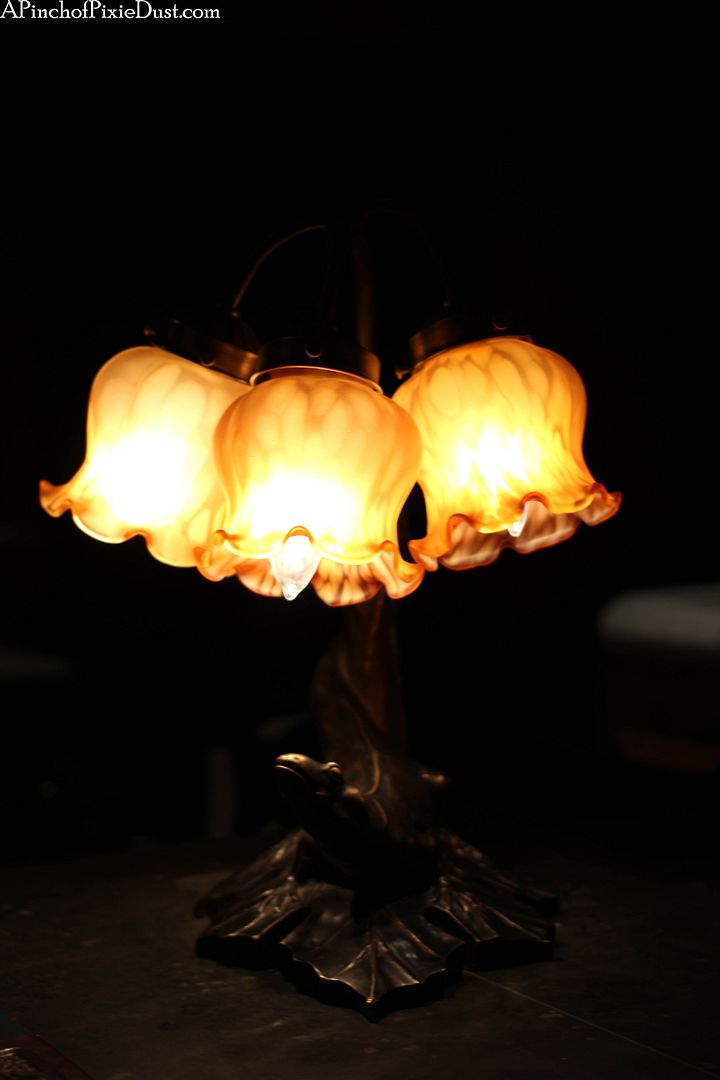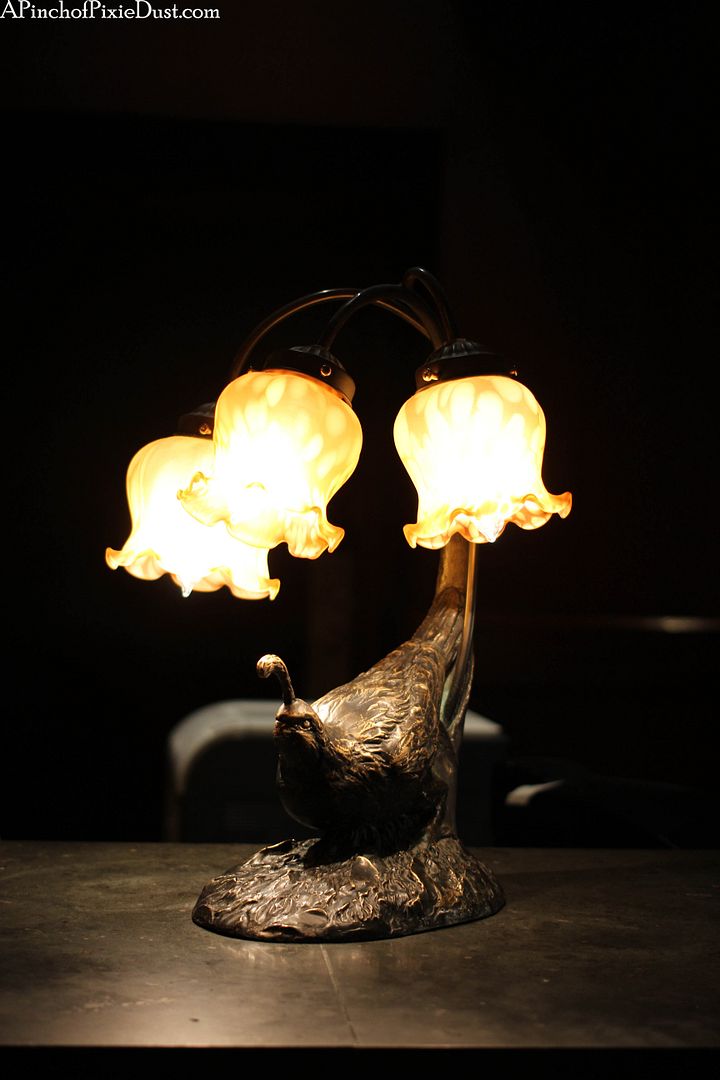 This post is going to include lots of lamps (the Grand Californian had SO many interesting lighting designs!), but some of my favorites were these animals on the front desk - snails, salamaners, and a quail!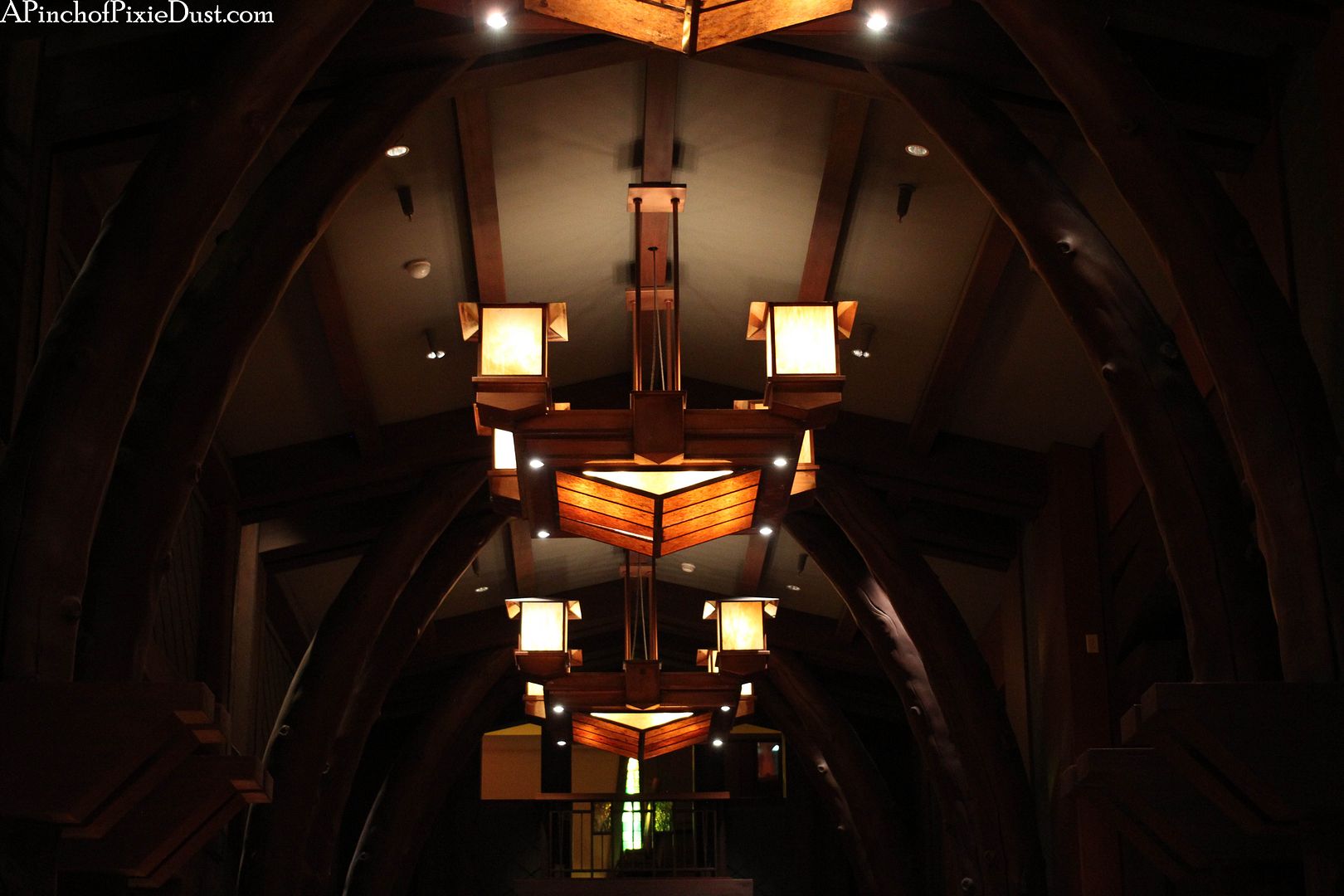 I also loved the lanterns overhead...so cool!
Oh hey, it's Athos! How did he get up there? If you do have a chance to explore the Grand Californian - even if you're not staying here - make sure you go to the upper floors to find some of the hidden balconies.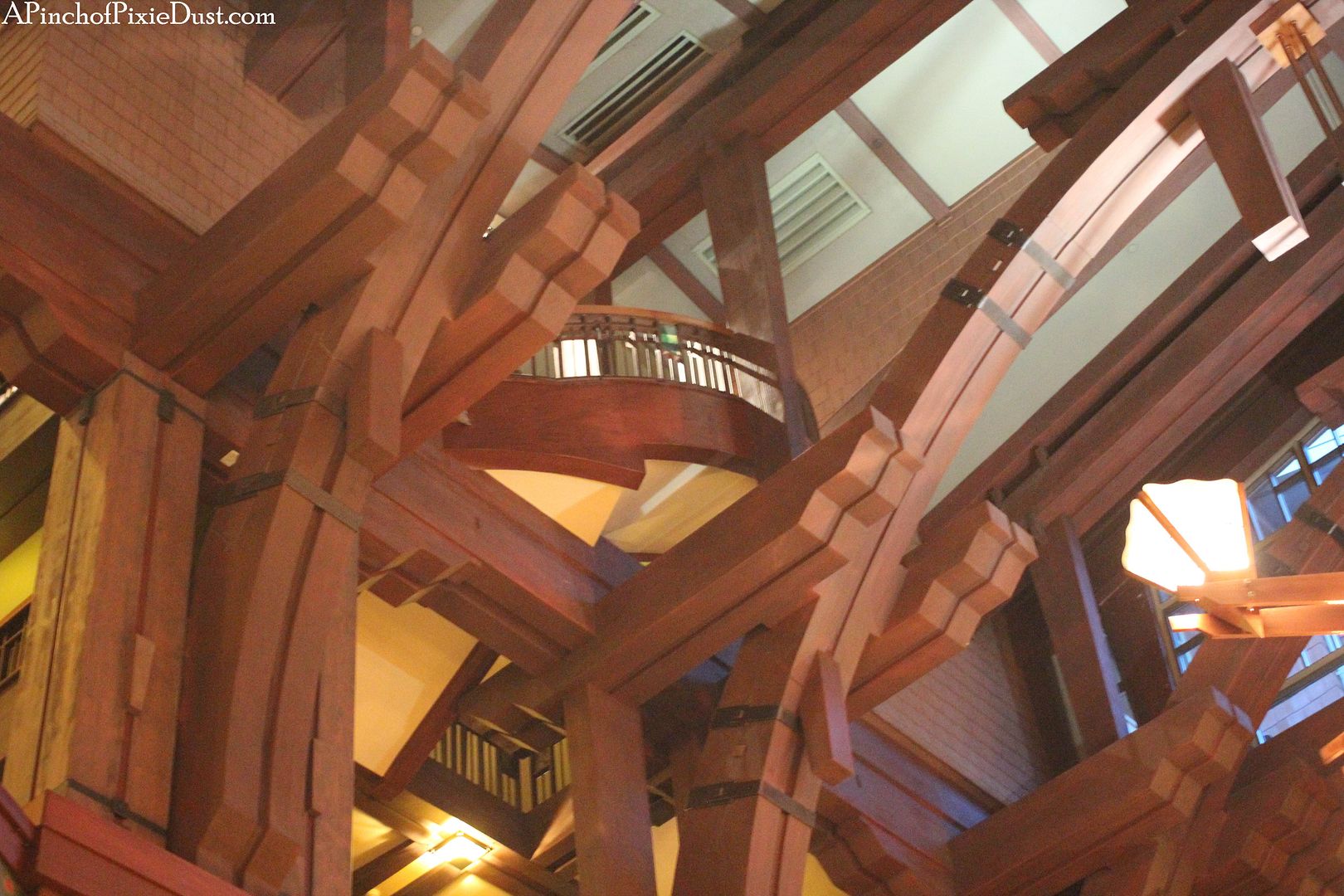 On different floors and levels, there seemed to be balconies and overlooks jutting out into the cavernous lobby atrium everywhere I looked!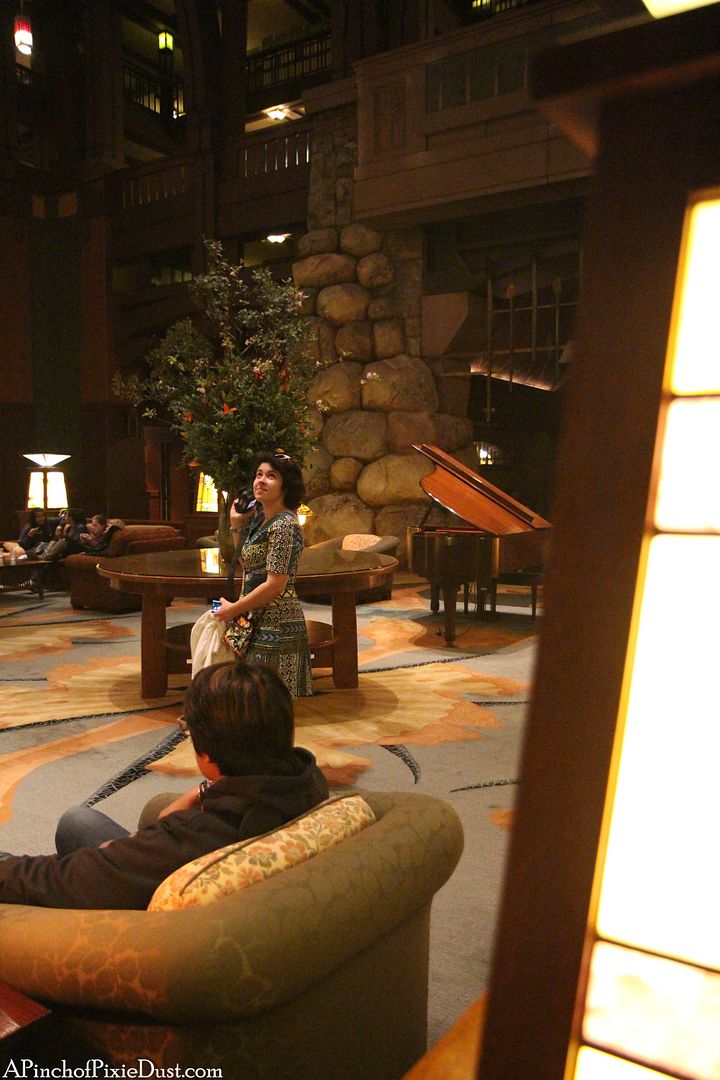 So much to see! We did spend an hour or so just relaxing on a long seating area on the third floor...I wish I'd gotten a photo of it, but I was too busy relaxing. ;)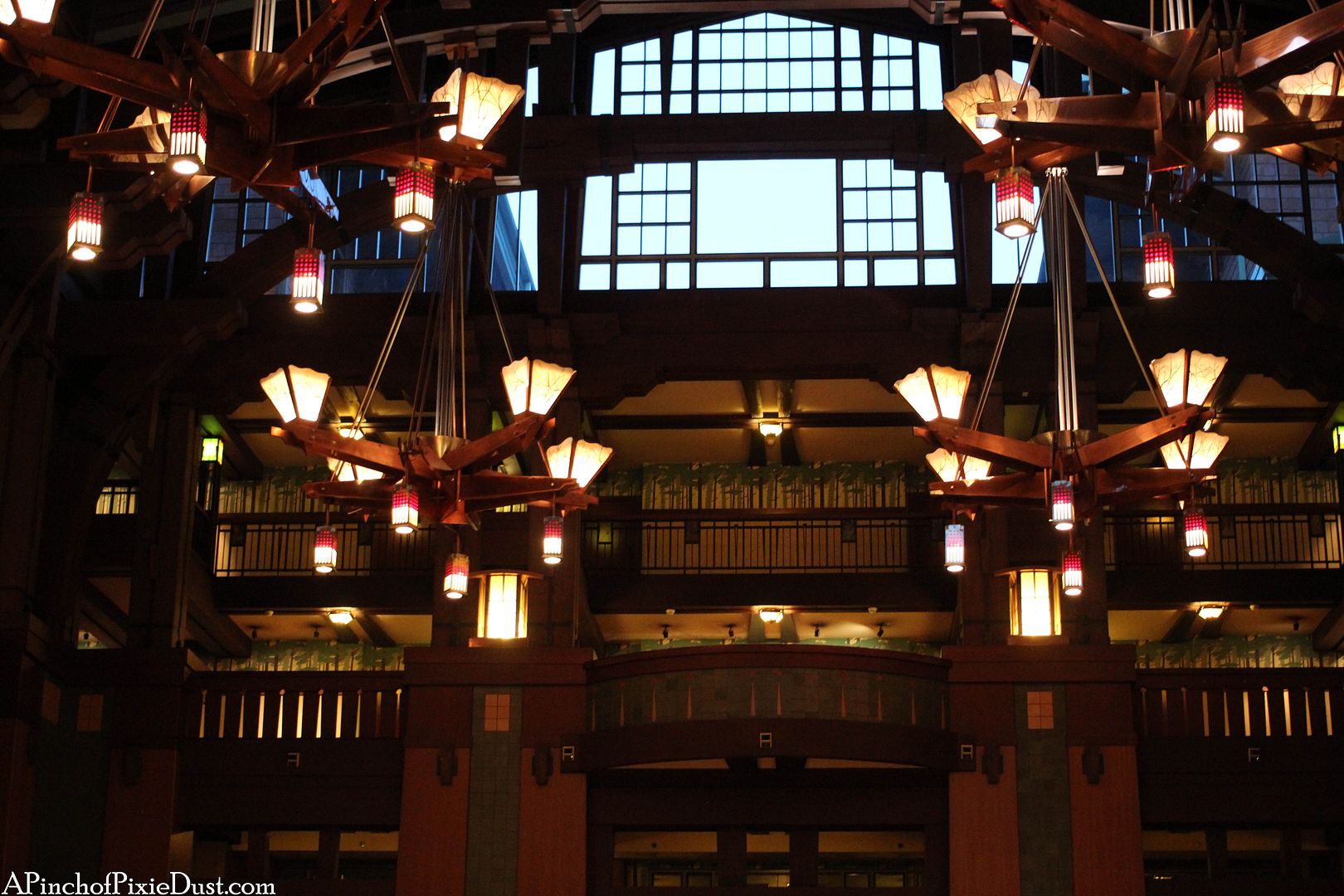 The seating area I'm talking about is just behind that rounded green segment and the first level of wooden railings. Also, there are lanterns hanging from those lantern chandeliers. That's pretty impressive.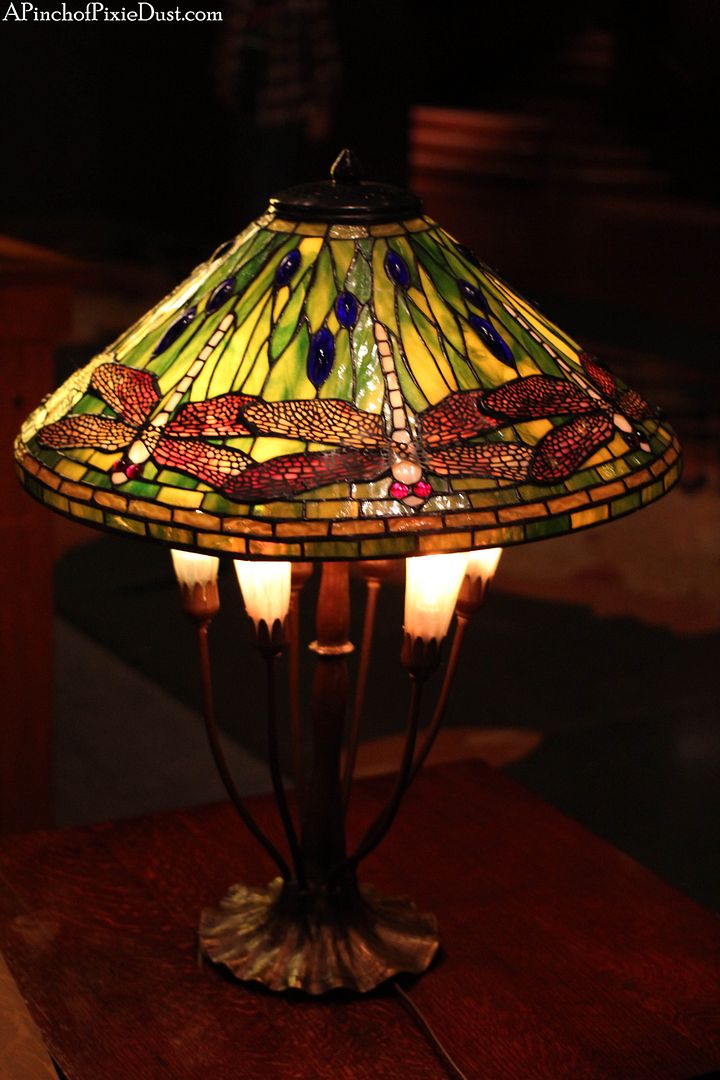 So can we go back to the lamps again for a minute? I think the imagineers in charge of this space must have had way too much fun choosing lighting options for the Grand Californian. I can just see them, heads bent over a catalog of the coolest lamps in existence, "Let's get that sconce." "Oohhh, I want that funky lantern too. Let's get it in extra large." "THIS ONE HAS DRAGONFLIES!" And then, if a sudden fancy struck them, they could just whip a sketch and say, "This is what I had in mind," and have it made into a real lamp. I have no idea if that's actually how imagineers work, but it's fun to wonder! ;)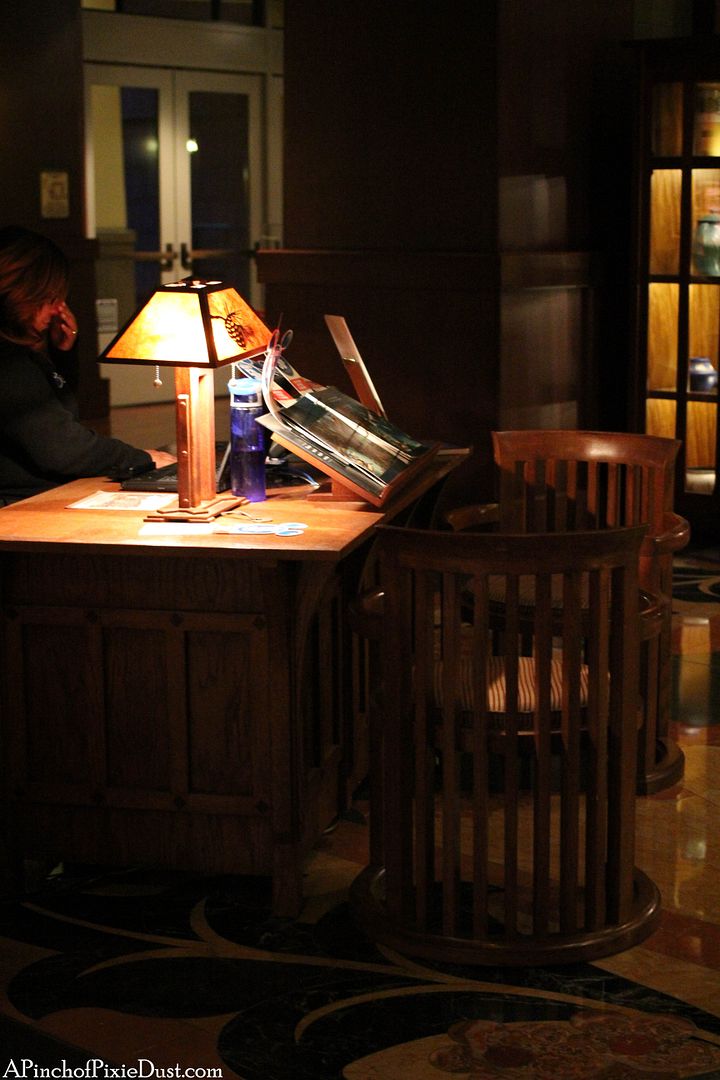 YET ANOTHER epic desk lamp and also THOSE CHAIRS. Sorry for the all caps...Disney resort design gets me excited.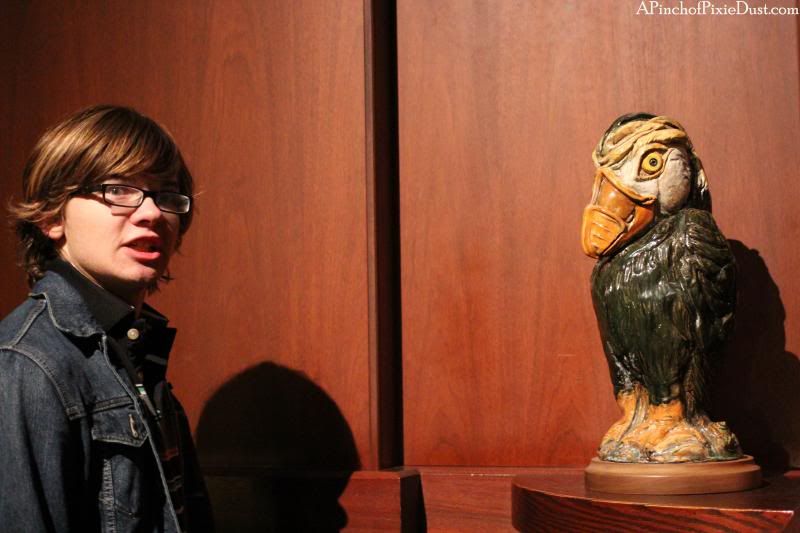 Some decor elements made us laugh... like Athos's new friend...or possibly enemy. Seriously though, doesn't that bird look distinctly hostile? It's as if you just caught it doing something very very bad...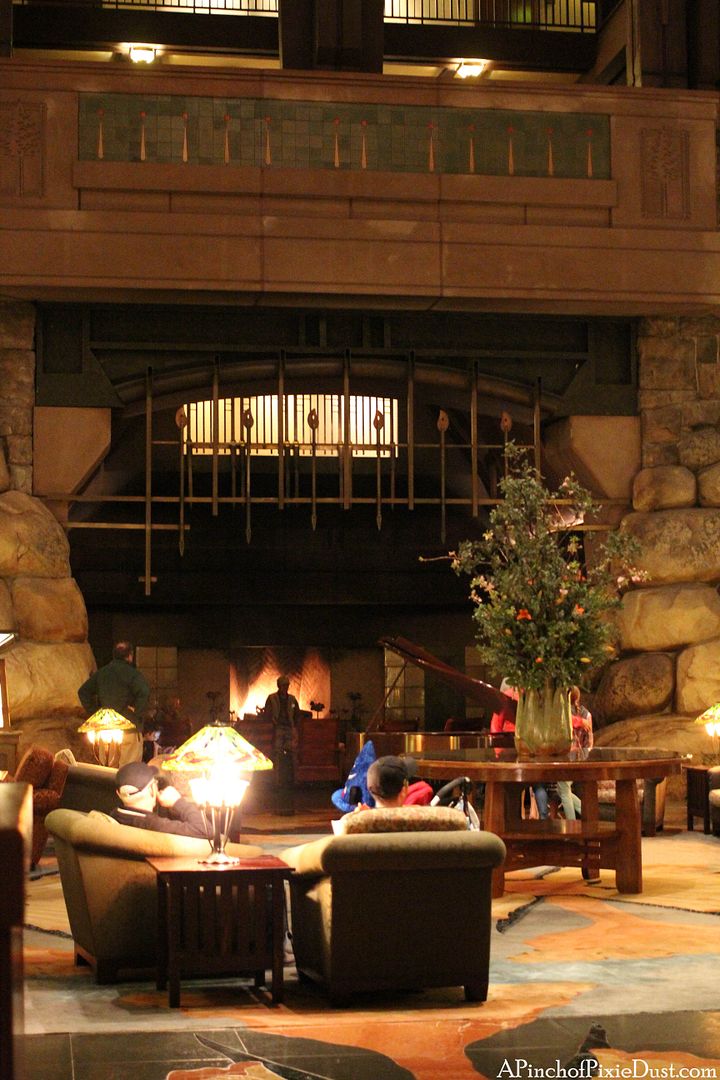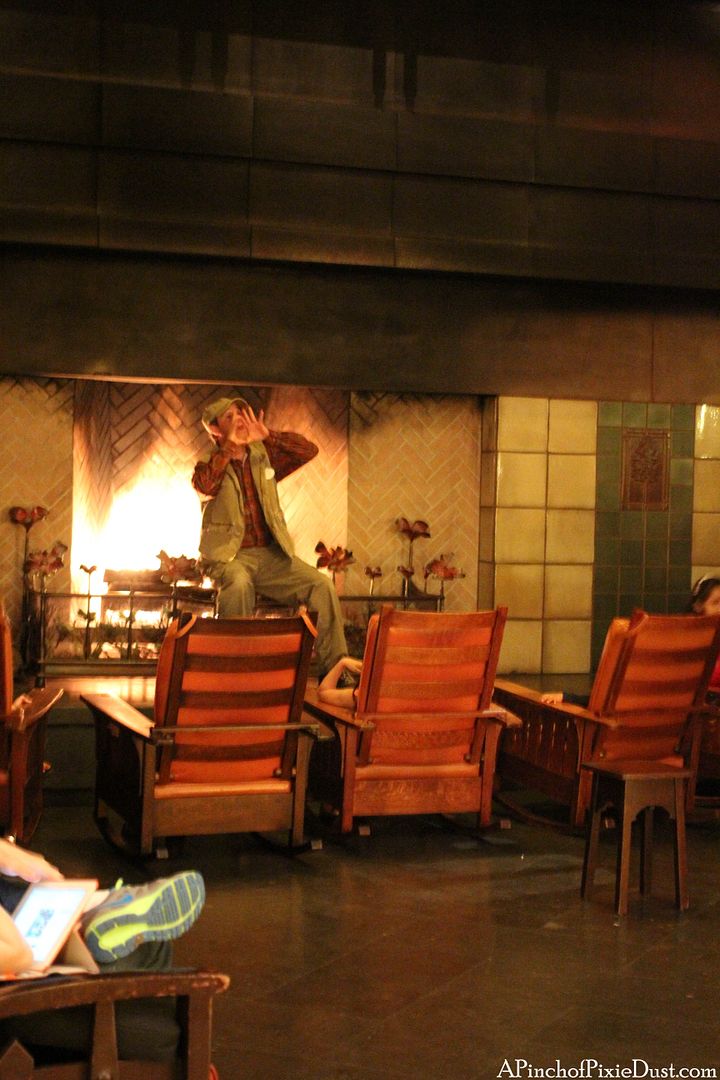 The fireplace area looked nice, and while we didn't have time to stop and listen to the cast member telling stories, he seemed pretty entertaining!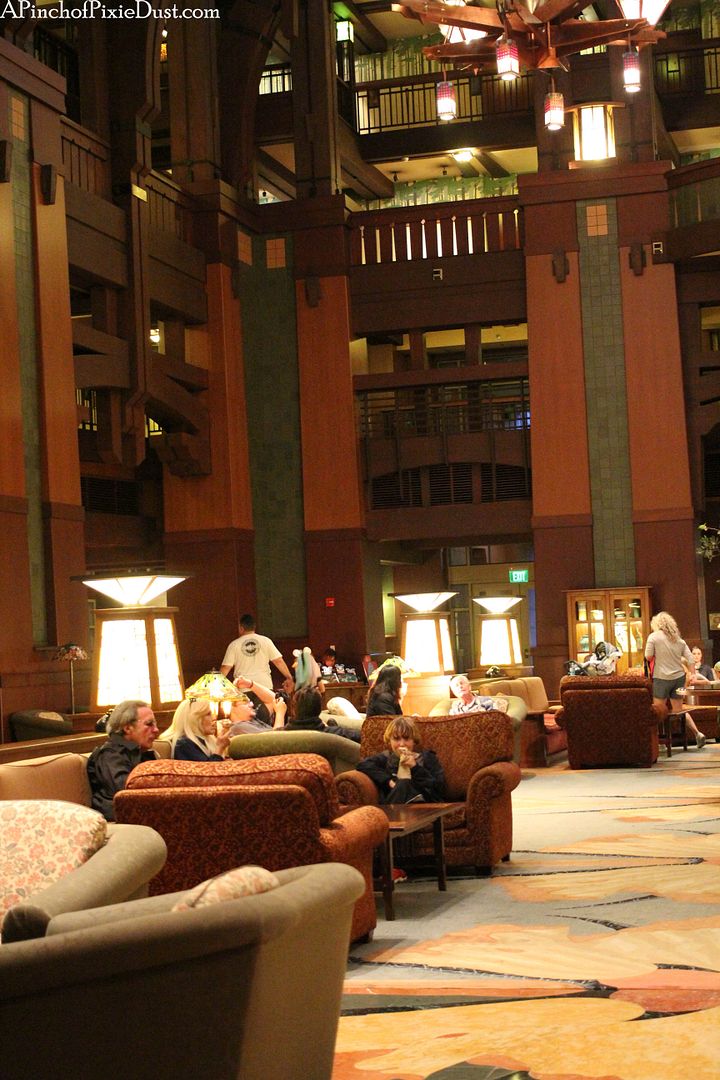 We only had a quick taste of the Grand Californian lobby - and while it doesn't top my favorite Disney World resort lobbies, I definitely want to see more of this hotel. Fingers crossed we'll stay here on a future trip...
...and even if we don't, at least we can visit and enjoy the majestic space!