This is not only a Sweet Treat Monday. This is a Matterhorn Monday...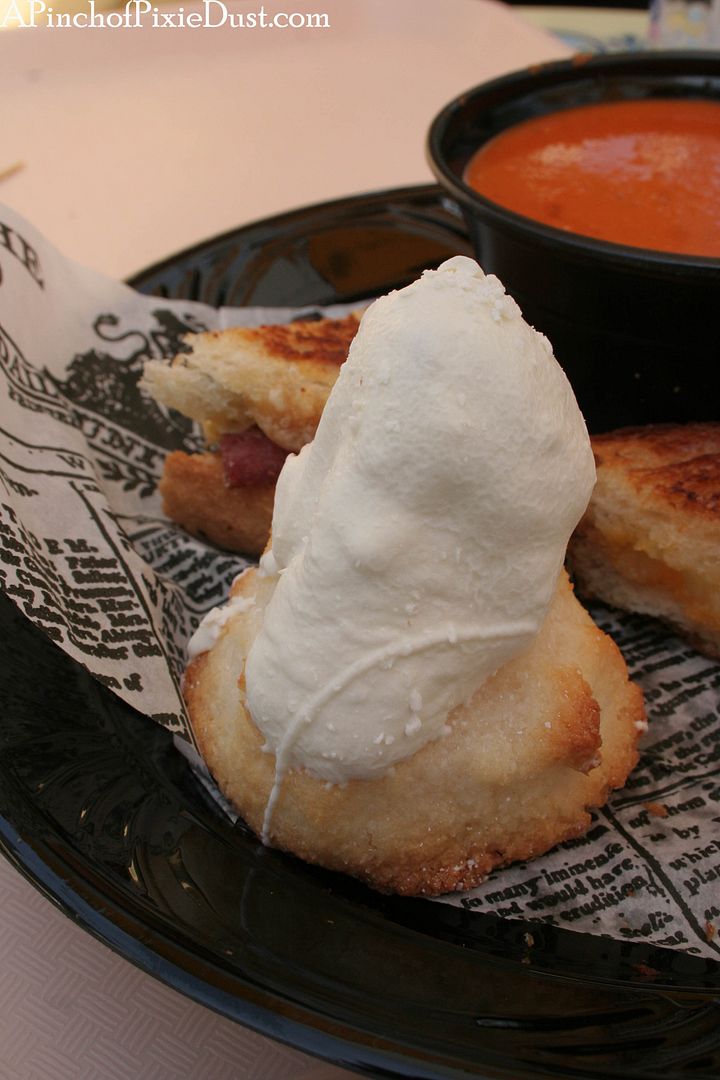 ...or rather, a Matterhorn Macaroon Monday!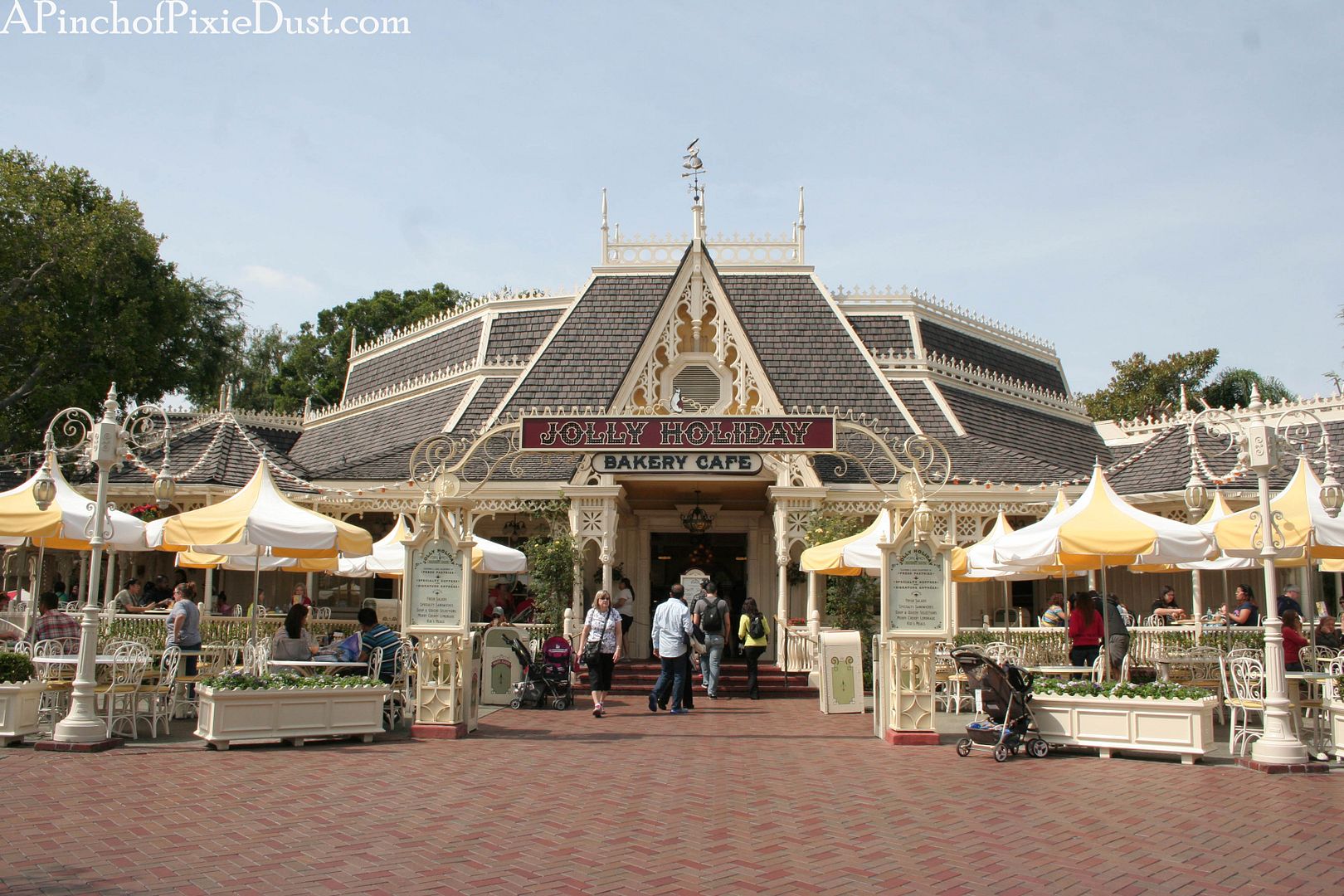 This adorable Disney dessert can be found at the adorable Jolly Holiday Cafe and Bakery at Disneyland in California!
Mary Poppins + a Bakery + Cute Penguins + Tasty Treats = PERFECTION.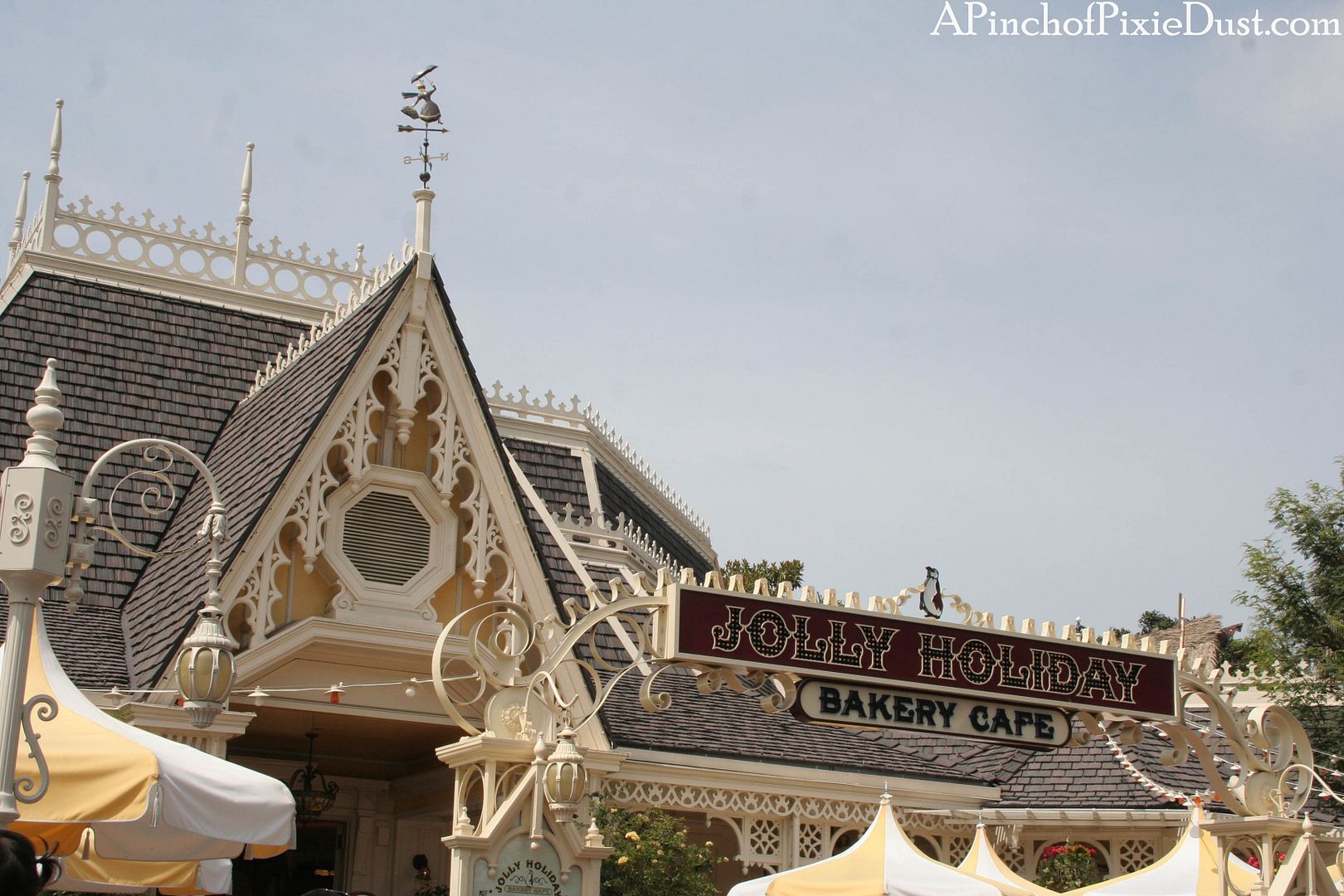 Just look at that weather vane...it's Mary!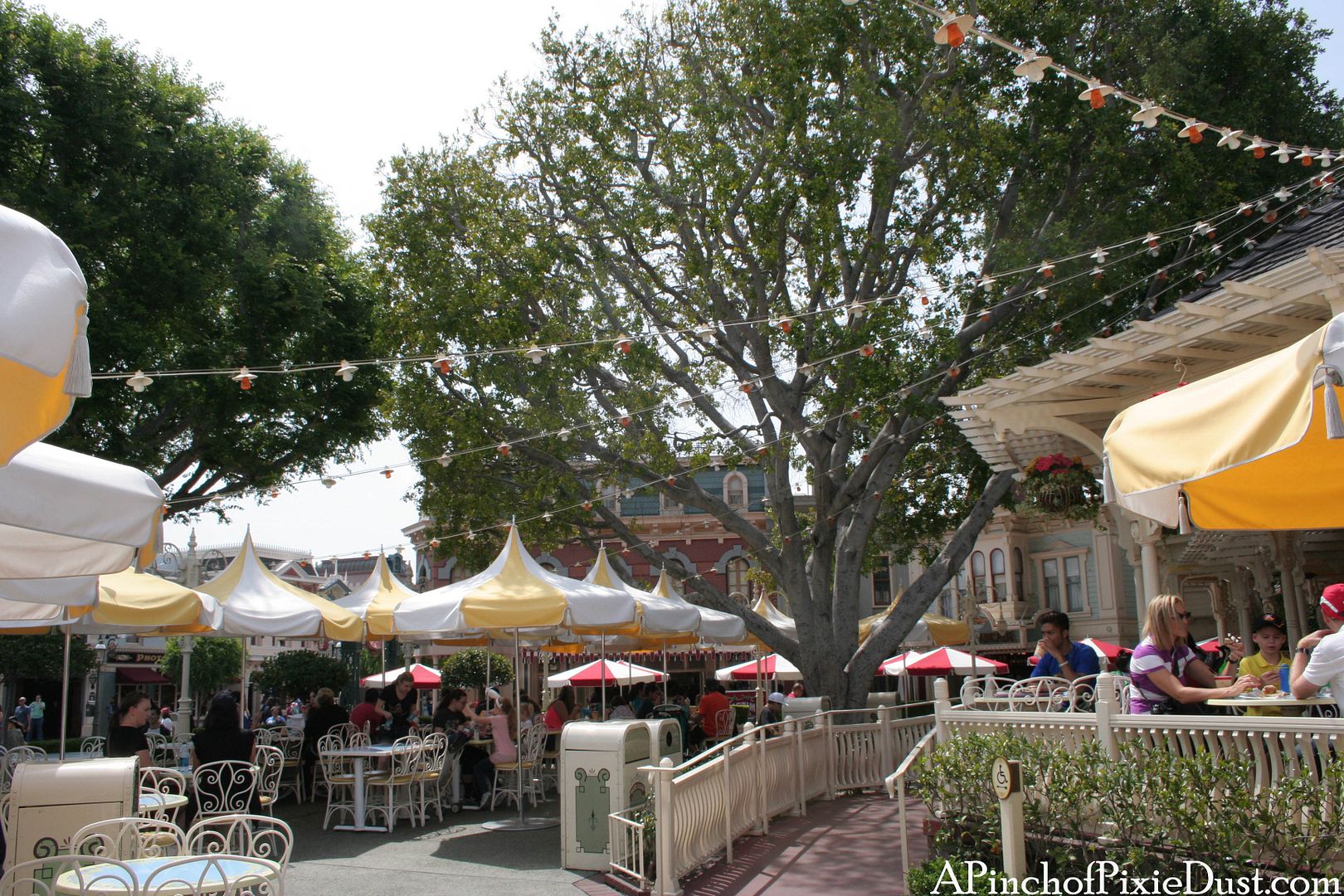 And out front there's a charming courtyard with lights and trees and tables.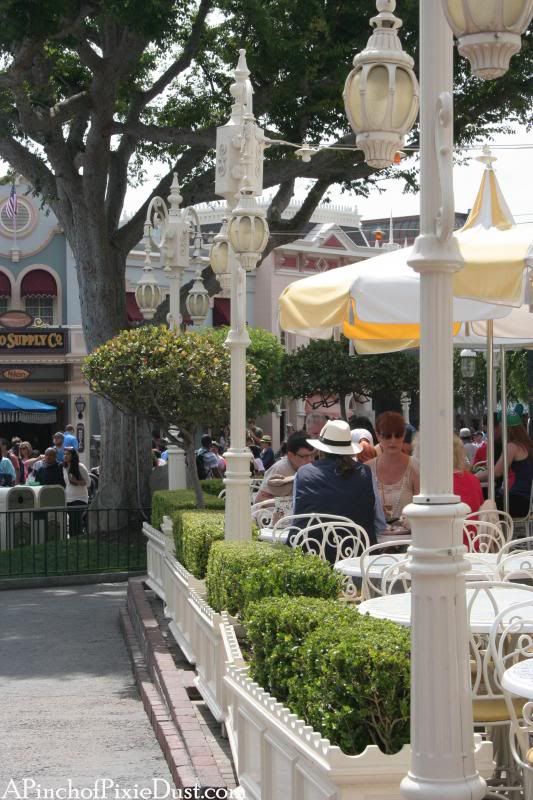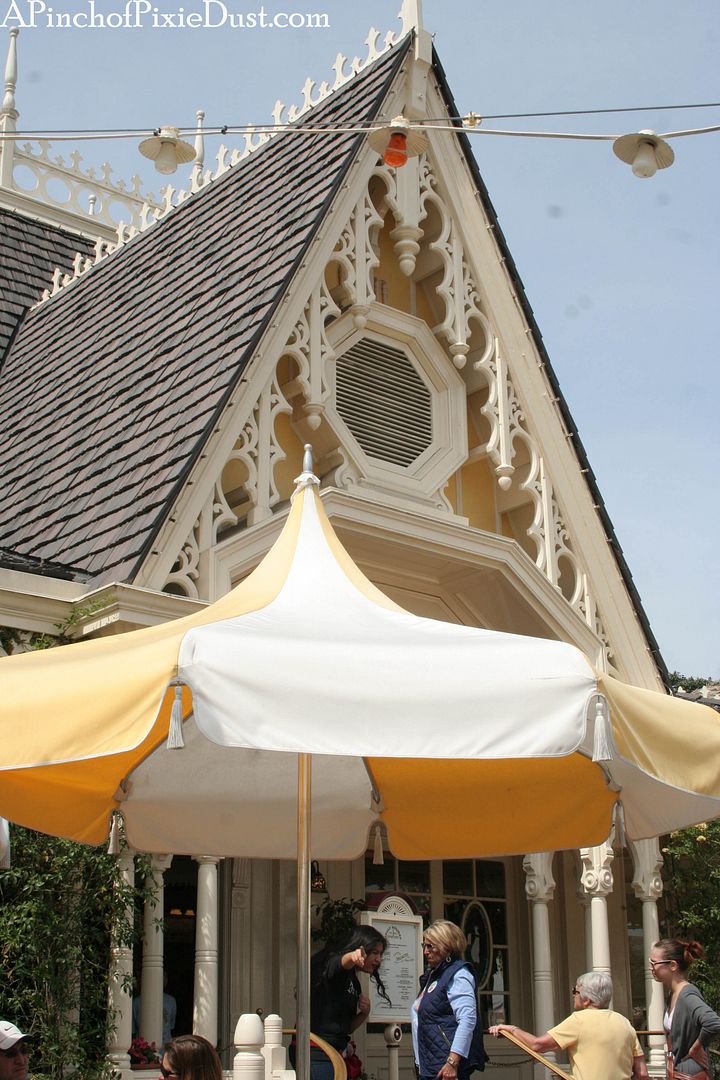 Some detail shots - I loved the cheerful yellow building, the hedges separating the seating from the street, and the elegant umbrellas!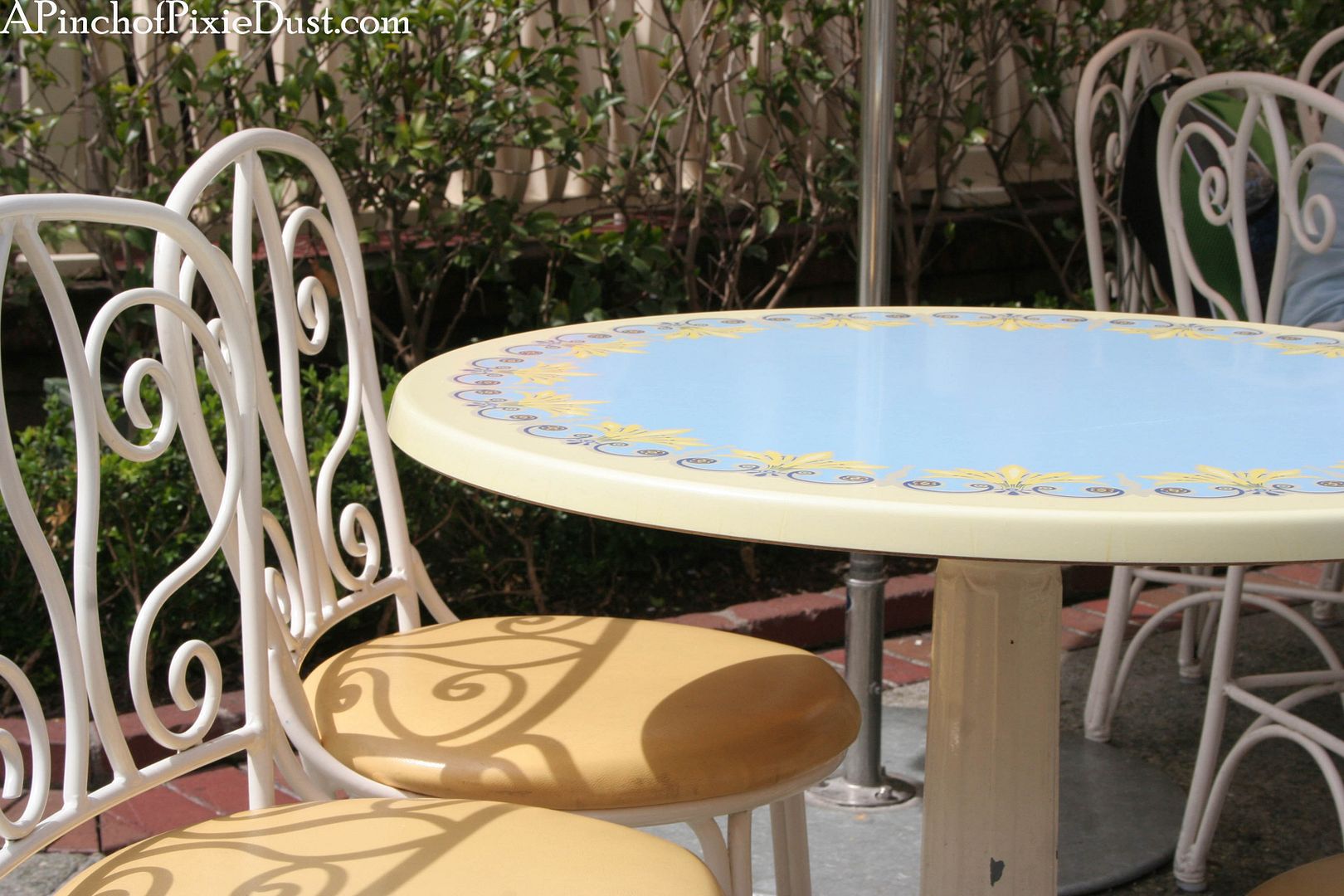 The tables and the chairs look spit spot and very proper...I feel sure Mary would approve!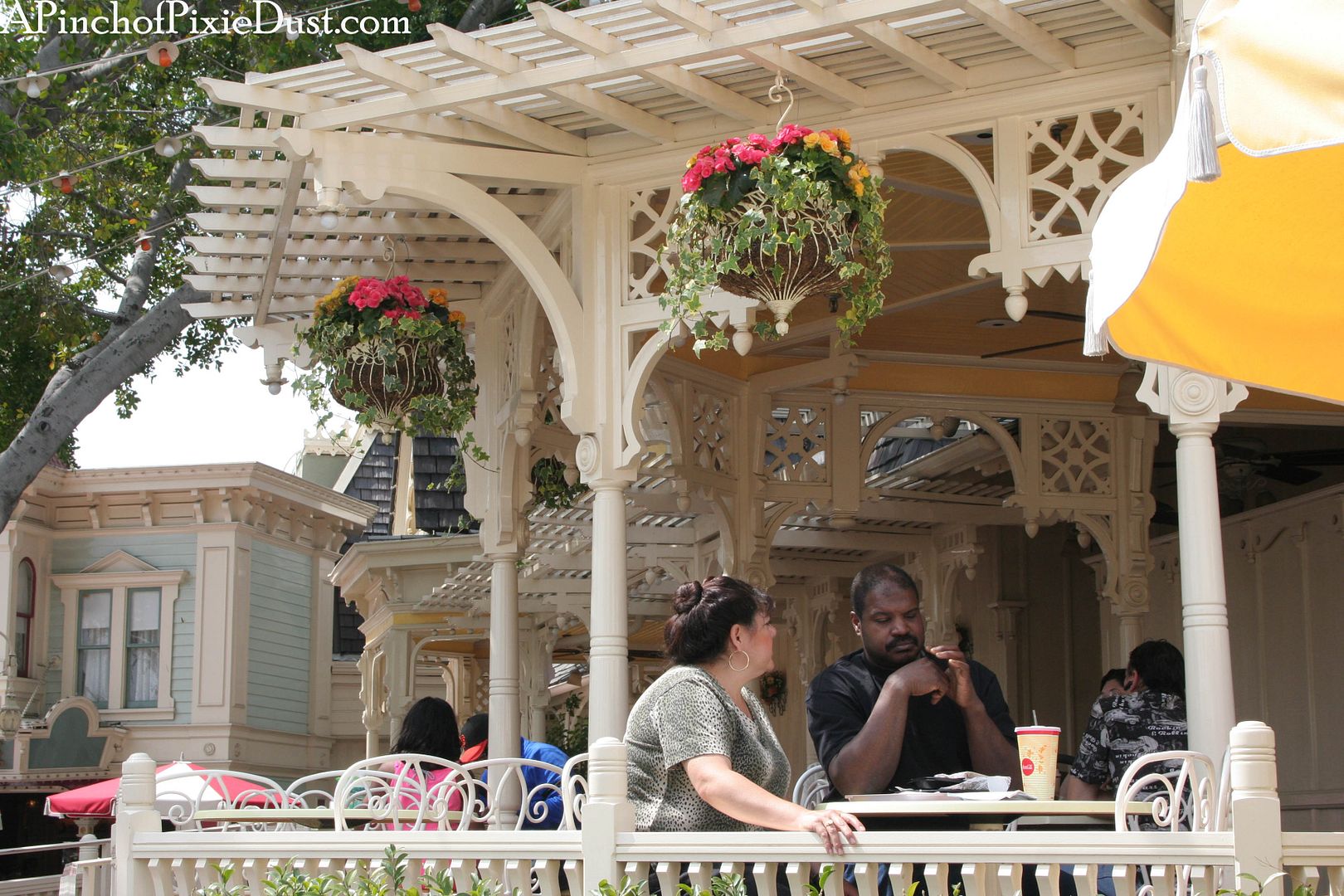 But before we sit down and get comfy, let's go in and place our order!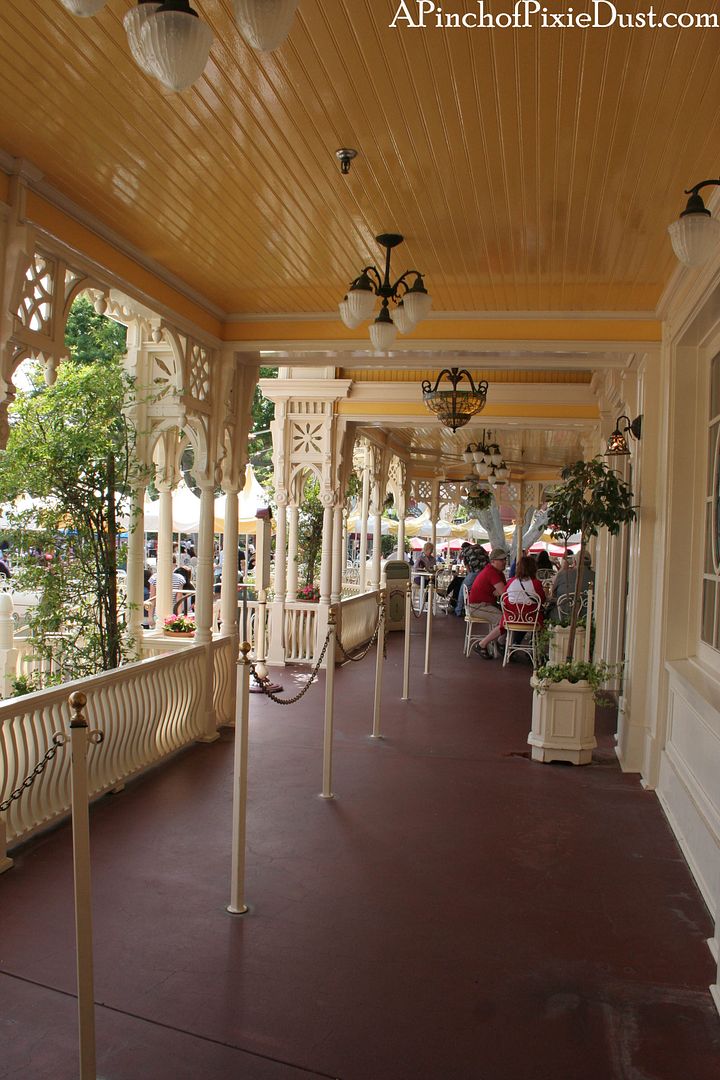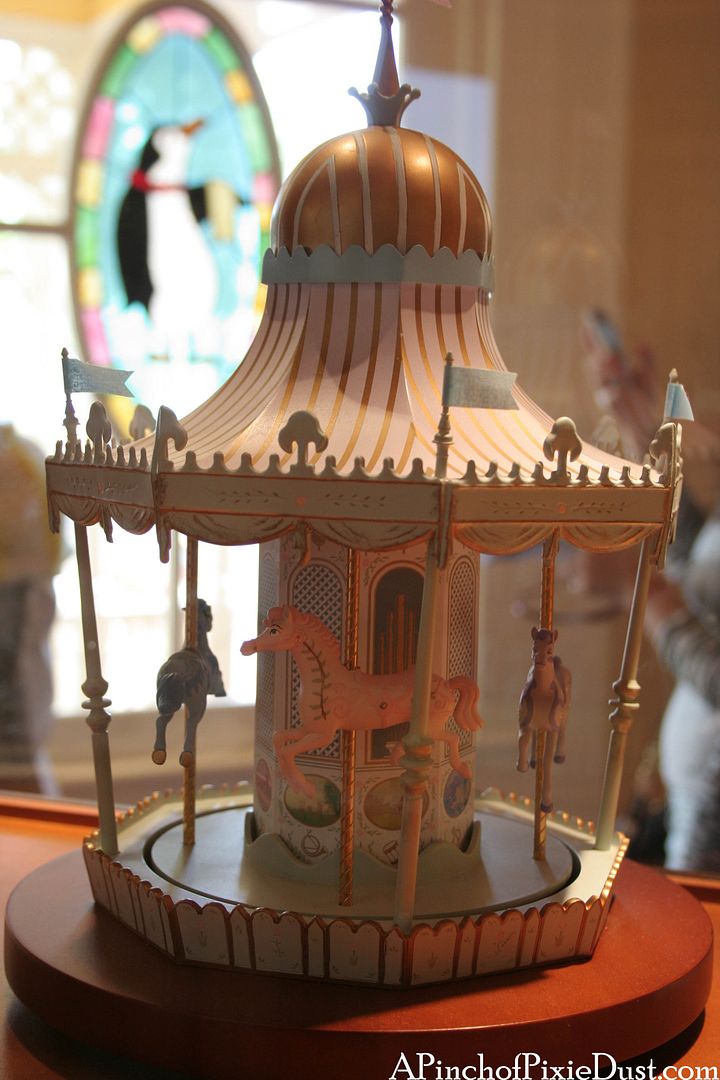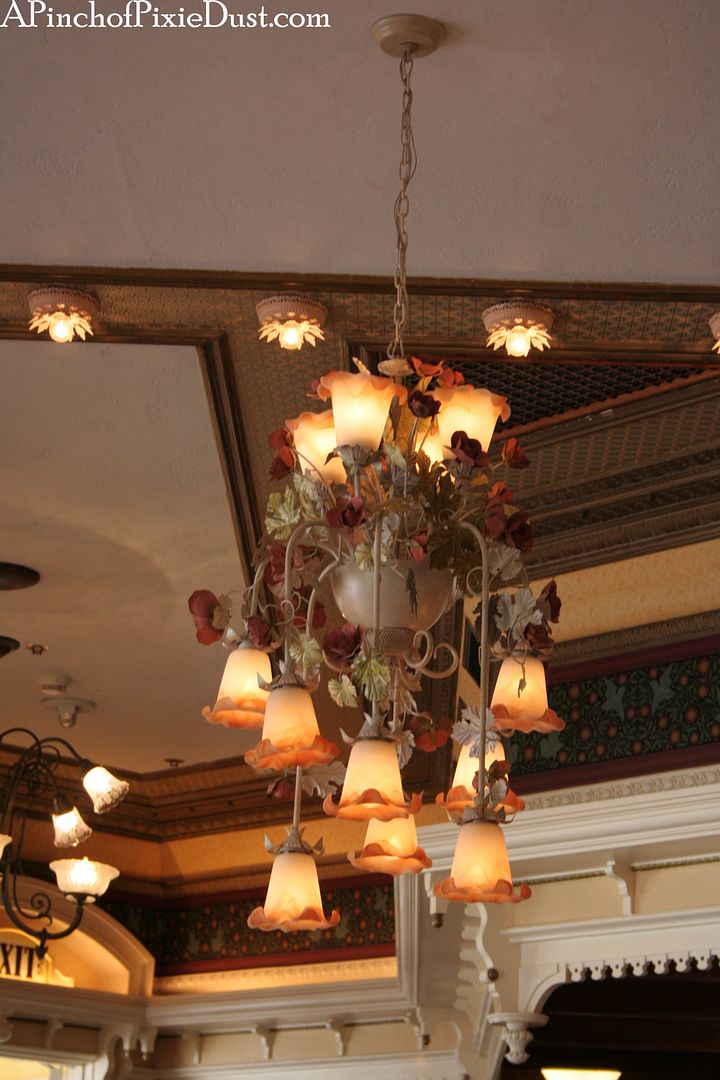 There are so many neat details inside - look at that chandelier! And a carousel too.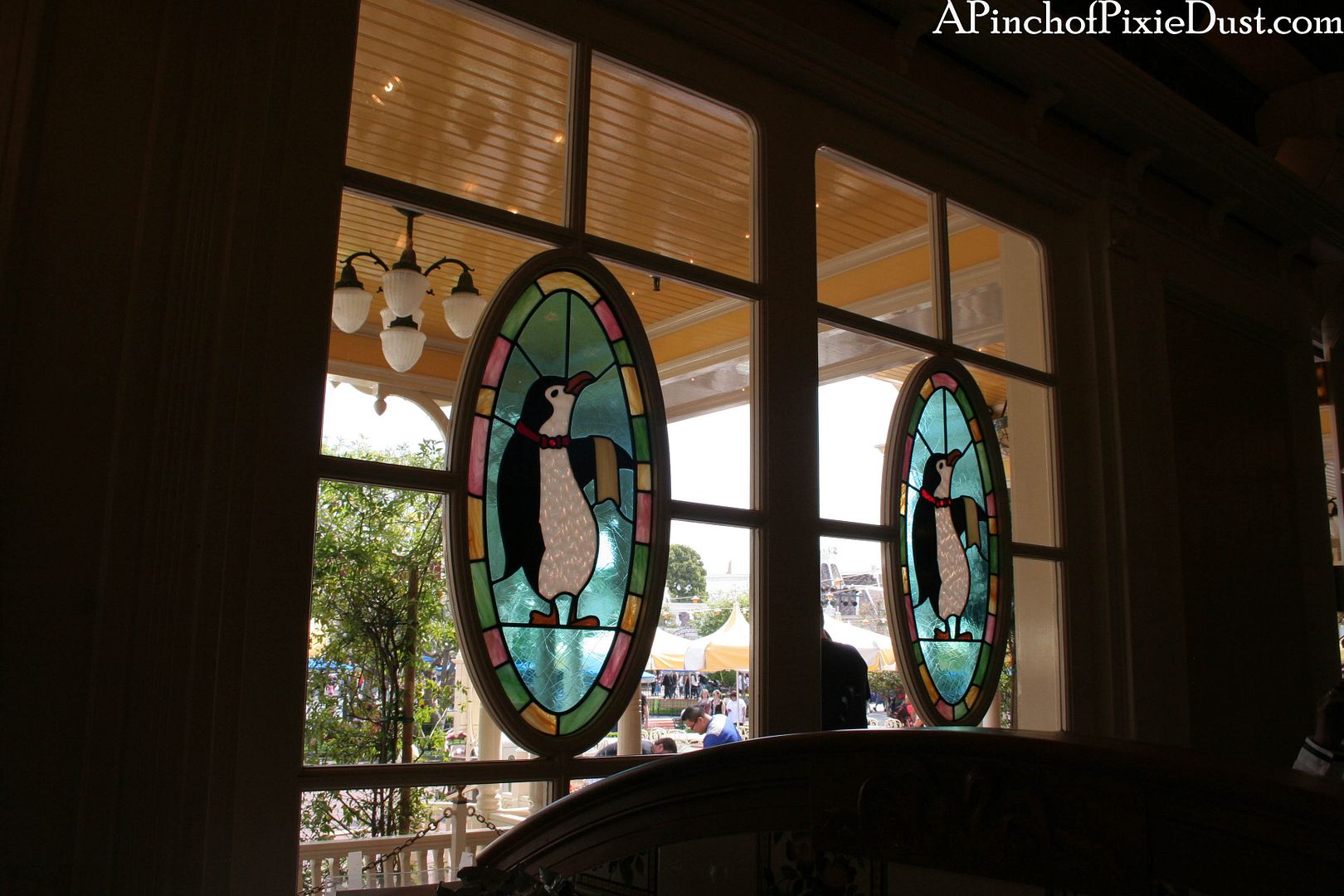 There are penguins at the ready in the stained glass at the windows. Reminds me of the fellows in the fountain at the Grand Floridian!
"Wind's in the East...a mist comin' in...like somethin' brewin' about to begin!" There was a mini mural featuring song lyrics from the movie.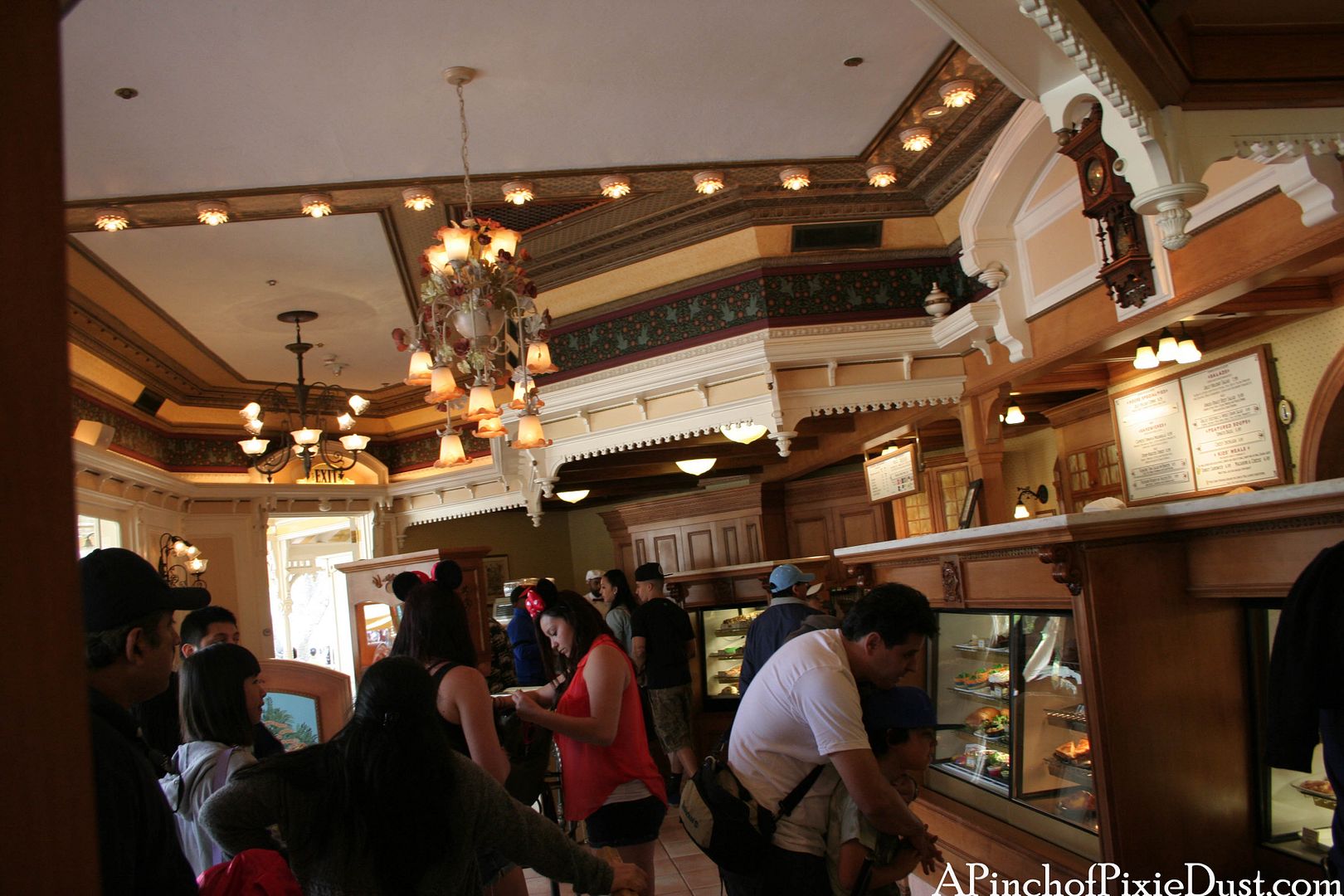 This restaurant is set up with a double line/serving area - like the Main Street Bakery at the Magic Kingdom. The cashiers had penguin placards to wave the next customer over. You pay and then pick up your food further down the counter.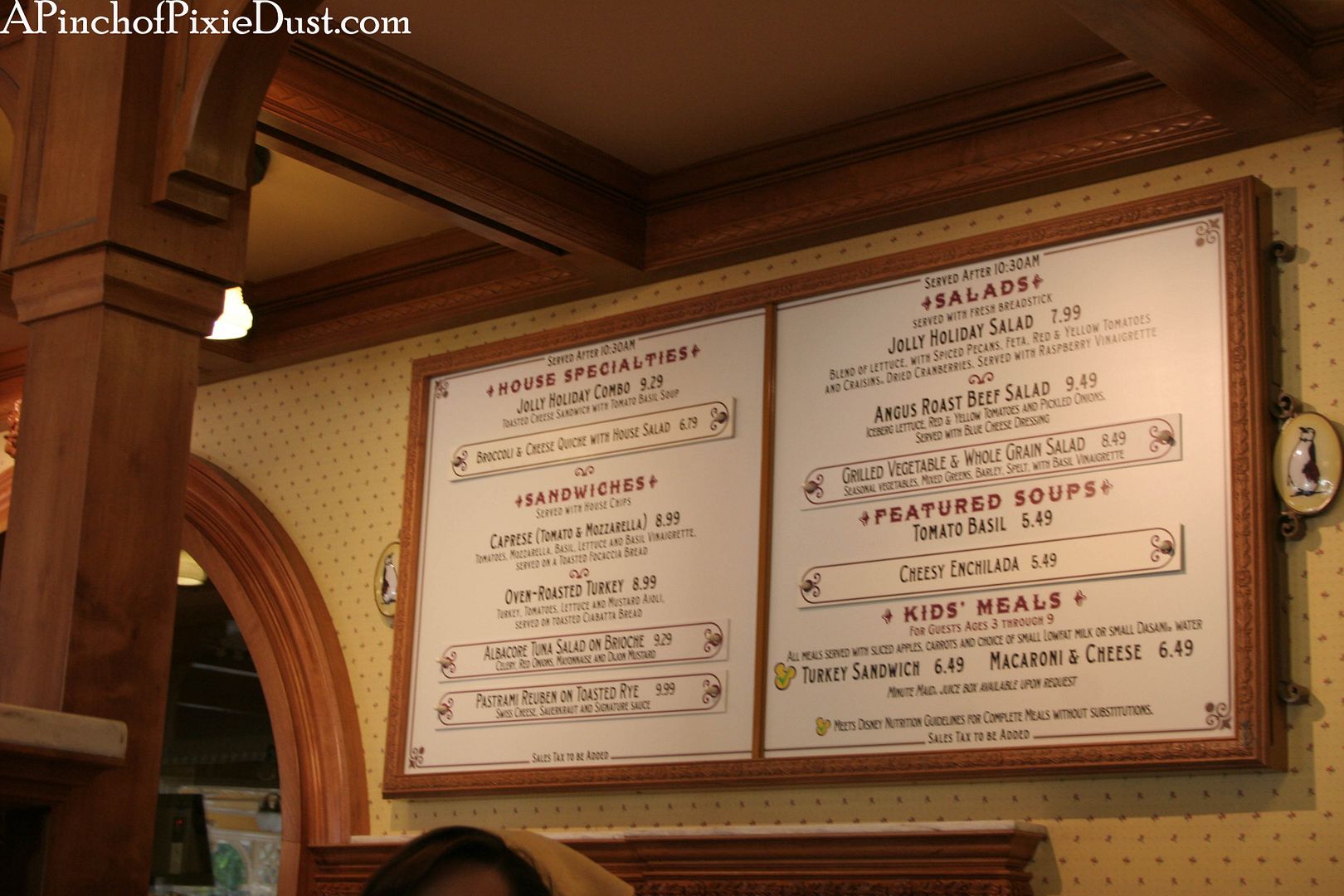 We stopped in for lunch on our Disneyland trip - it was hard to decide what to get, everything sounded delicious!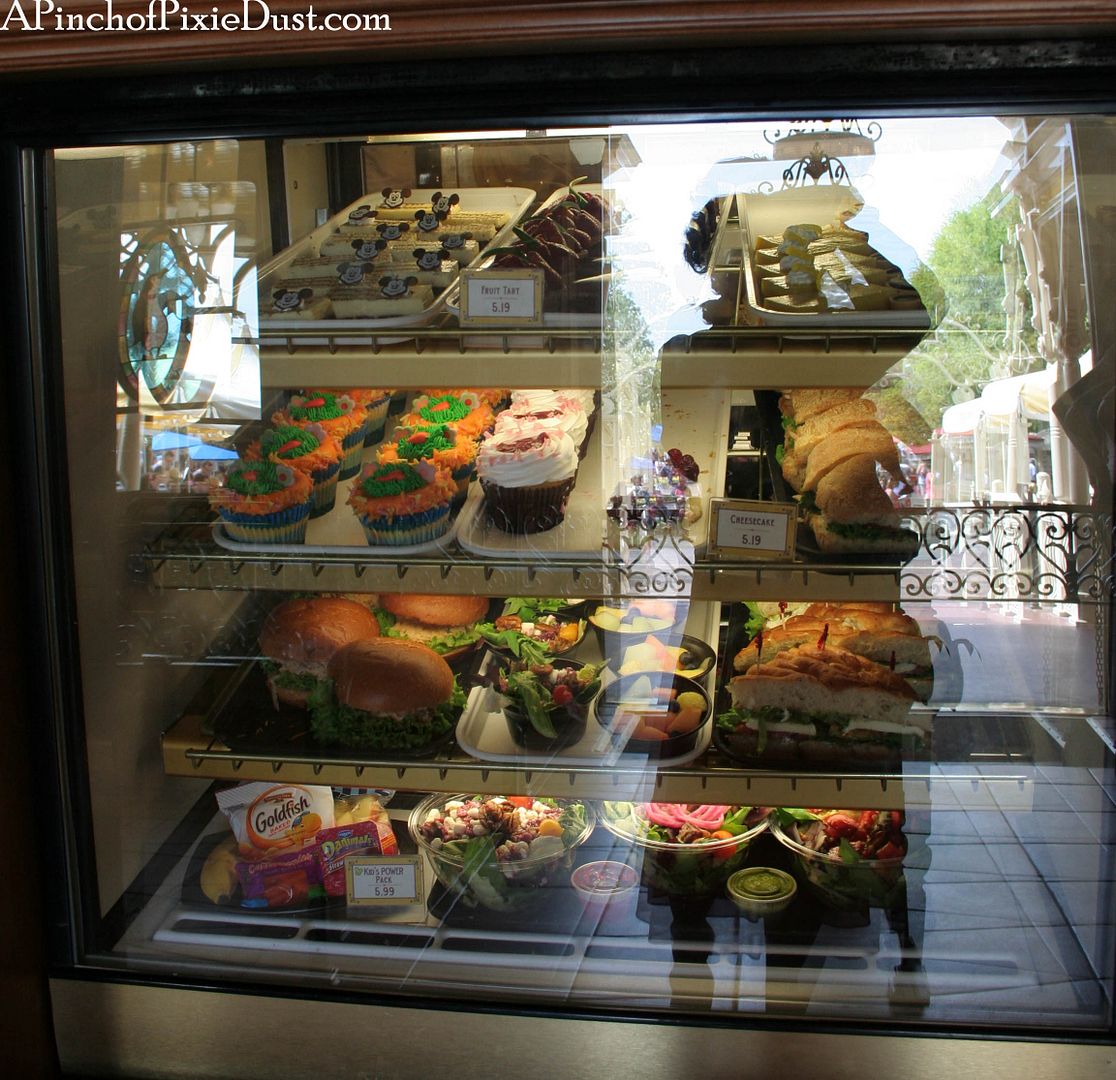 The sweets and sandwiches are temptingly displayed in the cases.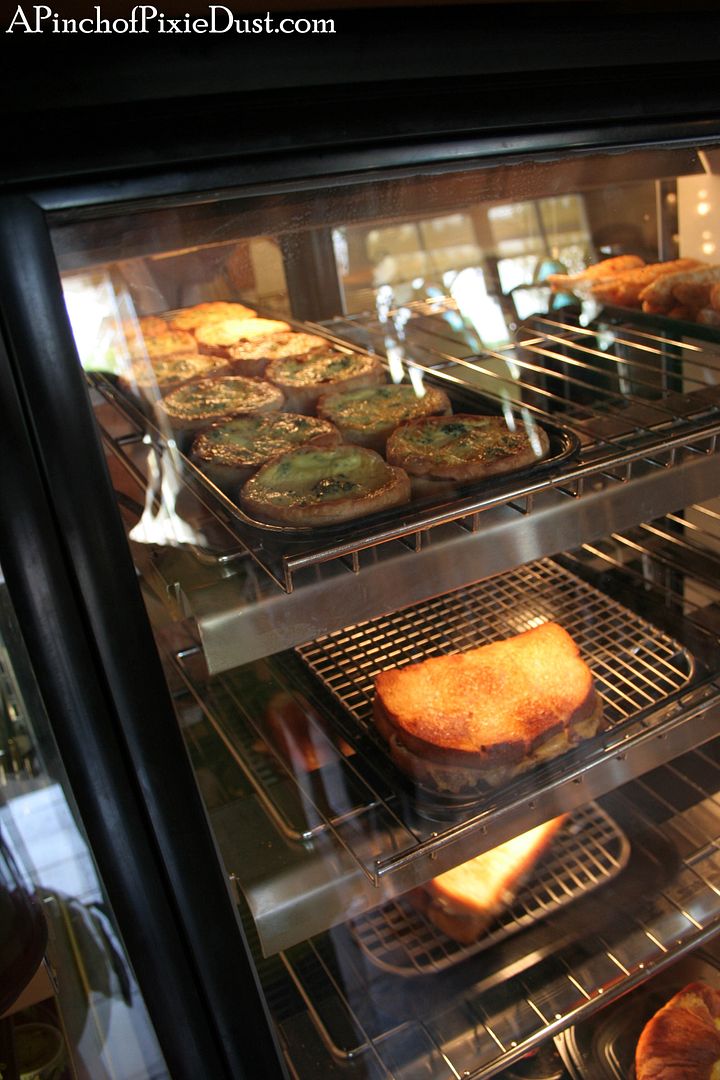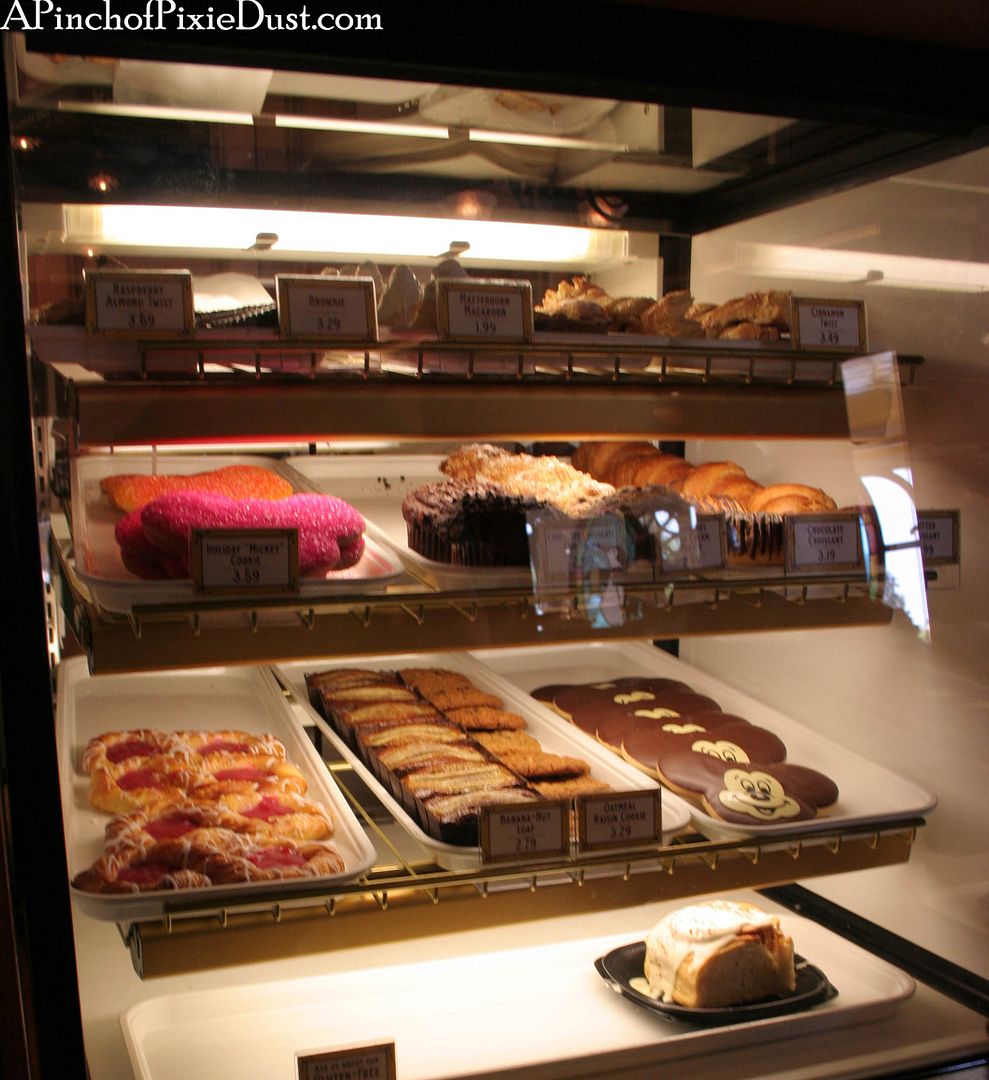 The warm savories are glistening under the heat lamps, and there are plenty of pastries!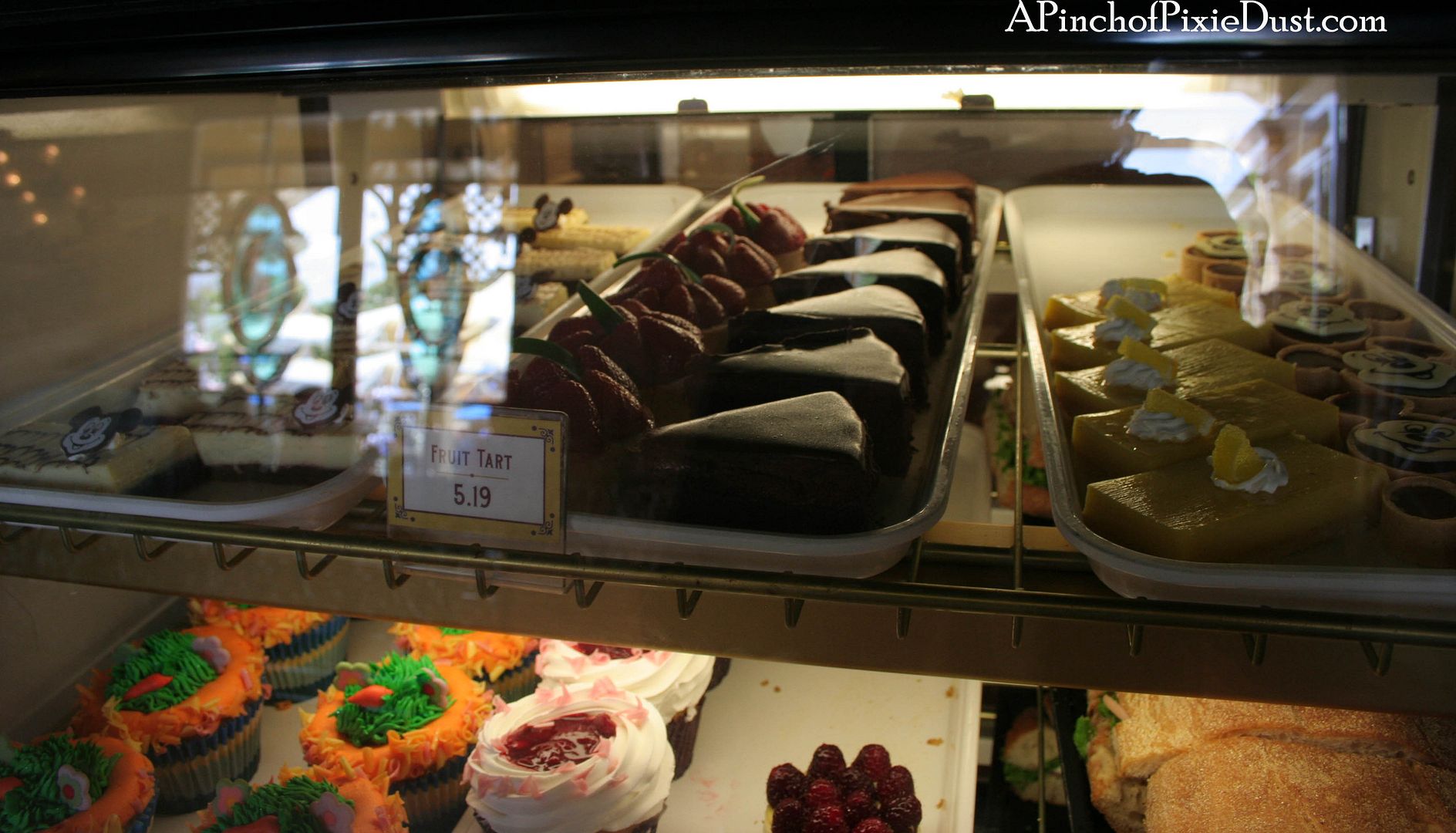 You can see a few cupcakes in the corner there...they did not look very impressive. And once I saw this I knew what I had to get: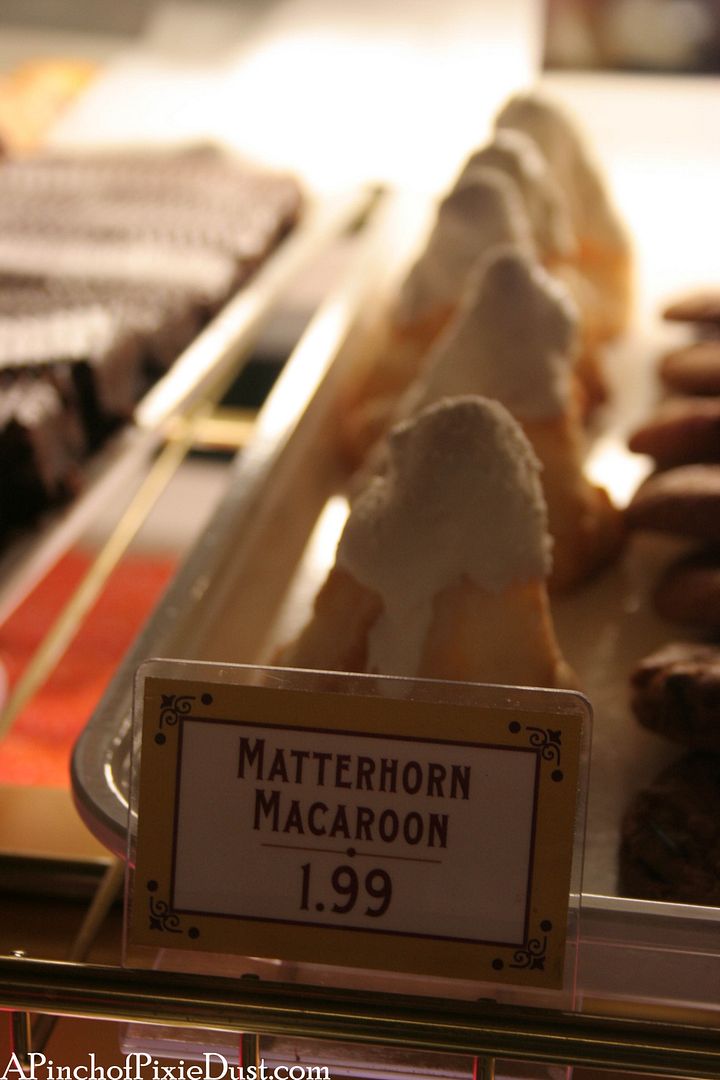 The one and only MATTERHORN MACAROON. I'm not a huge fan of coconut, but we had just ridden the Matterhorn that morning, and it was SO CUTE. I couldn't resist!
Luckily it was a mild day, so sitting outside was a pleasure - there did not seem to be any indoor seating.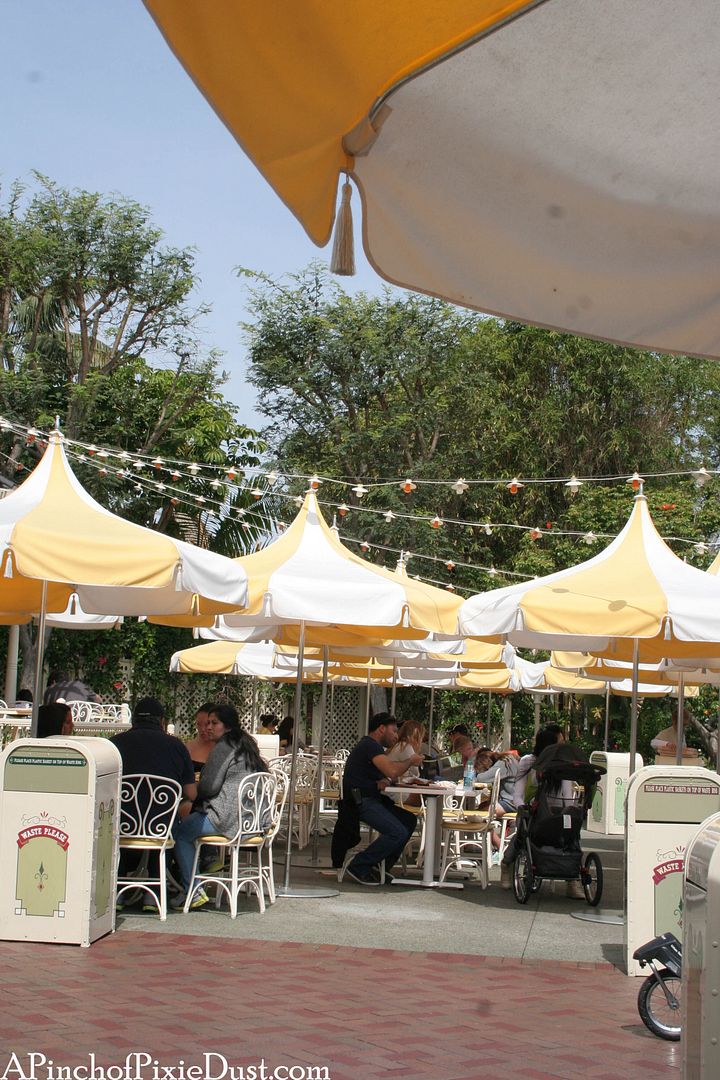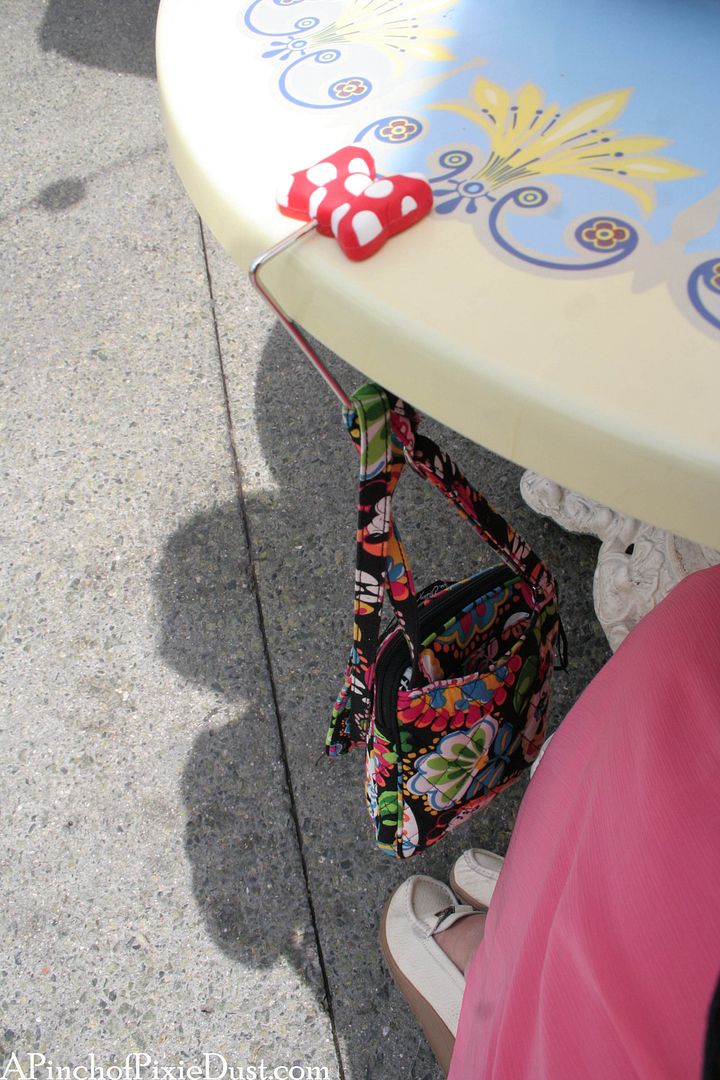 I used my Minnie purse hanger and felt very fancy...I bet Mary would have a purse hanger too!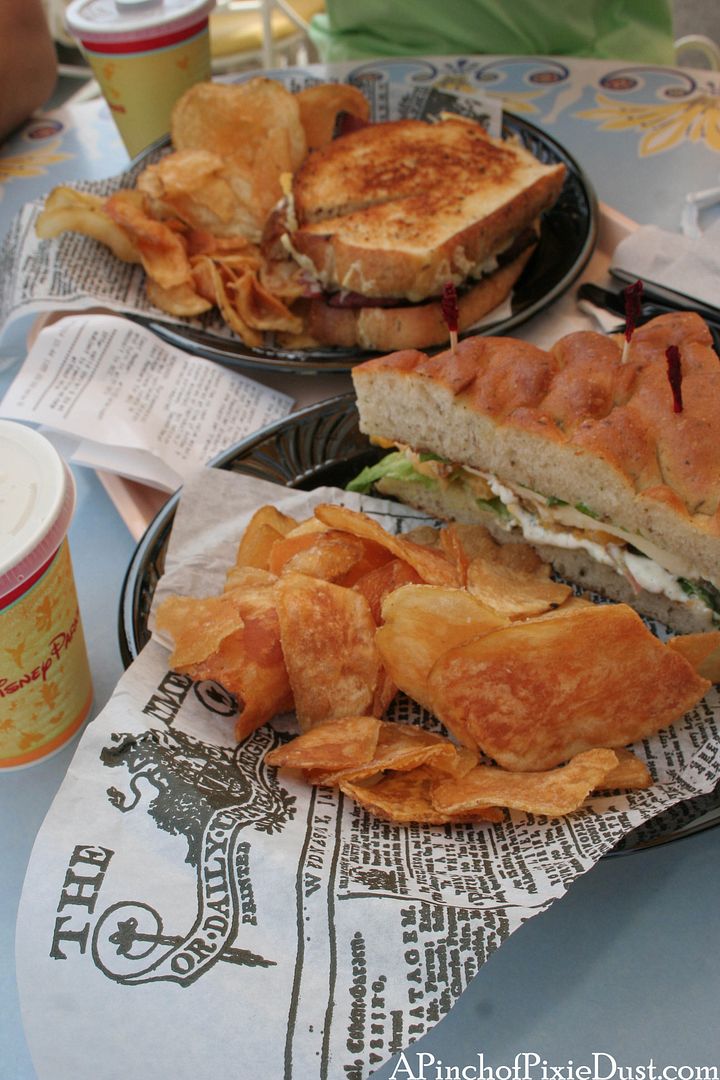 Time to eat! The macaroon was actually tastier than I expected. I loved the sugary icing on top and even the coconut was quite nice; but the main amazingness of the meal definitely belonged to the sandwiches.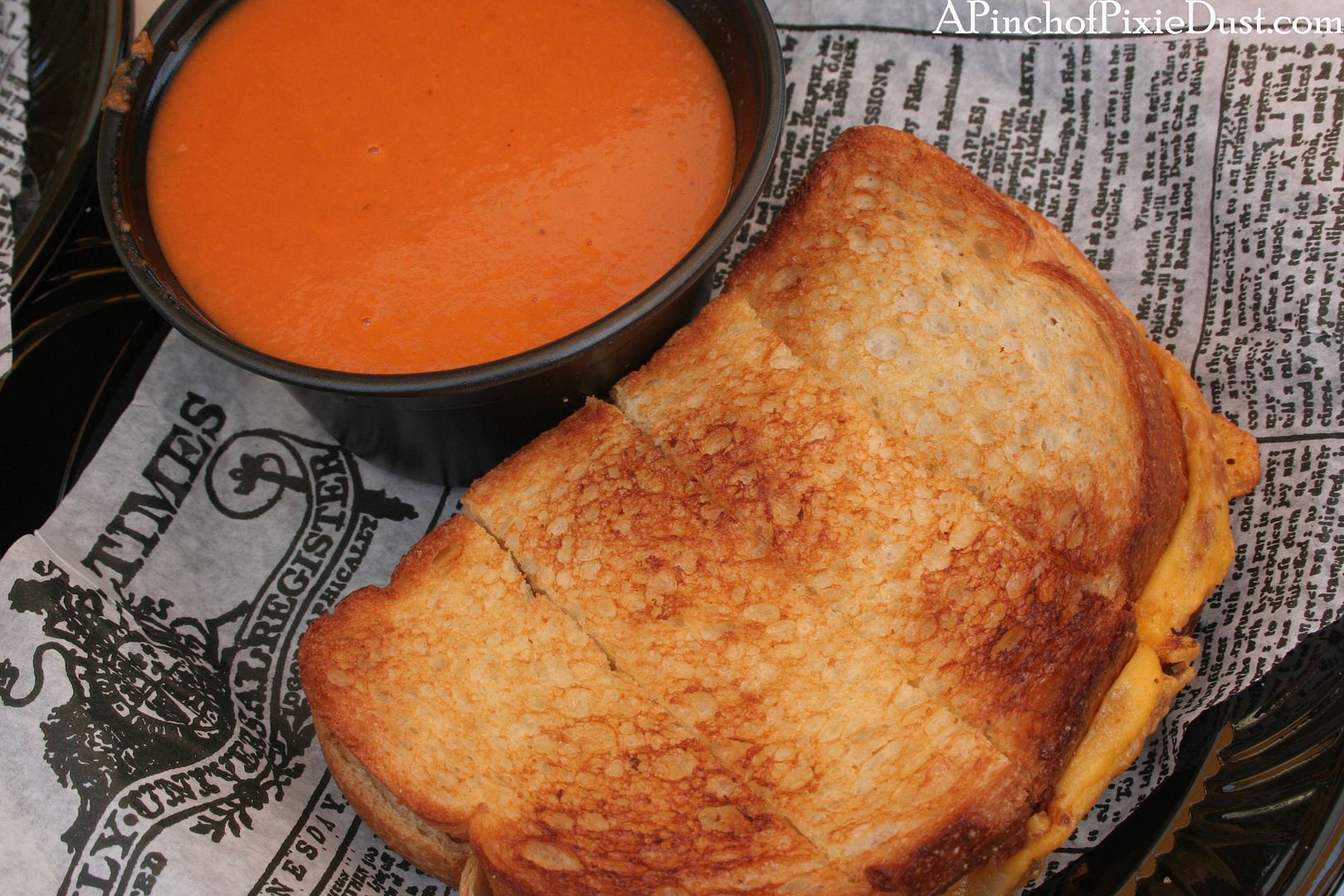 This was the Jolly Holiday Combo - toasted cheese sandwich with tomato basil soup. Absolutely delish!
My brother Athos is a big fan of quiche - he liked this one.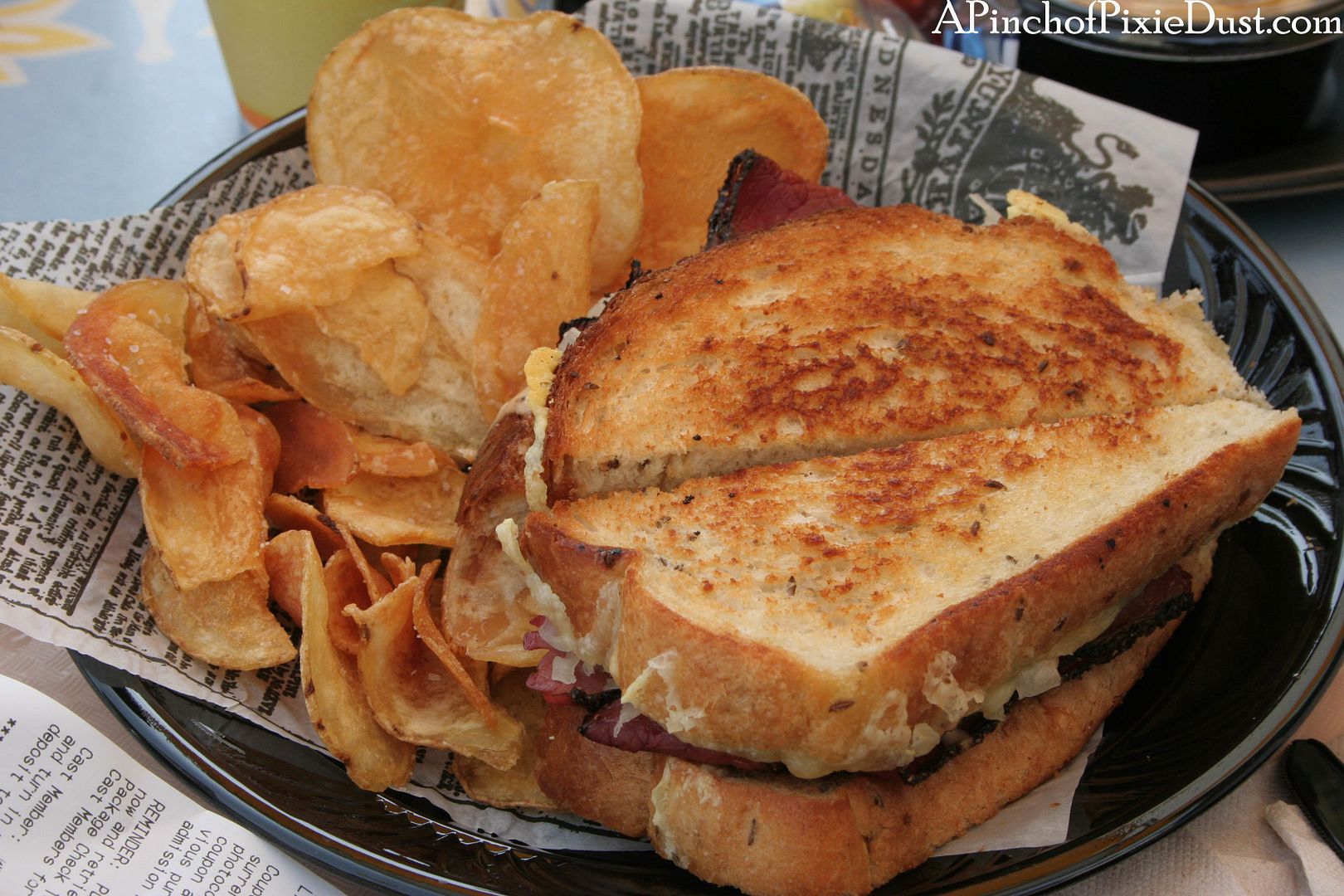 Another brother ordered the pastrami ruben on rye, and it was also wonderful.
My favorite sandwich was the caprese - so light and refreshing with the mozarella and tomatoes and amazing bread. It was fun that everyone tried something different so we got to do some sharing!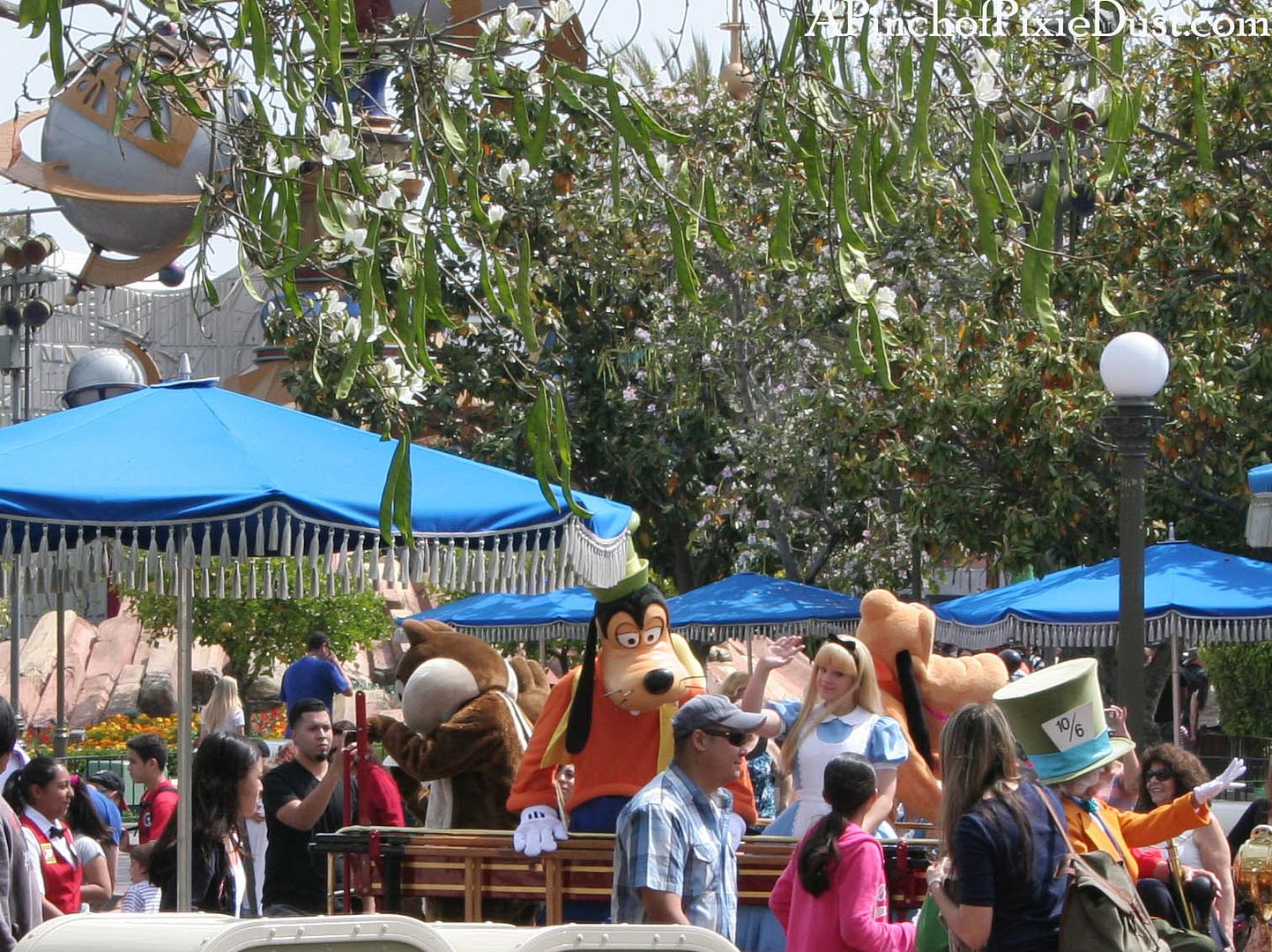 Sitting alongside Main Street and the hub was very entertaining - we saw a caravan of characters go by!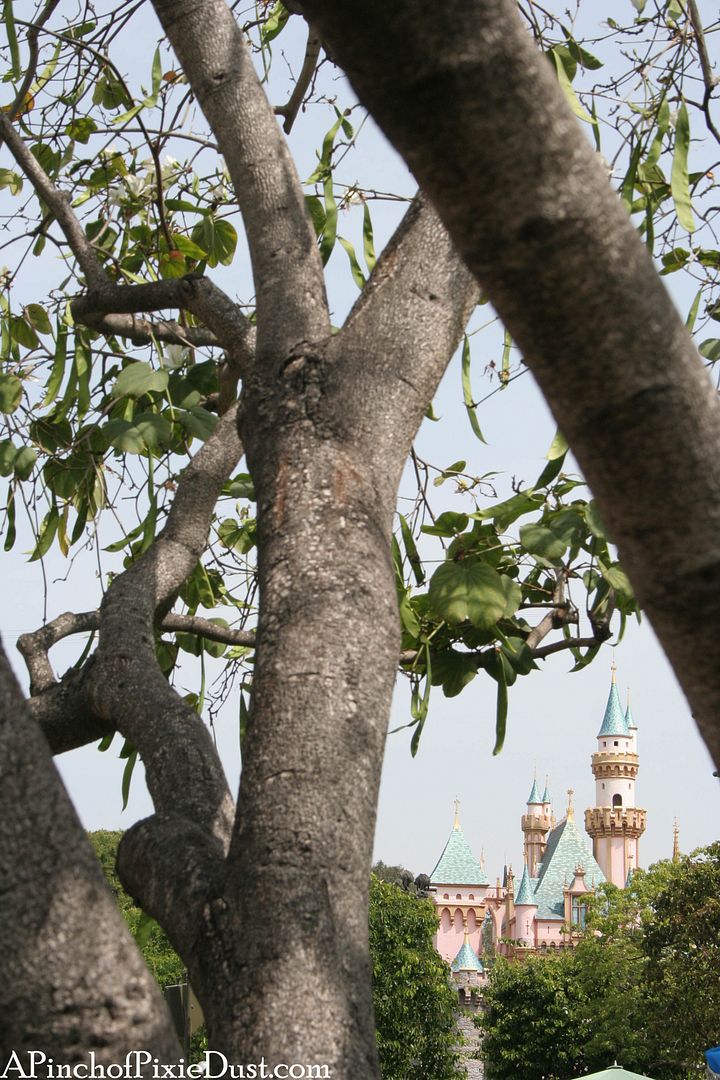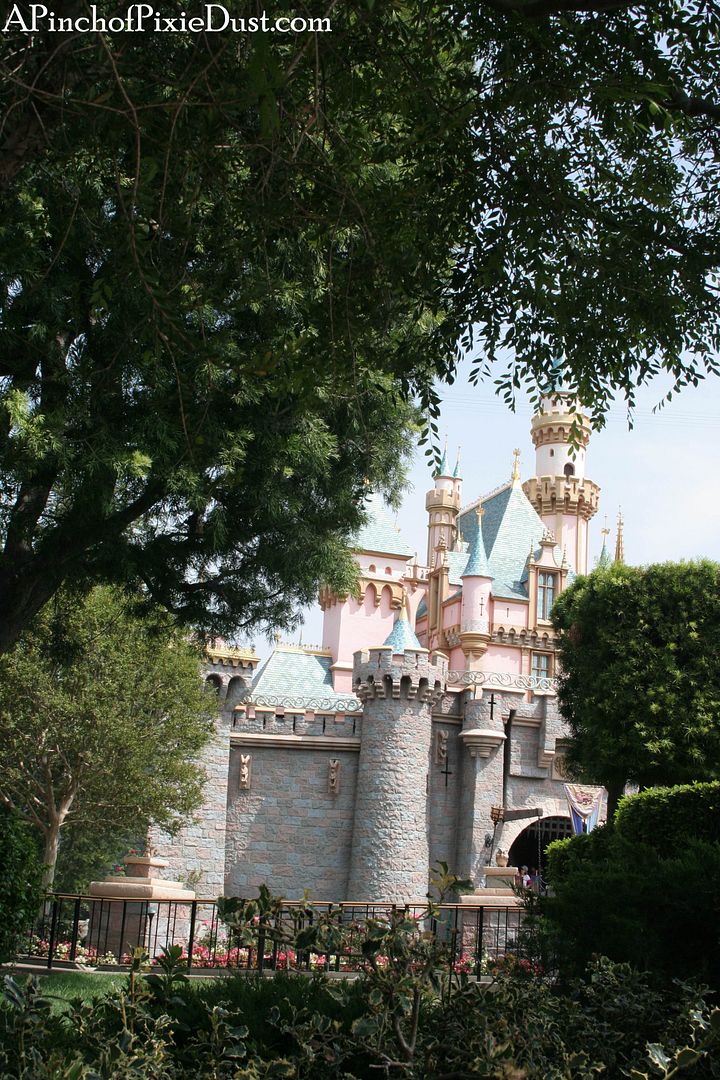 And of course Sleeping Beauty castle was never out of sight!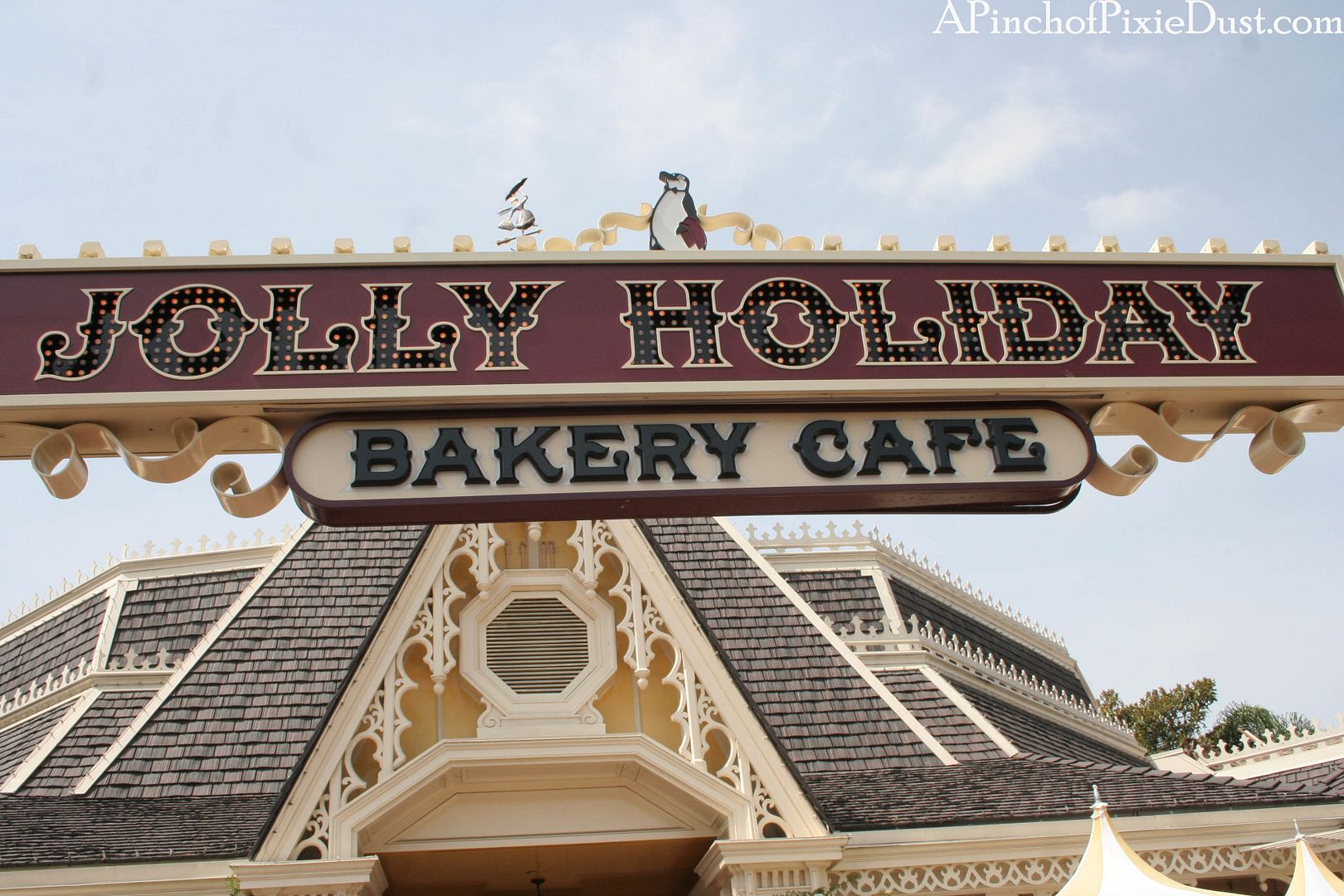 Our Jolly Holiday lunch was indubitably one word: SUPERCALIFRAGILISTICEXPIALIDOCIOUS!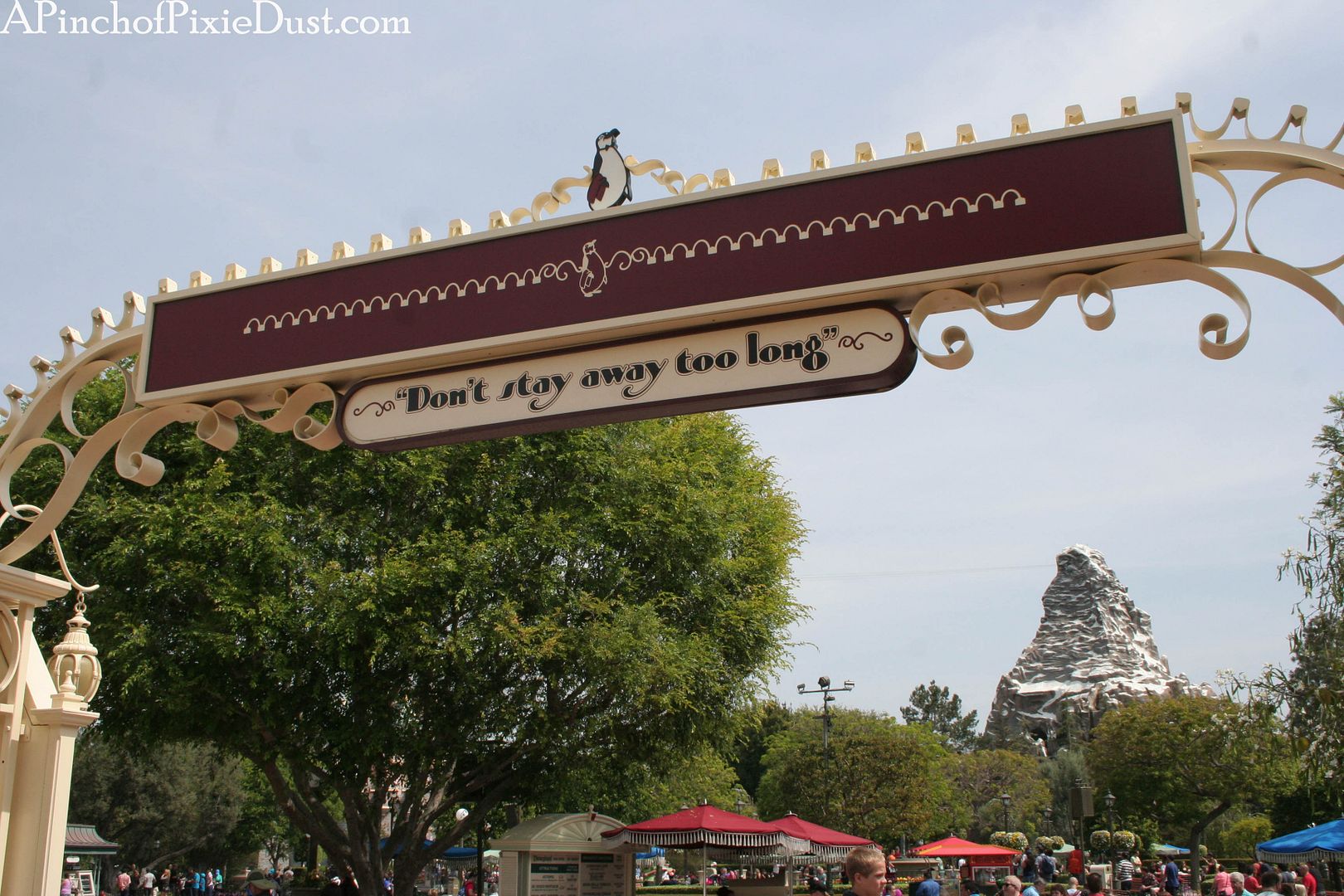 "Don't stay away too long!" I don't know when we'll be back to Disneyland, but we'll certainly be visiting the penguins again. :)