Welcome to another Sweet Treat Monday, my friends! Ready for some new Disney deliciousness?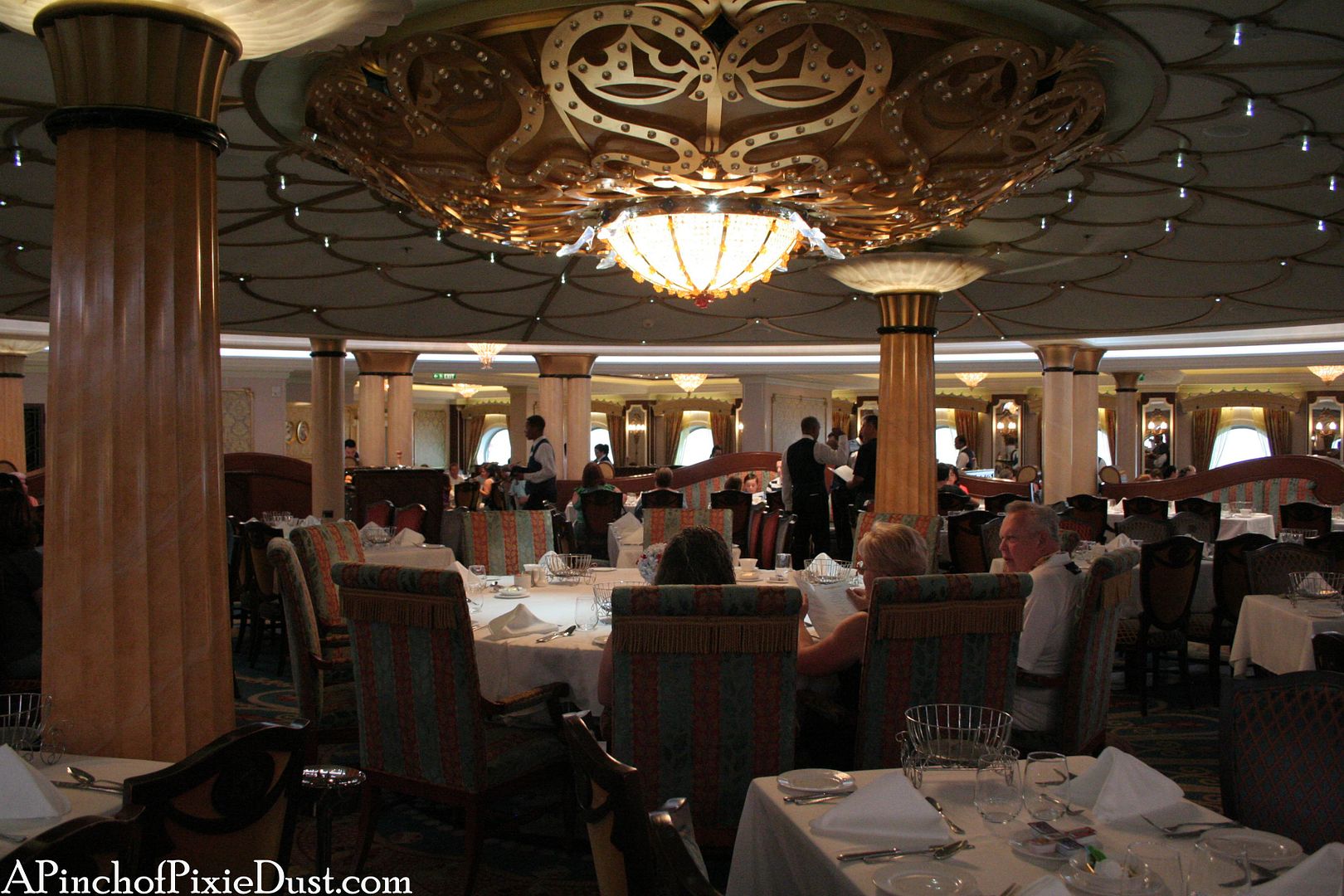 This week we're setting sail on the Disney Dream cruise ship to have a look at the regal decor and dainty delicacies at the Royal Palace Restaurant!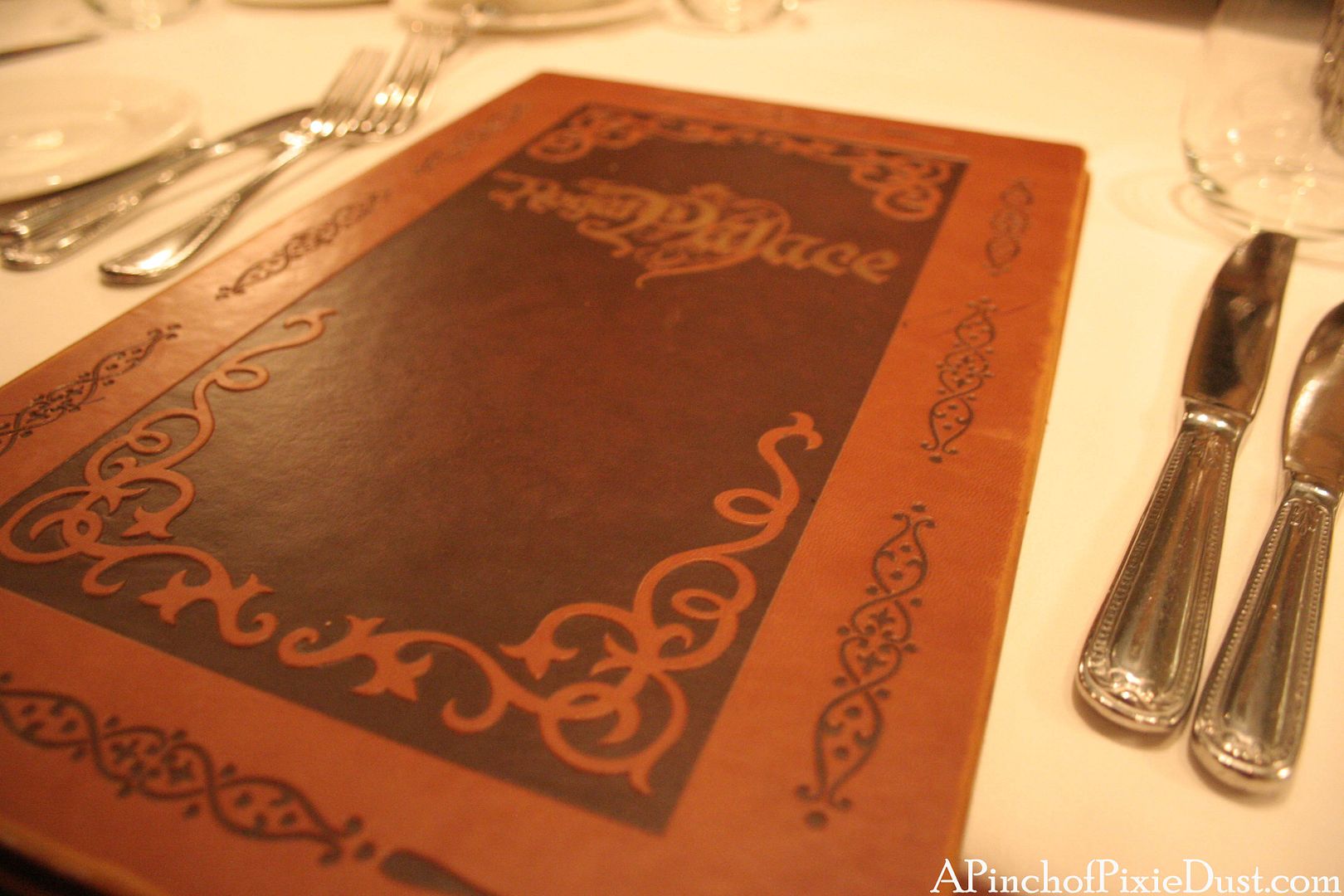 The Royal Palace is one of the table service restaurants that you'll visit during your cruise dinner rotation, along with Animator's Palate and the Enchanted Garden.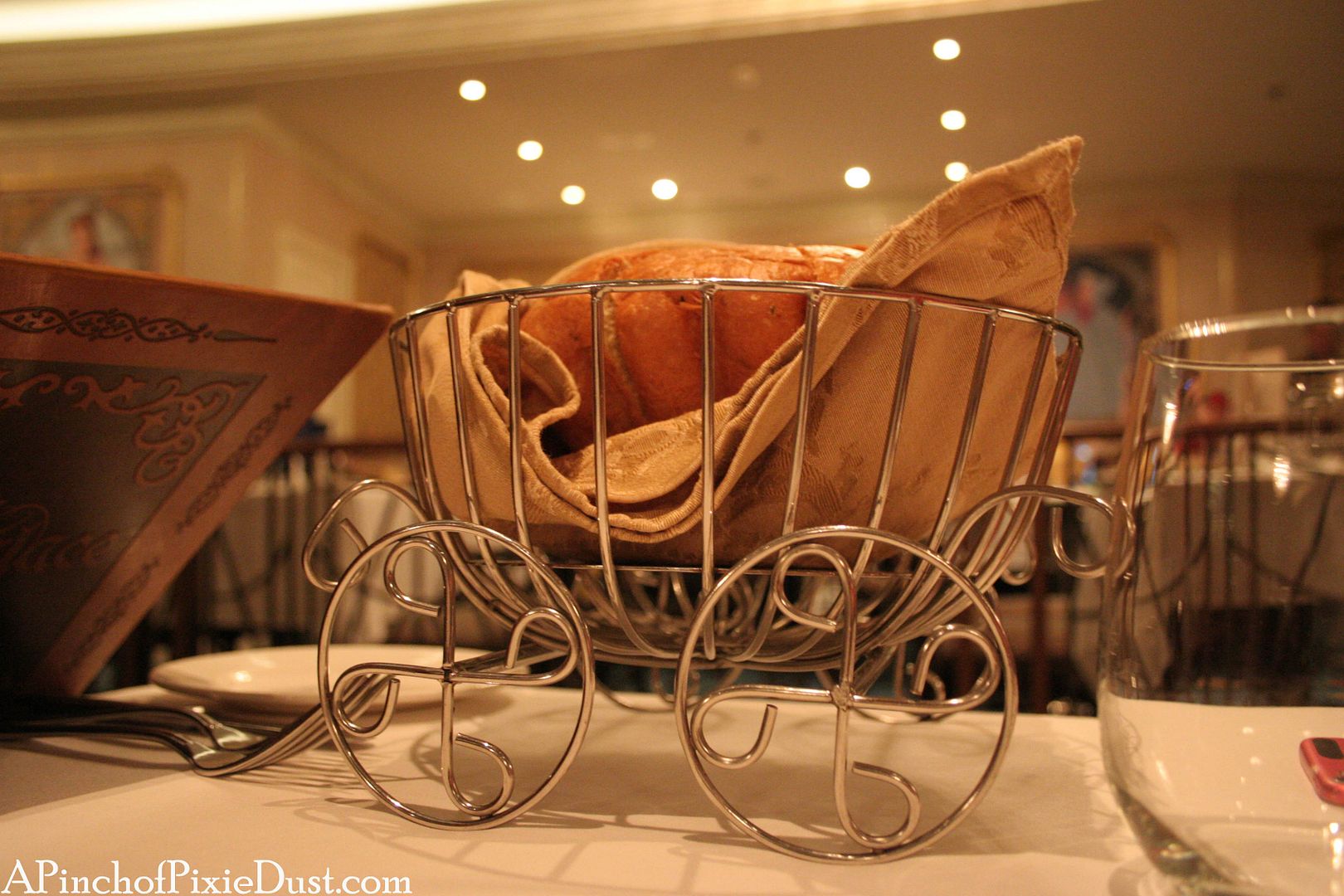 This is the one where they serve the bread in a pumpkin carriage...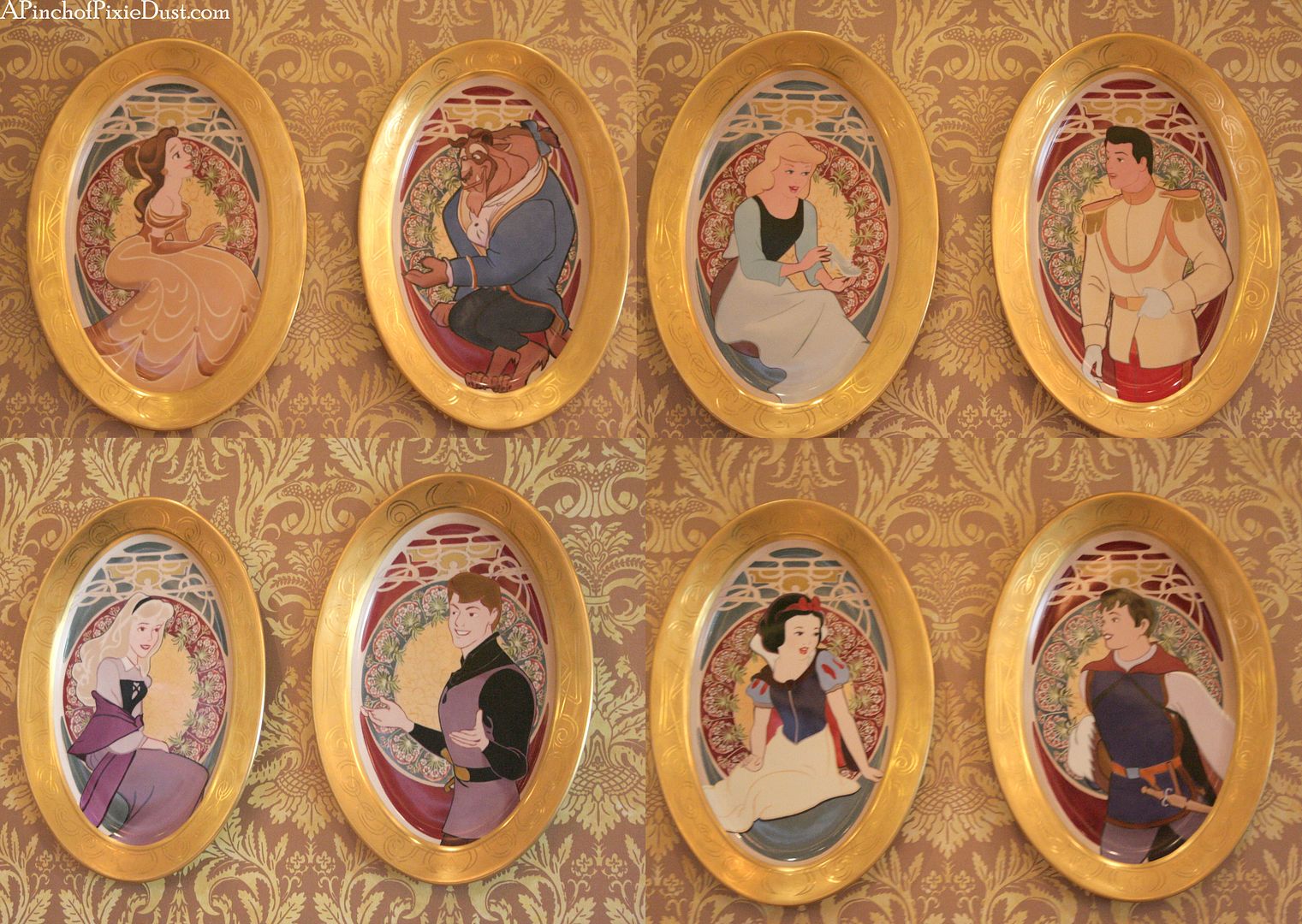 ...and there are princes and princesses EVERYWHERE.
We'll get to the eats in just a second, but first there are so many Royal Palace details to take in - note that the curtain valances are crowns!
Even the napkins are dressed up!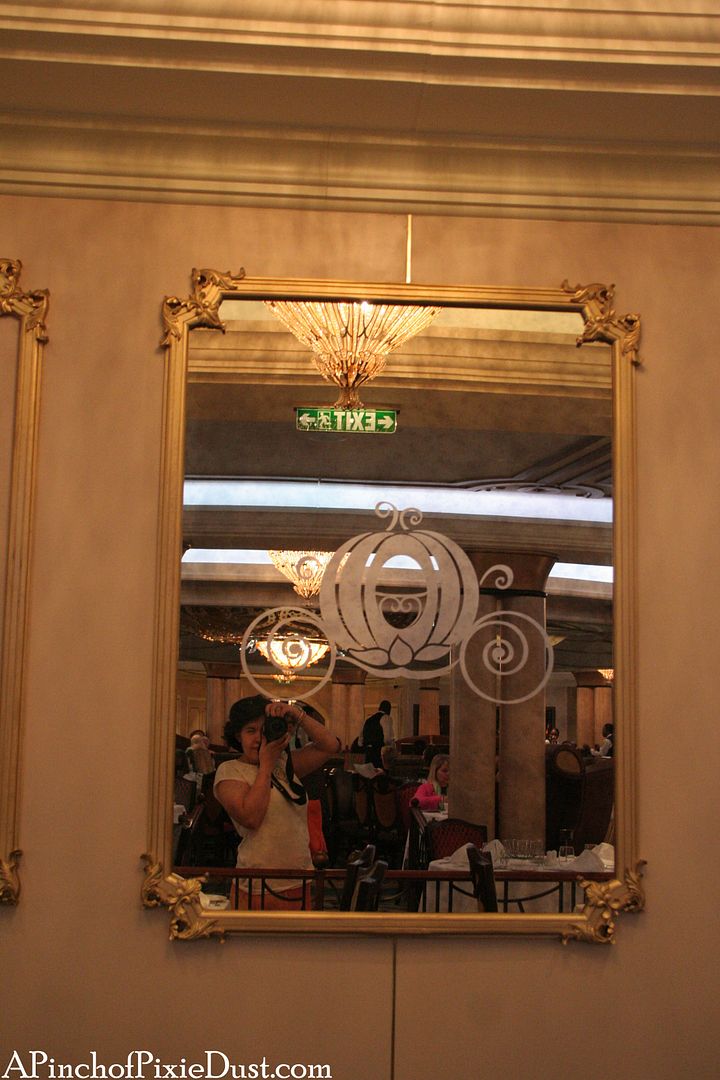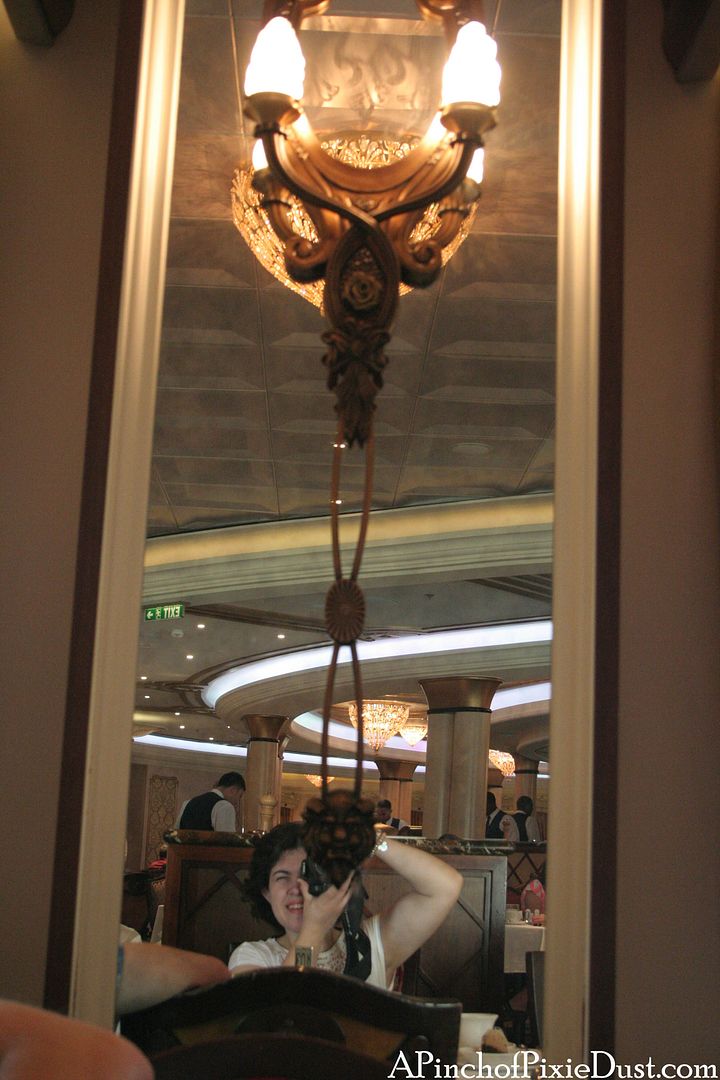 The mirrors are engraved with carriages or feature sconces with the Beast's face.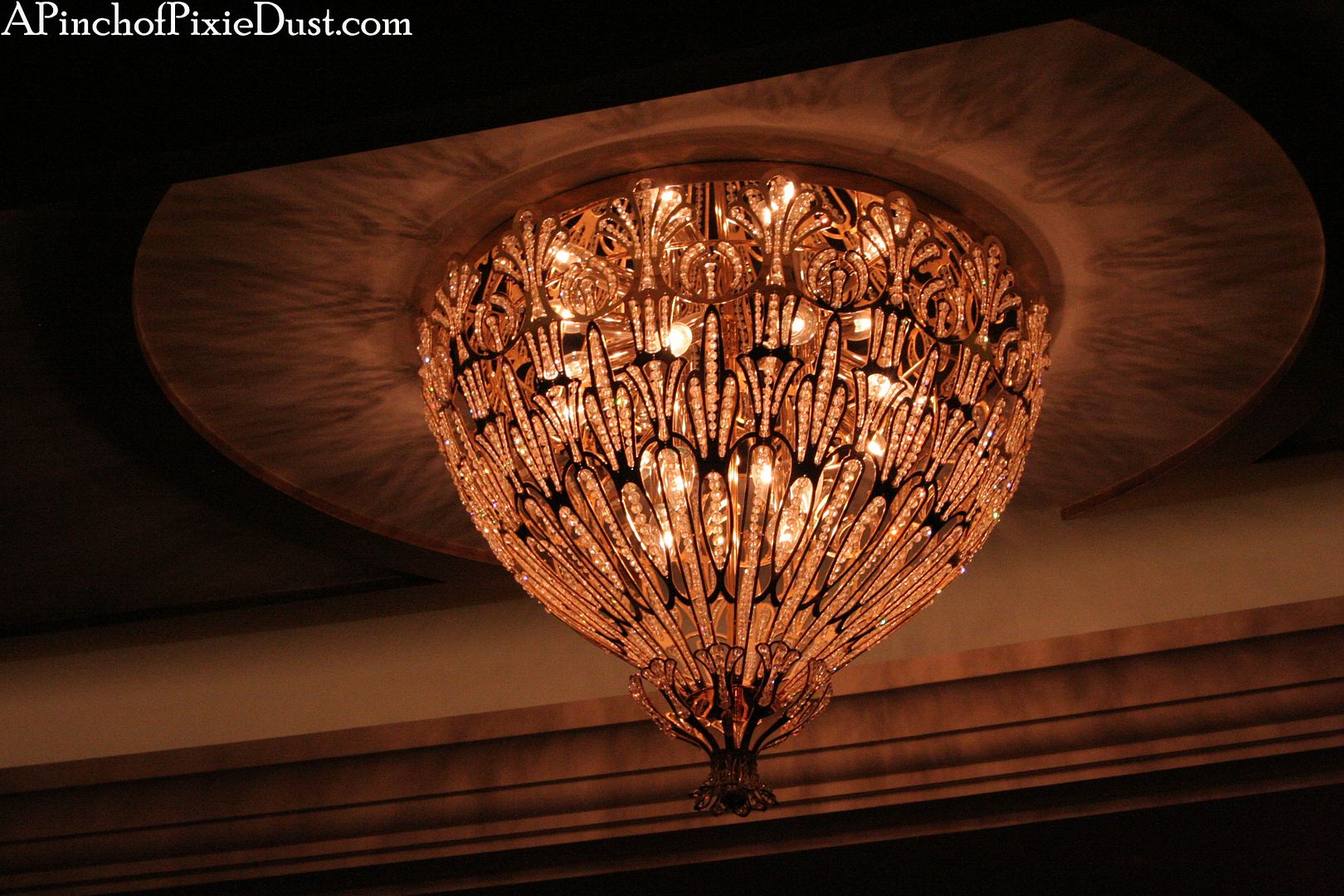 Serious chandy candy - one of the chandeliers even has some glass slippers!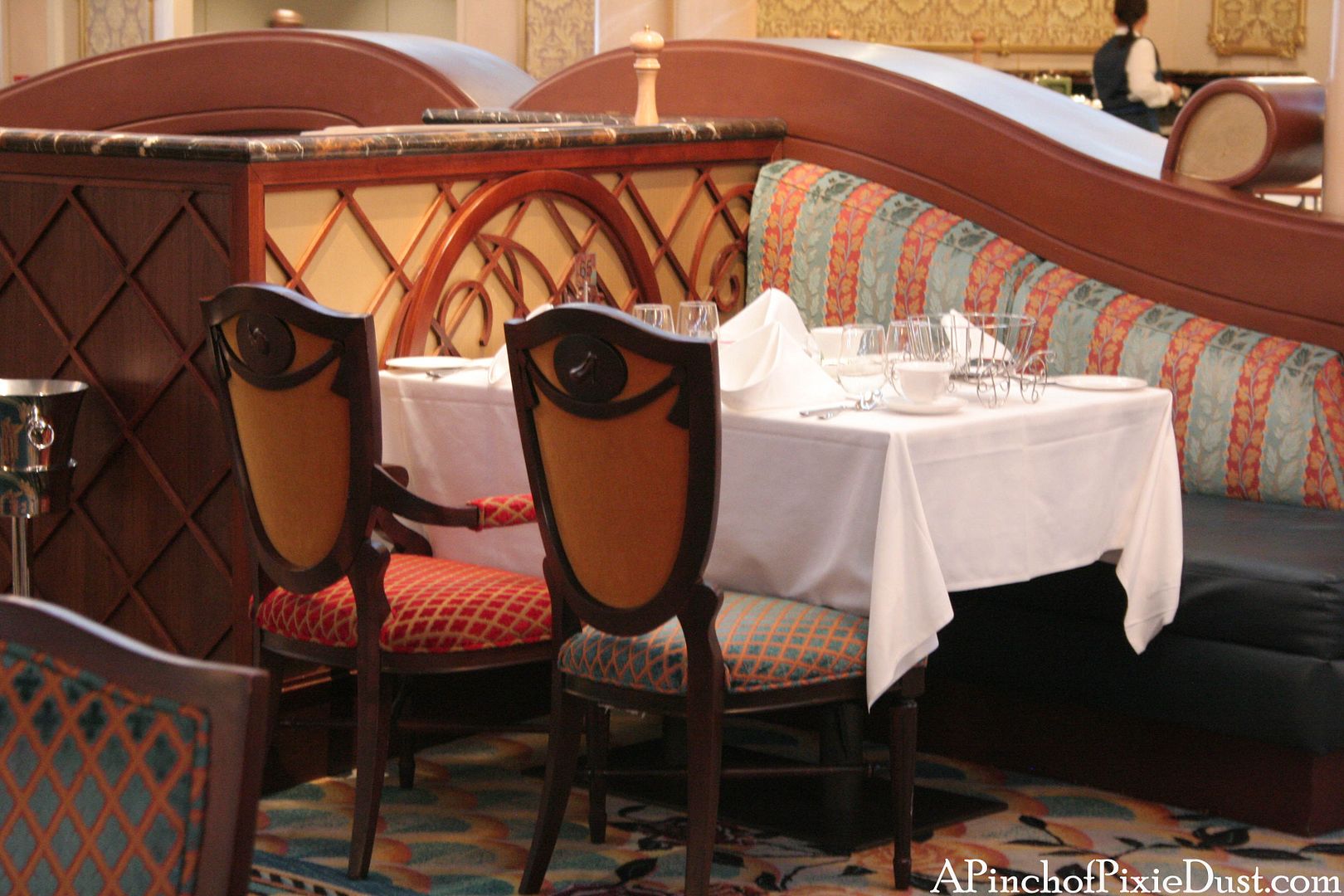 I didn't even nothice this while we were there, but the chair backs have roses and slippers and little nods to the different Disney princesses.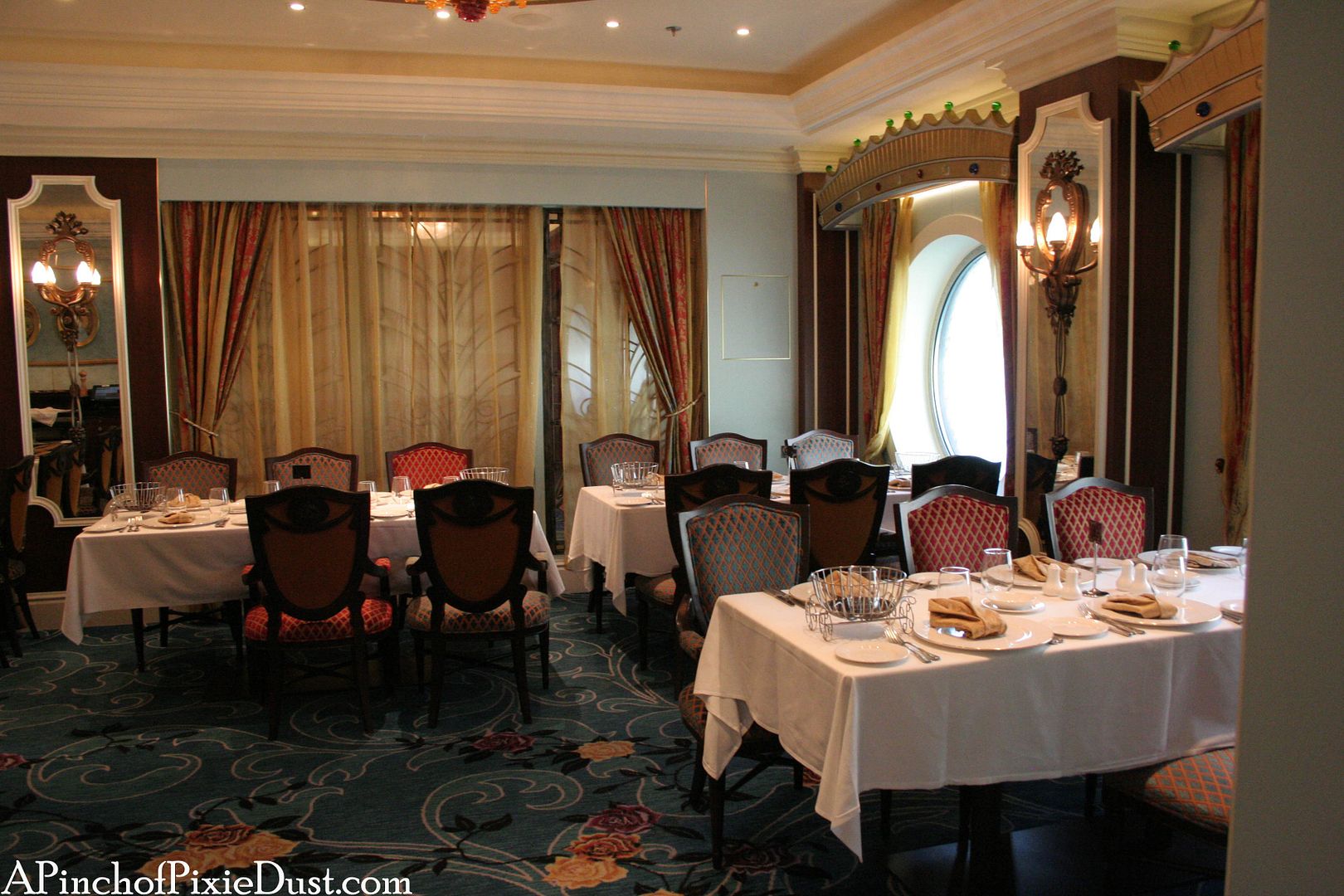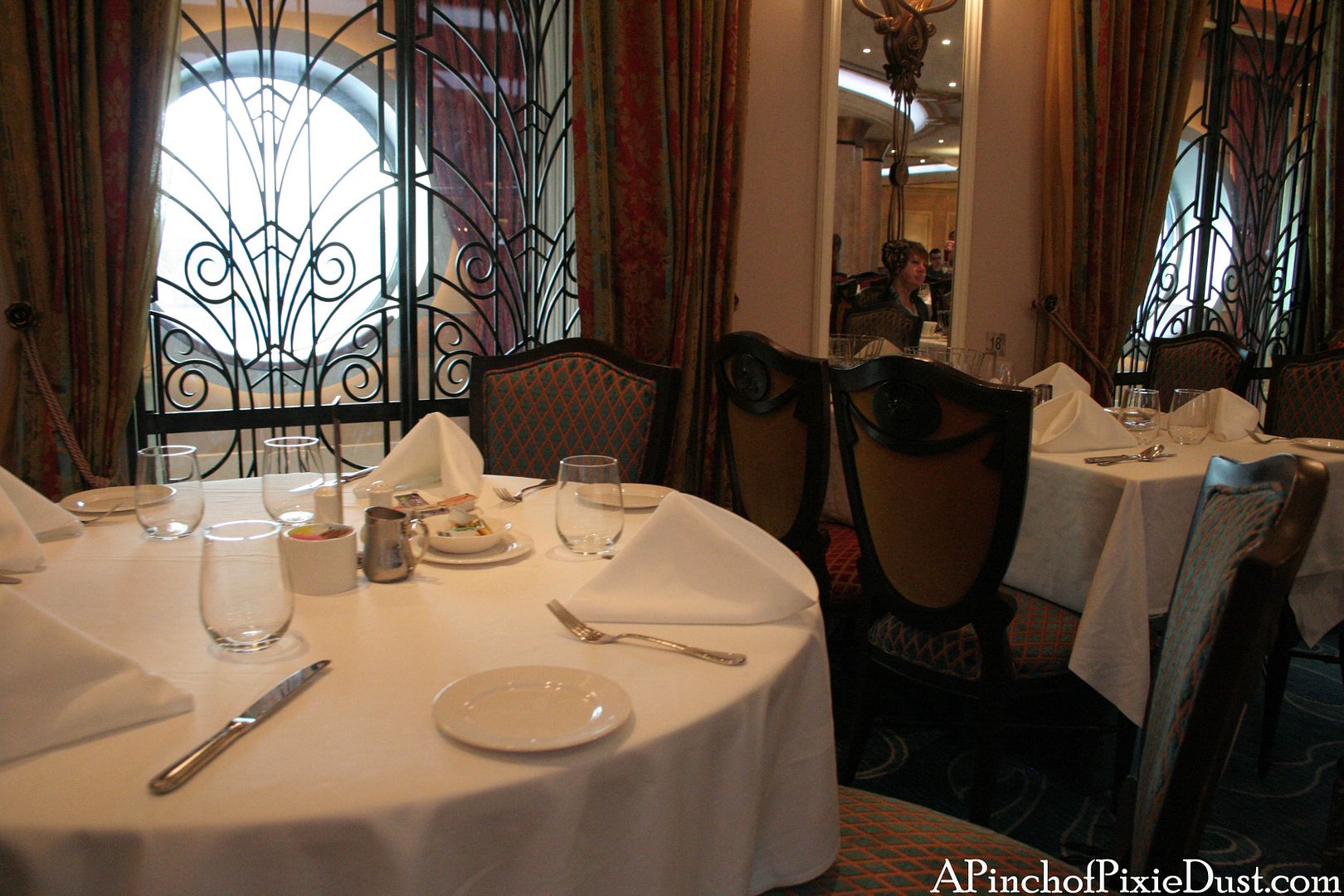 A few more atmosphere shots...
While it is a lovely restaurant - one big circular room with different levels and sections - it is quite packed with tables and can feel crowded at dinnertime. But then you are on a cruise ship with limited space.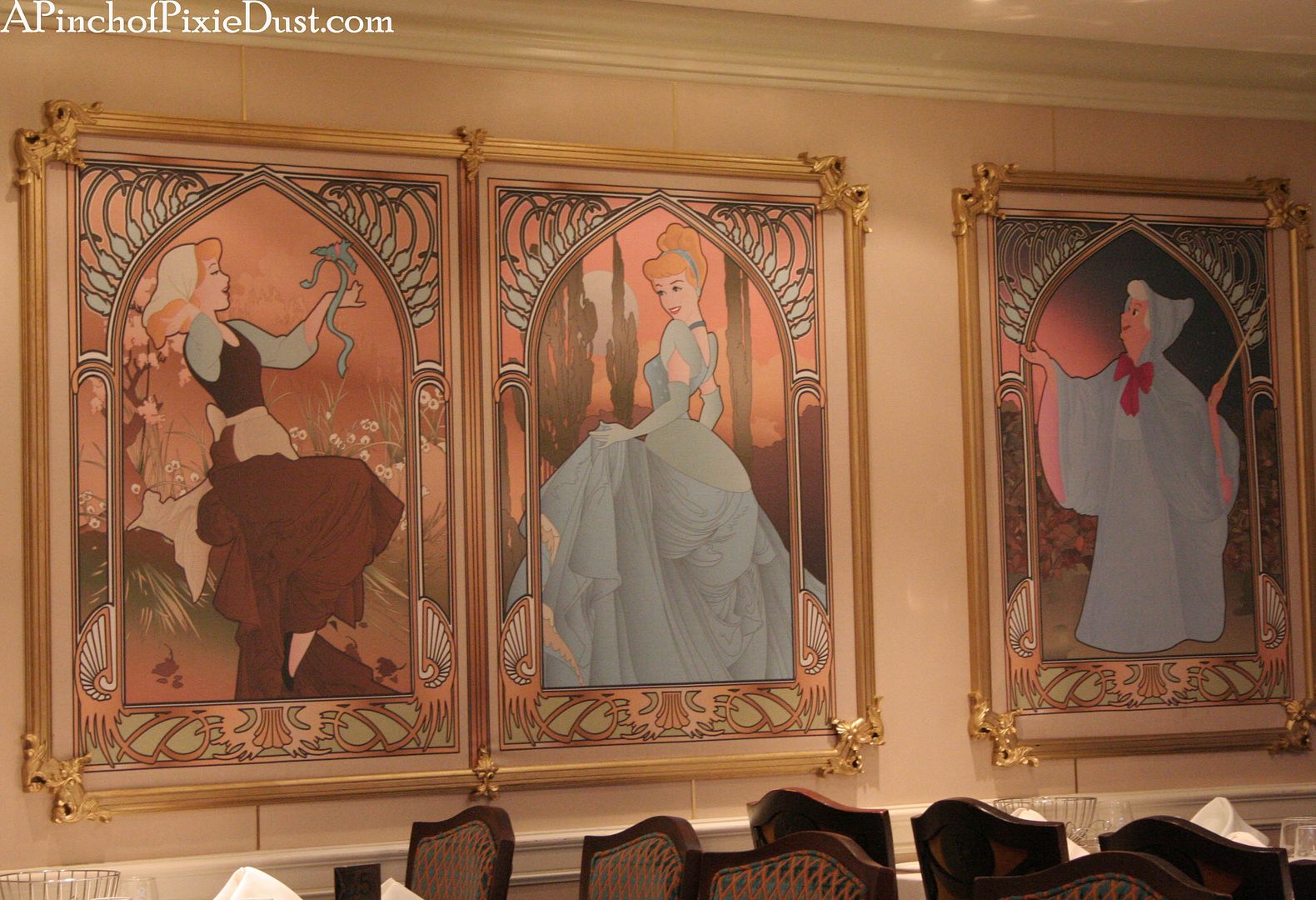 The walls are full to the brim with princess paintings! I love that Cinderella has her Fairy Godmother with her...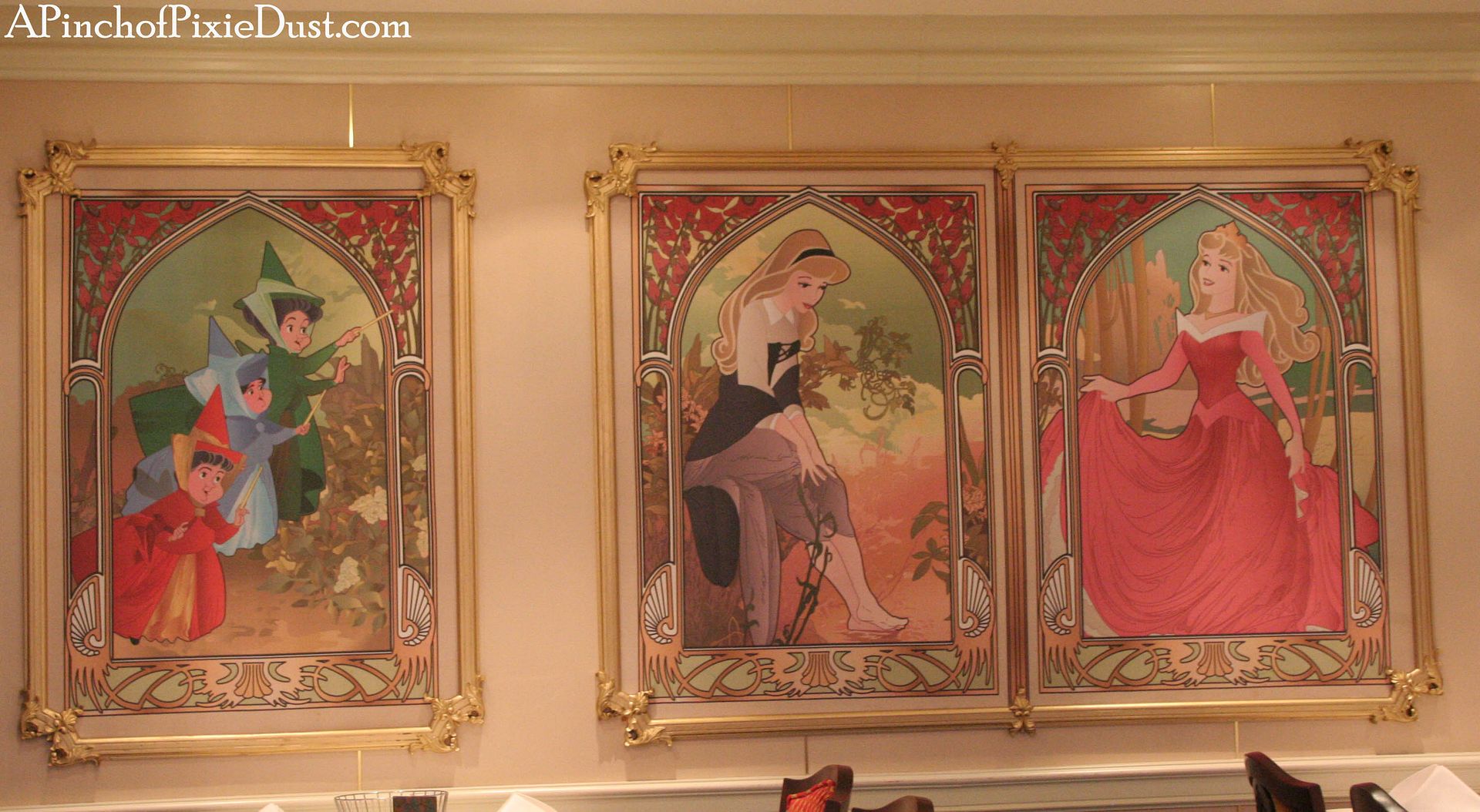 ...and Aurora has her fairies nearby too!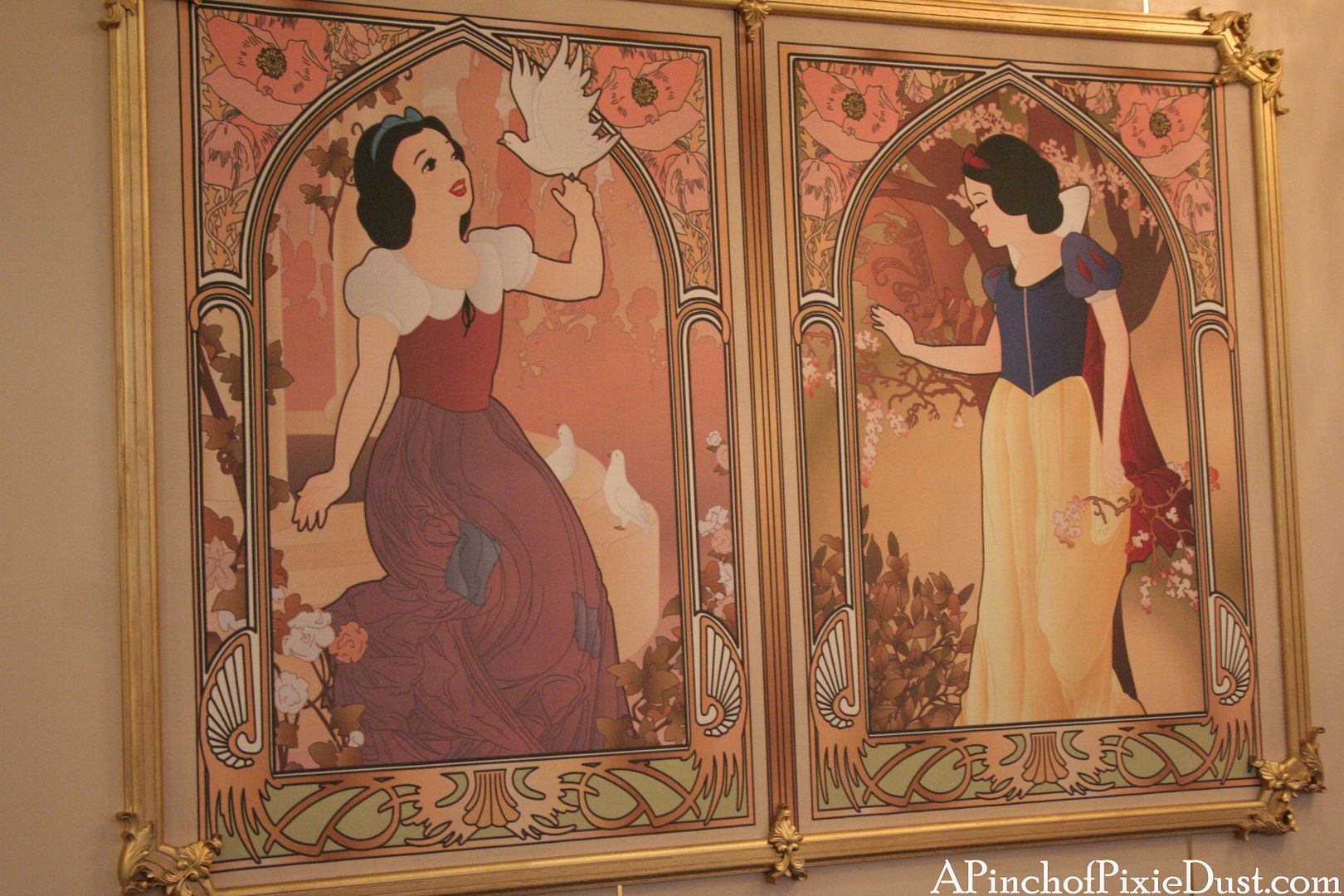 I thought the stylized sketches were very sweet...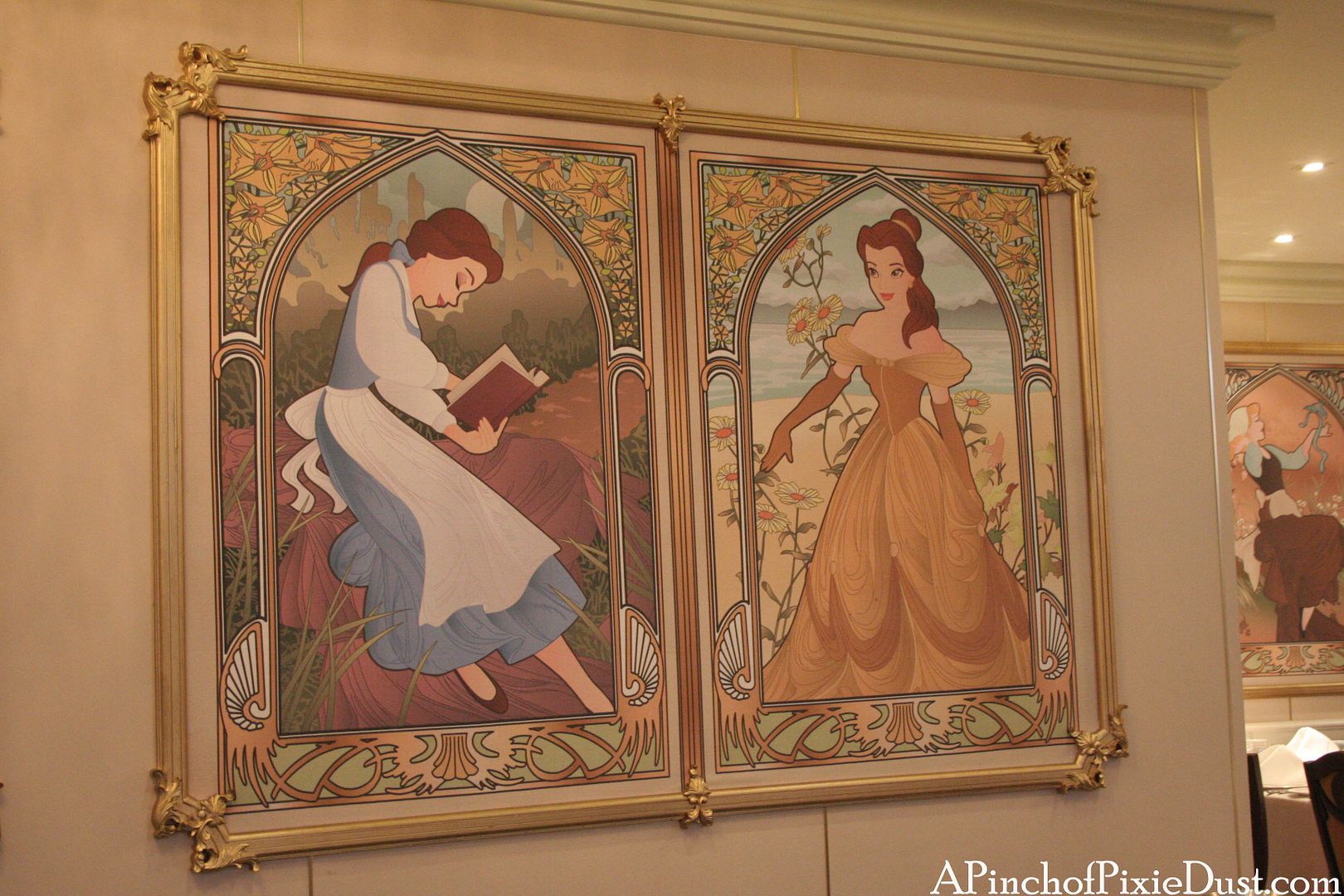 My girl Belle with her nose in a book...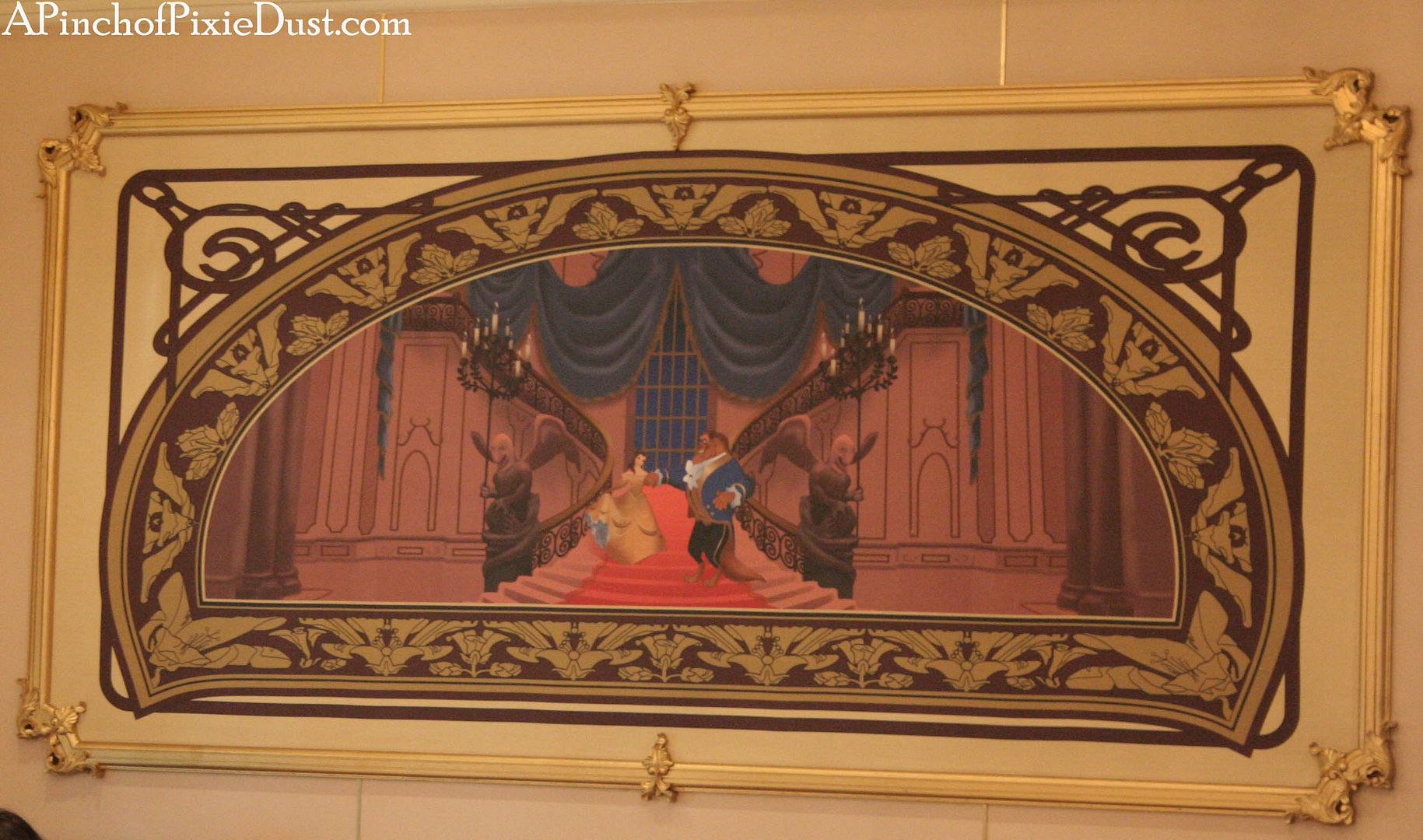 ...and entering the ballroom!
Tiana and Naveen have two sets of portraits!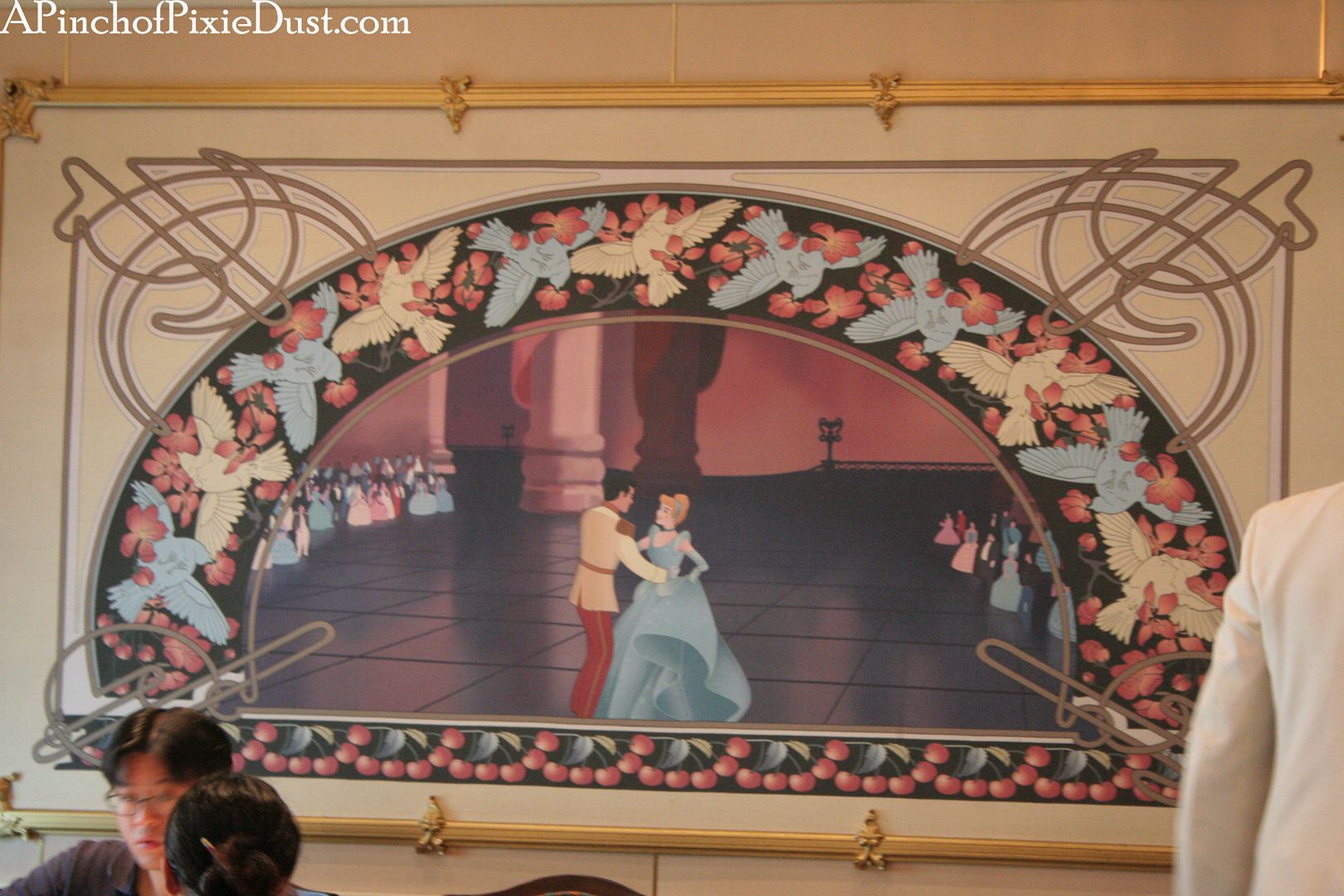 The most avid of princess fans will certainly be satisfied by all the art in this space!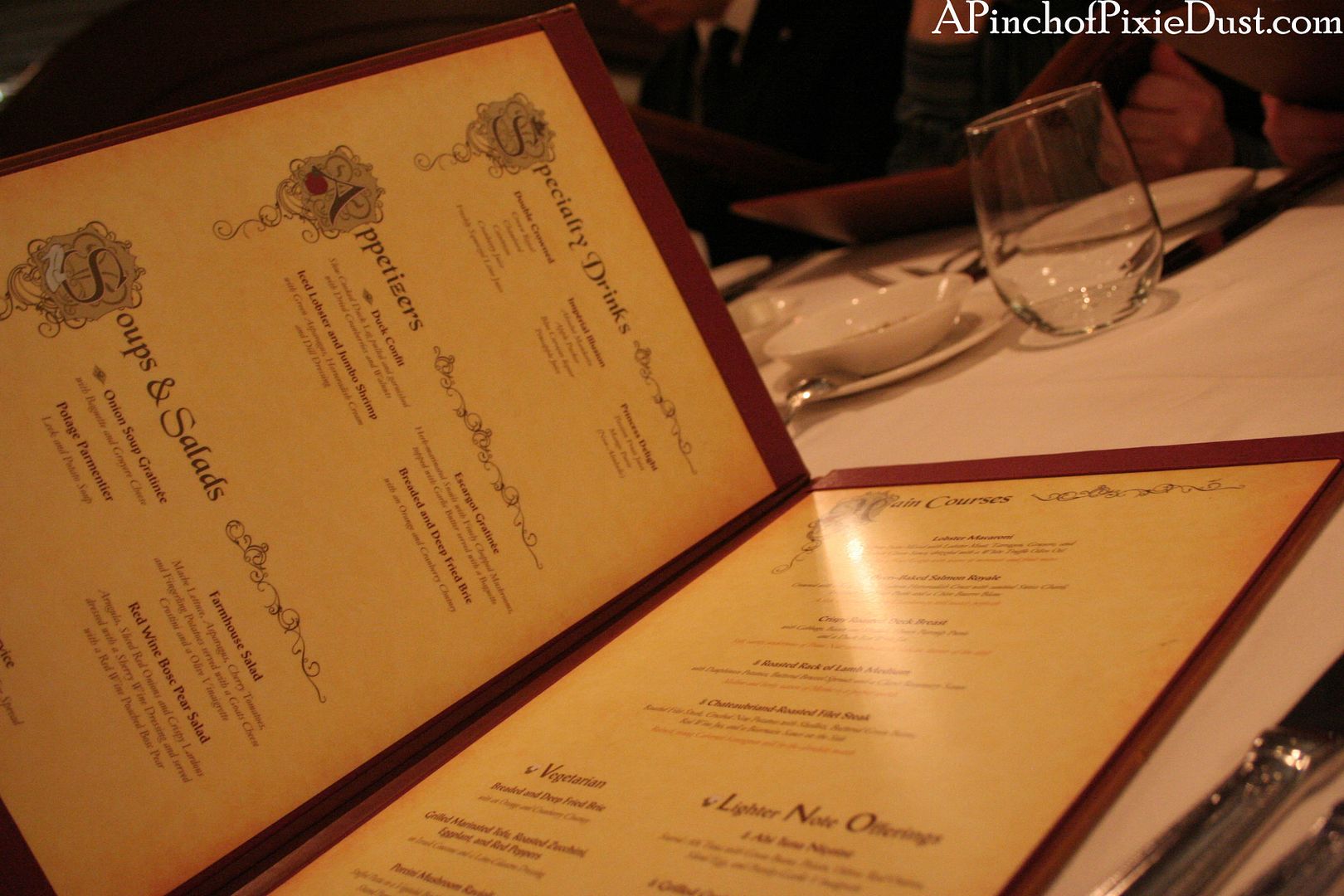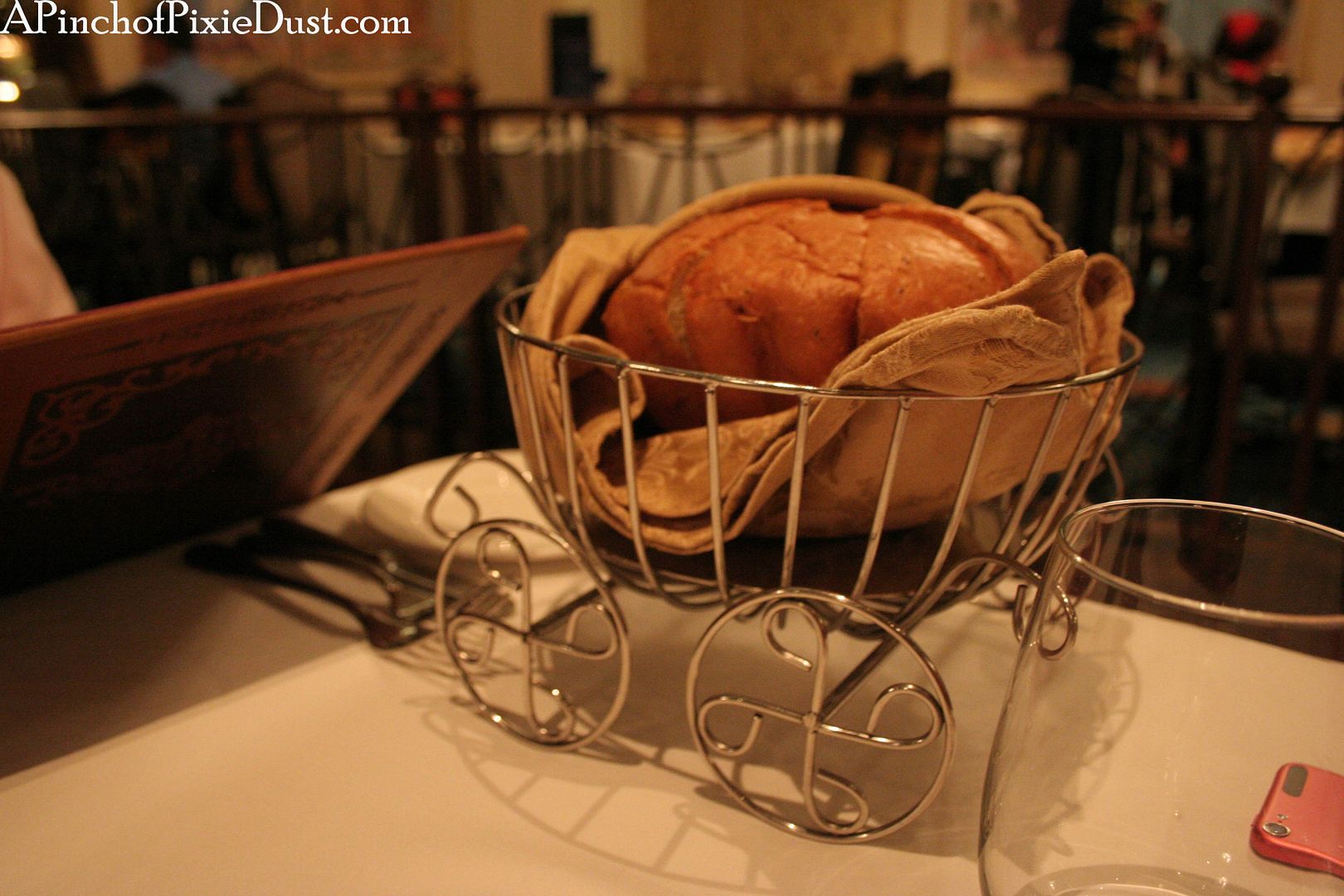 But I'm getting hungry...let's get to the meal, shall we? You start off with a SUPER yummy warm herb brioche...a bread bowl that cute deserves something truly scrumptious. :)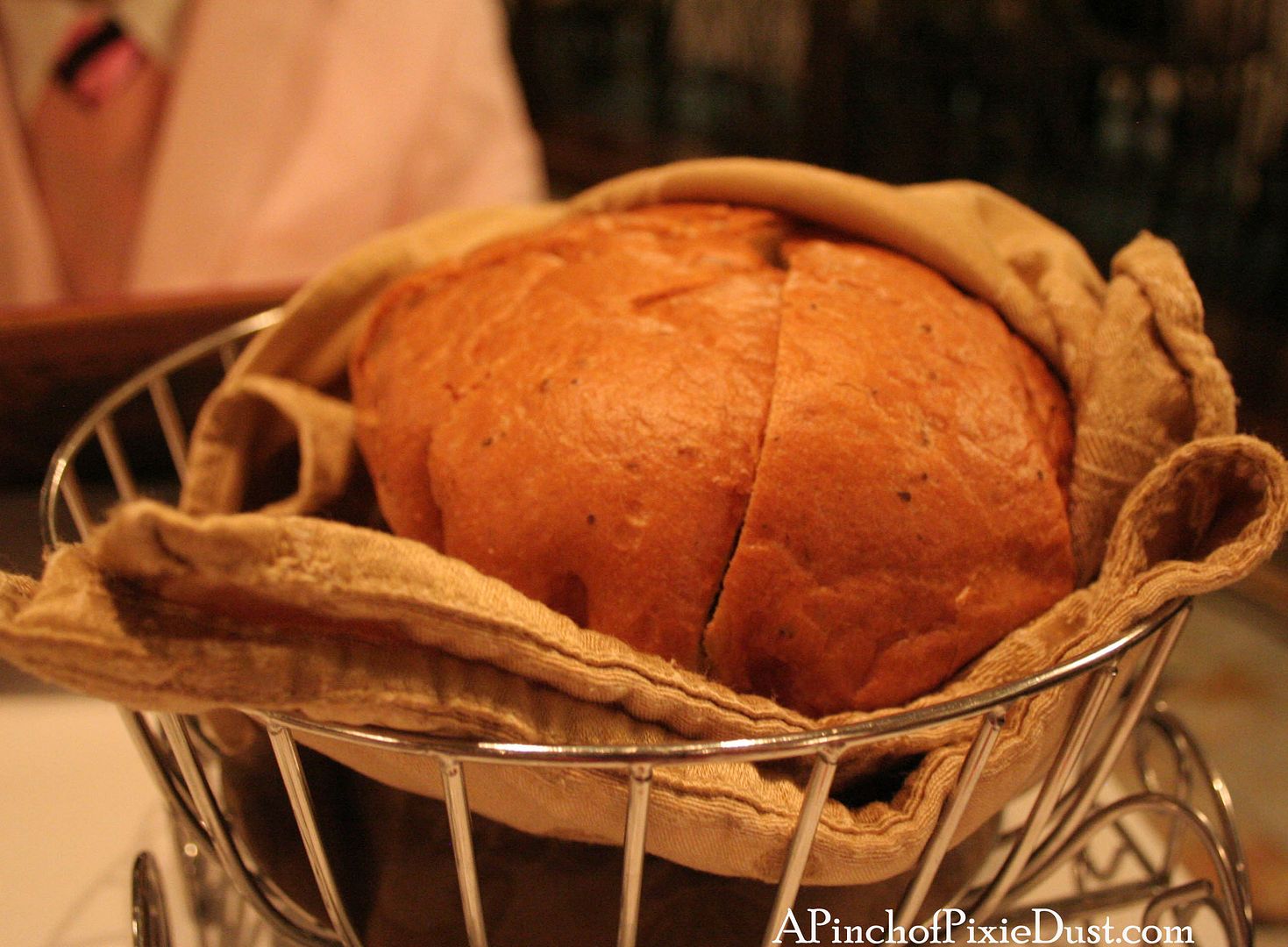 I could've made a meal just off of this!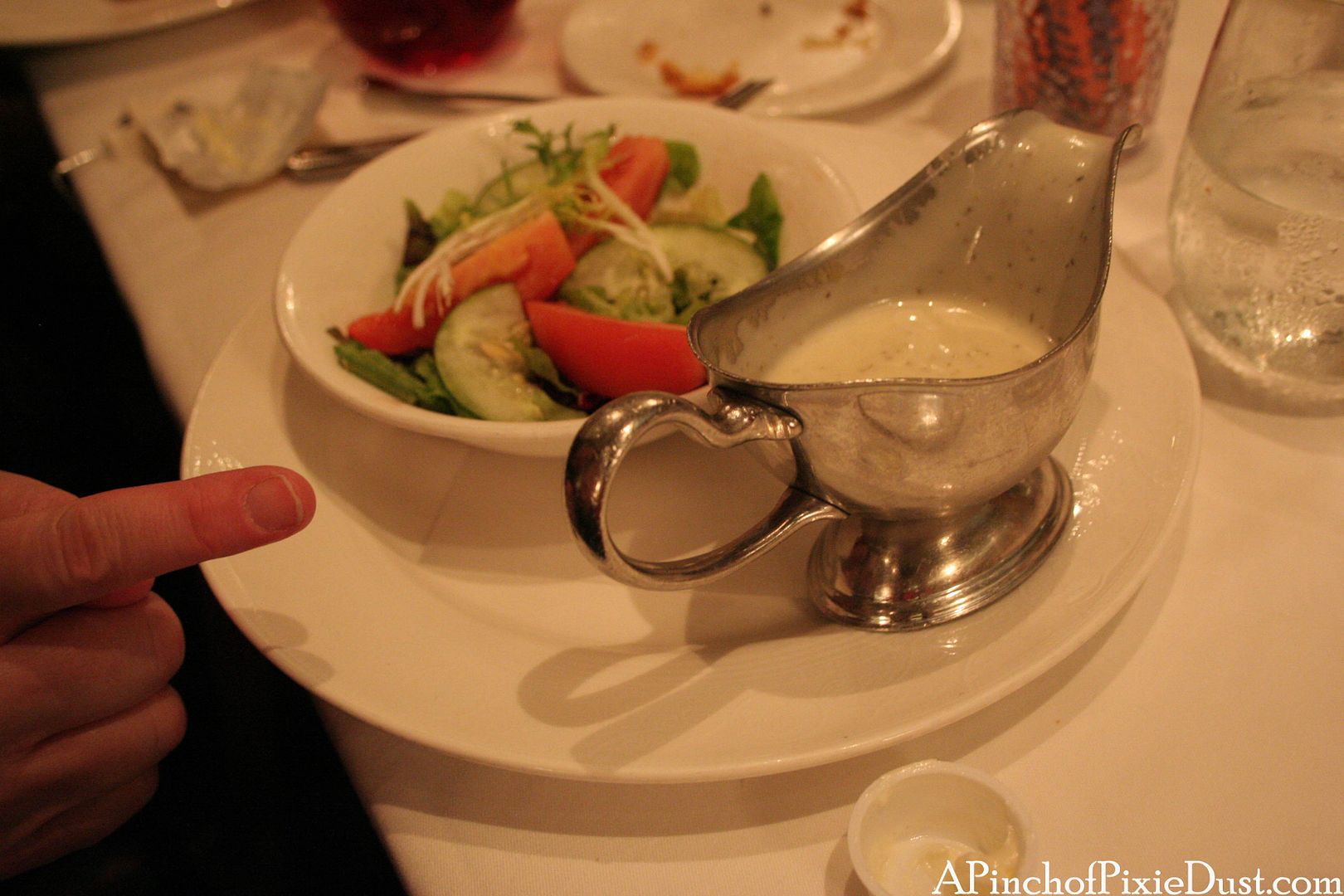 My little brother Dart had a kid's salad for his entree with a fancy goblet for the dressing. I tried the breaded and fried brie, which was good but fairly ordinary - like something from the frozen section at the grocery store.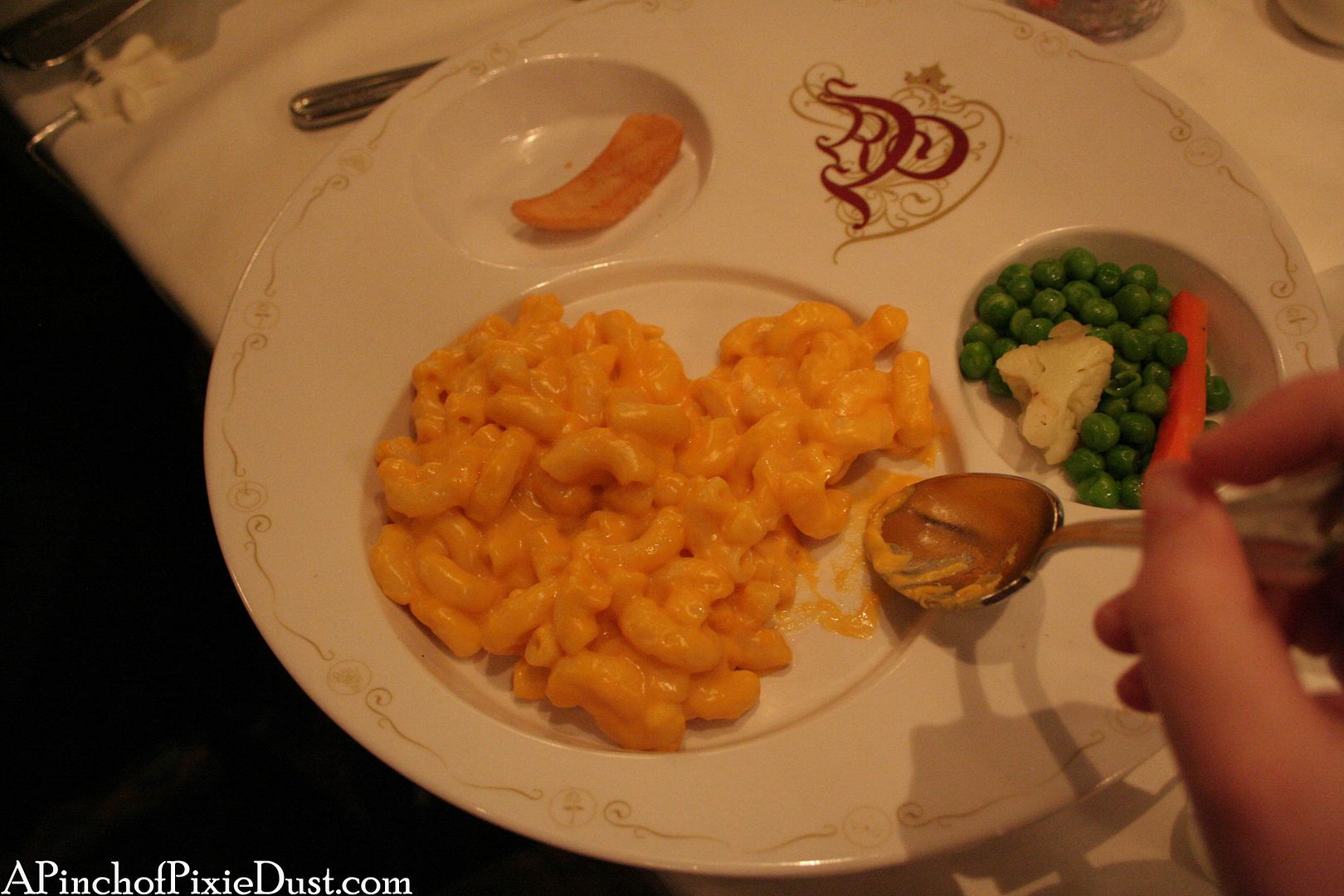 The kid's mac n' cheese came on a plate with a hidden mickey! Alas, the adult entree presentations didn't feature that famous mouse, but they were very elegant...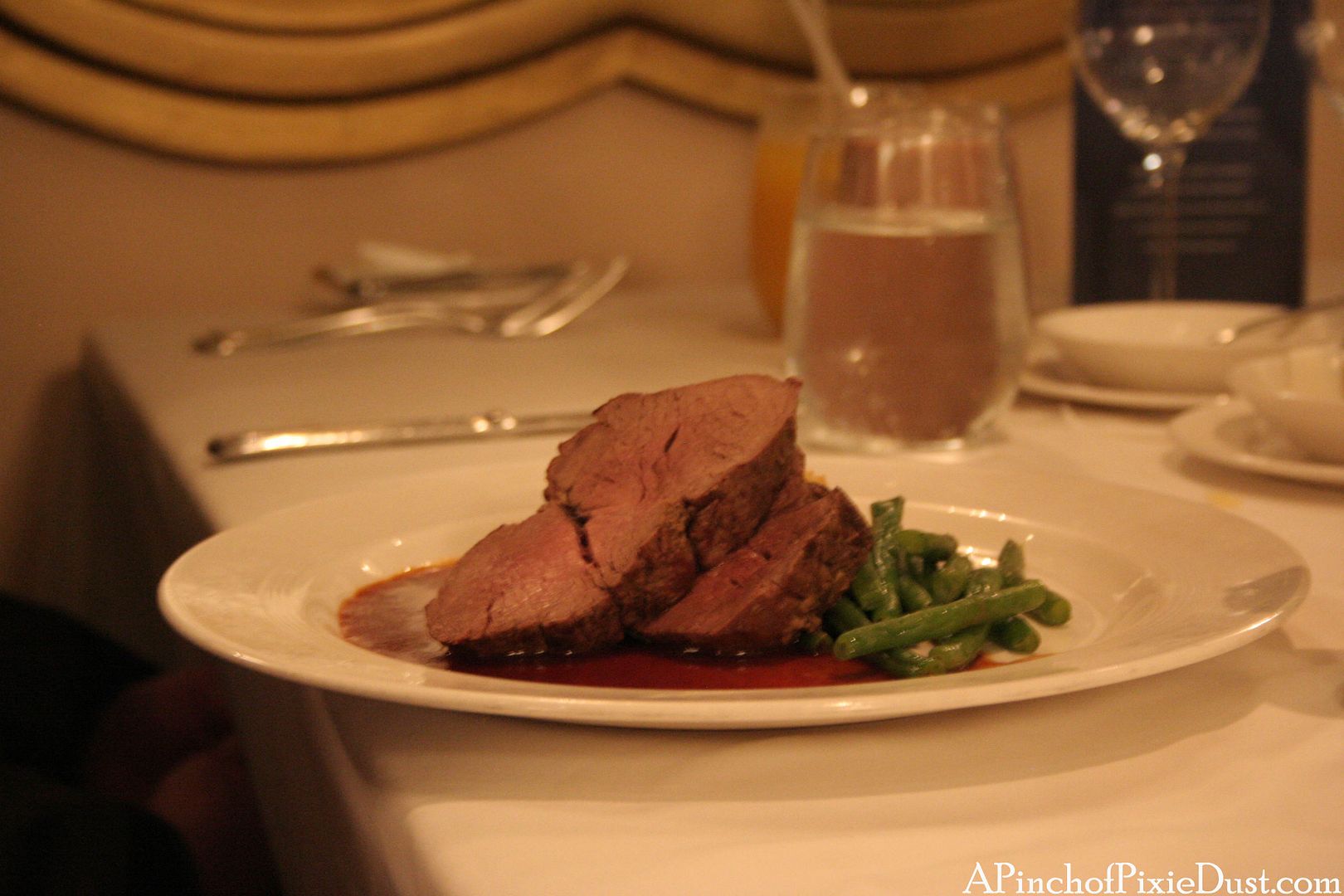 Chateaubriand-Roasted Filet Steak and Crushed New Potatoes with Shallots, Buttered Green Beans, Red Wine Jus, and a Bearnaise Sauce on the Side.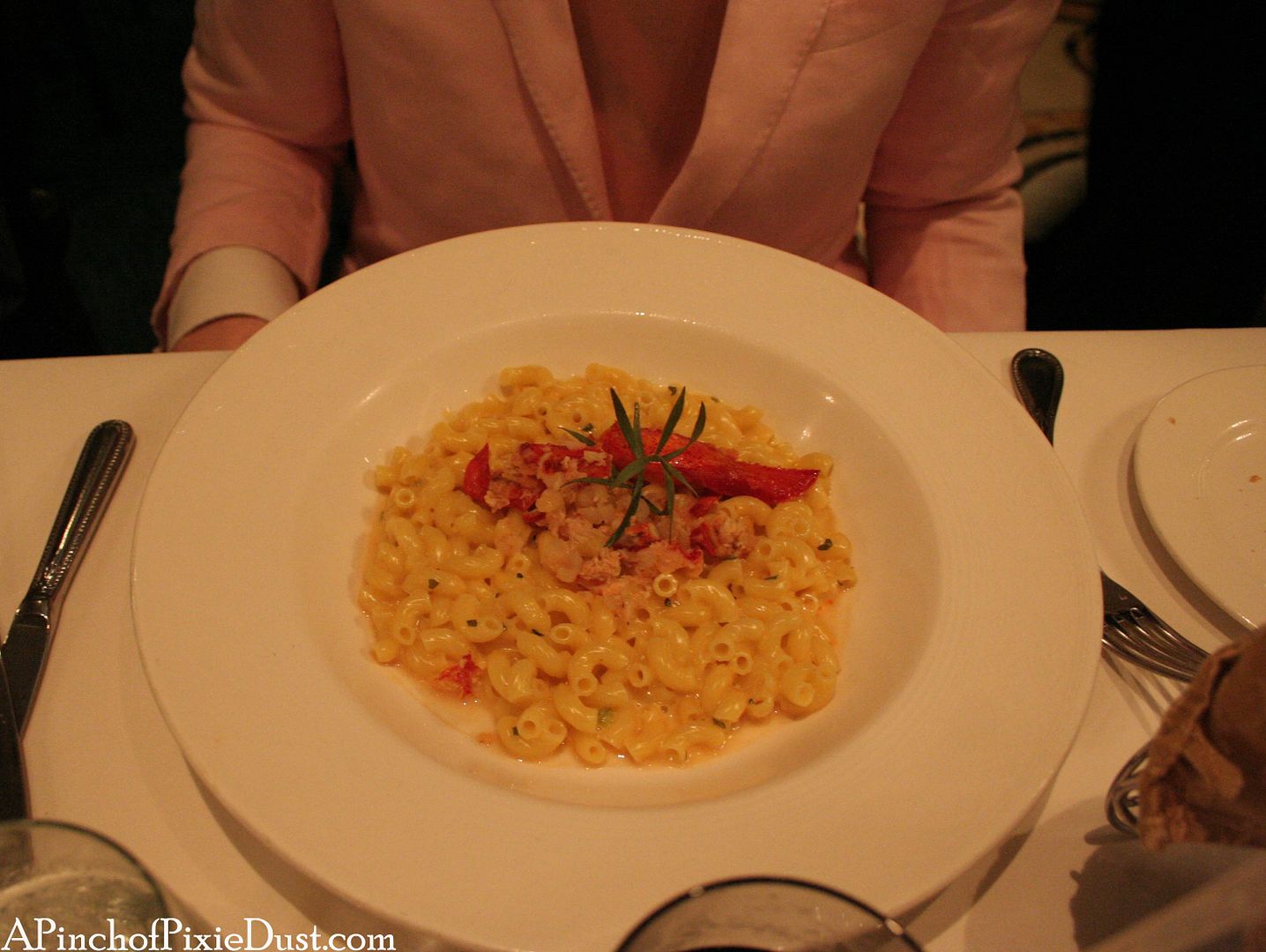 Lobster Macaroni: Elbow Pasta Mixed with Lobster Meat, Tarragon, Gruyere, and Cheddar Cheese Sauce, drizzled with a White Truffle Olive Oil.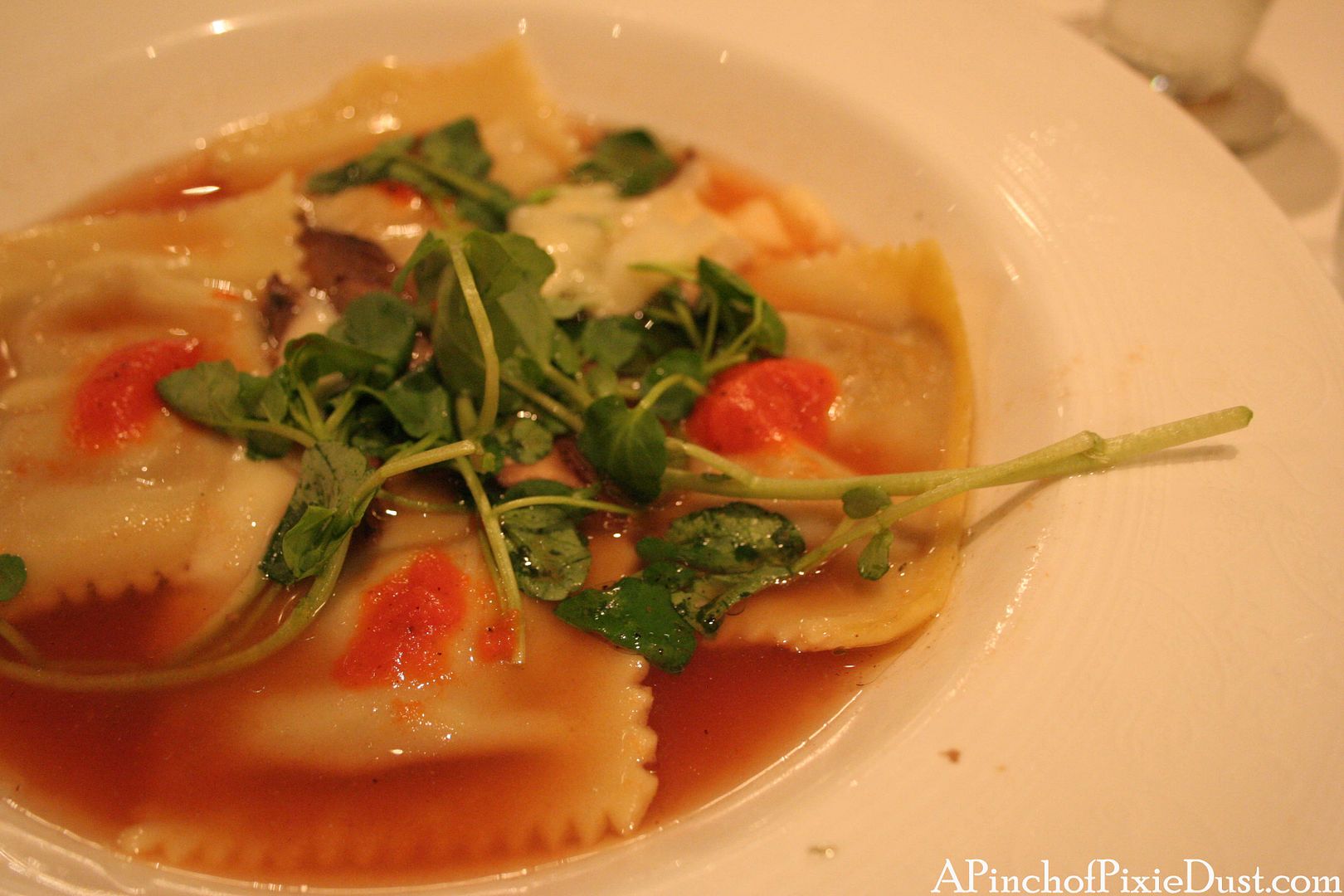 Porcini Mushroom Ravioli: Stuffed Pasta in a Vegetable Broth topped with Watercress, Shaved Parmesan Cheese and Paprika Oil.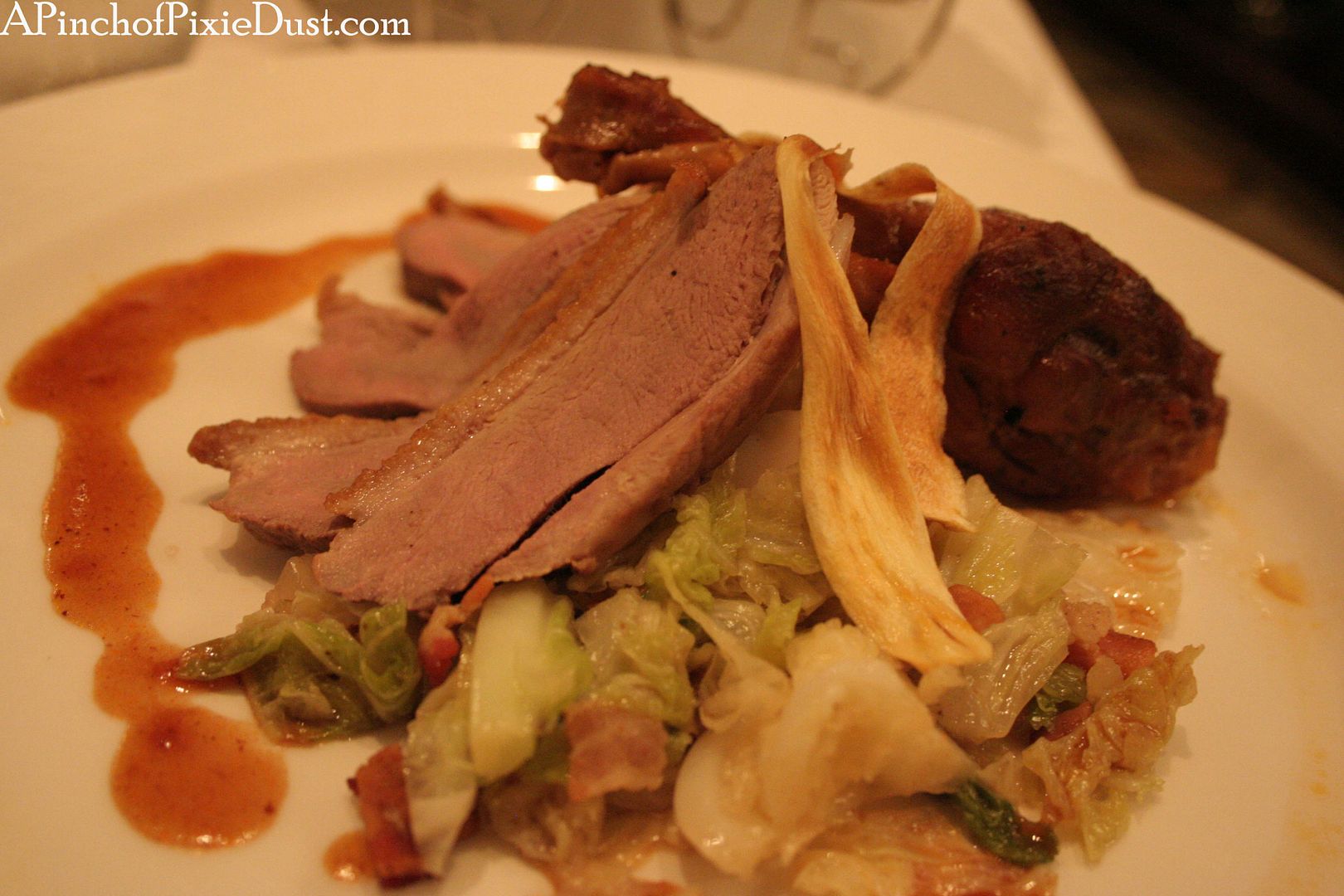 Crispy Roasted Duck Breast: with Cabbage, Bacon and Shallots, Honey Parsnip Puree and a Duck Red Wine Jus.
Half the fun of a cruise dinner is reading the fancy descriptions on the menu! Everyone enjoyed their entrees - I'm glad I was adventurous and tried the duck - it was delicious! But the best part of the meal was still waiting...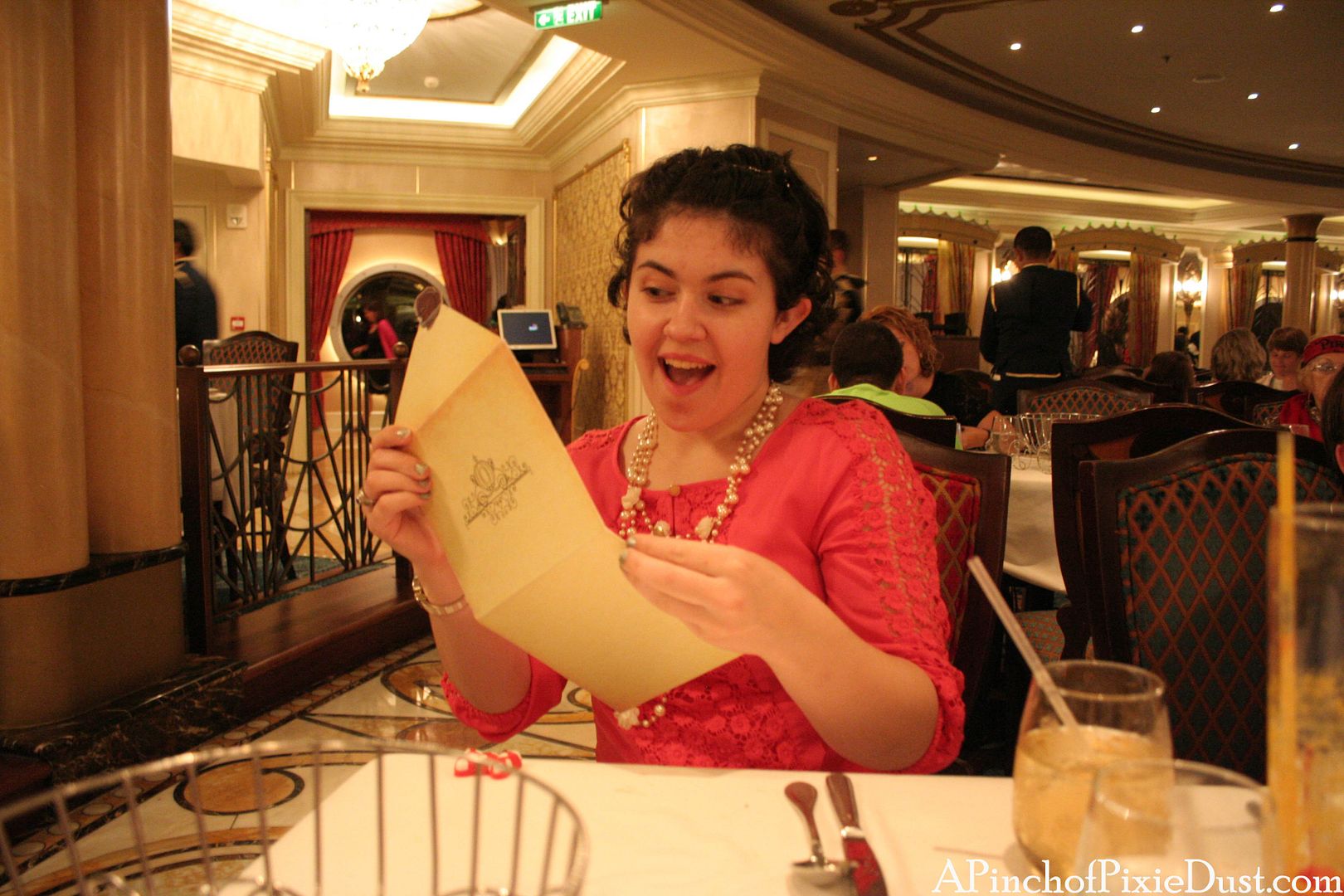 The dessert menu was just like an invitation to a royal ball! Dart was feeling full after his macaroni, so he told the server he'd have nothing and that's what he got...
A plate of nothing - Dart loved it!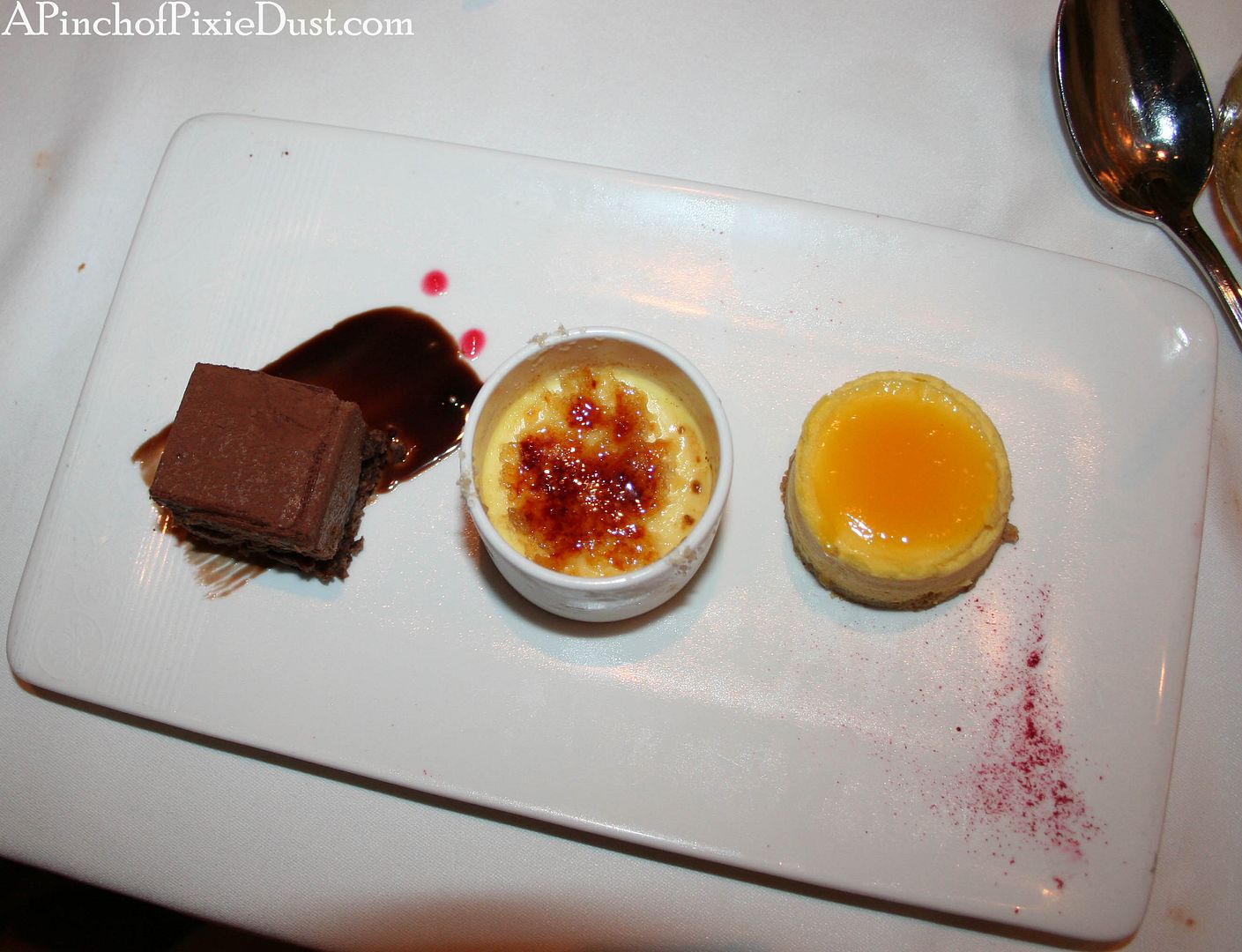 I went with the "Sweet Temptations" sampler - Peanut Butter Mousse (left), Tahitian Vanilla Creme Brulee, and Mango Cheesecake. The mousse and the cheesecake were just ok. The creme brulee was AMAZING.
Trust me on this one, if you are cruising on the Disney Dream anytime soon, order the full-size Tahitian Vanilla Creme Brulee at the Royal Palace.
Scratch that. Order two of the full size creme brulees. Skip the entree if you have to.
My brother Athos and I both fell in love with the creme brulee and are still regretting that we didn't get the full-sized ones. We licked those tiny dishes clean. It was by far the best thing I ate on the cruise!
With all the elegant surroundings and tasty offerings, we definitely enjoyed our regal dinner. :)