When we last left off in our British wanderings, we were admiring the
Wordsworthian daffodils
outside Tintern Abbey. But we hadn't yet looked at the ruins themselves. What do you say, should we step inside?
There's something so inspiring and magical about exploring old ruins in Europe. It's like stepping into the past.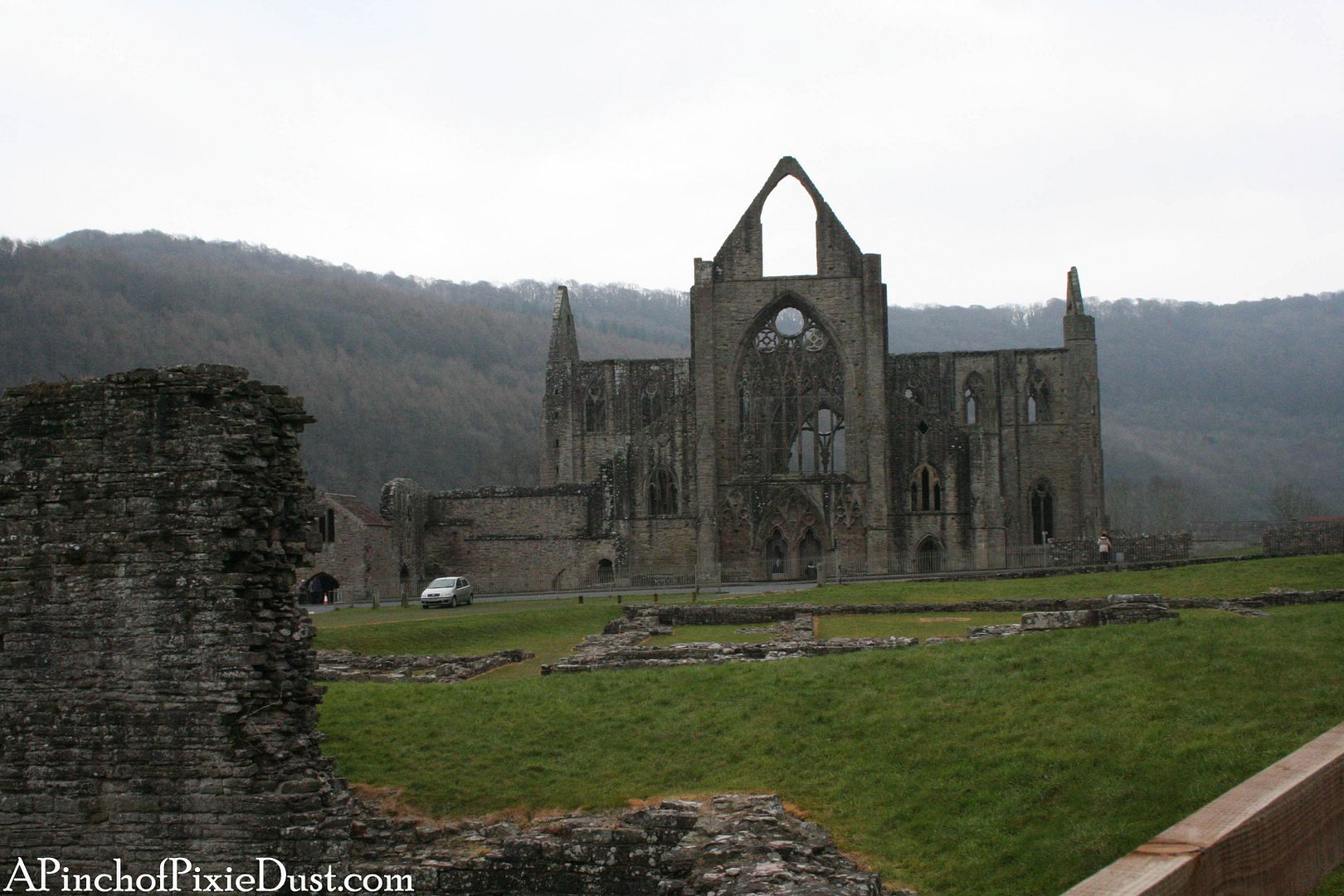 Tintern Abbey was a Cistercian monastery founded almost 900 years ago. The cloisters and church were built in the 13th century, and for years this was a hub of activity in the Wye River Valley until it was dissolved by King Henry VIII. Around the regency it became a popular tourist spot to visit.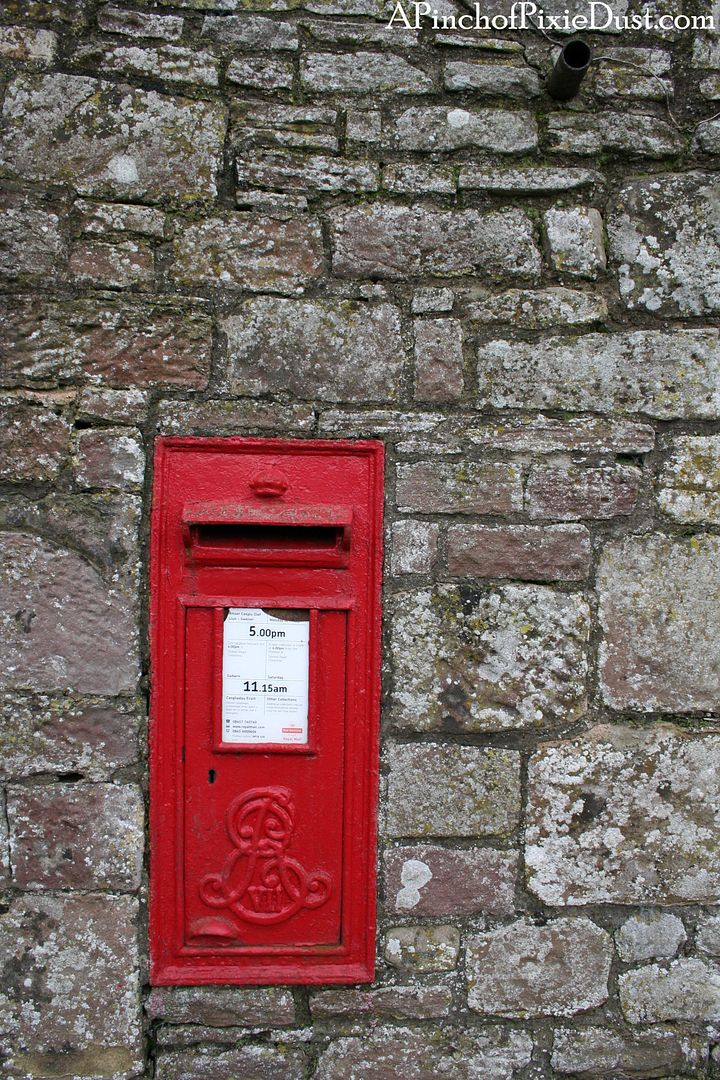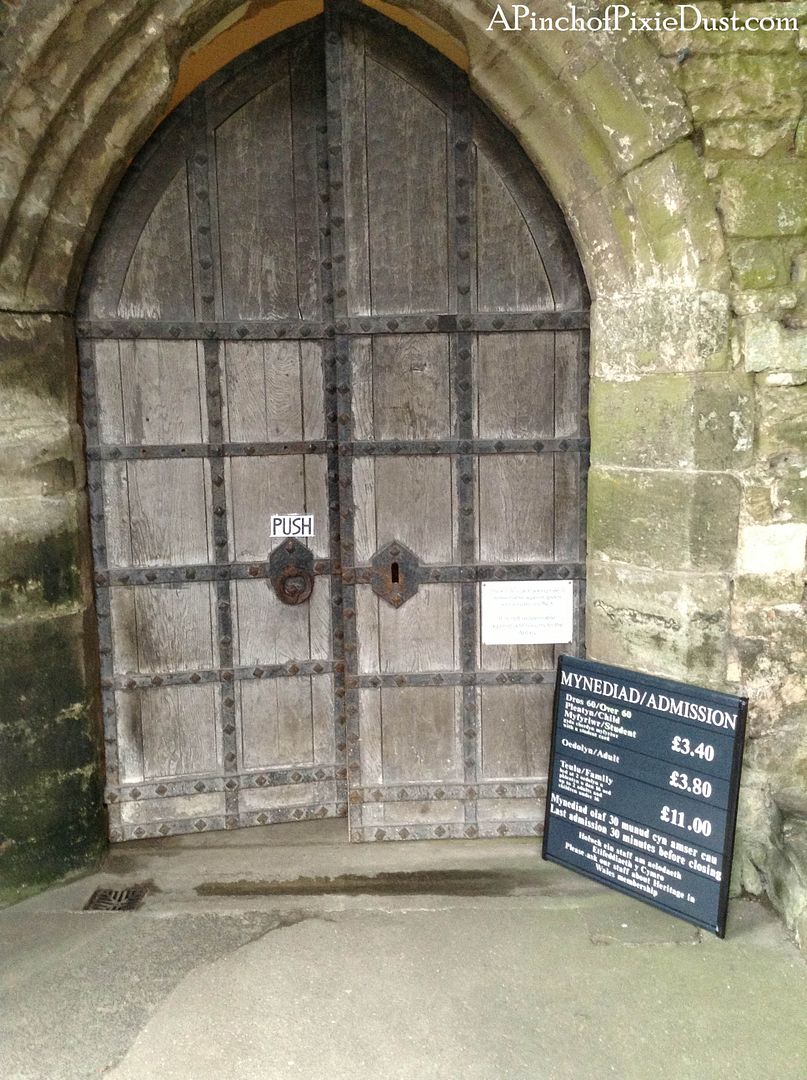 I stopped to mail a postcard at the cheerful red box across the street then went in the great old doors. There is an entrance fee - it's about 4 pounds.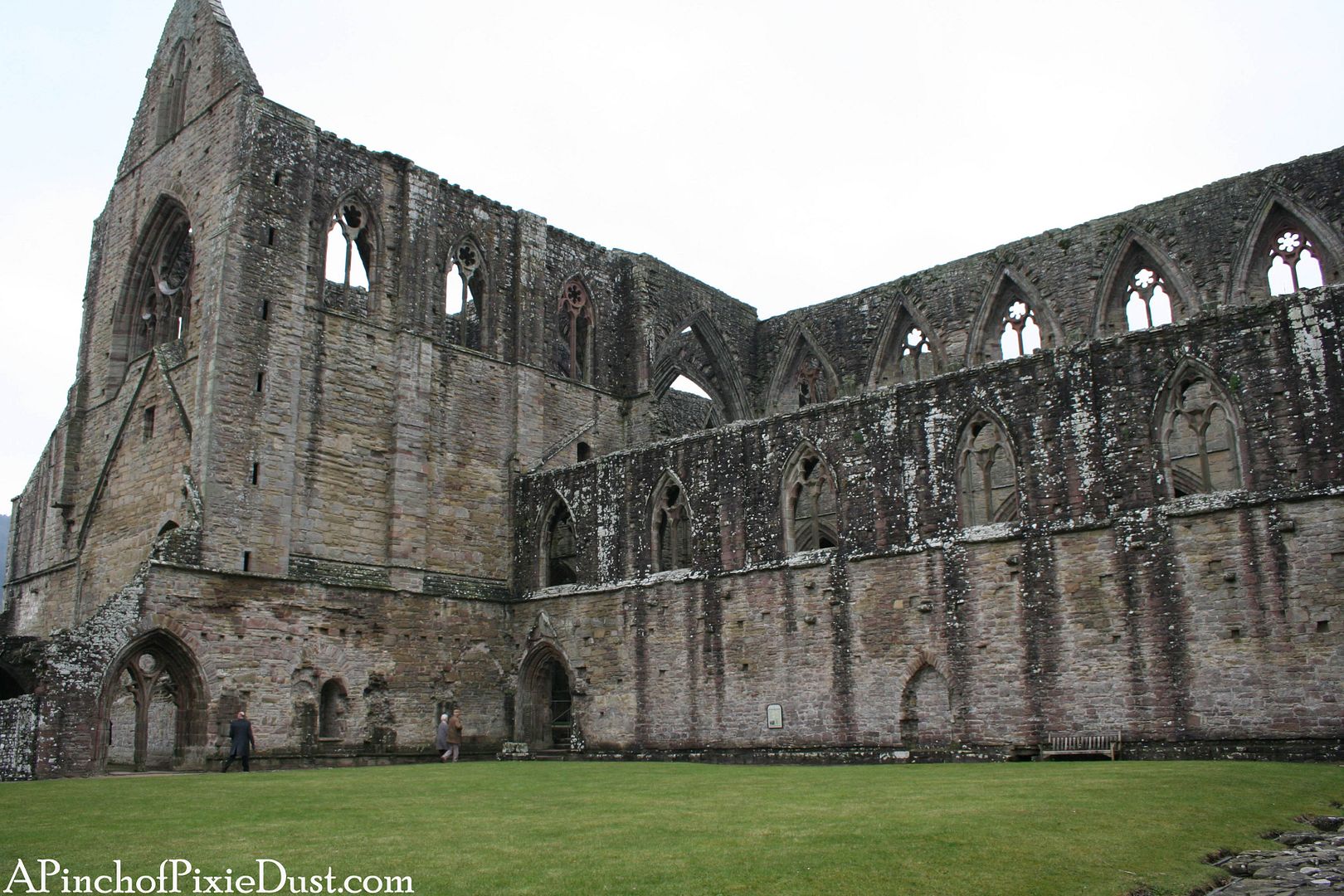 I was reading somewhere that when the romantics (like Wordsworth) came to Tintern Abbey, it looked quite different. The ruins were more picturesque and untouched; nature had taken over, and ivy and greenery grew everywhere.
I guess I'm not sorry they've cleaned it up, as it's better preserved and surely safer!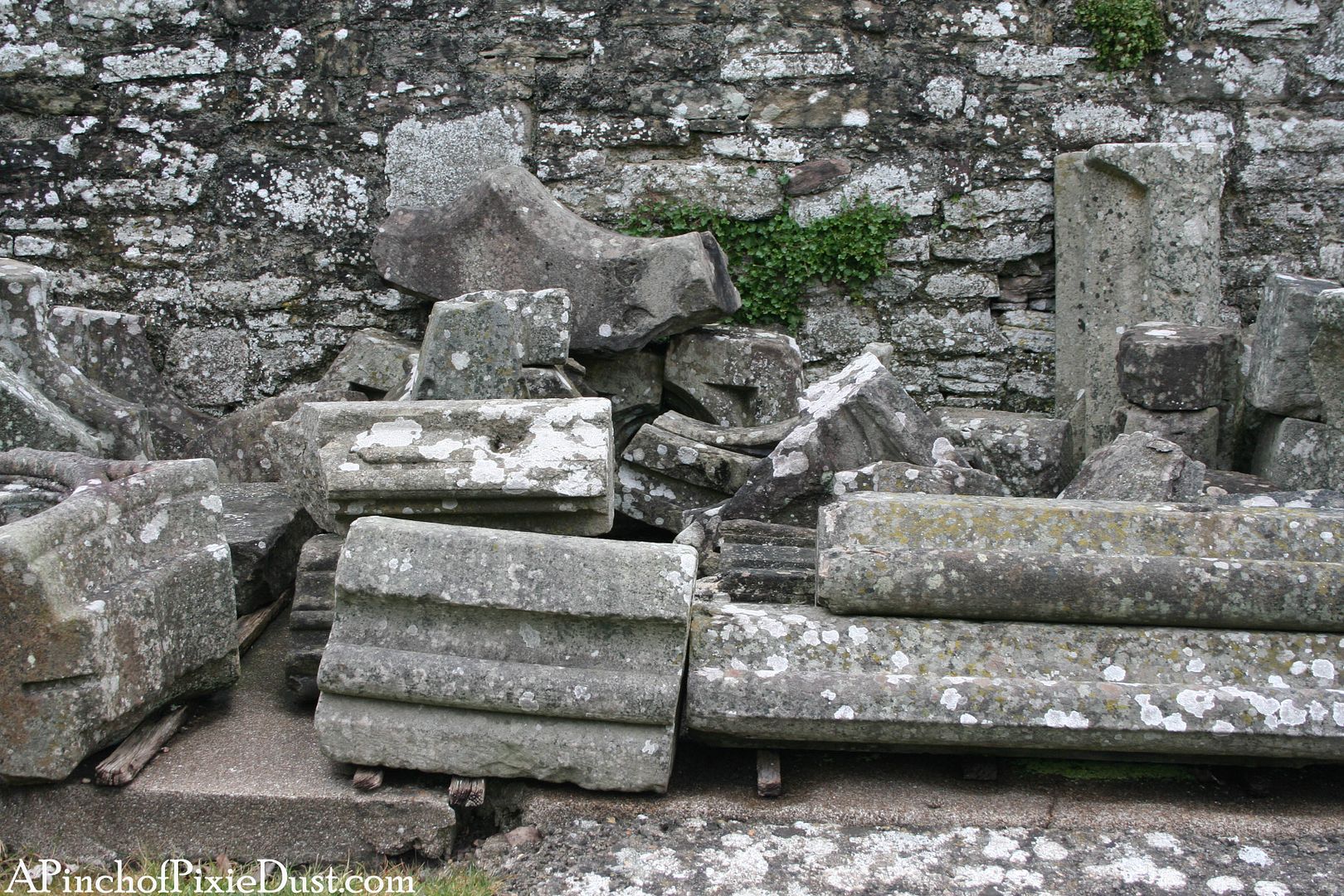 With the overcast sky, the still-bare branches of early spring, and the fragments of stone everywhere, the world seemed all colored in grey...
It made the grass and patches of green stand out that much more!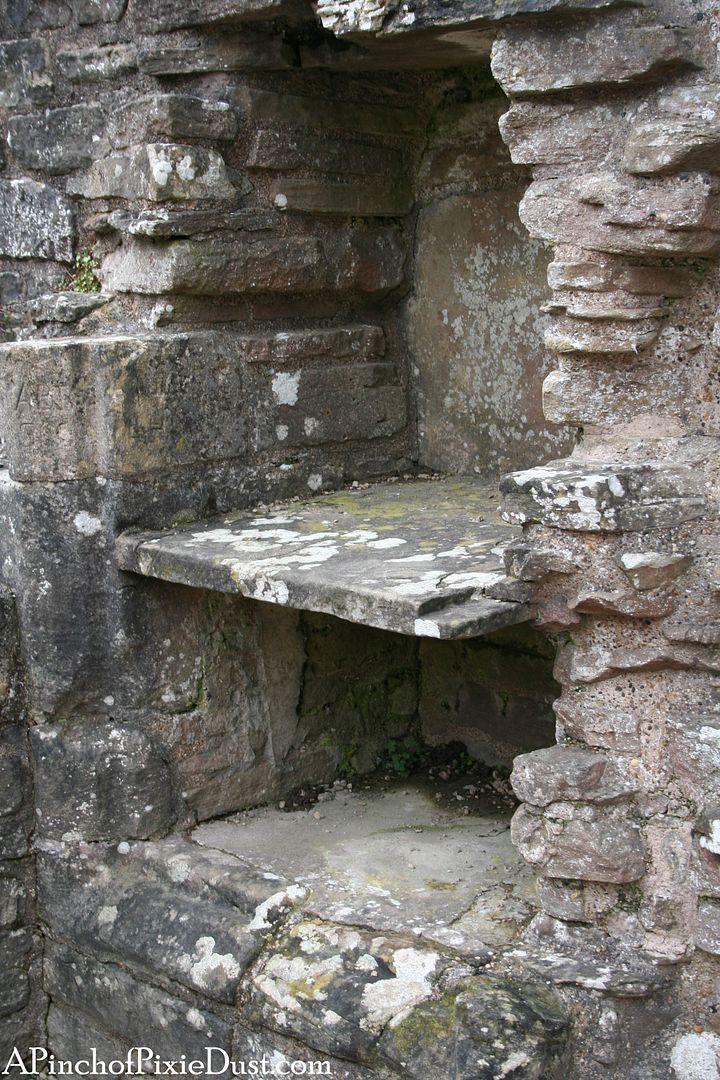 Your imagination gets a work-out when exploring ancient ruins. Not only do you try to picture the life that once went on here, you also try to picture the structures...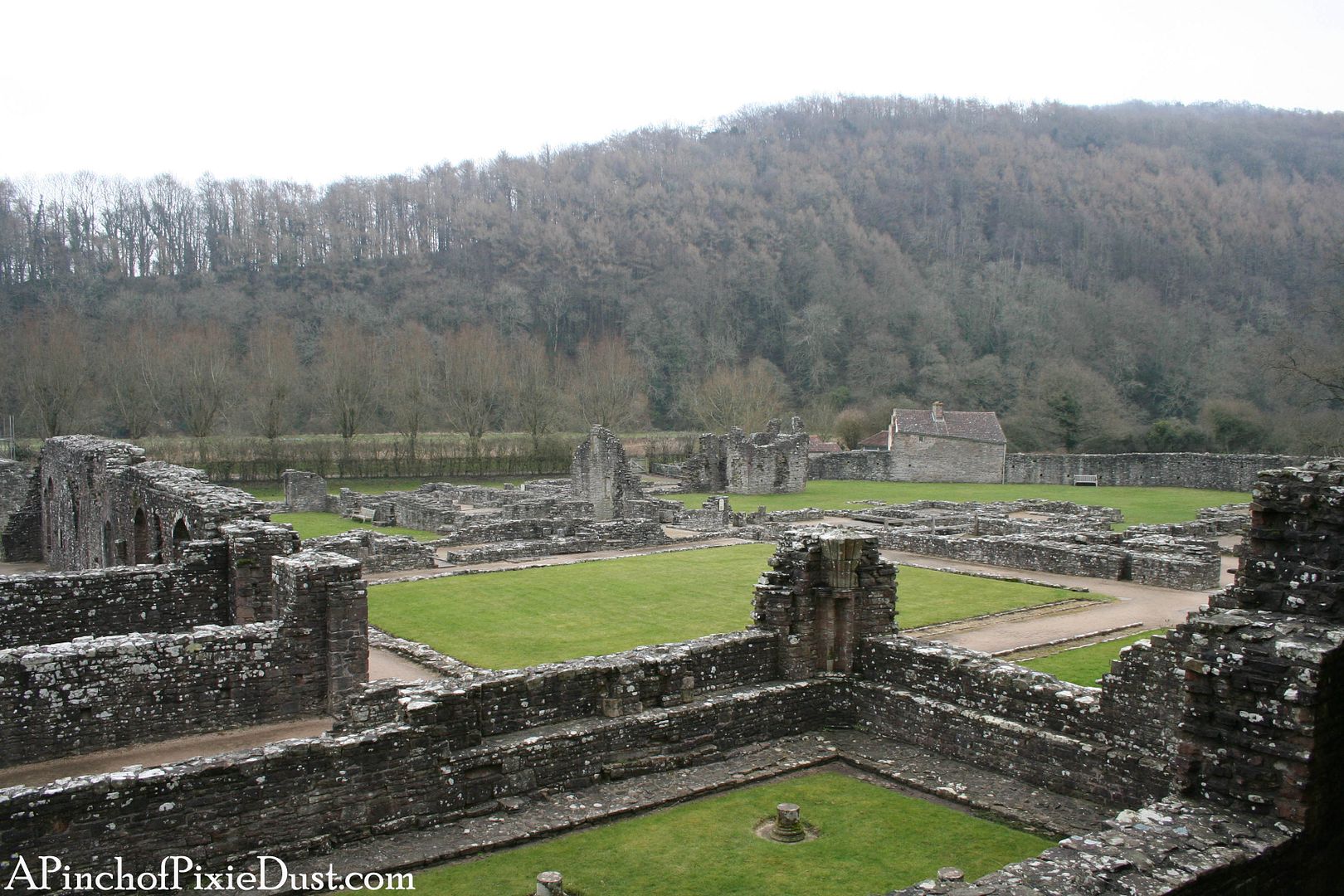 With your mind's eye you build up walls and columns and rooms, travelling into the past glory of the Abbey.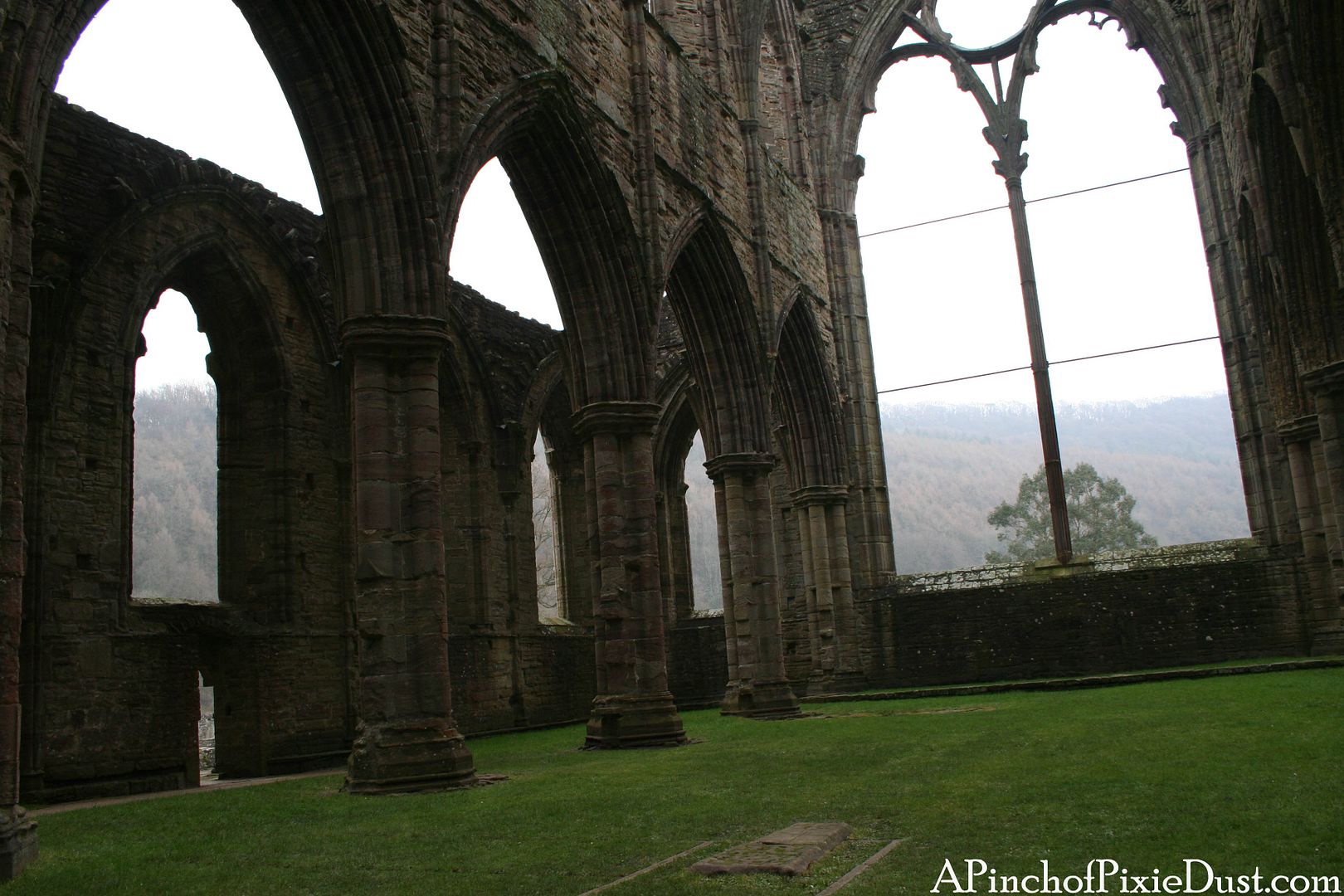 But then again, it has a unique glory even now. There's something breathtaking about a grand church with soaring columns and a grassy green floor, a roof open to the sky, and the trees peeking in through the paneless windows.
Those mountains rising up behind the ruins were so gorgeous!
Maybe it was the weather or the time of year, but I had Tintern Abbey almost all to myself. It was so peaceful and beautiful, wandering through the old columns, humming an old hymn to myself, trying to imagine the Abbey echoing with the voices of the monks chanting or singing...
There are informational plaques situated here and there (with text in both English and Welsh!), telling you about how the monks used to live and work here.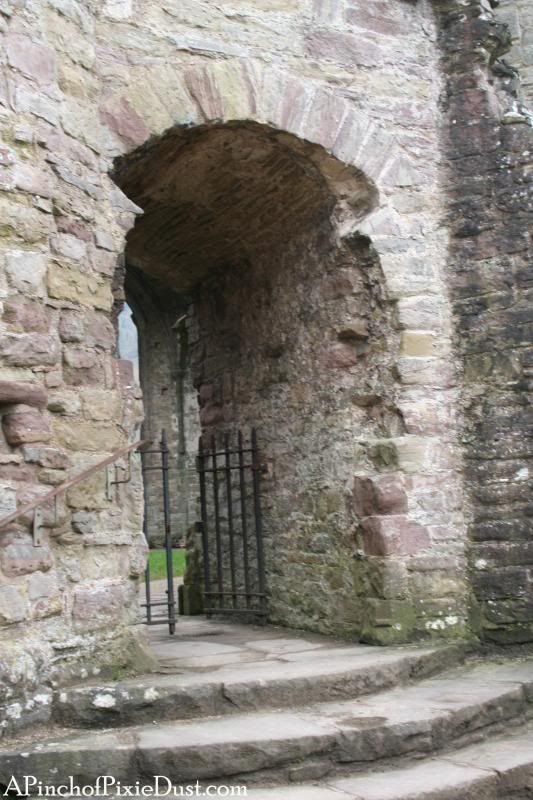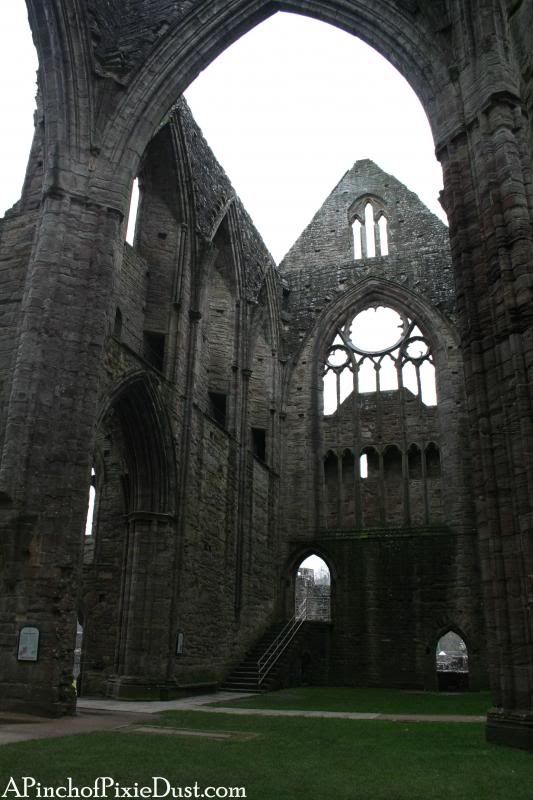 After exploring my fill, I was feeling like a hot cup of tea might be nice - it was misty and wet and cold as well as grey!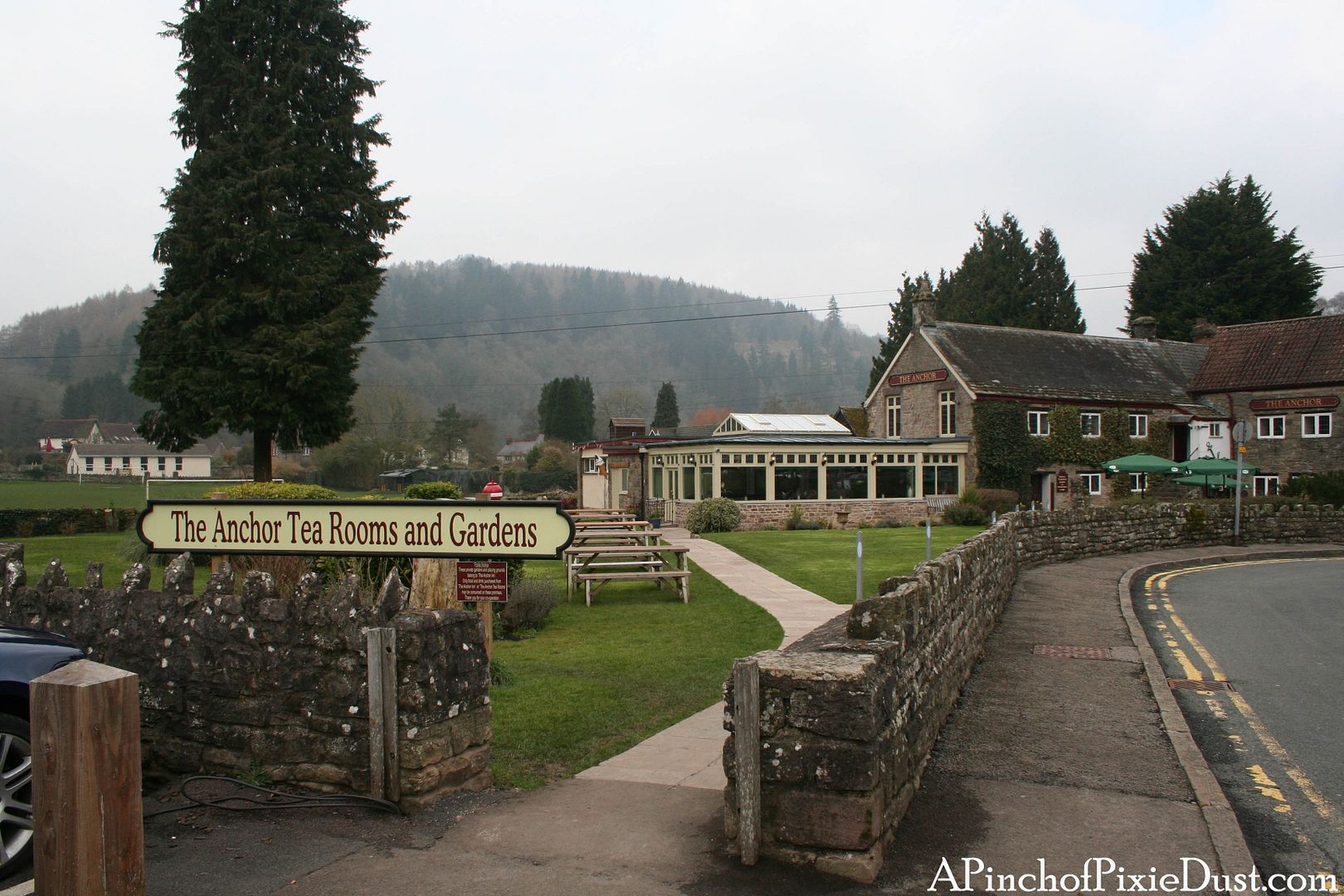 The Anchor Tea Rooms were nearby, but when I went in, it turned out to be more of a restaurant than a tea room. I really just wanted a cup of tea and a maybe a piece of cake, not a full meal, so I went across the street to buy a postcard and decide what to do.
The White Monk looked like just a regular gift shop, but it said Tea Room on the awning, so I asked and was directed down some stairs through a low doorway...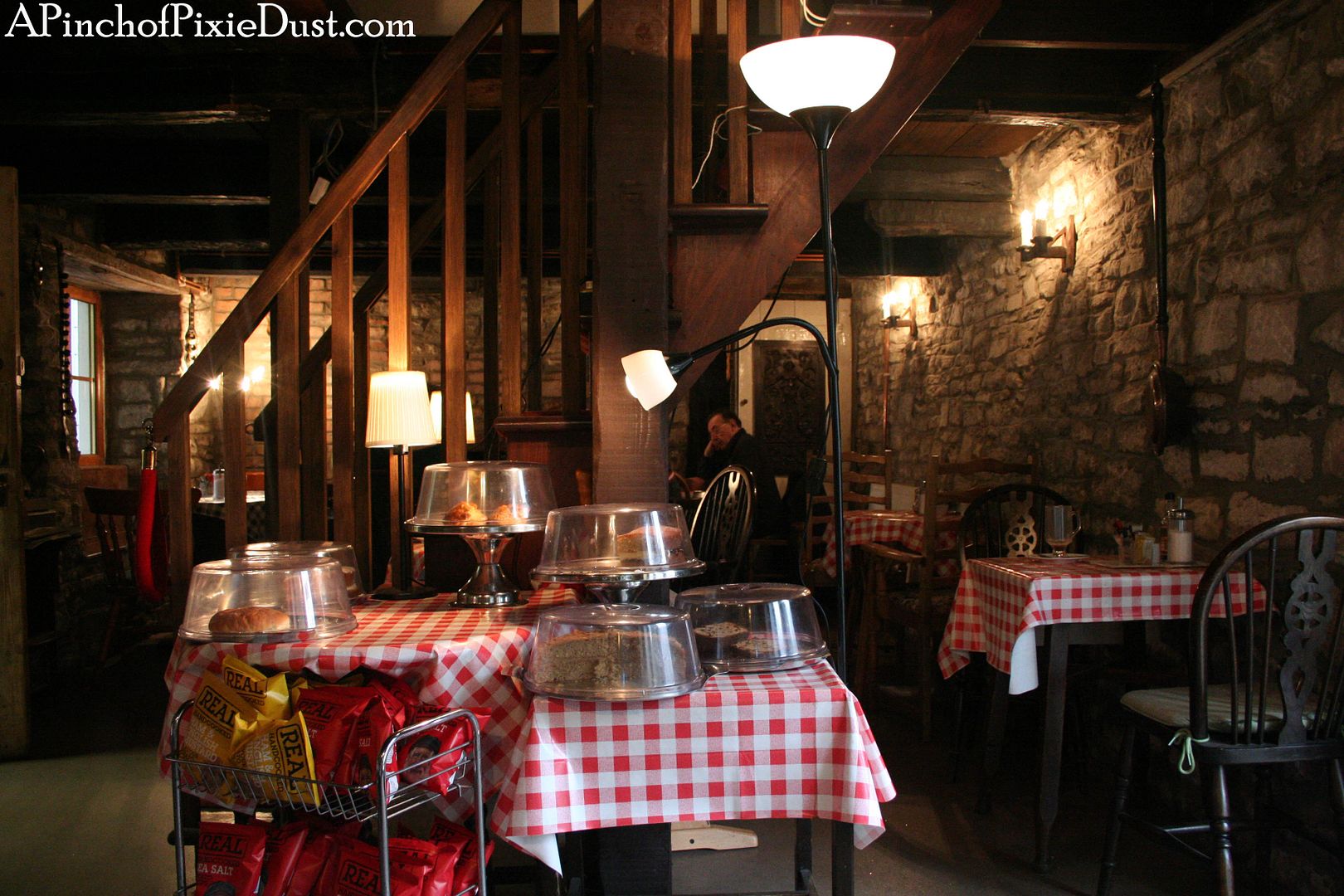 This was exactly the sort-of place I was looking for! It was a cheerful little room with brightly checkered table cloths smiling against the stone walls. There was a table full of cakes and tea treats in the middle. There were no servers or seaters to be found, and the man at the counter in the gift shop advised me to just call into the kitchen with my order. I was promptly brought out a pot of tea and a thick slice of chocolate honeycomb cake.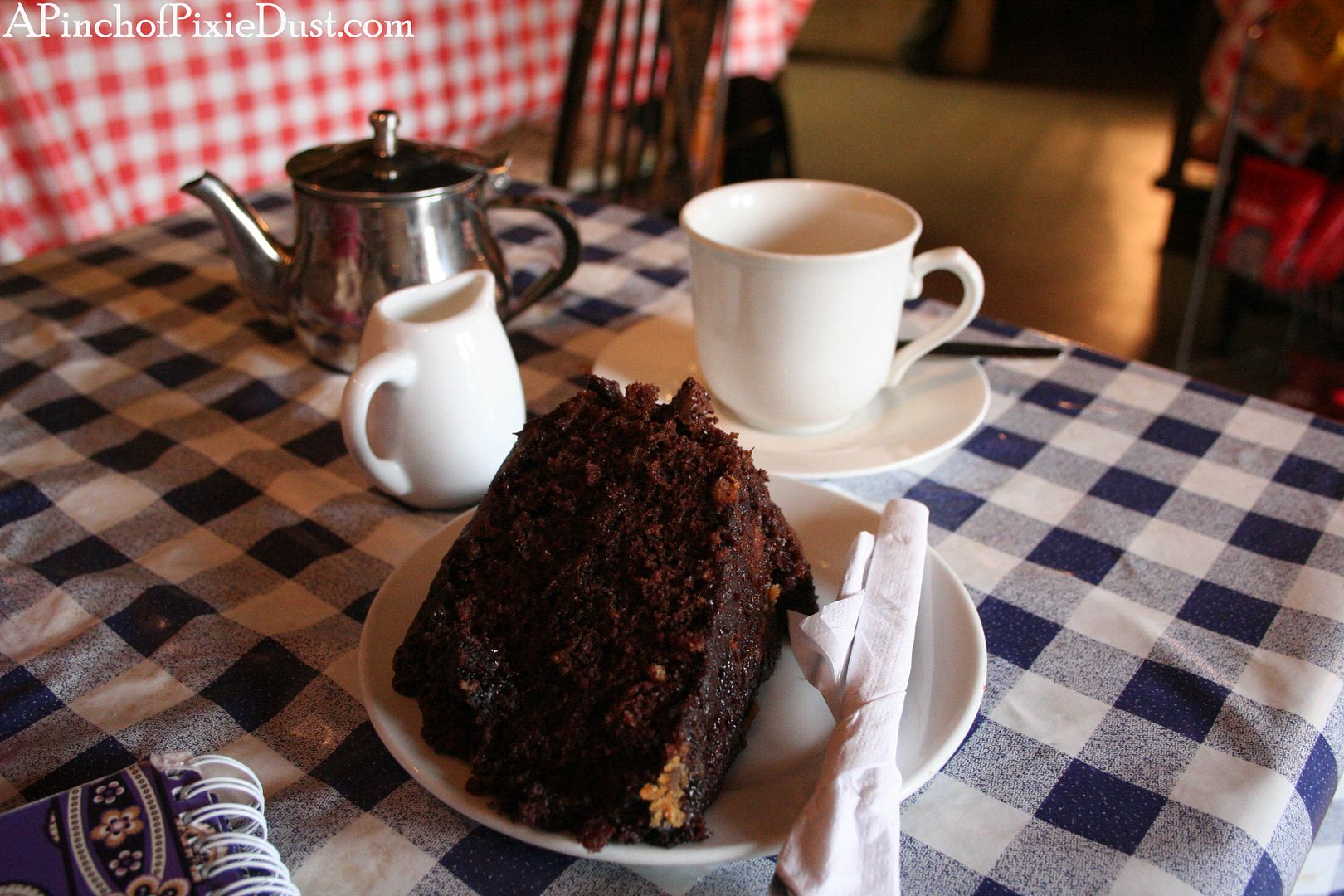 Absolutely the perfect afternoon restorative! :)