In just about a week, I will be headed to California for a family wedding and a quick jaunt to Disneyland!! I am super excited...and naturally I have been combing through my wardrobe deciding what to wear. Want to help me plan and pack? I have some fun shopping stories to tell too...
The other day I found myself in front of a
White House Black Market
(am I the only one who calls it Black House White Market by mistake all the time??), and this
pretty pink pleated skirt
in the window pulled me in.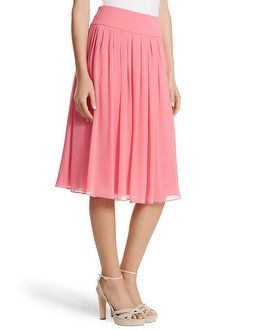 It was so flowy and long; so when a salesgirl asked if I wanted to start a fitting room, I said yes. She asked if I was shopping for anything, so I said I was going to California. Normally I say I'm just browsing to keep the sales speil to a minimum, but what can I say, I was excited! She took the skirt while I browsed around the rest of the store - mostly in the sale section, let's be honest. ;)
All the dressing rooms were empty of customers when I went over looking for my skirt - three had nothing in them. The fourth and last dressing room had two salespeople in it and a bunch of clothing.
Then I realized one of the salespeople was the girl who had been helping me.
Then I saw the pink skirt was there.
And I'm just like: "UMmmmmm."
The store was quiet, and the girl said she had had some fun and picked out some things to go with the skirt...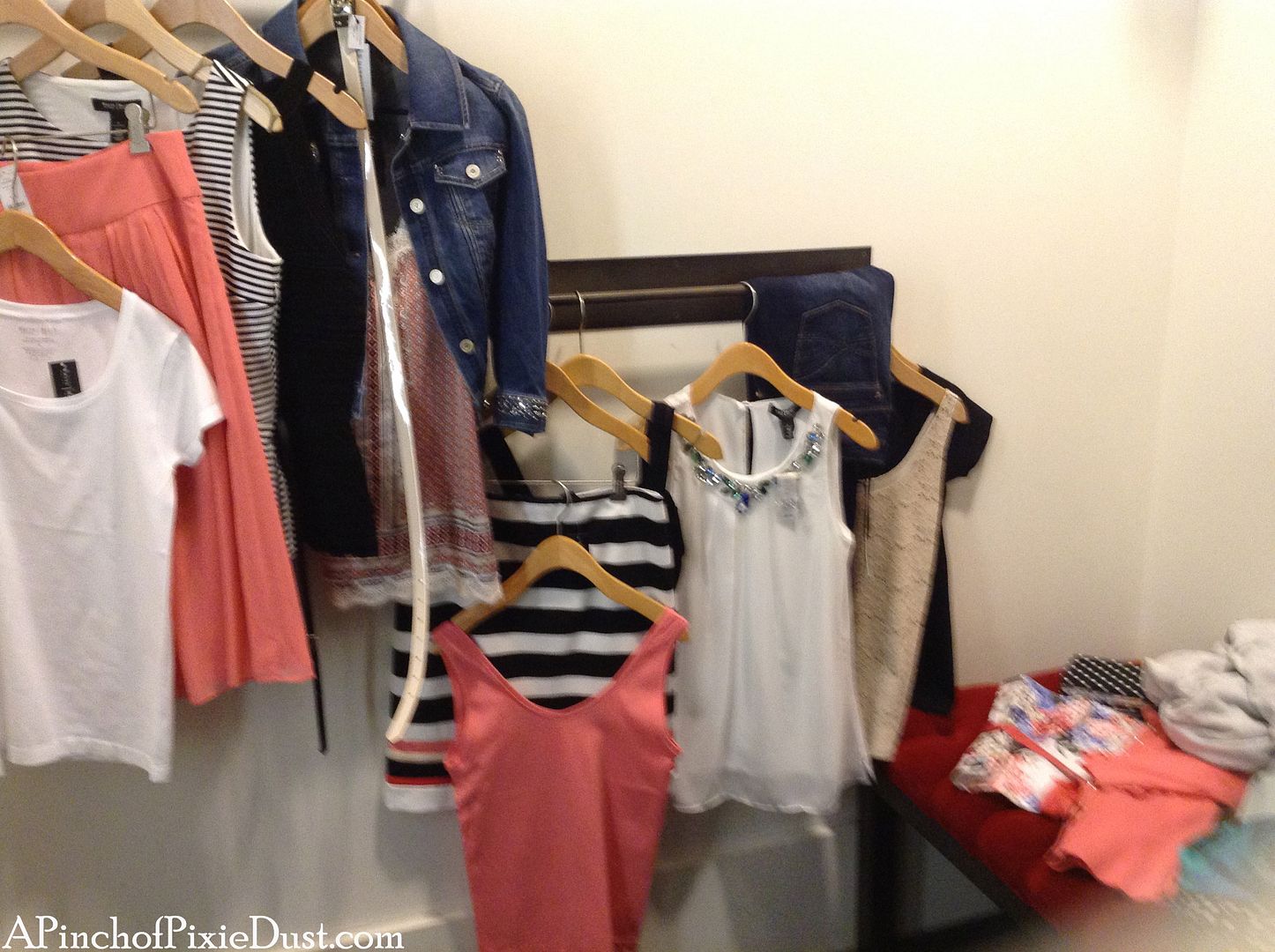 Like, a whole new wardrobe to go with the skirt.
I know it was a sales gimmick (a really smart one!), but it was also really fun! The salesgirl was so nice and not at all pushy, and I felt like I was in one of those movies where they bring out a million different beautiful outfits for your inspection.
Usually in said movies the girl has just married a millionaire or become a rock star or something, but it was still fun to pretend and play dress-up for a little bit. ;) And the things that the girl picked out were all really cute!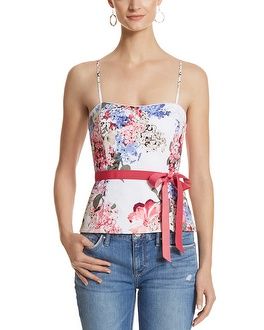 Like this
formal floral top
. I wouldn't normally pick up something like this - I don't really do sleeveless. But it actually went perfectly with the skirt. And of course the salesgirl had remembered to put in a pink sweater. But see, this is the fashion industry tricking you into buying a shirt
and
a sweater, when if they just gave me a shirt with sleeves to begin with I'd be good.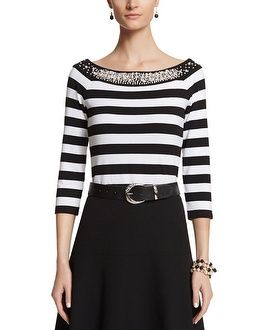 You can't even see the cutest part of
this shirt
. It's not the beads, though I do like them. It's not the stripes - usually I stay away from those, they can make you look wide. There's a little black bow on the back of the collar with ribbons going down your back. It's so funny how one little detail like that can really make a piece of clothing!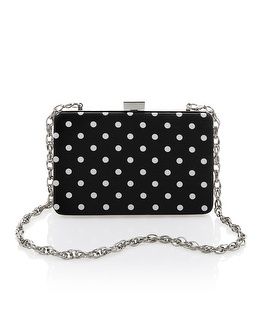 I reeeeally wanted this polka dot clutch. It was the perfect size - it would even have fit a small book!
Alas, the very clever sales tactic was wasted on me. If I could've afforded it, I would've been glad to buy all those pretty things, but the skirt was the only thing I could even contemplate finding room in the budget for. It looked absolutely lovely on - one of those things you know you'll be wearing for years - and I did end up buying it...although I went and used the wifi at the mall to find a coupon to use on it first. ;)
Cause that's how I roll. Gotta love RetailMeNot! White House Black Market doesn't seem like one of those stores where they have a huge 30% or 40% off everything sale once a month, so I didn't think waiting would do much good. There are stores like that though, where I never want to pay full price, because I know there's a sale right around the corner.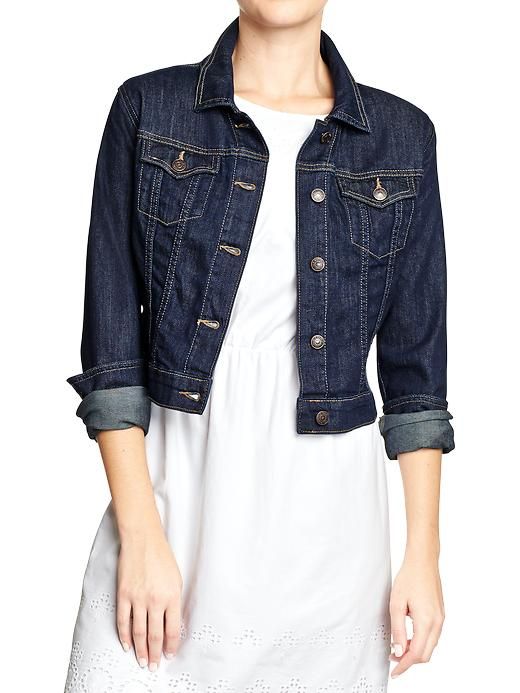 Old Navy seems to have lots of deals that come and go, and I've been waiting for a good one before I get this
cropped denim jacket
I've had my eye on. I'm thinking it would be fun for the trip and a good back-up for any cold weather. Fingers crossed!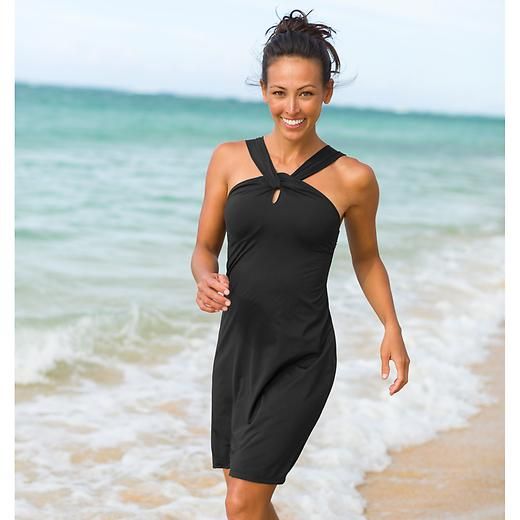 I would also love a new
swim dress
for playing in the Pacific, like this one from Athleta, but I don't think there are any sales coming up. Why are there not more classy swim dresses out there? Athleta caters mainly to athletes, but it's also perfect for girls looking for more modest swimwear!
With Easter and the wedding, I have been in the market for a pretty floral dress. Actually I'm always in the market for a pretty dress, but they can be difficult to find. There are three things I need from any dress:
1. A Swishy Skirt
2. A Flattering Waistline
3. Sleeves
Sadly, dress sections often dissapoint me. Maybe I find a dress with sleeves, but it has no waistline and a sheath shape. Or I find a dress with a swirly skirt and good waist, but it has no sleeves. I'm pretty convinced the fashion industry has a secret conspiracy to produce only these two types. Think of how much cheaper a dress must be to produce when you don't have to worry about the shoulder seams and sleeves...or when you forget about a waistline and make a sack and call it a dress.
I like sleeves. I'm pretty sure I look better with sleeves. I also like a good waistline and swirly skirt - get them right and they give you a perfect shape...even if you've been eating a few too many cupcakes lately. ;) So it baffles me when the fashion industry tries to tell me that these two essential slimming and figure-flattering features are unnecessary.
Maybe you love sleeveless / sheath dresses. Maybe you look great in them. And I'm sure those types of dresses will always be around. I just want more dresses with sleeves and waistlines to choose from. Right now there are so few. :(
Oh dear, I'm ranting, aren't I? Will you even believe me when I tell you that I did find one and on sale??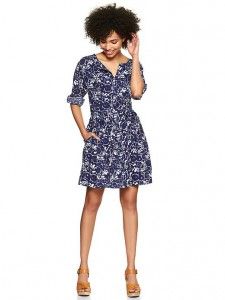 It was at the Gap. The photo doesn't even do it justice - it's so pretty! And it's lined (when dresses are made of paper thin fabric and aren't lined...but I won't even start...). And I adore those sleeves!!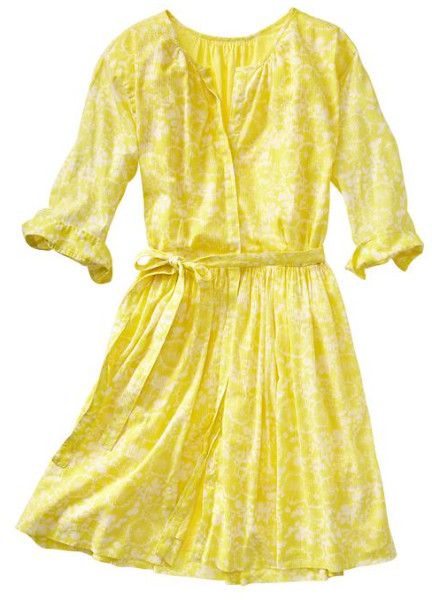 It came in yellow too, but I went with the navy. And I had a coupon that worked on top of the sale price. It was the best day ever. ;)
Have you been doing any spring wardrobe shopping lately?