Today we're going to talk about the
MagicBand
. No, not
strategies
or Fastpass+ or anything...this is a purely aesthetic post.
Much as I love the bright, standard colors the MagicBands come in, sometimes they need a little sprucing up and customization. And I don't really want to spend a fortune on all the
gizmos and gadgets
Disney sells to decorate your band with...I'd rather create something myself!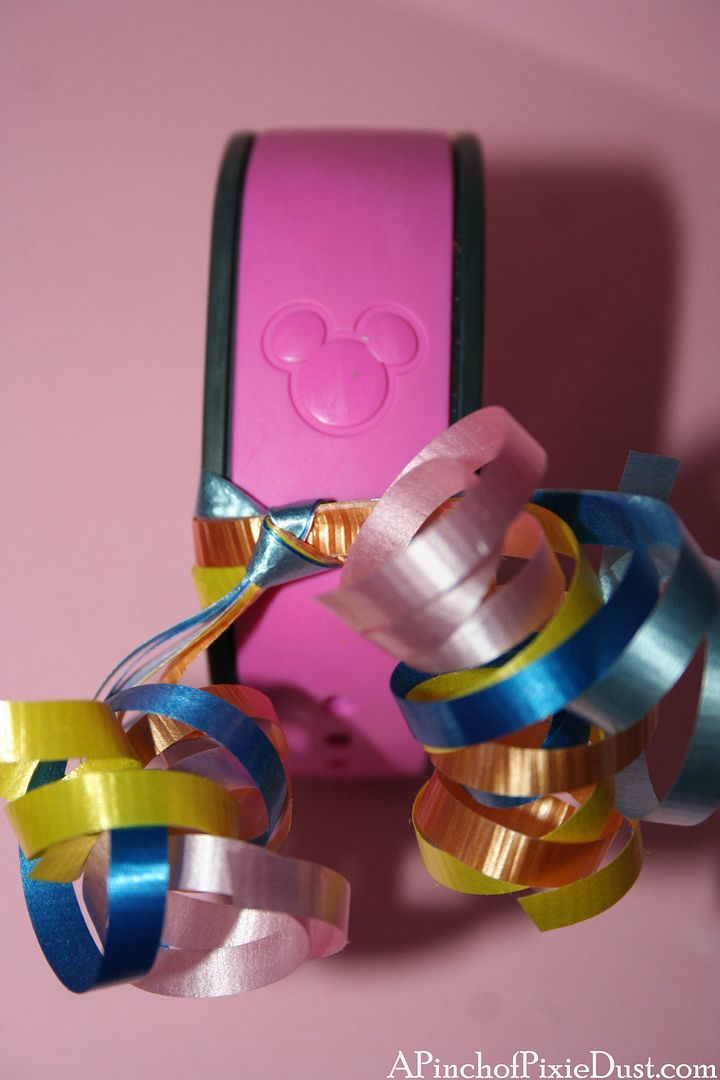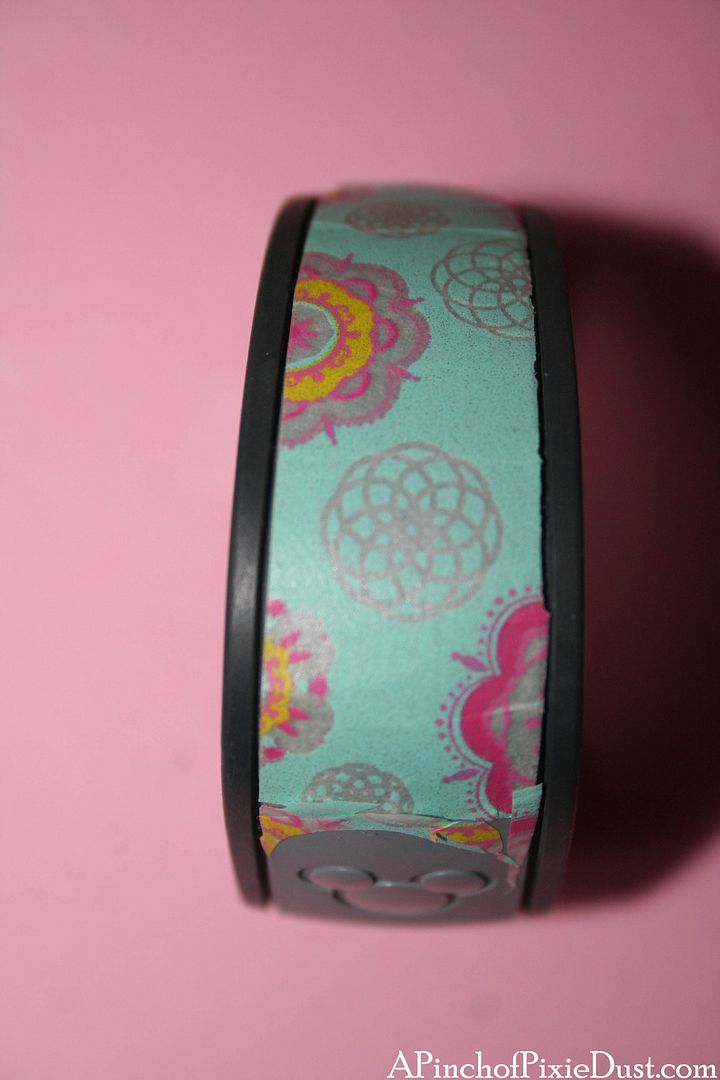 So get out your crafting gear - this post is going to be full of DIY ideas for decorating your MagicBand!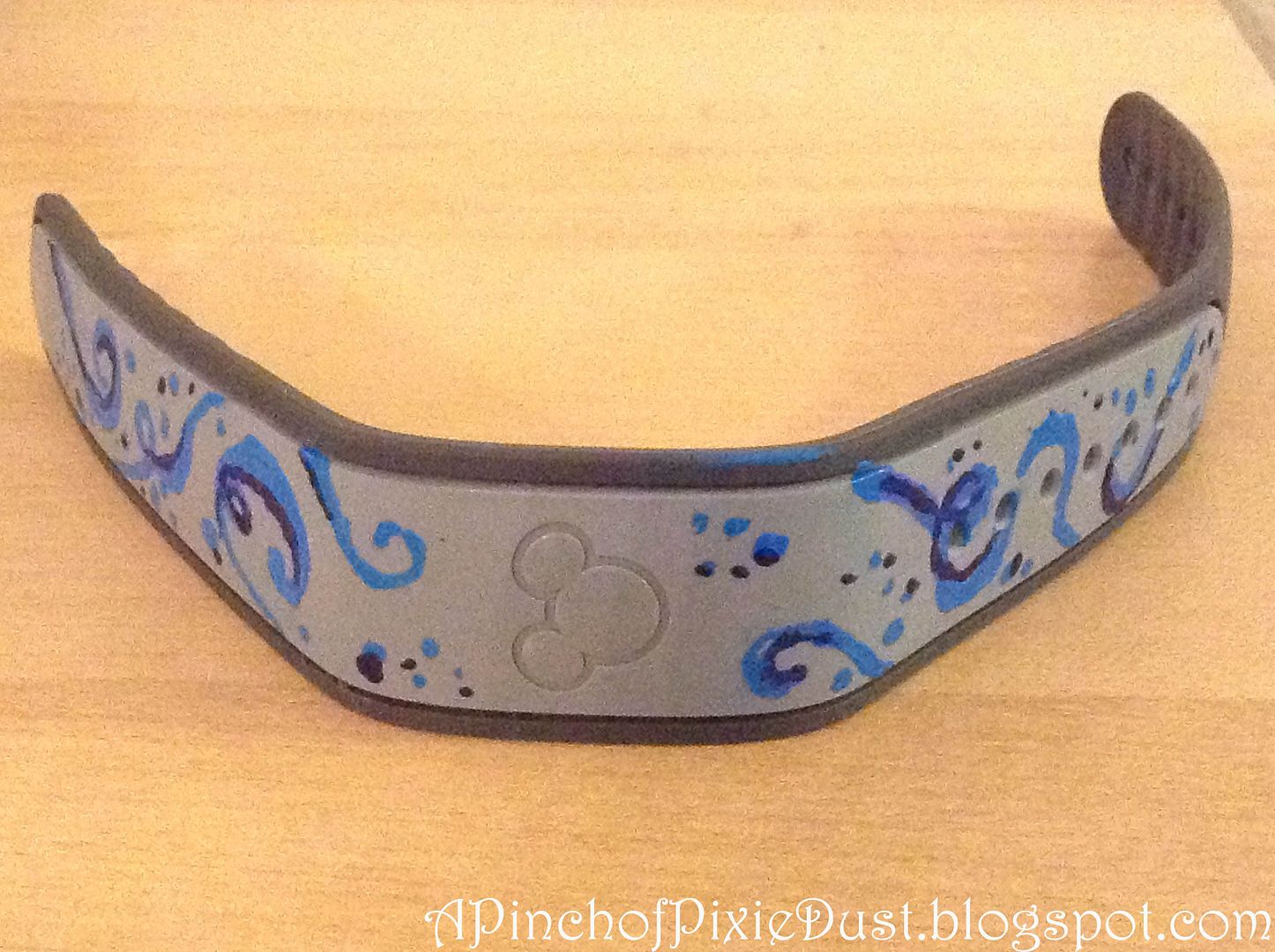 You don't need to be an artist - simple swirls and polka dots in paint can make your MagicBand extra pretty! I used some water color paints I had lying around, and the design lasted for a few days in the parks before it started to rub/smudge/wash off. Acrylic paints or even nail polish might be a better bet.
Washi tape comes in pretty, colorful rolls that you'll find at most crafting stores. I always think it looks so pretty on the shelf, so I buy it and bring it home...and don't know what to do with it! But blinging out my MagicBand seemed like a good use...
You could add some stripes...
With a wider piece of washi tape you could cover the enitre band. Just lay it on smoothly, then run a pair of scissors (carefully!) down the little edge between the darker grey outer border and the more colorful inner band to trim the tape to exactly the right size.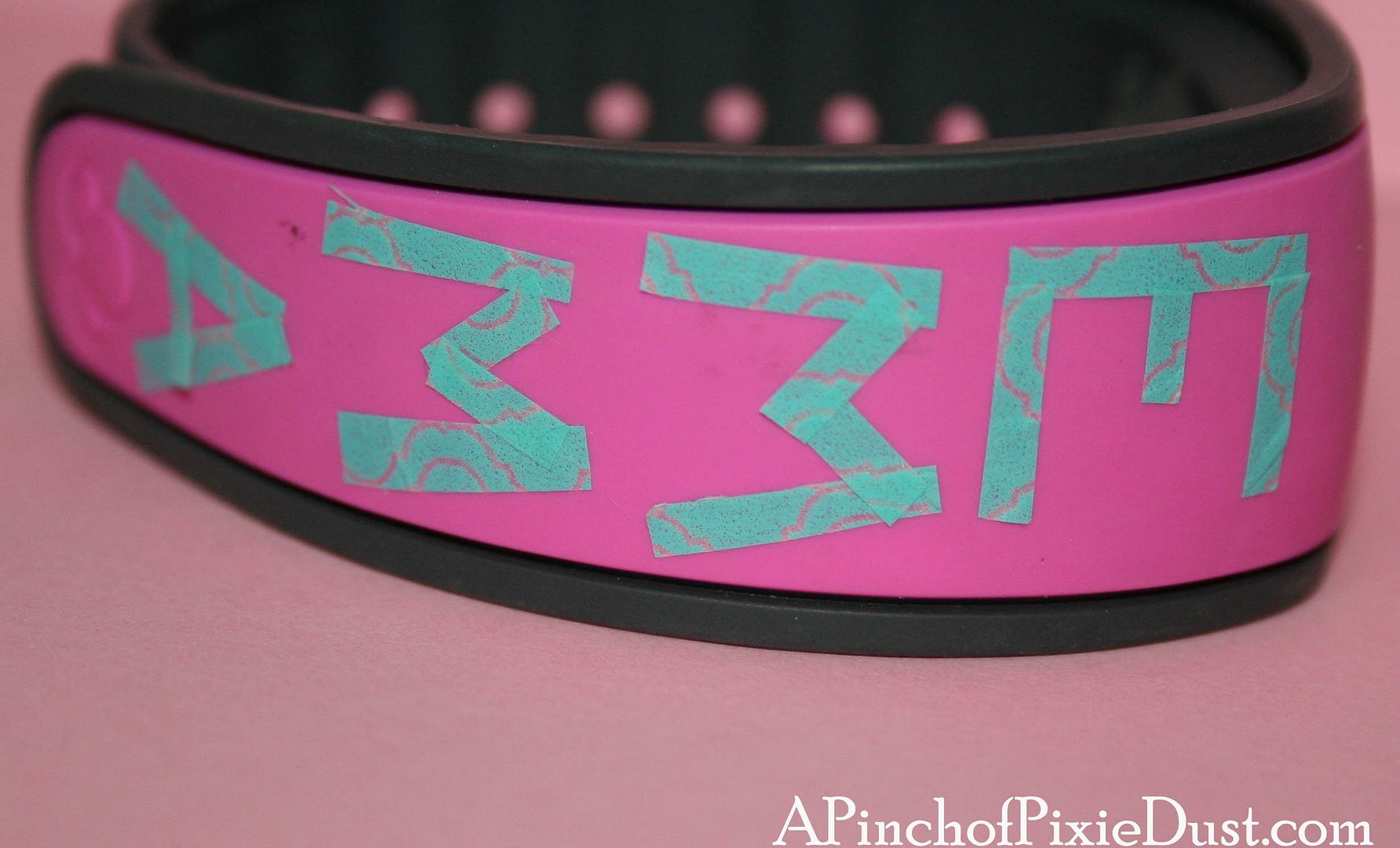 It's fun to experiment with the washi tape - you could cut it to different widths and sizes to make different geomentrical designs, or even spell out a name!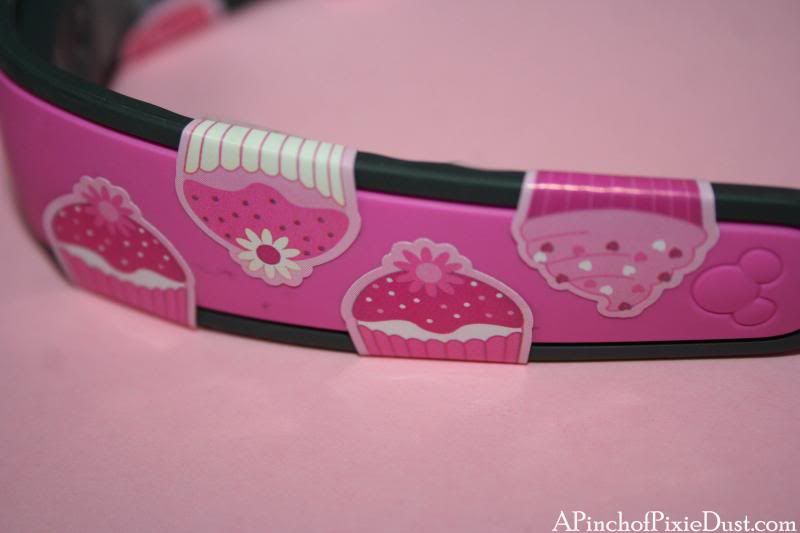 Pick up some stickers at the dollar store to add some quick pixie dust to your band...or get some of those gemstone stickers at the craft store to really make it sparkle. Not all stickers adhere to the MagicBand very well, so you might want to add some glue or a coat of clear nail polish or clear paint over top.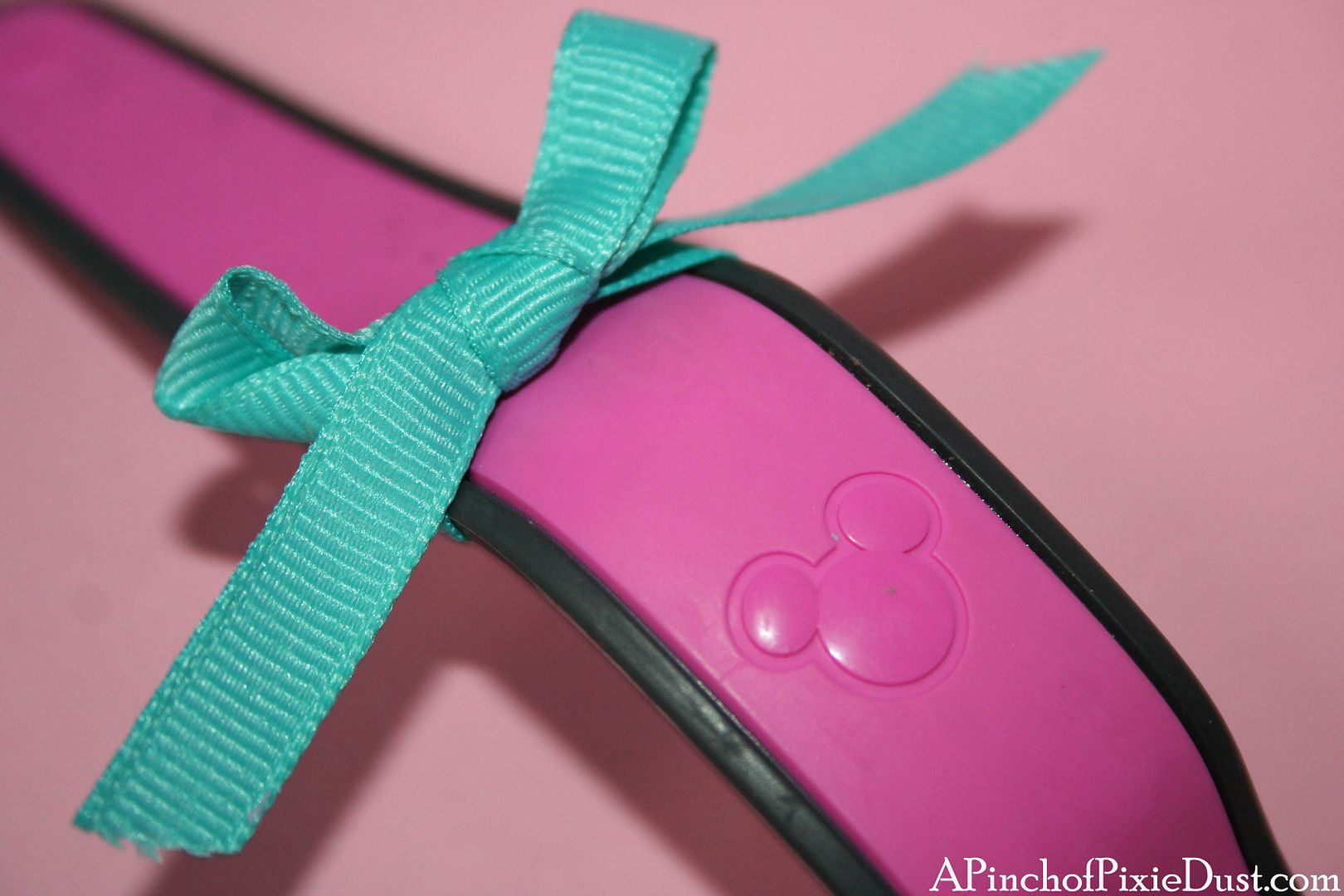 I feel like Minnie Mouse would approve of this MagicBand decorating method! Add one small bow above the mouse head for a simple but sophisticated look. Or you could go a little bigger...
And wrap the entire MagicBand in ribbon!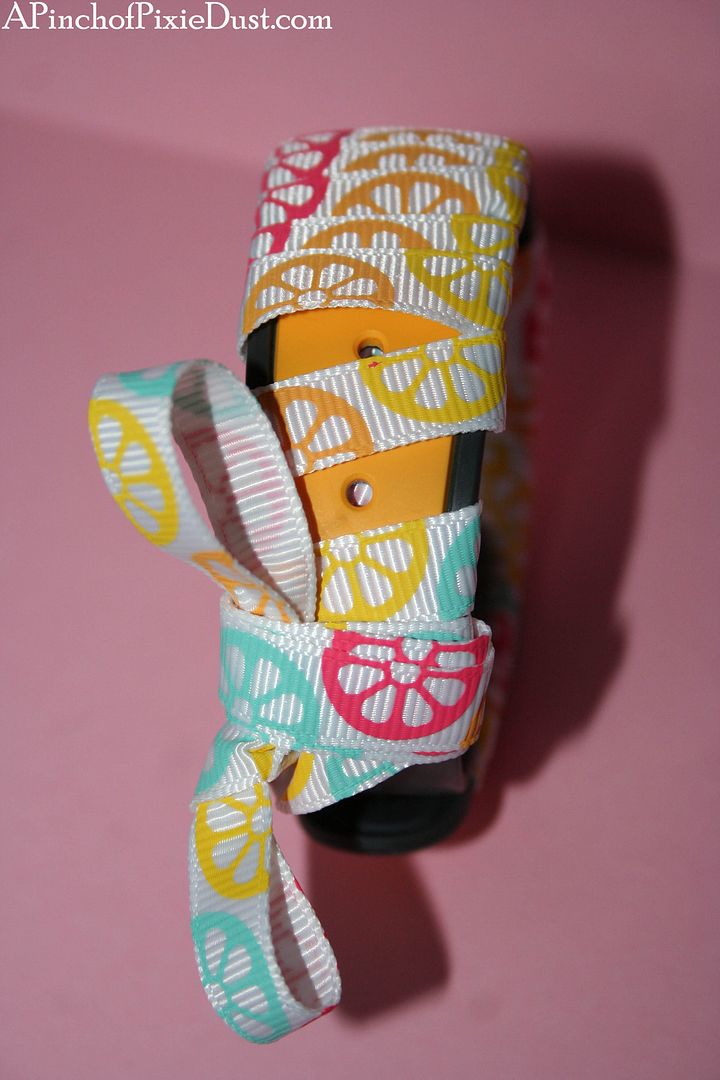 You might need to use some tape or glue while wrapping to get the ribbon to stay. And don't forget to leave a few holes open for the clasp!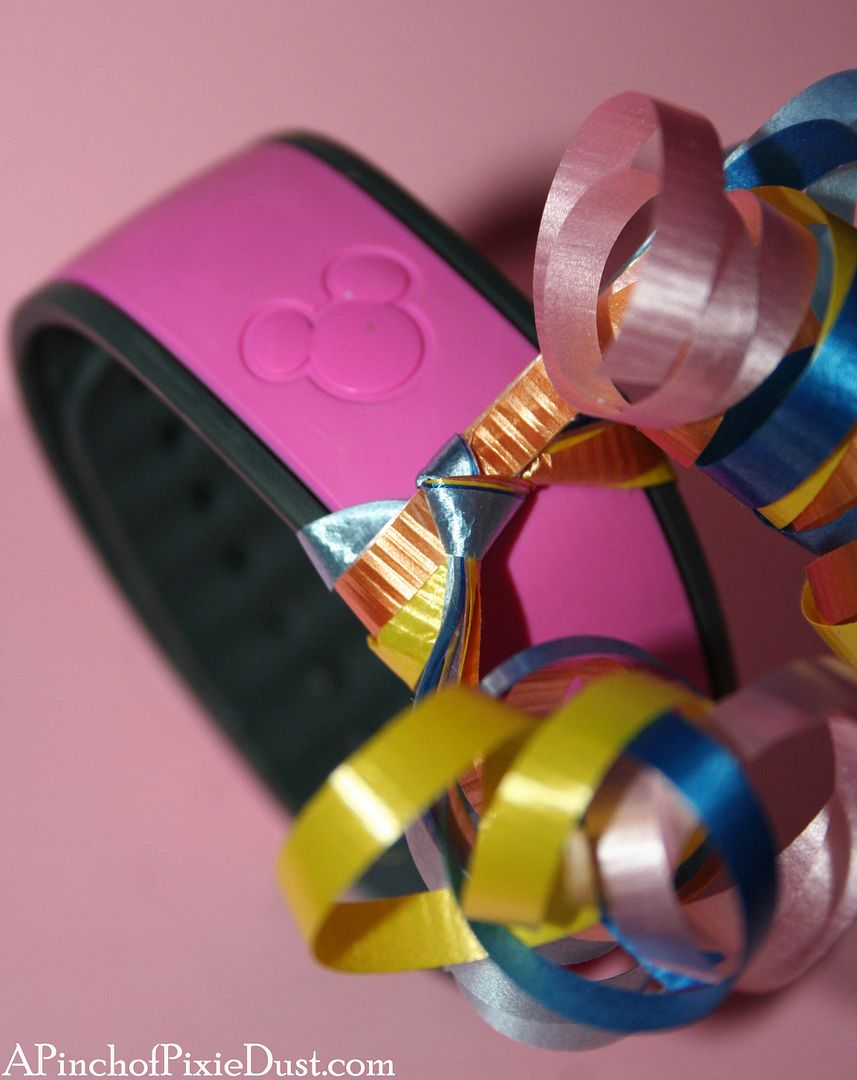 You could add curling ribbon to make it a party (this MagicBand feels like the Move It Shake It Celebrate It parade on your wrist!).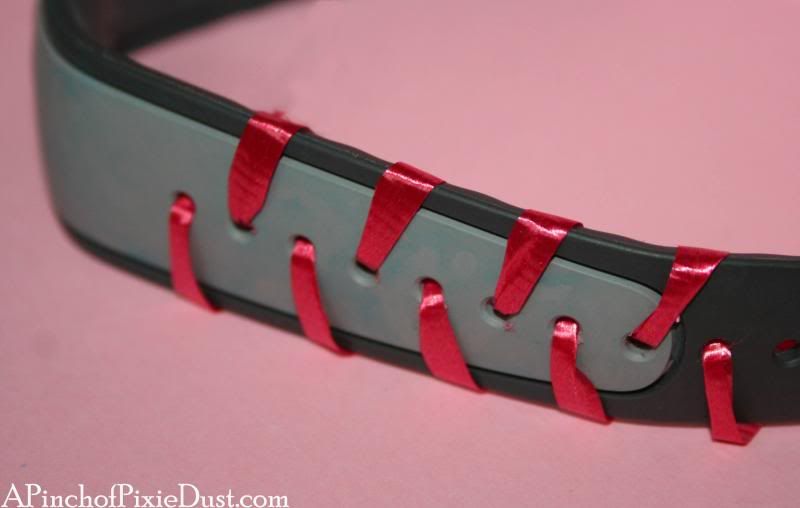 You could also weave a thinner ribbon through the holes to make a pretty pattern.
Curling ribbon, admittedly, might not stand up to the elements too well. That is one thing to consider when decorating your MagicBand - will it be able to stand up to a day in the parks on your wrist? You also want to make sure you don't cover up the Mickey sensor which you'll be scanning everywhere.
I think it could be fun to plus up your MagicBand each morning in a unique way to match your outfit...and then if the stickers don't stay on or the ribbon comes off, it doesn't matter too much. Every day you could add some new pixie dust. :)