There were lots and lots of delicious eats to be discovered at
Disneyland
and
Disney's California Adventure
- sandwiches, ice cream bars, churros, macaroons, pie-o-ramas to name just a few! But one particular corner of the dessert scene which I was especially excited to explore was the
DISNEYLAND CUPCAKE
situation.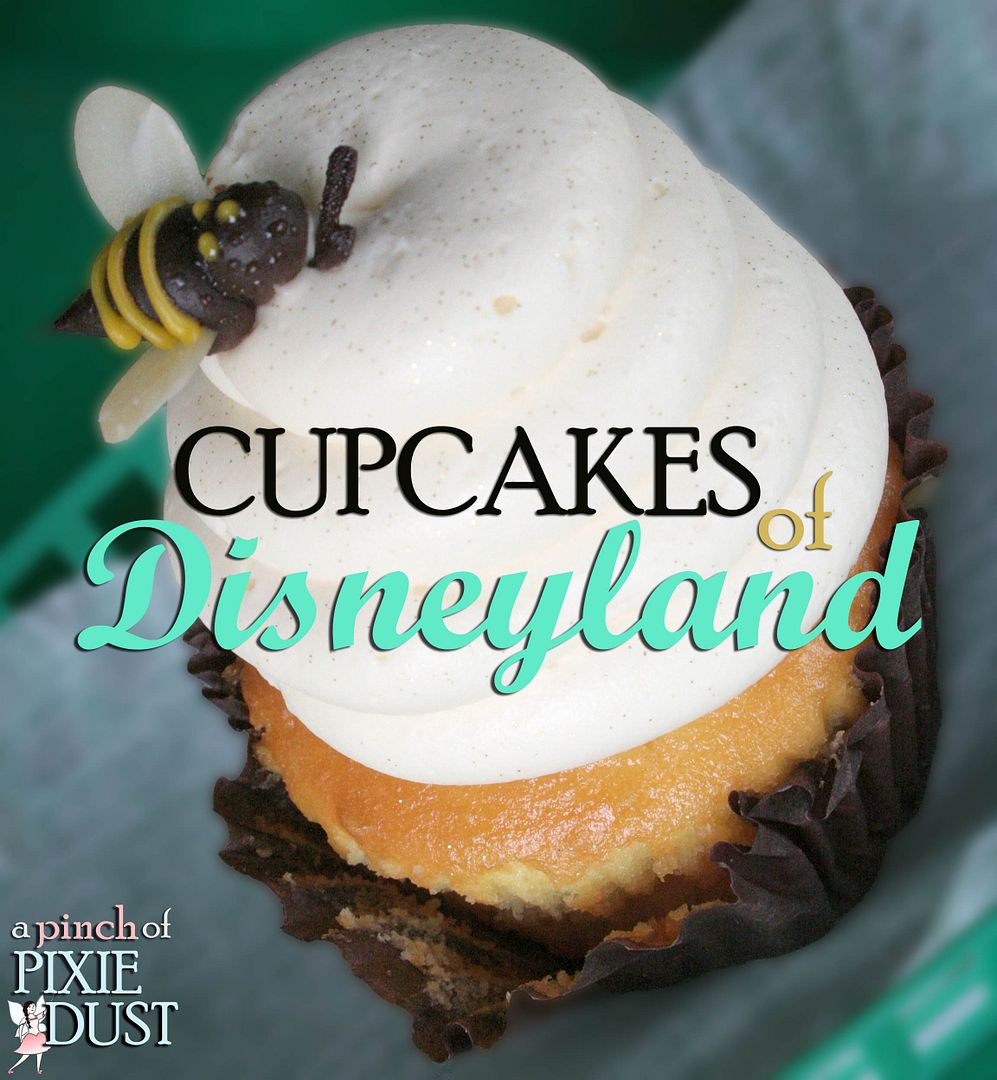 With all the blog fun I've had with
Disney World cupcakes
, you had to know this post was coming. ;) Let's begin at the park that started it all...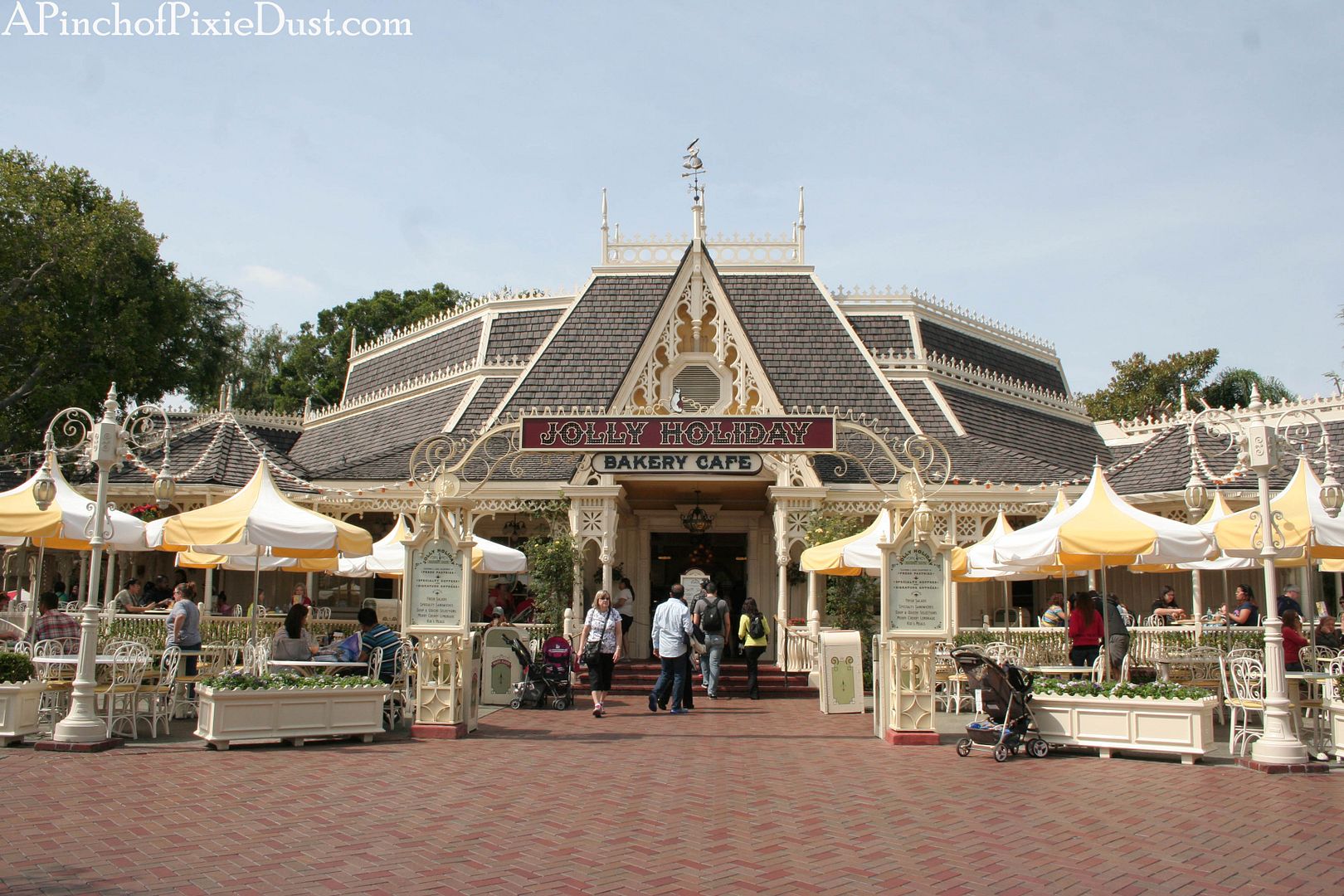 This is the
Jolly Holiday Bakery and Cafe
, located at the end of Main Street, just across from Sleeping Beauty Castle. It's my new favorite place. The Mary Poppins theming is adorable, and the bakery case looks divine...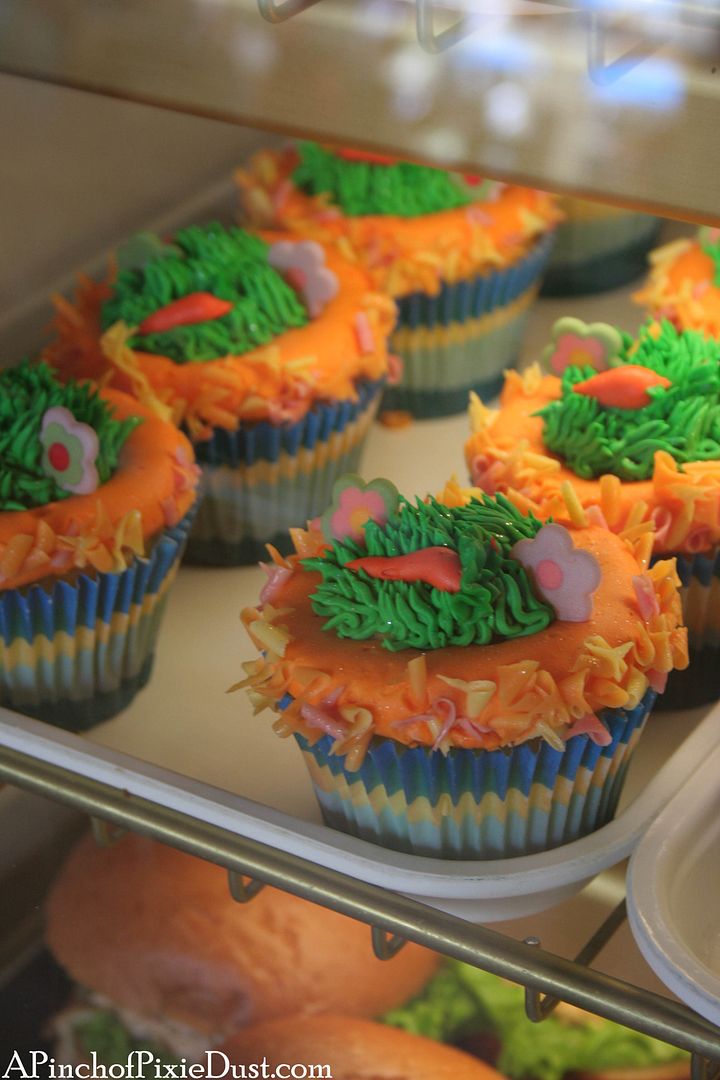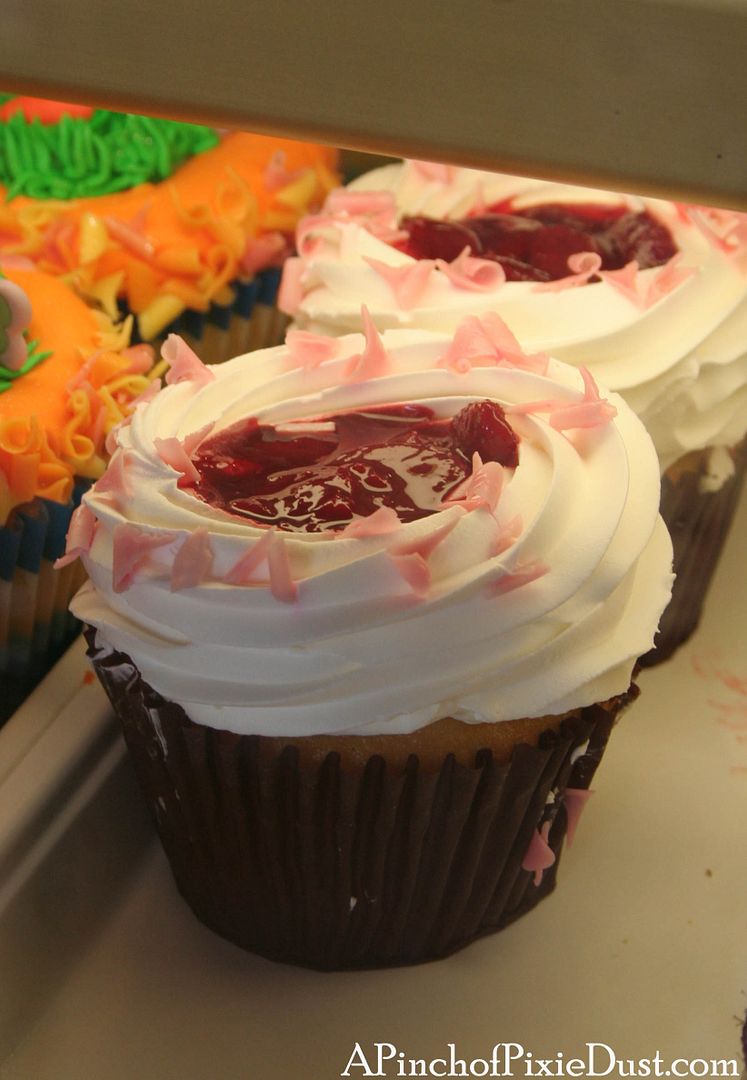 There are TWO lovely-looking cupcakes here. The cast member we asked seemed to think they were both lemon with lemon filling - although one had a springtime/Easter scene in icing while the other had a vanilla icing with strawberry topping in the middle.
Many Disney World bakeries have a few signature cupcakes which are available year-round as well as a few seasonal cupcakes, but it looks like all the cupcakes at the Jolly Holiday rotate with the seasons. Earlier in the year they had some
Mardi Gras cupcakes
and also this
chocolate raspberry mountain
of a cupcake. The Oh My Disney blog featured it as
one of the tallest desserts
at Disneyland (but didn't tell you where to find it!). I might have been tempted by chocolate raspberry, but I wasn't super excited about the lemon. I decided to go with a
Matterhorn Macaroon
instead...
Because if something is called a Matterhorn Macaroon, you just have to buy it. I'm not normally a fan of coconut, but I enjoyed it! And the sandwich and soup you can see behind were
incredible
.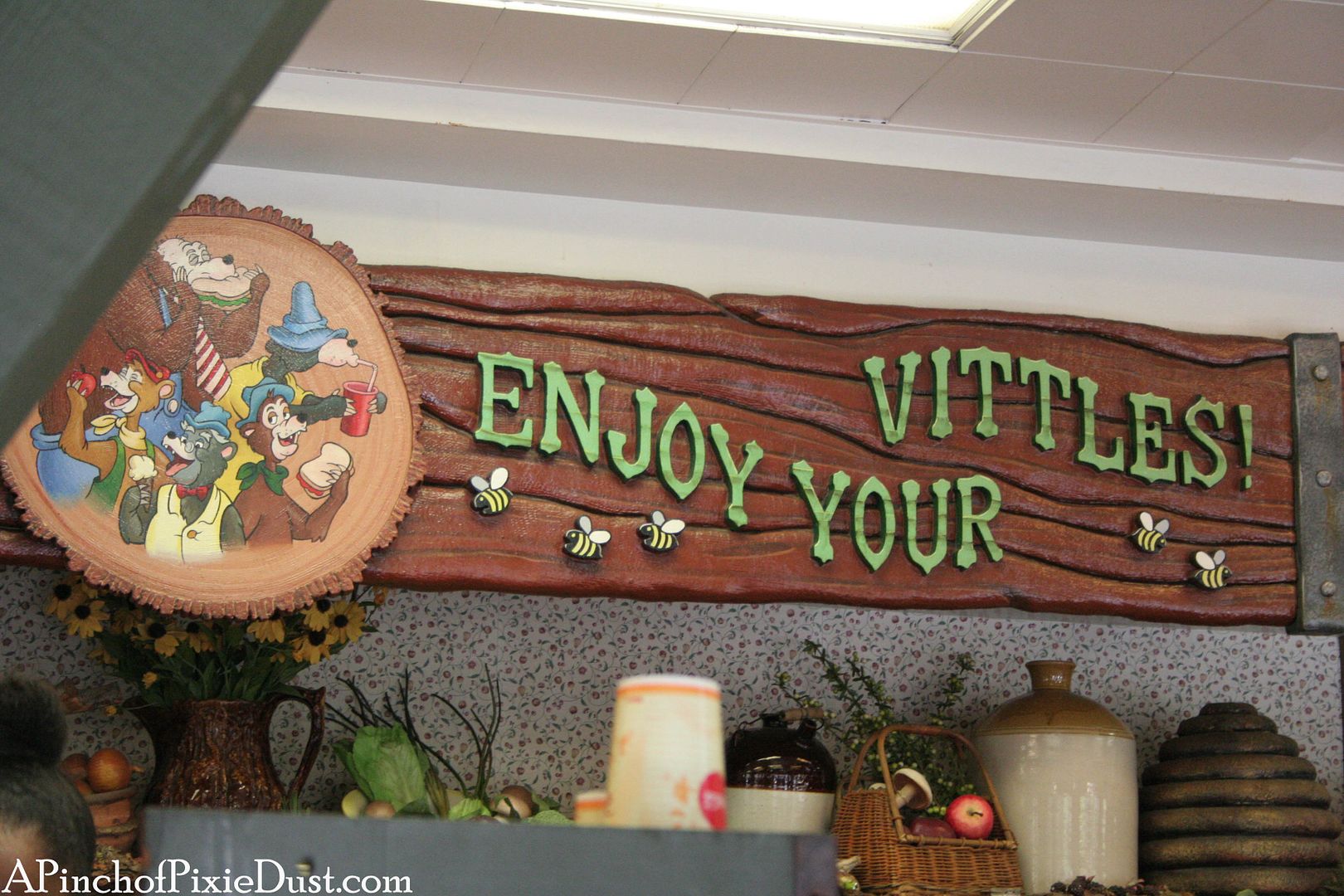 One cupcake that
does
seem to be consistently available at Disneyland can be found at the
Hungry Bear Restaurant
tucked back in Critter Country.
Headin' for the Hungry Bear!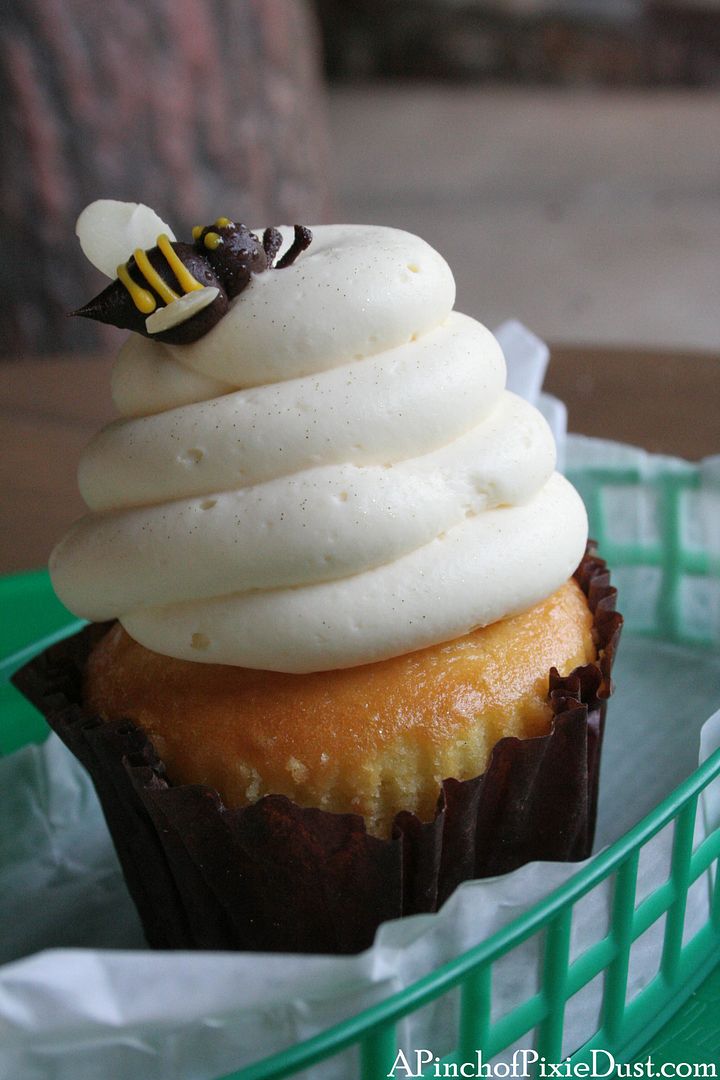 I had seen photos of this little guy on instagram and couldn't wait to try it - look at them all waiting in the fridge!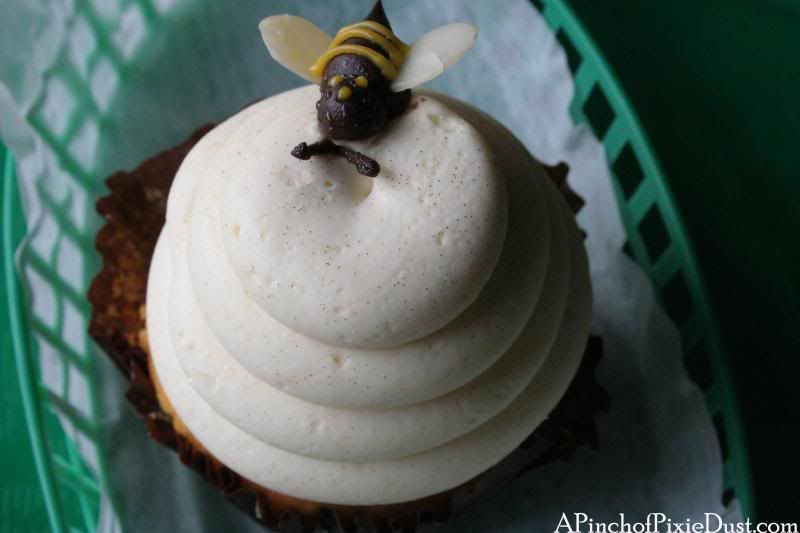 This is the
lemon bumblebee cupcake
! I
loved
the adorable chocolate bee on top, and the way the icing was flecked with shiny golden-honey-colored sparkles.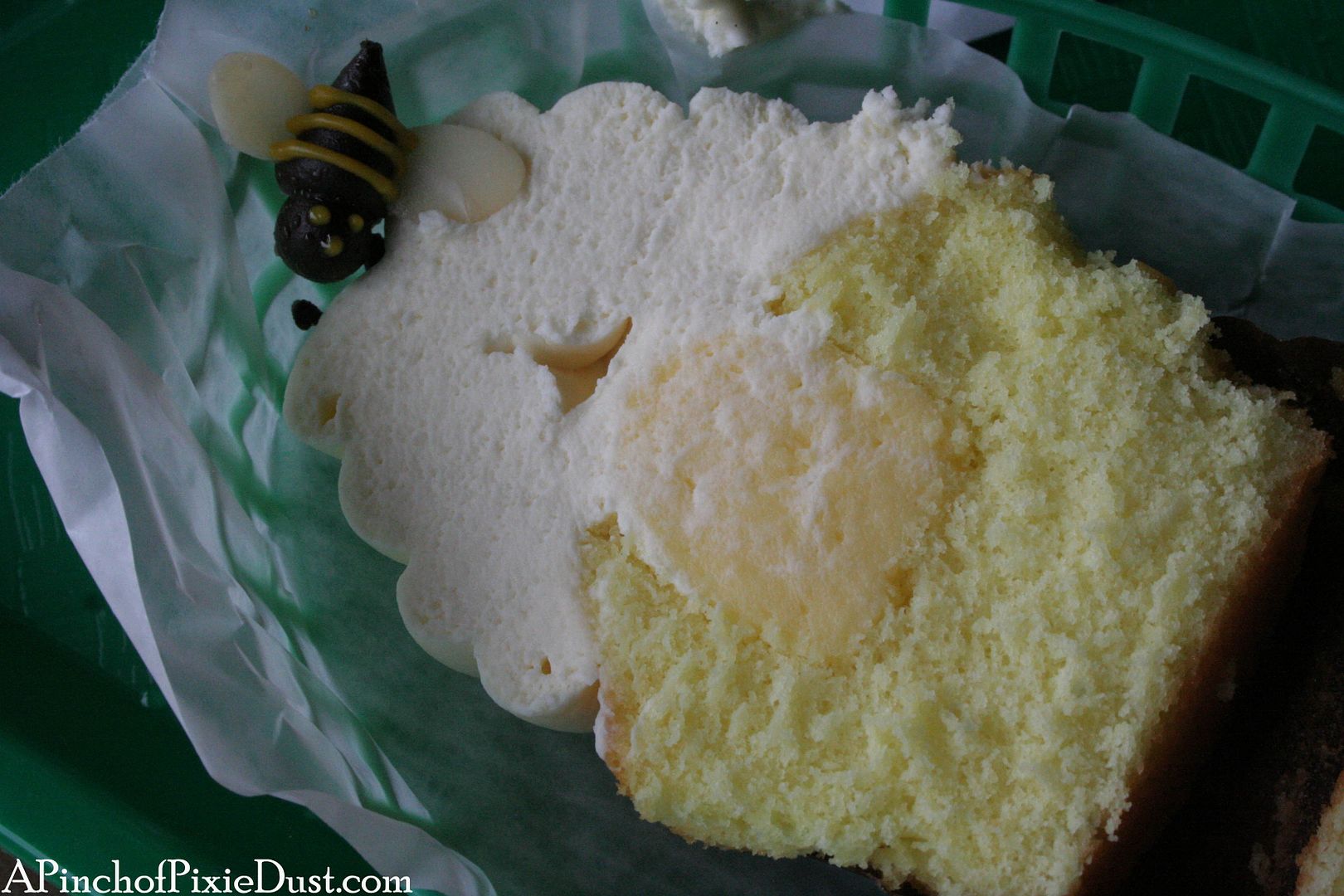 The cake is lemon as is the filling. The little bee is made of some very nice fudgy chocolate (I would've loved
more
of that chocolate in this cupcake actually). The icing is vanilla and so light and frothy and delicious. The lemon is certainly refreshing, especially on a warm day; but Mama Snob thought a
honey
cupcake might have made more sense to go with the bee and the bear restaurant - and have been more exciting!
Also can I just quickly mention the fried green tomato sandwich with sweet potato fries at the Hungry Bear? SO TASTY. It's so unique!
Other Disneyland Cupcakes:
We did not get to stop in the
Plaza Inn
, but they have a
red velvet cupcake
and some funky treasure chest cakes.
The
Candy Palace
on Main Street which has your quintessential Disney candy counter with fudge and candy apples - like the
Confectionery
- apparently sometimes carries cupcakes but not exciting ones (I'll explain in a minute).
The
Market House
(Disneyland's Starbucks location) did
not
have cupcakes, unlike its Disney World counterpart the
Main Street Bakery
.
DISNEY'S CALIFORNIA ADVENTURE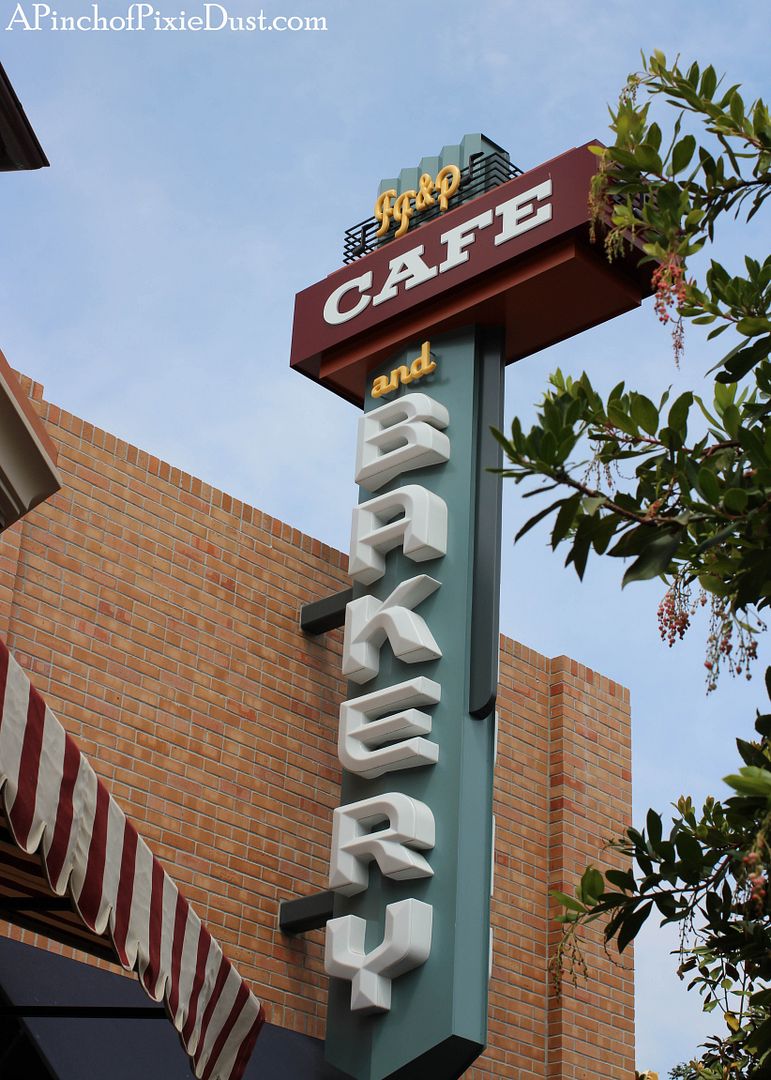 Signs like the sign on the left always stop me in my tracks. Our next cupcake stop is the
Fiddler, Fifer, and Practical Cafe
at Disney's California Adventure. This is DCA's Starbucks location, and it is such a beautiful space. There is this
huge
and gorgeous seating area - exactly the sort of thing the Main Street Bakery at the Magic Kingdom needs. Sigh...ANYway...
Fiddler, Fifer, and Practical had, amongst its Starbucks "boulange" treats, a very cute Easter cupcake - almost identical to the one at the Jolly Holiday, only it has a bunny on top! And you may notice the
cinnamon roll
photobombing...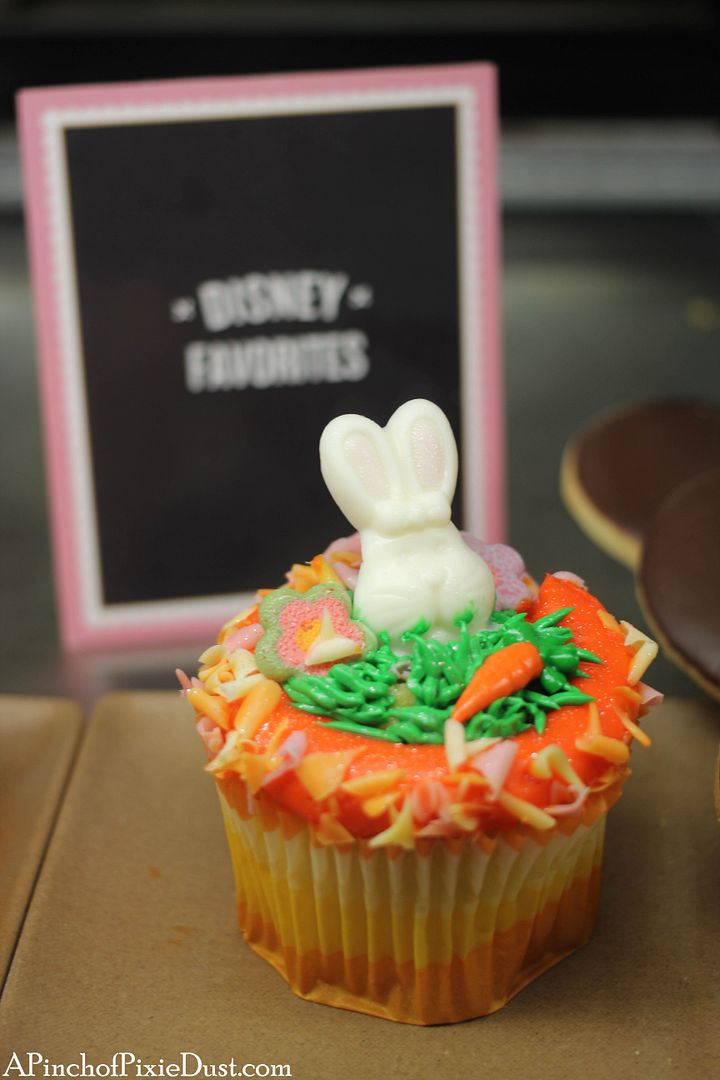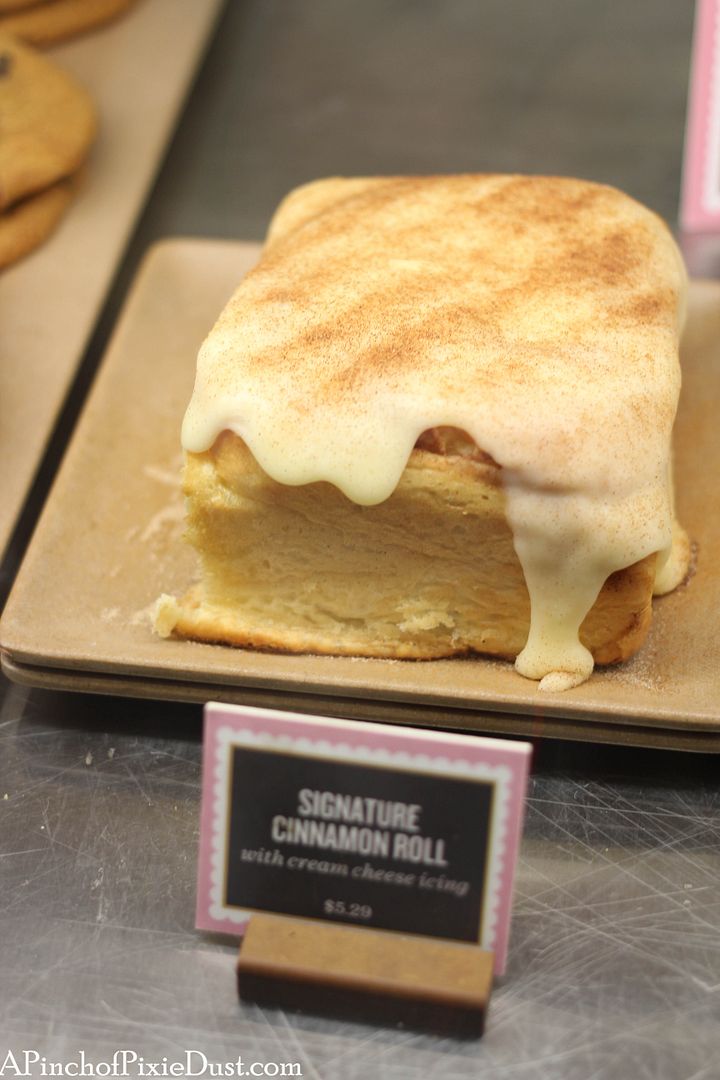 I wish I had gotten to try it, although it doesn't look as delicious when it isn't under a heat lamp sitting in a pool of icing.
We have one more stop at DCA:
Trolley Treats
! Isn't that just the cutest name? It's right around the corner from the Fiddler, Fife, and Practical, and it has a darling trolley train layout in the window.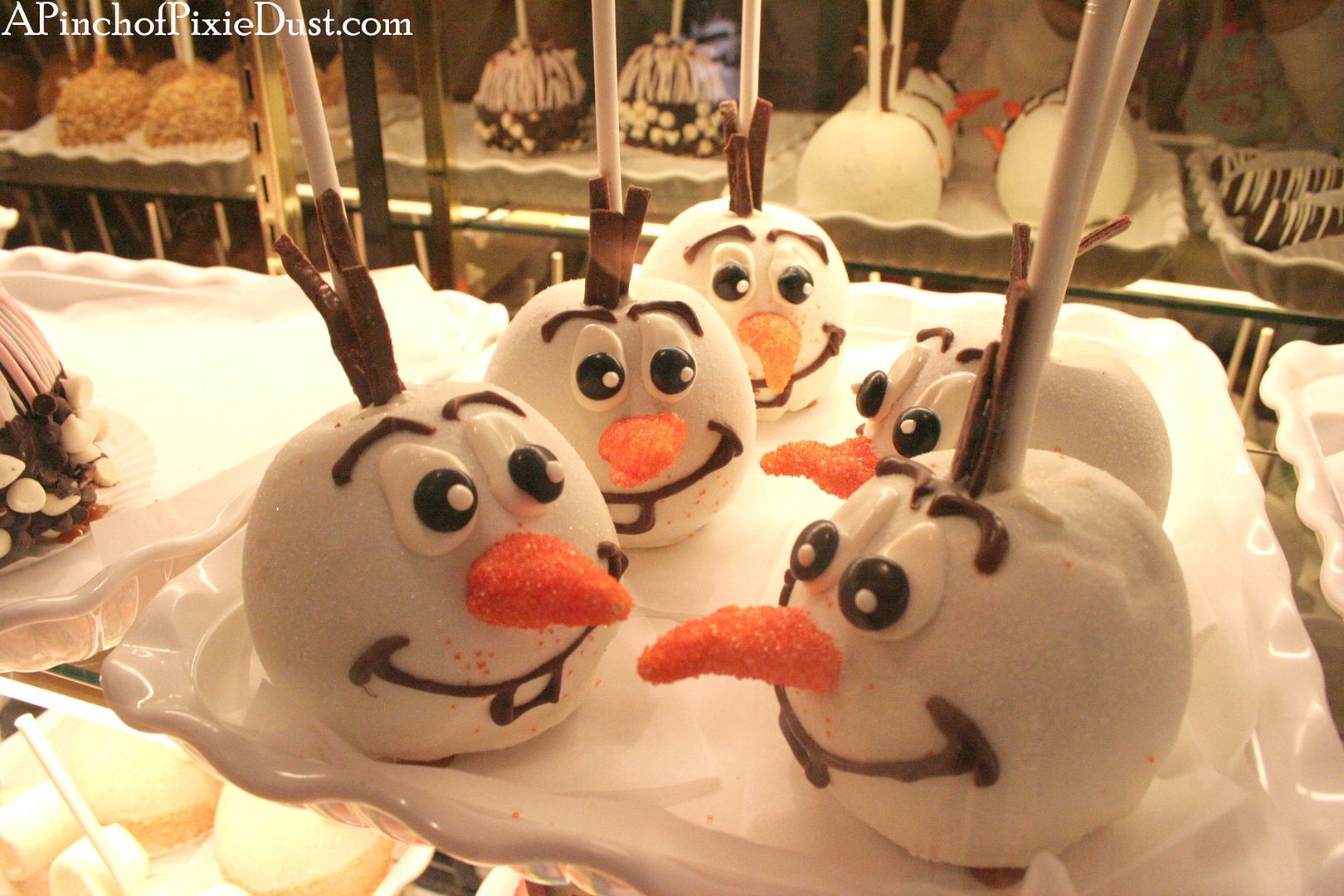 This
is the sort-of candy counter I was talking about with Candy Palace. You'll find them all over Disney World and Disneyland, and they have similar cheerful, fun selections: chocolate-covered marshmellows, rice krispie treats, pretzels, and fruit...cake pops, outrageously decorated candy apples like our friend
Olaf
above.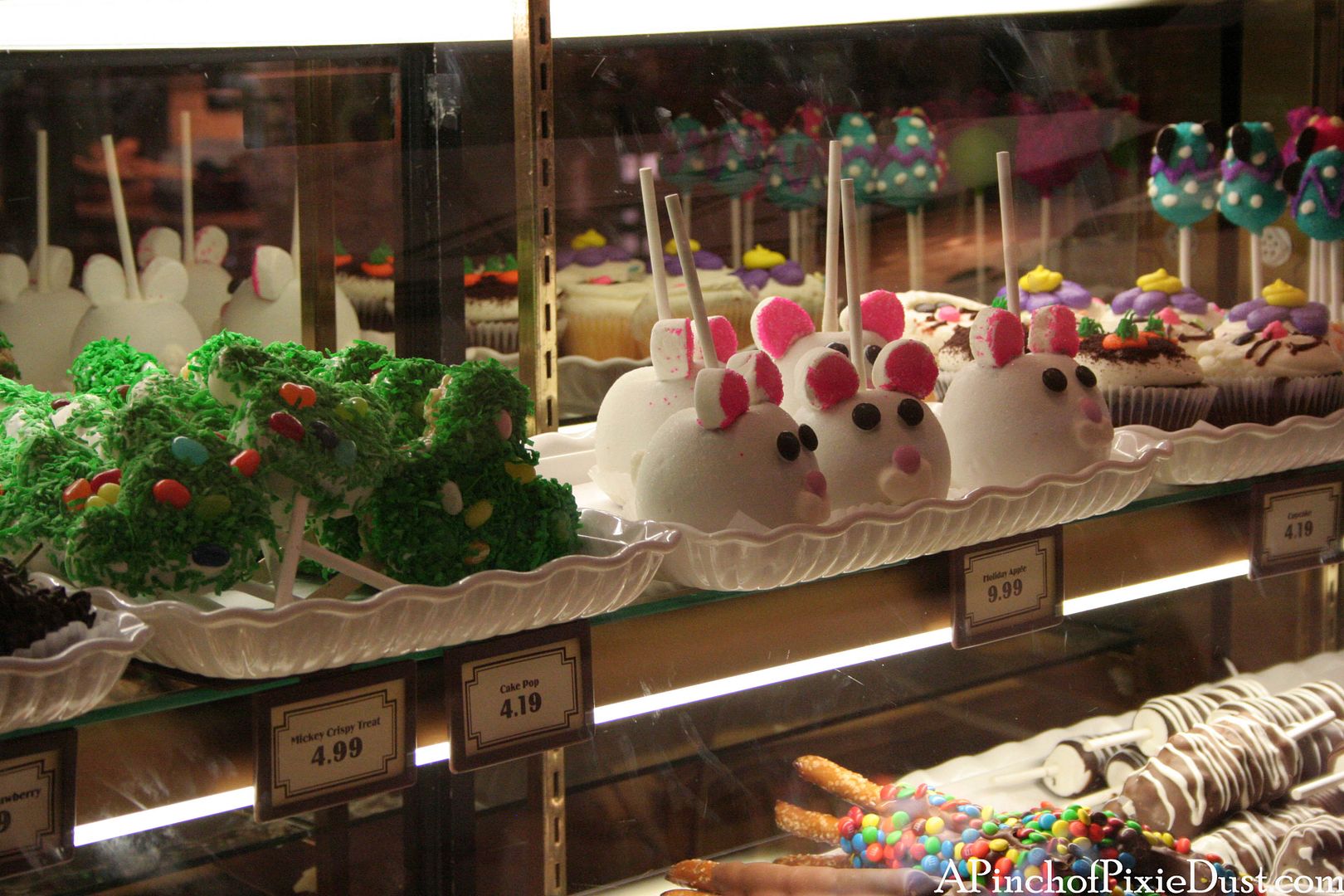 And if you look just down the case there, you'll see some cupcakes!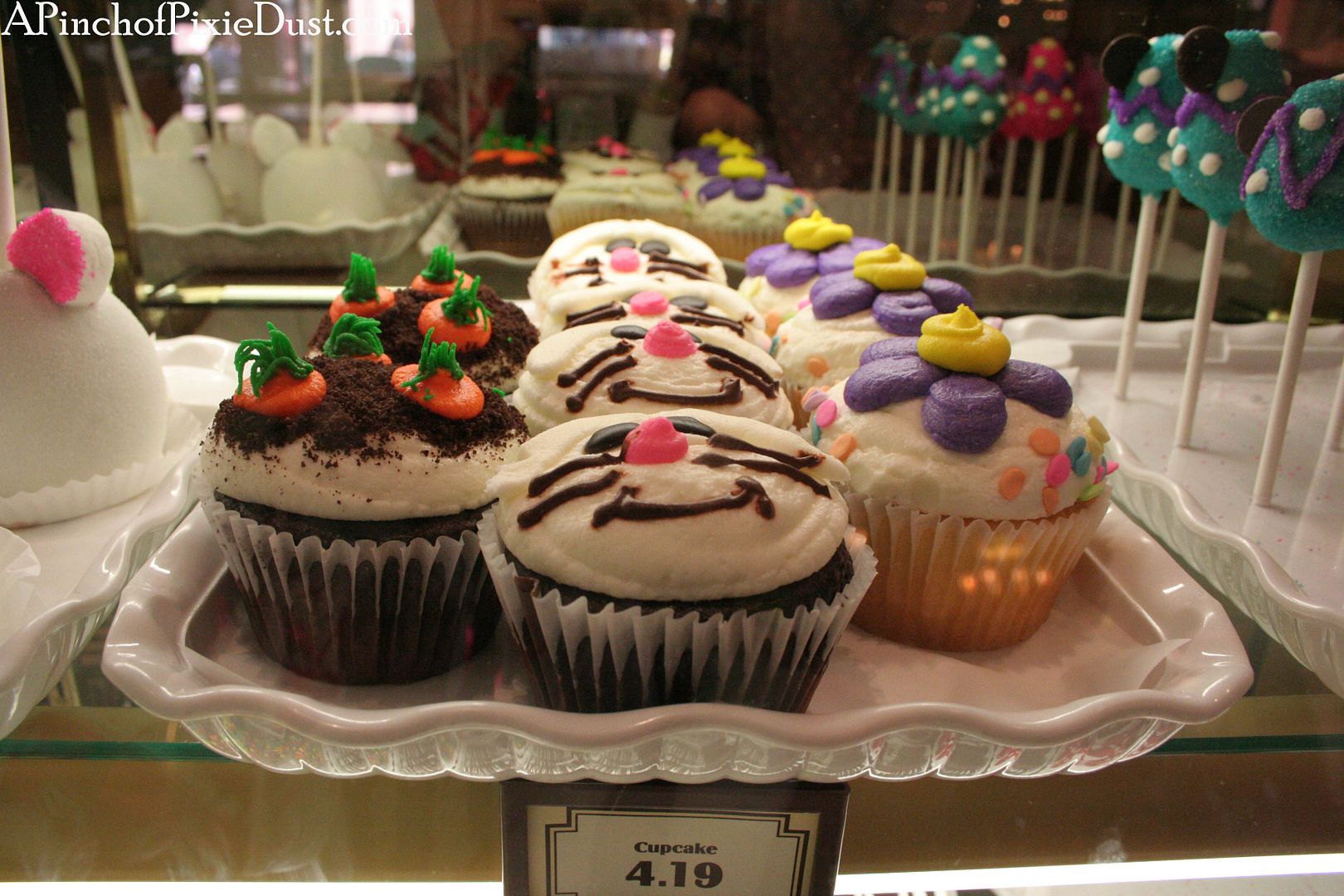 LOVE the Easter designs - a carrot patch, a bunny, and a flower! Disney cupcakes are always good for design inspiration. ;)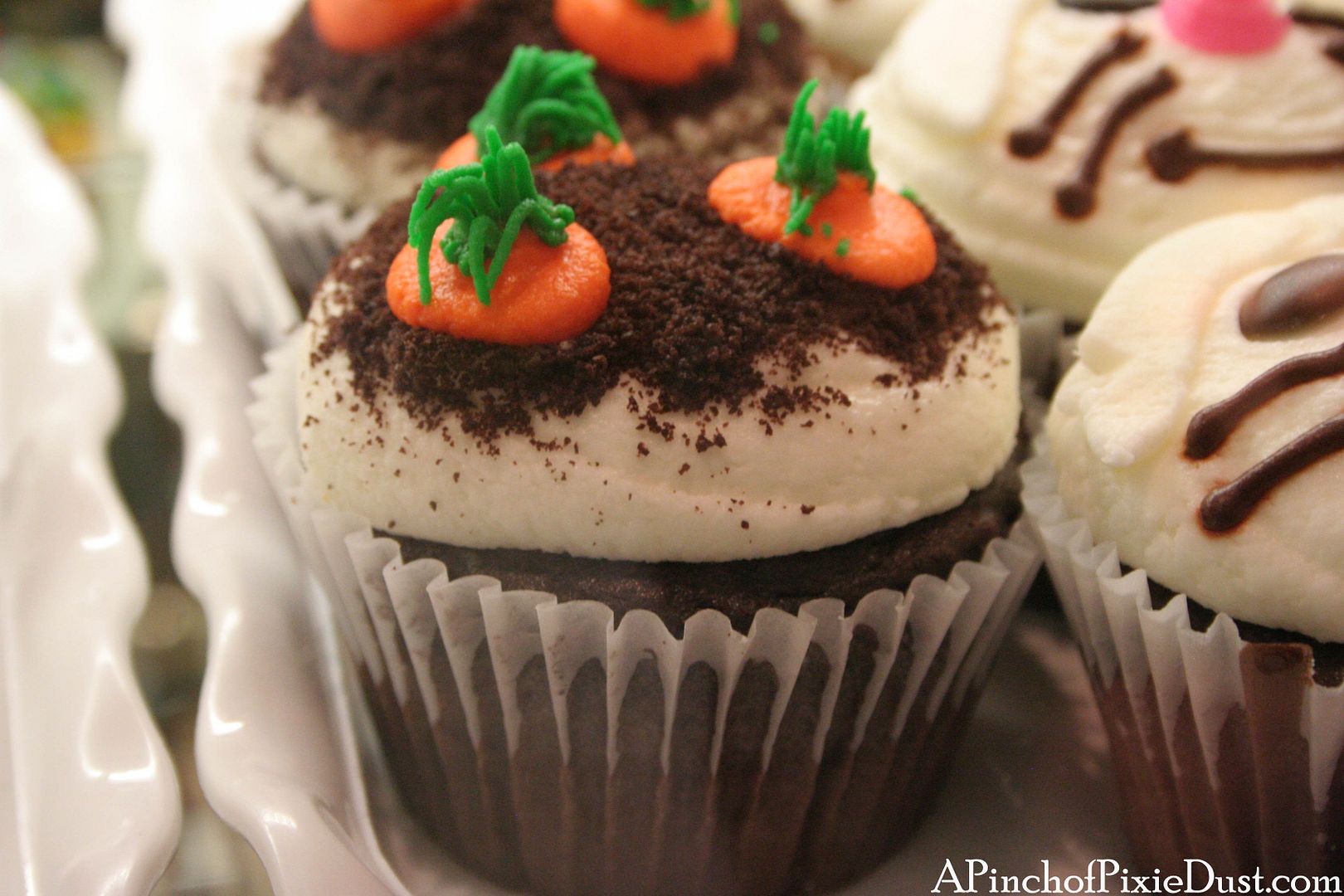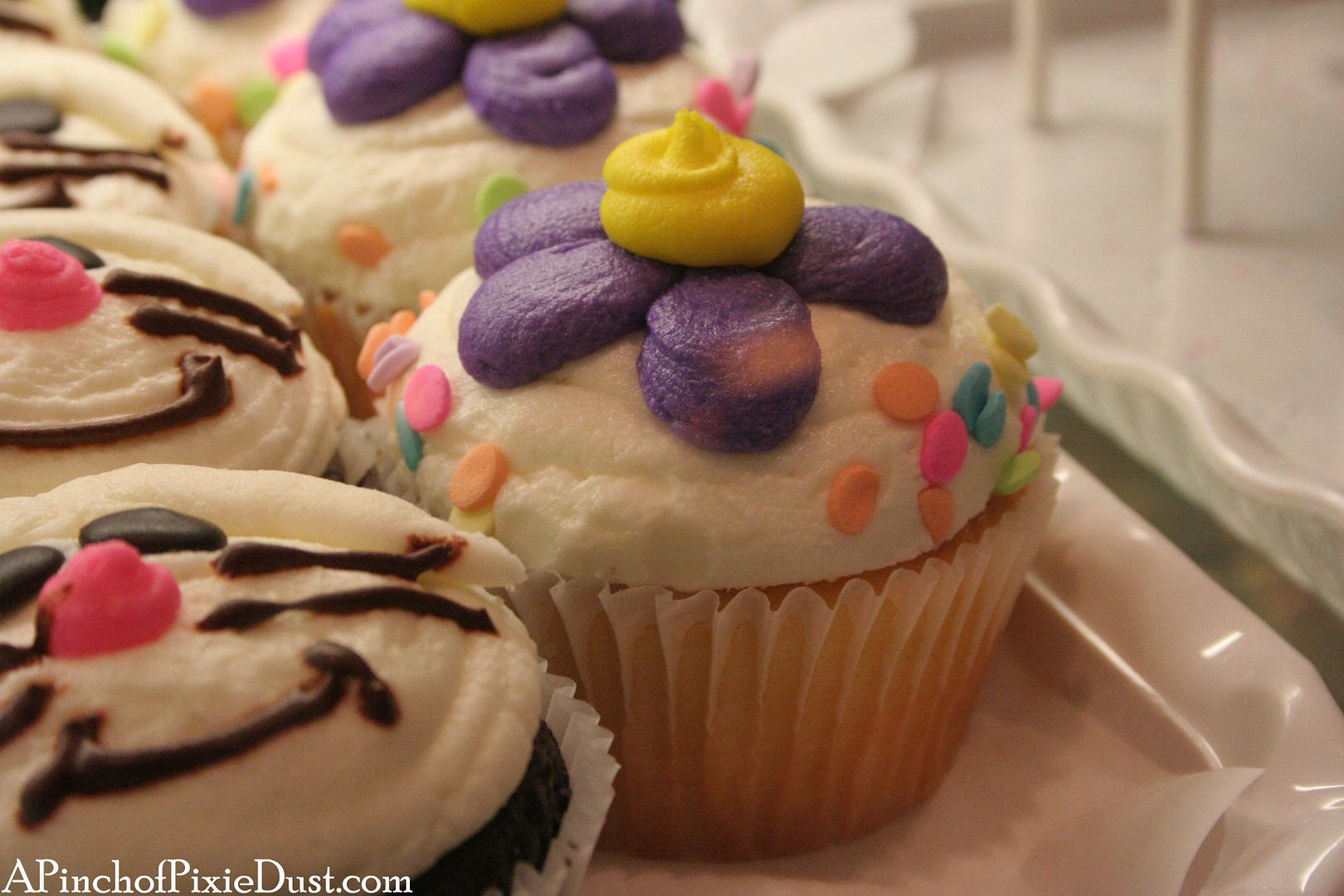 Adorable as these cupcakes are, I decided to wait for a better sweet treat. Candy counter cupcakes at Disney, in my experience, just aren't in the same category as the more deluxe cupcakes. They taste like they might have been frozen, the flavors are just regular old chocolate and vanilla, and you'll find the exact same ones all over property.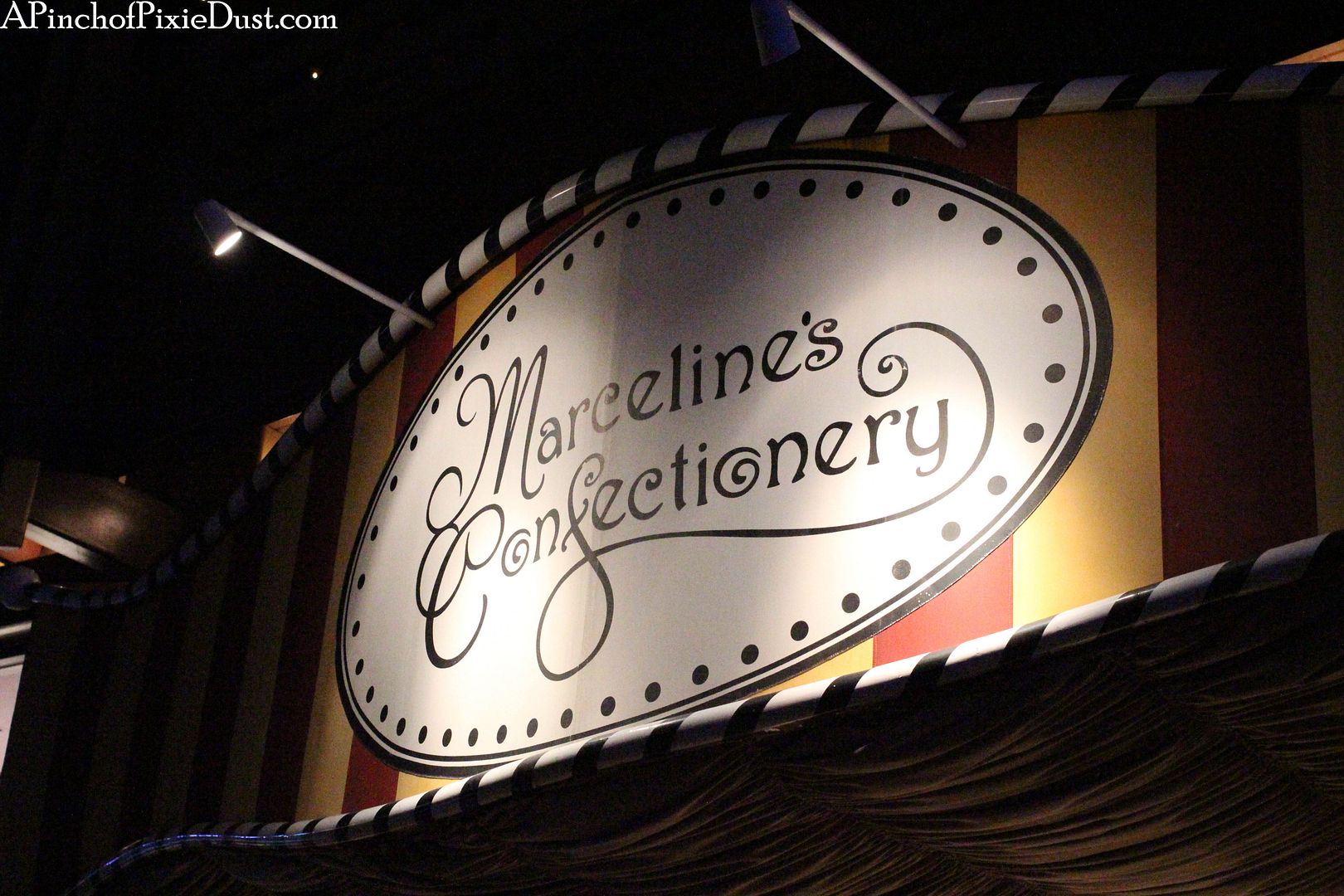 At
Marceline's Confectionery
in Downtown Disney, for instance, I saw the
exact
same three cupcakes as the ones at Trolley Treats. I don't know why the fact that they're omnipresent makes them seem less delicious, but somehow it does. ;)
One last cupcake spot to mention that I didn't get to try: an outside chain called
The Cupcake Store
has a
kiosk
in Downtown Disney. We only walked by it early in the morning and late at night, when it didn't seem to be open.
If I've left out anything, hopefully Disneyland aficianados out there will let me know! These are the treats I saw during our trip and have heard of online. It was only a two-day visit, which wasn't much time for research. ;) To be honest, cupcakes seem to be a much bigger thing at Walt Disney World. Disneyland certainly has its dessert stars as well, they just seem to come in different forms!