We're going to go shopping on A Pinch of Pixie Dust this afternoon. No, not
Minnie Mouse
and Disney shopping (that was yesterday) - BRITISH SHOPPING.
I was spoiled when I studied abroad in Dublin for a year, and I could pick the stores over and wait for things to go on sale. Now I miss Marks and Spencer with its amazing food halls, Cath Kidston with its pretty patterns, Top Shop with its crazy fashions, even the ordinary grocery store chains like TESCO...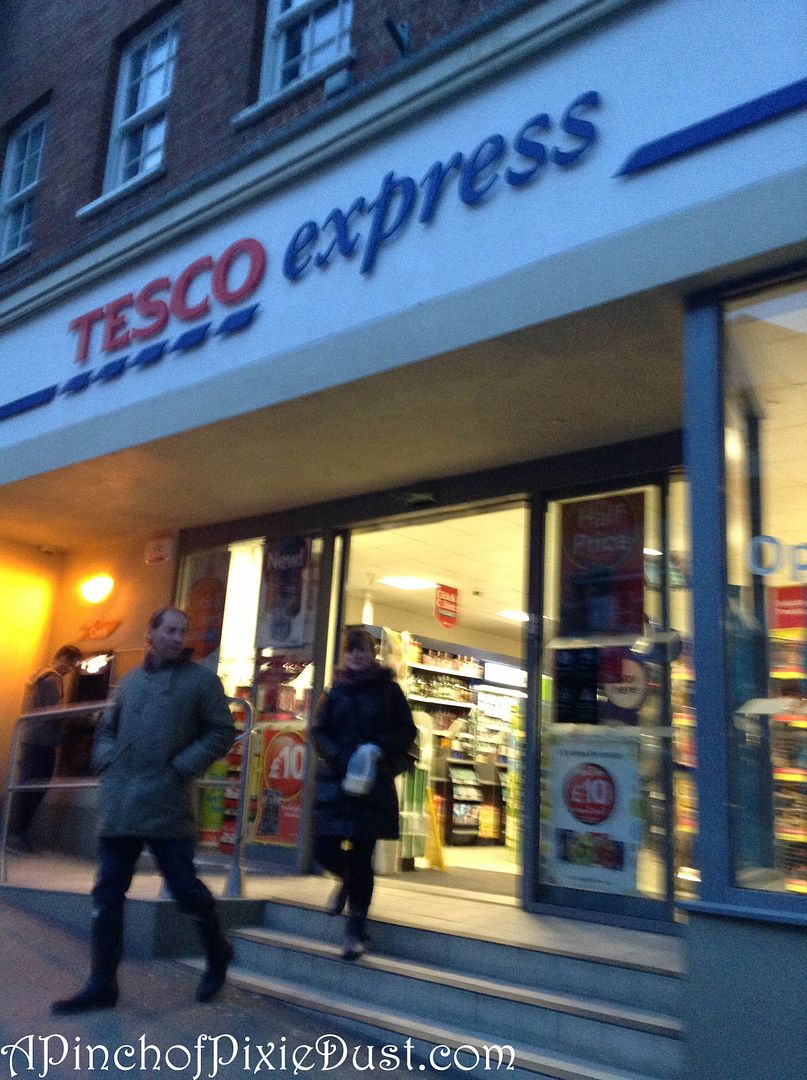 My
return to Tesco
last March was an emotional experience. As soon as I saw those rows of beautiful British treats and chocolates I just couldn't hold it in. ;) That was just a brief visit to get some snacks for dinner, but during the next morning in
Lyme Regis
, I was excited to do some exploring and browsing!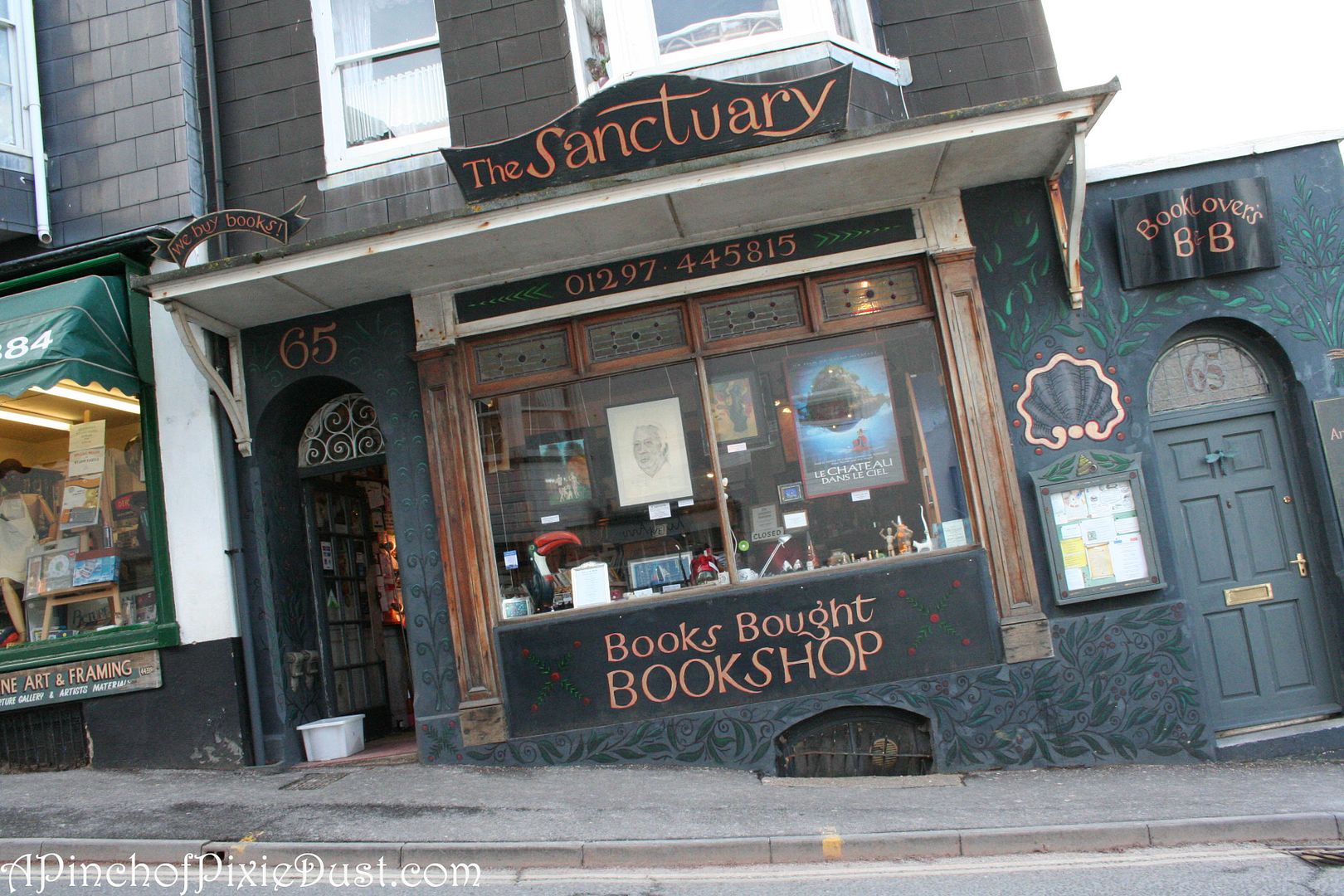 In the
last Europe update
, I wrote about the utterly charming Sanctuary Booklover's B&B located above a bookshop where I was staying.
Old books are just so pretty, don't you think? There were plenty of books in my room, but naturally I had to stop in the bookstore for some browsing too!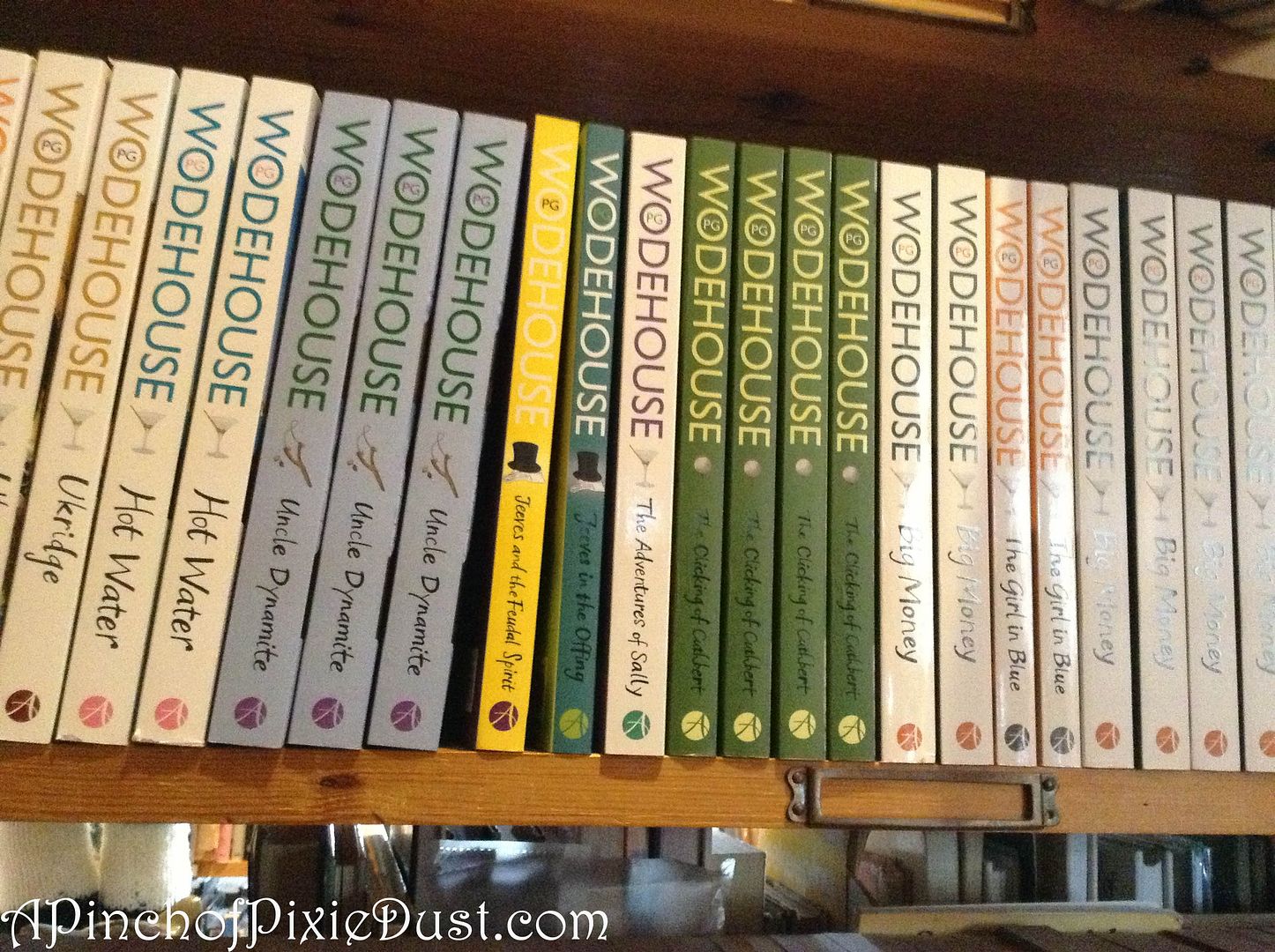 S
o many
P.G. Wodehouse
books. I adore Wodehouse.
Almost
as much as I love
Jane Austen
. Which is really saying something. I just stood grinning in front of those shelves for a good five minutes, trying to decide which one to get to read on the train. I was very tempted to go for my much beloved
PSmith
, but I decided to try something new and settled on
Much Obliged, Jeeves
which, as P.G. would say, was rich and fruity and brilliant. :)
Shall we have a nose about some of the other shops too? Everywhere I looked I found charming storefronts with a mix-match of antiques, fashions, decor, and china...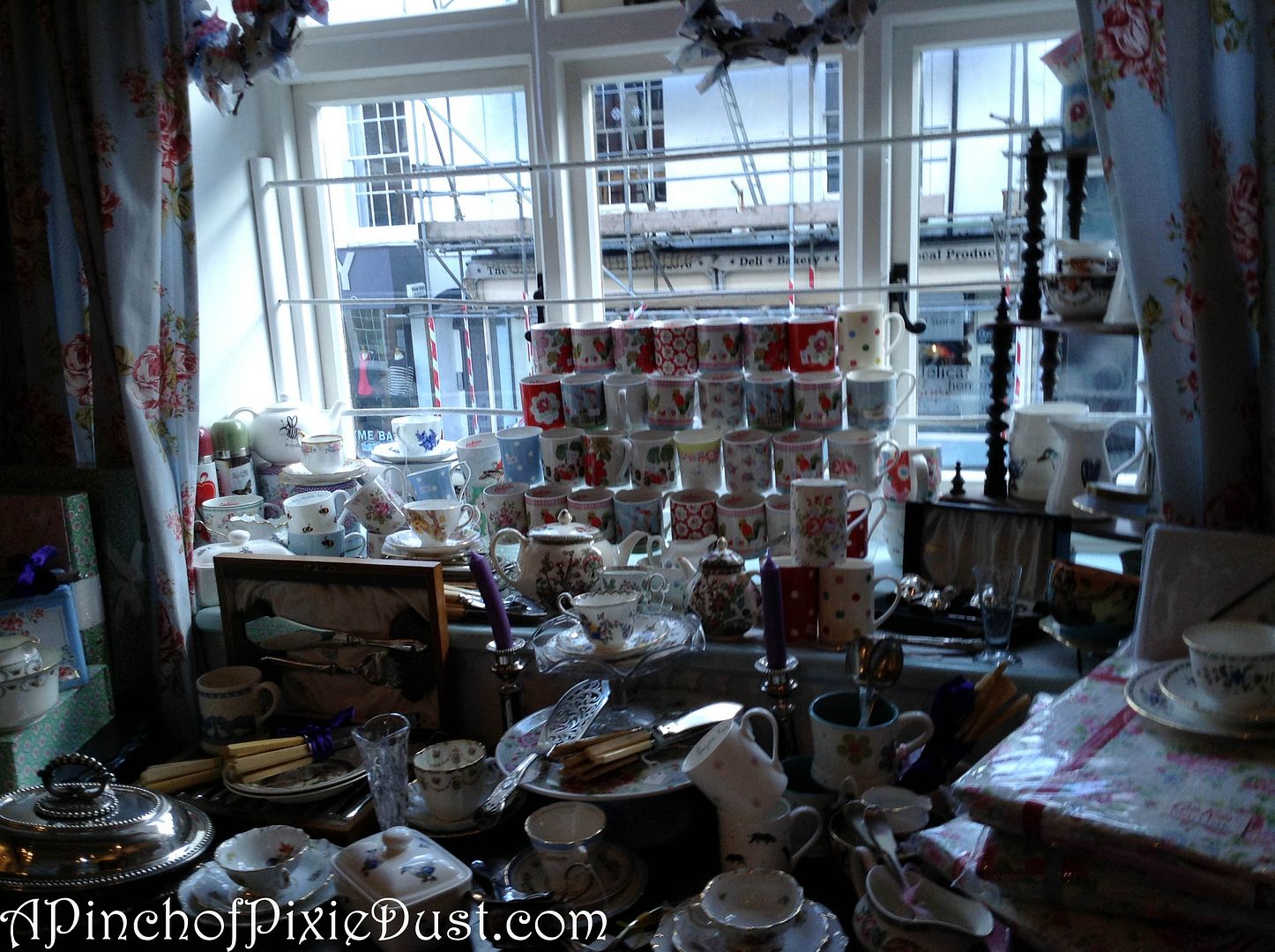 This store had Cath Kidston mugs as well as...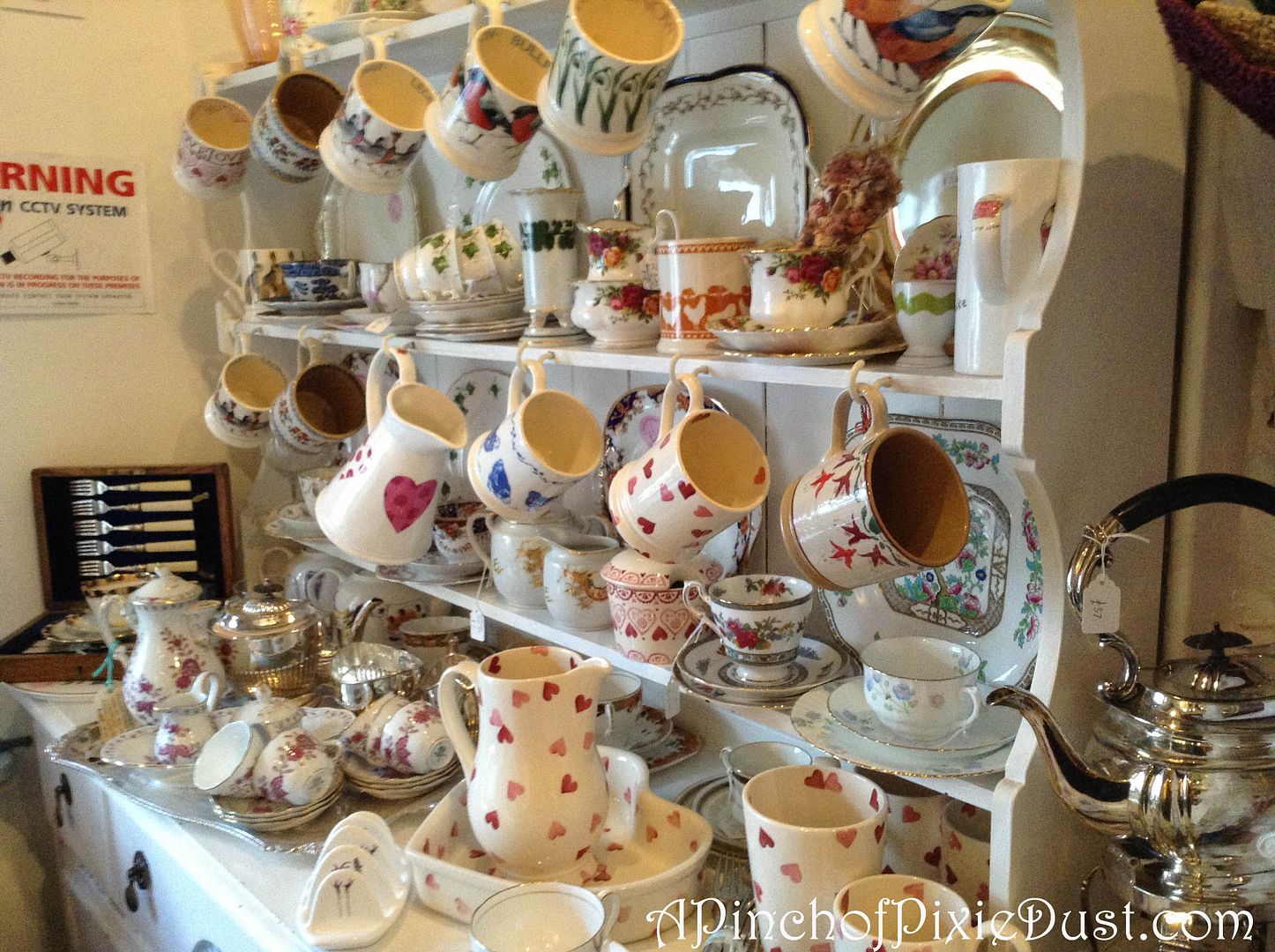 Emma. Bridgewater. I was in heaven.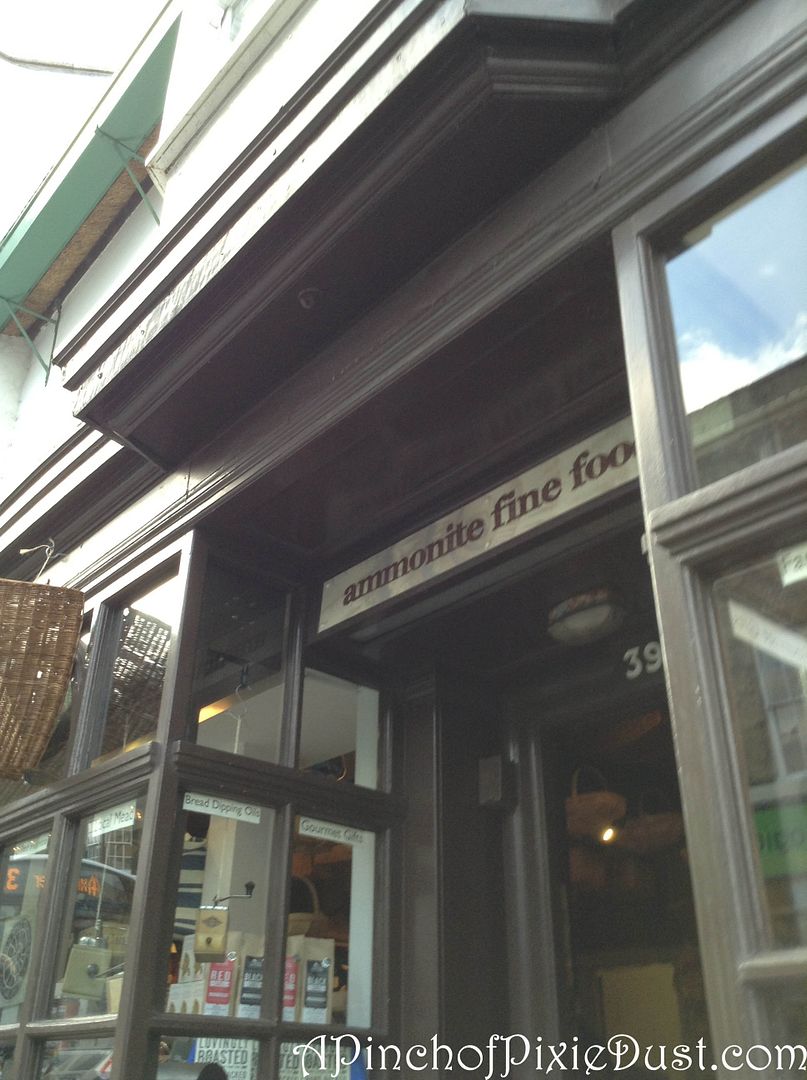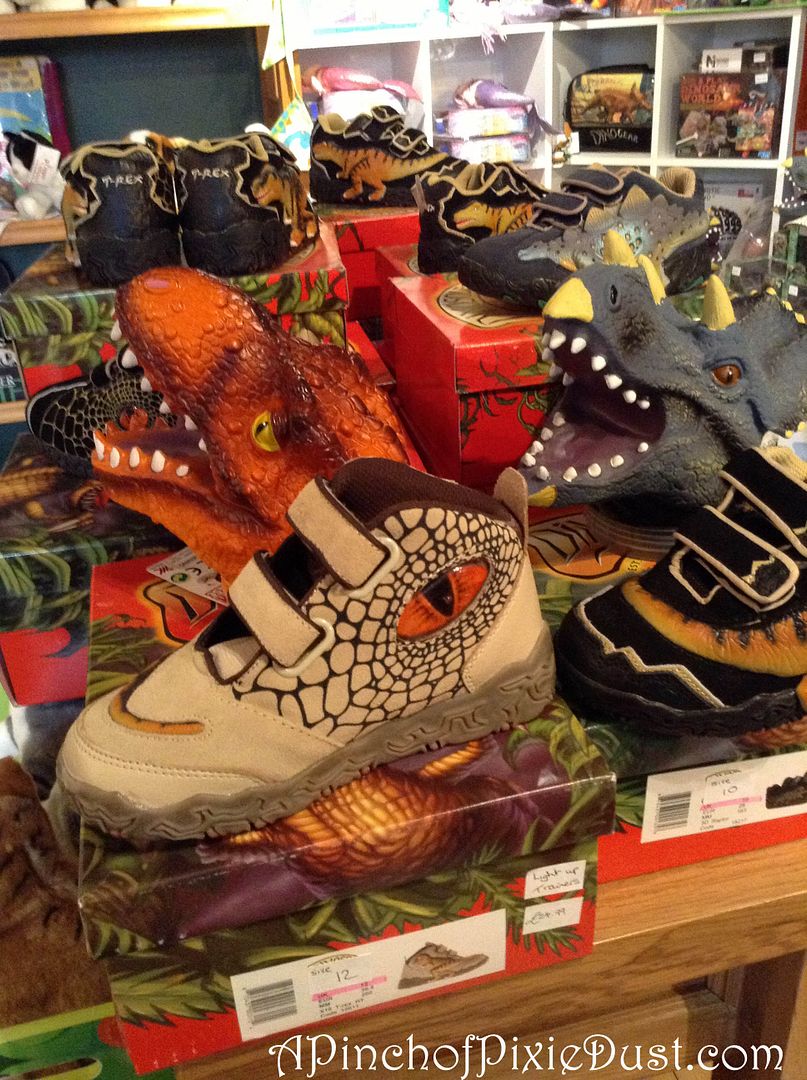 Lyme Regis is famous for its fossils, and there were lots of references in the store names (Ammonite Find Foods!) and in the merchandise. Just look at those dino shoes. I bet my brother
Athos
would like a pair of those.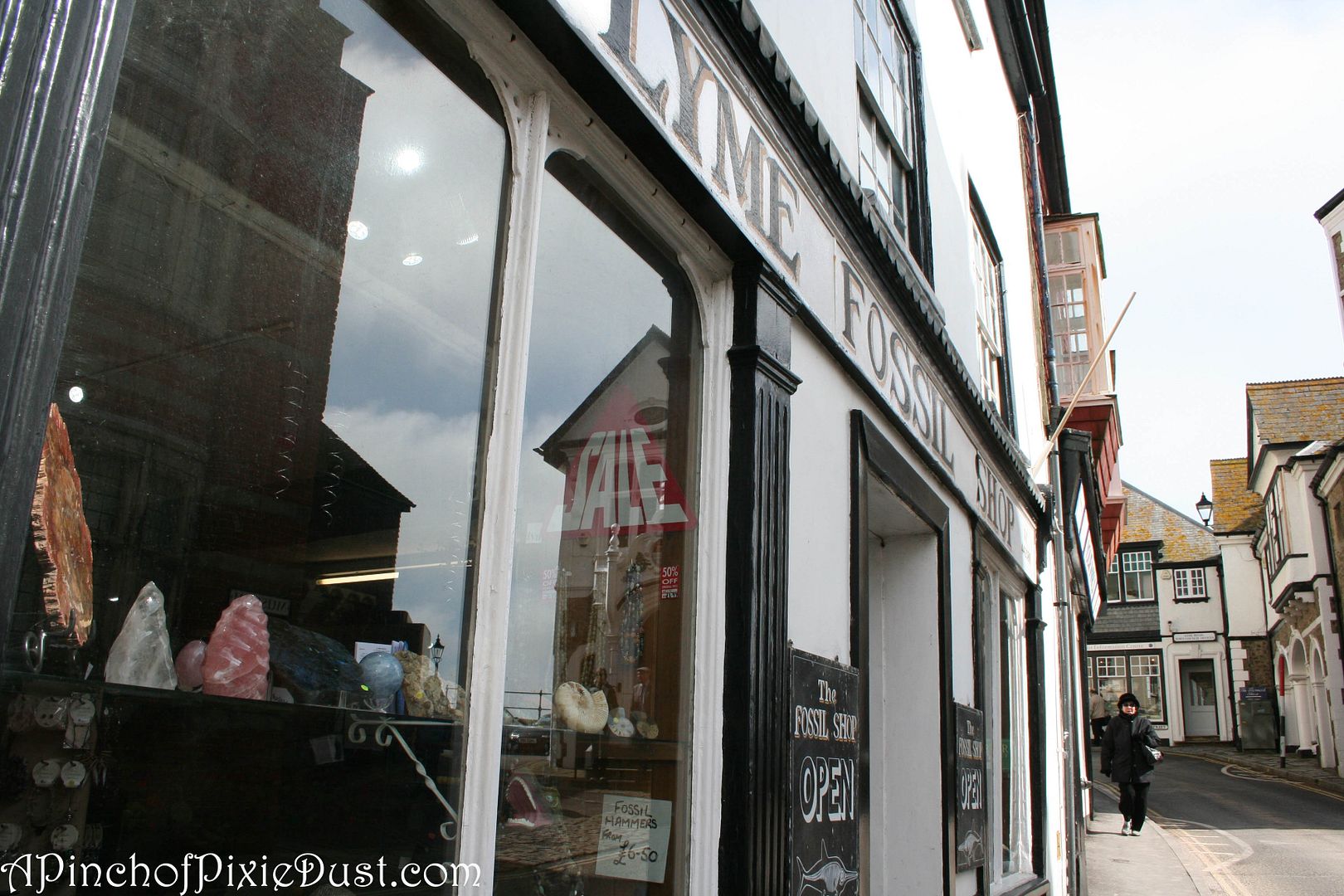 Someday I'll have to come back here with Athos, because he would go crazy over all the dinosaurs and fossil shops.
These stores are half retail and half museum with their huge bones! I found a nice little prehistoric fish skeleton to bring back for Athos. :)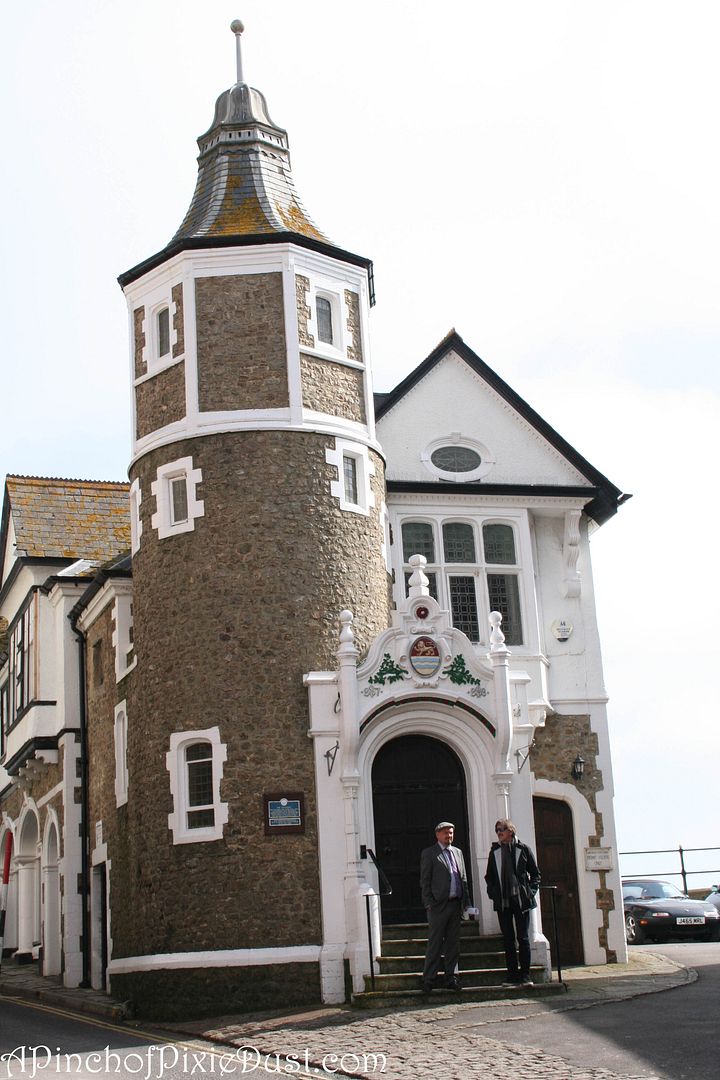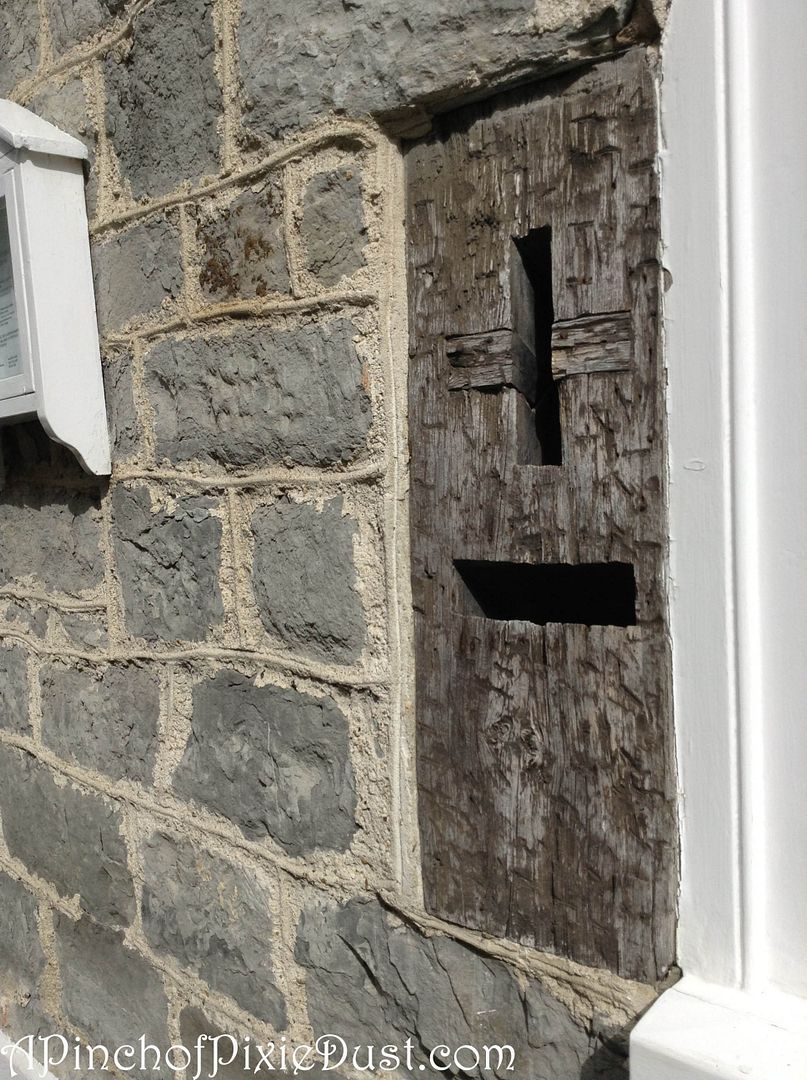 Half of the fun of looking for shops in looking around the town and taking in all the interesting streets and buildings and alleys. I loved that tower in the photo on the left. I also came across the old post office with its ancient wooden letterbox (on the right). Jane Austen posted letters from that very box. Seriously.
Smuggler's Way: Private!
So many of the houses in Lyme are painted such charming colors! And the view of the rooftops stairstepping up the hill is lovely too.
Near the old Town Mill were artisan shops and galleries. The unique, local stores are the best for browsing - you never know what you're going to find, but it certainly won't be the run-of-the-mill touristy gadgets.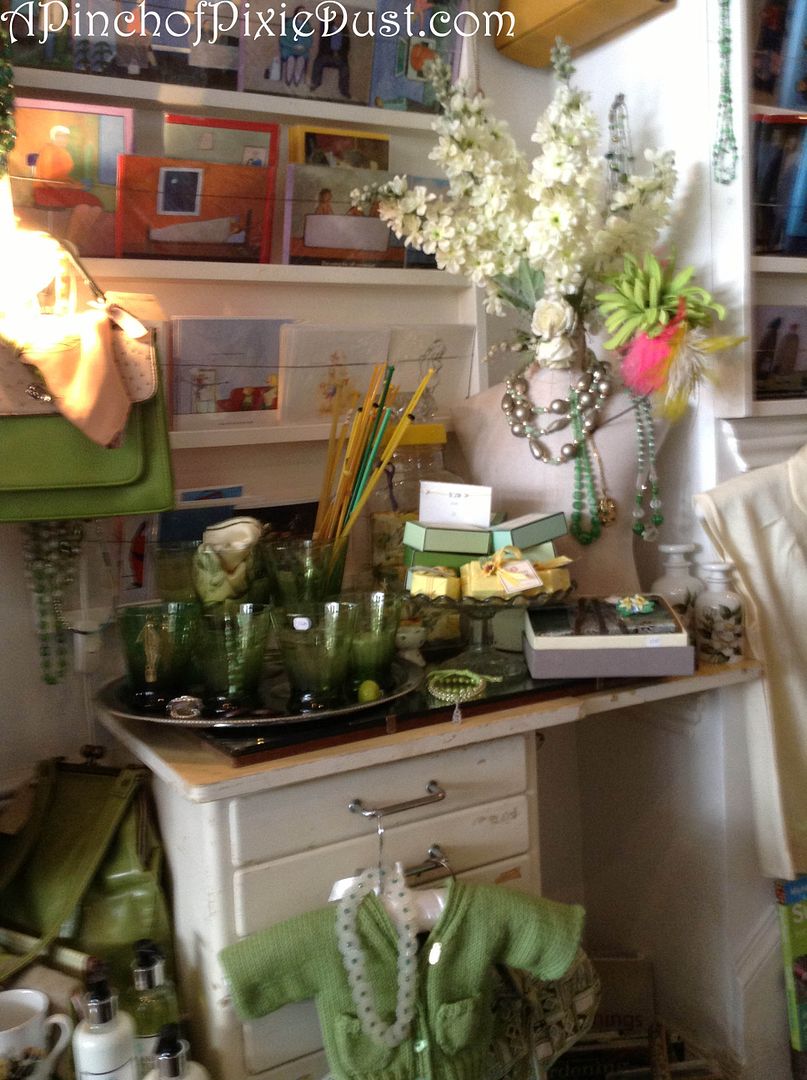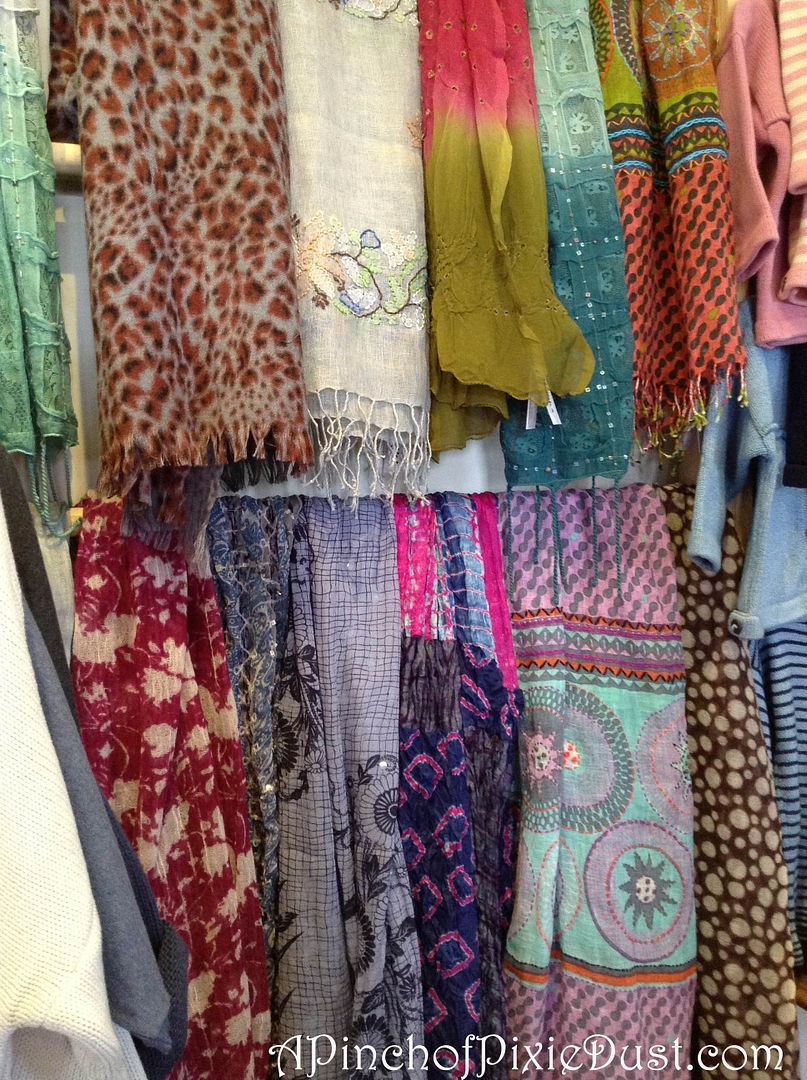 There was plenty of eye candy - in one of the antique stores, all the merchandise was artfully grouped by color - the spring green goblets and bags and boxes looked perfect for the coming springtime. There was still a nip in the air, however, so I was eagerly eyeing the many, many scarves I saw. I eventually found a pink one on sale at a specialty knitwear shop called Hilary Highet. I could only admire the more expensive knit fashions - not just sweaters but lovely, swirly skirts too. Someday I'll have to save up and come back to Lyme to get one!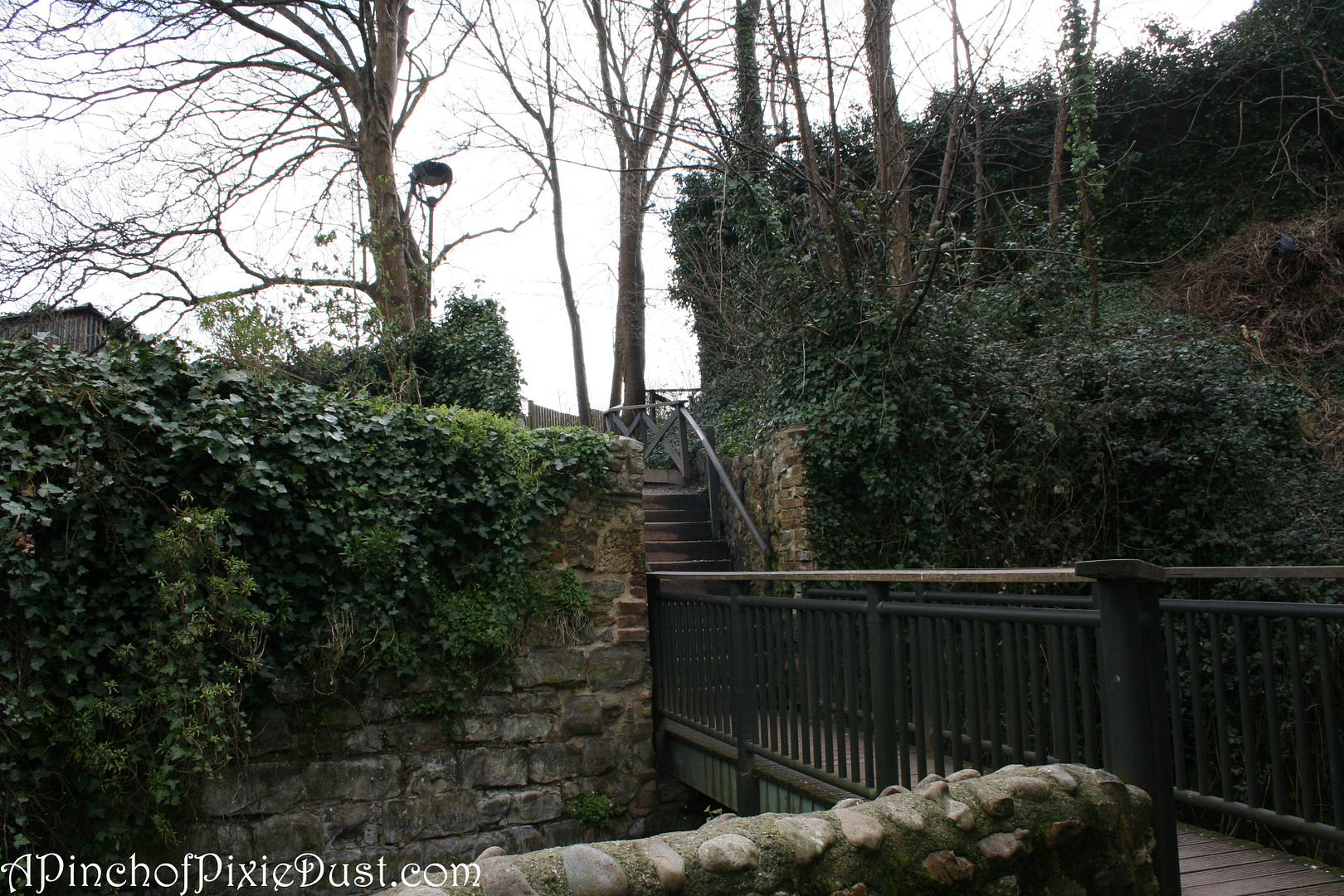 Of course it's not just the merchandise that makes British shopping so much fun. It's the wandering around a pretty new place and discovering all the local spots, the hidden pathways, the twists and turns formed by centuries of shoppers and travelers who have come to Lyme.
There'll be more England exploring to come next Thursday! :)