There seems to be a lot of NEW going on at Walt Disney World these days - the
MagicBands
and Fastpass+, the new Festival of Fantasy parade at the Magic Kingdom, new villas at the
Grand Floridian
and (soon) the Polynesian, even
New Fantasyland
still feels pretty new...the list goes on and on!
It's pretty deviously ingenious of Disney, of course, because it makes you want to come back, and it always gives you something different to discover. My Grandma was visiting my brother in Florida this March, and just a few weeks ago we went down briefly to see her and show her around. I didn't try to do any live tweeting or updates, and it was nice to just enjoy it - but I did get plenty of photos and videos to share!
One of my favorite things to see was the progress being made on the new Seven Dwarfs Mine Train ride. There was such a cool view of it from the Barnstormer - just look at all those trees and greenery covering that hill! This ride is really starting to look exciting. What is it about mountains and roller coasters and Disney that makes such a magical combination?
The pines and grasses now cresting the dwarfs' hill make such a visual difference to how it looked just a few months ago, covered with tarps. The above photo was taken near the Tea Cups (that's what the lantern is from!). I'm guessing that roof is going to be the ride entrance?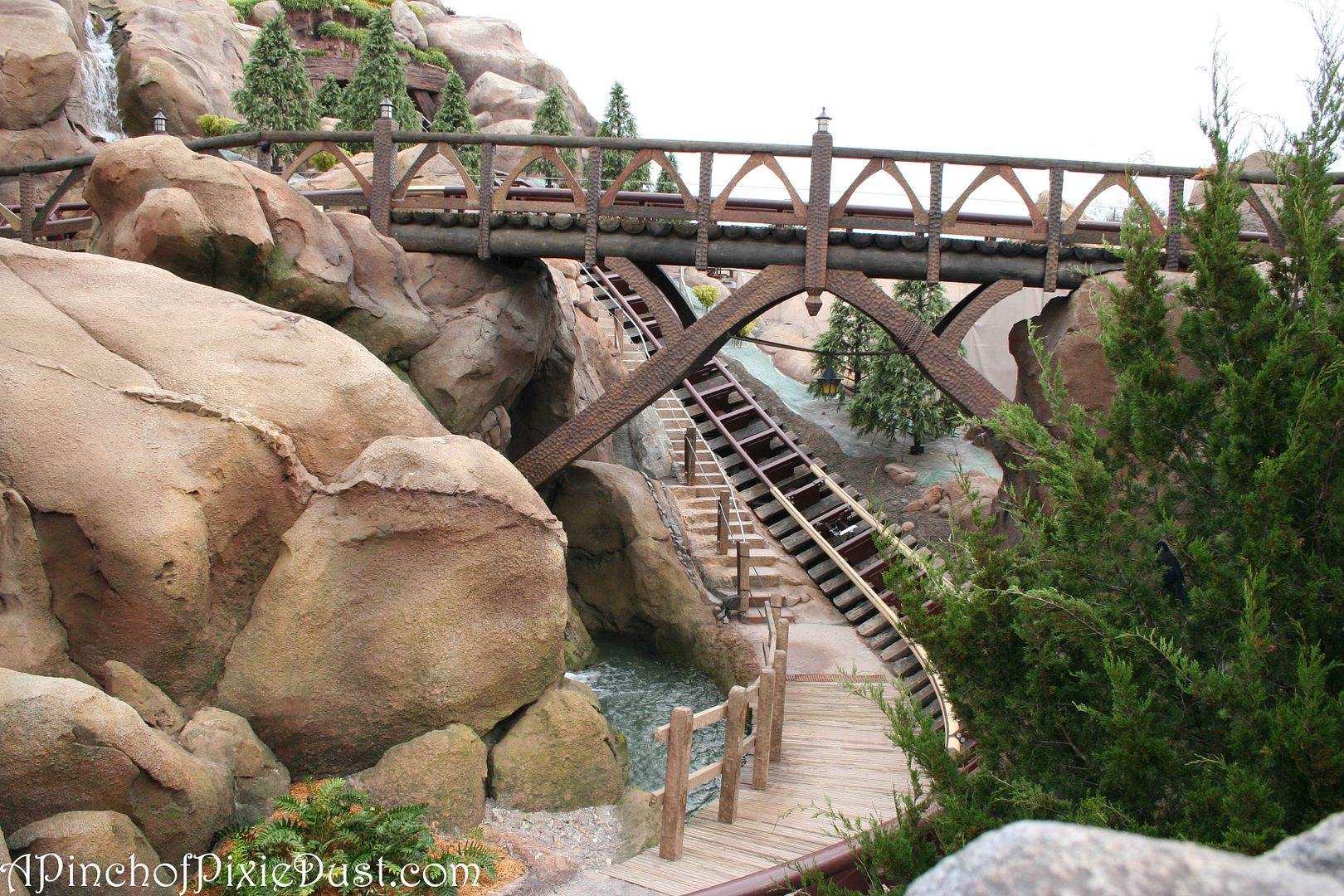 Even more striking than the flora is the part of the ride you can really see now that the some of the walls across from Be Our Guest restaurant have come down.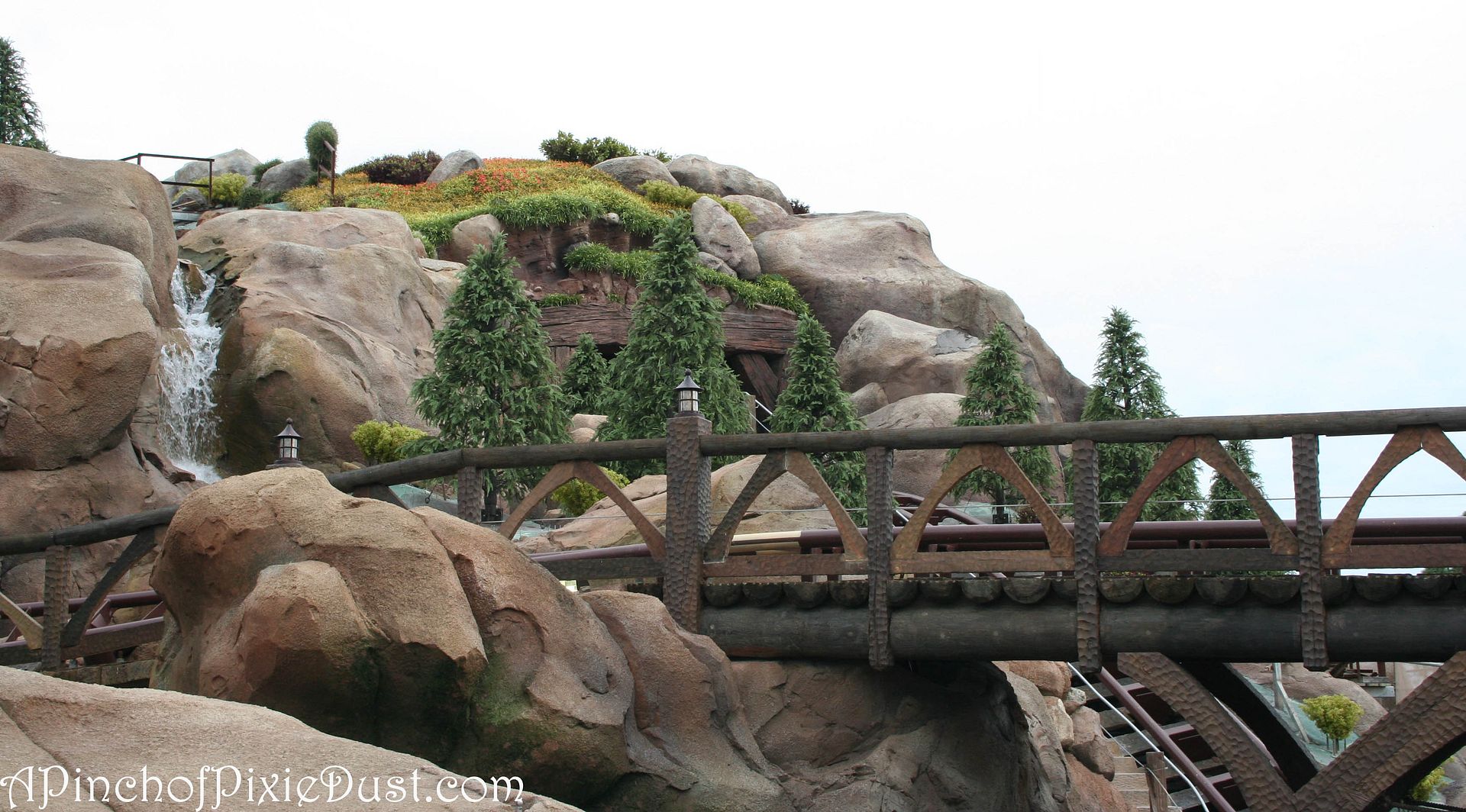 I love the bridge - it somehow reminds me of the fallen log bridge the dwarfs cross in the movie while singing "Heigh Ho." Except, you know, they cross it by walking and not zooming by in a roller coaster. ;) The waterfalls are also beautiful...you can see them better in the video: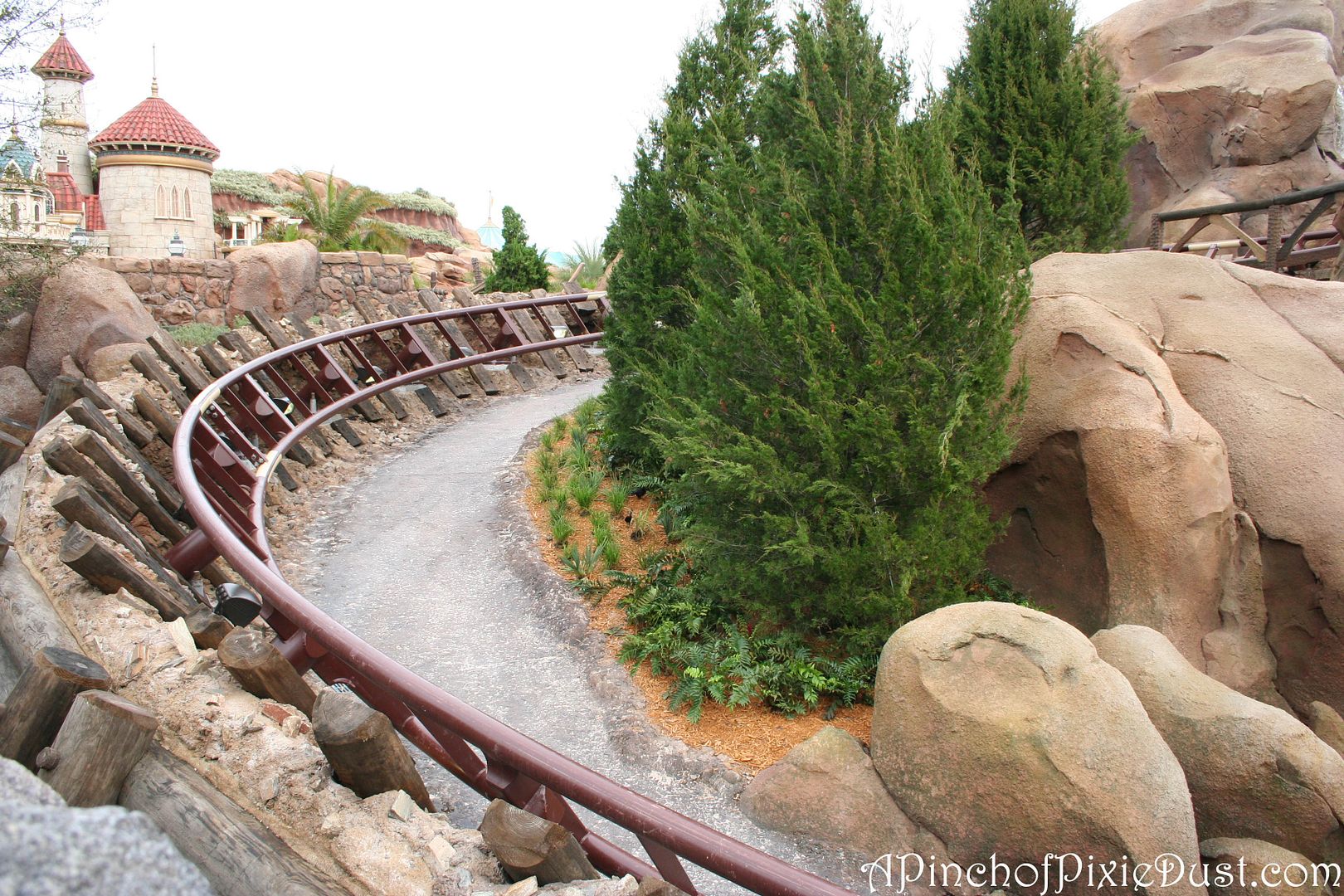 I cannot wait to bank this corner in a swinging mine car!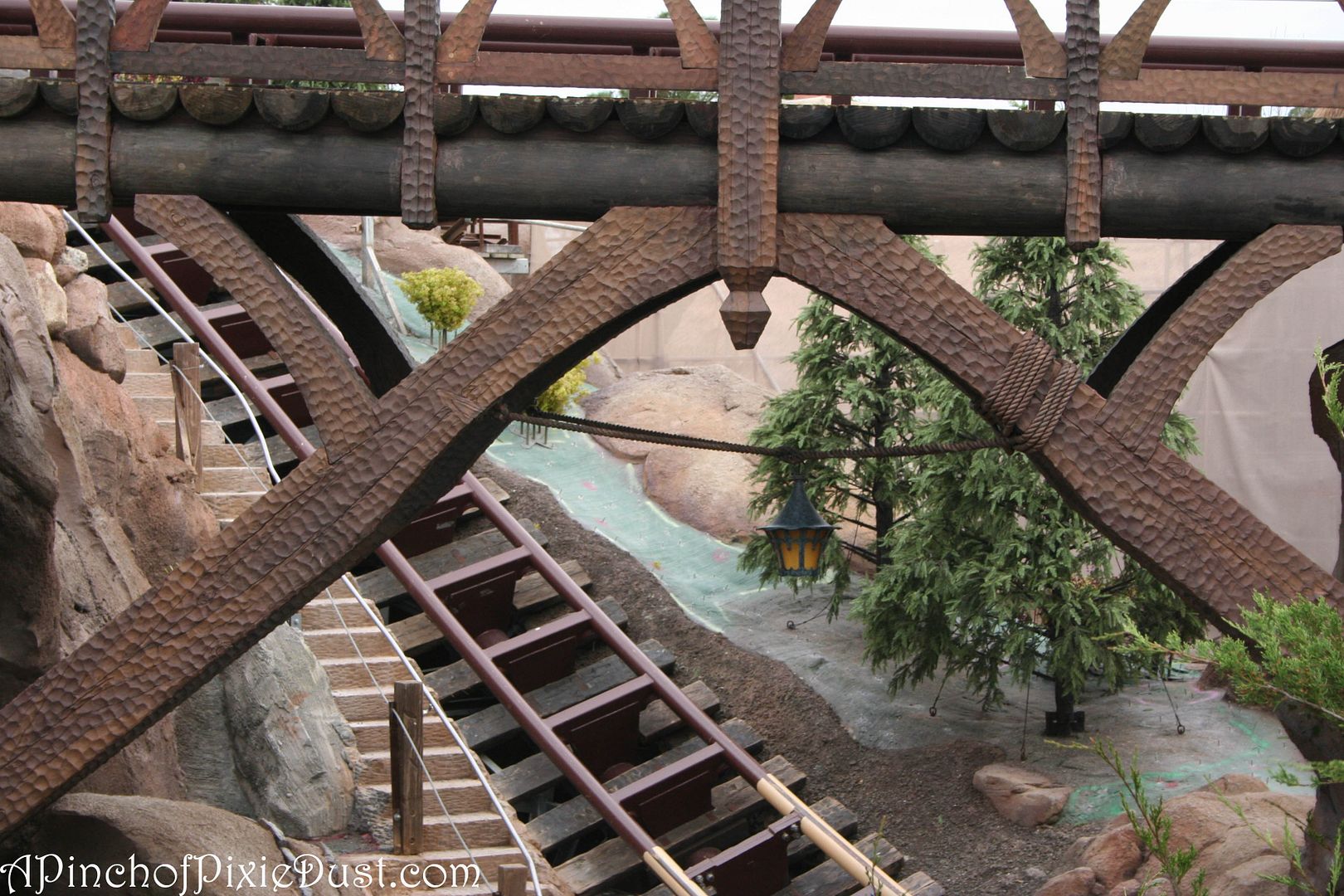 I like that little lantern suspended from the bridge...it's all about the details! And it looks like the ride photo goes right as the train goes under the bridge - get your silly faces ready, people. ;)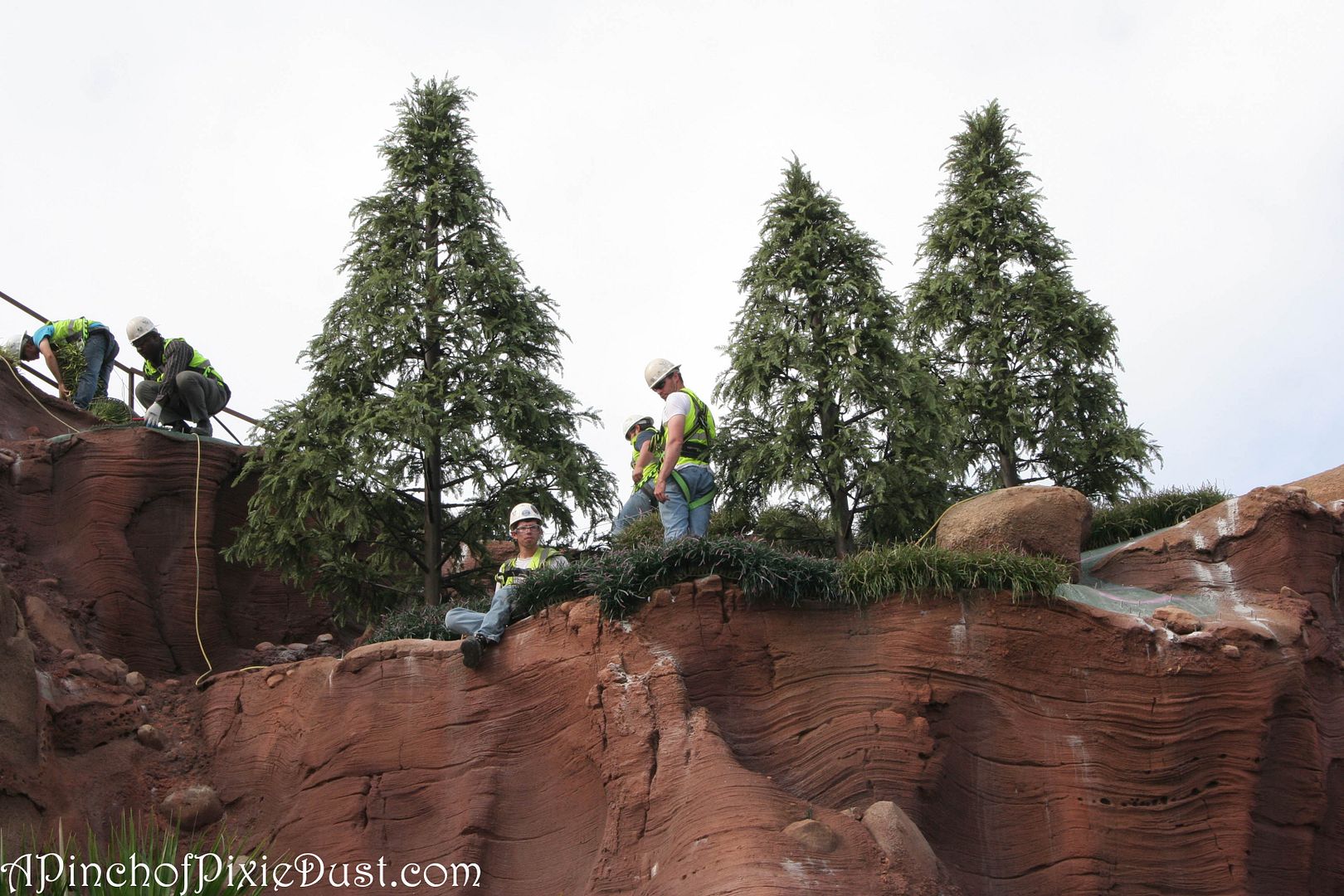 Some of the dwarfs' helpers taking a break. It must be kinda fun to just sit way up there on top of New Fantasyland.
These photos were taken a few weeks ago - the end of February/beginning of March. I was secretly hoping there might be a soft opening while we were there (I think I read they've started testing the cars on the track with weights?), but it looked like they were still plugging away at the construction. It can't be long now, though! Are you excited for the new ride? Share your thoughts in the comments!