Today's
Emma in Europe
post is going to be the last
Lyme Regis
update. It makes me a little sad, because I just loved visiting Lyme...which is probably why I've made the photos last as long as possible in five posts. Hopefully you guys aren't sick of it yet! ;)
Adieu Lyme! I got to the bus stop in plenty of time - there was a
Costa Coffee
right next door, so I got a lovely coffee to sip as I waited. Yum! If you're taking the bus, it's definitely a good idea to get there early, because there was a quite a queue already formed.
Some info for Lyme travellers:
There is no train station in Lyme, so if you're relying on public transportation, you're going to have to take a train then a bus. When travelling abroad, I somehow find buses more intimidating than trains, but the journey to and from Lyme was perfectly simple and smooth. You have two options: first, there's the
31 bus
which leaves right outside the
Axminster
railway station - there's one about every hour, and it takes 20-30 minutes to get to Lyme. When I was arriving from
Salisbury
I took that route, and it was very quick and straightforward.
There's also there's the
X53 bus
from
Weymouth
which goes along the Jurassic Coast. It doesn't run as often, and it takes an hour and a half to get to Weymouth, where you can catch a train. The Lyme Regis website has a great
info page
with links to timetables for both routes.
I decided to take the X53 bus along the coast when leaving Lyme, as I had read online that the views would be gorgeous. And the Internet was right...
First the bus took us inland over the rolling Dorset downs...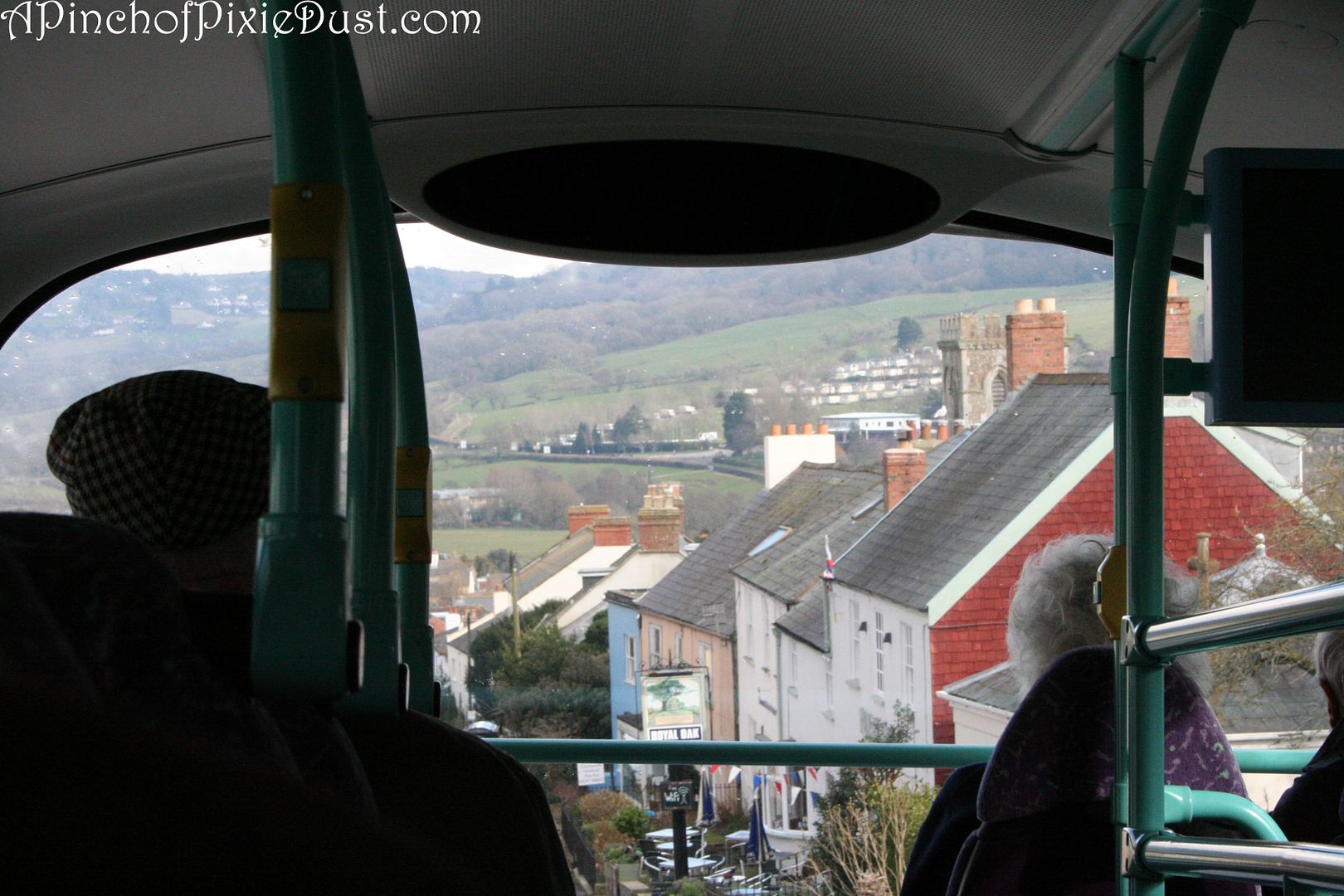 The X53 is a double decker bus - make sure you sit upstairs for the best view!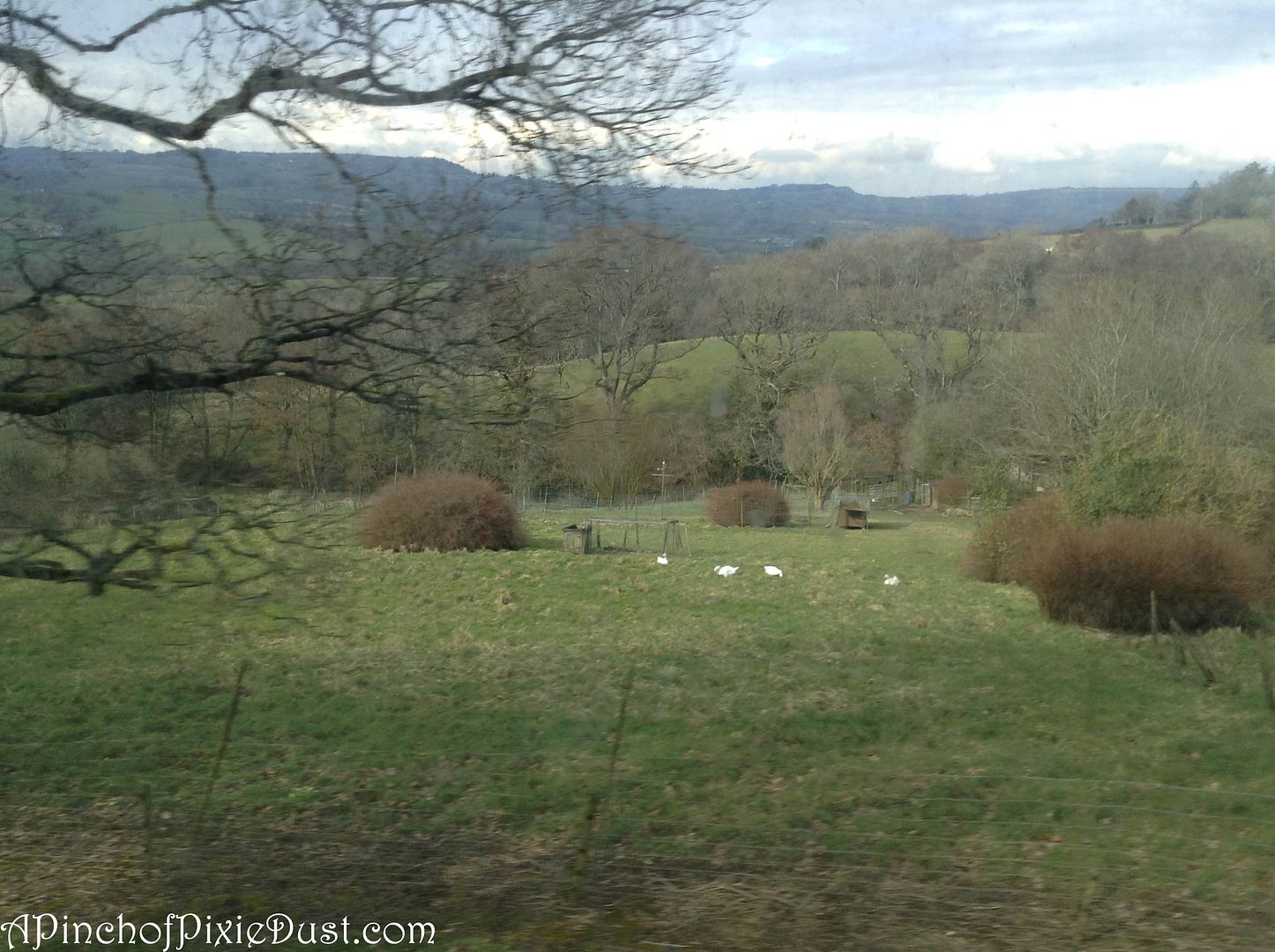 We passed by peaceful green partitioned fields filled with sheep...
...through charming towns and villages, squeaking down neat, narrow streets lined with thatch-roofed houses. I kept wishing I had time to just get out and explore some of the places we were driving through!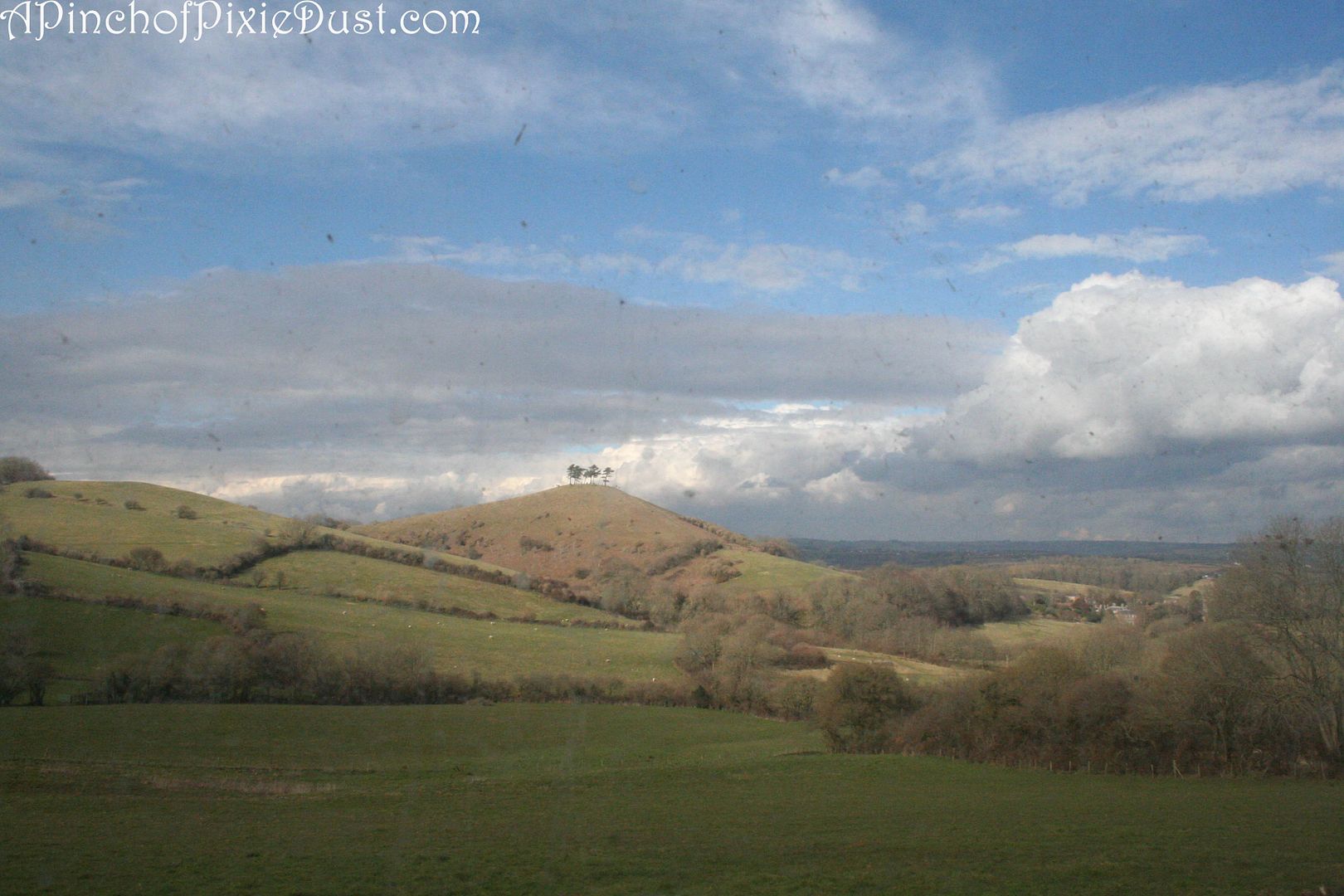 I'm just going to get out and run to the top of that hill and be right back, OK?? Alas, I had a train to catch in Weymouth, so I stayed in my seat. Soon the rolling downs revealed a view of the sea...
See it just beyond those chimneys and past those cliffs?
A dazzling, shimmering sheath - you almost couldn't tell sky from sea! The weather and the light were perfect - a blue sky and bright sun peeking out from behind long strands of puffy white clouds.
Yes, a
beautiful bus ride
is enough to put me in raptures. But then England tends to have that effect on me. Everyone else on the bus seemed to be a local, and I was so jealous. They get to take this gorgeous route all the time. I wouldn't mind moving to Dorset. I could just be one of the sheep on those hillsides. ;)
But then again, Weymouth lay ahead, and I was excited to see just a bit of it...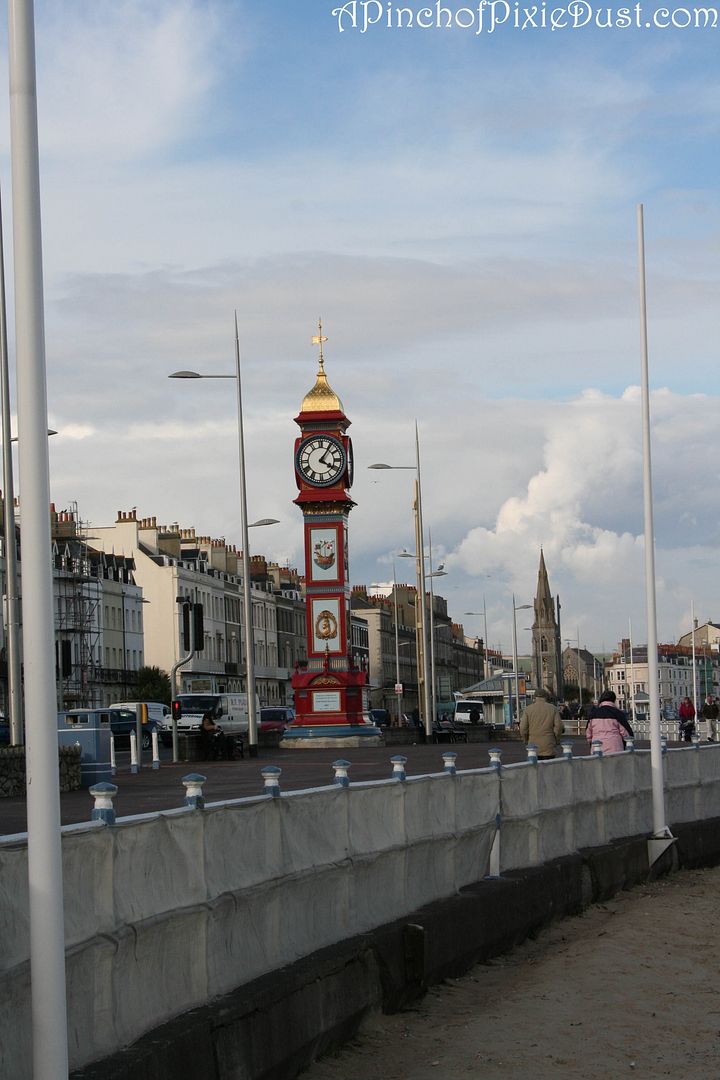 I got off at the King's Statue, and I didn't have time for more than a stroll along the beach and a
quick vlog
before it was time to find the train station. It was fun to pace the streets of Weymouth and think of Frank Churchill and Jane Fairfax, who, in the novel
Emma
, met and got secretly engaged at Weymouth. It's a pretty fascinating subplot - Jane Fairfax is a lot like your typical Austen heroine, but we only hear bits and pieces of her story. It's like there's another secret Jane Austen novel hidden behind the text of
Emma
! But I'll stop myself now before my inner literary geek takes over this post.
It was fun to watch people walking their dogs and meeting friends.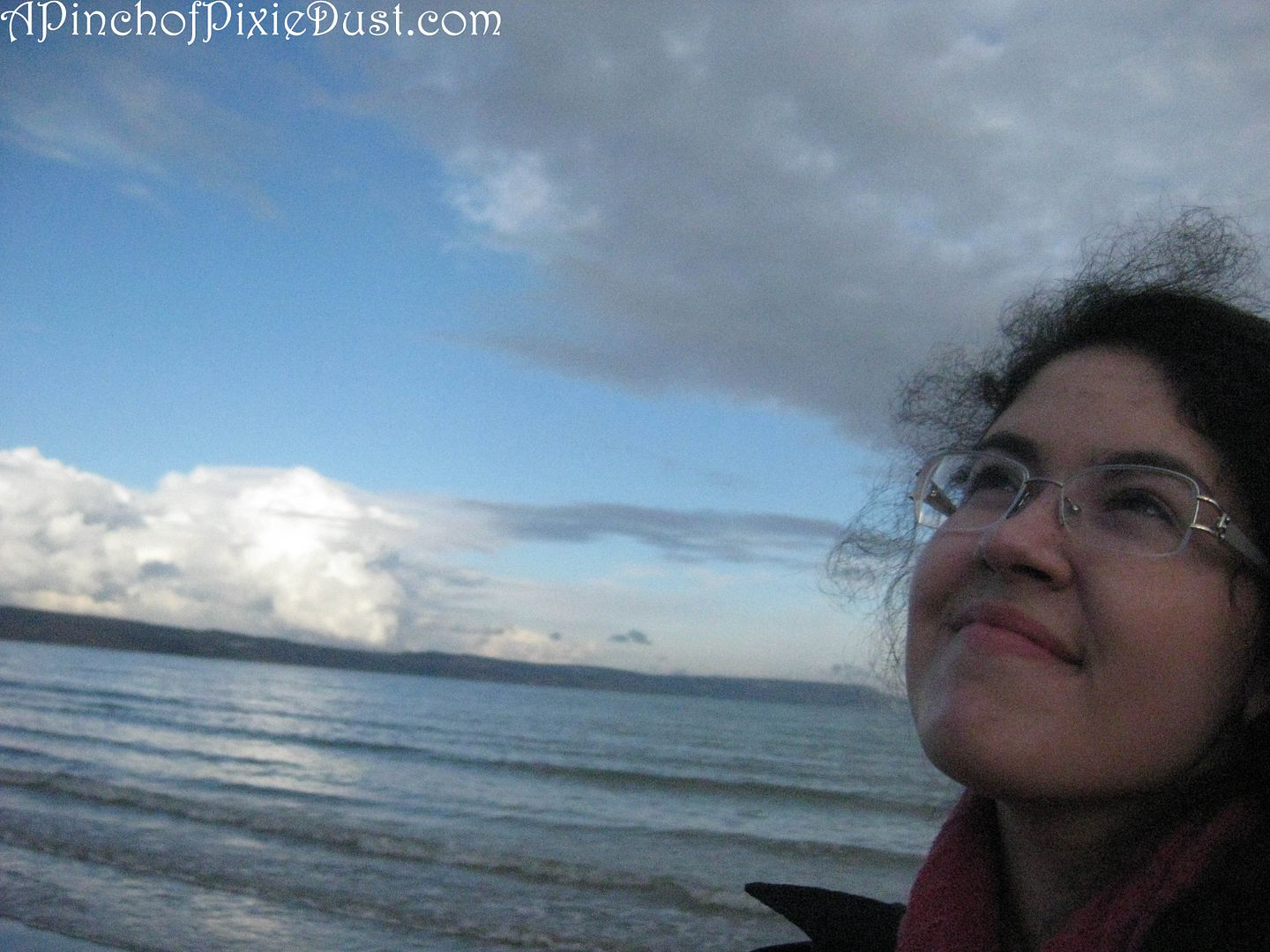 I'm a fan of the seaside. :) Soon I turned my steps into town to find the station. I had somehow not printed out a map of Weymouth - I meant to street view it on google (street view is the best for travel planning), but it was one of those "Oh, I can do that later" things on my list that just never got done. I had to rely on the old-fashioned method of asking the way from the bus driver. He pointed me in the right direction!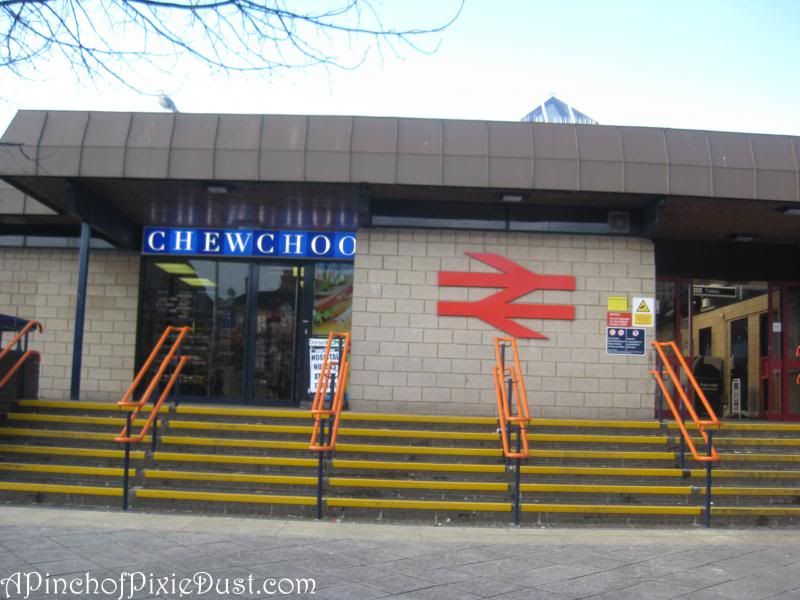 I guessed that this was the train station building when I saw it. I mean, it said "CHEWCHOO" on the side. And then there was the giant red railway symbol too. ;)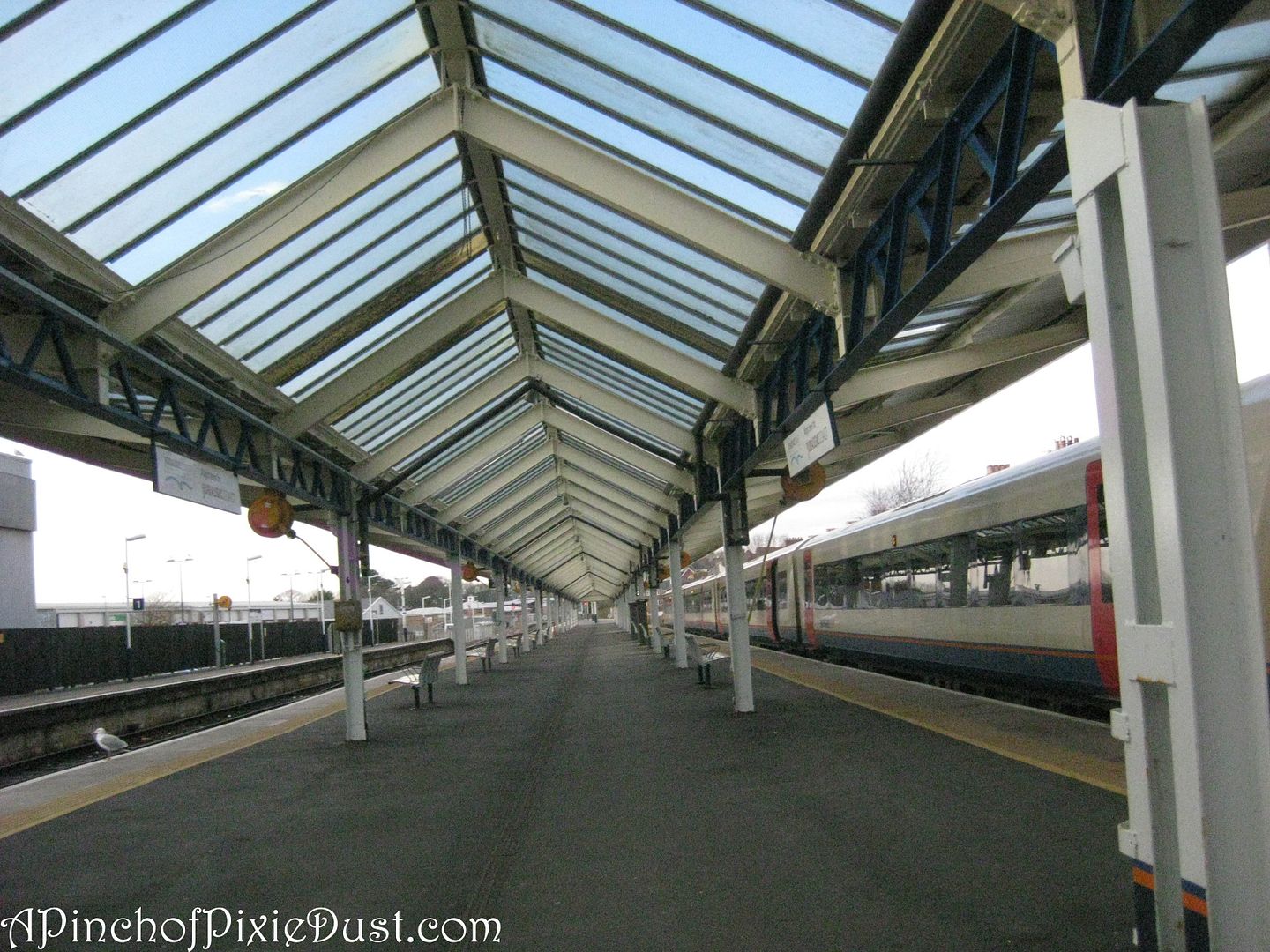 All Aboard!