Get ready, my friends, for some...
...princesses pirouetting...
...pandas pondering...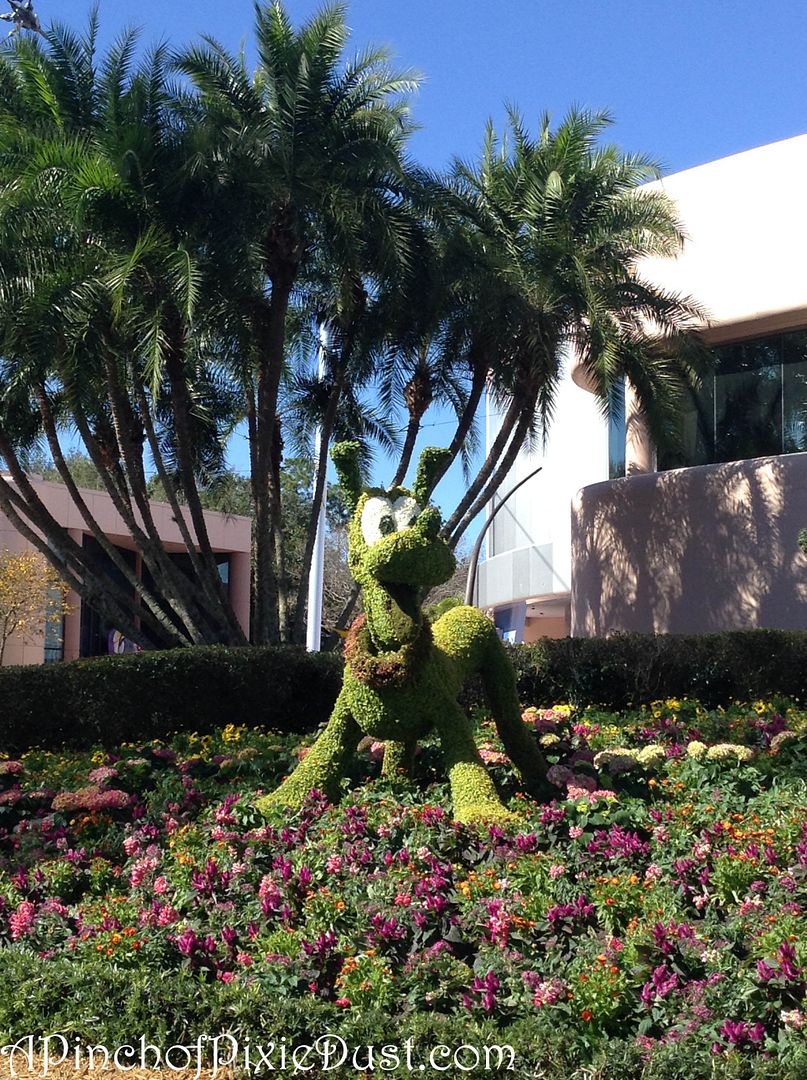 ...pooches playing and ladybugs perching (they make a bow!).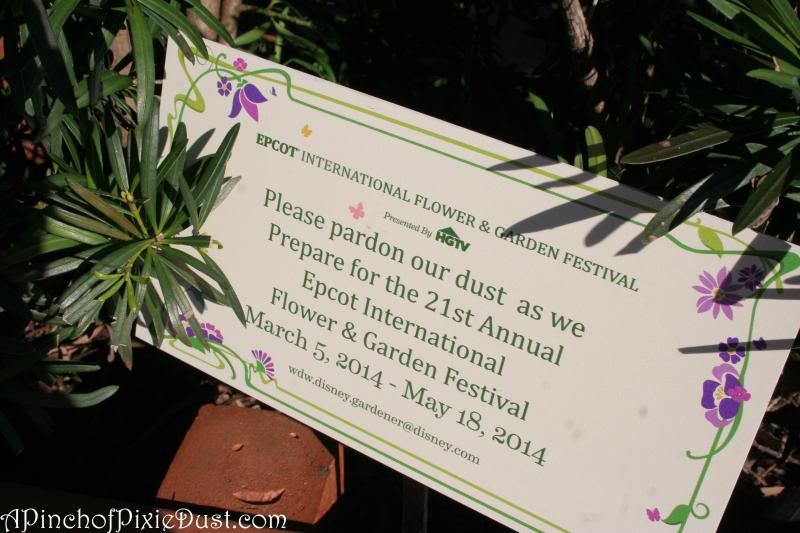 We visited Epcot a few days before the start of the
2014 Flower & Garden Festival
, so we got to see a bunch of the floral displays, but the booths weren't open yet. There are so many food offerings available now...it feels like a mini
Food & Wine
! We actually were back on the first day of the festival, so I did get to see some of the food kiosks in action, but we didn't end up trying anything. Next time!
Many of the big topiaries were out or being prepared before the festival officially started...here's a peek at Goofy! Apparently he was playing soccer with Donald - although I think those same topiaries were
skating
in a different display a few years ago. It's pretty funny to see how Disney repurposes many of these topiaries during different seasons and at different spots around the parks and resorts.
Mickey, Minnie, and Pluto greet you by Spaceship Earth. I absolutely LOVE Minnie's ladybug bow, and Mickey's got a butterfly on his nose! Mickey and Minnie somehow look a little out of proportion, though...Mickey's ears are a little too big for his body, and Minnie's are a little too small!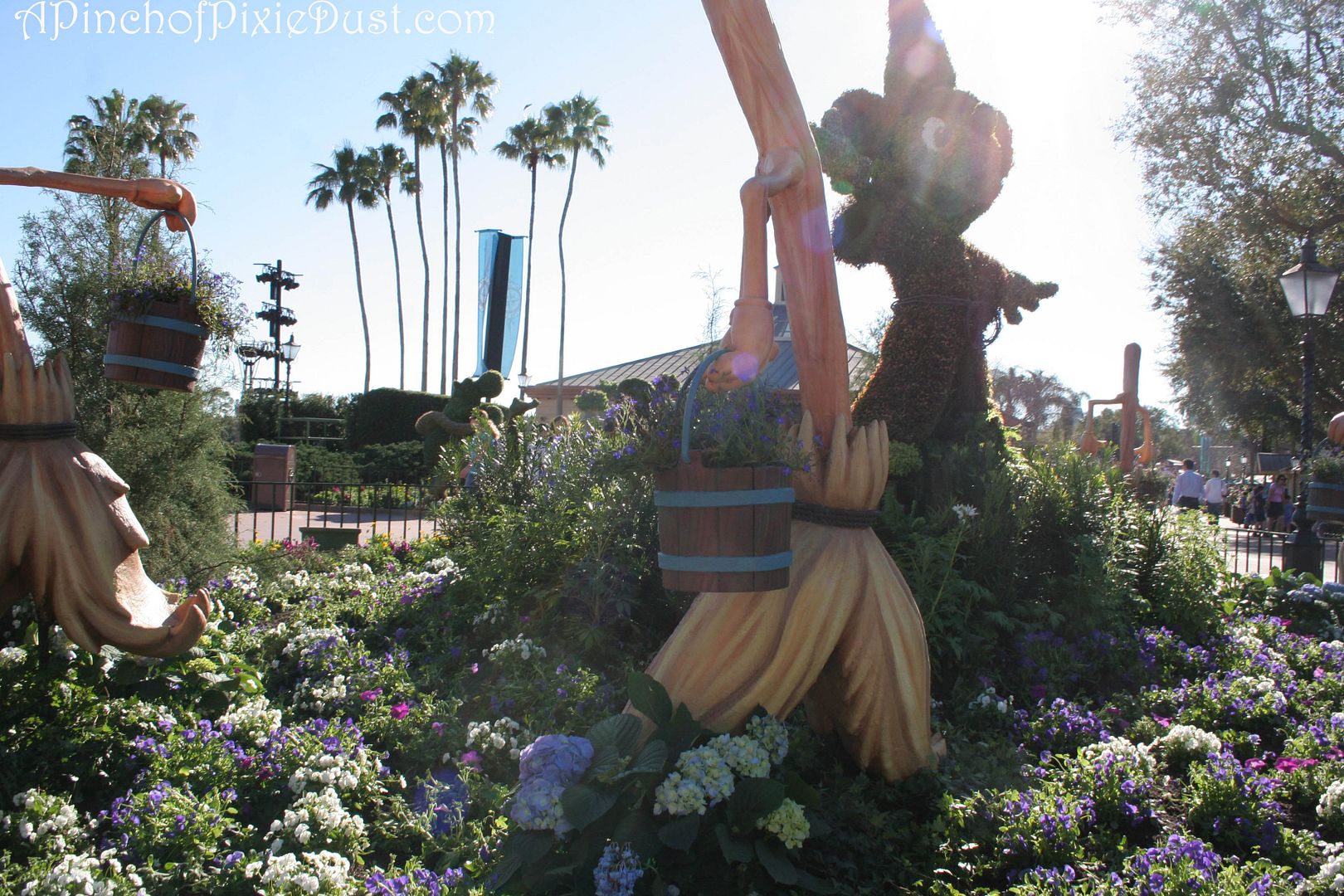 Sorcerer Mickey's ears are just right! I think this topiary used to be behind the Contemporary near the pool. And haven't there been marching brooms and a Sorcerer Mickey at Hollywood Studios in front of Brown Derby?
There are loads of Fantasia characters near the entrance to World Showcase this year!
The mini mushrooms are so adorable.
Phineas and Ferb are nearby, ready for anything.
The butterfly house is in Future World - I think this is where they put the
Tinkerbell topiaries
now. Sadly we didn't get a chance to look at it this year, so here are a few pics from a previous festival...
They're so charming! I always love Tinkerbell's tea pot house. I read that one of the craft booths at the festival this year is selling fairy houses.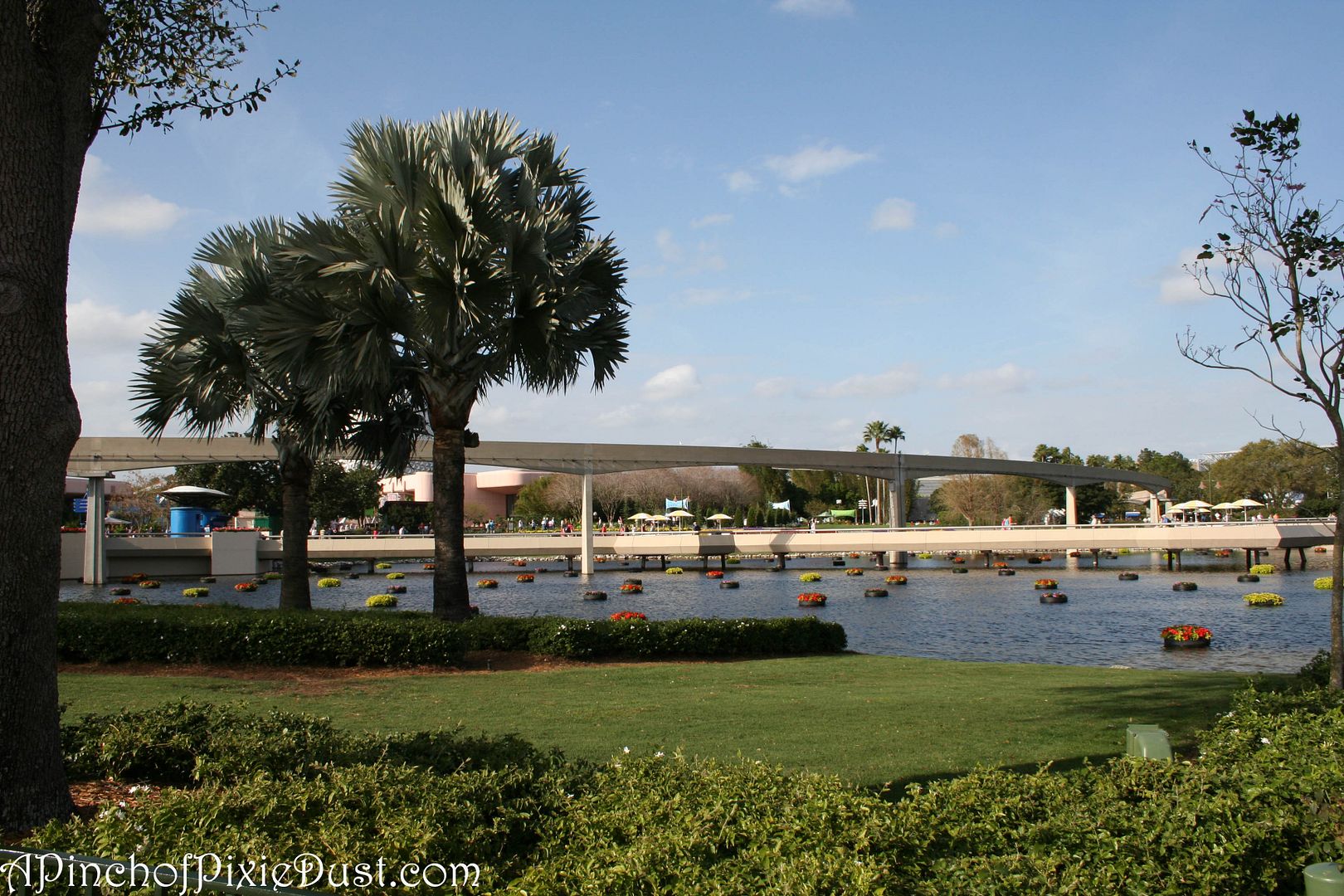 Of course I had to pause to take in the floating flowers...they're one of my favorite Flower and Garden details!
Future World has fun things to see, but many of the topiaries are in World Showcase!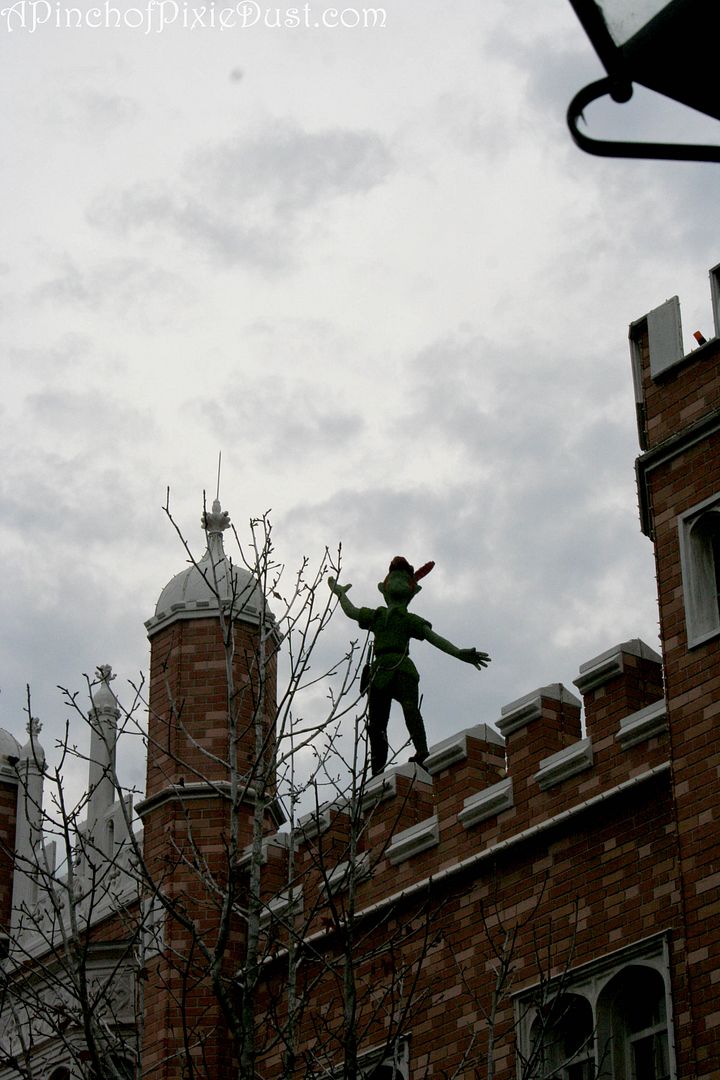 There are some familiar British faces to find in the England pavilion.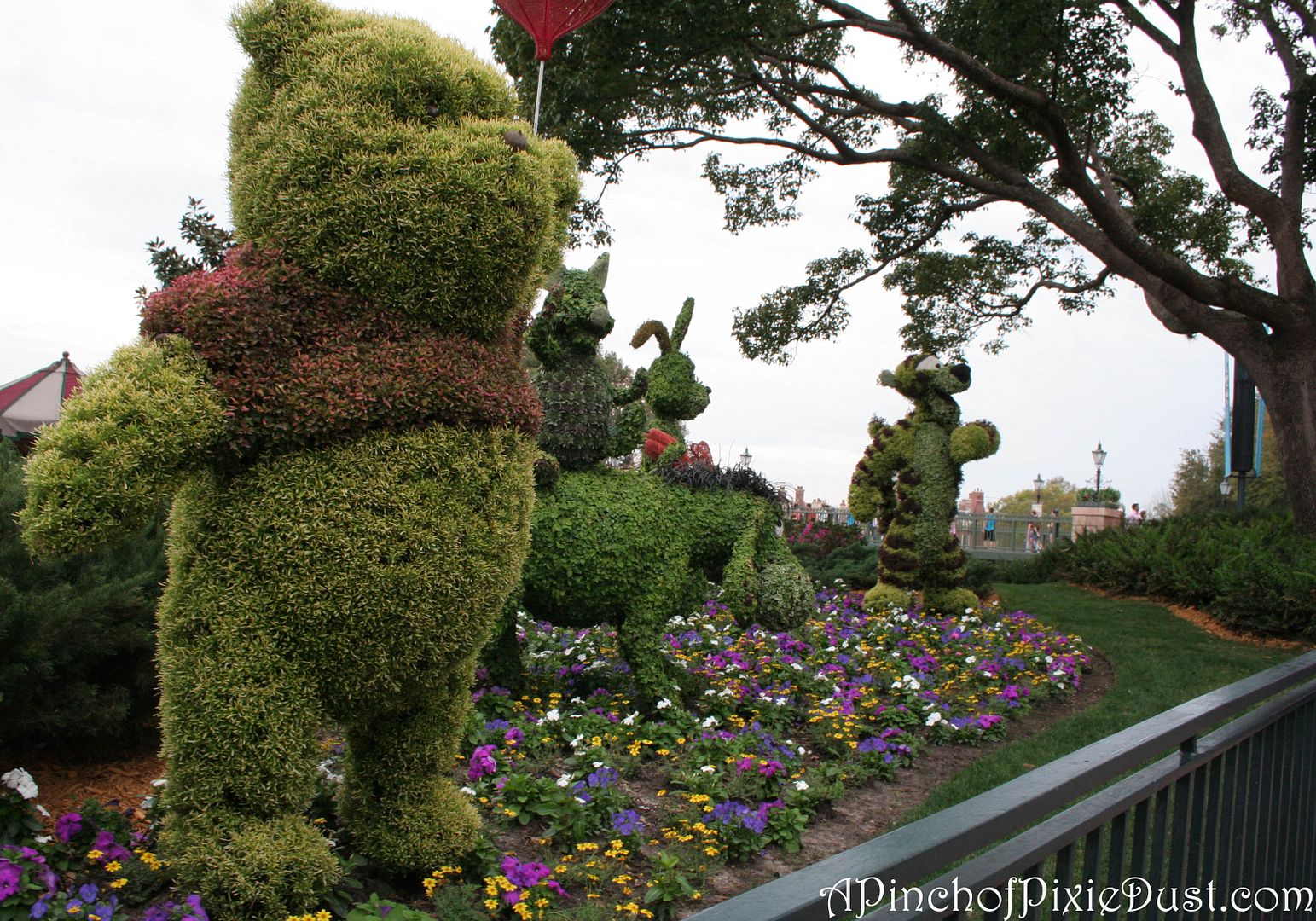 Pooh Bear and the Hundred Acre Woods gang are hanging out by the Fish and Chips.
And how cool is Peter Pan, taunting Captain Hook from atop the castle?
Better watch out, Hook...that crocodile's got his eye on you!
A few steps away in France you'll find Phillip and Aurora dancing through a dream. Aurora was missing her crown when we went - I wonder if they've added it yet?
(My brother Athos just walked by and seeing this photo said, "She might not be in the new parade, but she's in the bushes!" I'm sure Aurora would find that consoling. LOL.)
I love these princesses so much! One year they were rotating, and it was so elegant. This year they twinkle at night. You can see them glowing in the video tour:
How gorgeous is that pink tree? I think you have to go earlier in the festival to see it blooming...the flowers fall later in the spring.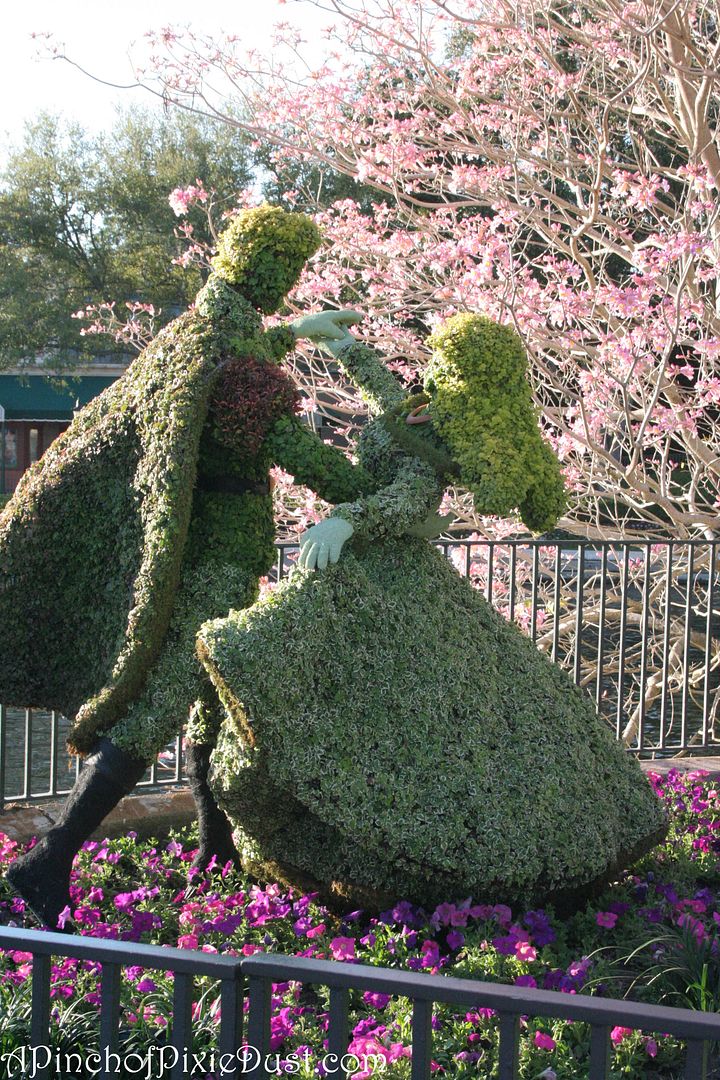 OK, ok, I'll be done with the Cinderella and Aurora photos now...
...and we'll move onto Belle and the Beast instead!
Years ago the Belle topiary was holding the Magic Mirror, so it made sense that she was looking at her hand. I've always wondered why they didn't add the mirror back in, or at least give her a book or a rose or something that it would make sense for her to me looking at. It does make for a funny photo op though!
Chip is confused too. "What are you looking at, Belle??"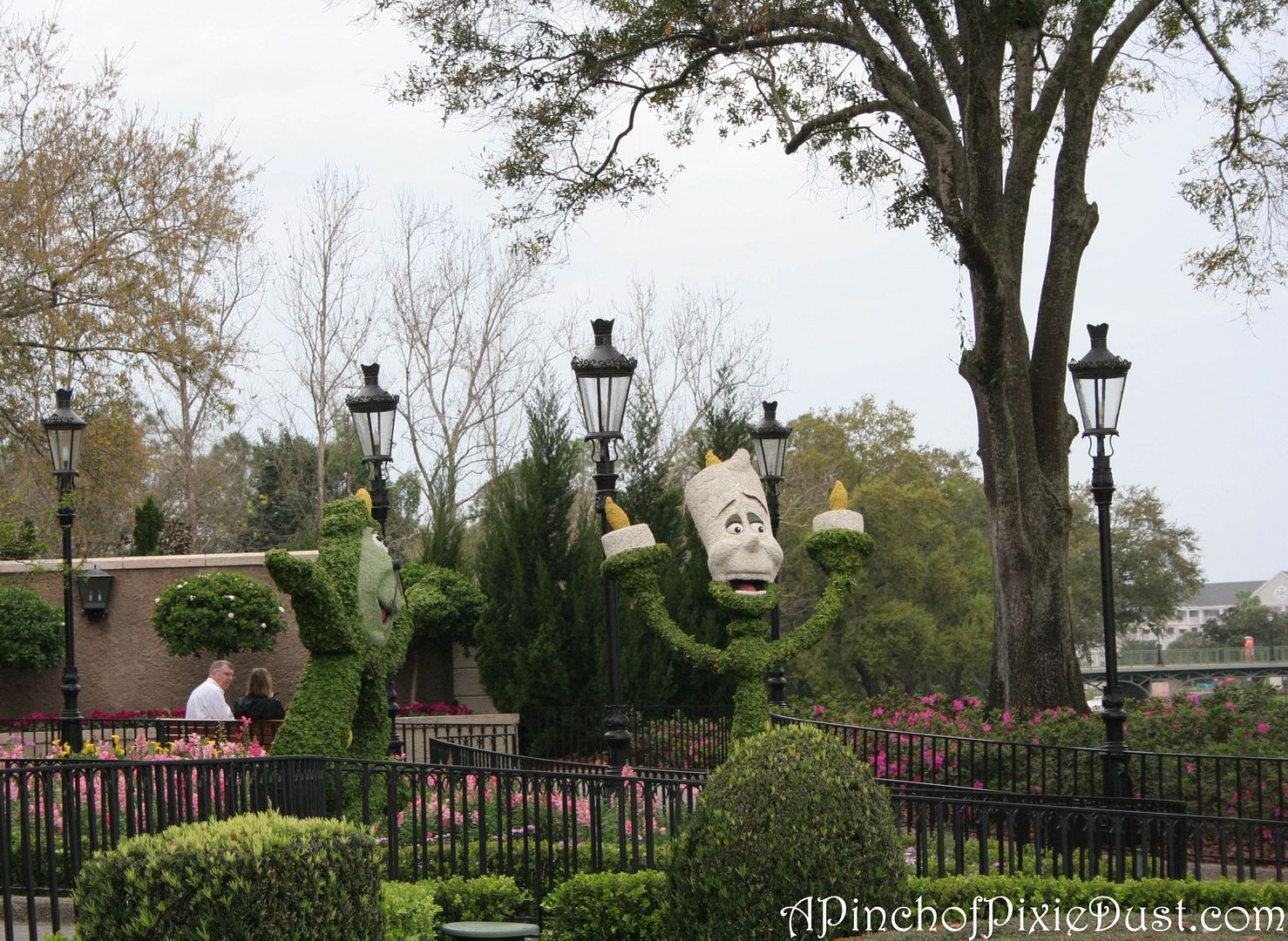 Lumiere and Cogsworth look like they're starting a party further up the hill.
And here is Mrs. Potts, keeping an eye on how the cooking's going in Chefs de France!
I was a little surprised they weren't able to whip up some kind of Frozen topiary - just Olaf if not Elsa and Anna - in time for the festival. There probably would've been a two hour wait just to take a photo with it. ;)
The pandas in China are so cute!
Just look at the babies playing! Adorbs.
Timon and Pumbaa are hanging out over by the African Outpost.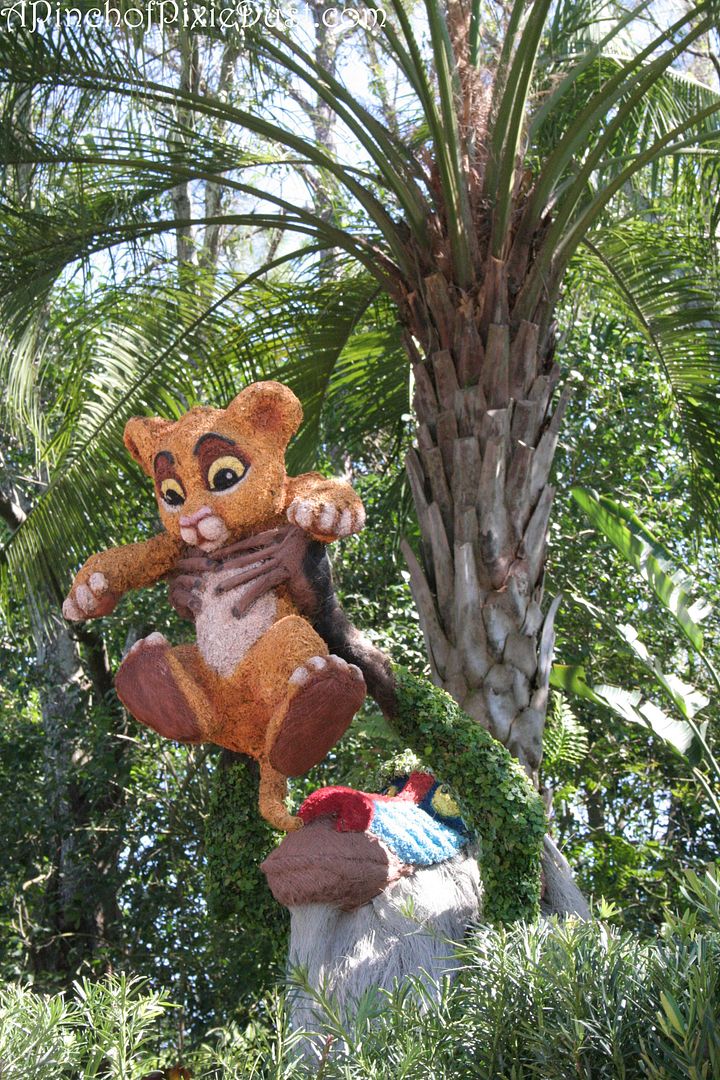 Timon looks like he was practicing his dance moves to cut in on the waltzing princes!
Here are the marching dwarves in Germany!
They are all so animated, I love the faces! And of course a big change to the Snow White topiary is that she now has a face too:
I wonder if they'll be adding faces to more of the character topiaries in the future? It'll be interesting to see!
In spite of not having a face, there was something so sweet about the old topiary...although I do like the new one too! What do you think? Will you be headed to the Flower and Garden festival this year?