We were walking along through the
Animal Kingdom
one afternoon when we heard a cast member say to another guest, "
There's only a five minute wait right now
."
Those are magical words. It was NOT a quiet day (Is it just me or there just not any
truly
quiet days at Disney anymore?). O
f course
we had to stop and figure out what they were talking about! We had been passing by one of the colorful buildings on
Discovery Island
and looked up to discover this sign...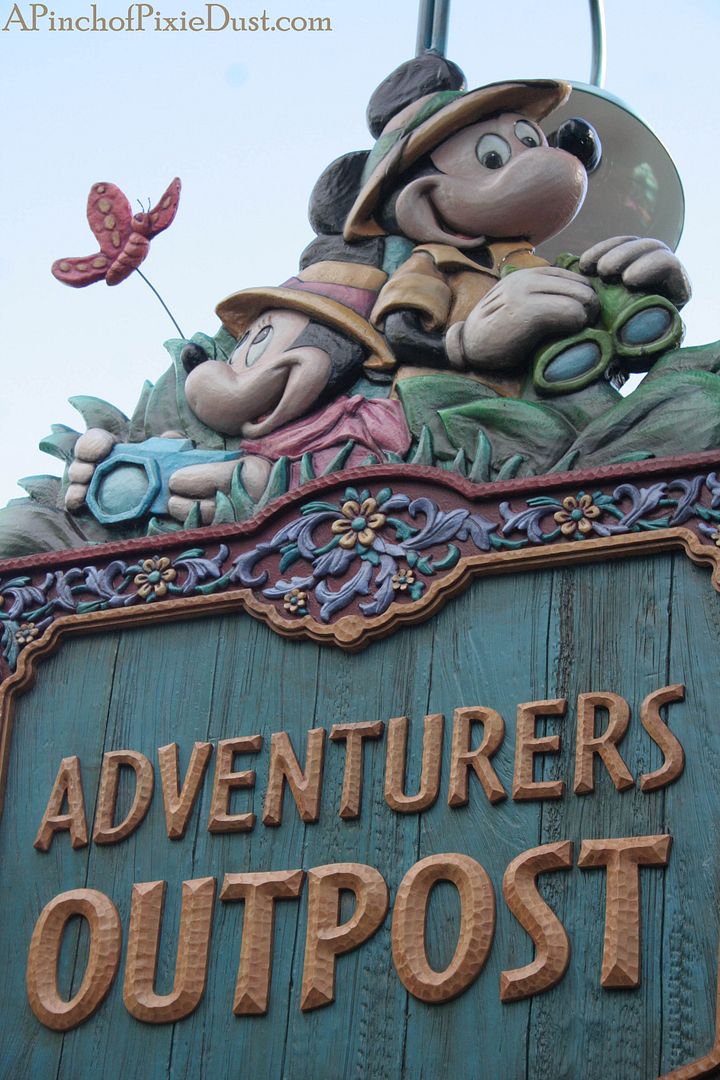 Adventurers Outpost
. Huh. Honestly my inner grammar snob was trying to decide where to put the missing apostrophe (Adventurer's or Adventurers' - which do you guys think? It hurts to type "Adventurers Outpost," but it
is
the official name). For a second I didn't even notice the cute Minnie and Mickey at the top of the sign.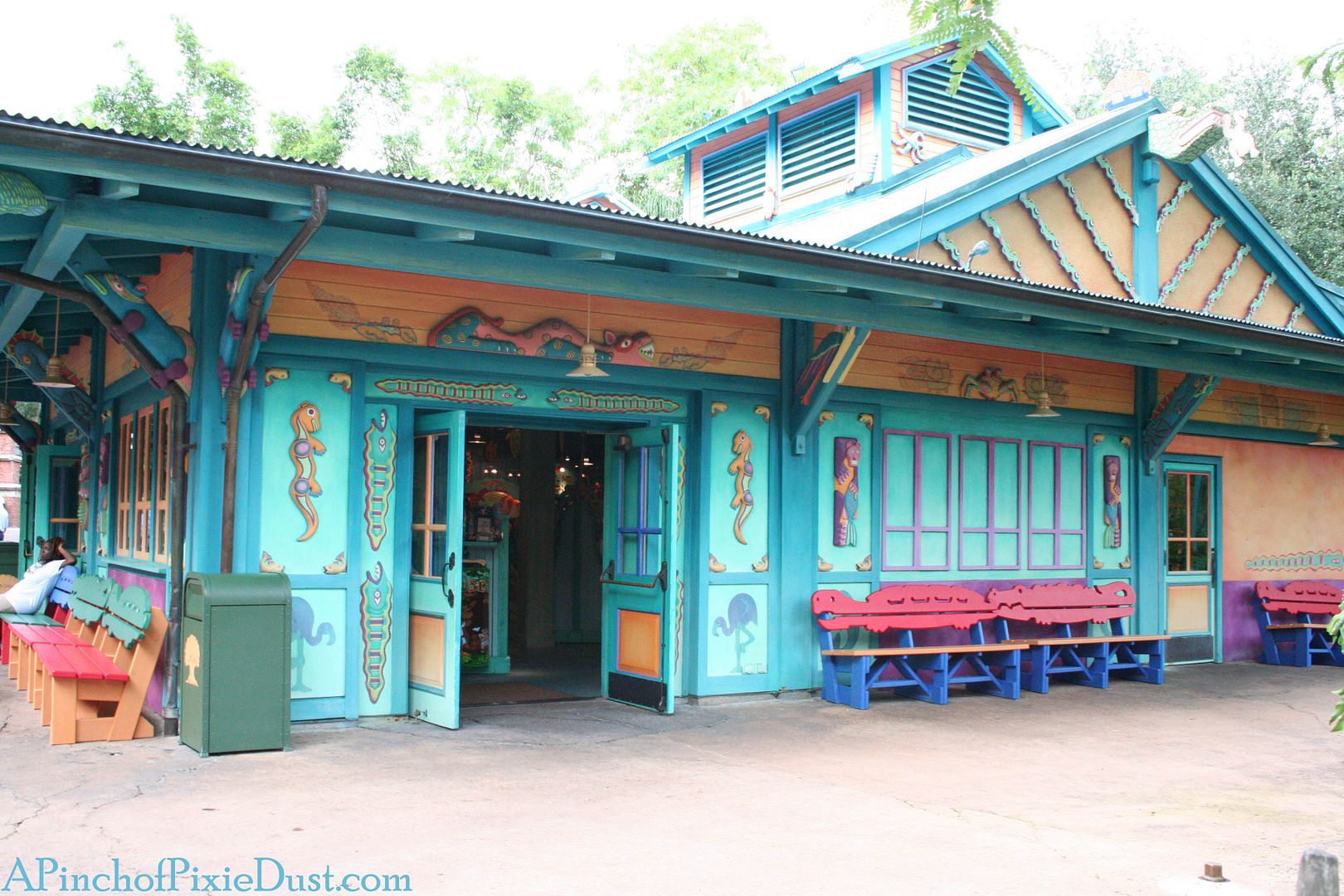 This is the colorful building of which I speak. The Discovery Island stores tend to blend together in my mind...they do have cool details and bright colors, but mostly I appreciate them because they are air conditioned. AC is a hot commodity at the AK.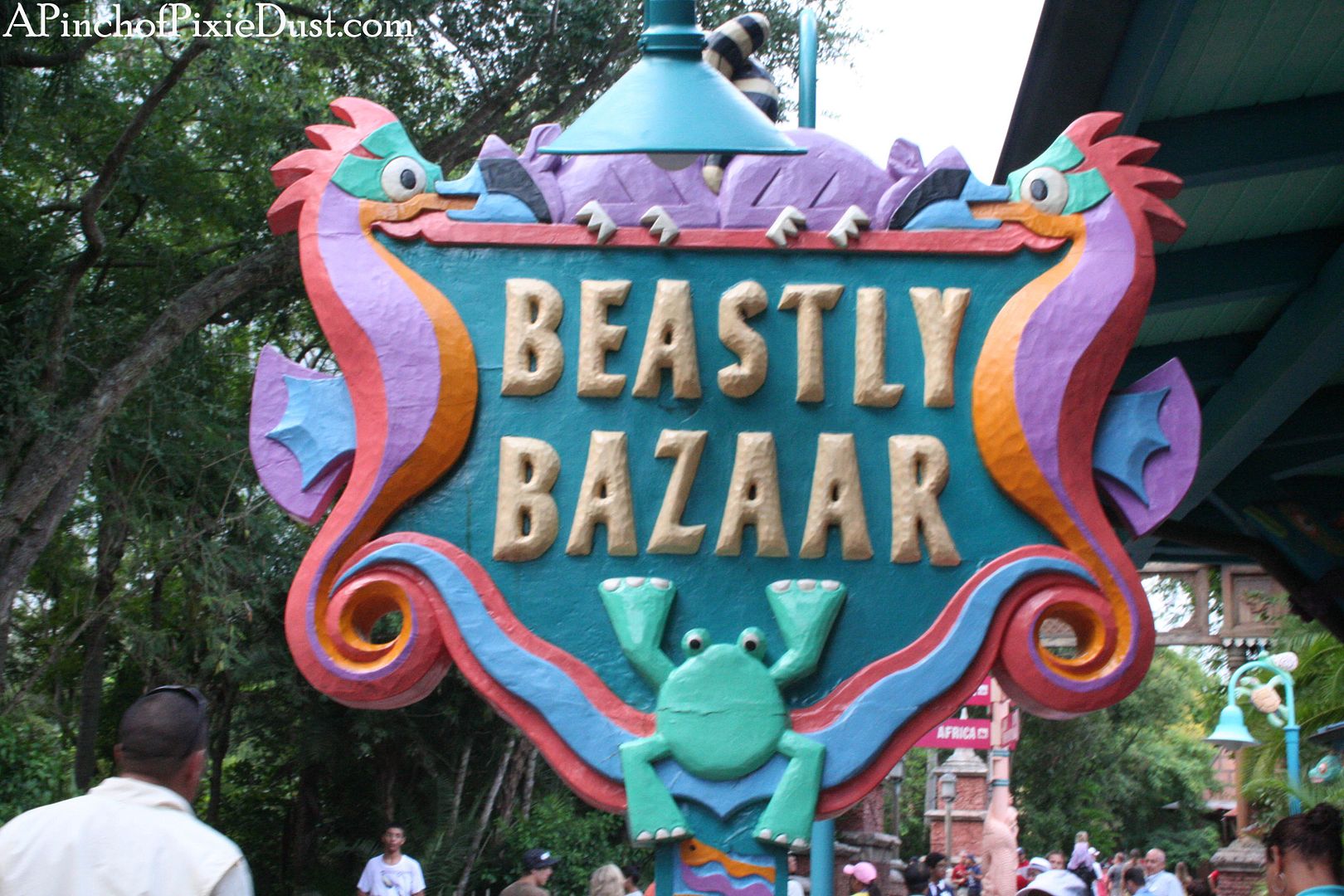 Further investigation in my old photo folders reveals that this building formerly was a store called "Beastly Bazaar." It did have a fun name and sign (those raccoons seem to be eating the wide-eyed seahorses...definitely bizarre...), but otherwise I don't think we need to mourn its loss too much. It's still air conditioned, and now it's got CHARACTERS!
Our times guide informed us that
MICKEY AND MINNIE
were meeting and greeting here . A five minute character wait? For two characters
together
? In the middle of a busy afternoon? And air conditioned? That's practically unheard of!
Mickey and Minnie have been here since the summer, but I feel like this is still a bit of an undiscovered/overlooked character meet; the sign out front isn't that obvious, and everyone, including us, was walking right by. I'm so used to thinking of the two main mice over at Camp Minnie-Mickey, but of course that's now closed to make room for Avatar Land.
Naturally we had to stop in to say hello!. There were only three or four families in front of us, which gave us just the right amount of time to take in the photographs of Mickey and Minnie on the walls...
Super cute!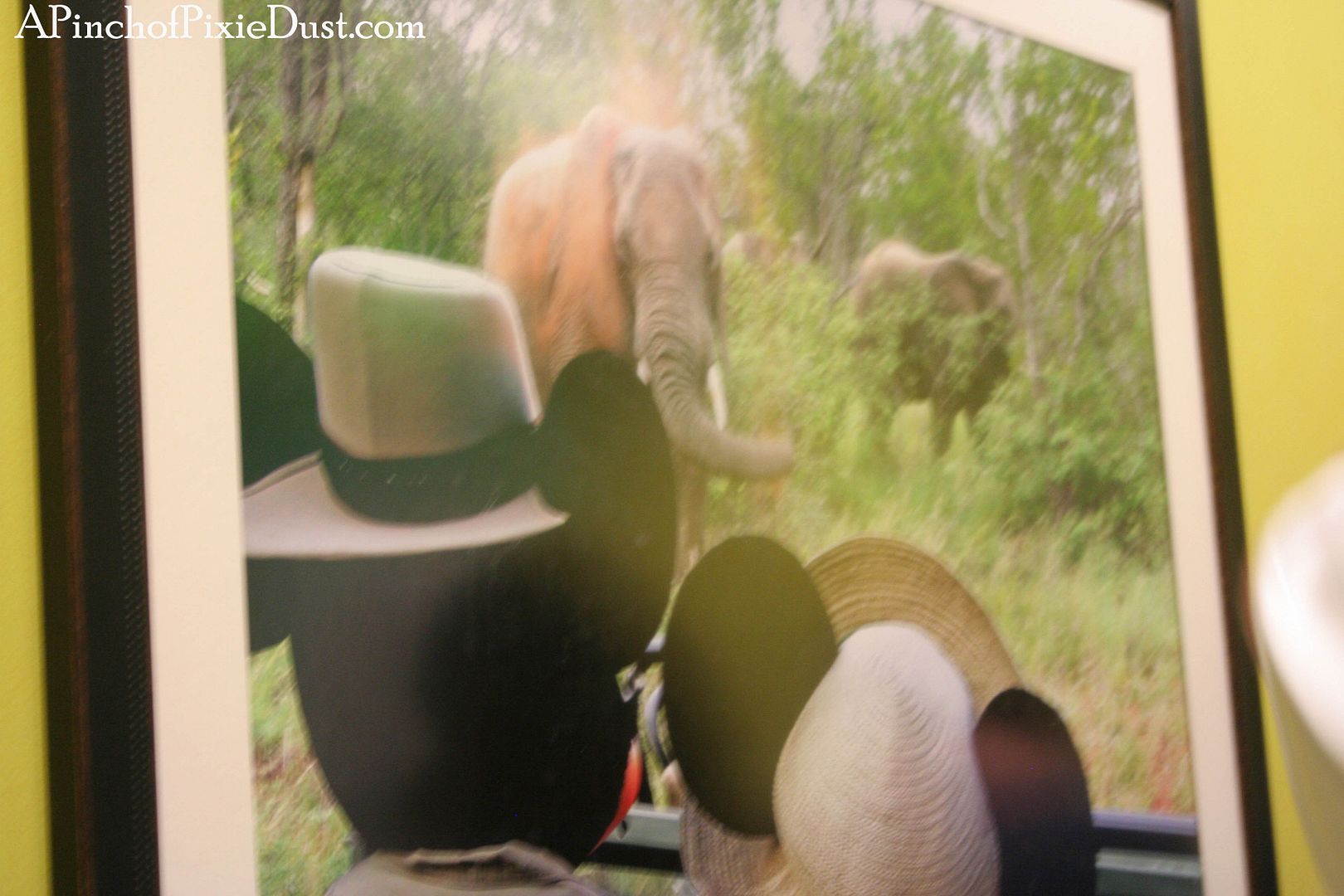 On safari - with elephants!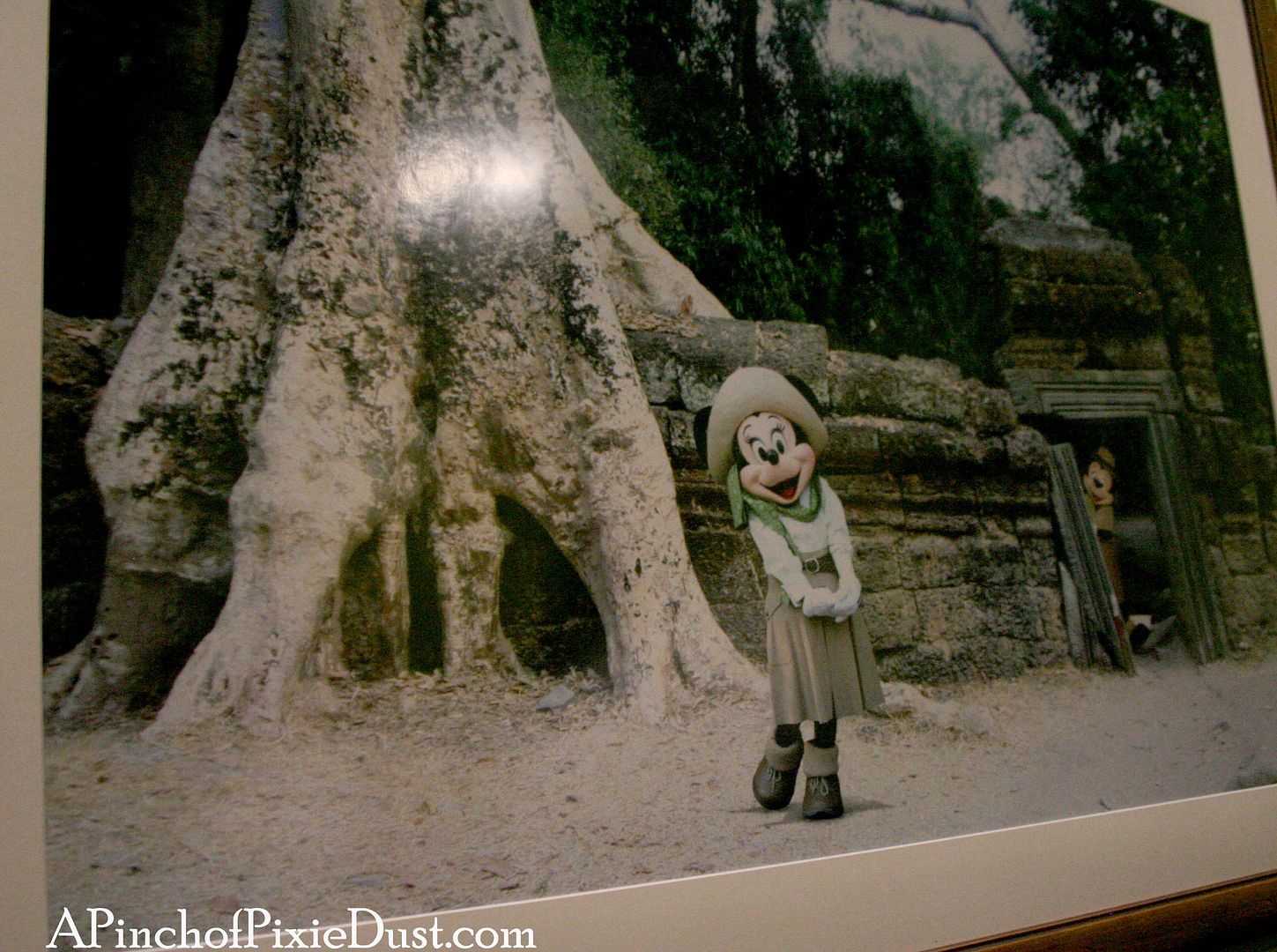 The photography buff in my Mama Snob and I was coming out, and we were analyzing whoever did the photos: "Well, they should've made Mickey a little bit bigger" or "The color temperatures don't quite match..." Not, of course, that the pics were photoshopped. Mickey and Minnie must be very well-travelled. ;)
Soon it was our turn to meet the safari stars: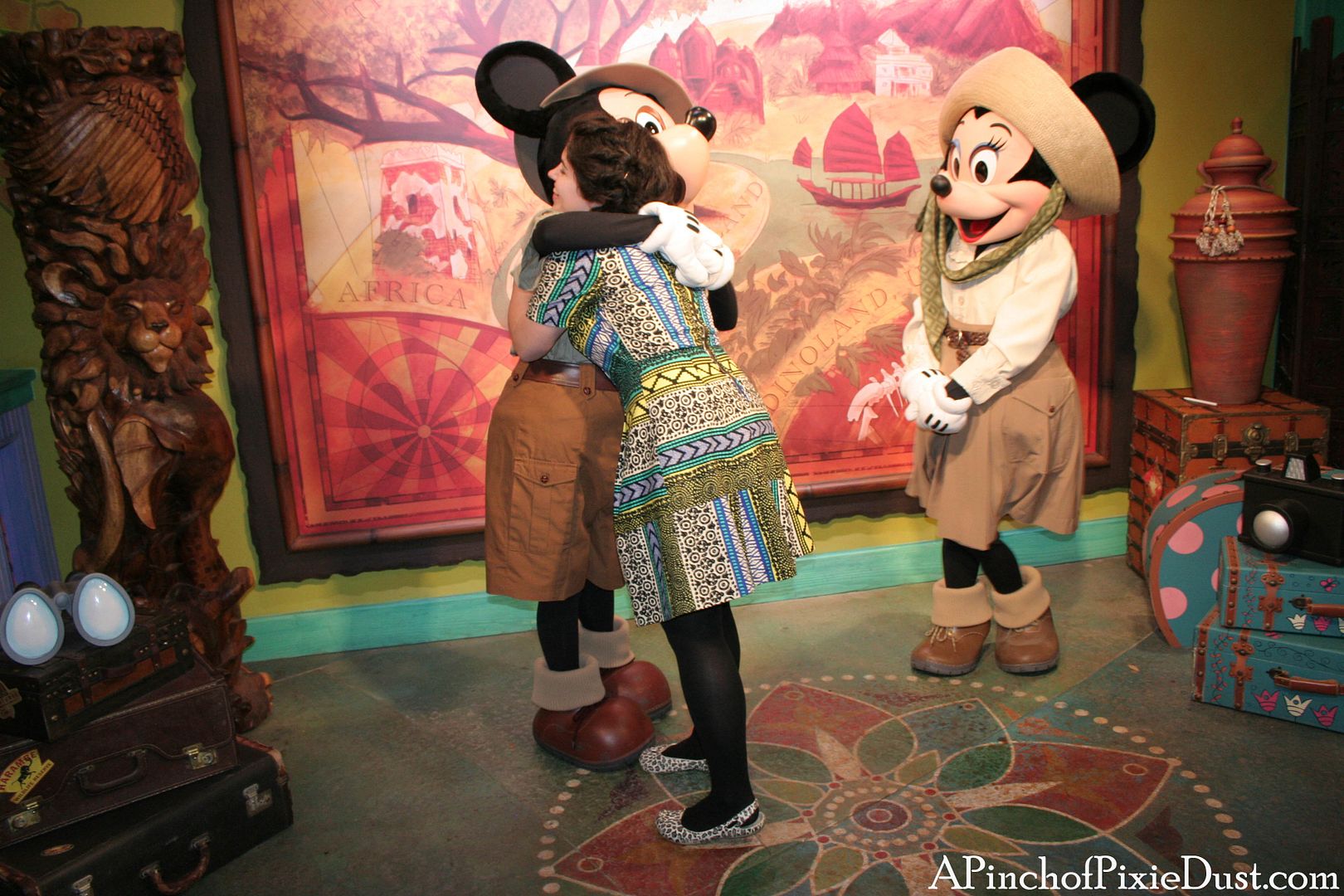 Mickey hugs are the best. :) I loved the meet and greet area, with suitcases and gear stacked everywhere. Minnie's cases are the most stylish thing. And of course, I adored their special outfits. I had been really excited about wearing my
Anthropologie dress
to the Animal Kingdom that day, so there were perfectly themed fashions all around.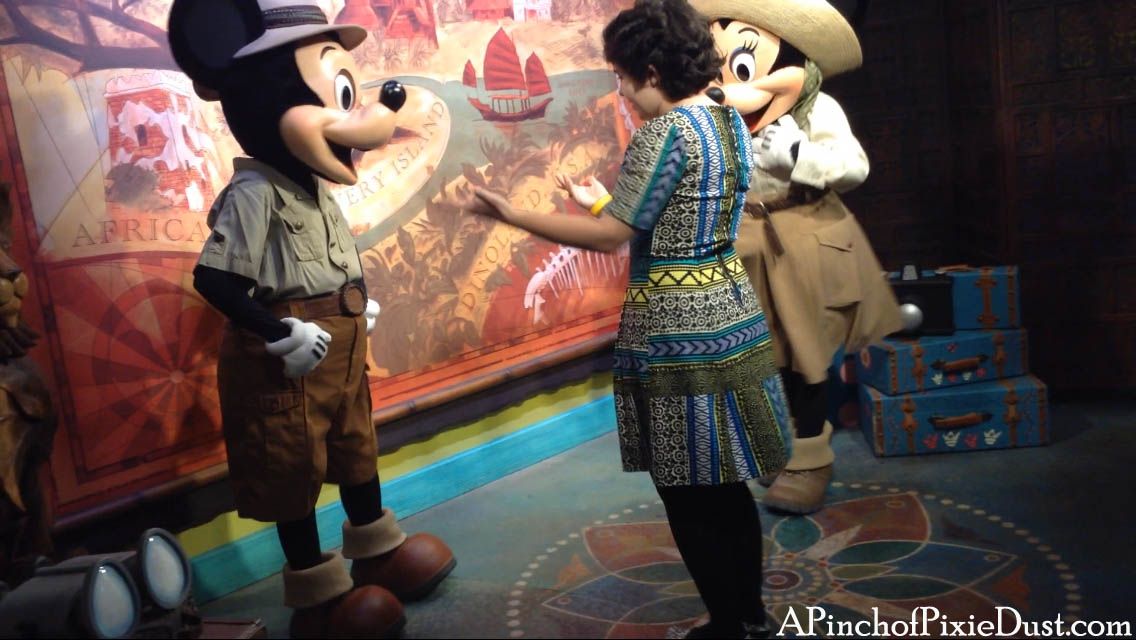 I was all like: "YOU GUYS LOOK AMAZING!" And Minnie and Mickey were all like "NO, YOU LOOK AMAZING!" It was just utterly fabulous.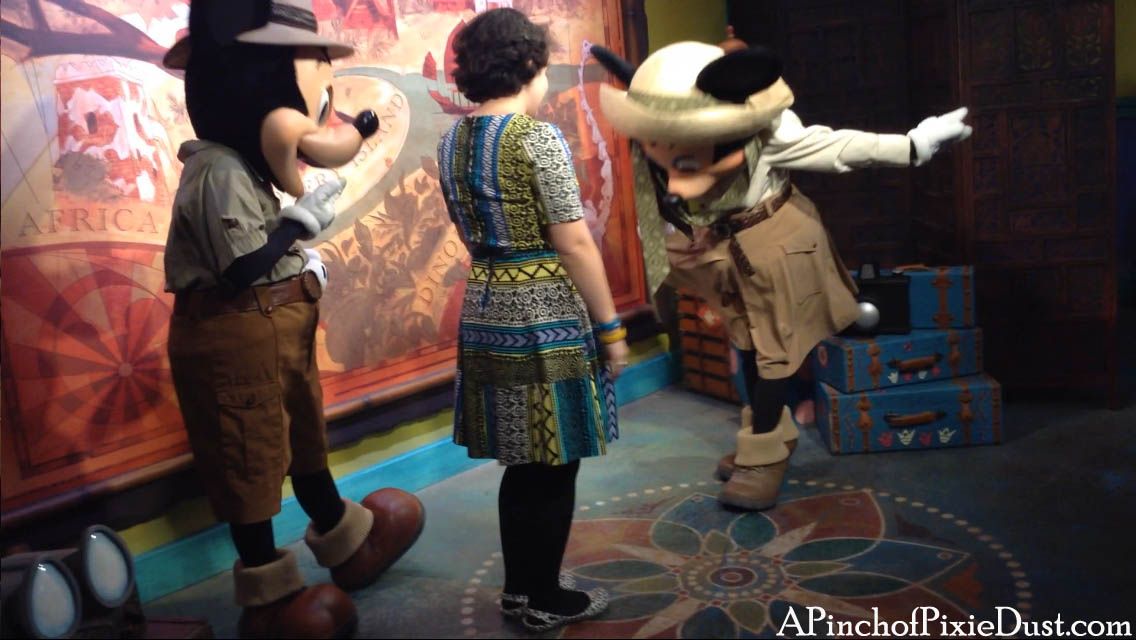 Minnie: "Deciding on safari shoes is SO important". While Mickey laughs at us girls. ;)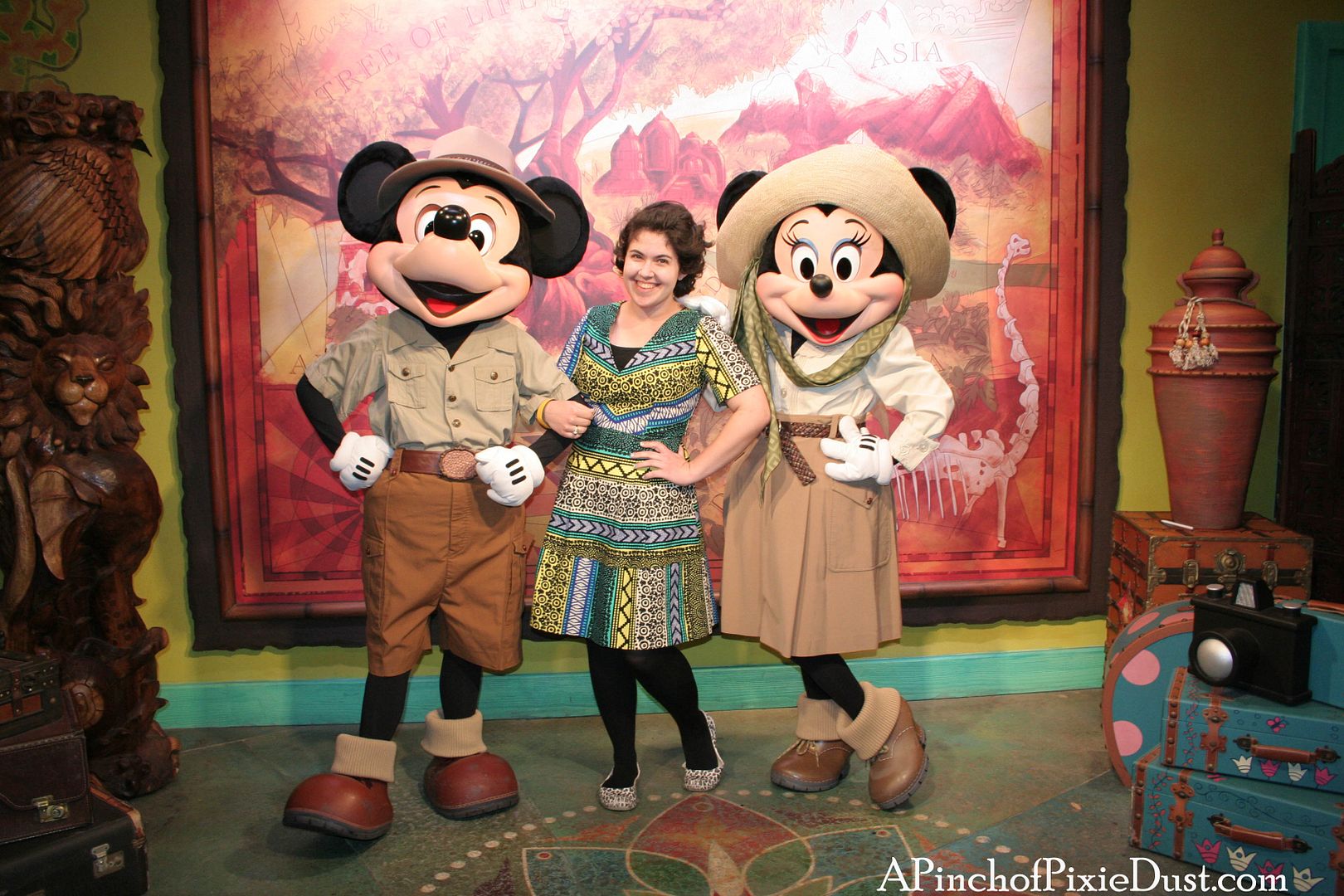 Minnie and I are clearly on the same page when it comes to how to pose like a star. ;) Then my brothers had to jump in for photos too! Minnie offered her hand to Athos, who took it and, like the gentleman we have trained him to be, kissed it...
Me (laughing hysterically): OH MY GOSH TOO ADORABLE.
Athos: OH MY GOSH WHY DOES MY SISTER DRAG ME INTO THESE SITUATIONS.
Minnie: SWOON.
No, seriously. She swooned.
Ok, so she didn't actually fall down, but she was so surprised and delighted by Athos's gallantry, and Mickey was definitely starting to get jealous. It was completely hilarious.
Good character meet and greets are just the best!
And often it's not just the characters that make for a great experience but the photopass photographers as well; this one laughed along with us and was
so
nice. He insisted on getting a picture of just Athos and Minnie and was so patient when we wanted to do different pairings with the characters. Considering the length that character lines can be, it's really frustrating when you feel rushed and don't get all the photos you'd like. It's wonderful when the photopass people help you slow down and enjoy it and take the extra 10 seconds to get just the right shot. :)