Happy Monday, friends! We're making this a savory as well as a sweet treat Monday and having a look at the tasty things on the menu at the Enchanted Garden...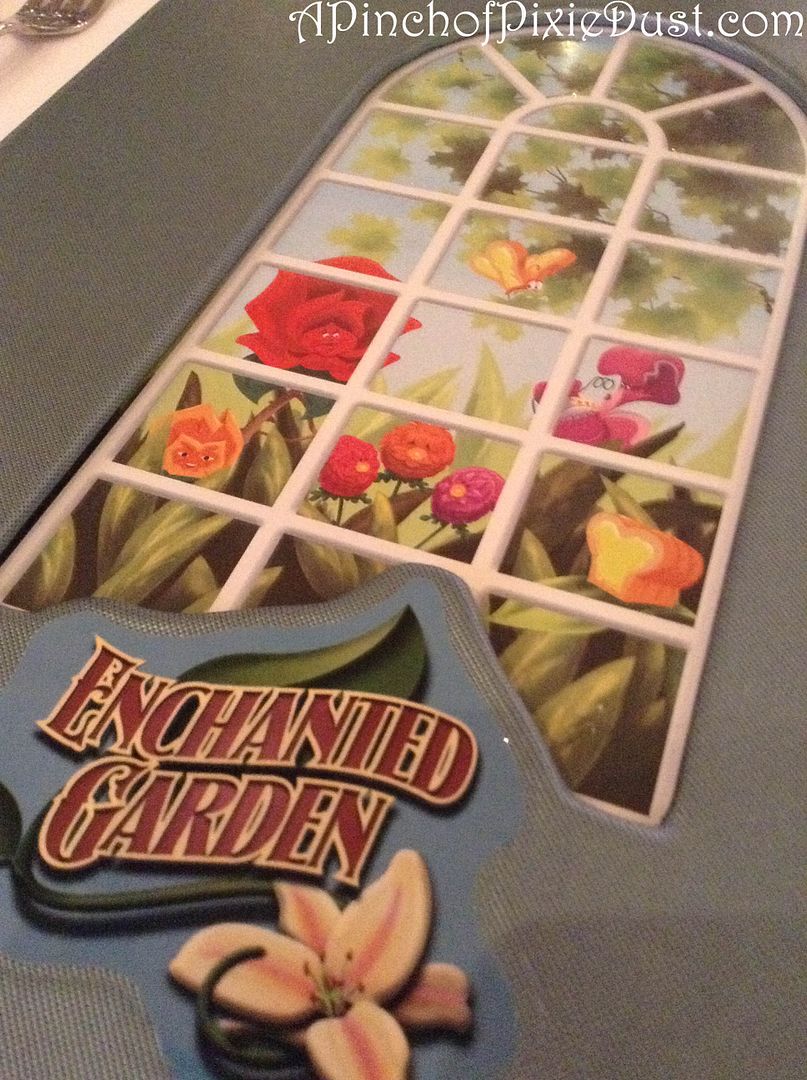 Where is the Enchanted Garden? On the
Disney Dream cruise ship
! Let's
set sail
!
There are three gorgeous restaurants on the ship that you rotate through your nightly dinners: the Royal Palace, Animator's Palate, and the Enchanted Garden!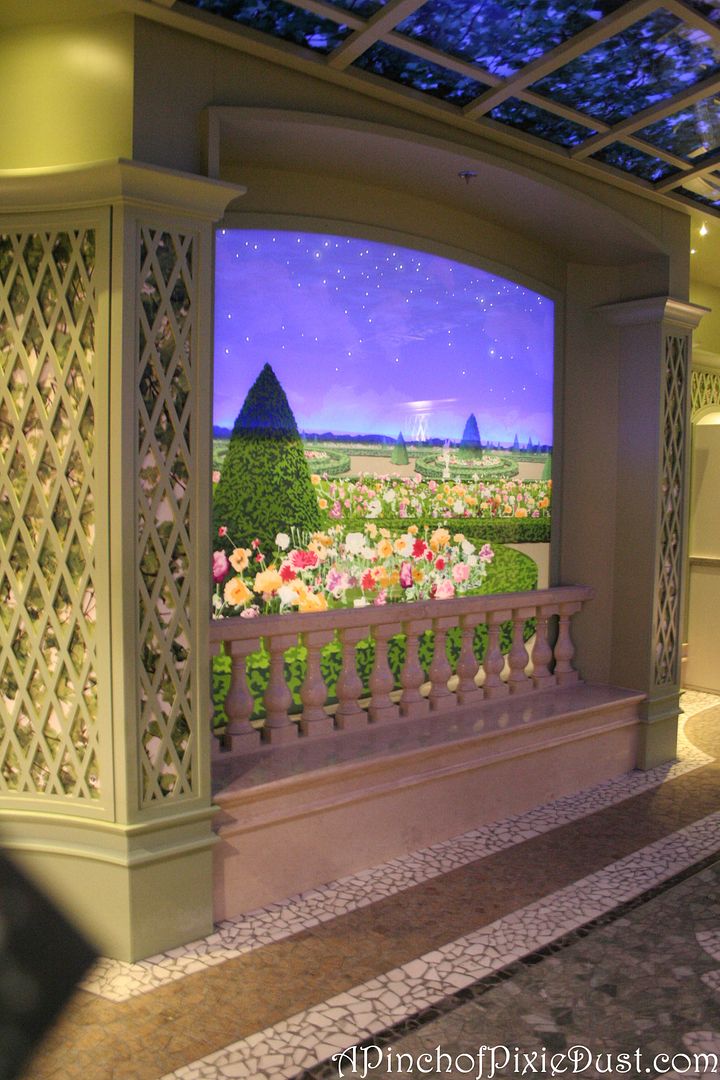 The restaurant is everything you could picture from the name - you walk through the gates and feel like you're in a moonlit garden at Versailles. Look closely at some of the garden paintings, and you'll find Disney statuettes - Tinkerbell and the Blue Fairy are in the ones near the entrance to lend some enchantment!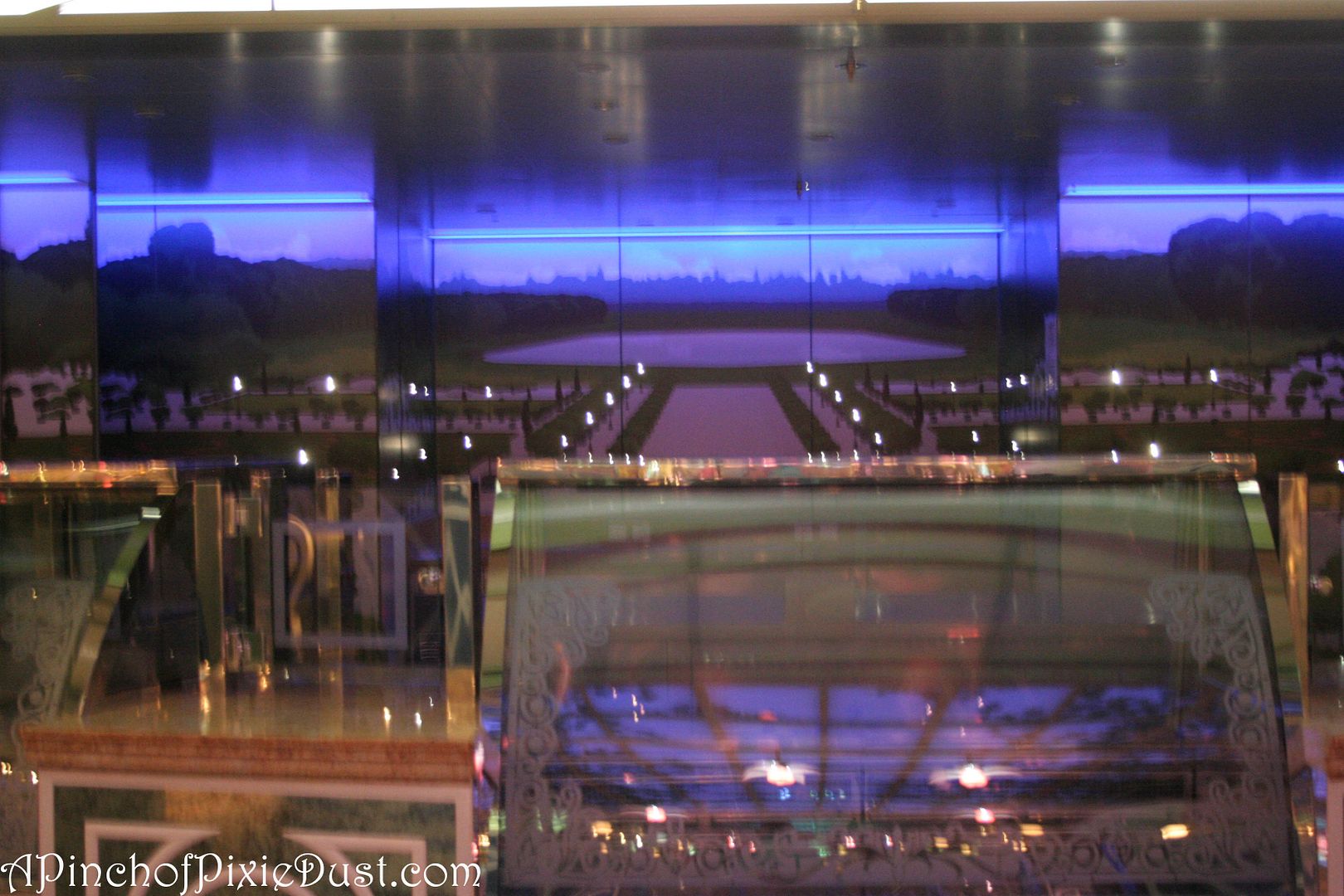 They have breakfast and a lunch buffet here as well, but the meal we're looking at is dinner!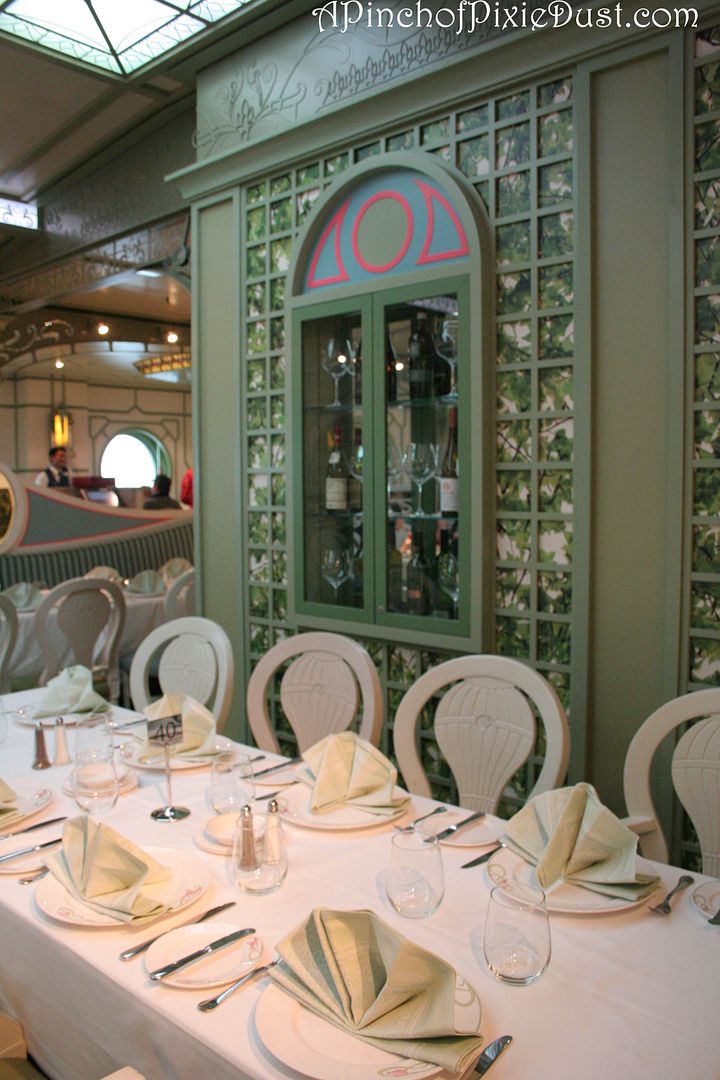 I can never get straight to the food - there are too many details to take in first! The booths are TOO COOL. And I love that you're dining under a huge trellis of ivy. The light even changes from day to night...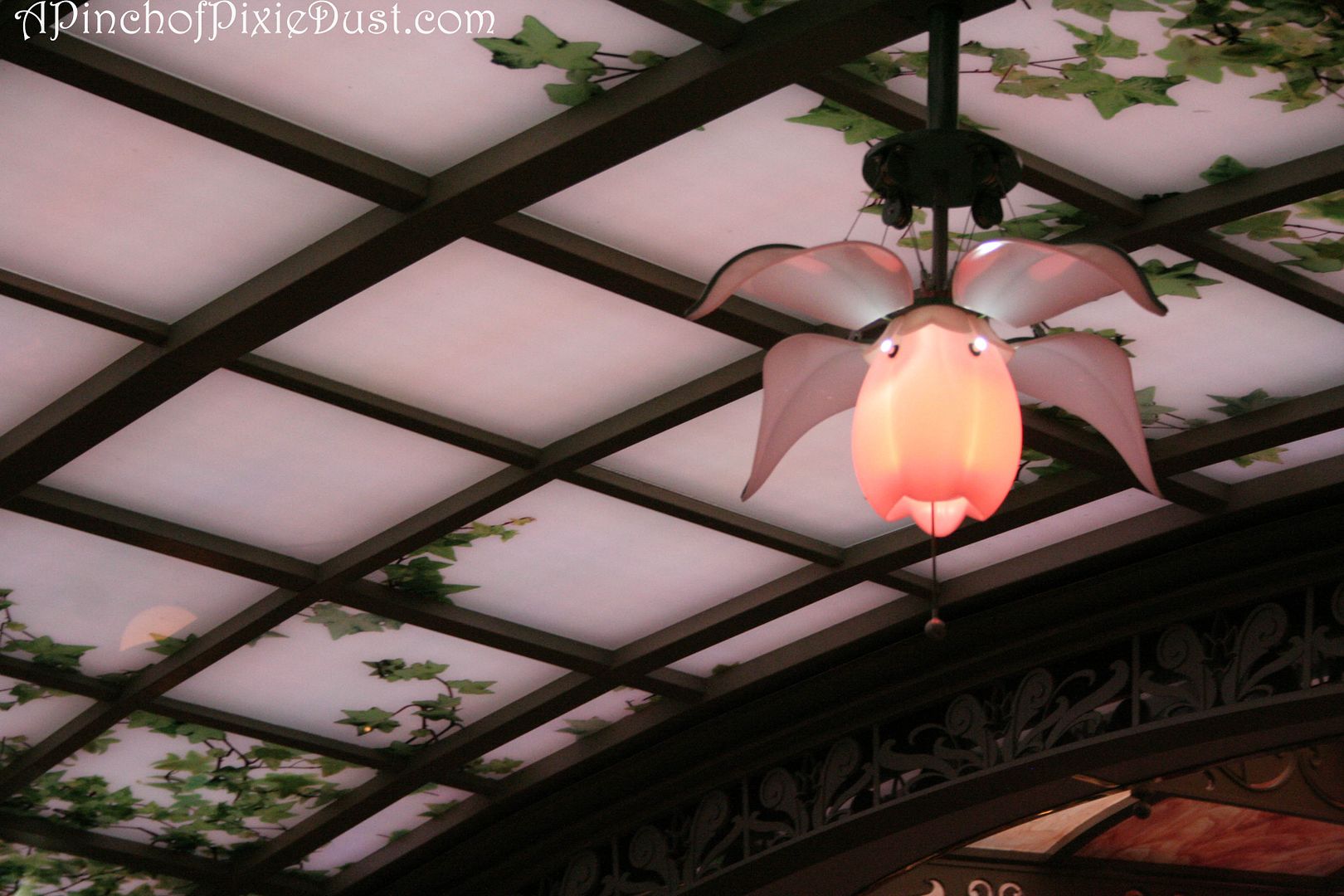 Night on the left, day on the right. And don't even get me started on those flower lamps.
So shall we sit down and eat? A virtual meal may be more enjoyable than the actual meal for two reasons: we ate here on the first night, and the ship was definitely rolling back and forth. Apparently it was actually very mild as far as rough seas go, and I didn't really feel sick, but it was noticeable.
The second reason is, unfortunately, the service! I know you sometimes hear people rave about their servers and how well they got to know them, but ours were a little too hovering and intimidating. You know when a person's smile doesn't quite reach their eyes, and it just seems like they're trying too hard? It was like that. One of the servers would go around the table and ask each of us if our meal was perfect. Not how we liked it, but literally: "Perfect?" They were friendly and efficient, and I guess they were just trying to make sure we all enjoyed the meal, but it was a little overbearing.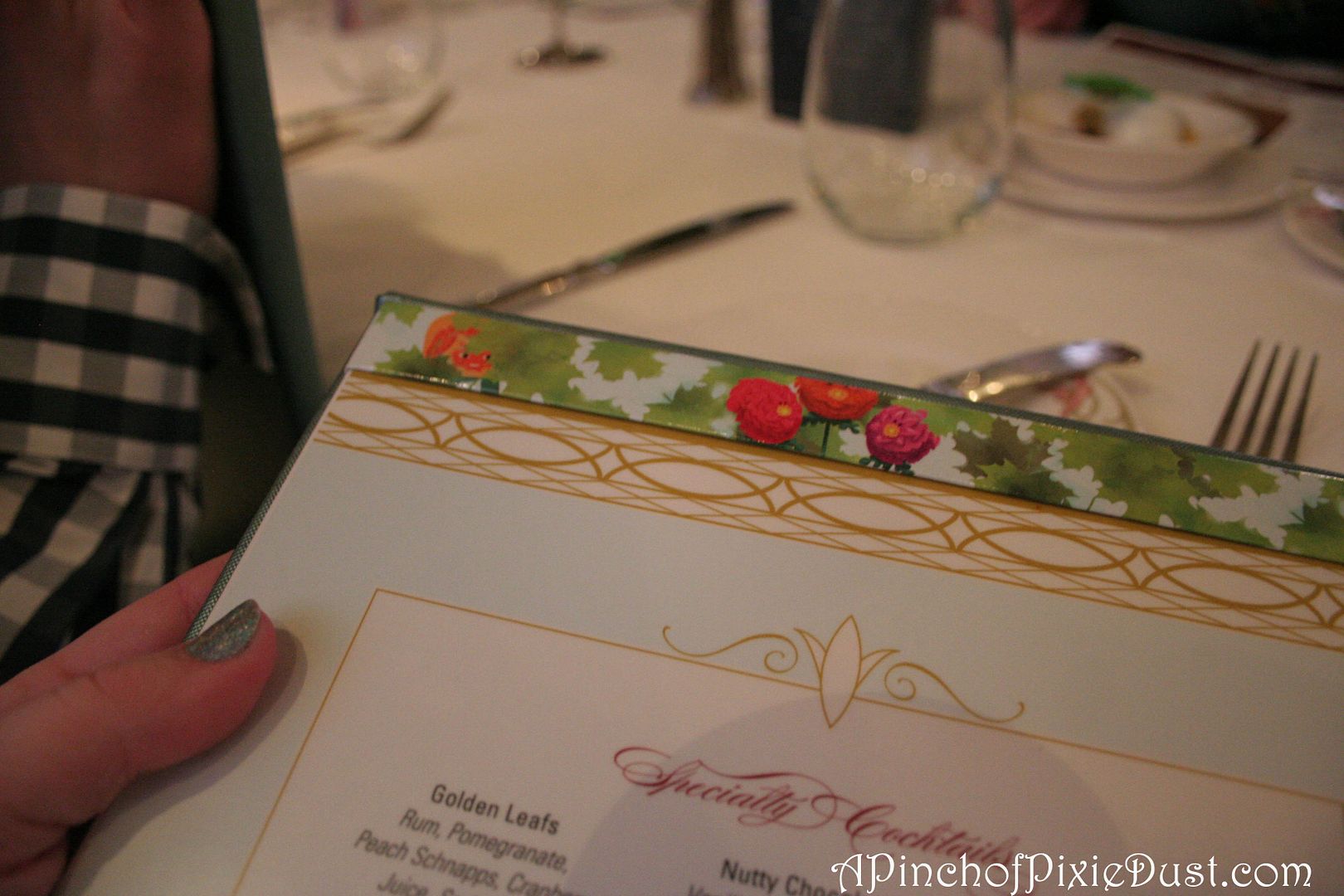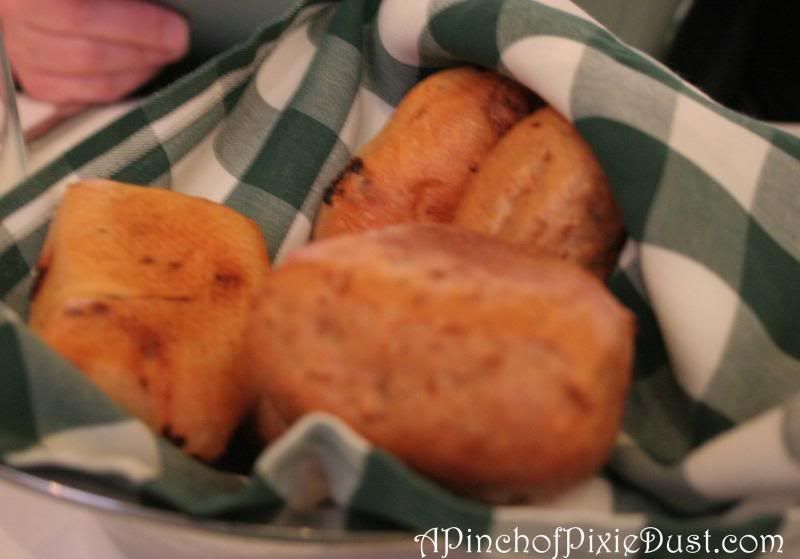 Ok, server rant over. ANYway, how cute are the menus? I love the flowers from Alice in Wonderland. And some yummy rolls were a great way to start...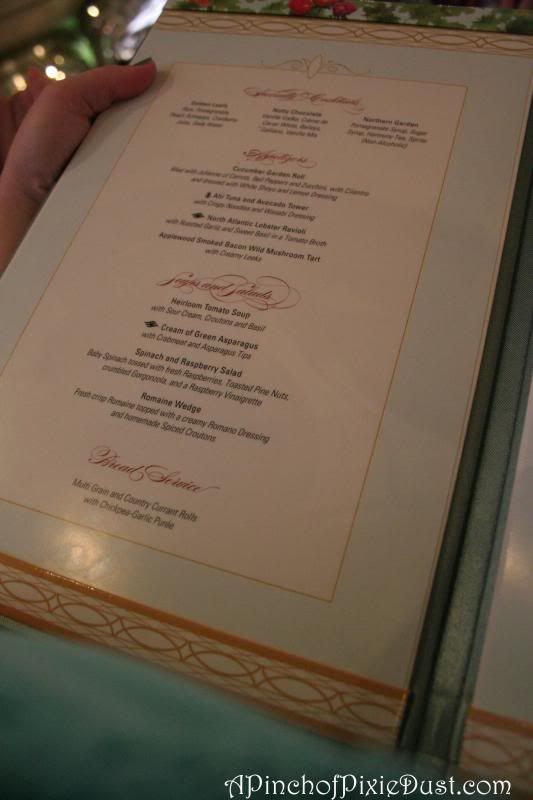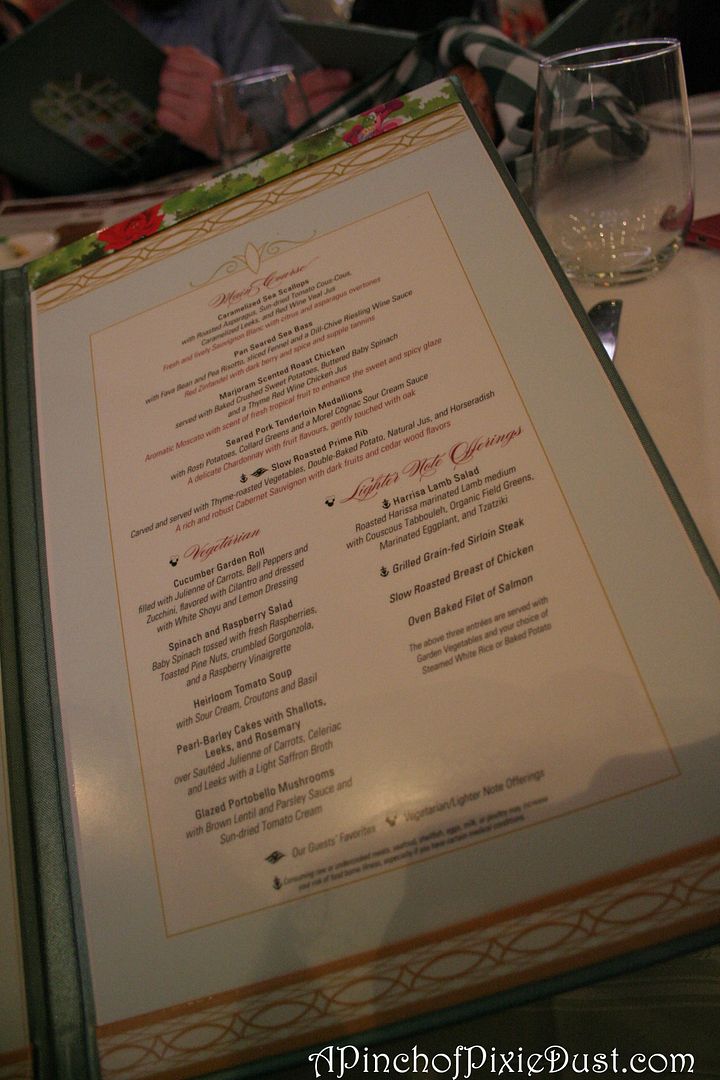 What to choose, what to choose? Click
here
and
here
for full-size photos if you want to look more closely at the menus! The fun part about going to dinner on the cruise is that
everything
is included. So you can get more than one appetizer or more than one entree. So I did...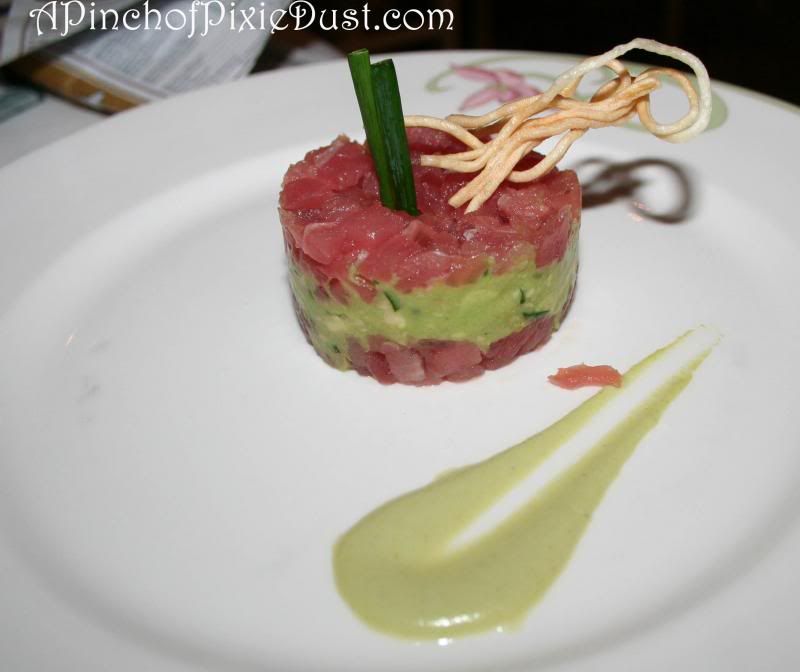 I just couldn't decide between the Ahi Tuna and Avocado Tower with Crispy Noodles and Wasabi dressing (doesn't that just SOUND incredibly fancy? I think the tuna was a ceviche type deal - not really raw but really fresh and lemony, the avocado went with it really nicely) AND the...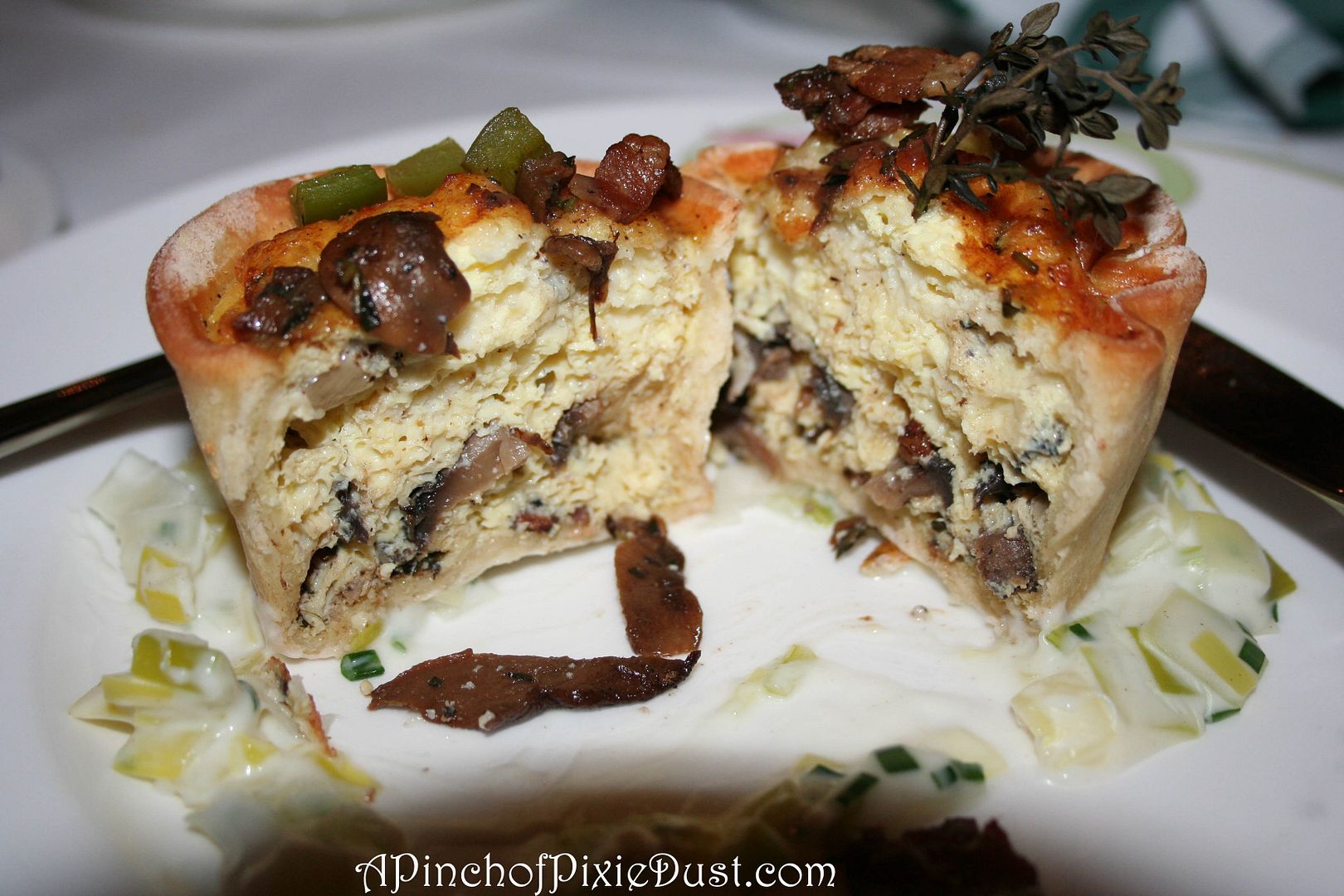 Applewood Smoked Bacon Wild Mushroom Tart with Creamy Leeks. It was more egg-y than I expected, but those leeks melted in your mouth. I practically licked the plate clean.
Next up, the main entrees...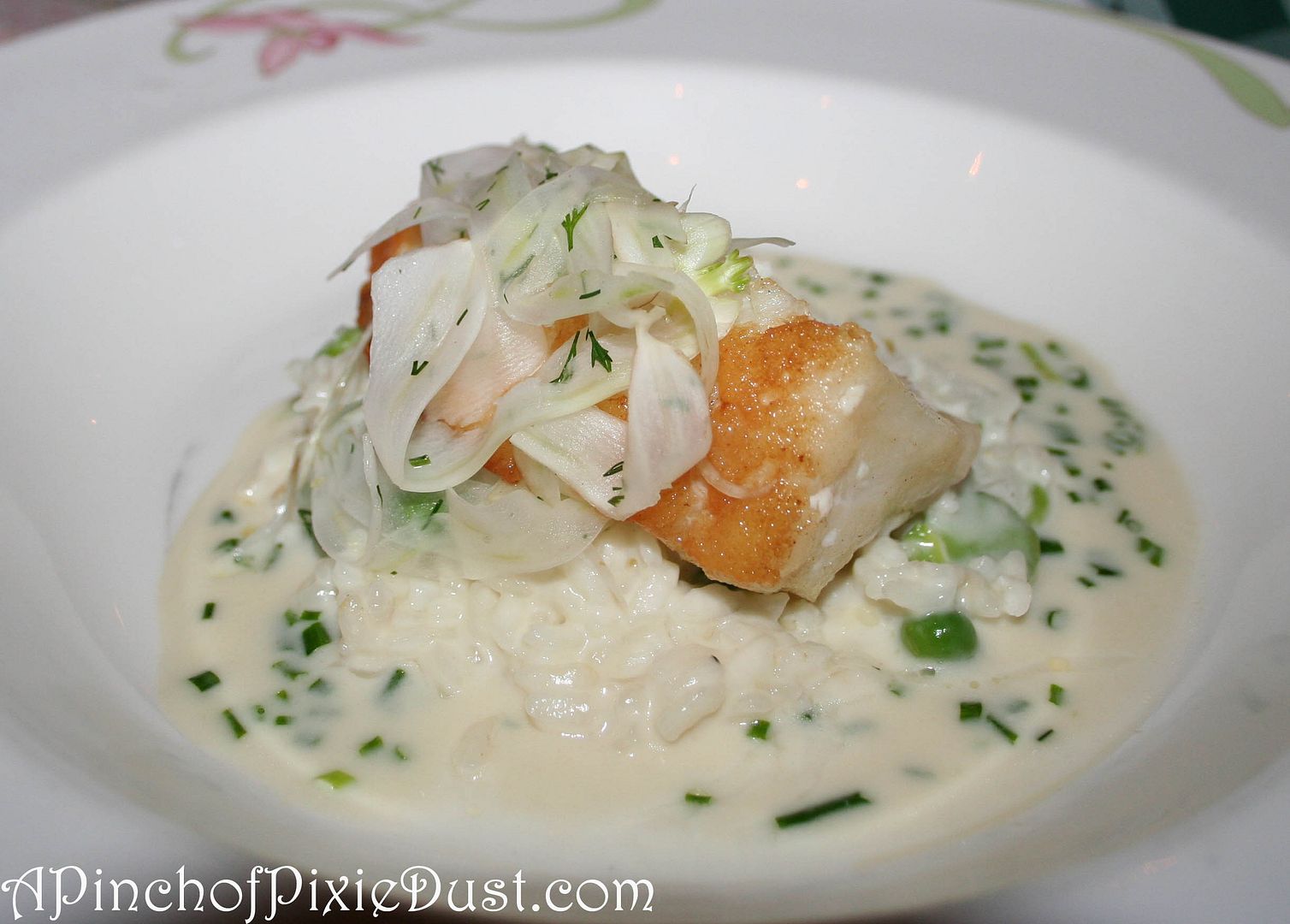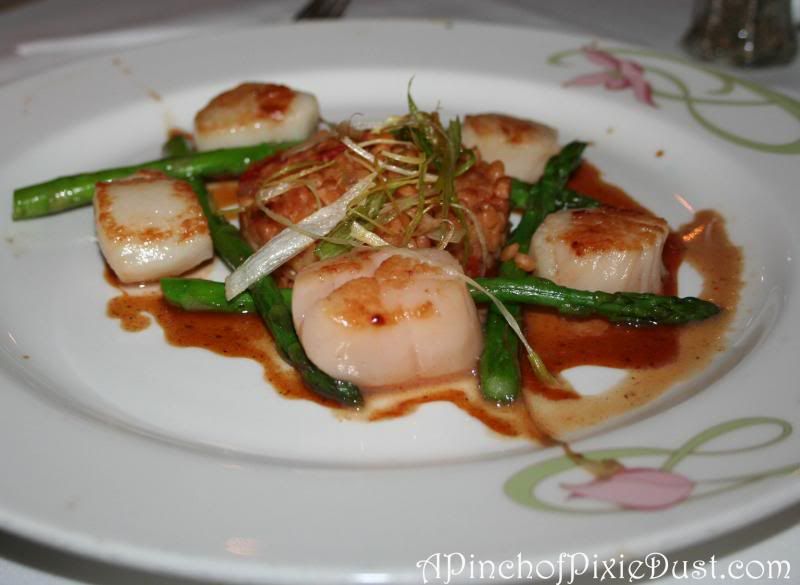 I only got one, but I did take pictures of everybody's...here we have Pan Seared Sea Bass with Fava Bean and Pea Risotto, sliced Fennel and a Dill-Chive Riesling Wine Sauce (on the left - really delicious!!), and (on the right) Caramelized Sea Scallops with Roasted Asparagus, Sun-dried Tomato Cous-Cous, Caramelized Leeks, and Red Wine Veal Jus (Athos let me try one...they were very nice as well).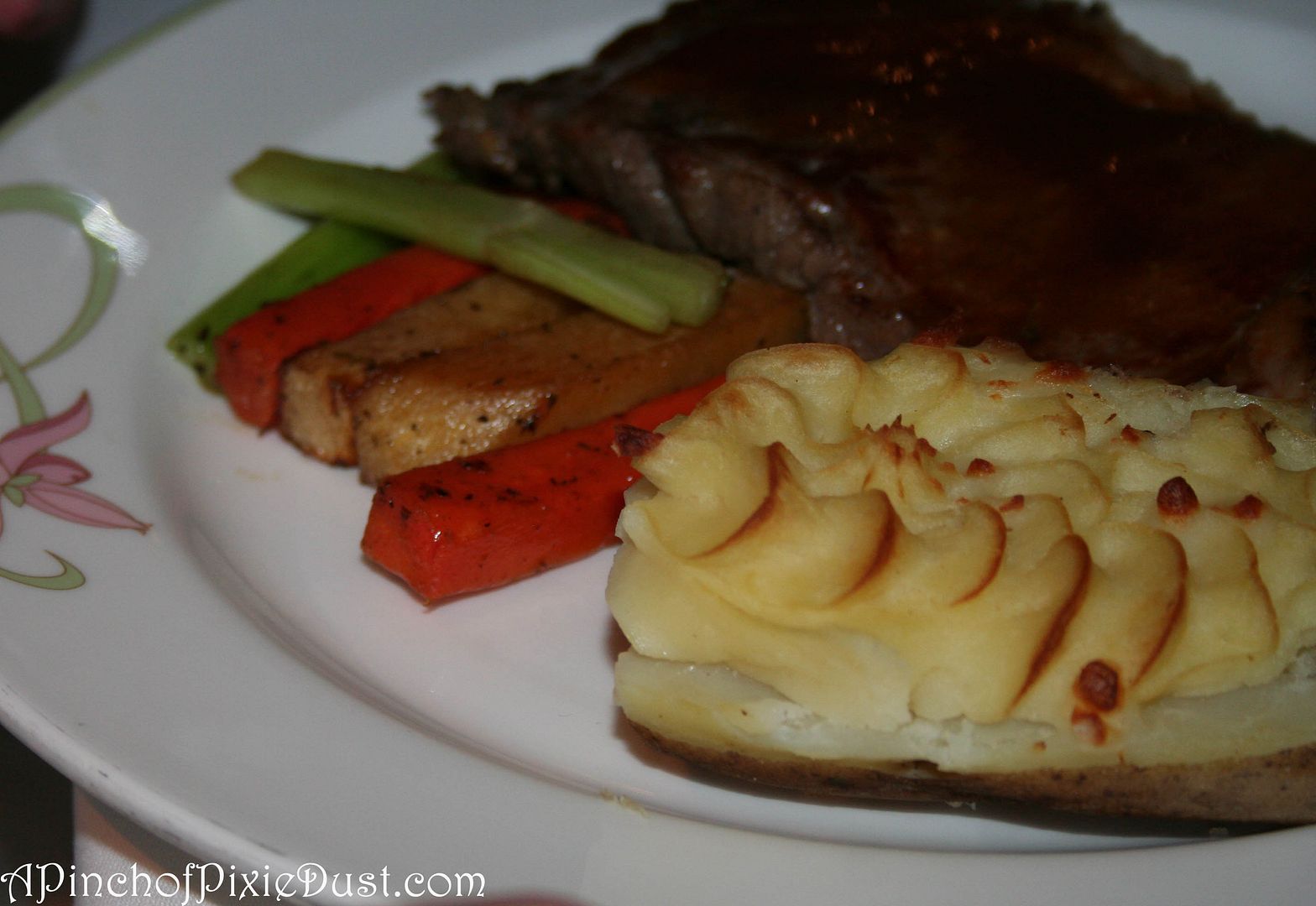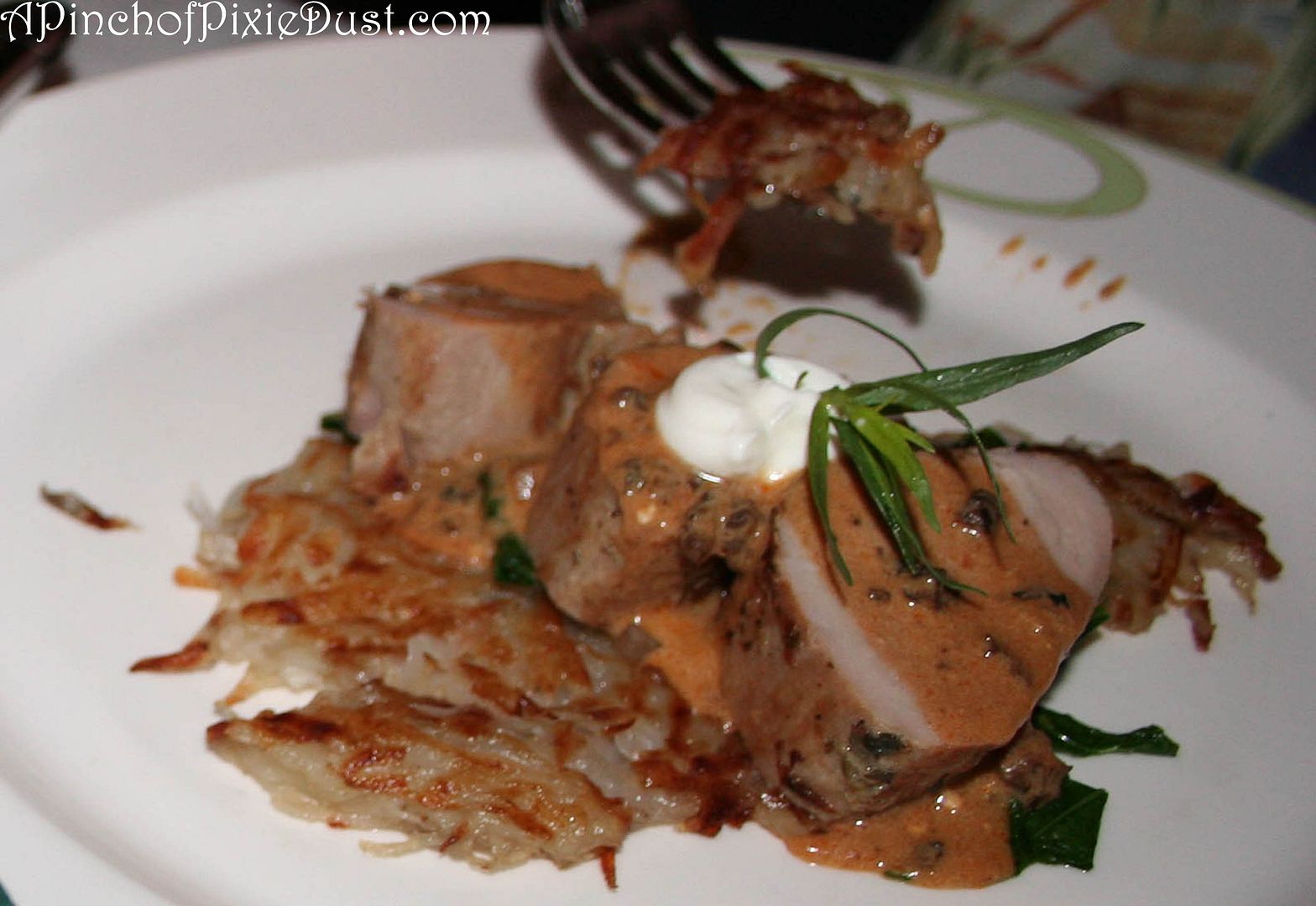 Here are some of the non-seafood options: Slow Roasted Prime Rib with Thyme-roasted Vegetables, Double-Baked Potato (it looks really delicious and creamy on top, but apparently underneath it was a pretty bland baked potato), Natural Jus, and Horseradish. On the right are the Seared Pork Loin Medallions with Rosti Potatoes, Collard Greens and a Morel Cognac Sour Cream Sauce. PHEW. Try to say that five times fast. They were good, but nobody was raving.
Now let's get to the desserts!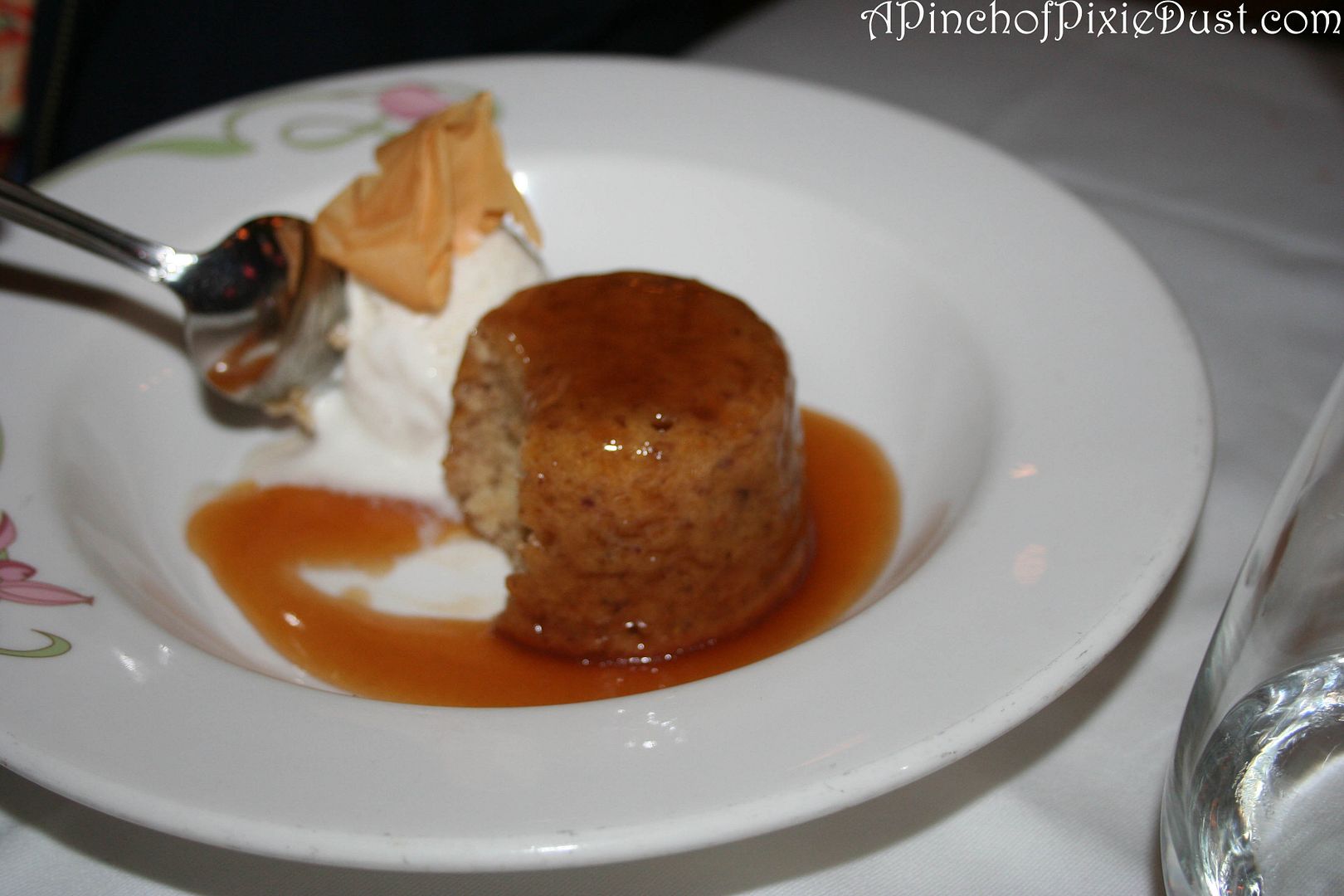 Here's the Warm Date Sticky Pudding with butterscotch sauce, vanilla ice cream, and philo crunch. Apparently the dates were not too overwhelming - this was a hit!
Apple Cinnamon Crunch Sundae. One of my brothers got this and really liked it!
Here is the Sacher Torte with apricot sauce. I think there was some apricot in between the cake layers which I was not a huge fan of.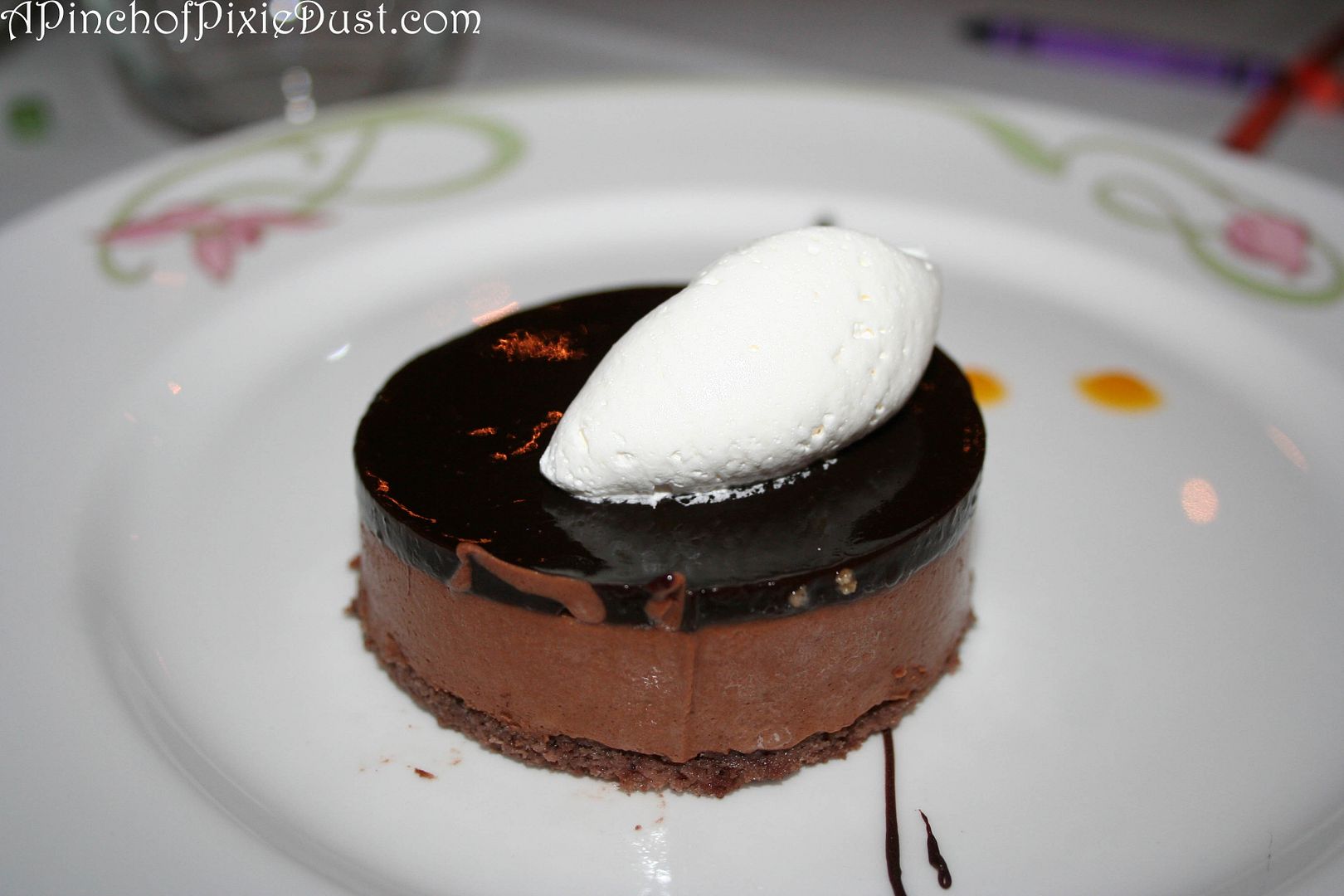 And here is the Silky Dark Chocolate Mousse...it was sugar-free, but c'mon. I couldn't resist something with a name like that. I actually liked it better than the Sacher Torte!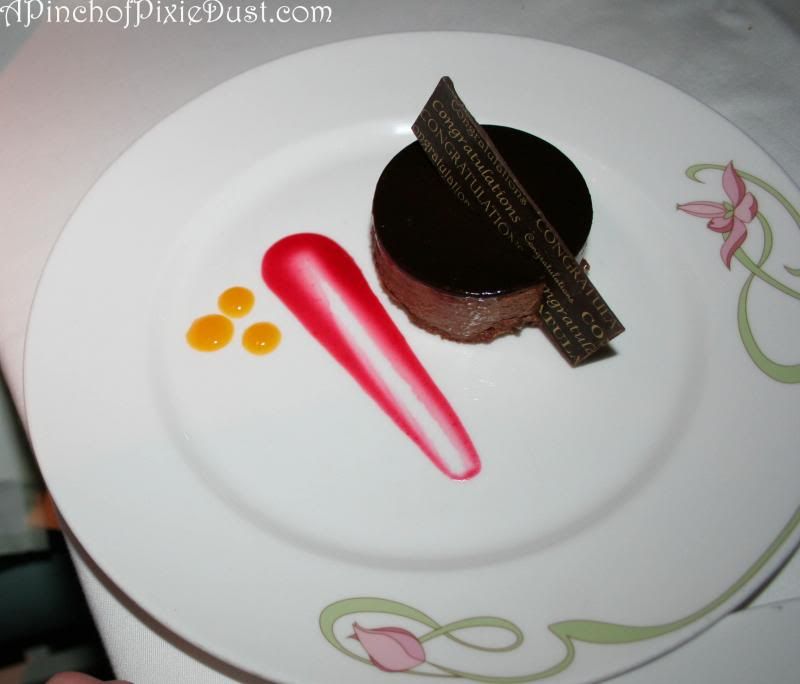 One of my brothers was celebrating an early graduation, so they brought out a mousse with a fancy chocolate Congrats banner...and is that a hidden mickey in the sauce?
As if that weren't enough chocolate, there were some little chocolates and sweets to finish us off!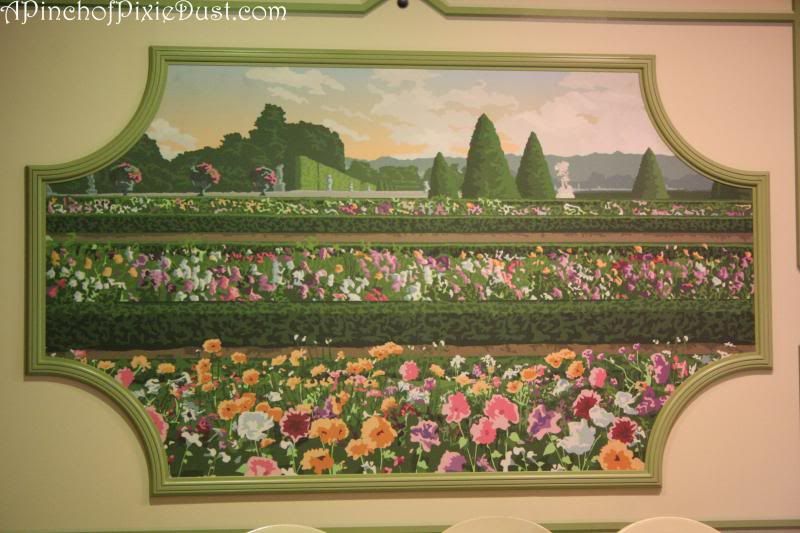 One last photo cause I can't resist: can you spot Minnie? :)