Today we're going to fly to Pixie Hollow to have a chat with Tinkerbell....more than one Pixie Hollow, actually, as you'll soon see...
This photo makes me laugh - Tink's expression is way too perfect.
So if you journey into the wilds of Adventureland at the Magic Kingdom, you'll find that one of the adventures awaiting you is a trip to Neverland and Pixie Hollow...
Technically, I guess it's called Tinkerbell's Magical Nook - the one at Disneyland is called Pixie Hollow.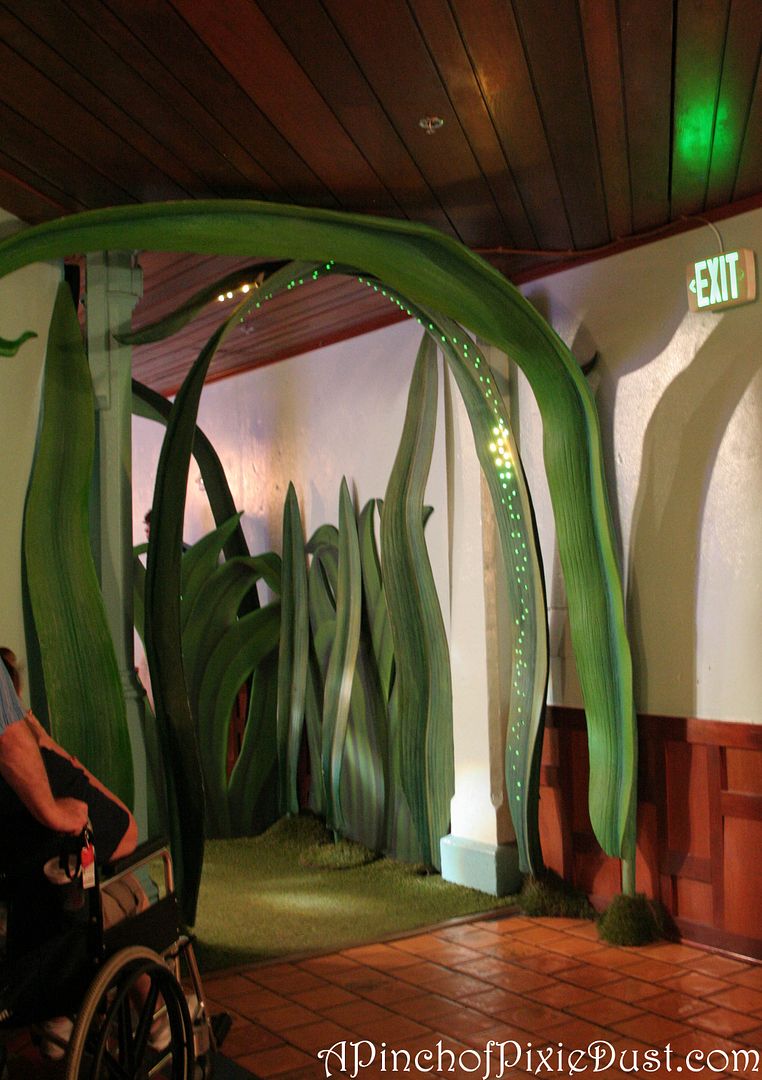 Anyway, you can go through a pixie dust portal to shrink to the size of a fairy and meet Tinkerbell and a friend.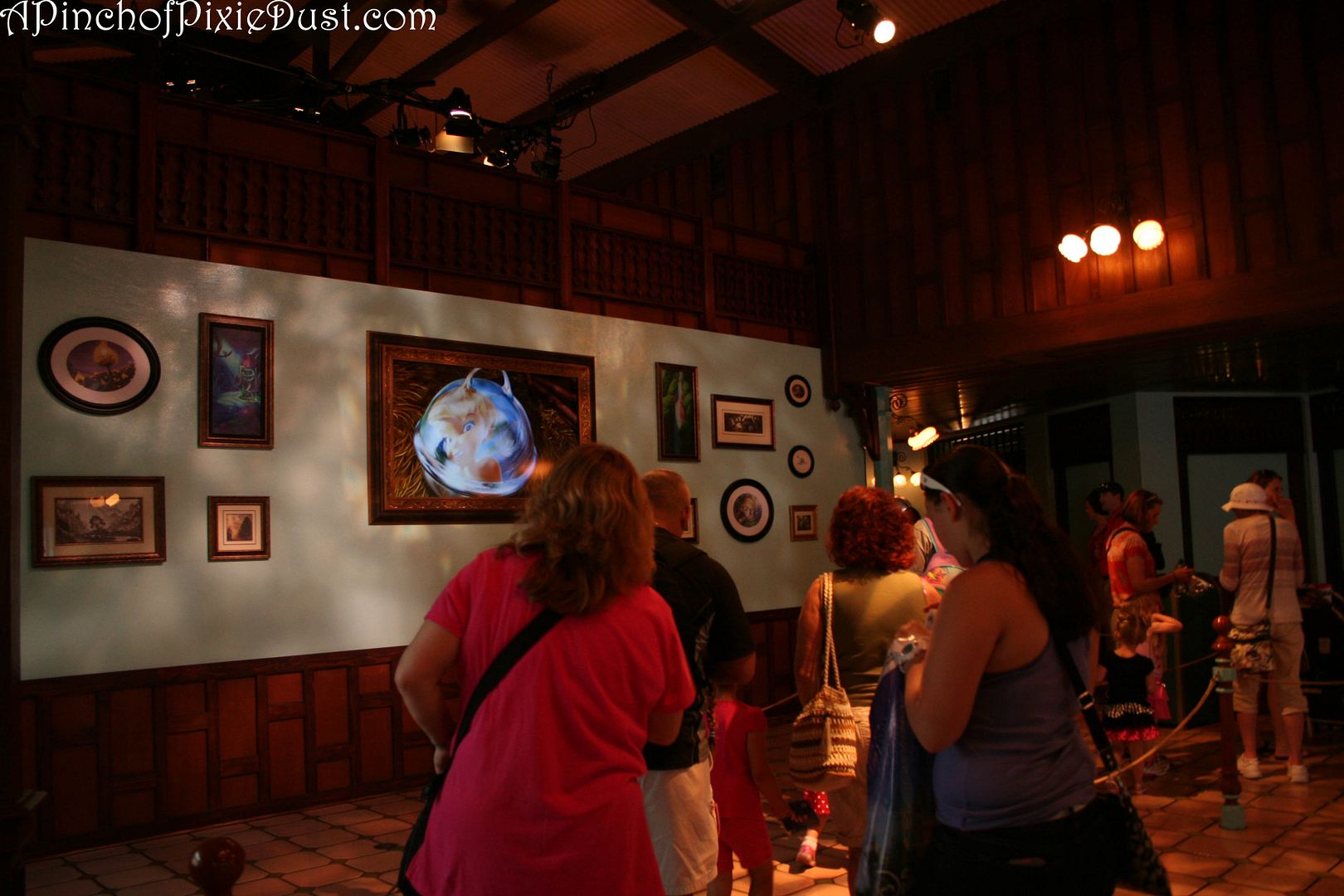 The waiting area here is nice because it's air conditioned, and there's a magical screen that plays some Tinkerbell cartoons and a few paintings of Pixie Hollow on the wall...but it would be fun if they'd put a little more thought into the theming. You have time while you're waiting in line to admire details, but with this meet and greet you don't see the details until you're in the room with the characters...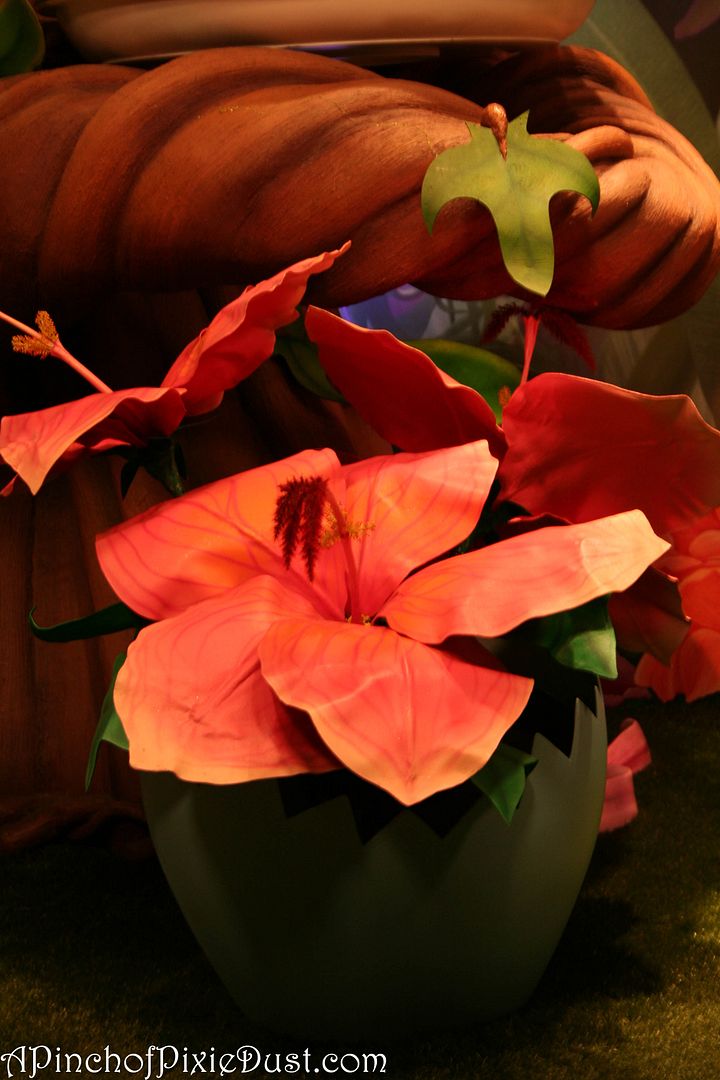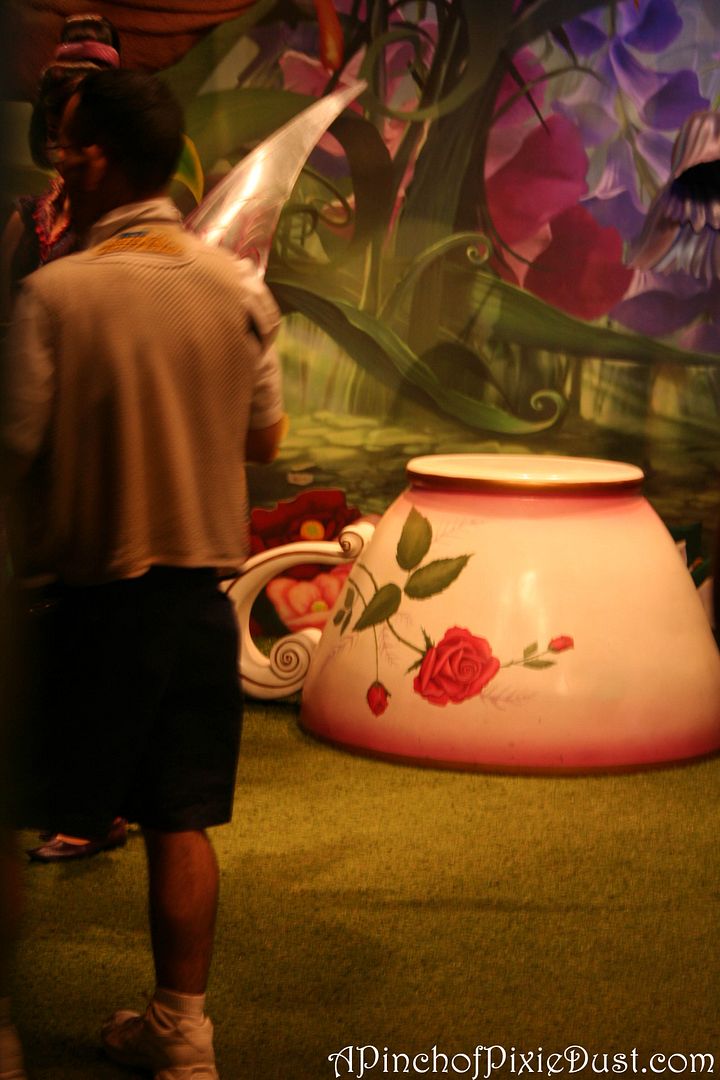 There are "lost things" all over the place - strands of pearls hung from the ceiling and tea cups and over-sized flowers. But it's hard to take it in when you've got the characters right there and the photopass people hurrying you along.
Back when Tinkerbell first started doing appearances in the parks, she had one of the character lines at Toontown, and the line was more interesting...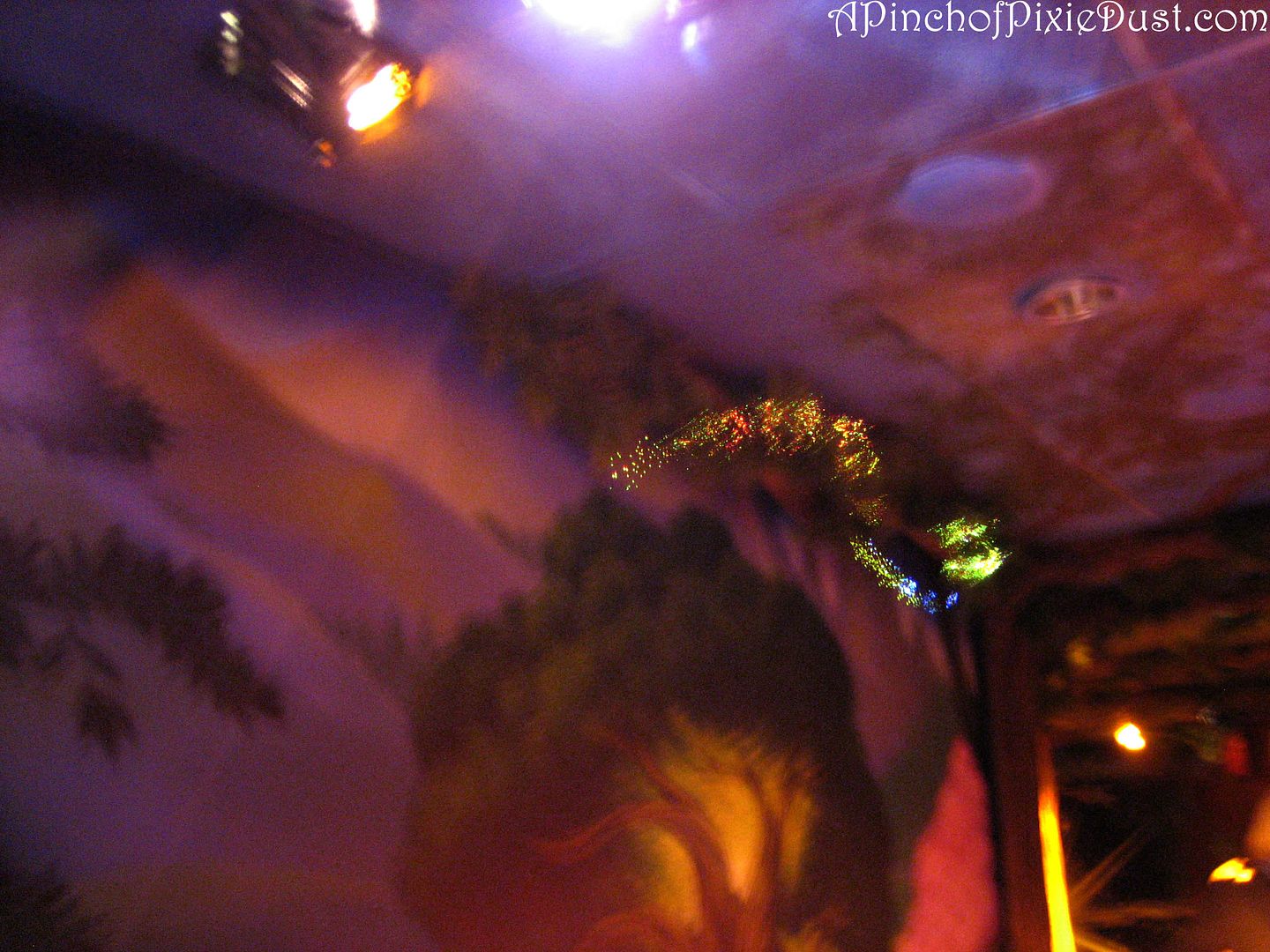 There was a trail of pixie dust leading you all the way down a hallway with paintings of Pixie Hollow and Neverland on either side...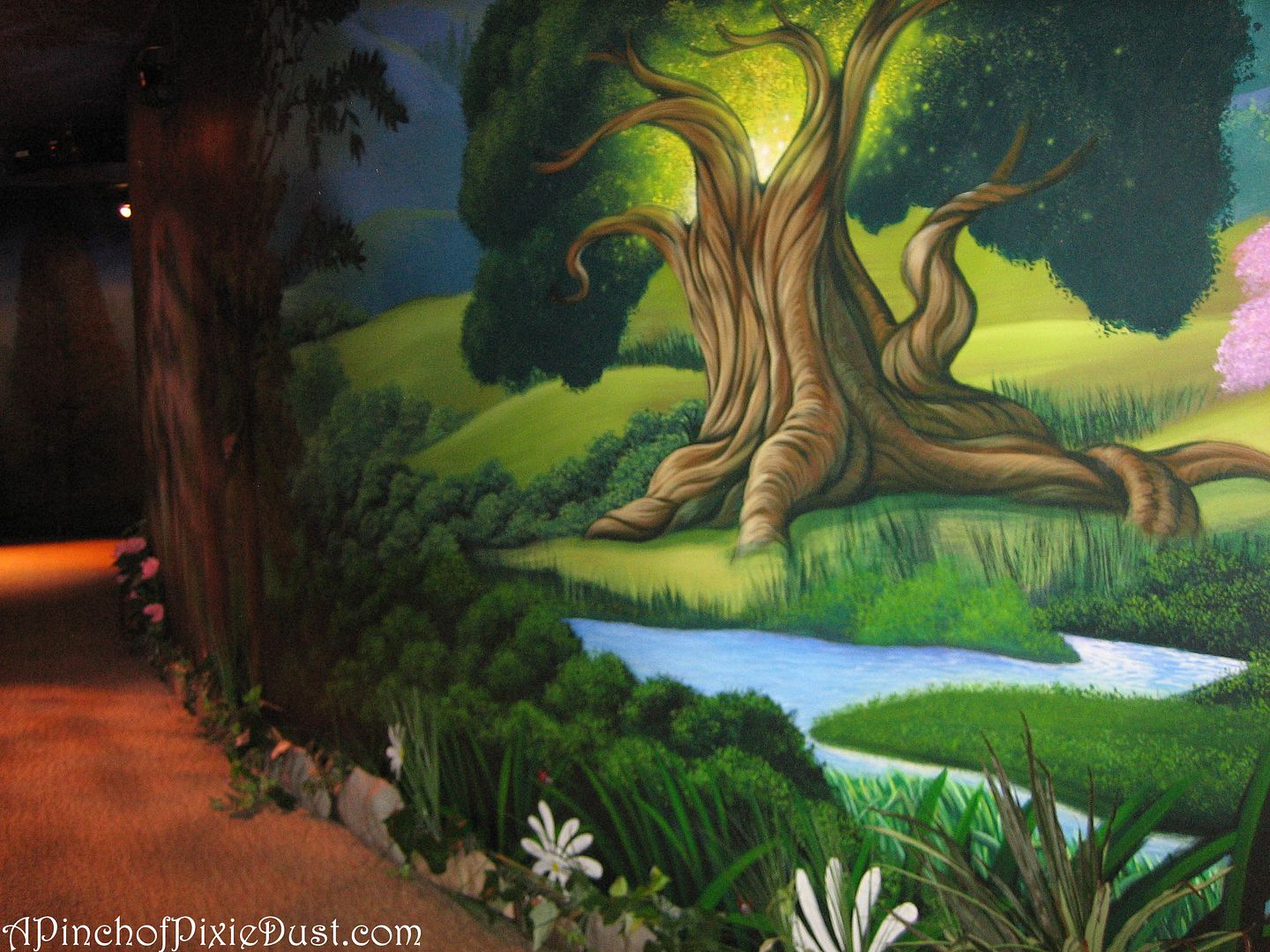 It just felt more immersive than the new Adventureland waiting area...
I got a kick out of the big burst of pixie dust on the exit door at the end of the old hallway - although the meet and greet room itself was pretty much identical to how it is now. I think they got rid of that feather pen though...and it must've been a larger space, as you originally would meet three fairies instead of just two. I'm really not a fan of the way Disney has been paring down character meet and greets like that - it's the same at Princess Fairytale Hall, only two princesses unlike Toontown's former three.
ANYway, those photos were taken in 2009. When Toontown closed, Tinkerbell's meet and greet moved to Epcot and a little outdoor courtyard near MouseGears for awhile. I don't know what that space looked like, but if it was at all like the outdoor Pixie Hollow at Disneyland in California, it must've been beautiful.
Since we're on the topic of variations on Pixie Hollow, we might as well take a look at that one too, right?
We last visited Disneyland in 2008, and I think the movie had just come out and the Tinkerbell characters had just recently started appearing in the parks.
California's Pixie Hollow is truly gorgeous...there are larger-and-brighter-than-life flowers surrounding you on every side!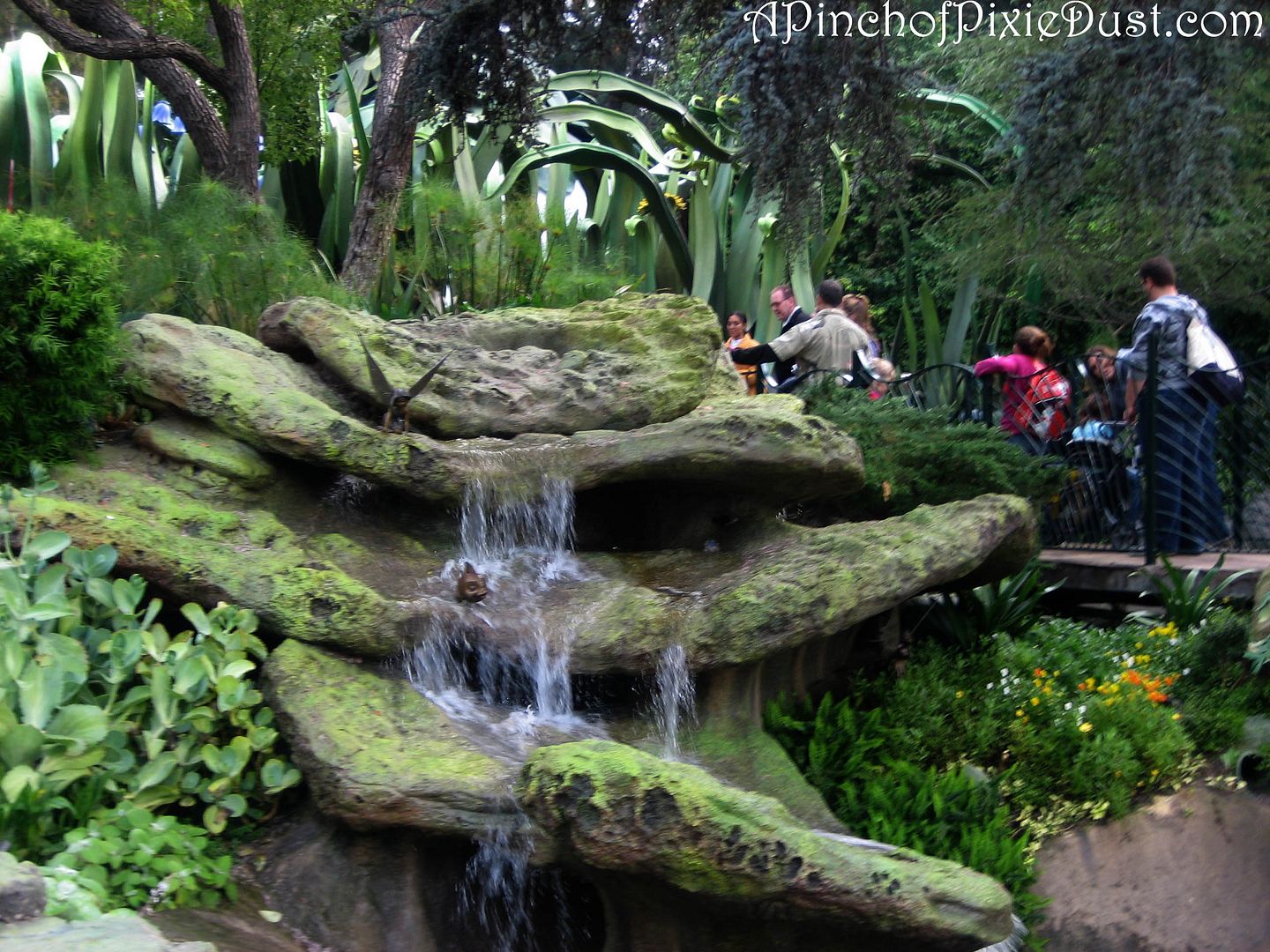 The line winds through a fairy garden with tiny houses - it reminds me of the
Pixie Hollow topiaries
that go up during the Flower and Garden festival!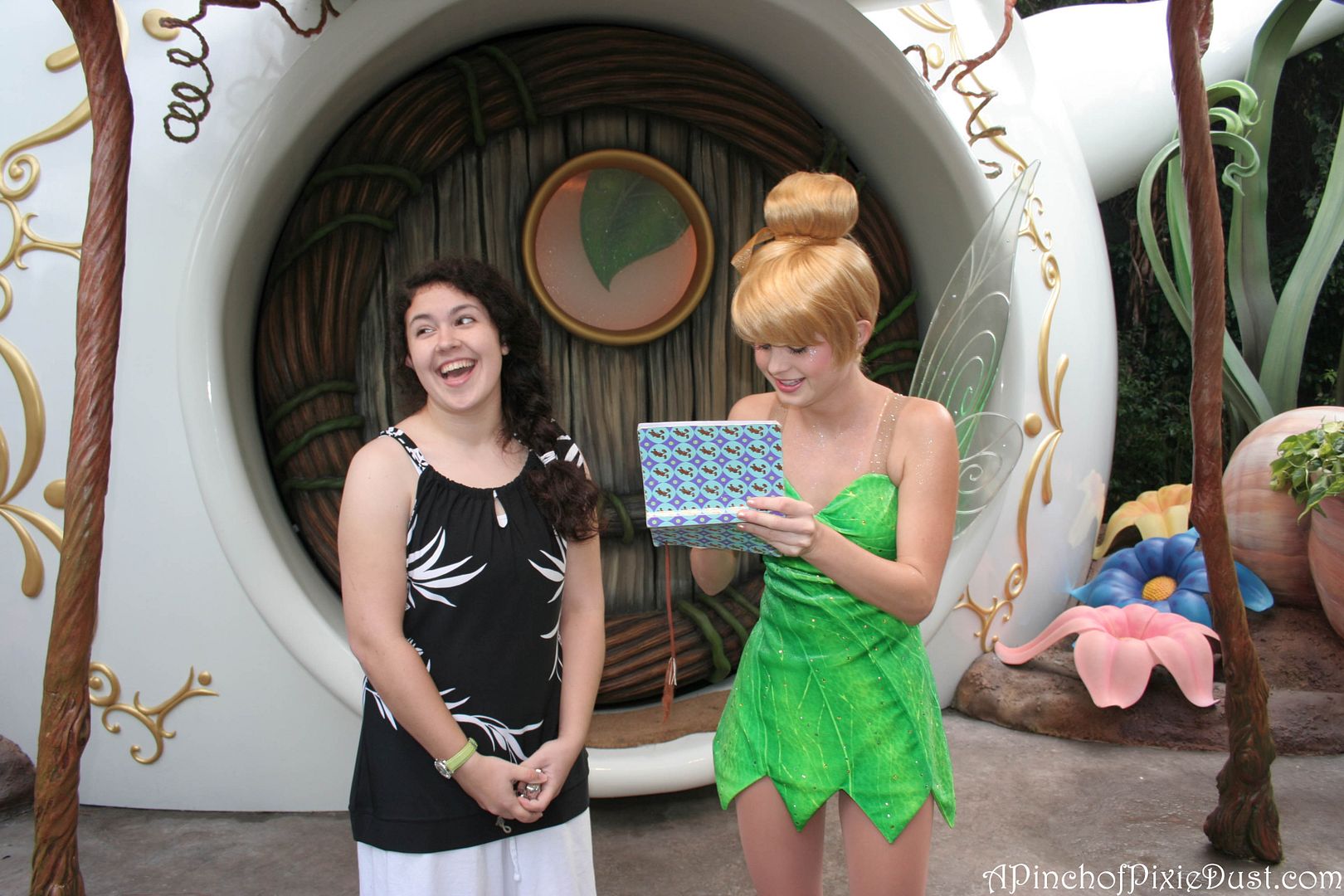 In California you get to meet Tink in front of her teapot house! Very fun.
I couldn't do a post about Tinkerbell without talking about her shoes. Just look at those sparkly pom poms. I want a pair like that.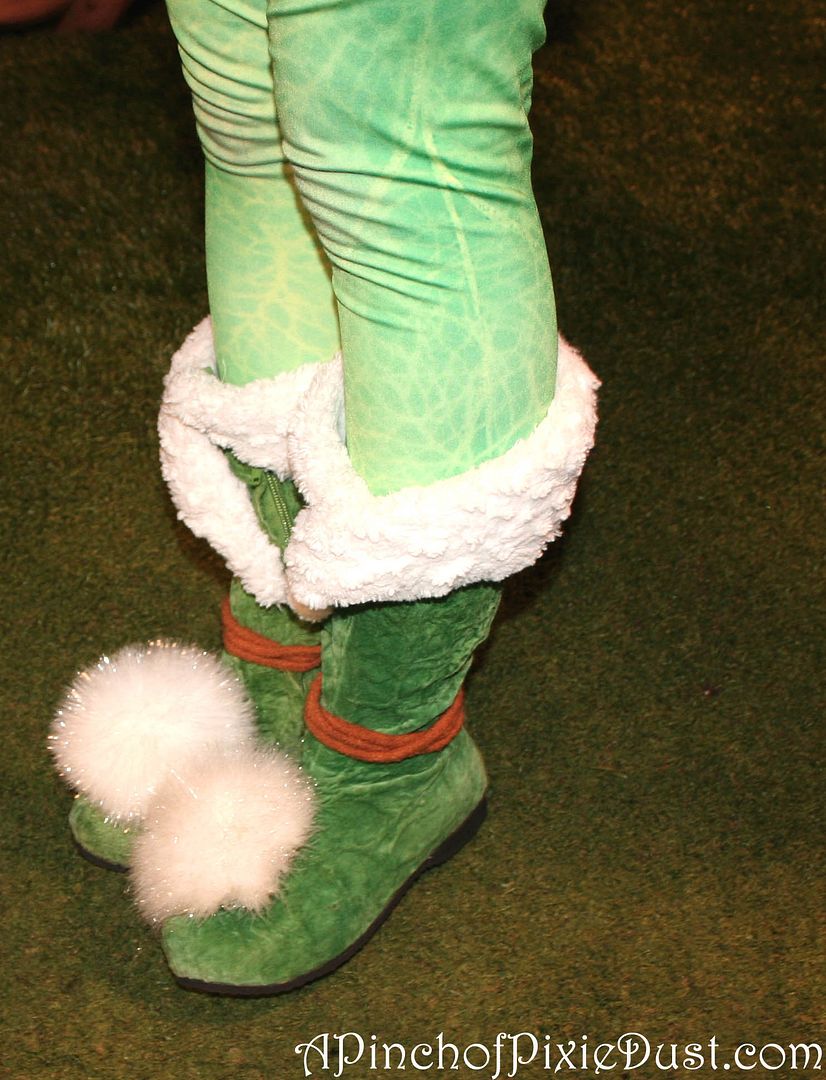 My original plan for this post was to just do a short update to share Tinkerbell's winter boots because I thought they were so neat (I REALLY want a pair like that...anyone know a good pixie cobbler?). But then somehow the post morphed into an all-out tour of Pixie Hollow past and present, coast to coast. I have no idea how. ;)
When I met Tink recently in December it was mainly because I wanted to get her advice on finding a handsome sparrowman (or Peter Pan?) for my
Prince Charming video
.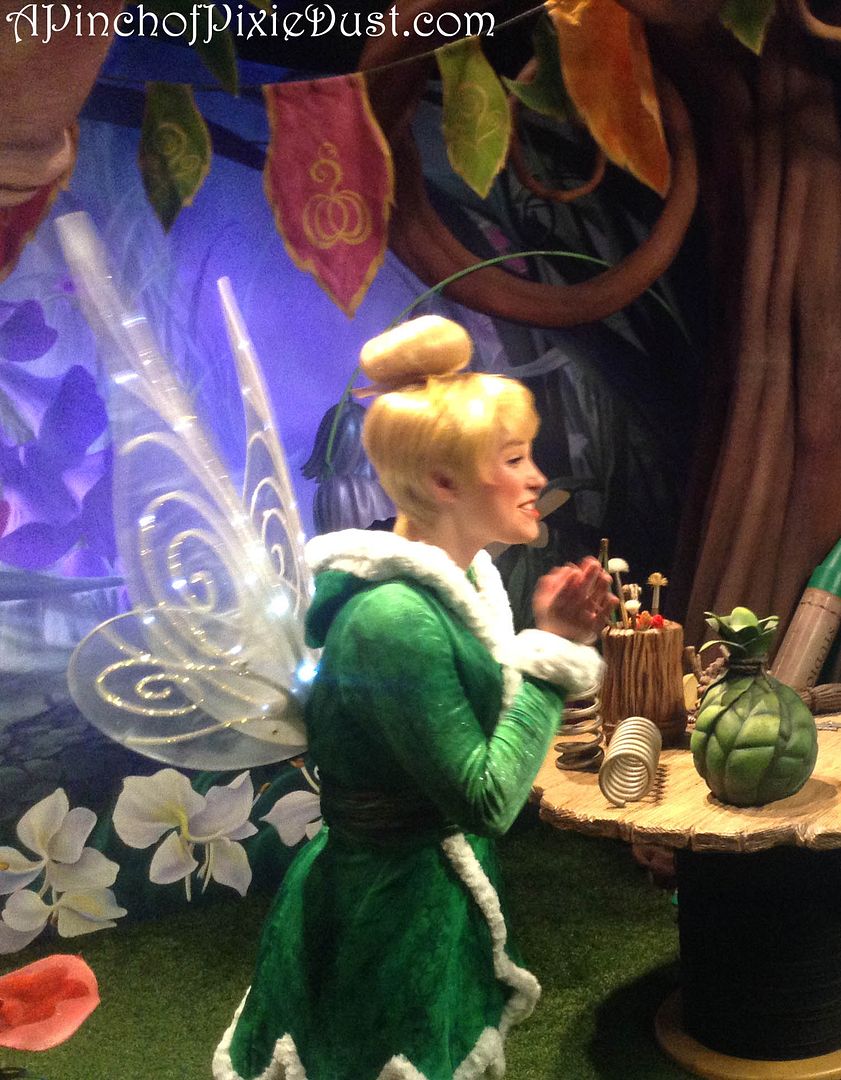 She was SUCH an amazing Tinkerbell - bubbly and spunky and almost over-the-top but so sweet. It was really fun to talk to her - super fun to see her adorable winter outfit (can I get a coat like that too??) - and she was fabulous in the videos (she's in the
December vlog
as well).
But we didn't just get to meet Tink...we also got to say hello to Periwinkle, Tinkerbell's twin sister. I wish I had done a video for her too, because she was darling. She immediately launched into an explanation of what she was doing away from the winter fairy land (I guess in the movie she's not supposed to come to Pixie Hollow!) and was telling all these silly jokes about snow and icebergs and winter.
I love her wings. And her outfit. Look on the left in the background of the photo - see the flower that's coming out of the snow? It's actually a frosted periwinkle that's in the movie! That whole table is full of props and "lost things" that Tinkerbell sometimes shows to her guests. There's often one related to the most recent movie...
They used to have the "fall scepter" from Tinkerbell and the Lost Treasure out (in the photo on the left). And on the right is a closeup of the periwinkle from Tinkerbell and the Secret of the Wings. I haven't seen all of the Tinkerbell movies, but apparently there's a new one coming out in April called The Pirate Fairy (There's such a thing as a pirate fairy??). So maybe there will be a new fairy coming out for meet and greets in the parks this spring?
Have you ever visited Tinkerbell in Pixie Hollow or her Magical Nook? What do you think of all the fairy details?