It's Thursday. And on Thursdays, I like to spread some
European pixie dust
. Or, today, some
British
pixie dust. When last we left off in the Emma in Europe chronicles, I had just departed from the lovely town of
Salisbury
and was on my way to
LYME REGIS
.
Lyme is a pretty coastal town in Dorset. It's actually quite well known for the fossils to be found along the beach and in the cliffs, but I wasn't going to Lyme for fossils. I was going to Lyme for
Jane
.
If you've read
Persuasion
, you'll know Lyme already. Jane Austen describes it so beautifully in that novel, and her heroine Anne Eliot obviously loves the place.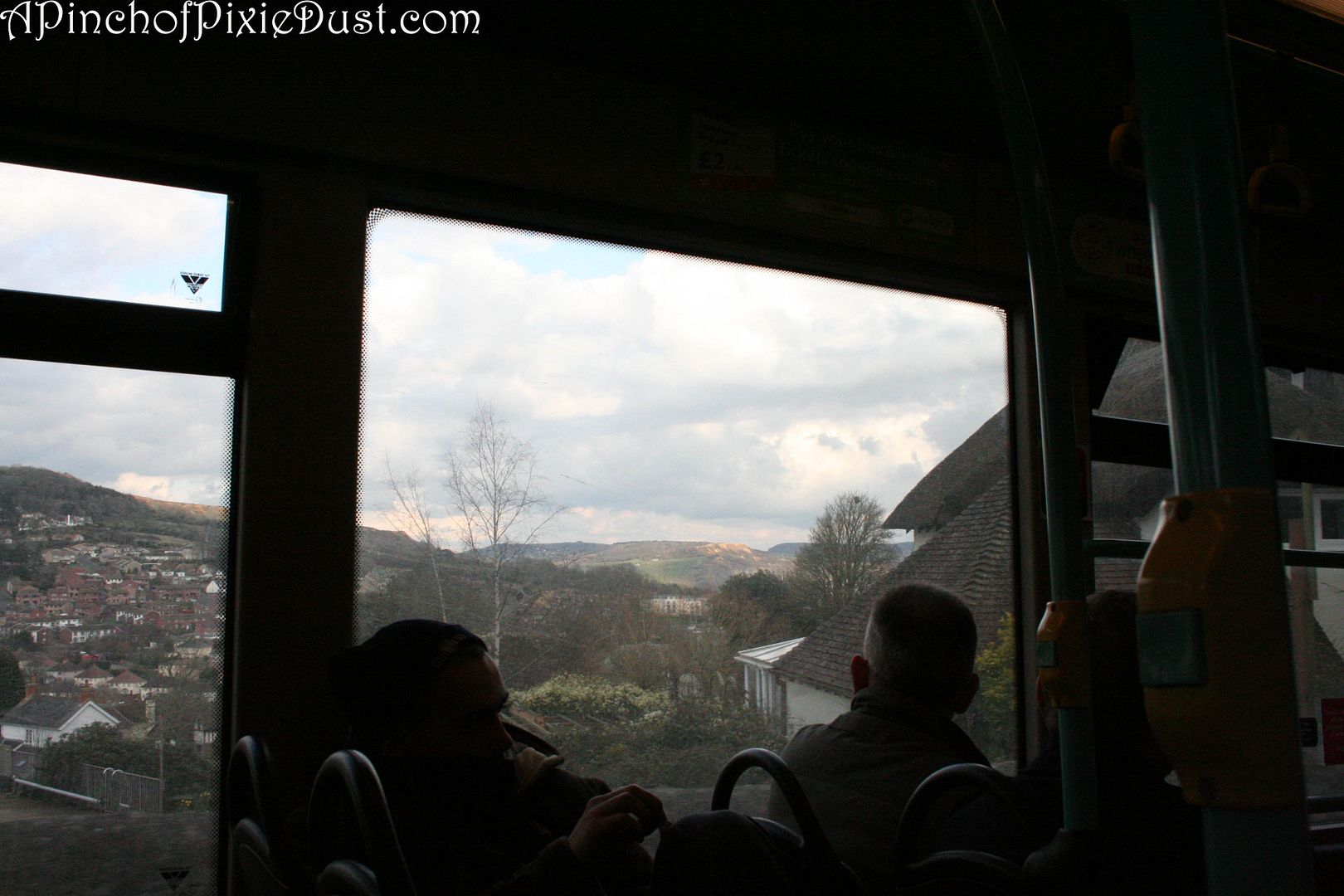 I love Jane Austen and
Persuasion
and Anne Eliot, so I was basically bursting with excitement as my bus threaded narrow roads up the Dorset hills and then back down again into Lyme. I was (re-)reading Persuasion as we went and was amazed how well - even 200 years later - Jane's description matched the scene.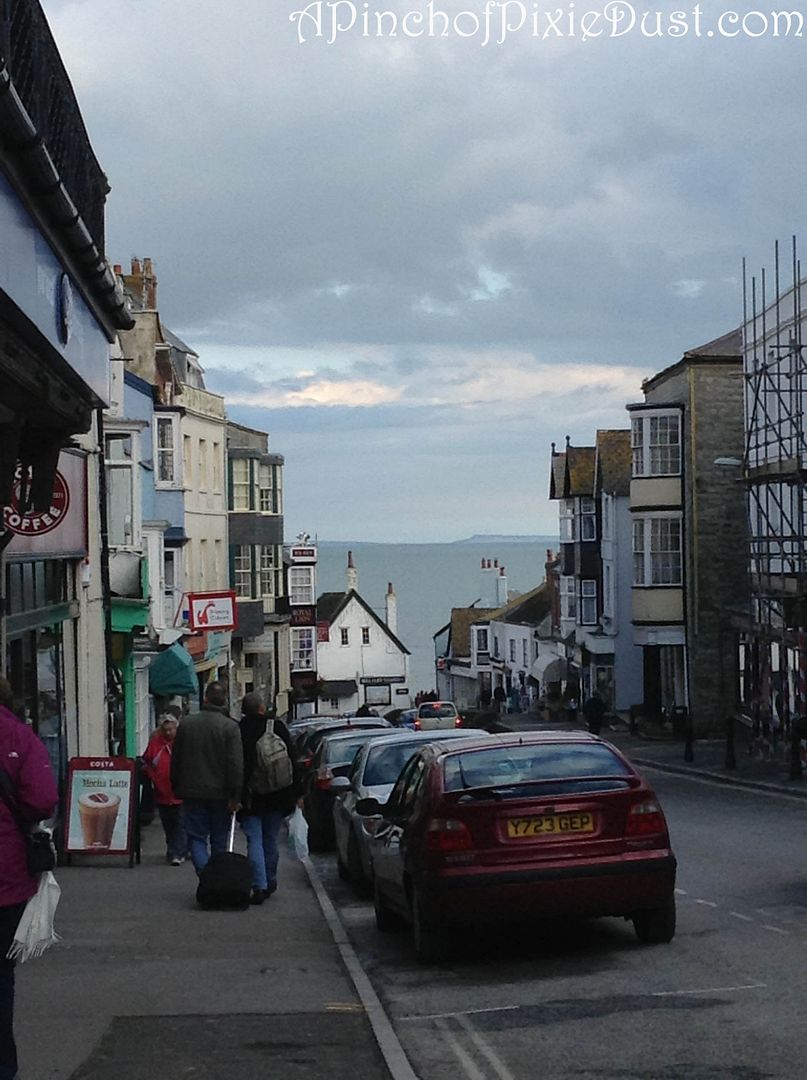 Lyme is quite a compact town, and I decided to get checked into my B&B before doing any exploring...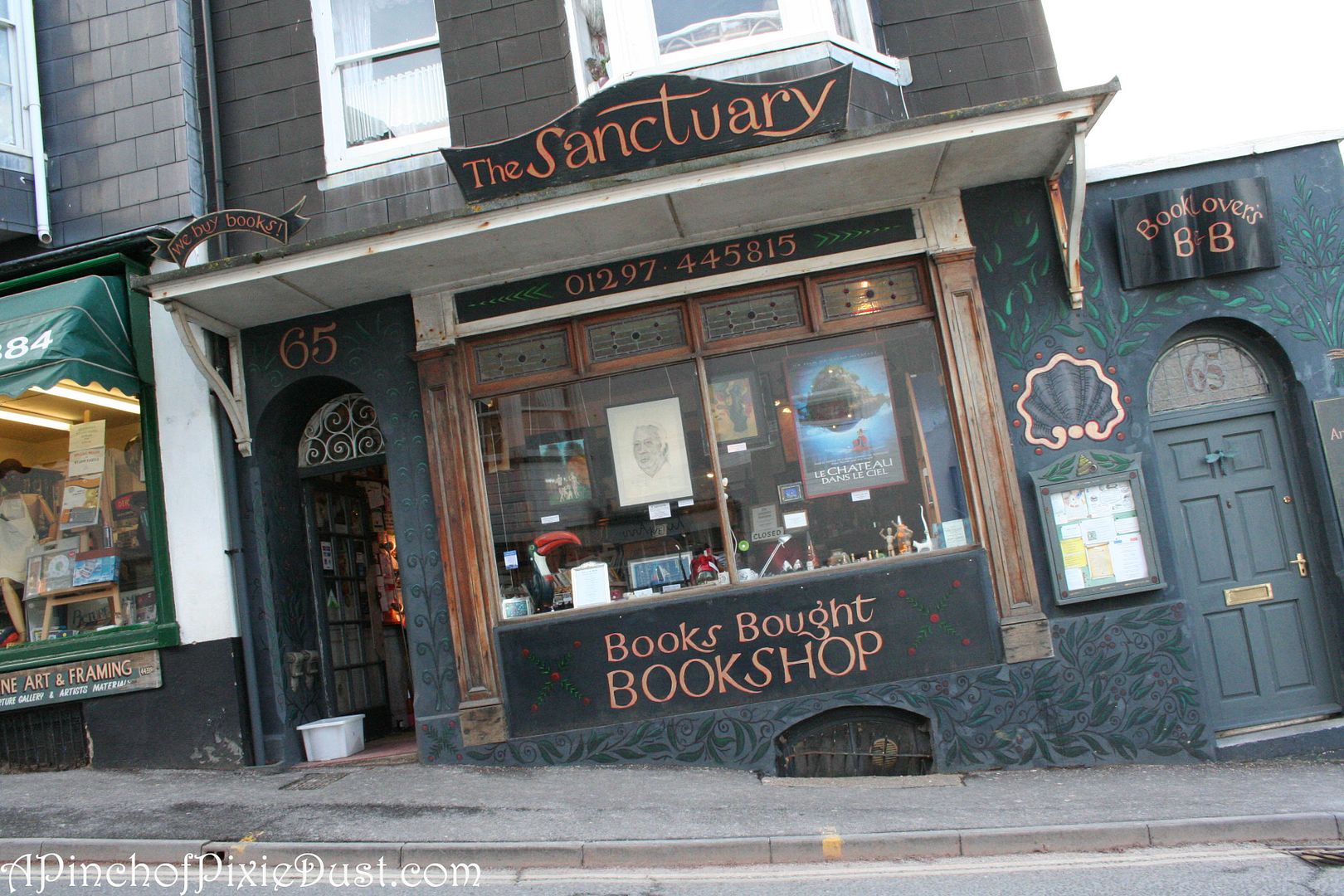 Yes, that's a Bookshop AND a B&B. There could not have been a more perfect place to stay for a girl on a Jane Austen pilgrimage to Lyme. This is what the stairs looked like going up to the room...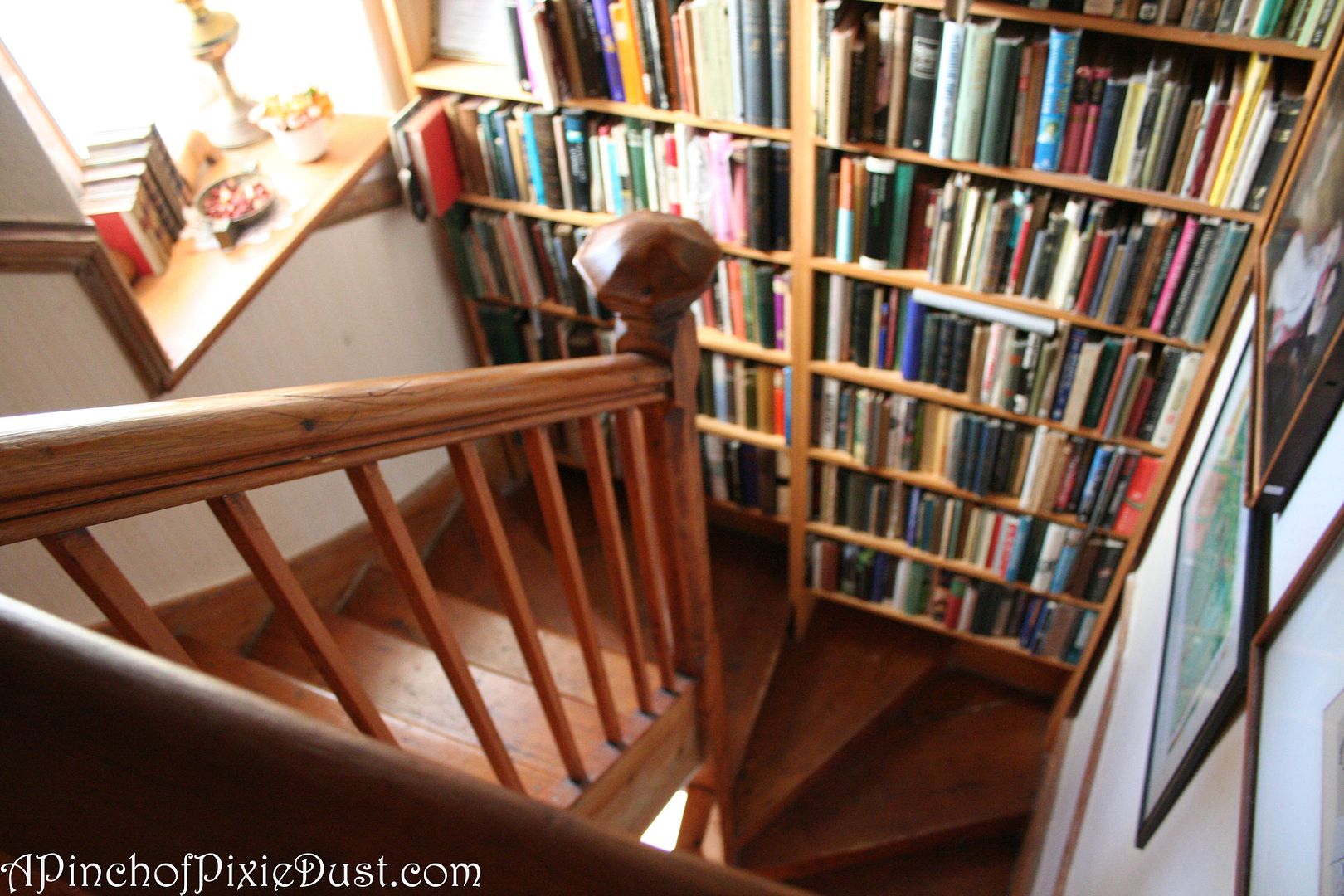 Books. Positively. Everywhere. The walls in the rooms were lined with them as well!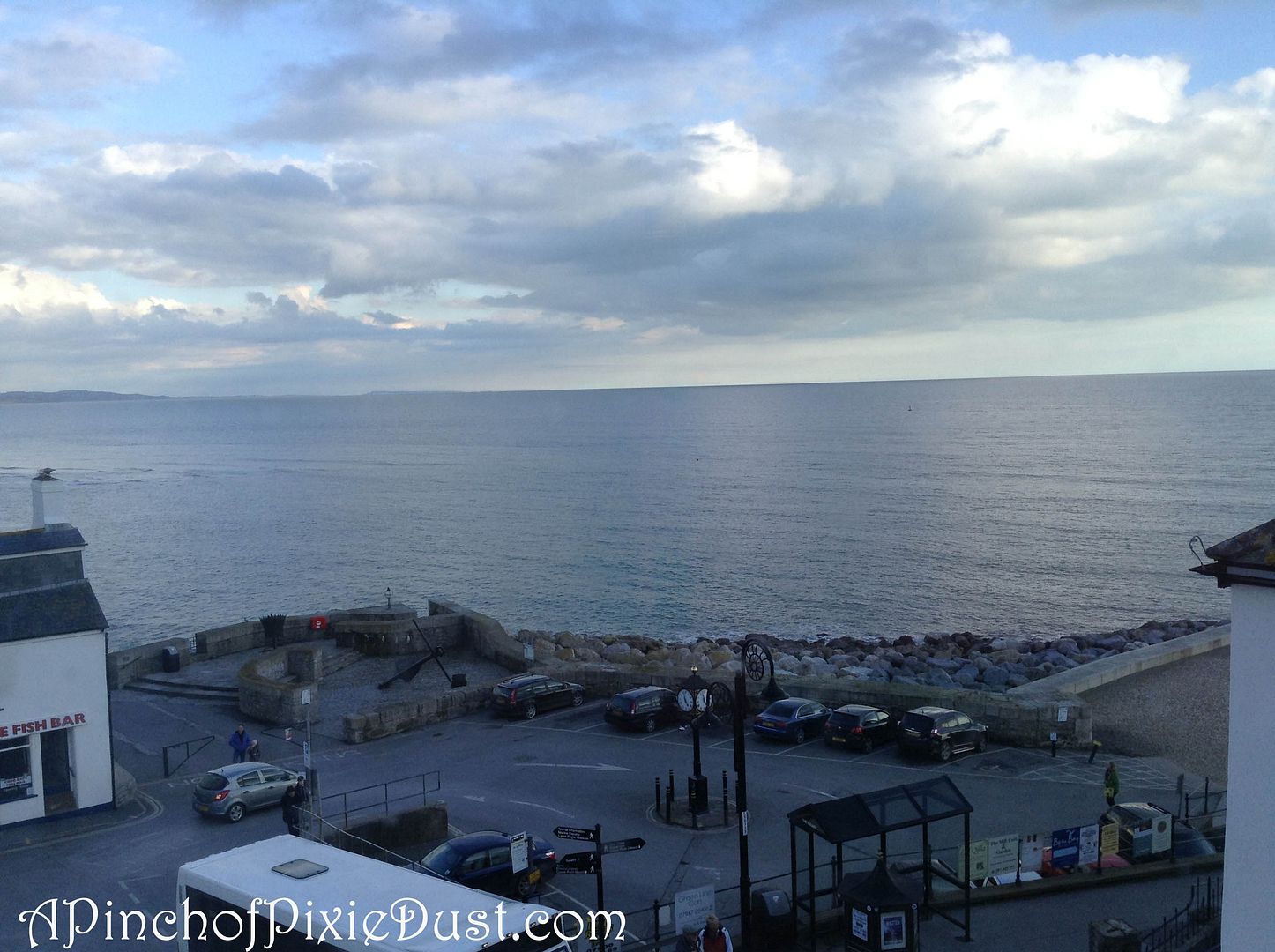 And THIS was the view from my room. Just look at that sea and those clouds! It had been a grey day earlier, but now the sunset light was positively ethereal - I had to get out for a walk along the beach. I felt the same way as the characters from
Persuasion
: "After securing accommodations...the next thing to be done was unquestionably to walk directly down to the sea."
Those purple-golden clouds. I don't know why I couldn't get over them. They seemed to be speaking to me. And smiling at me. :)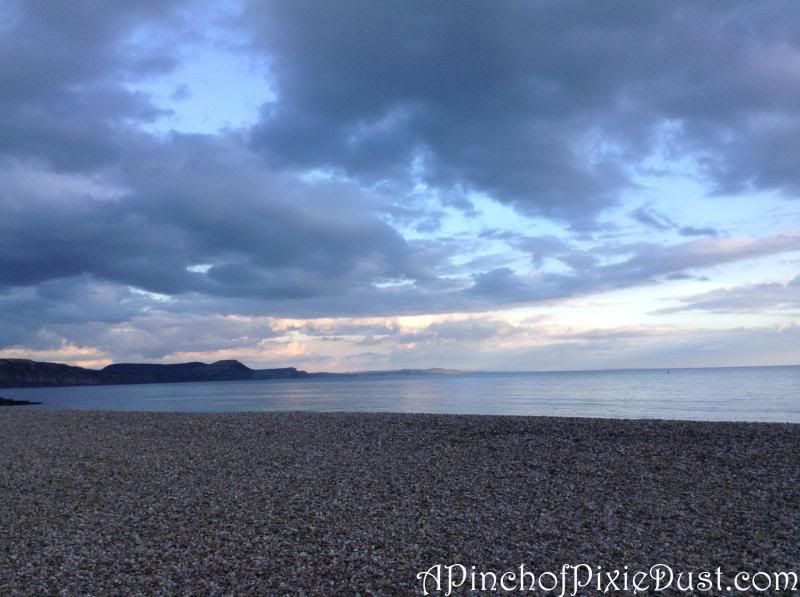 This was possibly my favorite part out of the entire trip, which may sound silly as it was just a simple walk along the ocean. But then it
wasn't
- it was a walk literally straight off the pages of a Jane Austen novel.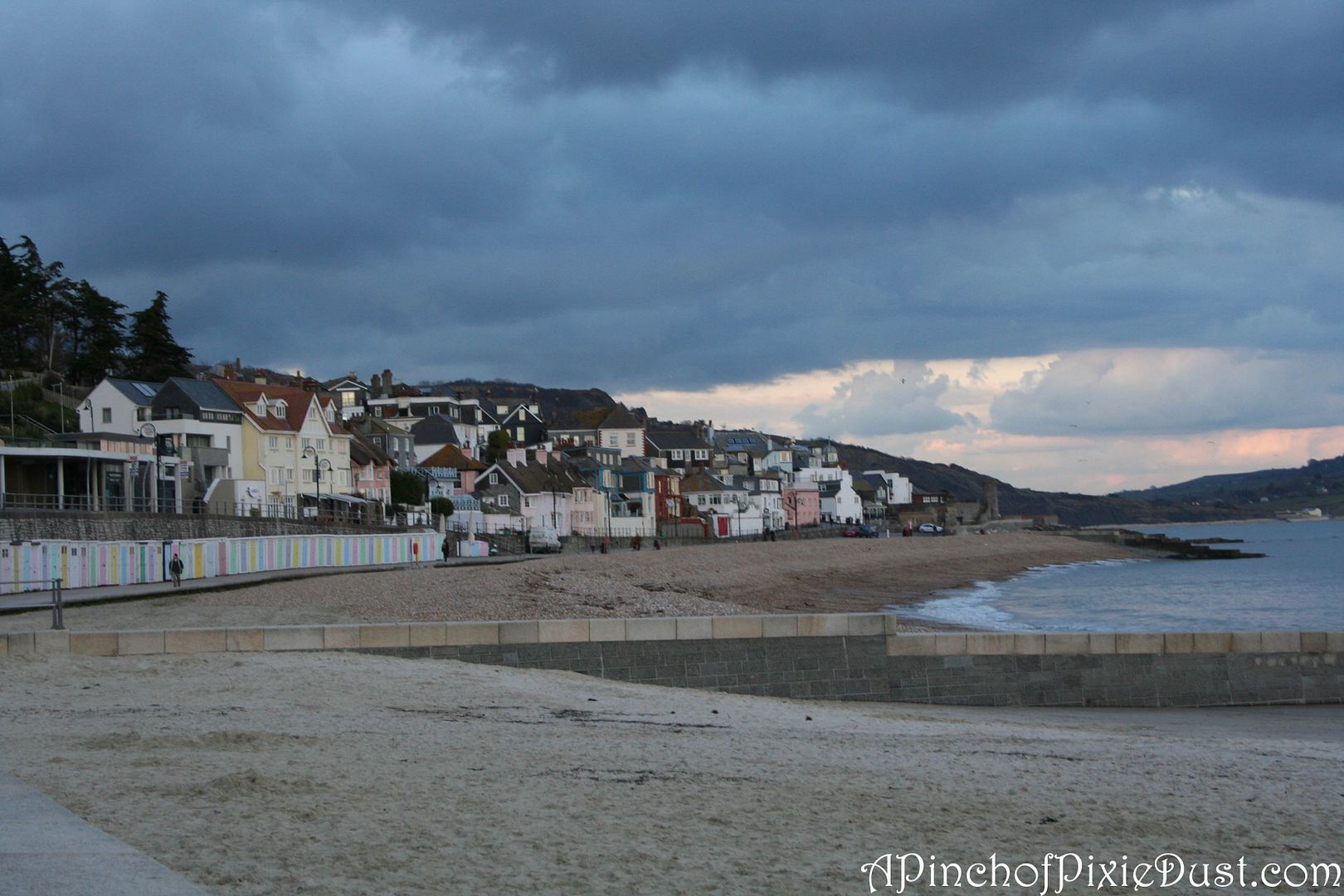 "...the walk to the Cobb, skirting round the pleasant little bay, which in the season is animated with bathing machines and company..."
."..the Cobb itself, its old wonders and new improvements..."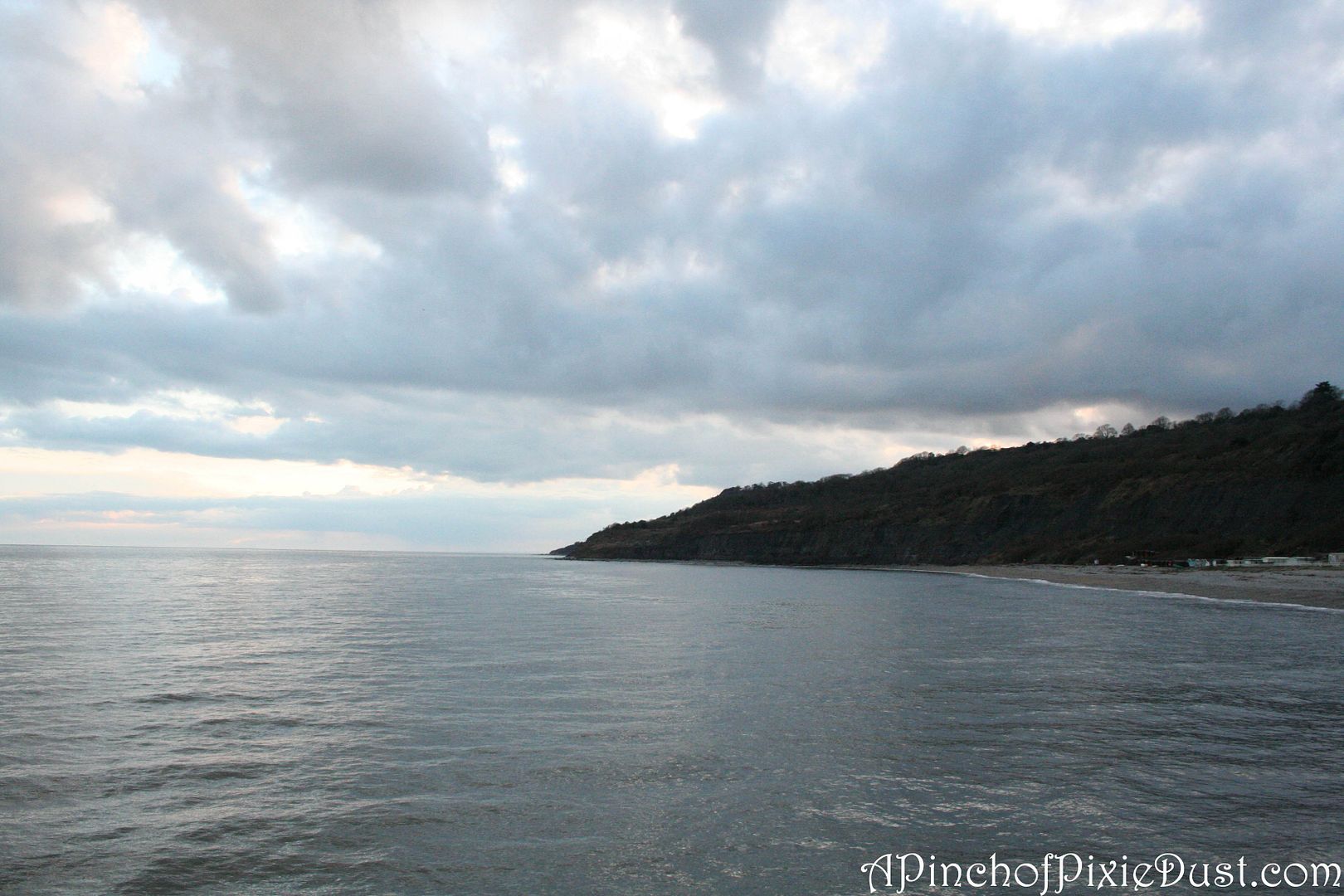 "...the very beautiful line of cliffs stretching out to the east of the town..."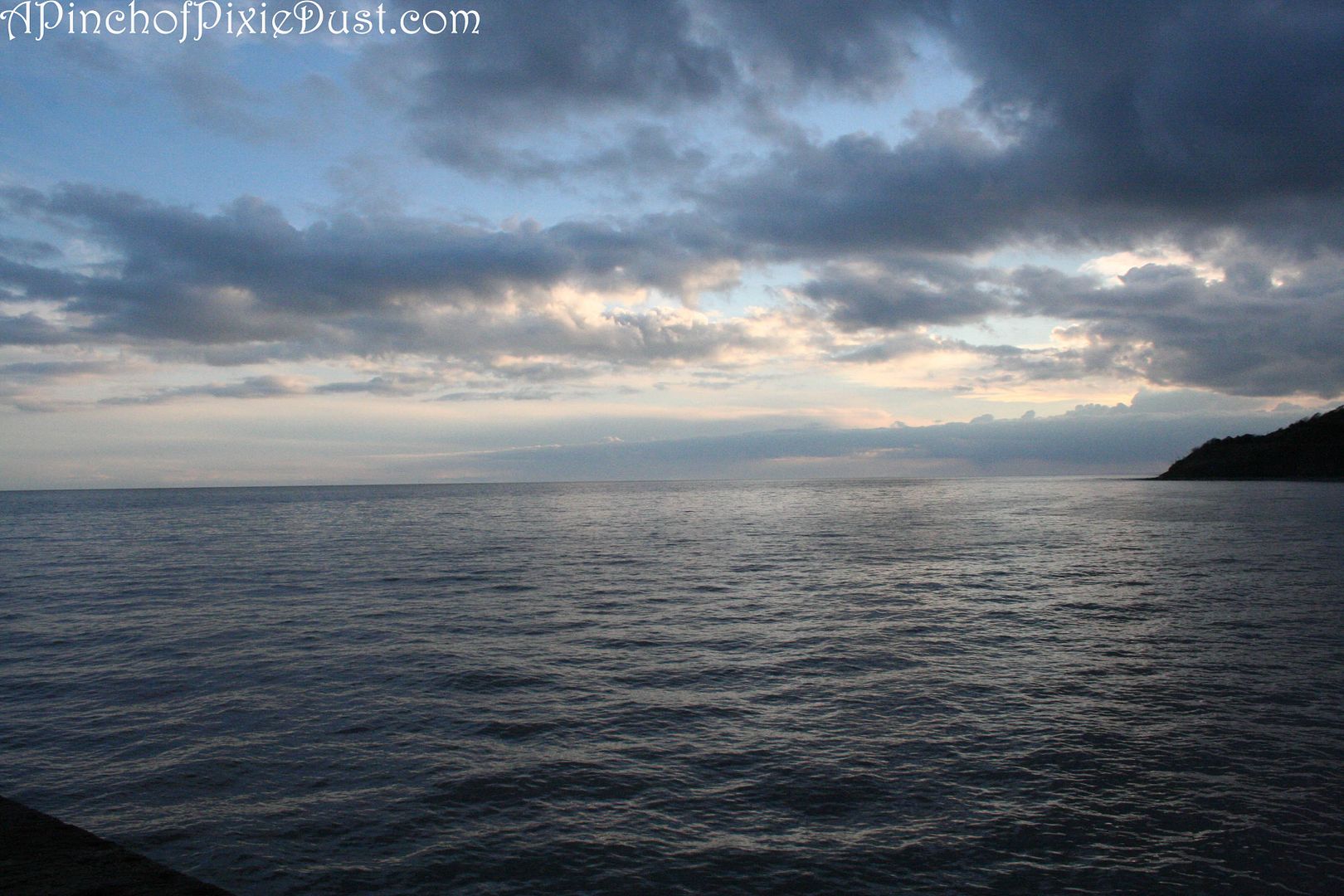 "A very strange stranger it must be, who does not see charms in the immediate environs of Lyme, to make him wish to know it better."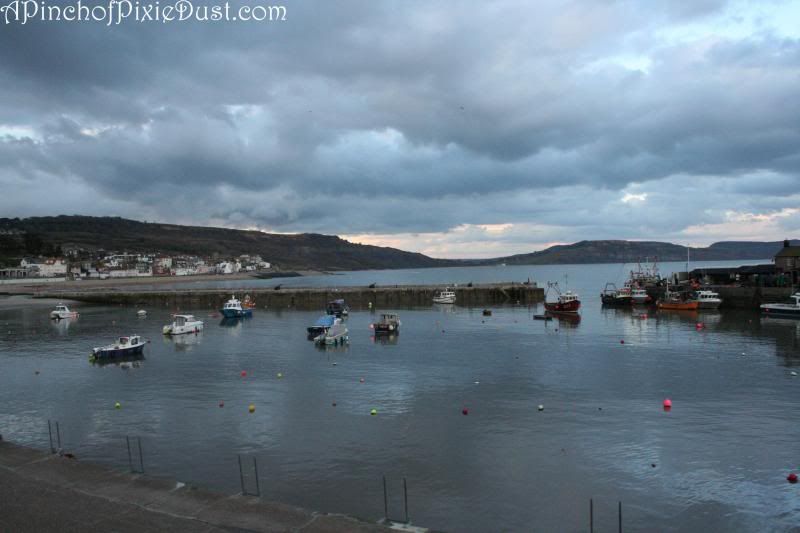 It really was a beautiful place, with the sea and the cliffs and the sky and the fishing boats and the town tucked away back along the coast. I would have been charmed by it even without the Austen connection - but of course the Austen connection made it all the more special.
A lot of Jane Austen fans seem to be in it just for Mr. Darcy. And good for them - she's got some pretty swoon-worthy heroes (personally I'm Team Tilney
all
the way).
But I would love those books even without Mr. Darcy. I'm in it for Jane. Like the clouds over that sea, she seems to be speaking straight to me when I read her words. I have shared countless frustrations and joys and jokes with her. And yes, partly that's my imagination, but Jane lets you hear her voice in her novels, and I feel like she would have been a kindred soul.
That's one of the lovely things about books - they let you find friends in people who lived hundreds of years before you. Jane Austen is my friend. That is why I love her novels. And that evening, during that lovely evening walk along the Cobb, I felt like she was right there, strolling along with me.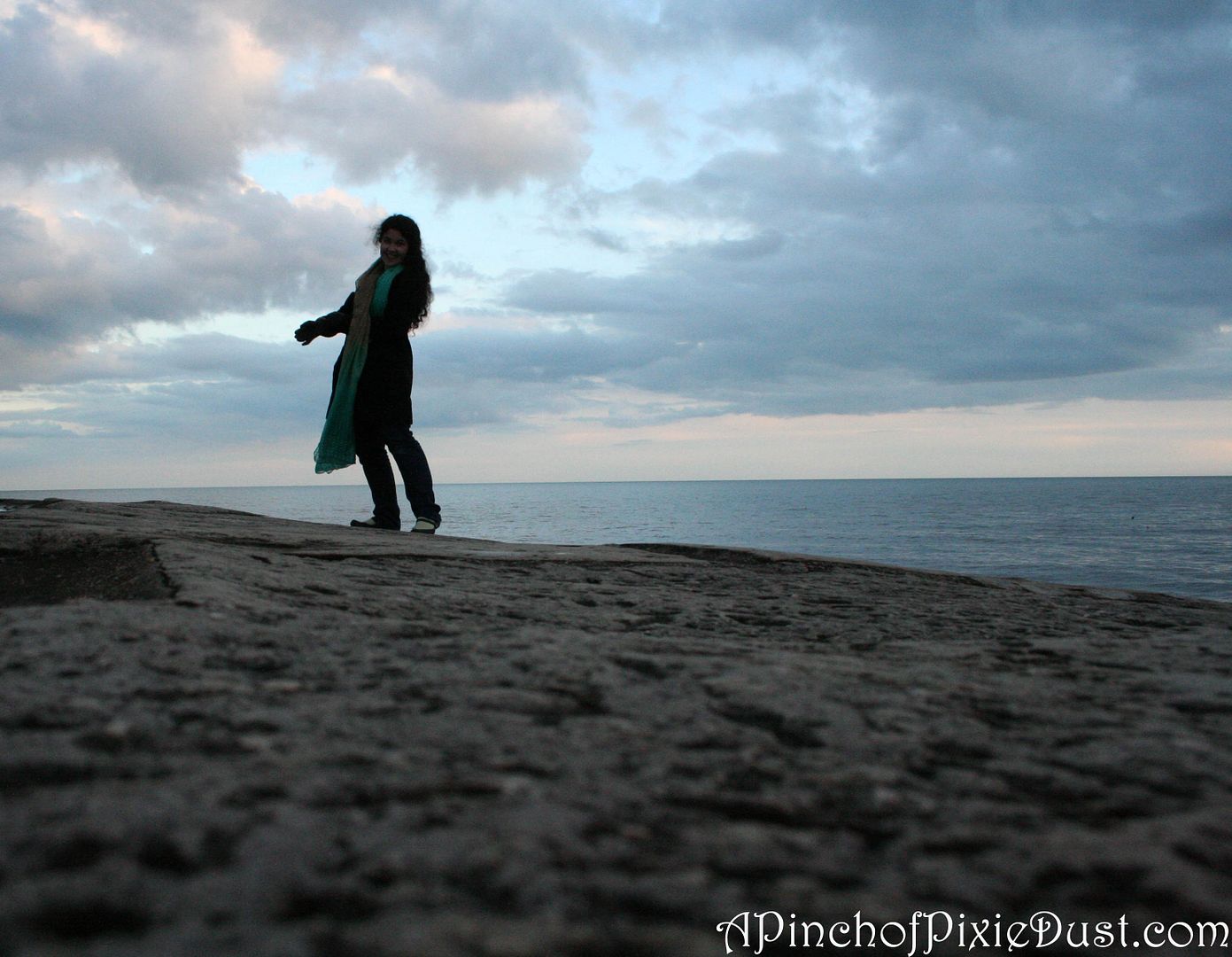 If I were a poet, I would have written some verses about that walk along the Cobb. Luckily for all of you, I am
not
a poet, so some rambling prose and plenty of photos will have to suffice instead. ;)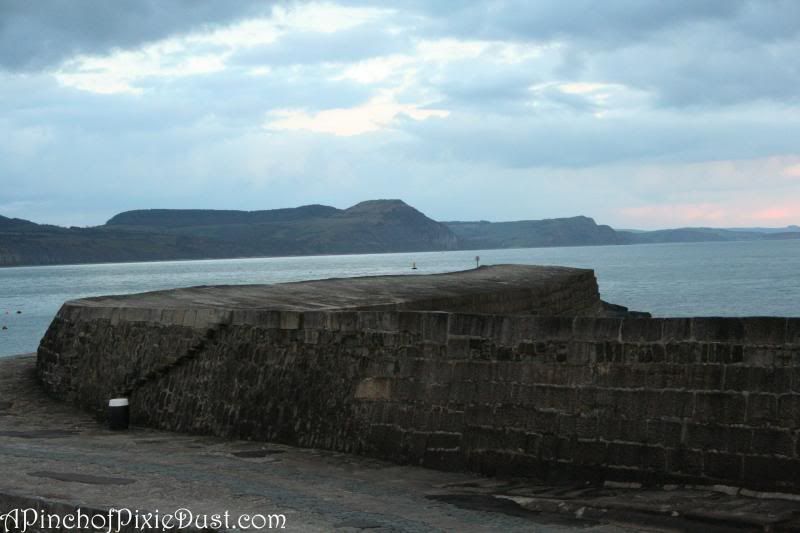 I loved the way the Cobb snaked off into the sea. I had it almost all to myself!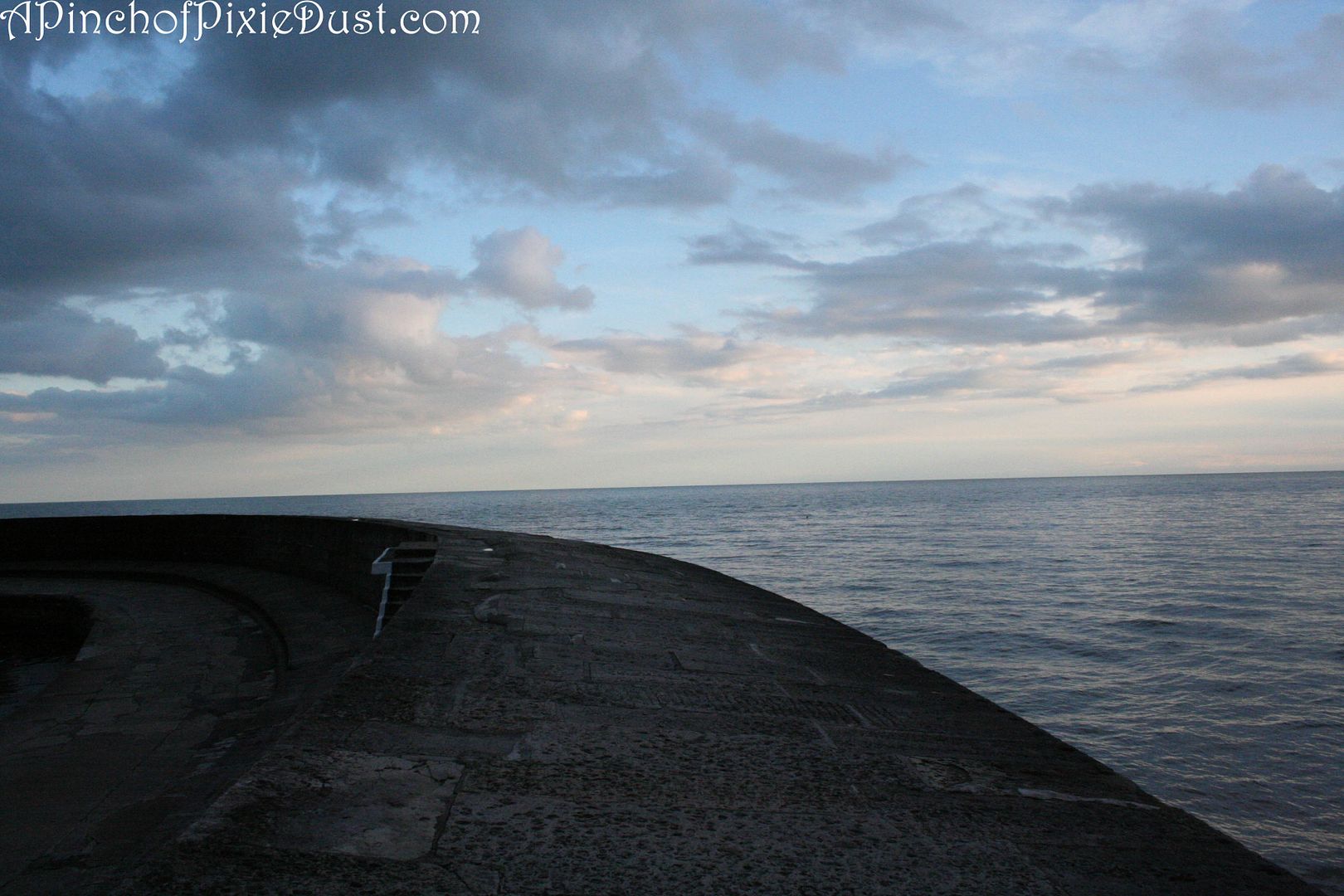 If you have read
Persuasion
(and if you have not you need to drop everything and go read it
now)
, you will know that a rather dramatic scene takes place on the Cobb - a young lady, Louisa Musgrove, is jumping off the steps and cracks her head on the stone. Really, she's lucky she didn't tumble into the sea - the whole surface of the Cobb is slanted, so it wouldn't be too hard!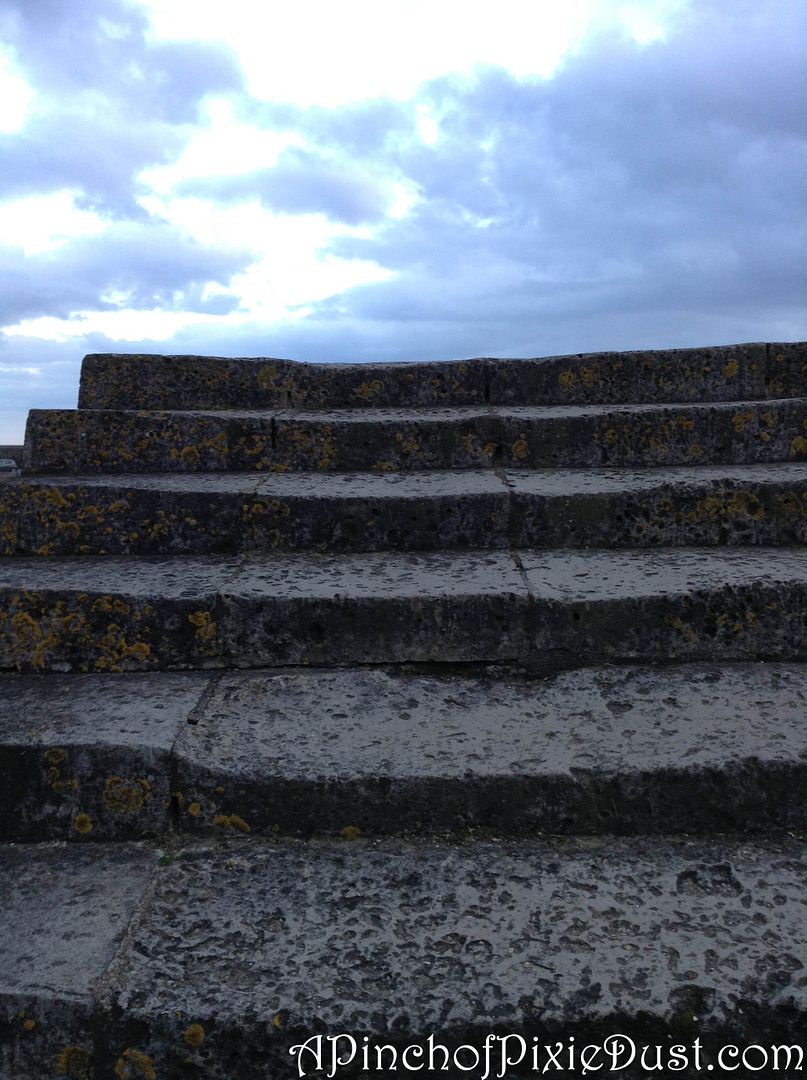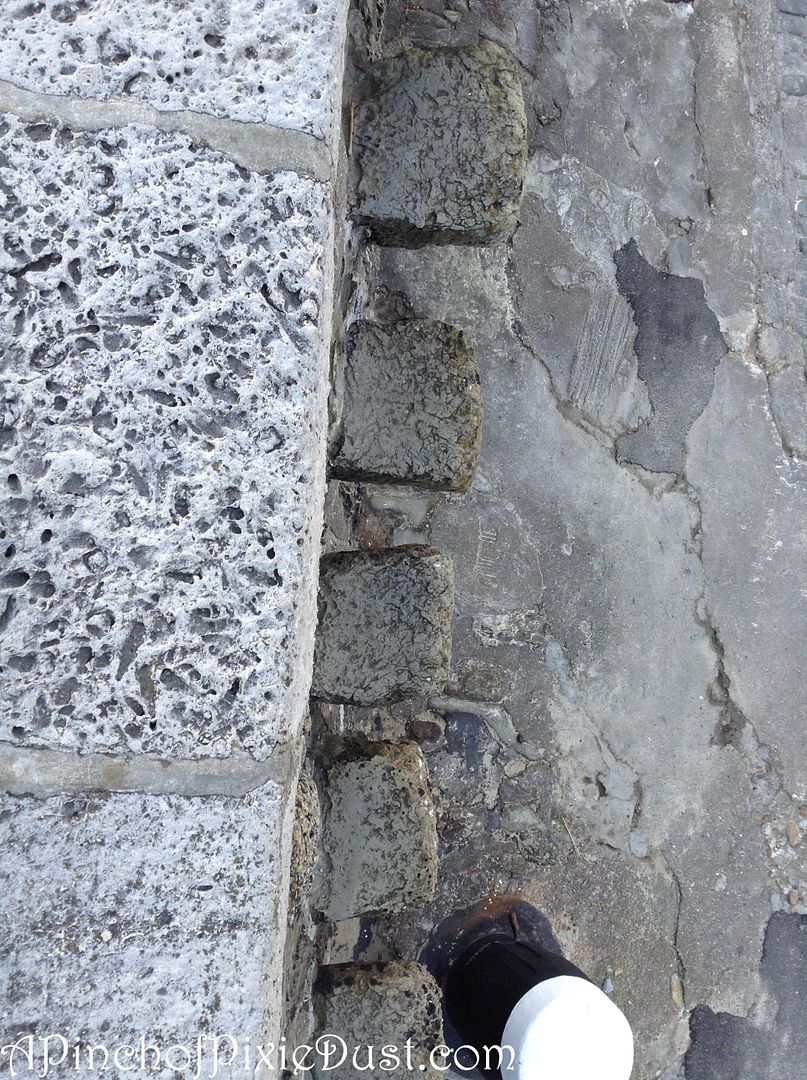 Louisa does get better in the end, but I wasn't taking any chances - those steps did look treacherous!
There are plenty of signs to warn off the modern would-be Louisa's...
More fishing boats with those dramatic, Jurassic cliffs in the distance! At length I turned my steps back towards the town and the present and went in search of some dinner...