Art of Animation
is quickly becoming one of my new favorite Disney resorts. It's so bright and colorful and filled with details
straight
out of the coolest Disney movies...
...like this guy with his great big smile. Hey Luigi, how's it going??
Today we're going to take a trip to
Radiator Springs
- or rather, the Cars Section of Art of Animation Resort!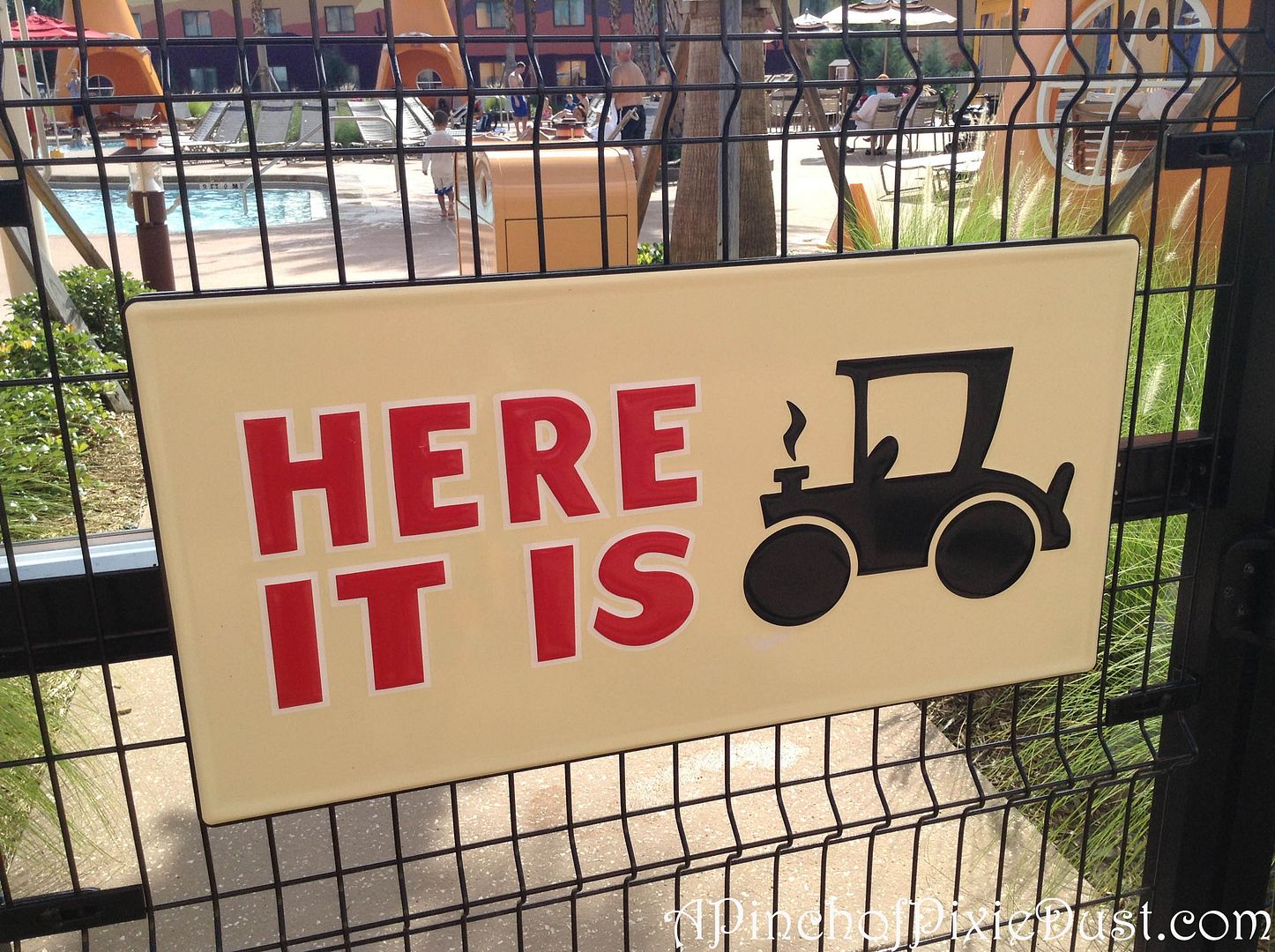 HERE IT IS!
This is
such
a larger-than-life area. I felt like I was stepping right into the movie.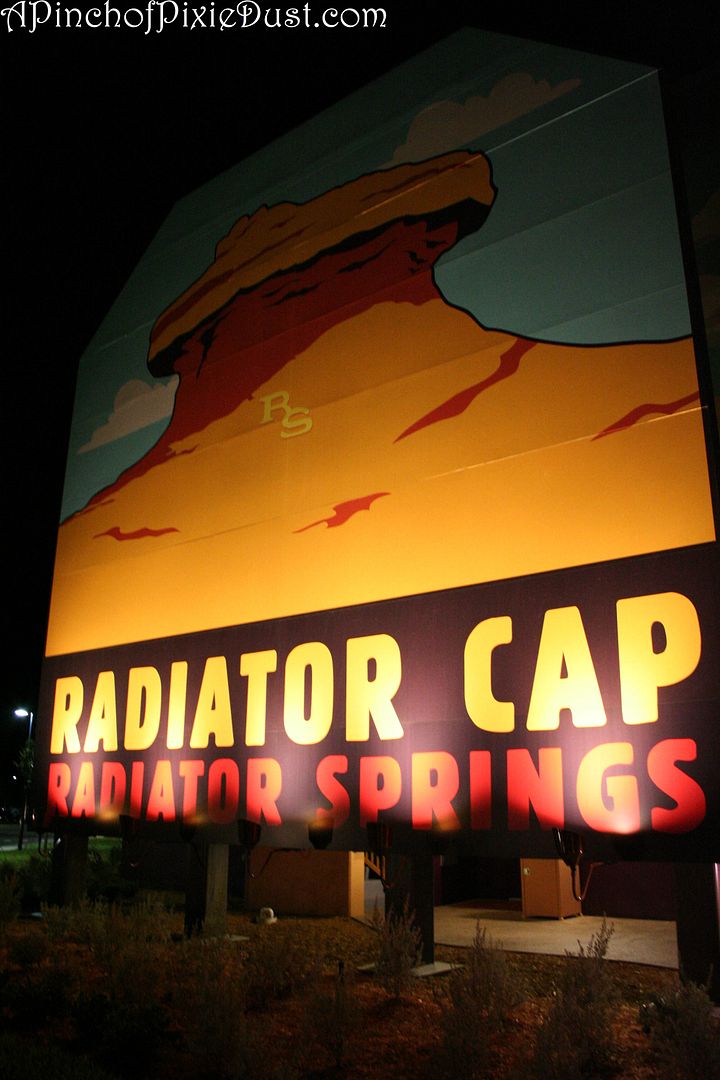 The huge billboards beckon to you across the resort - COME EXPLORE!
Radiator Springs is such a happy place! But speeders beware...I see Sheriff lurking under the sign...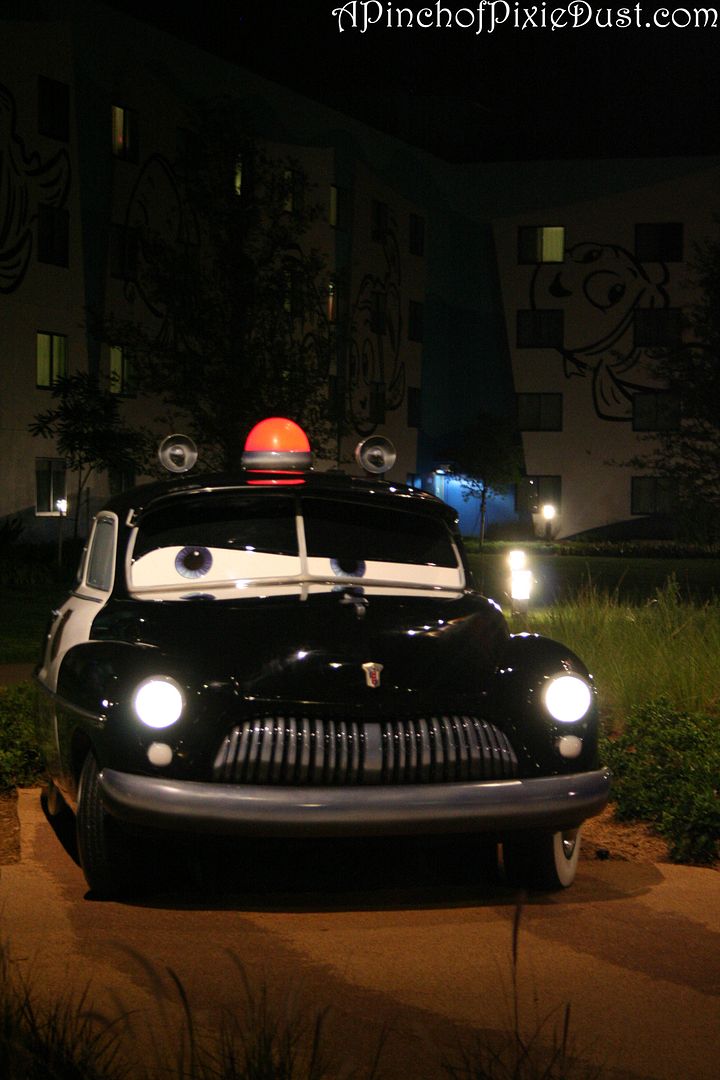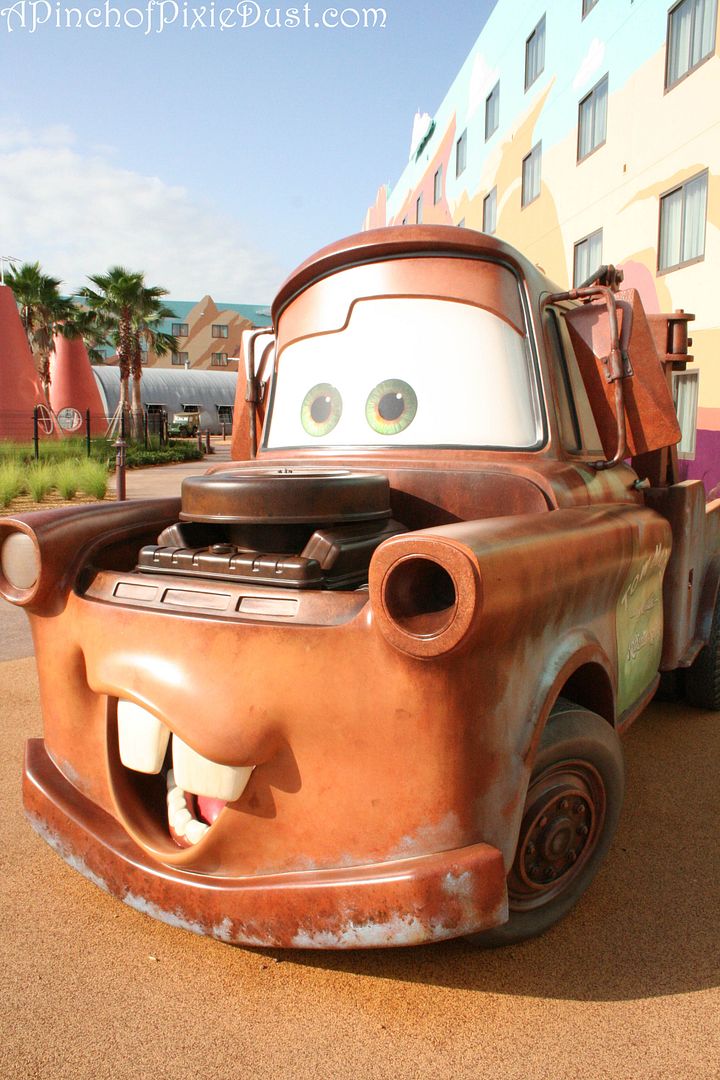 lol...I love how suspicious Sheriff is. He's not the only familiar face you'll see!
As you stroll along you'll find some funny signs advertising Rusteze: "Mater used it...Dang Near Fainted...looked like...he had just...been painted!"
Doc Hudson is welcoming you to Ornament Valley!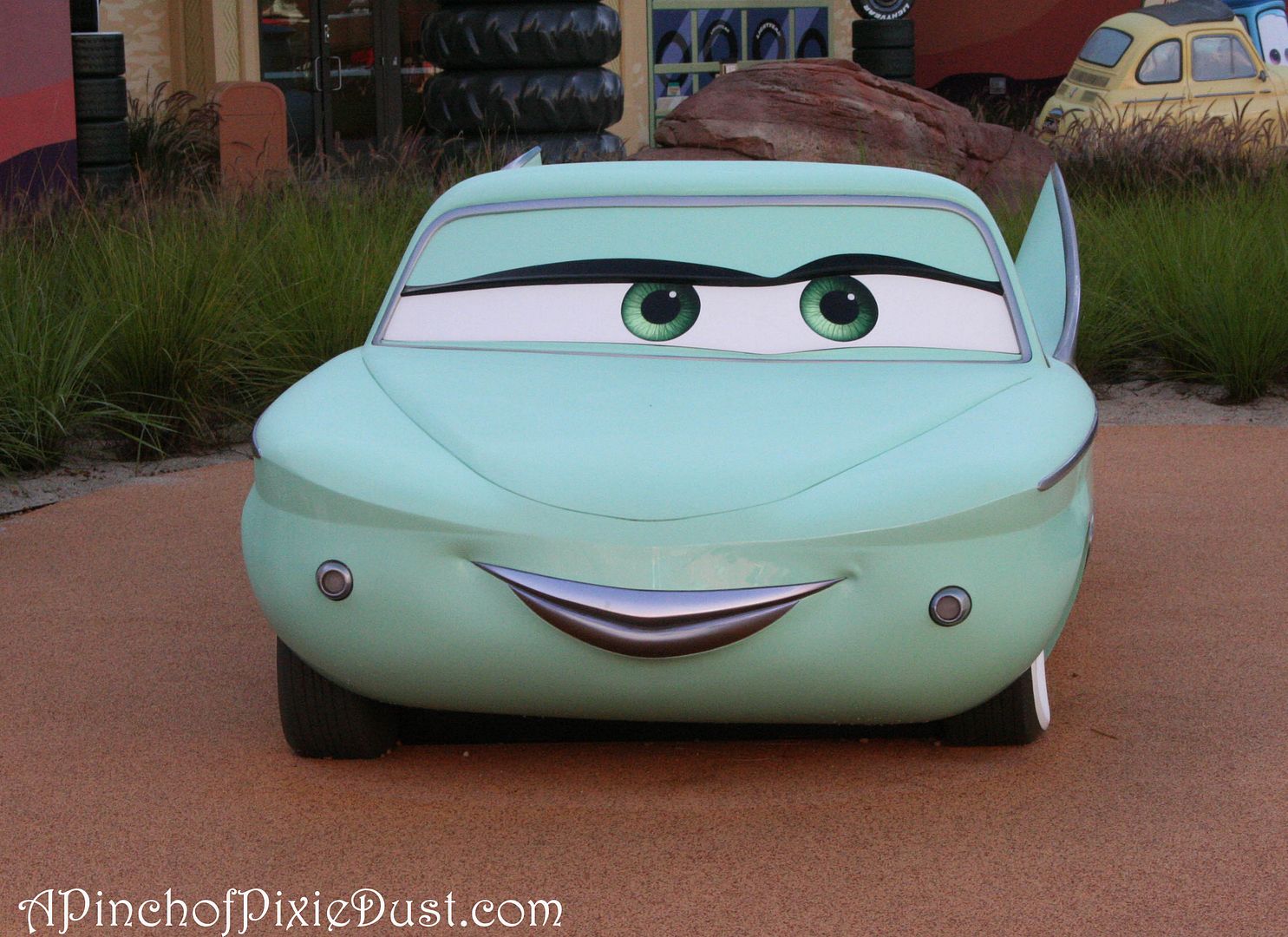 I ADORE Flo's snobby expression. She's just like, "Yeah, I look great. YOU KNOW IT."
There's Casa della Tires and my favorite little blue guy, Guido. He's just so cute!
True love. ;)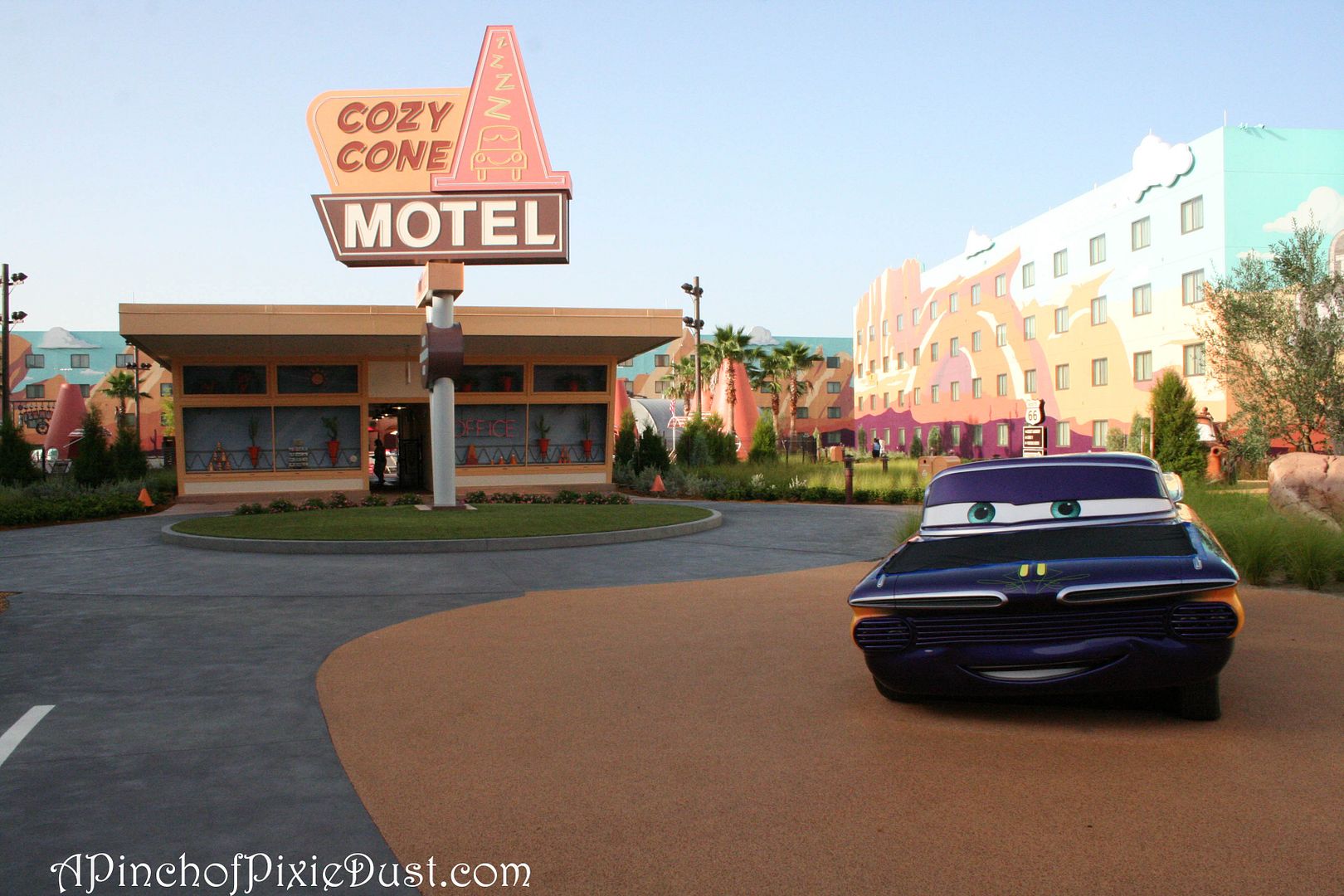 I love the way Radiator Springs gradually unfolds before you as you make your way further and further along the path into the Cars section...
The cliffs of Ornament Valley rise up, painted on the buildings around you.
Of course it's wouldn't be Radiator Springs without the Cozy Cone Motel!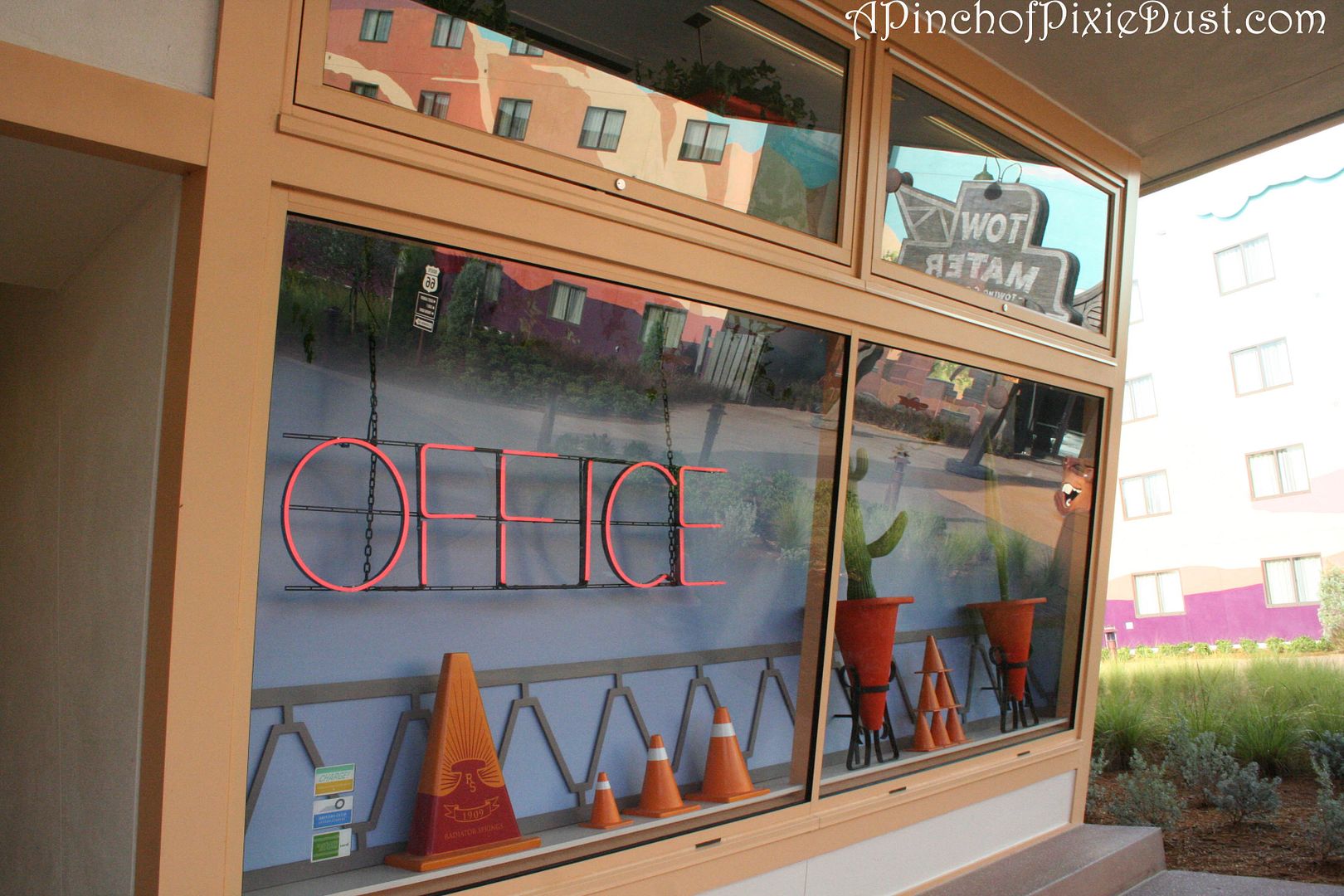 You can stop by and look in the Office windows - looks like Sally is using some upside down traffic cones as planters!
She's also got some postcards in the window, and you'll also find the Cozy Cone alarm clock, just like in the movie...
I featured this once as a #WhereinWDW trivia post. Love it!
More little details...love the little (rusty) cars hidden in the grasses!
The Cozy Cone even has a pool, which is SUPER cool - do you see the cone cabanas surrounding it?
As in the other sections of Art of Animation, one side of the Cars buildings features concept-art-style simple sketches of the characters. Lightening McQueen can be found speeding across the side of one building!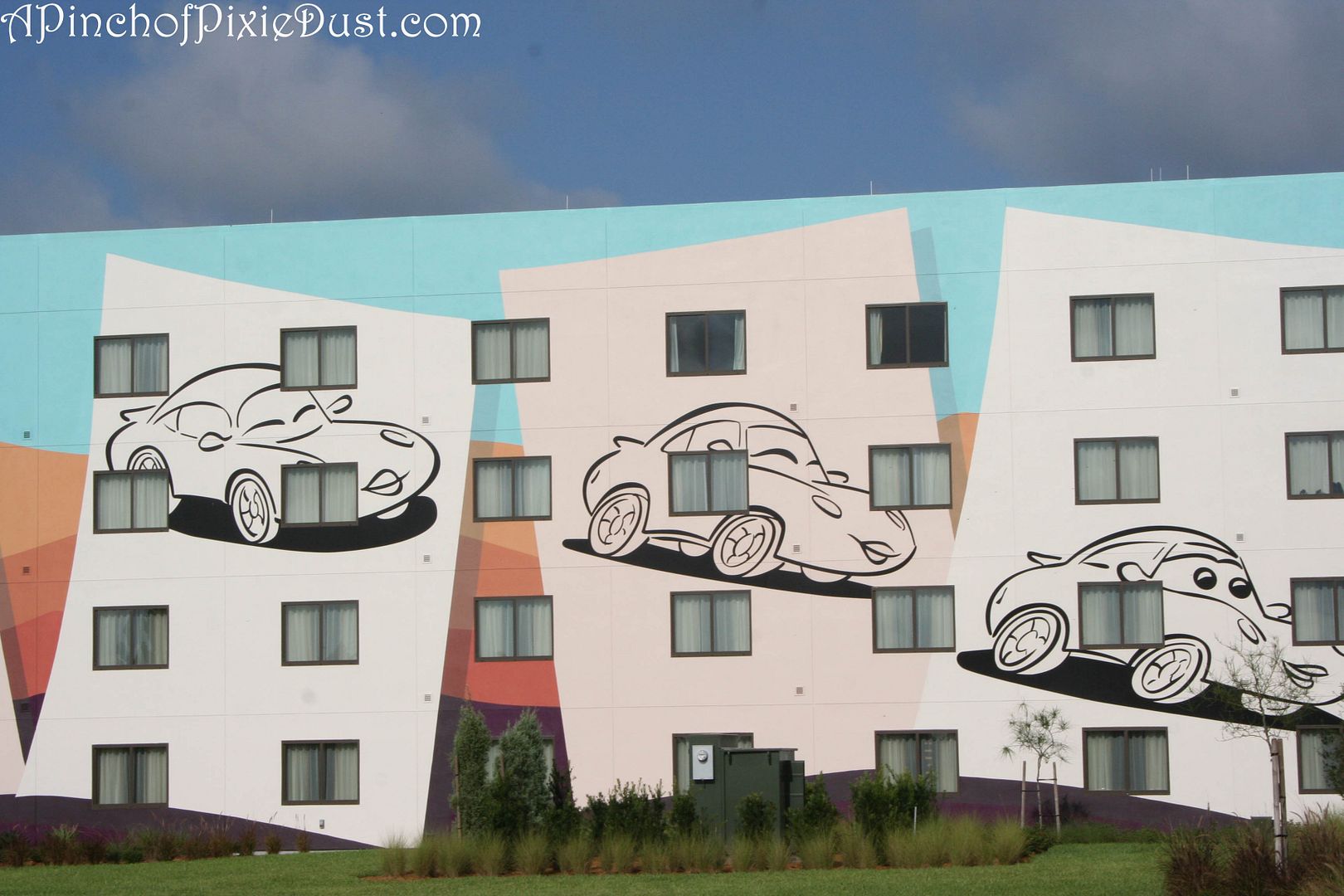 Sally looks so sweet, taking a drive!
'Guido follow only the ferrari.'
Gotta love that silly old tow truck.
The tire's in the air...and...Guido's caught it!!
The giant sketchpads are so adorable I JUST CAN'T STAND IT!
Radiator Springs by day is gorgeous because it's so eye-poppingly colorful, but it's pretty cool by night with all the sights lit up as well!
You'll find Sarge in front of his Surplus Hut and Fillmore just across the way!
Notice that Sally's headlights are lit up - but McQueen's just got stickers. ;)
It's the WHEEL WELL! This is so cool - and they did such a good job of incorporating real 3D elements with painted elements to transport you to the land of Cars.
This building is the furthest from the main building, but at least if your room was here you could say you'd stayed at the Wheel Well!
I am really impressed with the
Cars
theming at Art of Animation. I've heard a lot of amazing things about Carsland in California (which I think I might get to see later this spring...more on that soon!), but I'll have to wait until I see it in person to compare the two!
Have you ever visited the Cars section at Art of Animation? What did you think?