No, this is not my usual Wednesday Where in WDW trivia post (although that'll be coming later). THIS is a super special post for
Mouse on the Mind
and
This Happy Place Blog
's
KILL REFURB MARRY
Disney blog hop. HOORAY!
I loved playing along for
resorts
back in the fall, and this month the topic is
Live Performances
at the parks.
I was kinda secretly tempted to put Festival of the Lion King here just to be super edgy...but I actually don't have anything against FotLK - I don't always get the hype, but the costumes and performances are cool and it is a nice show. And if I picked it to kill, I think the internet might kill
me.
So
. We'll go with Finding Nemo the Musical.
There are some really neat elements, but overall, I'm sorry, I just don't love this show. I do like
some
of the songs, but the rest of them just make me cringe. And while the puppets/performers idea was interesting and different to try out, I just am not a fan. I want a
Mulan stage show
in that theatre - it's right next to Asia after all! And the Mulan songs are so good, and they could do something awesome with dragons. Yeah. I wouldn't be sorry to see Finding Nemo go.
REFURB: BEAUTY AND THE BEAST
It's probably the
princess fan
in me and the fact that Beauty and the Beast is my favorite movie, but I adore this show. I always try to drag my family to it when we're in Hollywood Studios. I
love
the outfits and the music...I even love watching the sign language performers at the bottom of the stage (seriously - next time you're at this show, look for them. They're amazing).
But I have to admit, a freshening up of this show would be nice. Maybe some new sets and scenes? I wouldn't even mind new costumes, as long as they're as flamboyantly awesome as the previous ones (and the dancer dresses at the end better stay pink).
On the resort channel you'll often see a clip of this show with Belle dancing in her gold dress with the Beast, and whenever I see it I'm just like: THAT DOESN'T HAPPEN IN THE SHOW. Maybe it used to? They could add that part back in. Also the bit where they cut out a bunch of the story and replace it with a voice saying "through a series of strange circumstances, Belle found herself at a mysterious castle." I'd like the show to include more of the strange circumstances. And they also need to bring back an awesome opening act like Four for a Dollar (remember them??).
YES. It's cheesy. It's schmaltzy. It's performed like a dozen times a day. I really don't care. I love the
Castle Show
.
You can't really beat it for stage location. That backdrop of the castle is perfection. Also there are fireworks, PRINCESSES, pirates, Peter Pan, Disney villains, Mickey, Minnie, and the power of dreams and wishes which, in some vague and unspecified manner, manage to save the day. I hate that the Castle walkway has to be closed during the show, but I think it's worth it. It's the Magic Kingdom. There
should
be a party going on
all
the time. ;)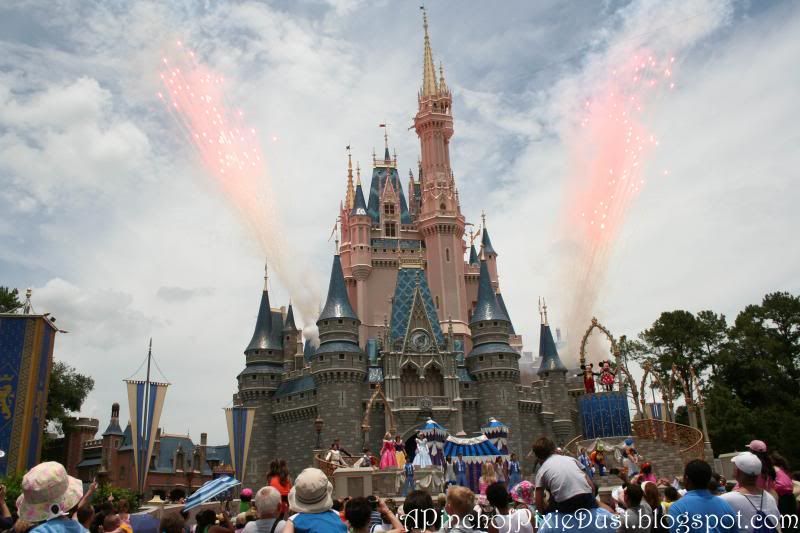 Nothing says, "YOU'RE AT DISNEY WORLD" like walking down Main Street and finding Dream Along with Mickey going, and it's that feeling that I love. "Come join the party, a CASTLE party." Just hearing that song makes me smile. It's pure pixie dust.
Don't forget to check out the rest of the blogs in the hop!