I know that there's been a lot of
princess pixie dust
on the blog lately, what with the
Frozen meet and greet
on the cruise and the
How to Find a Prince video
. And there are plenty of interesting Disney and travel and bookish posts I have planned that are not to do with princesses...but...
today
you're just going to have to indulge me.
Because today's post is going to be
super
princess-y. ;)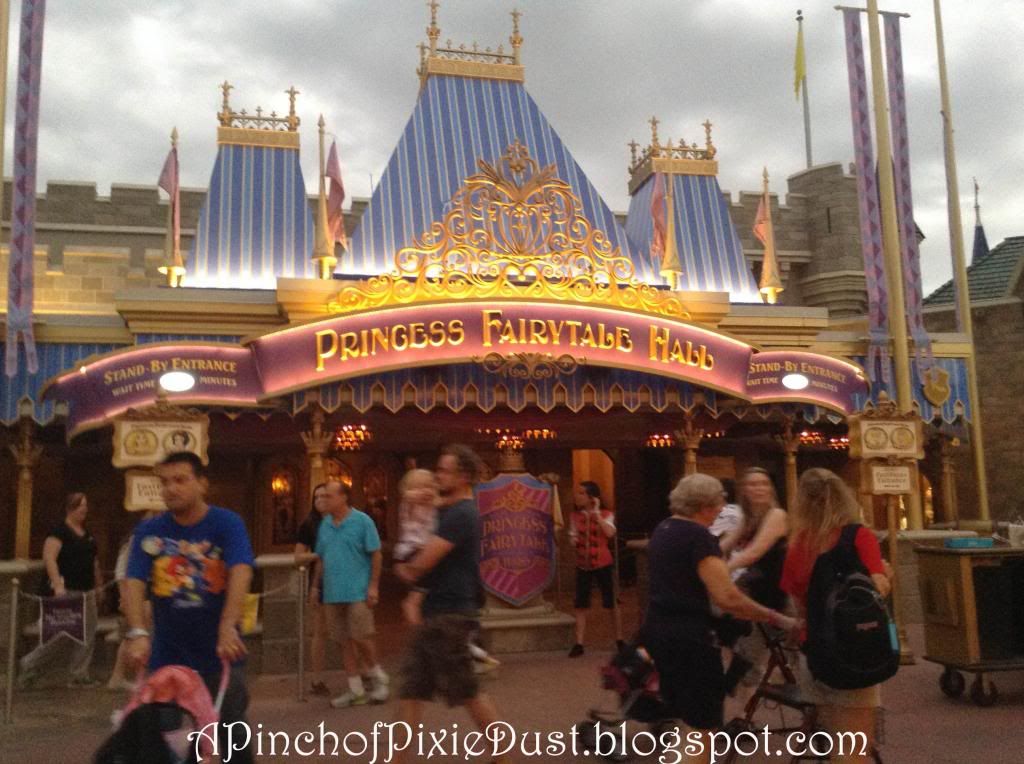 We're going to step inside the new
Princess Fairytale Hall
at the Magic Kingdom!! I wanted to go here to get the input of the Disney girls for my Prince Charming video, but I also really wanted to check out the new space and all the new Disney details!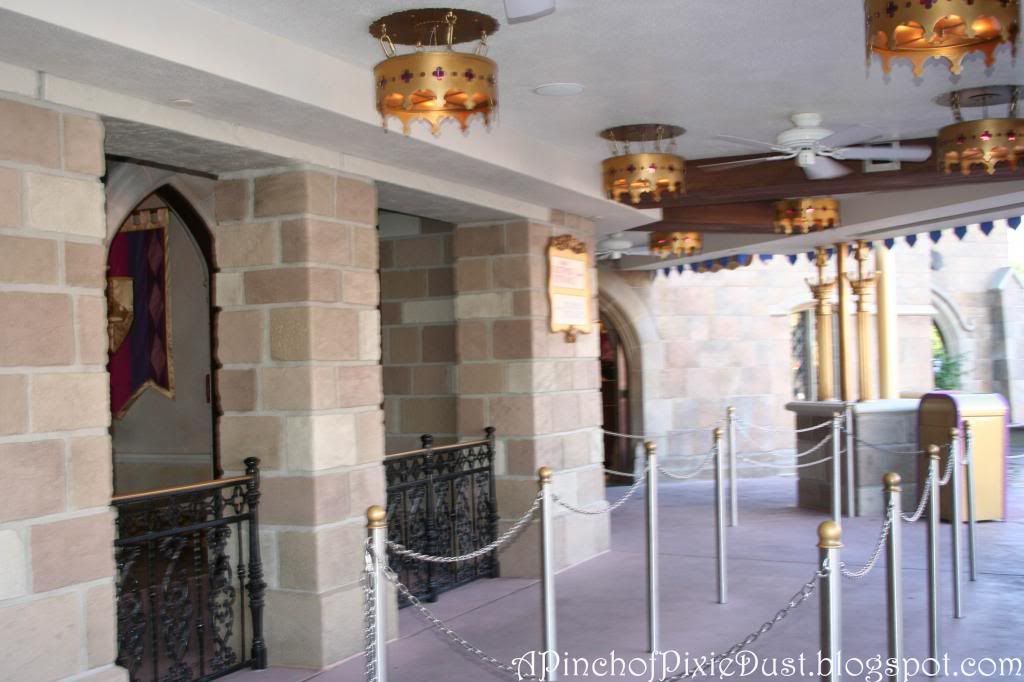 I dragged my brother here first thing when the Magic Kingdom opened, so we got to zip right through the line. There are a total of four princesses you can meet and two lines. We decided to go with the Cinderella-Aurora line first.
PRINCESS TIP:
If you want to meet all four princesses first thing in the morning, DO THE RAPUNZEL LINE FIRST. She is one popular princess, and her line gets longer faster than Cinderella's! **UPDATE - now that the Frozen sisters have arrived at Fairytale Hall,
that
is definitely the line to do first!**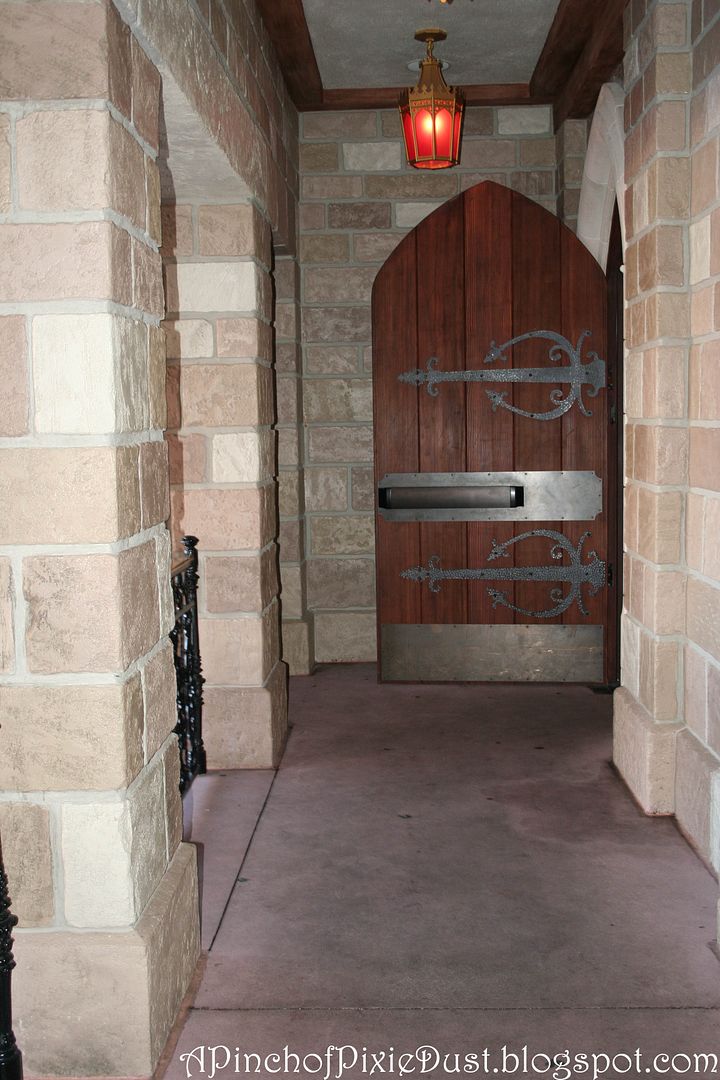 Let's go in, shall we??
I almost didn't want to walk straight through the line - I wanted to take in all the details!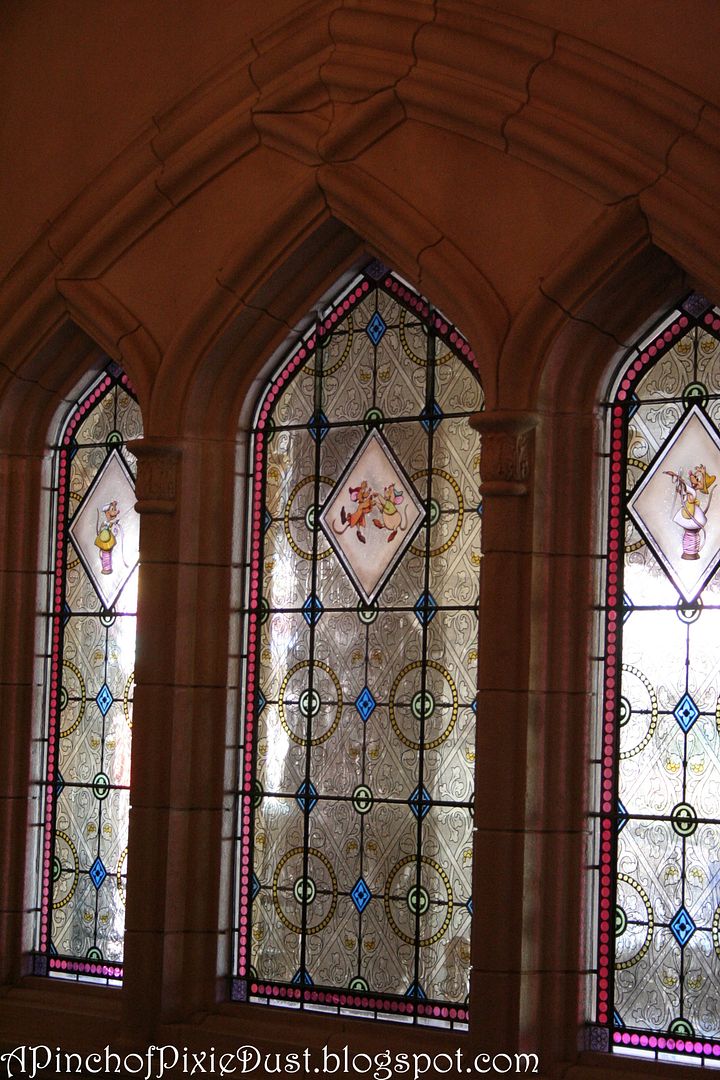 OOOOHHHHH! Look at the windows!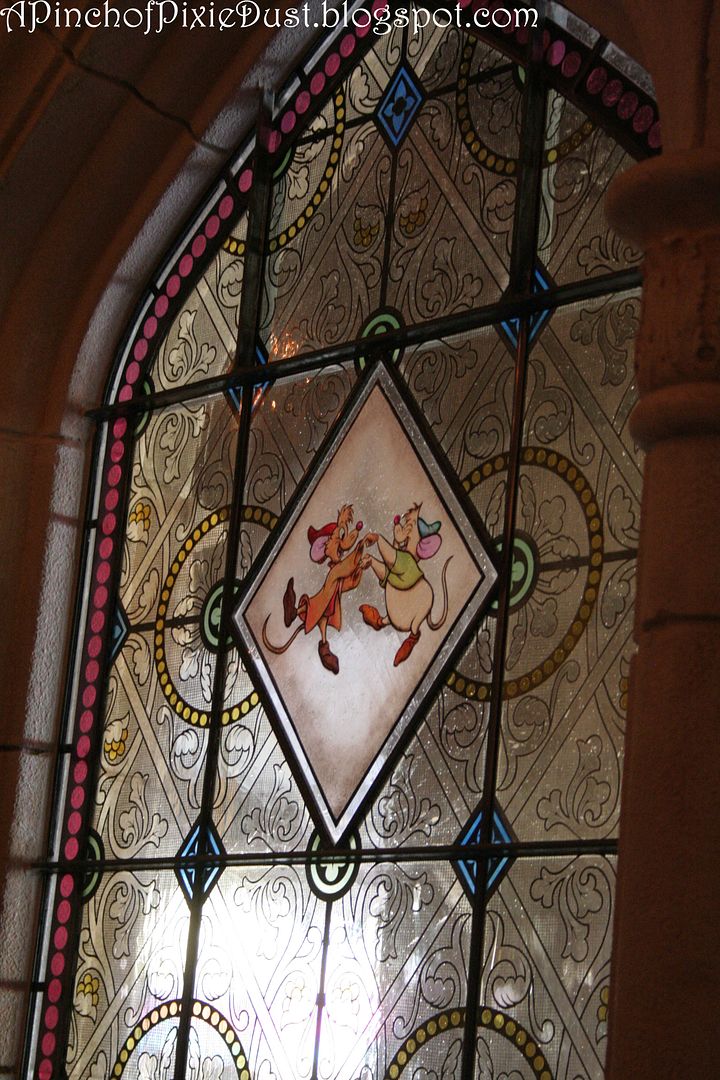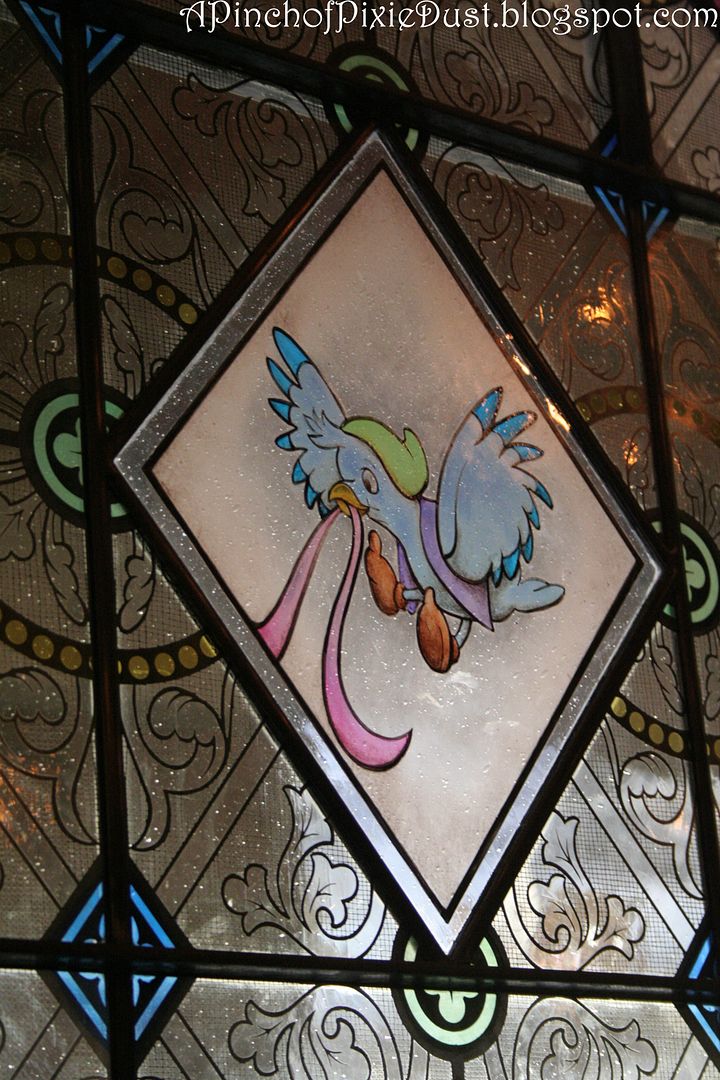 They feature Cinderella's friends the mice and birds. Look at Jacque and Gus Gus dancing. SO ADORABLE.
Look at the princess shields and banners!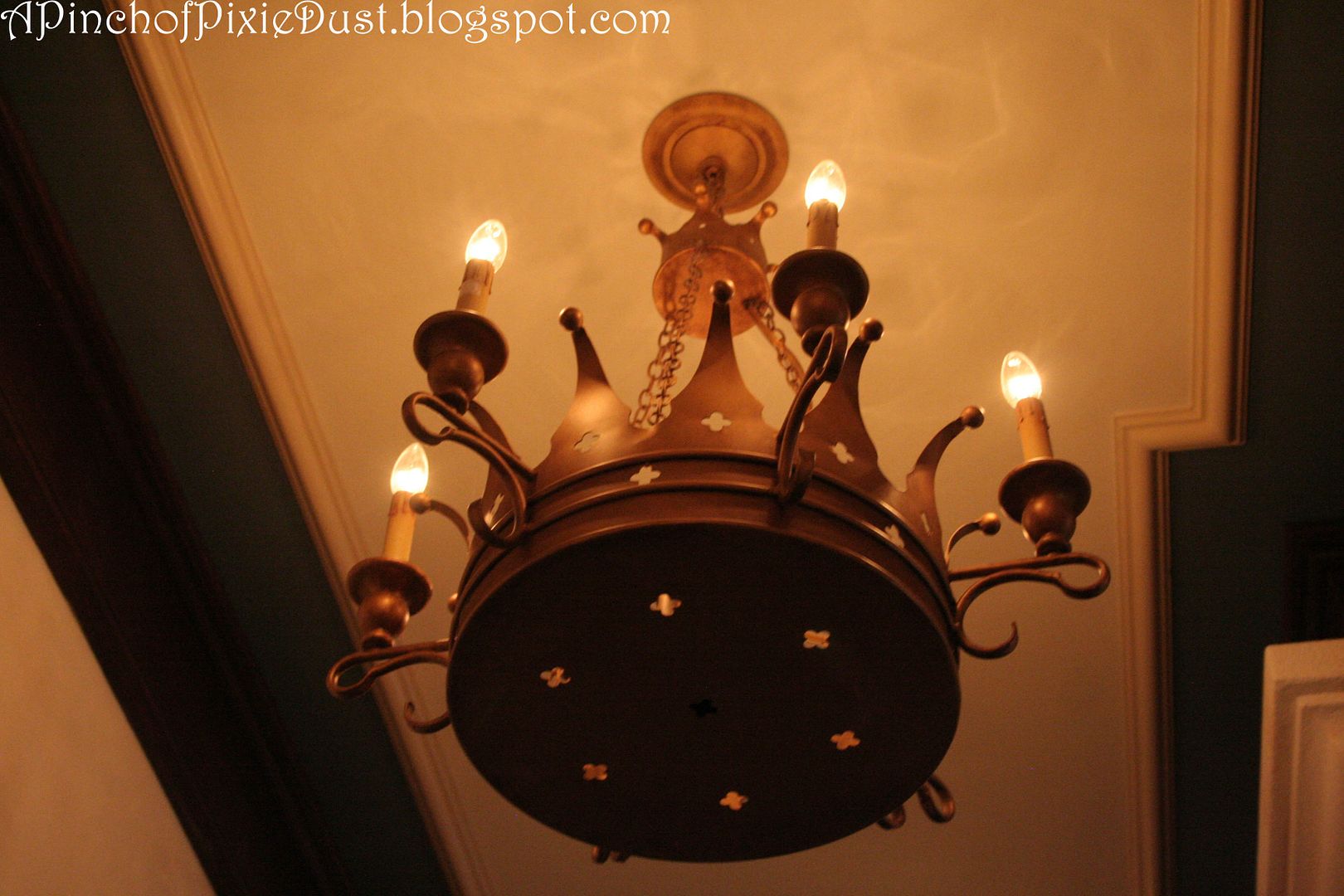 AND THE PRINCESS CROWN CHANDELIERS!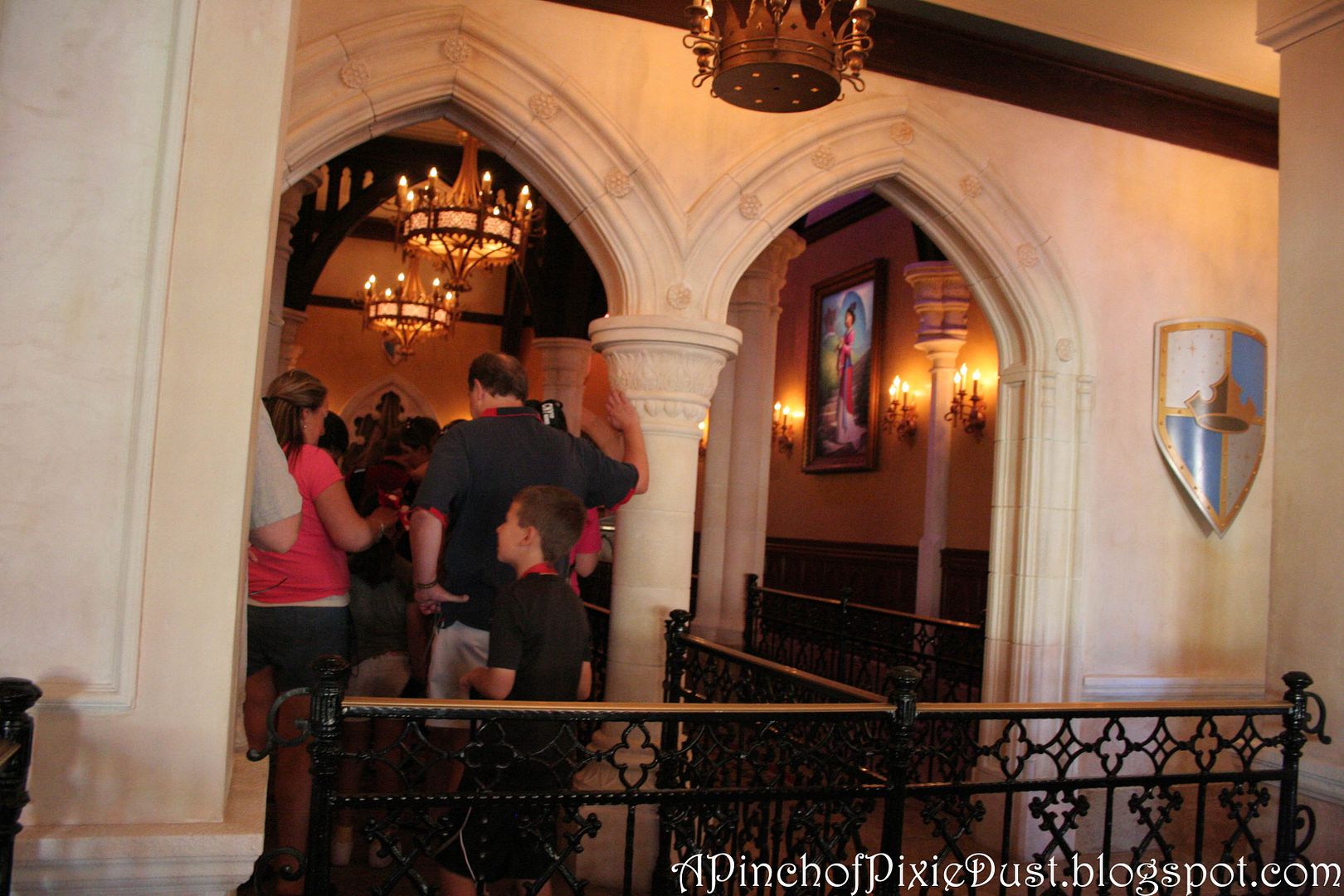 There was some even more impressive princess chandy candy in the main hallway!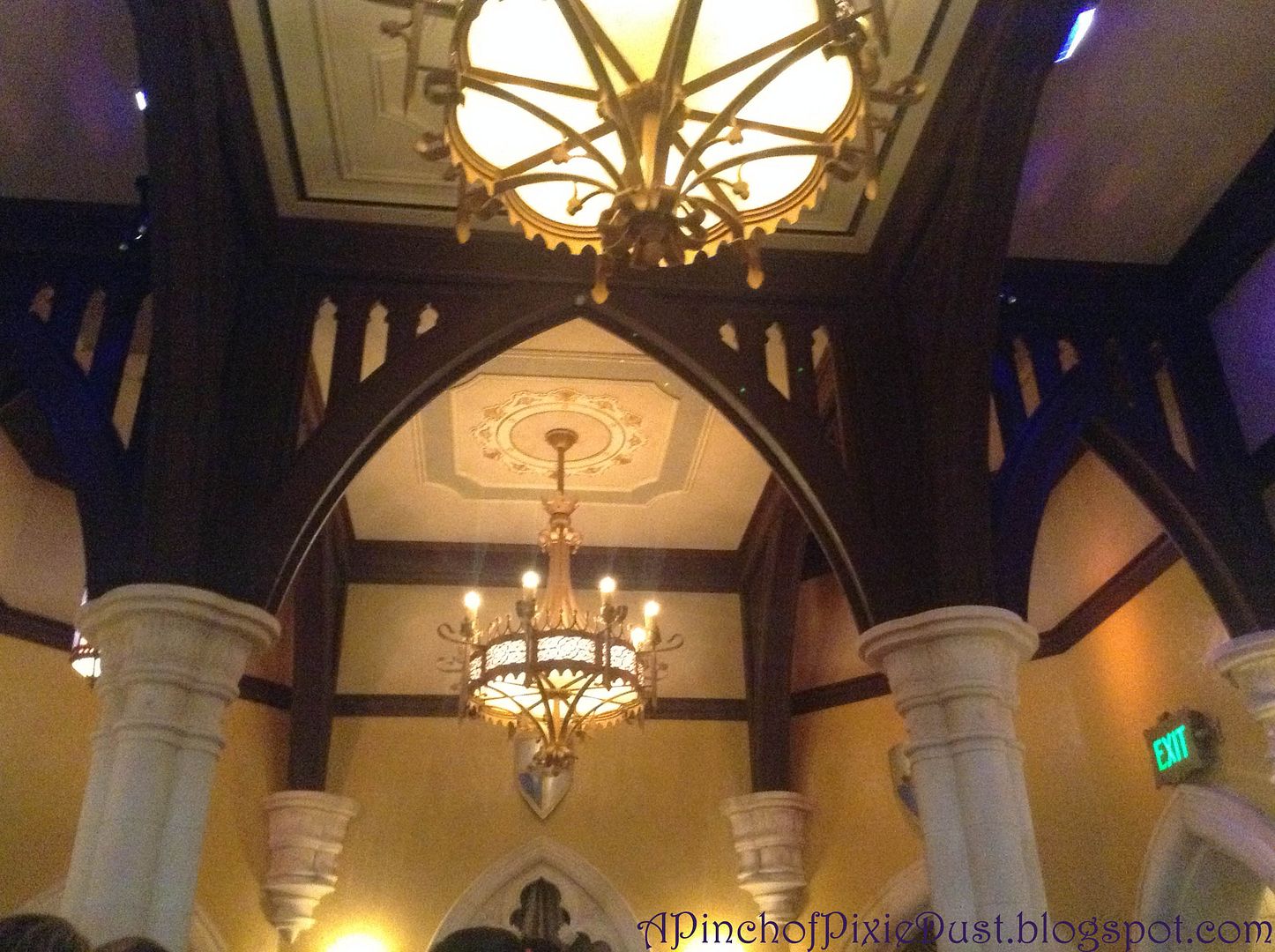 OOoooooohhhhh...pretty!!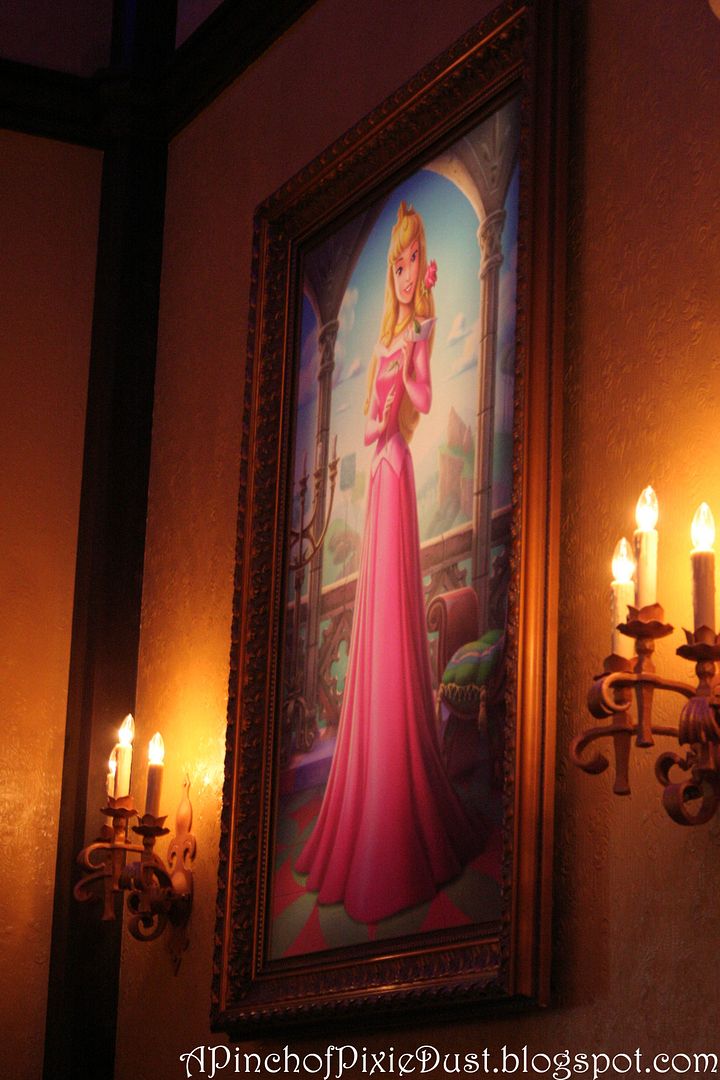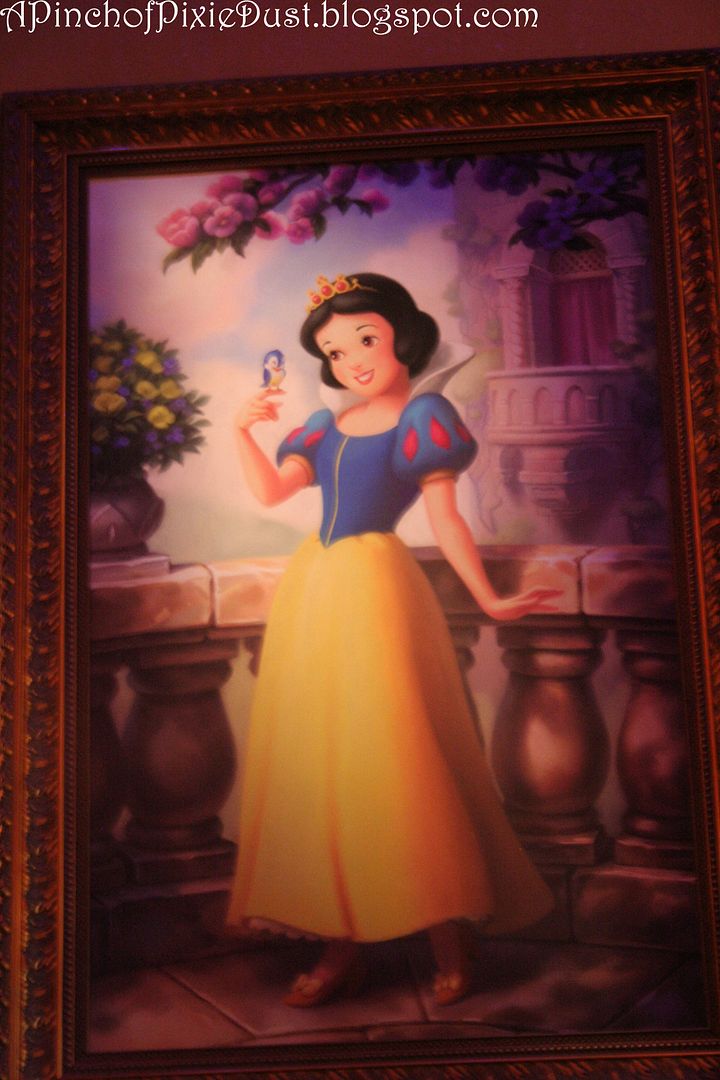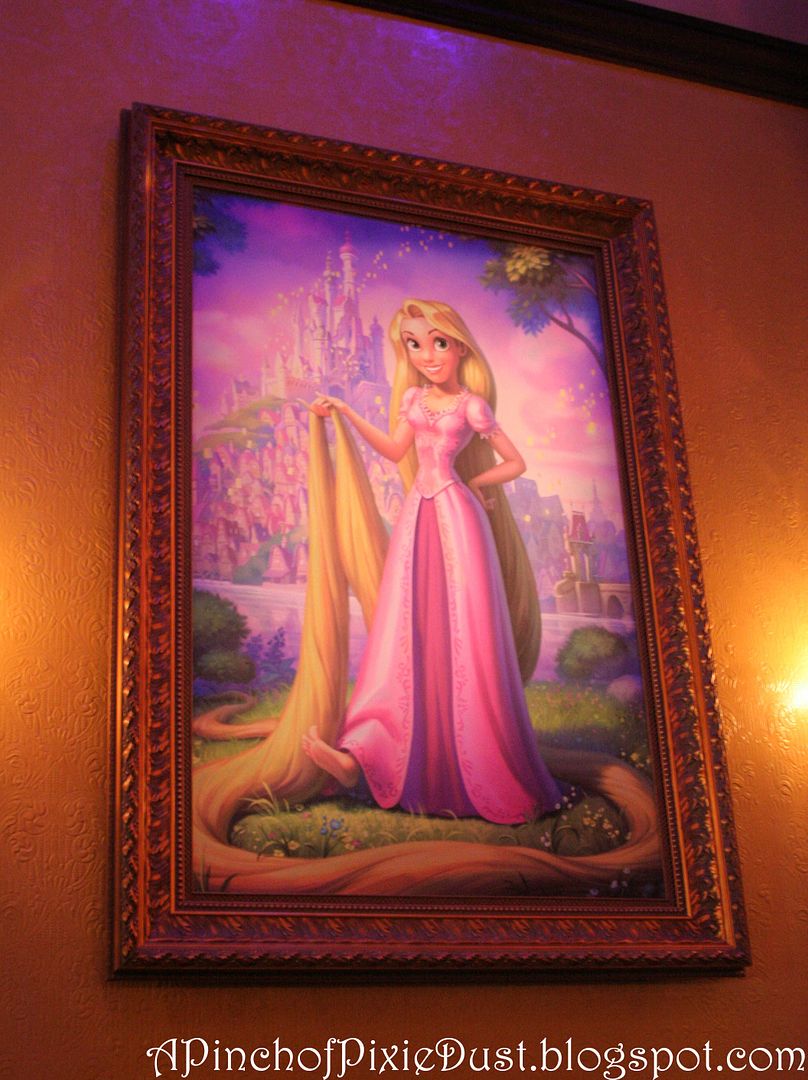 Hey. I warned y'all this would be a princess post! You'll find Aurora, Tiana, and Rapunzel portraits on one side with Snow White, Jasmine, and Mulan on the other. They all look so sweet, and I love the lovely scenes and castles in each background!
It is interesting to see the princesses that they picked and didn't pick - Cinderella, Belle, and Ariel didn't seem to make the cut. :( But maybe they'll add them in someday?
You can get a little bit better of an idea of how the gallery in set up in the video! The two lines go side by side and then are sent off to two different sides.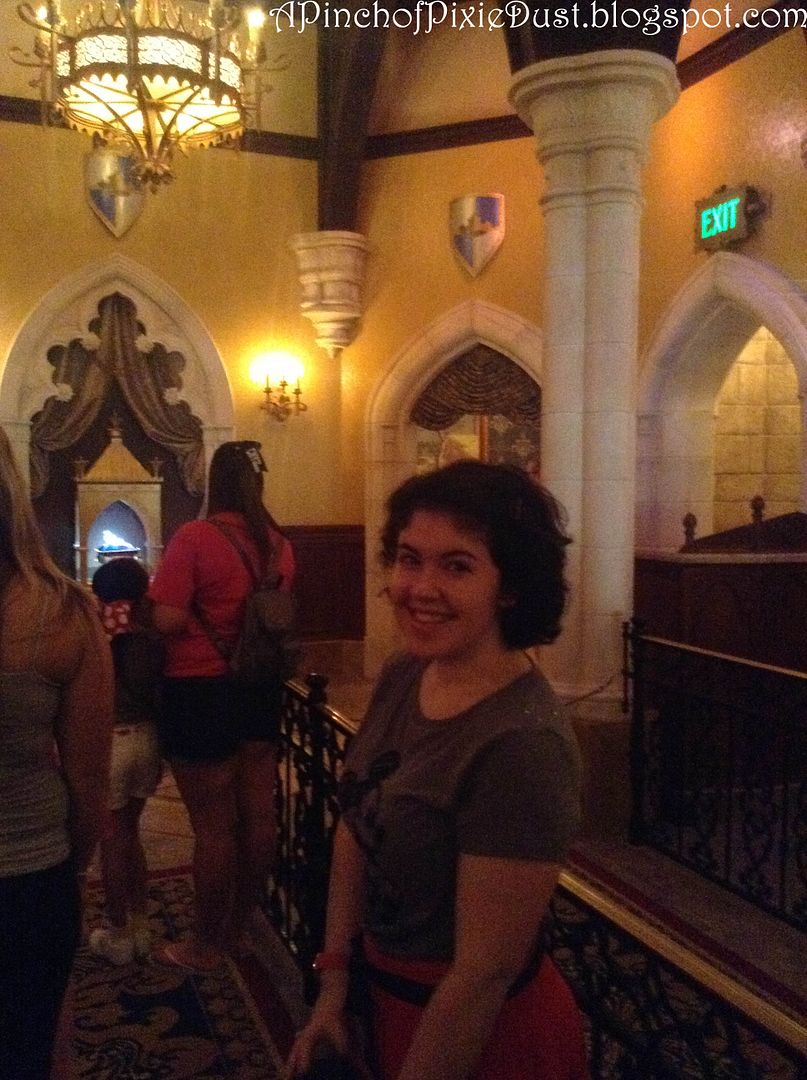 At the end of the gallery there are cast members who let a few groups at a time into the next area. In the photo on the right you may spot Cinderella's glass slipper...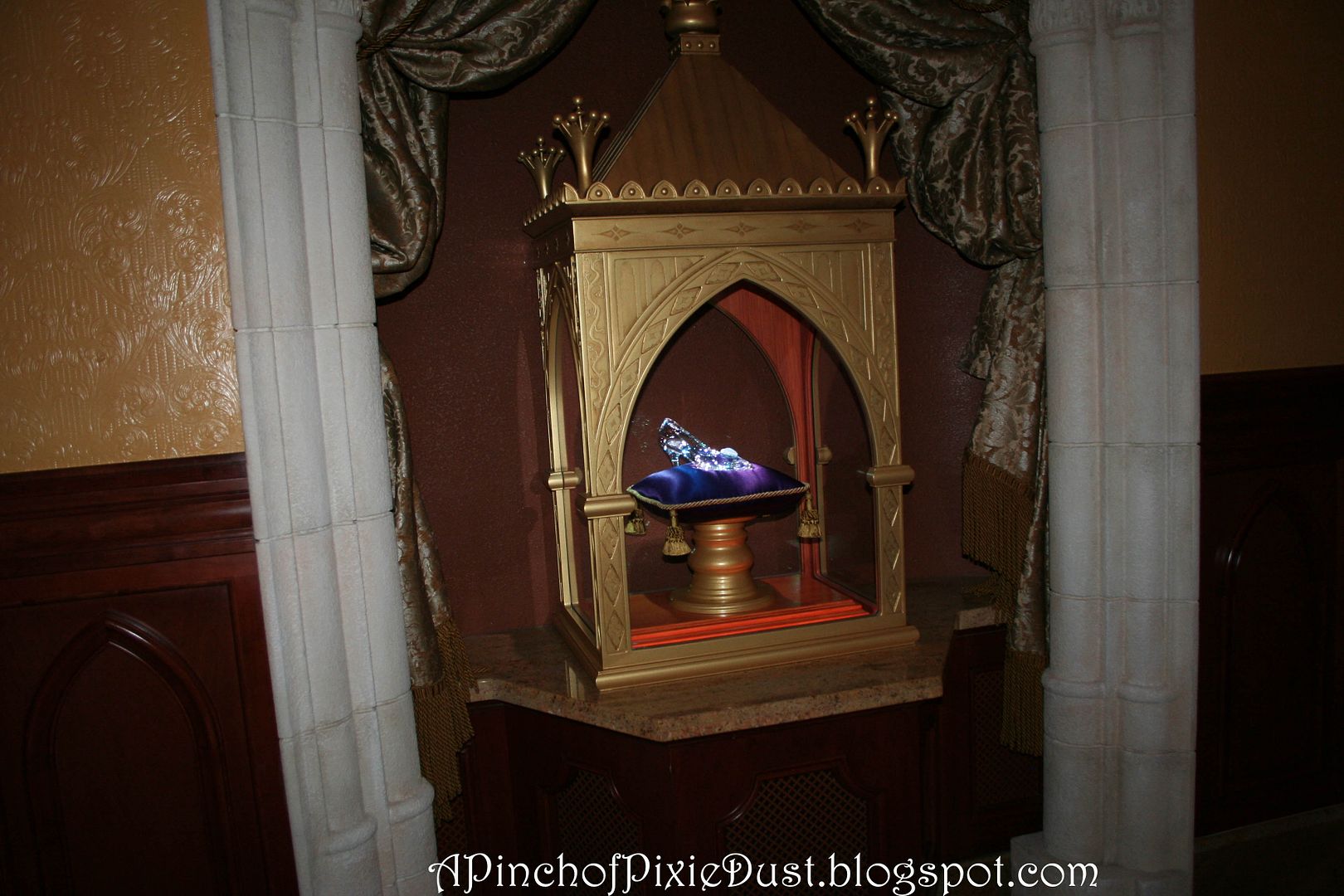 PRINCESS TIP:
If you want a picture with the glass slipper, remember to pause here before you go into the next room. It's easy to miss as you'll be walking right by rather than standing next to it.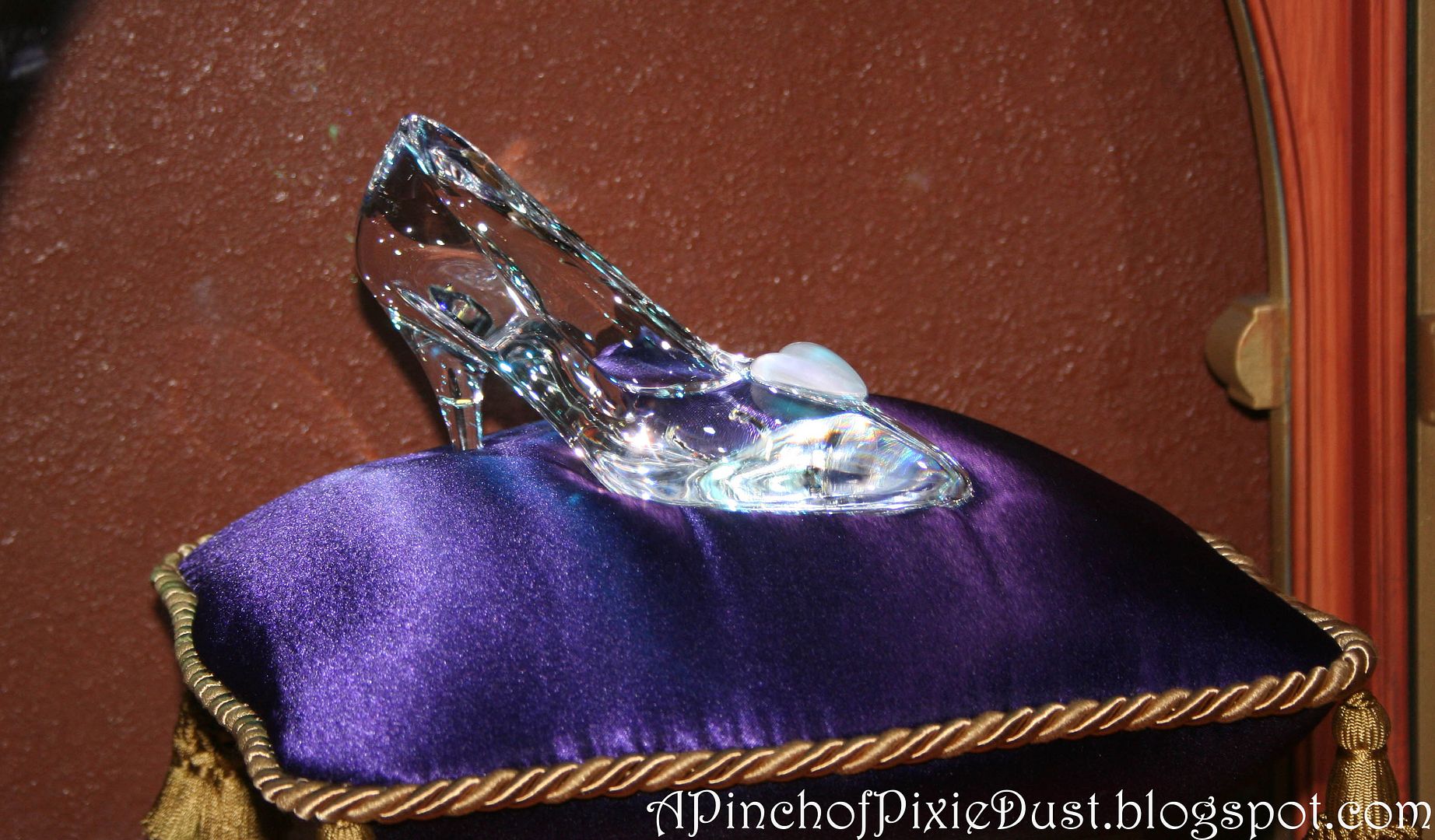 I made sure to stop for a quick pic! And speaking of Cinderella's shoes...
PRINCESS TIP:
Ask Cinderella if she's wearing her glass slippers! It's SUCH a fun question because you'll get to see her slippers - which are not glass but are completely adorable nonetheless - and she'll tell you all about how her Fairy Godmother added a strap so she wouldn't lose them again!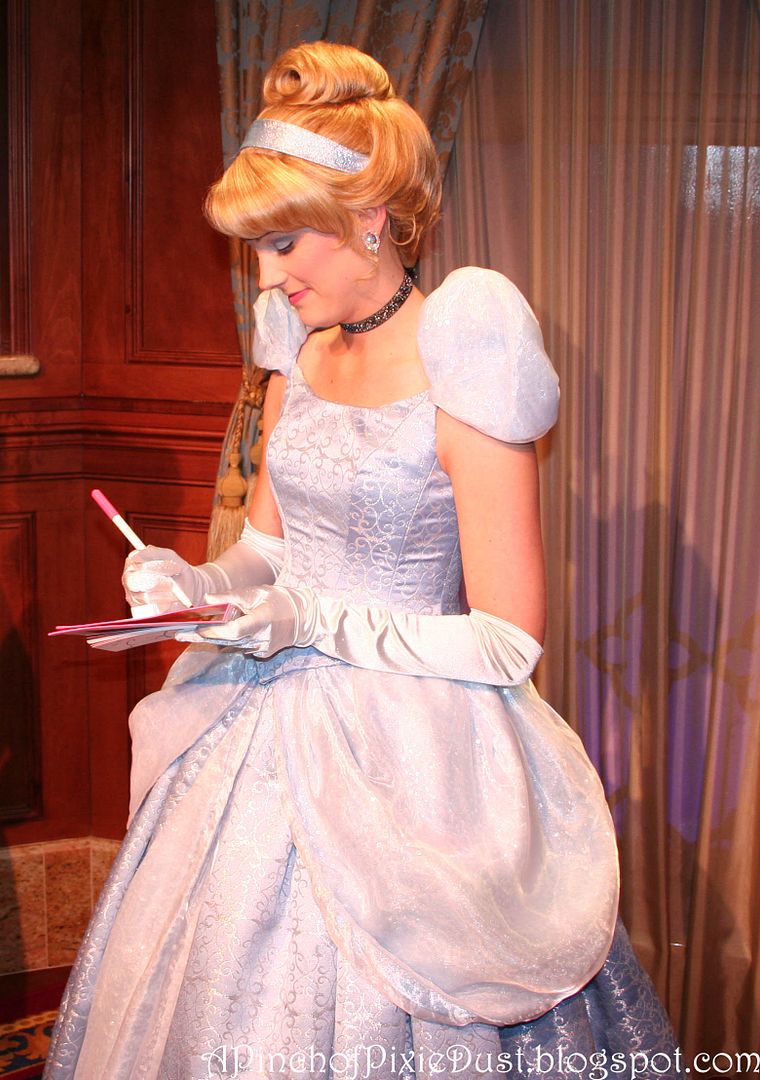 I hadn't yet seen the "new" princess looks, so it was extra fun with the new dresses. Cinderella's slippers are new too - they used to be plain silver. I wasn't a big fan when the new looks first debuted, but I'm coming around...look at how elegant Aurora's sleeves are. And her crown!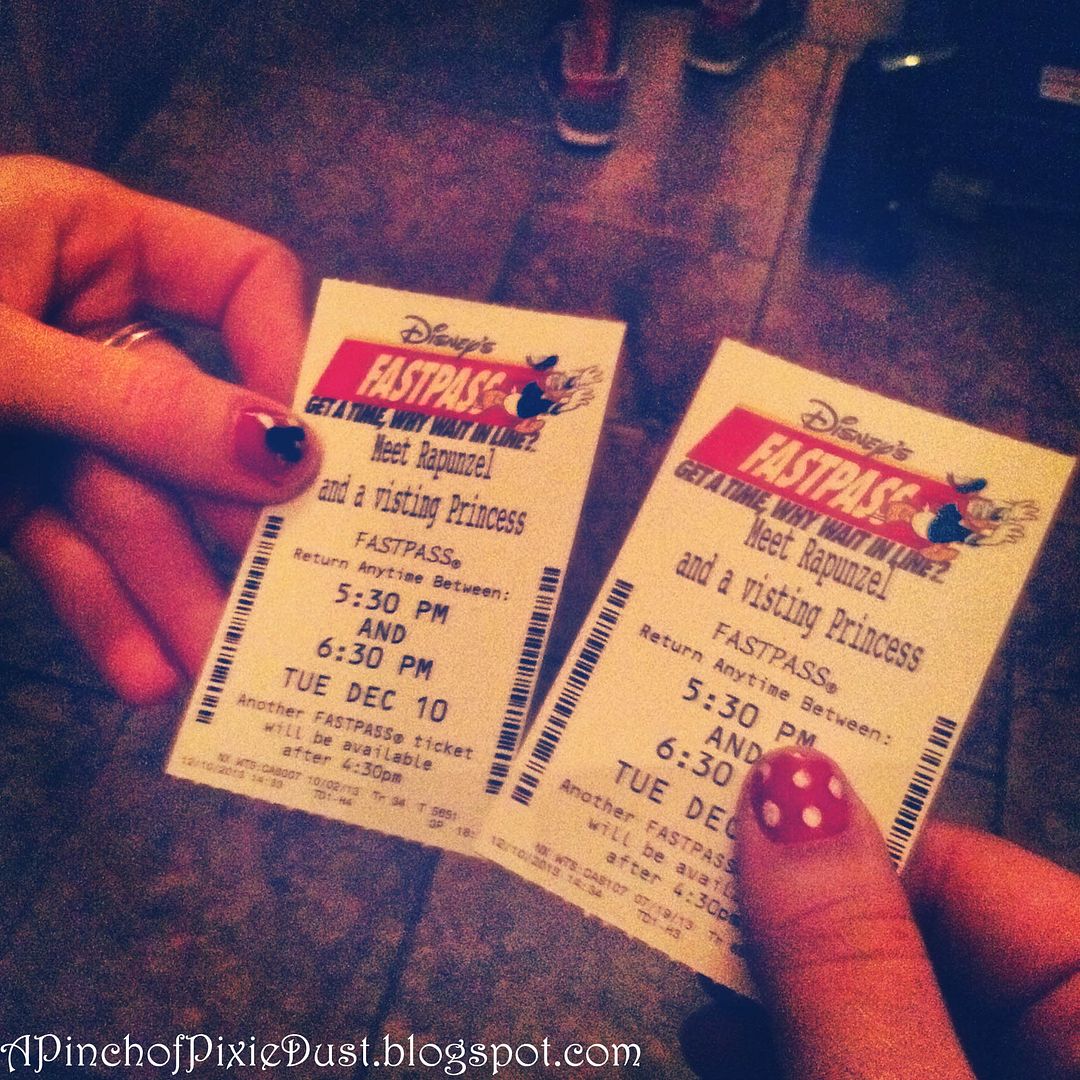 Later that evening my friend Laura got some fastpasses to meet Rapunzel and "a visiting princess." It's usually Snow White - you can tell which princess it is by the photo that's out front, or from the character page on the WDW app.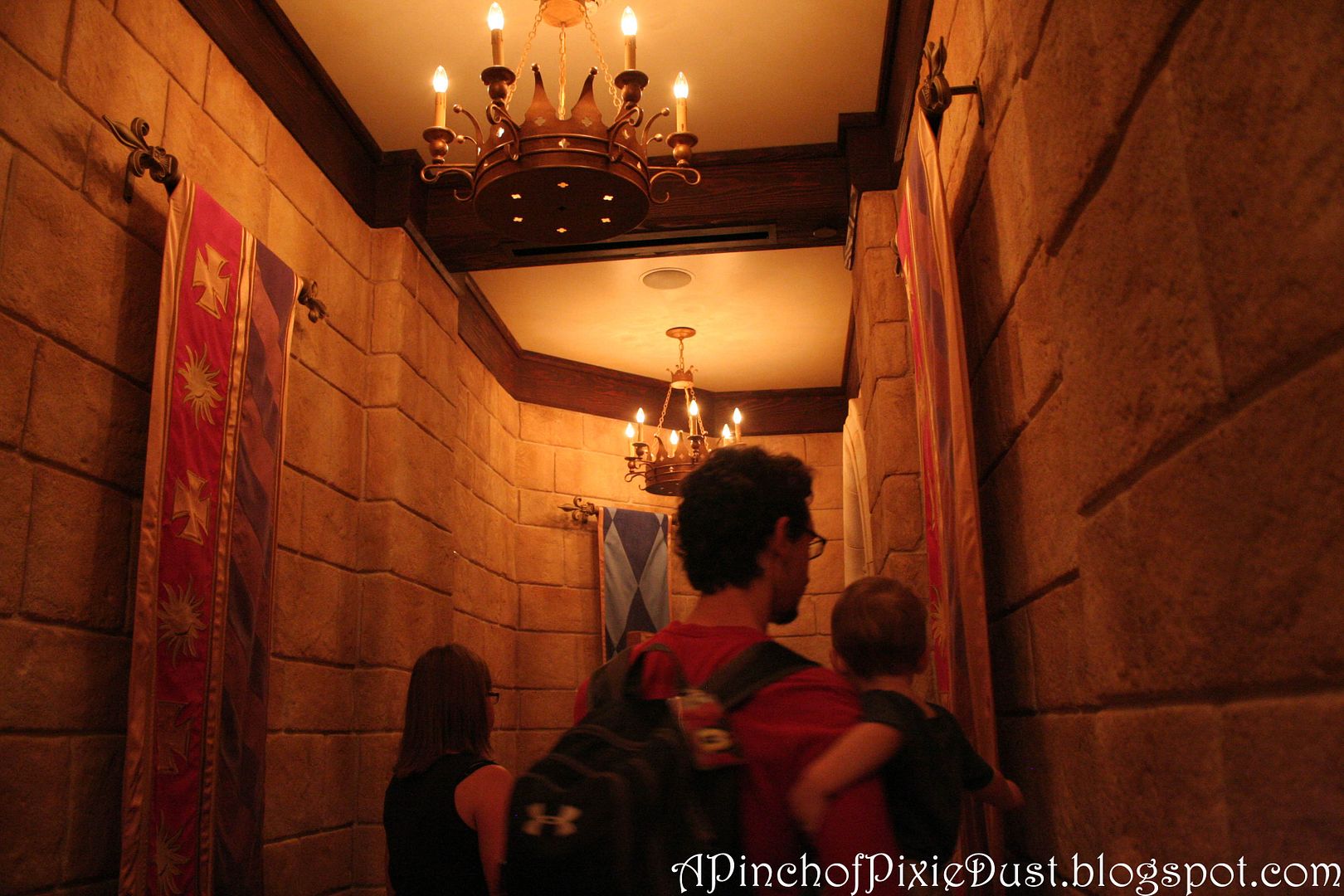 PRINCESS TIP: Be aware that if you use fastpass+ to meet the princesses, you will bypass the gallery with all the paintings and the glass slipper. The fastpass takes you directly to the meet and greet room.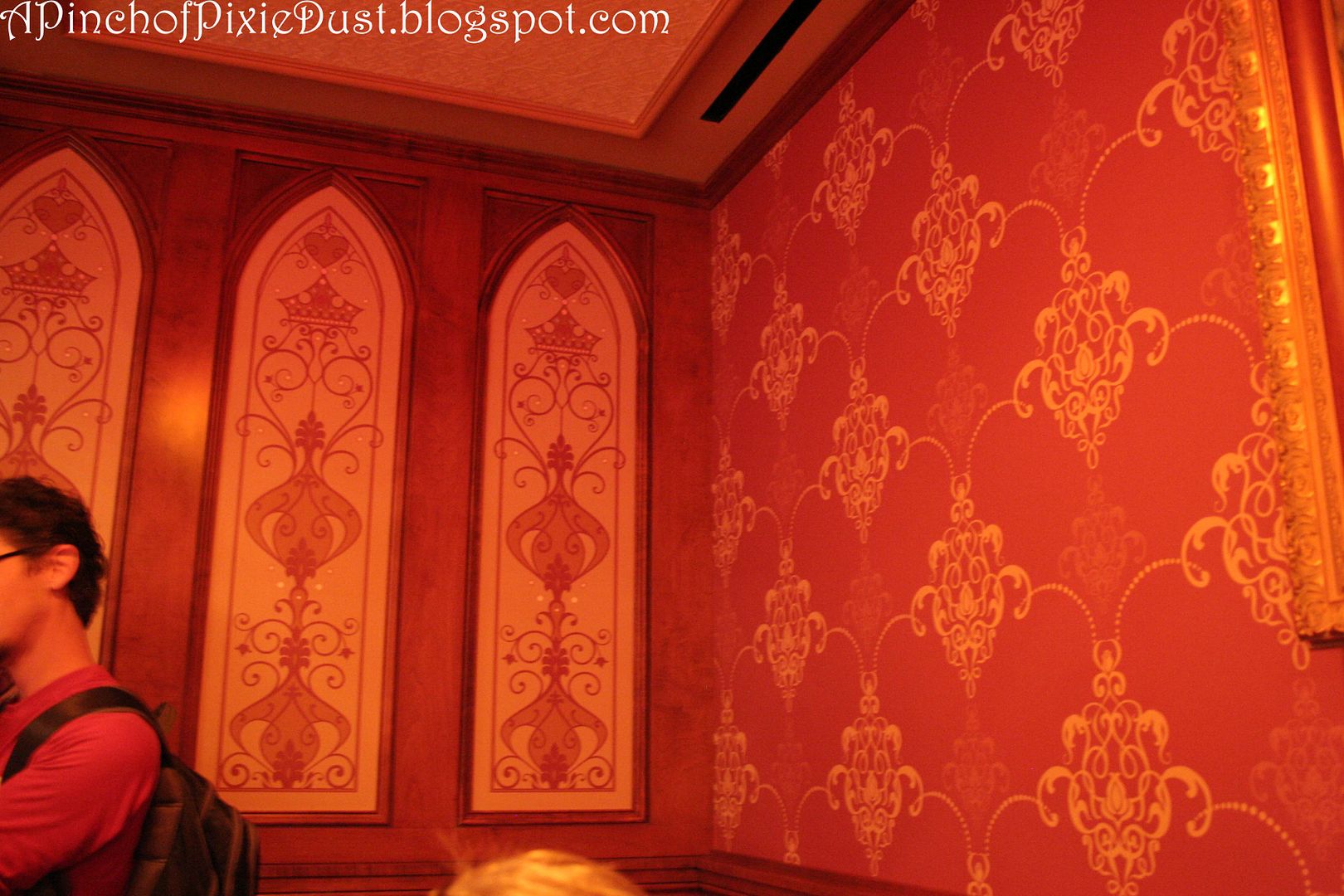 Very elegant princess wallpaper in the meet and greet room! There were some paintings with pretty concept art from the princess movies as well.
I like the wide variety of princess chandeliers that you'll find in Fairytale Hall!
The meet and greet rooms are very regal with wood panelling, carpets, and a pretty curtained area for each princess to stand in front of. In some of the
concept art
, there was a themed background for each princess behind each set of curtains. I wish they'd introduce that element, since they have the windows for it.
One other thing about the above photo - look on the left hand side, in between all the people - there's an open book. It's a Snow White storybook, an homage to the Scary Adventures of Snow White that used to be here! I wish I'd stopped for a photo. There's also a shelf of princess books, with the bookends that the King has on his desk in the Cinderella movie!
ANYway, on to the princesses themselves...
Rapunzel was so sweet and so funny in the video (that's my brother filming with the strawberry in the corner there!). I also asked her if Pascal the chameleon is named after Pascal the philosopher. Sadly he's not...
That photo of Snow White just makes me laugh - she's dreaming of the someday that her Prince came! We met her before she got her makeover, and I just love her old dress and hair. The new look just isn't the same.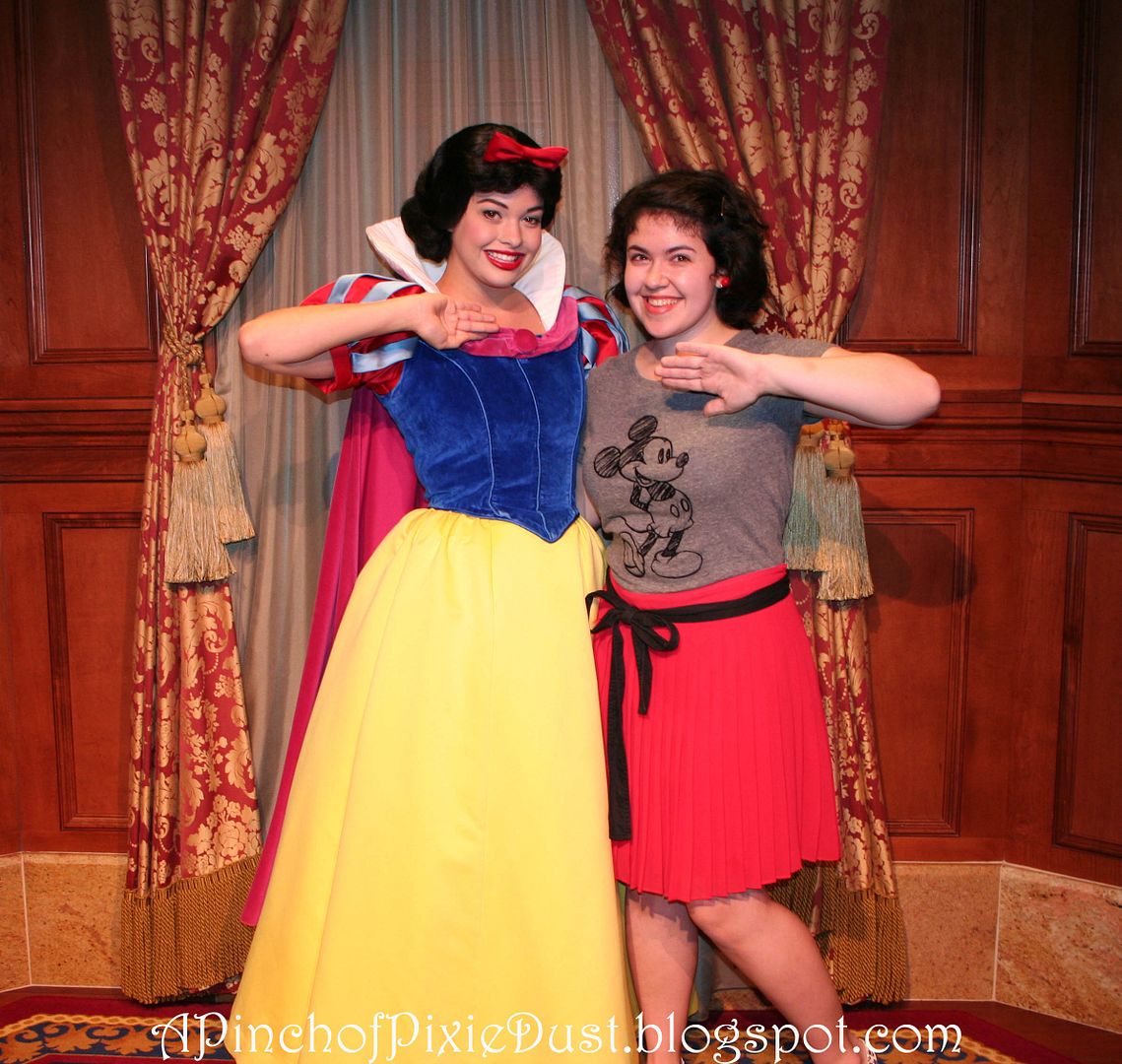 But the fact that my hair looks a lot like hers might have
something
to do with it though... ;)
One last
PRINCESS TIP:
For the best photos, notice how the princess is posing and copy the pose yourself. You might feel a little silly, but the picture will be really cute. ;)
Will you be paying a visit to Fairytale Hall?