I am SO excited for this week's
Sweet Treat Monday
post because it's all about two very pixie dusted things...
--Using
Fastpass+
to skip the line at
Be Our Guest Restaurant
for lunch--
--Trying the
GREY STUFF CUPCAKE
(I didn't have to ask the dishes...it was delicious!!) and a few other cupcakes too!--
Ready to head into the Beast's Castle?? LET'S GO!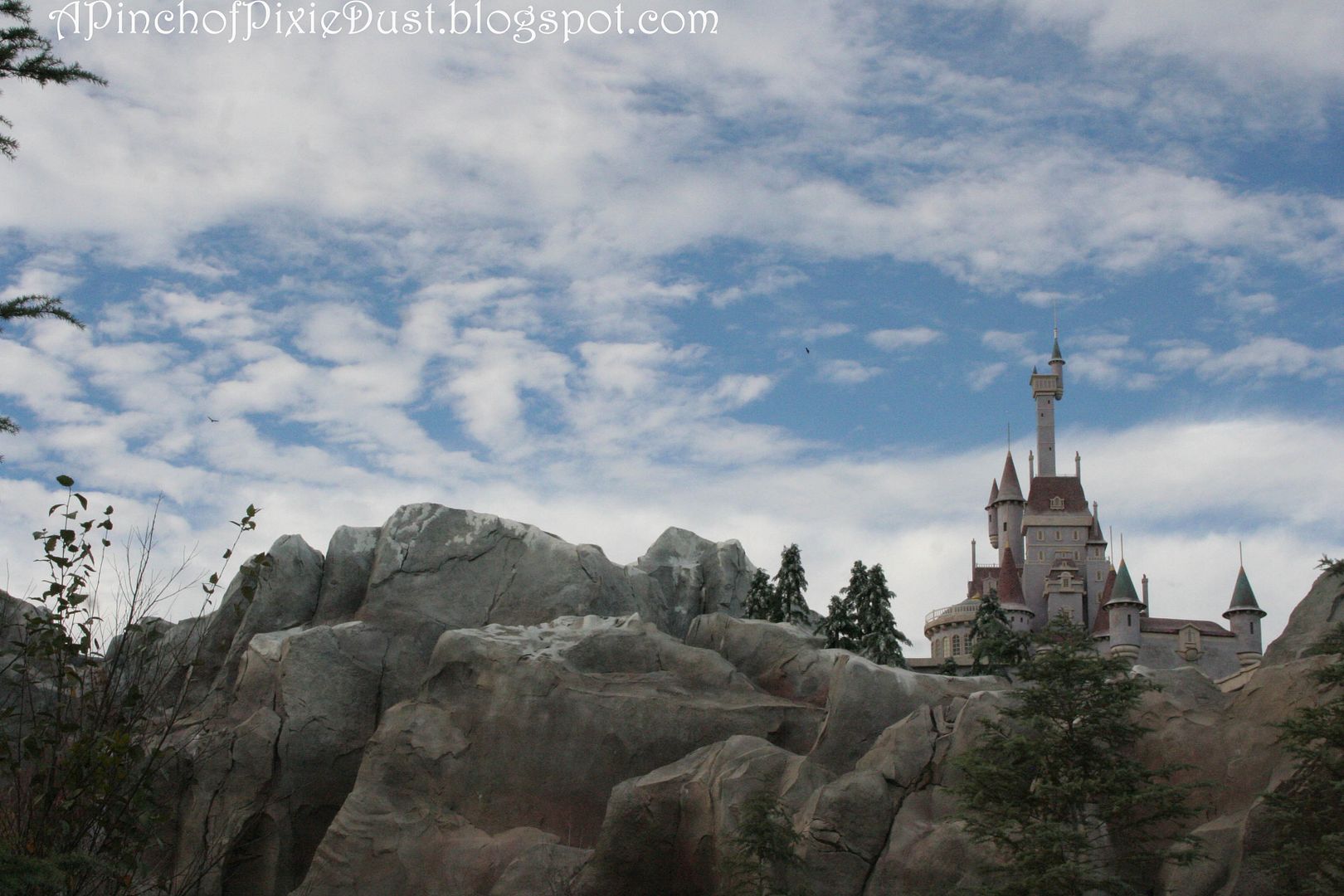 Now this next bit is about the Fastpass+, so if you're just in it for the cupcakes (and who could blame you?), feel free to skip a bit and scroll down to the cupcake photos.
I had really been hoping we would have time for a Be Our Guest lunch (with, of course, lots of Be Our Guest cupcakes) on our trip, but I knew the family would not be too thrilled about waiting in that long line. People start lining up at 10am or even earlier (the restaurant opens for lunch at 11), and the line generally stays long for the rest of the afternoon.
But then a huge pinch of pixie dust appeared in our email inbox. We had just checked into the Beach Club and gotten our
MagicBands
when Mama Snob received a message inviting us to test out Fastpass+ at Be Our Guest!
We clicked the link and were able to choose any day out of the next week to make the reservation for. We were only staying at the Beach Club for one night, so it was great that it gave us a range of days! There were two options to choose from: "
Direct To Table
" and "
Fastpass+
."
Direct To Table means you pre-order the whole meal on your device - you'll only be charged if you show up, and you can change your order once you arrive. Fastpass+ means you pick the time window when you're going to show up and get to skip the line, but you'll order your meal as usual once you arrive. We went with "Direct To Table" and picked out what we wanted ahead of time.
Our Magic Kingdom day had a somewhat stressful start: there was a problem with our tickets, we had to wait in line at Guest Relations to get it fixed, and thus we were late for the Be Our Guest Fastpass+. YIKES!
As soon as we were through the turnstiles, we headed straight for New Fantasyland, and luckily the cast members at Be Our Guest were super nice about it. You check in with the CM with the tablet, then you're sent straight past the looong line on the bridge. I felt both guilty and giddy about this. ;)
It wasn't quite "direct to table" - we did wait in the indoor line in the hallway with the knights and then confirmed our order at one of the order kiosks. At this point you're able to change the order if you need to. I have to say that the pre-ordering, especially for a large party, was pretty relaxing - no last minute, hurried decisions or worrying if you forgot someone!
The Be Our Guest Fastpass+ was one of the best parts of our
My Magic Plus experience
- I'd give it a big thumbs up. It seemed to be separate from the three Fastpass+ you get for rides/shows. I'm not sure if you have to be invited or if any resort guest can make a lunch res, but
here's the link
for it that's been floating around the web. It'll be interesting to see in the future if they do it for any other counter service restaurants!
I really want to be able to use one of the self-serve book kiosks one day. I think they're only for dining plan people, but they're SO CUTE.
We then went to find a table. It was crowded enough, but there were plenty of open seats. I have already taken scads of photos of
all the gorgeous rooms in the Beast's Castle
, but of course I couldn't resist a few more...
It was January 7th, and I was SO DELIGHTED to find that the Christmas decorations were still up!
I ADORE the stained glass style ornaments for Mrs. Potts, Lumiere, Cogsworth, and Chip (can you spot all four in the pic?). I want to buy them; they're so cute! And notice how there are lots of candelabras and candles on the tree too - Lumiere's friends maybe?
Another fun holiday detail was the tree topper. If you've ever seen
Beauty and the Beast: An Enchanted Christmas
(YES, it was a direct-to-video sequel, but it was also really sweet), you'll know that it's ANGELIQUE!! LOVE.
Now. Time for the cupcakes.
A cart full of cupcakes pulled up next to our table. They found us not by a magical rose, like last time, but by our MagicBands!
Hmmmm...which to try first? ;)
OK, so they weren't
all
for me! And there were a few things other than desserts - but there were seven of us, and we all wanted a cupcake!!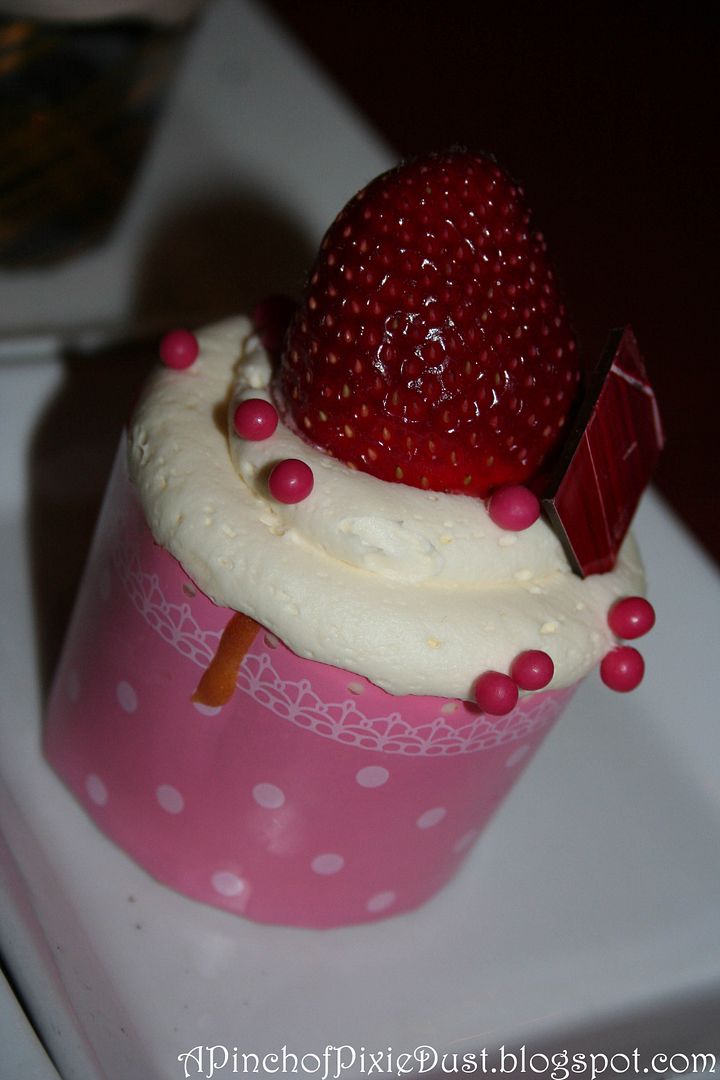 Somebody got the
triple chocolate cupcake
, which I knew from
past experience
was quite nice. And how cute is that
strawberry cream cheese cupcake
? But neither of those were for me. I had to try...
THE MASTER'S CUPCAKE. I was so beyond excited.
It was just as perfect and delicious as I've heard tell! The chocolate square and the yummy, crunchy little mettalic sprinkles. The grey stuff is light and frothy and there is plenty of it on top of
and
inside of the cupcake...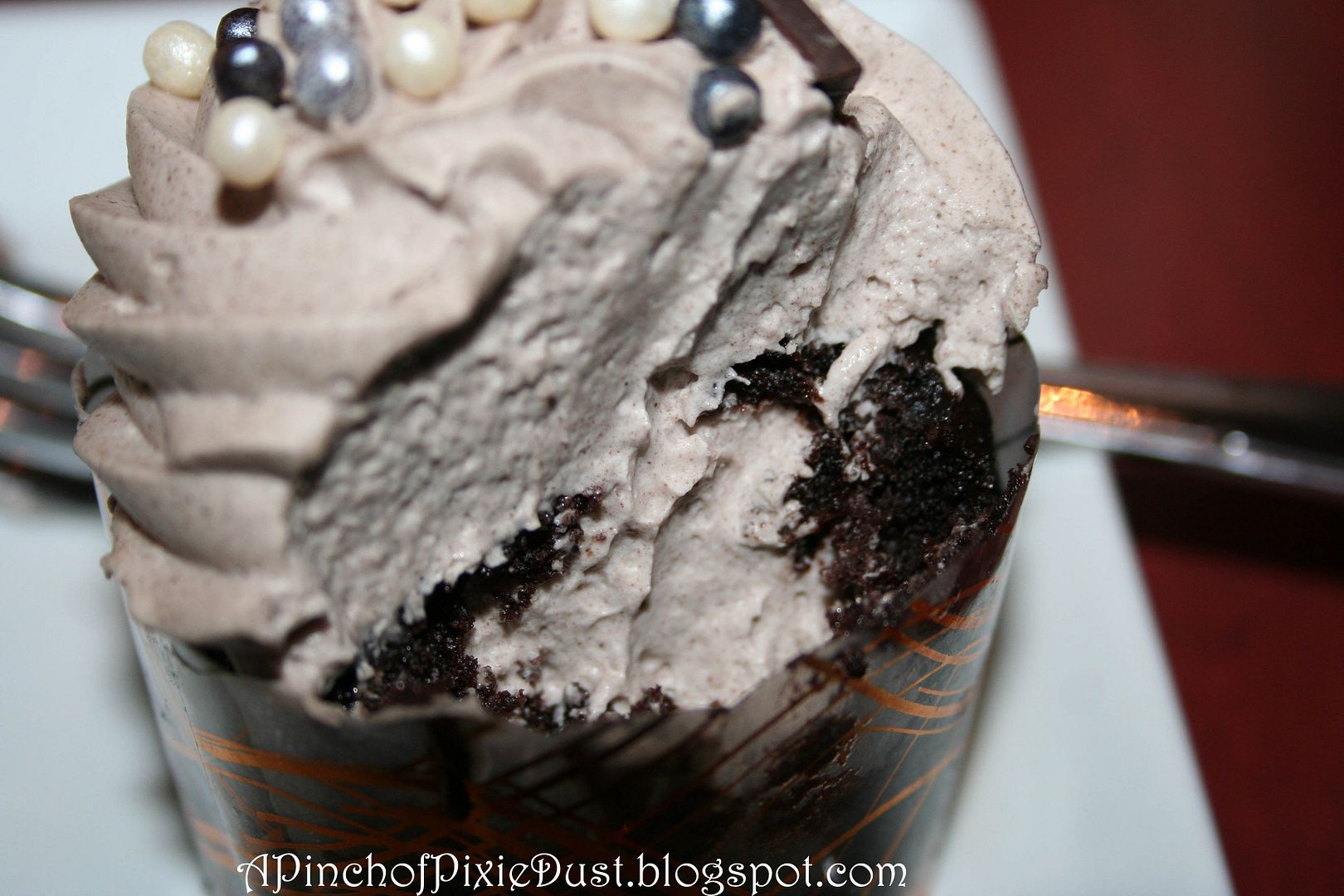 Lots of Disney cupcakes have a "fake" top, where there's a wedge of cake hidden underneath what looks like a huge cone of icing. But at Be Our Guest, it's ALL grey stuff. The cake was yummy too, and I thought there was the perfect amount of it to set off the grey stuff. The icing is definitely the star of this dessert. :) For me, this did live up to the hype, and it's definitely on my list of top Disney cupcakes!
The only thing I didn't like was a small thing: the wrapper the cupcake is in makes it a little difficult to eat. It also somehow reminds me of the generic wrappers you see in the bakery cases at grocery stores.
I did like the pink wrapper a little bit better! Mama Snob let me try a bite of her strawberry cream cheese cupcake - which had a huge fresh strawberry on top and was almost too cute and pink to eat.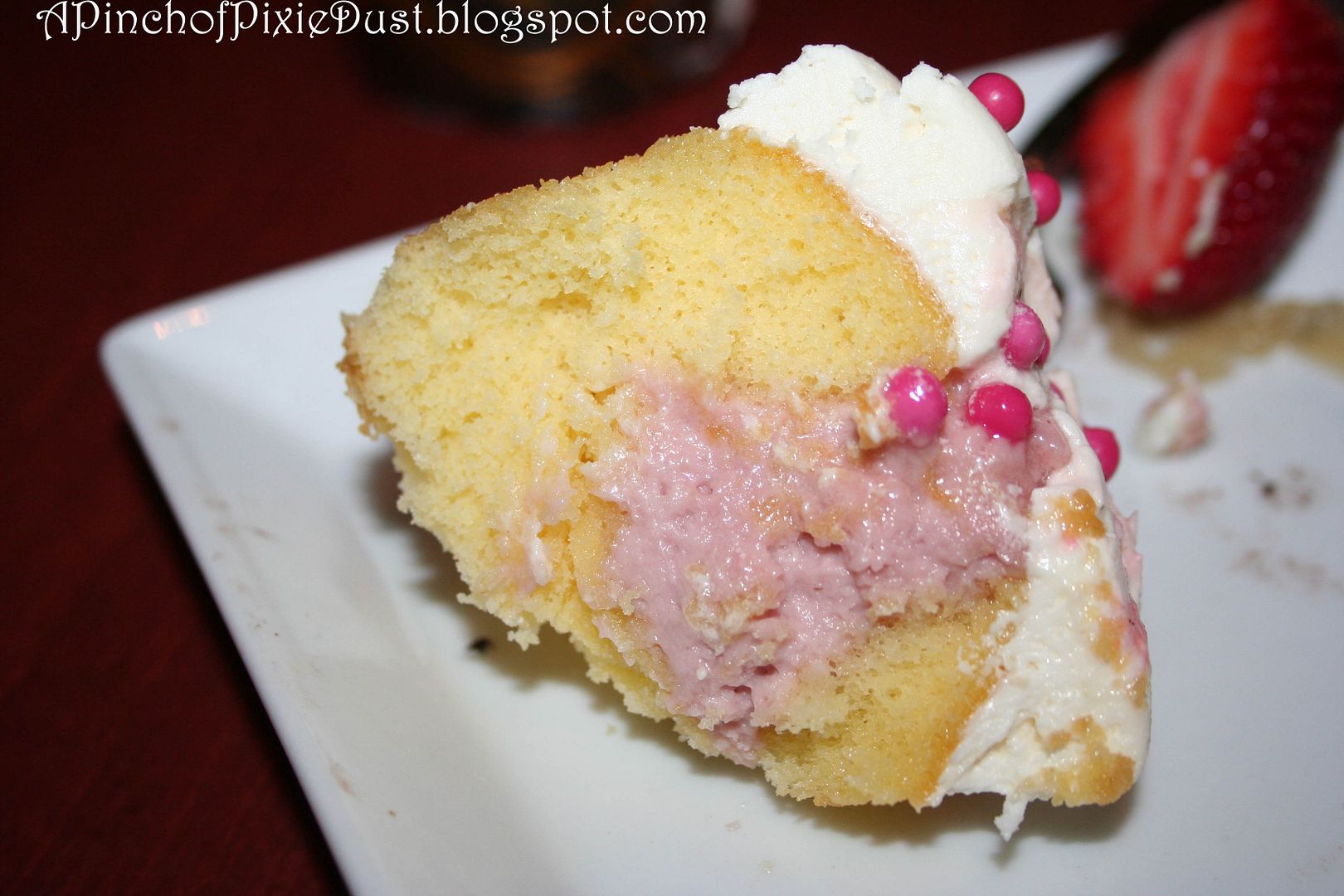 It had a nice creamy strawberry icing in the center. Fresh and fruity and delicious. It's going to be SO hard to pick which cupcake to get here next time...they're all pretty scrumptious...
Be Our Guest Lunch Video!
Before we left, I had to take a stroll to do a
few vlogs
and take a few more pics. I love the music box in the Rose Gallery and all the paintings...
This one is my favorite. Daydreams. :)
We left so late that the cast members were starting to set up for dinner - they were putting out these adorable rose napkins...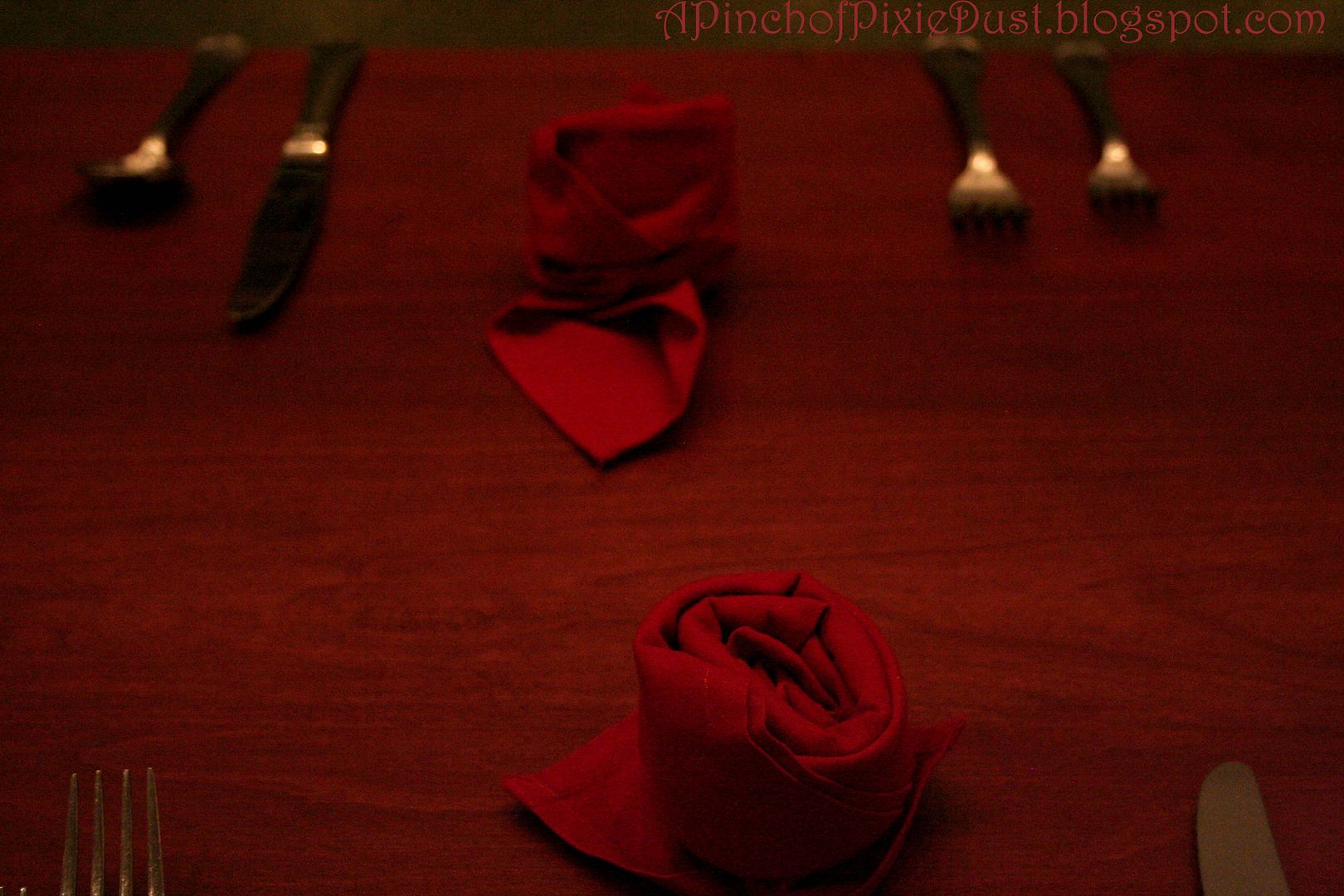 Very sweet!
So. Which Be Our Guest cupcake would YOU choose?
Hope it's a magical Monday!