It was a first for this Disney Snob - on our trip last week, we got to experience the new
Magic Band
and
Fastpass+
service, and I have LOTS of interesting tidbits and impressions to share...like pre-ordering lunch and skipping the line at Be Our Guest, snagging a 5:30 Toy Story Mania fastpass at 4:45 (same day), and inadvertently discovering how to double our Fastpass+ selections.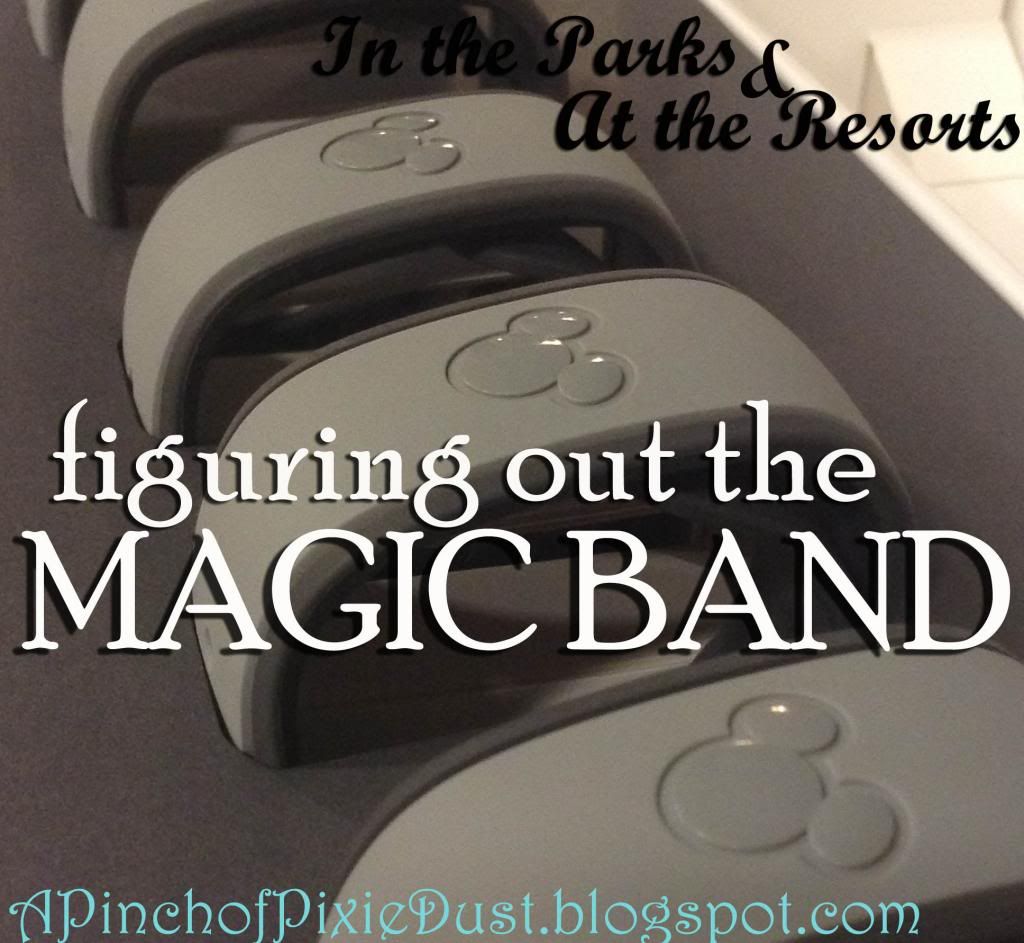 Alright. Are you ready?
The first big piece of news - as you may have already heard - is that the
old paper fastpasses are now gone from the Magic Kingdom
. The old "legacy fastpass" machines as Disney now wants us to call them (somehow that just rubs salt in the wound...) were closed at the MK starting two days ago, January 14th. It seems like it happened kinda quietly, but you can read about it on the
DIS Theme Park board
and Mouse Planet has a
great article
on how to manage the new Fastpass+ scene. The machines had already been closed at the Animal Kingdom, and paper FP will be gone at Epcot and Hollywood studios later in January 2014. (**All the WDW theme parks are now operating with only Fastpass+. No more paper fastpass.**)
So now if you want a fastpass at the Magic Kingdom, you'll have to use the Fastpass+ system, and you'll only be able to book fastpasses for three attractions. You also will not be able to get Fastpass+ at any of the other parks - all three of your Fastpass+ have to be at the same park, and they all have to be different rides.
A Fastpass+ kiosk at Hollywood Studios. They're trying to reconcile us to the new stuff by making the new machines all cute and themed with little suitcases. It might be partly working...
Anyone can use their RFID ticket at the kiosks in the parks to book their allotted three Fastpass+ on the day of. Only resort guests with their tickets linked to their reservation and My Magic Plus account can book Fastpass+ in advance through the My Disney Experience app.
If you're doing day-of Fastpass+ booking, you'll need to go to one of the Fastpass+ kiosks - some have stationery machines, others are just cast members with tablets. Keep an eye out for them in the park - they are not all marked on the map or the Fastpass sheet you can find at the park entrance. Also, book early in the day. Lines at the Fastpass+ stations can get very long. Disney really does not have enough Fastpass+ kiosks at this point, even with the cast members. Hopefully they'll be adding more in for guests booking day-of.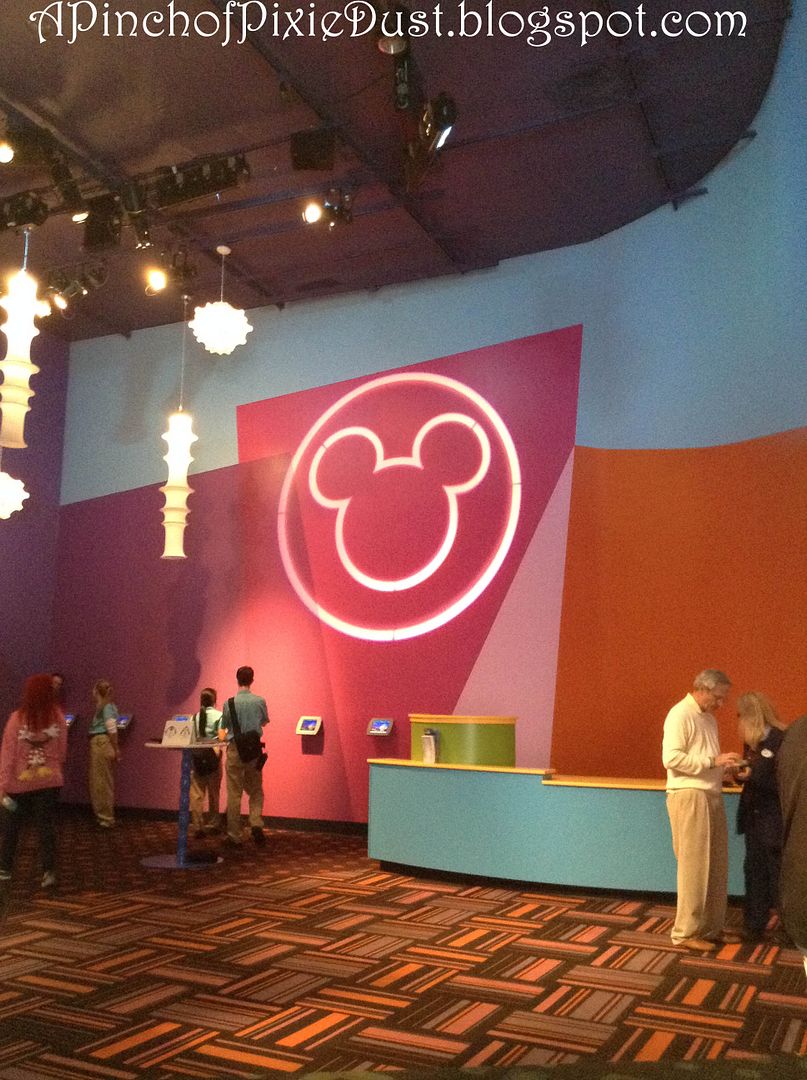 Fastpass+ and My Disney Experience Stations at Innoventions in Epcot.
There are only five kiosks in each park, each with four machines - if not for the CM's with tablets, there would only be 20 fastpass machines for the entire park. I wonder if they'll be adding in more Fastpass+ booking stations at the rides so the cast members with tablets won't have to stand there. Although maybe it's not such a bad idea to have a human there you can talk to - it's going to take awhile to get everyone used to this new system. I'm SO not used to it yet.
The machines were still up and distributing paper fastpasses at the MK during our trip, and it's kinda sad to think that that was the last time. It's the end of an era.
But then it was fun to experience some of the new era. We stayed at the Beach Club for a night during our trip, and we were invited to participate in the My Magic Plus test. It's sounds like all the resorts are now doing the testing, but I'm still confused as to whether or not all guests staying at those resorts are invited to take part in the test. I think it's most if not all - the idea is that it eventually all guests will be able to get a MagicBand and do the Fastpass+ in advance.
We did not customize our Magic Bands in advance, so we received a box of grey ones at check-in...
As one of my brothers said, "WHAT IS THIS DARK MAGIC?"
We'll look at this from a resort point of view first, and then from a parks point of view.
Using the Magic Band in the Resort...
MAGIC BAND AS A ROOM KEY: Yes, it was pretty awesome not to have to dig for my room key at the door every time. Since it's on your wrist, you don't even really need a free hand to open the door. For the most part the scanning worked fine - you just had to remember to match up the Mickey head on the band to the Mickey head on the door correctly.
MAGIC BAND WITH CLUB LEVEL: We were staying club level at the Beach Club, and as you always need your room key in the elevator to get to the club floor, that was another time we didn't have to dig for it. We just used the band - very easy and quick.
CHARGING WITH A MAGIC BAND: Using the Magic Band to pay for things is just fun. At any restaurant or gift shop, you get to hold it up to the little Mickey machine, enter your pin, and you're good to go. I can easily see people spending more than they meant to with the Magic Band, because it's not like cash, and it doesn't feel like a credit card; it's more like playing a game. Disney is an evil genius.
FOR KIDS: It was great for my ten-year-old brother, because instead of having a room key he'd have to keep track of, he had his Magic Band that was attached to his wrist at all time. Of course this is assuming the kid won't pull it off and leave it somewhere... Dart kept good track of it though and was really excited to wear it.
AT THE POOL: The bands are water proof, so we wore them in the pool. Stormalong Bay is only good for Beach & Yacht Club guests, and our Magic Band replaced the paper wristband we would normally have had to wear at the pool. For the most part the CM's around the pool just waved you through when they saw the Magic Band. A few had some handheld machines, and they made you stop to scan your band before they let you by.
ACCESSORIES
: As you probably know, there are PLENTY of jibbits and jewels and
all sorts of pretty things
that Disney sells that you can bling your MagicBand with. Dart got a few Sorceror Mickey buttons and really enjoyed them. To be honest, Disney's selection of accessories didn't much excite me.
Well, maybe that cupcake one was cute, but I resisted. And then it occured to me that *I* could get creative with some decorating of my own. I happened to have some paints with me, so this is what happened to my MagicBand: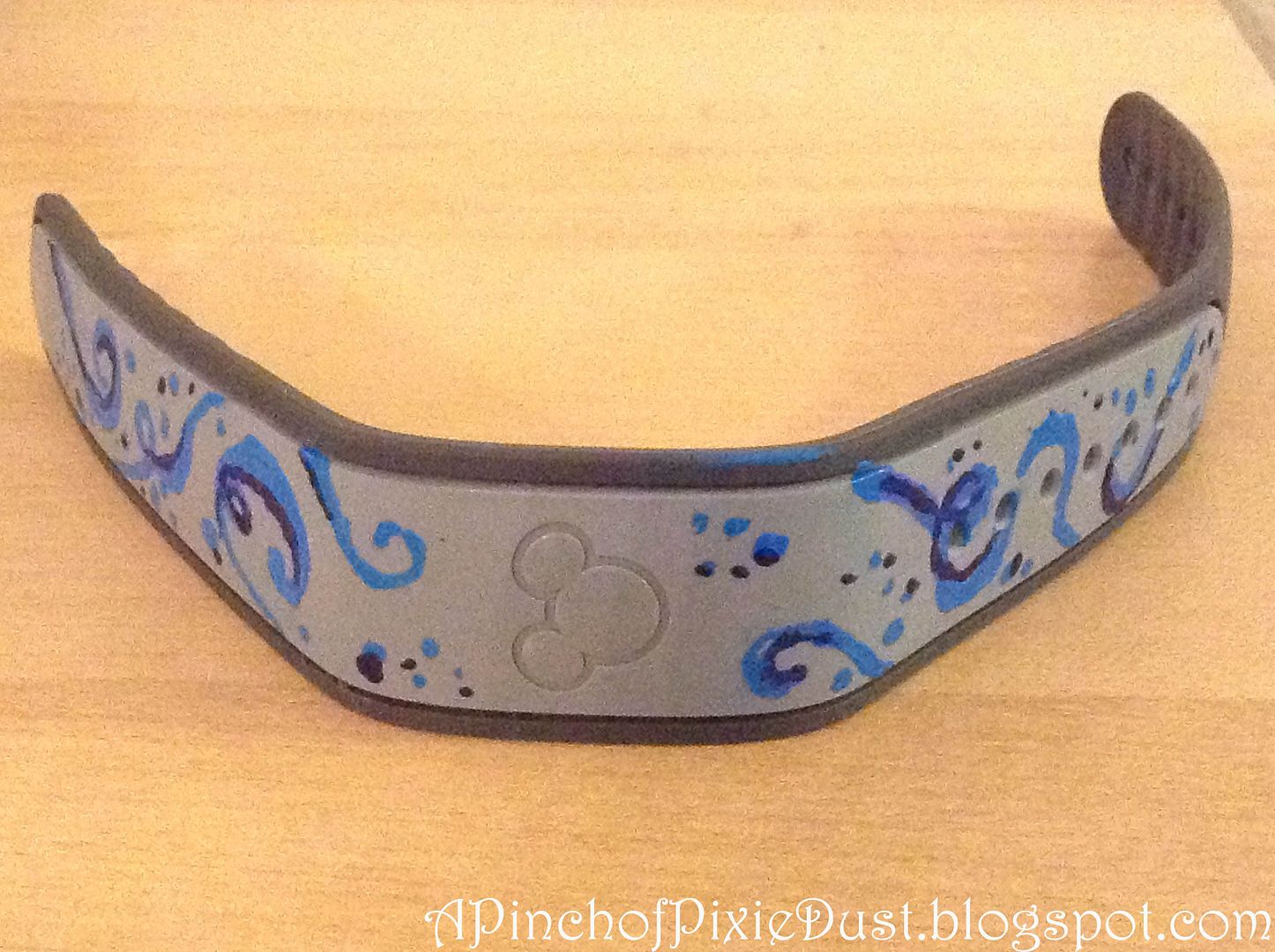 I kept the paint away from the Mickey (which is the sensor), and it worked just fine. Although I think it might work even if I did paint over it. Another thing for the fashion-minded: one day I stacked the Magic Band with other bracelets, and it looked cute...
...but it did make lining up the mickey sensor correctly more difficult. So it would probably be smarter to wear the Magic Band alone. But hey. Sometimes you just gotta put fashion over function, right? ;)
We did not end up linking our tickets to our reservation, so they were not on our Magic Band. Here was the drawback to that: if, as a resort guest, you do not link your ticket to your reservation, you will not be able to book Fastpass+ on the app in advance. When we went to the Fastpass+ tab in the app, it told us we couldn't proceed until we added a ticket.
So that was a bummer.
...or was it?
Using the Magic Band at the Parks...
BE OUR GUEST FASTPASS+
: In spite of the fact that our reservation/Magic Bands did not have tickets on them, we received an email inviting us to test out Fastpass+ at Be Our Guest lunch. I'm planning an entire post all about it (
here it is!
), so for now I will just say it was AWESOME. We got to skip the long line on the bridge, and we were able to place our order in advance (they only charge you for it if you show up).
Now I wonder how did those cupcakes manage to photobomb and practically push the MagicBands out of the shot??
You know how they usually give you a rose to put on your table to know where to deliver your food? Well, they found us using not a rose but our Magic Bands. Although it's actually a little creepy to know they're GPS-enabled, so Disney could basically find you anywhere in the parks (or anywhere around the world??) at any time they want to.
INDIVIDUAL FASTPASS+ USERS HAVE BETTER LUCK: With the Magic Bands, all our profiles - for every guest in the party - were connected, so when you went up to the kiosk and made your Fastpass+ reservations, you made them for everyone in the party all at once - I believe there was a way to change just one person's selection, but it required pushing a bunch of extra buttons and the touch screen was finicky.
The tickets, on the other hand, led only to individual profiles - so when you scanned one, you were booking Fastpass+ for just one person - and they gave us much better options for the attractions. We booked a 5:30pm Fastpass+ for Toy Story Mania at 4:45pm. Same day. When we had been using the MagicBands, the system had shown no availability for TSM at all - presumably because it couldn't give everyone in our party a FP, it wasn't going to give it to any of us. The system is still a little screwy and unpredictable though - we scanned one individual ticket and saw no availability, but seconds later when we scanned a different individual ticket, a slot would show up! With the old legacy fastpasses, we would never have been able to get even one FP so late in the day. I guess it is nice, with the new system, that if someone cancels or there's one left-over slot, you might be able to pick it up at the last minute.

We went back to the kiosks with the tickets a few times, and in the end were able to get two more TSM fastpasses - a 5:35 and a 5:45. Three of us were able to ride together at 5:45 -- each fastpass+ has an hour window, so the 5:30 and 5:35 ones were still good.
Phew. I hope all that made sense. Just a few more things...
CUTE FASTPASS+ NOISES
: This is a small fun thing, but I personally am all about the small fun things. Whenever you arrive at an attraction for your fastpass+ reservation and touch the Magic Band (or ticket) to the Mickey head, you will hear a little chime.
Some of these Fastpass+ noises are customized to the attraction.
We only did Fastpass+ attractions at a few rides and some of them just had an ordinary little tone, but the Haunted Mansion had the most adorable little spooky noise. Listen...
I'm actually excited to try more Fastpass+ on the next trip just to find out what the chimes are for all the attractions! Find more Fastpass+ theming and chimes
here
!
Alas, I have nothing to tell you about Photopass+, as we didn't use it. But from what I've been reading and hearing online, it sounds like that's a whole new deal too.
So as you can guess, I did actually have a lot of positive experiences with this whole new world Disney has thrown us into. It was just exciting to be a part of, and I found a lot to like - and I had been expecting to really dislike the whole thing. While I am starting to see an upside to a lot of aspects of My Magic Plus, I'm still hesitant. The new stuff is cool...but I'm not really sure why they had to fix a system that wasn't broken. There is still a lot I dislike...
Like the fact that the legacy fastpasses are all gone. Like the limiting of fastpasses to three per person and just one park a day. Like the fact only resort guests (WITH linked tickets) can book in advance.
In years past, things just felt more laid-back and relaxed. Now it's like they're watching...alllllways watching. It even felt that way at the Fastpass+ kiosks where there were swarms of cast members hanging around - even if you knew what you were doing, they were hovering and seemed to want to watch and hold your hand throughout the whole process.
It is early days yet, and no one is really familiar with the new system, and I'm sure some changes will be made.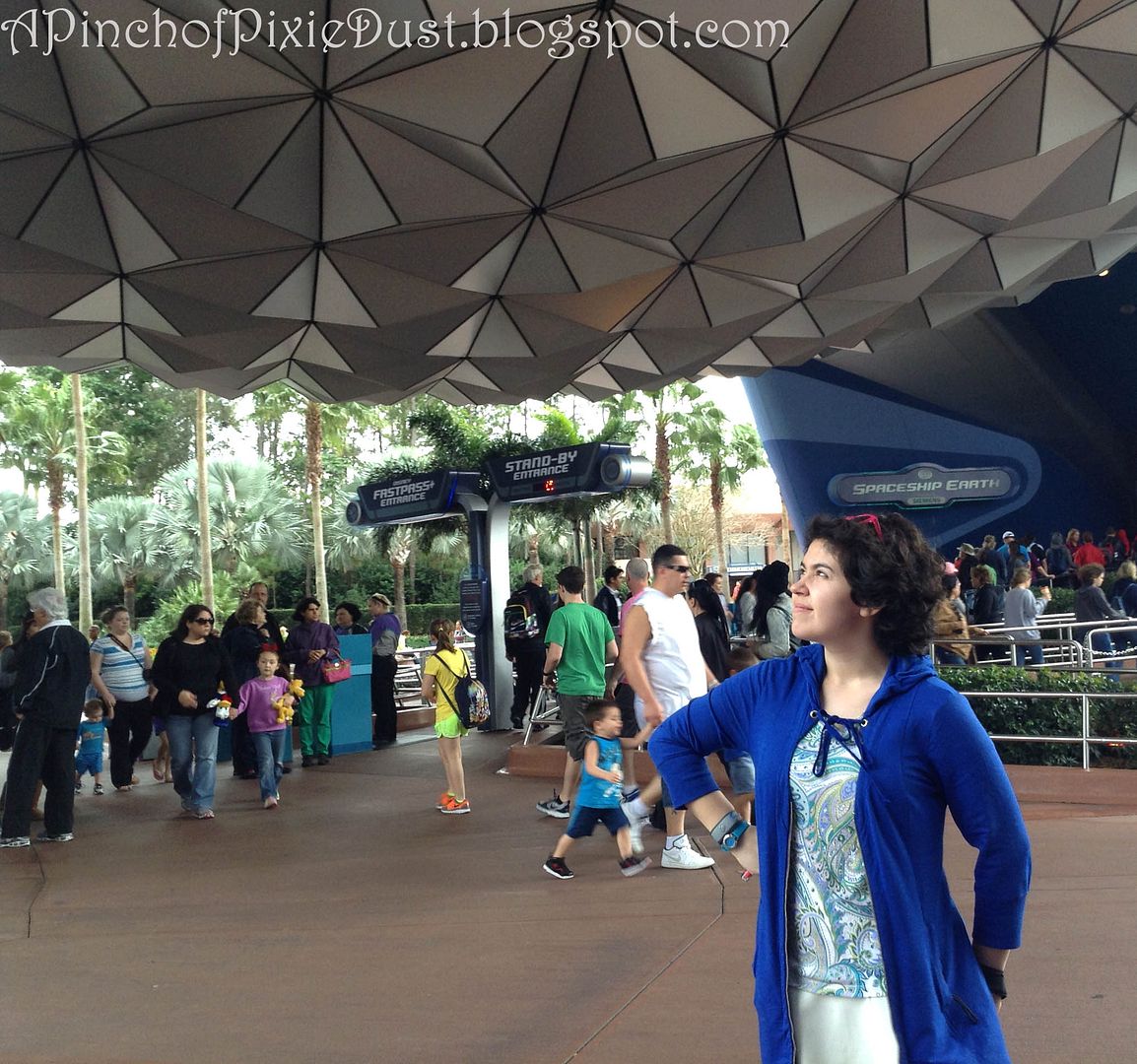 Just a Disney Snob, facing the Disney future. Where will it take us? We'll have to see!