Today we're taking a trip to Storybook Circus...
Hmmmm...we could
take a spin on the Barnstormer
. We could check out the
cupcakes
at Big Top Treats. We could admire
all the details
around the train station.
But no...today we're looking for some
extra
pixie dust. Today we're looking for some
CHARACTER
pixie dust!
The
meet and greets
at the Magic Kingdom have been shifting during recent years. Mickey is all by himself up at Town Square now, but the rest of the fab five -
Minnie Mouse, Daisy Duck, Donald Duck, and Goofy
- can all be found in fabulous themed outfits back in Storybook Circus.
They're all performing at
Pete's Silly Sideshow
, which you'll find behind Big Top Treats and that nice little seating area right up the steps.
I love all the posters for the performers - like Lambert the Sheepish Lion and the Dancing Hippos, Horace, Clara Cluck, and Pluto - it makes me wish that they were available for meet and greets too! Oh well.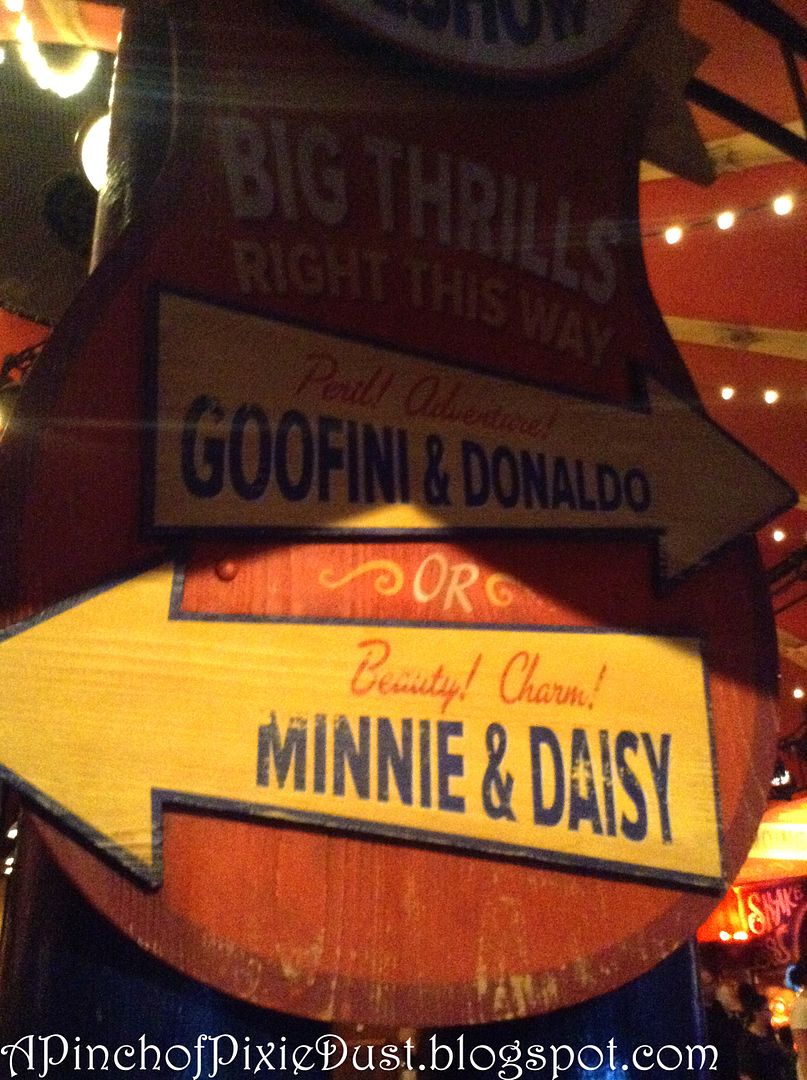 BIG THRILLS RIGHT THIS WAY. There are two lines at Pete's Silly Sideshow - one to the right for
Peril!
and
Adventure!
(Goofy and Donald that is) and one to the left for
Beauty!
and
Charm!
(that's Minnie and Daisy!). I don't know if I've just been lucky with these lines, but in my experience they're still fairly undiscovered. Whenever I've walked by they've been no more than 20-30 minutes, often less.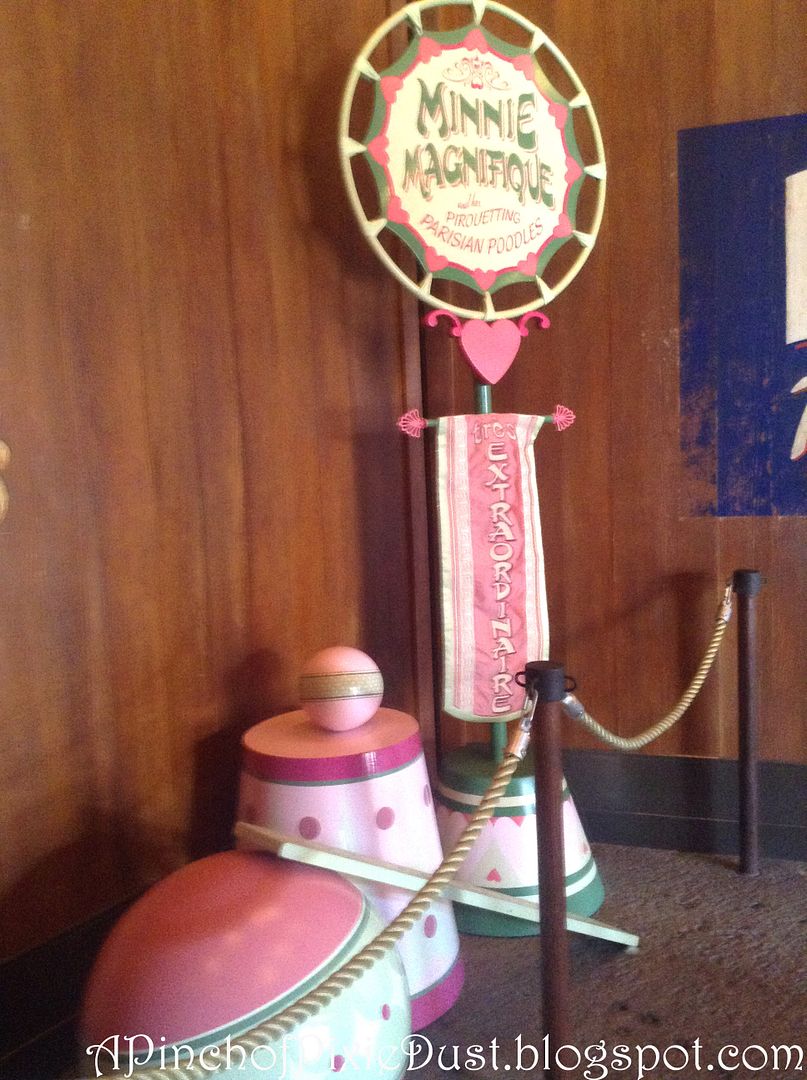 It looks like Daisy and Minnie have left some of their circus props lying around in the line! On the other side there are some things of Donald's and Goofy's too...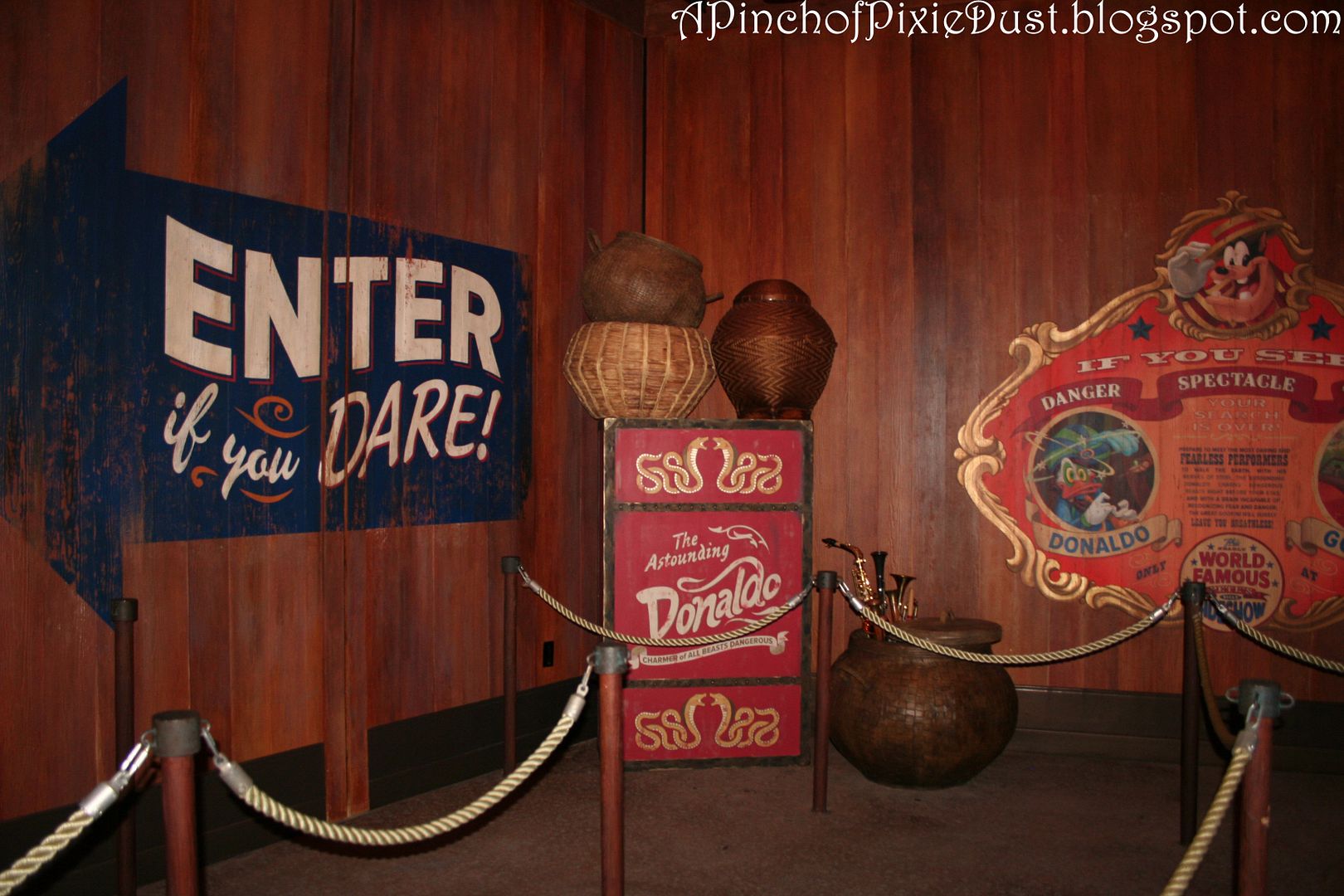 ENTER IF YOU DARE!
Actually, it
is
kinda scary to enter. You have to be swallowed by Pete. Yikes! It's one big circus tent with Minnie and Daisy on one side and Goofy and Donald on the other. It is kinda festive and fun to be able to see all four characters and their props (though if you want to meet all four you have to get in line twice).
When my friend
Laura
and I had a
Character Hunt
around the Magic Kingdom this past December, Pete's Silly Sideshow was one of our stops. I did get some clips for a vlog, but I wish I'd gotten more - it was SO MUCH FUN.
First we met Madame Daisy Fortuna and Minnie Magnifique. I absolutely loved the backdrops and details and outfits they have...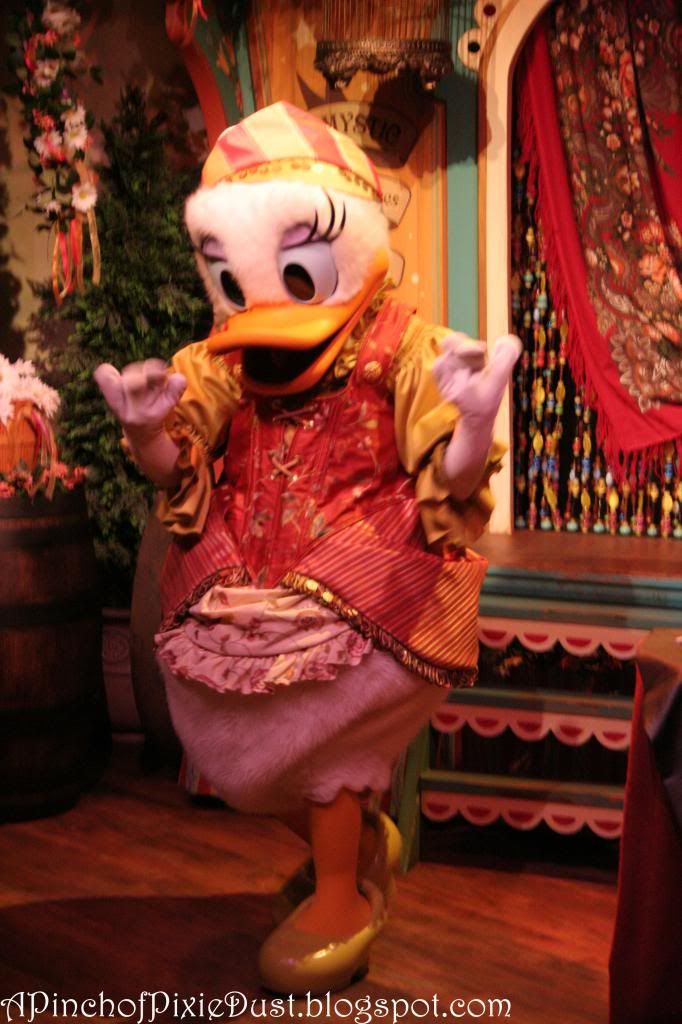 She's ALL KNOWING and ALL SEEING. And just look at that adorable gypsy dress! And her caravan behind her! She even has a crystal ball, so Laura asked if our fortunes looked good. To our surprise, Daisy jumped right to work, waving her hands around the ball and then acting out the fortune, which we, the photopass photographer, the character handler, and the entire rest of the line were eagerly trying to guess. As you can see in the vlog, it turned out to be Wishes fireworks that she saw in our future!
I have to say, Daisy was pretty darn fabulous. Minnie came next...
Minnie Magnifique's circus act is her
Pirouetting Parisian Poodles
. And all the pink poodles are standing at attention behind her - too cute!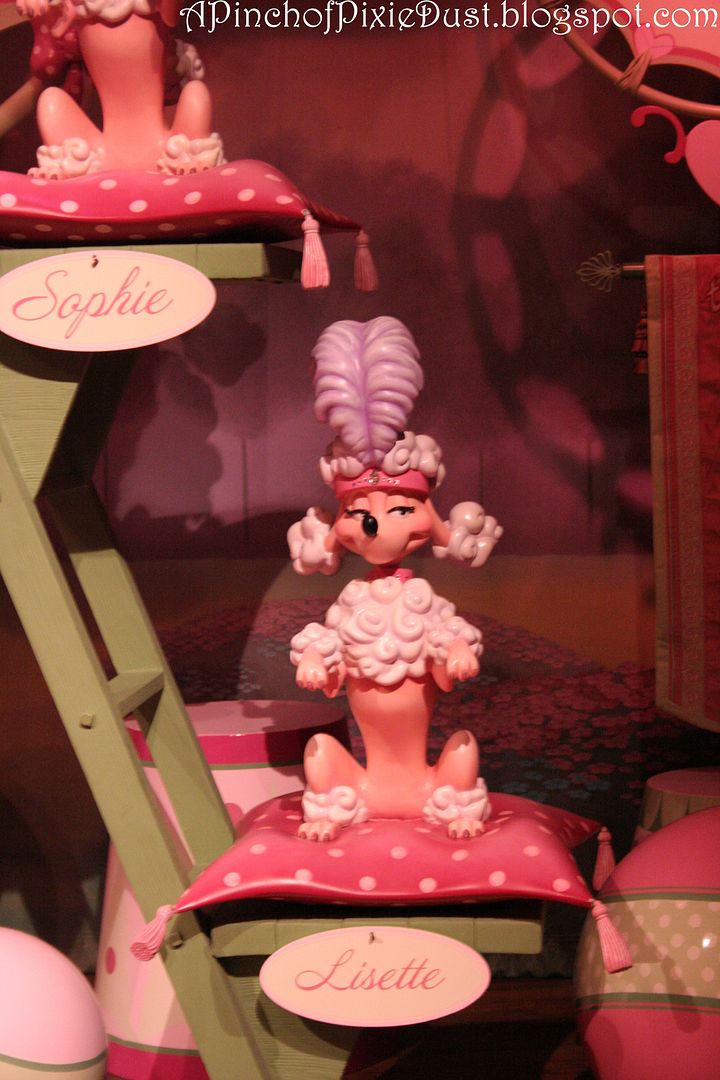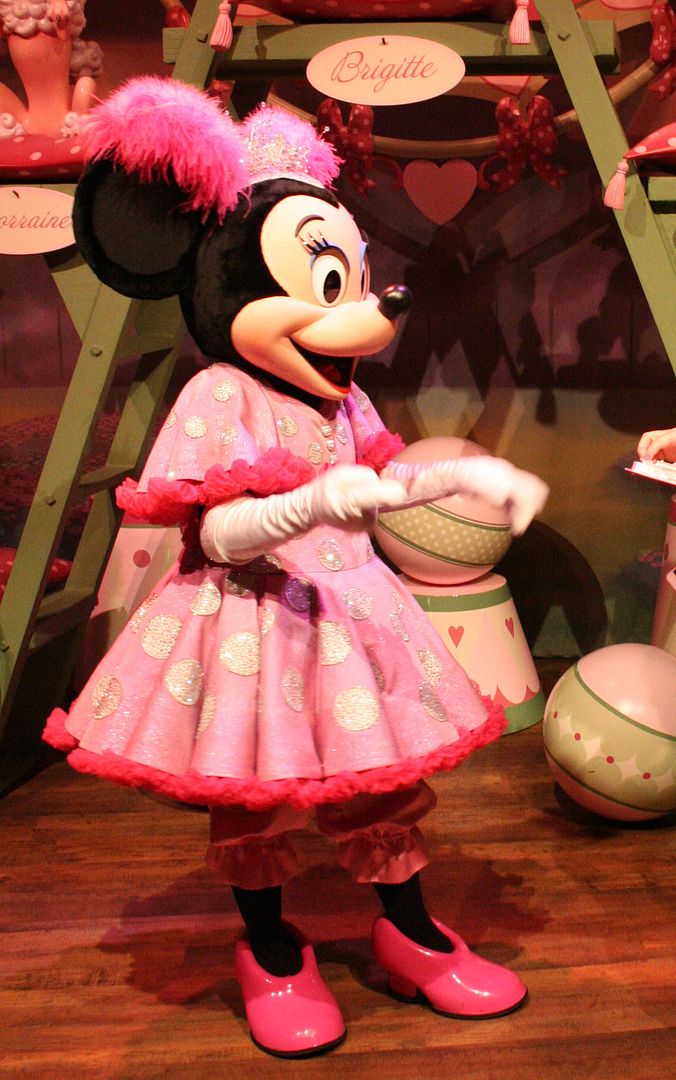 I loike how all the poodles have names - Brigette, Sophie, Lisette. And of course they match Minnie's outfit PERFECTLY. I am so in love with that pink poofy dress - I kinda want to recreate it and wear it to Mickey's Not So Scary Halloween Party. Wouldn't that be adorable?
Minnie wasn't quite as stellar as Daisy. She admired our mouse ears, posed for a pic, and waved goodbye. But the BEST character experience would be the Great Goofini and the Astounding Donaldo. We got in their line next, which was a little shorter than Minnie and Daisy's, but not by much.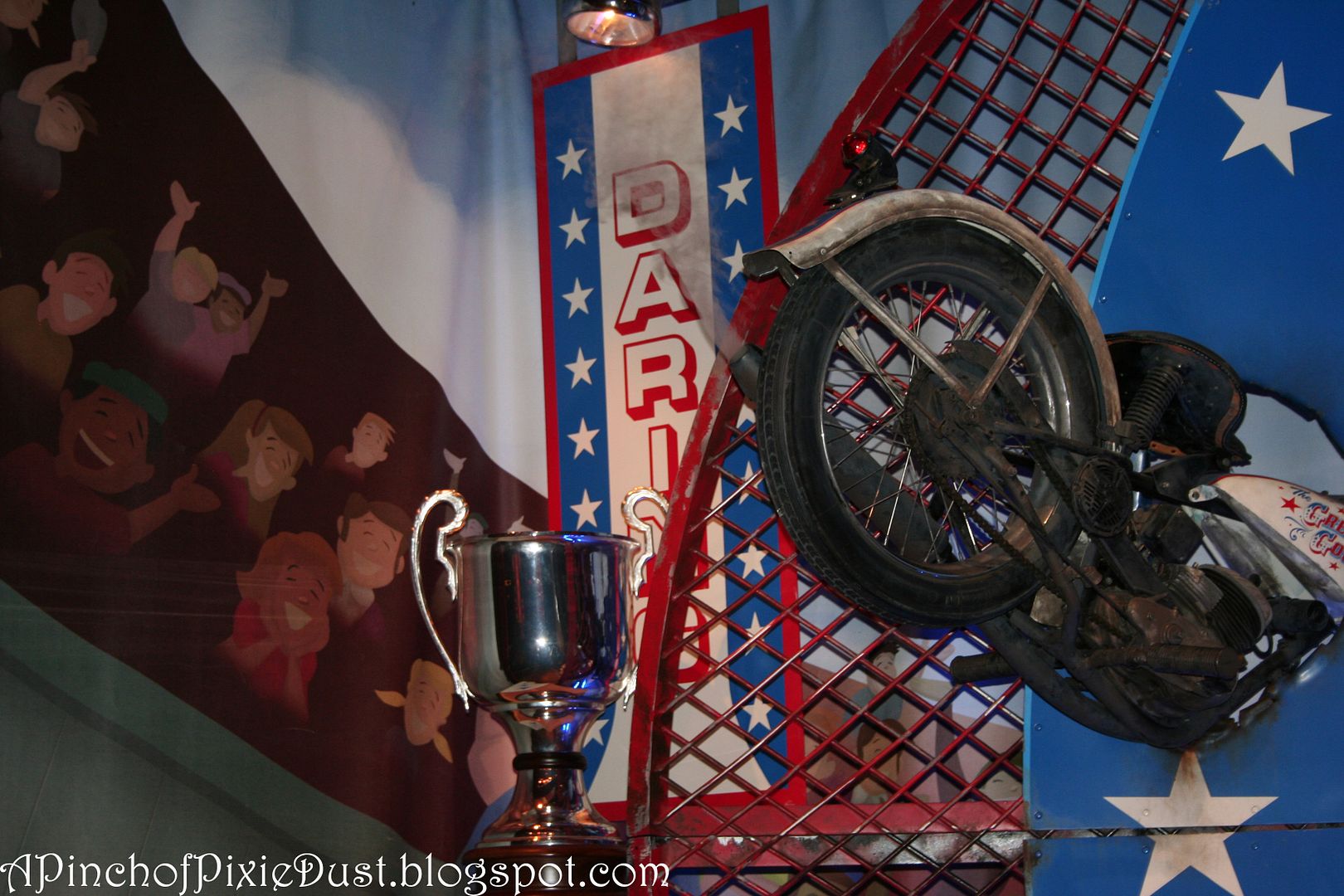 The Great Goofini came first. We noticed that his motorcycle had crashed into the wall, so we decided to ask how it happened.
Look at how it even says "
The Great Goofini
" on the back of his jacket! Well, Goofy had a long story about how he had been riding along, doing his trick, but then Donaldo had HYPNOTIZED him, and he had crashed! The character handler at Pete's Silly Sideshow was really great - she was helping Goofy tell his story and helping us understand Goofy, who went on to tell us that Donald isn't wearing any pants. He was
really
concerned about it. It was pretty hilarious.
So we met
the Astounding Donaldo
next, whose circus act, as you have probably guessed, is hypnotizing and snake charming. He has two giant snakes with swirly eyes next to him. The photopass photographer warned us not to look into Donald's eyes as we might become hypnotized ourselves.
Laura was careful, but I did not fare so well...
I've been hypnotized! And Donald, in the meantime, is just like "Gosh darnit, I'm not trying to hypnotize you, just give me a hug!" It was so cute.
So we posed for our picture, but Goofy was obviously still really worried about the no-pants issue, because all of a sudden he LEAPED over and to cover up Donald.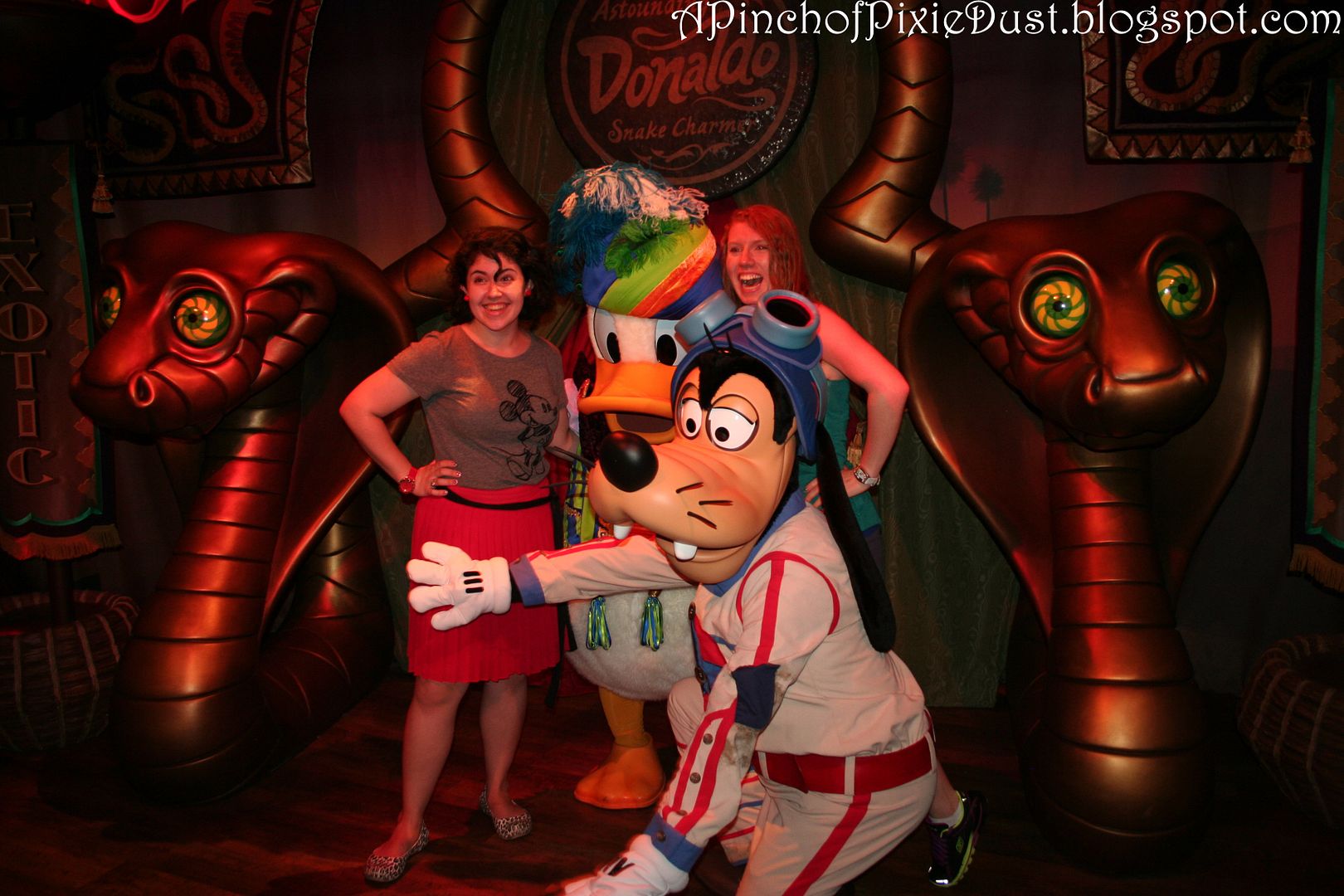 It was kinda the funniest thing ever and made for the perfect photo. Definitely one of my favorite character experiences of all time. :)
Have you stopped by Pete's Sideshow at Storybook Circus yet? If you haven't I would highly recommend it. Of course you never know what luck you'll get with the characters - and in our case the good luck came from not only the characters but the handlers and the photopass people as well. But the decor and the costumes are so interesting and definitely worth checking out.
Hope it's a happy Windsday!